About this trip
2013-03-26 12:27
Charlie:
This is a record of our walk on the Camino de Santiago. The Camino is a pilgrimage path that has been used for at least 1000 years. See our page Camino links for more information about the Camino.
We plan to walk about 500 miles over about 40 days starting April 3, 2013. Most people who walk the Camino stay in pilgrim dormitories called albergues. We decided to stay in hotels rather than the dormitories. We will eat in restaurants.
People walk the Camino for many reasons. The Santiago Cathedral gives out compostelas (certificates of completion) and asks some questions and compiles statistics on the people who complete the Camino. Religious and cultural reasons dominate.
When we heard about it, it just sounded like something we would like to do. We like the adventure. We like being in Spain. We like doing something that many other people have done and found meaning in. We liked the idea of a long walking vacation. We liked the idea of having a lot of time to think about things and observe life. We wanted a chance to reflect on things and think about our lives.
There are many blogs about the Camino on the internet. We have found them helpful in getting and idea of what it will be like. We wanted to write about our experiences so other people can do the same thing and so our friends and family can know what we are doing.
We didn't train as much as we expected we would. We are walking 2-4 miles each day around Albuquerque. We have gone on about a dozen longer hikes over the last few months. We did three 10-mile hikes. We hope this will be enough. We plan to start slow and work up to 12 miles a day.
Here is Wynette on one of our mountain training hikes.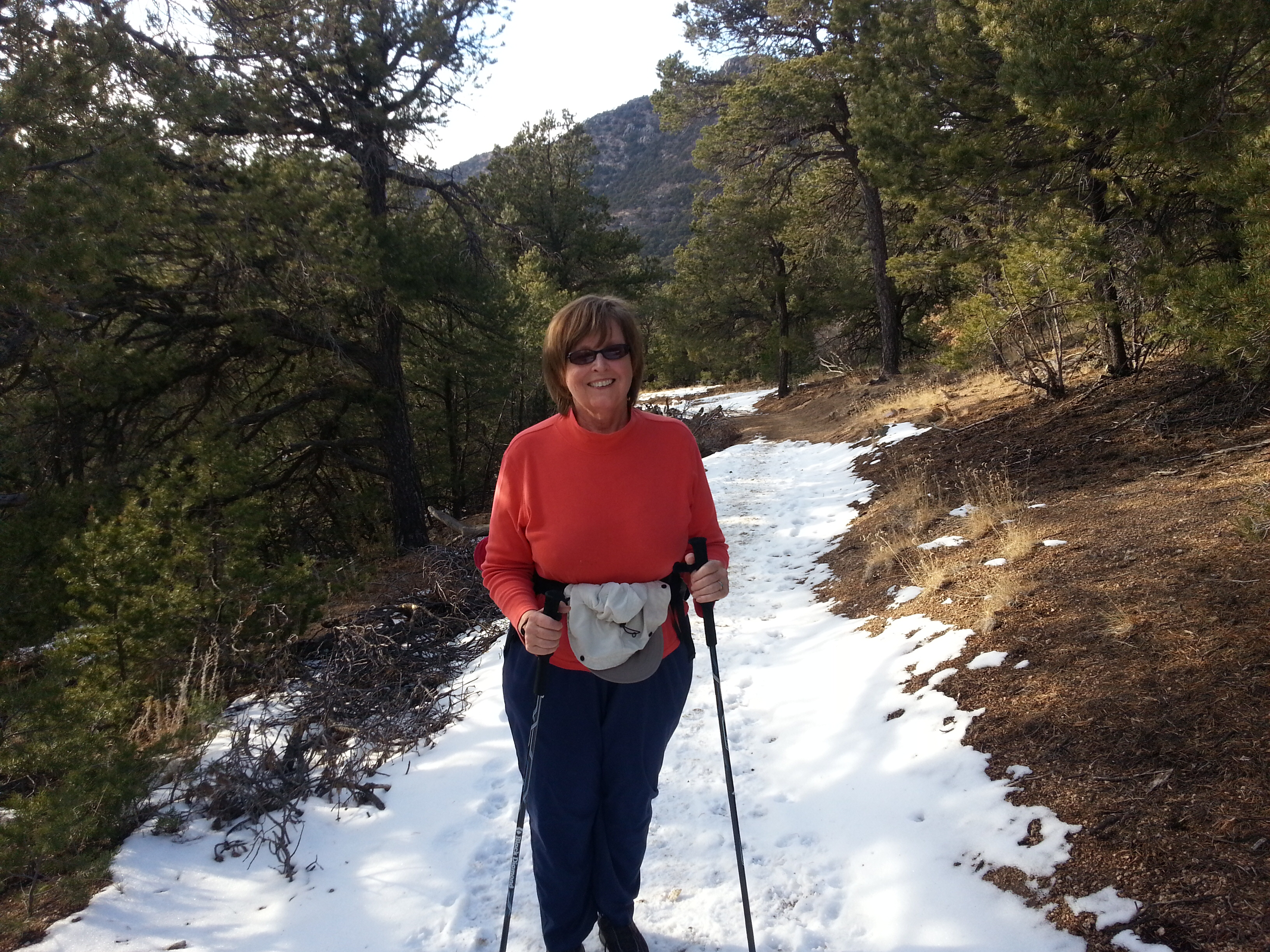 Our Planned Route
2013-03-26 14:24
Charlie:
See this table for a summary of the towns we plan to go through.


The "H" column gives the number of hotels in that town.


The towns with "0" hotels will have a pilgrim's hostal, or albergue.


The "km" and "mi" columns give the distance from the town on the previous line to the town on this line.


The "Tot" column is the number of miles from Roncesvalles.


The "Stay" column show the places we currently plan to stay the night. The distance is the number of miles from the previous night's stop to this step. The red number of the day of the month (April or May) we will stay there. These are all subject to change.


The blue bars and the region in Spain the towns are in.


The "Stages" are from Brierley's excellent Camino guide.


We decided to start in Roncesvalles Spain rather than St. Jean Pied de Port to avoid the strenuous first day over the Pyrenees. We might continue walking after we get to Santiago de Compostela and go on to Finisterre (the end of the earth).
See this map for the towns in a Google map of our trip. The flags indicate places along the way that have places to spend the night.  Red flags are places we plan to stop per the first draft of our itinerary.  (These will probably change.)
See this page for the AccuWeather blocks of 11 towns along the route.
Our Equipment
2013-03-26 14:46
Charlie:
We are carrying all our things with us as we walk. All the guidebooks emphasize how important it is to have as light a pack as possible. We got ultralight packs from Gossamer Gear. I have the Gorilla pack and Wynette has the Mariposa pack. This is what I am taking: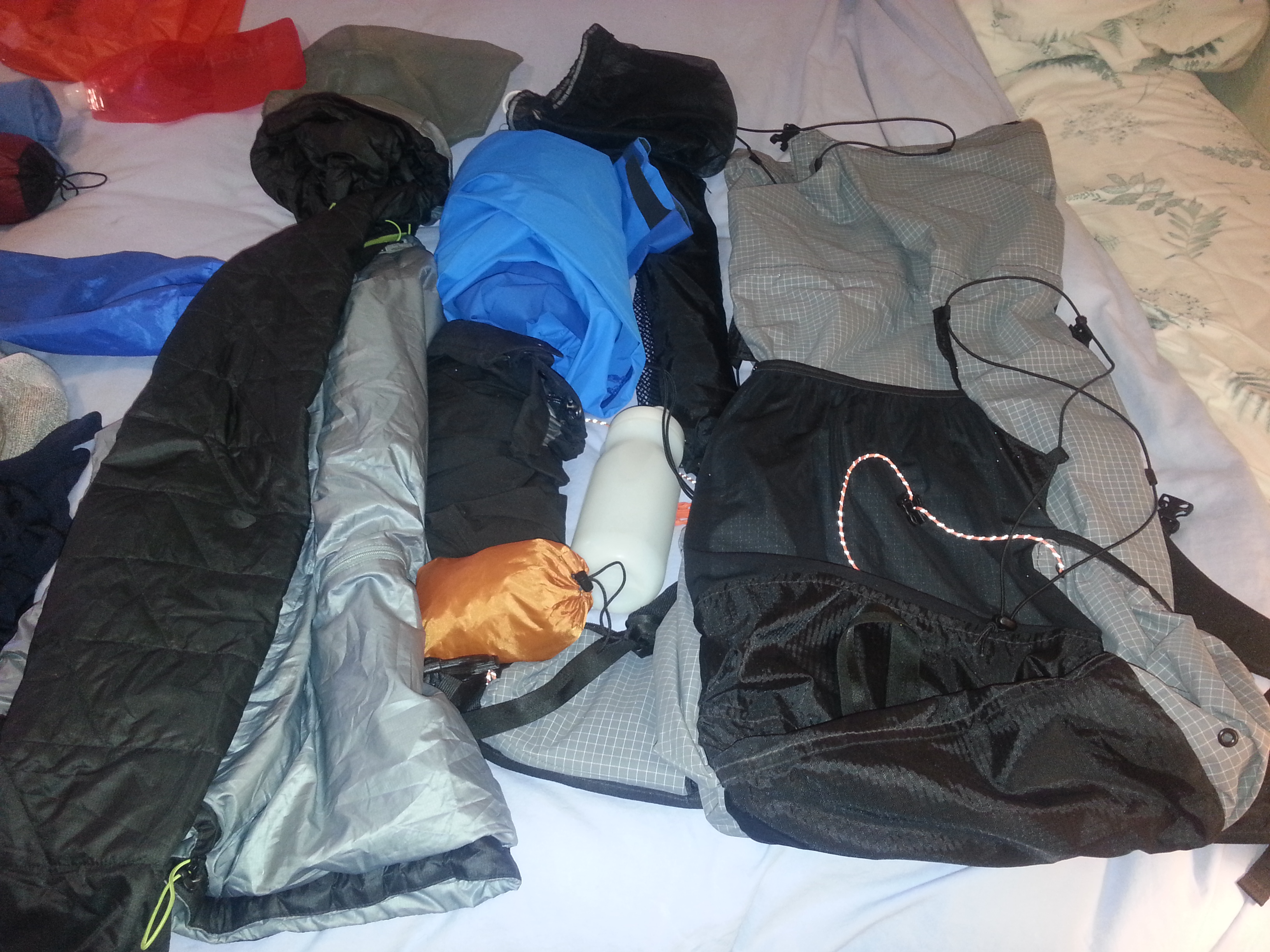 The pack, "bubble" jacket on the left, hiking poles beside the pack, blue rain jacket, rolled up rain pants below it, gold pack rain cover, water bottle, and the bags for the jacket and rain gear at the top.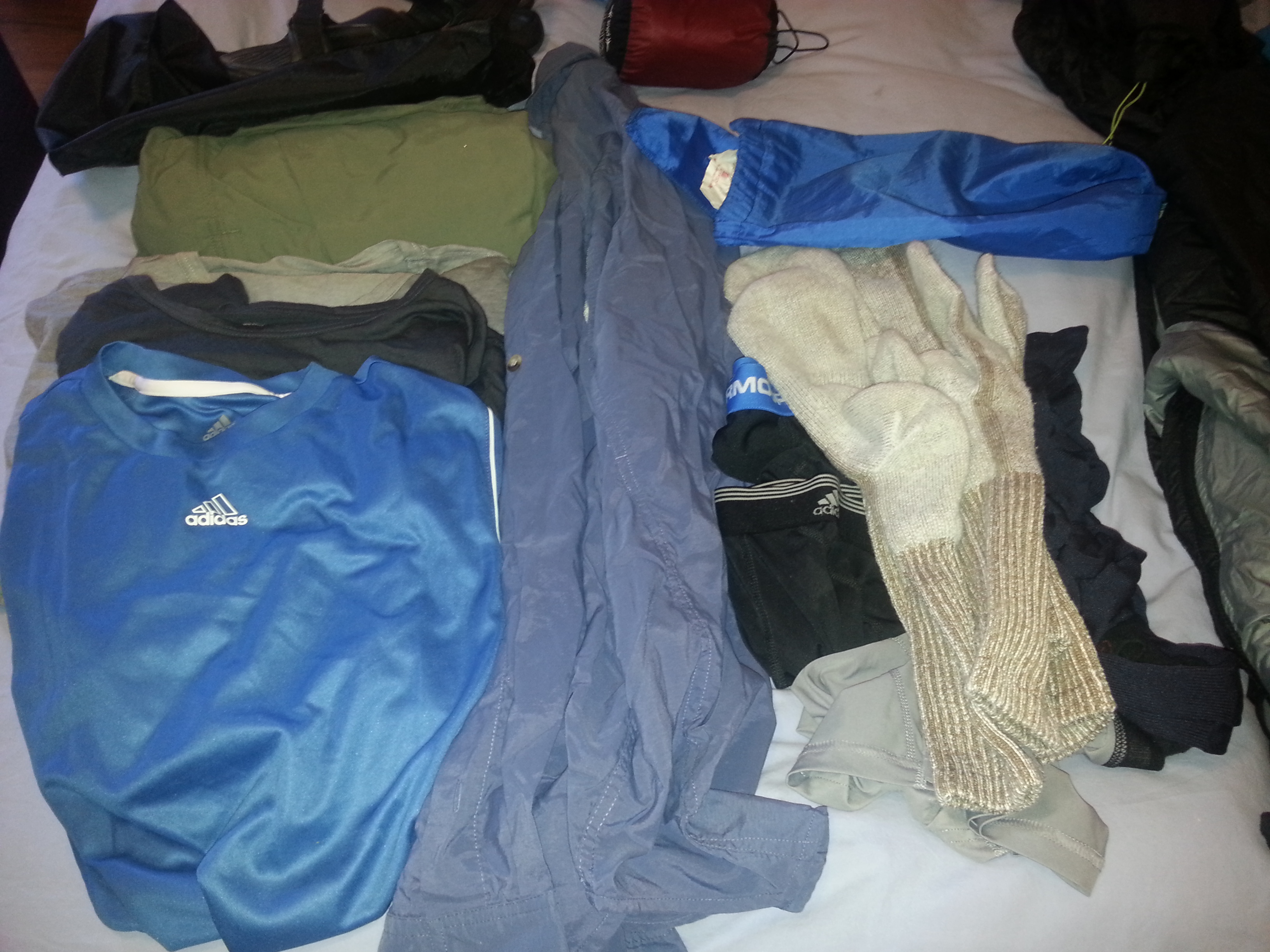 The pairs of socks and sock liners, three pairs of underwear, a long-sleeve shirt (plus one I will be wearing), two long-sleeve and one short-sleeve undershirts on the left, a pair of pants above it (plus the one I will be wearing), and bags to hold them.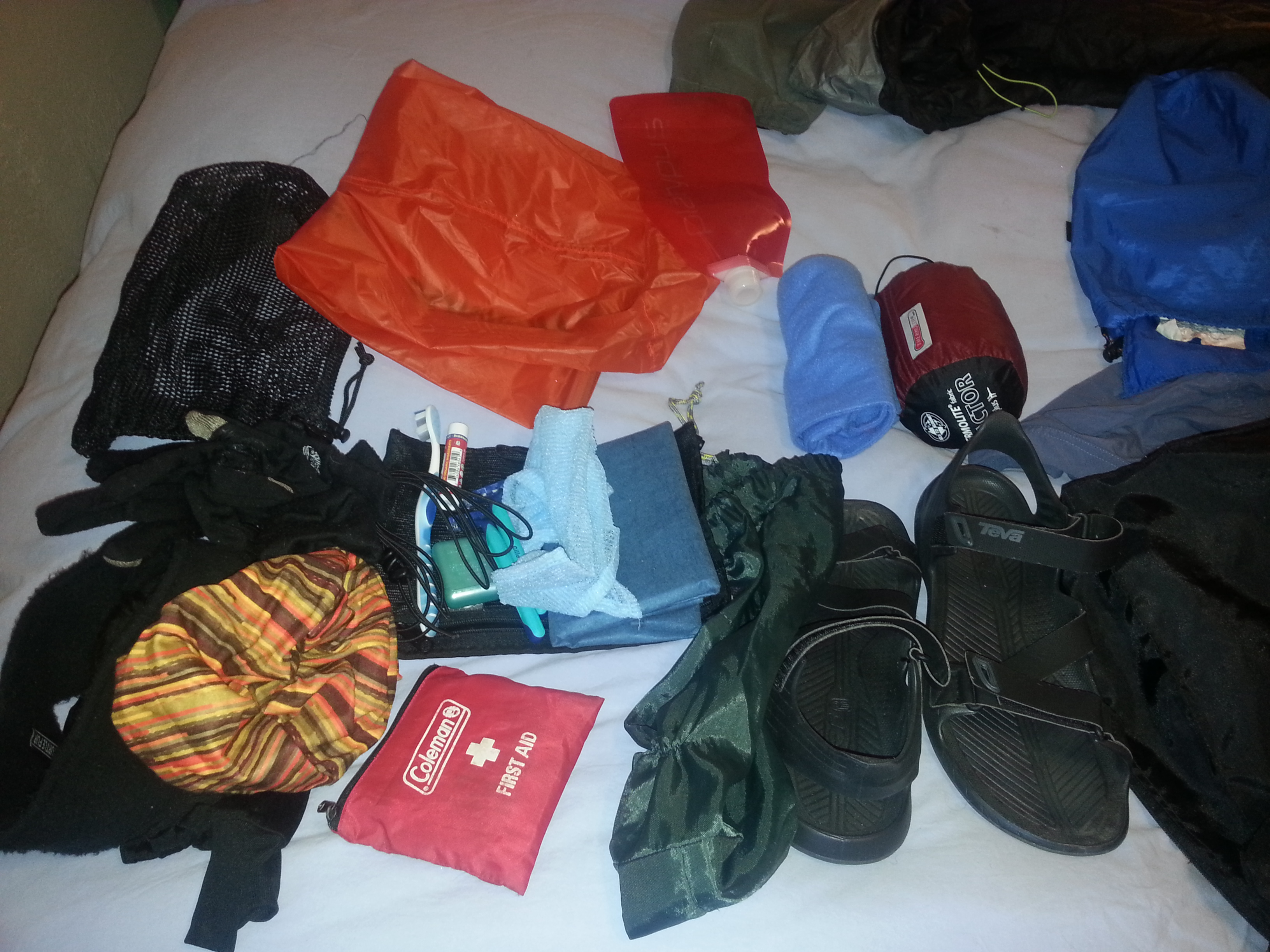 Extra shoes (Teva sandels) and bag, sheet-sleeping bad and pillow cover above them, toiletries including wash cloth and towel, on the left: ear band, gloves, and muff, first-aid kit, orange dry bag, and water bladder.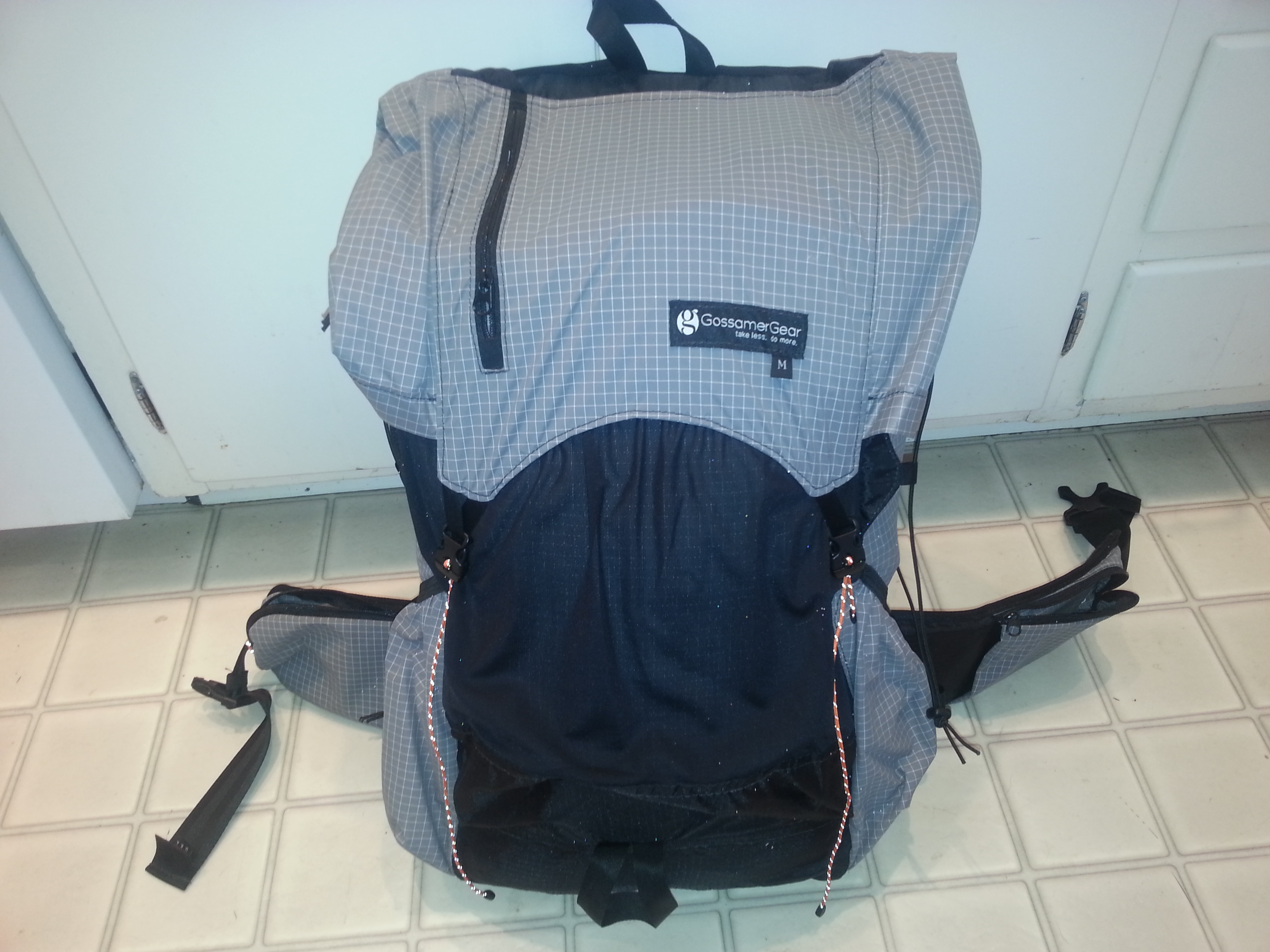 And here it all is inside the pack.
I am taking Brooke Ghost GTX (waterproof) shoes for daily hiking. We plan to wash underwear every day and the other things less often. They say the albergues have washing machines so we might be using those.
Since we are carrying all our stuff in our packs we wanted a minimum of electronic devices. We decided that we would each just carry a smart phone for all our needs. Charlie has a Samsung Galaxy Note 2 with 80 GB of storage. Wynette has a Nexus 4 with 16 GB of storage.
These will be our audio listening device (music and podcasts), our camera, our phone, our blogging device, our reading device (Kindle) and our web access device. All in 5 oz (Wynette) or 6.4 oz (Charlie). Obviously compromises are involved but we feel that the weight savings will be worth it.
We plan to get a Spanish voice/text/data SIM in Pamplona the first day. We plan to each get the Vodaphone Yu plan: 100 minutes, unlimited texting, 1.5 GB data for 16 euros a month.
Here are the apps we will be using: Smart Audiobook Player, BeyondPod (podcasts), Kindle (books), Google Reader (RSS, hey, it's not going away until after we get back), Pocket (reading saved web articles), NYTimes app, ABQ Journal app (keep up with ABQ), Google My Tracks (to keep track of each days walk), Google Maps, and gMail. And, of course, the built in phone, messaging, camera, and browser apps.
Day to day on the Camino
2013-03-26 14:56
Charlie:
We plan to average about 12 miles a day and get in Santiago de Compostela in about 40 days of walking. See this table for the planned days. We will probably have 2-4 days where we stay in a place skip walking for a day. That leaves about 10 days at the end. We plan to go on the Finisterre and Muxia, either on the bus or walking and explore the northwest Atlantic coast of Spain.
For the flat parts we hope we can average about three miles/hour. This means four hours of walking a day. With stops and variations we are planning four to six hours of walking a day. Starting around 8 am that means we get to the next town where we will stay between noon and 2pm. Then we get a hotel, do the daily washing, and get lunch. The rest of the day is for exploring the area, reading, blogging, thinking, getting food for dinner or the next day, or whatever.
We are going to try to eat our big meal at lunch and have something small for dinner, like tapas. We don't like the idea of a big meal at 9 or 10 pm.
All of this is subject to change, of course, we're not sure what we'll find when we are actually on the trail.
Spring in New Mexico, Easter Sunday
2013-03-31 08:03
And we're off
2013-03-31 13:13
Charlie:
Here bygynneth the Book of the tales of Caunterbury
WHAN that Aprille with his shoures soote
The droghte of Marche hath perced to the roote,
And bathed every veyne in swich licour,
Of which vertu engendred is the flour;
Whan Zephirus eek with his swete breeth
Inspired hath in every holt and heeth
The tendre croppes, and the yonge sonne
Hath in the Ram his halfe cours y-ronne,
And smale fowles maken melodye,
That slepen al the night with open ye,
(So priketh hem nature in hir corages:
Than longen folk to goon on pilgrimages,
And palmers for to seken straunge strondes,
To ferne halwes, couthe in sondry londes;
Here begins the Book of the Tales of Canterbury
When April with his showers sweet with fruit
The drought of March has pierced unto the root
And bathed each vein with liquor that has power
To generate therein and sire the flower;
When Zephyr also has, with his sweet breath,
Quickened again, in every holt and heath,
The tender shoots and buds, and the young sun
Into the Ram one half his course has run,
And many little birds make melody
That sleep through all the night with open eye
(So Nature pricks them on to ramp and rage)-
Then do folk long to go on pilgrimage,
And palmers to go seeking out strange strands,
To distant shrines well known in sundry lands.
So with the coming of April we too are off on pilgrimage, not to Canterbury but to more distant shrines.
Crying baby on a plane
2013-04-03 11:45
Charlie: We had good flights this time. Two hours to Chicago, 5 hour layover and 8 hours to Madrid. Of course you don't sleep much on a plane to Europe, maybe 2 to three hours. I listen to Nature's pace recordings of mountain meadows at dawn and thunderstorms and that helps a bit.
It didn't help to have a crying baby for an hour or two. But I have no trouble having empathy for people with crying babies. Ever since I sometimes traveled with my own crying baby 25 years ago. Now when I hear a crying baby I am glad that it is not my responsibility and feel sorry for the poor parents. I can feel a kind of empathy for them that I can't feel for a homeless person or a war refugee. Maybe we need visual simulations of these experiences so that people can feel more caring for others.
Traveling
2013-04-03 11:59
Hi Charlie: From Madrid we had a six hour bus ride to Pamplona. On the three hour layover we got our Spanish SIM cards and some very nice pinxos, the Basque word for tapas. Then another hour bus ride to Roncesvalles.
This all added up to almost 30 hours without much sleep so we were exhausted. Not the only ones. On the bus there was an older man maybe 60, who read lying down in the aisle of the bus for the whole trip. A Spanish woman asked him something to the effect of "What the hell?° (it did seem very odd) and he said that he had been up all night on a plane and very tired.
Pilgrims!
2013-04-03 14:18
Charlie: We were waiting for the bus at the airport when we saw a couple with backpacks and reading Brierly, the most popular Camino guide. They were from Canada and we're going to Pamplona and staying there, the first other pilgrims we had met. They were big planners and had reserved every night of 35 planned nights.
In the Pamplona bus station we saw lots of pilgrims waiting for the bus to Roncesvalles, basically everyone on the bus. The cargo area was filled with backpacks. It felt like we were really starting the Camino.
Wynette sat by a man from Pamplona and he was starting his fourth Camino!

Arriving
2013-04-03 14:37
Charlie: We got to Roncesvalles at 7:15 in a light rain. We walked over to the big building and nearly everyone turned right into the alburgue (dorm for pilgrims) and we turned left into the Hotel Roncesvalles. It was only 70 euros but it was one of the nicest hotels we have ever stayed at. The sheets were amazing. Some high thread count thing I guess. It is in a converted monastery and very pretty. The room was great. The breakfast was very good. A great introduction to the Camino.
Roncesvalles is a pretty little village. There were give piles of snow in the courtyards. We finally figured out that is was snow that had fallen off the slanted roofs. Photos tomorrow when we have wifi.
Camino: Day 1
2013-04-04 13:25
Day 1 Charlie
2013-04-04 13:58
First three days
2013-04-06 04:33
Charlie: Well we've seen everything. The first day had beautiful sunny weather and blue skies. The walk from Roncesvalles was amazing. White snow capped peaks all around, verdant mountain meadows, babbling brooks, sheep, horses, cows. As pretty as anything we have hiked through.
We were going generally downhill but with lots of ups and downs. We went 8 miles and felt okay. Stayed at Viskarret.
On getting up we saw it was drizzling. It drizzled on and off the whole second day. Some periods of sun but mostly cloudy. Still beautiful country though, farm country, mostly fields for grazing. We passed a 100 yard square evergreen tree stand. They must have had a big wind recently because there were a lot of down branches on all the trees. We stopped a little past Larrasoana.
We got up on day three and it was snowing! We had snow for a while and then off and on cloudy and rainy. On the last pass into Pamplona we had snow again. Still beautiful country, very green and pastoral.
It was cold going into Pamplona, in the high 30s. And it was rainy and cold when we went out to eat.
Saturday morning, today as I write, we woke up to snow. Looking out the hotel window it was pretty thick and piling up. Snow stopped about 10 and is a little warmer now.
Water water everywhere
2013-04-06 04:45
Charlie: I've seen more water in four days here than in the last five years in New Mexico. We crossed dozens of streams and walked by good sized rivers. I love running water, who doesn't, and it has been a joy to see and hear so much water.
Of course some of it is falling from the sky, and some even in frozen form but I still love it. Our gear has been great. The rain jacket breathes pretty well and keeps me dry and warm. My waterproof shoes are waterproof. I have rain pants but I have not used them as the rain has all been light. One time my pants got wet but they dried in 30 minutes as I was wearing them. These new fabrics are amazing. We have rain covers for the packs which are essential.
Town and Country
2013-04-06 04:52
Charlie: The little towns we walk through are lovely. Very quaint and exactly what you expect of little Spanish mountain towns. They have small squares and we stop for cafe con leche and people smile at you and don't seem put out by all the pilgrims.
The countryside is beautiful too as I have described before.
Pamplona is much bigger than I had thought before researching this trip, about 200,000 people. Downtown it had the feel of Madrid.
Peregrinos
2013-04-06 05:25
Charlie: That's what they call us pilgrims in Spanish. People seem happy to see us. Lots of people we pass in the small towns say "Buen Camino" to us and we say it to the pilgrims who pass us. We would say it to the pilgrims we pass also but so far we haven't passed anyone. We are the slow ones.
Before we started I was a little worried about standing out and people not wanting us around but the Camino is part of the culture here and everyone seems to be into it. The pilgrims help out the economy too so that helps.
We were excited to see other pilgrims at the bus station leaving for Roncesvalles. Then on the trail we see a lot of pilgrims of course. It is still early but there are a fair number but not a mob.
We get passed a lot as I said. We have been starting out pretty late. After a while we start getting passed by the pilgrims who started out early from a town 10km before.
We are not staying in the alburgues, pilgrim hostels, so we don't hang out with as many pilgrims as we would if we did but there is a comraderie among pilgrims and we are getting to know people as we go.
On the third night we ate dinner at an inn where they had a communal meal for pilgrims. There were about 15 of us and we sat at a long table and heard people's stories. The dinner was quite good. You had three choices each for a starter, a main dish and a dessert all for 12 euros.
We talked to two 19 year old boys from Grand Rapids who were taking a gap year before college and traveling. Several other young people were taking time off to travel. There was a Brit about our age who had done the Camino before but in November.
About 60 percent are young people and about 20 percent are 60 and over.
We have met an amazing number of Canadians, like 7 or 8, from coast to coast and in between. We met a guy, about 50, in our hotel the second night. He was a bookkeeper for a non profit from Vancouver. He had started in St Jean and had a very hard first day going over the mountains. I'm glad we started in Roncesvalles. We saw him again on the trail and he was at the pilgrims dinner the third night. Wynette saw him again today on the street in Pamplona.
Yesterday we talked to a young woman who was writing a masters thesis in literature about her walk on the Camino.
Hotels
2013-04-06 05:38
Charlie: We are staying in hotels rather than alburgues. The first night was lovely at the hotel Roncesvalles, 70 euros. The second night was a casa rural in Viskarret, 40 euros but a common bathroom, no soap or shampoo. But we had a nice dinner and breakfast there with Glenn from Vancouver.
The third night I'll talk about separately.
The fourth night was at the hotel Navarro in Pamplona, 73 euros. Very nice but they were full for the next night so we had to switch to the hotel Europa, also very nice, for tonight.
We don't have any more reservations. Our plan was to get them as we go. We think that will still work since we are still early in the year.
Hotel Akerreta
2013-04-06 05:48
Charlie: On the third night we stayed at the hotel Akerreta. The owner told us that they had filmed part of "The Way" there. It was the part where Martin Sheen met the Canadian woman on the patio and, the next morning, saw the man practicing bull fighting with a tablecloth from the balcony.
We were hoping to see places from the movie as we walked the Camino so this was exciting.
He said they had about 100 people and several trucks and the people were all very nice. Martin Sheen and his wife wanted to stay there but the whole hotel was full of lights and equipment so they couldn't.
We're still looking for the bridge where Martin Sheen lost his backpack in the river.
Keyboard magic
2013-04-06 05:53
Charlie: Hey I have to give a shout out to the SwiftKey keyboard on my phone. The prediction is amazing. I type a few letters and it guesses what I want. It also has the swipe typing which is fun and fast too. I can type almost as fast as with a physical keyboard.
Any mistakes you see here are the fault of the prediction algorithm not me.
On the bus
2013-04-06 08:43
Perigrinos at the bus station
2013-04-06 08:49
Packs on the bus
2013-04-06 08:50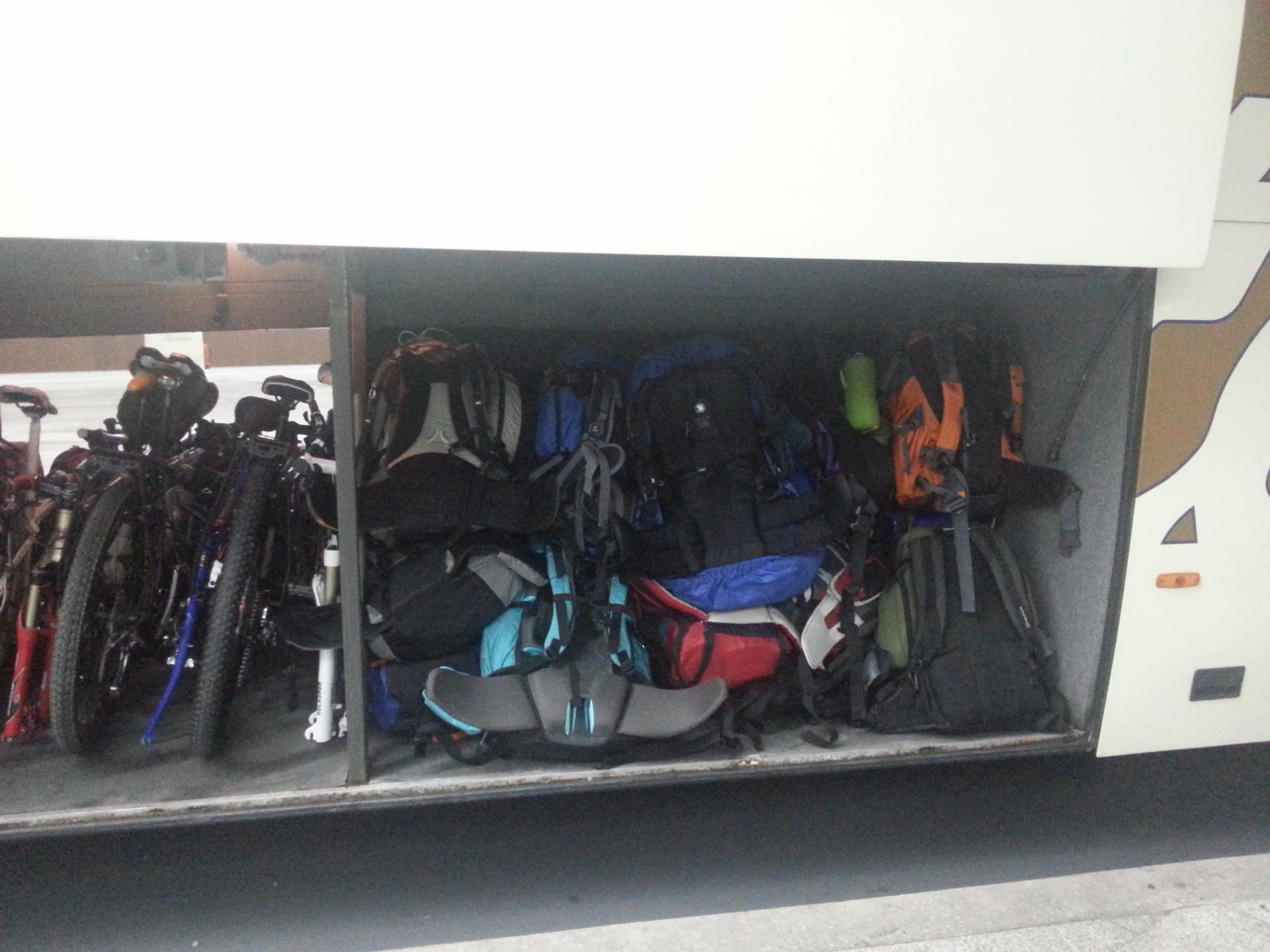 Snow fallen off roofs
2013-04-06 08:52
Running water
2013-04-06 09:11
Wynette getting a drink
2013-04-06 09:14
Alta on the Camino
2013-04-06 09:19
Wynette on the trail
2013-04-06 09:21
Muddy trail
2013-04-06 09:25
Not as muddy
2013-04-06 09:28
Down by the Riverside
2013-04-06 09:30
Beam Ceiling in the Hotel Areketta
2013-04-06 09:35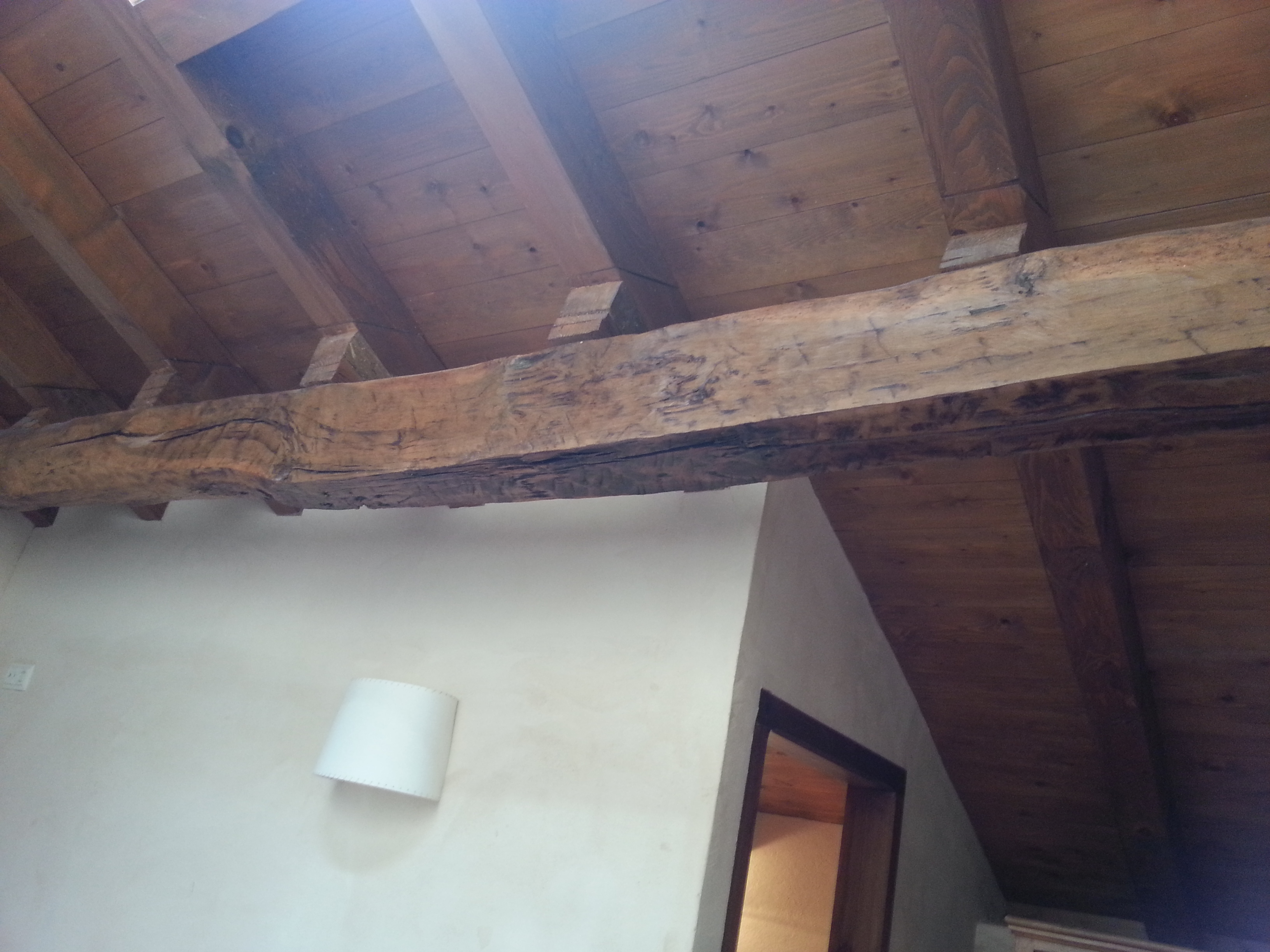 Camino Markers
2013-04-06 09:37
Stones on the Camino markers
2013-04-06 09:39
Coffee break
2013-04-06 09:43
At the bridge
2013-04-06 09:46
The Famous Camino Dogs
2013-04-06 09:46
Snow on the trail
2013-04-06 09:50
Roncesvalles
2013-04-06 09:50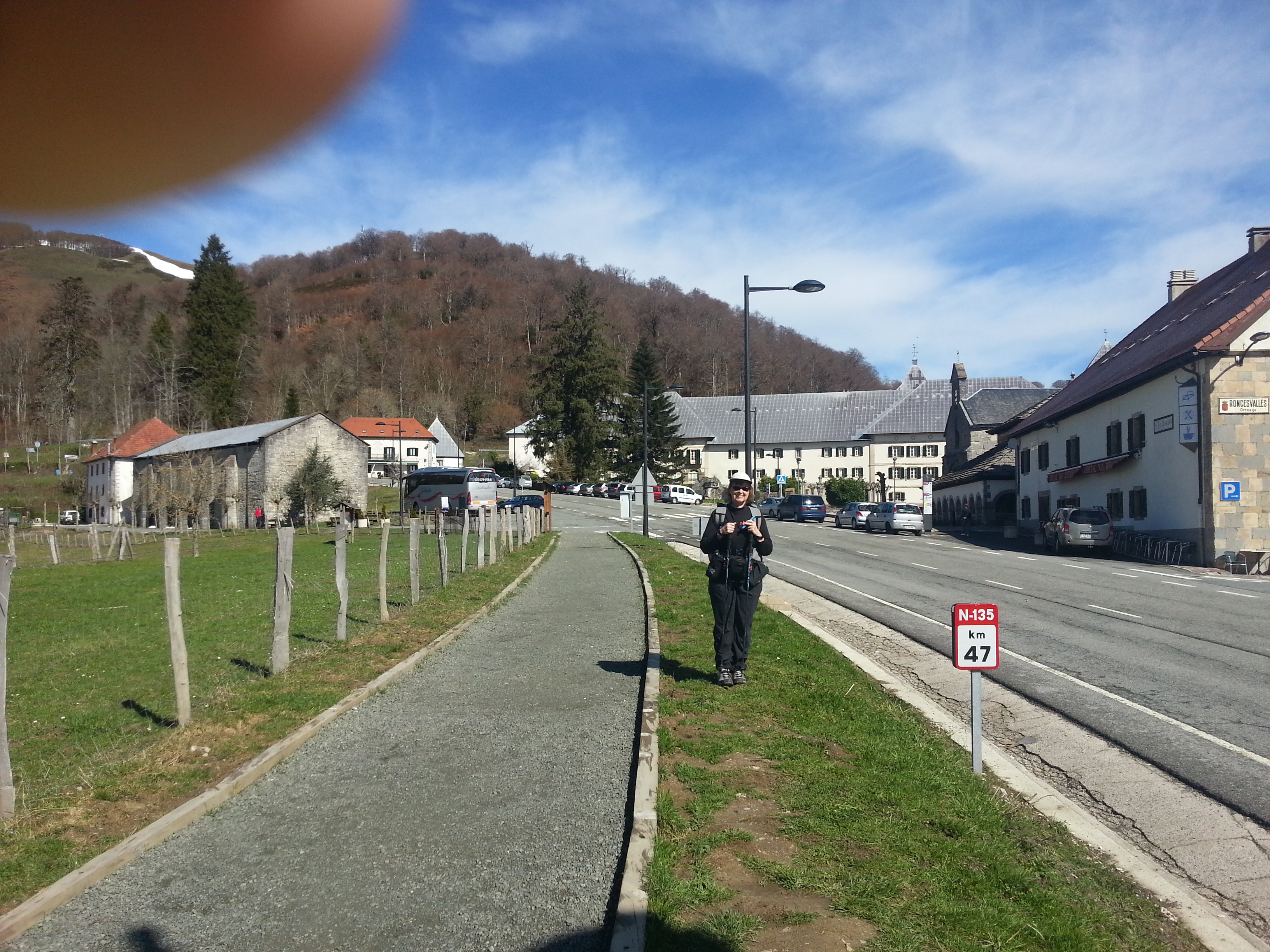 Hotel Roncesvalles
2013-04-06 09:53
Taking Care of Feet
2013-04-06 10:18
Wynette: We got to Pamplona yesterday afternoon (end of walking day 3) and decided to stay an extra day here. I've been having problems with my feet and we thought it would help to have a day to rest and to look for helpful foot products. I was feeling discouraged yesterday when we arrived and my feet hurt so badly but am optimistic it will get better. I went to a huge department store this morning. Spotted a friendly-looking woman in the cosmetics department (first department by the entrance) and  asked (in spanish) for "where to buy things to put in my shoes because my feet hurt." She lit up when she understood what I needed and kindly wrote down what i should ask for "plantillas") and where to go (supermercado). (This department store has a huge supermarket in its basement.) Her instructions were spot on. So now i have a selection of things to try.
Yesterday while walking was chatting with a fellow pilgrim who had been having foot problems. She said another pilgrim suggested she put a maxi pad in her shoe.  She said she did and it fixed her problem. So… I might be trying that, too.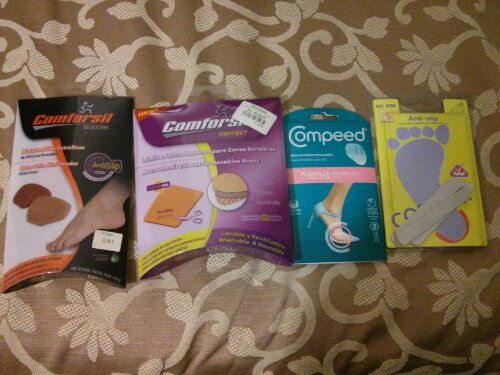 Fast/Steady Internet
2013-04-06 10:54
Wynette: Today we've finally been able to post photos and videos. This is also the first place with fast and non-flaky wi-fi. So the posts with photos in this blog might come sporadically.
Post Comments
2013-04-06 11:03
Wynette: We really enjoy your comments. Thank you! We started to reply but realized you won't see our replies of you are logged in as guest unless you go back to the post. But we'll figure out something.
More Blog Glitches
2013-04-06 11:05
Wynette: For some reason we haven't been getting email re. approving new registrations. Just saw some requests. Very sorry for delay.
Bar Tapas
2013-04-06 13:17
Snow in Pamplona
2013-04-06 13:38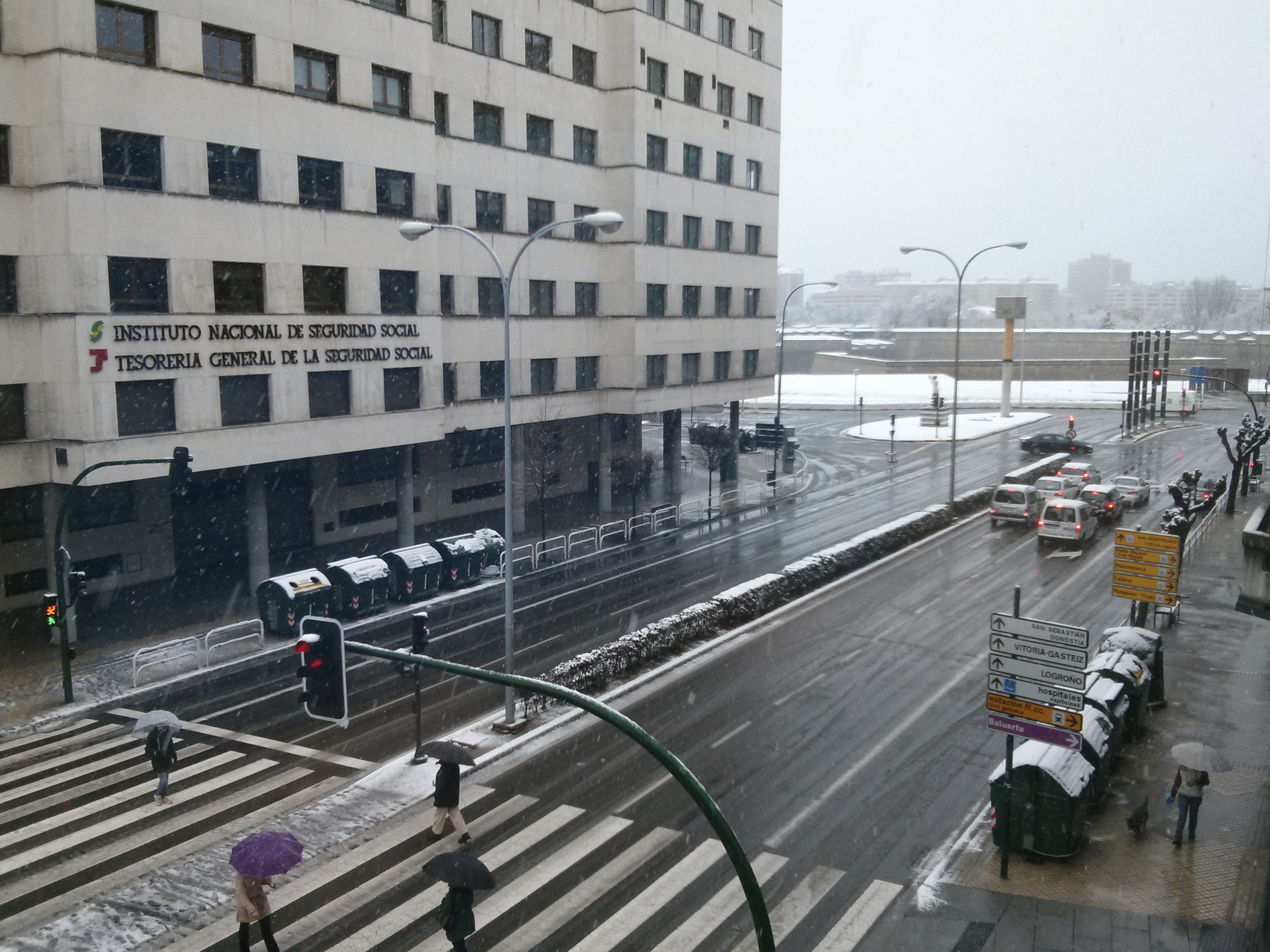 Wynette, April 6: This is what we saw out of our hotel room window this morning. Coldest day so far. I've never seen such variation in weather from hour to hour, anywhere. The first day was mostly sunny, perfect weather. Cool but not cold. The second and third days were cloudy,  sunny,  snow,  sleet,  drizzle, changing from one to another about every 15 minutes. (I'm really not exaggerating very much.) Our rain gear has been excellent. We have been warm and dry, including our feet.
Rest day in Pamplona
2013-04-07 10:33
Charlie: We moved to the Hotel Europa, nice room, great wifi. Big lunch in a Navarro restaurant, very good. Tapas for dinner.
April 7
2013-04-07 10:44
Charlie: We decided to skip walking through the suburbs of Pamplona so we took a 15 minute bus ride to Cizur Major and walked half a mile to rejoin the Camino. We walked 9.3 miles and are staying in a private room in an albergue in Uterga. Wynette was just getting sore feet so it was nice to stop. No wifi so no media.
We are about to go to another communal pilgrims dinner. We washed out our things and hung them to dry.
Walking the Camino
2013-04-07 12:14
Wynette: When we first had this crazy idea to walk the Camino it was very abstract. How hard could it be to walk 12 miles a day for 40 days, allowing for 10 extra rest days when needed? Now for the reality. I realize now that if I'm able to do this it will be a huge accomplishment. I feel a bit stiff and sore at the end of each day and feet hurt like crazy, but energy has been good. I'm sure energy is from that high altitude Albuquerque oxygen still in our blood. But I'm very slow,  especially on the long steep uphills followed by the long steep downhills, repeat, repeat, repeat. Charlie has been patient and wonderful. He could easily be going twice as fast as we are going.
Camino: Walking Day 4
2013-04-07 12:20
Wynette: We walked about 9 miles today. Stopped a little before we planned because of my achy feet. But got a little further today before they started killing me. Still a few more things to try. We are staying in a private room in an albergue (pilgrim's hostel) . We'll eat dinner with the other albergue guests. They call it a pilgrim meal. We had a pilgrim meal after walking day 2 and it was delicious.
Camino: Walking Day 5
2013-04-08 13:03
Wynette: We walked a little further today than yesterday but it seemed much faster. It was a beautiful walk (but so was yesterday and every day). We are constantly amazed how everything is constantly changing. The weather (sunny to cloudy to rainy to windy to no wind, repeat), the landscape and view, the path itself: dirt, mud, gravel, cobblestones, concrete, pavement, big rocks, pebbles of all sizes,  repeat. One constant is that it has been lush green everywhere. And the Basque people have been kind and helpful everywhere.
Today we saw our first vineyards. I think we'll be seeing many more. Tonight we are staying in a private room in a wonderful albergue: Maralotx in Cirauqui. We ate with the pilgrims. The owner told us the wine was made in this village. When we get Internet access I plan to post some pictures of this albergue. The owner is clearly an artist and she has made this place colorful and fun.
Camino: Walking Day 5
2013-04-09 12:03
Charlie: we walked about ten miles again, see the track for details. Stayed at an alburgue in Cirauqui in a private room. Had an interesting talk with the owner. More on that later. And more videos.
Camino:Walking Day 6
2013-04-09 12:15
Charlie: another 9 miles or so. We are staying in a nice hotel in Estella 4 star, we decided to splurge since we were tired. Great for doing laundry though.
More wifi issues
2013-04-09 13:55
We are in a nice hotel in Estella but the wifi is slow and not steady.  It seems like Dropbox had better programmers than WordPress because it managed to upload our media. So we are creating shared albums in Dropbox and sharing the link with WordPress. This means the items are not labeled but we want to get them published. We'll refer to some of them in other posts.
Top Of The Ridge
2013-04-09 14:02
https://www.dropbox.com/sc/g5icjkydxrm4jsp/2e86_lR2G3 These are all at the top of a ridge after a long hard walk up. This place was shown in "The Way". You can see Pamplona in one direction and your path ahead in the other direction.
Day After Pamplona
2013-04-09 14:07
Around Pamplona
2013-04-09 14:09
Pamplona to Roncesvalles and back
2013-04-09 14:22
Charlie: I meant to say this before but didn't and it relates to the next post.
We took the bus from Pamplona to Roncesvalles in an hour and then took three days to walk back to Pamplona. This seems like a strange thing to do and makes you think about why you are walking the Camino at all.
Actually it is kind of hard to say really. It's just something you want to do and you want to walk the whole way even if you have to do things like this.
We didn't however start in St. Jean France. Roncesvalles seemed okay and a logical place to start but Burquette just 3 km farther along would not seem right.
All this is hard to explain.
Bus out of Pamplona
2013-04-09 14:36
Charlie: I think we mentioned it in the blog and careful readers of the tracks will have noticed that we took the city bus out of Pamplona to Cizur Menor and joined the Camino there.
We had walked through Pamplona on the way in and it was not that pleasant. And Wynette was having foot problems and this took three miles off the day's walk. All good reasons but every pilgrim feels bad about taking the bus for any part of the Camino.
Some of the books and blogs talk about the idea of who is a "true pilgrim". The answer sometimes is that anyone who does less than you is not a true pilgrim. Like the people on packaged tours, or the people on bikes, or the people who take buses, or the people who don't stay in albergues, or the people who don't wear a heavy cross, etc.
This all gets back to why you are walking the Camino in the first place. A question that maybe is not so easy to answer.
The Albergue in Cirauqui
2013-04-09 15:06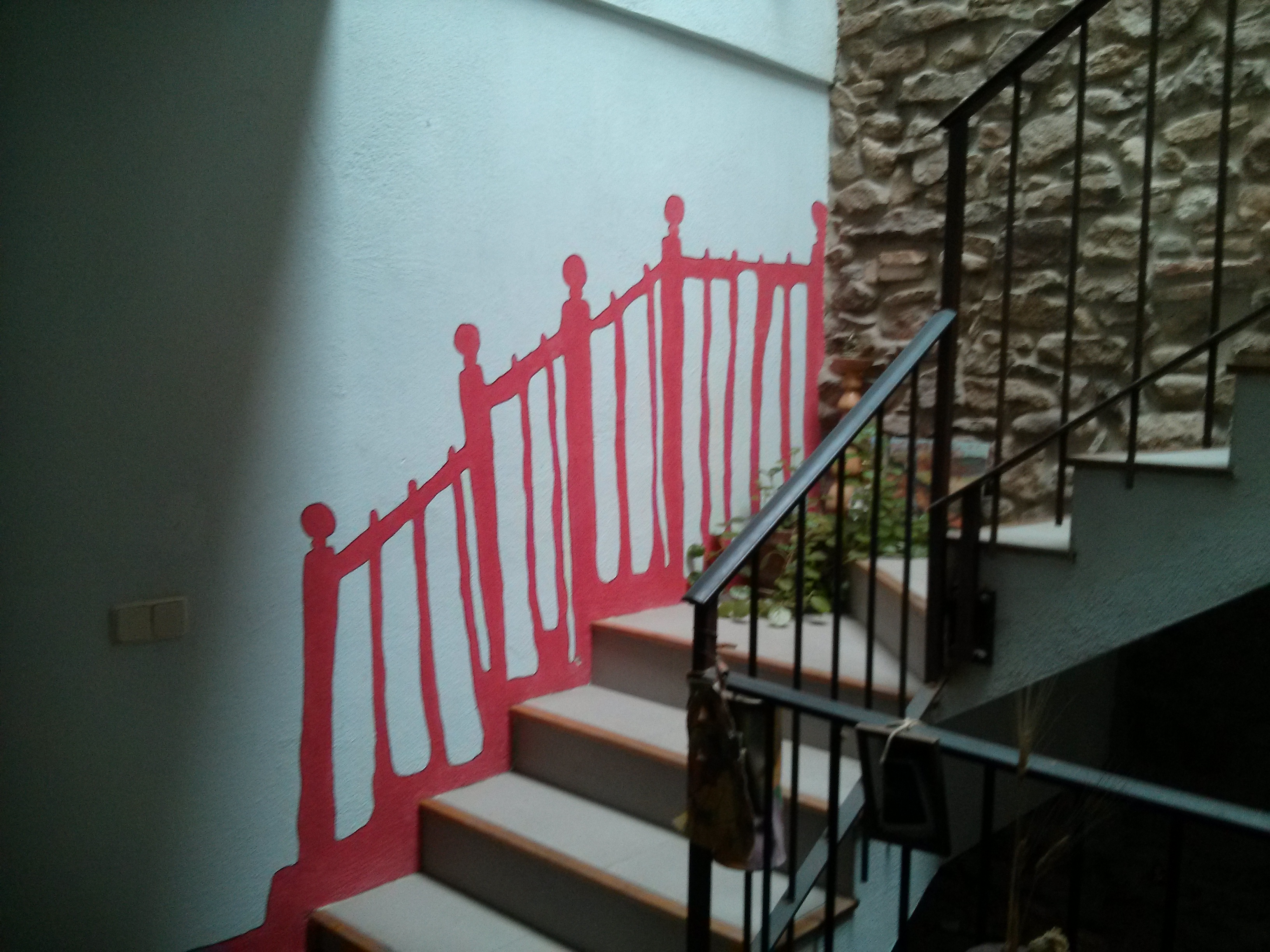 Charlie: Cirauqui is a pretty hill top town where we stayed. We stayed in the albergue but in a private room. They had two private rooms and 28 dormitory beds.
The place is very pretty and artistic with colorful painting, artwork and lots of quirky and interesting little touches all over (see photos above and below). It was fun to stay there.
The owner was chatting with us after the communal pilgrim dinner she provided, which was very good. She had owned the place for 10 years and was getting tired of it. She wanted to sell but the economy in Spain is very bad and selling would be hard.
She also said that the Camino had changed in those 10 years. She said that before almost everyone was there for spiritual reasons, that they wanted to rethink things and change the direction of their lives.
Now, she thought a lot of people were on the Camino just for a good time or a vacation and not to change their lives.
It is hard to know exactly what to make of this. People are always thinking that things are not as good as they used to be and not like the good old days. But I suppose she could be right and things have changed. Maybe it was mostly religious people who knew about it before. Heck, everybody and his brother are doing it now, even Charlie and Wynette! Who'd of thought it?
Actually I had been thinking of the walk as a way to reevaluate my life now that I am almost 65. And I thought maybe even someone 65 could change the direction of their life.
Clearly on a long walk you have a lot of time to think things over and think about changes.
I guess the big question that everyone faces is "What should I do with my life?" both in terms of the next few days and the next few years. Actually that is pretty much the only question if you consider both the short and the long term.
So I guess that is why I am walking the Camino.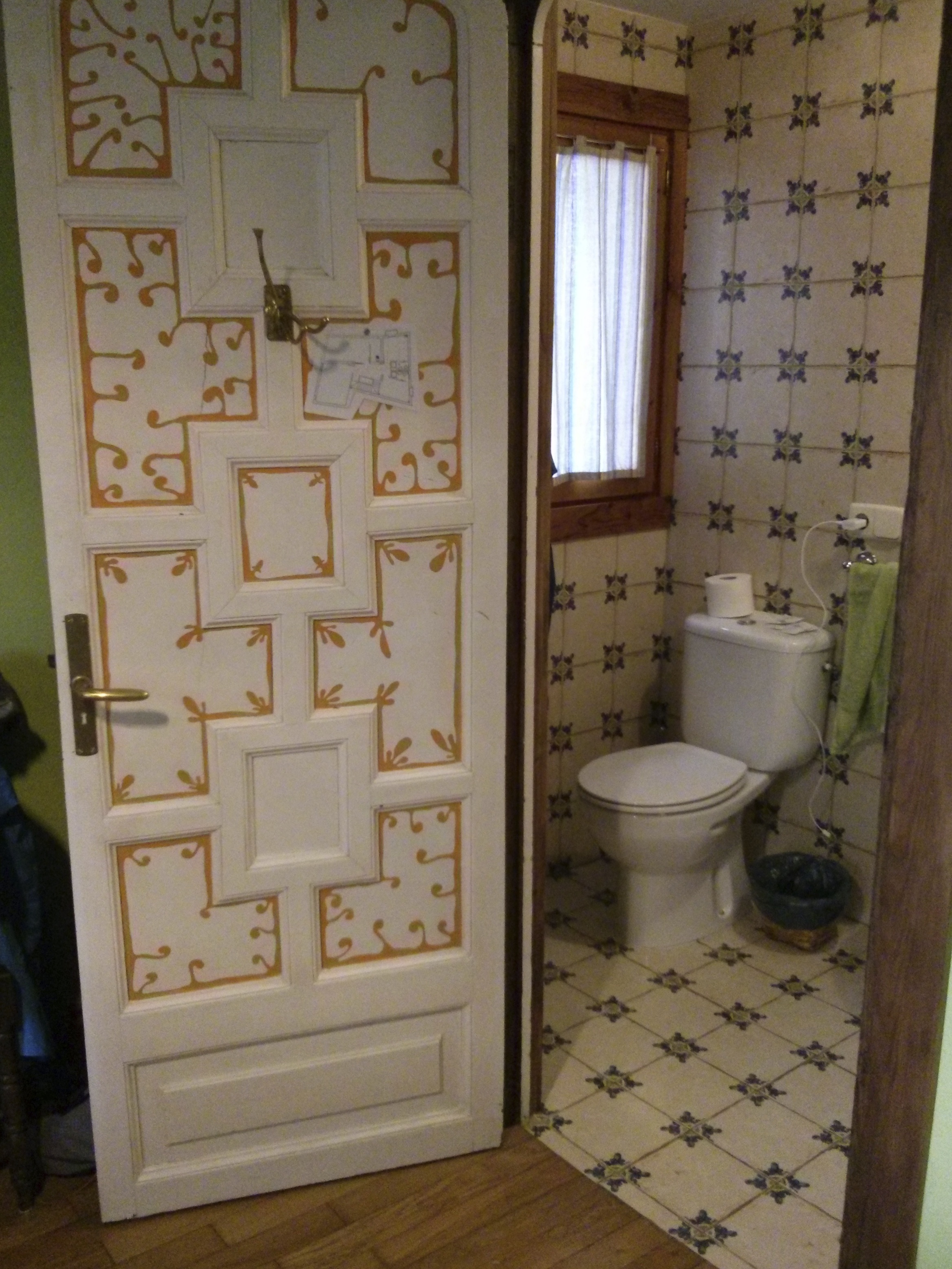 Walking Day 7
2013-04-10 08:02
We stayed in Estella in a nice hotel. Wynette got some new shoes to see if that helps, so a short day today, just 6 miles and then 7 tomorrow, better than trying to do 13 miles in new shoes.
We are staying in Monjardin in a cute little casa rural with three rooms.
Sad Pilgrims
2013-04-10 12:38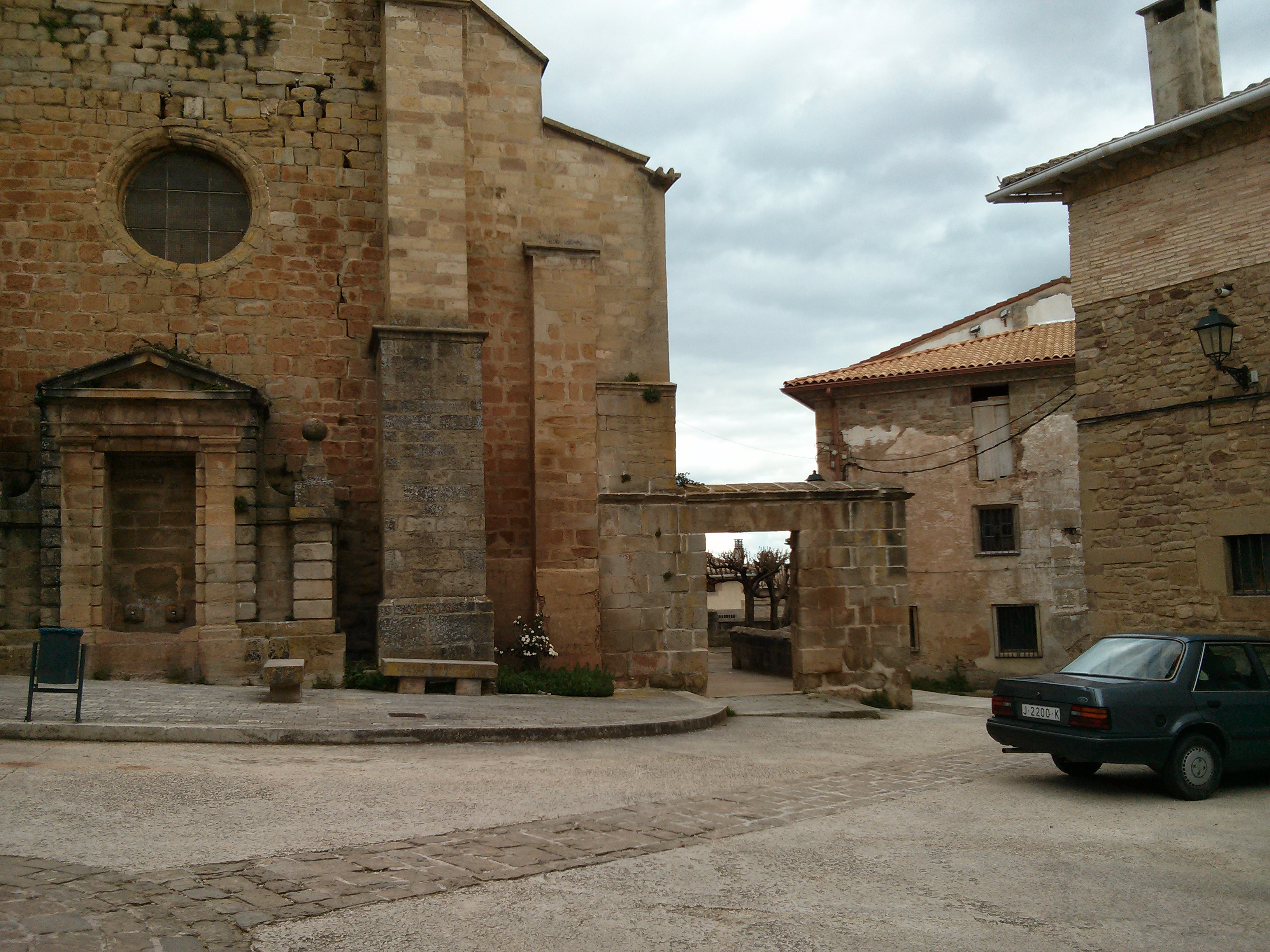 Wynette: Night before last at dinner with others in the albergue in Cirauqui where we stayed and had dinner we sat next to a man from Czech Republic, Prague. At first he was very quiet then as we talked a bit he said he was ill and feeling poorly. (He was handsome, looked like Russell Crowe.) Later the owner of the albergue stopped by our table and told him he was not sick, just sad. He left the table before we did and she came again to chat with us and said she has seen 40000 pilgrims in the 10 years she has had her albergue and she tries to talk to all of them and she has learned to tell the difference between sick and sad. She said many, especially those walking alone, often carry heavy burdens. Tonight at dinner in another town we sat with a young man from Russia. He too was traveling alone and he seemed sad. At one point Charlie asked him what kind of work he did back home in Russia. He hesitated then said he was a teacher then said on the Camino he didn't want to talk about his life back home. He wanted to focus on being a pilgrim.
Note: Above photo was beautiful view from our room in the albergue in Cirauqui
Alto del Perdón, Pilgrim's Monument
2013-04-11 11:03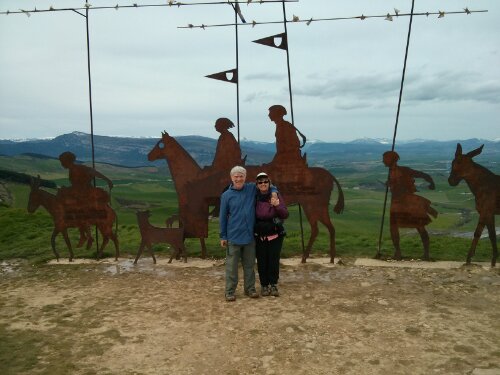 We came to this monument our fourth day of walking. If you've seen the movie The Way it will look familiar.  A fellow pilgrim, Stephan from Germany, asked us if we'd like to have him take our picture. This was on a high Ridge. Lovely monument and gorgeous views all around. We took some broader pictures (the monument is much bigger than what you see here) and some videos. Will post when we can. This WordPress app for android has been very flaky.
The Pain in Spain
2013-04-11 11:10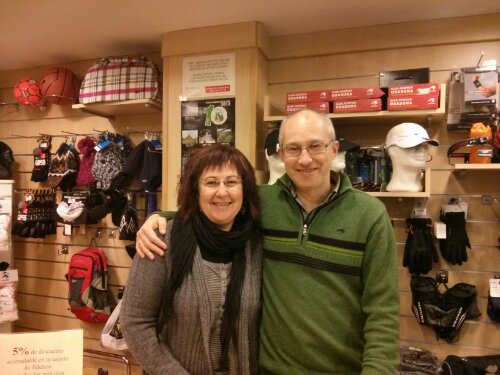 Charlie: We have talked to several people about the economy in Spain. They are all pretty unhappy about how things are going. It has been going down steadily for five years. Angela Merkel in particular is quite unpopular. It is sad to see how many people have been affected by the long downturn. Lots of blame to go around but I think we can all agree that the banks are evil.
Wynette: Above photo is of brother and sister who own shoe store in Estella. I bought shoes from them. Don't they have sweet faces? They gave me such good service. I had fun speaking to them in Spanish and they had fun practicing their English with me. They are struggling to keep their business open and talked about some things Charlie mentioned above. And they said "oh well, we have a saying: after it rains the sun will come out", or something like that. They are trying not to let it get them down.
Graffiti
2013-04-11 11:12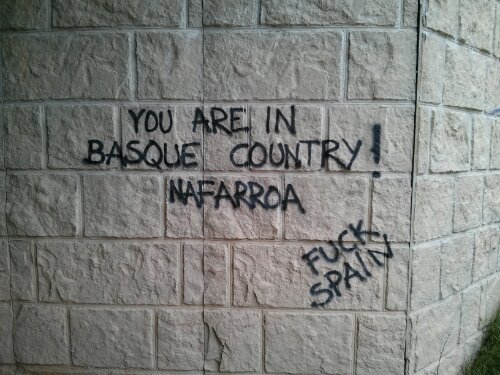 Wynette: We have seen very little graffiti except in the highway underpasses the Camino passes through. The graffiti is mostly political. This is where we see the strong feelings some of the Basque people here have about independence from Spain. These two photos were taken in two far-apart underpasses.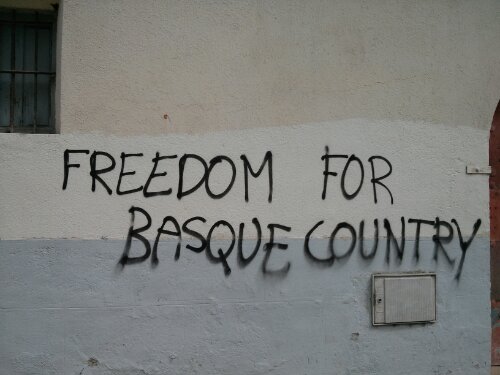 True pilgrims hike the Pyrenees…
2013-04-11 11:31
But they are not happy about it.
Charlie: The Camino Frances, which we are taking, starts in France at St Jean Pied de Port. The first day is very hard going through the Pyrenees. We didn't want to have such a hard day for the first day so we started in Roncesvalles.
We have now talked to several people who started in St Jean and every one said it was just terrible, rain and snow and steep and discouraging. No one liked it.
The first person who said that was Glenn from Vancouver. He was still thinking of quitting because it was so bad. We heard just today that he is still on the Camino though. We talked to a woman from Australia today who came with a friend and started in St Jean. They had been training for a year. After that terrible first day her friend decided to quit and fly home and couldn't be talked out of it. Very sad.
The Australian woman was part of a tour that booked all the rooms and transferred the luggage so she only had to carry a small day pack. We hear that that is common when hiking in England but she is the first one we have met on the Camino.
There are actually two routes from St Jean to Roncesvalles, the high route and the low route. For those of you who saw "The Way" they showed the high route. But that was in the fall and in good weather. The high route is closed now due to a lot of snow and pilgrims are advised to take the low route. So all the bad experiences we heard about were on the low route which, I should add, is along a busy road and is not nearly as scenic as the high route.
Some pilgrims ignore the warnings and try the high route anyway. Three times we heard the story of the Brazilian pilgrim who died three weeks ago on the high route and of three other pilgrims who had to be rescued and treated for frostbite.
And, of course, Emilio Estevez fictionally died on the high route also.
On the other hand, a few days ago we talked to a young couple from St Petersburg Russia. They had taken the high route and had no problems. Yes, the snow was up to their waist, but no worries. They said you just needed the right equipment and needed to know your own limitations. I guess people from St Petersburg know a lot about snow.
Calling All Farmers
2013-04-11 11:36
Camino Art
2013-04-11 11:46
Landslide!
2013-04-11 11:57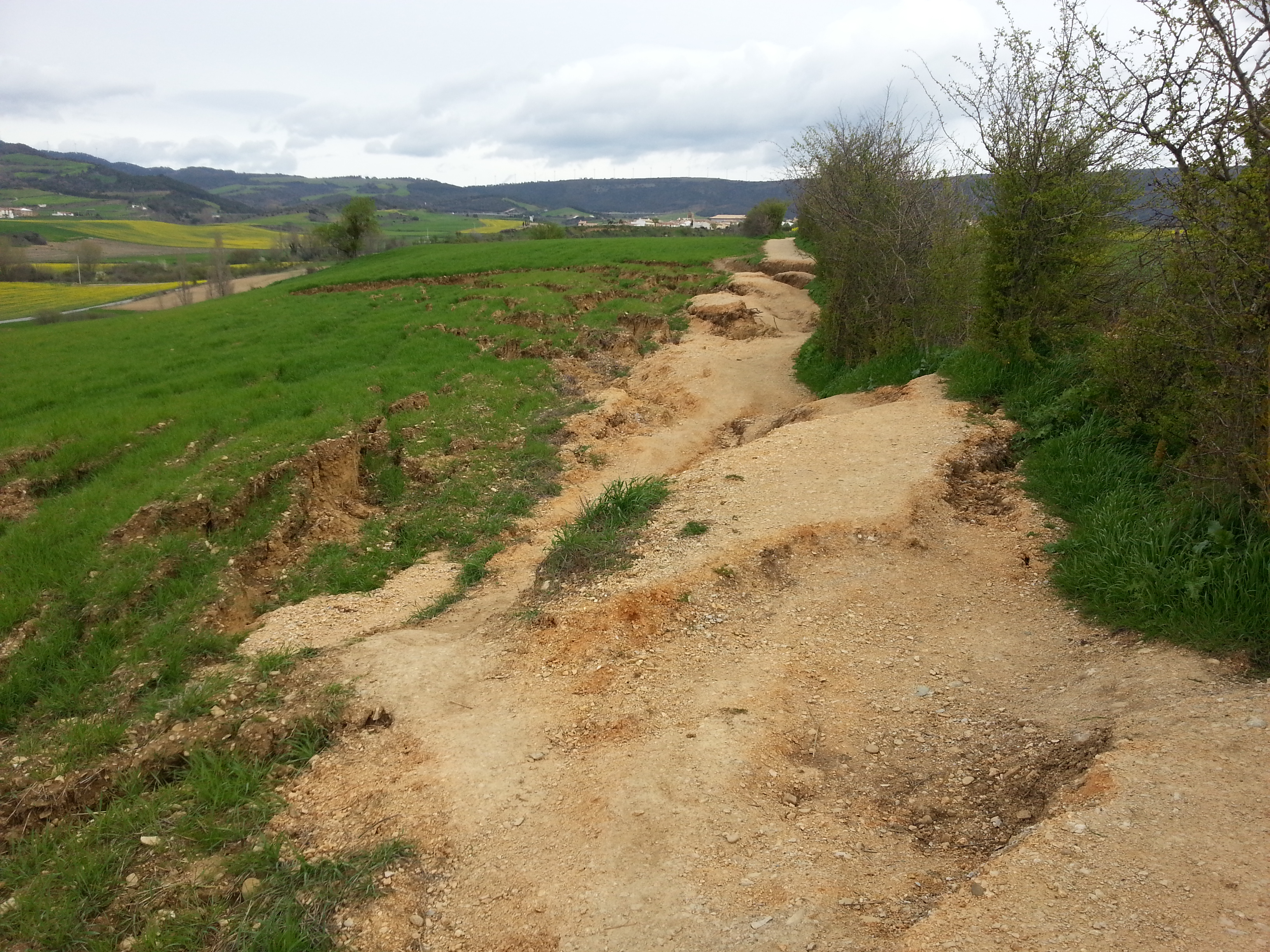 No not this one, which we passed on the trail. Here drainage from a field washed out a short section of the trail.
But later, just outside of Puente la Reina, there was a sign saying we had to take a detour because the Camino was unsafe to pass because of a landslide. Northern Spain has had a very wet spring so it was not surprising.
Being rule followers we took the detour along a road that was not that interesting although we met a nice man and his dog.
The next day we talked to someone who had ignored the detour sign and he said it was a big landslide and was a bit scary with a dropoff so we were just as glad we took the detour.
Charlie Cooks Breakfast
2013-04-11 11:58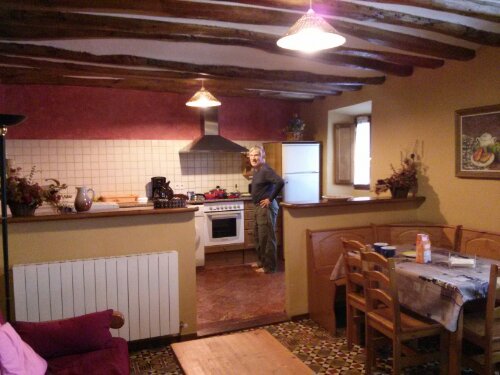 Wynette: Last night we stayed in Casa Rural Montedeio in the tiny village of Villamayor de Monjardin. (A "casa rural" is kind of a bed and breakfast.) For 40 euros we had a large, comfortable, pretty room and access to a fully-equipped kitchen. They provided basic breakfast stuff (make your own), which in Spain is just coffee and juice and some kind of bready thing (in this case toast with butter and jam). We decided to have a bigger breakfast so yesterday evening we went to tiny tienda (the only store of any kind in town) and bought 6 eggs, tomato, onion, cheese, two fresh from a bakery rolls. The eggs were large brown with deep orange yolks. This morning Charlie cooked an amazing scrambled egg concoction. We had some left over and had it for a snack when we took a rest on the trail. It was even better cold. These are pictures of the lovely casa rural.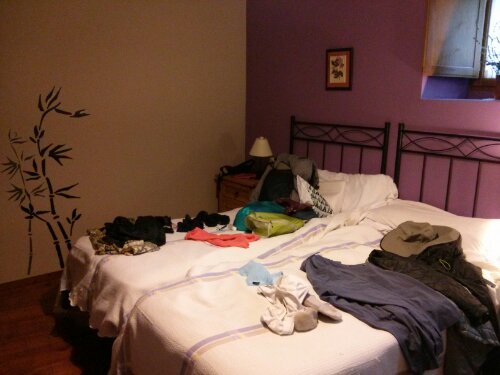 Mobile Blogging… More Problems
2013-04-11 13:25
We've found that with these not-so-fast internets we are on that it's easier to post videos through dropbox albums. But we just discovered the videos on dropbox albums won't play on our mobile phones. We hope they are working ok on your desktop or laptop computers. Please let us know. Thanks.
Irache Wine Fountain
2013-04-11 14:02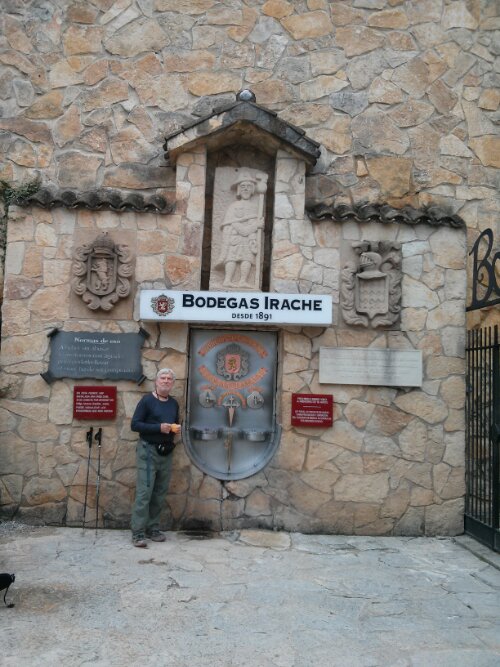 Wynette: Yesterday morning while walking through Irache, deep in wine country, we came to fountain provided for peregrinos. Wine comes out the spout freely. Fun. There is a video cam there. If you'd been watching you'd have seen us. But we didn't tell anybody because it was in the middle of the night in the States. Cam is at bottom of this page:
Irache Wine Fountain
Slow and Steady
2013-04-12 08:14
Wynette is still having foot problems so we are showing down a bit. We went five miles today and plan for six miles the next two days. It gets worse as we go farther so this means she can walk mostly without pain. We'll keep you posted.
Walking and Eating Day 9
2013-04-12 08:42
Wynette: We only walked a little over 5 miles today. It was either that or 11 miles and it seems lately my poor right foot can only go 6 or 7 miles without serious protest. I can push it another 2 or 3 miles but those are quite painful. We thought we'd not push too hard for a few days and maybe this thing will get better. So we are taking things one day at a time and not worrying about the future i.e. whether or not we make it to Santiago. We are staying in a charming albergue/hotel, La Pata de Oca, in tiny town of Torres del Rio. Just had a good lunch (la comida) at Casa Lili Restaurant. Best cooked salmon I ever had and fresh mixed salad (ensalada mixta) and rice pudding and water: the menú del día, all for 10 euros. That would have included wine if we had wanted it. It also included French fries (patatas fritas) which I tried very hard to ignore. Every menú del día meal seems to come with patatas fritas. It's great when we can stop in time to have big meal early afternoon and then have a tiny supper in our room (fruit and cheese and chocolate or something like that).
Day to Day
2013-04-12 08:50
Wynette: Even though it is disappointing not to be covering the kilometers faster, we are having a great time. Each day when we set out, I feel happy to be walking again. (I was going to say "my heart soars" but thought that might sound too exuberant, but really it is true.) It's fun to "take a walk" with a clear destination (the place we plan to stay the night), never sure what is around the corner, watching the countryside change, going through the little villages, seeing the other pilgrims, sometimes chatting with them, then watching them leave us far behind. Stopping in a bar and drinking the delicious café con leche 2 or 3 times a day. When one is particularly good I try to tell the person who made it how much we liked it. It is fun to practice speaking Spanish and they always seem so pleased that we liked the coffee. I thought it might be stressful and tiring to stay in a different place every night, constant packing and unpacking, but it hasn't been so far. We try not to stress too much about each choice of where to stay for the night and being relaxed about it helps. We are starting to see the rhythm of the days.
Note: We spotted the bar in the photo above a little off the camino when we were really wanting a coffee. It was worth the short detour. The rather strange bartender made delicious café con leches for us, then he went back to smoking and reading his newspaper at the table out front. (If you click on the picture, as with most of the pictures in the blog, you can see a larger picture and more detail.) After we had our coffee he showed us a detour for getting back to the camino faster.
Coffee in Torres del Rio
2013-04-13 06:20
Rolling Hills
2013-04-14 02:02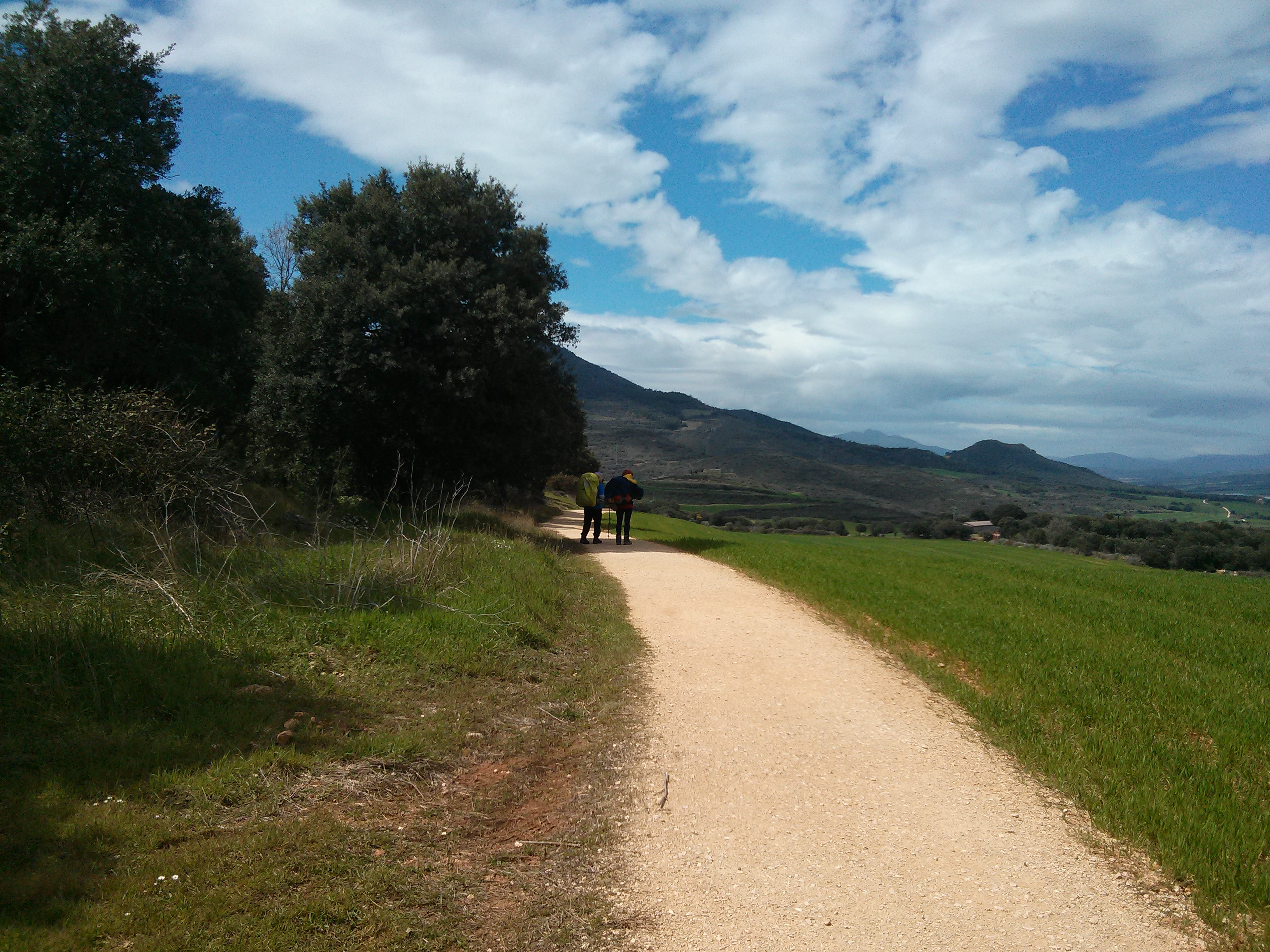 Charlie: What a nice sounding phrase, but with some issues when you are walking. Our guidebook has these wonderful charts of the elevation changes for each days walk but they don't show all the small ups and downs along the way and there are more of them than I would have guessed. Yesterday we saw Viana in the distance several miles away, thanks to the rolling hills there are lots of high points, but we went up and down 100-200 feet four or five times along the way.
But the beauty of the country makes it worth it and Google Tracks keeps track of all the elevation changes so you can look back at what you did.
Se Vende
2013-04-14 02:05
Charlie: "For Sale" – we see this sign and variations of it everywhere. I can see one out the window as I write in Viana and there were many in the tiny Torres del Rio. The real estate crash has a while to go here. We'll see how things are in Logroño.
Brierly
2013-04-14 07:58
Charlie: One book about the Camino said the easiest way to know who the English speaking pilgrims are is to look for the orange-yellow cover of the ubiquitous Camino guide by John Brierly. It is by far the most popular Camino guide and deservedly so. It is chock full of information he has a good design sense. The maps are beautifully done. The information is complete and accurate.
He divides the Camino Frances into 33 daily stages. We just finished six stages in 10 walking days.
More on Media
2013-04-14 08:12
Charlie: Our last hotel had malfunctioning wifi and was very slow. It was the weekend so they couldn't get it fixed. But Dropbox came through again and managed to upload our media.
Kudos to the Dropbox engineers. The app handles flakey connections beautifully. I have done that kind of programming on an iPhone, not nearly as well as they have done, and I know how hard it is to get right and what extensive testing is required.
Since we switched to Dropbox I decided to try the higher resolution video mode on my phone, from 640 by 480 to 1920 by 1024. It takes a lot longer to upload but it will be nice to have it. So the videos will also take a lot longer to stream when you view them.
I am also going to upload all the previous videos to Dropbox since it seems to handle them well.
Guy on a Bench…
2013-04-14 08:36
Cool Font on a Store Sign
2013-04-14 08:41
1 Km Less to Santiago
2013-04-14 08:44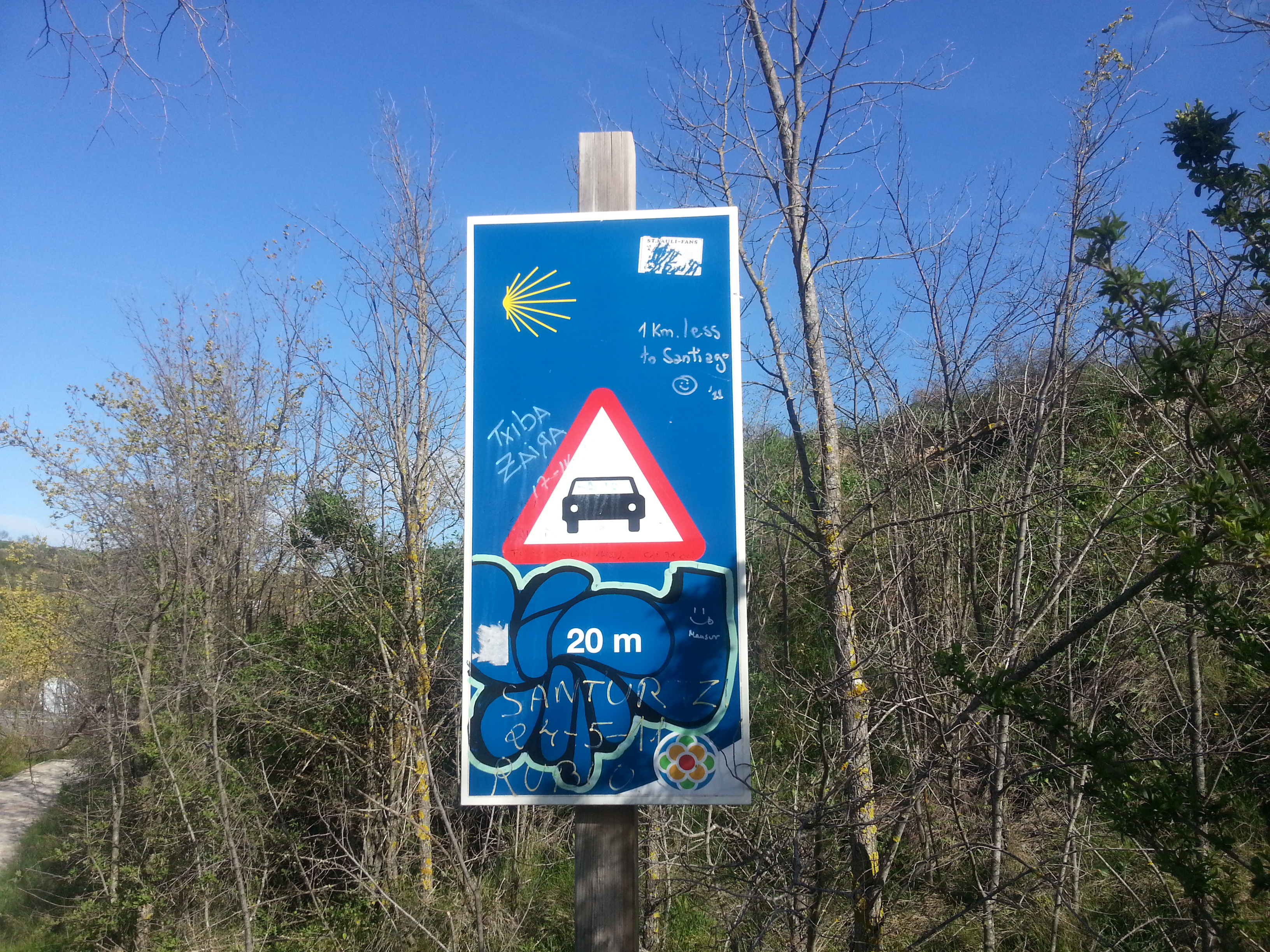 I'm Dying to Walk the Camino
2013-04-14 08:50
Salad with Warm Cheeses
2013-04-14 12:29
623 Kilometers to Santiago
2013-04-14 12:30
Dinner
2013-04-14 12:44
Portales
2013-04-14 12:51
Wynette: If you live in New Mexico you have probably heard of Portales, a town on the east side of the state. It's where my mom grew up. My dad grew up very near there, in Dora. My brother Greg was born there. My mom and brother Russ went to college there. Tonight and tomorrow Charlie and I are in nice city of Logroño. We are staying in Hotel Portales, which is on Portales Street.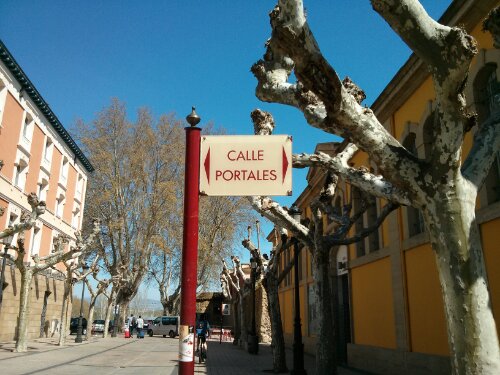 It is the main street through the old town here.  I believe it means portals.
Camino Signs in Logroño
2013-04-14 13:14
Hiatus in Logroño
2013-04-15 02:16
Charlie: We want to give Wynette's foot some time to recover so we are taking a break in Logroño . We will stay here today and start walking again tomorrow April 16.
Paseo
2013-04-15 02:33
Charlie: In Spain they have an evening stroll called the paseo. Italy has something similar. Everyone is out on the streets for a couple of hours around sunset.
Logroño had a wonderful one last night. It lasted for three hours and the streets were full of thousands of people. All the outdoor tables were full of people drinking, eating and smoking. It includes all ages, lots of baby carriages, small children, teenagers, young adults, families, and older people. Everyone mixes.
Later on, around 9, we walked down the streets known for pinxos (tapas) bars. The streets were packed with people. Someone waved to us as we walked by and it turned out to be the desk clerk at the hotel we stayed at in Viana, the town we were in before this. Viana is only 10 km outside of Logroño so she might live here and commute up there. It is only a 15 minute bus ride.
Viana is a cute little town but not much night life for a young person.
There do not seem to be many tourists in Logroño. We like towns like this where we can see how the people live.
More about Video Filtering
2013-04-15 02:42
Charlie: The videos show up as blank when I create albums. It is hard to match them with the videos on my phone and some are on Wynette's phone anyway. So I just include all the videos in the Dropbox albums. Sorry about any redundant ones or videos of my thumb. It is just too slow to filter them out. I'll do it when we get home. For now just skip the boring ones after a few seconds. But then that's what you have been doing already right?
Hotels
2013-04-15 02:57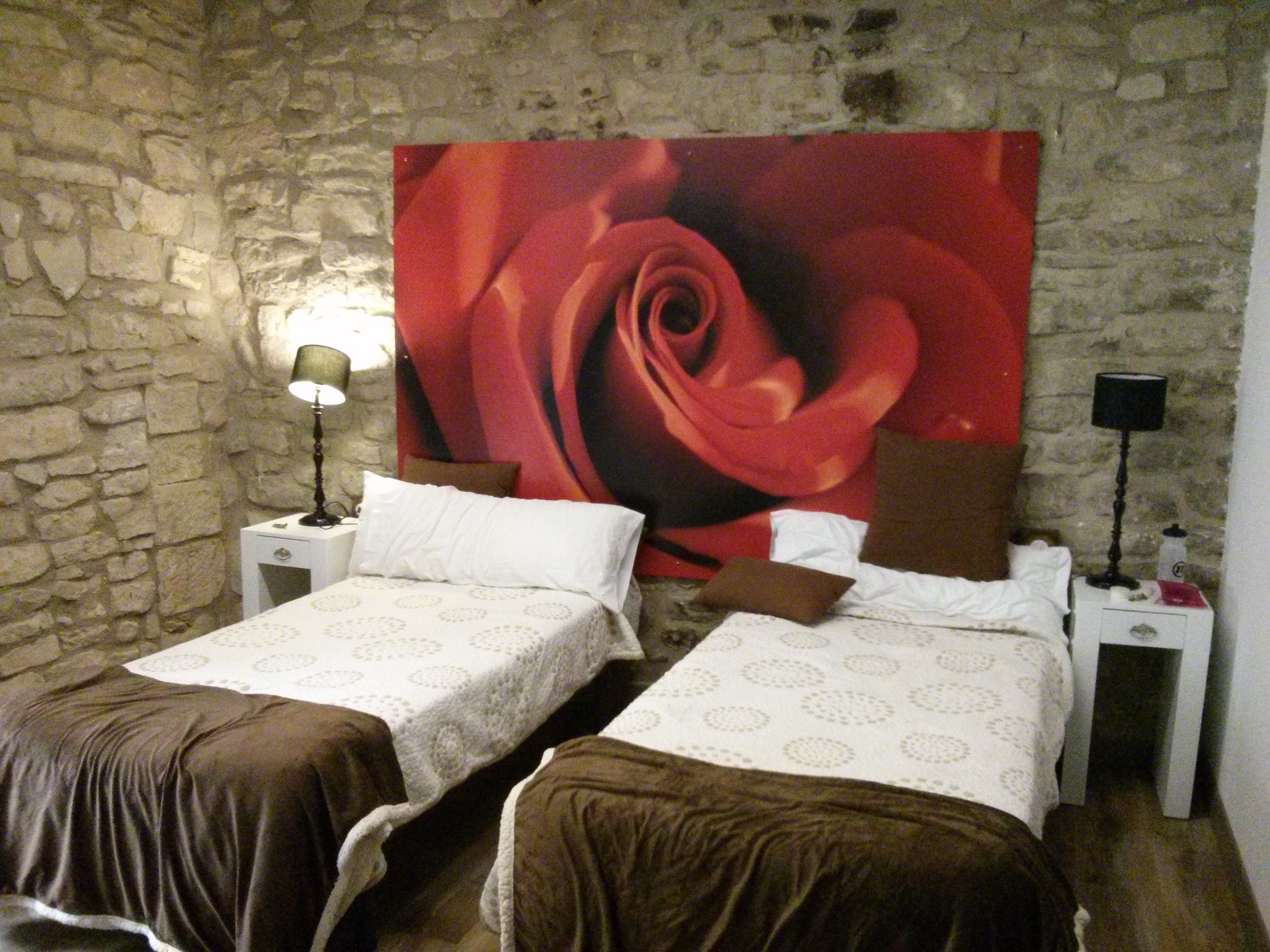 Charlie: We decided to stay in hotels on our Camino rather than the albergues. We get less interaction with other pilgrims and that is a downside but we like to spread out and have some privacy.
Many albergues have a few private rooms and we have stayed in those twice so far. They are pretty much like inexpensive hotel rooms. You might think that since there are only a few of these that they would fill up quickly but that does not seem to be the case. Of course nothing is too full this time of year.
It seems almost all pilgrims stay in the albergues, even the older ones. That is good for us since the hotels are never full. When I was young I would have stayed in the albergues too. It is fun to travel cheaply. So it works out, we don't compete with them and they don't compete with us.
We do not reserve ahead, usually we call on the day we want to stay. The only time this was a problem was in Pamplona on a weekend.
The hotels have all been nice. Sometimes we go cheap, 40 euro, and sometimes nicer, 80 euro, and sometimes in between. Generally you get what you pay for.
Wynette: Room in photo at top is in a private room in La Pata de la Oca albergue in Torres del Rio. Was a great place to stay. We have some stories to tell about that place. Photo below is view outside our window there.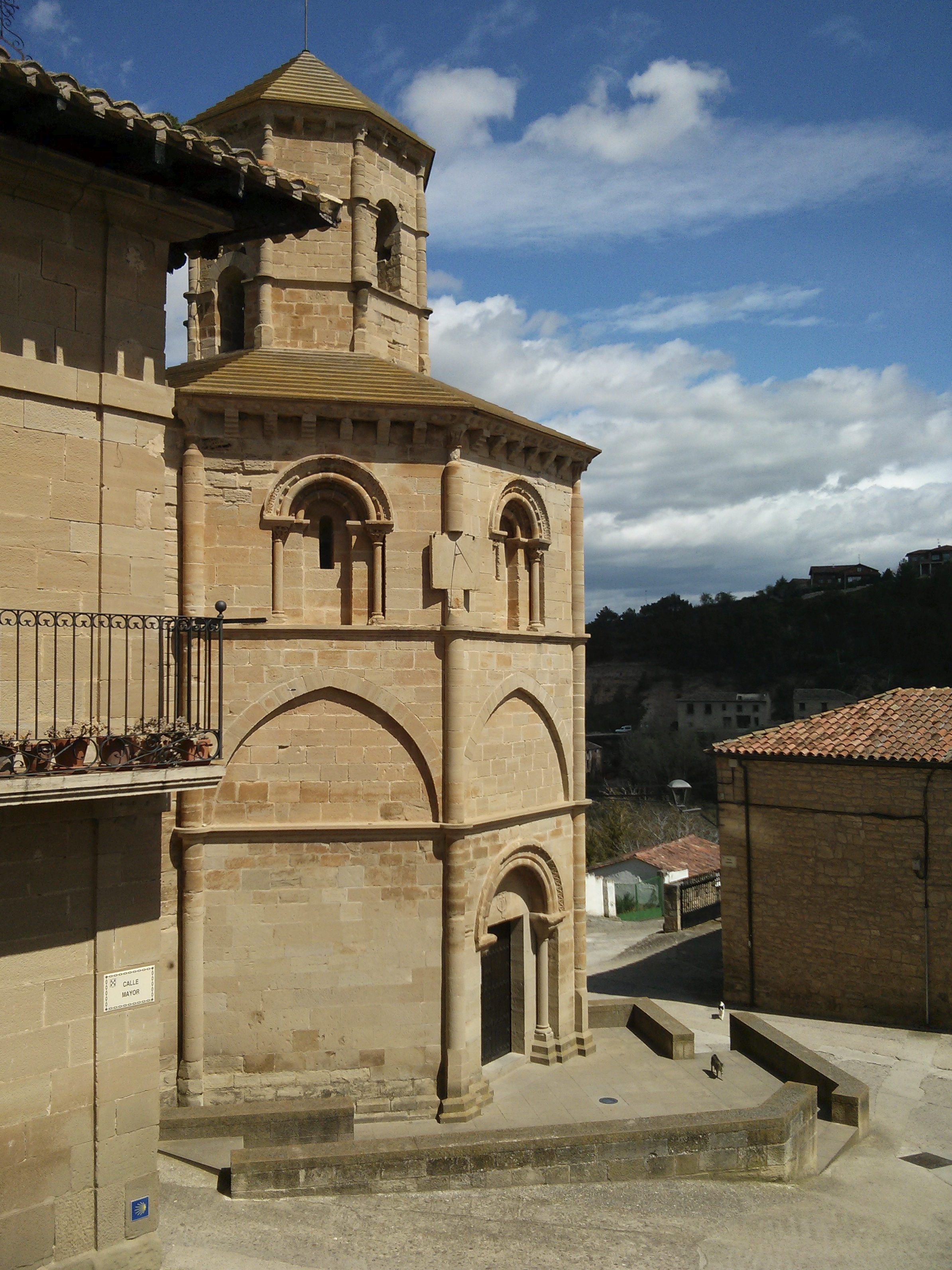 Back on Track
2013-04-16 08:35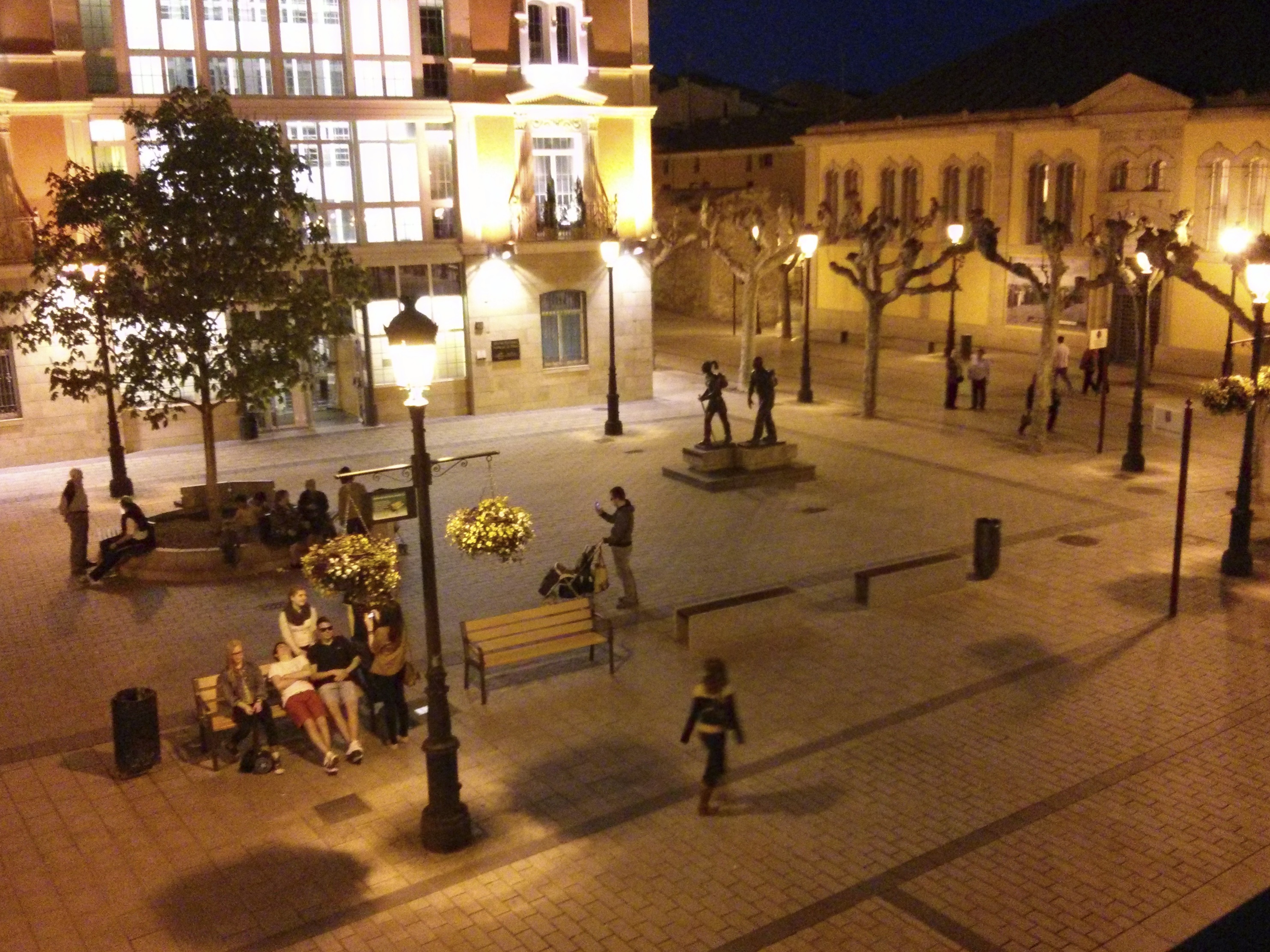 Charlie: We stayed in Logroño for two days and had a fine time there, a very nice city. We sent home five pounds of things we didn't need including both of our rain pants. We rearranged the packs so Wynette is carrying less weight, plus she had two days of rest.
We were back on the Camino today. We went over eight miles which is more than we have done in a while. And a lot of that was on pavement going out of the city. (Turns out pavement/concrete is very hard on the feet.) Wynette felt better and we are going to try ten miles tomorrow. This will be on the red clay of La Rioja so it should be easier.
Wynette: Above photo is view from our hotel room in Logroño. It was rather late in the evening, but people were still out enjoying the evening.
The Long Mile
2013-04-16 08:43
Charlie: It seems my GPS runs a little fast. When we do the same track with my phone and Wynette's, mine is 5 or 10 percent high. We tested it on the car a while ago and got the same thing.
I think about it like having one of those slimming mirrors. We look a little better than we really are.
But my tracks run maybe ten percent high, so you can adjust for that as you look at the daily tracks.
Correos and the Return Address
2013-04-16 08:59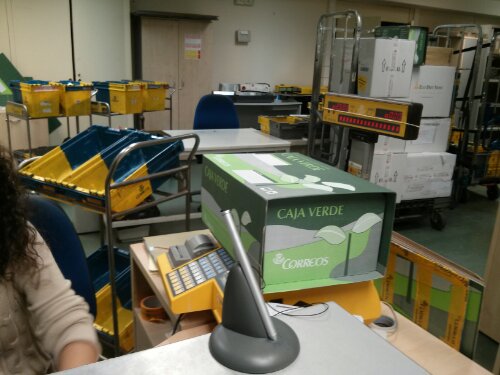 Charlie: We sent home a box of things we weren't using yesterday. This included our rain pants, never used, the shoes that Wynette bought that didn't work out, and lots of cold weather gear since the weather has turned warmer. About 5 pounds. We have talked to a few other pilgrims who have sent things home.
The post office provides boxes for you. This helps them too I think because the boxes are a standard size, four sizes actually, and have a bar code on them for tracking.
It was about $50 for 2.5 km in a 'large' box, size three of four.
You fill out a form and then the clerk types them into the computer. That part could be a little more efficient, especially if you have a new clerk like we did.
The big problem was the return address. We talked to a women from England who said to put the to and from addresses the same. That caused no end of problems. We finally changed it to the address of our hotel and got it to work. So it took 45 minutes longer than it should have.
But we are thrilled to have five fewer pounds to carry. We took it all from Wynette and she is doing better with less extra weight on her foot.
A Walk in the Park
2013-04-16 09:58
Taxi! Taxi!
2013-04-18 11:06
582 km to Santiago
2013-04-18 11:11
Pack of Pilgrims
2013-04-18 11:14
Coffee in Azofra
2013-04-18 11:33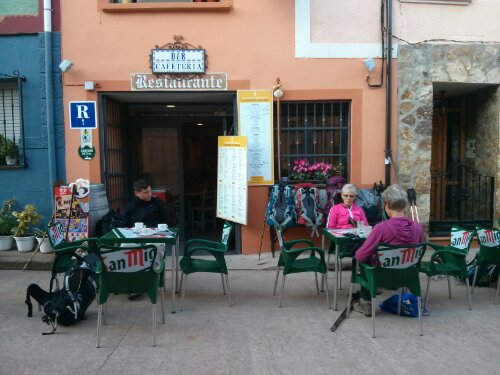 Wynette: In books we read by people who have walked the Camino, occasionally they would mention that they started out in the morning before the coffee places opened so they had to walk to the next town before having any coffee. When I read that I said "no way I'll ever do that." But, yep, that's what happened to us the last two mornings. The weather turned quite warm so we have been starting out around 7, hoping to miss the worst of the heat by doing most of the walking in the morning. But the towns we stayed in were small and the bars weren't open by then. (You've probably figured out that bars are the main places to get the wonderful café con leche. The bars are more like cafes. They do sell liquor but also many other things and people of all ages,  including kids, go into them.) So yesterday we had to walk 4 miles before we had any coffee and today we walked about 3.5 miles before coffee. It might be in my mind, but I have felt much less energy when I've had to start out without. Above is bar in tiny town of Azofra where we had delicious coffee this morning. There were lots of early-rising pilgrims there.  Check out all the packs on the bench.
The two women in pink are women we met on the camino day before yesterday.  We've passed each other a few times. They are Canadians who immigrated there from Denmark in the mid 60s. They are a little older than us. They said they "looked at their birth certificates" and decided if they didn't walk the Camino now they never would.
PS. The weather actually turned quite cold again today.
Church in Navarrete
2013-04-18 11:50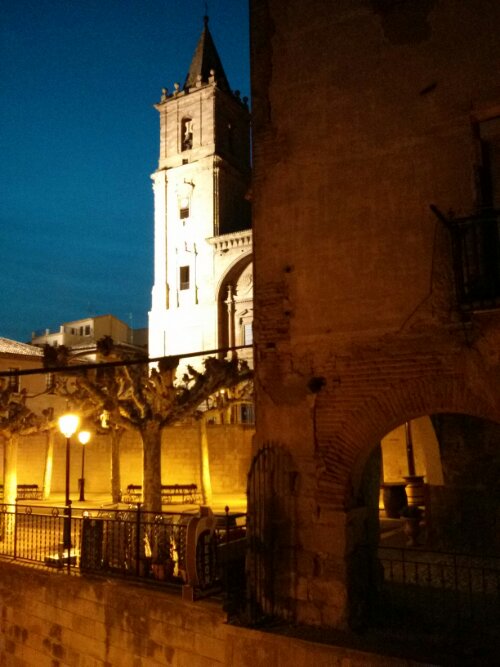 Wynette: Night before last we stayed in Navarrete. This was the pretty view from our hostal window. We went inside that church earlier in the day. It was spectacular. I'm amazed what large, beautiful churches these tiny towns have. Of course, the churches are very old. Literally 1000 years old.  From a distance, as we're walking into a town, their towers really stand out.
Flowers, Birds, and Frogs
2013-04-18 12:12
Camino Signage
2013-04-18 13:12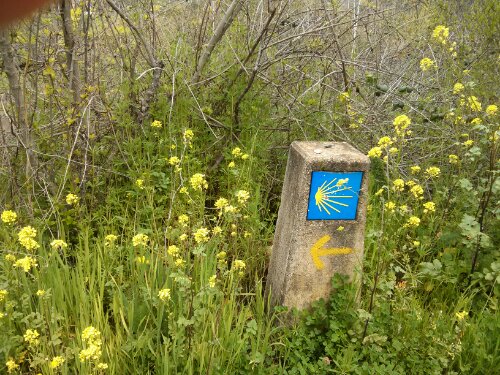 Charlie: we have been impressed at the high quality of the signs on the Camino. It seems like whenever you are wondering whether you are still on the Camino a sign shows up to tell you that you are, unless, of course, if you are not actually on the Camino and have lost your way, which had happened to us only once and only for 30 meters or so. There was no sign where we looked.
This has given rise to the popular "Camino quantum sign theory." This theory claims that there is actually only one Camino sign that is everywhere along the Camino at the same time in a state of quantum superposition and when a pilgrim begins to wonder whether they are still on the Camino, an "act of observational wondering," the wave function collapses and the sign appears exactly where the pilgrim is looking for it. We have seen this happen dozens of times.
Not all pilgrims accept this theory however. Some support a "Many Caminos" theory which claims that each pilgrim has his own Camino where the signs are exactly where he looks for them. You can see examples of this in guide books that talk about "your Camino" or "walking your own Camino".
The sign quality had gone from stellar in Navarra to merely very good in La Rioja but they have added km posts every km which are nice. You can see them in our pictures and videos. Navarra used these pretty blue and yellow tiles with the Camino shell on them.
The most common sign is the painted yellow arrow which appears on sign poles, on the pavement, on roadside guard rails, etc. They are very reassuring.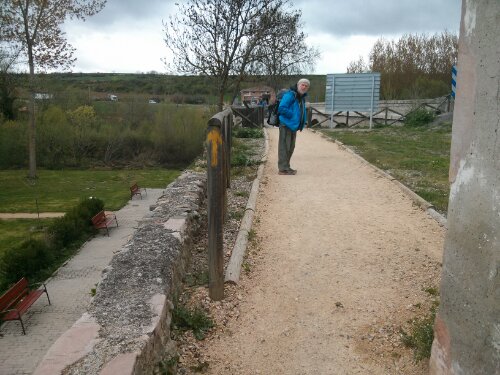 In fact, you could walk the Camino with no map or guide book at all and just follow the signs. I like to read the guides though. I am constantly switching between the Brierly guide, Google maps, and the My Track app to see how far we have gone. When we are close to a town I get the walking directions from Google maps, mostly for the distance to go. You can update it with two taps and count down the km.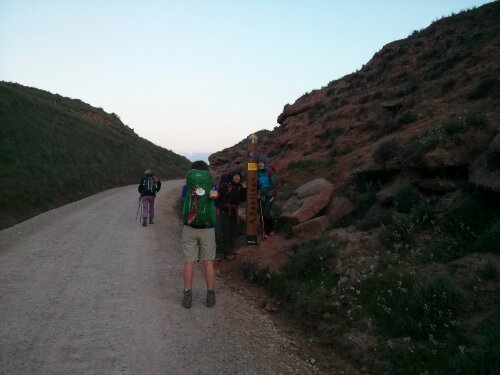 On the Bus
2013-04-18 14:39
Charlie: Brierly, our guru for all things Camino, has not much good to say about stage 10, from Santo Domingo de la Calzada to Belgrade, mostly a path along a busy road, so we are going to take the bus tomorrow morning to Belorado and start walking from there. Probably a short day, about 8 miles. Then a 10 mile day and then another bus into Burgos. It is not much fun walking through the suburbs of a big city. Then a rest day in Burgos to look for shoes.
Later: Here is a photo Wynette snapped, from the bus, of pilgrims who didn't take the bus.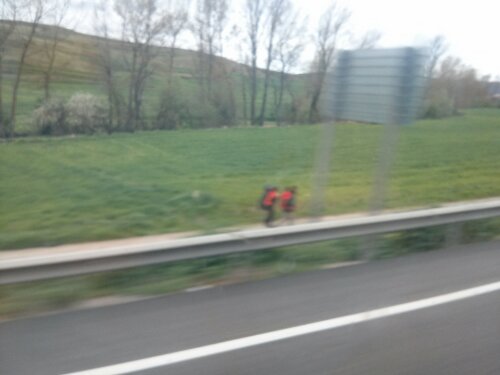 Off the Bus in Burgos
2013-04-19 13:54
Charlie: We took the bus 14 miles from Santo Domingo de la Calzada to Belorado and started walking from there. The path we missed was mostly along the highway although still pretty. We only got a couple of miles before Wynette's feet were hurting so we picked up the bus to Burgos. Wynette is going to look for new shoes and we are going to stay a couple of days here. It is a beautiful city. We got a nice hotel right by the cathedral with a view of the cathedral. The Burgos Cathedral is very impressive.
Busy, Busy, Busy!
2013-04-19 14:08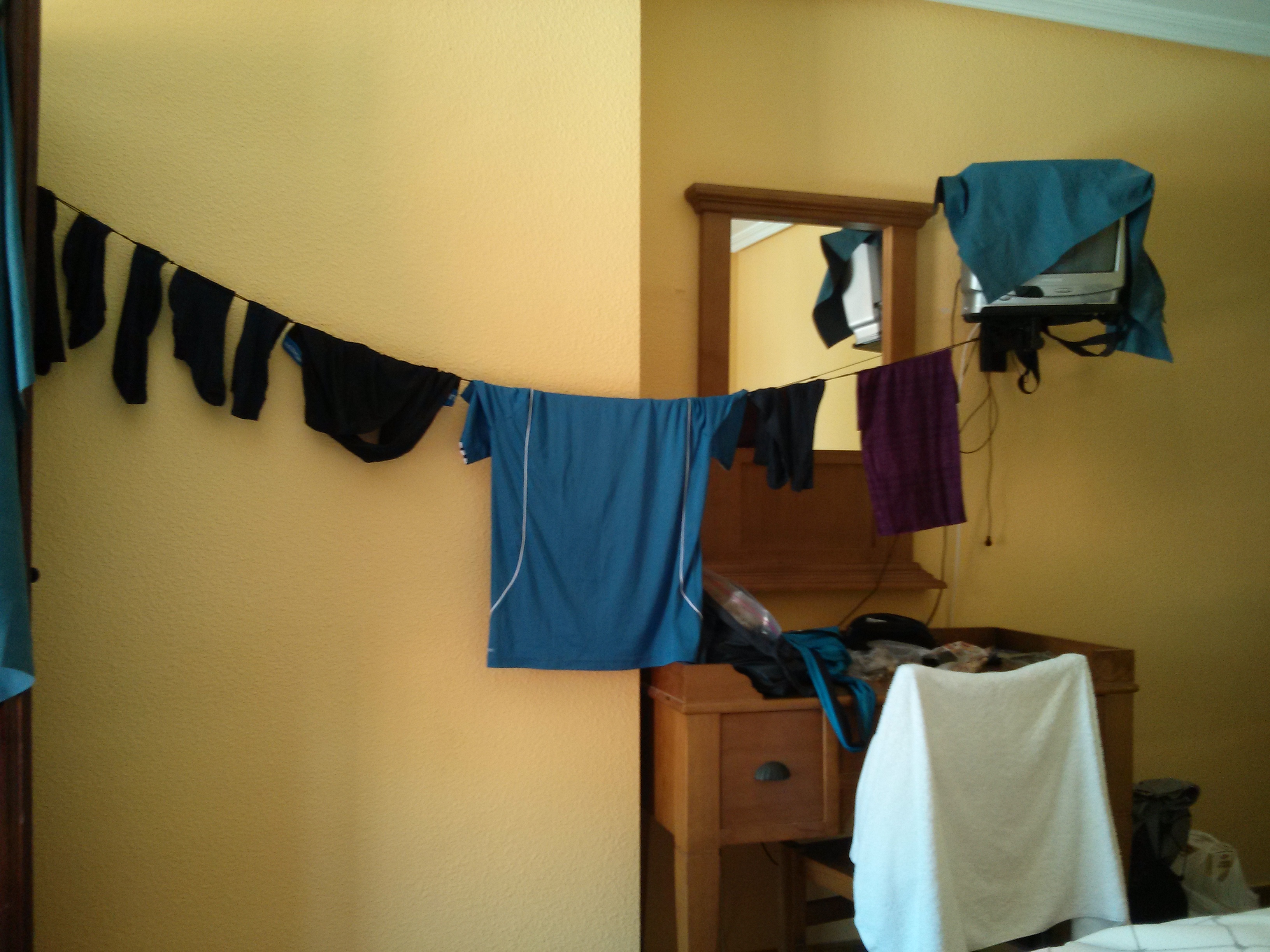 Charlie: We have been surprised at how busy we have been on this trip. On a typical trip if we spend five or six hours traveling we call that a travel day but we do that every walking day on this trip. When we get into a town we need to find a place to stay and settle in. Then we have to wash out our clothes since we only have two or three of everything. Then there is getting lunch. We have been trying to eat our big meal at lunch. In Spain that means around 3pm which is actually good since we are not ready until then. Then some resting. Around 5 or so we go out and look around and go to a supermarcato to get something for dinner which we usually have in the room. More resting, blogging, dinner and it is time for bed.
We imagined we would have a lot more time but there is always something to do. There is time on the trail, although we talk to each other a lot. There are so many interesting things to notice and discuss.
Each person walks his own Camino. We'll see if ours turn more contemplative.
Cirueña, the Town of "Se Vende"
2013-04-19 14:29
Charlie: We walked through Cirueña yesterday and it was about the most depressing place we have passed. Kind of a poster child for the Spanish real estate bubble. It is/was a little town of 200 people but as we approached we saw this large cluster of new buildings. This was just the beginning. As we got closer we saw more and more rows of condos. All second homes we think. There must have been hundreds and hundreds of them. They were all shut up tight with those roll down shutters they use in Europe. They were just starting to show the years of neglect. There was a nice looking golf course which we suppose was the draw to get people to buy there.
It was like a ghost town, rows and rows of buildings and no one around anywhere. Many of them had "Se vende" (for sale) signs on them but we figure there is little hope of selling any of them. They are not nice enough for the rich people who made all the money in the real estate bubble and the middle class people who might buy them have been devastated by the five years of recession and austerity. It is all very sad. I would not be surprised if they are bulldozed down in a few years.
We took some videos of it, see the ones on April 17.
La Fàbula
2013-04-19 15:27
Charlie: Burgos is the gastronomic capital of Spain for 2013. I'm not sure exactly what that means but I read it before coming here and it is written on a huge banner on the center of town.
We went to lunch today at La Fàbula restaurant. It turns out that after 14 years it is closing in two months. The waiter said they were trying all sorts of things before they close. We each had a fixed price menu one for €25 and one for €35, a lot for lunch but not that high considering what this place was like. The food was excellent. Each menu was six courses, each pretty small, being from very good to excellent, so we got to try 12 things. Wynette said it was kind of like tapas.
We took photos of each dish but we won't try your patience by inserting them all here but I have to include one.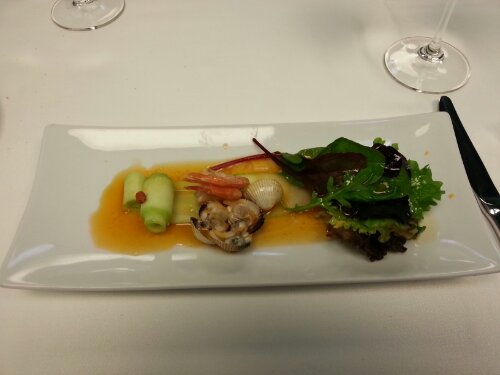 Starting the Meseta
2013-04-21 00:47
Charlie: Tomorrow April 22 we are starting out on what Brierly calls "the sublime Meseta" a plains region in North Central Spain. Opinions differ about it. Some people think it is boring and some people like it a lot. I guess it is sort of like hiking through Kansas. Wynette had new shoes and we are optimistic.
Descanso (Rest) for Pilgrims
2013-04-21 09:35
One Bucket at a Time
2013-04-21 09:54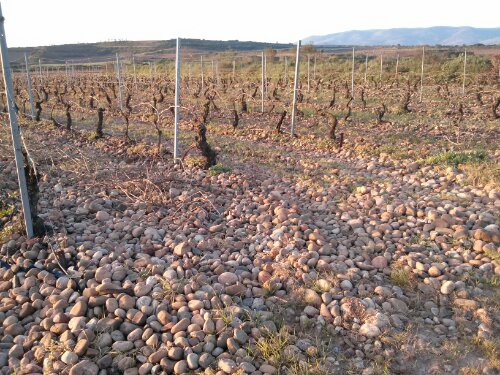 Wynette: In one stretch of the Camino we saw some vineyards with very rocky soil. This one was the worst. It reminded me of something my dad had told me about. He bought some farm land outside Hobbs when he and Mom moved there after he retired. A patch of it was pretty rocky. Dad told me that nearly every day he'd go out there and pick up a bucket of rocks. I need to ask him if he ever got all those rocks out.
It would probably be easier to walk the Camino one step at a time than clear all the rocks from the above field one bucket of rocks at a time, well, at least easier on the back.  But it seemed many fields nearby had been derocked pretty well. I suppose over hundreds of years.
Finding The Way
2013-04-21 10:37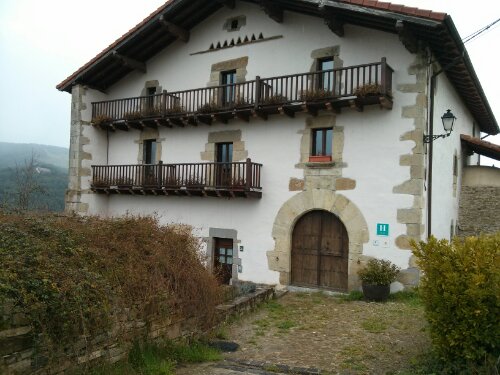 Wynette: Around our 3rd night on the Camino, we decided to stay at Hotel Akerreta, in tiny Akerreta near slightly bigger Larrasoaña. Before we left home we looked ahead for possible places to stay the first few nights and saw this one, I think on TripAdvisor. We didn't make a reservation till noon of the day we stayed there, however, since we weren't sure how far we'd get. As we were checking in, the owner asked us if we'd seen the movie The Way. We said yes. He asked if we remembered the scene where Martin Sheen meets the Canadian woman, the people eating on the patio, the man pretending to be bullfighter. We said yes and then he said all that was filmed in the hotel. He pointed out the patio where all that happened. I think I got the picture below from just about where Martin Sheen was standing when he was talking to the fictional owner who was pretending to be a bullfighter.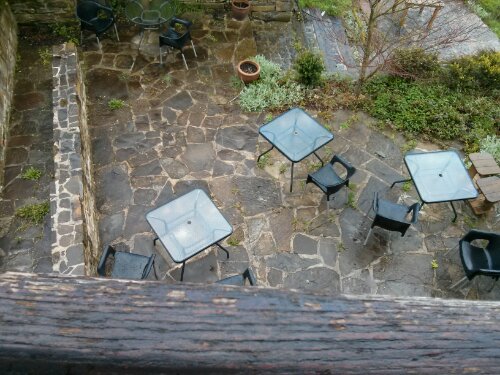 We didn't know about any of this when we chose the hotel. At one point in the day or so before, I'd mentioned to Charlie I wondered if we'd pass that place and recognize it. Was very cool to run across it like that. Also a lovely place to spend the night. Here's the delightful man who really owns the place.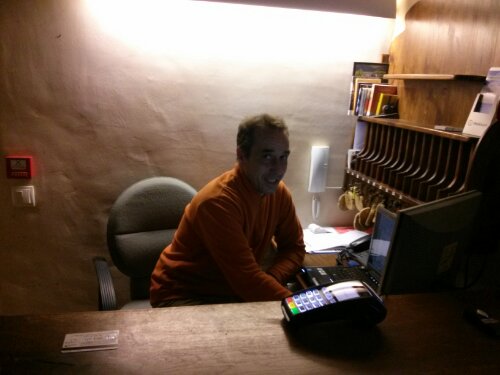 We didn't spot the bridge where Martin Sheen dropped his backpack. We saw several similar bridges but never found a place that seemed quite right. I don't think we'll see it now because I read the movie was filmed in sequence and that was near the beginning.
We are currently in Burgos. I'm not sure but I think this is where Martin Sheen's backpack was stolen and they ended up partying with the Gitanos. But we haven't yet seen any gypsies here. Maybe we'll find out if, as we leave Burgos tomorrow, we recognize the gate to which the gypsy boy carried his pack.
First Stork-in-Nest Sighting
2013-04-21 12:45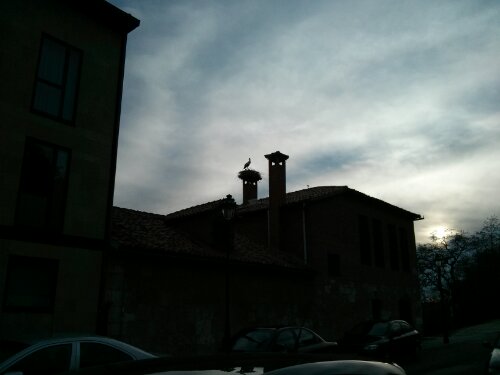 Wynette: We had heard we'd see storks on the Camino. I've spotted a few flying in the distance and today we spotted two in nests very near our hotel, right here in the city of Burgos. This isn't a great photo but best I have. Picture makes it look far away but we were next to the building where this stork made her huge nest. Below is cropped version of the photo.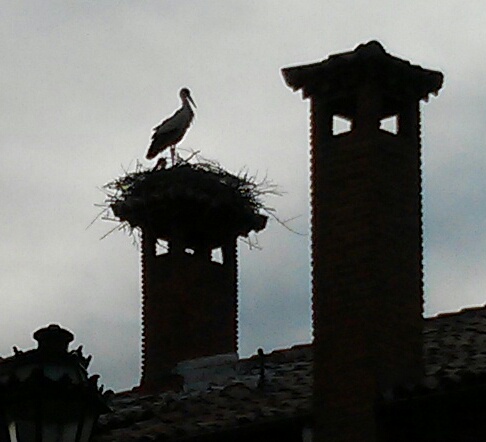 Burgos Cathedral
2013-04-21 14:49
Wynette: We were lucky to stay in a very nice but inexpensive hotel next to the Burgos cathedral. Here is a night time photo taken from our 3rd floor window.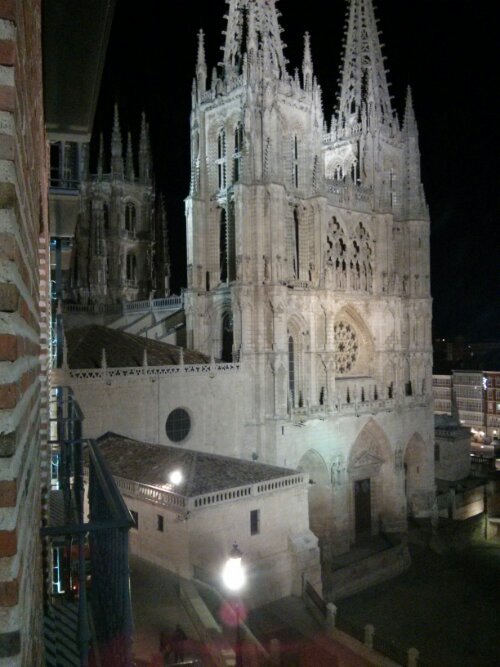 It's been fun to watch people from the window. Lots of people come to take a look. (Check out all the steps we have to go up to get to the first floor of our hotel.)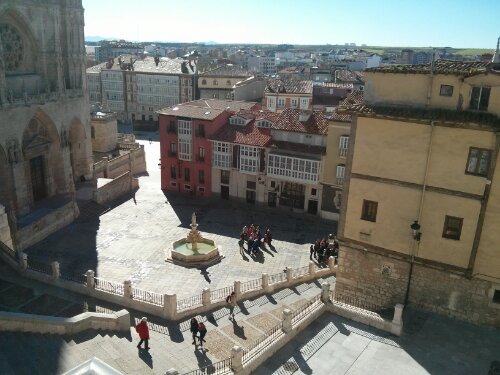 Yesterday as I was coming back from buying shoes I passed a wedding photo-shoot on the cathedral steps. I took this pic and Charlie caught the action on a video from our room.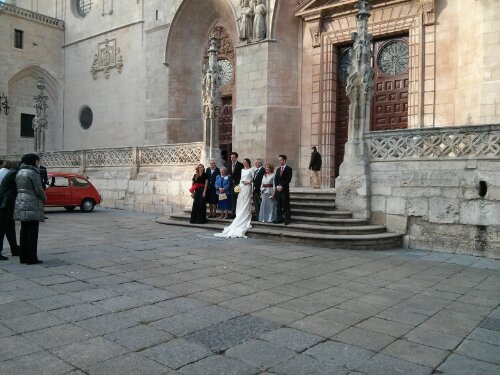 Close up: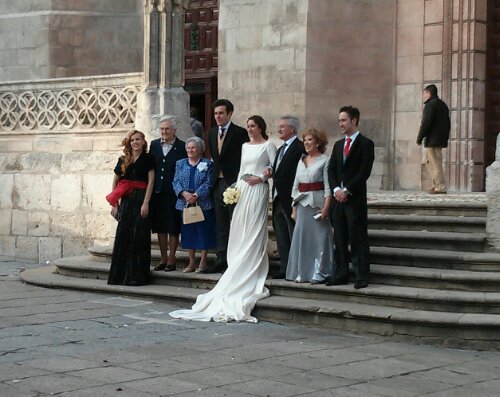 Itero of the Meadow
2013-04-25 08:48
Wynette: We only walked about 7 miles today. Plan to walk 8 tomorrow, breaking one hard 15 mile day into two easy days. We are in pueblo of Itero de la Vega. (In Spanish, pueblo means town.) We are staying in a sunny, cheerful private room in an albergue, so lots of other pilgrims around. Our room is above a bar/restaurant with a big porch and patio where we ate a picnic lunch. Open window. People laughing and talking in different languages downstairs, birds singing in familiar ways. We are thrilled with today's resting place. Daily hand-washing is done and drying.
Los Pies de los Peregrinos
2013-04-26 07:23
Ah, so nice to put on the sandals at end of the daily walk.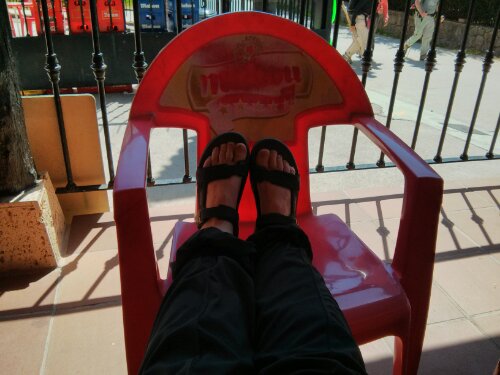 Wynette: No, not talking about bakery items in title of this post.  Pies = feet. My original foot problem (pain in toes and ball of right foot) finally got better so we started walking longer days and that's when the blisters started. So back to shorter days till we get those under control. Charlie hasn't had any problems except his high maintenance wife, but we've encountered many other pilgrims with foot problems. I hate to admit it, but misery does love company. One young man told me about his blisters then said "it has been very humbling." On a busy sidewalk in Burgos, I passed a 40-something couple on the street in sandals; the woman was walking very carefully. Even though they weren't in backpacks, I blurted out "peregrinos, verdad? (pilgrims, right?)" Sure enough. The sandals and hobbling were dead giveaways. She said they'd just gone to the hospital because her blisters had gotten infected. (We ran into that couple twice over the next 4 days.)  Back before Burgos, when we decided to take a bus to Burgos to deal with the problem, we met another man who said he'd ignored his blisters for days, trying to stay up with some younger men he was hiking with, and suddenly he was crippled by them and was bussing to Burgos to recover. More and more, we see people taking a break with their shoes off, fiddling with their feet.
On the Meseta with Wynetta
2013-04-26 10:11
Charlie: No post, I just liked the title.
  But as long as I am started.
The Camino had been more varied than I thought it would be. Every section brings something different. My idea of the Meseta was that it would be flat and dry. It is dryer than previous sections but very green in the spring. We just started seeing the fields being watered but right out of the rivers that go by them. It is still rolling hills just a little flatter.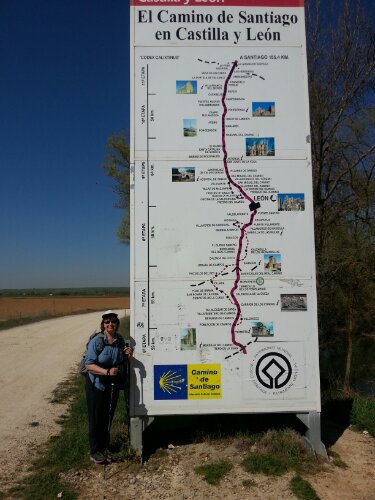 Ghost Towns
2013-04-26 10:26
Charlie: Most of the little towns we walk through seem practically empty. You walk around and don't see any people and most of the buildings are shuttered. In the last few towns there were lots of buildings that were falling down.
We just got into the Meseta where they use, or used to use, adobe like in NM. The adobe buildings are almost all falling down. Not as durable as stone.
You get the feeling that these towns would go away altogether if they were not on the Camino. You only see pilgrims around and in the restaurants. And they are all having the pilgrims "menu" for 10 euros. I can't see how they can keep going on that.
Castrojeriz was a sad town. The people seemed sad and defeated. Another pilgrim we meet on the road said the same thing even before we mentioned it.
I don't know how much of this is due to the five years of recession and how much to just an emptying out of the rural areas. You see similar things in small towns in NM.
Photo on the Meseta
2013-04-26 10:43
Yet Another Church Out Our Window
2013-04-26 10:53
Locked In
2013-04-26 11:07
Charlie: As you may know, the standard locks used in the US, pin tumbler locks, are very easy to pick. Just Google "lock bumping" and watch the videos showing how easy it is.
When you stay in a different hotel every night you deal with a lot of locks. In Navarra, where we started, I noticed that almost all the locks were the more modern kind with drilled holes on each side of the key, still pickable, like all locks, but only by actual experts, not by someone who watches an Internet video. I was impressed.
Getting onto the Meseta things have changed. All the locks are the standard US kind. I guess this is a poorer area. The Northeast part of Spain is more industrialized and richer.
More Excellent Camino Signage
2013-04-27 08:38
Santiago Is Not As Far As We Thought
2013-04-27 08:42
Signs in Braille
2013-04-27 08:46
The "Souless Senda"
2013-04-27 08:55
Charlie: Brierly has some harsh words for the section we walked today. It is right by a road and goes pretty much straight from Frómista to Cárrion de Los Condes. Besides "souless senda" he called them "pilgrim autopistas".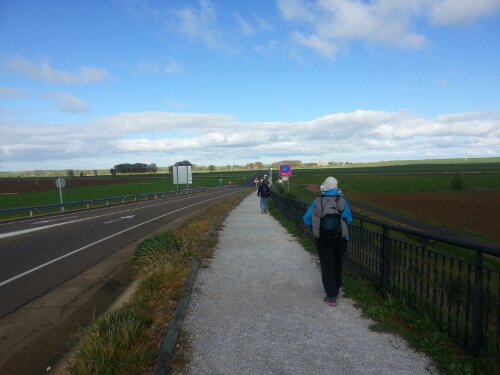 We didn't mind them though. They were easy to walk on and the path went through very pretty country. See the videos for more images of today's walk.
Camino Signs are Growing
2013-04-27 08:57
The Triumph of Practicality Over Aesthetics
2013-04-27 08:59
Anna
2013-04-27 08:59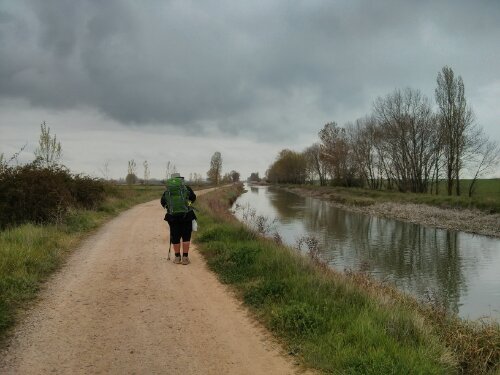 This is Anna from South Africa, walking along the canal into Frómista. She's about our age or a few years older. We met her in the albergue in Hornillos that we stayed in 5 or 6 days ago. We seem to be going the same distance as she is each day. She starts out earlier than us, then we catch up with her and pass her. She walks slowly. We are moving quite a bit faster than she is but we walk the same distance. I love it when I see her up ahead, her slow steady gait is easy to recognize. She's an inspiration to me. One slow step at a time gets you there. (It is rare that we meet pilgrims slower than us. I think everyone else we have met is way ahead.)
Spring in the Step Planter
2013-04-27 09:01
Adobe
2013-04-28 10:49
Hello from Moratinos
2013-04-28 10:56
Charlie: This morning we got a taxi about 20 miles and skipped one stage. Then we walked about nine miles to Moratinos, a tiny little town on the Camino but the hostal we are staying at is very nice. It is run by a German couple and is just two years old. Here is the view coming into town.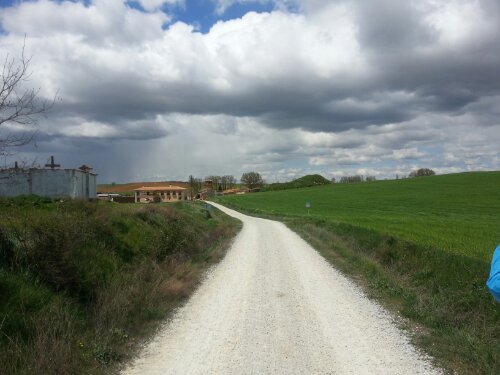 The building on the left of the road ahead is our hostal. Our room is the fourth window from the right.
Wind, Rain and Fire
2013-04-29 01:39
Charlie: Henry commented on the wind noise on the videos. Yesterday was the windiest day so far on the walk. Our phone microphones are not good at filtering wind noise. I guess we need those foam covers you see professionals using on their microphones.
We just had breakfast as the wind looks even worse today. We'll have to bundle up. Only six miles today though.
Yesterday was a crazy weather day. We had snow and hail, sunny skies and lots of wind. No rain though. The German woman who runs the hotel had good English but didn't know the word hail.
So, no rain and no fire either although the place we had dinner yesterday had a big charcoal he grill. It was in a bodega, a wine storage place built into a hill. Here it is.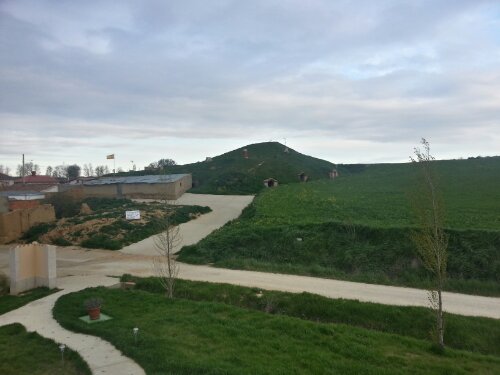 376 Kilometers to Santiago
2013-04-29 09:49
Hostal Moratinos
2013-04-29 10:06
Wynette: Had a wonderful stay in Hostal Moratinos last night. Bright cheerful room, comfortable beds, IKEA (I think) furniture, delightful German woman and Spanish man running it. We chose muesli and fried eggs for breakfast. Check out their website.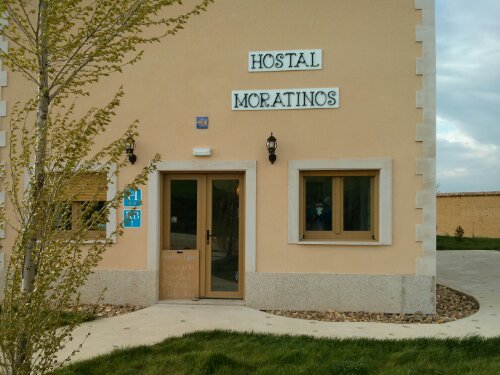 Status Update
2013-04-29 10:39
Charlie: We walked eight miles today from Moratinos to Sahagun, walked around Sahagun and then took a train 40 miles to Leon. We wanted to skip a long day that stretch would require and avoid walking through the suburbs is Leon.
So far we have walked 198 miles in 22 walking days. Wynette's blisters are doing much better and we think we can start walking longer days, like 10 to 12 mile days. Our plan is to walk from Leon to Santiago, 190 miles, in 16 to 18 days. That still leaves us a few days to go to Finisterre and maybe walk a couple of days along the coast.
We just got into the province of Leon after being in Palacia for a week or so, over the Meseta. This useful sign was on the way into Sahagun.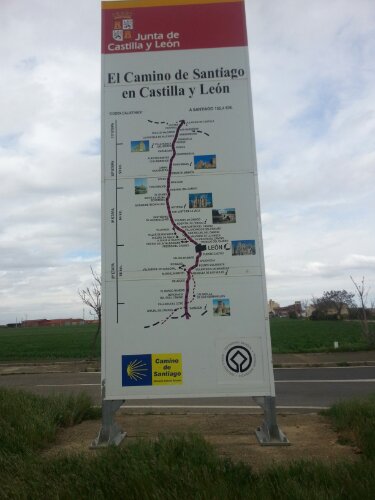 Colorful Highway Sign
2013-04-29 10:43
Anna Update and Taxi Adventure
2013-04-29 11:03
Wynette: Yesterday, we decided to take a taxi and skip about 13 miles because the way the places worked out we could walk either 3.5 miles (too short) or 13 miles (too long). There was no bus service so we tried to call for a taxi the night before but they said "go to the bar tomorrow and maybe there will be one available."
We had run into Anna again and she can only walk about 9 miles a day so she wanted to share a taxi with us. But she was in the albergue and we were in the hostal. She had to be out by 8 and since it was so uncertain whether we'd get a taxi she started out walking. We did our usual more relaxed get-up-and-get-ready so didn't get to the bar until 9:00. Luckily we did get a taxi. At that point the Camino runs parallel to the quiet road we were on so after a few minutes I asked the driver if, should we see a certain peregrino, could we stop and pick her up. He said yes and we started watching for Anna. We got about 3.5 miles along, just before the road leaves the Camino, and at that point figured we'd not find her, but then we saw her. The driver pulled over, we opened the window and called to her "would you like a ride to Caldadilla?" Her face lit up and she happily climbed in. She said she had been worrying the whole way what to do.
Here she is with Charlie at the point the taxi let us off. We took off walking and Charlie and I soon pulled ahead of her.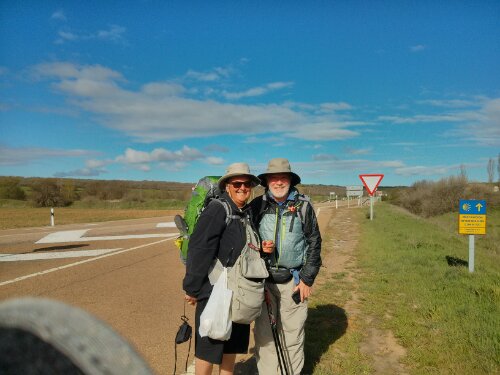 But we saw her again this morning. She was wearing her rain poncho, seeking some protection from the cold wind: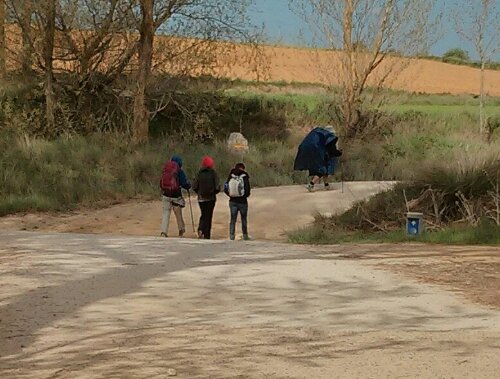 We told her not to fly away in it. (She looked like she was about to take off.) Charlie was then inspired with a brilliant idea for a new TV series: The Flying Pilgrim.
Coffee
2013-04-30 05:00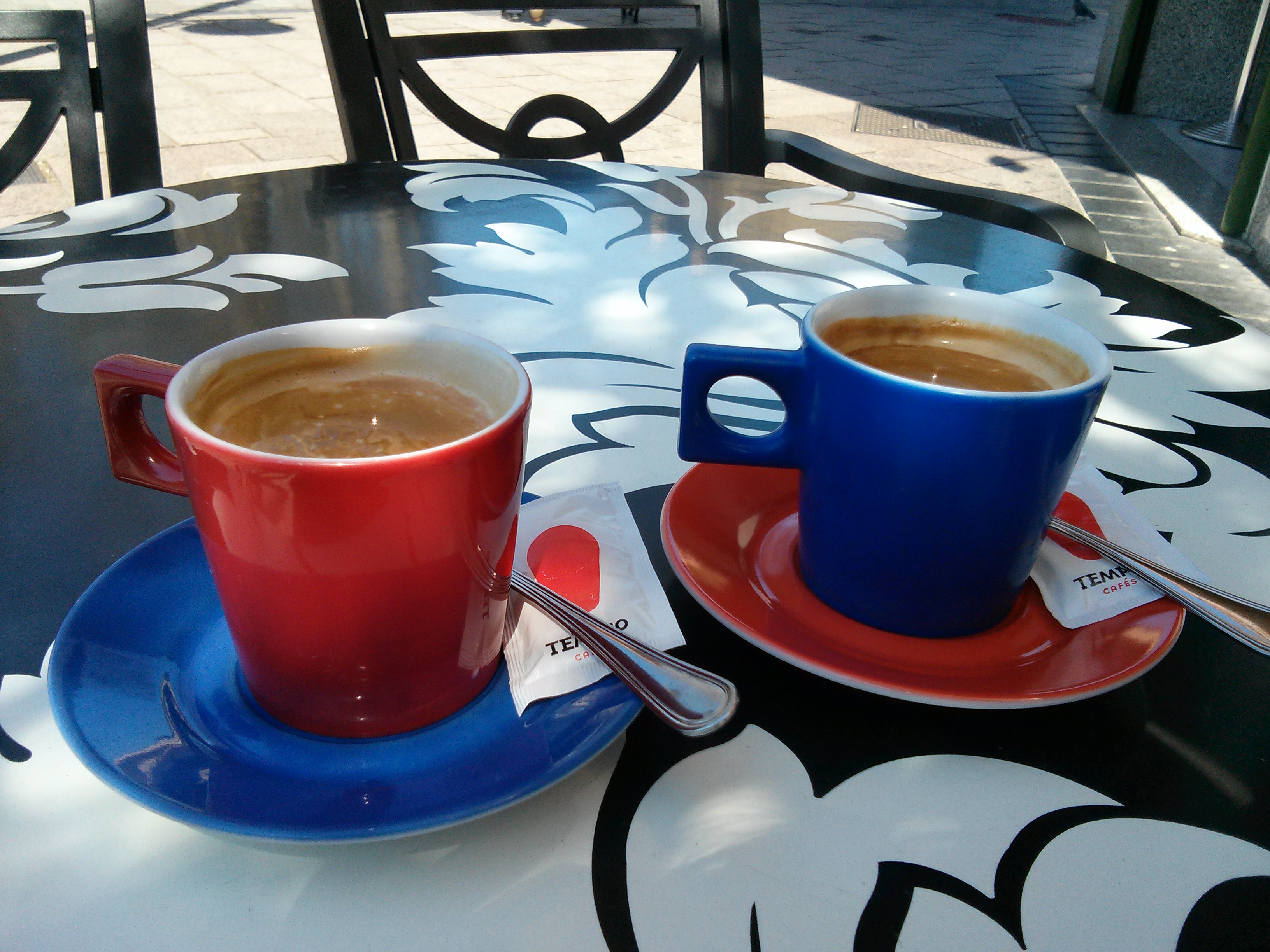 Charlie: We have cafe con leche two to four times a day, every time we stop. Partly it provides access to the bathroom and a nice rest and we like it.
Cappuccino is one third each of espresso, milk and foam. Cafe con leche replaces the foam with milk, like the cafe auto lait in France. We like it just as well. The coffee in Spain is different from the coffee in Italy and we like them both about equally. We have had a couple of cafes that were not so good but generally the are good to excellent.
It adds up. A cafe is usually €1.20. Four to eight a day adds up to about $10 a day or $500 for our 50 day trip. But it is totally worth it, love our cafe breaks.
In Castille & Leon they started asking if we wanted a large or small cafe.
Food
2013-04-30 05:16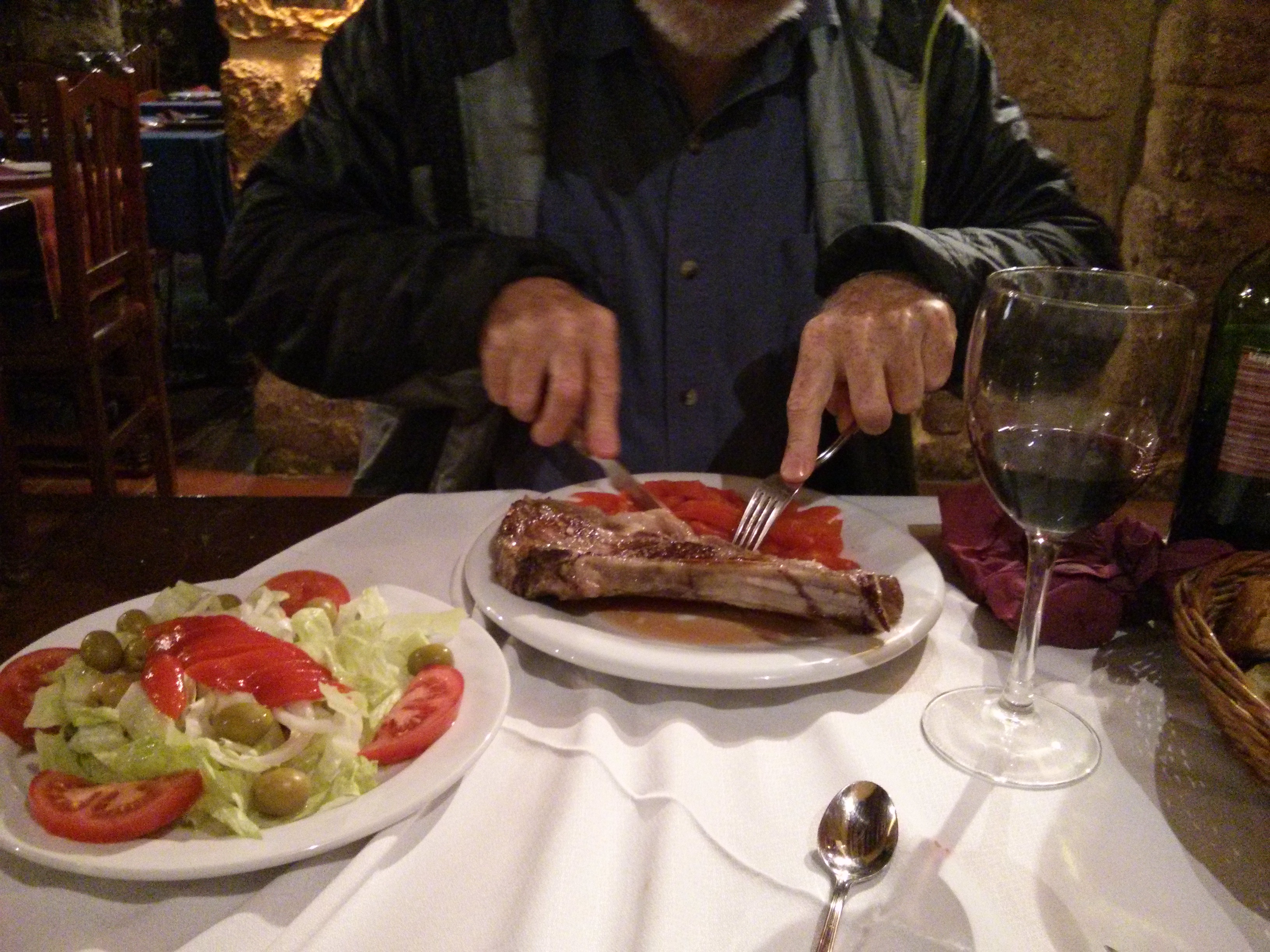 Charlie: We have developed a pattern for how we eat here. If we're staying at a nice hotel we usually have their breakfast. They are generally about €8 and very good. Each one is a little different so it is fun to see what they will have.
Otherwise we get cereal, fruit, nuts and milk the day before and have breakfast in our room.
We try to have our big meal in the middle of the day. The Spanish lunch hours work for us here. We walk in the morning and get a hotel and get settled by 2 or 3 and then go out for lunch.
Almost everyplace has a pilgrims menu and it is always about €10 for two courses, dessert, bread and water. They are surprisingly good for being so cheap. They seem to take a lot of pride in their cooking. Almost every meal is very good. Sometimes we feel guilty that we are paying so little.
It is hard on trips having to go out for every meal so we usually have a light dinner in our room. Sometimes we have cereal like breakfast. Other times we get bread, cheese, tomatoes, etc and make a sandwich.
The other thing we eat is bocadillas, that is, sandwiches. This is when we stop for coffee around 11 or 12 and won't have lunch for a few hours. All the bars make them. Or we might have a bread and cheese snack to hold us until lunch.
Pilgrim Statues
2013-04-30 05:19
Where Are You From?
2013-04-30 09:15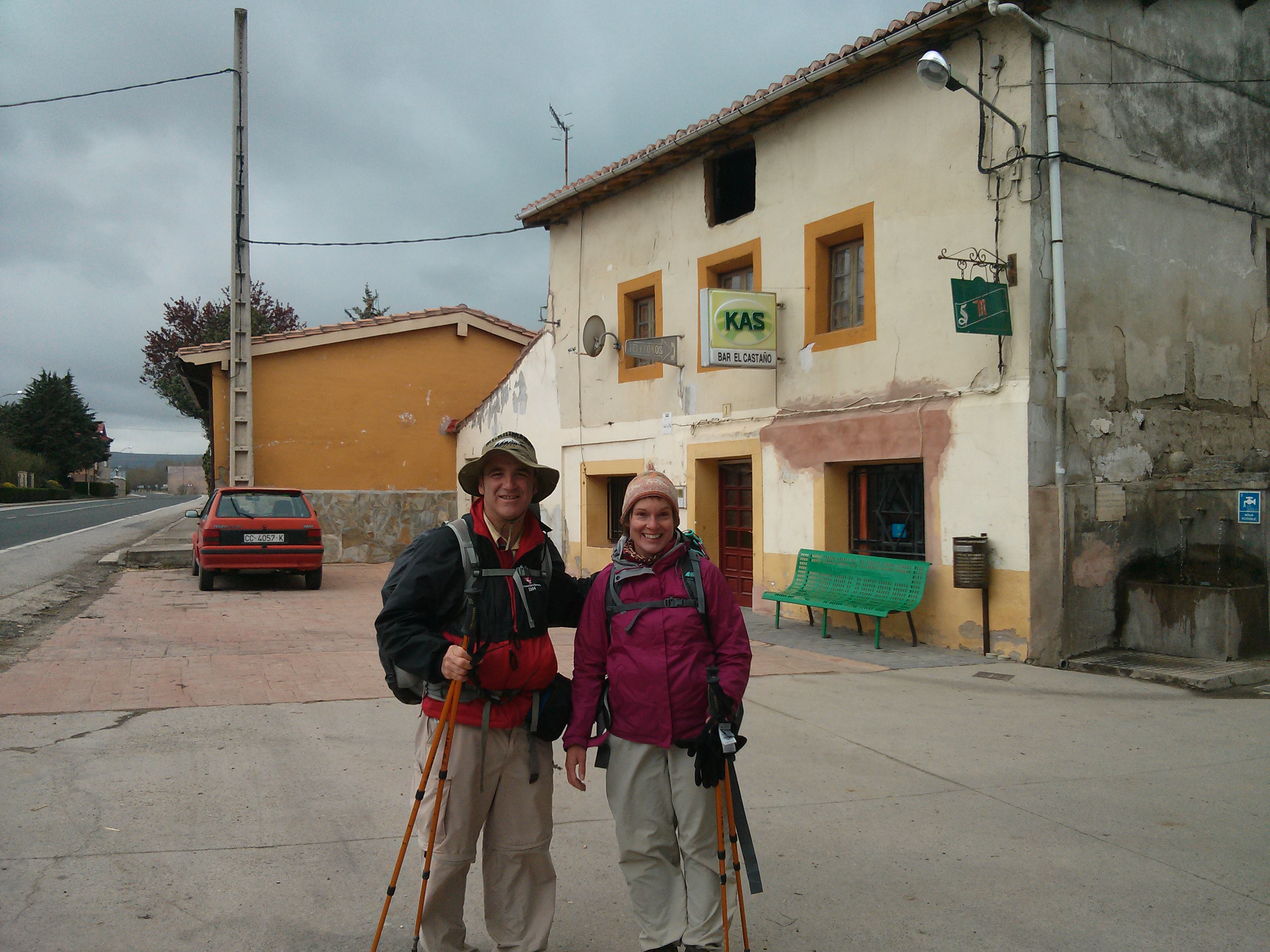 Charlie and Wynette: That is the standard first question when you meet another pilgrim. For us the most common answers we get have been: Germany then France then USA, all in the dozens. We have seen many that we think are from South Korea, too, but they are a little harder to talk to and so we don't ask the question. (One blog said there were a lot of Koreans because of a popular book about the Camino came out in Korea.)
In addition to Germany, France, and the USA we have met: Canada 12 or more, Australia 4-5, Italy 3-4, Belgium 2, Russia 3, Turkey 1, England 4-5, Ireland 2-3, Poland 1-2, Bulgaria 2, New Zealand 1-2, Brazil 3-4, Spain 4-5, South Africa 1, Austria 1, Switzerland 1, Czech Republic 1, Denmark 2, Netherlands 0.
Of course, we have seen hundreds of pilgrims we haven't talked to so they aren't included in these counts.
A few people have said that they have been meeting a lot of Americans but we haven't found that. We'll check the Santiago completion stats when the ones for April come out.
When we tell people we are from the United States, they often ask "which state?" We have been surprised that nearly everyone knows about New Mexico.
We have met people from Texas, Arizona, and Colorado, the states surrounding NM, but haven't yet met anyone from NM.
We met the Canadian couple in the photo above shortly before we caught a bus to take us into Burgos. We waved the bus down, per instructions by the nice woman inside the bar, in the spot the photo was taken.
León Cathedral
2013-04-30 14:42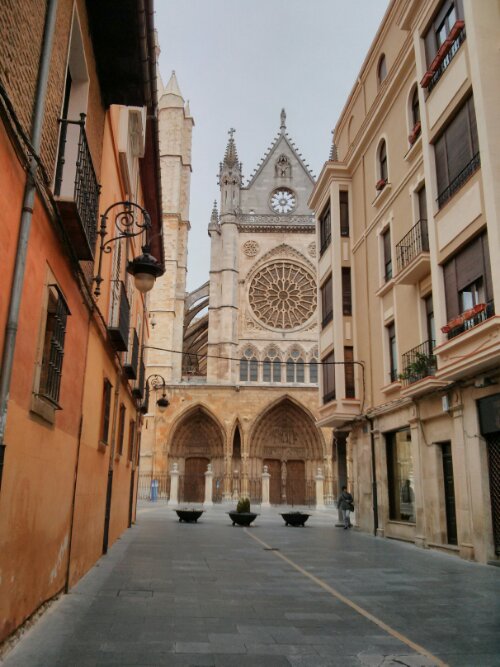 Wynette: This was our first view of the cathedral in León. We turned a corner, I wasn't yet expecting to see it, but there it was. We couldn't yet see the whole facade, but it kind of took my breath away. Before this, on the way to León, I'd told Charlie I wasn't excited about seeing it. I'd seen enough Gothic cathedrals with all their ornamentation. And I didn't plan to go inside. But all that changed when I saw it. It is hard to describe, but it has a majestic simplicity and is by far the prettiest Gothic cathedral I've seen. The inside was the same. Walls and walls of beautiful stained glass including flowers and geometric patterns, not just people. But somehow simple. Very little flashy gold craziness. (That was fun in Burgos and Toledo, but I'd had my fill.)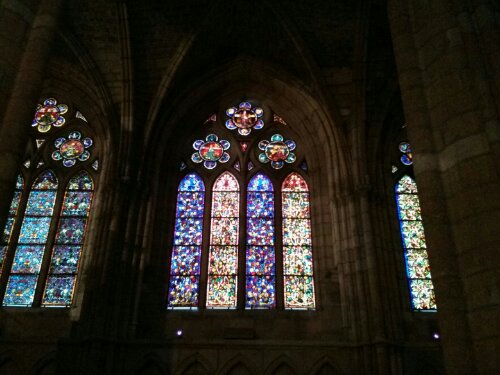 On the Road Again
2013-05-01 09:30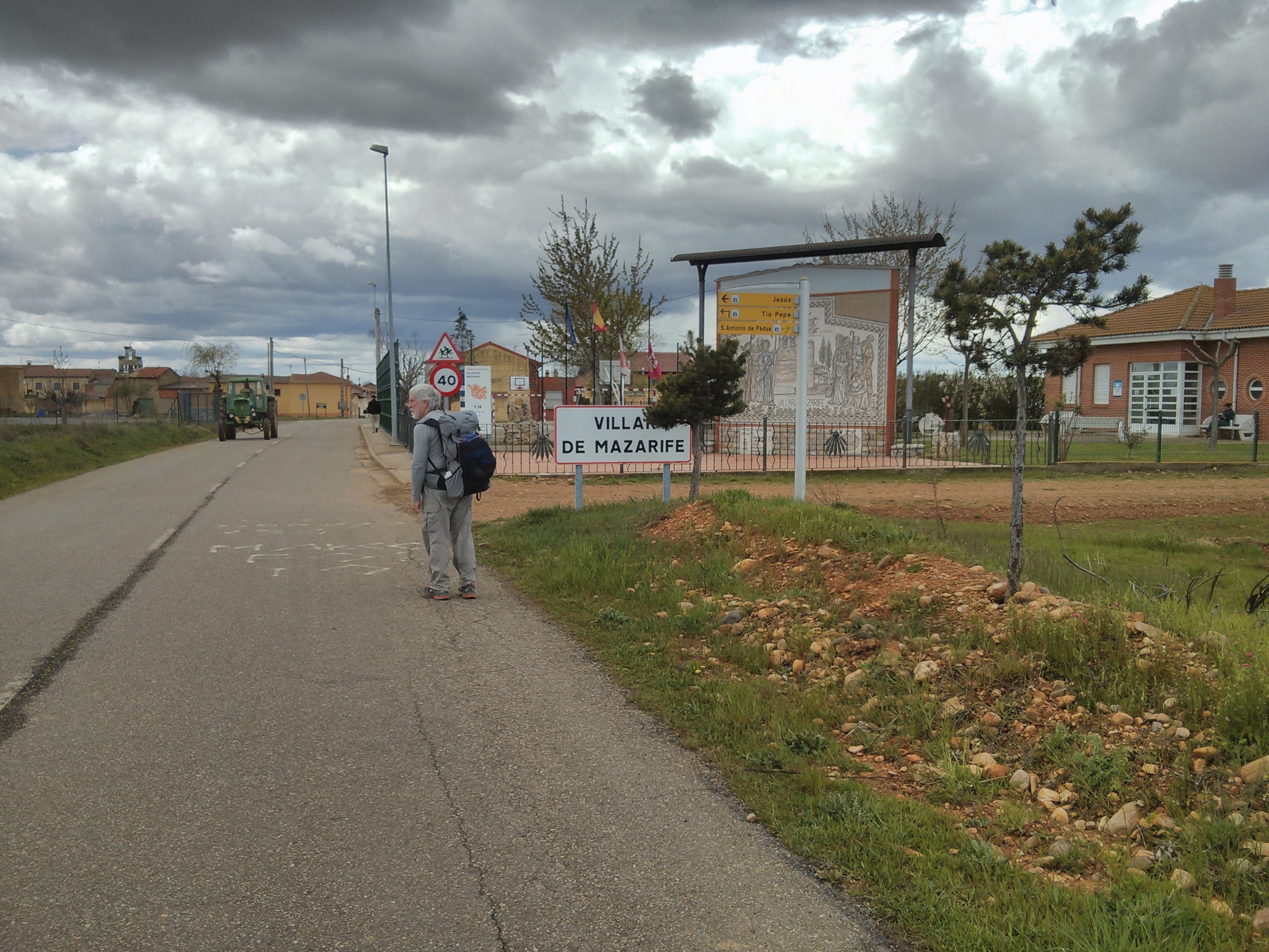 Charlie: Other pilgrims, especially from the US for some reason, sometimes ask how we heard about the Camino. Most people had a friend who had gone on it. We didn't though. We had not met anyone who had been on the Camino.
The first time we heard about the Camino was in a TV miniseries called "Spain… On the road again"  (2008). It was a cooking oriented travel series where they toured several parts of Spain. The group was: chef Mario Batalli, Gwyneth Paltrow, NYTimes columnist Mark Bittman and the very cute (trust me on this) Spanish actor Claudia Bassols. The series is worth watching just for the opening and closing videos of Willy Nelson singing "On the road again". They did a segment on the Camino and even walked it for a ways.
"On the road again" was already one of my favorite songs and now it is my Camino theme song. It think about it every morning as we get started walking.
Of course, everyone on the Camino had seen "the movie". Just this morning we were talking to a guy from Florida who was talking about quitting smoking in the Camino and we mentioned the Canadian woman and he thought he would have about as much success as she had. I think we are responsible for maybe a dozen people seeing "The Way". We might make another post about the movie but, for now, the main things they left out were the blisters and the bad weather.
We are on Villar de Mazarife resting on our room. We are going to have a vegetarian pilgrims menu tonight.
And it really is true that "I just can't wait to get back on the road again."
On "The Road" Again
2013-05-02 07:50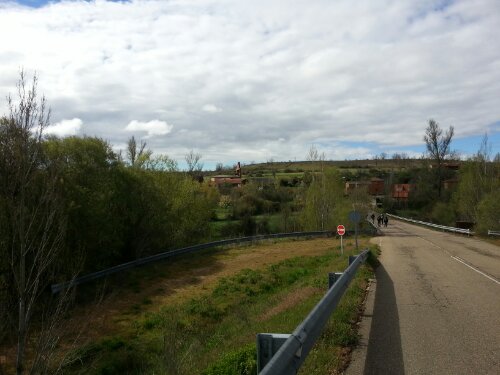 Charlie: Another song about being on the road is Jackson Browne's "The Loadout/Stay".  Besides a creative cover of the Maurice Williams hit "Stay" changing it into a road song, the song talks about what life on the road is like, the sameness, the waiting, "We've got to drive all night and do a show in Chicago/or Detroit, I don't know/We do so many shows in a row/And the towns all look the same".
Both Willy Nelson and Jackson Browne agree that it is all about the music, that the joy of playing for a crowd makes it all worth it.
Few people have the talent to go on the road playing music with their friends but most of us can walk the Camino which is analogous in some important ways.
The Camino is all about the walking.  The essence of the Camino is the repetition and the nested cycles. There is the journey and the destination. You take one step at a time. You see the top of the hill up ahead, you walk and you get there. You stop for a rest and a drink. You see the town up ahead, you walk and you get there. You stop for coffee and a bathroom break. You do this several times and you get to the town you will spend the night in. You get settled in and look around the town. You have the pilgrims menu, write in your journal and go to sleep. The next day you get up and do it again.
The towns do all look the same, like they did for Jackson Browne. You go from town to town but basically the Camino is all one place. I mentioned before that pilgrims often cannot remember the name of the town where they spent the previous night. But that's okay because it isn't about the towns, it is about being on the road, about the repeated yin and yang of journey and destination. Both are necessary, neither is more important, one cannot exist without the other. 
On the Camino you are out of space and time. It is a great feeling, a time out. You don't think much about your life back home. But you have the luxury of plenty of time to think about anything you want.
The final destination is Santiago de Compostela. It is the goal but most pilgrims say that that the closer they get to Santiago the sadder they feel because they don't want the journey to end.
On the Towns Again
2013-05-02 13:16
Charlie: My last post was a riff on what it feels to be on the Camino. As such I took some liberties with the facts to get at the truth.
In fact the towns on the Camino are quite different. We always walk through each one and find interesting little things about each one. This is one of the pleasures that makes up the recurring daily cycle. So they are the same in terms of being in the "Camino zone" and not the same in terms of the daily ritual of exploring the town we are in, which itself is part of being in the zone.
We are surprised how each day is different. The terrain changes each day. For all the talk about changeable weather the weather has actually been pretty consistent. We get a lot of clouds. It is cool and nice walking when it is cloudy. When the sun comes out it tends to get a little too hot, but that only happens a few hours each day. We seem to have some mostly sunny days coming up. I expect it will be a bit hot.
The question for me keeps coming back to "why am I here?" It seems like I should have worked that out before I came but I didn't. It just seemed like the right thing to do.
Albergue Tio Pepe
2013-05-03 12:32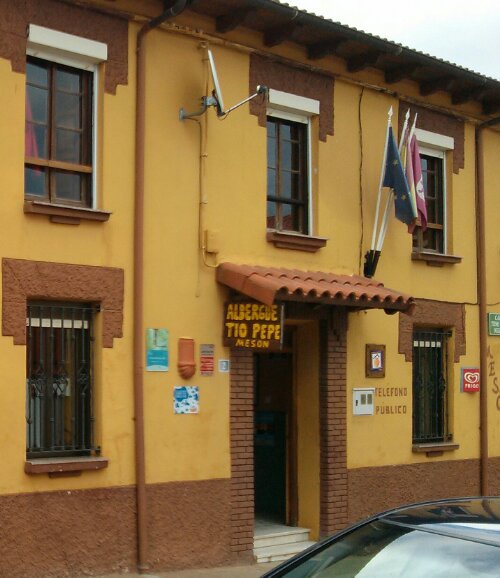 Wynette: Tonight (Tuesday, May 1) we are staying at Uncle Pepe's. Our room is over a bar and as I write this (10:10 pm), there is a very loud fútbol (soccer) game on the TV and lots of people in the bar watching it while talking loudly. Every once in a while everyone cheers. The bar closes in 20 minutes, at 10:30. Do you think everything will be quiet then?
Update: Quietened down around 10:45. Can't complain too much. Most of our places have been very quiet.
Hostal and Shoemaker in León
2013-05-03 12:39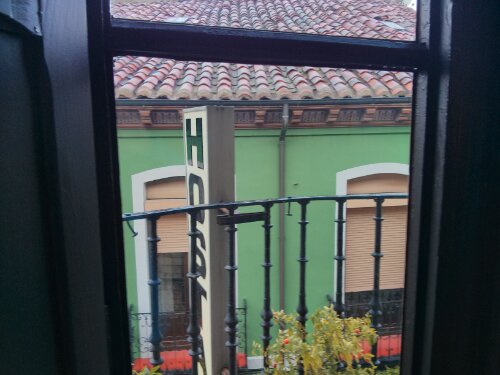 Wynette: The past two nights (April 29 and 30) we stayed in Hostal San Martín in the old town of León. 40 euros for a large and charming old high-ceilinged room. The proprietors of our previous hostal in Moratinos recommended it. Turned out all three of our guide books recommended it as well. So we felt lucky they had a habitación doble available for two nights. Above is view from reception room window. Below is Charlie going into front door. Note the zapateria to left of hostal door. This was a shoemaker's shop. One tiny dusty room with piles of old dusty shoes. I asked the shoemaker if my shoes could be altered so that they fit more snuggly in the heels. He took a look and said no. This confirmed what a shoemaker in Burgos had told me.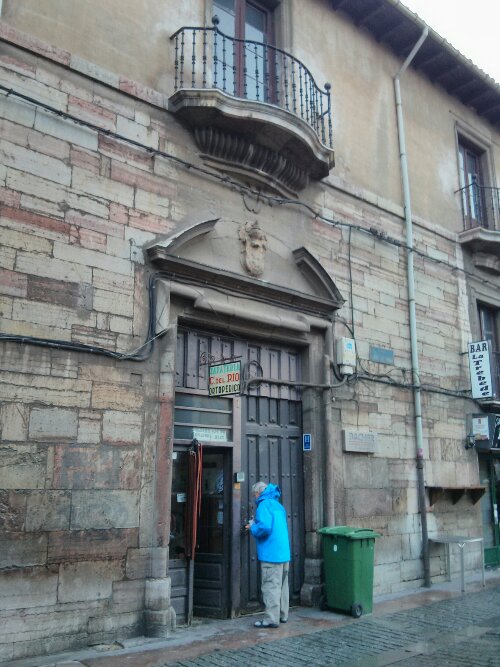 We were glad we decided to take a rest/sightseeing day in León. It drizzled the whole time we were there and was very cold (low 40s). Not great for sightseeing but would have been hard for walking.
The Camino Vs. The Way
2013-05-04 14:12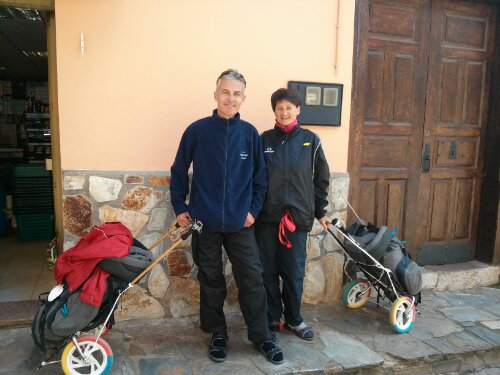 Wynette: In Spanish, "el camino" means "the way". Also "the road", "the path", "the journey". My friend Rebecca asked how accurately the movie The Way portrays the Camino. I'm sure many have already blogged about this, but I'll give it a try.
First, on a sad note, we have heard that this spring at least one pilgrim died trying to cross the Pyrenes on the way from St. Jean to Roncesvalles, just before we arrived. Nearly everyone we talked to who did that crossing said it was a huge challenge. One woman,  Anna from South Africa, said she cried at the end from exhaustion. One man, Glenn from Canada, said he honestly didn't think he was going to make it. We have not regretted our decision to start in Roncesvalles.
On a lighter note, we have seen lots of boomers. And some had earphones which I suspect were connected to ipods. Charlie and I have our ipods. (Well, Charlie's is a phone with music player.) I have not listened to music while walking as much as I expected. That probably explains why James Taylor hasn't yet come up in my shuffle. But today music kept me happy through a long walk and boomer music did come up: Bob Dylan, Pink Floyd, Leonard Cohen. But some not quite so old: Tom Petty, Gipsy Kings, Edie Brickell, James Blunt. And even some new stuff, new to me at least: Gotye, Christina Perri, Calexico, Anna Ternheim, Tift Merritt, and the amazing Mexican singer Julieta Venegas. Check her out.
All the above mentioned songs and more provided a fine soundtrack for today's walk. Just like the movie had a really nice soundtrack.
The movie was mostly about the relationship between the characters. I think that for many pilgrims the relationships formed are important. I'm not sure how often people hook up like those four did but I know many adjust their hiking speed to stay with a particular group or person. One thing we've really enjoyed is seeing people over and over. We met the Bulgarian couple above several days ago. Then we ran into them again yesterday. It was like a homecoming. They both reached out and hugged us.
Lots of eating and drinking (mostly drinking) on tables set up in the street.
We've stayed in albergues twice now. One was similar to the one Martin Sheen and Joost from Amsterdam stayed in first night.
The physical toll of so much walking is barely acknowledged in the movie. Especially foot problems. Today where we stopped for coffee midmorning, we saw a woman sitting on a bench, with her shoes off, crying. 
Weather is pretty much ignored in the movie. That was filmed in the fall so maybe it is less dramatic then. We've had lots of extremes. Very cold, very hot, very windy, and at times, very perfect.
We spend a fair amount of time deciding on places to stay, places to eat. But we might do this more than most pilgrims. They didn't seem to think much about it in the movie, except for the discussion about the parador.
I'm pretty sure the guy below was Jack from Ireland, spotted in Astorga, Gaudi Castle gift shop. Charlie is skeptical.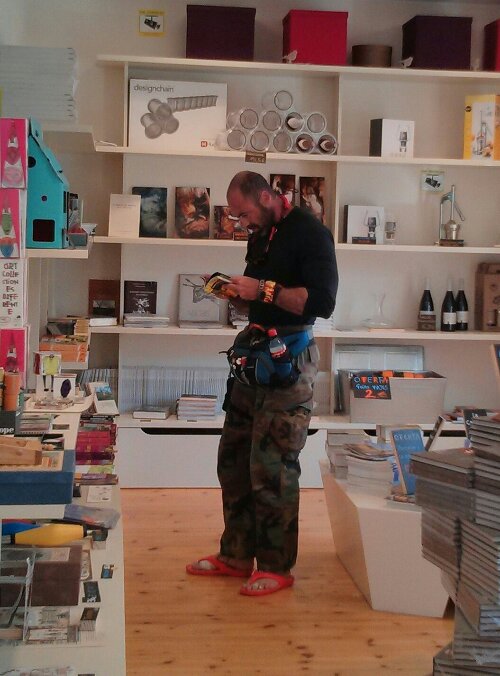 We did meet a man from Ireland named Patty. But he wasn't like Jack. All the Canadians we have met have been really nice from the moment we met them.
Hard Day and the Cruz de Ferro
2013-05-06 05:09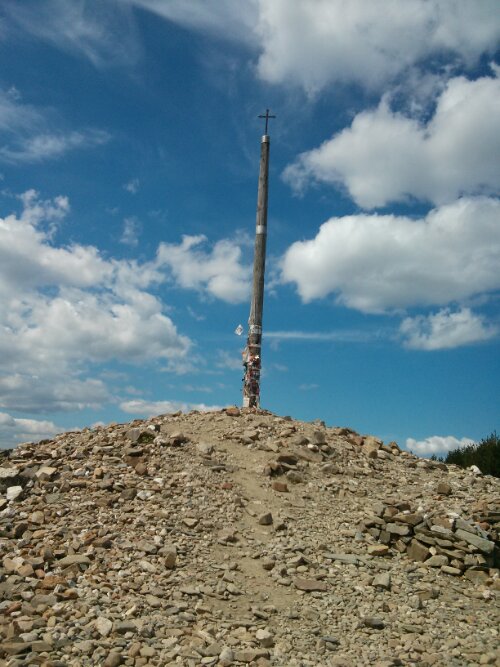 Wynette: Today, Sunday, May 5, we started out in Rabanal at elevation 1150 meters, went up to the Cruz de Ferro at 1505 meters, went down again to 1400 meters then back up to 1500 meters then straight back down again to 1100 meters. The final descent was extremely rocky and rutty and steep. We were tired when we got to Acebo. Only about 11 miles but it felt like one of our hardest days.
It was great to see the Cruz de Ferro. In The Way this is where they left the rocks and read a prayer. It was moving to be there though maybe not as dramatic as the movie. It feels like an important milestone and I got a little teary-eyed. The Cruz is the highest point on the Camino. People bring something to leave. We left some stones we brought from home. In Following the Milky Way, by Elyn Aviva, I read that in pre-Christian times in order to placate the gods travelers put a rock in the pile at this mountain alto. Pilgrims continued the tradition and I assume at some point added the wooden pole with the iron cross.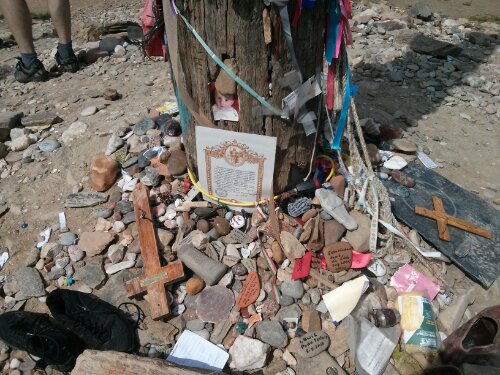 Today we finished crossing the mountain range we started up yesterday. We passed snowcapped peaks a few miles away. Looked down on deep green valleys. Saw lots of heather blooming and several small herds of contented cows. Heard a cuckoo cuckooing his (her?) heart out.
Now we are tucked into a cozy casa rural for the night. (They have muesli for breakfast!) Tomorrow is supposed to be cloudy so we are going to sleep as late as we want since we don't have to get up early to beat the heat.
PS. Before we left, we read Elyn Aviva's book about her pilgrimage here 30 years ago. Interesting to read about what the camino was like then. It was not nearly as well-marked and much harder to find food and a bed and a warm shower at the end of the day. Last night we slept on comfortable new mattresses, she often slept on cold cement floors. I've been rereading her book as we go (via Kindle), staying just ahead of where we are hiking. She says a lot about the history of places we go through as well.
A Sick Day on the Camino
2013-05-06 06:21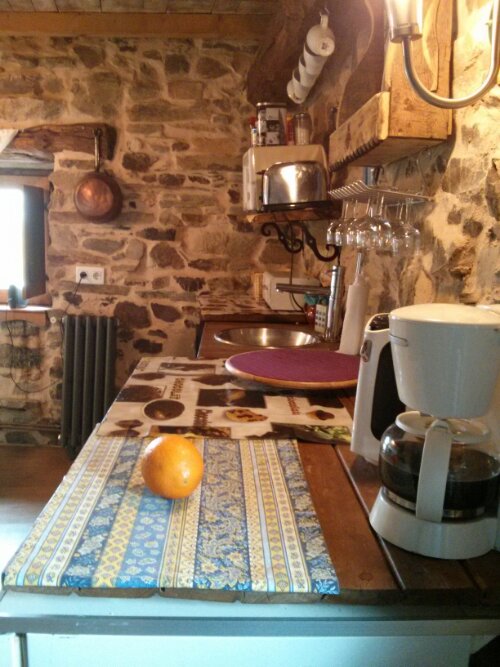 Wynette: Charlie hasn't wanted a single orange on this trip. Last night for dinner he wanted two which he gobbled down. And he only wanted a light supper so he could go to bed early. He thought he was tired from not sleeping well the night before. But then he started running a fever. He had an achy feverish night. He told me in the middle of the night he thought he had mild sun stroke. But now we think he has a little virus of some sort. He has been in bed sleeping most of the day.
We asked if we could have our room one more day and they said yes. It's a good place to have a sick day because we have access to a little cocina (kitchen), there is a tienda downstairs where we can buy oranges and milk and other good things to eat, and the young couple who own this place, Juan and Zarza, are so kind.
After breakfast I went to the bar across the street for a café con leche. After I drank it, I asked for another one para llevar (to go) for Charlie. The man behind the bar said they couldn't do that. Then I told him mi esposo está enfermo en el hotel (my husband is sick in the hotel). He cut me off at that point and made a coffee for Charlie and let me take it in the regular coffee cup which I returned later.
This photo is of Juan and Zarza at La Rosa del Agua.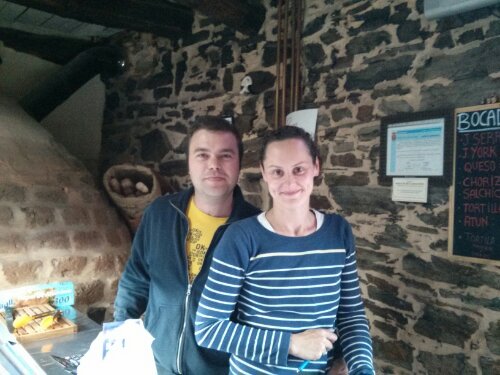 222 Kilometers to Santiago (and 5000 to Jerusalem)
2013-05-06 09:15
Sick Days
2013-05-07 07:41
Charlie : I was sick all day yesterday, slept most of the day but I feel pretty good today. We walked 5 miles or so into Molinaseca and Wynette was starting to feel sick. So we took a taxi into Pontferrada and are staying at a hotel. We'll see how Wynette feels tomorrow. We still have time to get to Santiago and then spend a few days on the coast and do some more walking there.
Today was one of the prettiest walks we have had (see the videos). Beautiful valleys, a river, lots of wildflowers and wonderful blossom smells the whole way.
We have walked 260 miles so far and the are still 130 miles to Santiago. So we are about two thirds of the way. We have been here for 5 weeks and have 3 weeks to go.
Many Languages
2013-05-07 07:50
More Dogs on the Camino
2013-05-07 07:54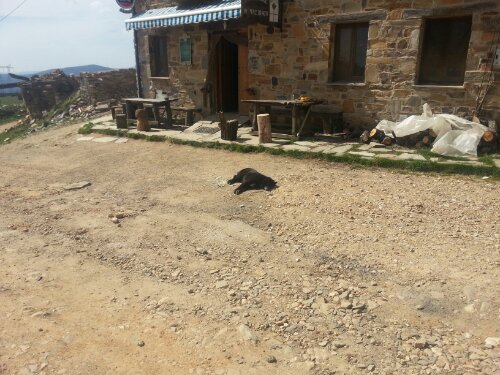 Charlie: some of the books talked about threatening dogs on the Camino. This one didn't seem like too much of a threat but we were cautious anyway 😉
Wynette, posted July 29, 2013: When we were reading about the camino before we left, several people mentioned "the wild dogs of Foncebadon". Luckily, I'd forgotten all about this when we were walking through Foncebadon and so went through there without fear. Charlie posted this photo of a sleeping dog (with joke about being cautious) while we were on the camino and later, after we returned home, we looked up the location of this photo. It was Foncebadon!
We never had problems with dogs anywhere. They were so used to us pilgrims passing through they mostly seemed to ignore us. We met some very nice dogs. We did learn early on not to try to pet them. Charlie did this early on and the dog growled at him. We learned to give them their space and they let us pass through with no problem.
Albergue or Not
2013-05-07 08:52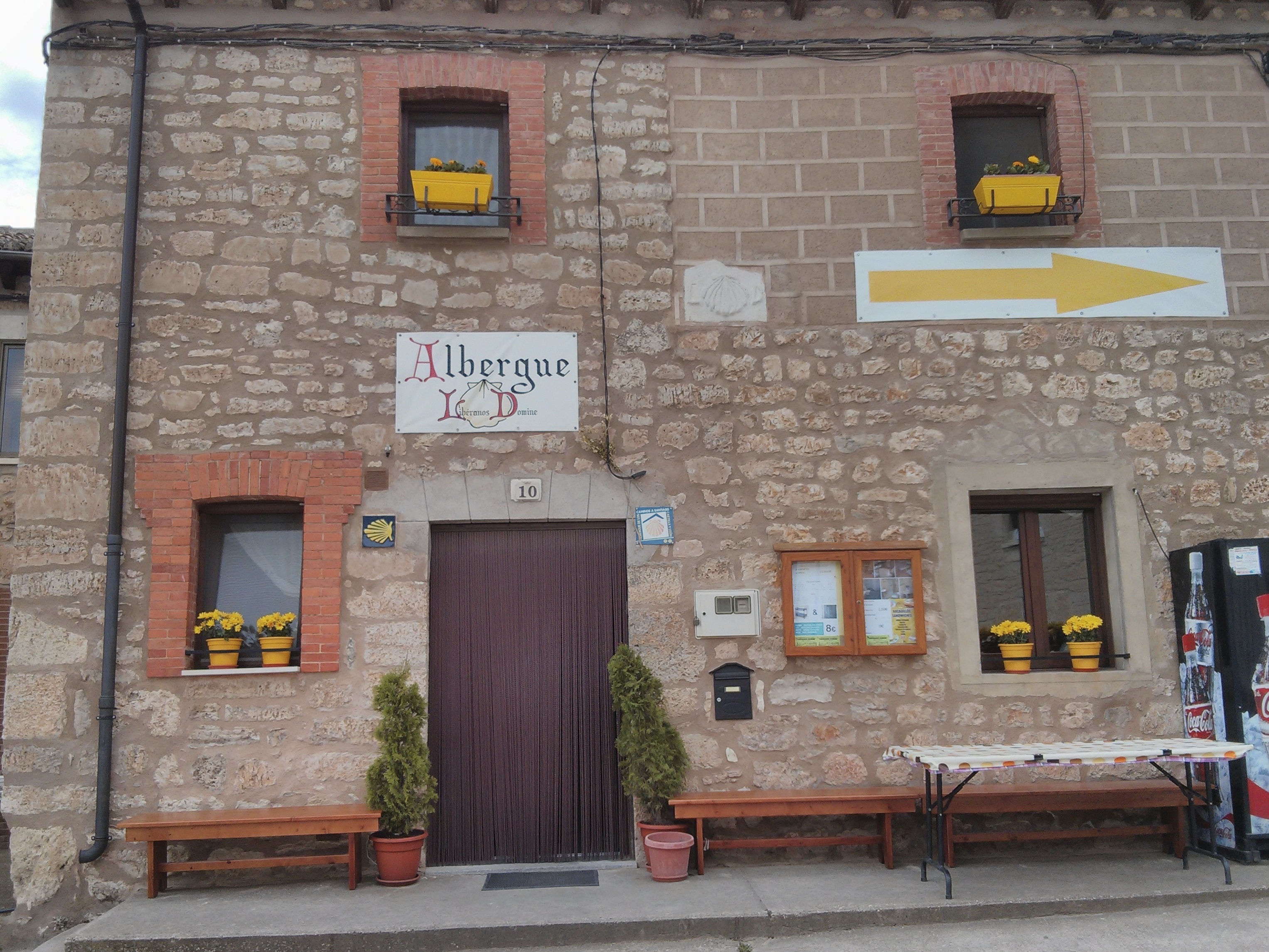 Charlie: One of the great things about the Camino is all the services set up for pilgrims. One of these is the albergues. These are the places with lots of bunk beds in large rooms. You get a mattress, the lower bunks go first, and usually a pillow and a blanket if you need one. Like summer camp except a lot more snoring, which increases with age it seems.
We planned from the beginning to stay mostly in hotels and pensions and only in a few albergues. That is what we have done. We have stayed in albergues two times out of 35 nights.
That decision is problematical though. The albergues are part of the culture of the Camino. They are where you meet lots of other pilgrims. Also everyone gets up and gets going early, you have to be out by 8, so it gets you more into the rhythm of the Camino.
You also gain a lot of flexibility since they have albergues in every little place, places where there is no hotel.
The cost is a lack of personal space and a place to relax. They can also be pretty cold. They don't seem to have heat.
I can see the tradeoffs and I am glad we are doing it the way we are. Everyone walks their own Camino and meeting a lot of other pilgrims was not my reason for walking. I have talked elsewhere about things I was looking for. We still talk to a lot of people but we don't have the (not so) late night bull sessions with people like you do, say, in a college dorm. But for me, been there, done that. And I am mostly an introvert and like my alone time. Other people would make other decisions.
Another consideration is cost. The albergues are really cheap, €5-10 each. We have been averaging about €40 a night in hotels (20 each). Also most albergues have kitchen facilities so you can go to the store with some other pilgrims and cook up a communal meal pretty cheaply. You could easily walk the Camino for €25 a day and €15 a day of you were really careful. (Food from the grocery store is very inexpensive.)
Overall I would say anyone young or extroverted should definitely stay in albergues. Other people should weigh the factors and decide what is best for them. If you enjoy camping you should also stay in albergues because it is a lot the same but easier since you get a mattress and a roof. I would say that you should also stay in albergues if you enjoy flying coach on long international overnight flights but that might reveal my prejudices so I won't say that.
One thing we have noticed is that almost everyone we meet is staying in albergues. This includes the people we meet in the hotels and people our age. Usually they just stay in hotels once in a while, like once a week. And others are staying there because the albergues are full or they arrived too late.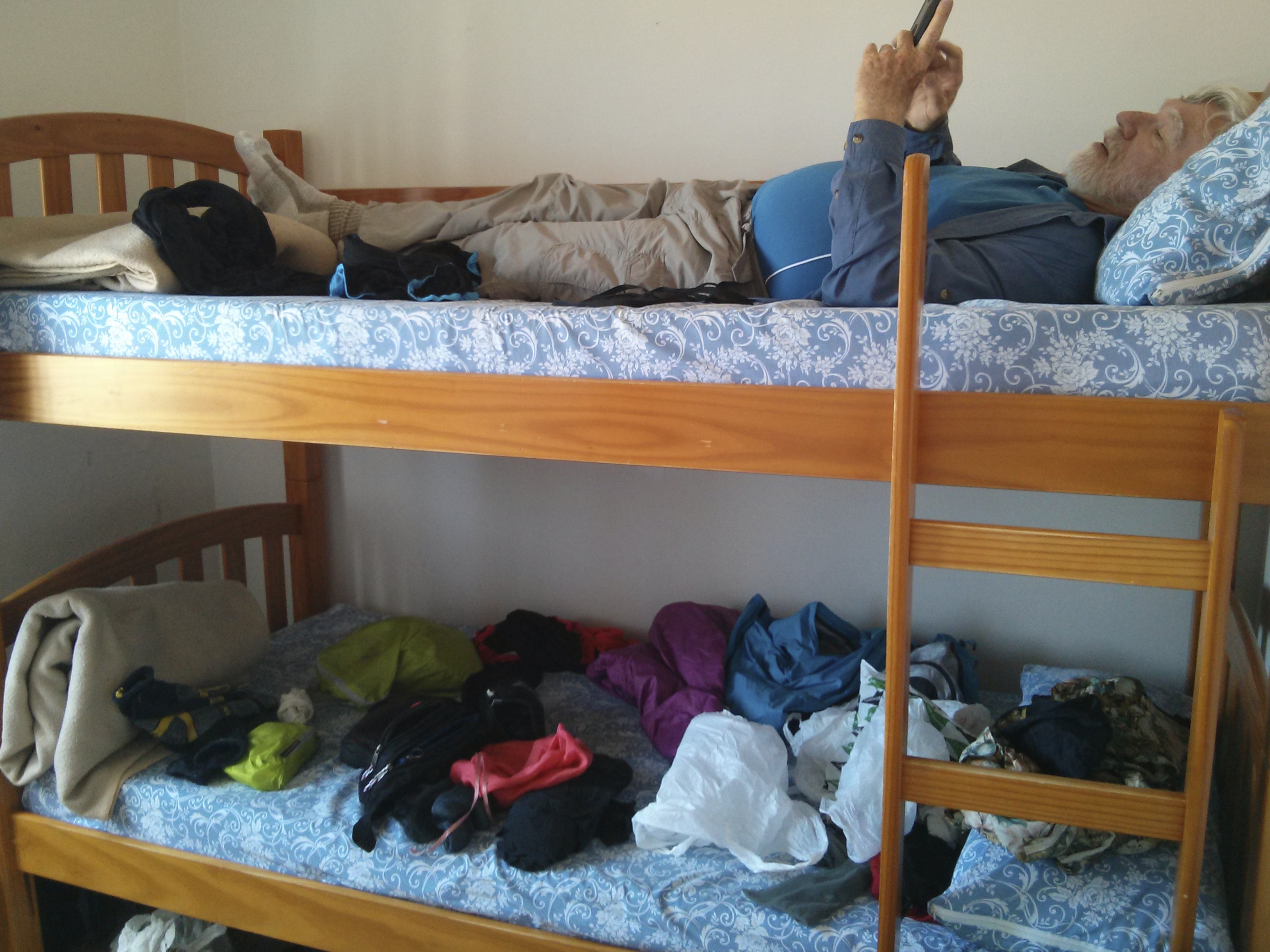 Can't Get Off the Road
2013-05-07 09:01
Charlie: This is not Camino related but I had to mention another road movie showing how it is all about the music.
In Cameron Crowe's Almost Famous there is a touching scene where everyone is tired and they are on the bus and Tiny Dancer by Elton John and Bernie Taupin comes on the radio. One by one they all start singing along with the song.
International Measurements
2013-05-07 09:20
Charlie: We are slowly getting used to using kilometers but usually convert things to miles. Even the British and the Aussies know about kilometers so we are really alone with the miles. And talking to some Germans it took me a while to tell them the altitude of Albuquerque in millikilometers.
Kilometers are nice because they are smaller and it seems like you are walking farther. Celsius degrees are a little too big and the temperature signs have to have a decimal place.
But I have realized on the trip that the elephant in the room is time. How did the whole world get bamboozled into the wacky way we make time? Quick, how many days between April 28 and June 7? If it is 9:40 (or 21:40 it is no easier) and you set your alarm for 7:15 how long do you get to sleep? Not higher math but significant mental effort. Harder than the time between star date 45812.6 and 45814.3 but, of course, you need to figure out what the heck the star date units were. Did Star Trek ever address that?
We Made It to Galicia
2013-05-12 14:19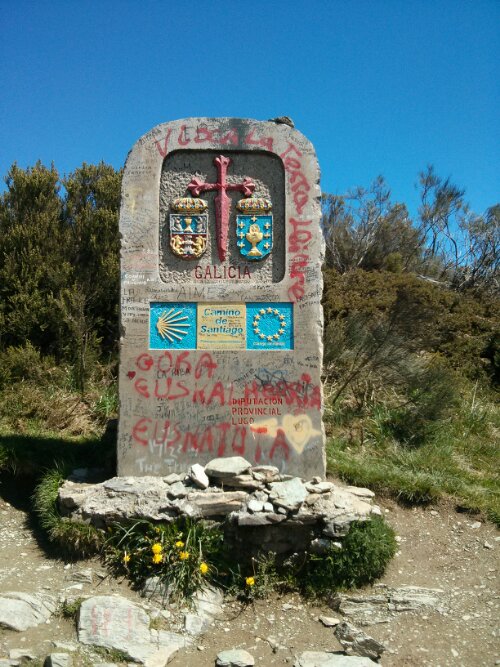 Wynette: On this trip we have walked through several regions of Spain. (Here is a map of the regions of Spain.) Most regions contain a number of provinces.
On April 3 we started walking in the Basque region of Navarra. After crossing Navarra, we passed through small La Rioja. Then huge Castilla-Leon. And today (Friday, May 10) we entered Galicia, the region that contains Santiago.
The Galician people have Irish/Celtic roots. Galicia is beautiful, hilly, lush green like Ireland. The high mountain town we are sleeping in tonight (May 10) is called O'Cebreiro. The primary language spoken here is Galician.  But most speak Spanish as well. Many here, as in the Basque region and Catalonia, want to be an independent country, not a part of Spain.
Blog Lately
2013-05-12 14:49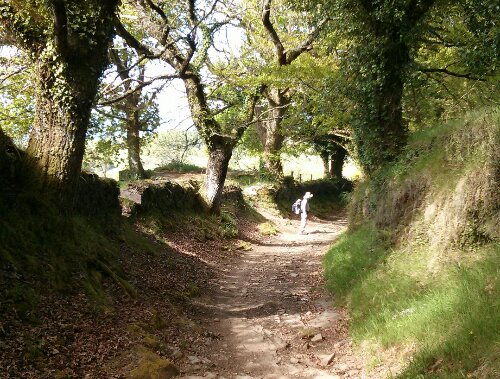 Wynette: We haven't been blogging much recently. Charlie hasn't been feeling well for a few days but he's wanted to keep going. Also we've increased our daily kilometerage a bit. So we often get into a town very tired. We do whatever hand laundry needs to be done, then if we have any time and energy walk around the town a bit, then get dinner and plan the next day. Then it's time to sleep. Still, we're always glad to be out on the road the next day.
We've finally got good WiFi tonight, so are able to load videos for the past few days. Will probably get those posted tomorrow.
Vertical License Plate
2013-05-14 13:55
The Practical Path
2013-05-15 14:02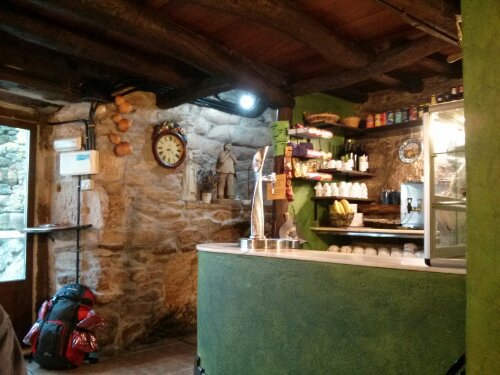 Wynette: We've been surprised how it's taken us some time to learn a few practical things. We thought we'd list some things here we wish we'd known earlier in case you are planning to do the Camino.
1) If a steep uphill or downhill is slowing you down or causing knee pain and the path is fairly level and smooth, zigzag your way up or down. In other words do little switchbacks right on the path. Even though it'll take more steps, you'll probably go faster and with less discomfort. We learned this when we saw another pilgrim doing it. At first you feel a little silly but we didn't let that stop us, and then we noticed a few others copying us after watching us do it.
2) When ordering a bocadilla (Spanish-style sandwich) feel free to ask for exactly what you want on it, even if your favorite combination is not listed on the menu. For example, cheese, chorizo, tomato, olive oil. Well, I haven't had the nerve yet to to ask for mayonnaise, but I think the Spanish wouldn't mind even though they might think I'm strange.
3) If you are burned out on bocadillas (that happened to us) don't be afraid to ask for things that aren't on the menu. For example, we started asking for huevos fritos con tostadas (fried eggs with toast) any time of the day. Most places have been happy to oblige. And the eggs are so fresh and delicious and prepared exactly the way we like them: over easy. If you like them some other way you'll probably need to ask because over  easy seems to be the default.
4) If you are tired of the constant patatas fritas (French fries) that come with every pilgrim's menu, ask if they'll substitute ensalada. We just did this today for the first time and they were happy to do it. In general, we have found the salads to be delicious. At least at this season, April/May, the lettuce is so fresh.
5) We recently started ordering one pilgrim's menu to share between the two of us. We were shy about doing that earlier but no one seems to mind. There's always so much food, one menu is plenty unless we are really hungry.
6) Last night we stayed in a private room in an albergue. Since some albergues offer washers and dryers, we asked about it there. They said no, but added they'd do a load for us for 3 euros to wash and 3 to dry. This was a bargain because hand washing is so much work, things don't get as clean, and in this cold, very damp weather, it's hard to get things to dry, especially thick socks. (Some of our rooms have had no or very little heat.)  What a luxury to have everything squeaky clean and dry. We didn't realize this service is often available in these places.
7) If you don't want your whole bottle of wine that comes with your pilgrim's menu, offer what you have left to the pilgrims sitting at your table who have finished theirs. We did this last night and they eagerly accepted and it opened up conversation at our table of two people from USA, two from Slovenia, one from Argentina, one from Spain.
Note: Since we took some time learning about these things, places earlier on the Camino might not be the same. For example, you'll notice the food slowly change as you walk from region to region. So everything we've said above might not apply everywhere.
We stayed at a few albergues but mostly in hotels, casa rurals, hostals, and such. If we'd stayed in more albergues, we'd probably have talked to more pilgrims and learned these things sooner.
The Spiritual Path
2013-05-15 14:04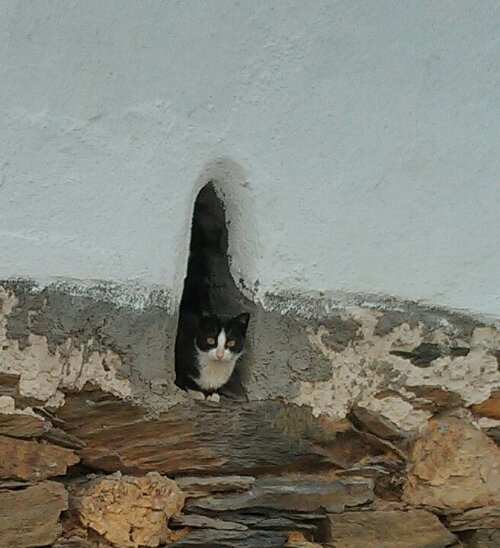 Wynette: Two things I've been trying to work with on the Camino are taking things as they come and letting go.
Taking things as they come:
You haul yourself up a steep hill and finally at the top you see that you are going straight back down again. These hills give lots of practice in accepting things as they come.
Charlie and I have talked some about how stressful it can be to always try to optimize everything: to try to stay in the best possible place for the night, to find the best dinner. As we move so quickly through these towns with so little information, we just have to choose something and hope for the best. Some things turn out great, others ok. Nothing really terrible so far. But there are always opportunities to have regrets or be unhappy. Being on the Camino reminds me to acknowledge how I feel (to myself) but not to hang on to those regrets or bad feelings. And to constantly be grateful for all the good things we experience every day and for the opportunity to see the world this way.
Letting go:
Walking lets you see things closer and in more detail than driving, of course. But then you're more aware of all the things you are passing by too quickly.  Flowers, little churches,  local people, other pilgrims, tiny villages, little tiendas and bars, farms, animals, houses, vistas. But there isn't time to stop for much of this. Sometimes, we've even been too tired to explore the village we are staying in for the night. I am trying to enjoy what I can of these things and let go of the others and move on.
On the Camino Together
2013-05-15 14:04
Bread Delivery?
2013-05-15 14:07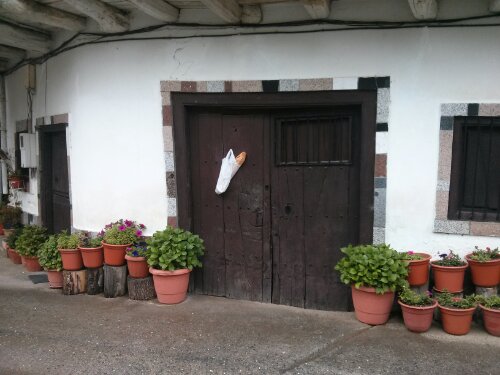 Smallest Albergue on the Camino
2013-05-15 14:10
Natural Garden Wall in Galicia
2013-05-16 10:51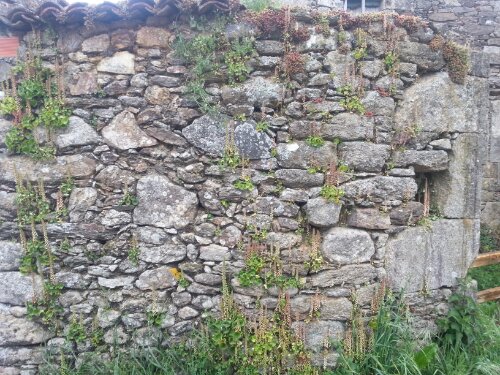 Tree in the Rain
2013-05-16 10:53
Eucalyptus Trees in Galicia
2013-05-16 10:55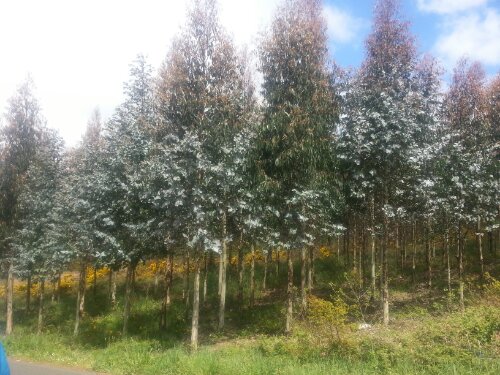 Arrows on the Camino
2013-05-16 11:02
Still More Dangerous Camino Dogs
2013-05-16 11:06
Coming to an End
2013-05-16 11:13
Charlie: We have been on the Camino longer than most people. We will walk three more 10-12 mile days and we will arrive in Santiago on Sunday May 19 after walking 410 miles in 38 walking days and seven rest days. We are ready to be there.
More Hand Holding on the Camino
2013-05-16 13:57
I Can't Get Enough of the Arrows
2013-05-16 13:58
Yellow Arrow Amidst Graffiti
2013-05-18 12:44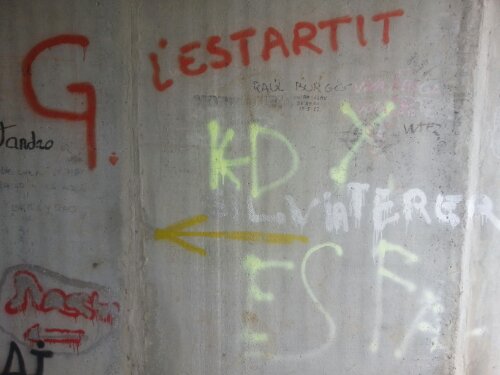 Eucalyptus
2013-05-18 12:59
The Fireplace at Casa Brandariz
2013-05-18 13:01
Charlie: We stayed at a nice casa rural last night. It was out in the country, off the Camino, so they picked us up and dropped is off at the same place in the morning. Excellent food.  The public area had an open fireplace (without and with flash)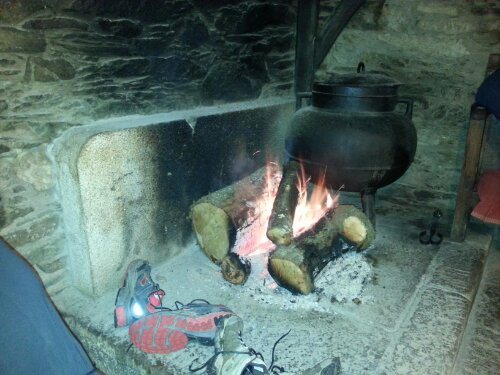 Over it the ceiling made a large cone where they hung meat to be smoked.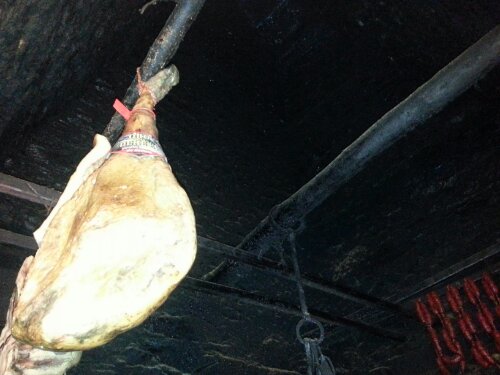 We spent a few hours there with our phones, talking to other guests and watching the kids playing.
Wifi and Mobile Data
2013-05-18 13:18
Charlie: Almost every albergue and hotel has wifi although they pronounce it wee-fee (like a small charge). We need wifi to download our pictures and videos.  It takes a minute to download 1-2 seconds of video so we need a good connection. We only get that once in a while.
Often the wifi is weak in the rooms and only good in the common areas. A big day of videos need all night to download so that doesn't work well for us.
We got voice and data SIMs from Vodafone. Data connections on the Camino are fair to poor. We get a letter on the status bar. H or H+ is great then G, F, E, D, and C. If you get C forget it, nothing will work. We had coffee in a bar that was about 50 feet from a cell tower and we got solid H+ from there with four bars.
You need a data connection for Google maps to work.
A Gift for Dos Peregrinos Americanos
2013-05-18 13:50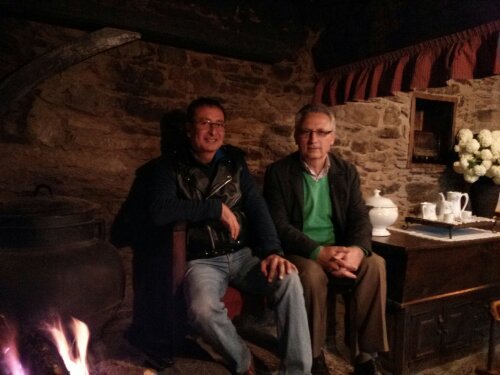 Wynette: Last night, we were sitting by the fire in our B&B (see Charlie's post about Casa Brandariz below). We had our wet shoes there, hoping to dry them out a little. Two men sat down across from us. One was from Madrid (on right in above photo) and the other (on left) was from Argentina, currently living in the Canary Islands. They asked if we were pilgrims. They clearly weren't (dressed too nicely) but the Madrileño said he'd done the Camino a few years ago and had written a book about it. We chatted a bit (I got to practice my Spanish) and then the Madrileño left. A bit later he returned and to our surprise handed us a copy of his book as a gift. He said he had it in his car. The book is called Ecos del Camino. His name is Manuel Fuentes. From the fly of the book I learned he is a law professor. It is a beautiful book and I look forward to reading it. It will take a while but doing that will help me learn Spanish. So far, I've read Camino accounts by at least seven Americans and one German. I am looking forward to reading about the Camino from the perspective of a Spaniard. He signed it for us. He addressed us as dos peregrinos americanos.
Note: Photo below is outside Casa Brandariz, taken the next morning, after the rain had stopped.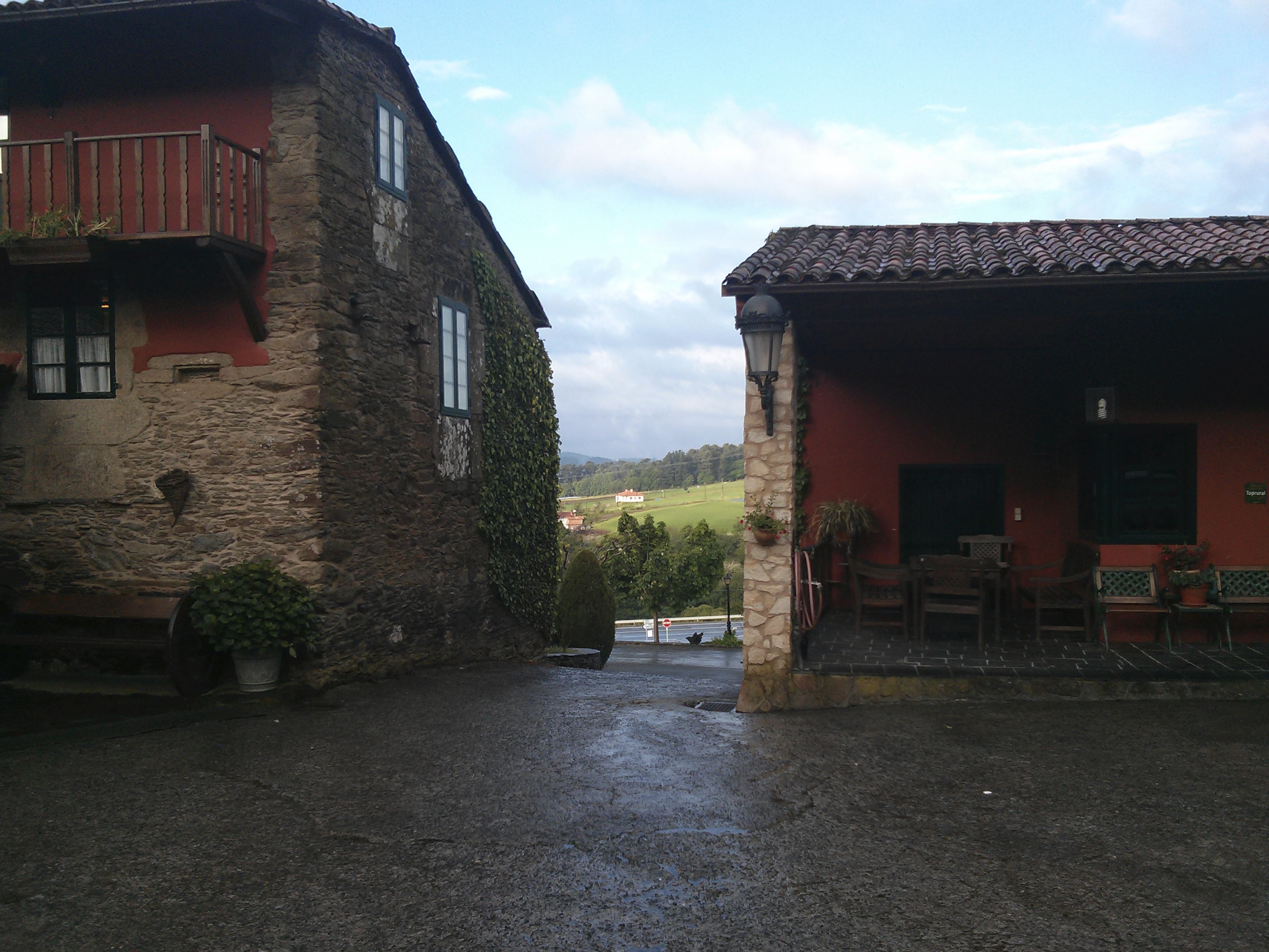 No Longer on the Road
2013-05-20 12:42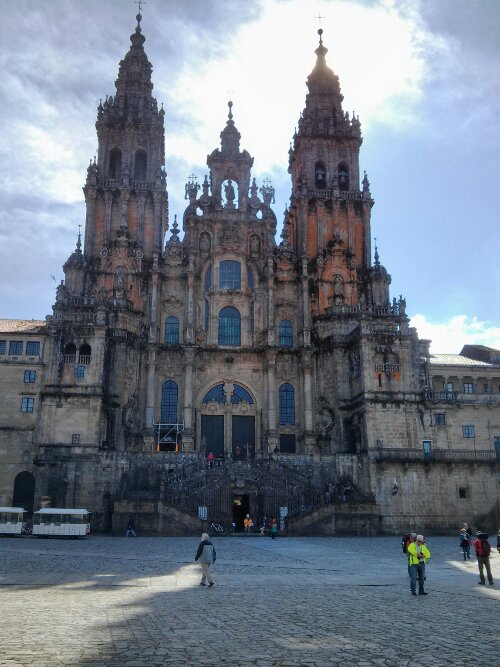 Wynette: We arrived in Santiago yesterday afternoon about 3:45. It is rather strange to be here. We are happy we made it, happy we did it, and, well, planning our next camino, maybe through Portugal? We walked 412 miles according to Charlie's GPS app. We walked 38 days and took 7 additional days to visit cities, rest sore feet, get over being sick. We took 2 taxis, 4 buses, and a train to skip some too-long or too-asphalty stages when I was having foot problems, for a total of about 100 miles skipped.
It is strange to be here because there was never any particular reason for us to come to Santiago except, to come to Santiago is why the wonderful Camino exists. Santiago is a nice city but very touristy in this old part of town where we are staying. The cathedral is surrounded by souvenir shops. Dozens of them. Actually, it reminds me of Old Town in Albuquerque, complete with a very nice church.
As we've been walking, I have been rereading three books, accounts of three American pilgrims of their Camino experience, reading about the places they passed through about the same time we passed through them. One, as I mentioned in an earlier post, is Following the Milky Way by Elyn Aviva. She ends her book with this beautiful poem written in 1911 by Greek poet C. V. Cacafy: Ithaca.
Compostelas
2013-05-20 13:21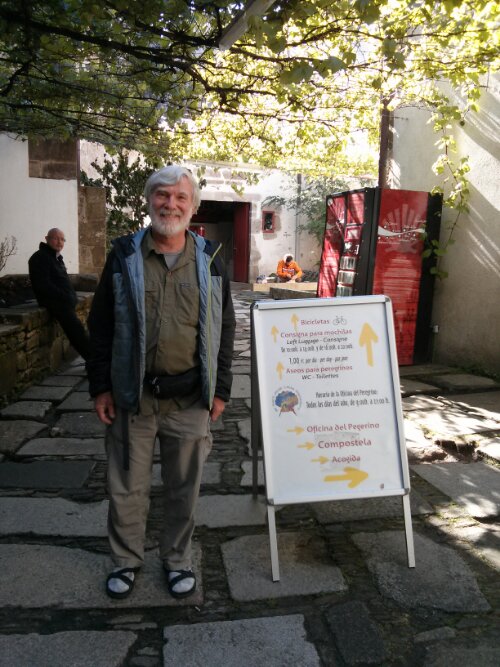 Wynette: Today we went to the pilgrim's office near the cathedral to get our compostelas. We showed them our pilgrim's passports in which we had collected sellos (stamps) that we requested along the way. The sellos are a record of where we started and where we had been. The office got some information about us (country, age, where we started, why we did the pilgrimage) for their statistics verified that we had walked at least the last 100 kilometers, and then filled out a certificate for us. Charlie's name was converted to Latin but they didn't seem to know what to do with Wynette so mine didn't get changed.
Here are some very nice Germans, Brigit and Eric, we met on the Camino and then ran into at the pilgrim's office today. They were walking out with their compostelas as we were going in to get ours.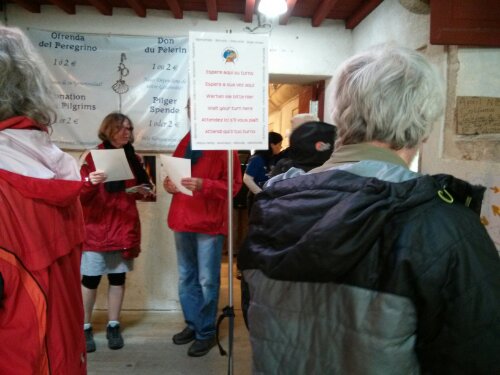 Santiago Cathedral w/o HDR
2013-05-20 13:53
Journey and Destination
2013-05-23 03:08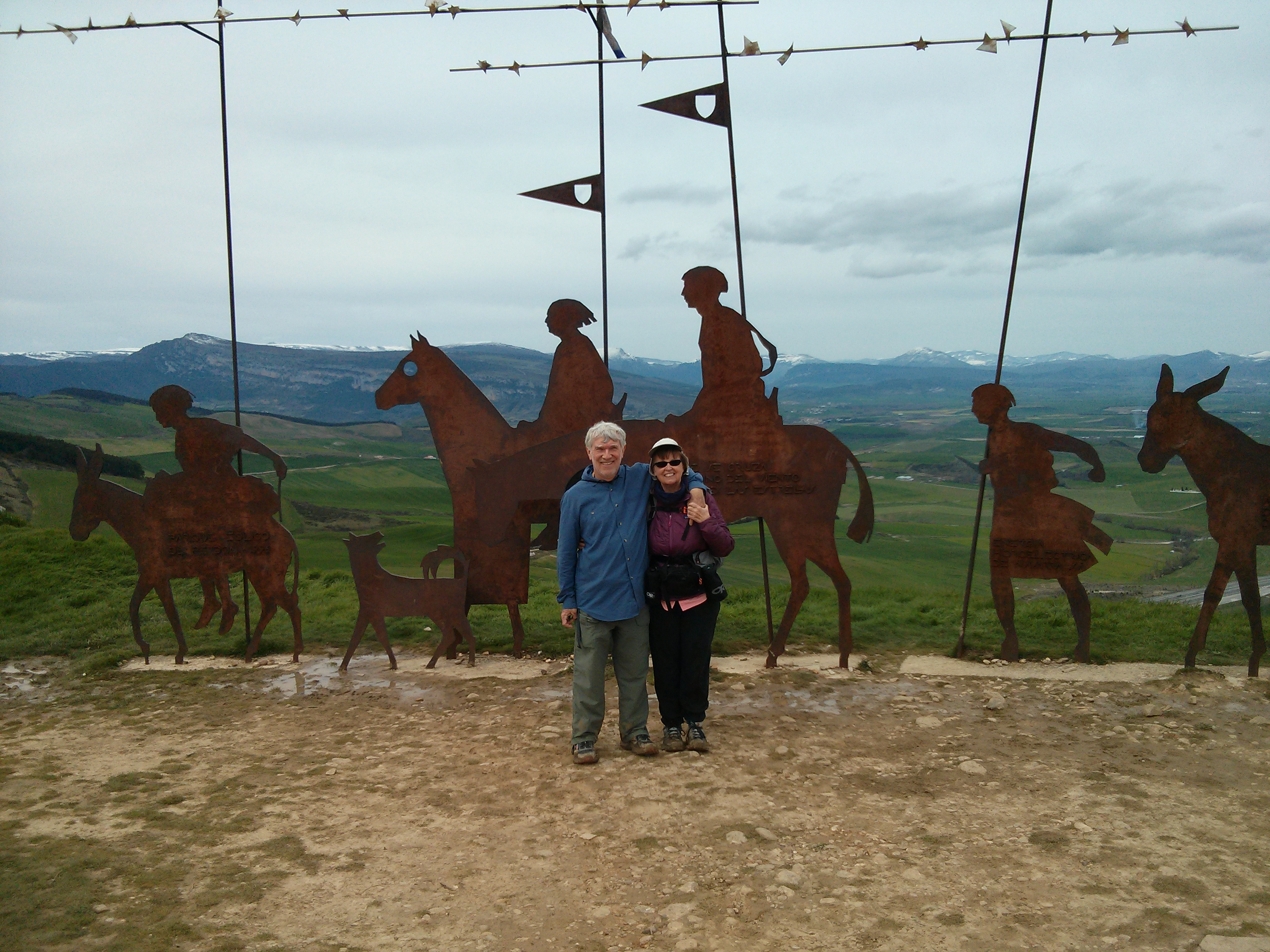 Charlie: we are still processing the fact that we have finished the Camino and what it all means.
When I walk to the store it is all about the destination, the walk is just the means. When I take a walk around the neighborhood it is all about the journey, there is no destination as such. Originally the Camino was mostly about the destination, to get to Santiago, to show your faith in God, to get the indulgence. The journey was significant only in that it was hard and a sacrifice and was a penance for your sins. For us, the Camino was all about the journey. We liked the day-to-day rhythms. We liked the fact that each day, each little town, each kilometer was different and interesting. We liked seeing the small towns and how the people lived. You can see things walking that you can´t see any other way. In this sense it was travel, a vacation.
Travel involves endless decisions, where to stay, where to eat, when to stop, etc. The biggest thing we learned was not to try to optimize every decisión, to accept what we got.
We also liked the rhythm: every day you get up, put on the pack and walk. It was always fun to get started. It was nice to be done at the end of the day.
Getting close to Santiago changes things. The destination becomes more important. It hit me when we had four days to go. They were all planned out. In a way we weren´t on the Camino anymore but walking to Santiago. I could not feel the day to day any more, it was all about the destination. I guess this is what all pilgrims feel when they get close to Santiago. It changes the trip. Another thing to learn on the Camino.
PS. I´m typing this on a keyboard at our hotel in Madrid. It is a sea of red underlining because the spell checker seems to be checking for Spanish. I noticed it added an accent to decisión. There are probably tipos. (Whoops it changed the shortening of typographic error to tipo.)