Our Favorite Places to Stay on The Way
2015-08-17 20:26
We promised friends who will be doing the Camino soon that we would list some of our favorite places to stay, so here goes. These are places that delighted us. There were many other excellent places but we didn't want the list to get too long so only include the ones that really stood out. We've included places we stayed on our first Camino (Spring 2013) as well as this one (Fall 2014).
On all of these, if it is an albergue, we had a private room. We don't really know how the non-private rooms are in those places, but probably worth checking out because the things we usually liked about those places were things like the atmosphere, the people who ran them, group meals,  availability of a kitchen — which would be the same for all. All the places were very clean so won't mention that below. Many places (especially the inexpensive ones) either have laundry facilities or inexpensive laundry service. So we'll only mention that below if the washing machine was free (true in a couple of places).
If there is a place you have your heart set on, we recommend that you call ahead for reservations at least the day before. Some places might be available at short notice but … maybe not.
For private rooms we tended to pay around 30 to 40 euros per night (total for the both of us). If we say something is a splurge below it was more than 40 — but usually not a lot more. If we mention eating meals, the price of those was usually not included in the price.
You can click on any photo below to see a slightly larger version.
IMPORTANT NOTE ABOUT A FORK IN THE CAMINO: On the outskirts of Leon, as you are leaving town, after you get through Virgen del Camino, you'll come to a place where huge numbers of camino arrows urge you to go straight ahead and another huge number urge you to go left. We recommend you take the left fork. The straight-ahead route is a little shorter but we understand goes mostly by a noisy highway. The left route takes you through small quiet villages and two of our favorite places to stay on the Camino. (The two listed after the León entry below.)
Here is our list in the order they appear on the Camino:
Larrasoaña/Akerreta: Hotel Akerreta
This was a charming, comfortable place. Friendly owner. Great views from the living room and patio. A bit of a splurge (and prices have gone up some since we were there in 2013). This hotel was in The Way: where Tom met the woman from Canada, saw the owner pretending to be a bull fighter. We didn't realize that until the (real) owner told us as we were checking in. Then, as we looked around we recognized places from the movie.
Cirauqui: Albergue Maralotx
Colorful, pretty place. The woman who runs it is artistic, interesting, friendly, intense. She cooked a wonderful meal for us pilgrims. She said she was getting a bit burned out and was thinking about selling the albergue. Hope she is still there.
Villamayor de Monjardín: Casa Rural Montedeio
We were lucky to get to stay here on both our Caminos. It is a sweet, comfortable place in a lovely little village. A large well-equipped kitchen with all cooking facilities so we cooked a nice dinner for ourselves as well as breakfast with food we bought at the tiny tienda in the village. Free washing machine. We only paid 40 euros per night but, desafortunadamente, it looks like they may no longer be reserving by the night and have really gone up in price.
Torres del Rio: La Pata de Oca Albergue/Hostal
We stayed here on both Caminos. Each time had a private room in the picturesque hostal. The first time a fun, eccentric man showed us around. (La Pata de Oca means The Foot of Goose. Ask them about the history of that.)
Ventosa: Hotel Las Aguedas
This was a little splurge but so worth it. It's charming and comfortable and beautifully furnished. Run by a friendly woman and her handsome son. She cooked an amazing family-style dinner that we shared with the other pilgrims staying there.
Rabé de las Calzadas: Albergue Libéranos Domine
This is a small, plain, non-fancy place but we have great memories of it. We called to reserve a private room. The call was confusing so we weren't sure what we would end up with. When we got there we were given a room with two bunk beds all to ourselves at no more charge than for a single bed each. So, we paid 16 euros for our own private room. The owner, Tina, served a simple home-cooked dinner. Her brother owns the bar down the street and we remembered him from our first Camino. A friendly fellow.
Castrojeriz: Hotel Iacobus
This was a spacious, comfortable, pretty place. Nice views from the living room and the restaurant. Run by a friendly man who has walked the Camino many times. You can see his pilgrim passports, all framed.
Itero de la Vega: Albergue Bar Puente Fitero
First albergue you come to when you enter the town. We enjoyed sitting on the front porch and watching the pilgrims pass by. We stayed in a private room over the bar. Nothing fancy but we liked the down-to-earth spirit of the place. Just busy locals (an old couple) running the place, living their lives. Was fun to eat with the other pilgrims in the dining room. And hang out in the restaurant/bar. (We stayed here both Caminos.)
Moratinos: Hostal Moratinos
We stayed here both Caminos. It was built by a German woman and her Spanish husband. The first time they were both there. The second time the German woman was gone and the husband was still there with, we think, a new Spanish wife and a new baby. We missed the German woman, she was great. (We never had the nerve to ask why she wasn't there.) But we still loved the place both times. It's simple, modern, comfortable, pretty. Rooms have nice touches with beautiful views of the meseta and the Camino from the french windows. (Fun to watch the pilgrims walking by.) Super comfortable beds with European comforters. Sunny little cafe downstairs. Good bodega restaurant across the street.
León: Hostal San Martin
Yet another place we stayed on both Caminos. The owners at Hostal Moratinos recommended this place and we weren't disappointed. You can stay in much fancier places in Leon (e.g., the Parador!) but this was so reasonably priced (40 euros) and charming, spacious rooms, great location in the old town. All the guidebooks recommend this place, too.
Villar de Mazarife: Albergue San Antonio de Padua
We had a private room (super tiny), but the non-private room beds looked great. Lots of space, pretty bedding. (Ironic and cool that the private rooms were crowded and the non-private rooms were spacious.) The woman who owns the albergue is a vegetarian. She had found it difficult to eat well when she walked the Camino so … she started this albergue. She serves a wonderful communal vegetarian dinner each evening in the dining room. (A delightful sign at the entrance says "You cannot cook your self … we cook for you.") Unfortunately, we didn't get to stay here the first Camino (had already made reservations elsewhere) but she let us eat with her anyway. The second Camino we made sure we stayed here and enjoyed another of her dinners.
Villavante: Casa Rural Molino Galochas
This is a little more expensive (but not much) and a great deal for such a charming place run by a friendly couple. It used to be an old mill (molino) and a river runs underneath the house. The owner cooked us a fantastic communal dinner. The place is beautiful.
Hospital de Órbigo: Bed & Breakfast El Caminero
A hard-working young couple run this beautiful B&B. It is a few blocks off of the Camino but worth the extra walking, even on sore feet. We didn't get to meet the husband but the wife was lovely.
El Acebo: La Rosa del Agua
Another hard-working young couple run this delightful rustic place in the beautiful village of El Acebo and we were thrilled to get to stay here both Caminos. The owners are wonderful. Friendly, kind, and helpful. There are only a few rooms of different sizes. (Reservation highly recommended.) The owners have a tienda downstairs and there is a good restaurant across the street. You have use of a little kitchen as well. This is the first place you come to in El Acebo and we bet you'll be ready to stop after the long day's walk that includes the Cruz de Ferro and much uphill and downhill.
Morgade: Casa Morgade
Casa Morgade was charming and lively with friendly people running it. A little bar plus restaurant downstairs. Pretty views out the back windows. An old graveyard and chapel nearby.
Arzua: Casa Brandariz. 
Located a few miles south of the Camino, they will bring you from Arzua and back in a free taxi. It was slightly more expensive than most places we stayed but not a lot and we really enjoyed our night there. It's in a beautiful location. Friendly people. Good food. Charming. Great fireplace (you'll know what we mean when you see it).
On the road from Cee and Finisterre: Hotel Playa de Estorde
This is on the Camino Finisterre, past Santiago. The hotel is right on a sandy beach. We loved it so much we stayed three nights to relax near the end of our Camino. (We were lucky that the weather was unusually warm and sunny for that season in Galicia.) When the owner showed us our room we couldn't believe it was only 40 euros. We ate most of our meals on a beautiful patio overlooking the ocean. The owner's mother-in-law cooked in the hotel restaurant and it was some of the best food we have ever had.
Honorable Mentions:
There were many other good places. We will list some below that bring back good memories. Many of these almost made our top list above.
Viscarret: Hotel Burguete. Simple place. Fabulous home-cooked dinner. We didn't know it at the time but have just read on their website that Ernest Hemingway spent a lot of time in this house. They didn't even mention it.
Uterga: Camino del Perdón Hostal/Albergue. We stayed here both times. Enjoyed the pilgrim's meals and the cafe downstairs and patio out front. Be sure to stay same place as albergue is located where there are a couple of private rooms. (We think there is another place, but we don't know what that is like.)
Lorca: La Bodega del Camino. Lively, good food in bar downstairs. Kitchen for pilgrim use upstairs as well.
Nájera: Albergue Calle Mayor. Spacious, great kitchen, free washing machine.
Santo Domingo de la Calzada: Hostal El Molino de Floren. A little splurge. What a breakfast! Friendly staff. Another old mill. Every room is named after a different type of grain.
Villafraca Montes de Oca: Hotel San Antón Abad. This was a rather large splurge. A gorgeous hotel.
Atapuerca: El Peregrino. We loved this little place. Tiny room, prefab construction but it had a kitchen we could use and was so cheerful and inviting.
Hornillos: De Sol a Sol. Pleasant colorful place. Can use the kitchen to cook your own food. The owner, Samuel, is so nice. His sister is married to Emilio Estevez's son (Martin Sheen's grandson) so it is fun to hear his story about that. 
Hontanas: El Puntido. Fun bar and restaurant downstairs. Nice rooms. Kitchen upstairs.
Carrión de las Condes: Hostal Santiago. Comfortable, colorful. Their website doesn't do it justice. 
Santa Catalina de Samoza: El Caminante. Laid back. Pretty courtyard in the middle and bar/restaurant downstairs.
Rabanal: Albergue Nuestra Señora del Pilar.  Our private room was about a block away from the main place, so we missed the camaraderie of the albergue. But the room was very nice.
The following are on the Camino Finisterre:
Ames: Casa Riamonte. A few blocks' walk off the camino along a pretty valley. The owners were friendly and cooked us a good dinner. Basically we were staying in their house. Plus they have a cute little albergue next door. And a cute dog.
Negriera: Albergue San José. Spacious, comfortable, modern, good kitchen. The room was plain but we liked it. 
There were many others that we were quite happy with but we'll stop now.
Why a Second Camino?
2014-09-13 13:43
Charlie: I hiked five miles with my dog just about every morning for 10 years and I went to the same place each time. It was the same path but the seasons changed, what I saw changed, what I thought about changed. What stayed the same: the joy of hiking in the mountains, the joy of just walking and thinking. I do my best thinking when I am walking.
We enjoyed the Camino: the daily walking, the rhythms, the time for thought, seeing the different towns and regions. So we are doing it again, this time in the fall. The grapes will be ripe. We will walk some parts we skipped in 2013. We will skip some parts we walked in 2013. We are going on from Santiago to the ocean to Finisterre and Muxia. It is called the Costa da Morte although we are hoping to avoid that fate.
See "Our Camino Map" in the "Camino Links" tab for maps of the 2013 walk, the planned 2014 walk and what we have walked so far, we'll update it as we go.
The Second-System Effect
2014-09-13 13:48
Charlie: It is usually a bad idea to try to recreate an experience. We will try to avoid that on our second Camino. We hope to make this a related but new experience. We have some ideas of how to do that that we will be reporting as we go.
The second-system effect was first noted by Fred Brooks in "The Mythical Man-Month".
Alto del Perdón
2014-09-14 18:47
Route Map (Spring 2013 and Fall 2014)
2014-09-14 18:57

Wynette: Last year we started in Roncesvalles (near the French border) and ended in Santiago. Because of my uncooperative right foot, we skipped (via bus/taxi/train) a total of 100 miles here and there between Logroño and León. This year we plan to start in Pamplona and hope to walk without a break to a little past Ponferrada and then catch a bus to Santiago, then from Santiago walk to the ocean (Finesterre and then Muxia). About half the miles this year will be new to us and the other half will be old friends. The above map shows last year's route and this year's planned route. (You can click on it to get a bigger version.) The red parts are places not walked. The light green is 2013 actual. The dark green is 2014 planned. Here's a live map. We'll post the actual 2014 progress as it happens.
Here's a map of the camino and the whole of Europe! Whew! That makes it look big. But we plan to do it at the rate of 8 miles a day. One step at a time.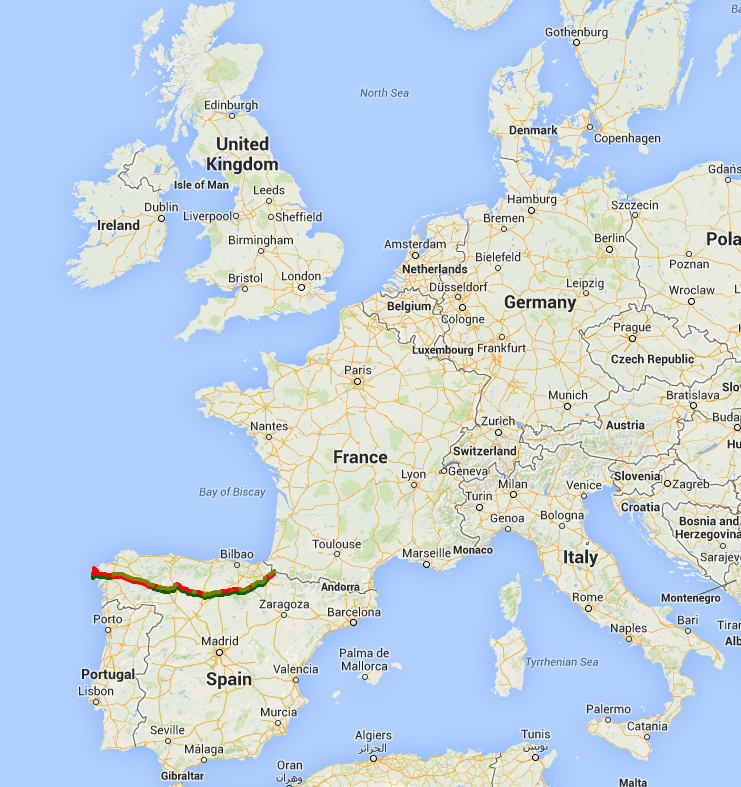 Man, 70, Incredulous of Way-Slow Way
2014-09-17 09:41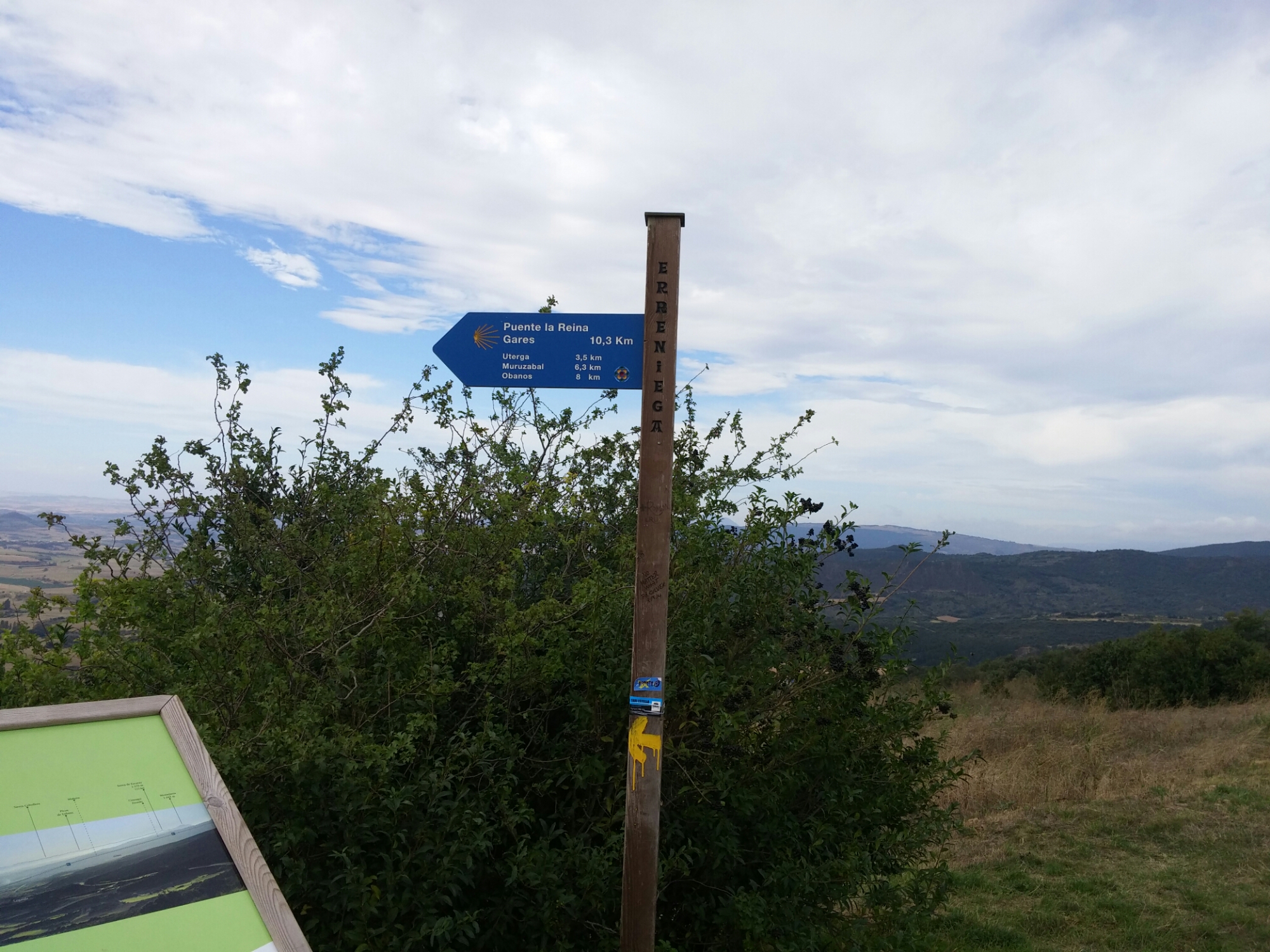 Charlie: Slowpoke Camino couple Wynette and Charlie set out this morning intending to stop at a bar for coffee. Nearing the business district they encountered a friendly Spanish gentleman on a bicycle carrying pampas grass and wildflowers. "Camino de Santiago?" he inquired. He insisted he knew a better way and the polite couple followed, wanting to be open to new Camino experiences. He gave them flowers and they found out that you tug someone's ear when they turn 70.
He asked where they started the morning and where they were stopping tonight. On hearing "Uterga" he assumed the worst of their Spanish pronunciation and said "Estella?" or surely "Puenta la Reina". On hearing it was really Uterga he was dumbfounded. He held out his hands and moved them together indicating a fish far below the legal limit and counted on his fingers to emphasize the small number of kilometers involved.
He led them over to a shortcut guaranteed to avoid any establishments that might serve coffee. It was shorter though and they had fried eggs and excellent coffee just three miles down the way. All's well that ends well. The distance- challenged couple can be reached at their albergue in Uterga, which they reached just after noon (after walking 8.36 miles total) and where they spent a relaxing afternoon.
Are You an Autumn?
2014-09-17 10:25
Leaving It Behind, Again
2014-09-17 13:23
Charlie: We charged our phones on the Madrid airport and left behind the adapter. It is so easy to do, the plugs are recessed and you pull out the USB charger like you always do. We did the exact same thing last trip, in the first place we charged, and replaced it in Pamplona like last trip.
Arty Photo
2014-09-17 14:12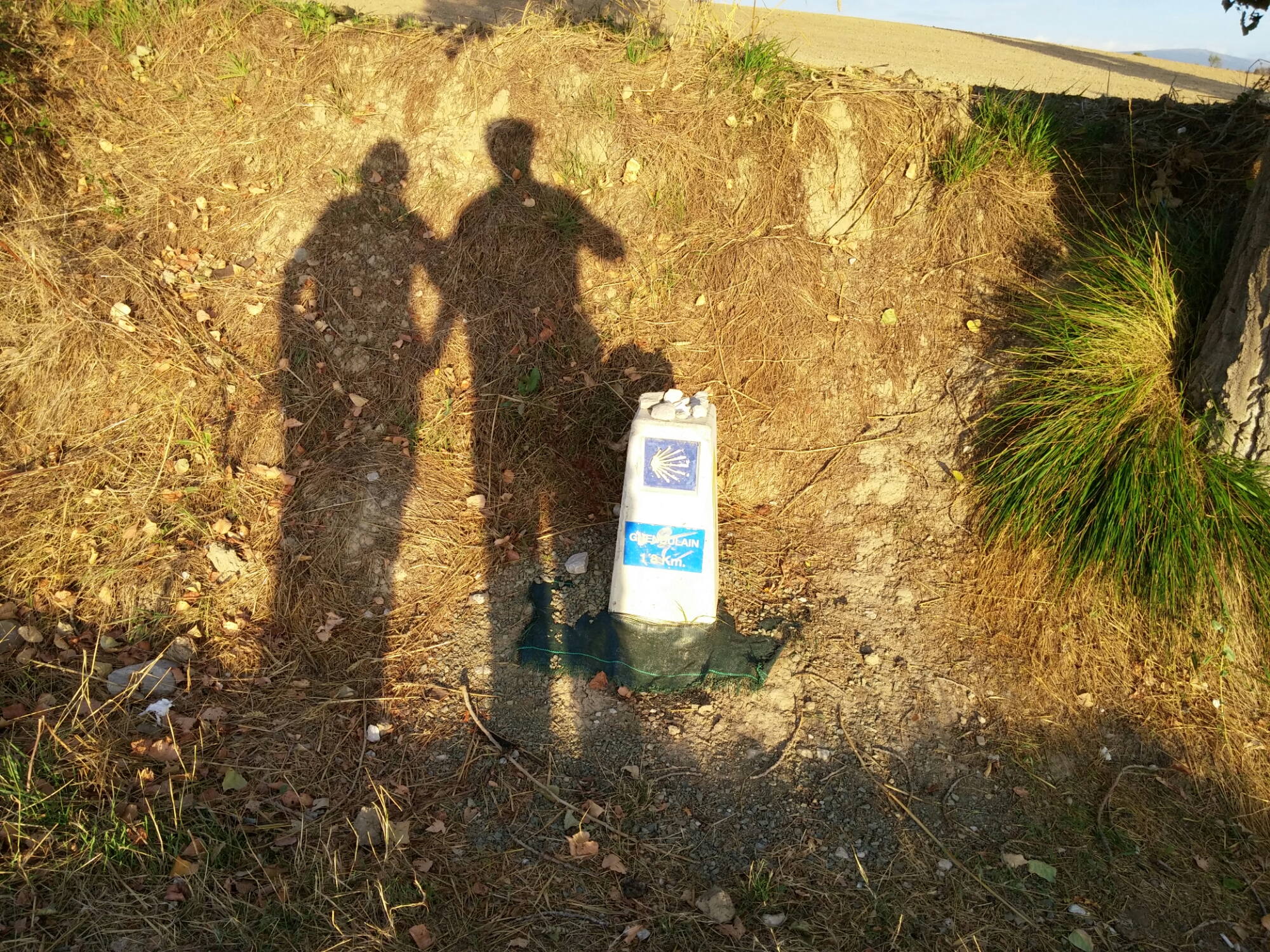 Dual Camera Mode at the Cafe
2014-09-17 14:12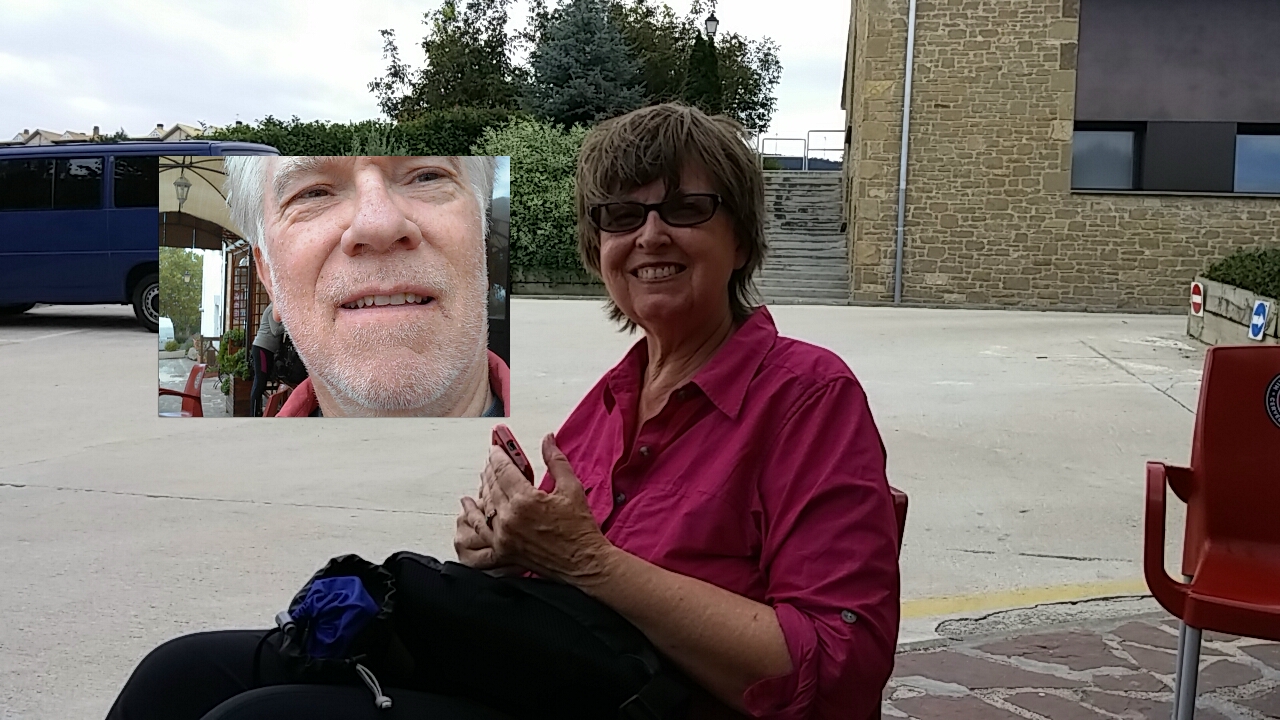 Navarra Roof up Close
2014-09-17 14:12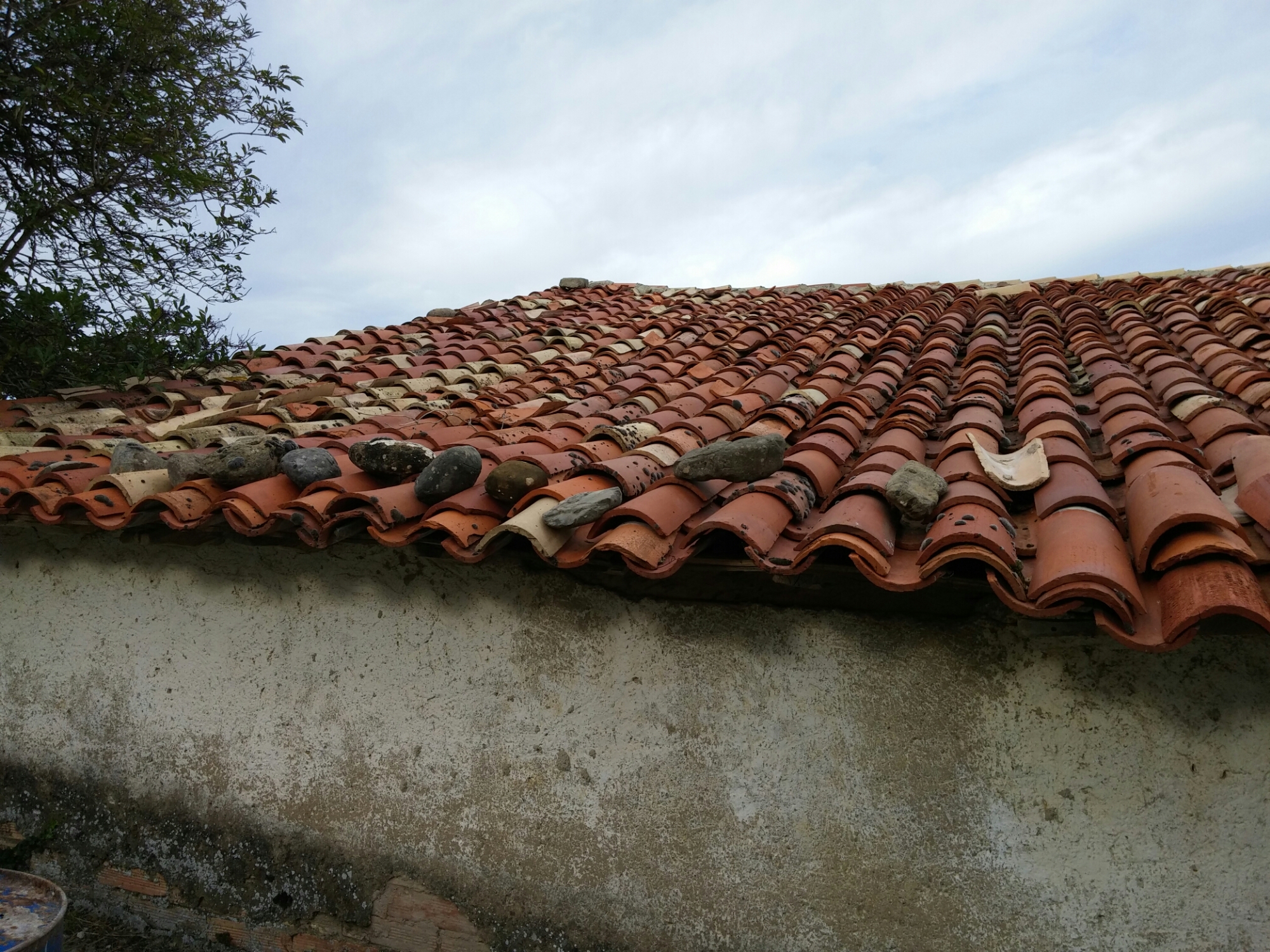 Church in Estella
2014-09-20 13:11
Alto Perdon
2014-09-20 13:24
Morning Light
2014-09-20 13:26
Rain? Party On!
2014-09-20 13:58
On the Trail
2014-09-20 14:02
Charlie.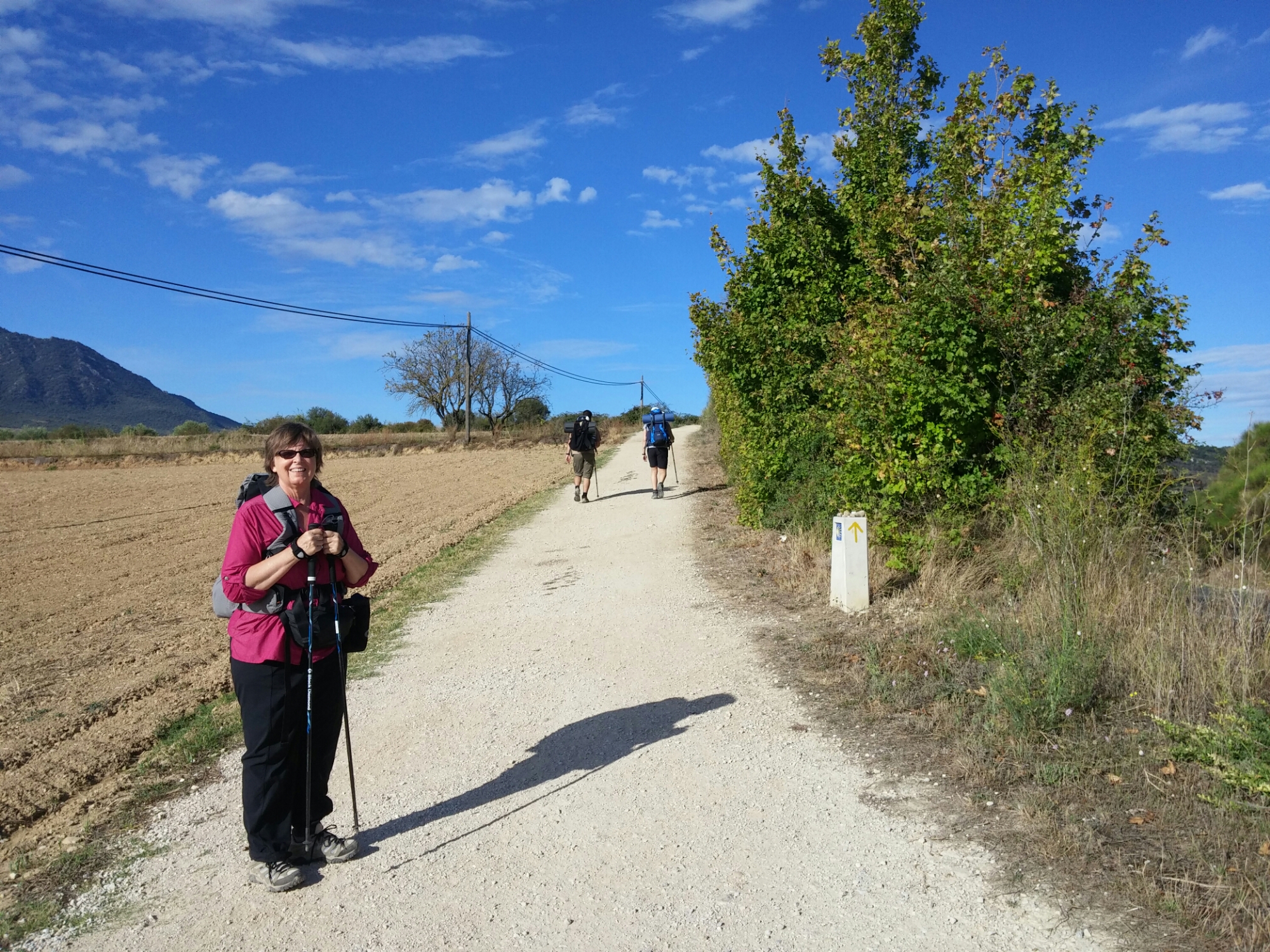 On the Trail 2
2014-09-20 14:05
Charlie.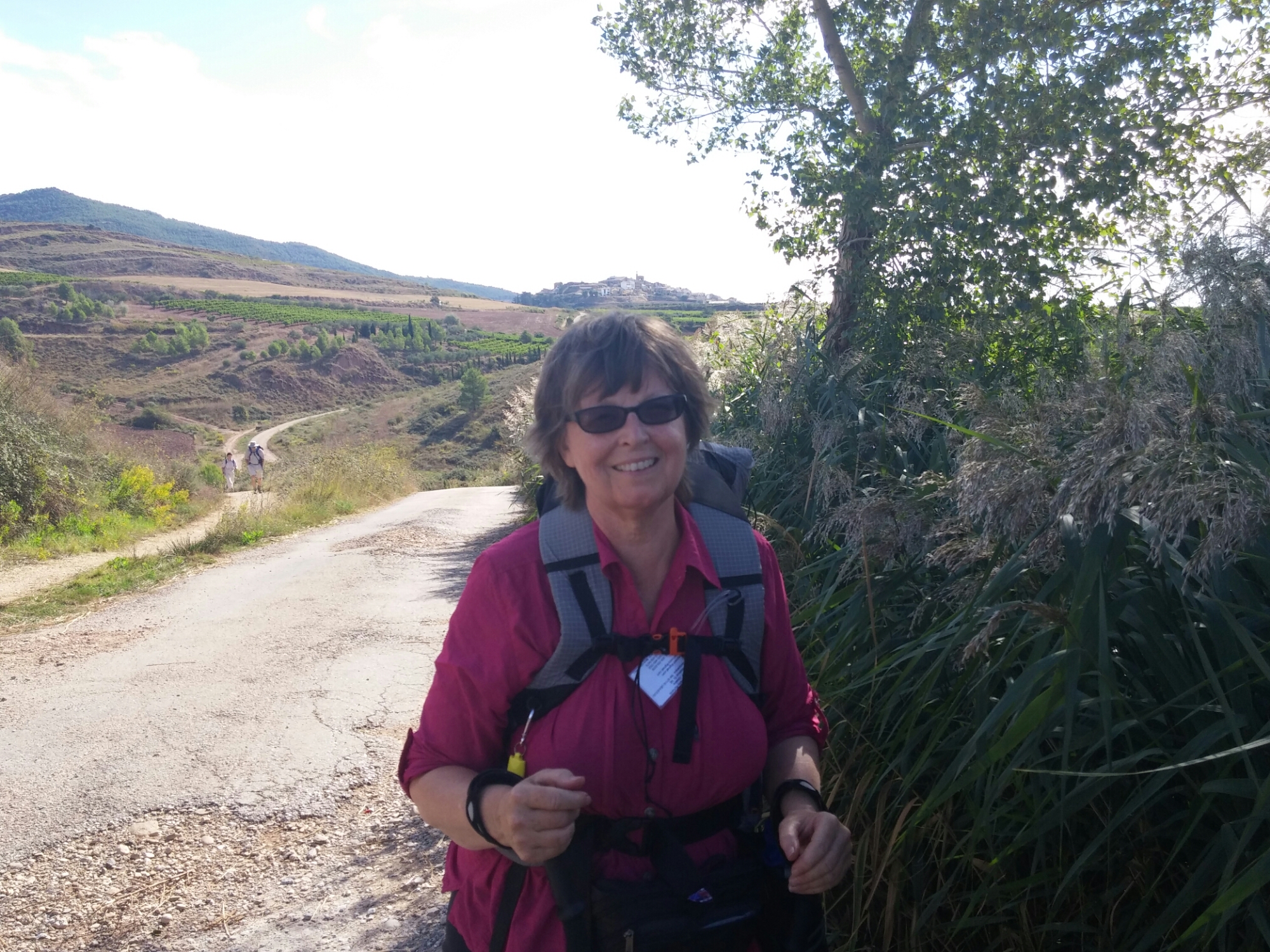 Wynette, Marker, Shadow
2014-09-20 14:12
Cast-Off Shoes
2014-09-22 08:17
Rainy Days and Mondays
2014-09-22 08:26
Monjardin Mon Amour
2014-09-22 08:51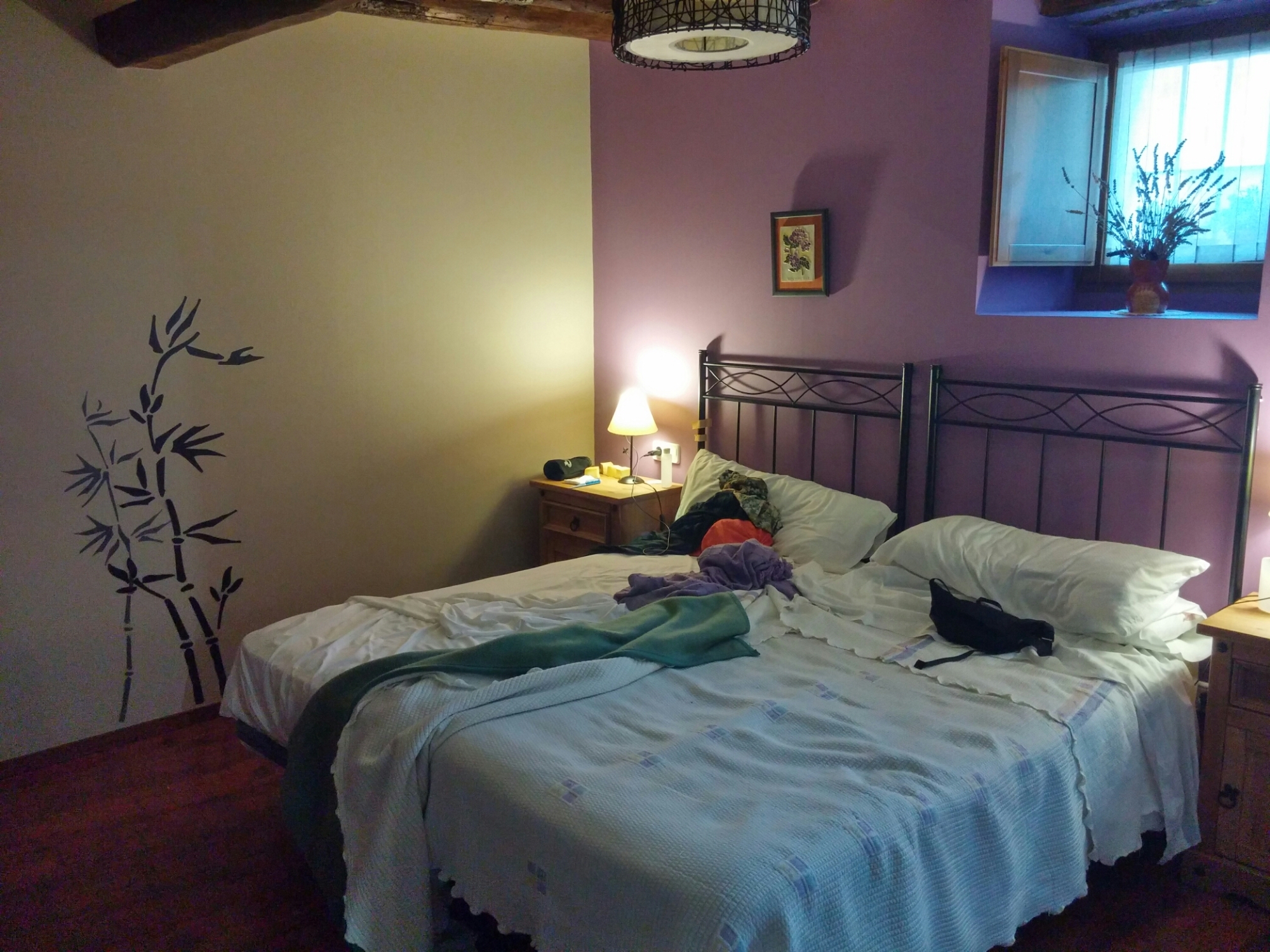 Charlie. We stayed at a lovely casa rural in Villamayor de Monjardin, a big name for a tiny town. We stayed here in our 2013 Camino also and were happy to be able to stay here again. The picture above is our room. Here is the breakfast room.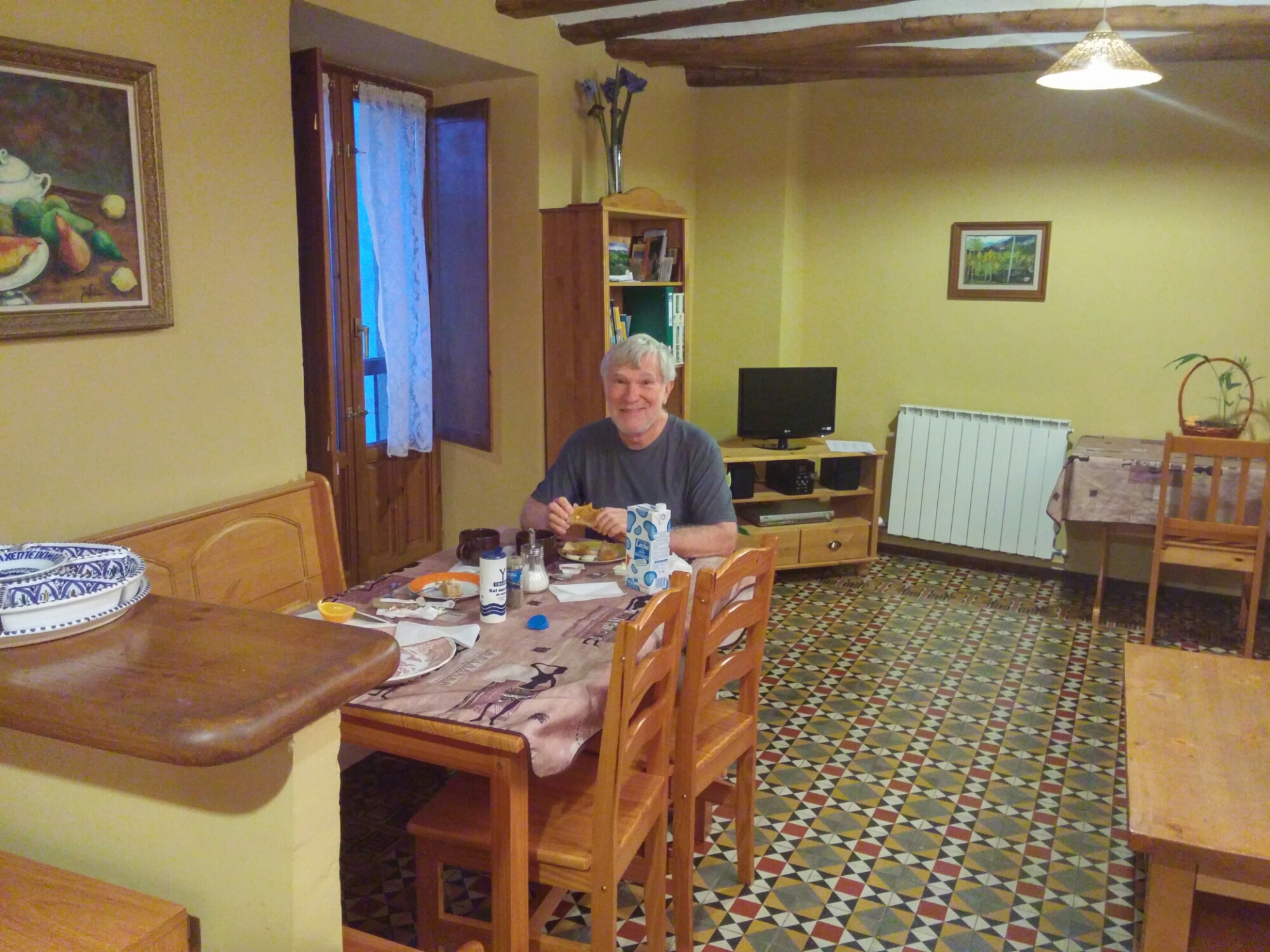 The front door. As you can see they filled up, four rooms.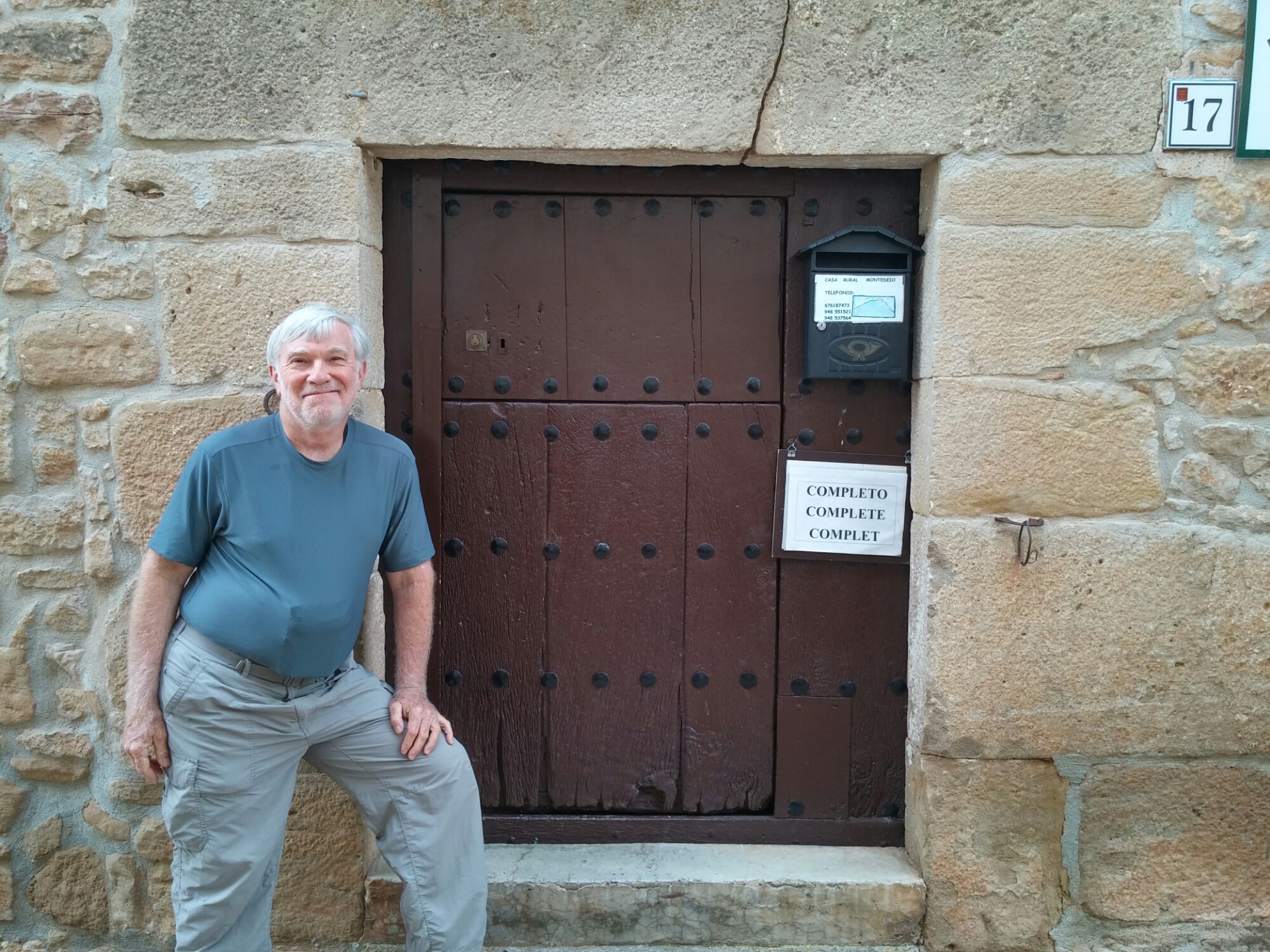 Just outside our room.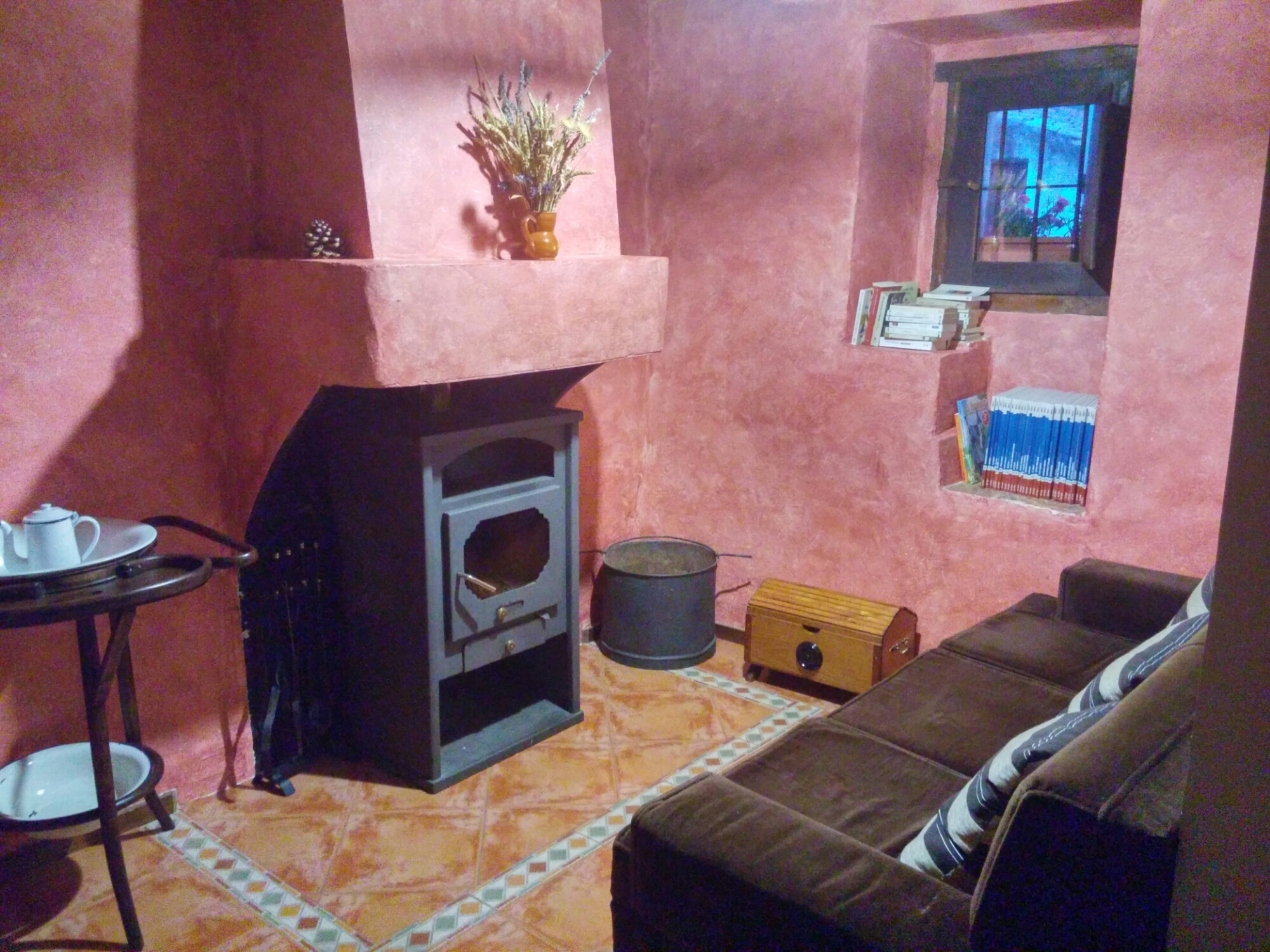 And the amazing ceiling.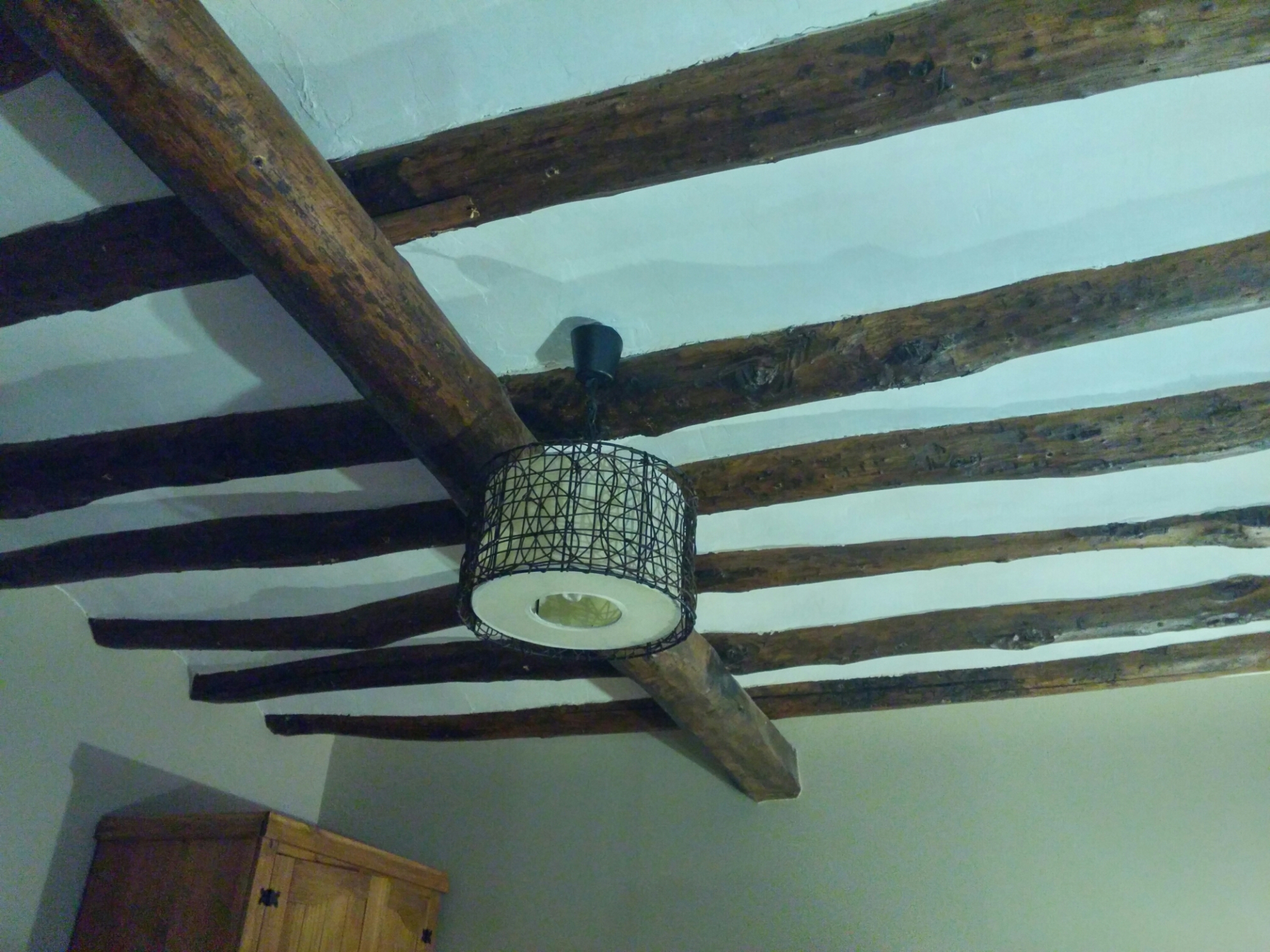 Fellow Slow Walkers
2014-09-22 08:57
The Camino at Half Speed
2014-09-22 09:16
Charlie. A typical pilgrim goes 15 miles (25 km) a day. In 2013 we averaged 11 miles a day about 75% speed. This time we planned 7-8 miles a day and are making a bit over 7 miles a day over the first six days so we are right on target.
The idea was not to walk a specific number of miles but to take our time, stop whenever we want, have afternoons to explore towns we passed through too quickly last year, etc.
It had been working out great so far. We love having free time each day. We are not exhausted at the end of the day. We are being gentle with Wynette's feet.
Another way to look at it. Say the average pilgrim is 40 years old and walk 15 miles a day. That is 600 mile-years a day. We are walking 7*65=455 mile-years a day or 75% speed, much better
The Reincarnation Camino
2014-09-22 09:31
I talked in the blog last year about goal and destination, how the point is the journey but you need the destination, like ying and yang. It sounds trite but there is an analogy between the Camino and life. You start out the day walking with 400 miles to go and at the end you still have 385 miles to go. It seems like it will last forever and the end seems far in the future, too fast to worry about. Kind of like going from age 25 to 26, the end is just as far away. The days are fun and long and seem like they will go on forever.
Then you get close to Santiago and everybody is sad that it is coming to an end. It is hard to concentrate on each day without thinking about finishing.
Our plan this time is just to go on day to day until we are ready to change. Then we are going to take the bus to Santiago and start again going to Finisterre and Muxia.
So it is like in life. You go as far as you want then you take the bus and start a new one that will be different.
Door
2014-09-22 09:37
WiFi
2014-09-22 09:38
The Irache Wine Fountain
2014-09-22 09:50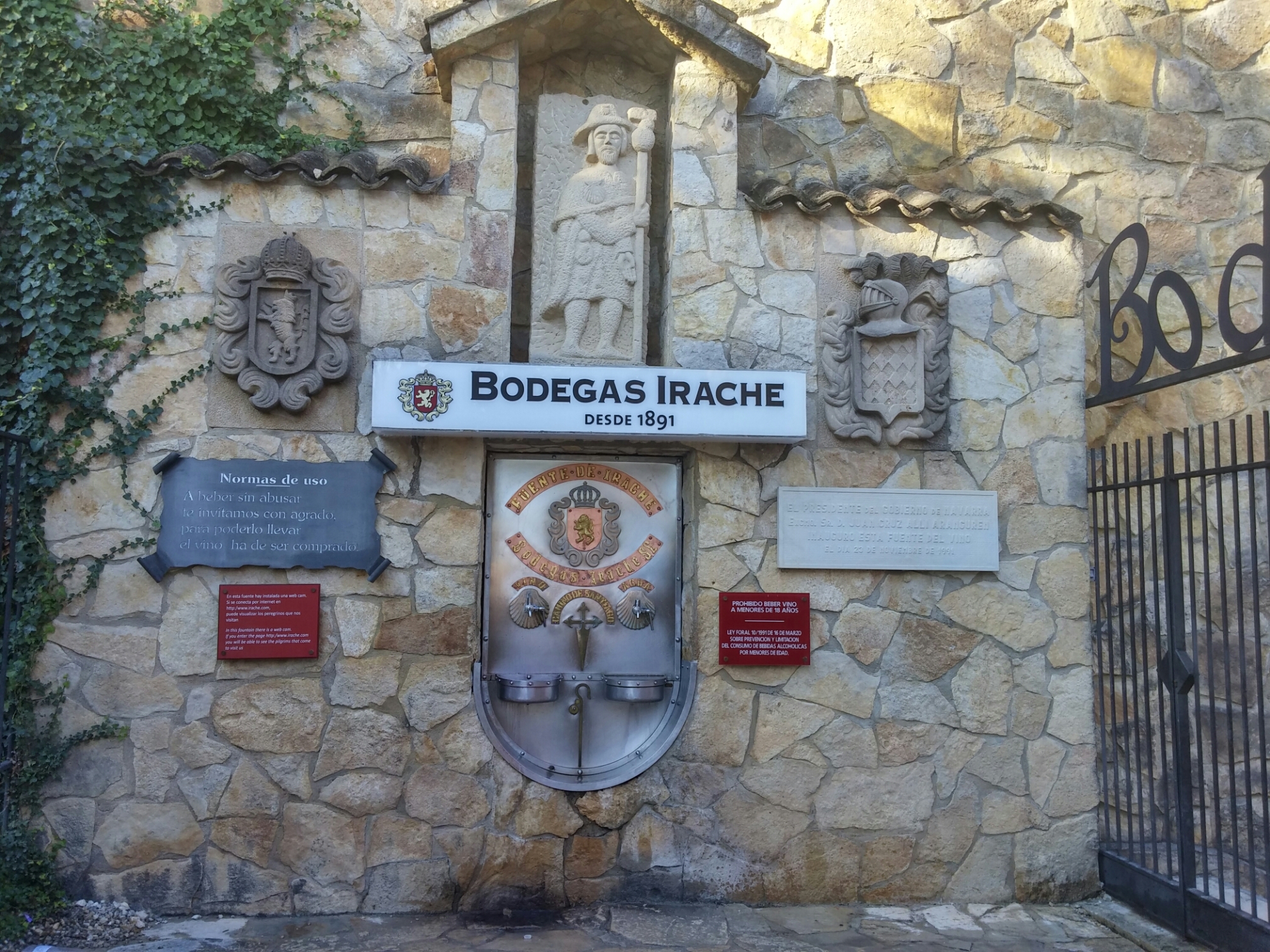 Charlie and Wynette. No Camino is complete without a visit here. Free flowing wine for pilgrims.
We met these delightful South Korean men on the trail earlier when we had stopped for a bit to watch some birds swooping in circles. They told us the Korean word for "bird" I think. Later, we met them again at the wine fountain. They were very excited and worried we'd pass by without stopping. Of course, we did stop. All this communicated with no common language.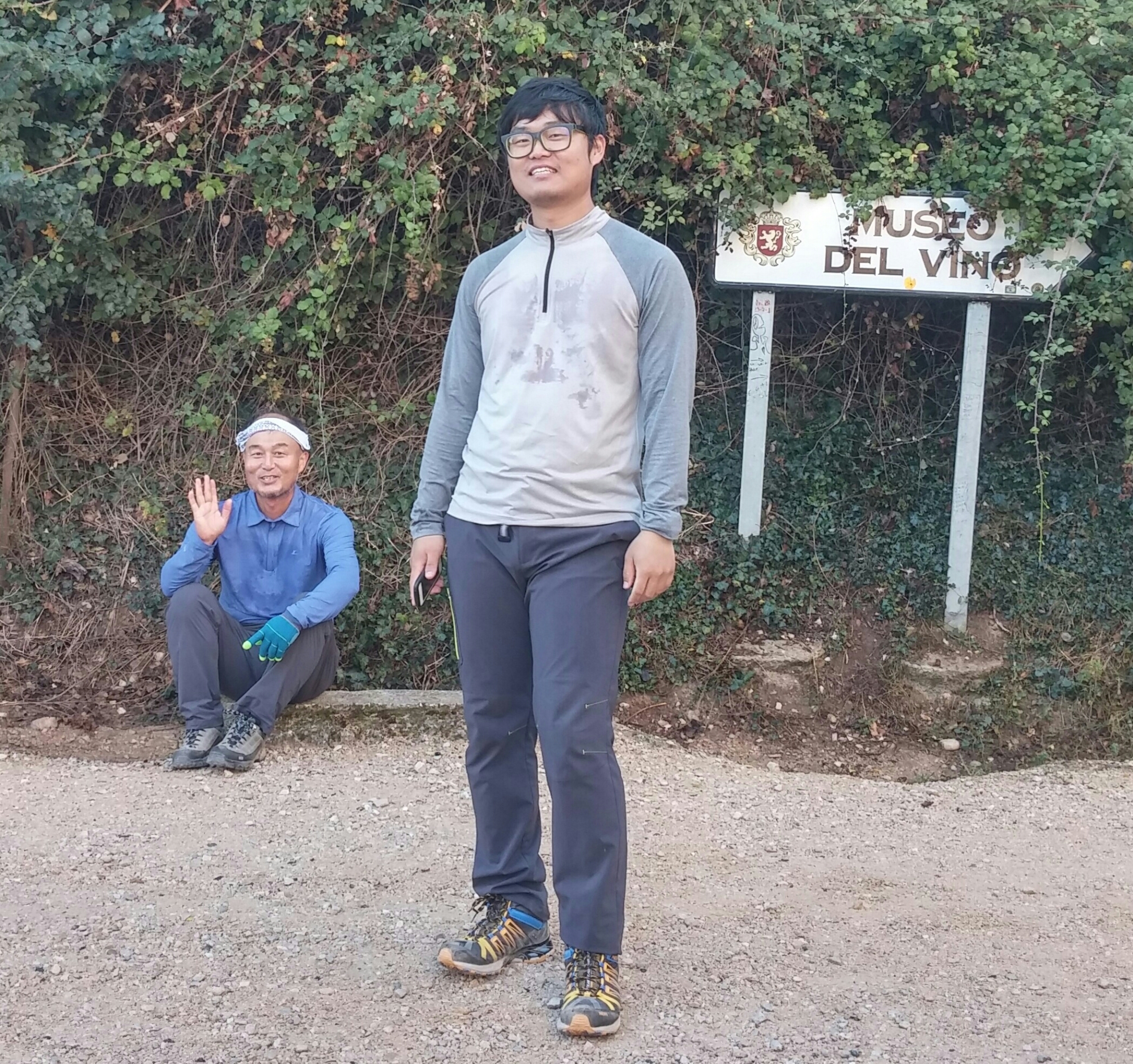 Foot of the Goose
2014-09-23 10:29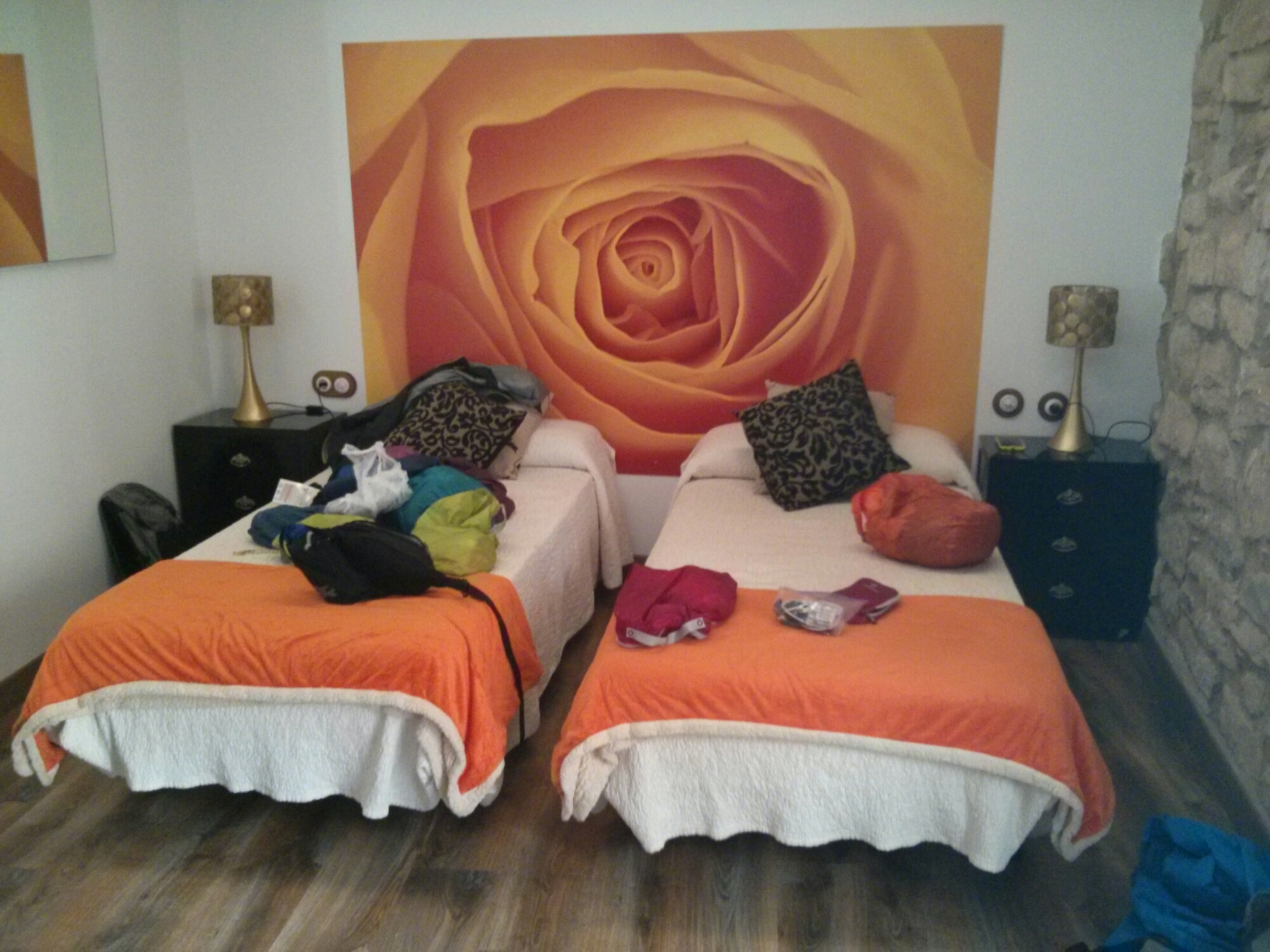 Wynette. Tonight we are in the tiny village of Torres del Rio and staying in a private room in an albergue named "La Pata de Oca", "The Foot of the Goose". (Our room is more like a hotel room but we get to use the albergue facilities like washing machine and patio and visit with the other pilgrims.) Last night we stayed in slightly less tiny village of Los Arcos in a private room in the albergue La Fuente de Austria (or something like that). Tonight's place is pretty and comfortable (photo above), private bath, and costs 40 euros including a small breakfast. Last night's was awful and cost 41 euros. A saggy bed crammed between 3 walls in a tiny room. Bathroom down a steep flight of stairs.  No top sheets or towels. Shabby everything. Unhelpful hospitalero. We forgot to take a picture,  dang it. We are amazed what a difference for the same price. Next time we reserve a private room we'll be sure to ask if sheets and towels are included. Of course most pilgrims stay in albergues in a room full of bunkbeds (snorers are legendary), no sheets, etc. We did bring sleeping sacks and tiny backpack towels for the times we need to stay in albergues. In a few places, that will be our only option. But mostly we are having it easier than for most pilgrims and are working on taking what comes without too much complaint. I admire those who do that well.
Patio of La Pata de Oca: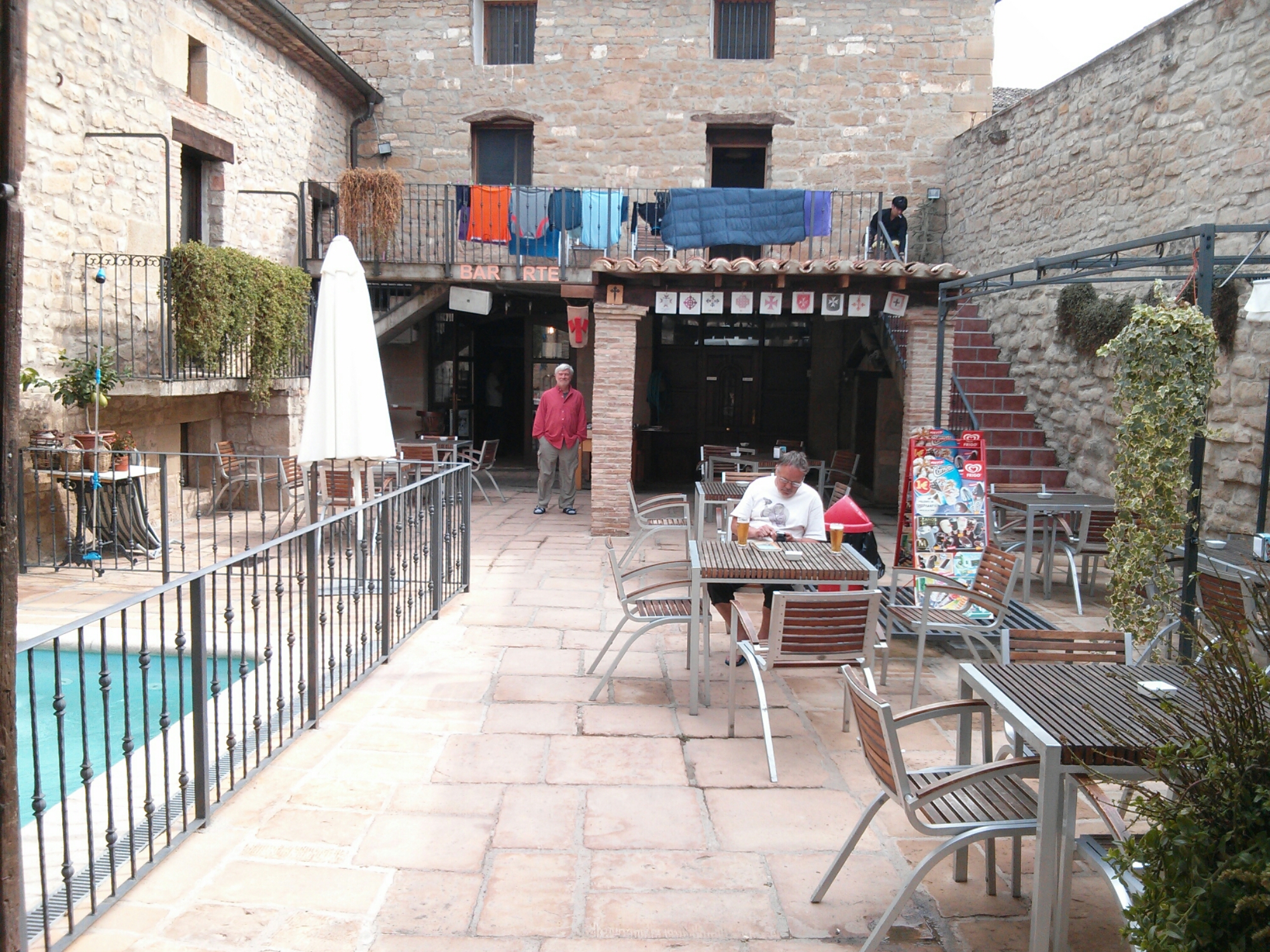 The lavadora on the patio: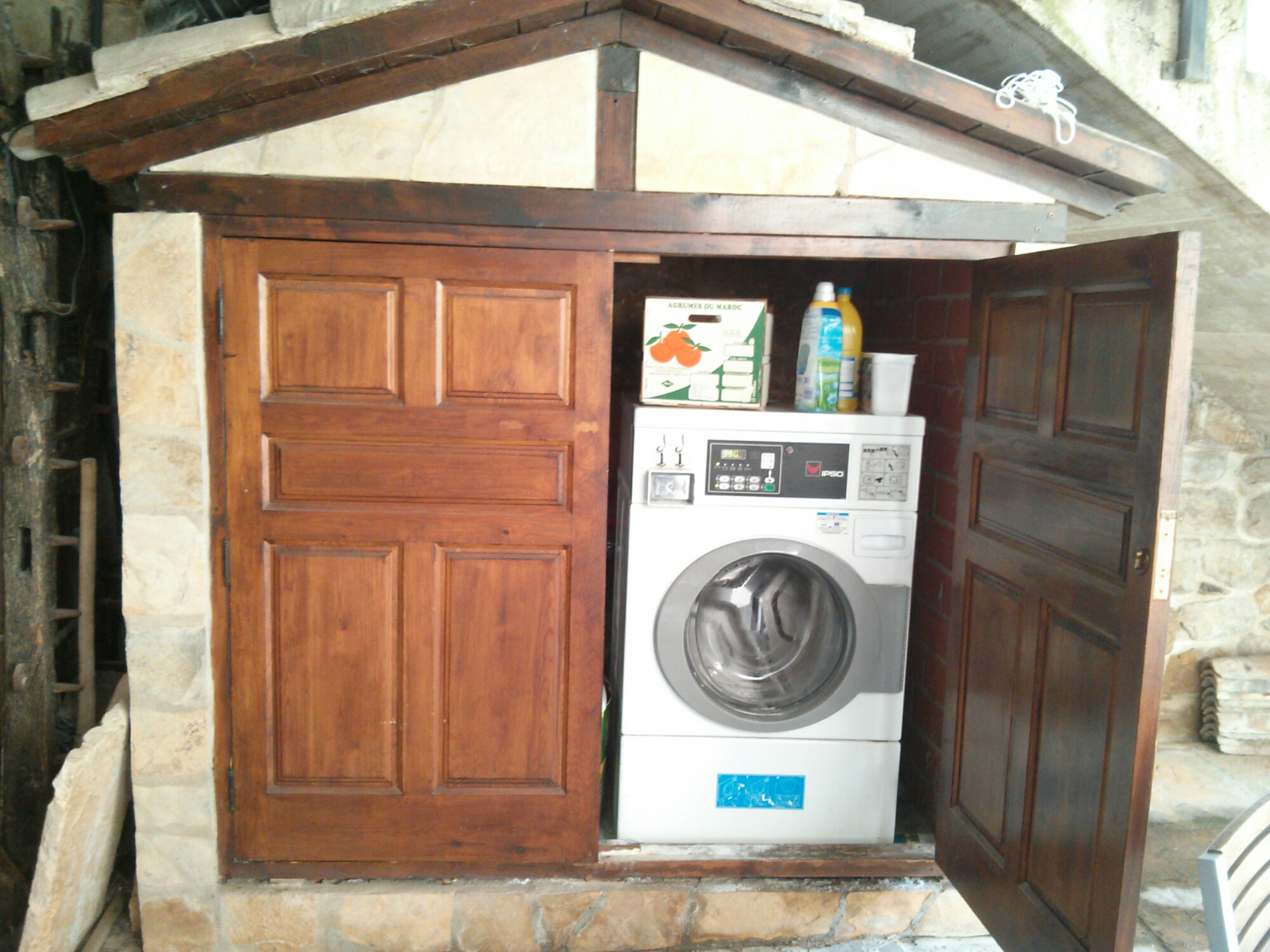 Our clean laundry outside our room window: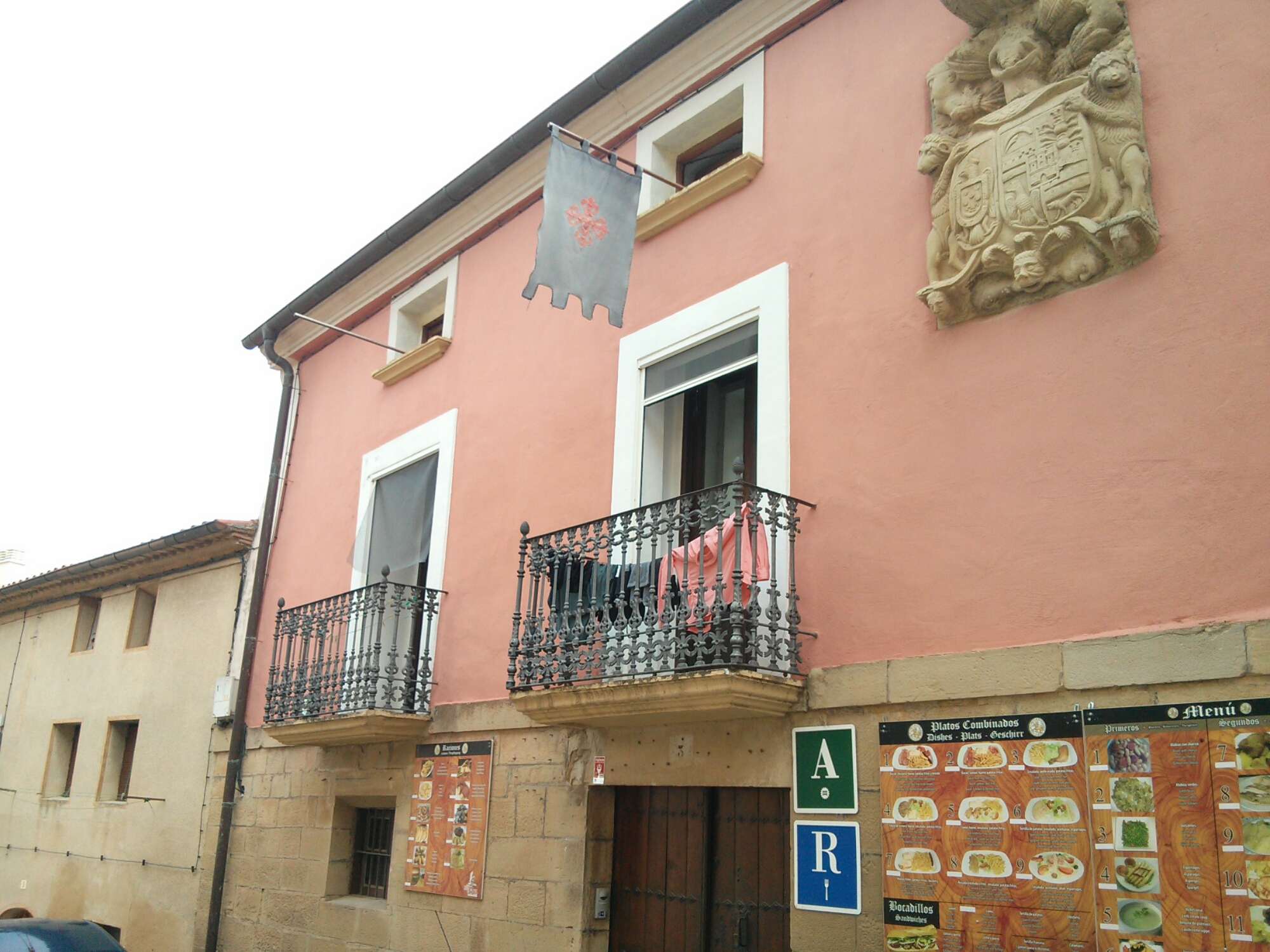 Way Markers, Why Markers?
2014-09-24 11:21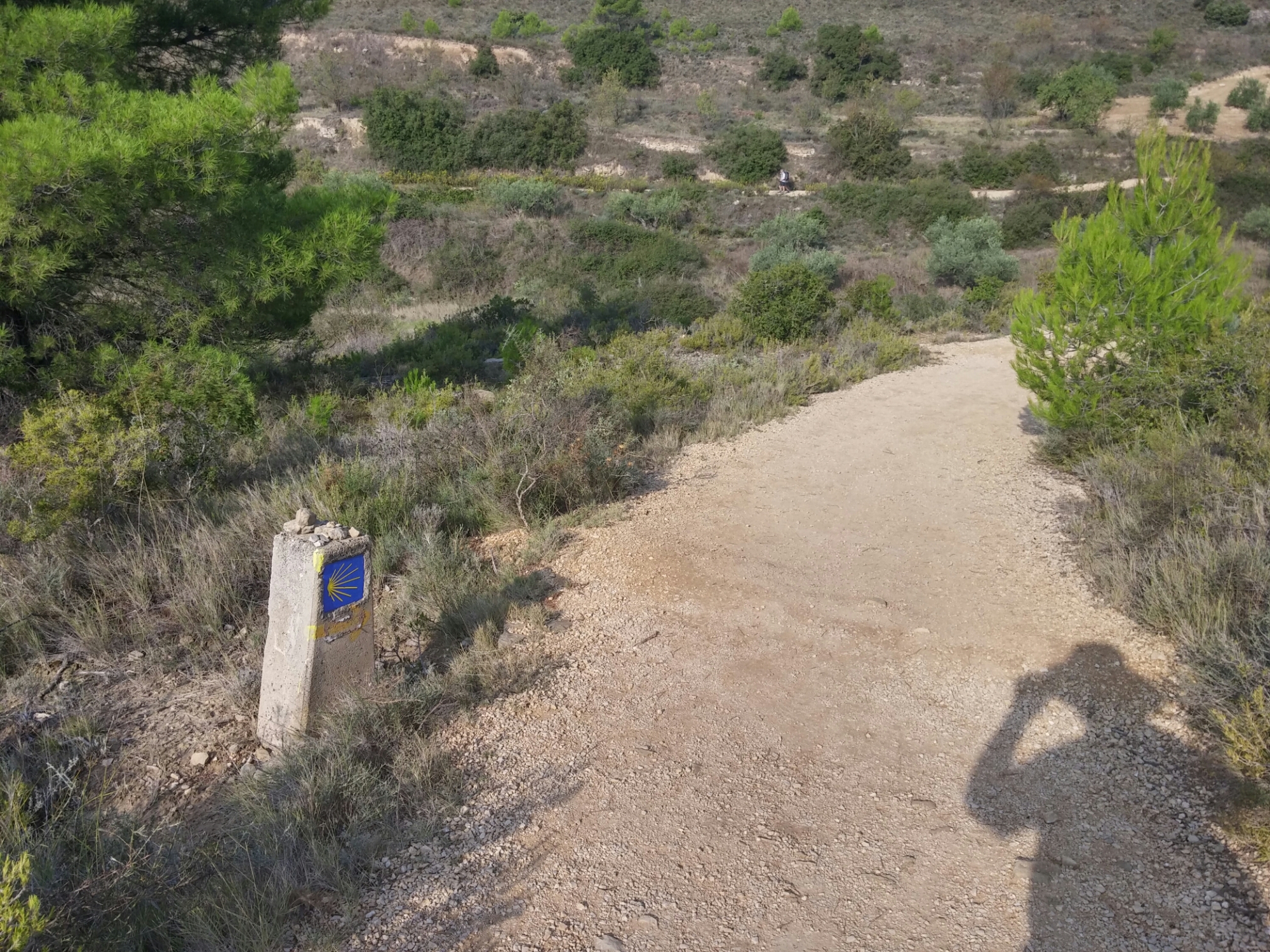 Charlie. I decided that I would take a photo of most of the way markers we pass. Most because I wanted to avoid the cult of the completist. I thought I could combine them into movies when we get back and that is still the plan.
I love the yellow arrows along the way and the small concrete Camino posts. The variety is amazing.
I am finding that recording them gives me an excuse to document the trail. There is a photo every one to five minutes of walking.
So I am making an album of the markers for each day with names like "Marker 9-24" for today.
These albums are not for the faint of heart. Some (or many) my find them boring. Those people should skip them when they see the "Marker" marker.
Here they come for the last eight days in reverse order.
Markers 9-24
2014-09-24 11:25
Markers 9-23
2014-09-24 11:38
Markers 9-22
2014-09-24 11:45
If You Meet the Buddha on the Camino…
2014-09-24 14:49
Photos Day 8, September 24, Torres del Rio to Logroño
2014-09-24 15:35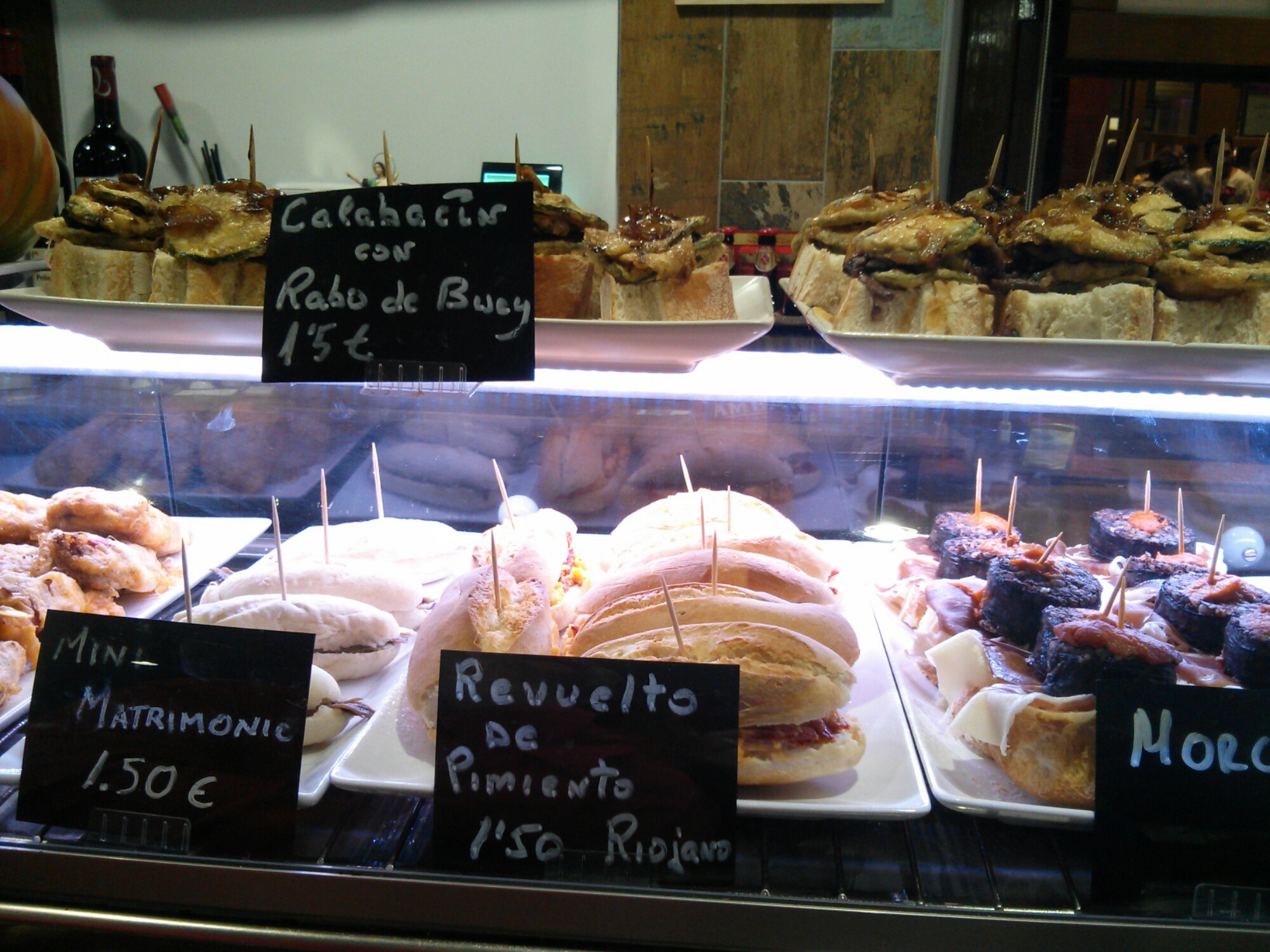 Tapas for dinner in Logrono.
More at https://www.dropbox.com/sc/4ldwbmhurc0kk8x/AAC1LGOR5dfBvPXFlrGRhS7Ra
Photos Day 7, September 23, Los Arcos to Torres del Rio
2014-09-24 15:37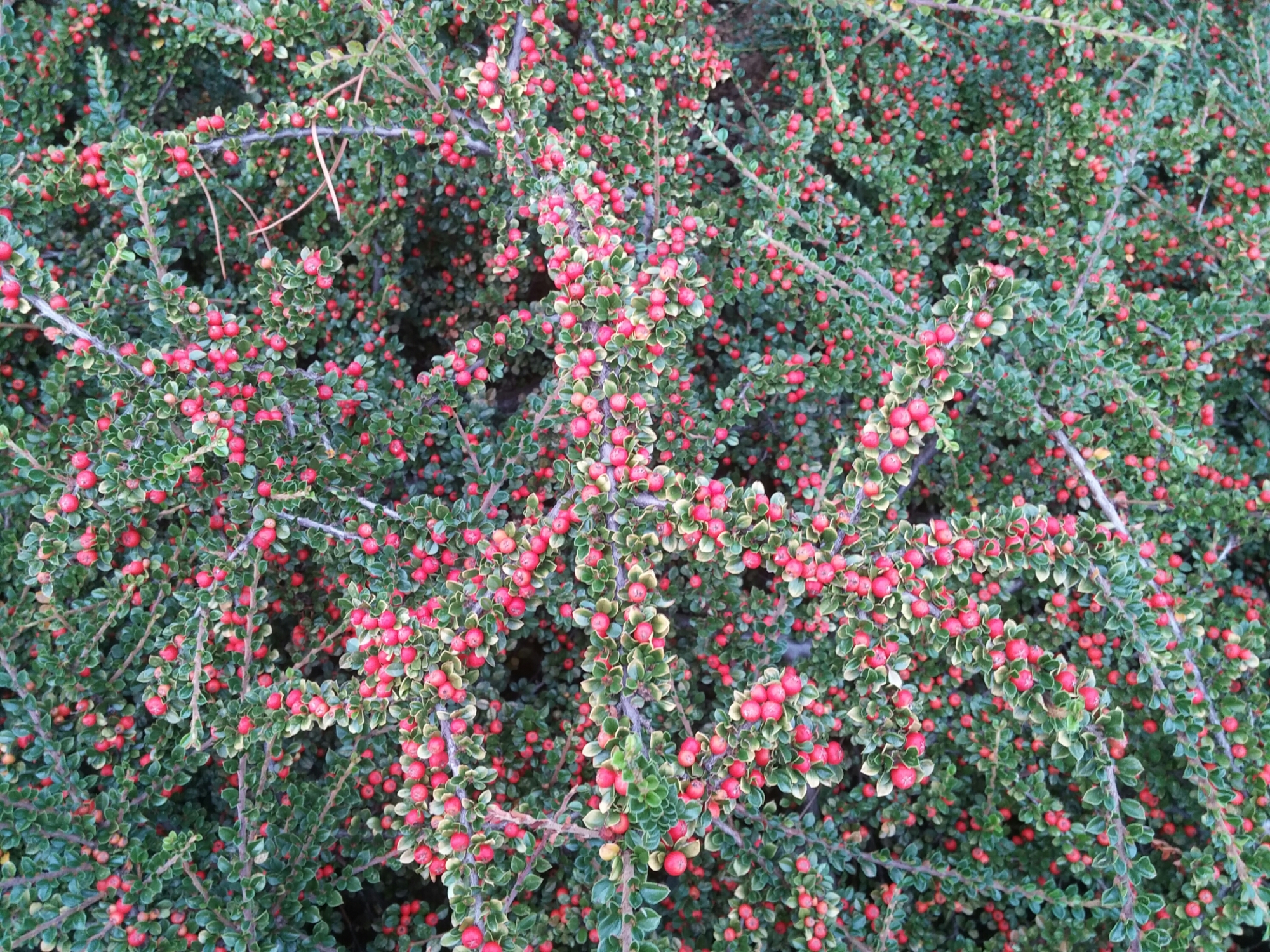 Cool plant in church garden in Torres del Rio.
More at https://www.dropbox.com/sc/bo466oijv4ev7wl/AAAkrtpoMRt3zCqqJrKP5vANa
Sexy Pilgrim
2014-09-25 12:52
Photos Day 9, September 25, Logroño to Navarrete
2014-09-26 07:14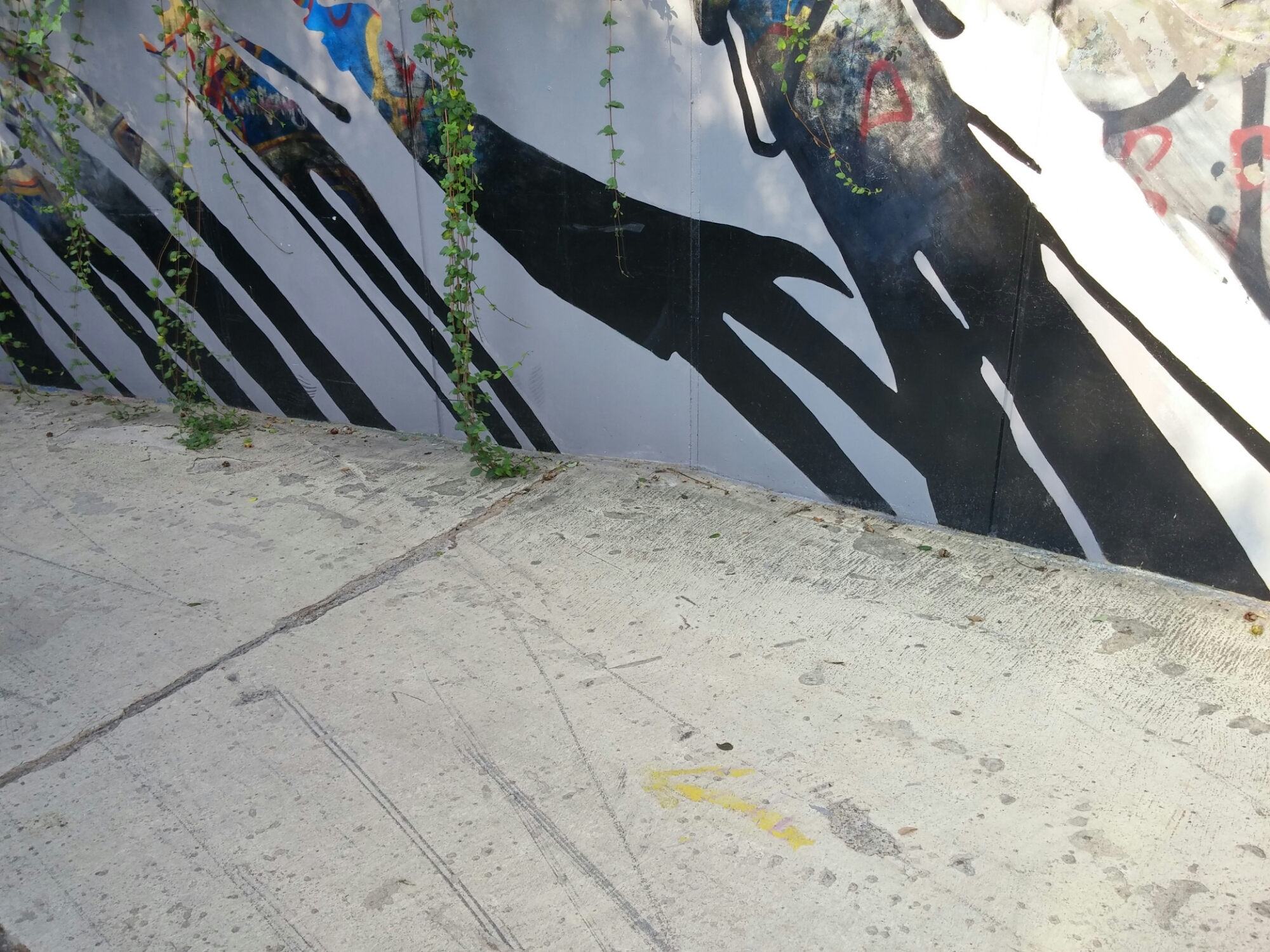 Street art in Logrono.
More at
https://www.dropbox.com/sc/9dly9mgkeajhl1j/AADKaQGhpfX7zO9fu-miROmla
Markers 9-25
2014-09-26 07:21
Markers 9-21
2014-09-26 07:39
Markers 9-20
2014-09-26 07:39
Markers 9-19
2014-09-26 07:39
Markers 9-18
2014-09-26 07:39
Markers 9-17
2014-09-26 07:40
Photos Day 0, September 16, Bus from Madrid to Pamplona then Zizur Mayor
2014-09-26 07:46
Photos Day 1, September 17, Zizur Mayor to Uterga
2014-09-26 07:46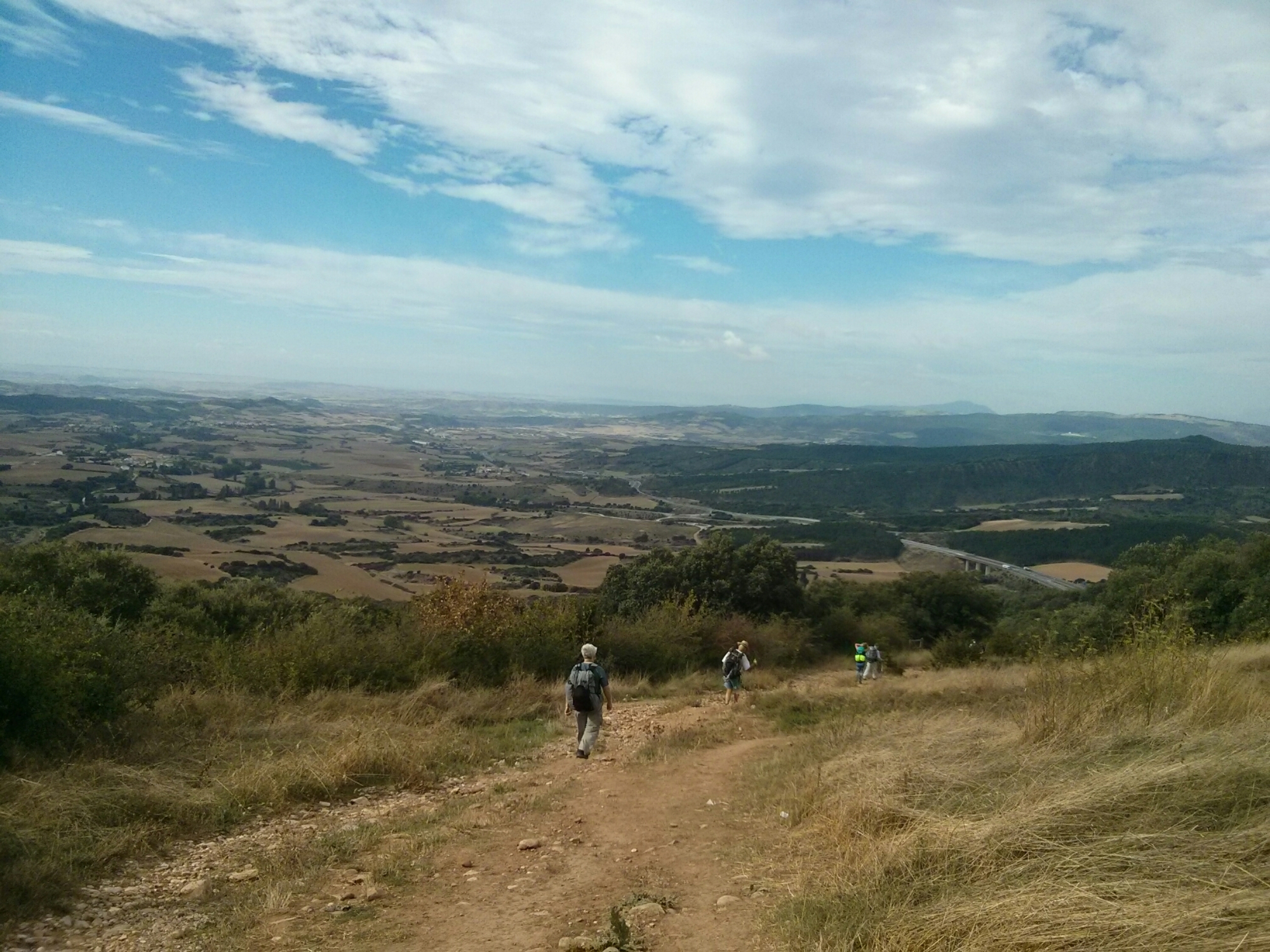 Steep and very rocky downhill from Alto de Perdón down to Uterga.
More at. https://www.dropbox.com/sc/89iwlclxtgnerw9/AAASqezTjxr70SAFX33hBrwQa
Photos Day 2, September 18, Uterga to Puente la Reina
2014-09-26 07:47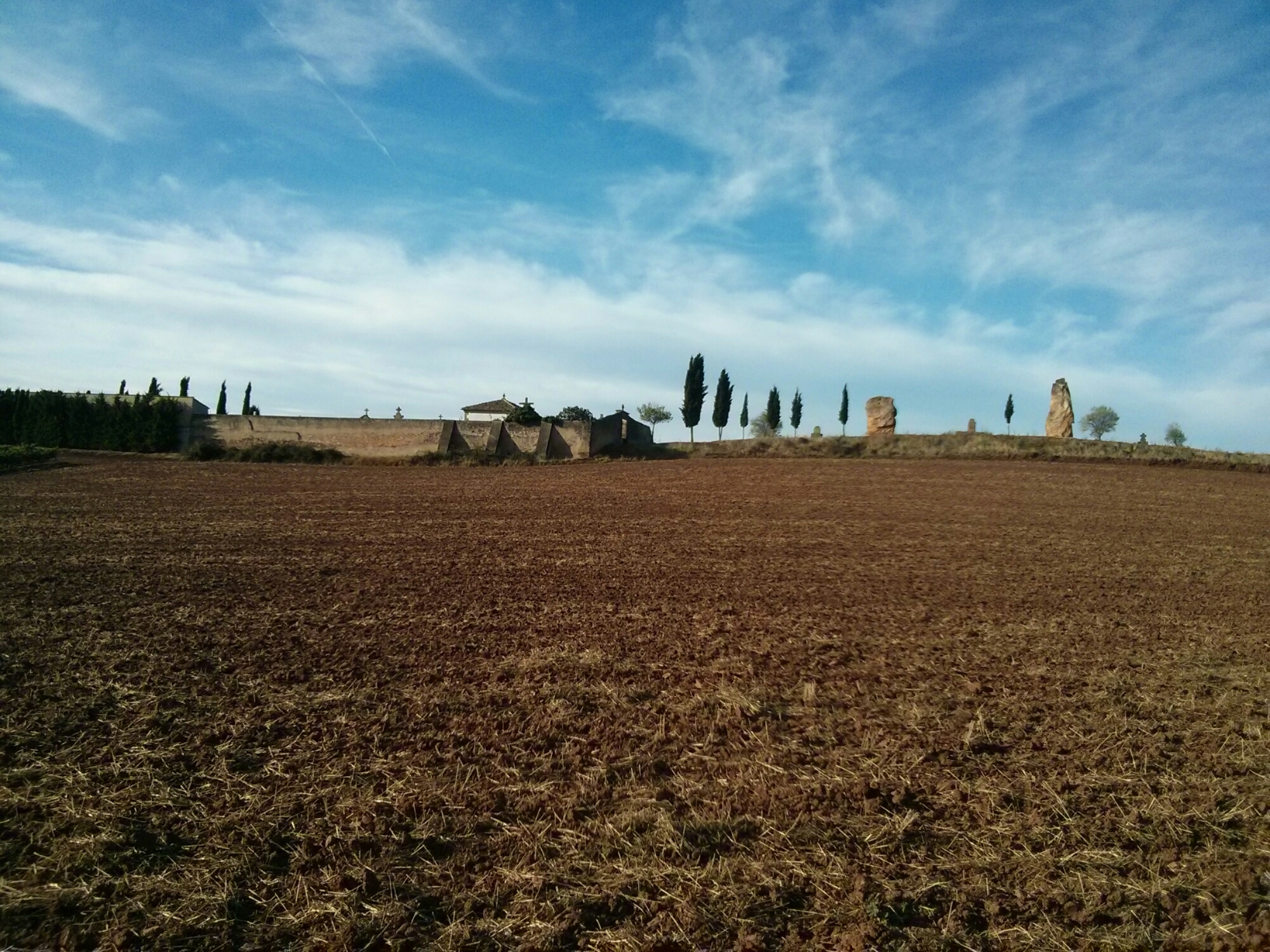 A cemetery just outside tiny village of Cirauqui.
More at https://www.dropbox.com/sc/stqkx9onllek9td/AABiu1TuvTRCCBhmOkp1cxTGa
Photos Day 3, September 19, Puente la Reina to Lorca
2014-09-26 07:47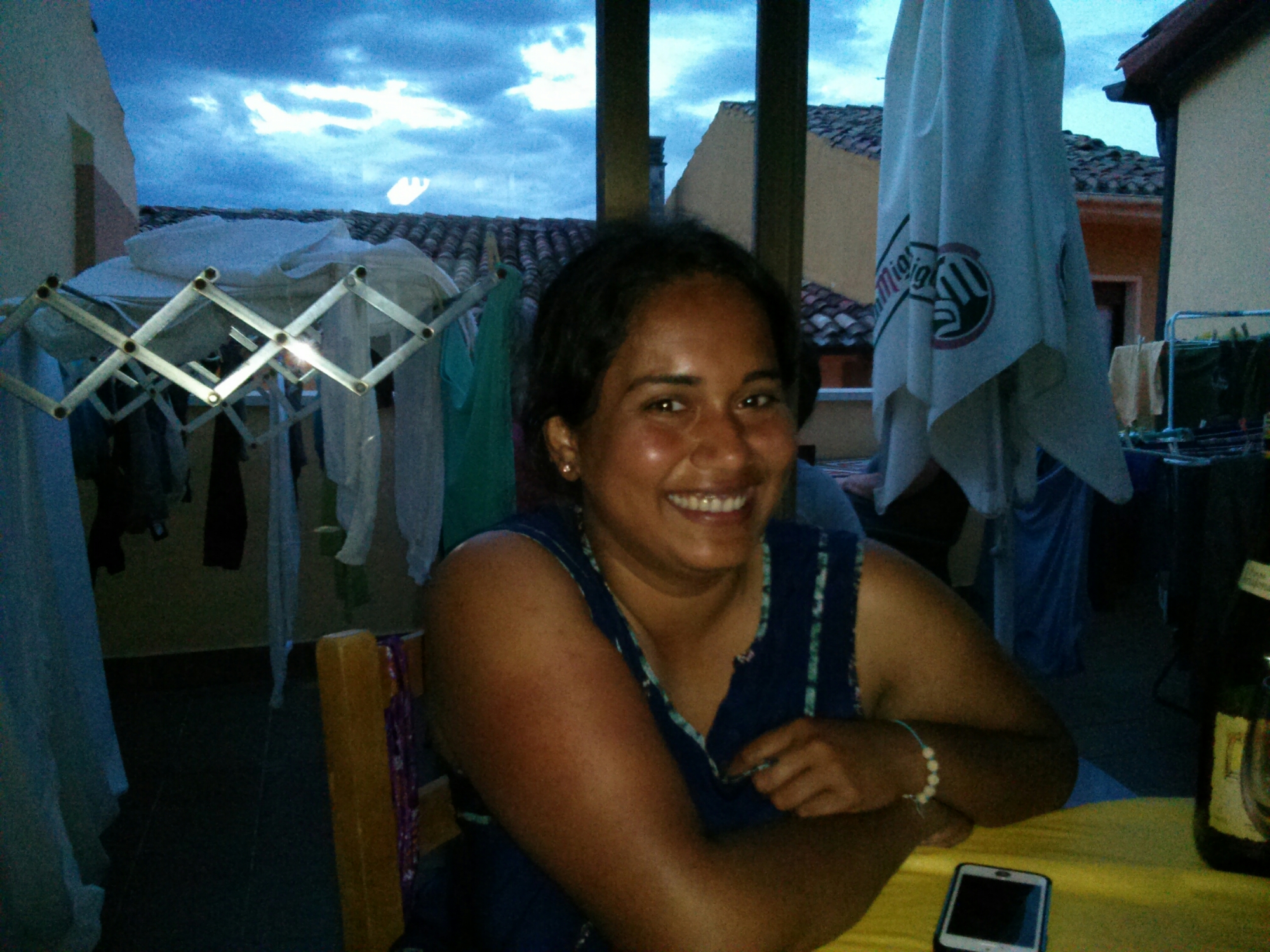 Ashwini (sp?) and Stu cooked delicious vegetable curry for dinner in the Lorca albergue kitchen and shared with us.
More at https://www.dropbox.com/sc/985e23xshgsotks/AAD90z1HG0plMdxb99bZI_SQa
Photos Day 4, September 20, Lorca to Estella
2014-09-26 07:47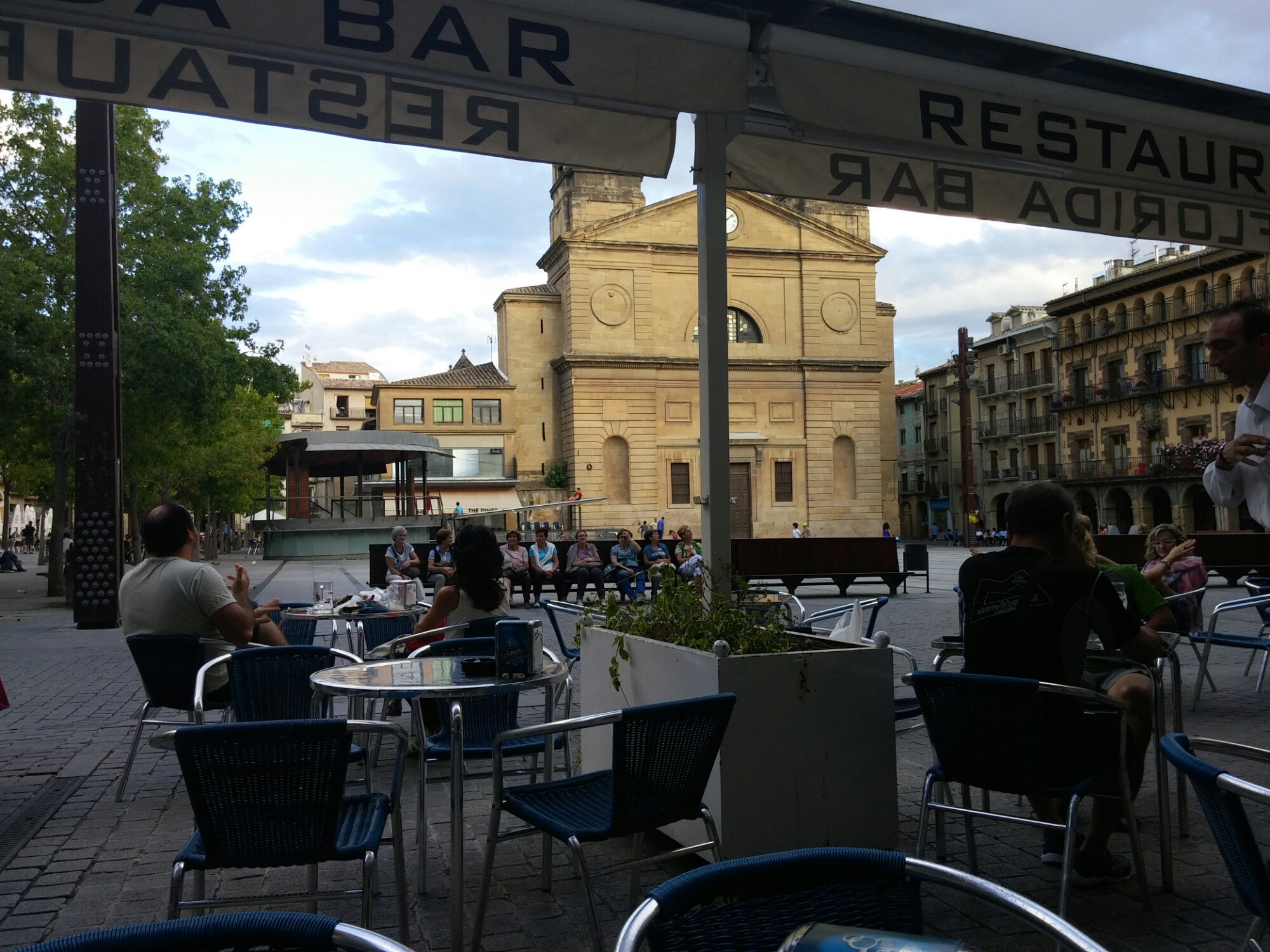 Local women from Estella visiting on the Plaza bench.
More at https://www.dropbox.com/sc/75tn6k982fdkz57/AAAW8LB5NZgB5lYohQzF4nQNa
Photos Day 5, September 21, Estella to Villamayor de Monjardin
2014-09-26 07:48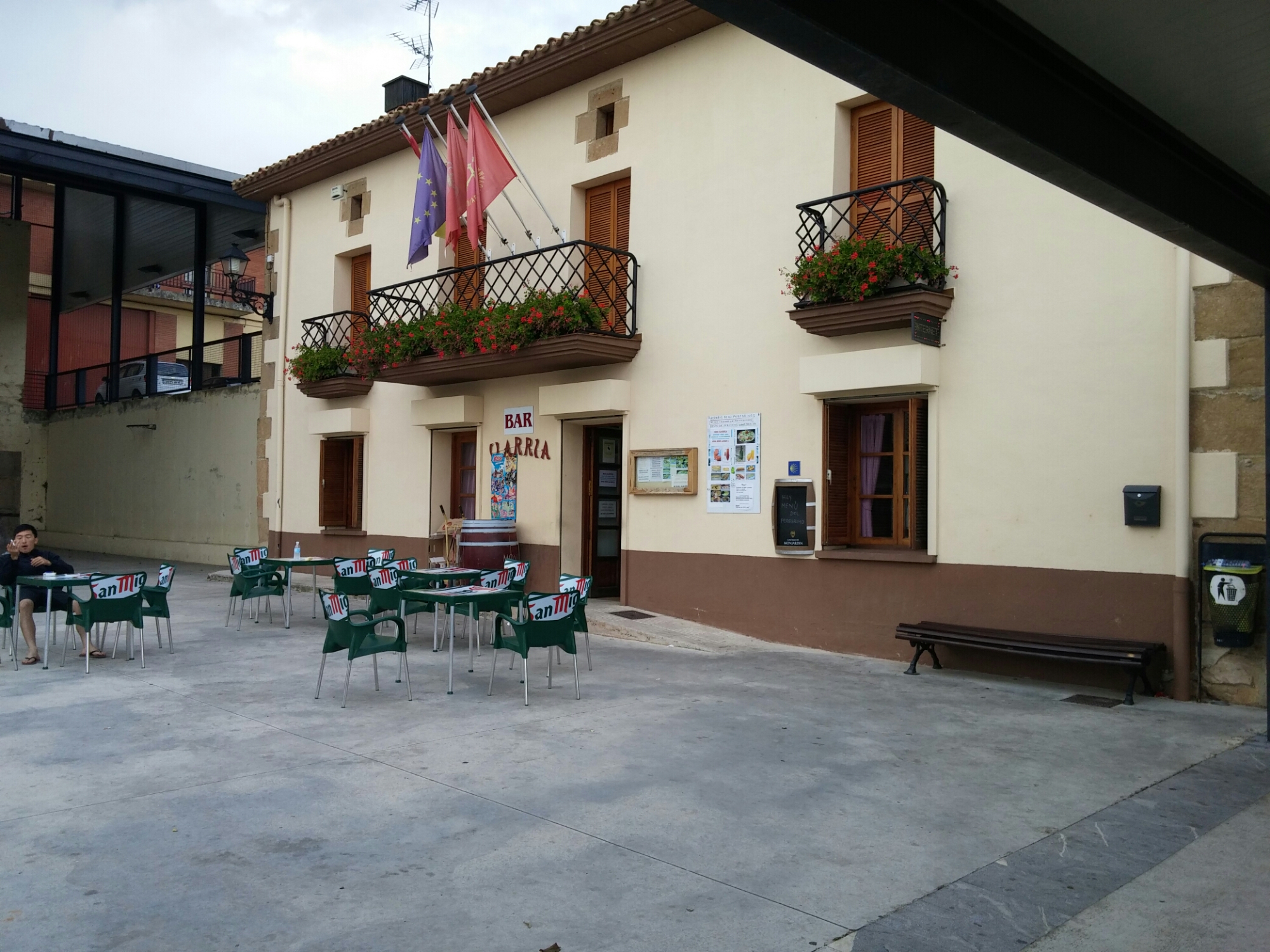 The bar in Monjardin.
More at https://www.dropbox.com/sc/w91lhzu6hlseso0/AADMBIu5WpimBRqGD-SHGOtla
Photos Day 6, September 22, Villamayor de Monjardin to Los Arcos
2014-09-26 07:48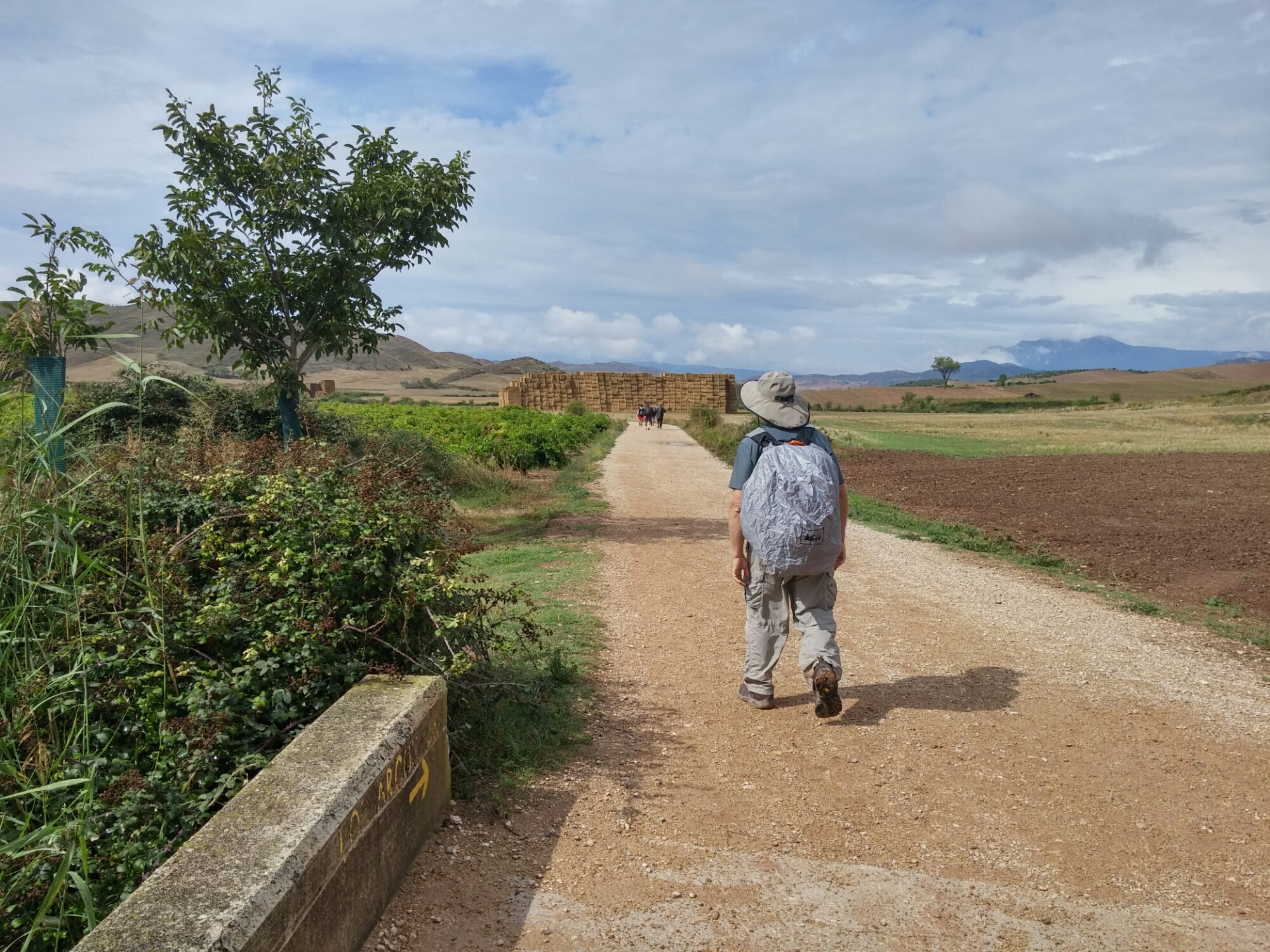 On the way to Los Arcos.
More at https://www.dropbox.com/sc/f5lj3jc0un4s3d8/AADuI7fdinNF2piSLqtQKfW7a
Church Ceiling
2014-09-26 08:54
Photographing Markers…
2014-09-26 08:56
Haystacks!
2014-09-26 08:59
Vista With Pilgrim
2014-09-26 09:01
Charlie With Tree
2014-09-26 09:03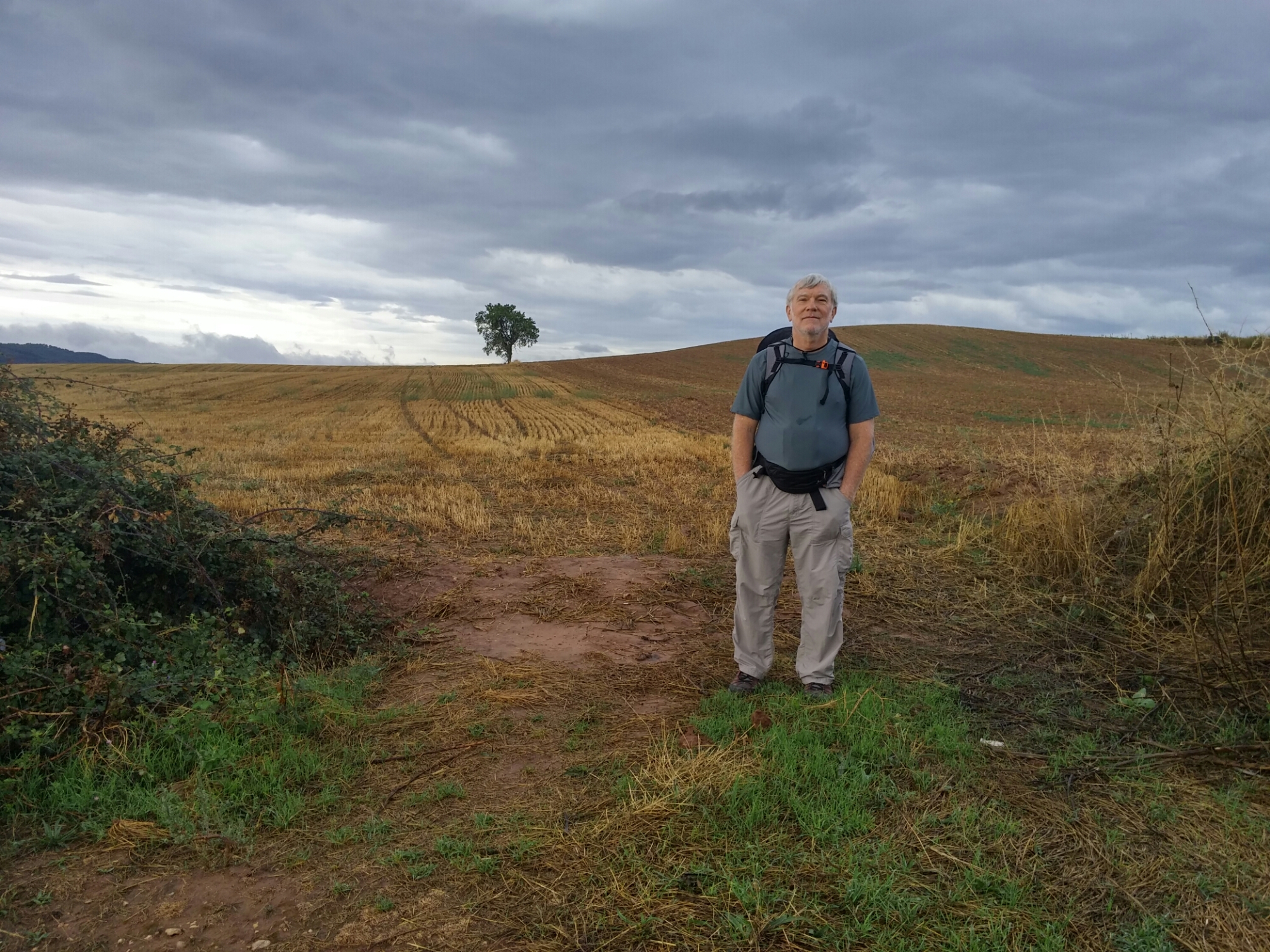 Stopping at a Cafe
2014-09-26 09:06
Another Shoe On a Marker
2014-09-26 09:06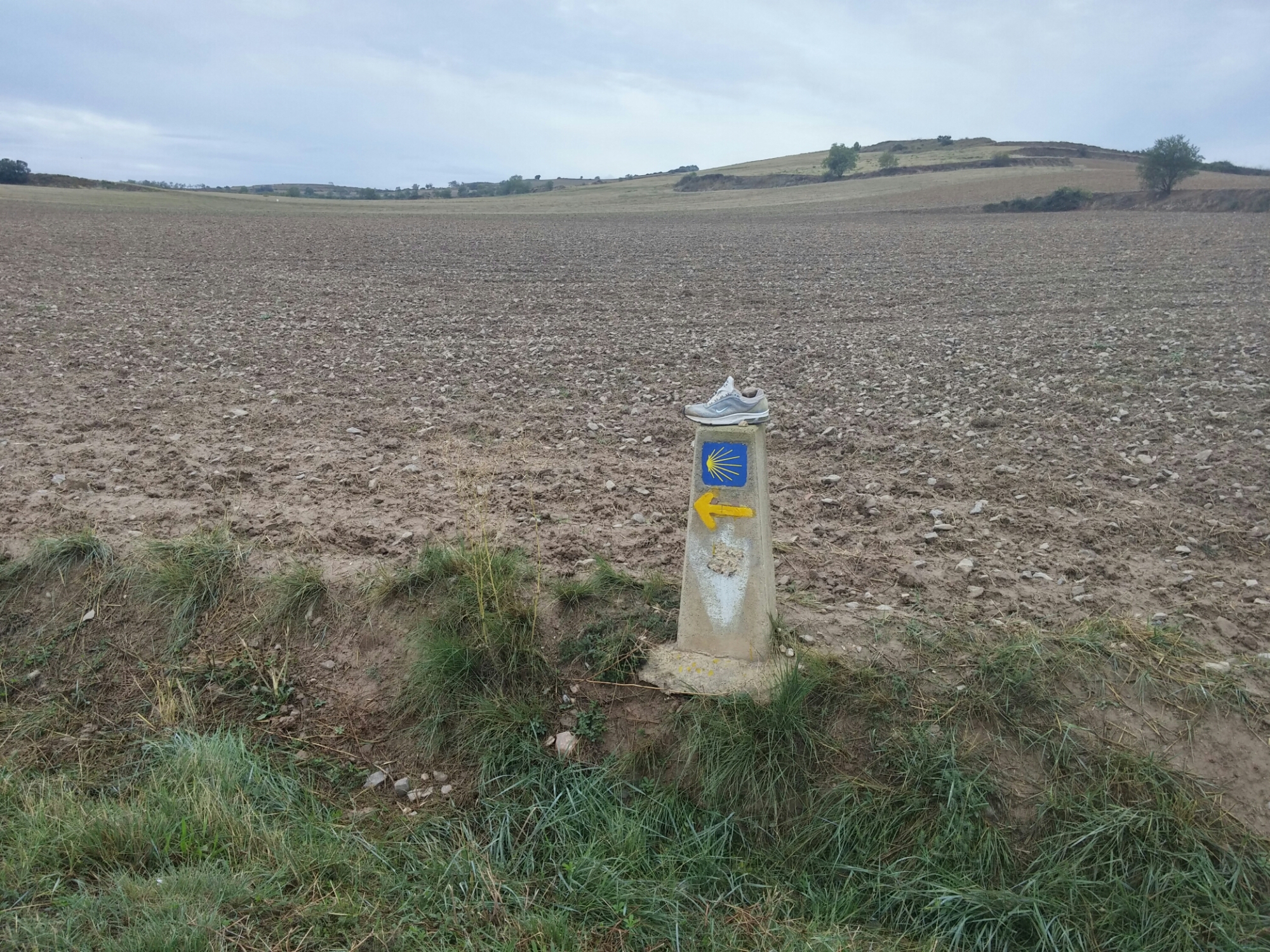 We Like the Tunnels
2014-09-26 09:08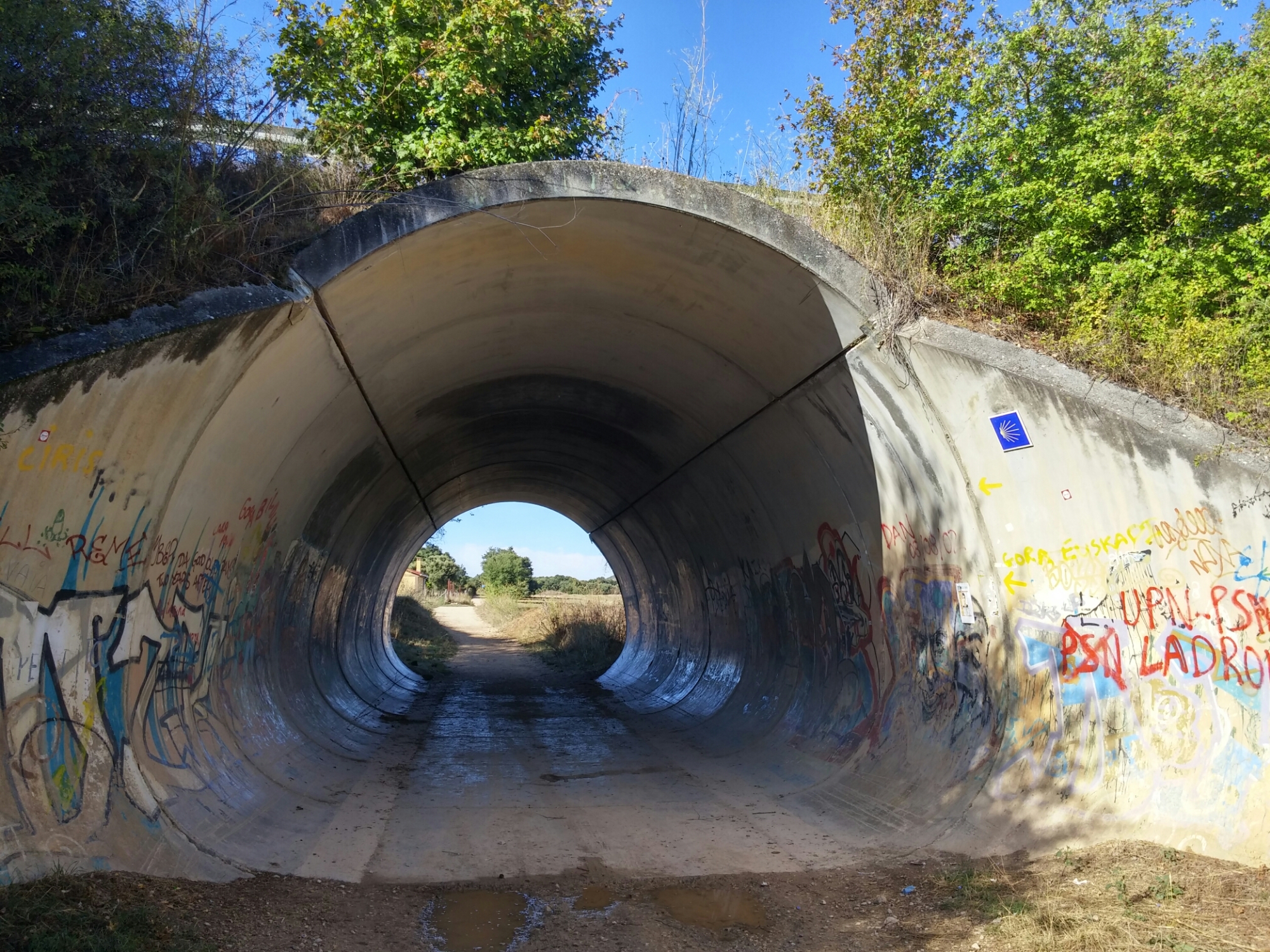 This Place Has Everything
2014-09-26 09:09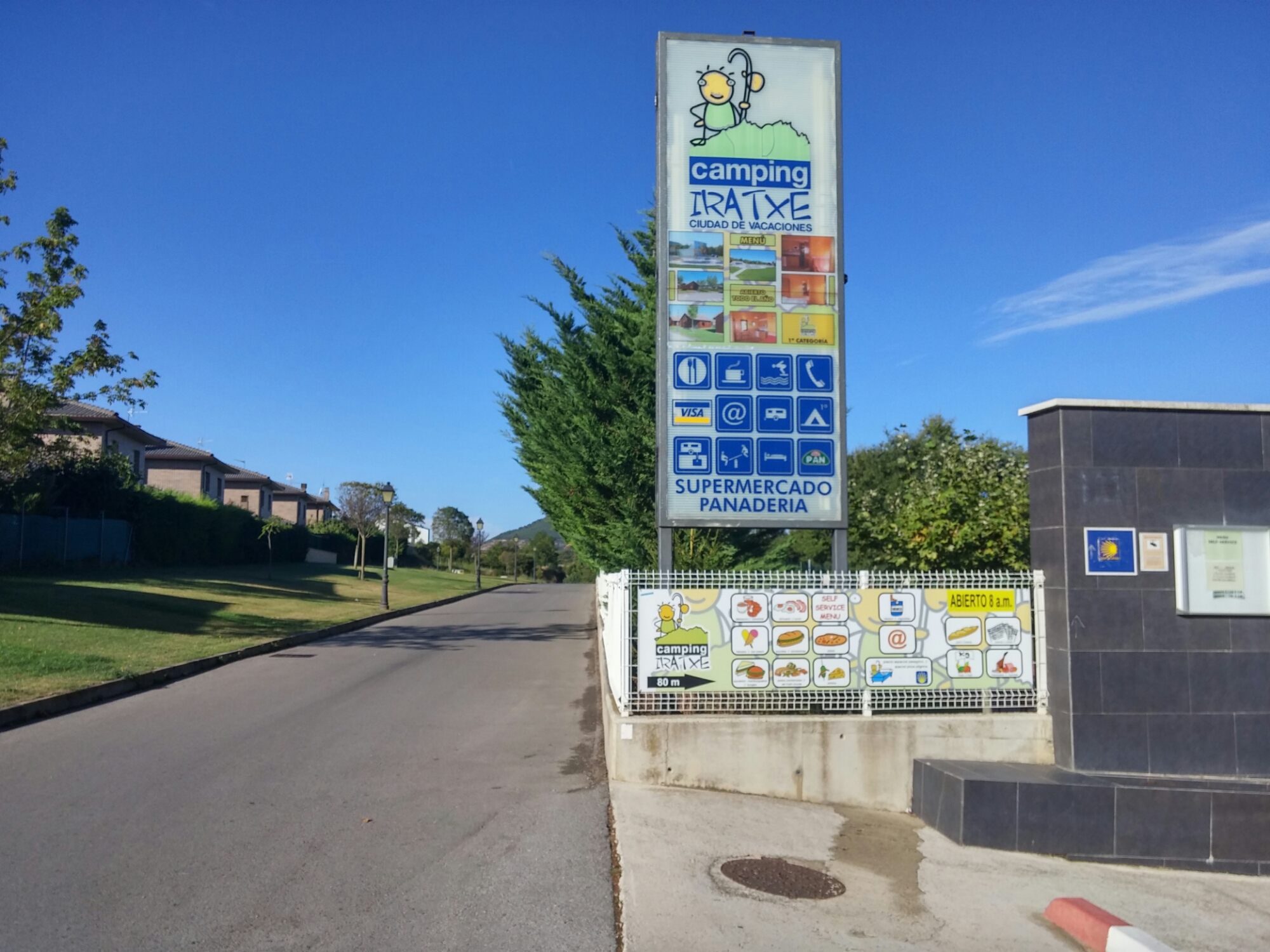 Ristras
2014-09-26 09:12
Cristina..
2014-09-26 09:15
Albergue Casa Magica
2014-09-26 09:18
After a Long Stretch…
2014-09-26 09:28
Invention of the Wheel
2014-09-26 09:31
Wynette Striking a Jaunty Pose
2014-09-26 09:32
The Roses Are In Bloom
2014-09-26 09:33
Donkey Along the Road
2014-09-26 09:37
It Rained Overnight…
2014-09-26 09:39
The Bigger the Marker…
2014-09-26 09:41
Leaving a Note
2014-09-26 09:54
Rolling Hills
2014-09-26 09:56
Motivational Stone
2014-09-26 09:57
After a Long Climb
2014-09-26 10:00
The Shadows Say Hi
2014-09-26 10:03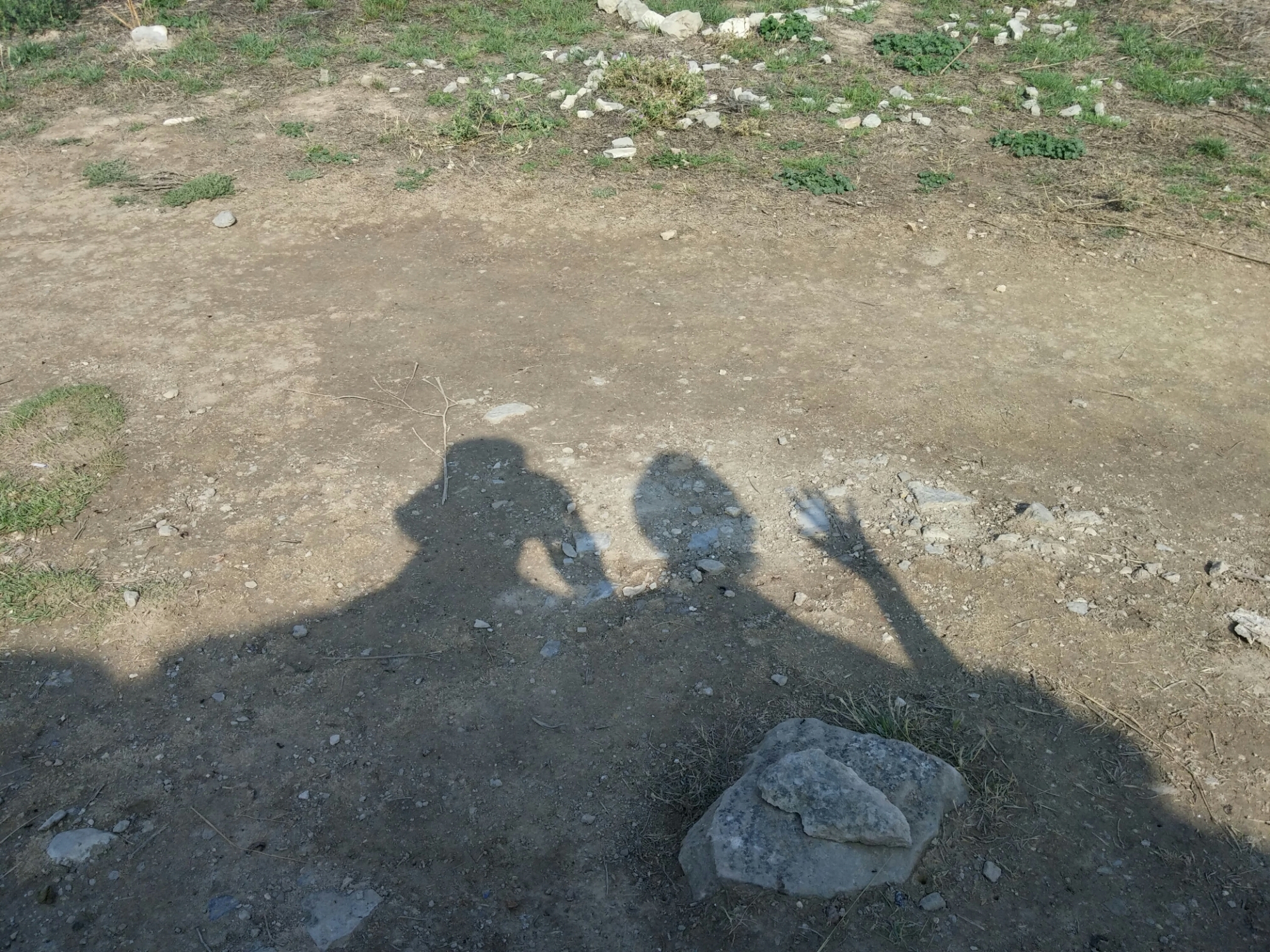 Walking On the Highway
2014-09-26 10:05
Jellyfish Pilgrim
2014-09-26 10:08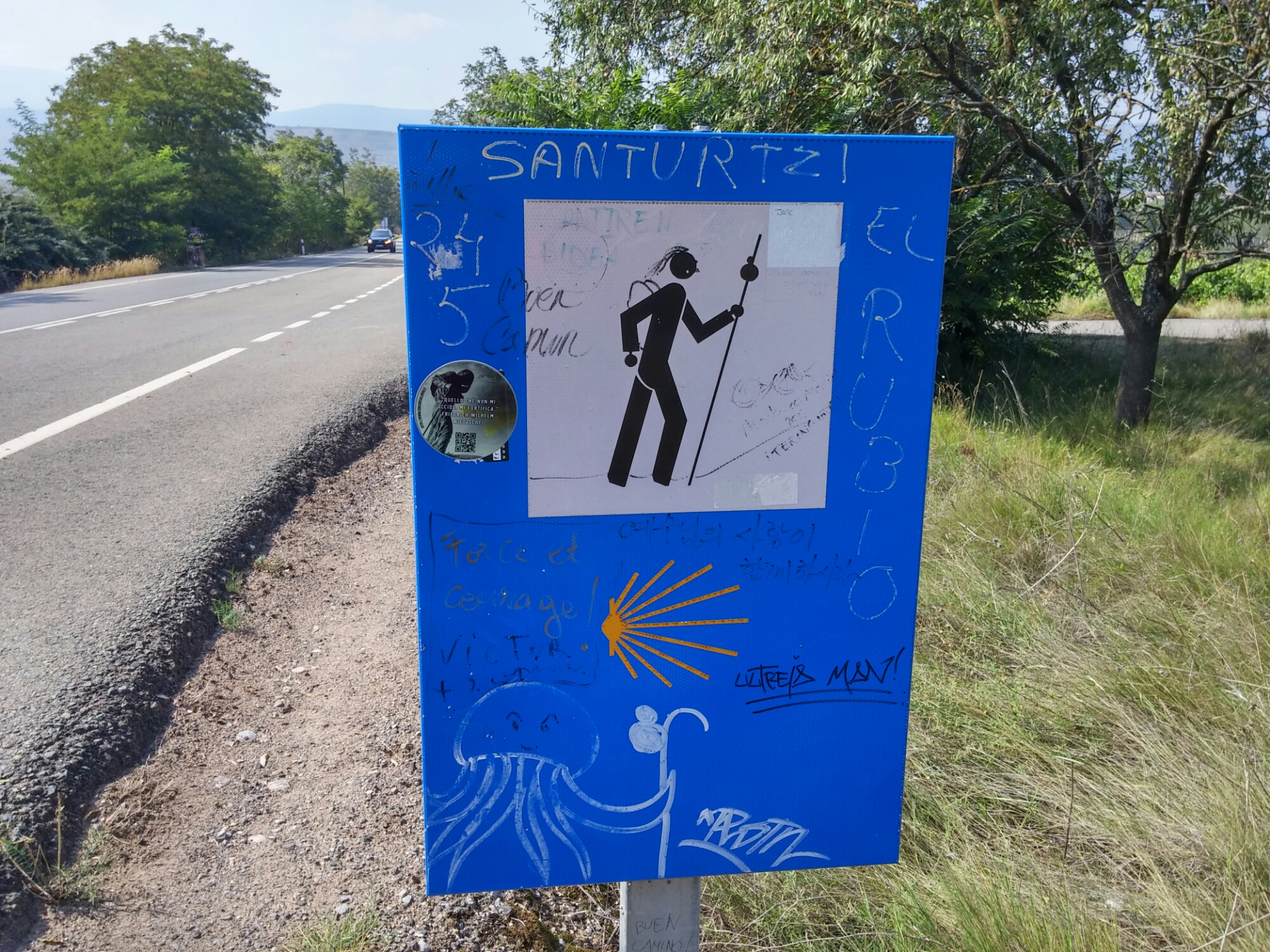 Melóns are in Season
2014-09-26 10:08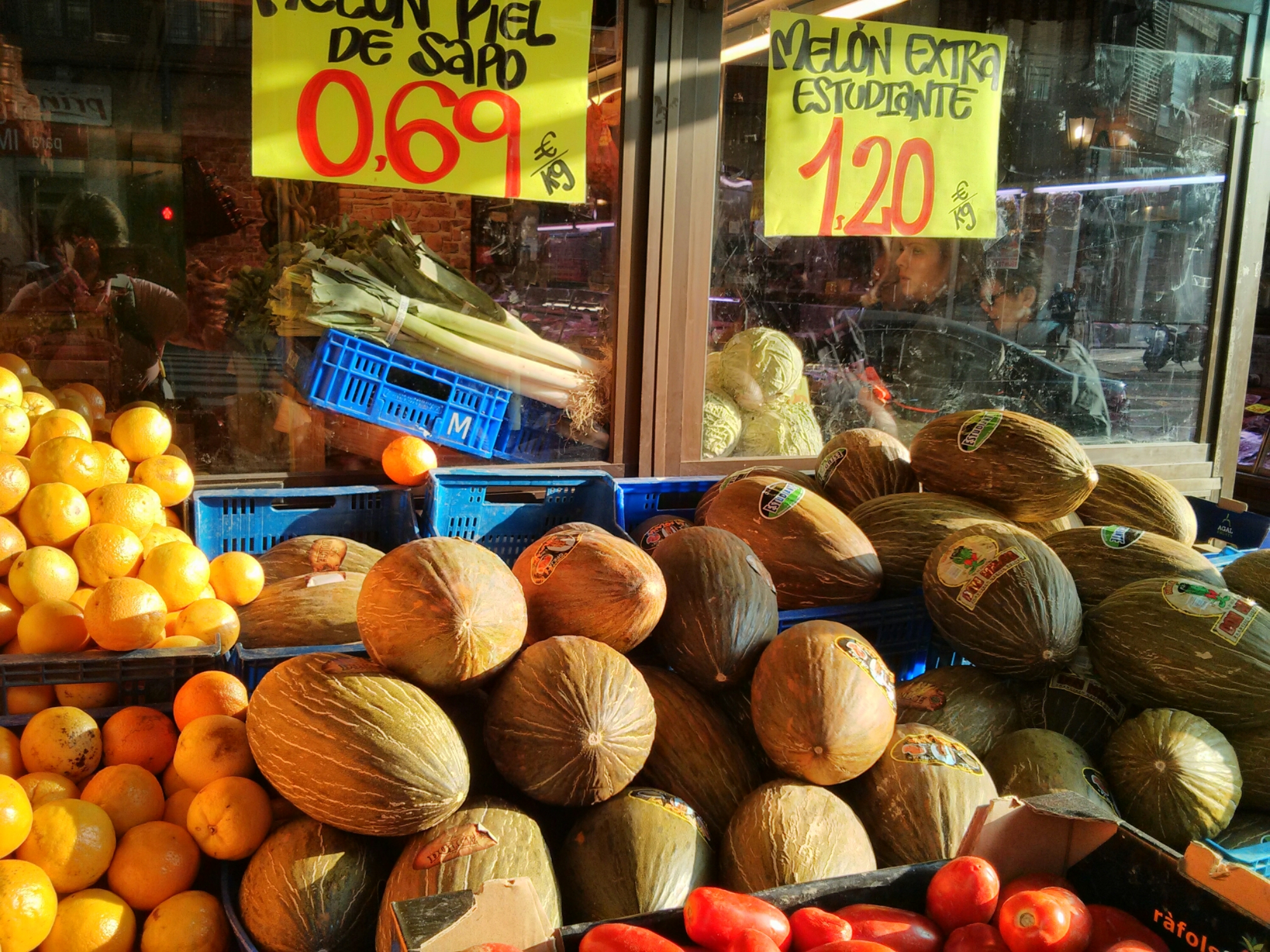 Wynette. Melóns have been an option on several of our pilgrim's menus. You get a large slice. Maybe not large enough because they are so delicious. I'm not sure what variety they are. They are just called "melóns" . Above are some we passed in a fruit market in Logroño. Sandías are sometimes an option as well. As everyone from Albuquerque knows, "sandía" means "watermelon", the old-fashioned red kind. (Albuquerque sits below Sandía Mountain which glows red in the sunset.) Last night we bought a fourth of a sandía and had it for dinner in our albergue kitchen. I think we got the last one in the little grocery store because as we were taking it up to the register to pay I overhead a woman tell her husband with dismay "ay no, no tiene sandías!"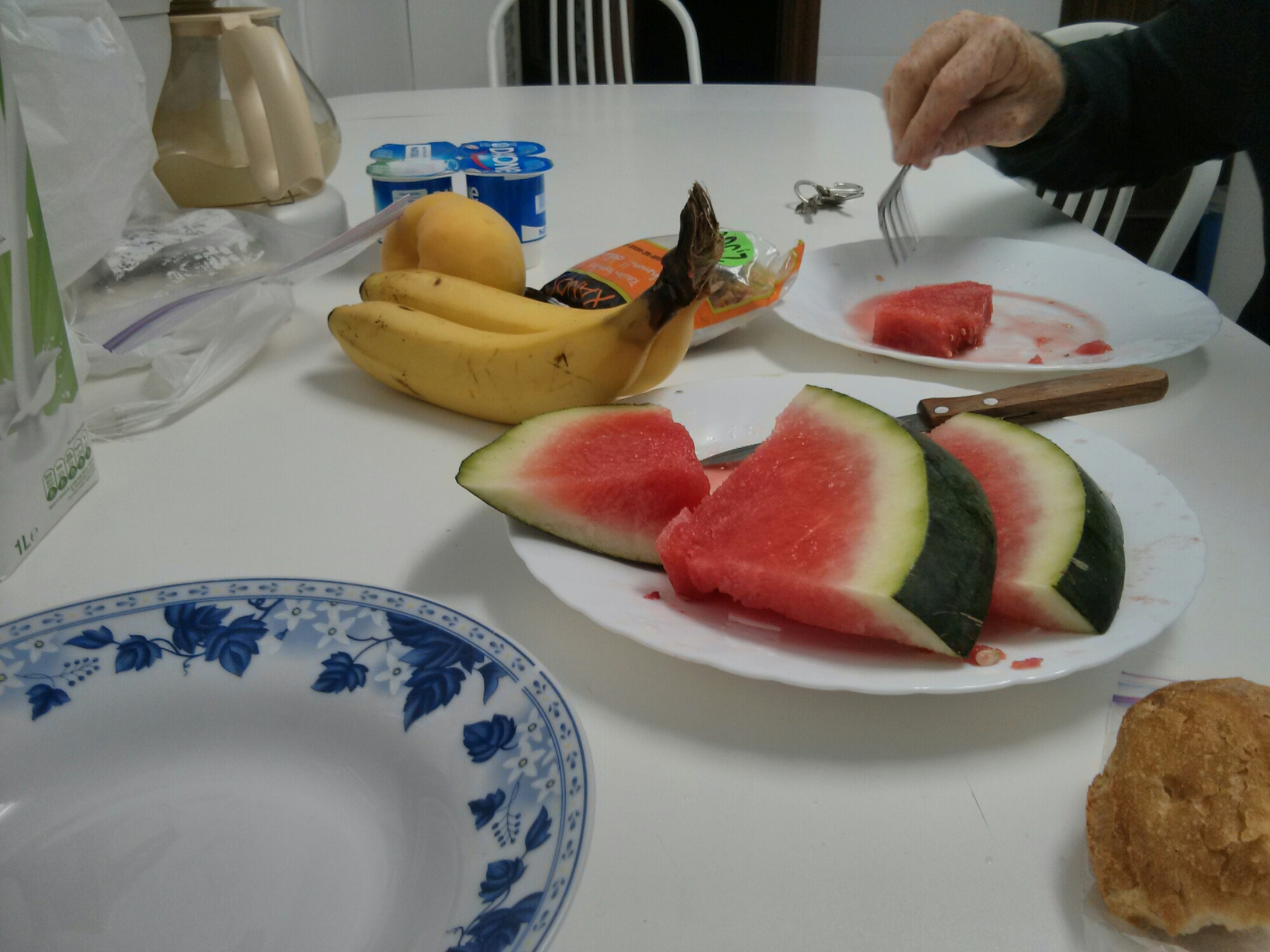 Rows of Planted Trees
2014-09-26 10:09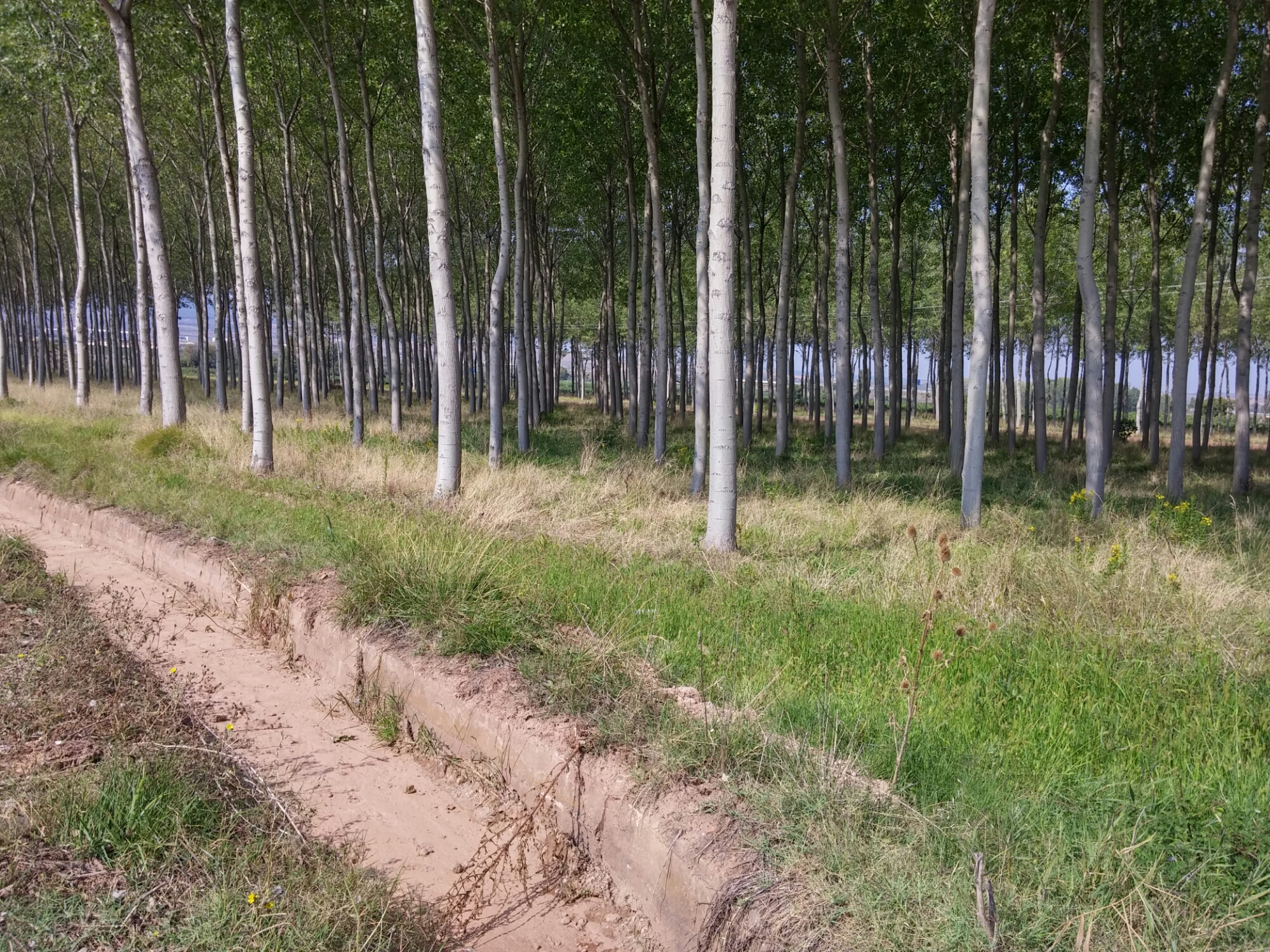 Grapes in La Rioja
2014-09-26 10:15
Photos Day 10, September 26, Navarrete to Ventosa
2014-09-26 10:16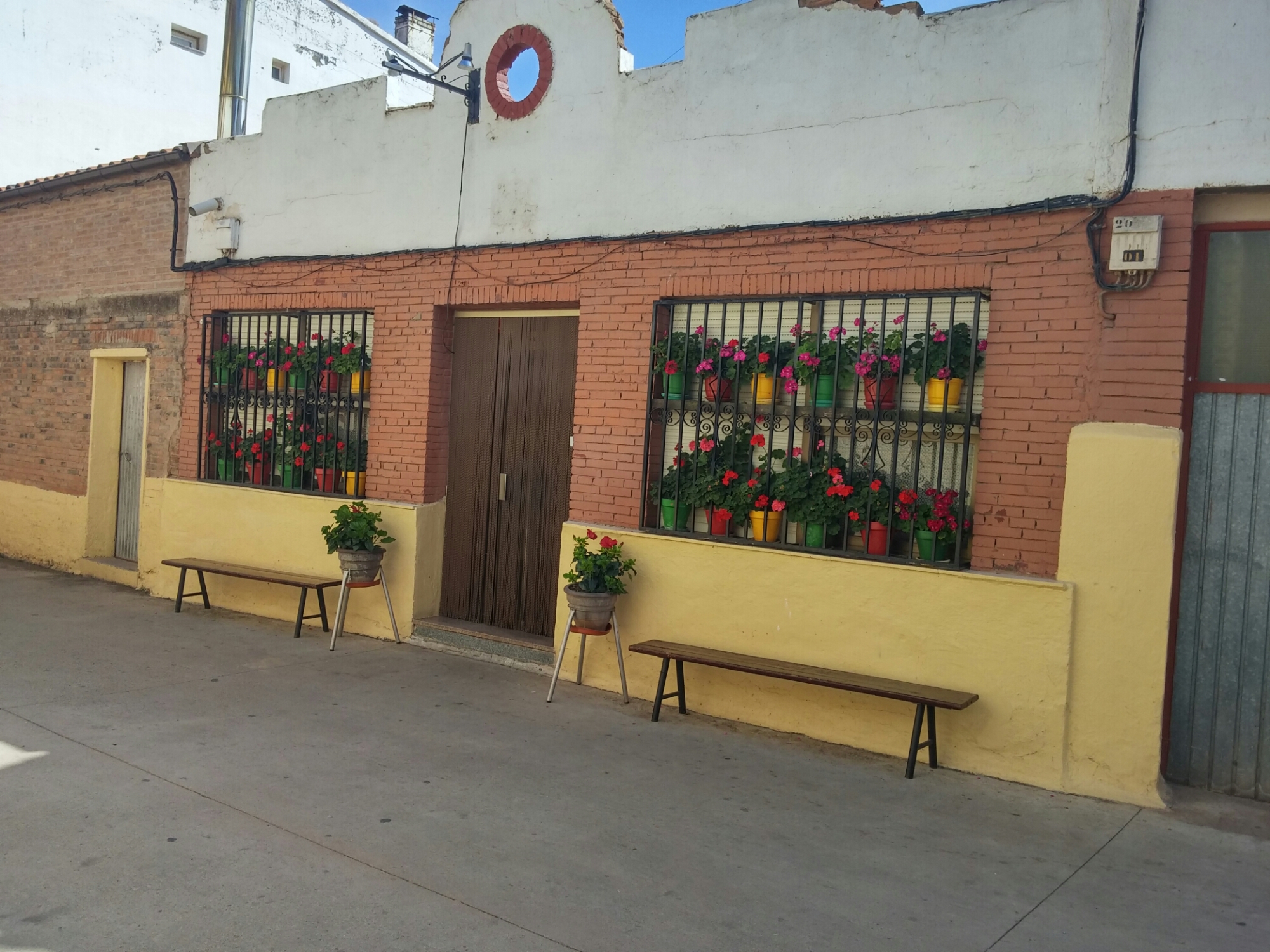 In Ventosa.
More at https://www.dropbox.com/sc/j3d1zn5zlq50xho/AABcP2xFgWFieTkPl3rZB8OMa
Markers 9-26
2014-09-26 10:16
Photos Day 11, September 27, Ventosa to Nájera
2014-09-27 07:27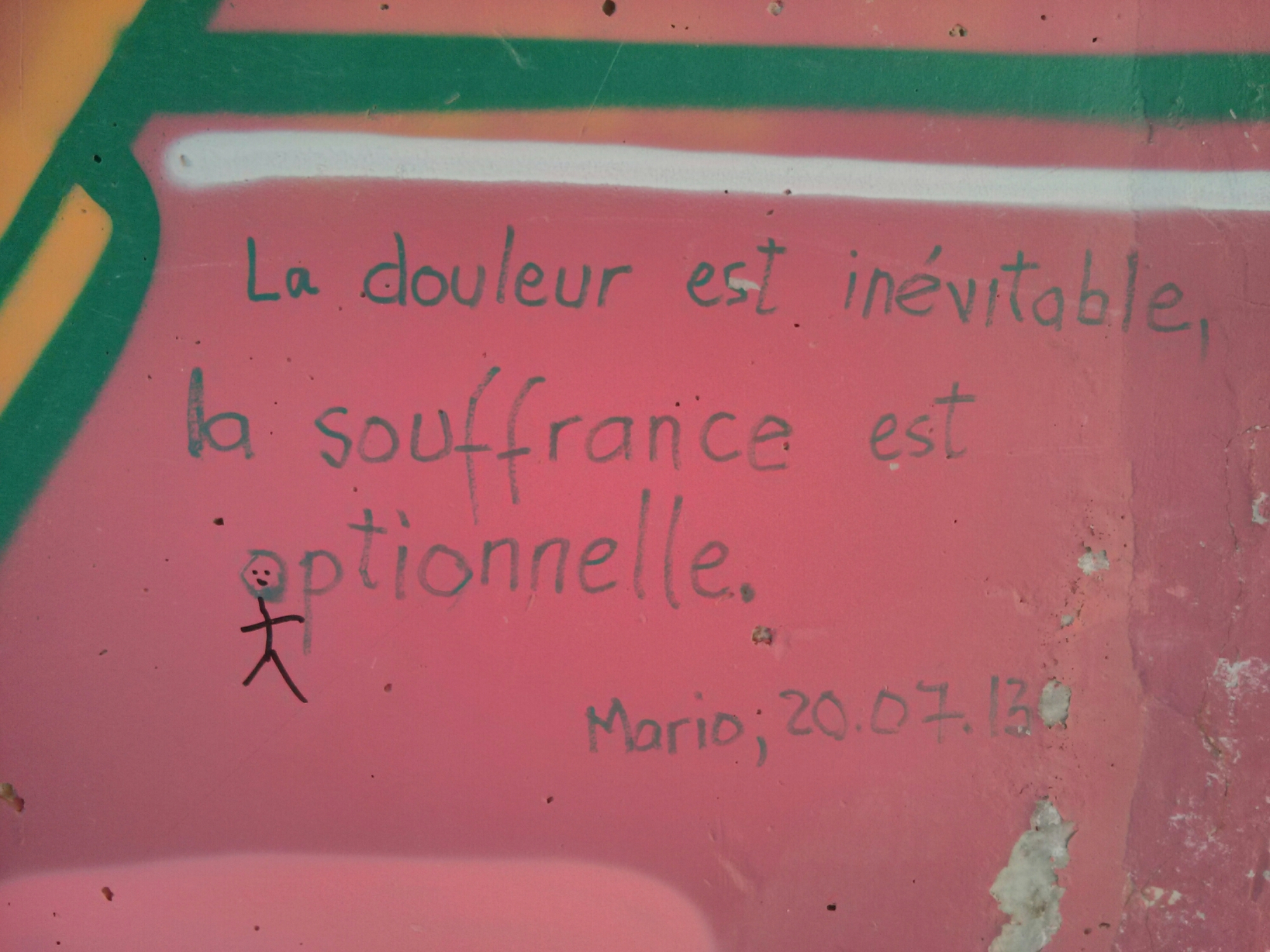 Pain is inevitable, suffering is optional.
More at
https://www.dropbox.com/sc/znl7c0cues3lljp/AACq4o0mx3u1B8F-5I31BKqra
Markers 9-27
2014-09-27 07:37
Siesta Hours
2014-09-27 07:41
Small Older Building
2014-09-27 07:42
Classes
2014-09-27 07:44
Well, Well
2014-09-27 12:33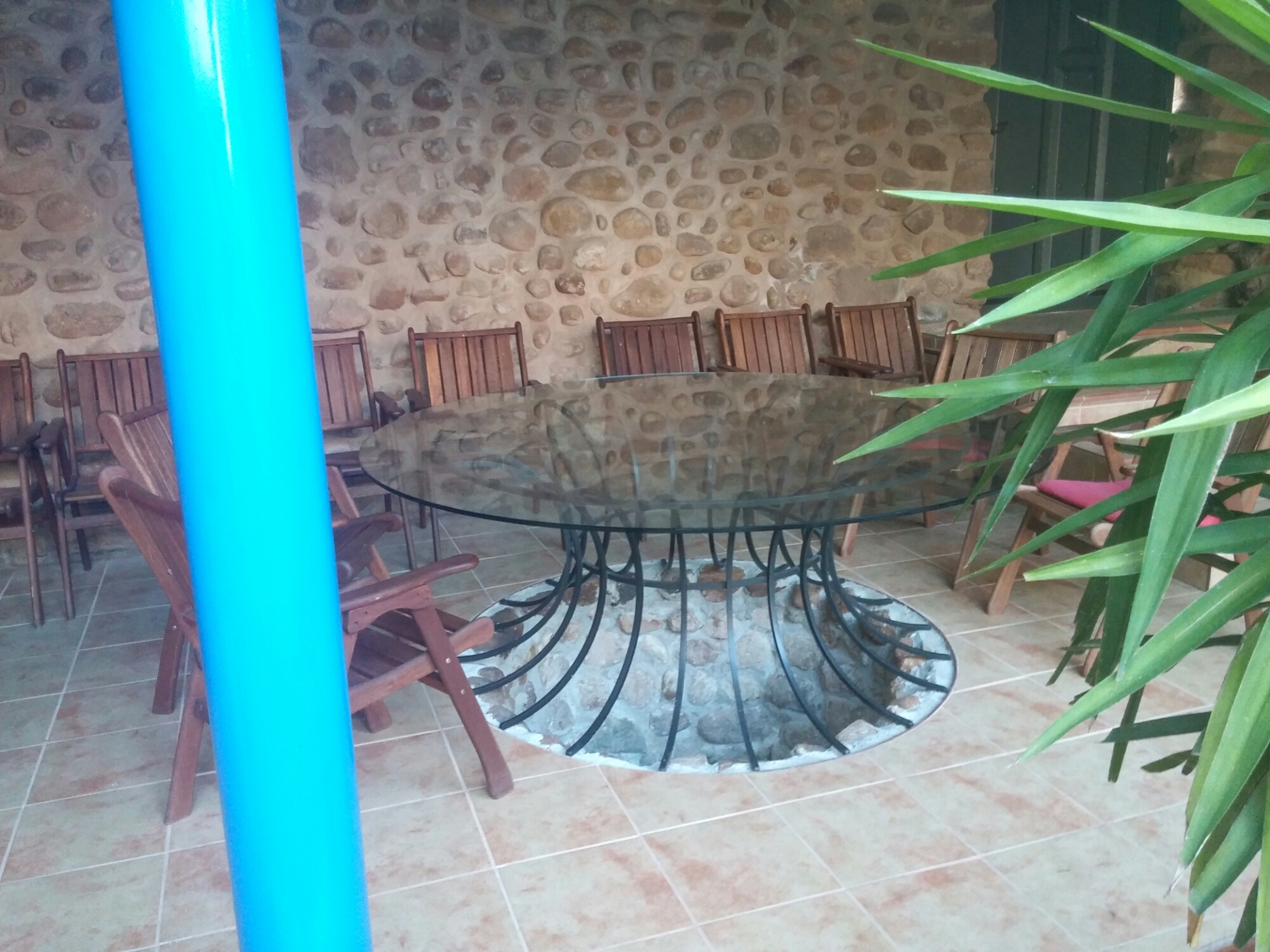 Charlie. We stayed at a great hotel in Ventosa. It opened in 2012 after being completely rebuilt from the ground up. But because it was an historic building they had to reproduce it exactly. Seems funny in a way. It isn't old but it has to look like a building that was old but no longer exists.
We don't know if this feature was because of this requirement but this well was unlike anything I've seen before.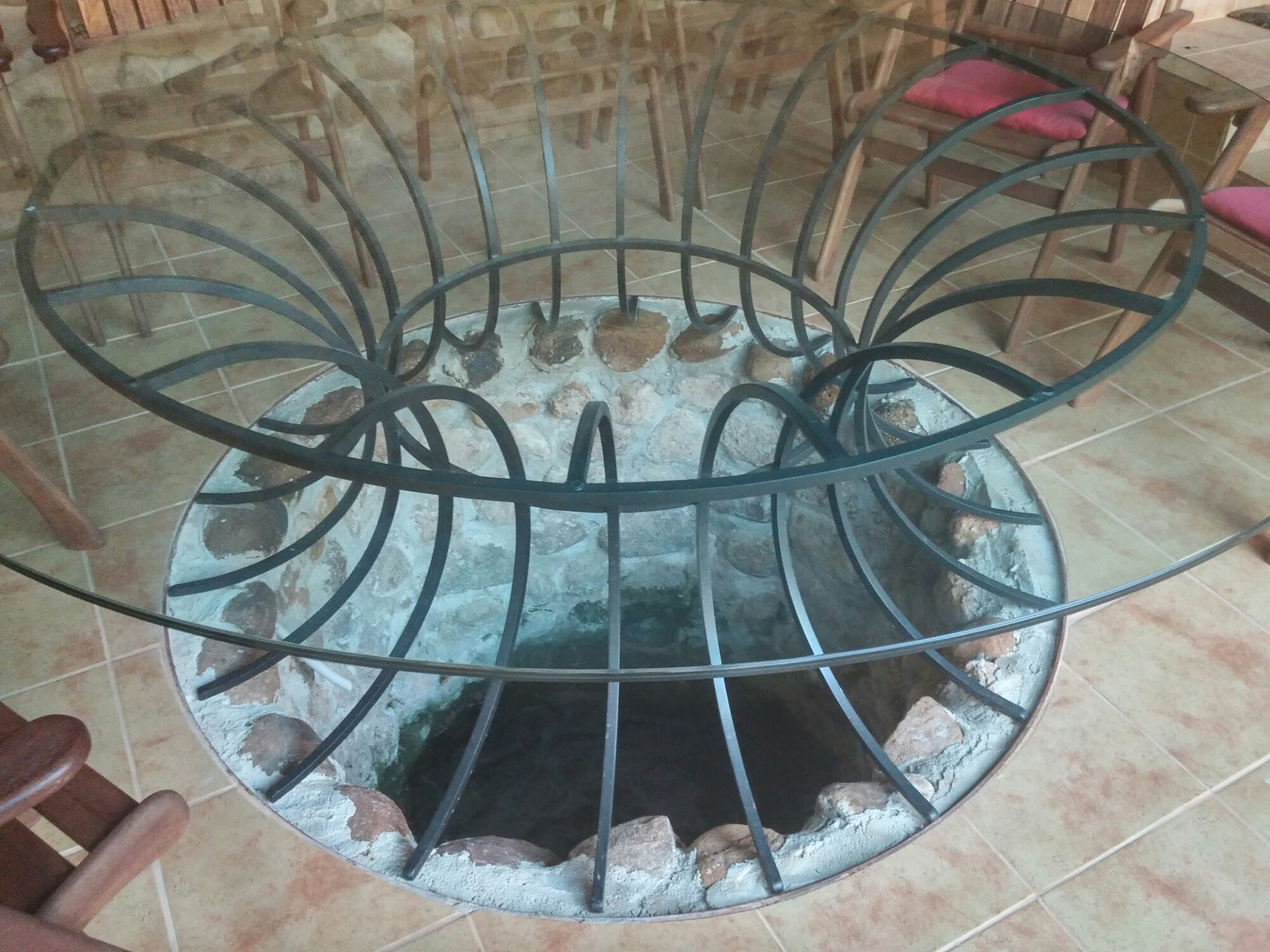 We were sitting at the table worrying that we would drop something into the well.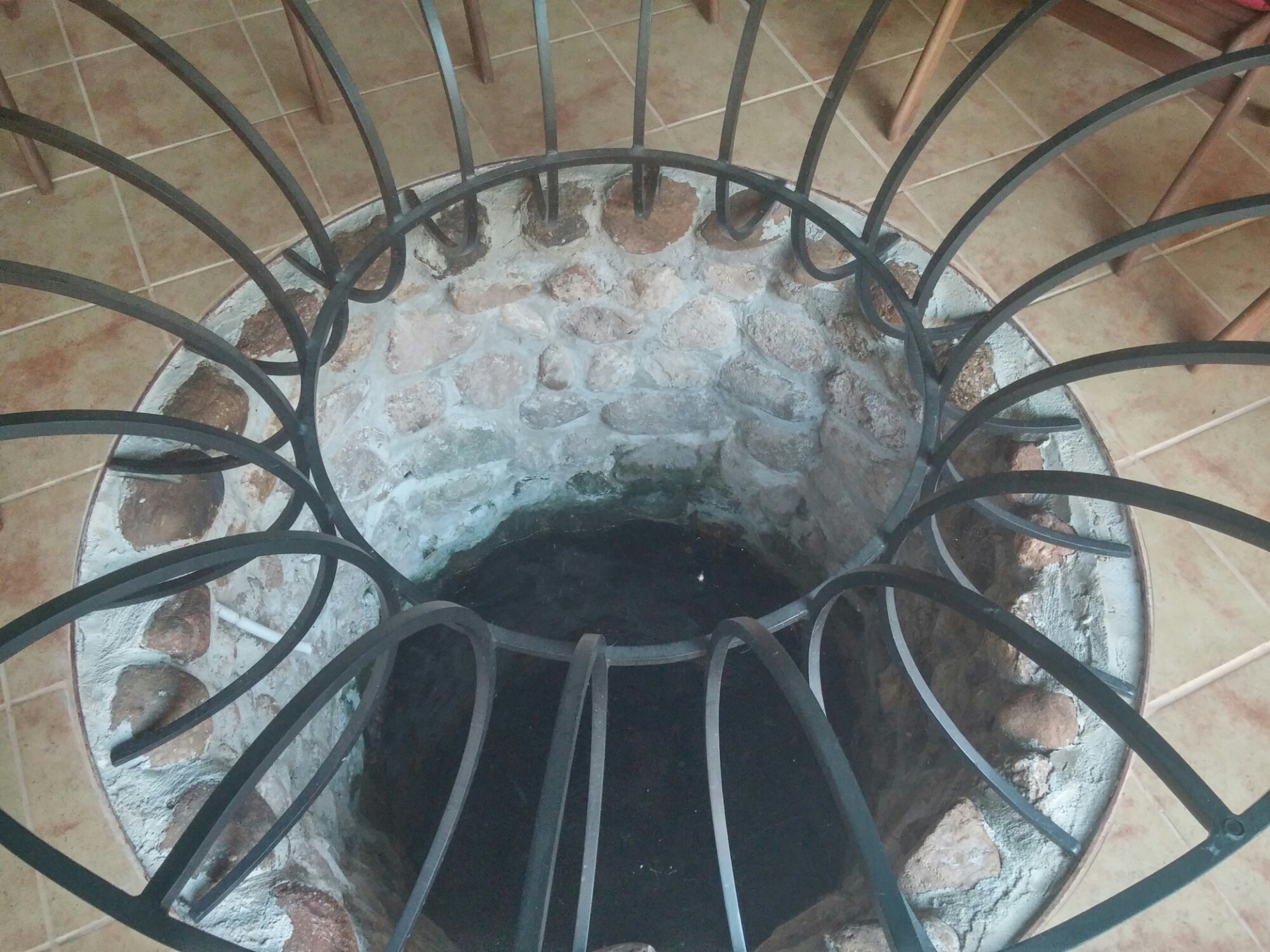 Orange Juice in Grape Country
2014-09-27 12:33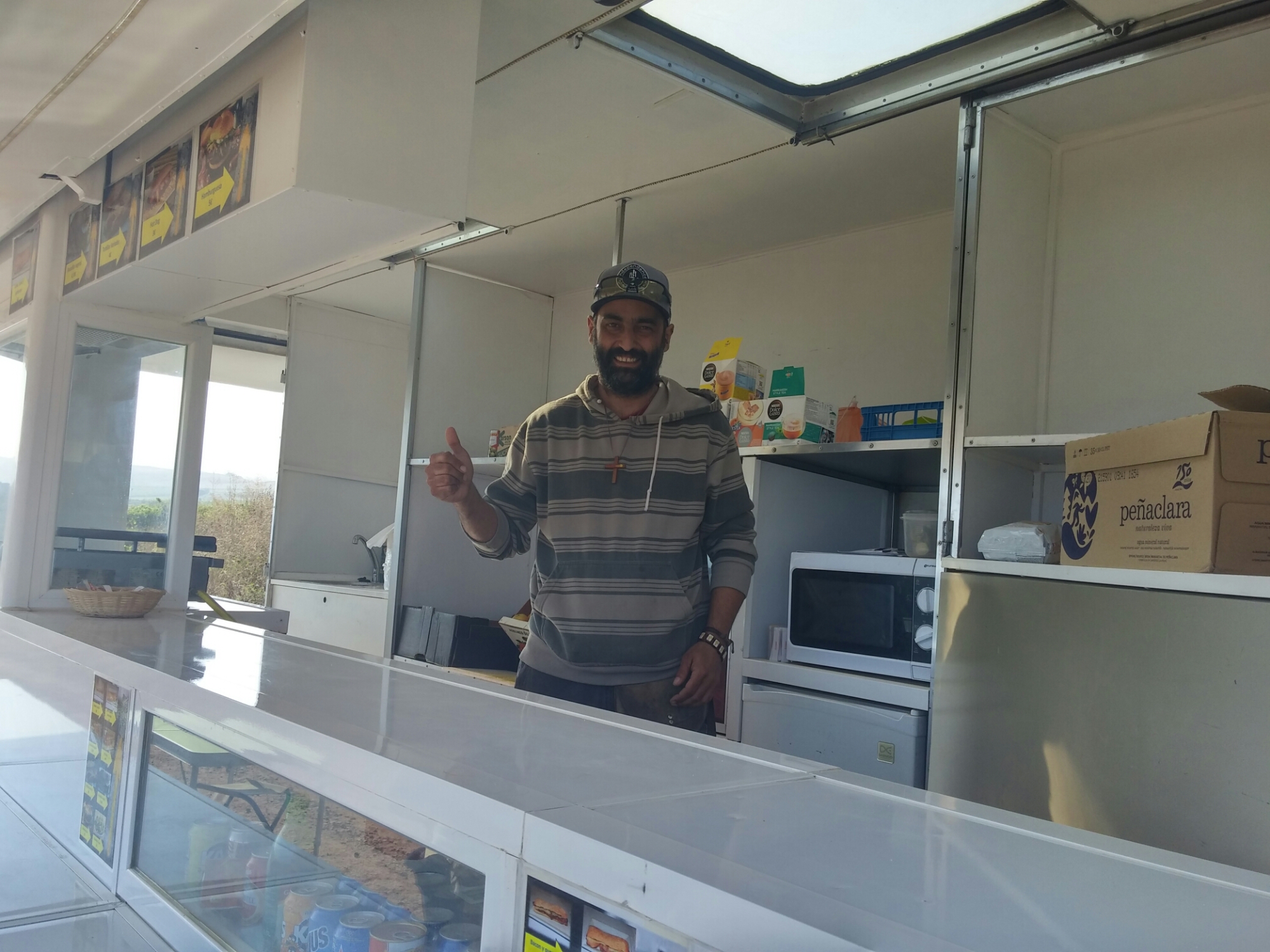 Wynette. We walked about 7 miles today. We set out knowing there would be no town or bar to stop for a rest, coffee, or bathroom. So, I was happy to see the food cart this friendly man had set up about half way. He had a fresh orange juice machine and we each ordered a glass. He started a loud generator to provide electricity to power the machine. The juice was delicious. He kept telling us to drink up because he wanted to refill our glasses, no extra charge. We sat at one of his little tables and enjoyed a short rest. As we left I asked if I could take his picture. He happily smiled for me.
The Triumph of Style Over Function
2014-09-27 12:39
Gadgets
2014-09-27 13:57
Charlie. We each have a smart phone which is our camera, e-reader, audio player, Internet access, texting device and guide books. Oh yeah, they also make phone calls. We got a Spanish SIM card with unlimited texts, 100 minutes and 1.6 (in Europe 1,6) GB. I have a 5.5″ LG G3 and Wynette has a 4.7 Nexus 4. Wynette also has an actual iPod.
Talk about a single point of failure. My G3 started rebooting by itself a few times in one day, apparently a common problem with them. Luckily it seems to have healed itself for now since I am far away from t-mobile repairs.
Apart from that we are happy with the devices. They are light. I like the 5.5″ screen in the 5.0″ body thanks to thin bezels.
Little things can cause problems. We charge the devices with a Spain-to-US adapter, a USB charger and a USB to micro USB cable. One charger setup was very slow. By swapping parts I narrowed it down to a weak cable. In Logrono we got a new cable and now all is speedy.
Mega Metric Thoughts
2014-09-27 14:19
Since our devices have many functions we use them a lot in our room. So they need recharging. So we need to recharge them while we are using them. Outlets are not always in convenient places. The cables we brought are a bit short. Problem. I should have thought of this before we left and got longer ones.
Enter the metric system. USB to micro USB cables are a worldwide standard but their length is not. The replacement cable we got is about a foot longer than the one we brought. Problem solved. We got two.
I never thought before how the measurement system might affect things like typical cable lengths.
Another metric system thought. We have kilometers, kilograms and kilobytes and megabytes but you never hear about megameters or megagrams. They would be useful. The Camino is about 1.6 megameters. And almost all of us weight less than a tenth of a megagram, sounds pretty light to me.
And astronomers could use giga, peta, etc and get rid of these awkward units like A.U. and the easily misunderstood light year.
Flat Surfaces
2014-09-28 01:10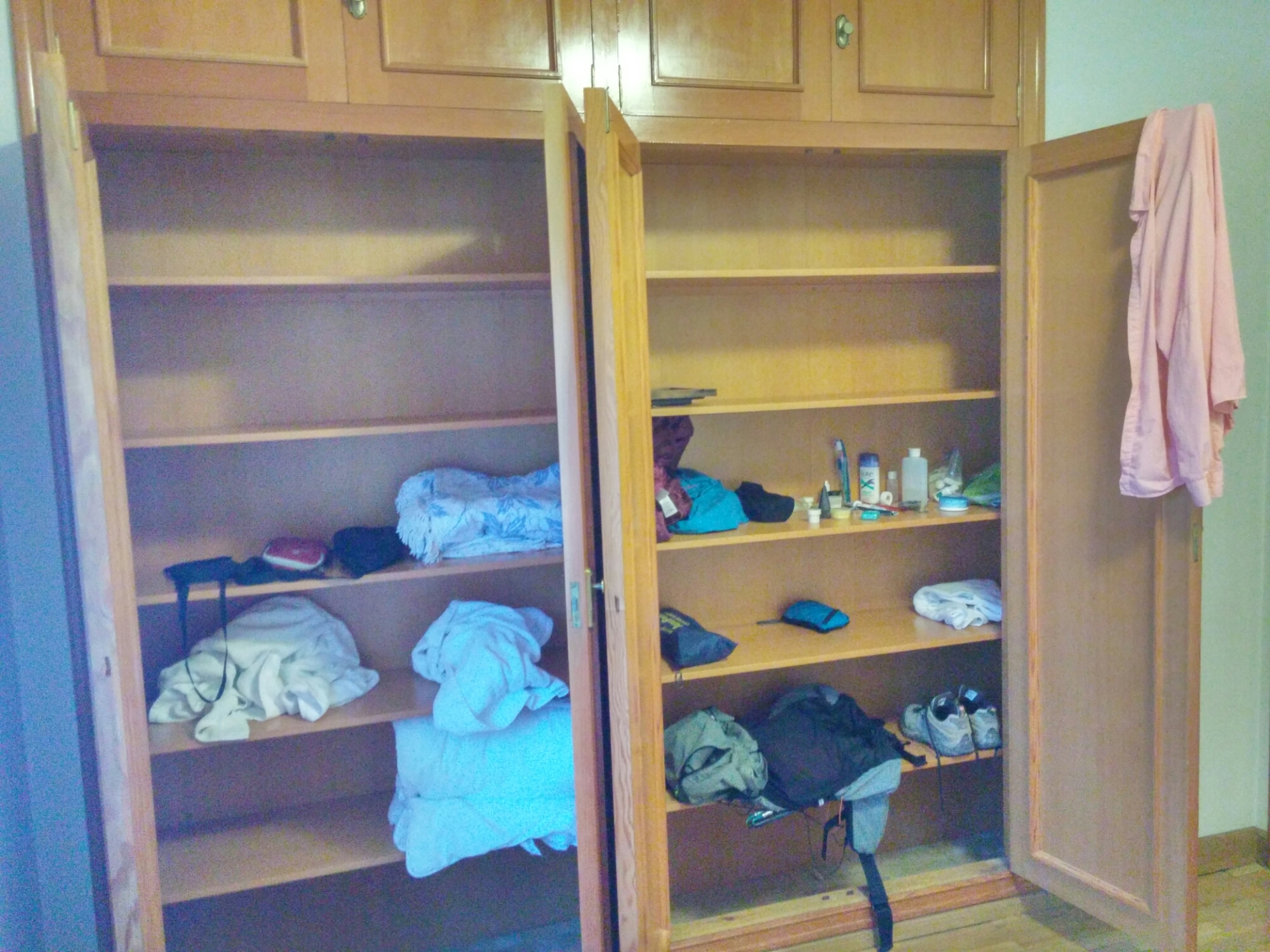 We stayed in a very nice albergue in Najera. We had a private room but everyone got a bed with sheets and towels. This cabinet was on one side of the room. I don't think we have ever had add much shelf space in a hotel room.
You can never have too many flat surfaces to put things on.
Xerox PARC did a study on how people organized their offices and found that most people used a system of piles. So they invented a "pile cabinet" basically like the cabinet in our room.
Lunch
2014-09-28 08:59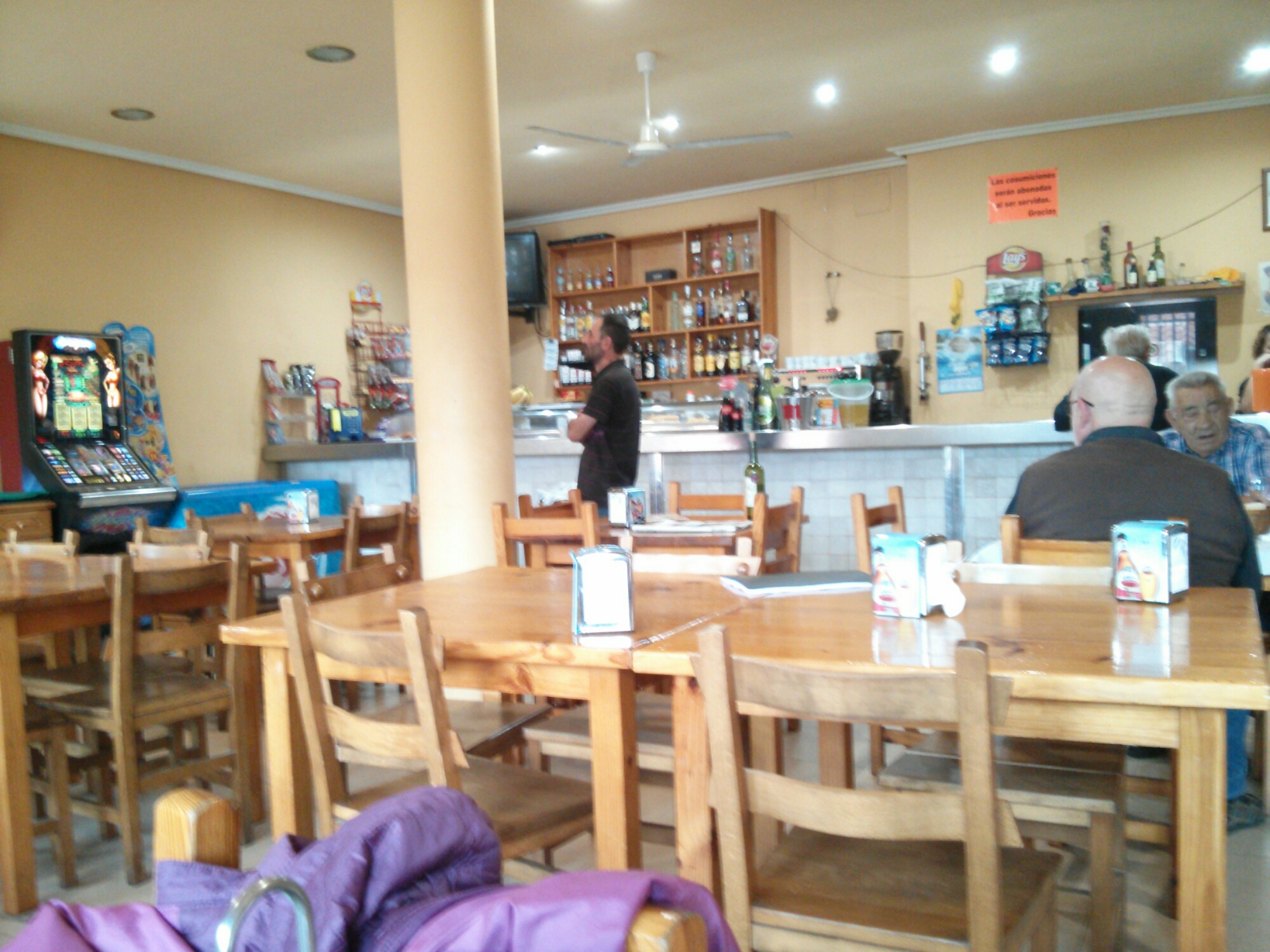 Wynette. We are in Cirueña where we'll stay the night. We walked about 10 miles today. Around 2:30 we arrived at our B&B , Casa Victoria. After checking in with a nice man we walked next door to Bar Jacobeo for lunch, pictured above. (The only place for lunch in this tiny town. Not even a grocery store.) We thought we'd just ask for fried eggs and toast. But that caused quite a stir. They definitely could not make us toast. Our only option was a bocadilla or the pilgrim's menu. So we had the menu. Fine, because we were hungry. We placed our order and sat down. Our waiter (man in black shirt standing and watching TV above) brought our water and napkins. He'd placed the napkins at our right hand. After he left I unconsciously moved mine to my left the way we do it in the States. He returned with the silverware and saw I'd moved my napkin and he made me move it back over to the right. He seemed genuinely upset I'd moved my napkin. Soon he brought the first course. Charlie had ordered garbanzo beans and I had ordered the soup. What we got was probably the best pilgrim's meal we've had so far. The garbanzos came with two kinds of sausage and a pork rib. The soup was cod with potatoes and vegetables. Everything perfectly cooked and flavored. We decided that in the kitchen of this unassuming bar was someone's grandmother. When the waiter brought us the second course, we asked "Who is la cocinera (the cook)?" He smiled for the first time and pointed to a woman sitting at the end of the bar. She was probably around 30, not grandmotherly at all. She must have heard us ask because she waved and smiled at us. Our second courses (beef and chicken) were delicious, too.
(Everyone in the bar was watching a big bike race on the TV.)
First course with silverware on the right :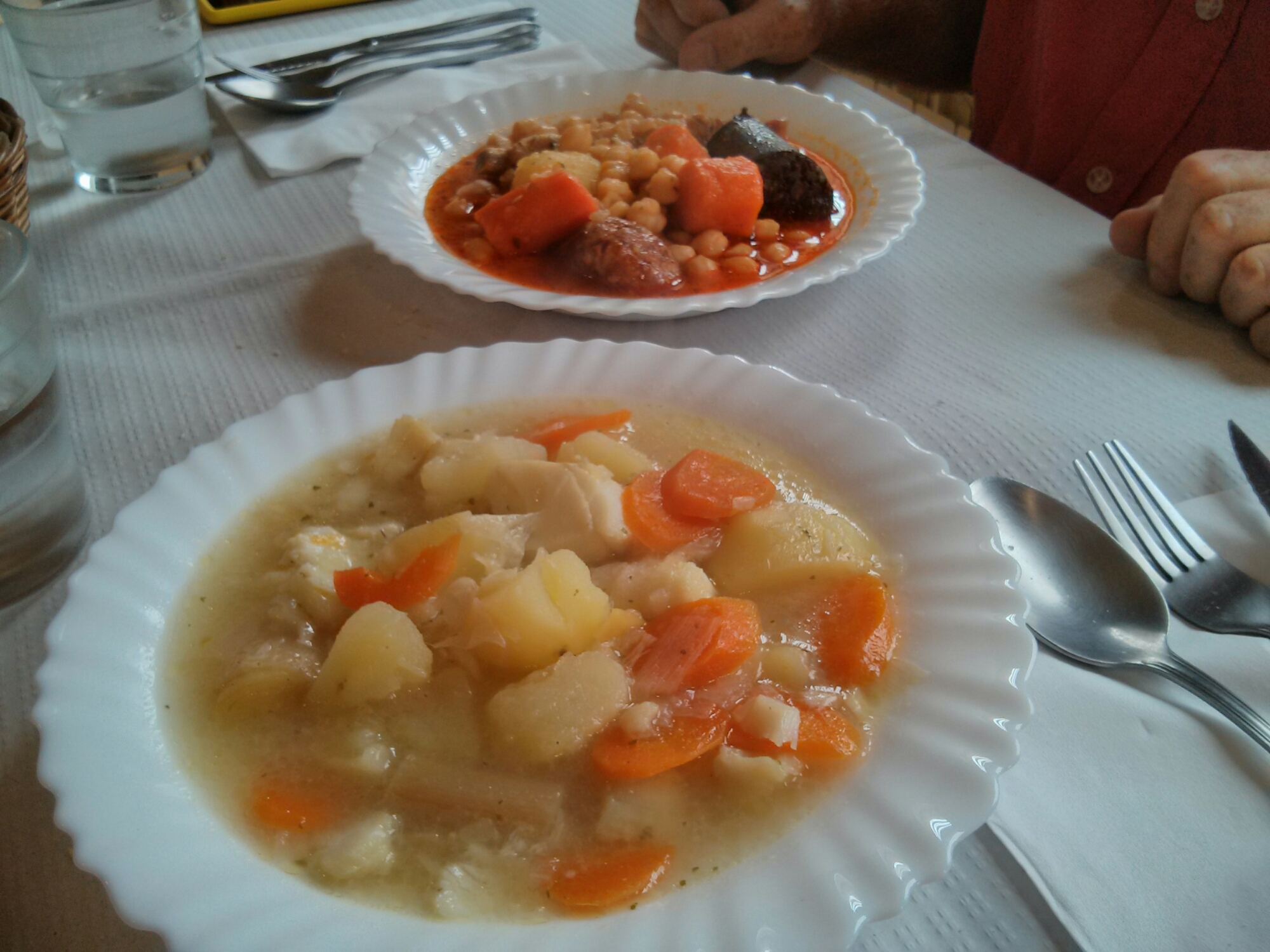 First-Second Caminos
2014-09-28 09:09
We have gotten a lot of enjoyment as we get to places remembering the first time we were there. We remember little things like what people were standing there as we passed and where we talked to the woman from Ireland (for example).
We are finding that we didn't get enough of these places the first time. We were too tired or distracted or something. This gives us a chance to complete the experience. It has been very satisfying.
State of the Camino
2014-09-28 09:43
Charlie. We have walked 12 days, gone 88.2 miles, 7.6 miles a day. We have used our sheet sleeping bags once, had sheets the other 11 days, and had towels 10 day. Six of the places were albergues.
Amazingly we are one quarter done. We are a day ahead of our planned schedule. We will get to Ponferrada. Coincidentally we were watching a bicycle race going through Ponferrada as we were having lunch today. The last quarter will be the Camino Finisterre.
The way-slow way is working out well. Wynette's feet are doing okay and not too stressed. We are not tired at the end of the days. We sleep until we wake up.
It has been a bit hot and humid but it is cooling off now.
We have had almost all good food and sometimes amazingly good food.
People have been friendly and helpful. The main exception, the albergue in Los Arcos, makes a great story. It was so bad it was funny.
Wynette has been doing great with her Spanish. It has been very useful. We have learned to ask for things, like salad instead of French fries.
Because we go slowly we can stop a lot and look at things and think about what we are seeing.
Taking pictures of markers has been fun and keeps a record of the day on the trail. It is fun to go through them and recall the day's walk.
Daily Log:
Date, Day, Miles, Average, Town, Hotel
16, 0, 0, Zizur Mayor,  AC hotel 
17, 1, 8.4, 8.4, Uterga, Perdon 
18, 2, 6.5, 14.9, Puerta la Reina, Jakue 
19, 3, 9.5, 24.4, Lorca,  Bodega 
20, 4, 6.5, 30.9, Estella, Christina
21, 5, 6.6, 37.5, Monjardin, Montdeio
22, 6, 7.5, 45.0, Los Arcos, Puente 
23, 7, 5.0, 50.0, Torres del Rio, Oca
24, 8, 7.1, 57,1, Logrono, Portales
25, 9, 8.2, 65.3, Navarrette, Cantaro
26, 10, 5.4, 70.7, Ventosa, Aguadas
27, 11, 7.0, 77.7, Najera, Calle Mayor 
28, 12, 10.5, 88.2, Ciruena, Victoria 
Haystack Closeup
2014-09-28 10:10
Haystack
2014-09-28 10:15
Would You Like Patatas Fritas With That?
2014-09-28 10:21
Aqueduct For the Grapes
2014-09-28 10:25
Wynette Samples the Grapes
2014-09-28 10:36
Have a Nice Way
2014-09-28 10:45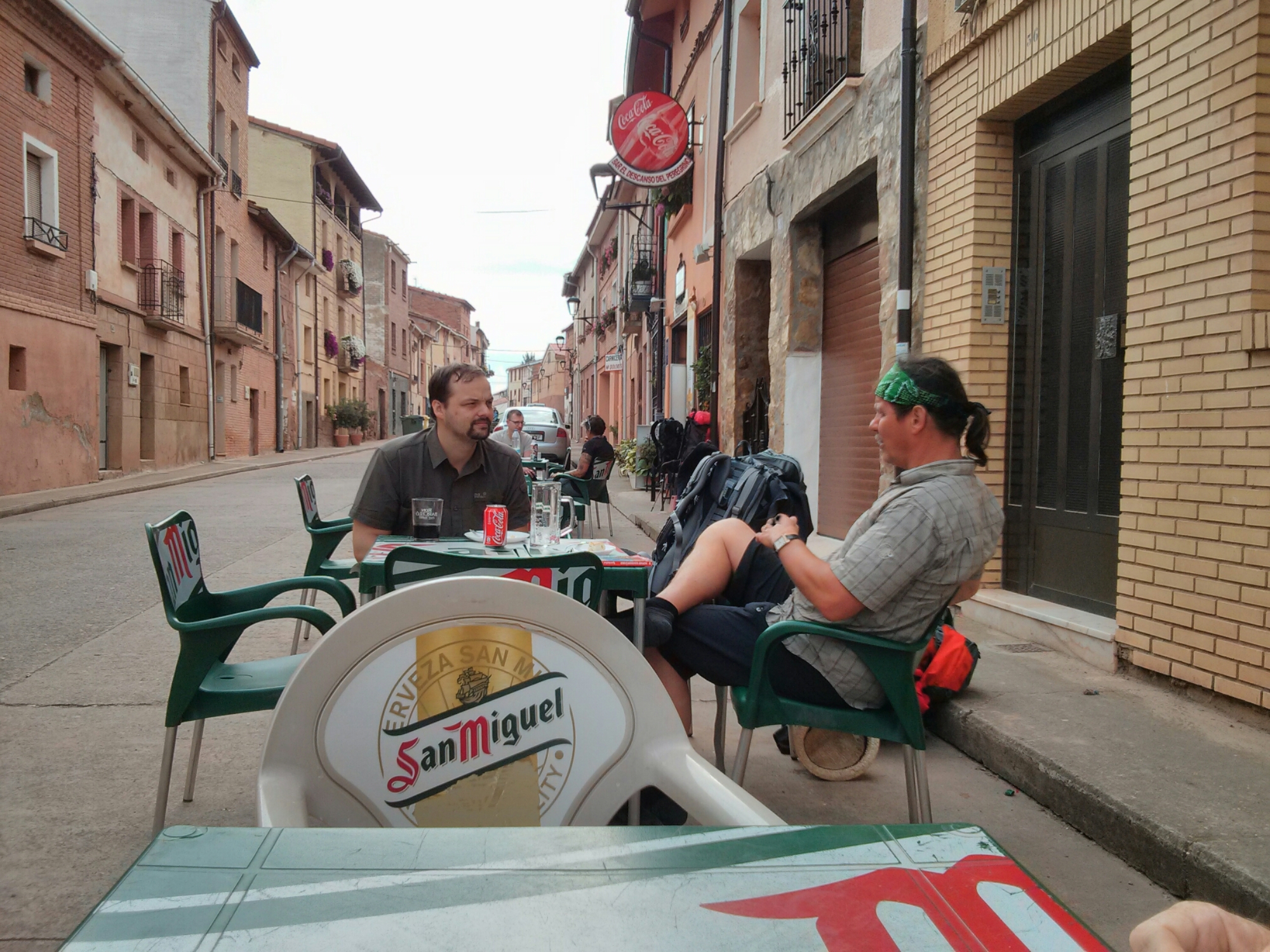 Wynette. Sunday. We stopped for coffee in Azofra this morning. Two German men, photo above, were at the next table and speaking to each other in German while Charlie and I talked to each other in English. When they got up to leave we all wished each other "buen camino", as is the custom. Then one of them playfully said to us in English "Have a nice way." That is pretty much the English translation of "buen camino". We all laughed at that.
Update Monday: This morning when we went down to breakfast, we found ourselves sitting across from these same men. We had all ended up in the same B&B. We found out they are from Berlin and are a father and son. (Father with the ponytail.) They are walking the Camino over four years, one week each year. We really liked them.
Najera On a Cloudy Morning
2014-09-28 11:06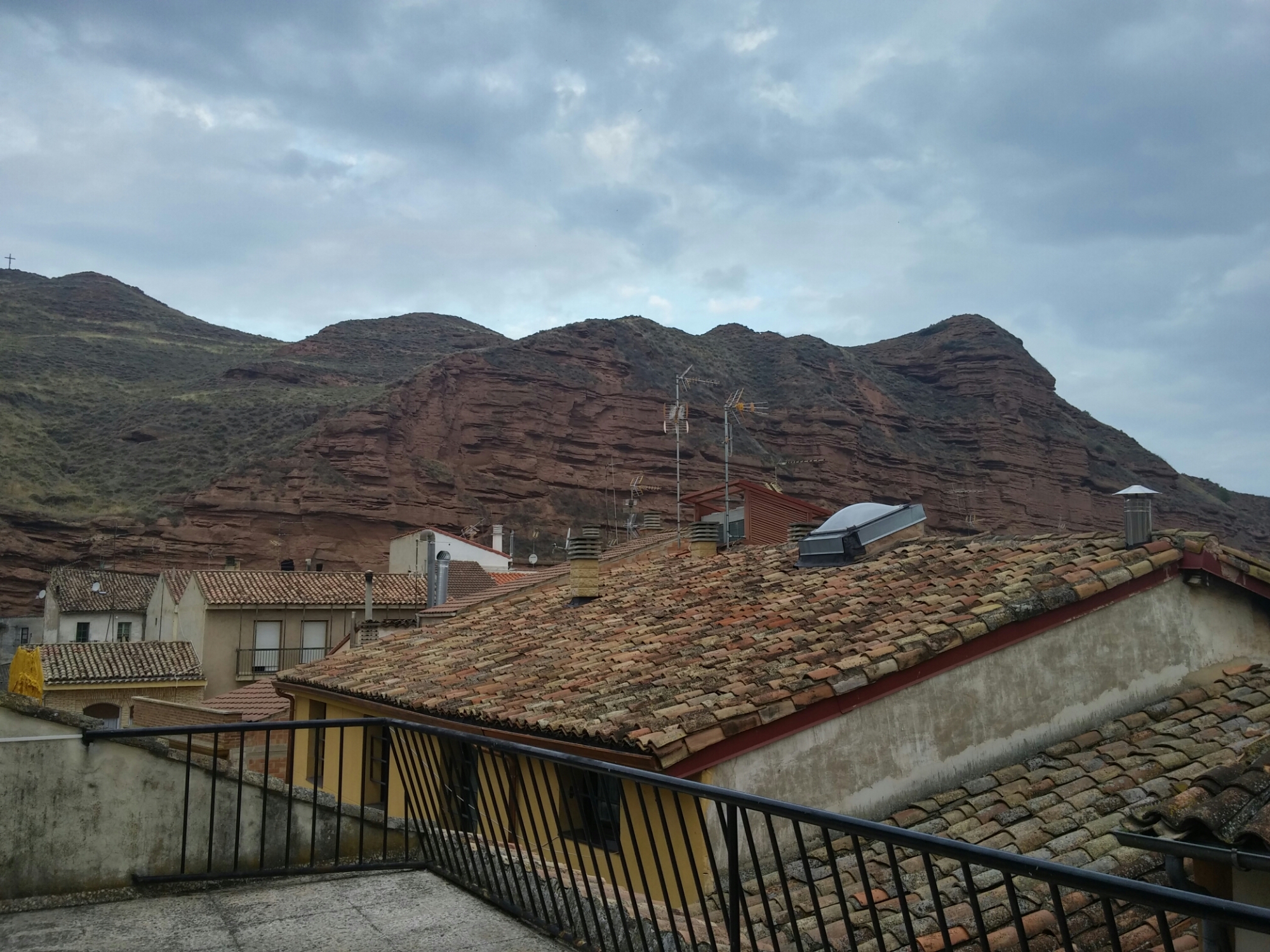 Explaining Our Way Away
2014-09-29 01:27
Charlie. It is hard not to be a little defensive about our slow pace. We end up entering into long explanations when asked where we came from that day or when we started, two of the most common questions. We're comfortable with it but it isn't a sound bite.
We went 10 miles yesterday but today is only 4 because we wanted to stay in Santo Domingo which we didn't have much time in last trip. (See, now I'm explaining it to you!) At breakfast an English bloke asked where we were going to today. We looked at each other and laughed and started explaining.
Dinner at the Albergue
2014-09-29 07:10
A Short Walk In Beautiful County
2014-09-29 12:19
Plaza With Long Name
2014-09-29 12:21
Markers 9-28
2014-09-29 12:41
Photos Day 12, September 28, Nájera to Cirueña
2014-09-29 12:49
Markers 9-29
2014-09-29 12:53
Photos, Day 13, Sept 29, Ciruena to Santo Domingo de la Calzada
2014-09-29 13:01
The Camino Is All About Laundry
2014-09-29 13:08
Wynette and the Cat
2014-09-29 13:12
Supermercado
2014-09-29 13:38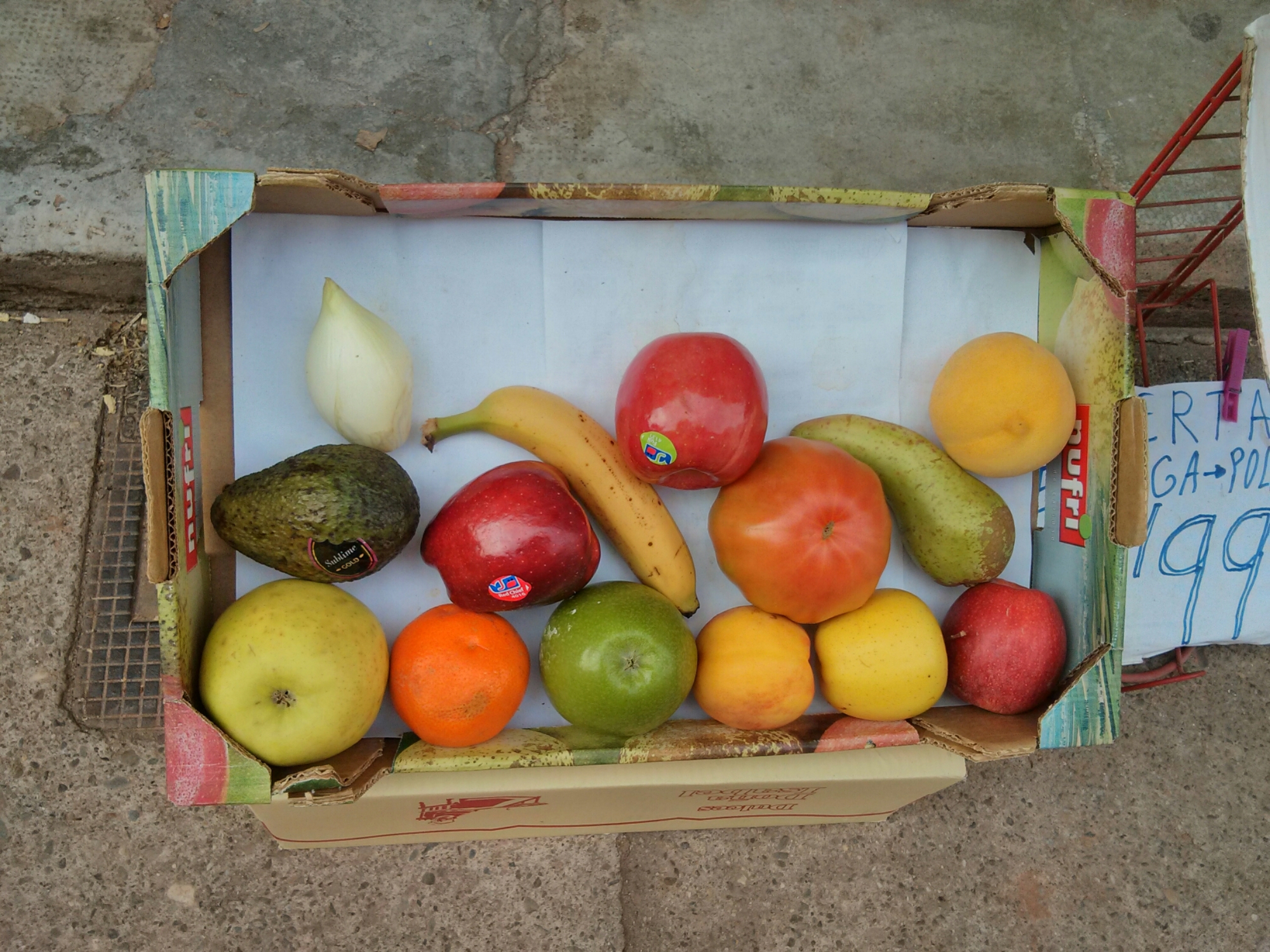 Wynette. This box was on display outside a supermercado (supermarket) in Azofra, I think to show the selection of produce the store carried. I love how stores are still so local here, even in the larger towns. This "supermarket" was smaller than our living room. But what beautiful fruit. And grocery prices are much lower than back home.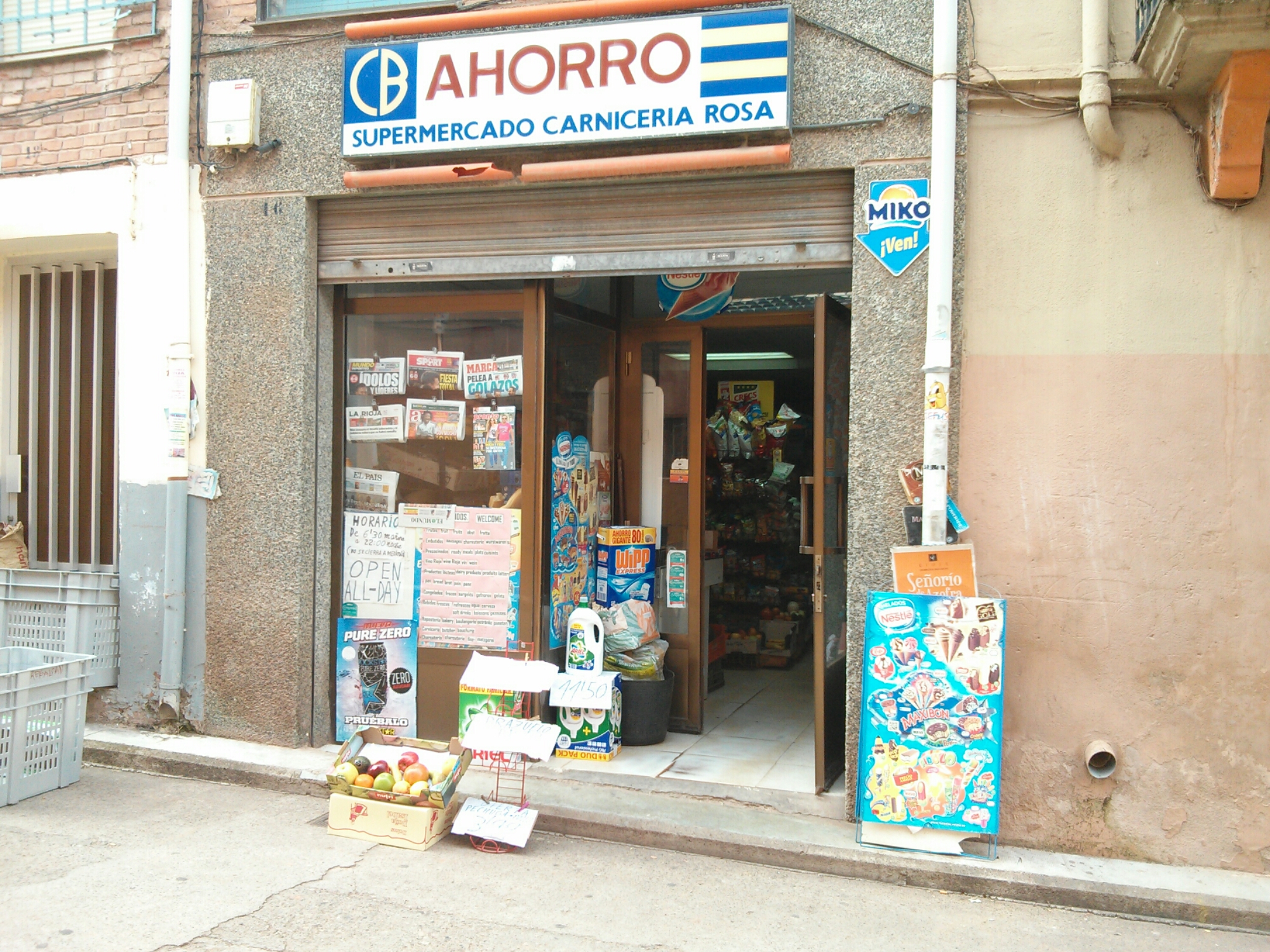 Knock For Cheese
2014-10-01 07:35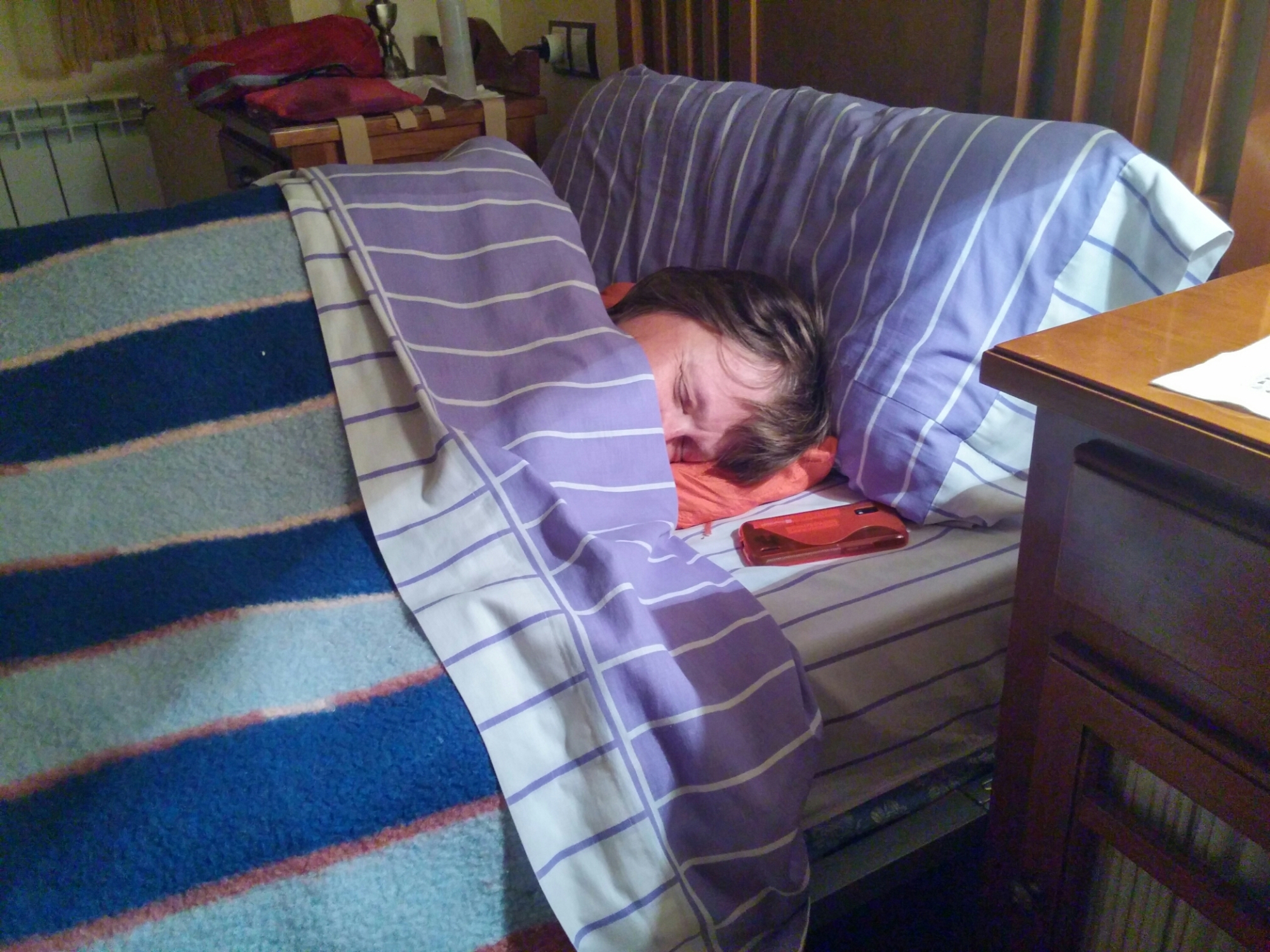 Charlie. Wynette is sick today. She made it 4.5 miles to Grañón but then she spent the rest of the day in bed feeling cold. We had cereal for lunch but she didn't want to go out for dinner. Despite my lack of Spanish skills I was the one to fetch some food, just some bread and cheese.
It was already after seven. I walked down to the little store (tienda) that had been so busy before and it was closed up. I looked at it sadly and turned away. Coming down the street was a local boy around 10 on a bicycle. He had seen me and mimed knocking on a door as he was going past. I said gracias. Still not sure I knocked lightly. I heard them unlock the door and open it. I asked if I could buy something and he ushered me in. His wife seemed to be doing the books and they seemed closed but he sliced me some cheese.
I pulled out my Spanish big guns and asked "pan?" He said in English that they had a bakery. I had seen the Panderia Jesus down the way but assumed it was closed. It wasn't. She sized me up right away and pulled out four loaves: cornbread, forget-what, white and wheat. I got wheat and it was excellent. I took it all back.
I wanted a bigger meal. The woman who checked us in said the bar above the farmacia had meals so I went there.
The place was  quite dark, a few old guys watching TV, and no one at the bar. A guy came out, more Charlie-Spanish "Menu?" After some dialog I didn't really understand I agreed to something.
No choices, he brought out a very good fresh mixed salad they are so good at, fresh lettuce, fresh tomatoes, olives, tuna, fresh red peppers. I smelled the meat being cooked. The second course was three breaded cutlets (veal? pork?), very good and clearly home made. Plus a great fried green pepper. And, thank God, no French fries! Melon for dessert. All for 9 euros.
I brought one cutlet and a little green pepper for Wynette. With that and the bread and cheese she had a good dinner too.
Everyone is always so nice and the food in these little places is always so fresh and good, and cheap.
Photos Day 14, Sept 30, Santo Domingo to Grañón
2014-10-01 09:55
Markers 9-30
2014-10-01 10:00
Markers 10-1
2014-10-02 06:09
Photos Day 15, October 1, Grañón to Villafranca
2014-10-02 06:18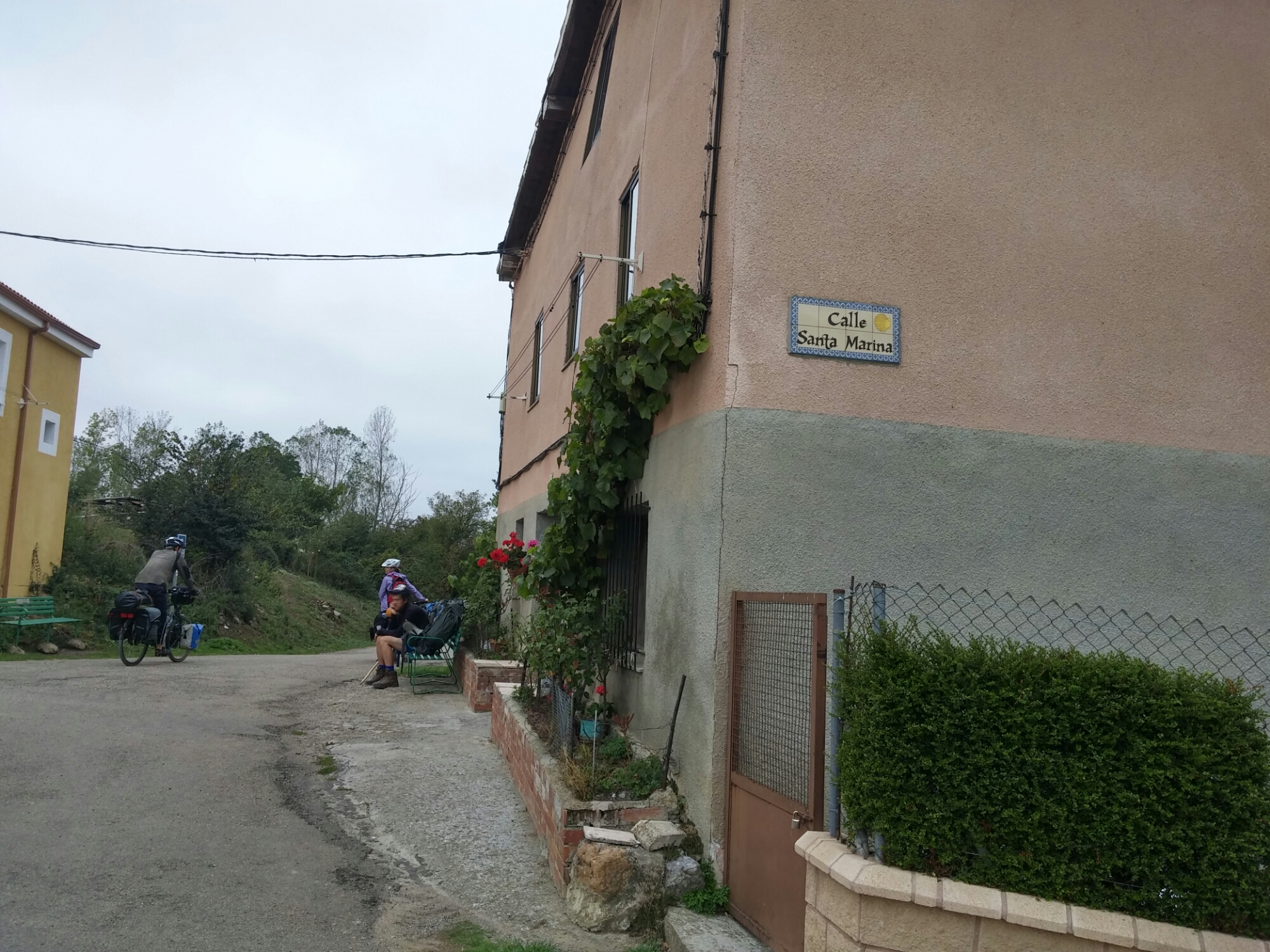 This one is for my friend Santa Zina Marina.
More at
https://www.dropbox.com/sc/f2wdkt8zxwxpqw2/AAC_I6pIBqg6eOQf9V1VuFr_a
Early Morning Mist
2014-10-02 12:12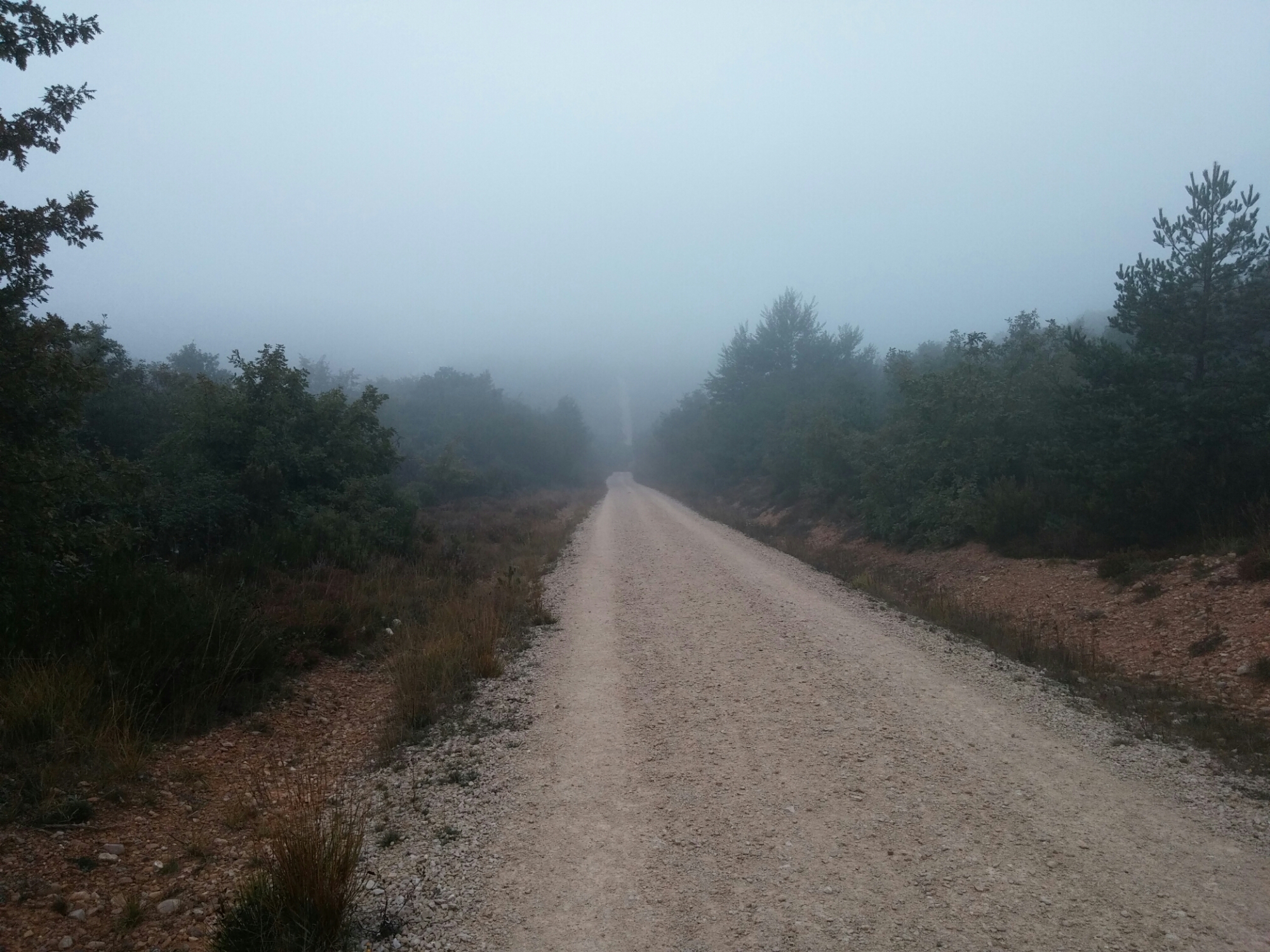 Single Seater Bench
2014-10-02 12:13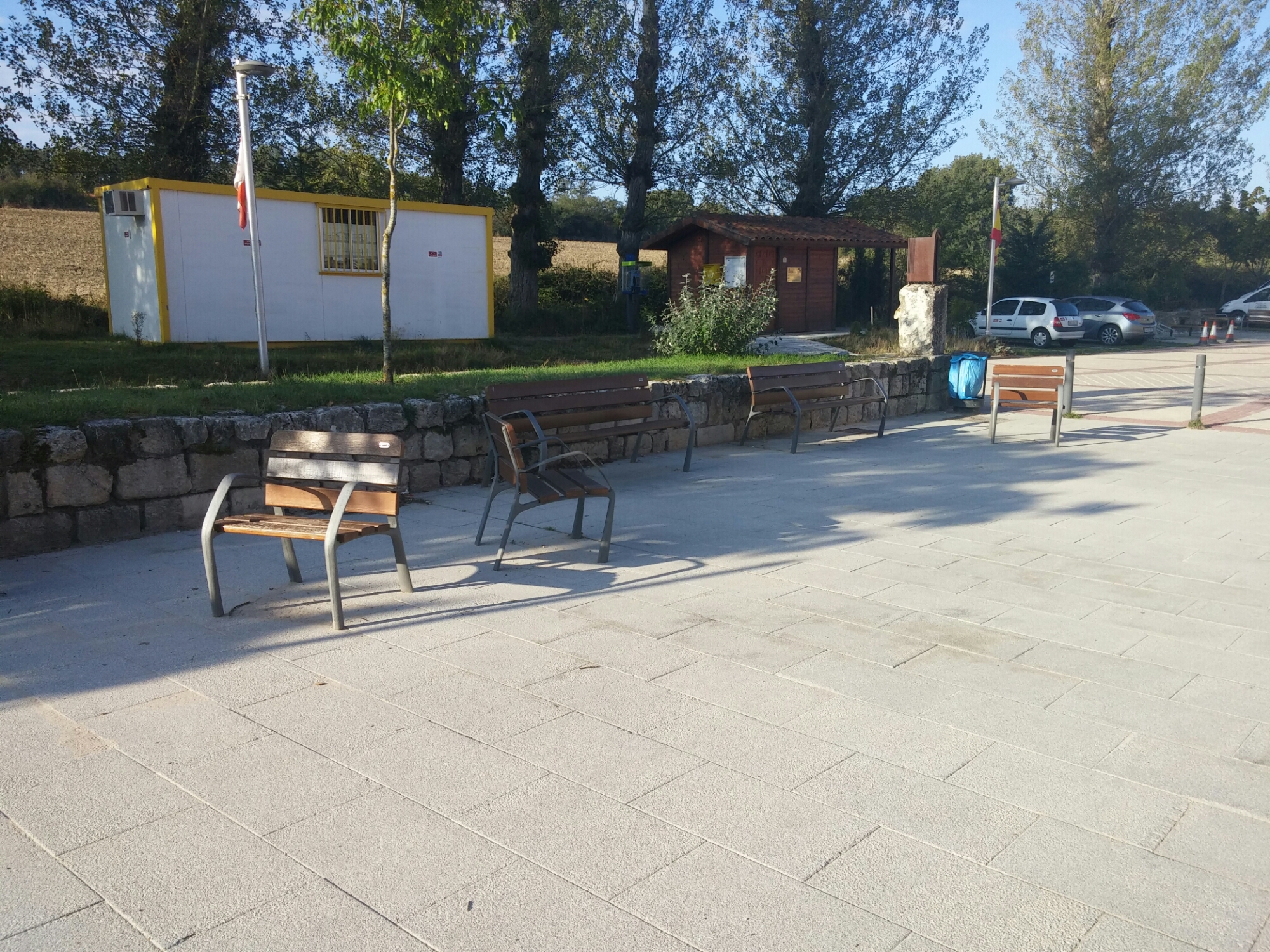 Yellow Arrows on a Cattle Guard
2014-10-02 12:15
Alternate Arrows
2014-10-02 12:16
I Hope This Makes Things Clear
2014-10-02 12:17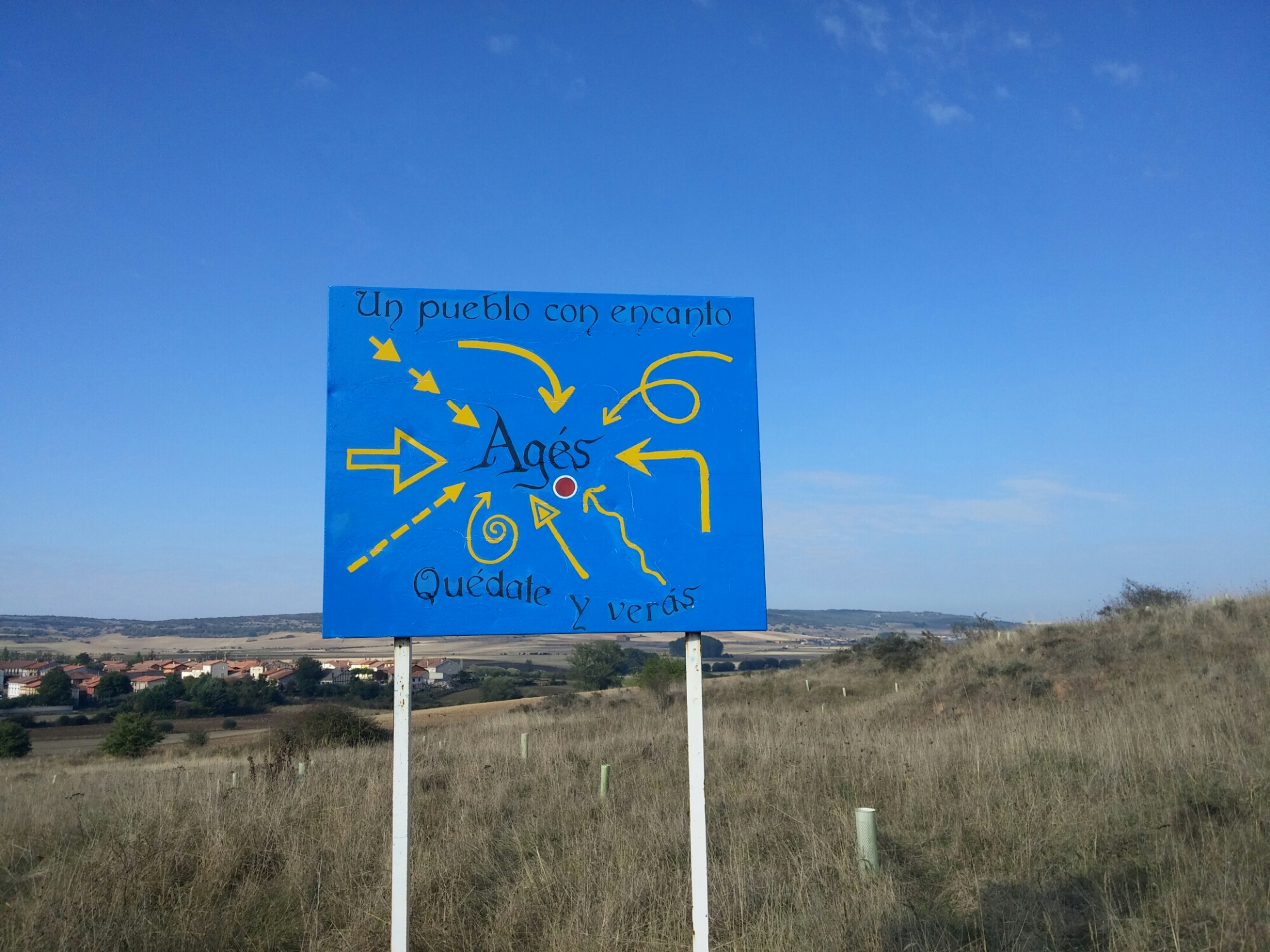 Town Signs Over the Years
2014-10-02 12:18
Another Albuquerque Couple
2014-10-02 12:20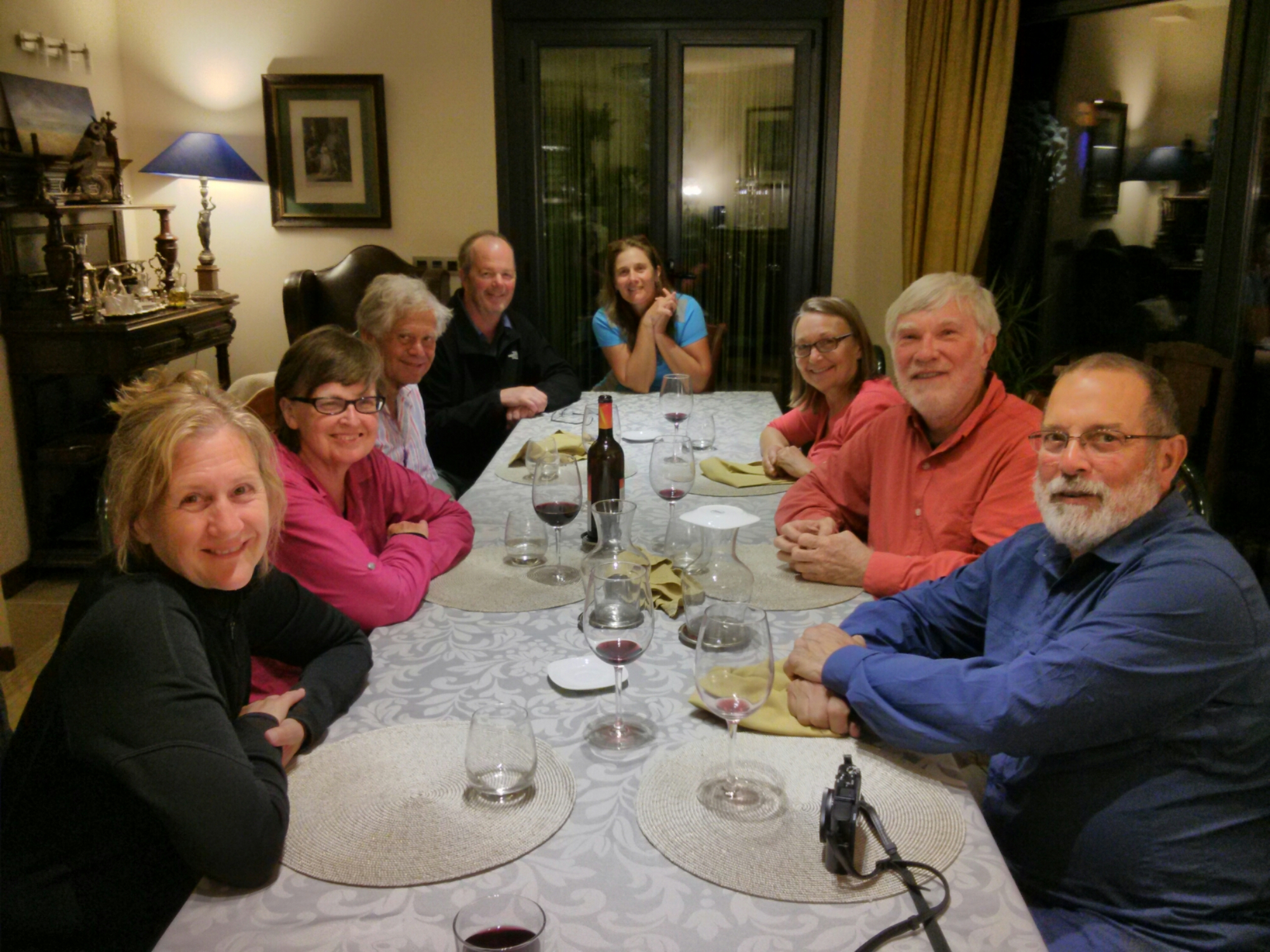 Wynette. It was a few days ago but I wanted to post this before too much time passes. We stayed in a beautiful, peaceful, pretty much perfect hotel in Ventosa named Las Aguedas. The owner cooked a dinner for her guests. There were 4 couples. In above photo, front to back, they were from Seattle, Albuquerque, Plymouth, England, and Albuquerque! The other Albuquerque couple had been hearing about another Albuquerque couple and vice versa. The photo was taken after the simple, delicious meal of salad and paella and tangerine ice cream, made by a local ice cream maker. The Seattle couple asked the owner to join us for dinner but she  graciously turned down the invitation. She said she couldn't eat at 7:00, when our dinner was starting. She had to wait till at least 10:00. We were grateful she didn't make us wait till 10:00. Well I'm sure she knew she wouldn't get many takers for such a late dinner, at least from North American peregrinos. (Actually I don't think any other country eats as late as the Spanish.)
Charlie relaxing in living room of Hotel Las Aguedas: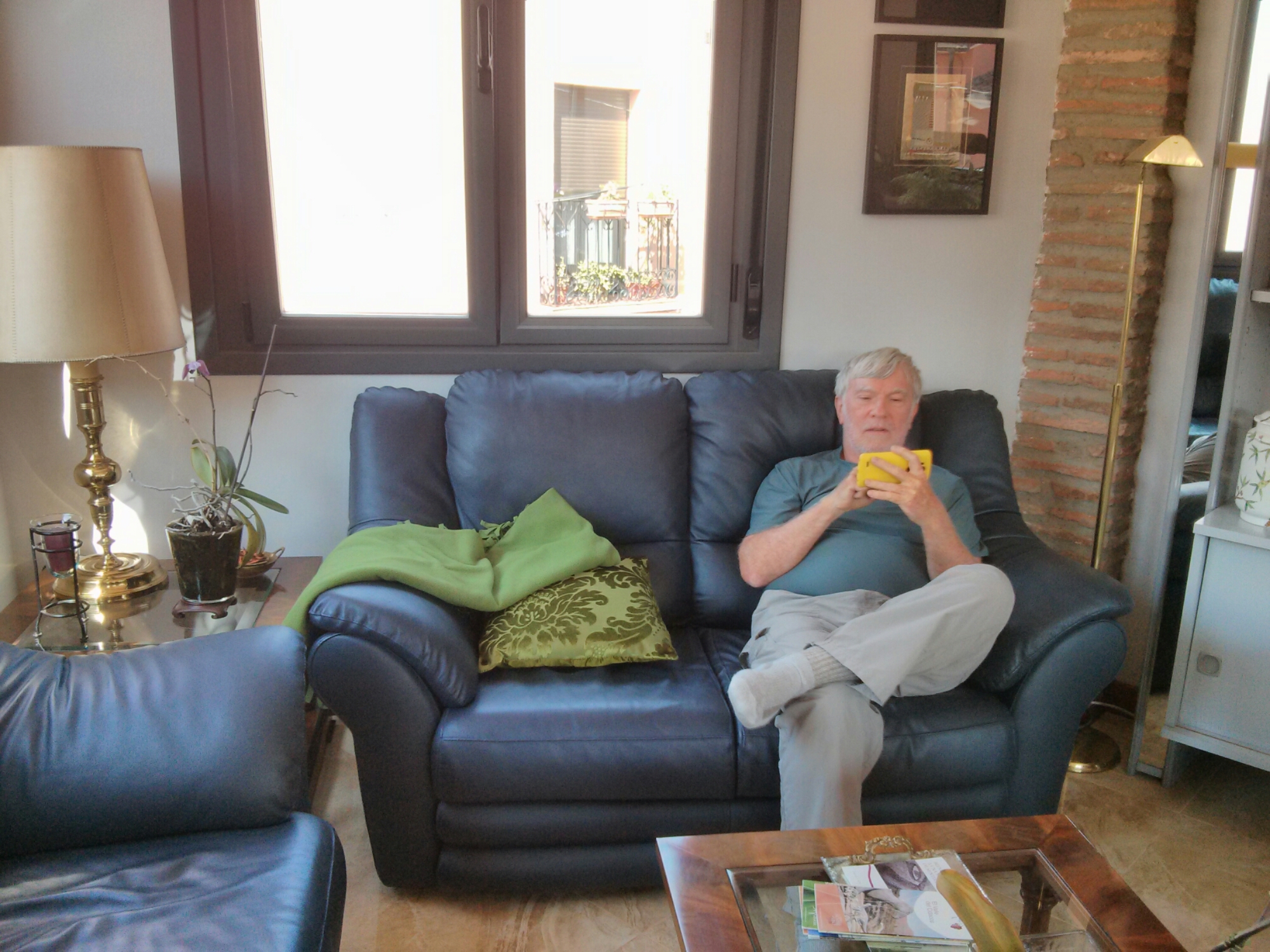 Markers 10-2
2014-10-02 12:53
Photos, Day 16, Oct 2, Villafranca to Atapuerca
2014-10-02 13:03
Perros Greet the Peregrinos (or Not)
2014-10-03 02:26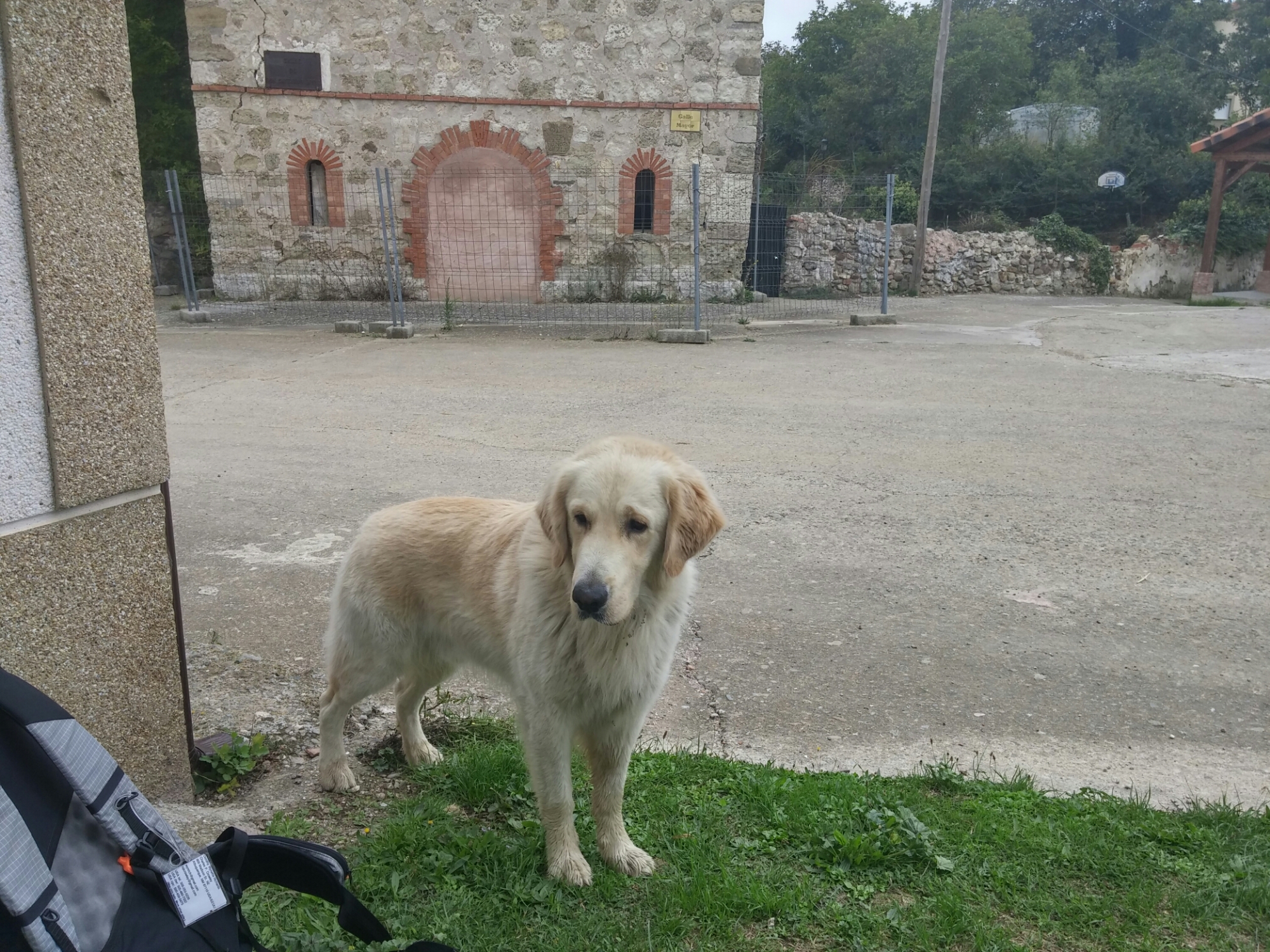 Wynette. Our friend Rebecca commented on our DAY 15 post photo of above beautiful golden/labrador(?), but, before we saw the comment, we deleted the post because it was a duplicate. (Sometimes WordPress does strange things. We changed picture for that post to use it here.) Rebecca had commented OMG, what a beautiful sad-looking dog.  Do you see many of them along the way?  Do any pilgrims bring along dogs for the journey?  She's just gorgeous & very majestic.
Yes, Rebecca, isn't she beautiful? Very sweet. We were having a snack on a park bench and it was clear she would gladly accept some of our food (we resisted). But her begging was low-key. She lay at our feet for a while while we ate. We've seen lots of family dogs along the way. Most are off-leash and muy tranquilo. Sometimes we pass a dog on leash or behind a fence barking at us. We've never felt threatened.
Charlie saw a couple who were doing the pilgrimage with their dog. They appeared to be having a hard time finding a place to stay. I imagine they are prepared to sleep outdoors for the times there is no place that will welcome their dog. We haven't seen any others doing the Camino with their dog.
The dog in photo below (can you spot him?) lived at our last night's albergue. I bet he was aware of us, but he didn't move or open his eyes when we put our backpacks on the bench. So many strangers pass through his world.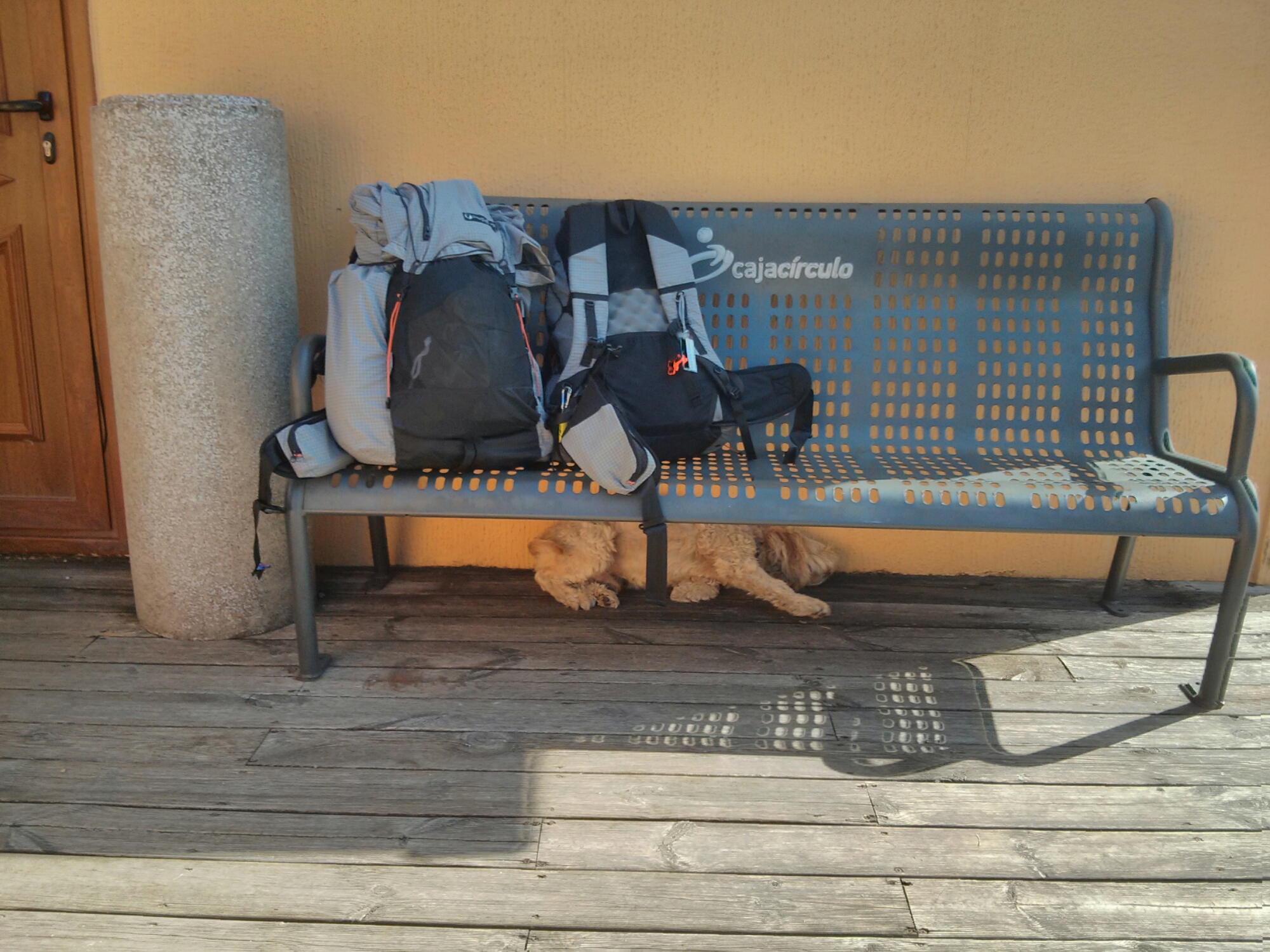 Everyone In the Picture
2014-10-03 10:31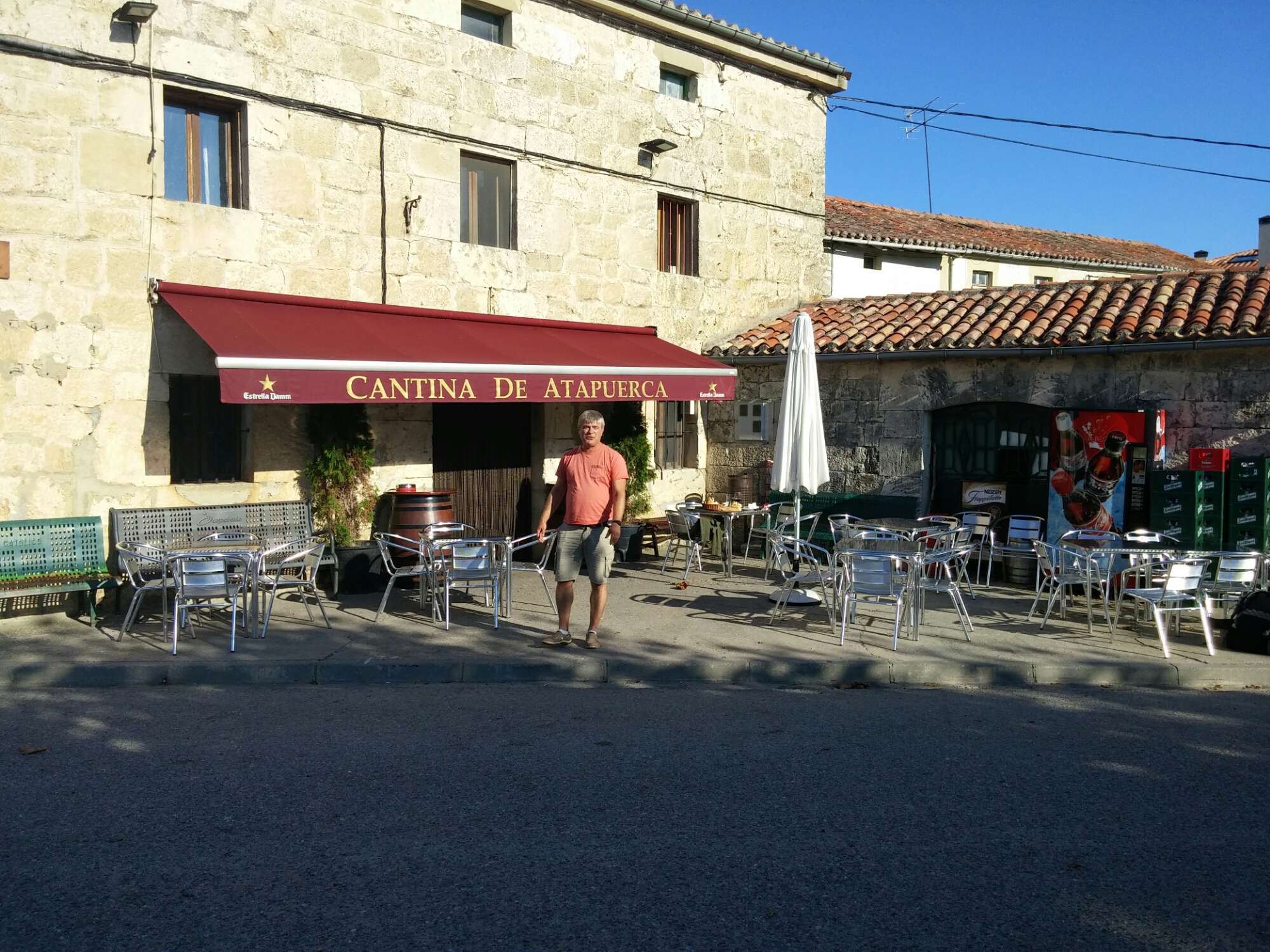 Charlie and Wynette. We were hanging around by this bar this morning and Wynette took the above picture. The man had been clowning for our camera, then he came over and pretty much grabbed Charlie's phone and insisted on taking our picture. A town worker was walking by and the guy insisted he be in the picture, too. He thought the man worthy to be in the picture because he worked for the ayuntamiento, the city government. Everyone knows everyone in Atapuerca.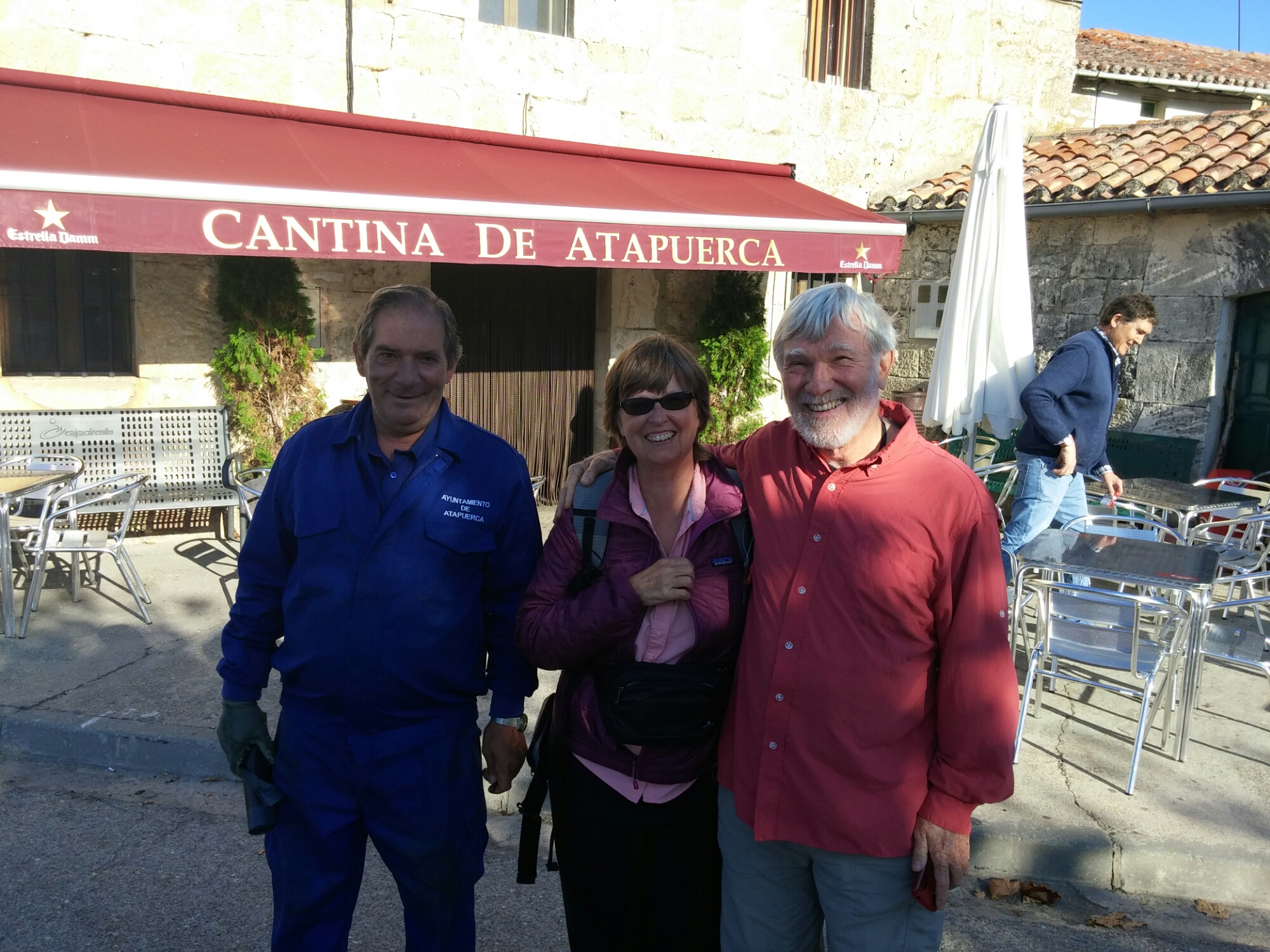 The people are so great here.
Map Is Active
2014-10-03 10:45
I finally got around to updating the "live" map of our trip. You can find it on the "Camino Links" menu at the top of the blog or here.
It shows three lines. The upper one is our 2013 walk. The lower one is our planned 2014 walk. The middle one is our actual 2014 walk.
A red line section means we didn't walk that segment, taxi or bus. The other colors we did, or planned to, walk. The checkbooks at the top control which lines are shown. The color of the checkbook labels is the color of the walked line sections.
Photos October 3, Atapuerca to Burgos by Bus
2014-10-03 11:04
It's a Flashlight Too
2014-10-03 11:08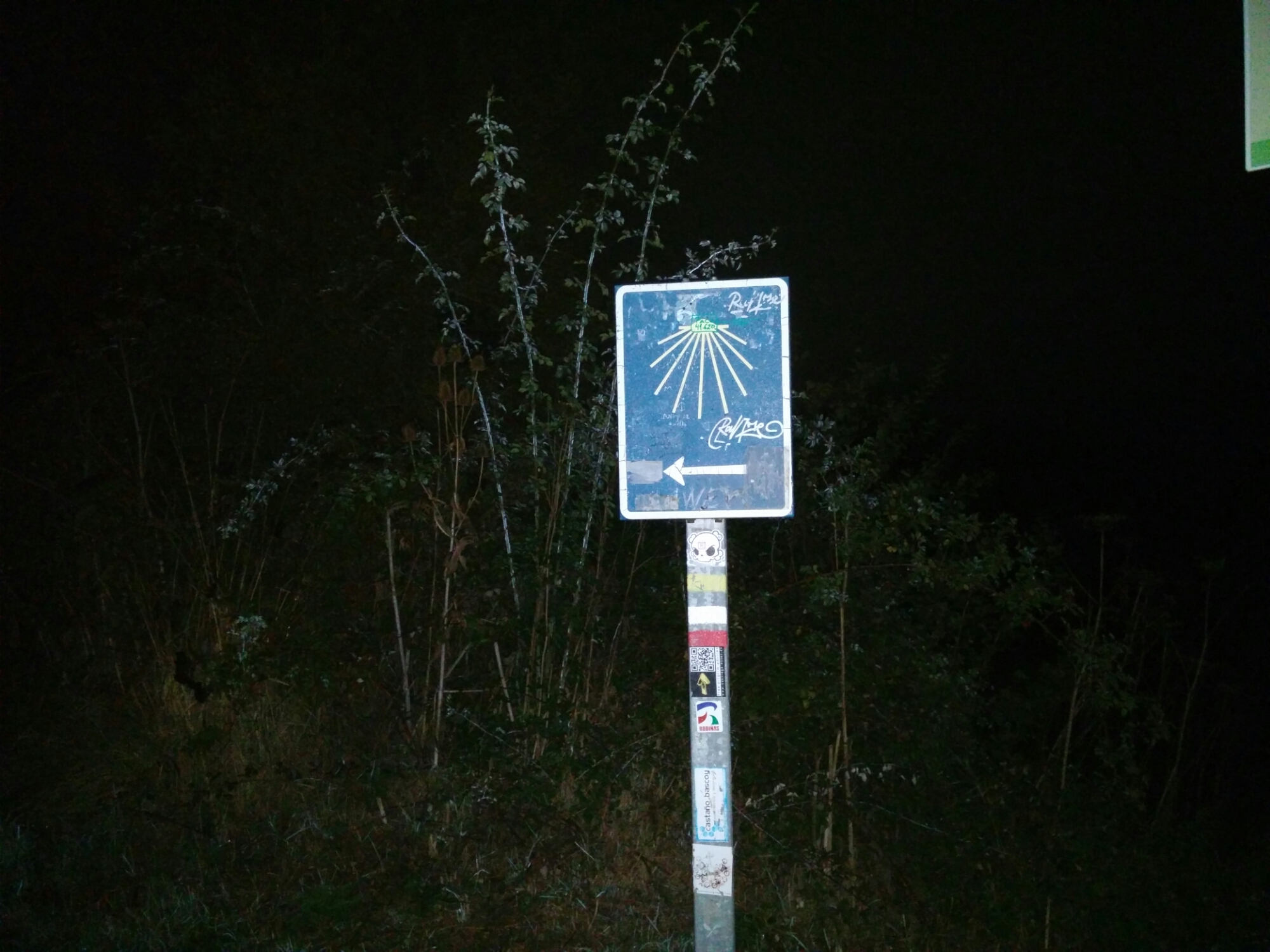 Charlie. Yesterday Wynette was still recovering from her cold so I walked from Villafranca to Atapuerca by myself. She took most of the stuff with her in the taxi so I was only carrying about five pounds instead of over 20. I wanted to start early so I was first to breakfast at 7am. Wynette said she was last at 9am.
I left at 7:20 and it was pitch black out. Due to some combination of latitude and position in time zone the sun rises an hour later here than in Albuquerque.
I had to use the flashlight app on my phone for a half hour before it was light enough to avoid tripping on rocks on the trail. The photo above is how I had to read the Camino signs.
I took a selfie as I was starting in the dark.
I got to Atapuerca in 4.5 hours and met up with Wynette at the albergue. We were happy to see each other.
Lord Won't You Buy Me a Mercedes Benz
2014-10-03 11:29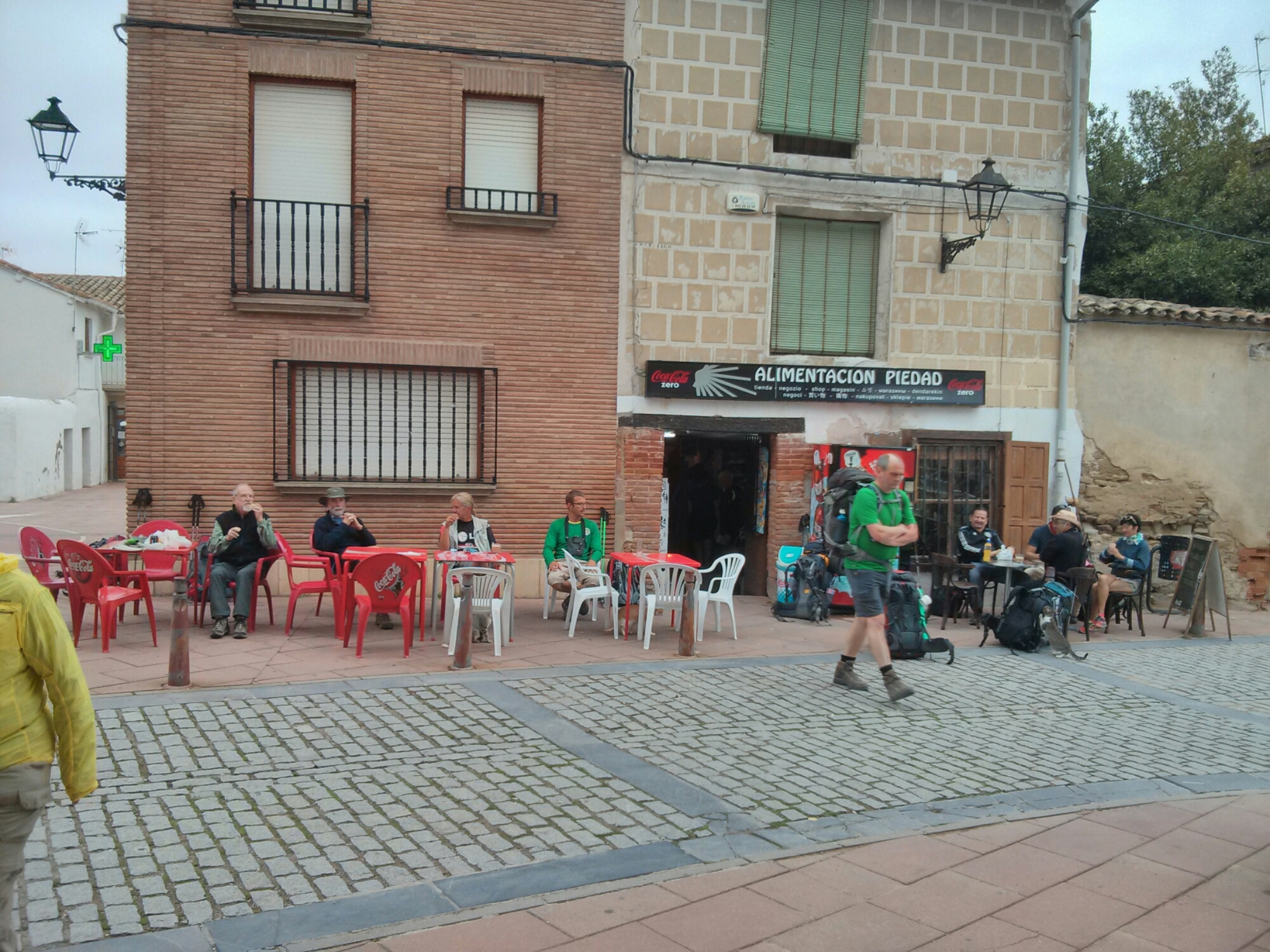 (Janis Joplin) Charlie. Wynette had a cold in Grañón so we took a taxi to Belorado. We got picked up in the square, shown above. In the Mercedes taxi. In front of all the pilgrims resting before the long walk to Belorado. But we were fine with it.
We got out and walked to Villafranca, probably too far, Wynette was tired.
It turns out that it is common for bar owners to run taxi services, ours did.
Angel of the Overpass
2014-10-04 07:55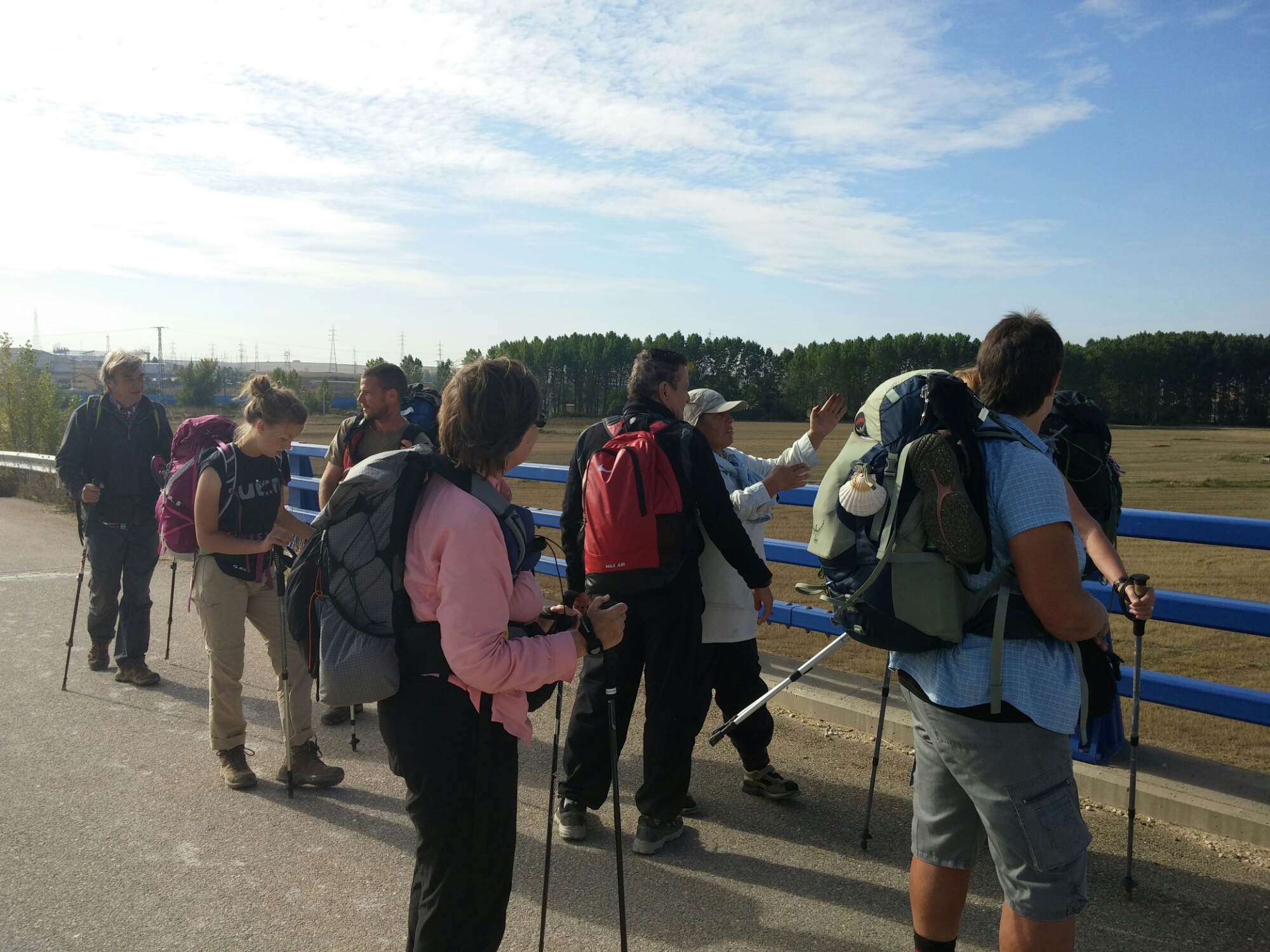 Wynette. This morning outside Villabilla, just before the Camino crossed a busy highway via an overpass, a woman rode up on a bicycle, coming from the opposite direction, and pretty much demanded that we stop and listen to her. She (woman in hat above) told us that the Camino signs pointed left ahead but that we should go right. She said the left turn is a road construction detour, but since it is Saturday we can go the original way and save 3 km. By that time she had stopped several other pilgrims. She seemed Asian but spoke fluent English, Spanish, and French. She told us her name is Maria Mercedes and she mostly spends her time helping people and that people call her an angel.
She was going on and on a bit so we finally said we needed to keep going. When we came to the turn, instead of following her advice, we decided to follow the left-pointing signs, influenced by a Spanish pilgrim who thought her advice was bad. A short way past the turn there she was again behind us. By then, she had collected about eight pilgrims. She singled me out twice saying I hadn't trusted her but said she was a long-time resident of Villabilla and was only there to help, and repeated that she was an angel. She convinced all of us to follow her across the bridge.
The way ahead through the construction area was clear. We saw old Camino markers and Charlie remembered going that way our first Camino. We aren't convinced the non-detour saved us 3 kilometers but all worked out fine. Because of it we ended up walking with a nice woman, Pernilla, from Sweden (who is now at our albergue) and another nice woman, Jane, from England.
It is a few hours later and we are resting in lovely Albergue Liberanos Domine in Rabe de Las Calzadas. I'm pretty sure Maria Mercedes (with the bicycle below) stayed a few more hours by the Camino convincing pilgrims to trust her and turn right over the overpass.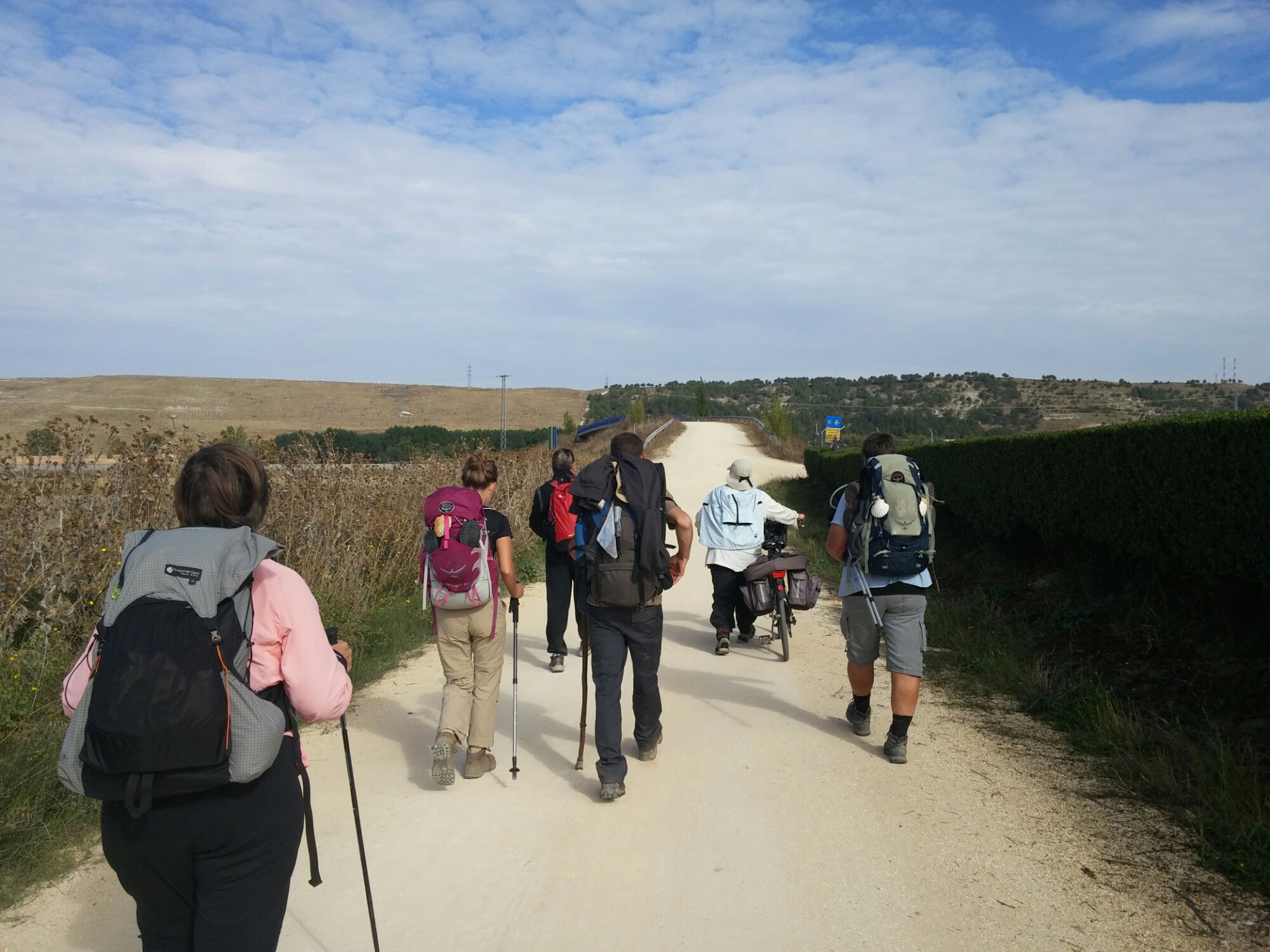 Behind the Green Door
2014-10-04 11:18
Redundancy
2014-10-04 11:20
Black Cat By Church
2014-10-04 11:23
Fried Egg Sandwich
2014-10-04 11:26
How Not To Prune Trees
2014-10-04 11:30
Another One-Seater
2014-10-04 11:33
Far…macia
2014-10-04 11:37
In Search of "The Way"
2014-10-04 11:45
Following the Rules
2014-10-06 04:31
Haystack On the Meseta
2014-10-06 06:05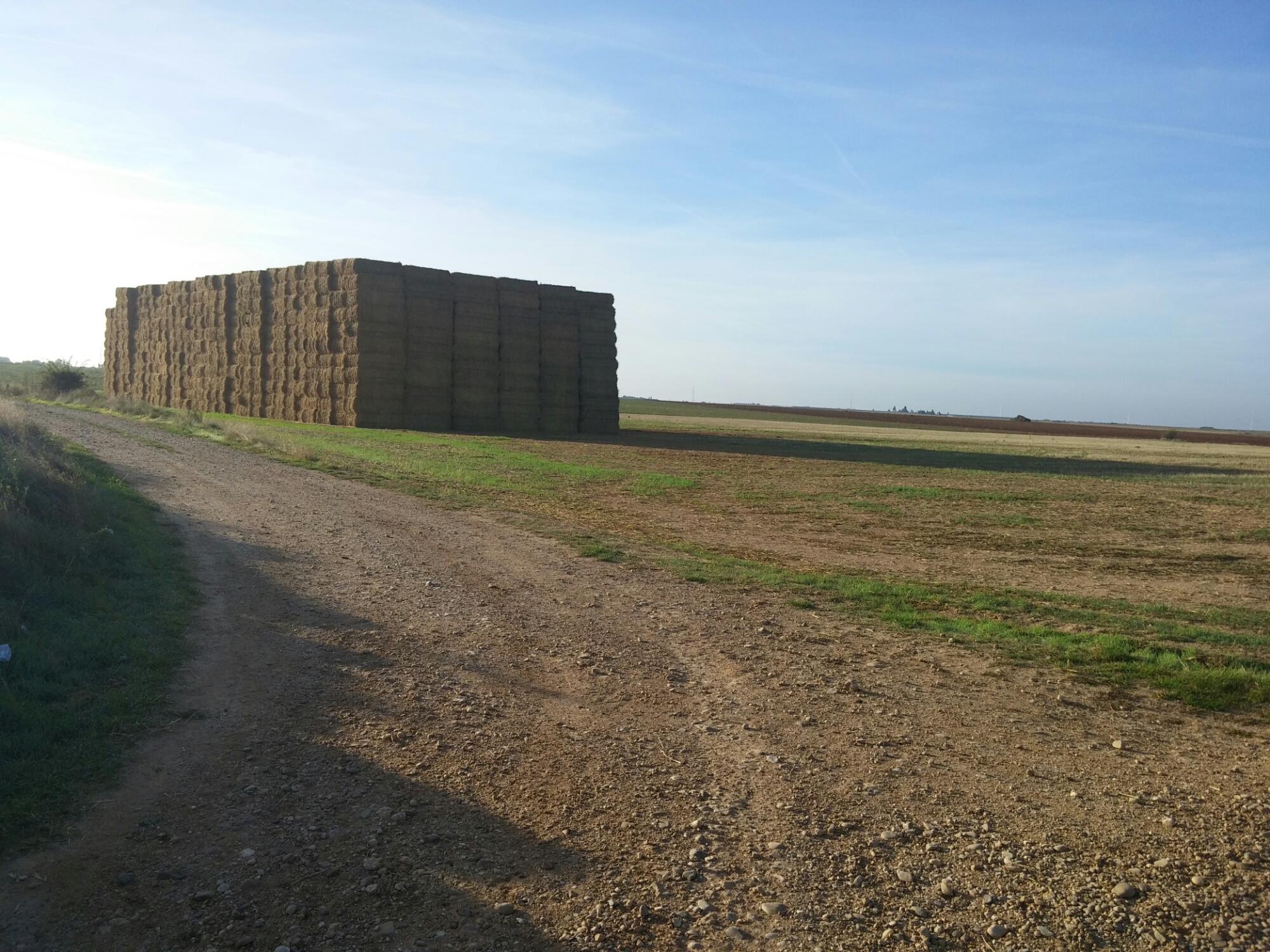 Charlie and Wynette. We're now on the Meseta, a high plain. Some say it is boring but we like it. It was cold and windy today but we only walked four hours so it was okay. Here's another Meseta photo with windmills in the distance. The Meseta is flat in these photos, but most of it is not so flat. Nothing like eastern New Mexico/west Texas.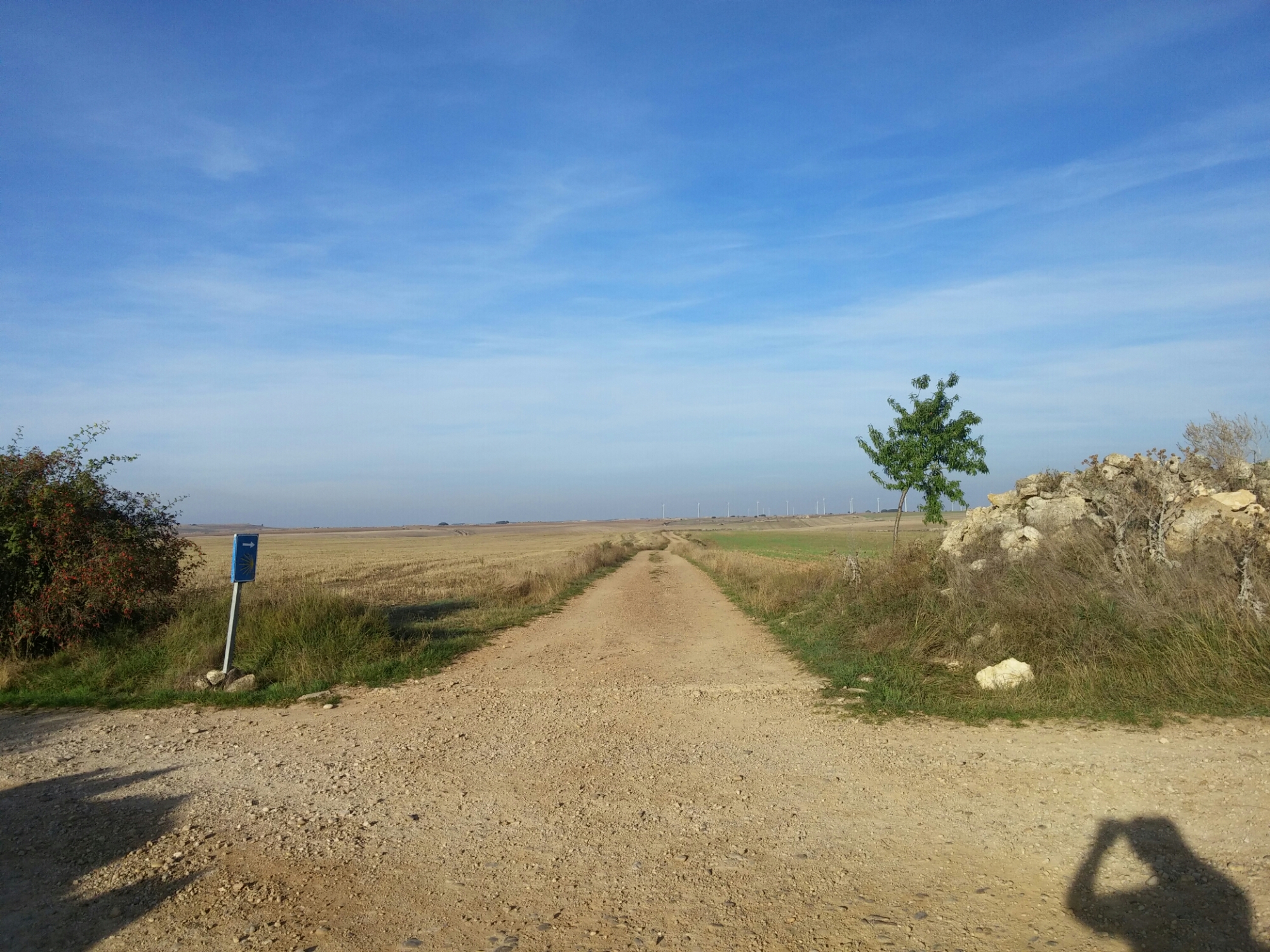 And one more with Charlie plus Wynette's shadow.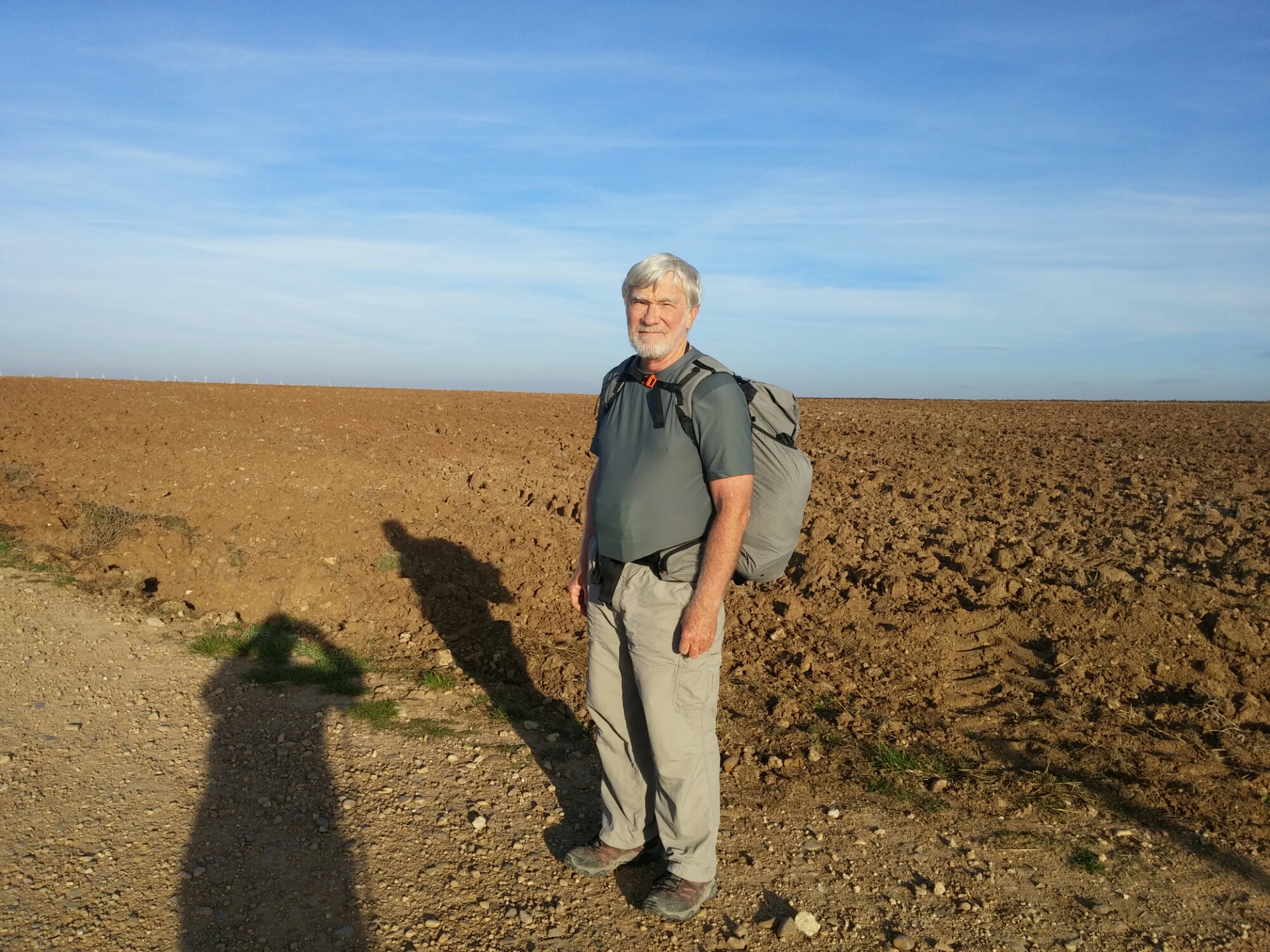 B&B in Hornillos
2014-10-06 06:42
Camino Burro
2014-10-06 06:45
Albergue Graphic
2014-10-06 06:49
Rock Soup
2014-10-06 06:52
More Shoes on a Marker
2014-10-06 06:54
Which Way To Go?
2014-10-06 06:56
Albergue in Rabé
2014-10-06 07:06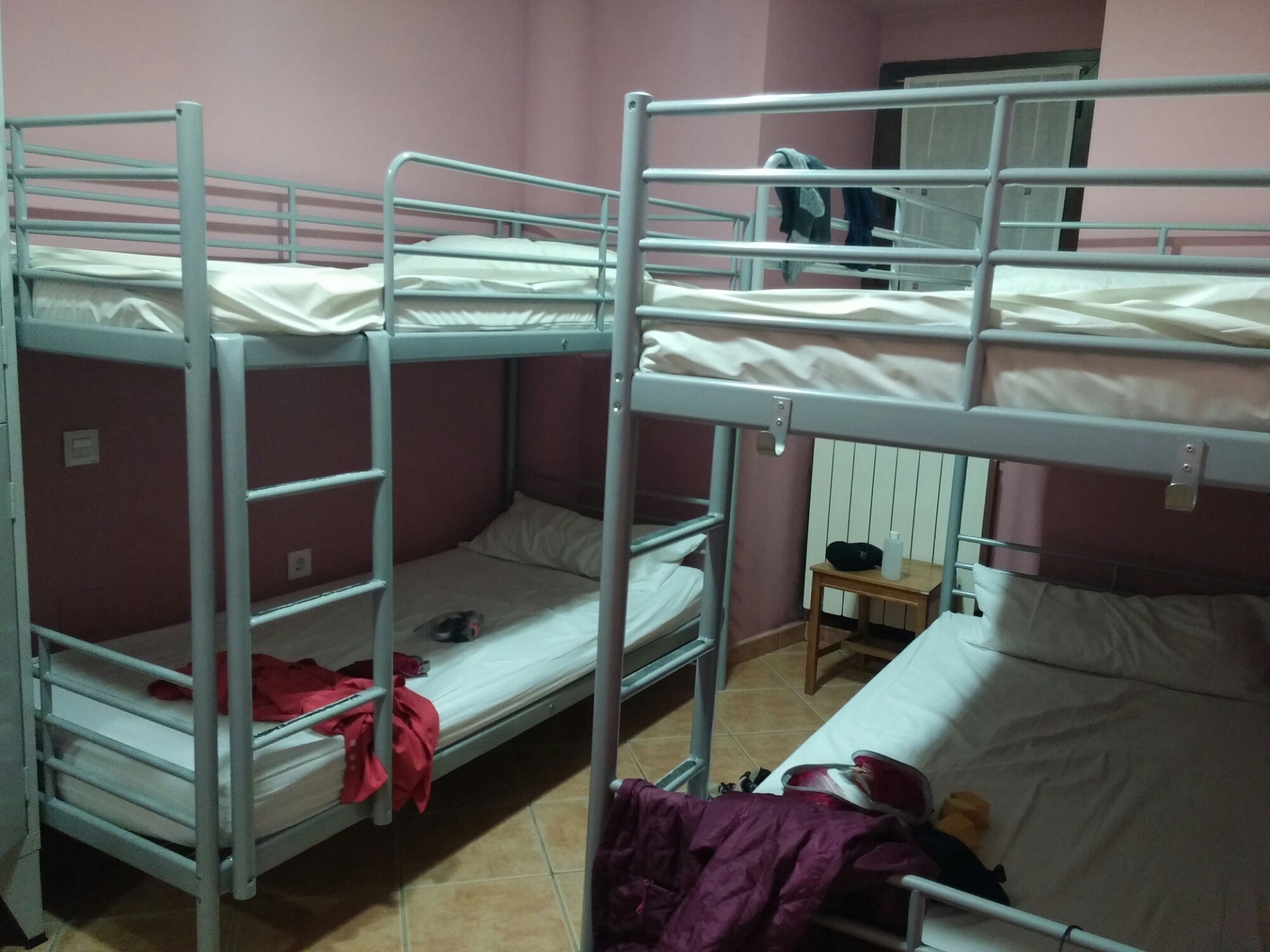 Charlie and Wynette. In Rabé de las Calzadas we stayed in Albergue Liberanos Domine. (Front of albergue shown previous post.) Our room above. Here is the room from the other direction.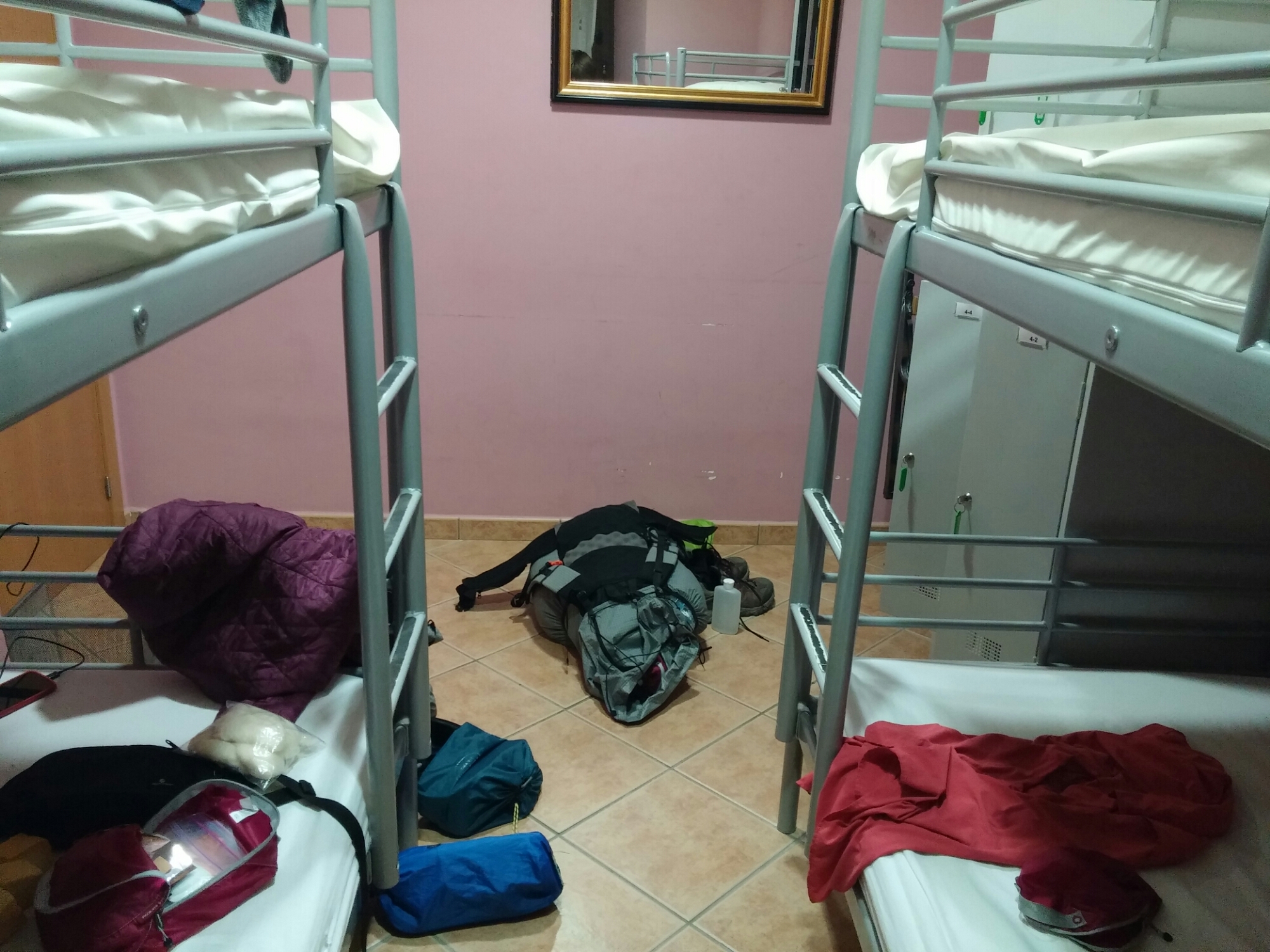 It was a room for four that she let us have to ourselves. An albergue so no top sheets or towels and bathroom down the hall but it was nice. Who is "she"? That would be Tina or Tinín.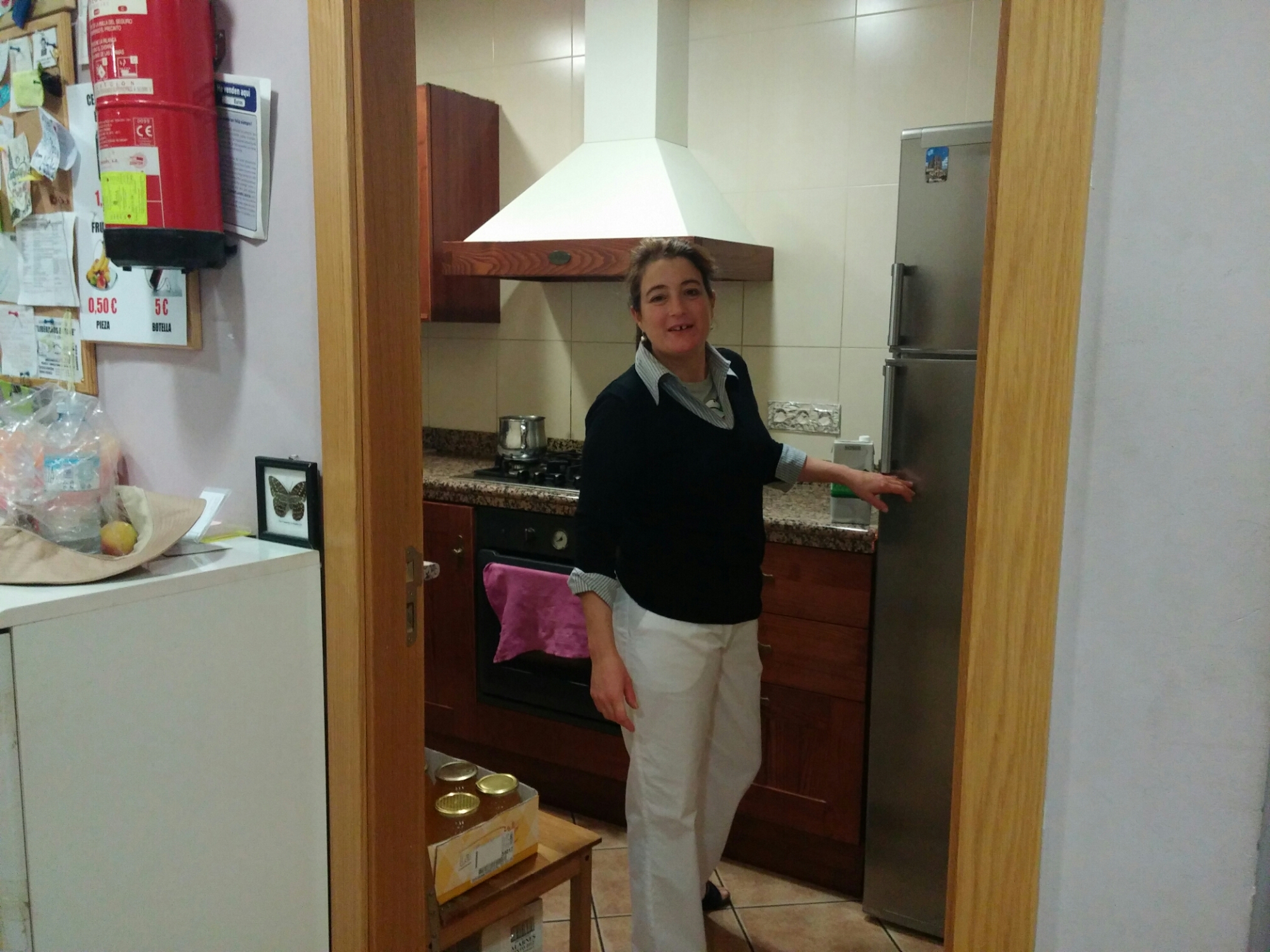 She was so nice and cooked up a very good homemade dinner.
Here is one of the bulletin boards.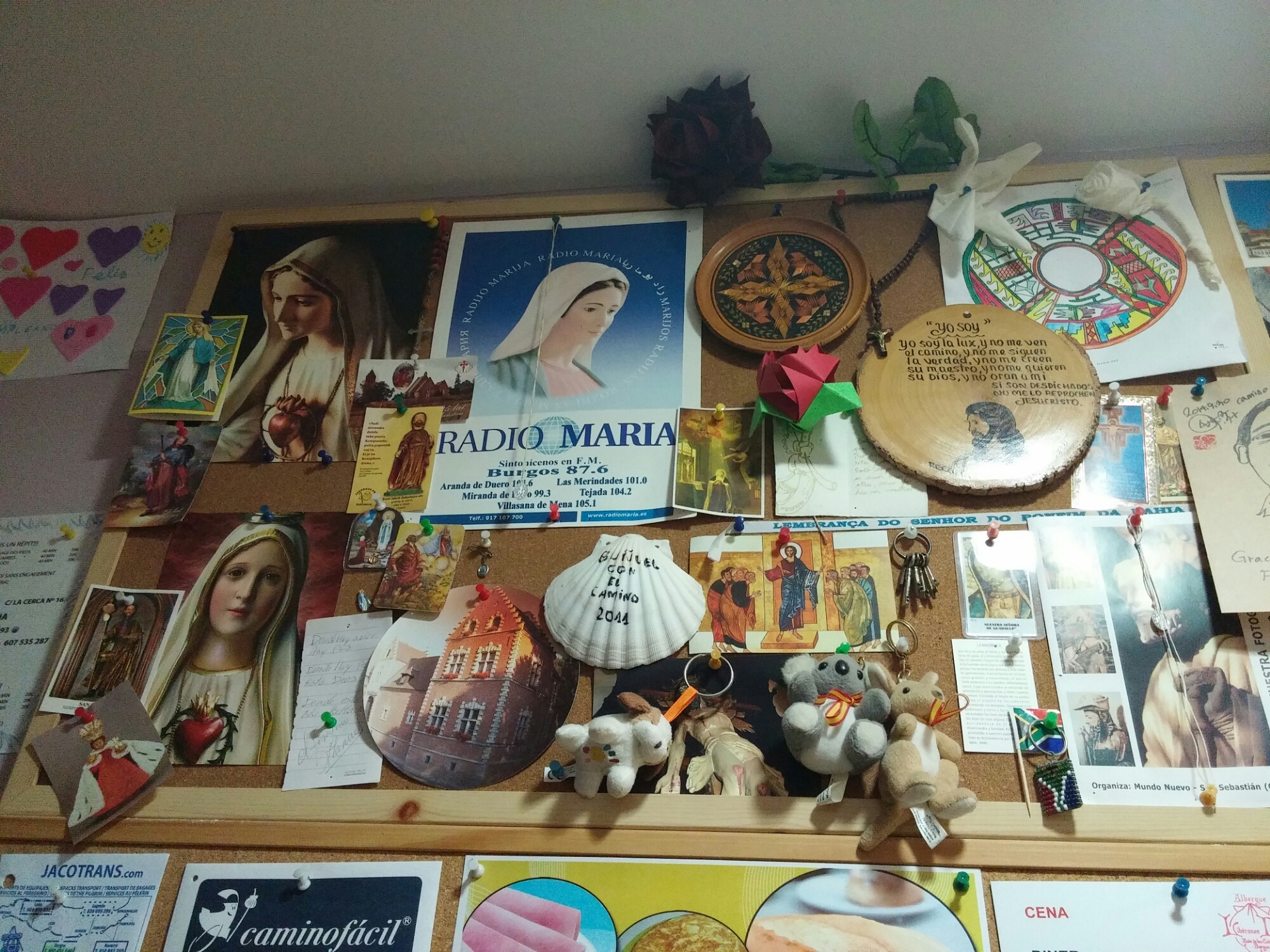 Dinner at 8?
2014-10-06 07:17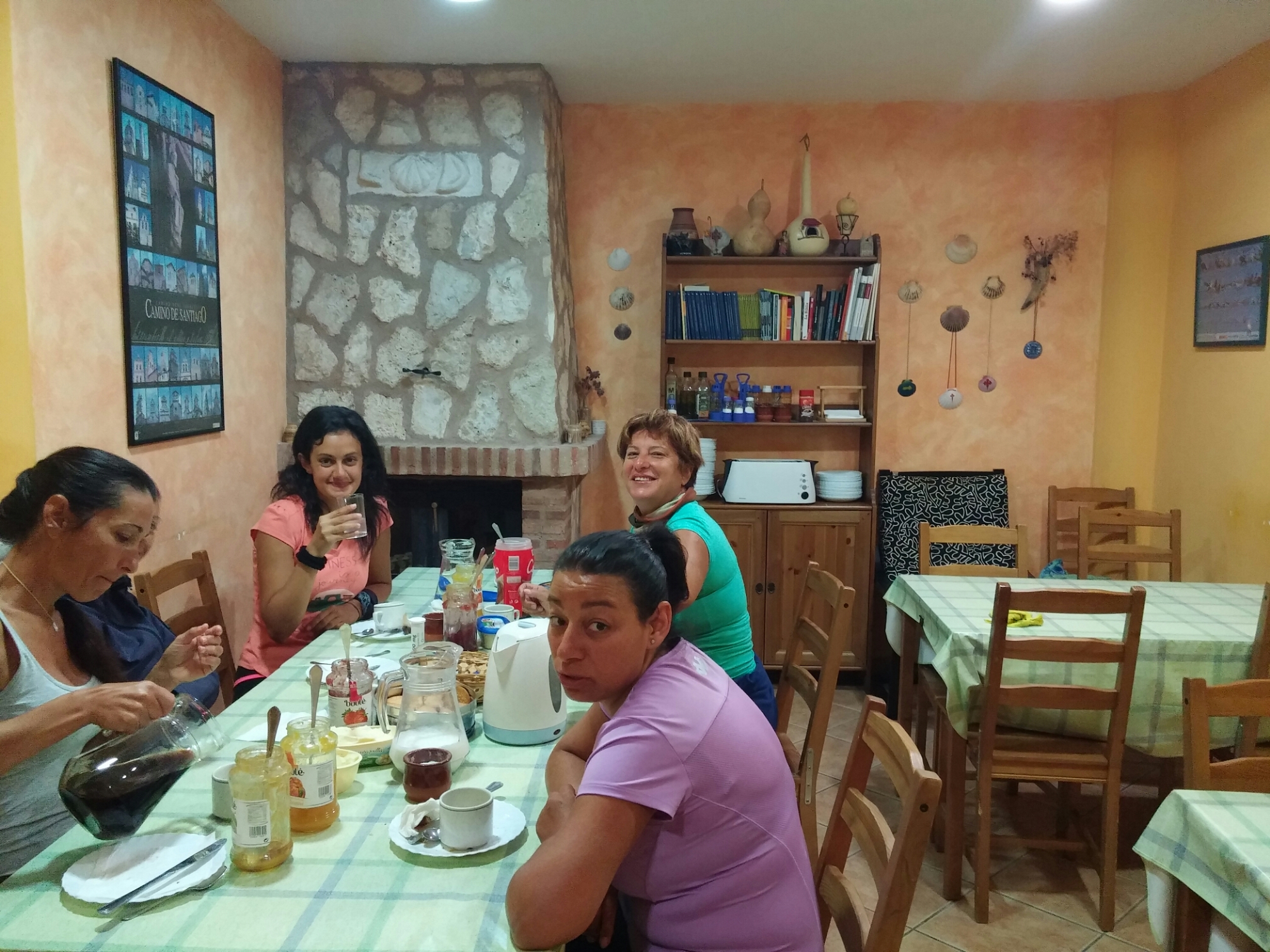 Charlie. Okay this is really breakfast the next morning in the Rabé albergue. And the pilgrim in the center has a WTF attitude about being photographed. But let me get to the point.
We have noted before that the Spanish eat really, really late. Along the Camino they cater to the pilgrims who get up early and pilgrim's menus are usually at 7pm, sometimes 7:30. But Tina gave us the option to eat at 6 and we grabbed it. Only four of us ate at 6, the other dozen pilgrims ate at 7.
Then last night in Hornillos the bar started dinner at 6 too. We were the only ones there until 6:20.
Dueling Albergues
2014-10-06 07:28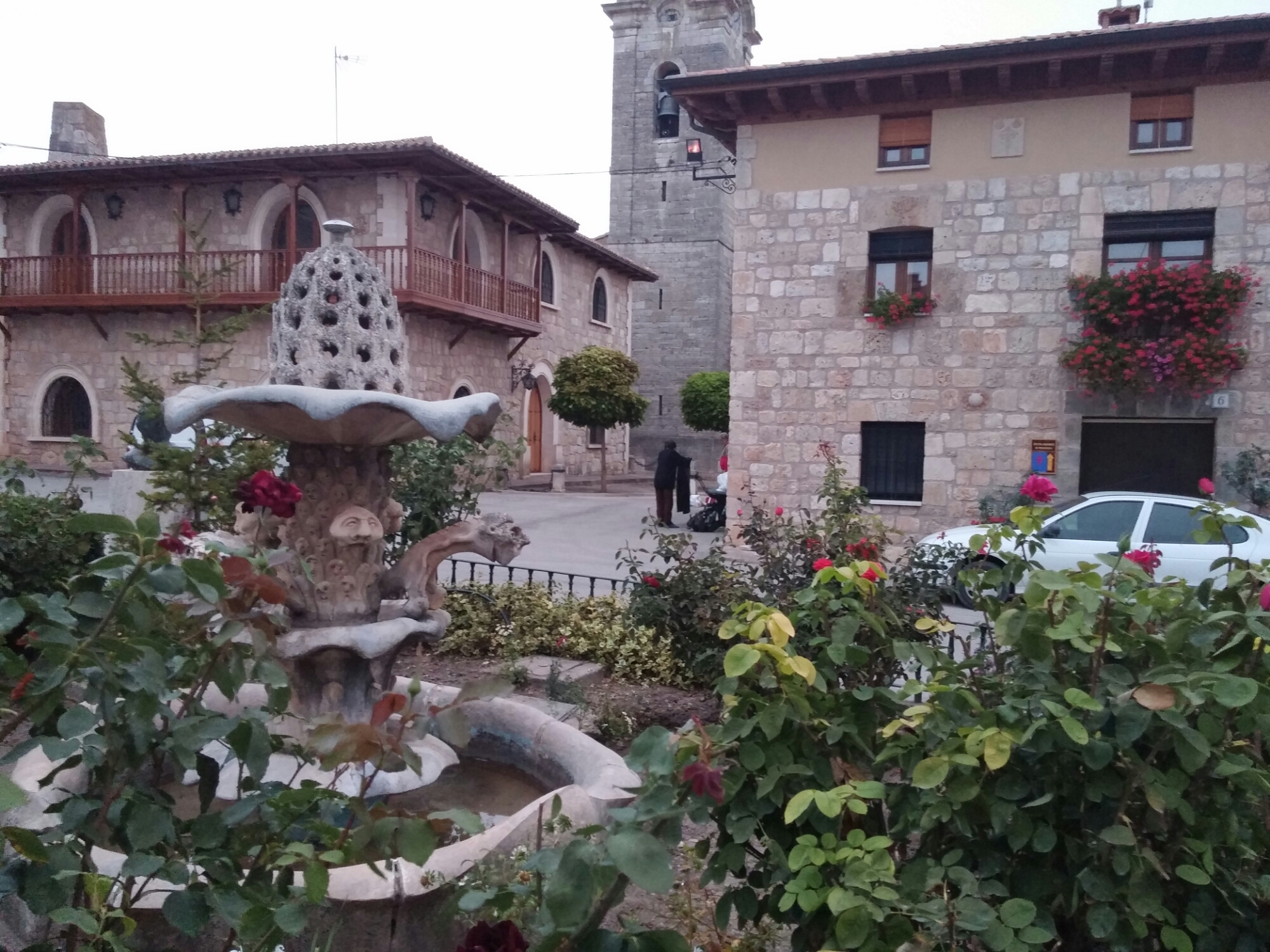 Charlie. Wynette read in an albergue review about a woman yelling at a pilgrim because they stayed at a private albergue in Rabé instead of the municipal one and that they weren't a real pilgrim and that her albergue was open to everyone.
We got to Rabé and had a reservation at the private albergue. Walking back to the bar we passed the municipal albergue shown above and asked the woman sitting there where the bar was. She started talking about how her albergue was open to everyone and essentially she said her pilgrims were truer. She mentioned how the bar was owned by the brother of the woman who owned the private albergue. She wasn't yelling but we think it might be the same woman.
Later we were talking to a Swedish woman we had met before (shown below)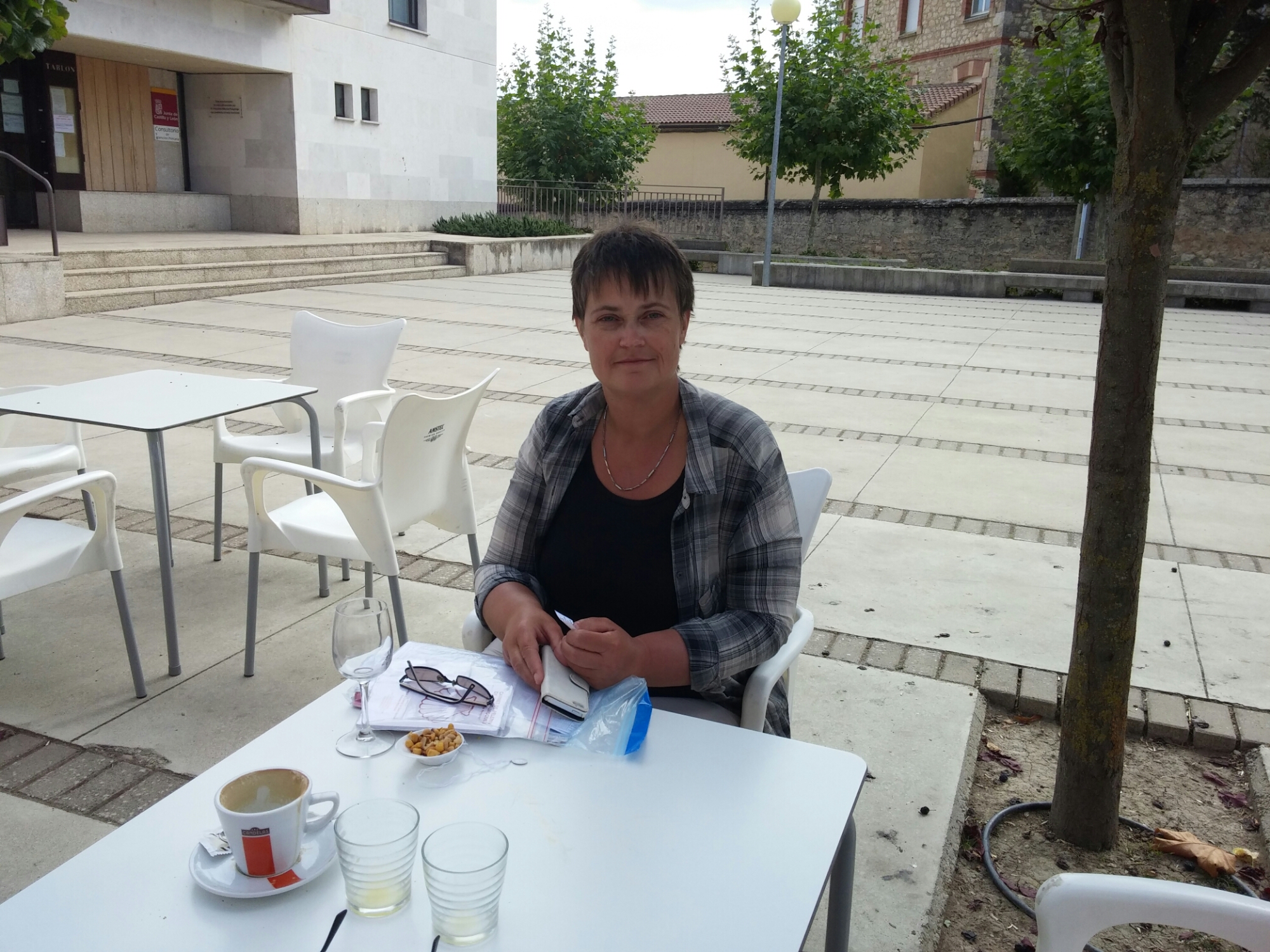 and she said someone in our albergue, the private one, had told her that they had first gone to the municipal albergue and the woman had questioned her for half an hour before letting her into the albergue and she had fled to the private one. So the Albergue manager seems to be a strange one.
The day before we met our "angel" of the Camino (previous post) she had also warned us about the private albergue in Rabé and how true pilgrims didn't stay there and the municipal was open to everyone.
So something is going on here. Some kind of feud between albergues in Rabé.
As we were walking into Rabé we asked a guy how to get to our albergue and he said his sister Tina ran it and took us there. He looked like a guy who ran the bar in Rabé that we had seen on our previous trip. We asked Tina if her brother owned the bar and she said yes. On going to the bar we found and see the guy who was the one we remembered but not the one who directed us. So Tina has two brothers and they own the Albergue and the bar and maybe are some kind of local mafia and that is part of the feud.
Anyway lots going on in Rabé.
Wifi Sometimes Won't
2014-10-06 07:48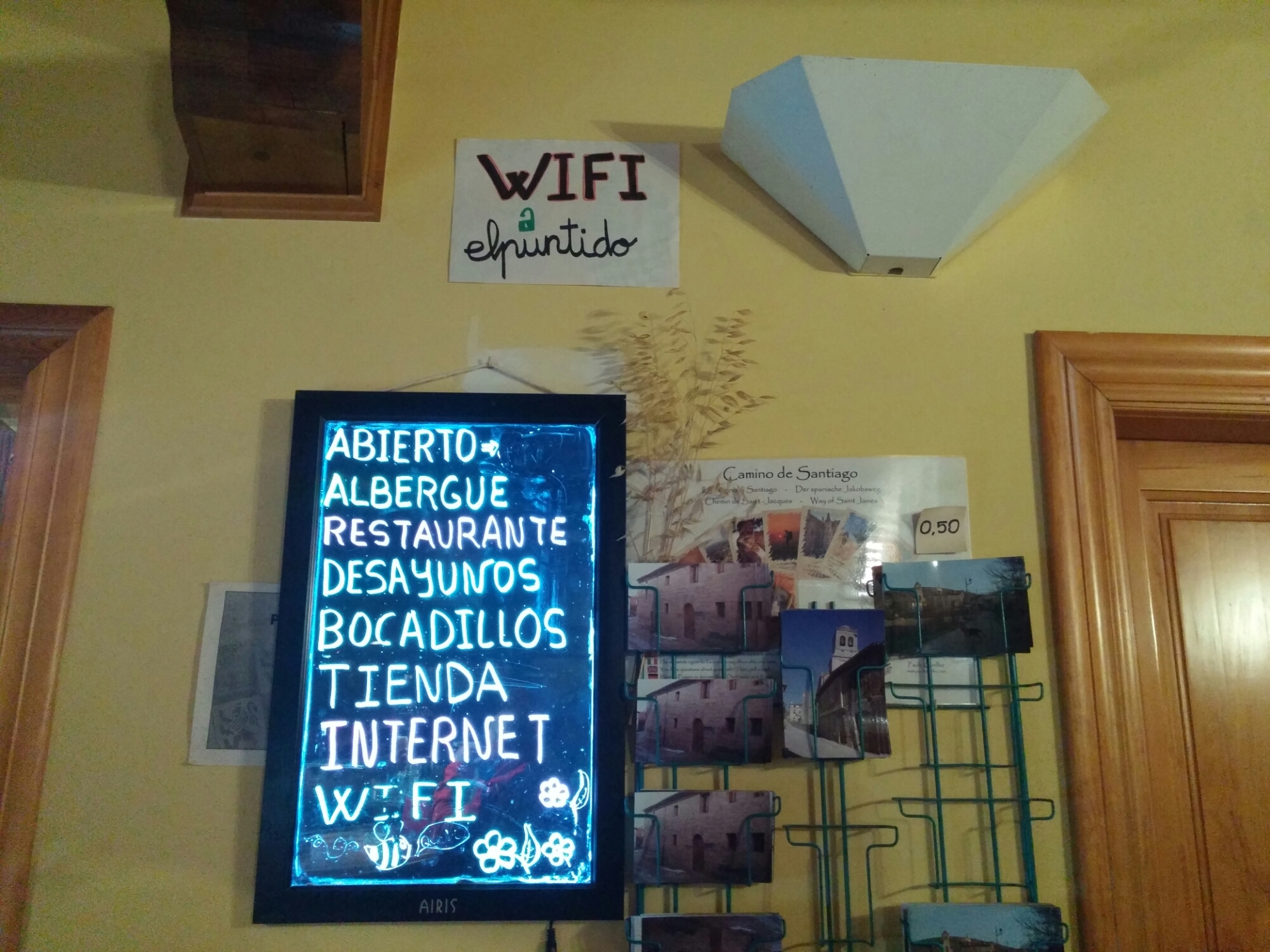 Charlie. There seems to be more wifi access on the Camino this year than in 2013. Just about every bar, hotel and albergue has it. Since I am taking photos of markers I have a lot of photos to upload, far too much for the 1.6 GB of phone data we have. It takes an hour or two to upload the photos each day.
All this wifi creates a naming problem. Sometimes it is the name of the bar or hotel. Sometimes it is something like ORANGE_74AF presumably the factory set name.
The password is given to anyone who comes in and is often posted on the wall. I have seen: 1234567890123, 0123456789, 123456 and others like that. Here at the Albergue El Puntido it is "elpuntido" the most common convention.
In the last place we had the slowest I have ever seen. A photo that normally downloads in a minute took over an hour. Tonight we have the fastest one we've seen.
Mostly the wifi is slow and the signal weak. Often it is not usable in the room only in the common areas.
Mobile data is okay in most places, sometimes 4G, usually 2G, sometimes worse or nonexistent.
The Meseta has been bad for data and even phone service. We had to use a landline pay phone here in Hontanas to make a reservation for tomorrow.
Not to Rush
2014-10-07 05:26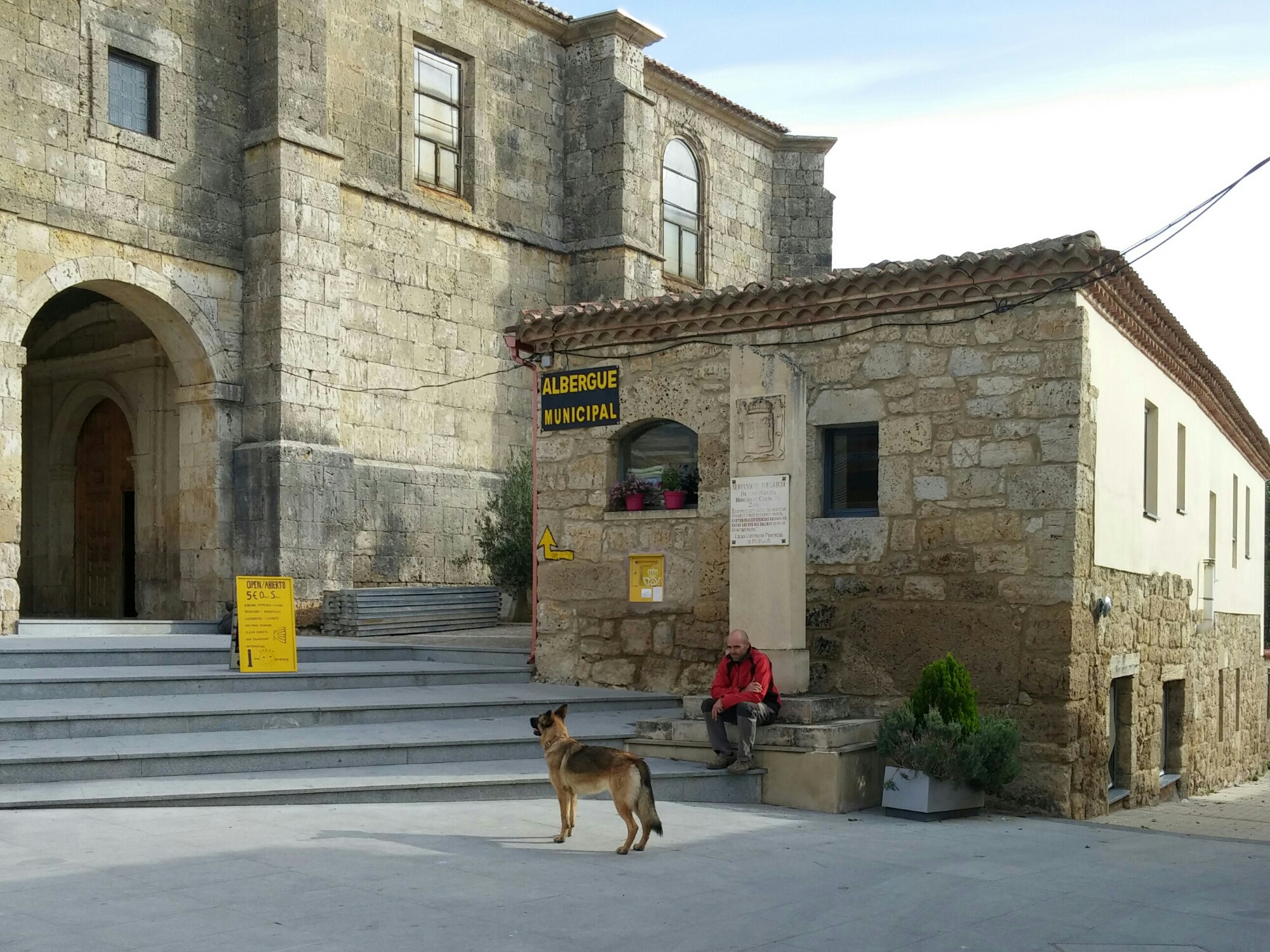 Wynette. The nature of the Camino is such that most people cannot dawdle much. Most people have fewer than five weeks and a goal to get from St. Jean to Santiago (500 miles) completely on foot. They have to start early each day and cover the miles fast to be sure to get a bed at the end of the day. I think that is such a cool thing to do. If I were younger or much fitter I would have loved to have that goal even though it would be a huge challenge.
Charlie and I have eight weeks and I am not up to the physical challenge of 15+ miles a day, so we've chosen to do a different kind of Camino. We are trying to be aware when we are rushing, whether when walking or packing or getting ready in the morning or doing the afternoon chores: charging phones, doing laundry, choosing and reserving next place to stay, maybe shopping for food and cooking a lunch or dinner. (Hard life!)
Sometimes we rush because we want to get out early to beat the heat or enjoy the early morning light, but mostly out of habit and when there is no good reason. When we are feeling rushed we might not stop to put on jackets even if cold. Or take them off when hot. Or tighten a shoelace. Or fix a hot spot that might become a blister. Or admire a church or bird or flower or view or a garden, building, cairn, or message some creative person left behind. Or chat with another pilgrim. (In this case it is usually they who are rushing past us.) Or chat with a local person. Or explore something interesting just off the path.
We both read a nice book about the Camino by Joyce Rupp named Walk in a Relaxed Manner. At first I thought that was a strange, awkward title but now I like it and it is my walking mantra. It sounds contradictory, but I know one can walk in a relaxed manner and still enjoy a brisk walk. One can get a lot done and still be relaxed. So, we are having fun exploring this.
Ruined Roof II
2014-10-07 07:42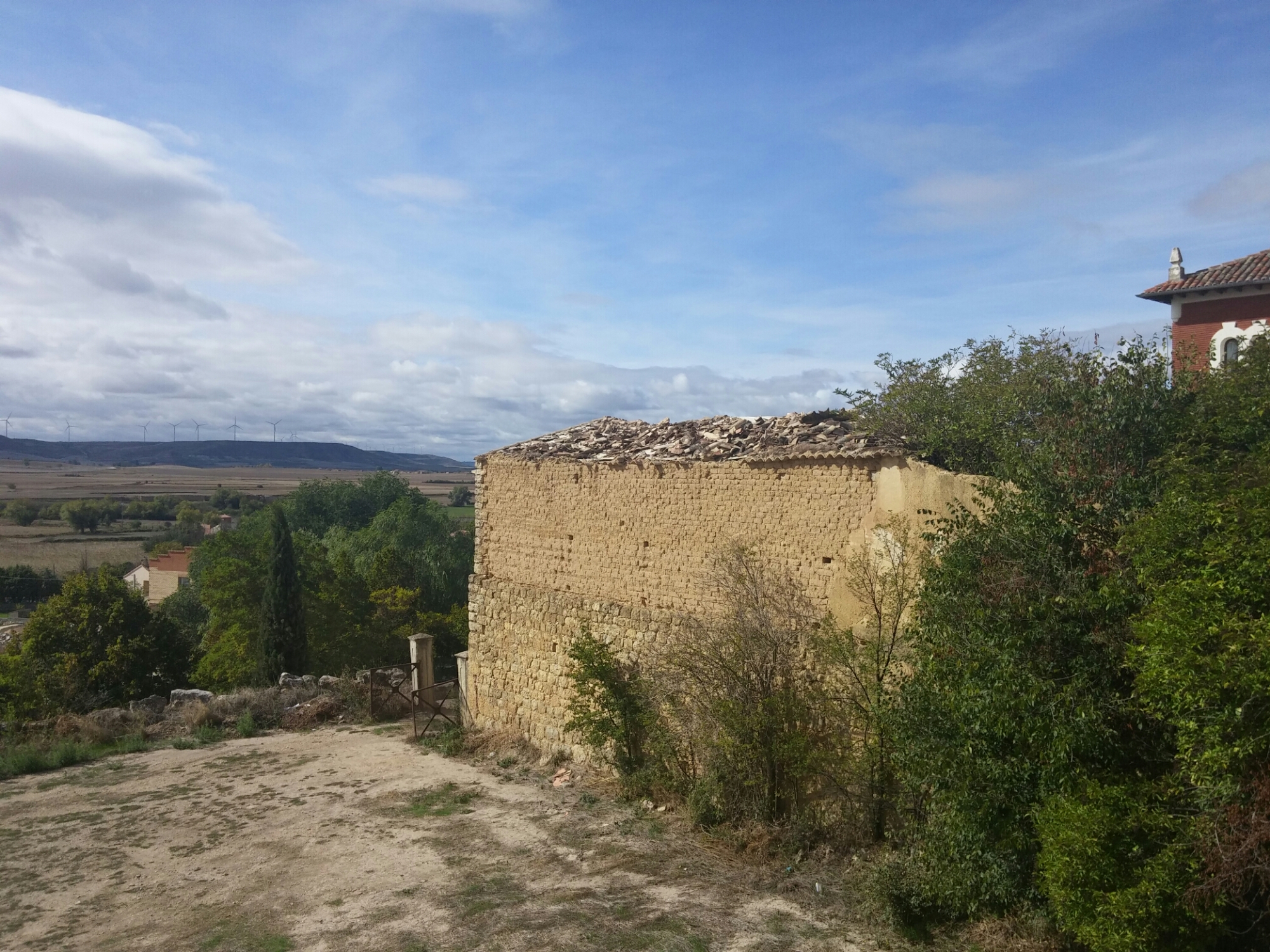 The first one was in Navarra, now we are in the Burgos region of Castillo y Leon. But there are still plenty of falling down buildings along the Camino. Here is another one, kind of beautiful in its ruination.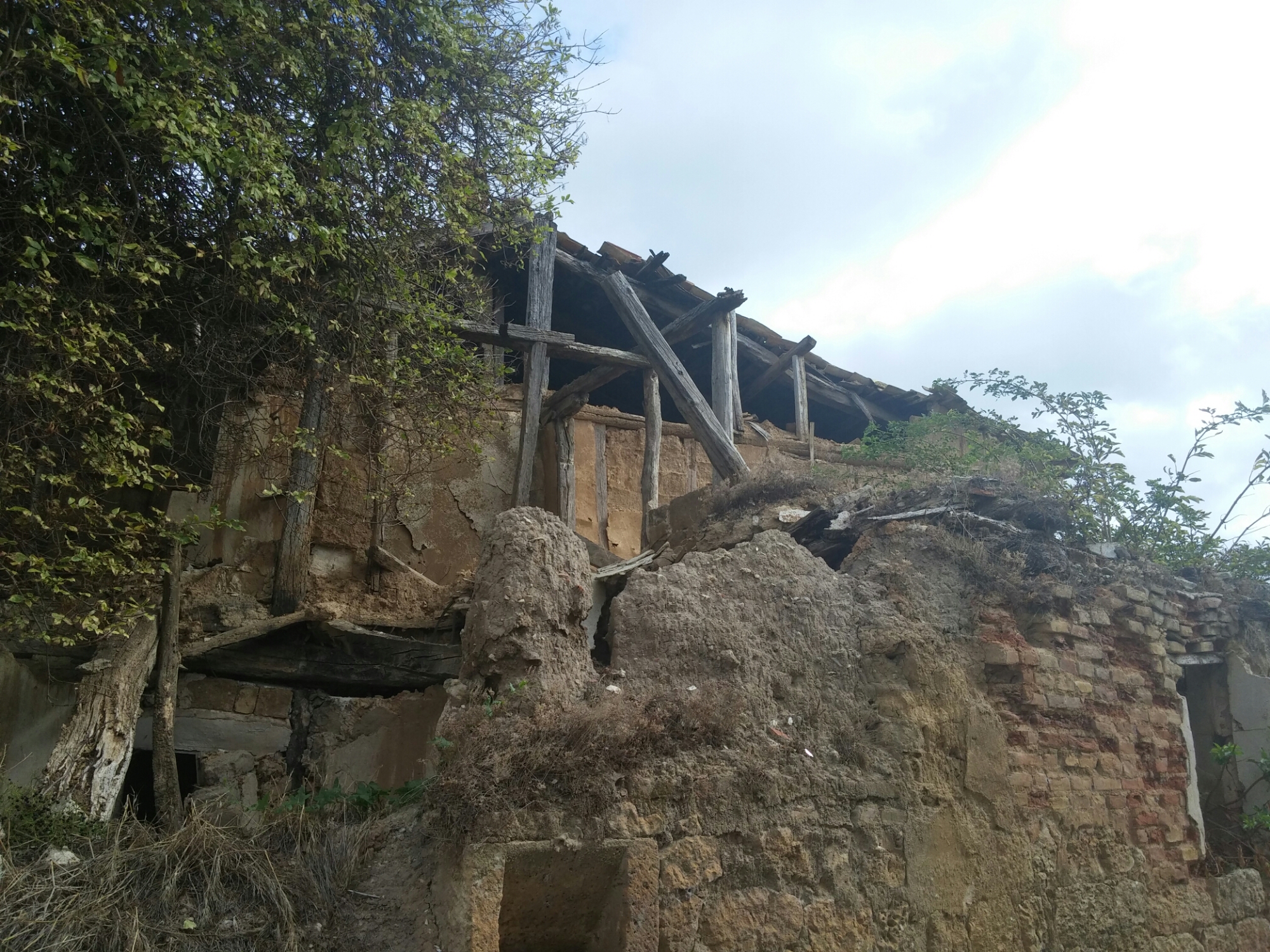 And a ruined hay barn, close up.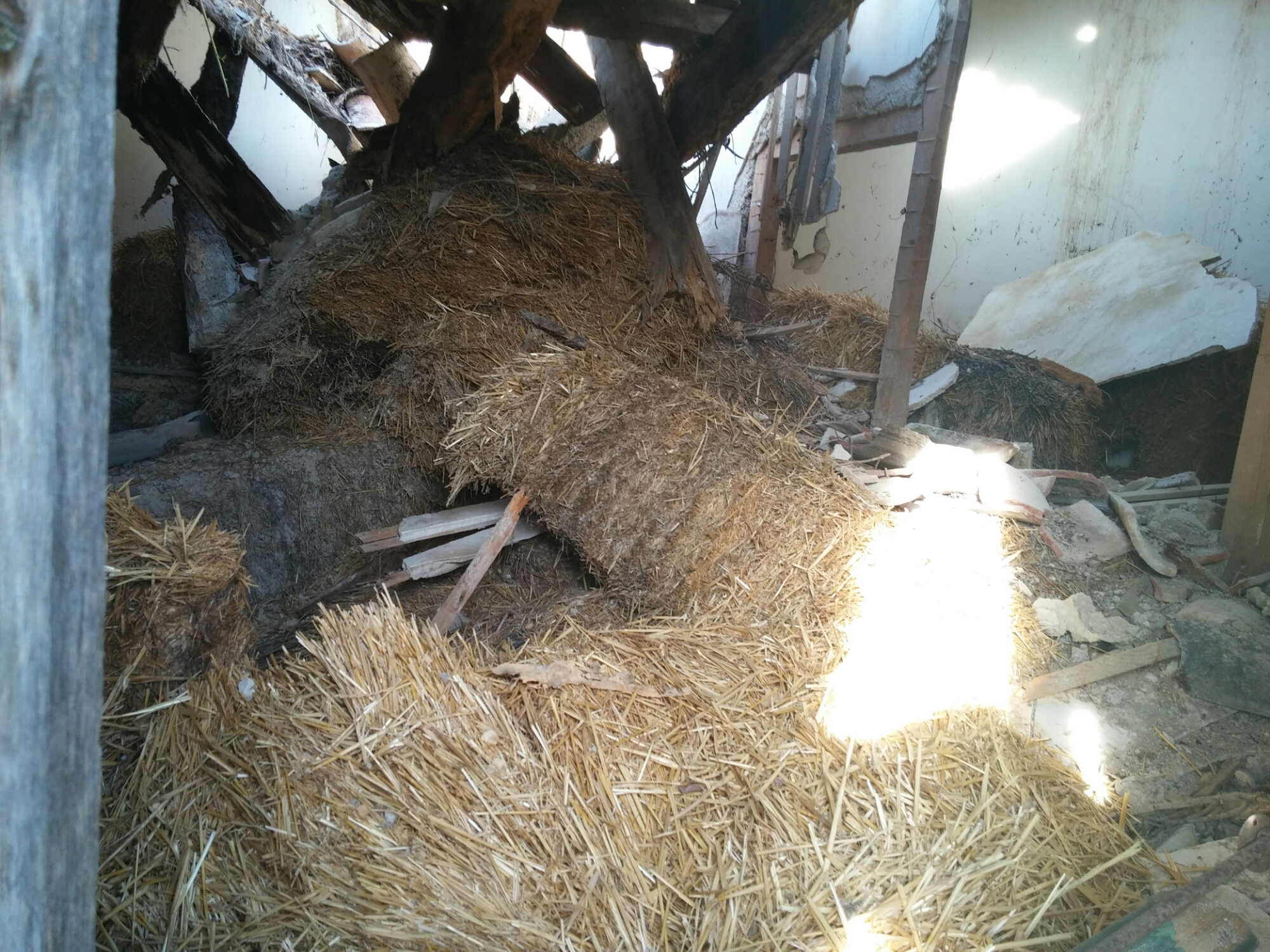 We are in Castrojeriz, a picture book town, see next post.
Skull and Cross Bones
2014-10-07 07:44
Iglesia Near Castrojeriz
2014-10-07 07:52
Ruins of Convento de Santa Clara
2014-10-07 08:07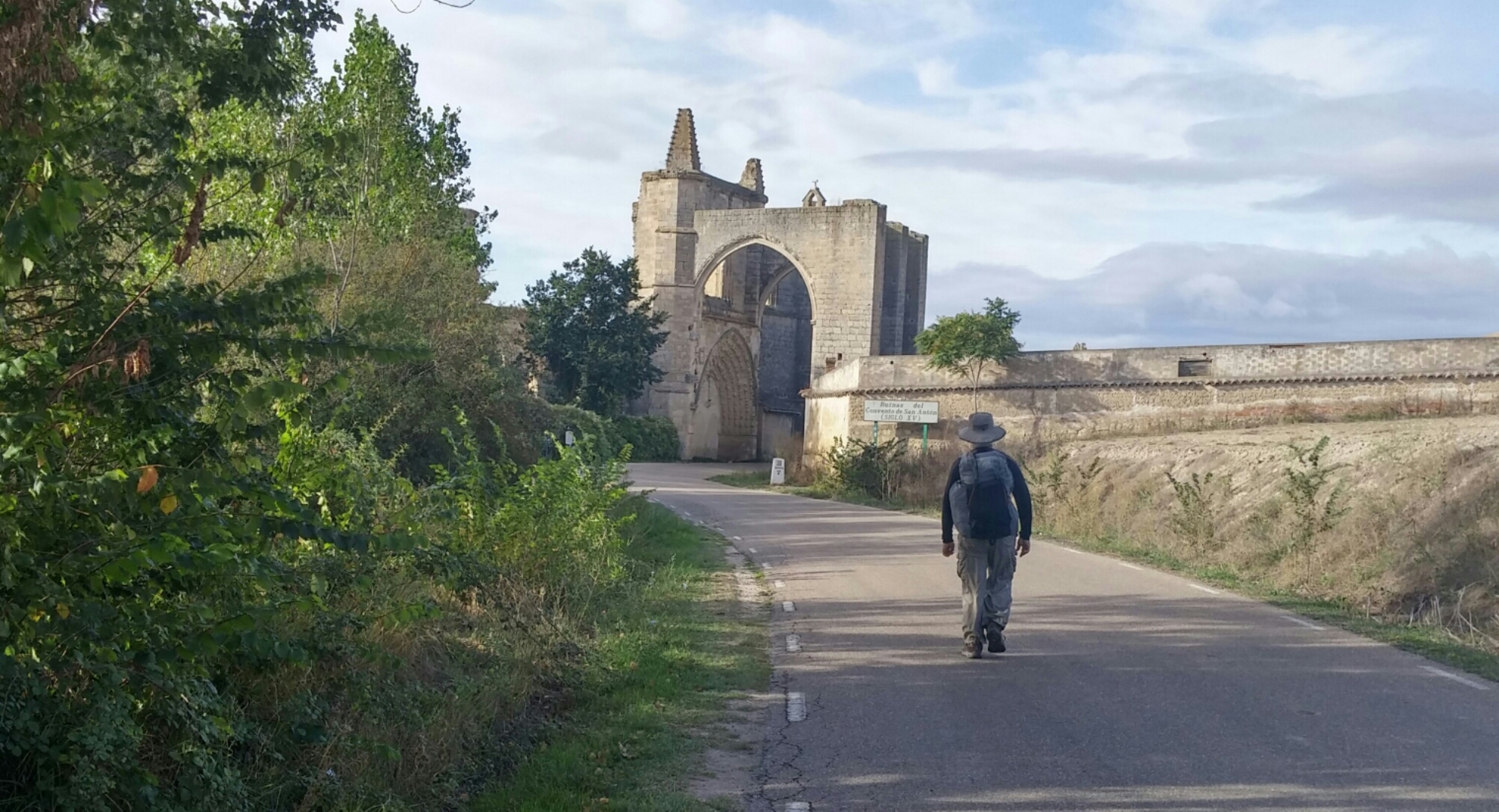 Wynette and Charlie. This place is beautiful. Completely deserted. In San Antón, near Castrojeriz. Notice that the highway goes through the arch.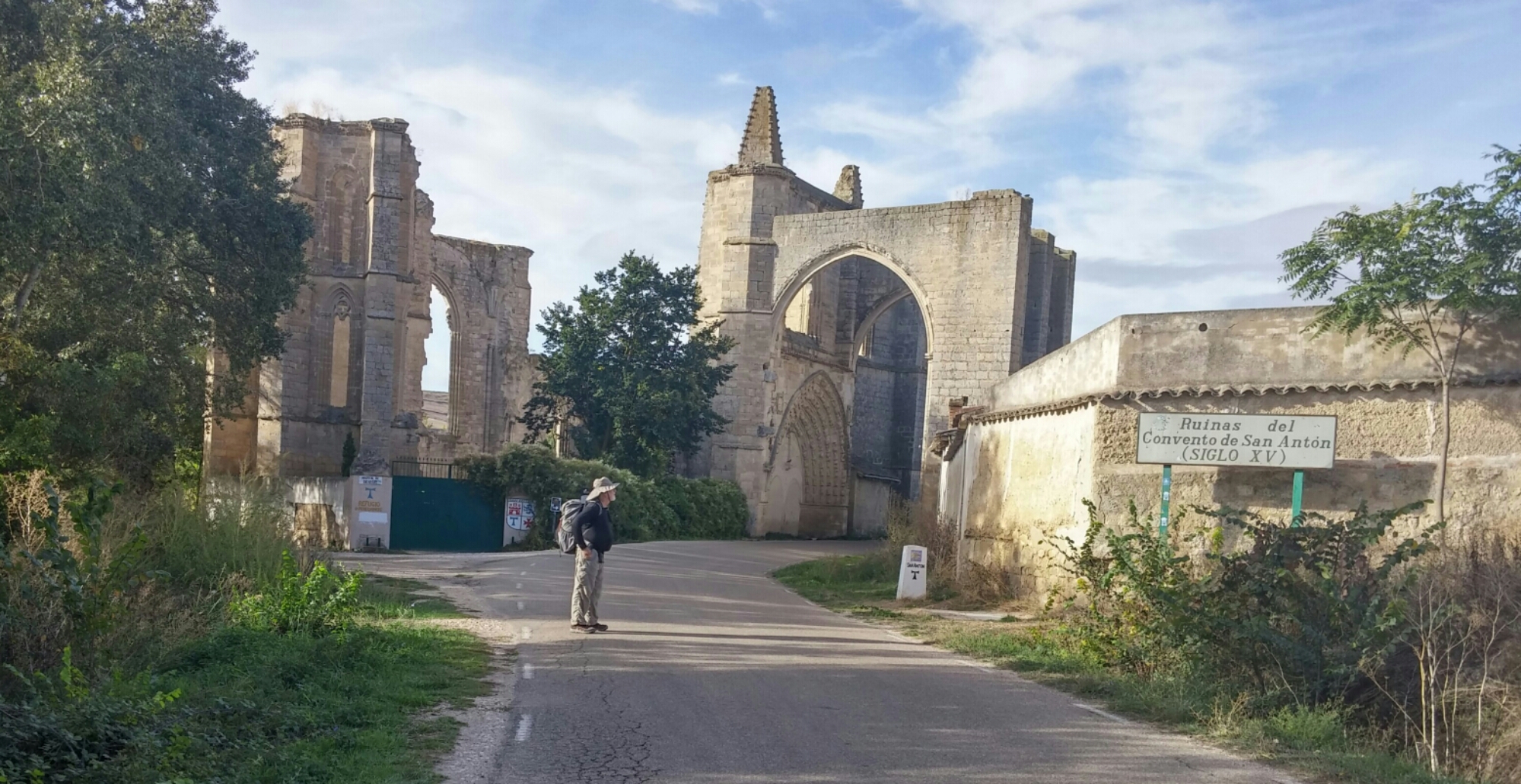 We walked around to the back and found these three arches: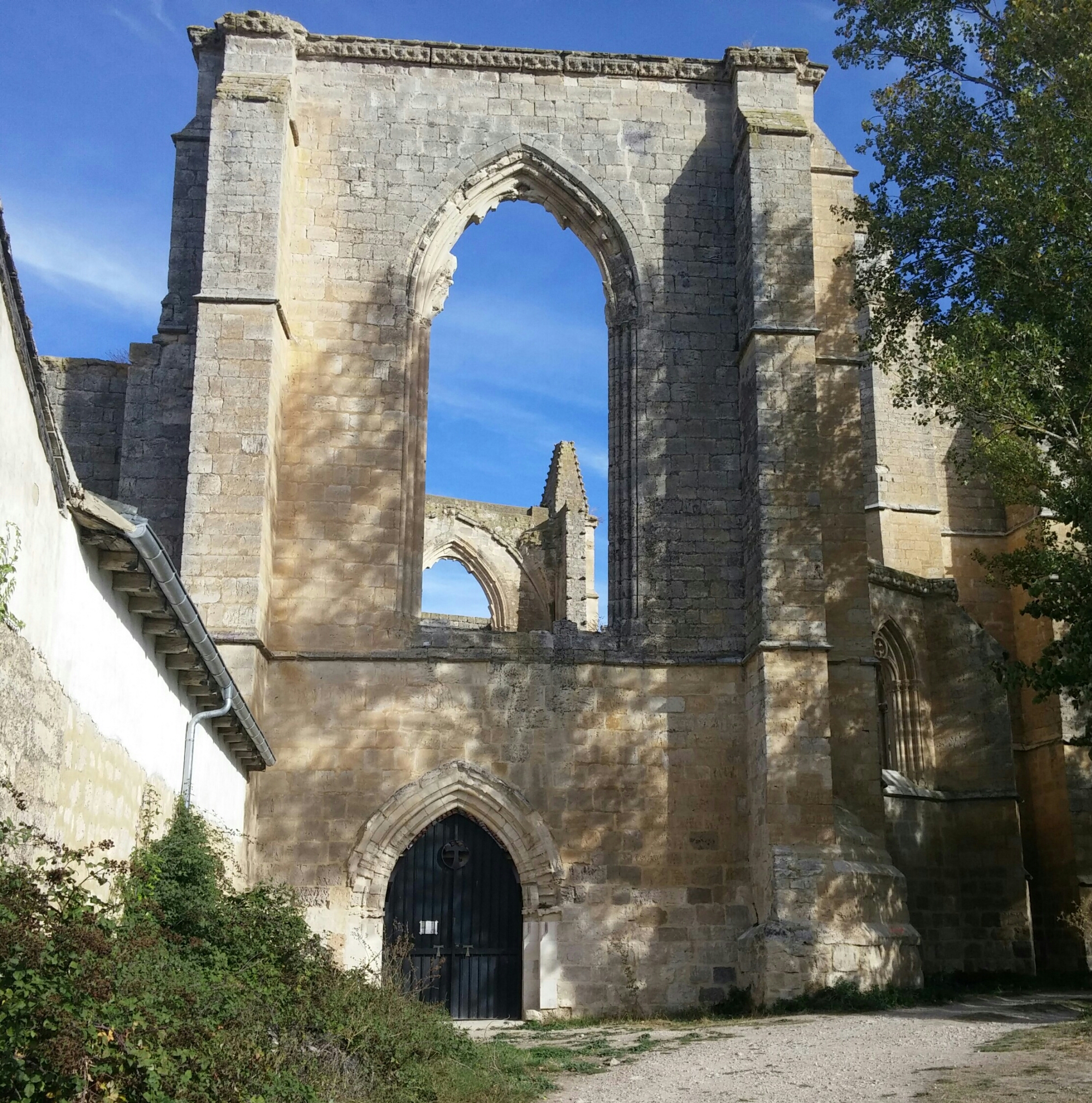 And a view of the bell tower through a window :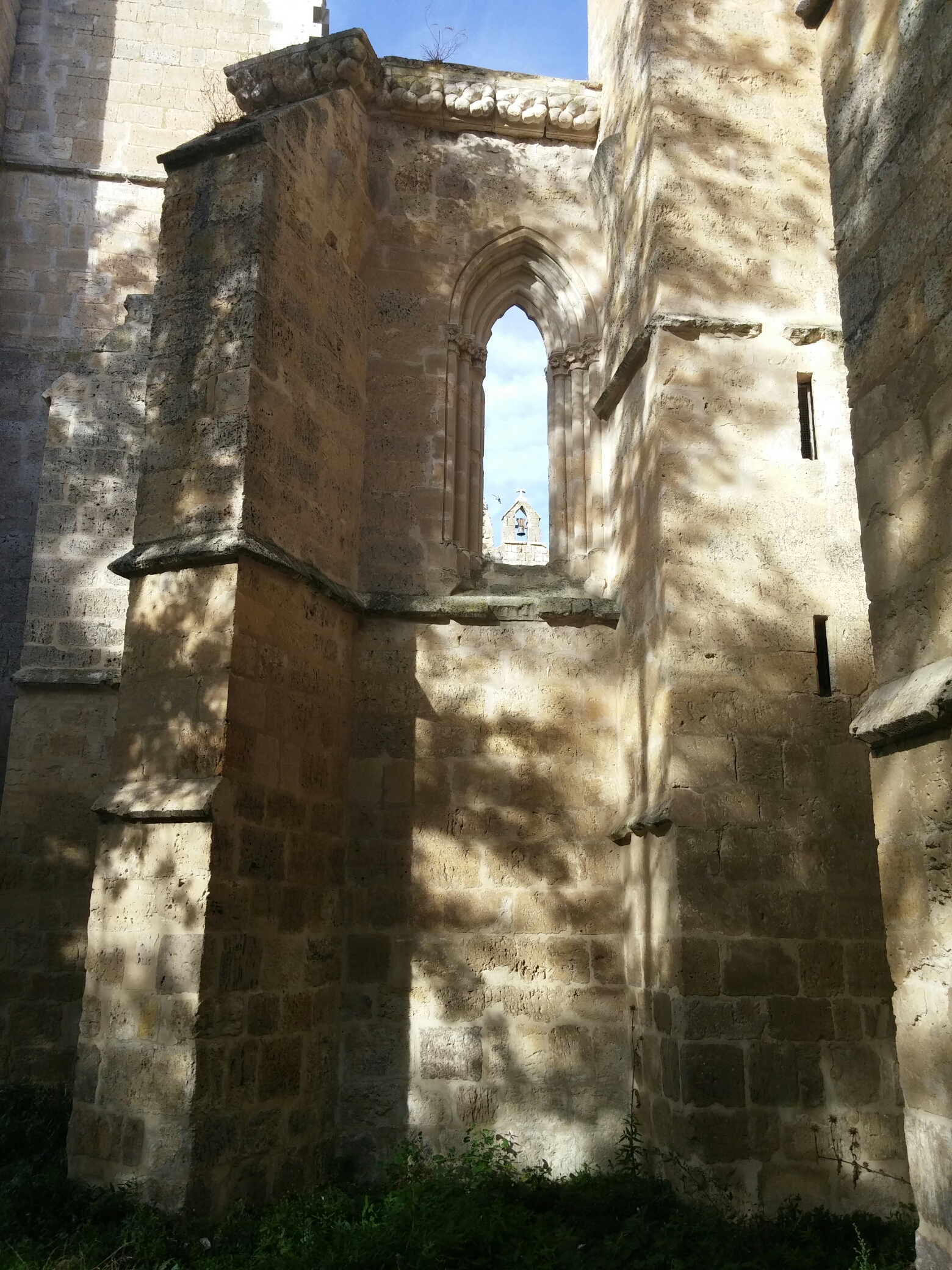 As far as we could tell, this is the only inhabited house in San Antón: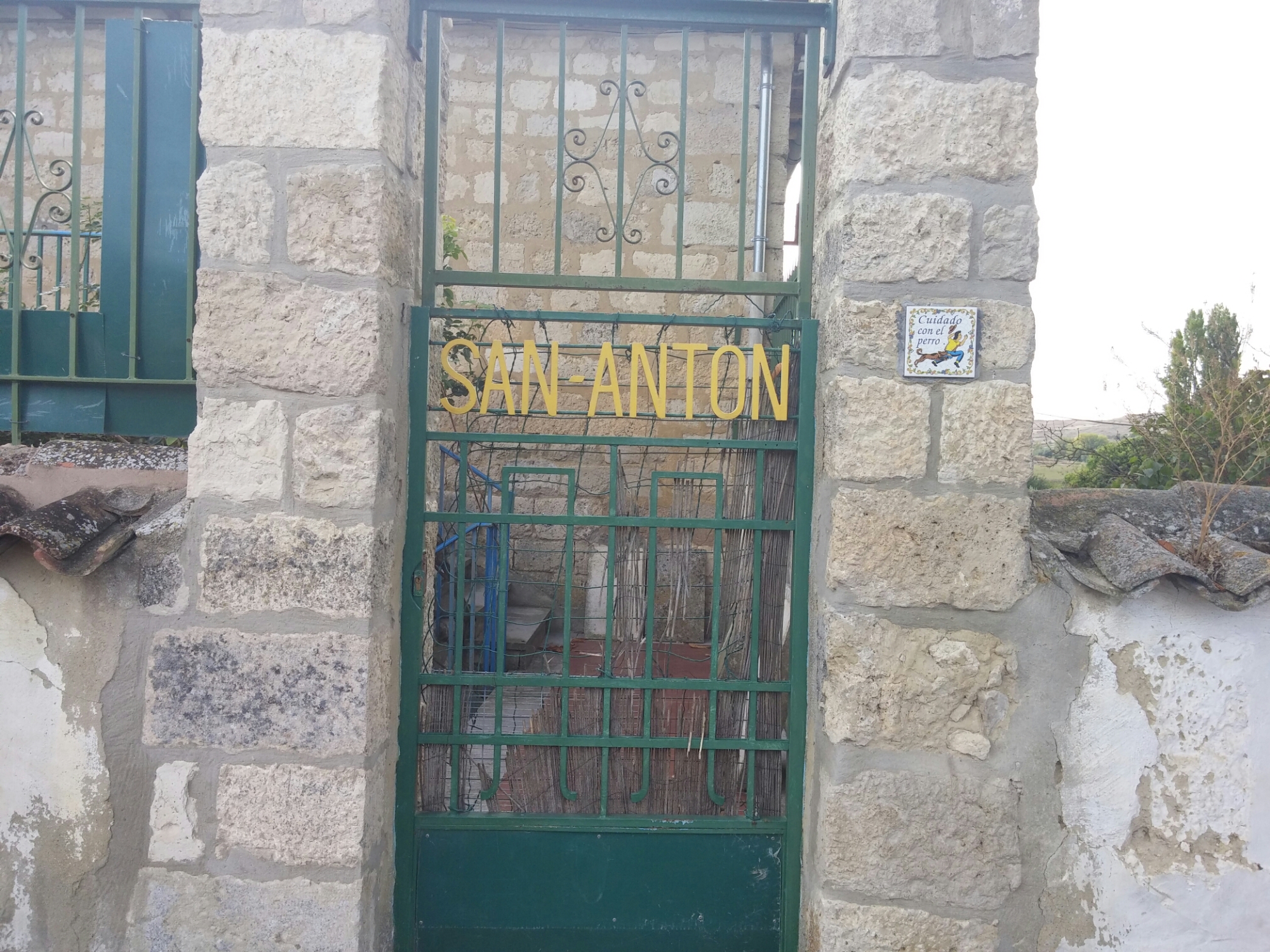 Beauty in the Rubble
2014-10-07 10:33
Charlie and the Castle
2014-10-07 10:51
Photos Day 18, October 4, Burgos to Rabé de las Calzadas
2014-10-07 12:19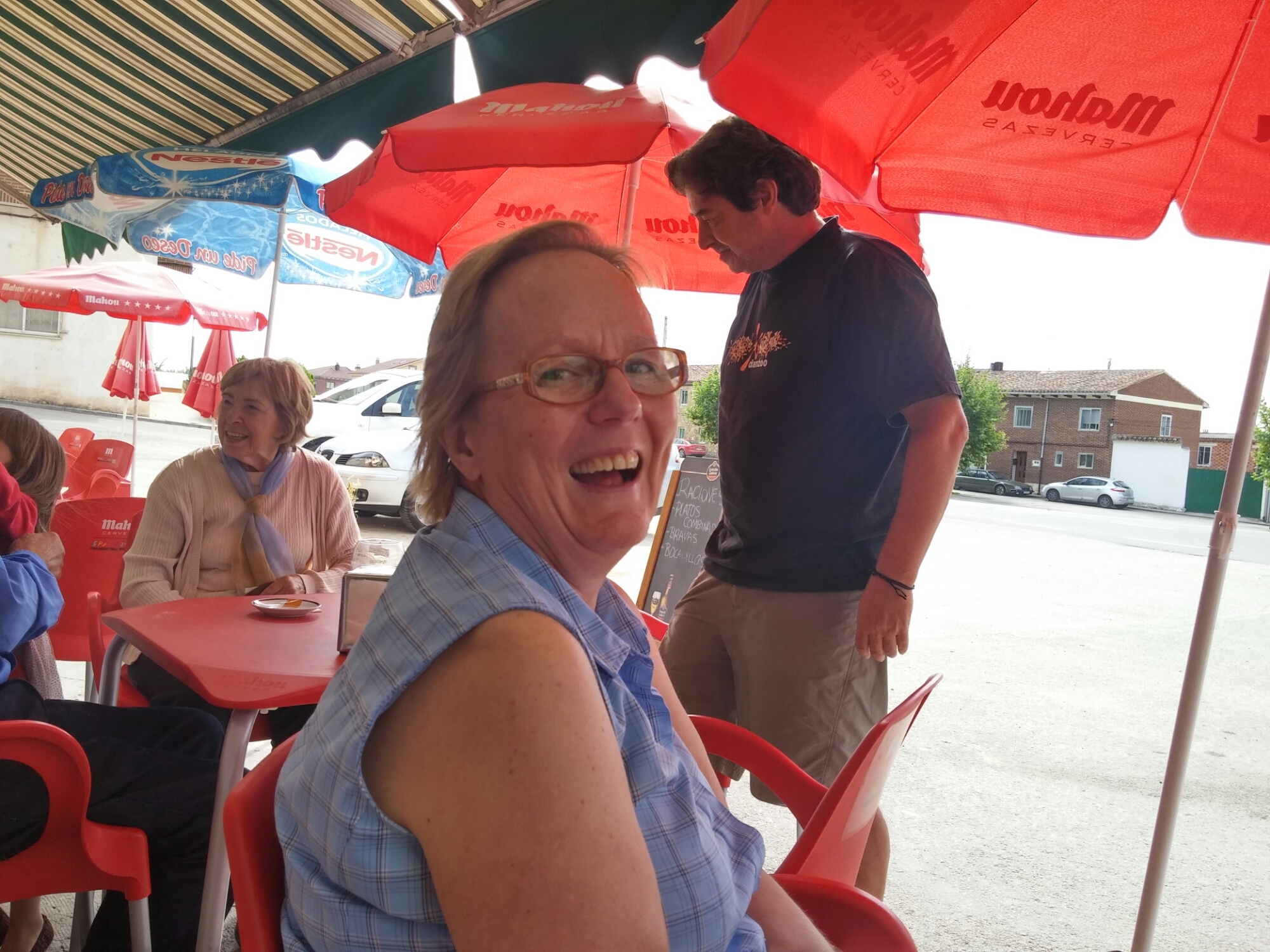 Jane from England.
More at https://www.dropbox.com/sc/qxrhf893igblsm2/AACxAXmabyjDydQ-e093OTDQa
Photos Day 19, October 5, Rabé de Las Calzadas to Hornillos
2014-10-07 12:26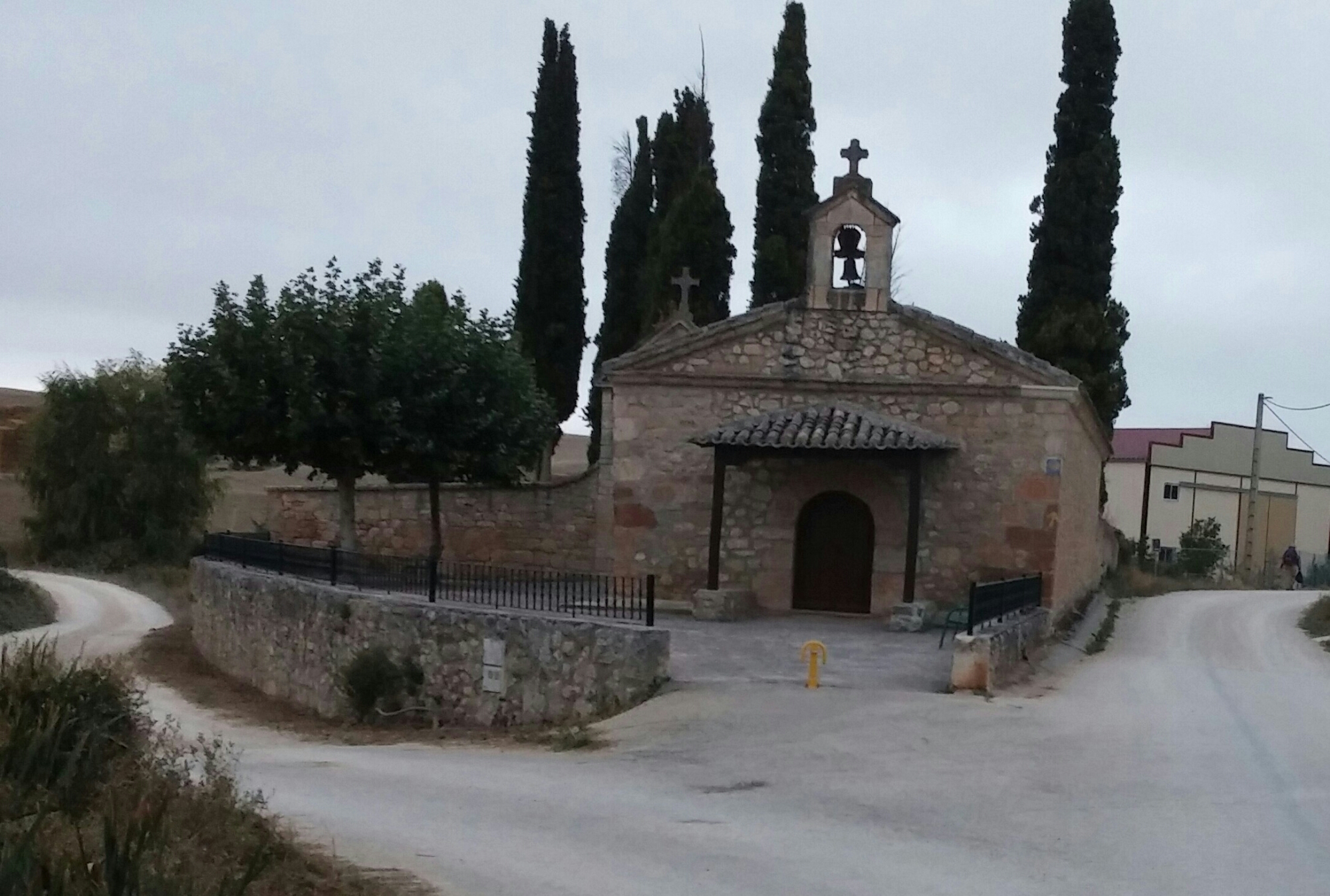 Leaving Rabé.
More at https://www.dropbox.com/sc/mbqtx2tefd2nx03/AADWH2H8D0dmg2WC10Tb2IXba
Photos Day 20, October 6, Hornillos to Hontanos
2014-10-07 12:34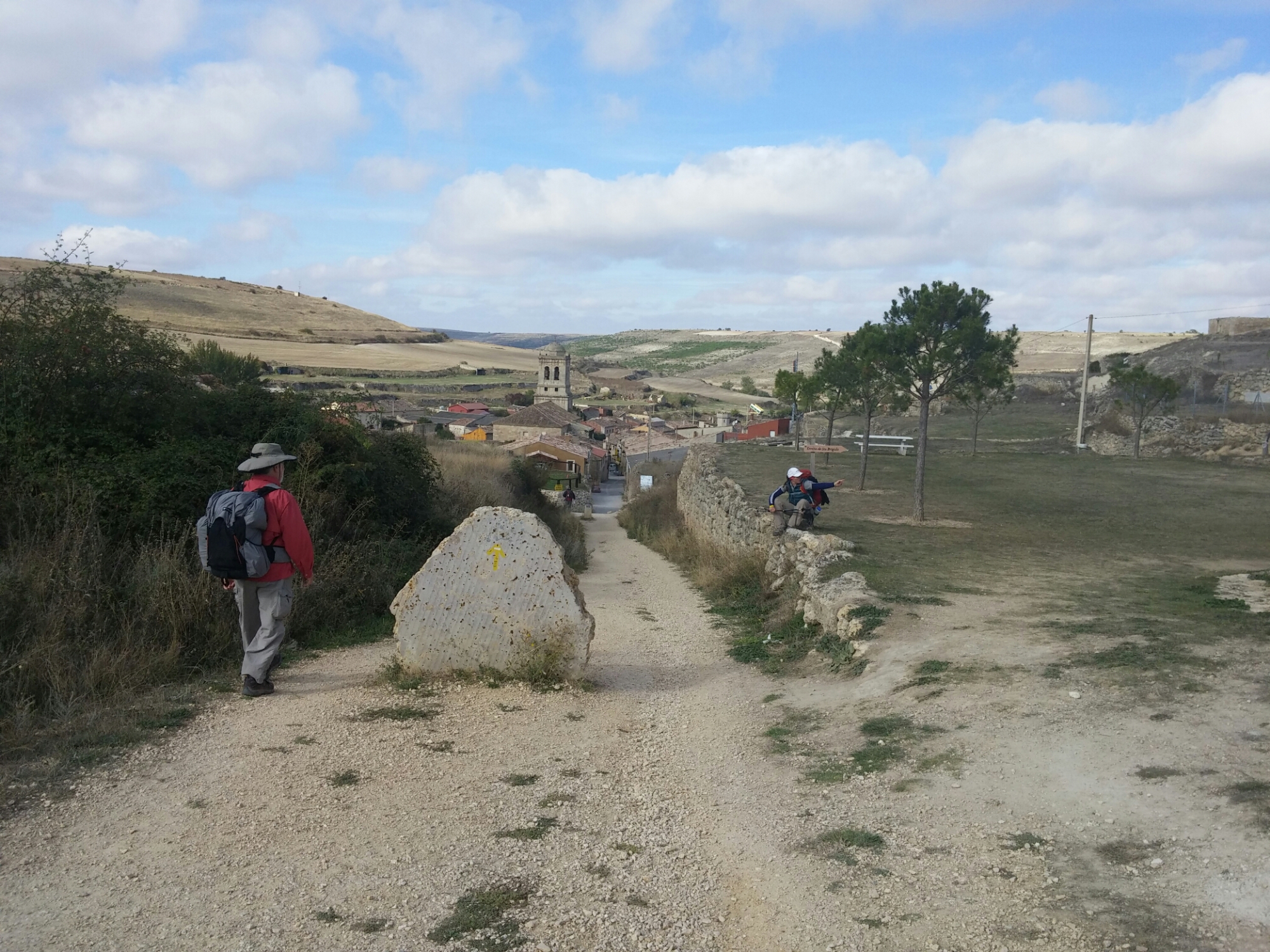 Entering Hontanos.
More at https://www.dropbox.com/sc/k303qnz2oxktvkm/AABYtZT6W1zpi3PSAkMOQ2zea
Photos Day 21, October 7, Hontanos to Castrojeriz
2014-10-07 12:48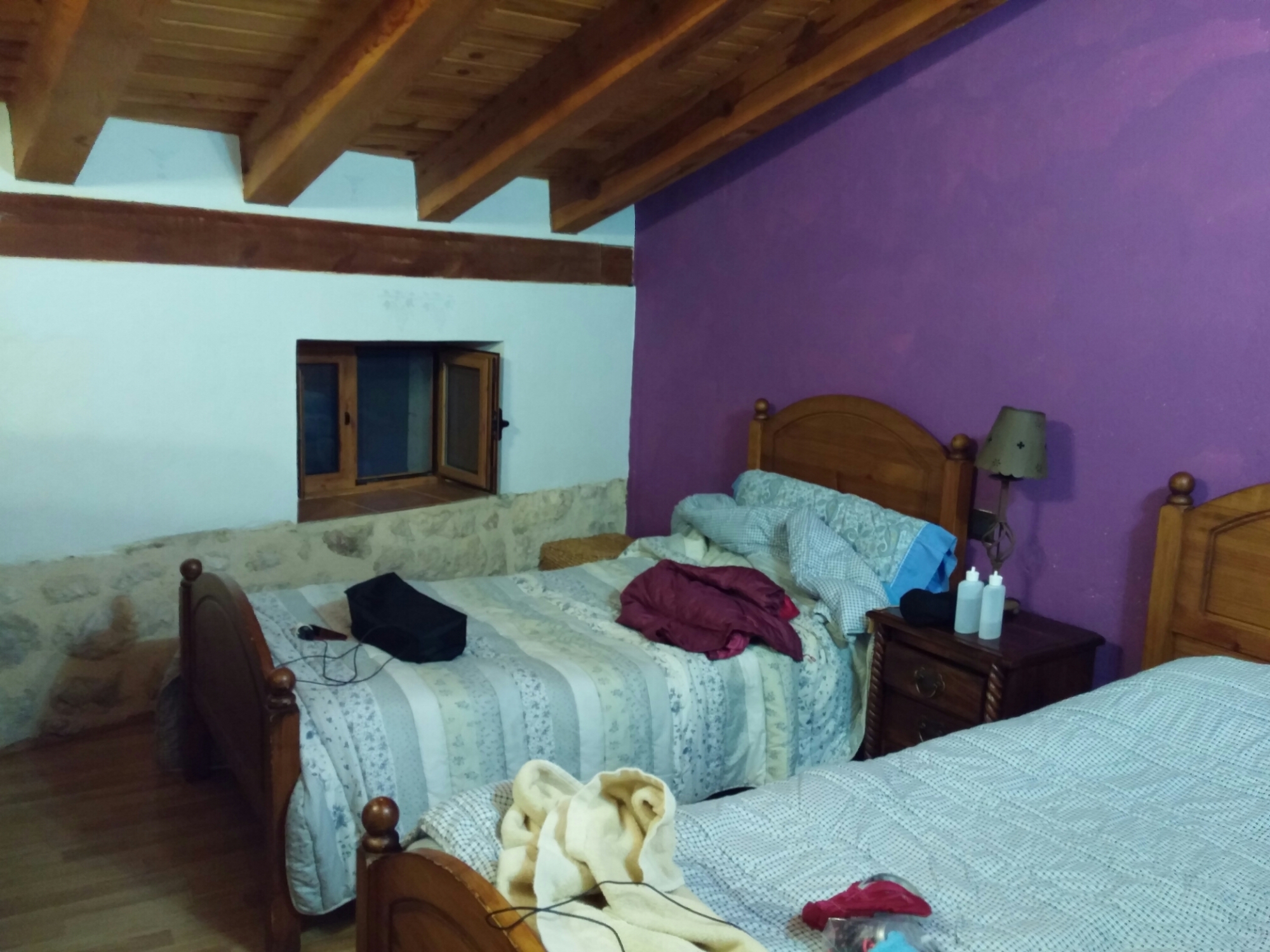 Where we slept last night. Albergue El Pundito, Hontanos. 25 euros.
More at https://www.dropbox.com/sc/fx37xapowtc240t/AACIwqL34zHevbaLypYmBrt0a
Charlie and the Tree Once Again
2014-10-07 13:01
Markers 10-4
2014-10-07 13:19
Markers 10-5
2014-10-07 13:25
Markers 10-6
2014-10-07 13:32
Markers 10-7
2014-10-07 13:41
Markers 10-8
2014-10-08 09:52
Photos Day 22, October 8, Castrojeriz to Itero de la Vega
2014-10-08 10:06
Wynette's Ups and Downs
2014-10-08 10:15
For Henry and Moira
2014-10-09 11:01
Take Care of Your Haystack
2014-10-09 11:11
Aqueduct Deferred Maintenance
2014-10-09 11:14
Artistically Rusted Door
2014-10-09 11:15
We Went To Rollo
2014-10-09 11:19
A Fountain You Have To Pump
2014-10-09 11:23
Charlie With Seated Pilgrim
2014-10-09 11:26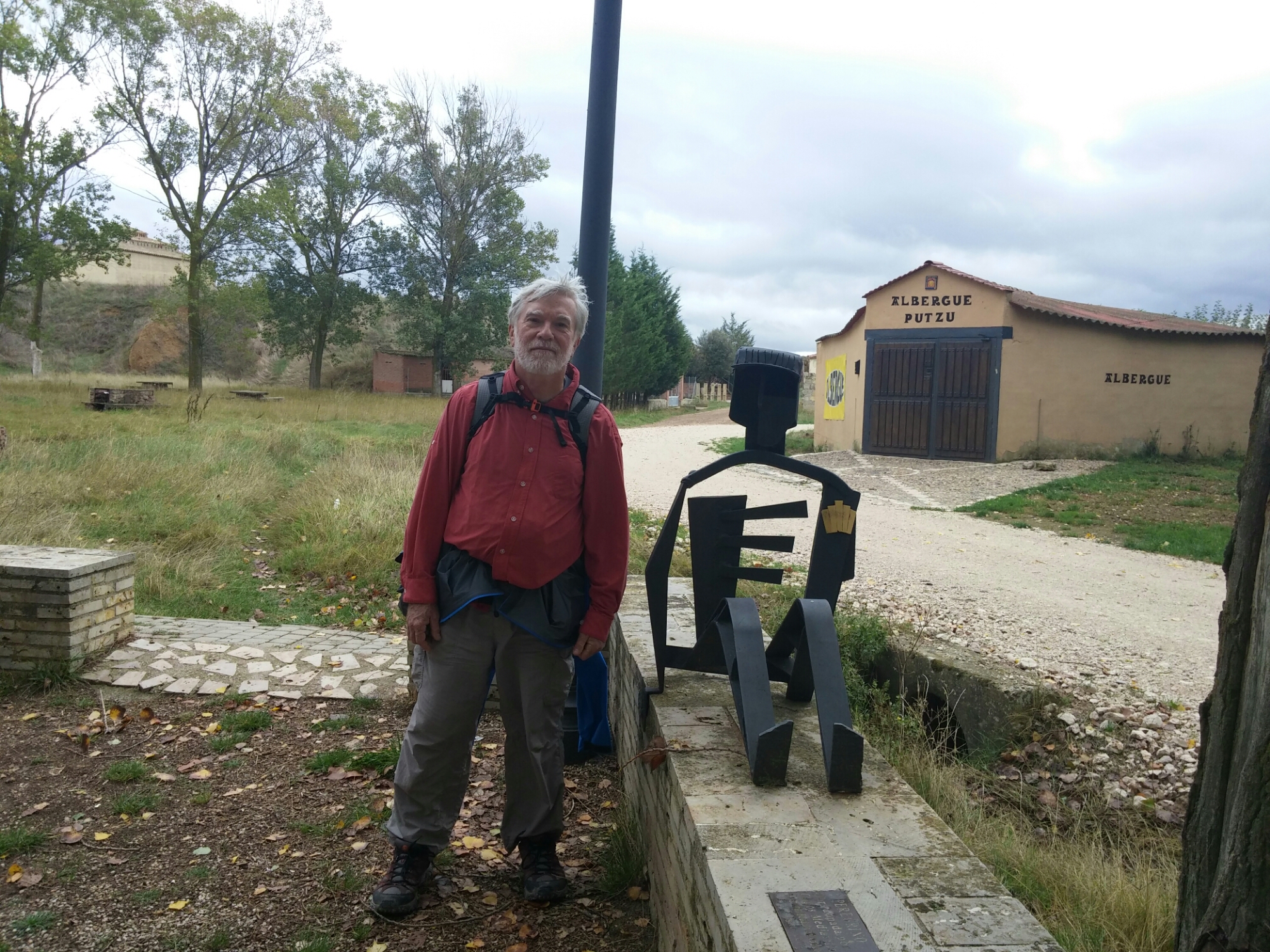 Markers 10-9
2014-10-09 13:14
Fifteen Miles On the Erie Canal
2014-10-09 13:21
Okay, two miles on the Canal de Castillo but it was very scenic.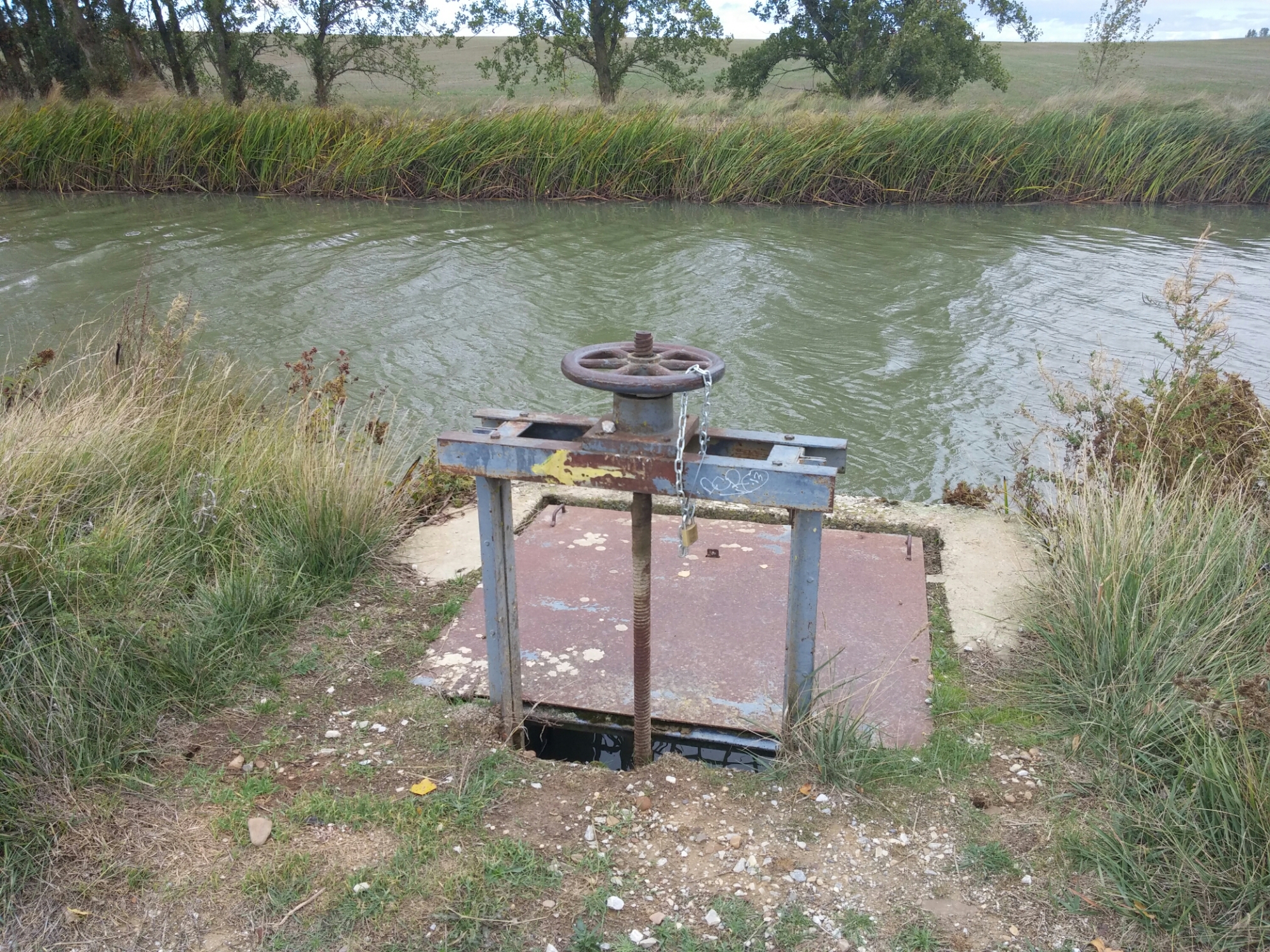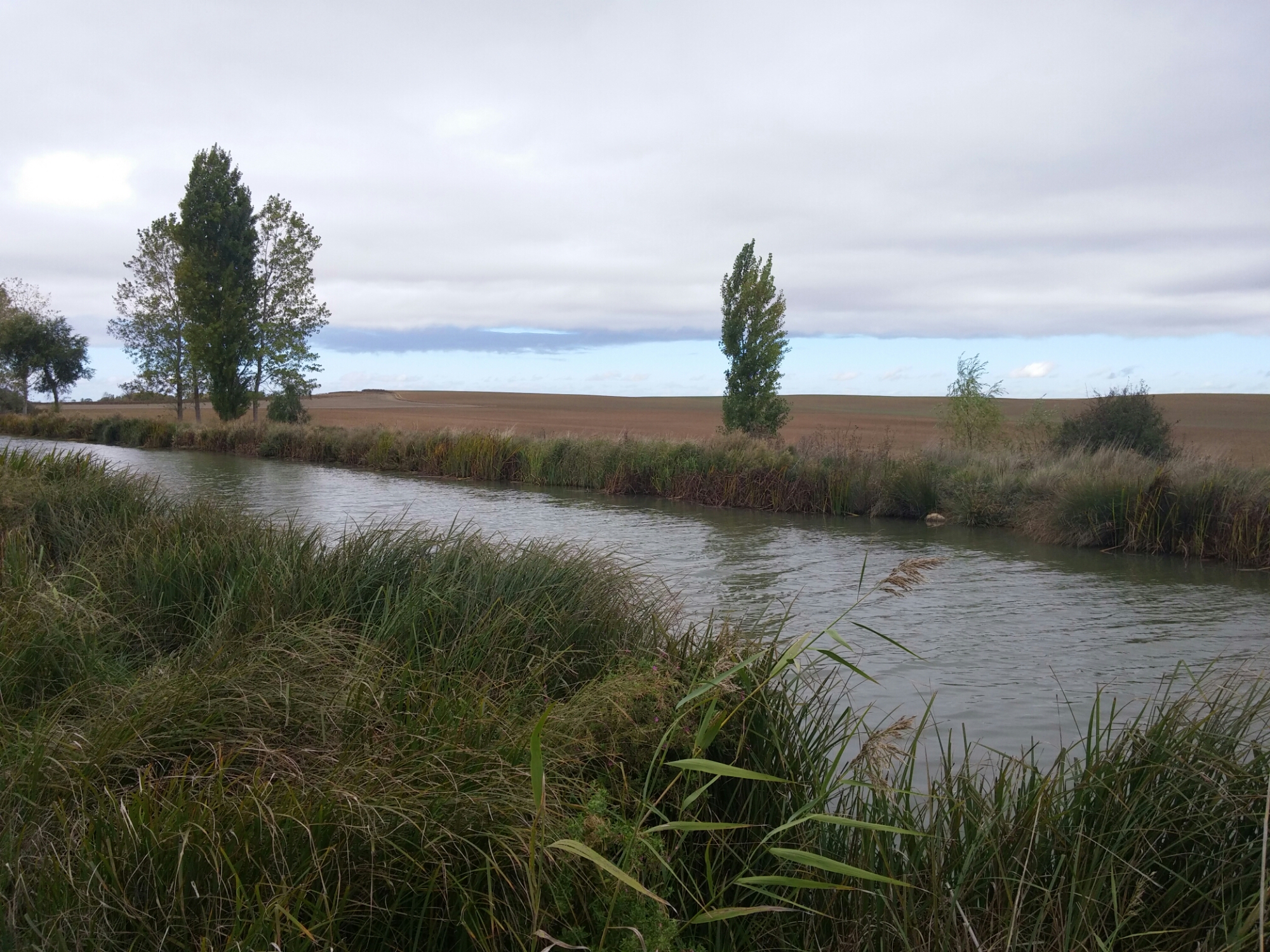 And the lock at the end, a common Camino photo.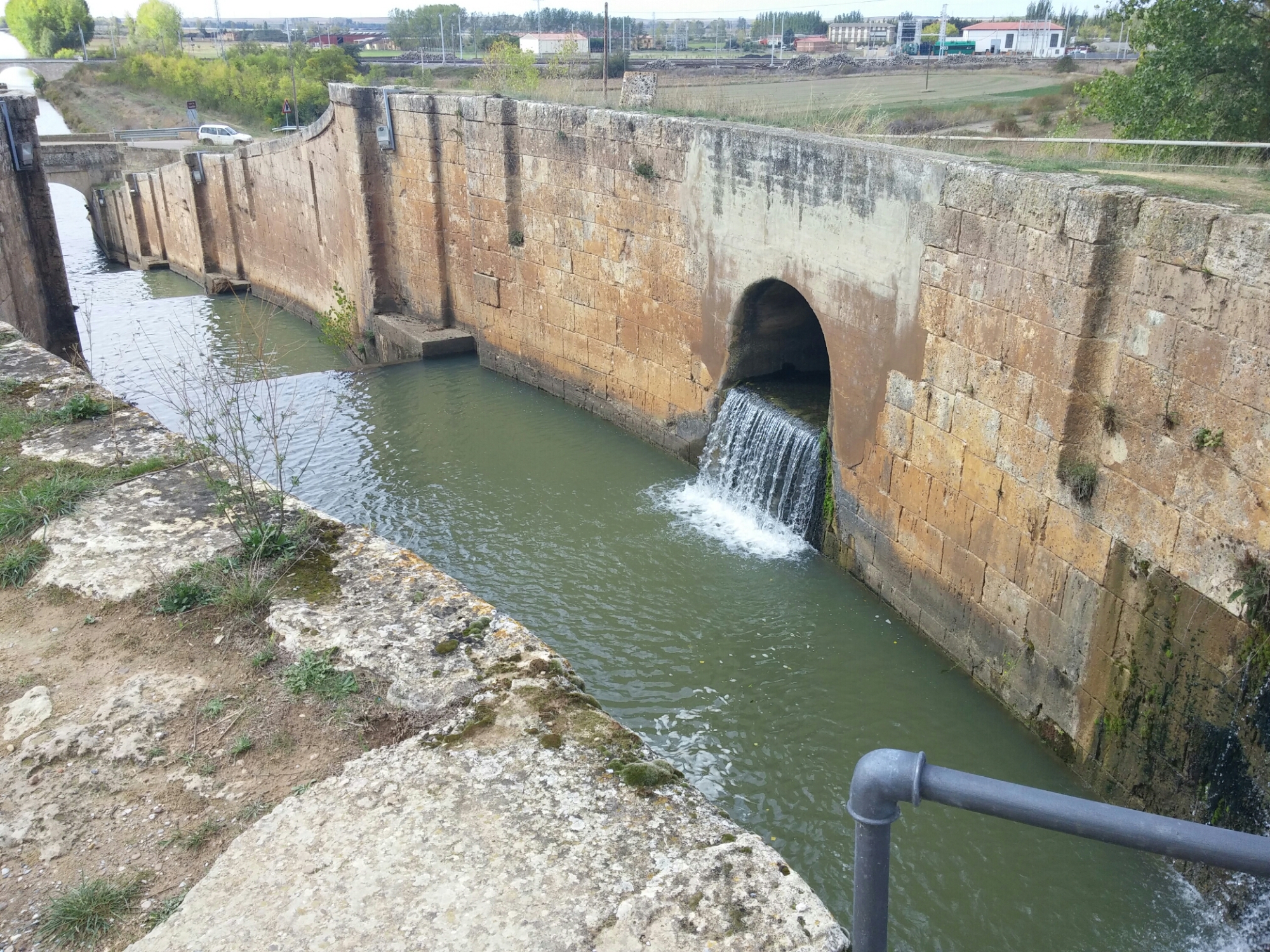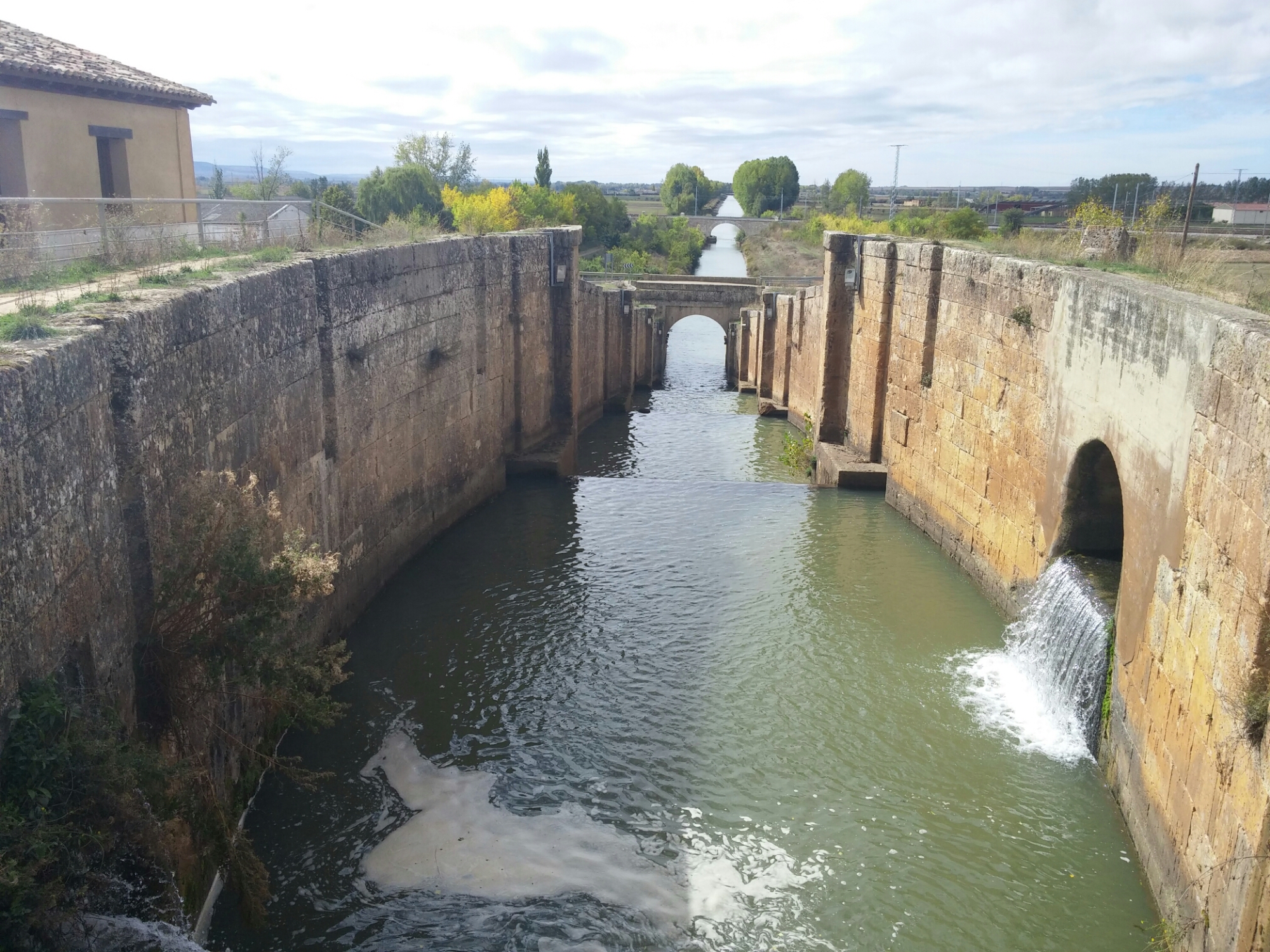 More photos here :
https://www.dropbox.com/sc/wxefvqnus33ad7q/AABARvwGtCBUKk9y5MWbsWPZa
Photos, Day 23, Oct 9, Itero de la Vega to Frómista
2014-10-09 13:23
Break in Boadilla del Camino
2014-10-09 13:46
Charlie. We stopped for a break at an albergue and casa rural we had stopped at last year. It starts with a great door.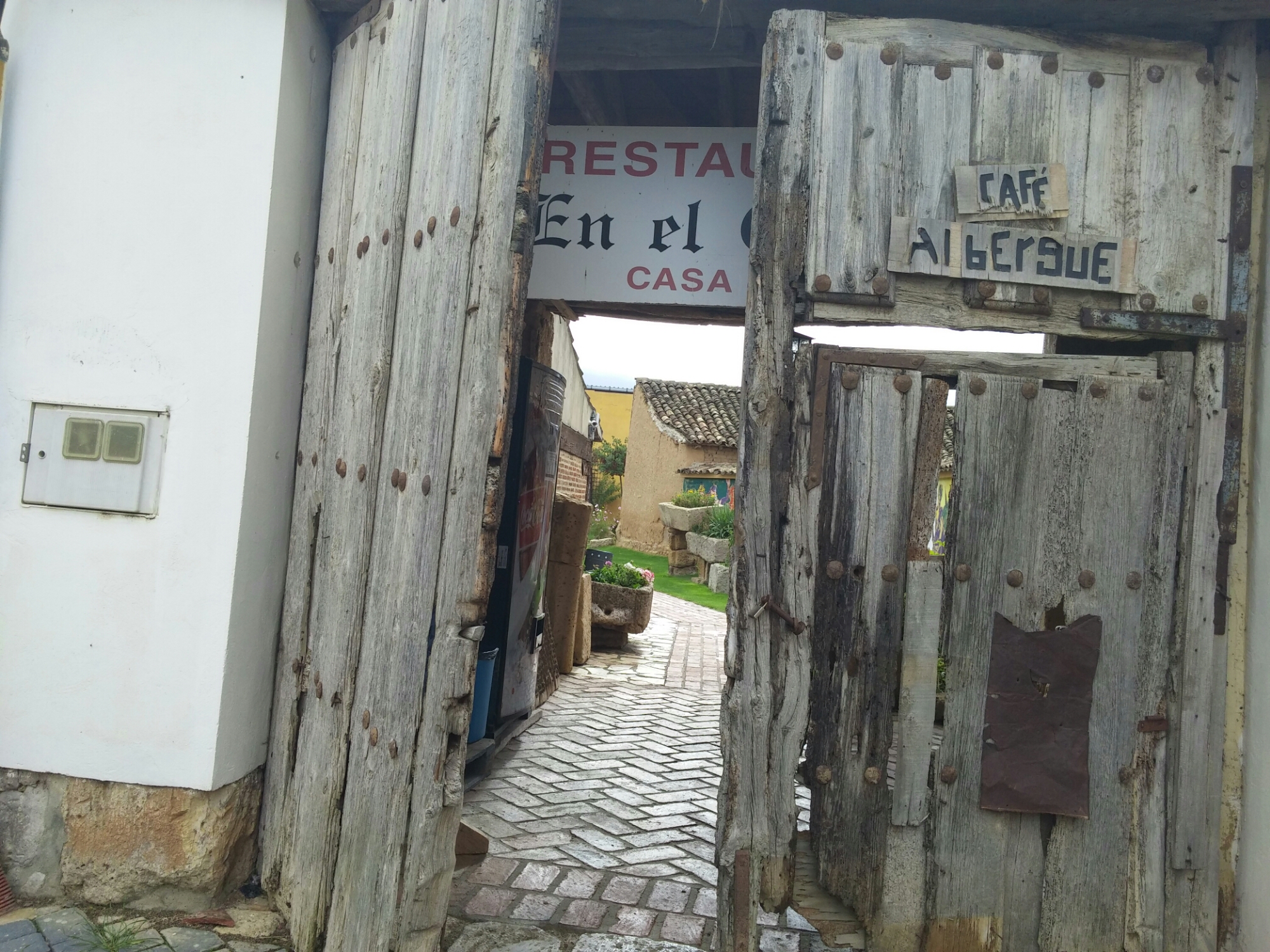 Inside is a mural.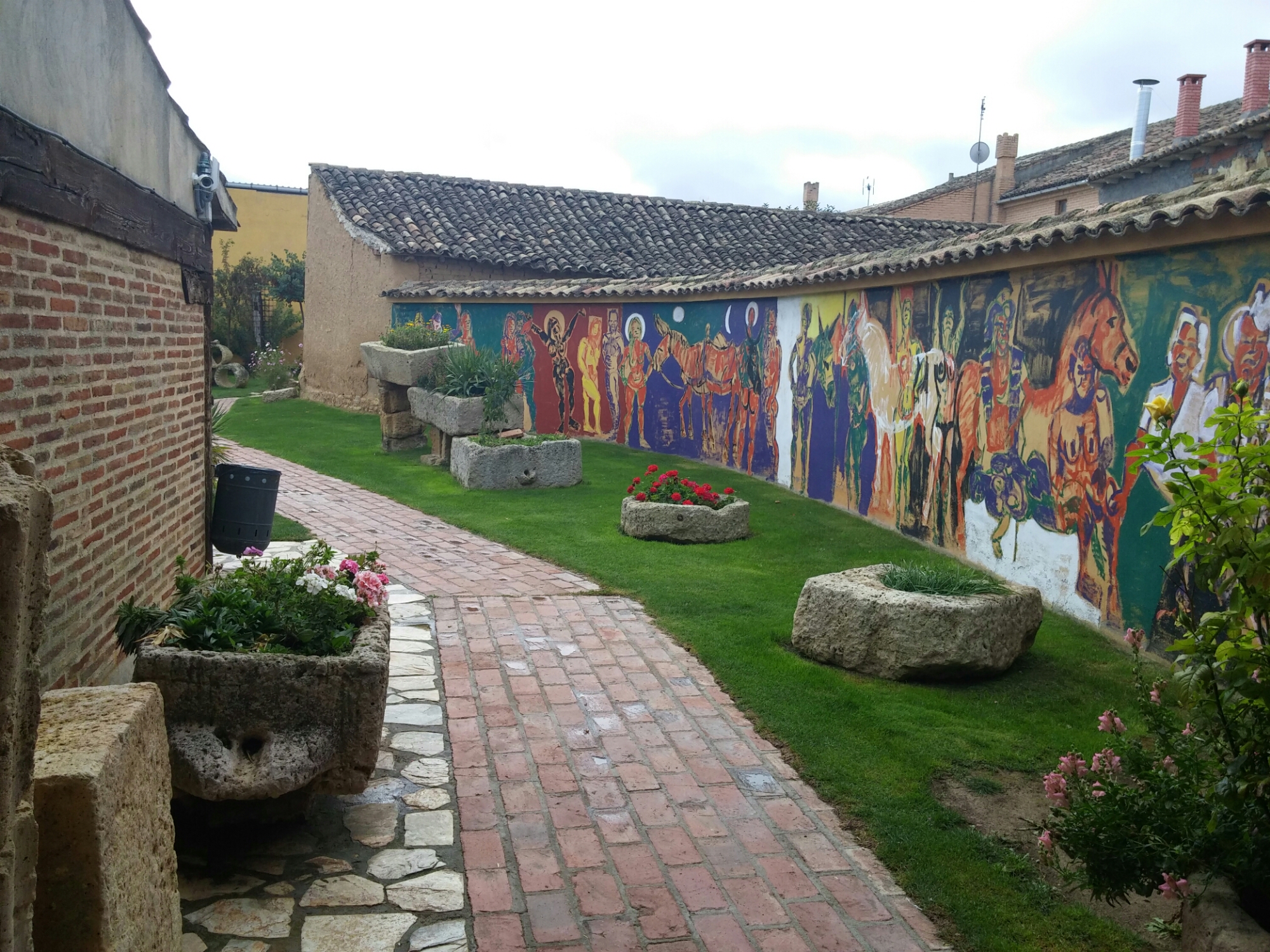 Then round the corner to the bar.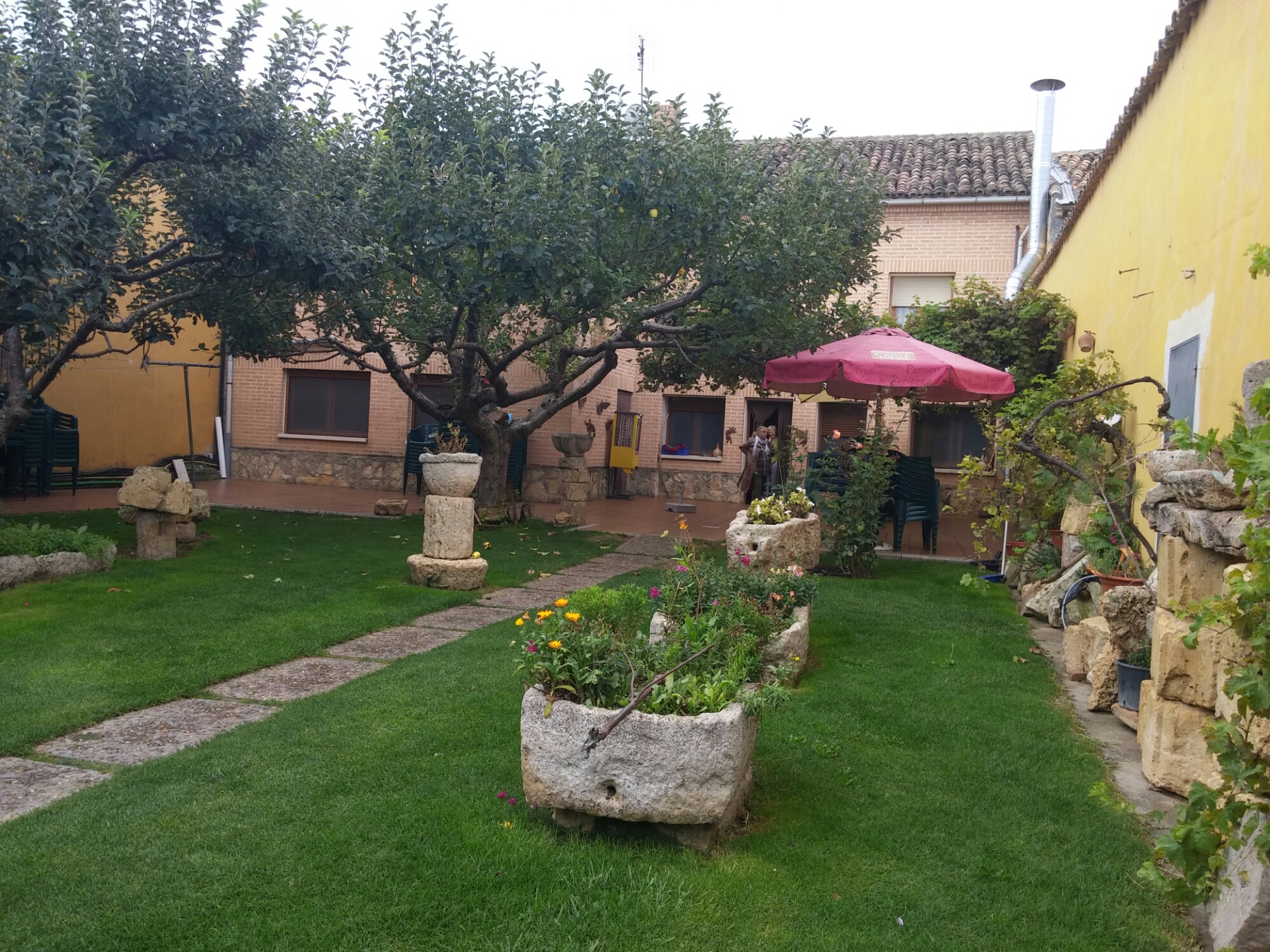 We were welcomed by a friendly woman (we took her picture as we were leaving)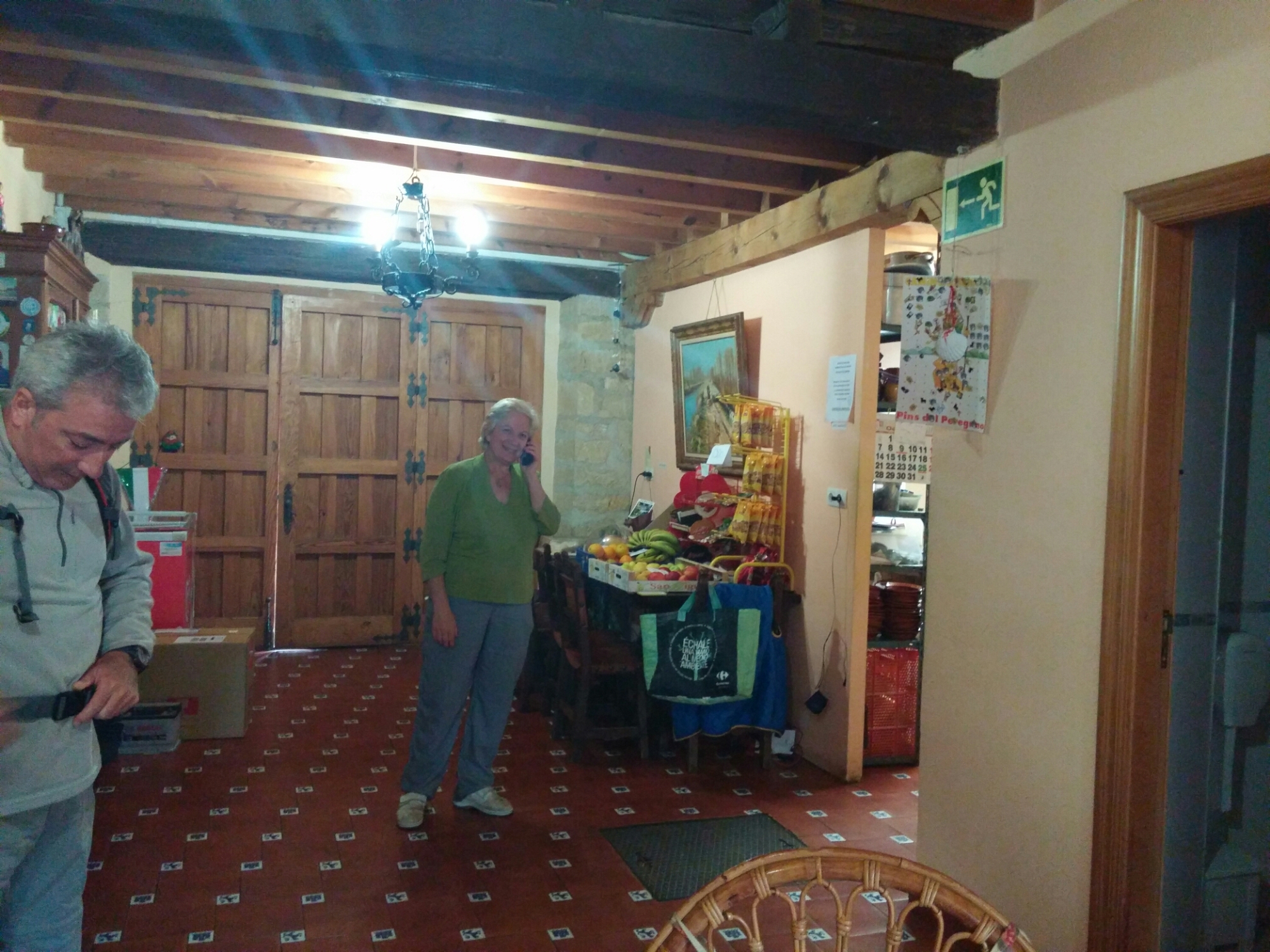 Just one other guy there around a cosy table. Charlie had the grande cafe.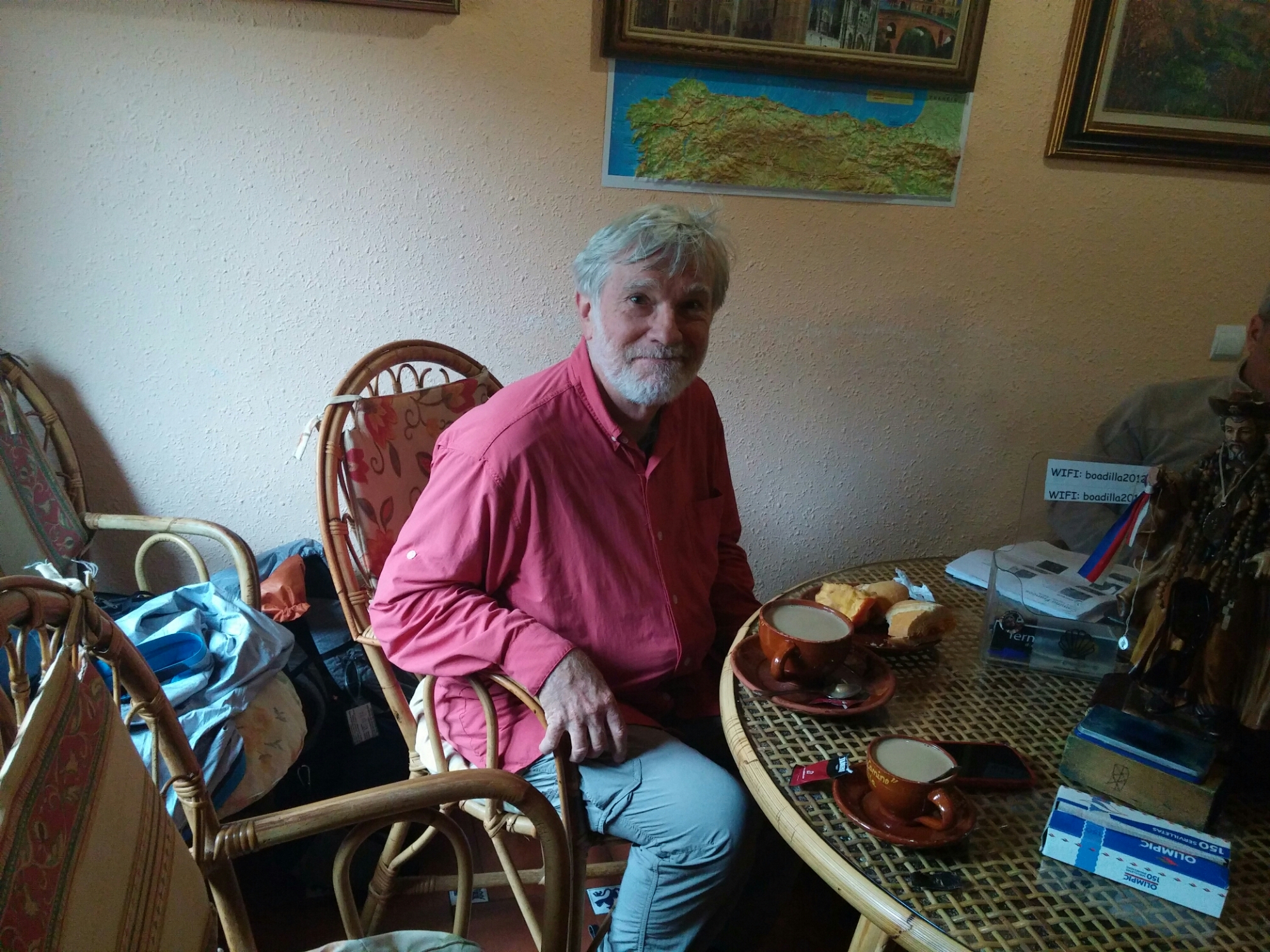 Around the corner is the kitchen where she whipped up the best egg and chorizo bocadilla you can imagine.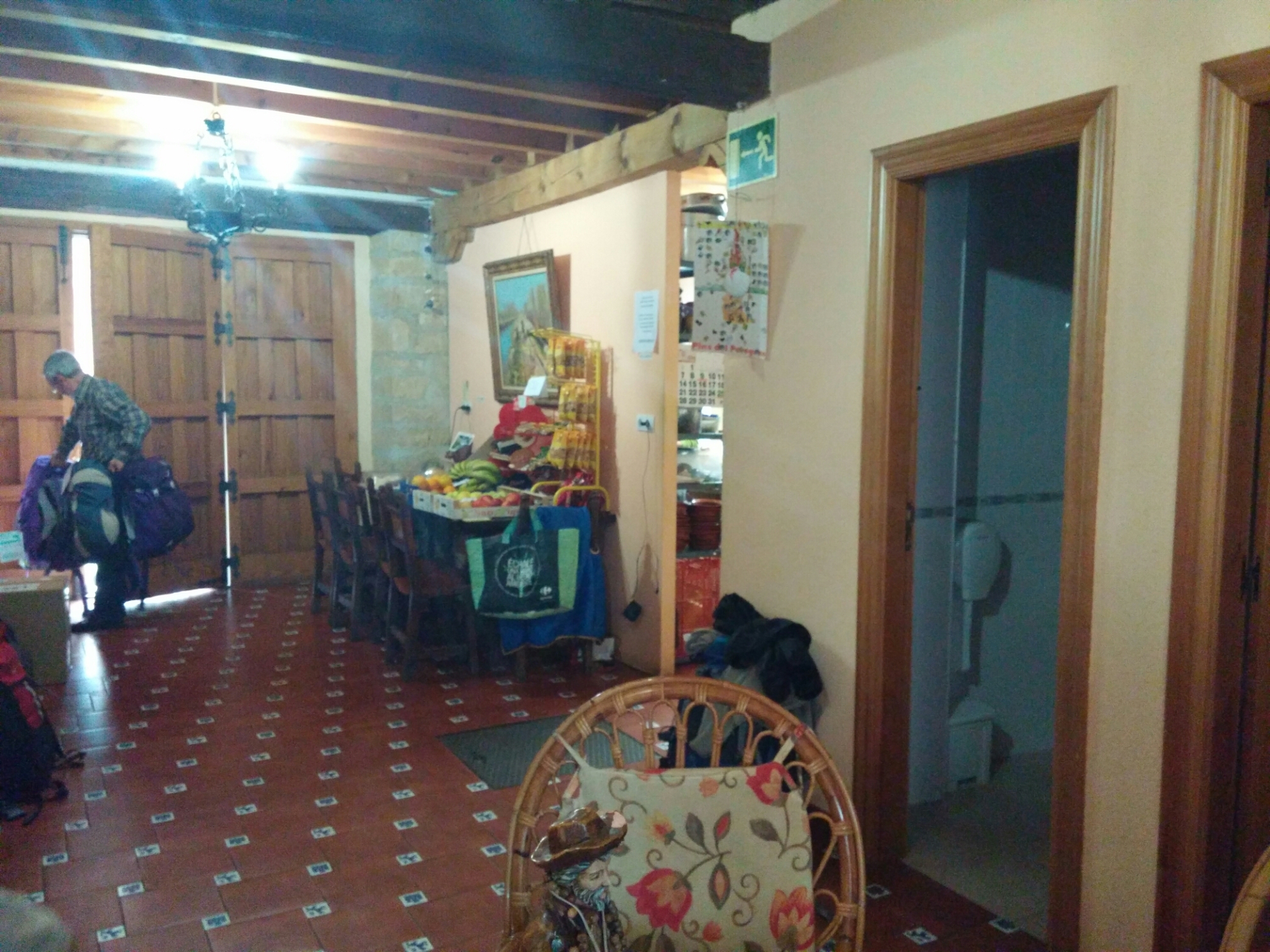 More photos here:
https://www.dropbox.com/sc/g99masy3h8vd8p4/AAC-SFHKEov_bUVq_NTrIK1Ea
Cloud Atlas
2014-10-09 14:00
Charlie. We had amazing clouds today. I tried to capture them. A few worked.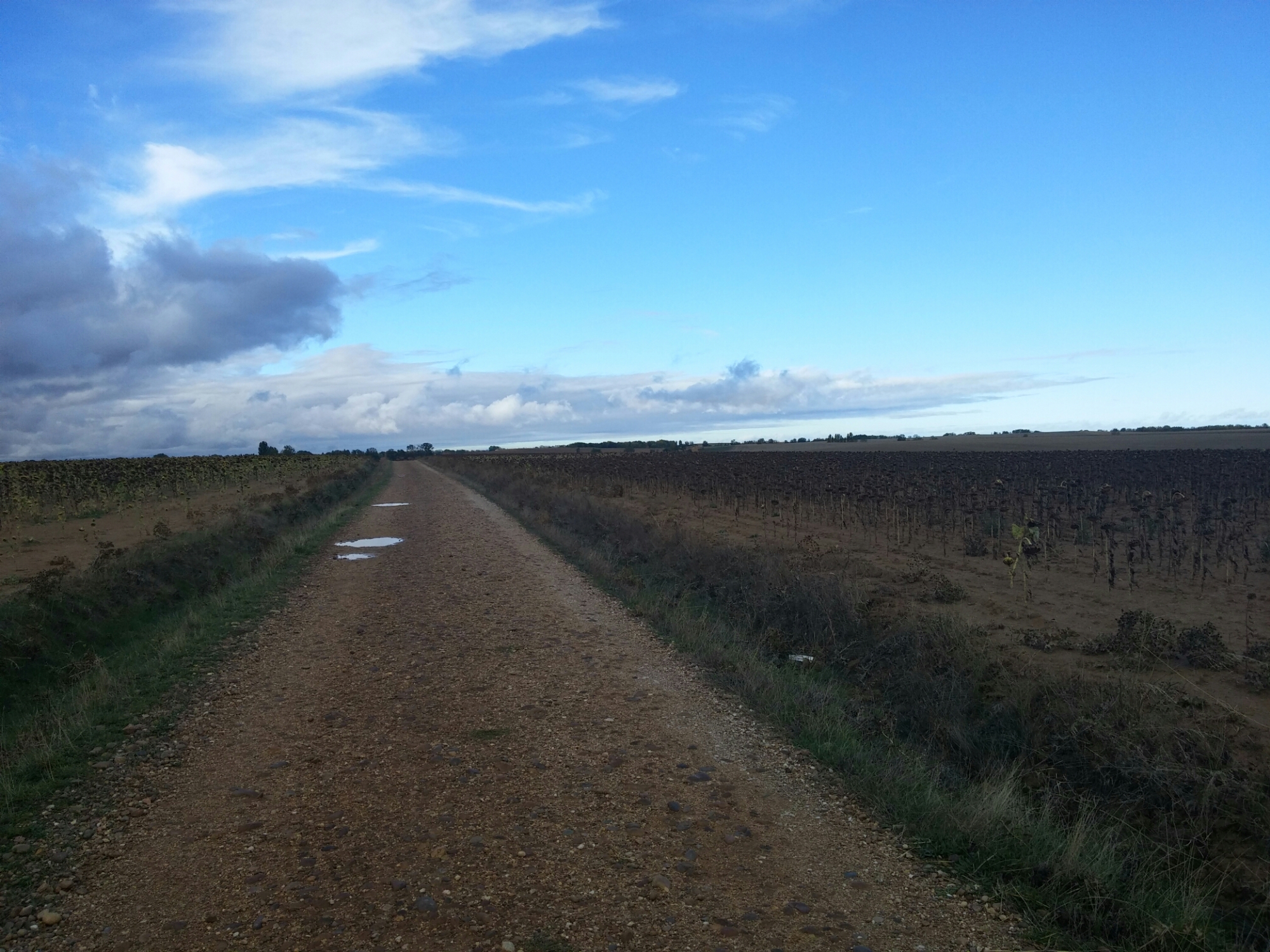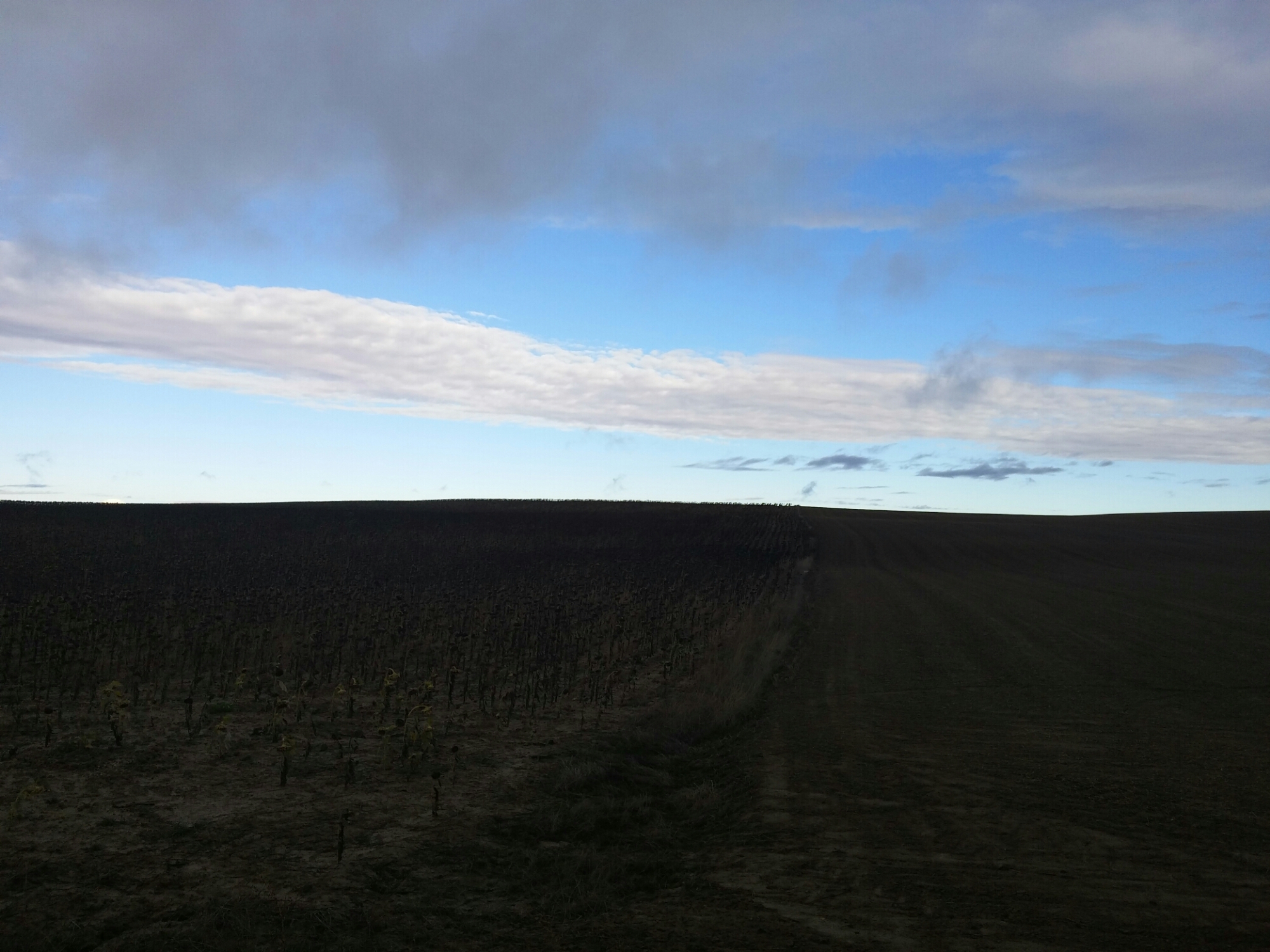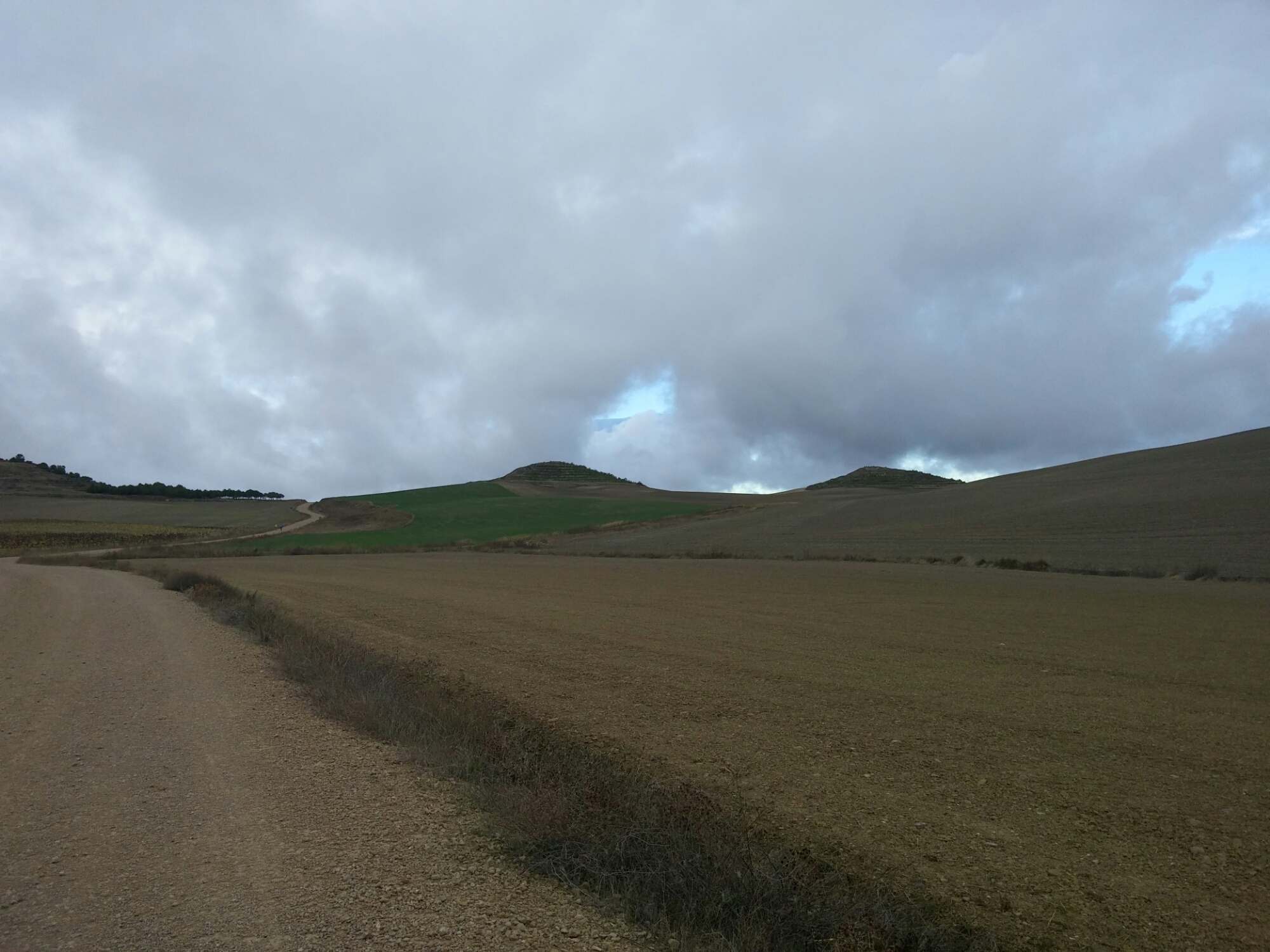 More here:
https://www.dropbox.com/sc/4bzkz1vuamcs73k/AAAu8NOsIfYqCIZXnSoL0ePJa
Spanish Playground Equipment
2014-10-10 09:25
This Is the Forest Primeval
2014-10-10 09:32
First Bodega Spotted
2014-10-10 11:22
Susie From Scotland
2014-10-10 11:25
The Shadows Are Friends
2014-10-10 11:27
Et Puy, Camino?
2014-10-10 11:40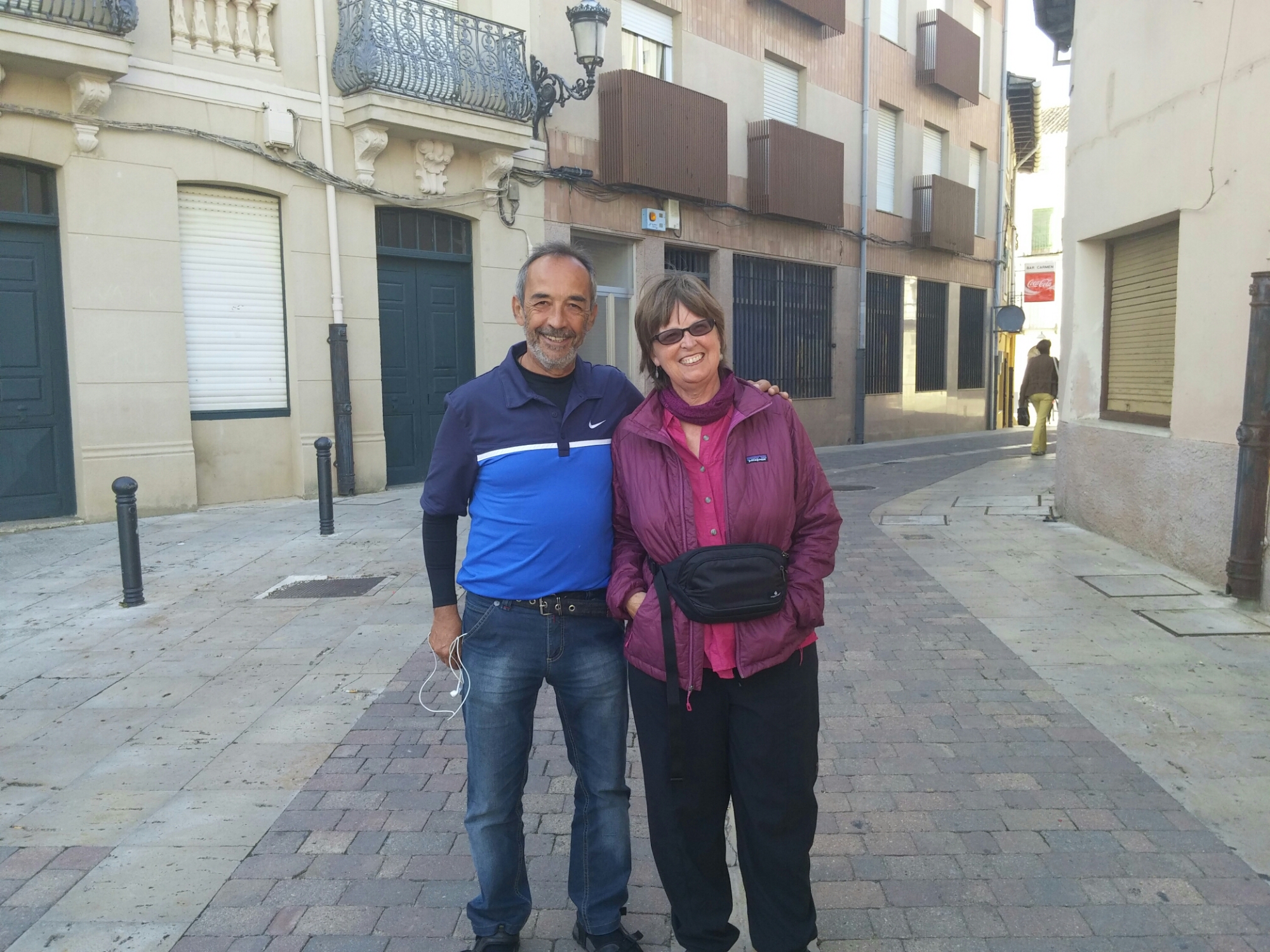 Charlie. At our lovely stop yesterday at Boadilla we talked with this guy from Brazil (Sao Paulo). He was very enthusiastic about the Camino through France starting at Le Puy. He had walked it and said it was beautiful and the food was great. He wanted us to walk it next year. We ran into him again here in Carrion and he made us promise we would do it next year. We are thinking about it.
Sheep
2014-10-10 11:51
Charlie. Walking the Camino you get excited about seeing things like a flock of sheep.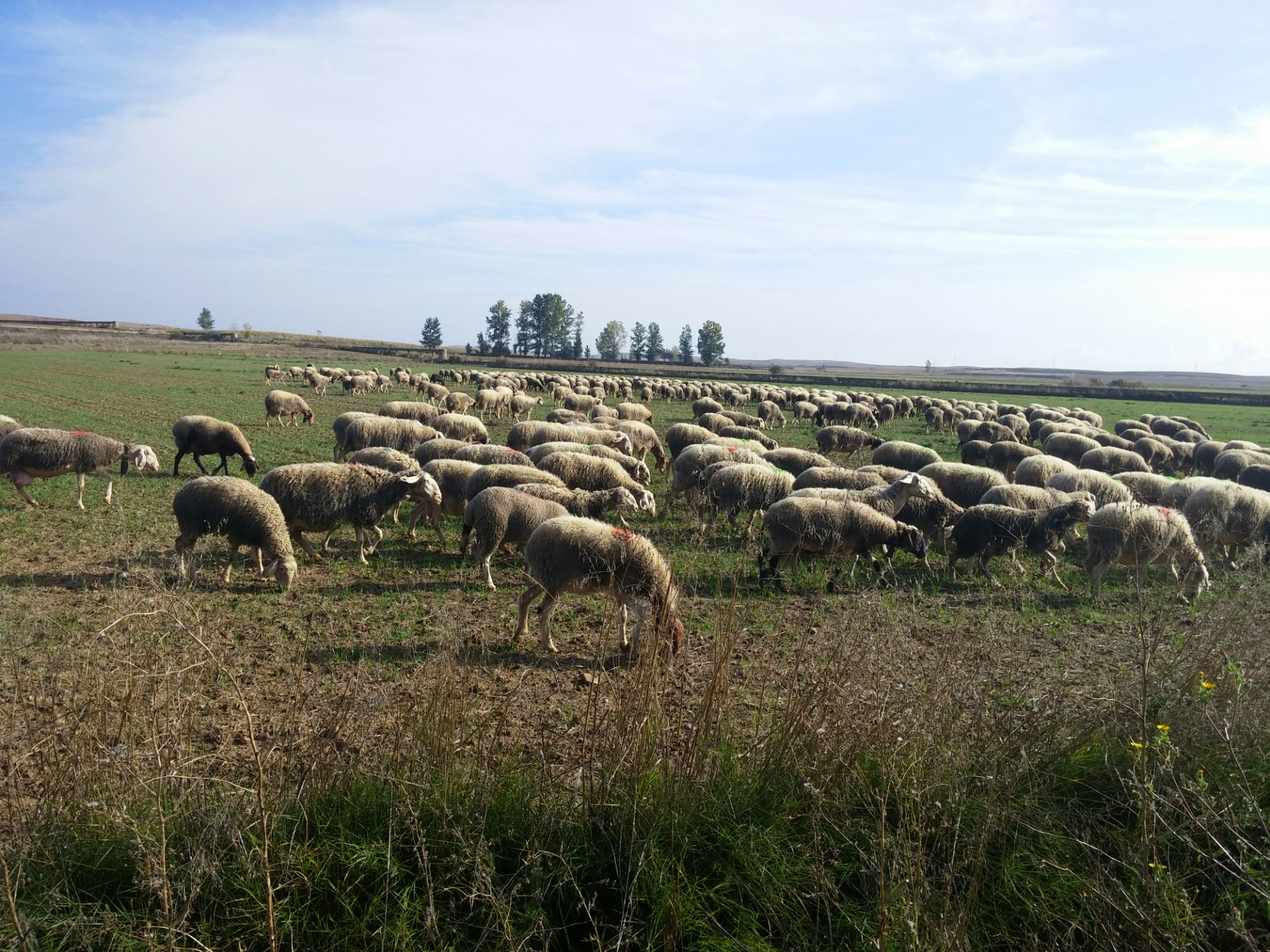 They all had bells so there was constant ringing. If you look closely you can see the red and green marks on them.
Here is the shepherd and his dog.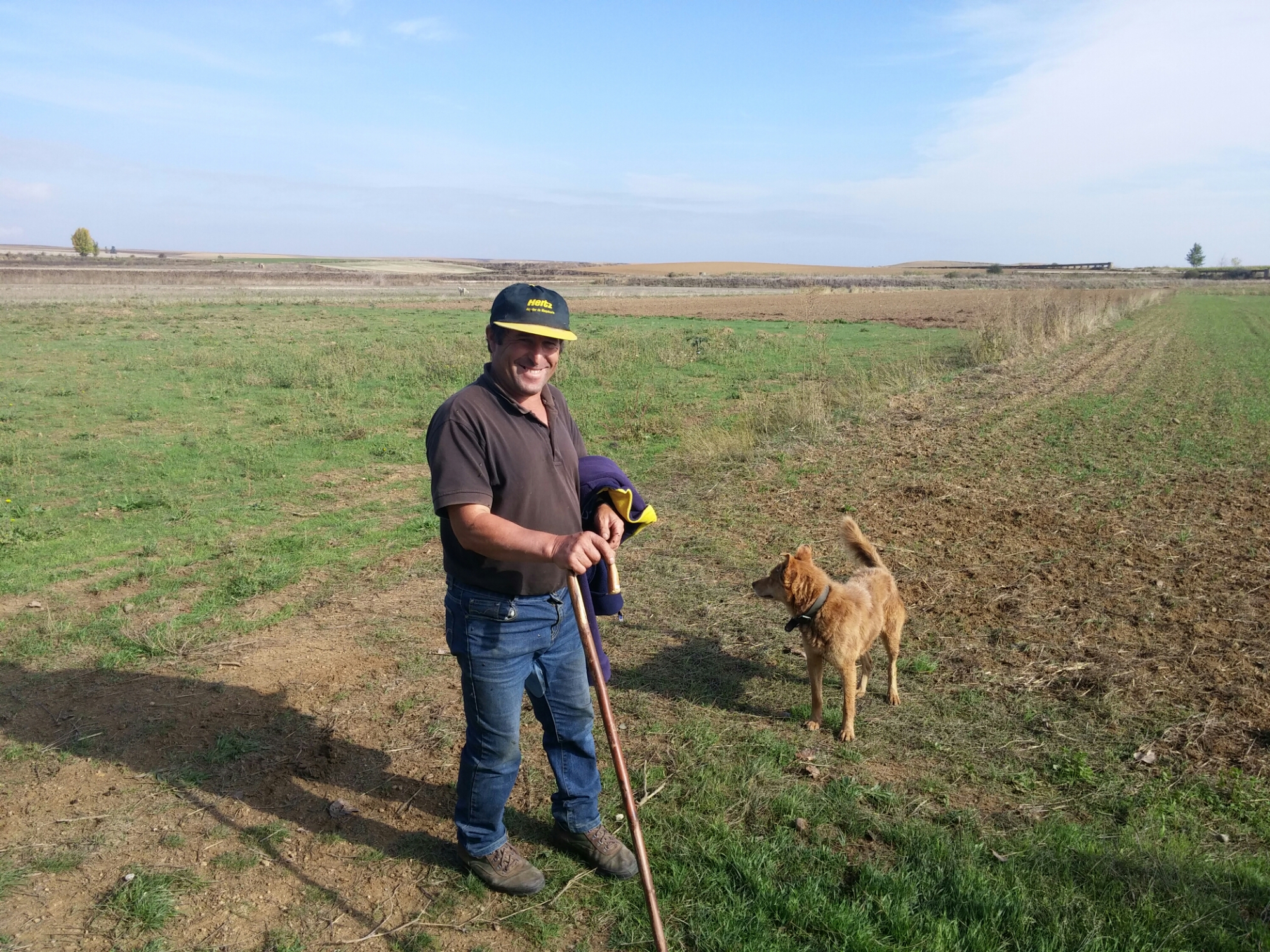 More:
https://www.dropbox.com/sc/2p9g0bx5whgexwa/AABXedbkDSNWDJrnDvQsGJXja
Photos, Day 24, Oct 10, Frómista to Carrión de los Condes
2014-10-10 12:03
Markers 10-10
2014-10-10 12:07
The Brierly Post
2014-10-10 12:33
Charlie. You can't blog about the Camino in English and not talk about the Brierly book. John Brierly, British, writes the most used Camino guide in English. The best way to identify English speakers is to notice if they are carrying Brierly.
I think it is also the best but not everyone agrees. He does have some errors, we have run into several wrong phone numbers, but generally it is very good. It is pretty with beautiful and useful maps and elevation guides. He lists all the albergues and some hotels and casa rural in each town. He does not rate places to stay and offers few opinions on how good they are. There are other guides and websites that do that.
Brierly divides the Camino into 33 daily stages, 20 to 30 km per stage. Endpoints of Brierly stages tend to be busier than other towns.
He is spiritual and maybe a bit mystical. At the beginning of each stage description there are sections: the practical path, the mystical path and personal reflections. He is a purist and doesn't like paths by roads (who does?) He can be a bit new-agey but generally I like his suggestions.
We are getting close to Leon and in the last stage Brierly suggests you just take a bus past the long environs of Leon. This is surprising since there is kind of a thing about walking every step. It is the goal of almost all pilgrims. Even your way-slow way pilgrims wanted to walk the parts we had missed last time. Brierly suggests you think about your goals for the Camino and use the time you save to go on to Finisterre.
This is kind of like getting a papal dispensation to lie and steal.
We plan to take his advice even though we skipped it last year. We are finding that the parts we skipped we skipped for good reasons that still apply.
The Soulless Senda
2014-10-10 12:54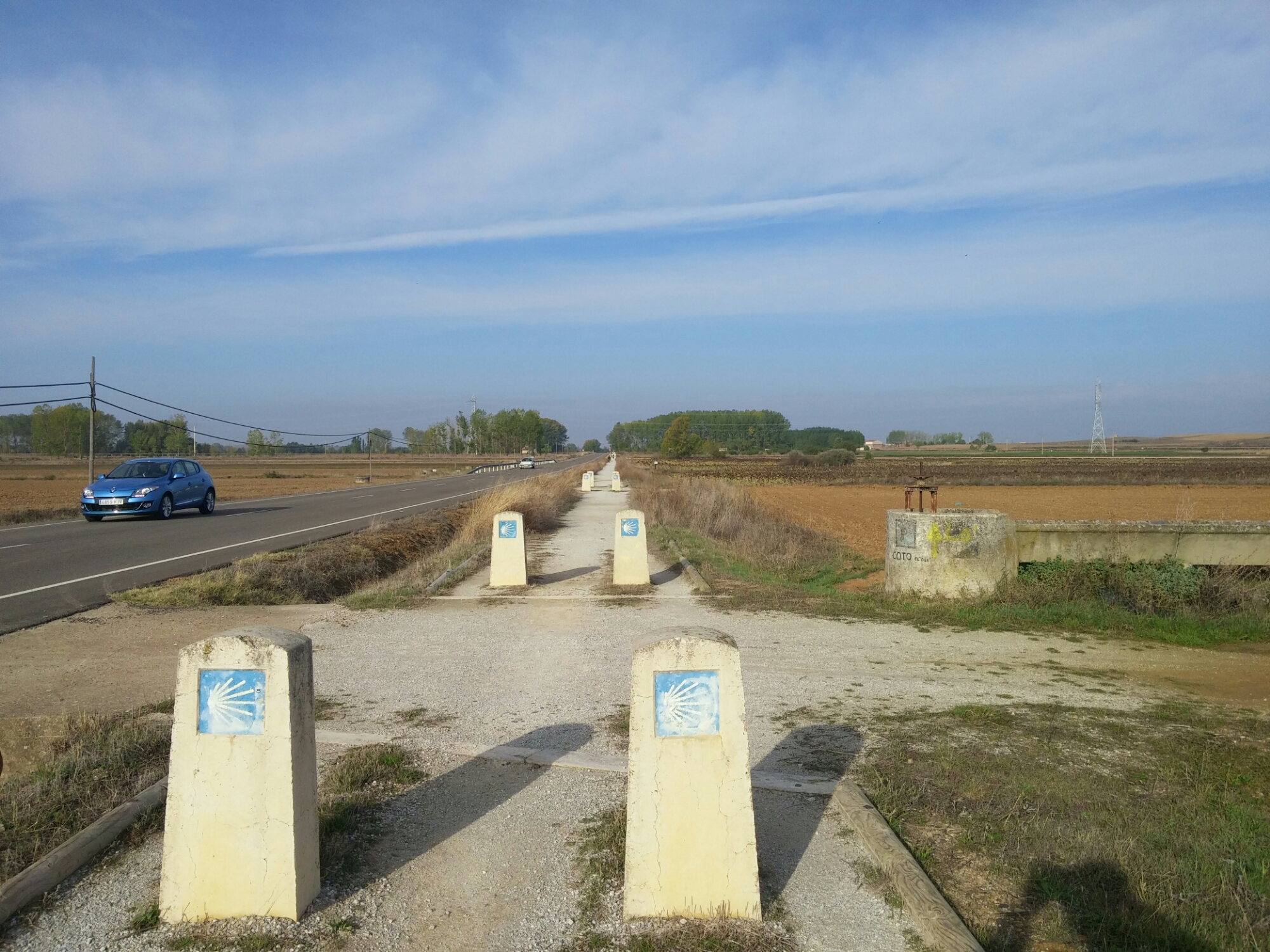 Charlie. Today we walked on our first senda. It just means trail in Spanish but in this case it means the paths shown here created by the government for the Camino. They are right by roads but separated from them so they are pretty safe. They have the same surface as most modern paths and are quite nice to walk on. For you Albuquerque people they are similar to the paths they built around the UNM north golf course.
Brierly doesn't like them. He calls them the "soulless sendas" because they are right by the road and not natural paths. It makes me think of the dementors in the Harry Potter books although the dementors actively suck out your soul and the sendas, according to Brierly, just don't nourish your soul.
I think Brierly is too hard on the sendas. They are very nice to walk on and are safer than walking on the side of the road, as happens in many places with pilgrims occasionally getting hit by cars. The sendas are mostly by roads that don't have a lot of traffic. Where the sendas are, there do not seem to be natural paths and, to create them, the government would have to take land away from some farmers.
Spanish Broom, Zapatitos del Niño Jesús, Zapatillas de la Virgen
2014-10-12 08:45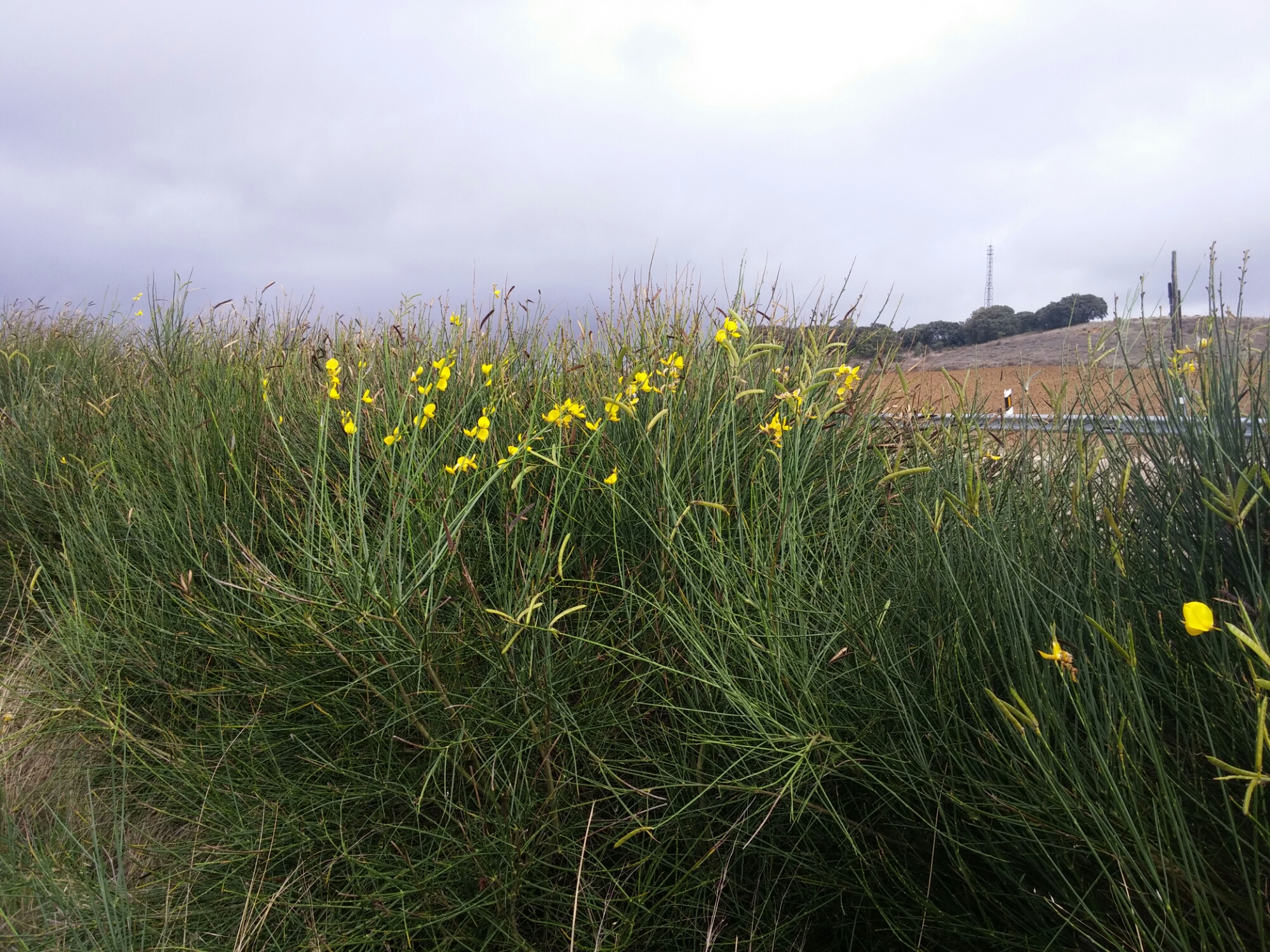 Wynette. We've seen some Spanish broom in bloom. Not a lot and not blooming profusely, but we were surprised to see it blooming at all here in mid-October because it is a spring-bloomer in Albuquerque. We have some in our garden at home. It looks the same as ours. Same sweet smell.
Today I picked a stem of the flowers to carry the smell with me. We stopped for a little break at the bar at Albergue Jacques de Molay in Terradillos de los Templarios. (Few places have short names on the Camino! ) I, without knowing it, dropped the stem on the floor. Our server saw it and returned it to me.
Later I asked her what the plant is called in Spain. She wasn't sure so consulted two other women in the back. When she heard what they said she started laughing merrily and told us it is called zapatitos del niño Jesús, little shoes of the baby Jesus. After enjoying that for a moment I told her that where we are from it is called escoba de España, Spanish broom. She told the woman in the back who then came out and pointed to a handmade broom hanging on the wall. (Left broom in photo below.) She told us her father made that broom from the same plant. There were several beautifully-made brooms on the wall made from various plants. She said the plant is also called zapatillas de la Virgen, slippers of the Virgin.
We saw it blooming the first time a few days ago when walking with Susie from Scotland. She said it is called broom in Scotland and they made brooms from it there. We've heard it called broom in Italy as well. I don't know this at all, but maybe the only place it is called Spanish broom is in New Mexico where the Spanish settlers remember it growing in their homeland. Perhaps they brought the first seeds to the new world. But now I'm just speculating.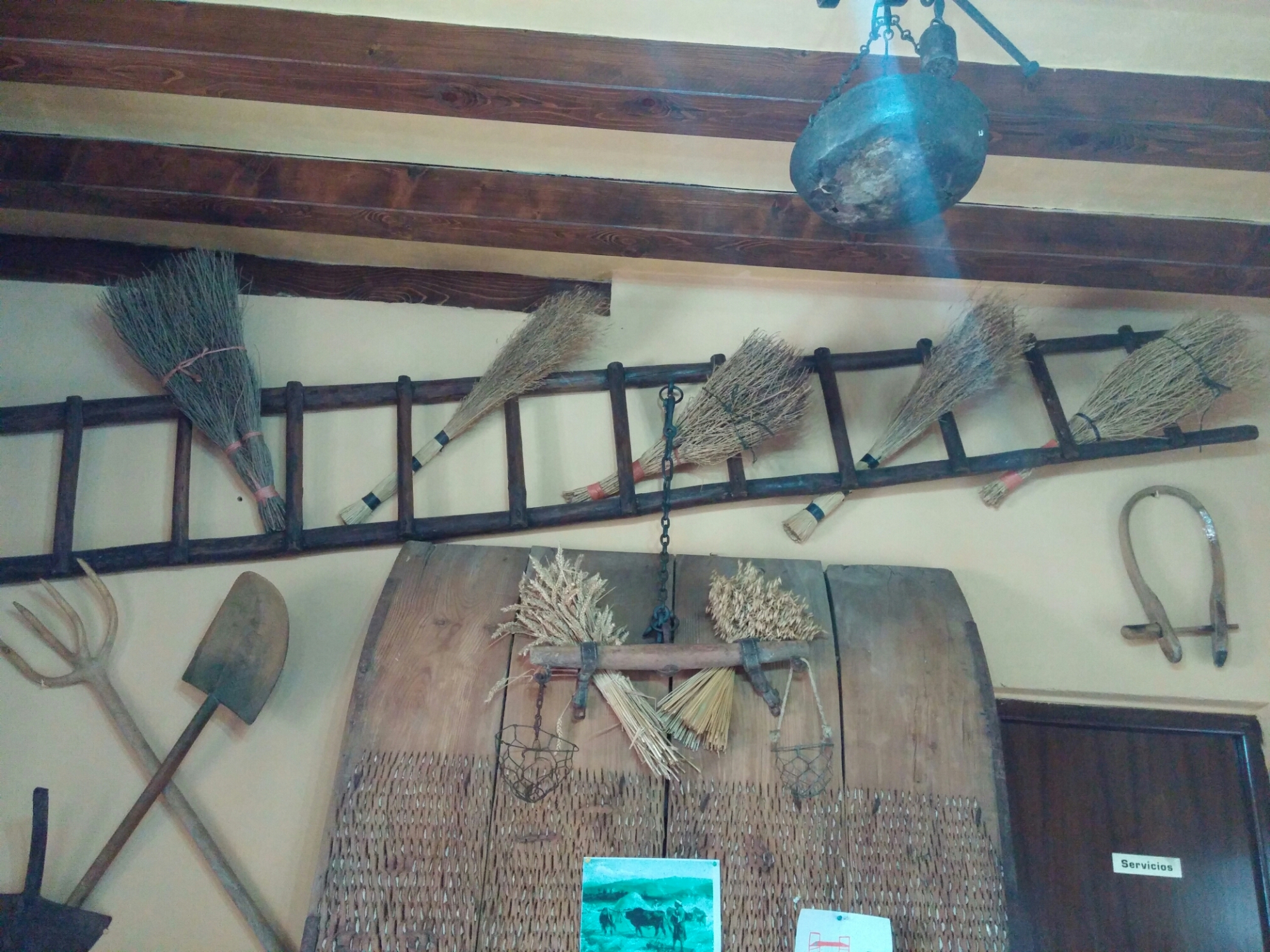 Here are some more photos of the bar in Terradillos:
https://www.dropbox.com/sc/k3za616h7nlxfhs/AAD_vU1mI76jJaiQKOgSRC1Pa
Cute Babies Are Universal
2014-10-12 10:41
Dinner In a Bodega
2014-10-12 10:50
Our Room In Moratinos
2014-10-12 11:01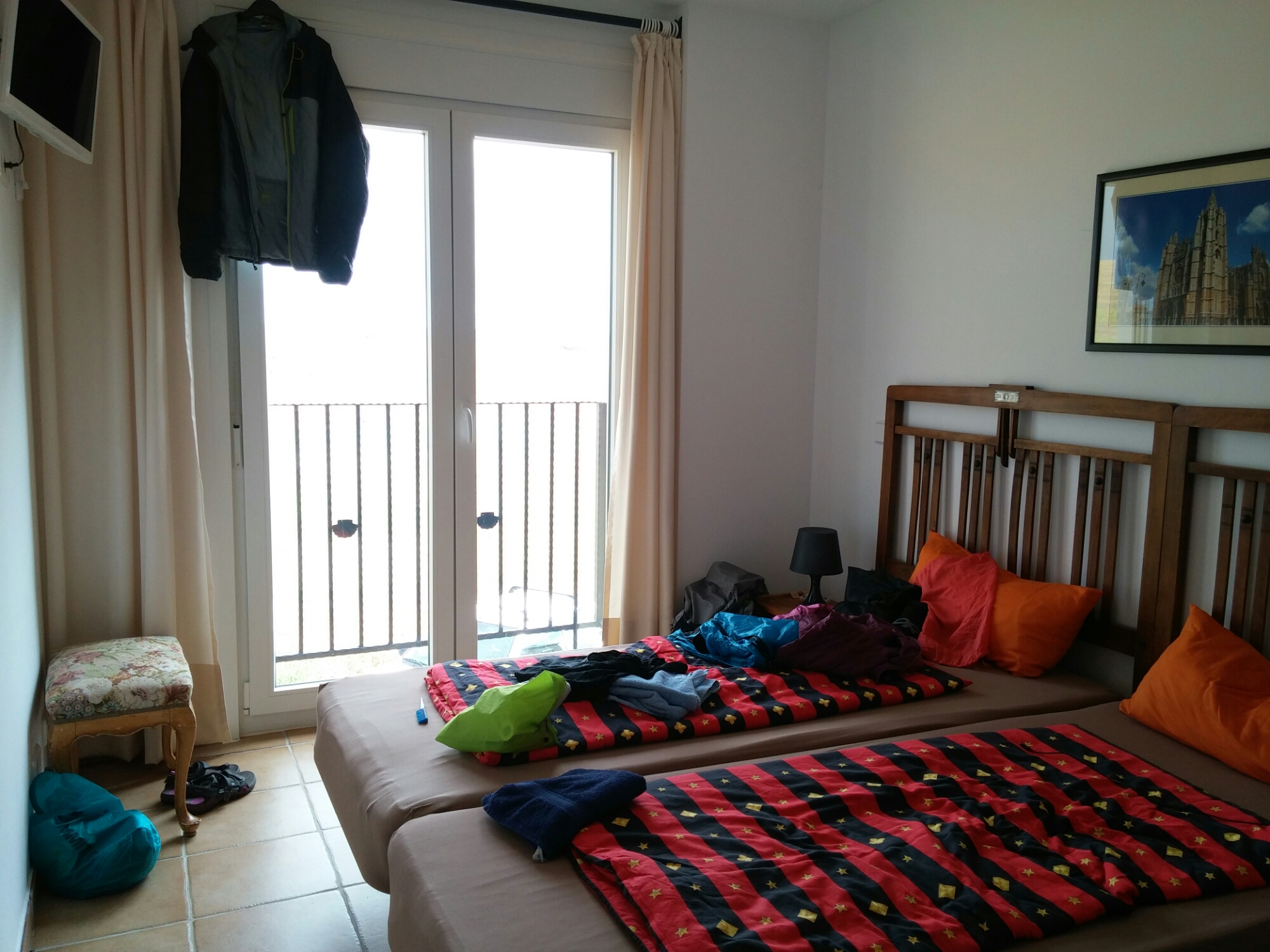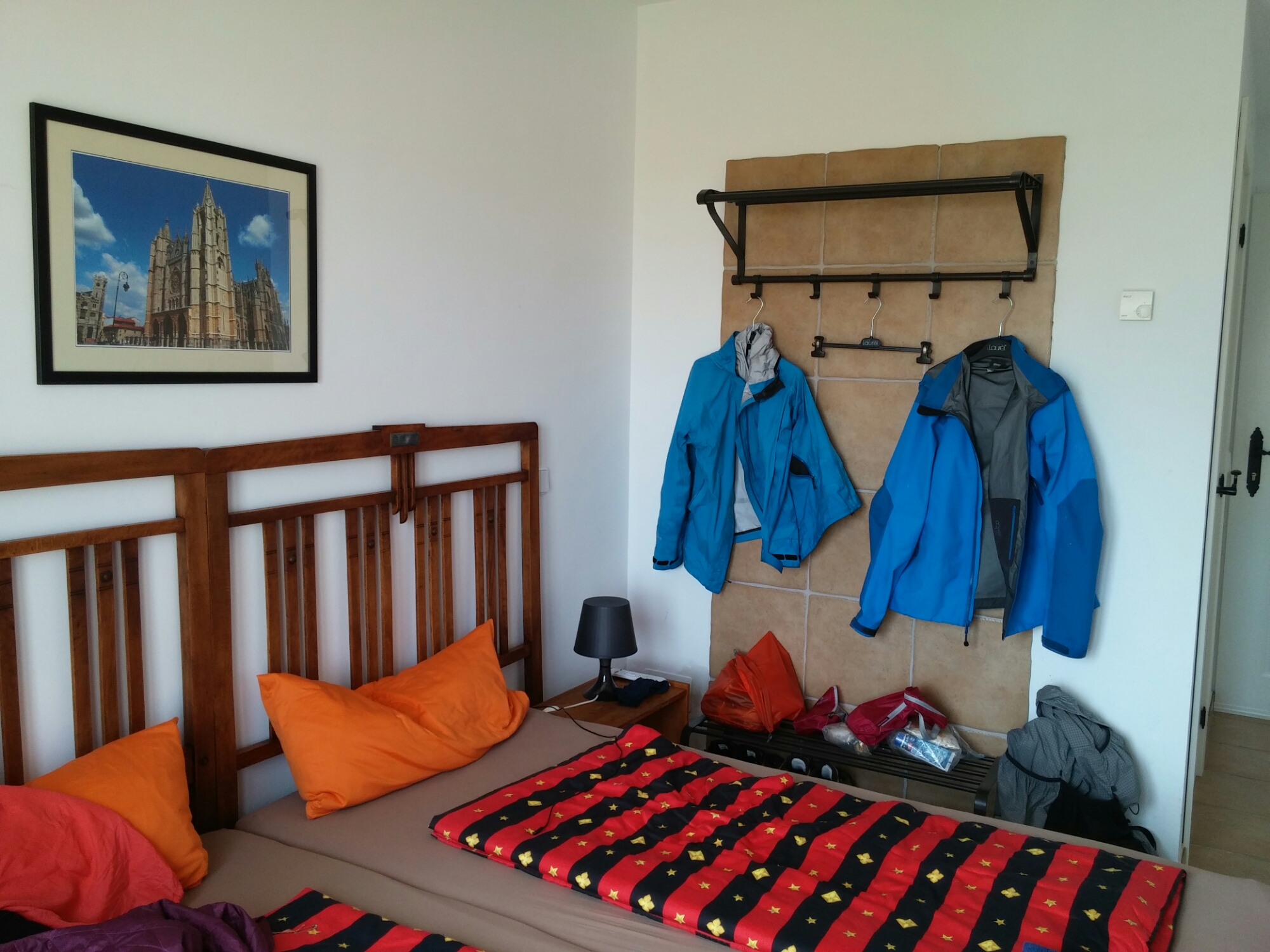 Charlie. We take pictures of all our rooms but usually don't post them. Notice our rain coats drying on the wall. We were very wet when we got here today.
The couple that owns this place (Hostal Moratinos ) is a Spanish guy and a German woman. The place exemplifies many things that are good about Germany. The beds have these lovely quilts. The room is not big but is efficiently organized. It has many nice little touches like a built-in clothesline in the bathroom. Everything is well built. We talked to her last time and she said that the Spanish didn't build things quite as tight as they did in Germany (who does?) and a little bit of wind gets through. This is one of the windiest parts of the Meseta.
Silver Trees
2014-10-12 11:45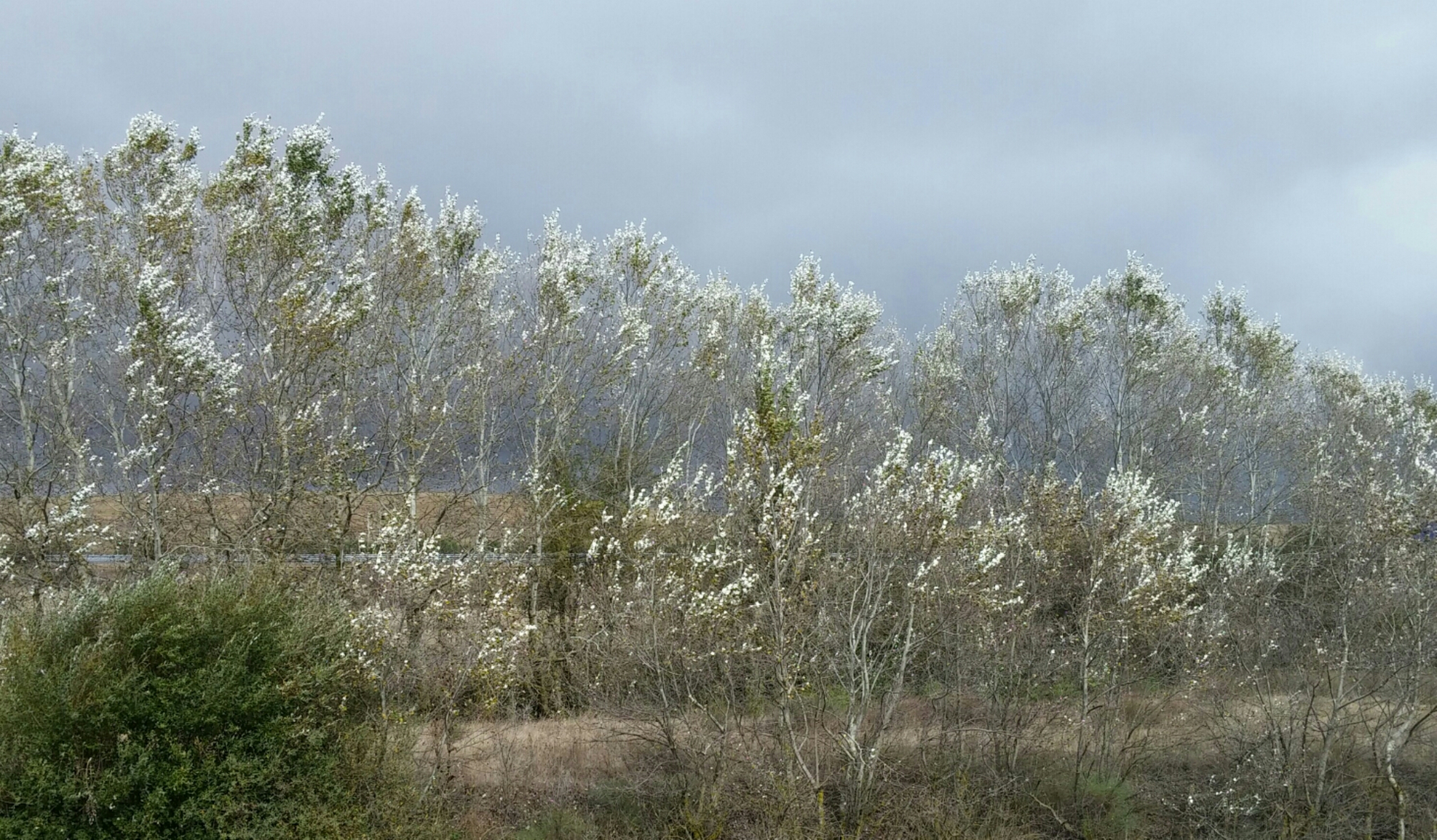 Silver Grass
2014-10-12 11:51
Pelota Court
2014-10-12 11:56
Not So Confusing…
2014-10-12 11:59
Adobe Building
2014-10-12 12:05
Taxi Driver
2014-10-12 12:11
View from Hostal Moratinos Window
2014-10-12 12:15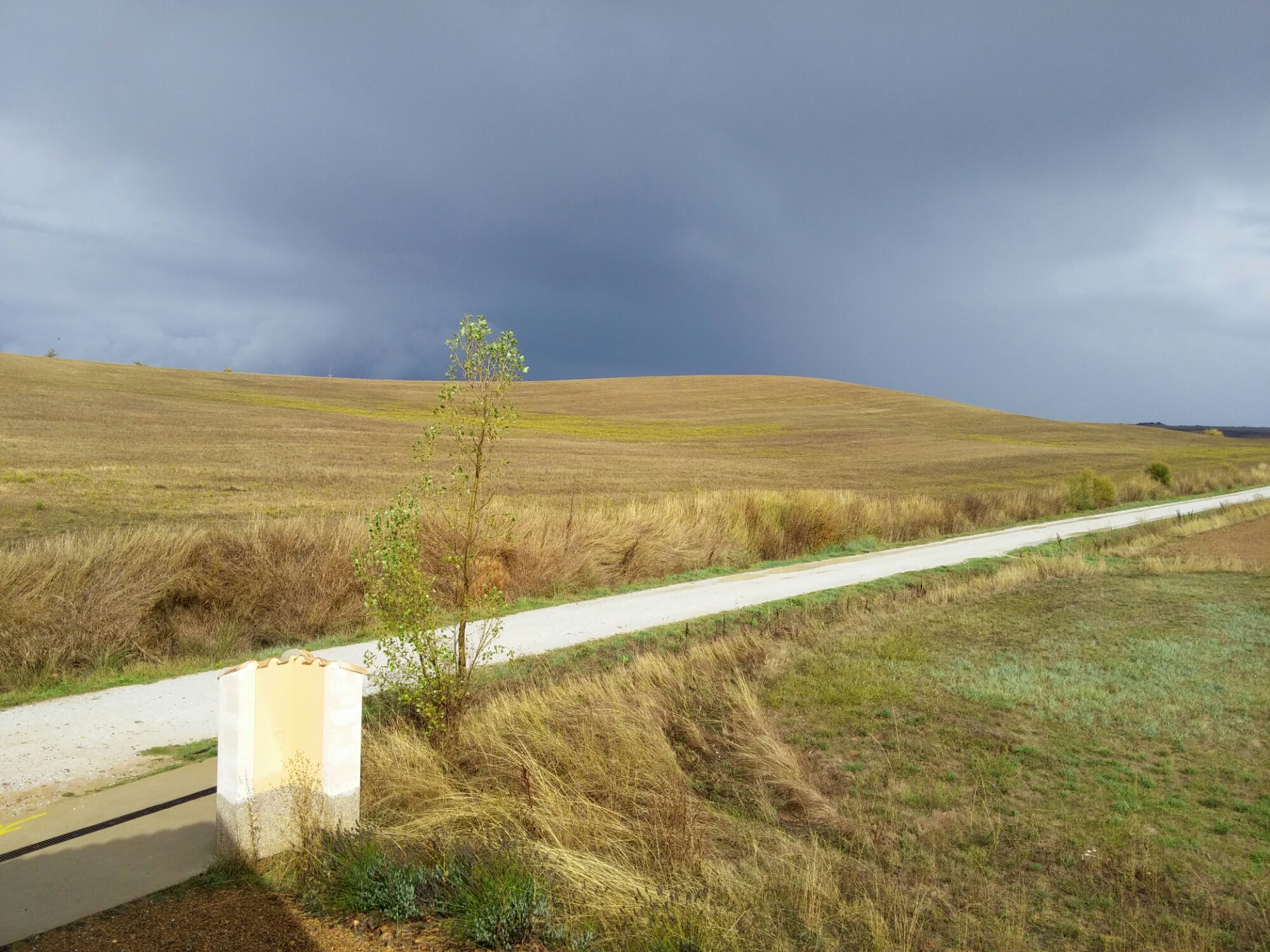 Wynette. Spring 2013 when we were here we had beautiful views then, too. Wind was blowing hard and the hills were a lush green. Today we see brown and gold and green. Wind still blowing. We walked the last mile today in a drenching rain. But after we got into our room, the sun was starting to come out. That white stripe going through the middle of the photo is the Camino, a narrow gravel road at this location.
This Old Man
2014-10-12 12:37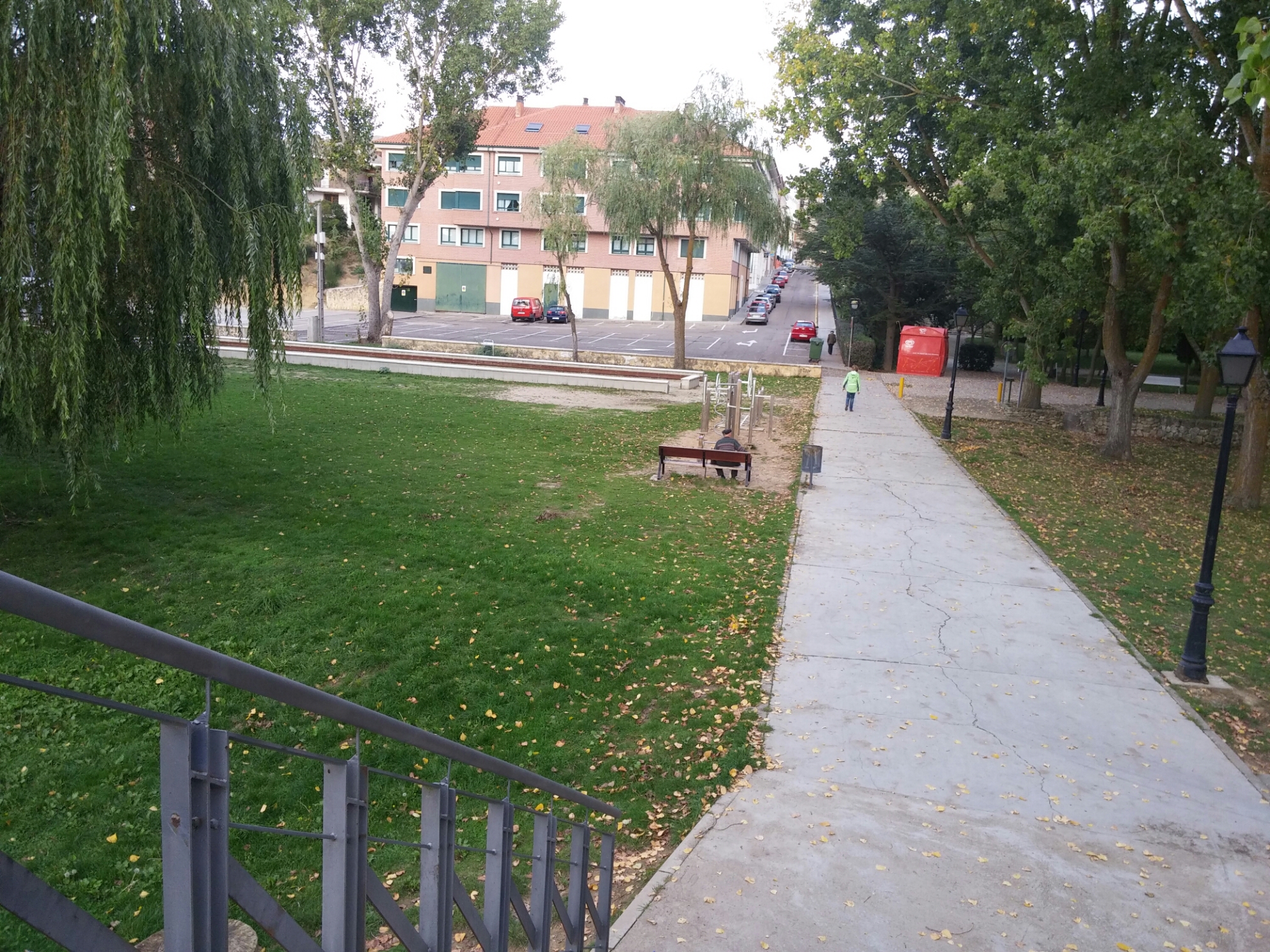 Charlie. We were sitting on a bench in the Plaza Mayor (at the top of the street you see in the middle of the picture) just watching the pilgrims go by and this guy walks up and starts talking to us. He was in the Spanish Navy years ago. He showed us a tattoo on his forearm of an anchor. He said he was 90 years old. He said something about Franco that Wynette didn't quite get. He went on and we walked down to the park and saw him again sitting on the bench. Then he went over to check out the fish these people had caught.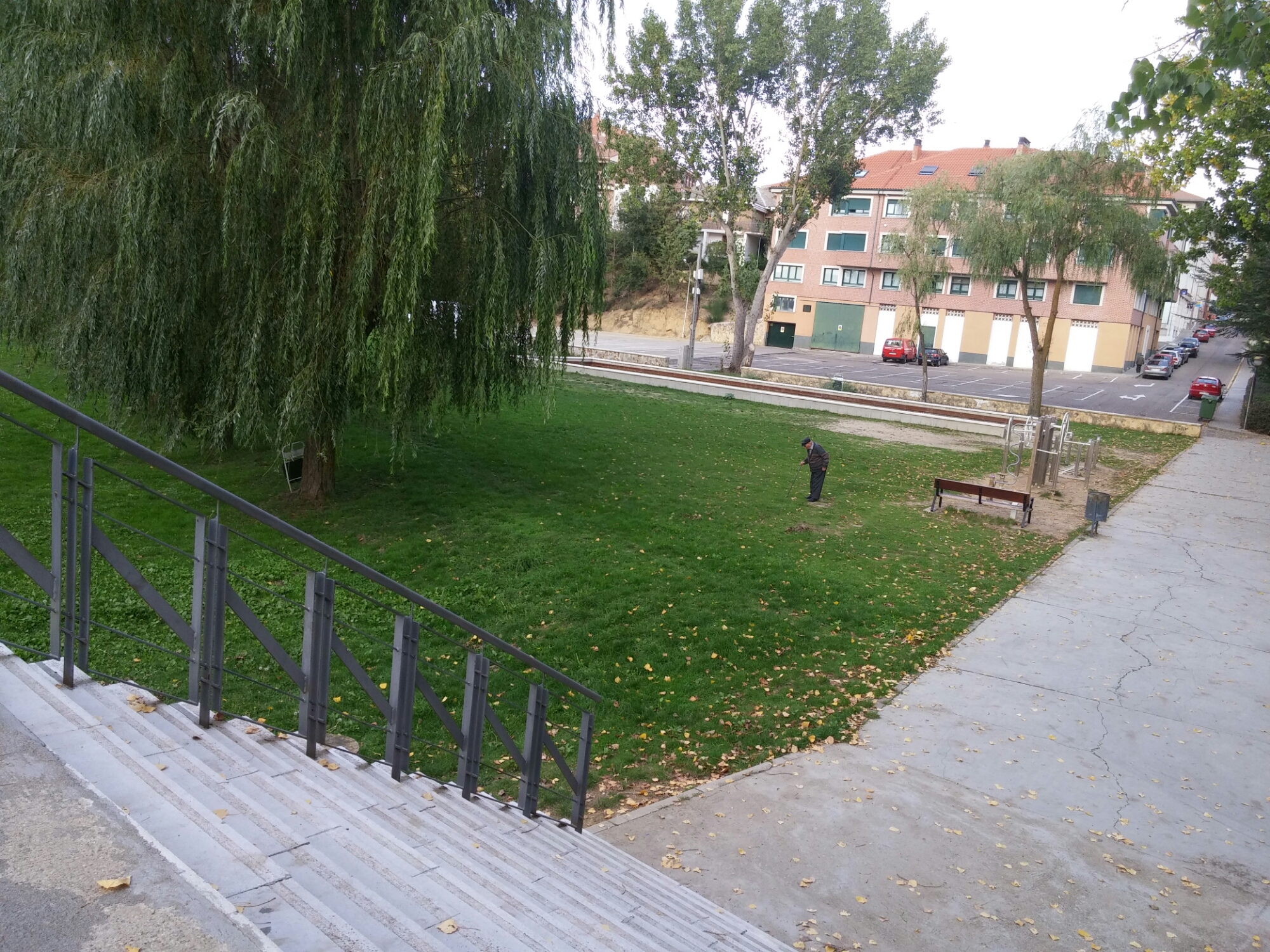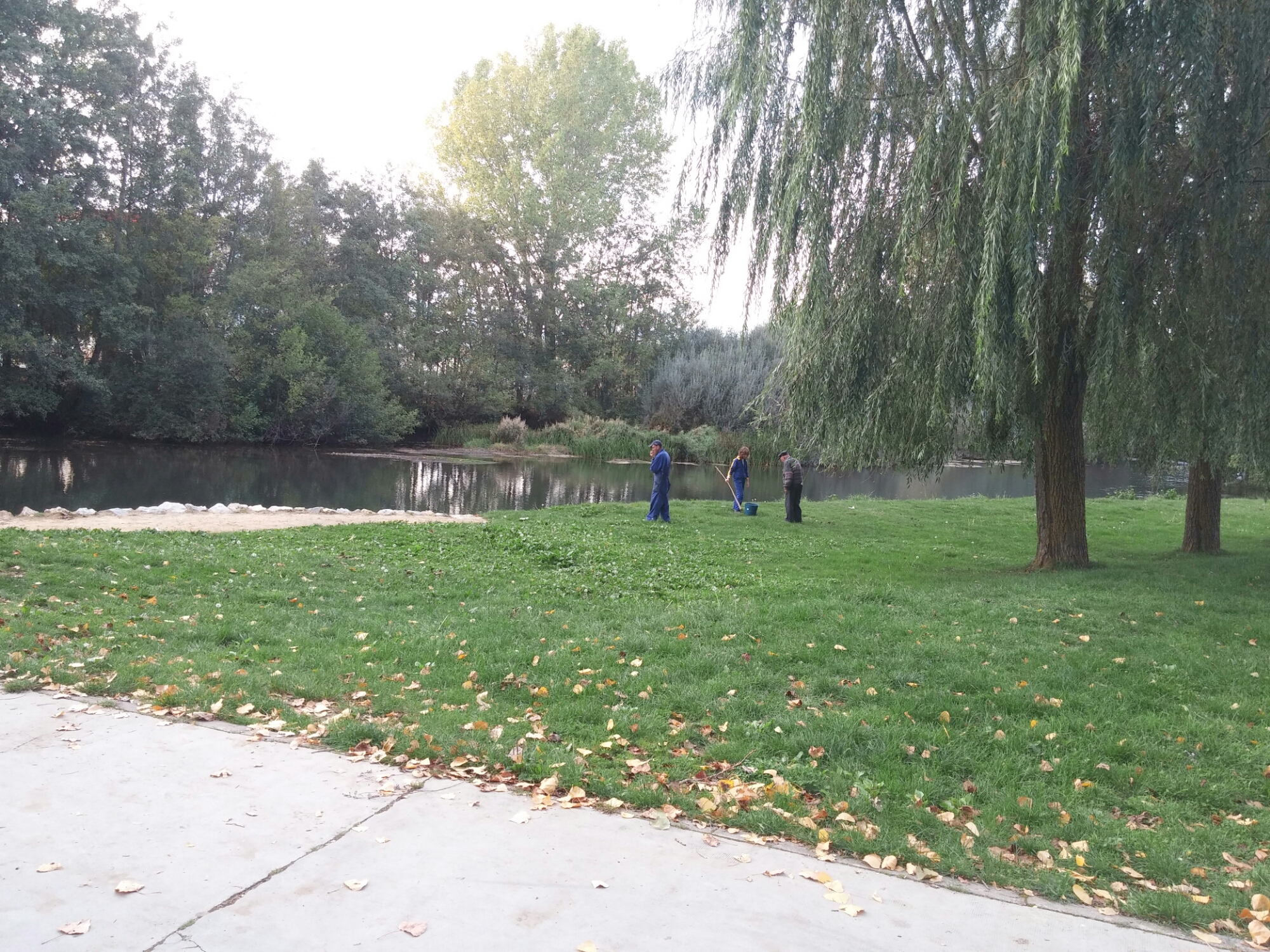 There was another old guy walking around the park also, probably up to no good.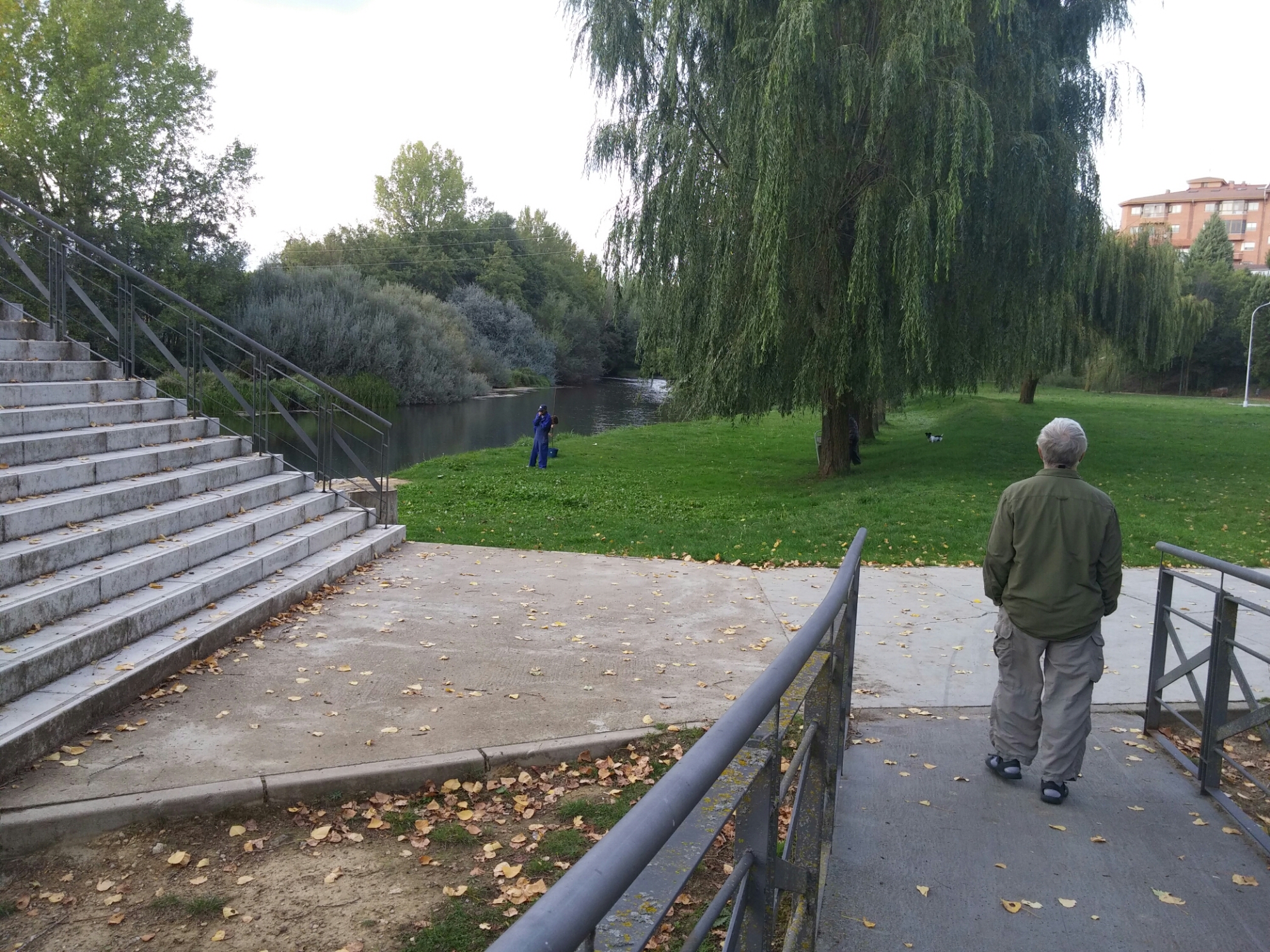 Markers 10-12
2014-10-12 12:58
Rock Art
2014-10-12 13:09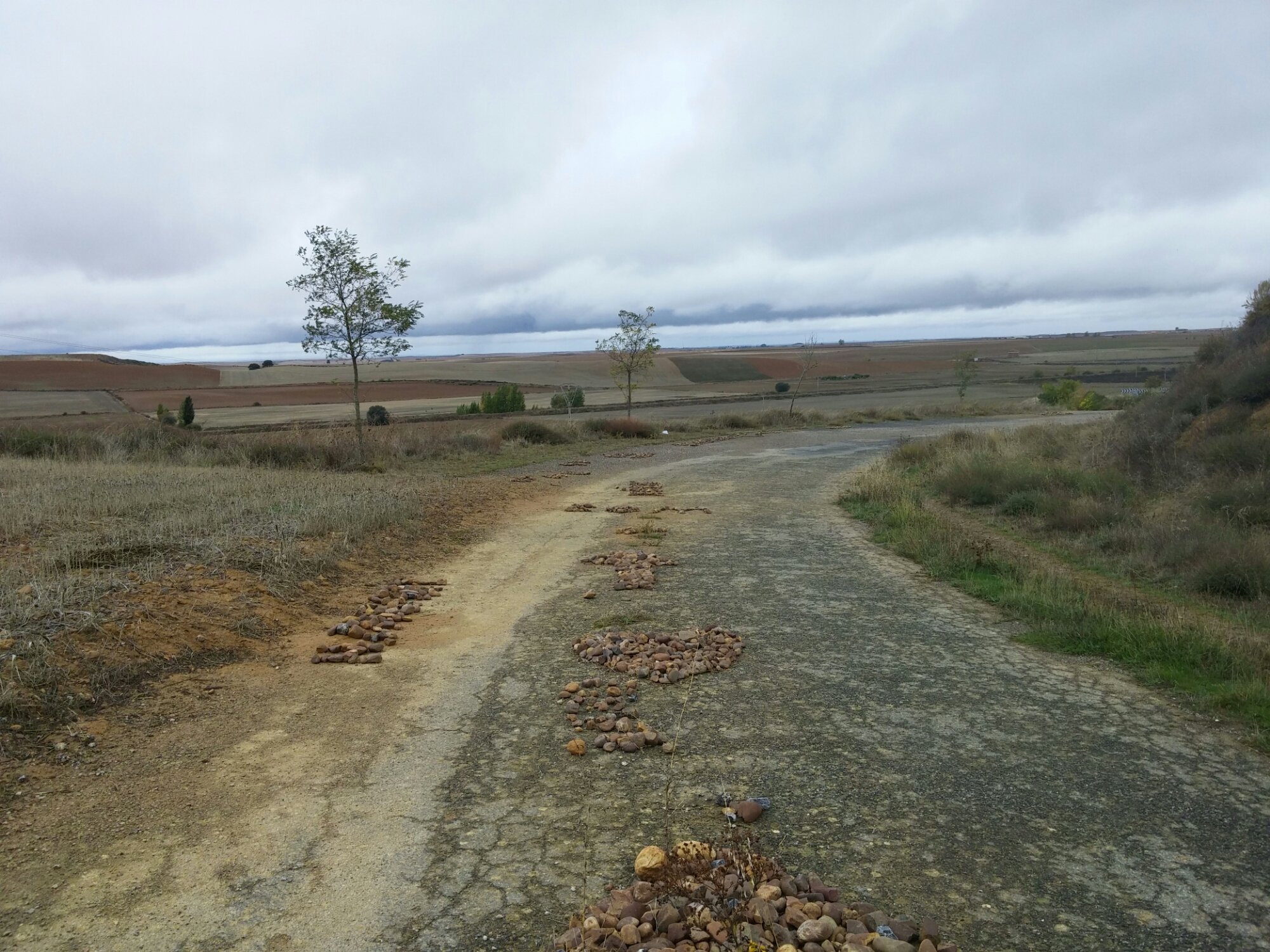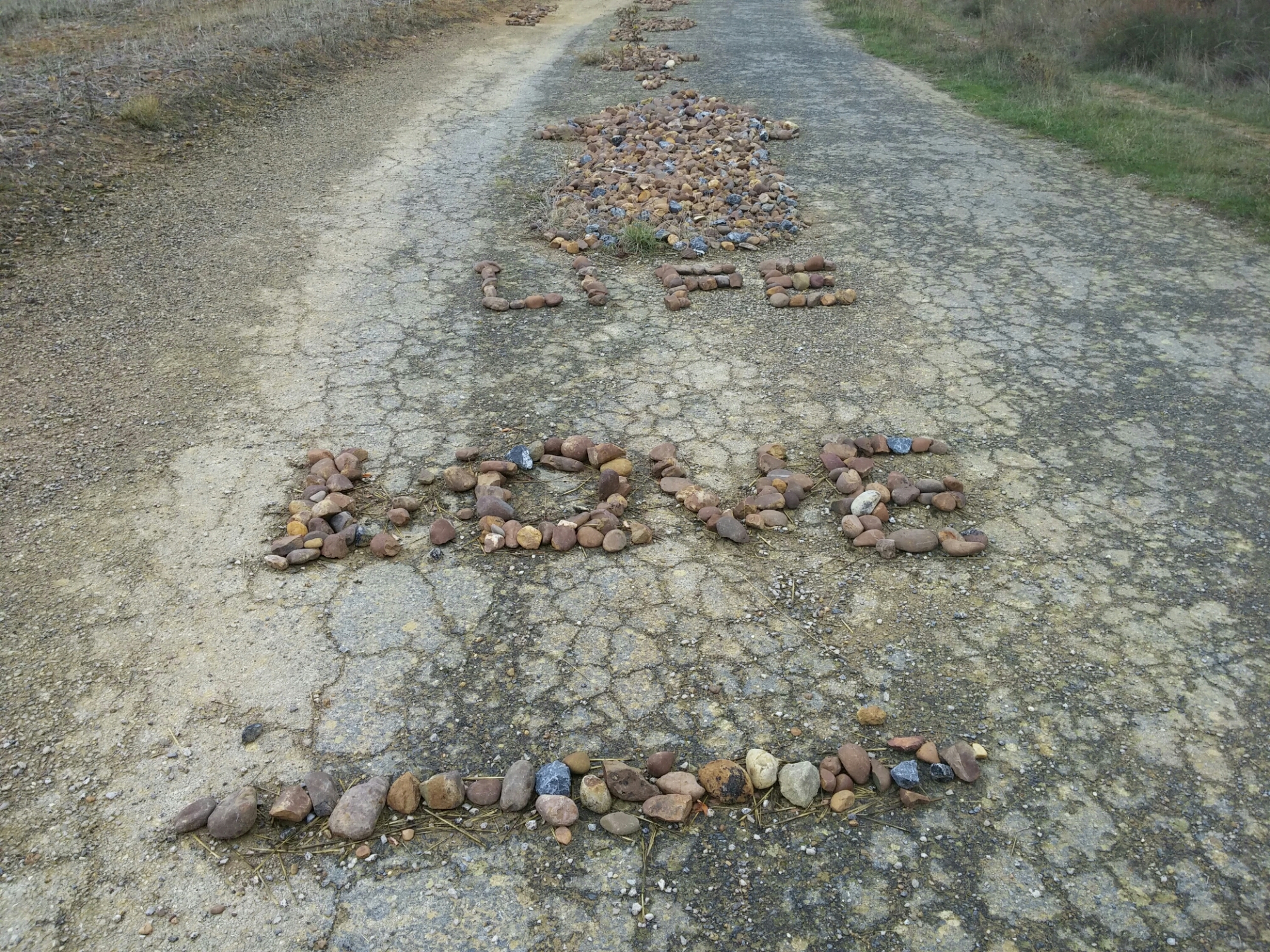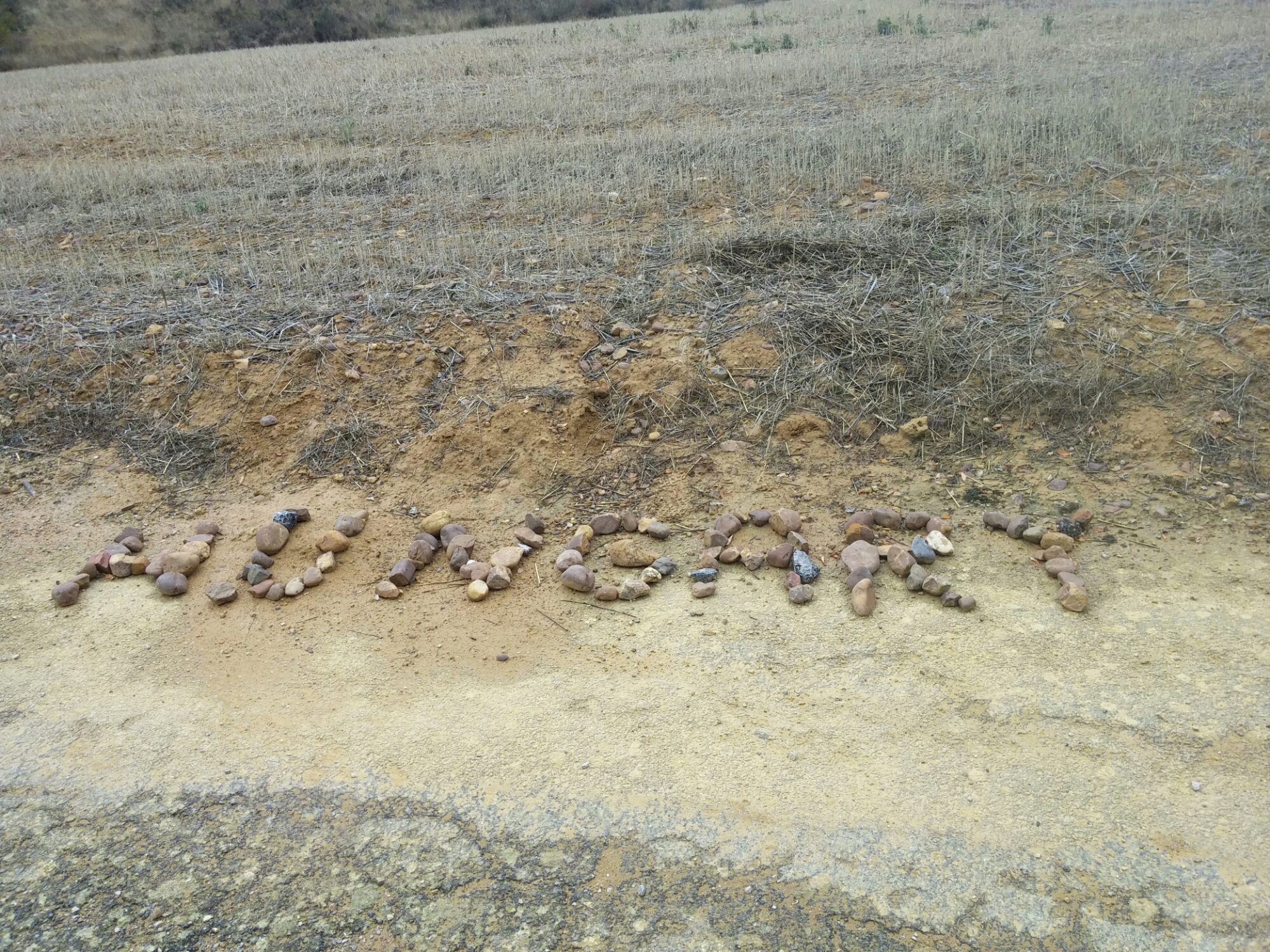 We ran across these graffiti made of stones.
https://www.dropbox.com/sc/bj9y336nebpyabz/AADUhFepz0xjgcCxsr2Yg5cva
Photos, Day 27, Oct 13, Moratinos to León
2014-10-14 08:09
Markers 10-13
2014-10-14 08:19
Mud On the Trail
2014-10-14 08:29
Another Shoe On a Marker
2014-10-14 08:39
Fallen Marker
2014-10-14 09:08
We Always Follow the Camino Arrows…
2014-10-14 11:00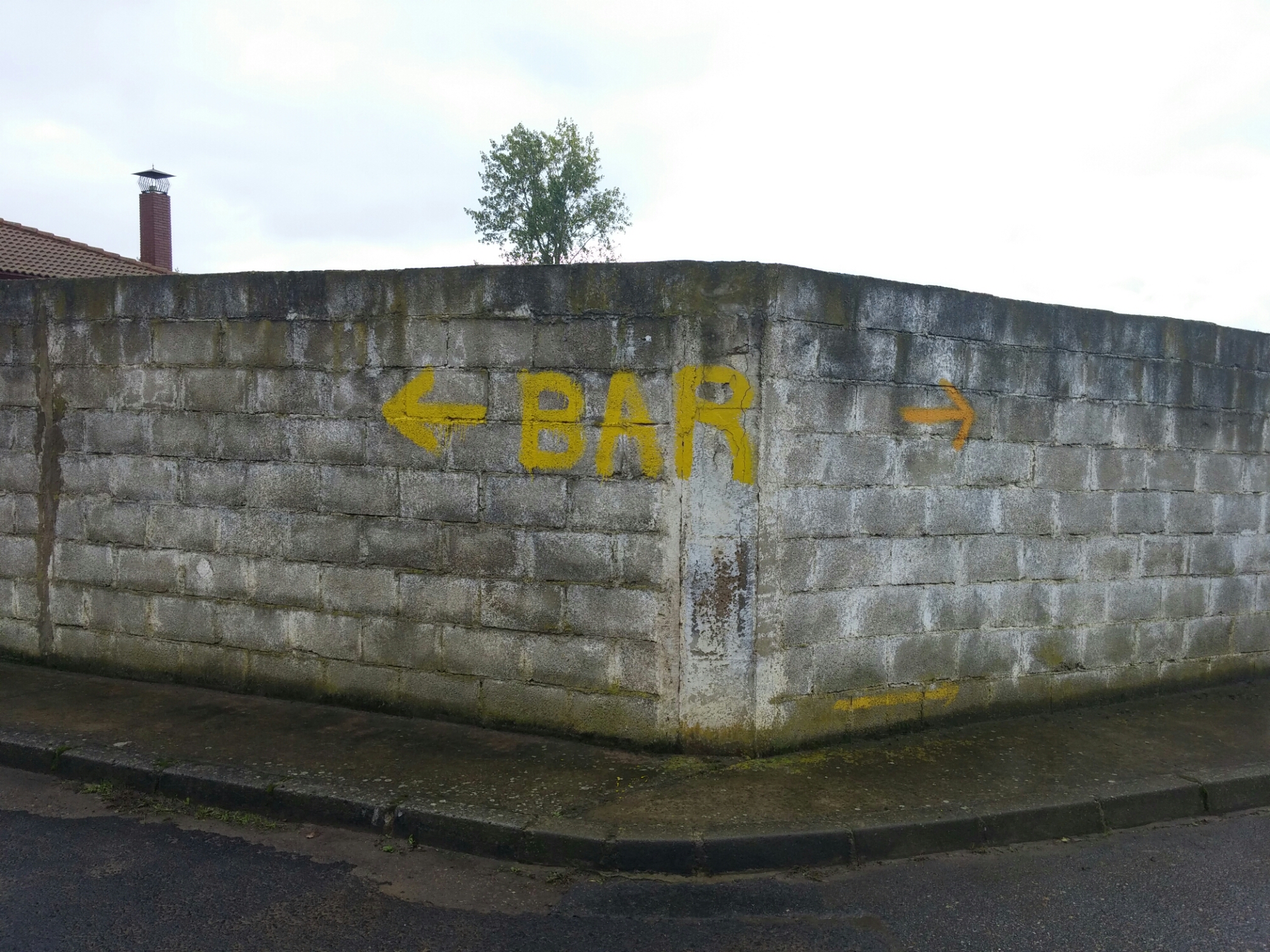 … except when a bar calls.
Wynette. In the towns we pass through on the way to our destination for the night, we rarely pass up a bar. If we're lucky, there will be a town every 3 to 5 miles. Most towns are tiny and often have only one bar. The bars are where you get great coffee, a bite to eat, and, most important, use the servicios (what we'd call a bathroom and the Brits would call a loo). Also great to rest the feet for a bit.
Bars in Spain are essentially what we call cafes in the US. They do serve beer and wine, etc., but the drink most requested as the weather gets colder is café con leche (espresso coffee with hot milk).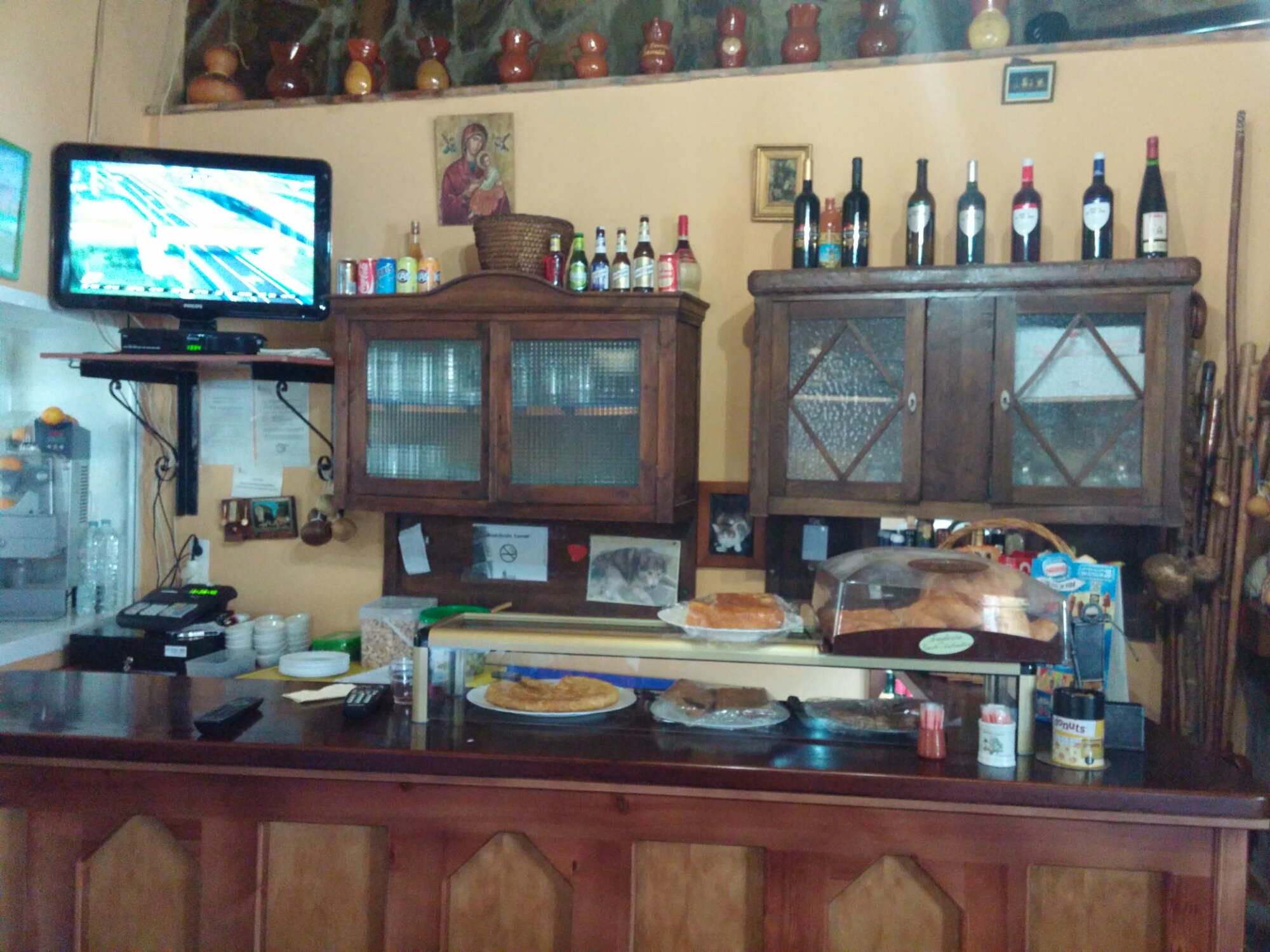 Photos, Day 28, Oct 14, León to Villar de Mazarife
2014-10-14 12:58
The Rain in Spain
2014-10-14 13:09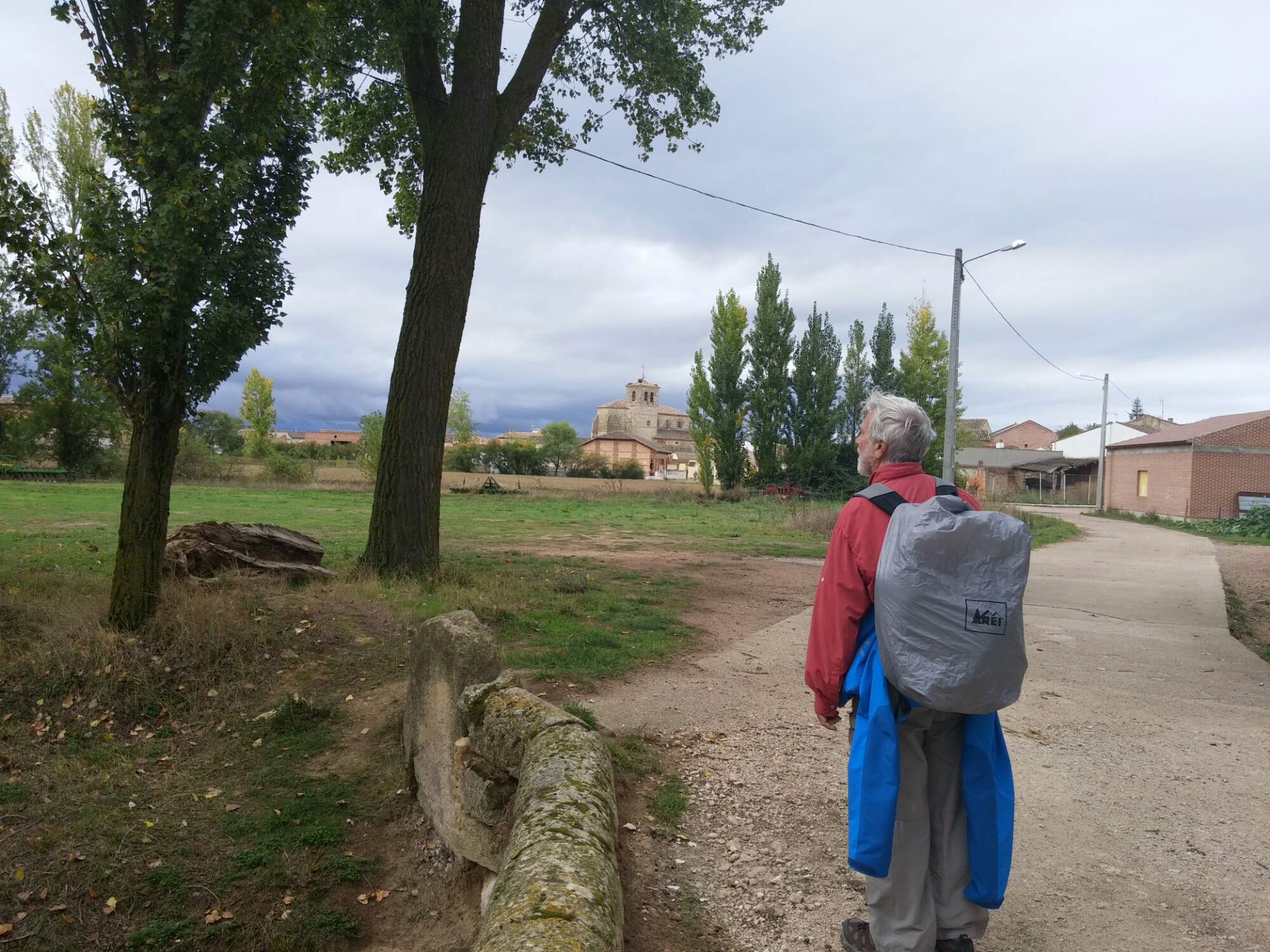 Wynette. Lynn asked about the rain. She and her husband Michael are planning to walk the Camino so they are particularly interested.
We've only needed to wear our rain gear four or five days so far. That's out of 28 days of walking. Usually when we are wearing the gear it is not actually raining, just threatening. In above photo, Charlie has his pack cover on, but rain coat only at the ready. Rain is usually light sprinkles and very off and on, more off than on. The exception: we've been in two drenching downpours. The first one, about a week ago, lasted only 5 or 10 minutes. We were lucky that day to get to our albergue when we did because rain was worse later. Then a few days ago we were in a downpour that lasted about 30 minutes. Plus wind.
We've heard exactly one clap of thunder. Someone told us that night that the force of the lightening from that one knocked a pilgrim off his feet but he wasn't hurt.
We've felt lucky. Rain is often forecast that doesn't materialize. (Charlie said we have the New Mexico rain jinx.) We're not sure if this is typical weather for this time of year. There's rain in forecast for next few days (100% chance) and someone mentioned they heard the word downpour mentioned in forecast for this Thursday.
Markers 10-14
2014-10-14 13:12
State of the Camino: Half Way
2014-10-15 05:24
Today is day 28, 25 left to go. We have walked 26 of those days. We have walked 195 miles averaging 7.5 miles per day. We have stayed in 27 different towns, we stayed two days in Carrión de los Condes.
We have skipped 80 miles by bus, train and taxi. We have skipped most of the same parts we skipped last time. It turns out we had good reasons to skip the segments we did, through suburbs and stretches where it's a long way between places to stop.
In the next week we will walk to Ponferrada. Then the plan is to take a bus to Santiago and start walking to Finisterre and Muxia. We're a little ahead of schedule so we may have time to see the north coast of Galicia and walk some of the English Camino from A Coruna.
My Wife: Dorotea Ricardo
2014-10-15 05:55
Charlie. Wynette makes the hotel reservations. She started giving the name Charles Crowley but it is not familiar to Spanish ears and always got garbled so she changed to using Dorotea Ricardo and they always get it right.
By the way, Wynette is doing great with her Spanish. She is often gabbing away with the hotel or albergue people. Once they see she knows some Spanish they go on and on. Most people walking the Camino do not know Spanish. I think they are glad to have someone who can understand them.
By the Fire
2014-10-15 05:59
Bright Orange Pyracantha
2014-10-15 06:05
Rock Wall
2014-10-15 06:06
Halloween is Coming
2014-10-15 06:07
Water Tower
2014-10-15 06:09
Blue Door
2014-10-15 06:10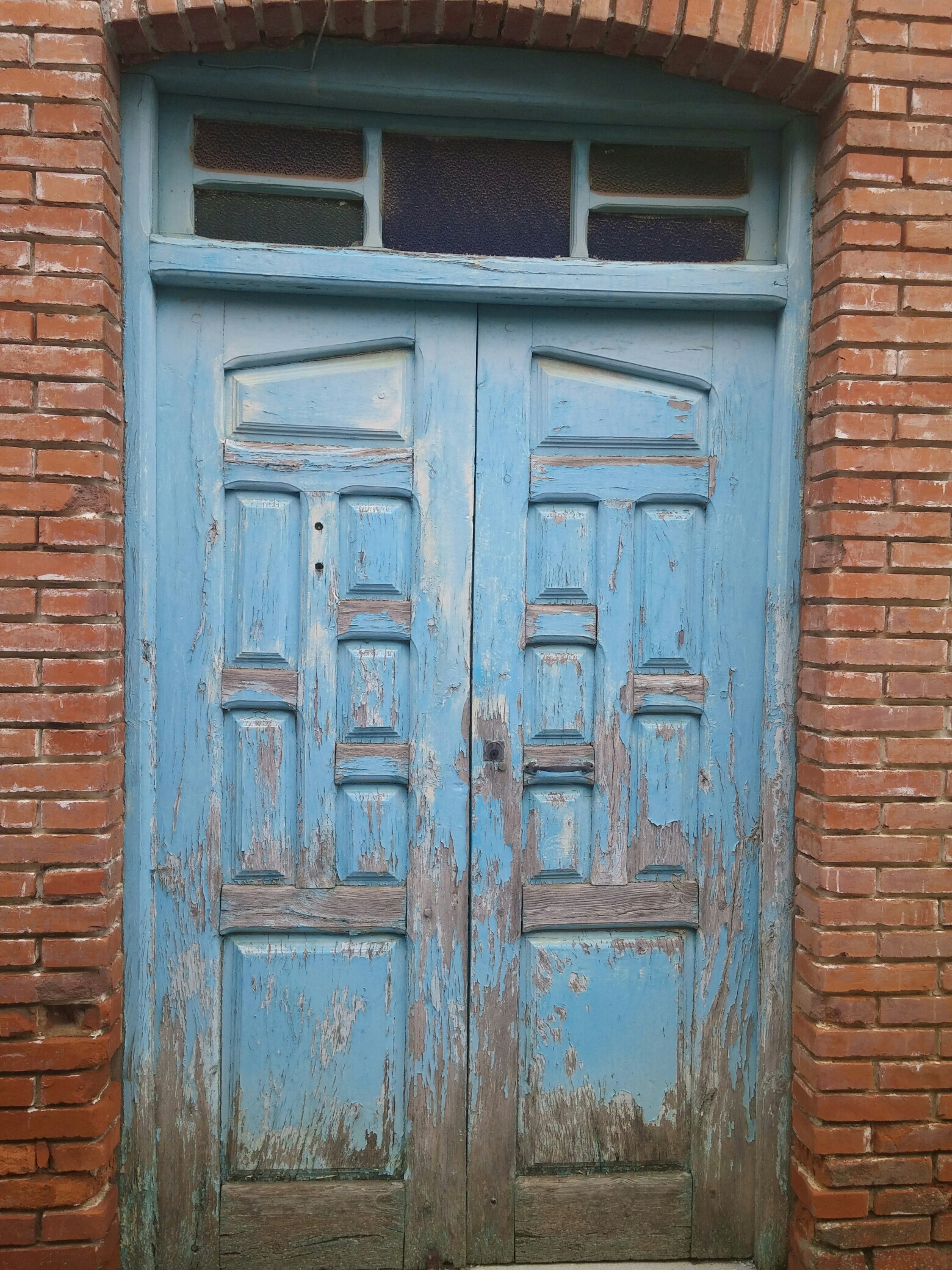 Hay
2014-10-15 06:12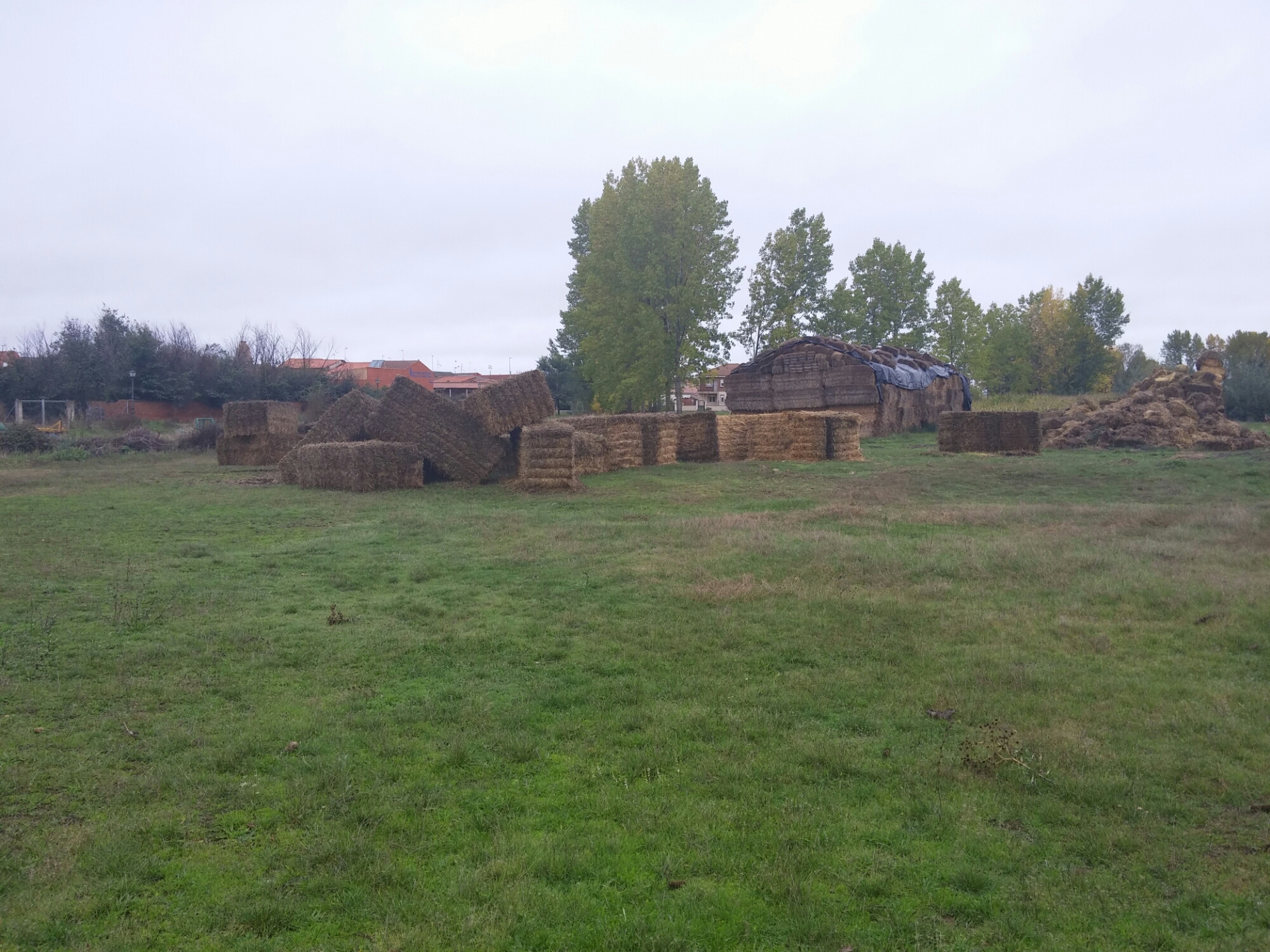 FAQ
2014-10-15 06:34
Wynette. We've had some questions in email and blog comments that I'll try to answer here in the blog. Most are not frequently asked but FAQ seemed like a good title. I was going to put them in one post, but decided to break them into separate posts. So they'll be coming soon (if our web server will cooperate). Let us know if we've missed one of your questions.
Along the Way
2014-10-15 07:16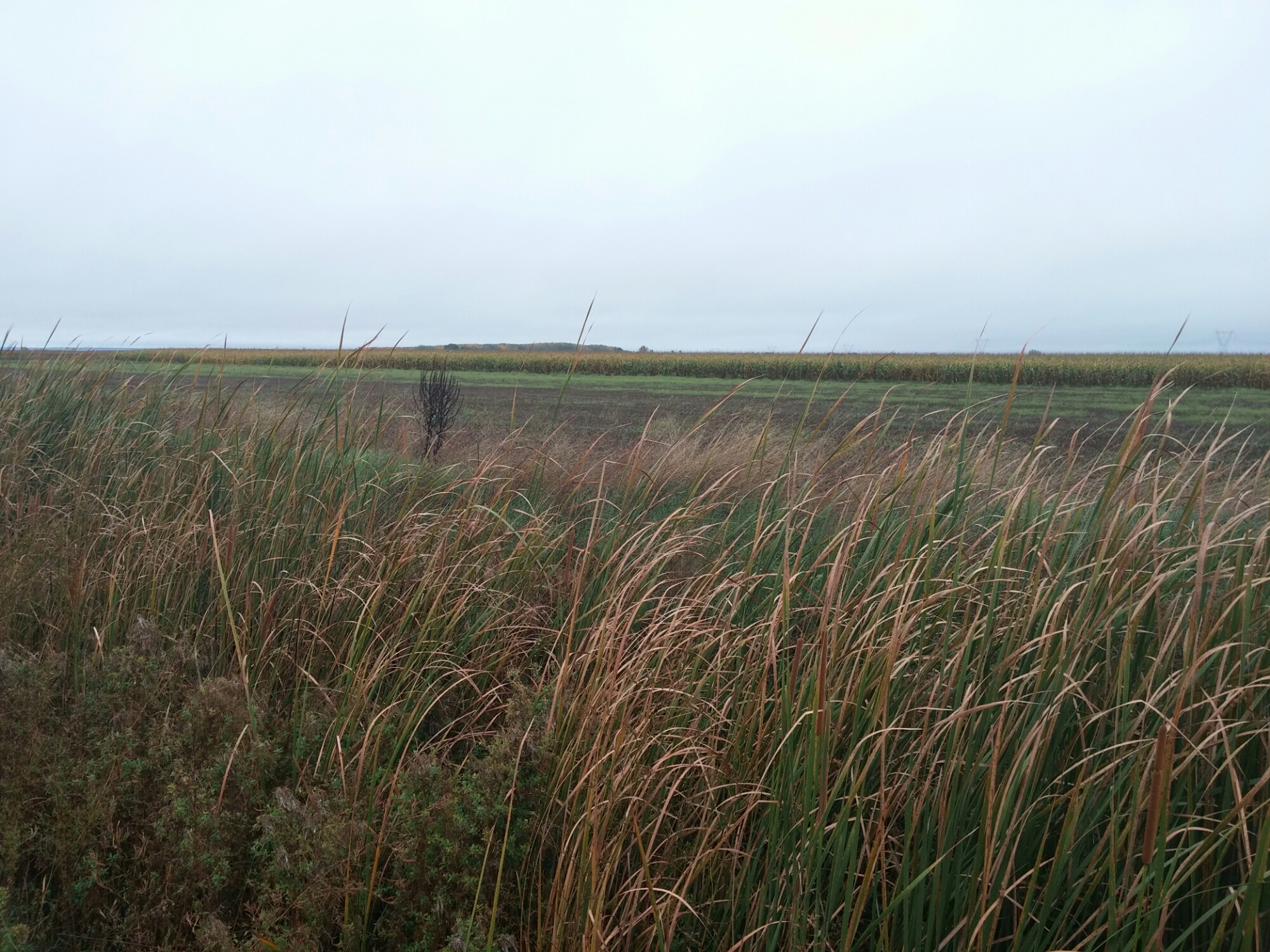 Corn Husks
2014-10-15 07:32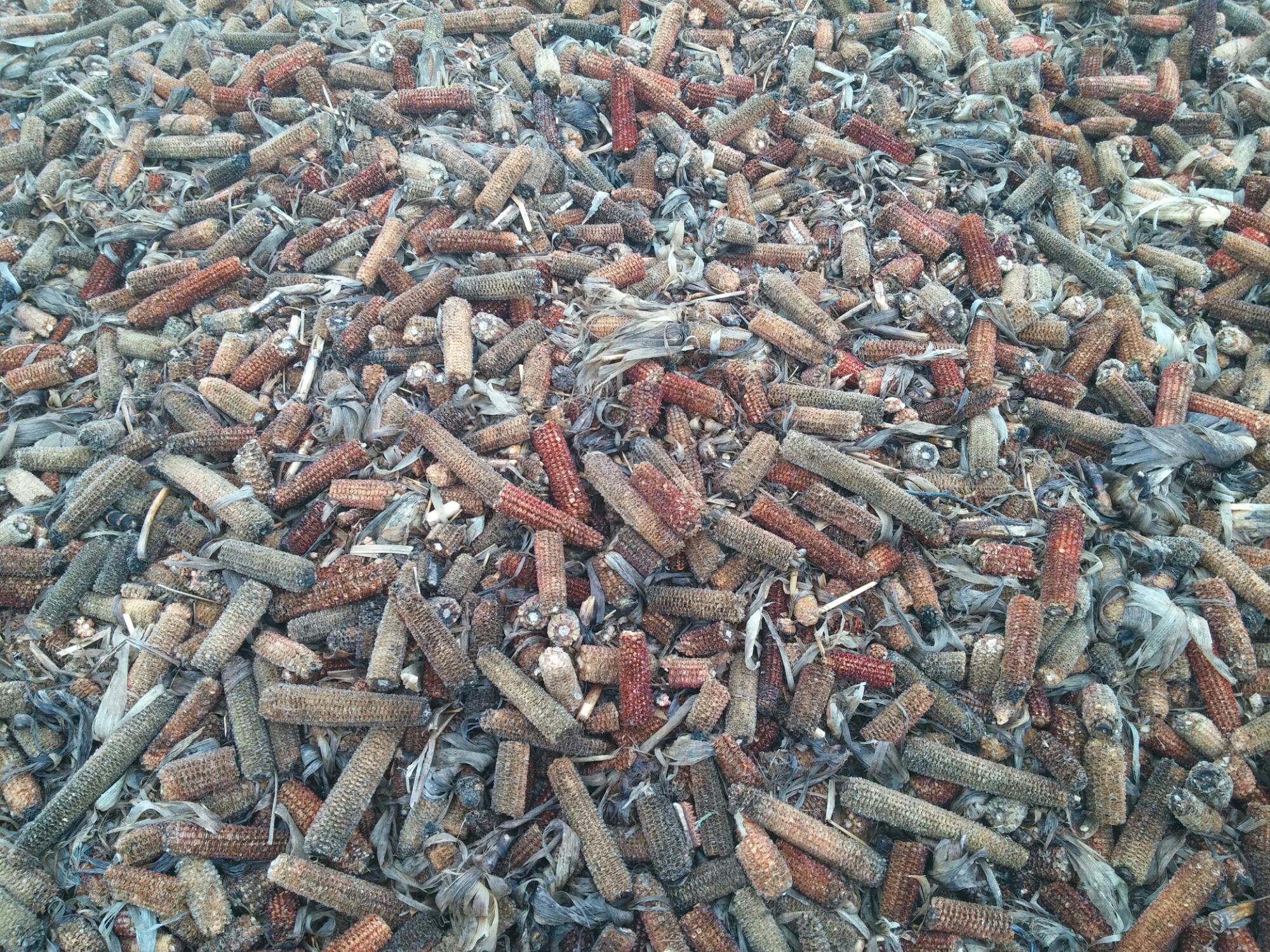 Camino Turns Right
2014-10-15 07:33
I ❤ Camino
2014-10-15 07:34
Camino In the Fall
2014-10-15 09:41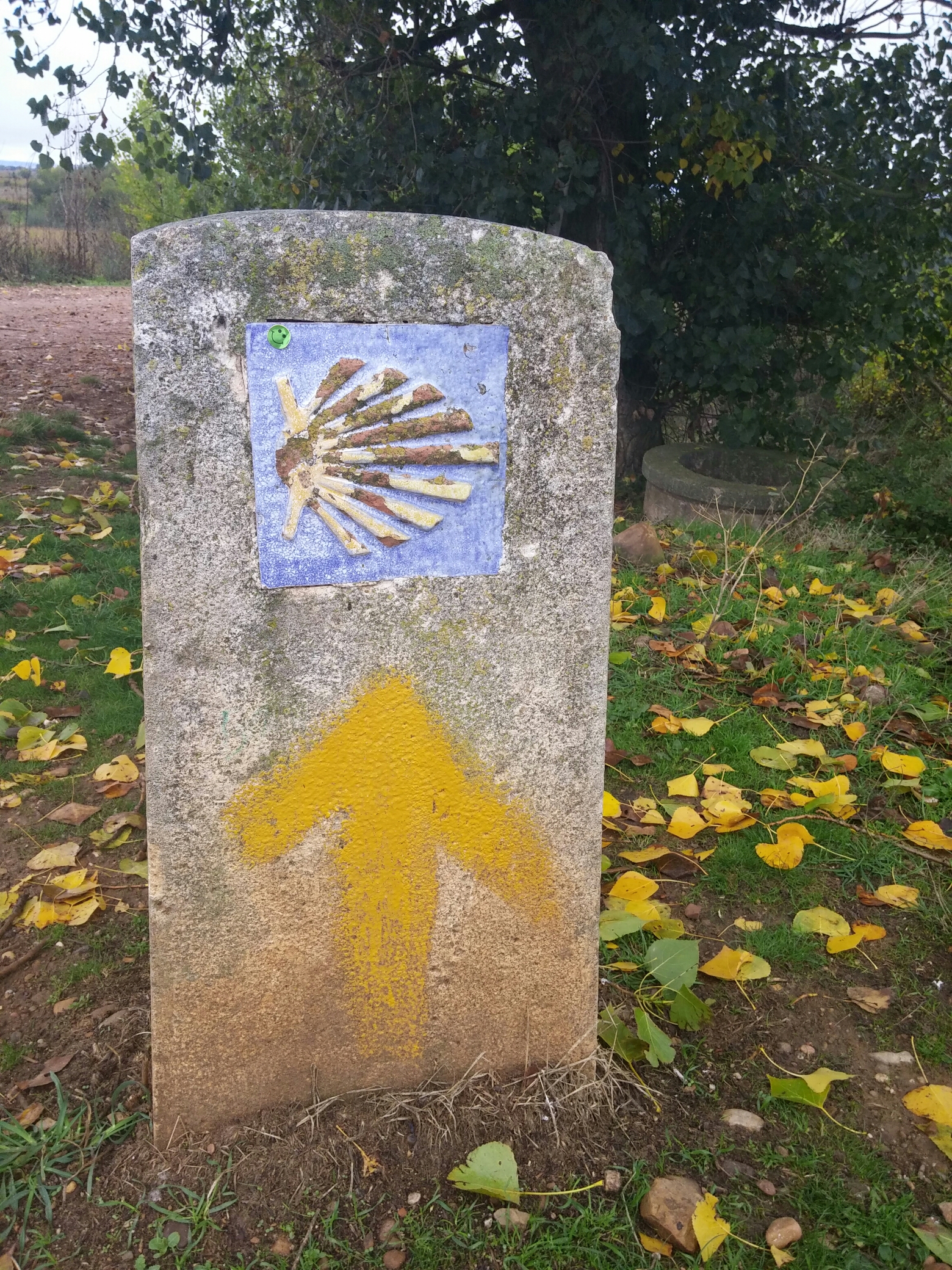 Wet Bridge
2014-10-15 09:42
Question: How do you use the bathroom when you are walking all those kilometers?
2014-10-15 10:55
Wynette. As mentioned in a previous post, the bars are a godsend. They always have a loo which is usually pretty clean considering how often it is used each day.
The bars have creative ways to tell you which is for the señoras versus the señores. E.g., above photo.
Rarely are there paper towels to dry your hands, just an empty towel dispenser or one of those electric hand dryers. Europe has twice as strong electricity as the US so the dryers are stronger but I still don't have patience with them so always leave with dripping hands.
And, yes, I know what you are thinking.  Unlike the yellow arrows, sometimes a bar doesn't appear on the Camino when you need one. Much of what we have passed through is deforrested farm land so it's been a challenge, but I've always managed to find something. Usually a clump of tall bushes. Once about 200 feet into a plowed field behind a huge pile of rocks. Once under an amazing weeping willow tree. In just about every such place the pieces of toilet paper on the ground show it's been used for the same purpose by many thoughtless pilgrims.  It's in these situations that I envy the guys.
Photos, Day 29, Oct 15, Villar de Mazarife to Villavante
2014-10-15 10:57
Question: Have you met different types of people this trip?
2014-10-15 11:04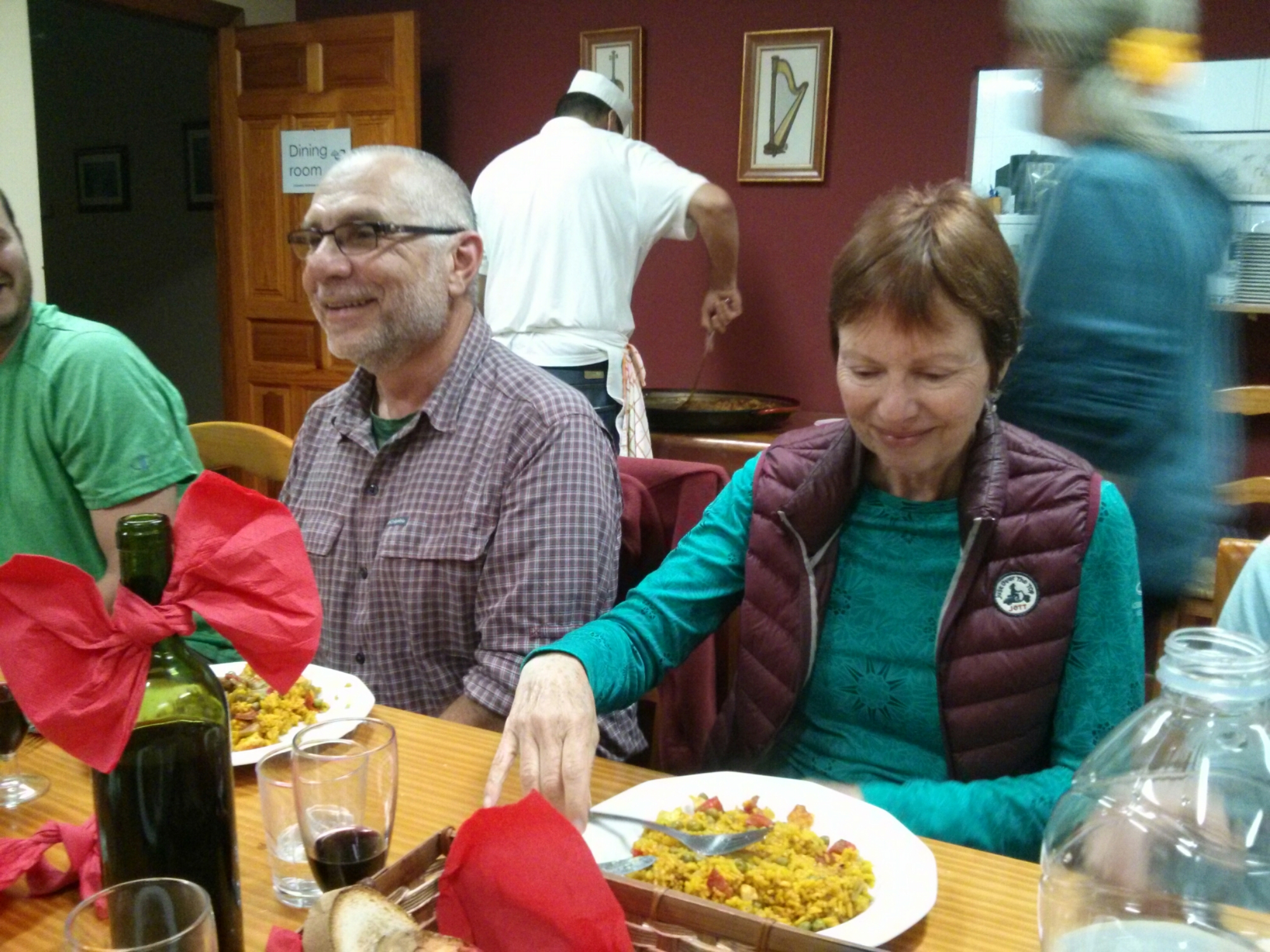 Wynette. We still see a wide range of nationalities. The dramatic difference is we've met a lot more American pilgrims. We checked the September 2014 statistics and we US pilgrims have more than doubled since September 2013. Probably an even bigger increase since April 2013 when we were here before. Last night we stayed at a terrific albergue that served a vegetarian dinner. There were 11 pilgrims at one big table. All of us spoke English natively. Two were from Australia (in photo above), one was from Canada, and the rest of us were from the US. The Camino has been well known in Europe many years and now that's starting to happen in the US.
We also met more Spanish pilgrims in the first weeks. Last time we hardly met any the first 680 kilometers. Many Spanish people do the Camino but I think that up till recently the vast majority did only the last 100 kilometers which is what is required to get a Compostela certificate in Santiago.
Question: Do you like the fall or the spring better? 
2014-10-15 12:34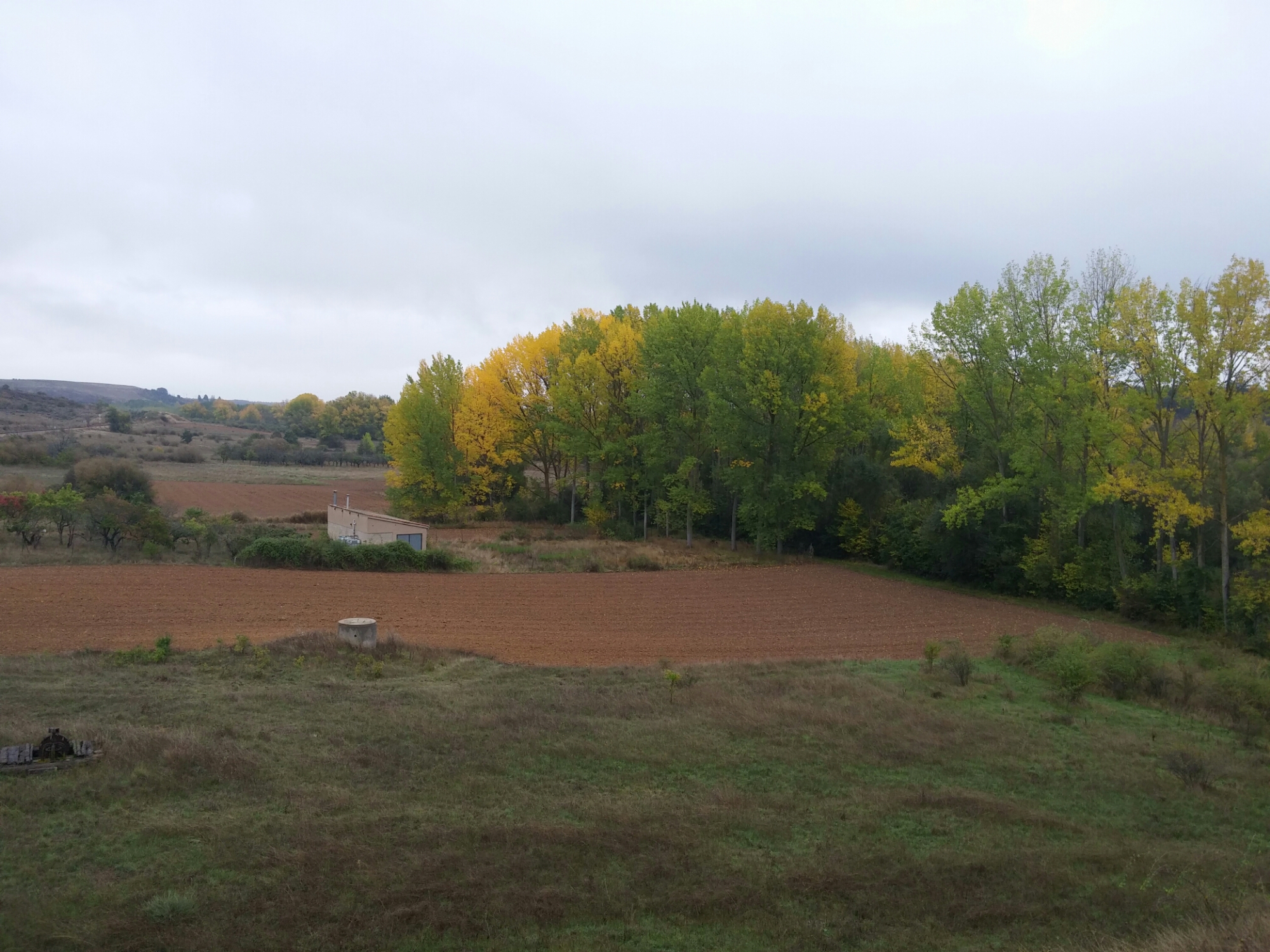 Wynette. Hmm. It's hard to say. They are different. Last time we started April 1st. As we walked then, weather gradually got warmer and we saw more and more pilgrims. Now weather is gradually getting colder and we're seeing fewer and fewer pilgrims. In spring everything was lush green which was beautiful. Now we see a lot more variation which is pretty, too.
Last time, I thought all the crops were the same (monoculture) because, once we got out of La Rioja, wine country, all the fields were filled with a green grass plant. We assumed it was wheat or barley. But we now see more variety. Corn, sunflowers, sugar beets, hay (alfalfa?). I was hoping we'd see amber waves of grain this fall trip but haven't seen that at all. We must have arrived after the wheat harvest.
So far the amount of rain is about the same. October weather has been similar to April. A little less wind on the Meseta.
We have seen some fall color, mostly yellow and gold, in the leaves. In the spring we saw the baby leaves appear. Both lovely.
I was concerned that by this time of year the people who run the albergues, hostals, bars, restaurants, etc, would be sick of us peregrinos and thus not be as kind and helpful. However, that has not been the case at all. Well, they are probably weary, but continue to be so nice to us.
Duck Weed: Try Again
2014-10-16 00:25
Markers 10-15
2014-10-16 00:29
Garden Fun
2014-10-16 11:50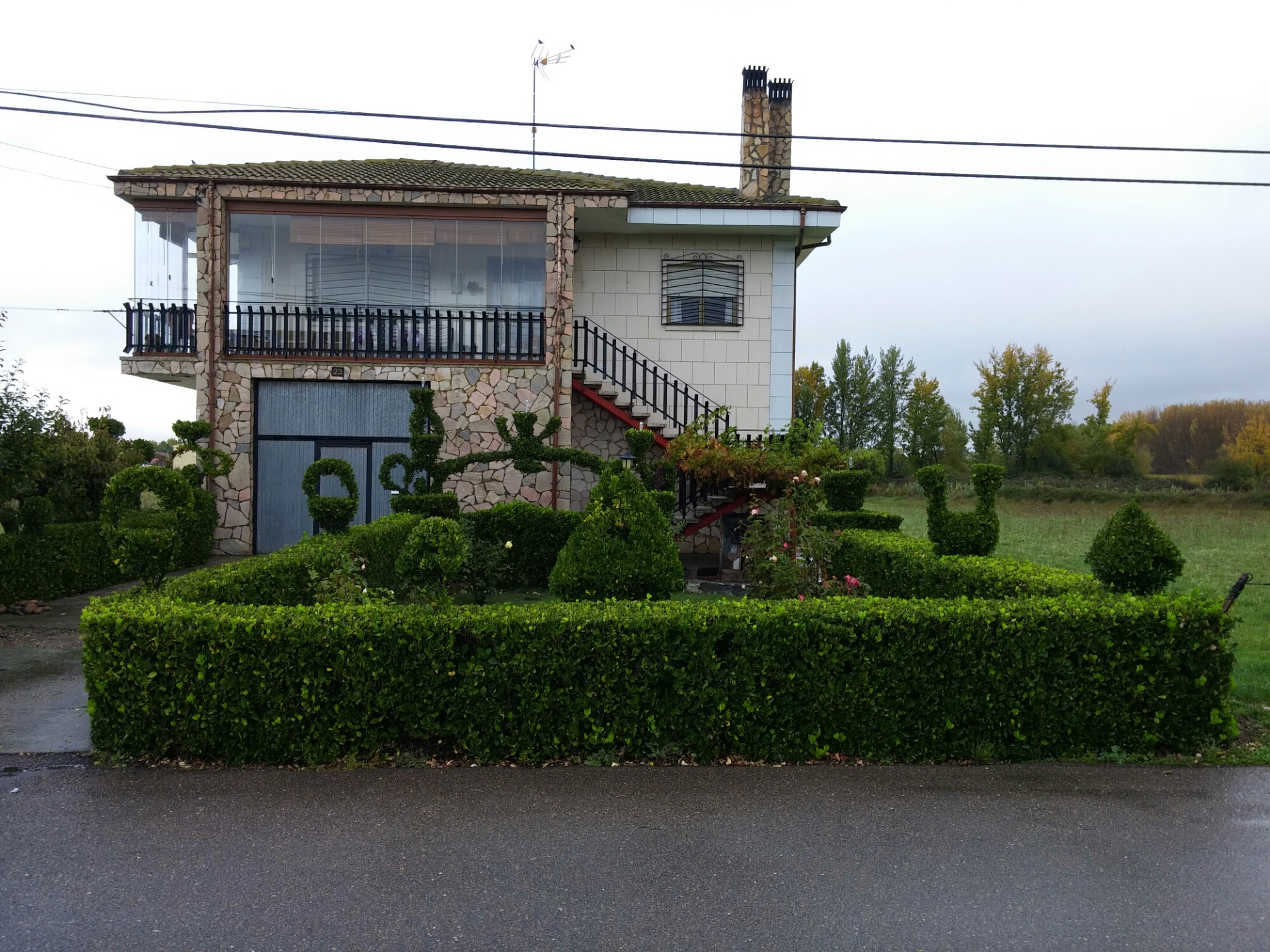 Price Unbundling
2014-10-17 07:44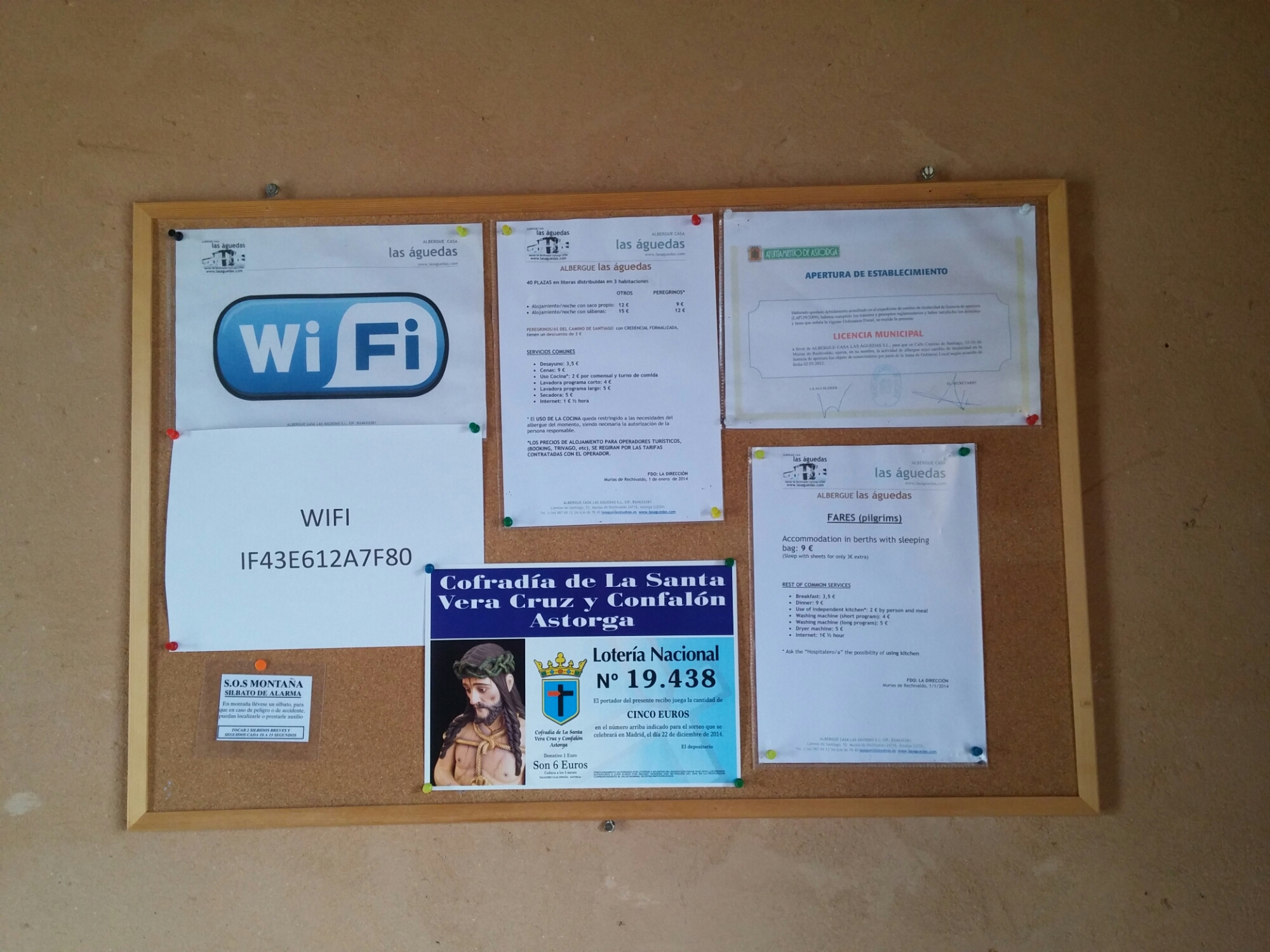 This was at an albergue where we stopped for coffee. 9 euros for a bed, 3 more for sheets, I would definitely take that. 4 euros for the short wash cycle, 5 for the long cycle, 2 each to use the kitchen.
We talked to a volunteer there who was German and there were two more Germans who worked there. We stayed at another place that was run by a German so maybe it is a German thing. I like the idea myself, you can get exactly what you want.
Note the complex wifi password. Almost in hexadecimal but not quite.
Question: Are there lots of single pilgrims, couples, groups?
2014-10-17 12:52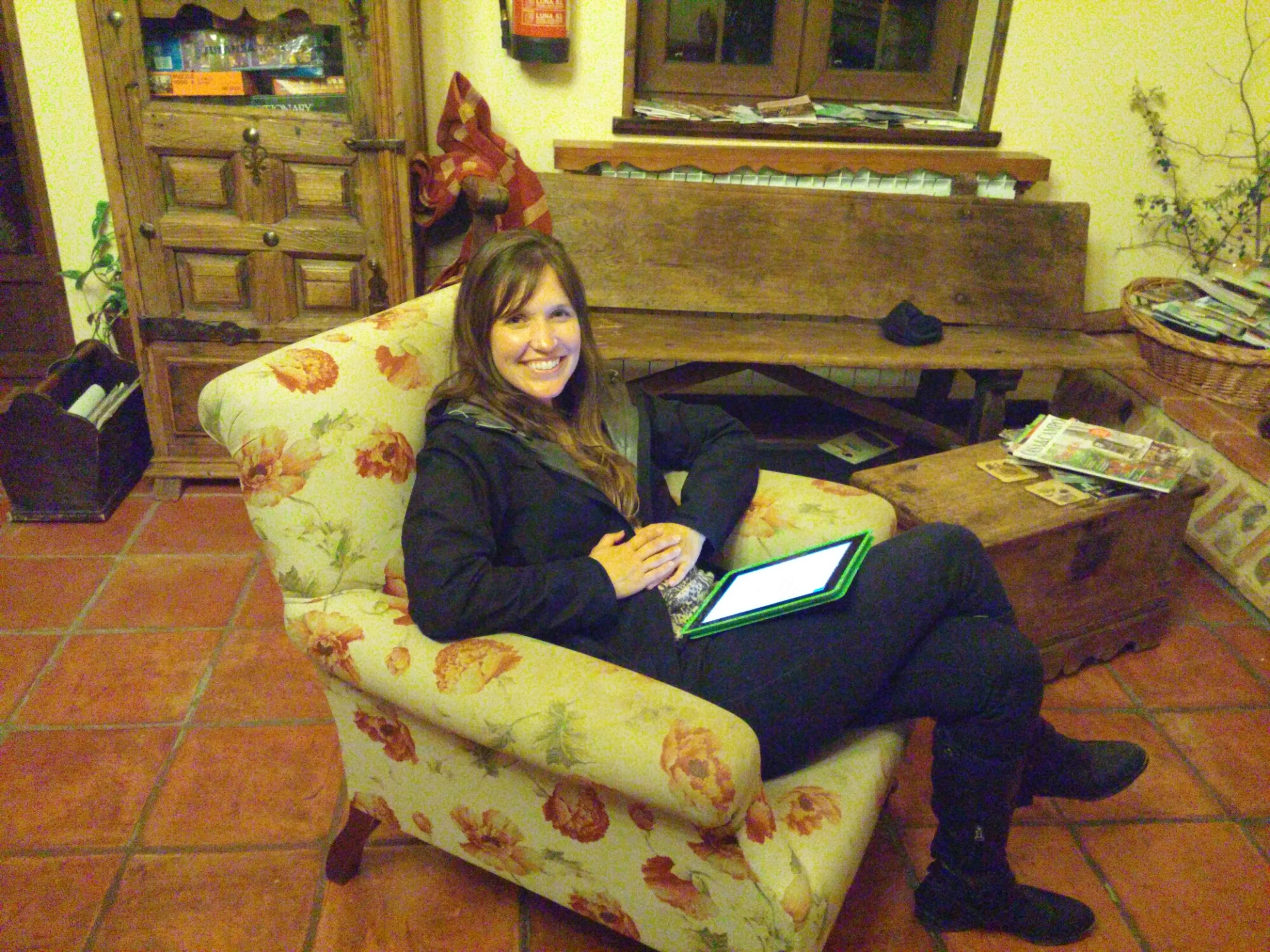 Full question: Are there a lot of "single" pilgrims (including those with partners who have left them at home)? And are there lots of couples, like the two of you? And groups of friends (two, but not couples, or more)?
Wynette. We have met many people doing the Camino alone and maybe at least half of those have a partner back home who didn't want to come or couldn't come. Thanks to the Internet and cell phones most seem to be staying in close touch.
Tonight at dinner we sat with three other pilgrims, one from Lebanon, one from Russia, and one from Brazil, all doing the Camino alone. We didn't find out their exact situation but the Lebanese woman was fairly young (20s) and the Brazilian woman (40s?) mentioned she had two grown daughters and the Russian man (50s?) told us he got a call the first day of his Camino telling him he had become a grandfather. The Lebanese woman had started in Le Puy. So our rough estimate is that she has walked something like 1200 kilometers with about 300 to go. Wow!
I could name more doing-it-alone pilgrims we have met. (E.g., lovely Ria who we met at our casa rural night before last and met again on the trail today, photo above.)
We've also met lots of couples, but I think we've met more single walkers than couples. It could be that it's easier to meet people who are alone because easier to strike up a conversation.
Of the people we see walking but do not meet, probably more are in pairs. But no way to know for sure if they are a "couple" or just walking together for a bit.
We haven't met very many groups, but a few. For example, the other night we met an older man walking with his son and daughter-in-law. (All from Florida.) The man and his son had done the Camino together two years ago and on that Camino the son met his wife-to-be. They got married last year and now the 3 of them are doing the Camino together. The same night we also met another American couple, from Minnesota, who had a woman friend walking with them.
Best House
2014-10-17 12:55
Church and Sky
2014-10-17 13:02
Multilingual
2014-10-17 13:11
Leaving Astorga
2014-10-17 13:16
Another Pelote Court
2014-10-17 13:18
Menu
2014-10-17 13:20
Gaudi in the Morning Light
2014-10-17 13:21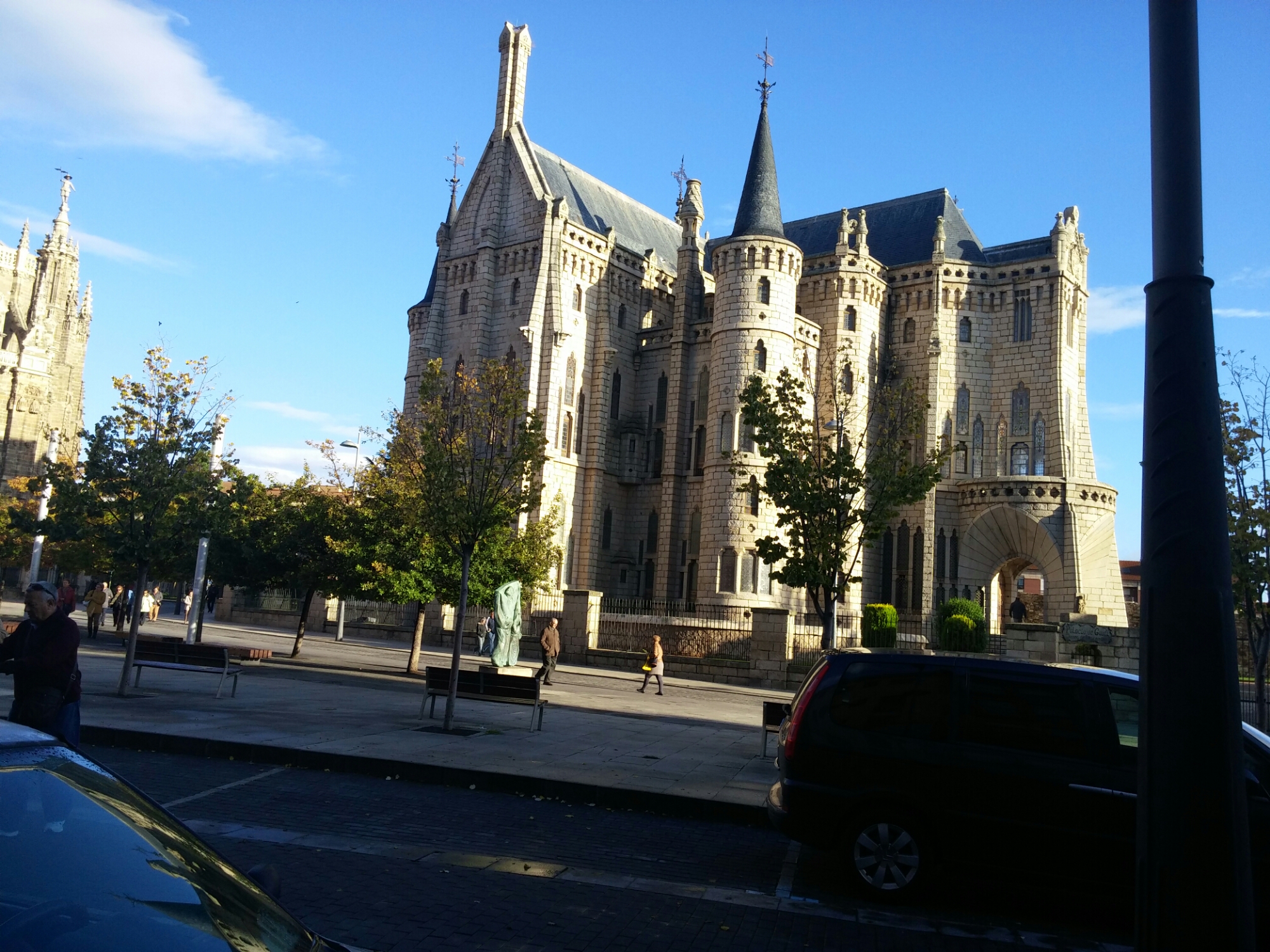 Multipurpose
2014-10-17 13:31
More Playground Equipment
2014-10-17 13:34
Ready For the Rain
2014-10-17 13:37
Fall on the Camino
2014-10-17 13:42
Question: Please describe the different types of accommodations.
2014-10-17 13:45
Full question: Please describe the different types of accommodations: Casa rural? Albergues? Pilgrim's hostel? I guess I know what a hotel is… Maybe not.
Charlie. An albergue is basically a dormitory or youth hostel, that is, it is a large room with from four to sometimes over 50 bunk beds. The bed is just a covered mattress. The pilgrim uses a sleeping bag or a sheet sleeping bag which might be enough in the summer. Many but not all albergues provide blankets. They usually provide pillows also. The bathrooms are communal and have showers.
So they are very basic but the price is right. Usually they are 5 to 8 euros, at about $1.30 a euro.
There are common areas to hang out in. They usually provide places to do laundry and often kitchens to cook your own food in.
I would guess that 90% of pilgrims stay in albergues 90% of the time.
One of the big advantages of albergues is the socialization they allow. You talk with a wide range of people and often gather in groups and trade Camino stories. Most everyone wants to chat and everyone is included.
The major complaint about albergues is snoring. Earplugs are a necessity but often they don't help that much. Also people get up early, like before 6, and make noise and sometimes even turn on the lights.
Obviously there is also a lack of privacy. Men and women are not separated. (We recently heard a woman complaining about Spanish men in their underwear.) There is also a lack of personal space, usually you just have your bunk.
We have only stayed in many-to-a-room albergues a few times and I did not like it at all but clearly we are different because, as I said, almost everyone stays in albergues.
We have noticed changes even from last year to this year. More albergues have small rooms with 2 to 10 people. More albergues have beds instead of bunks. More albergues provide sheets. Many albergues have private rooms.
Few albergues provide towels. Most people have these micro fiber camping towels which are a miracle of materials science but still not that great.
We have stayed in private rooms in albergues about a third of the time. They are about the same as an inexpensive hotel or hostal. We like them because we get to socialize with other pilgrims and sometimes have group meals.
The rest of the time we stay in a place that is basically a hotel. Spain has a confusing array of names for them. Hotel generally means something like a hotel in the US, that is, you get towels and soap and little packets of things. We have stayed in 4 or 5 of these and they cost 50 to 75 euros for the one or two star places we stay.
Normally we stay in a hostal which is a level below a hotel, although there is overlap and there are one and two star hostals which are nicer. The rooms are smaller and plainer but you do get sheets and towels. These cost in the range of 30 to 45 euros.
Often we stay in a casa rural which is basically a B&B but sometimes you have a kitchen to use so you can make your own meals. We have stayed in two of these that were really really nice with great meals.
It is unusual for pilgrims to always stay in private rooms like we do but it works for us and we enjoy the trip a lot more.
Torn Sign
2014-10-17 13:45
Classy Water Tower
2014-10-17 13:47
Leaving Our Lovely Casa Rural
2014-10-17 13:51
Colorful
2014-10-18 10:28
Tienda Cat
2014-10-18 10:28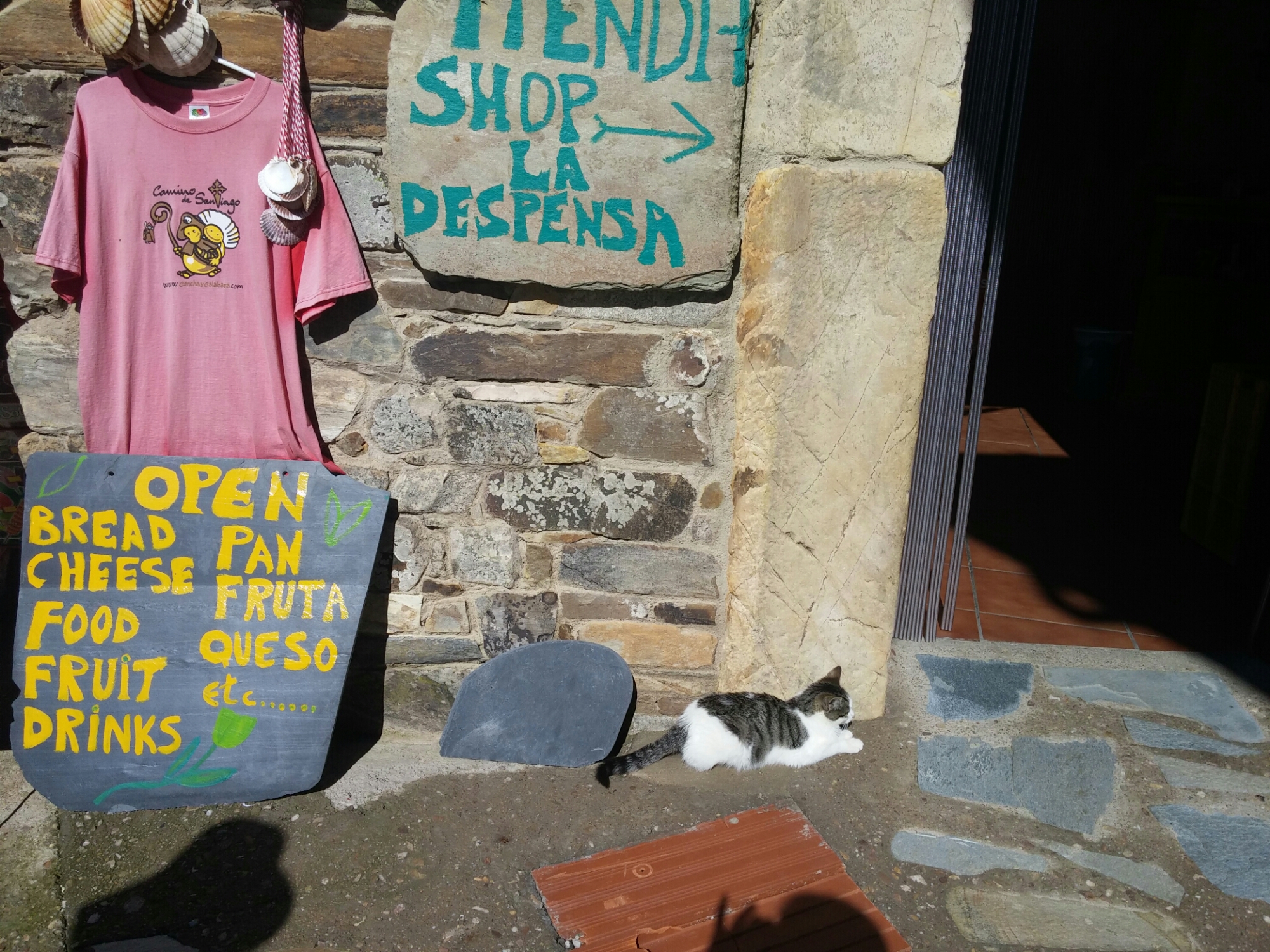 Fence Crosses
2014-10-18 10:33
Camino Dog
2014-10-18 10:38
Dueling Bars
2014-10-18 10:40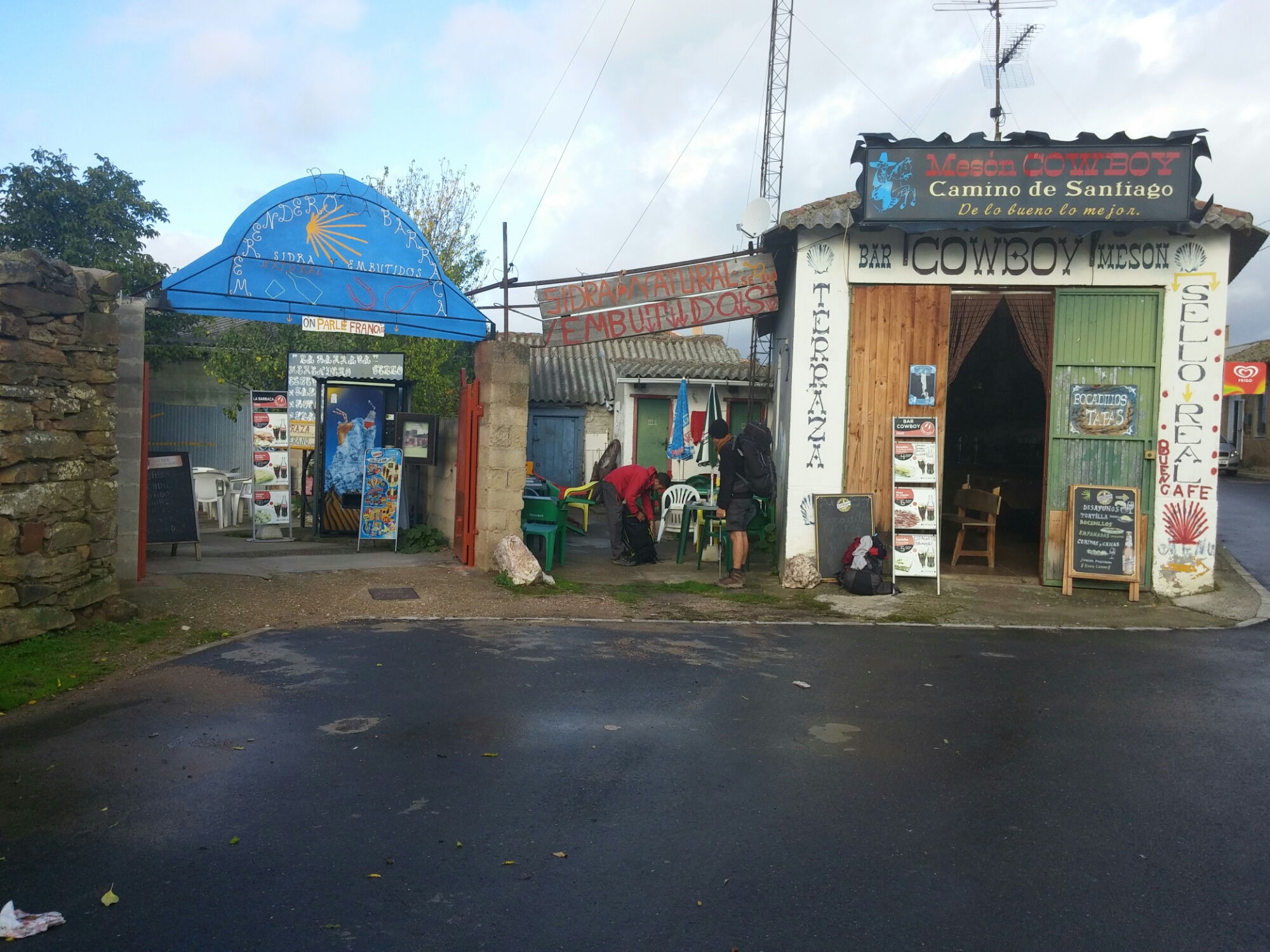 Wynette. This is in Gonso, great name, huh?, a tiny town we passed through today. On the edge of town we saw a sign advertising Merendero Barraca "un lugar típico", "a typical place". Then we saw the sign below. The two bars are the only bars in town and stand side by side. We decided to get our coffee at Merendero Barraca. We remember stopping in Gonso last time and getting coffee at the Cowboy Bar but then going next door for food. Can't remember why. Maybe we couldn't find the food we wanted at the Cowboy.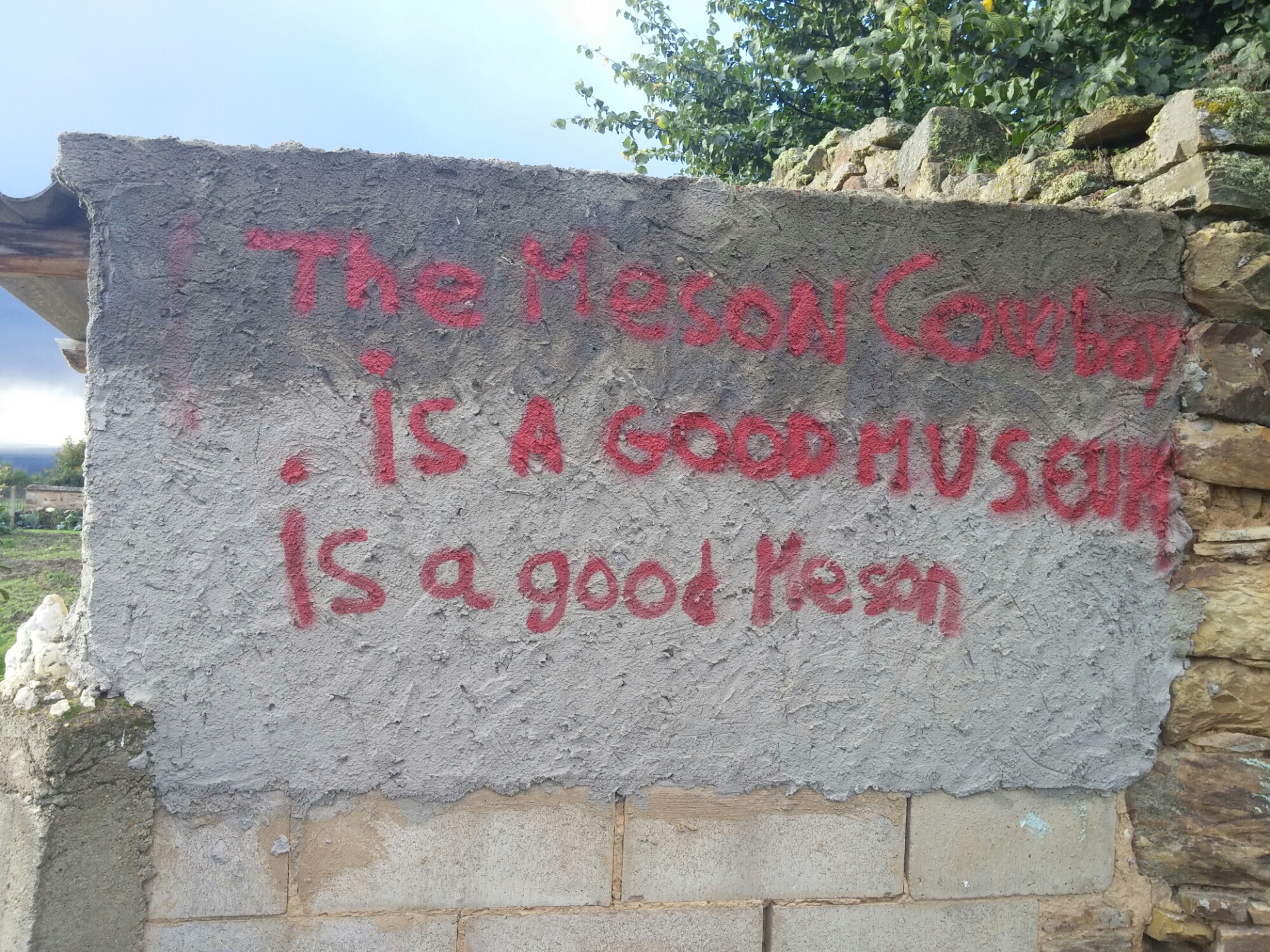 Trail Into the Clouds
2014-10-18 10:42
Entering Santa Catalina de Somoza
2014-10-18 11:05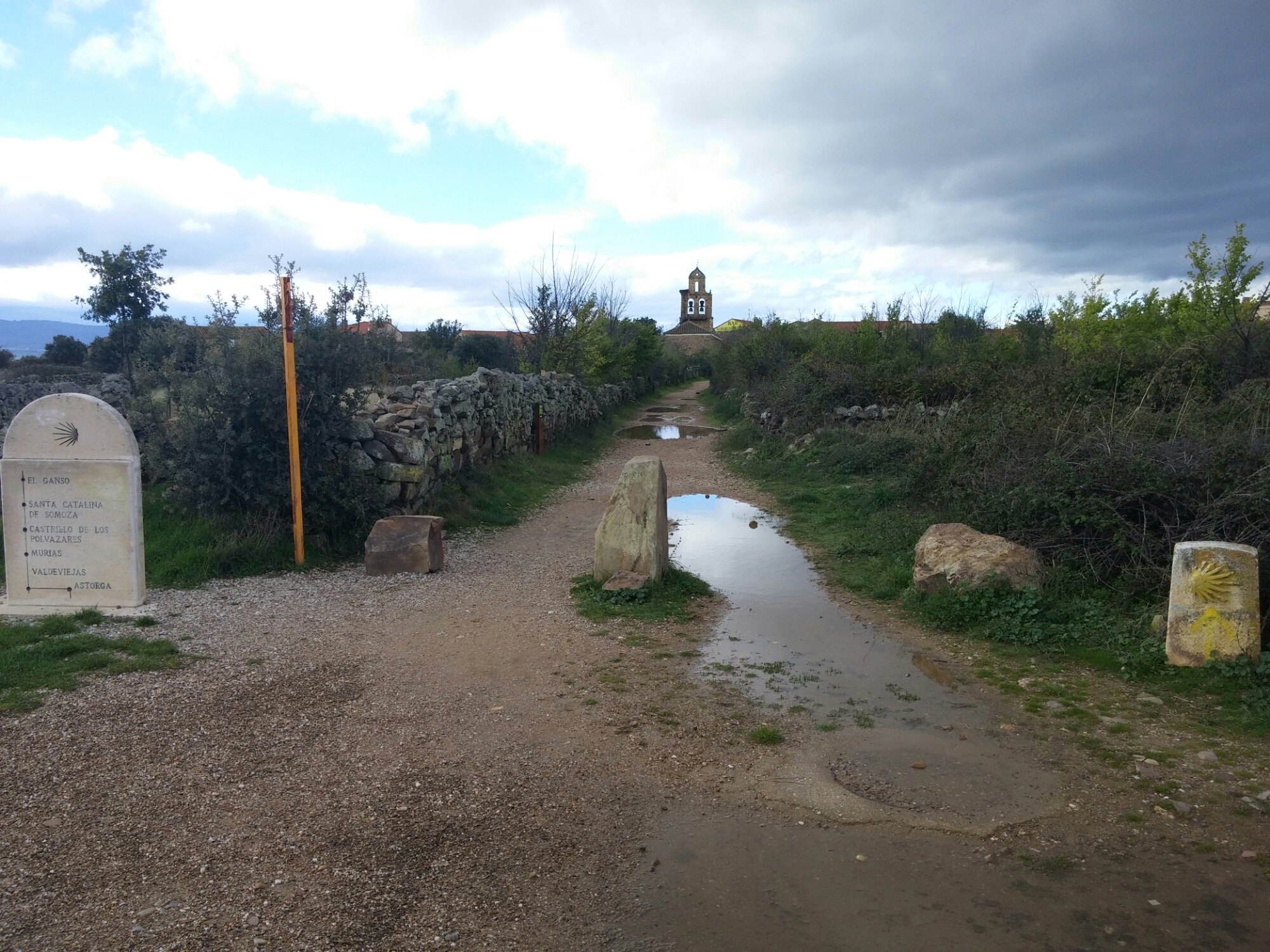 Photos, Day 32, Oct 18, Santa Catalina de Somoza to Rabanal del Camino
2014-10-18 11:20
Markers 10-18
2014-10-18 11:32
Birds in the Fall
2014-10-18 11:47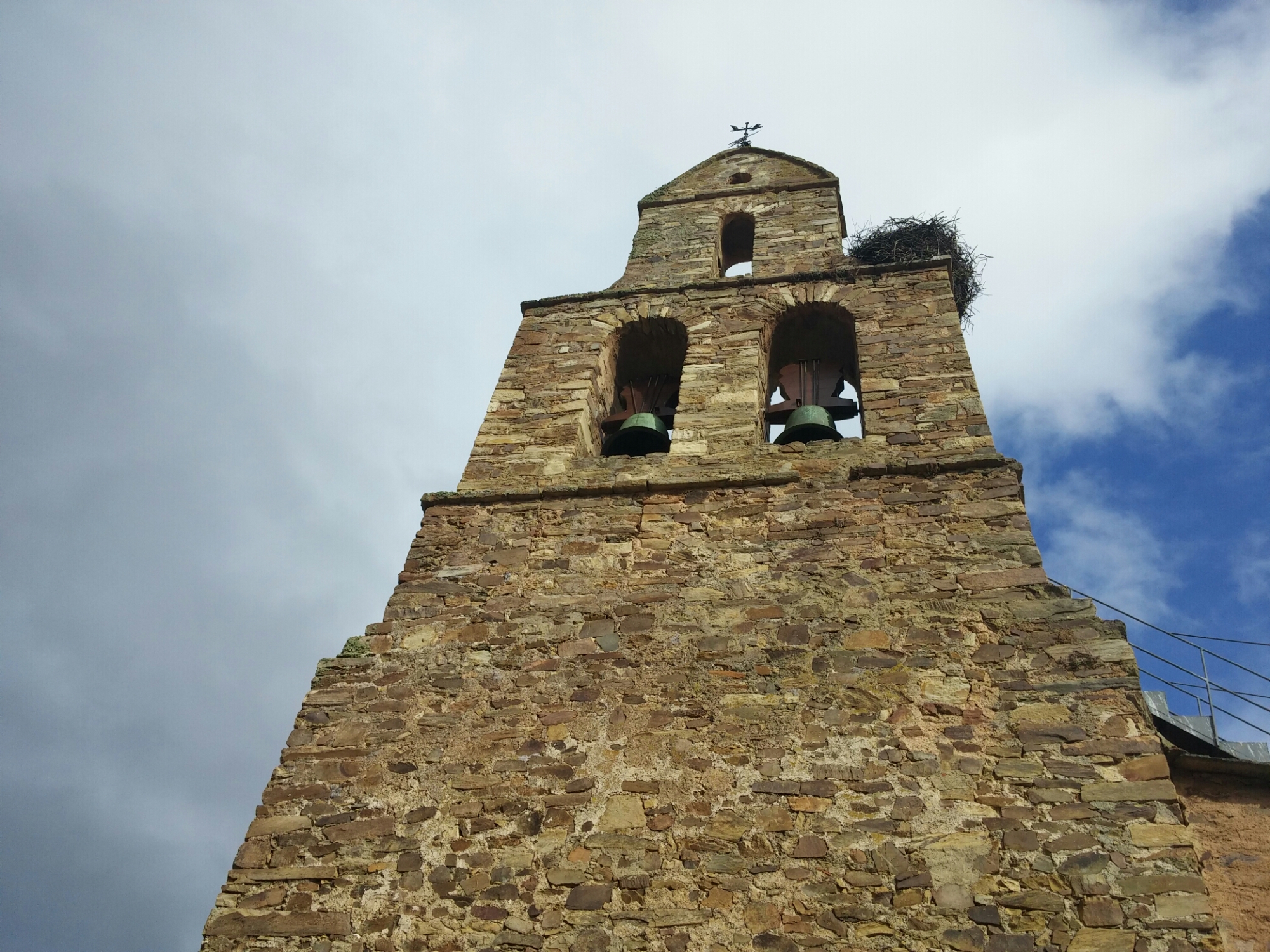 Wynette. In answering the question about whether we prefer spring or fall on the Camino, I forgot to talk about the birds, or lack of them in the fall. In particular I miss the storks. We see their huge nests, but nary a stork. I also miss the cuckoo calls. I guess the storks and cuckoos are far south of here by now. (Hey, Christy or Vicki, can you confirm?)
Still loving the fall here. The pervasive green in spring was beautiful but we are seeing so many colors now, including green, yellow, red, and gold. And blue sky now that the rain has gone away. Surprising wild flowers, too. We are starting to be in the mountains.
Manjarin
2014-10-19 09:18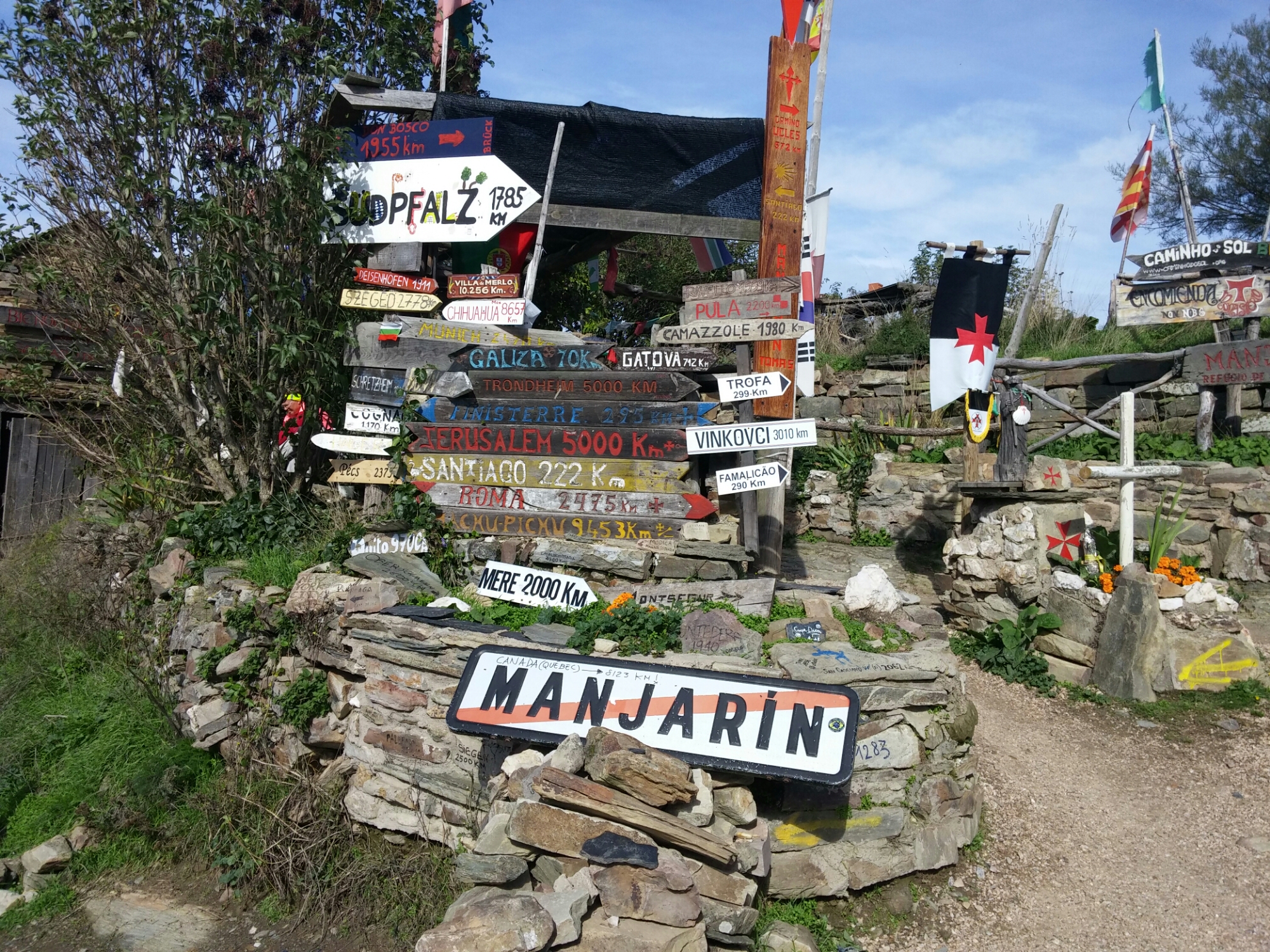 We passed the hippie albergue here today. This group of signs was shown in "The Way". Here is the view as you approach it. As you can see the village is a ruin except for the albergue.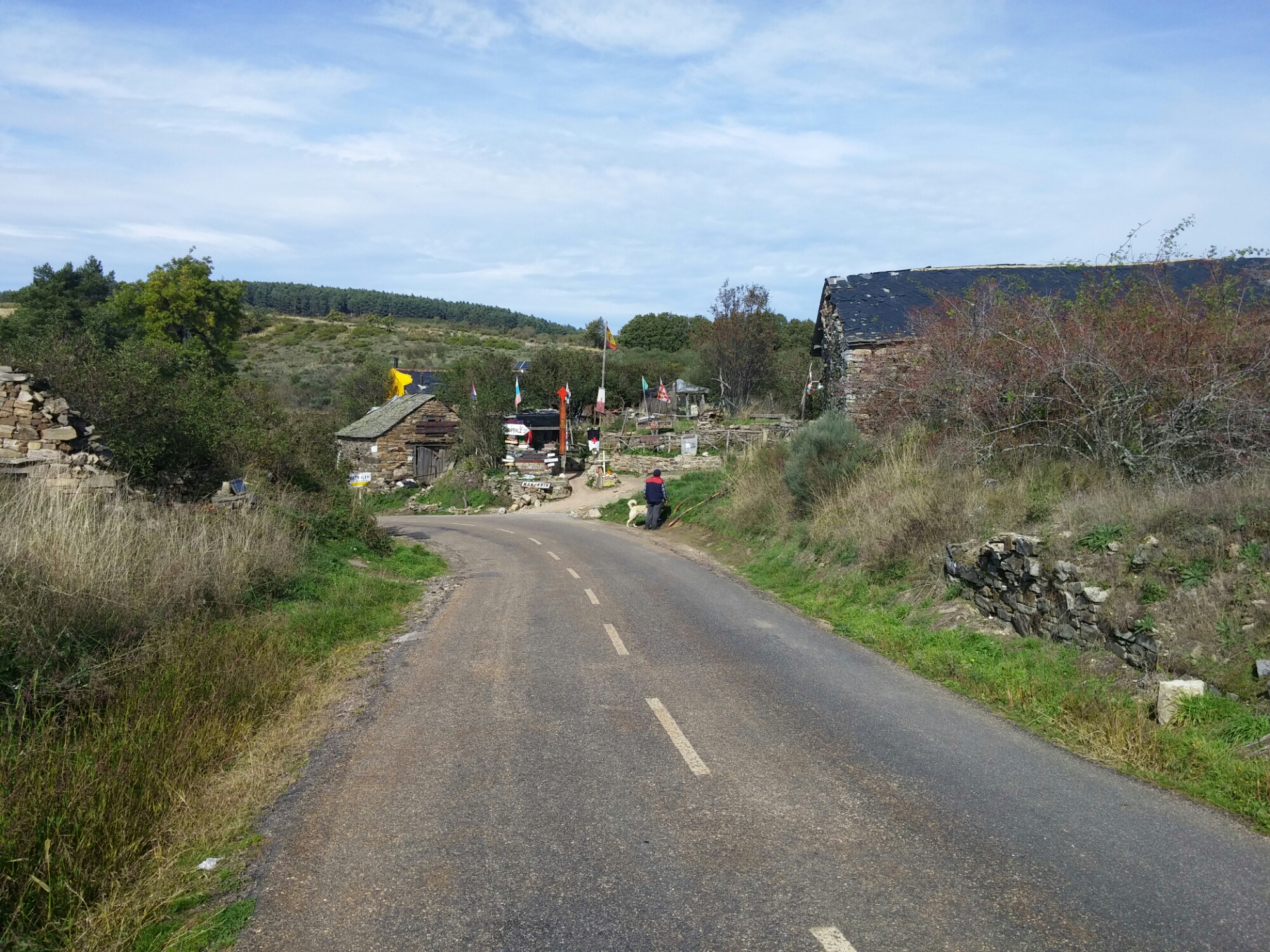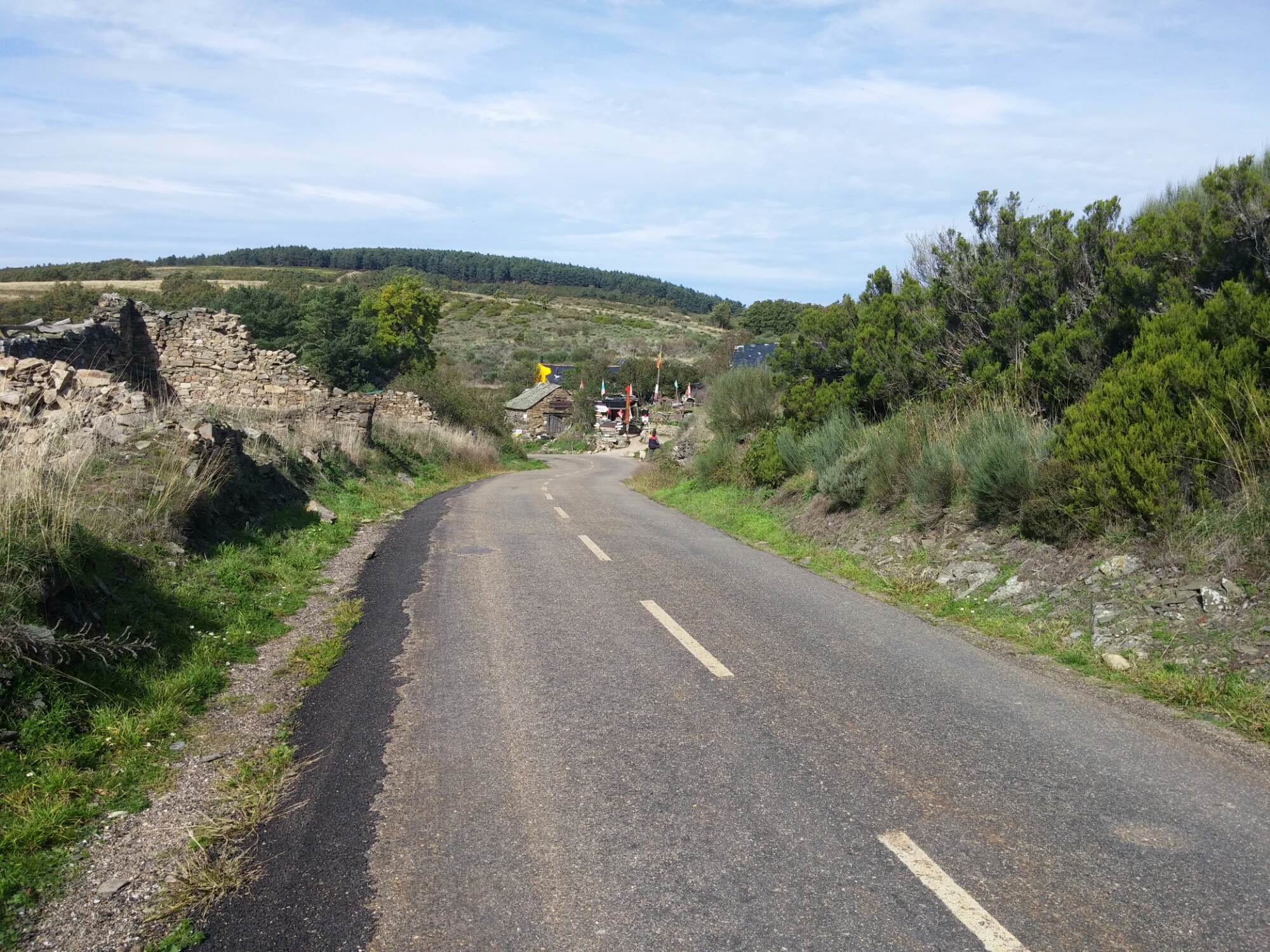 And the cats. You knew there had to be cats.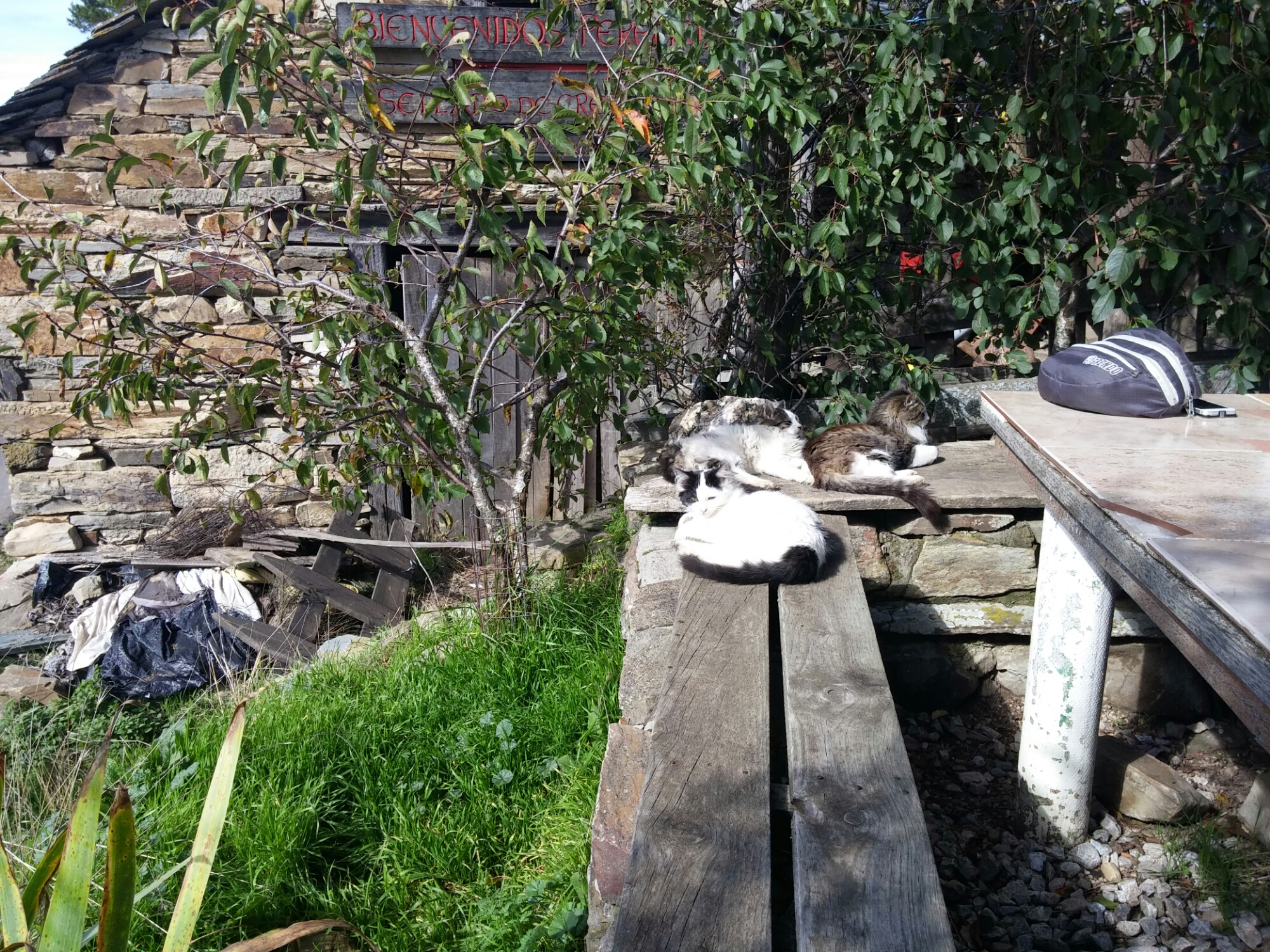 And the "facilities", Wynette used them so you'll have to ask her about them. I think it is the squat model.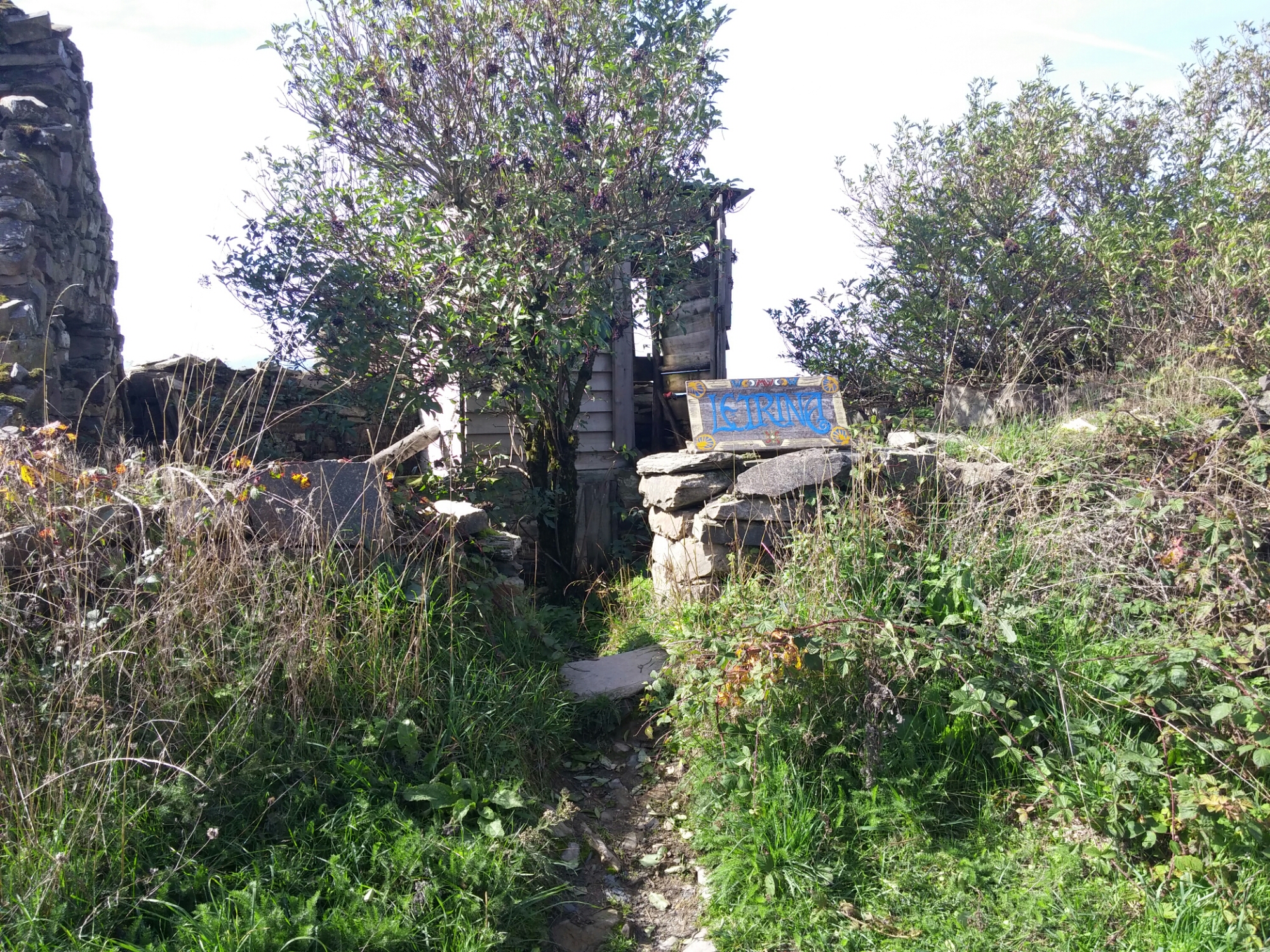 Markers 10-16
2014-10-19 10:41
Photos, Day 30, Oct 16, Villavante to Astorga
2014-10-19 12:55
Markers 10-17
2014-10-19 13:19
Wild Food
2014-10-19 13:28
Camino Transition
2014-10-20 10:51
Charlie. Today we finished our second walk on the Camino Frances. Tomorrow we take the bus from Ponferrada to Santiago and the day after that we start walking the Camino Finisterre.
We walked 235 miles from Pamplona to Ponferrada in 35 days, walking 33 of those days and staying in 34 different towns. We averaged 7.1 miles a day for the days we walked.
The weather was quite good generally. We had 3-4 days with some rain and only one really hard rain. It was pretty hot for the first couple of weeks and getting pretty cool the last two weeks but today it was 80 in Ponferrada and the 10 day forecast is for more warm weather.
The original plan was to walk all the parts we had skipped last time but we ended up skipping pretty much the same parts. We found it quite enjoyable to walk the parts over again and remember what it was like the last time. Memory can be amazingly specific. It was not unusual to say "I remember that around the next turn there is a cement bench and we stopped there for a snack and talked to that German couple from Munich who we had talked to in Hornillos the previous night".
This may sound like we were trying to recreate the last Camino but it was not like that. We enjoyed the memories and expanded the experience with new events. We had to leave many towns before we wanted to last time. Going through them again allowed us to complete the experience and make it more satisfying. The balance between the old and the new was just right for us.
We are sad to be ending this part but are already getting excited about the new Camino. We already made a reservation for the first stop out of Santiago.
Hello Goodbye
2014-10-20 10:58
Charlie. We have been running into some of the same people over several days lately. It is always fun to see people again and we are sad that we won't see any of these people again after we jump to the Camino Finisterre. But there we will see some new people.
We realized that the Camino is all about saying goodbye. You meet pilgrims and people in the towns and the next day you must say goodbye and move on. Sometimes you see people again but then you have to say goodbye again.
I guess there is some kind of life lesson there but it is what it is.
Trust
2014-10-20 11:15
Charlie. Societies work best when there is a high level of trust. We have found that in Spain. You almost never pay right away when you get a coffee or food at a bar. They let you sit there as long as you want even if you are outside and they are inside. When you are ready to leave, you seek them out to pay and you sometimes have to remind them what you had in a busy place.
We have pretty much stopped asking the price of anything. Everything is about what you expect it to be, or less. Some things are amazingly cheap.
At hotels and albergues some pilgrims leave their backpacks in the hall or out front for the transfer services to pick them up. Then they are left out again at the destination. We often see packs or suitcases sitting unattended. We have never heard of a problem either in a book or from other pilgrims. If there was a theft you would hear about it. Stories like that travel fast among pilgrims.
Taxi Driver 2
2014-10-20 13:04
Charlie. If you look at our daily pictures starting around Astorga and especially after Rabanal you will see lots of small orange stickers advertising Luis' taxi service. We noticed it last time and this time. Both times we were upset to see the natural path polluted with these stickers and vowed never to use the service.
Last time we did end up taking Luis' taxi from Molinaseca to Ponferrada for reasons not important to explain here.
This Camino we took a taxi from Manjarin to Acebo to shorten a day too far for Wynette's sore feet. Everyone suggested calling Luis but our casa rural was able to pick us up instead.
When checking in we said we didn't want to patronize Luis because of the ubiquitous orange stickers. They agreed there were a lot of stickers but that Luis was still a nice guy.
Today we walked to Molinaseca planning to taxi to Ponferrada and walked to the place we knew the taxis wait. There was Luis waiting, the only taxi, so we took it.
Photos Day 35, Oct 21, Ponferrada to Santiago
2014-10-21 11:32
In Santiago
2014-10-21 11:42
Charlie and Wynette. We took the bus to Santiago today from Ponferrada. It was a low key day for us. We had a good 4 hour bus ride then walked to our hotel then to a restaurant we liked from our last visit here. After eating, we walked to the cathedral. Things seemed quiet there. Even the bagpipes didn't seem so loud. It was fun to see pilgrims arriving in Santiago, imagining what they might be feeling. We hoped we'd see some of the pilgrims we had met at the beginning (mid-september) who were traveling the typical stages because they'd be arriving right about now. But we didn't see any familiar faces.
Both towers of the Cathedral are being renovated: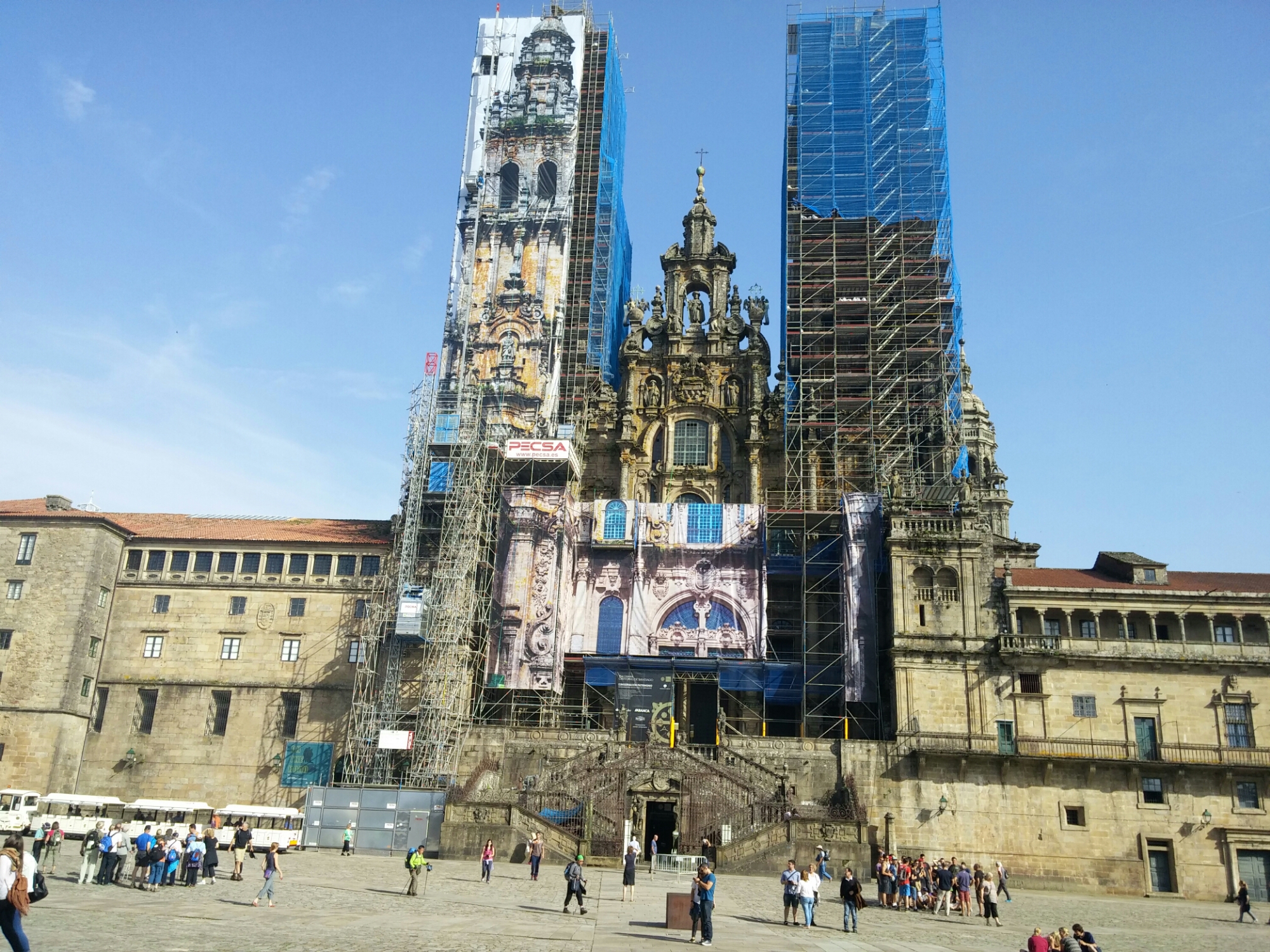 Here is St. James at the entrance: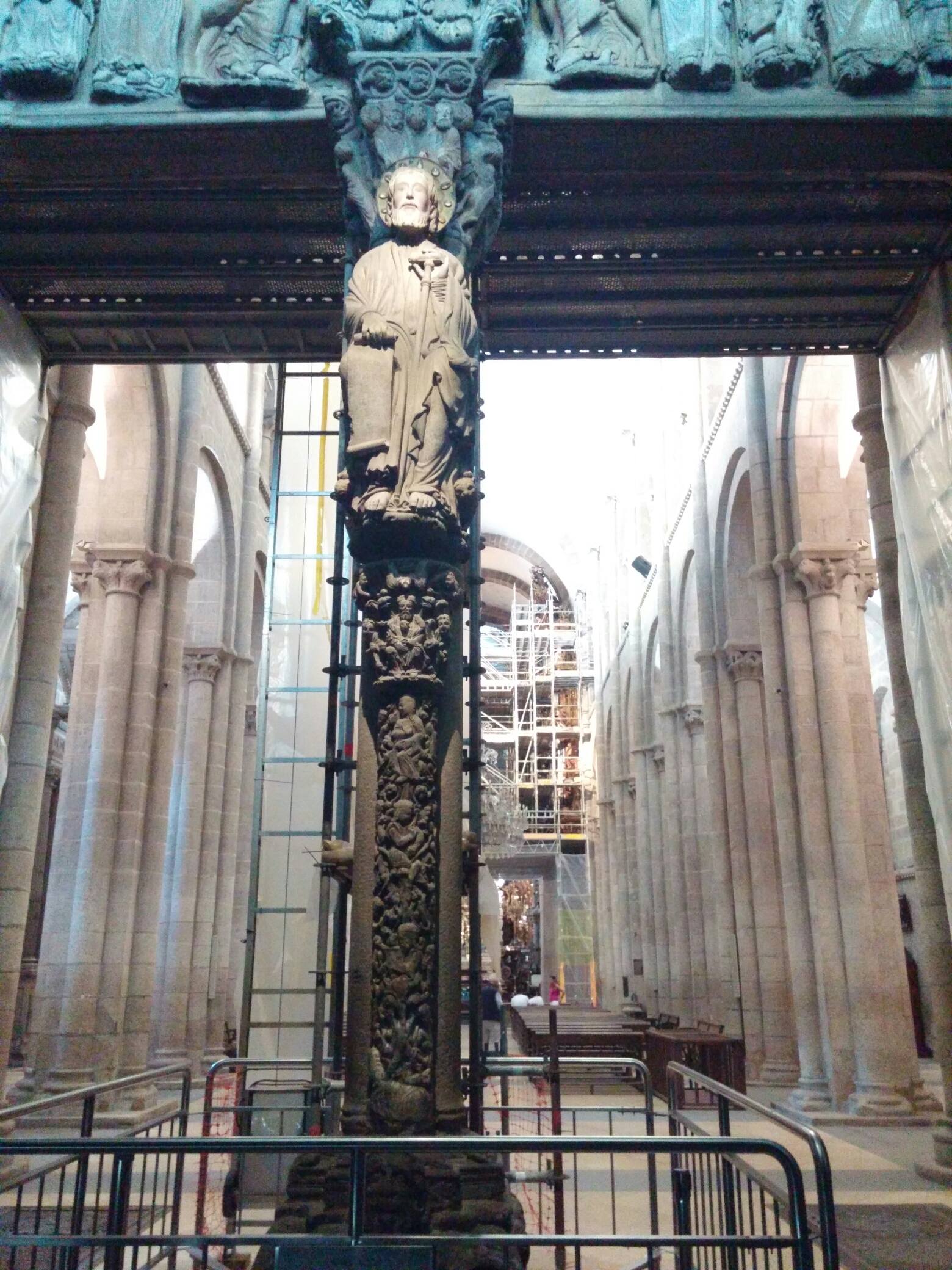 And another saint inside.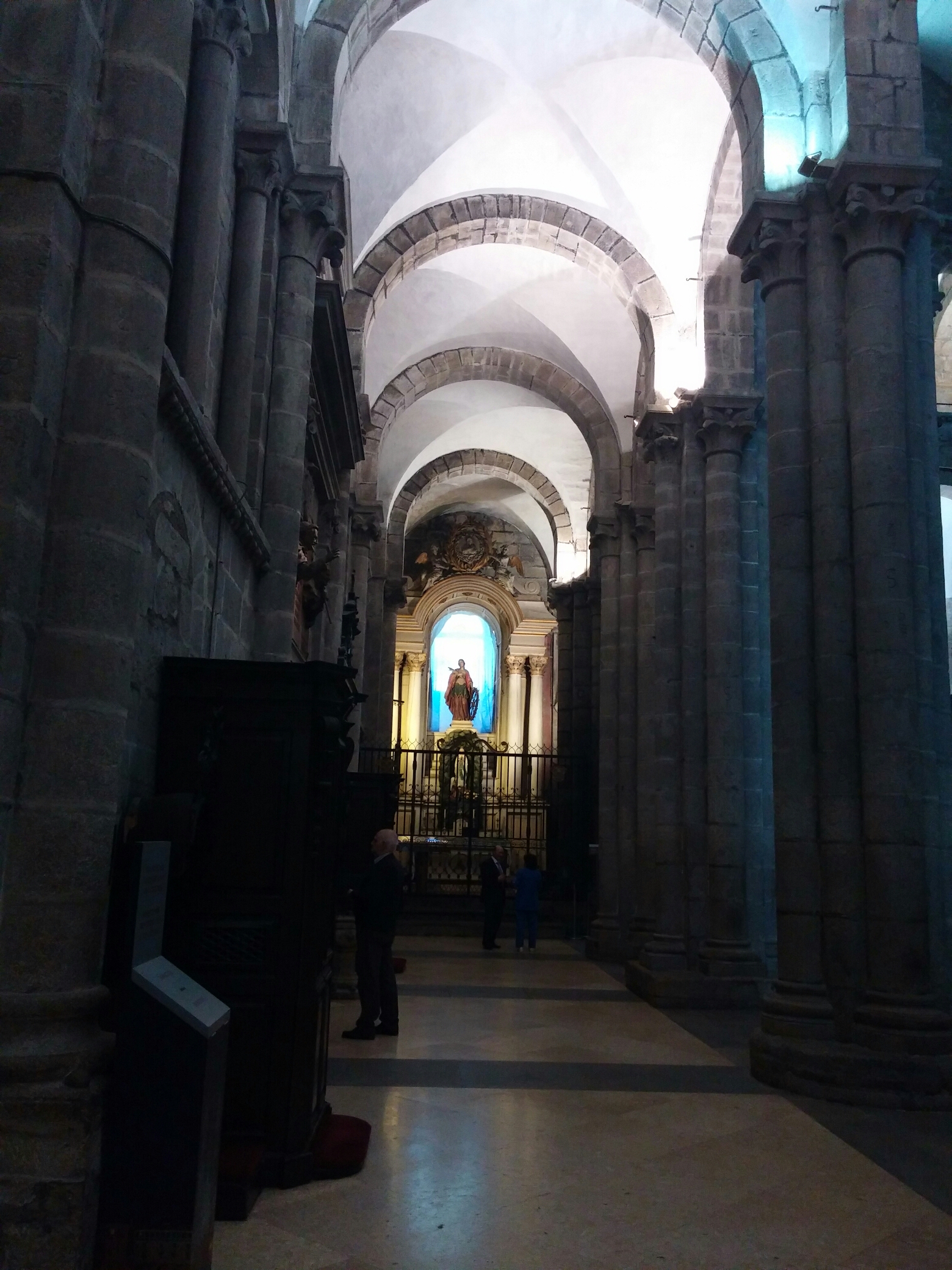 Molinaseca
2014-10-21 11:47
Fall Color
2014-10-21 11:52
Weather Forecast
2014-10-21 12:04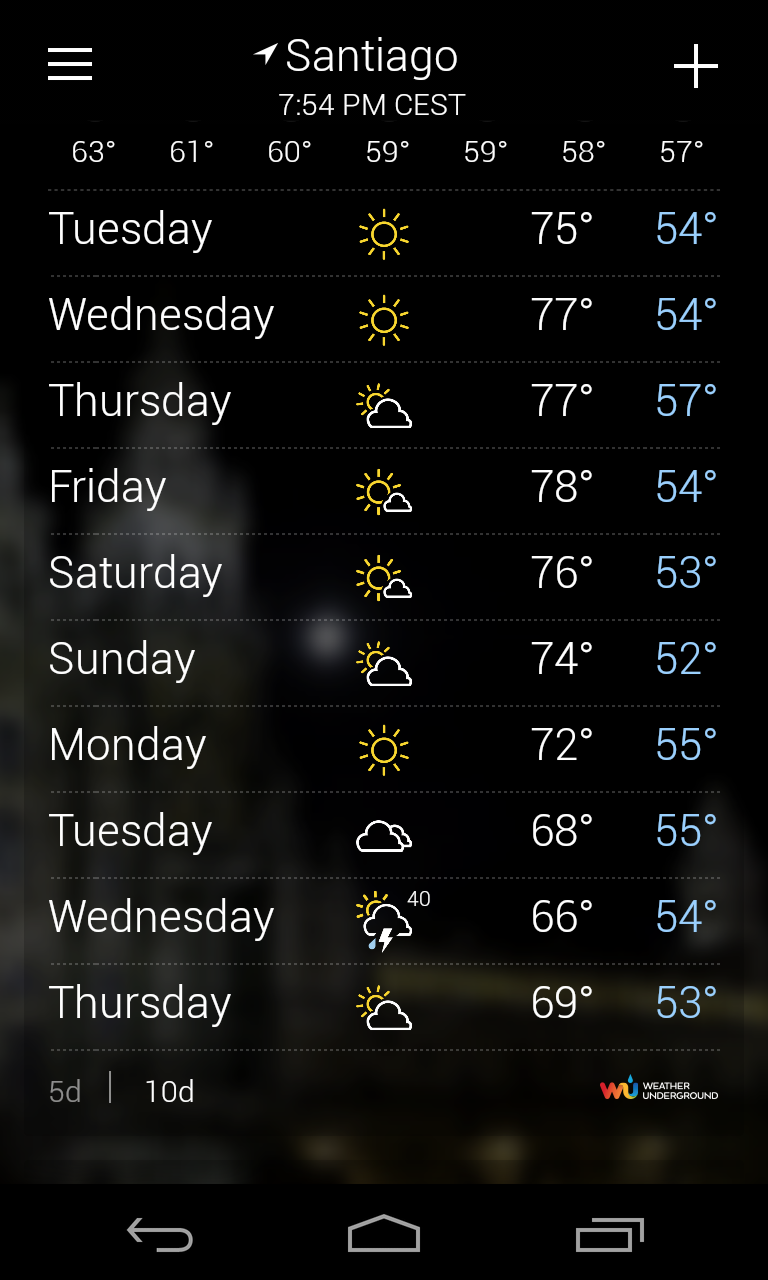 Wynette. It is October 21. This is the current crazy forecast for our next days. This is Galicia where average summer highs are in the low 70s and average October high is 63 and rain 50% of the days. We were gearing up for cold, wet weather. We were walking around Santiago today in the sun and it was quite hot. So we plan to head out tomorrow before sunrise hoping to cover our 7.5 miles before it gets too hot.
Riego de Ambros
2014-10-21 12:05
Leaving Early
2014-10-21 12:10
Attic Room in La Rosa del Agua
2014-10-21 12:23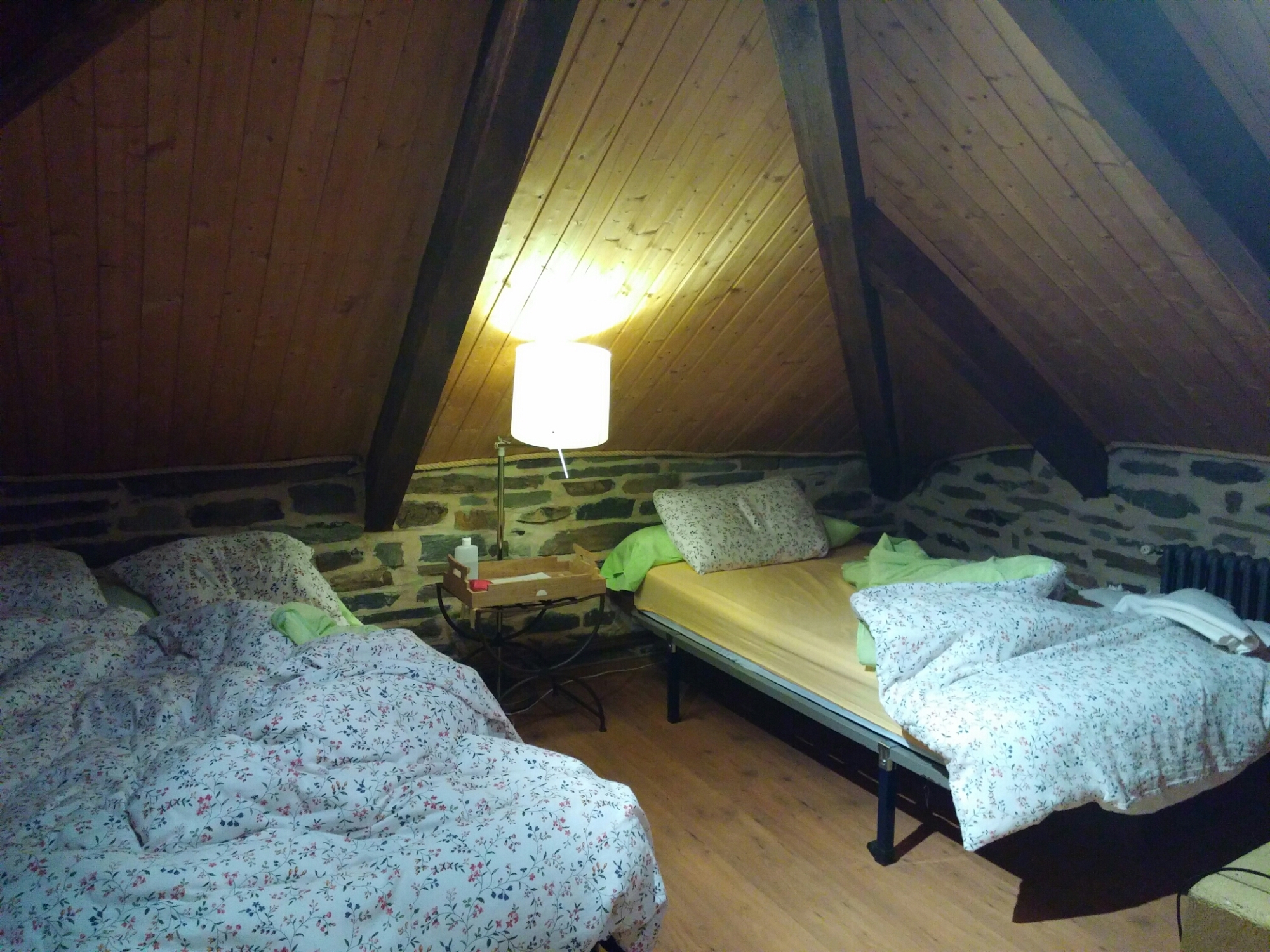 Charlie and Wynette. We had this interesting room in the casa rural La Rosa de Agua in El Acebo. It was the biggest room we have had.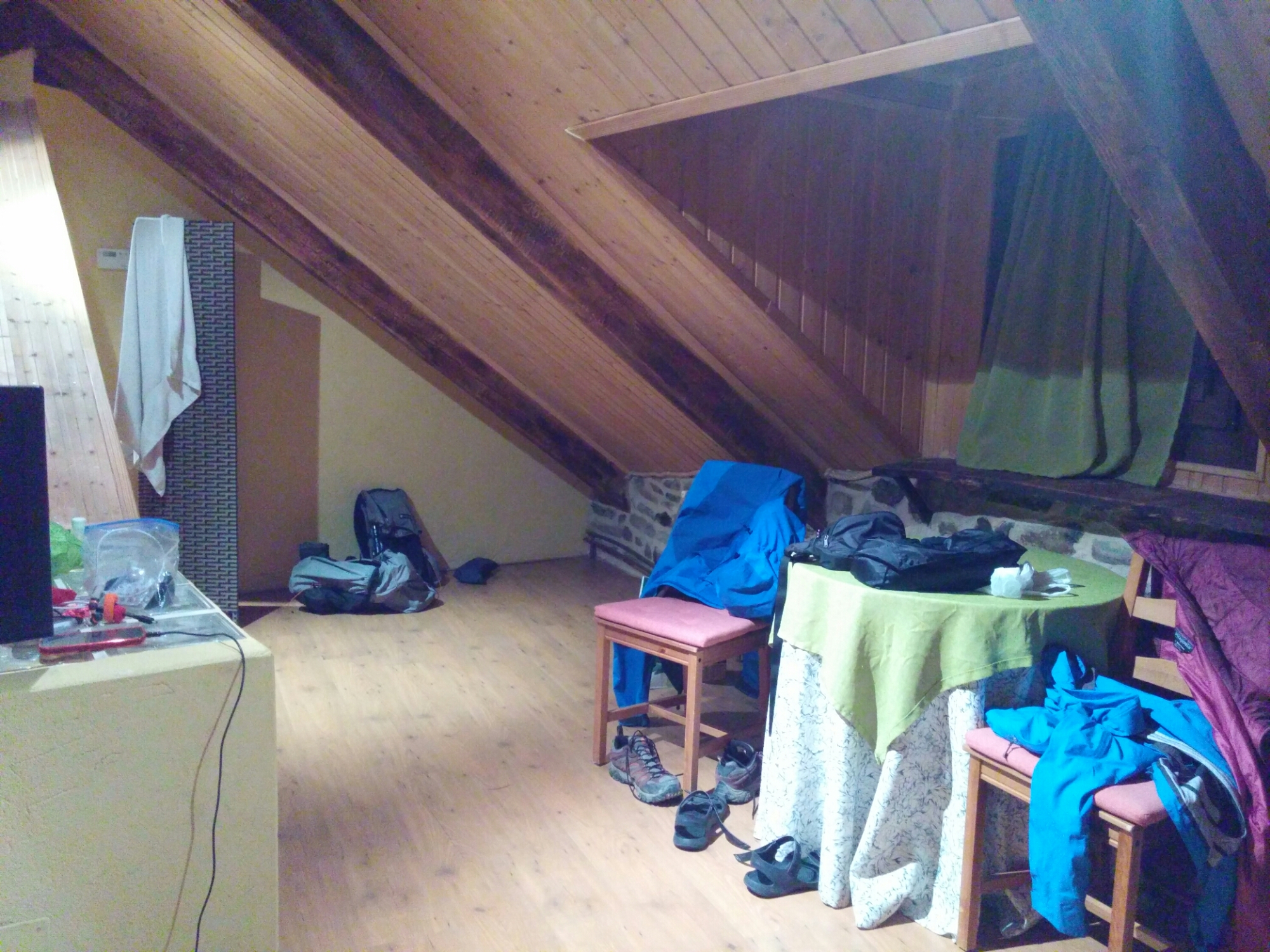 As you can see we spread out. Hard to believe that all fits in two packs.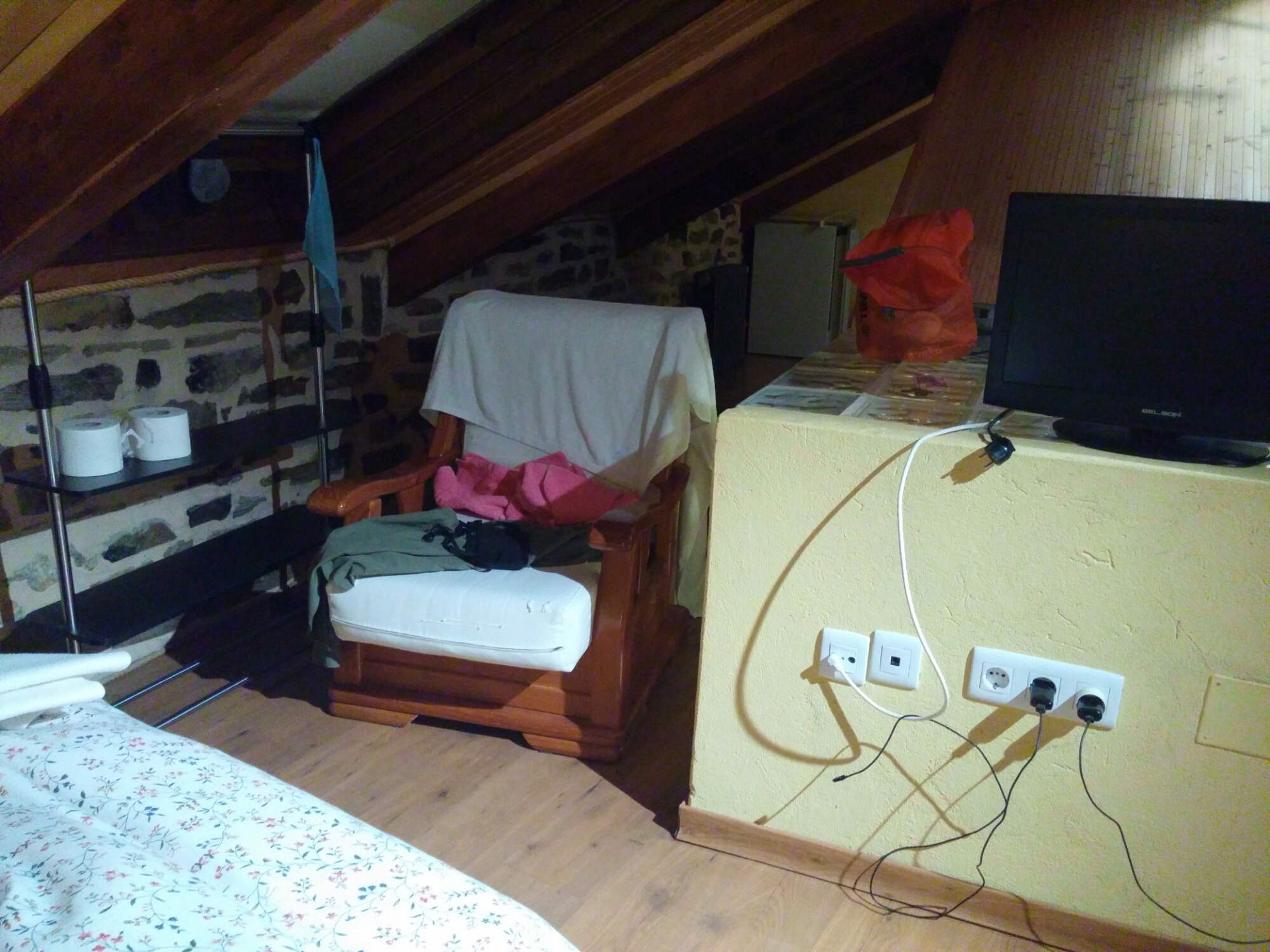 Casa rurals usually provide a kitchen. In this one Wynette made tea, something she has been missing.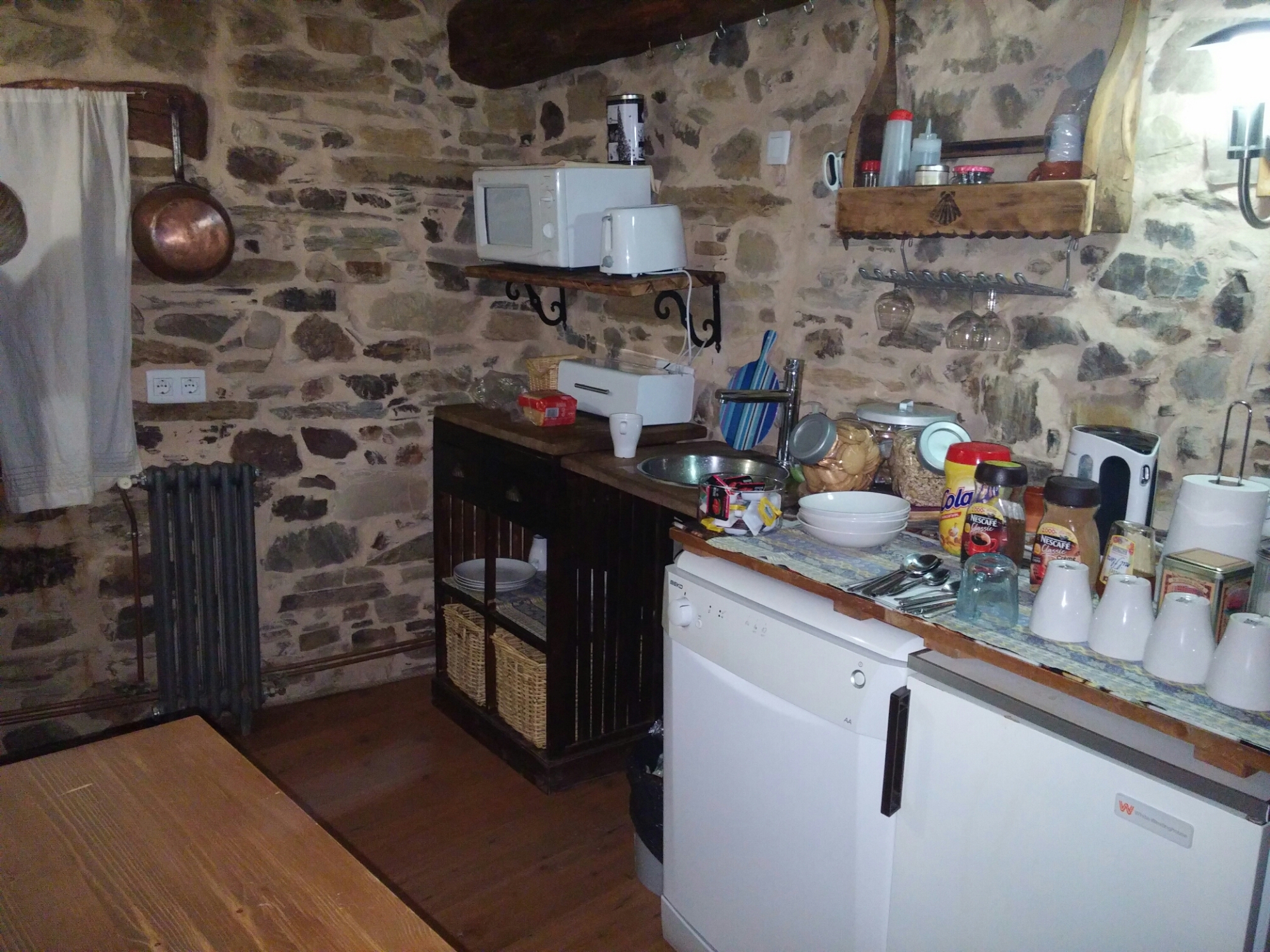 This is a place we stayed last time. We stayed two days then because Charlie was sick. We loved staying here again. The room and kitchen are pretty and comfortable and the young couple who run it are so hard-working and kind. They have a little tienda downstairs. We bought bread and cheese and tomato for a sandwich for dinner. She gave us an onion she had and also squirted our bread with olive oil when she cut it for us. La Rosa del Agua is in the mountain village of El Acebo. Beautiful views from the window and garden.
Door Half Open
2014-10-21 12:33
Estamos Perdidos …
2014-10-22 10:14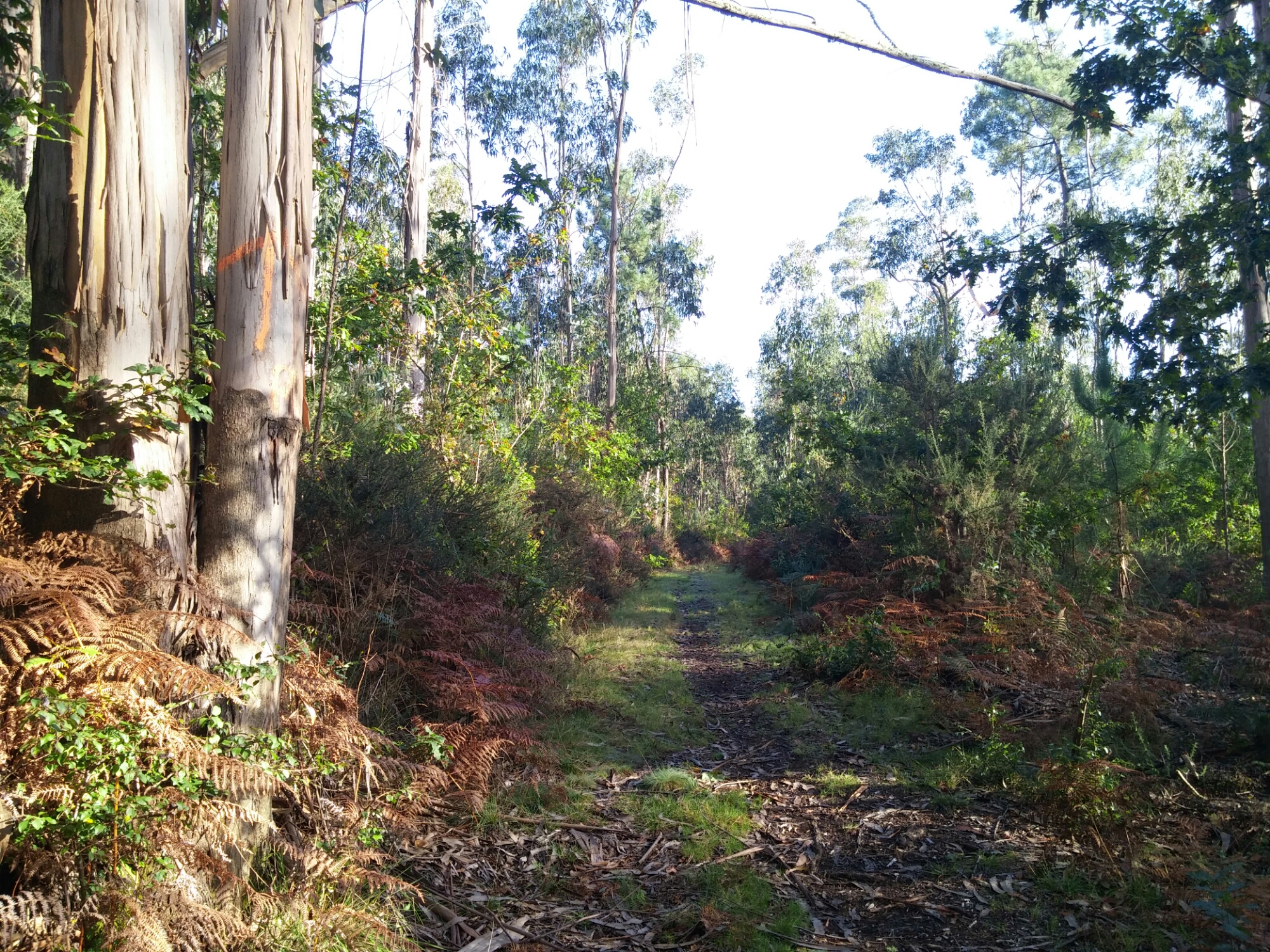 … (we're lost) we said to the man spray-washing his driveway. He smiled and gave us excellent directions back to the Camino. We had been lost the previous hour and a half (having just realized it about 40 minutes before) and were relieved to learn we'd found our way back to within a half mile of the Camino.
Here's what happened. We were merrily following the yellow arrows when we started seeing light orange arrows mixed in going the same path. Being typical human beings we made up a story to explain it. We decided they wanted to add more markers and were using a different new color for the Camino Finisterre (or maybe they had run out of yellow paint). We were convinced these were Camino markers mainly because they stayed alongside the yellow markers for so far.
Then we came to a point where an orange marker took a slightly different path than the yellow, but very close. The yellow marker was really faded at that fork. We consulted our Brierly guidebook at what we thought was this fork and he said "Ignore old arrows pointing straight on" so we followed the new orange ones. We started going deep into a forest. There continued to be lots of orange arrows. It was a very well marked path. After about 45 minutes or an hour we started questioning why we hadn't already come to a bar (named Os Arcos) on Brierly's map. Charlie checked our location using Google maps on his phone and we saw we were off course, heading away from the town we expected. The path we were on didn't show up on Google maps so it looked like we were in the middle of nowhere. The forest was very dense with underbrush so there was no way to walk through it without a path. We realized we had no choice but to backtrack.
Luckily after about 15 minutes we found another forest path that looked like it might lead to the right town. We followed it and eventually found the man washing his driveway. He directed us to a bar and told us to turn right there and then we'd be on the Camino. When we got to the bar we were happy to find it was the Os Arcos, the bar we had been expecting to see when we were lost and going in exactly the opposite direction.
It was so great to get back to the yellow arrows. From now on, nothing but yellow!
So we added about two extra miles to our day, making it 9.5 miles instead of 7.5. On the bright side we upped our daily average a bit.
Looking back we think we got off onto some kind of hunting path (we saw some shotgun shells). But that might just be another story we made ourselves believe.
The photo at the top is our well-marked-with-orange-arrows forest path. (Can you find the orange arrow?)
Below is a screen shot of our track today. The straight yellow line is the part of the Camino we missed, más o menos. The part in red and blue above that yellow line is where we were lost.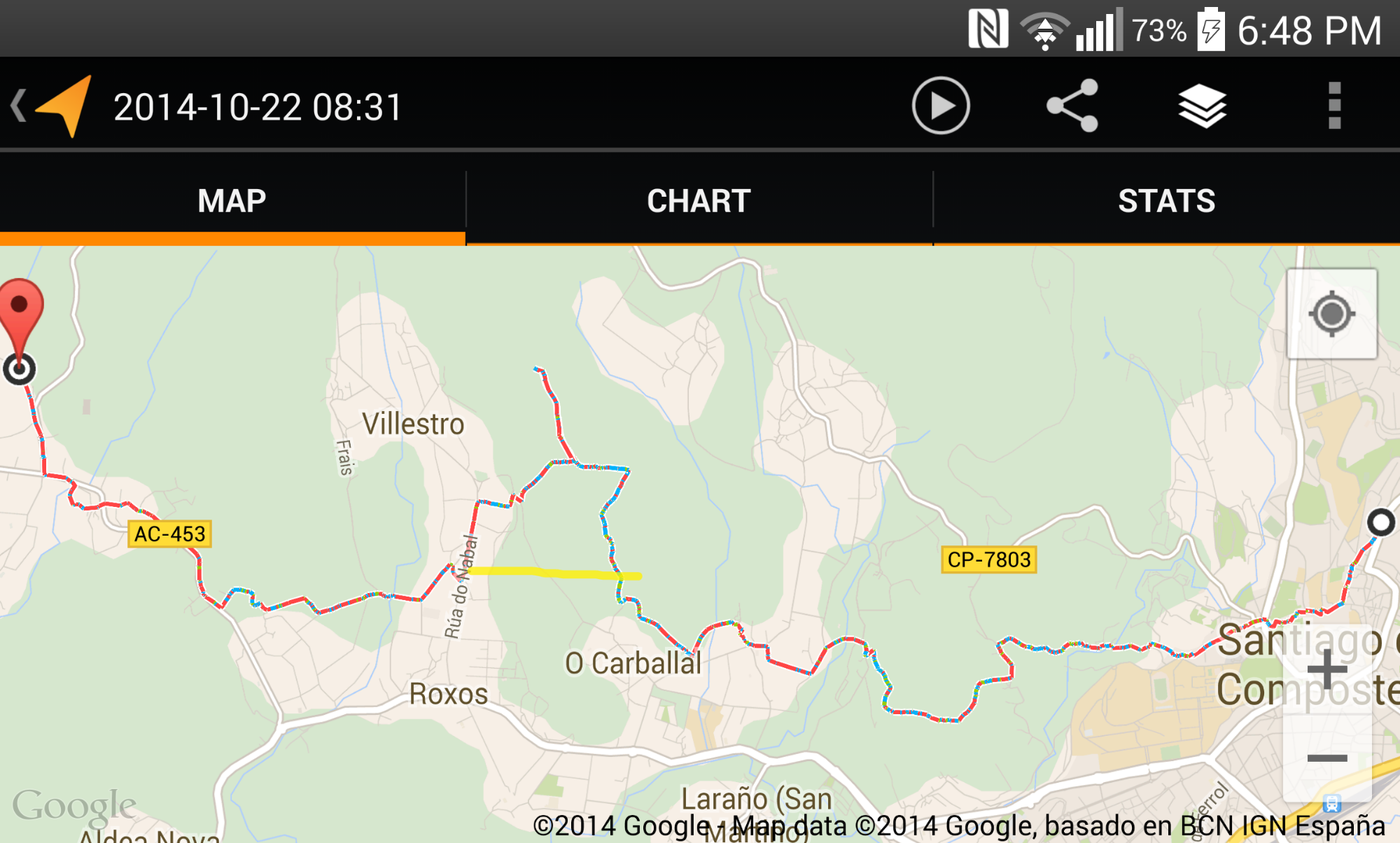 Sandy Feet Rinser
2014-10-26 09:23
Shellfish and Fish Zarzuela
2014-10-26 09:23
On the Beach
2014-10-26 09:28
Linda from Germany
2014-10-26 09:50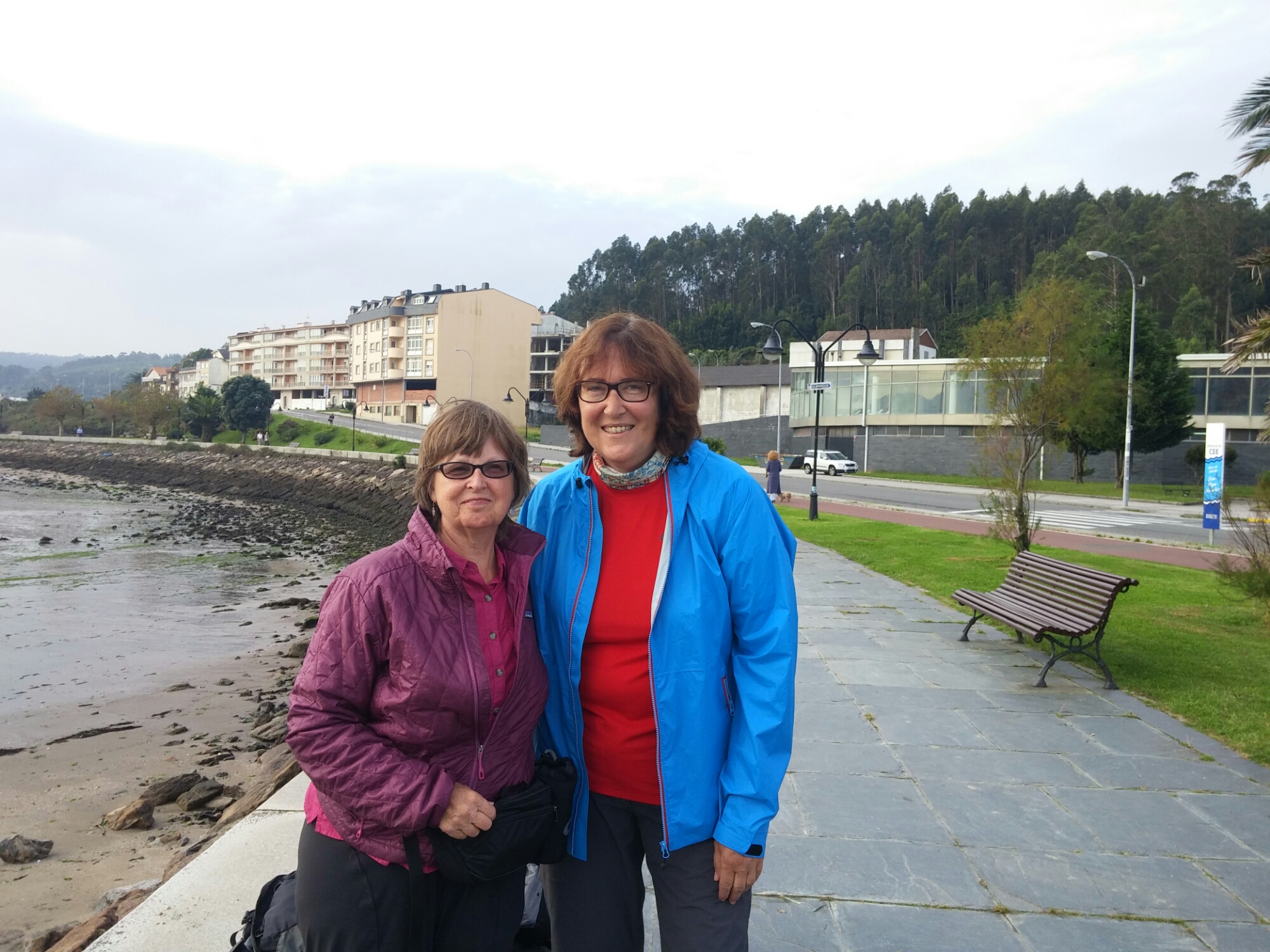 Charlie. We met Linda at the albergue in Negreira. The next day we shared a bus and taxi ride to Cée where this picture was taken. We all wanted to get to the ocean for the good weather. We walked from Cée to our lovely beach hotel half way to Finisterre and she walked on to Finisterre. We stayed at the beach hotel two nights then walked in to Finisterre this morning. We are now staying in the same hotel as Linda. She just stopped in the common area, where I am writing this, to say hello.
Selfie
2014-10-26 09:52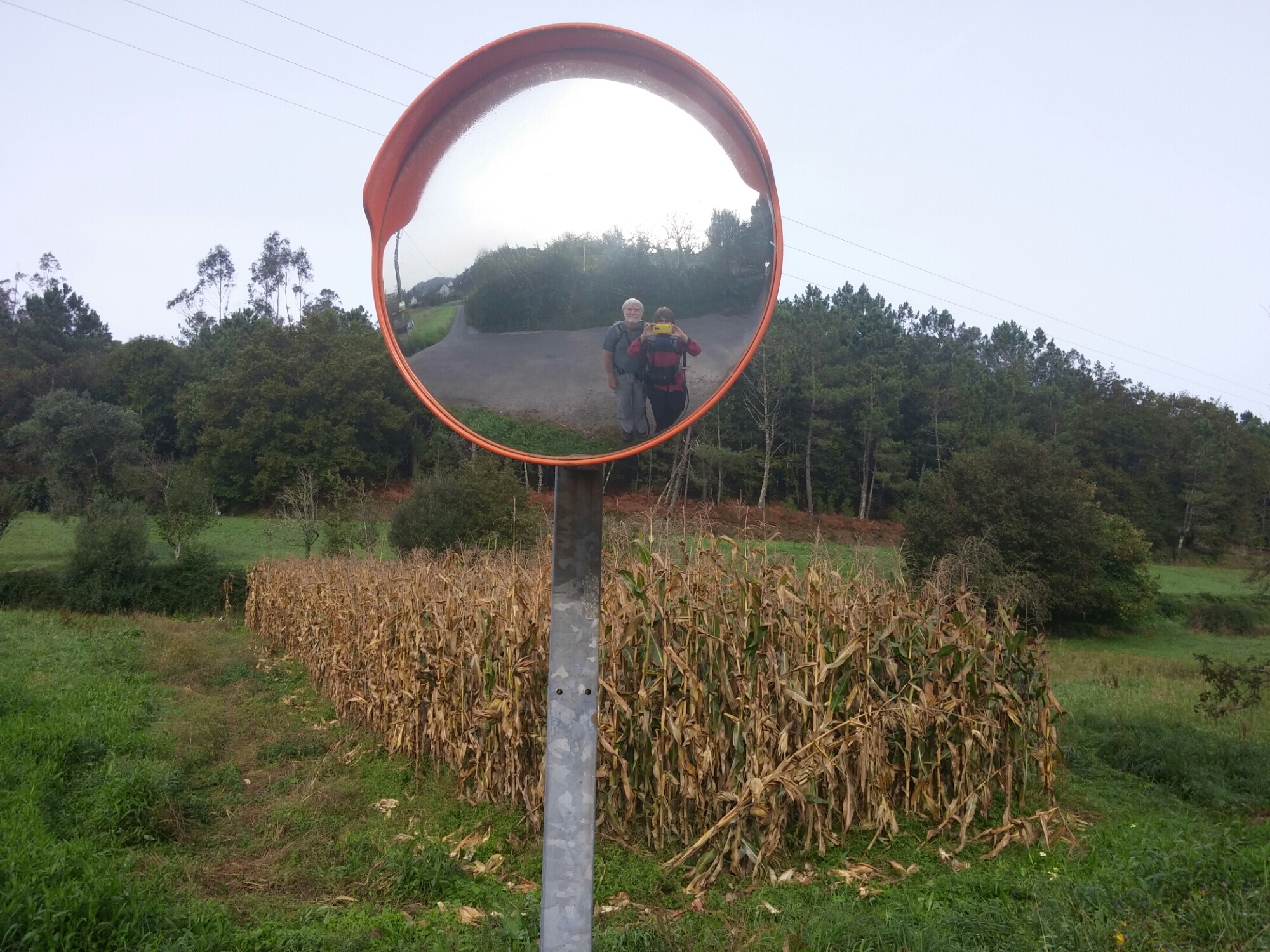 Dogs on the Old Wall
2014-10-26 12:53
Camino Through Cée
2014-10-26 13:18
We Loved the Coffee
2014-10-26 13:27
On the Camino Finisterre
2014-10-26 13:32
Eucalyptus
2014-10-26 13:34
The Rosy Ruiz Camino
2014-10-26 13:45
Question: What is Finisterre all about?
2014-10-27 10:18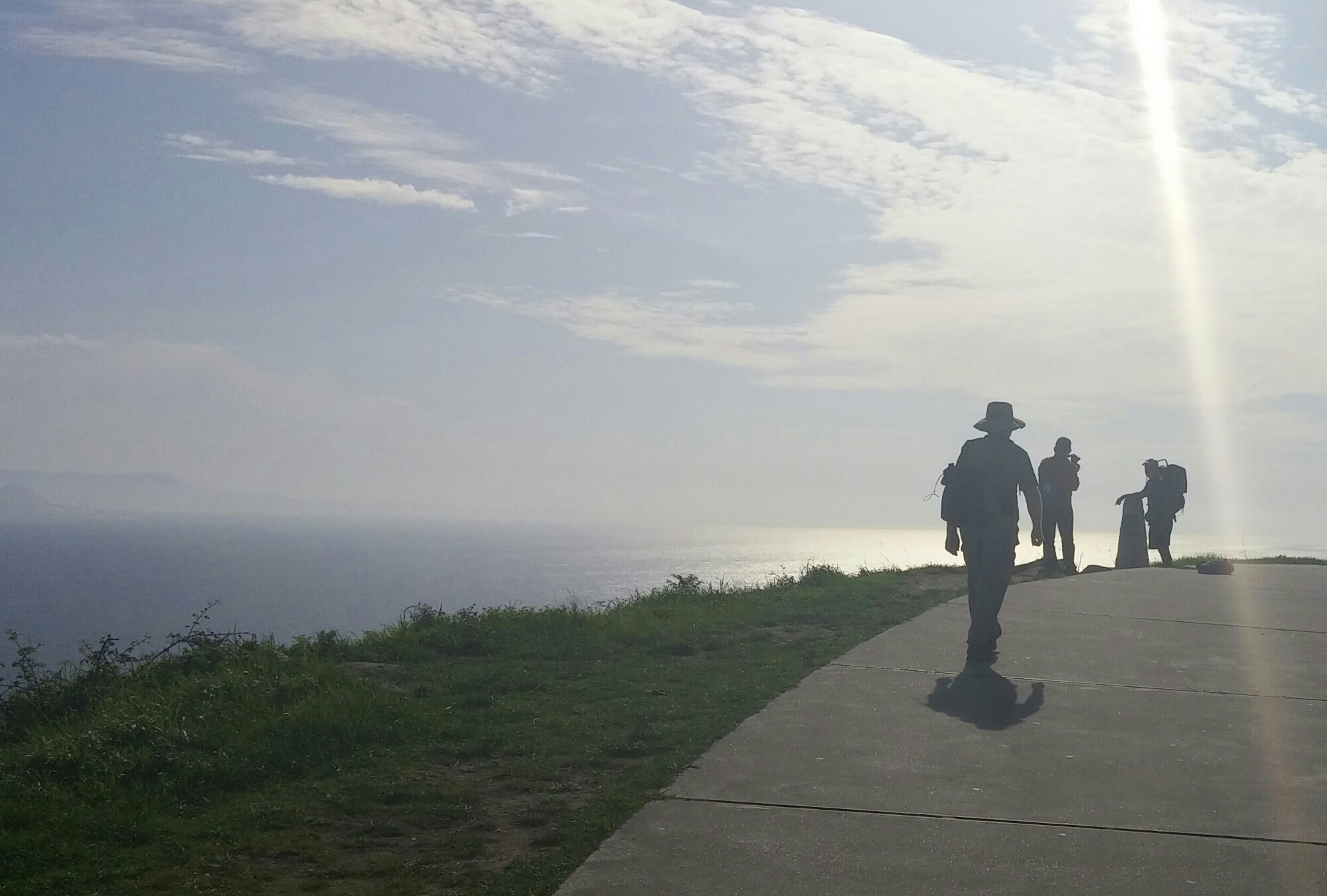 Wynette. Santiago is the primary pilgrim's destination, the end of the Camino. However, once pilgrims reach Santiago, some choose to continue walking on to Finisterre and/or Muxia.
Finisterre is about 55 walking miles west of Santiago and is on the Atlantic Ocean. In ancient times, people thought Finisterre was the end of the earth, hence its name. Even then, people made pilgrimages to Finisterre as it was considered to be a spiritually powerful place. (At some point in history it was determined that a cape in Portugal is a little further west than Finisterre and is the westernmost point in Europe.)
We walked part of the way from Santiago to Finisterre and bussed part of it. We are staying in Finisterre for 3 days. We have seen lots of pilgrims here. There are quite a few staying in our little hostal and most are here for several days. We've had fun sharing tea and stories in the kitchen.
We walked out to the end of Cape Finisterre today. (Photo above.) The Cape is about two miles past the village of Finisterre. Photo below shows return into village.
From Finisterre, we plan to spend two days walking up to Muxia. Muxia is another coastal town, 18 walking miles north of here. We think we'll stay in Muxia a few days as well.
Muxia is where Martin Sheen and his Camino buddies ended up walking in The Way, where he left his son's ashes.
We're not sure but we might walk back toward Santiago after Muxia. Not all the way, but a day or two. We love walking through the little villages and it is hard to give up the pilgrim lifestyle.
For more, search for Cape Finisterre on Google. The Wikipedia article is nice. (I would include a link but think I only have mobile site url.)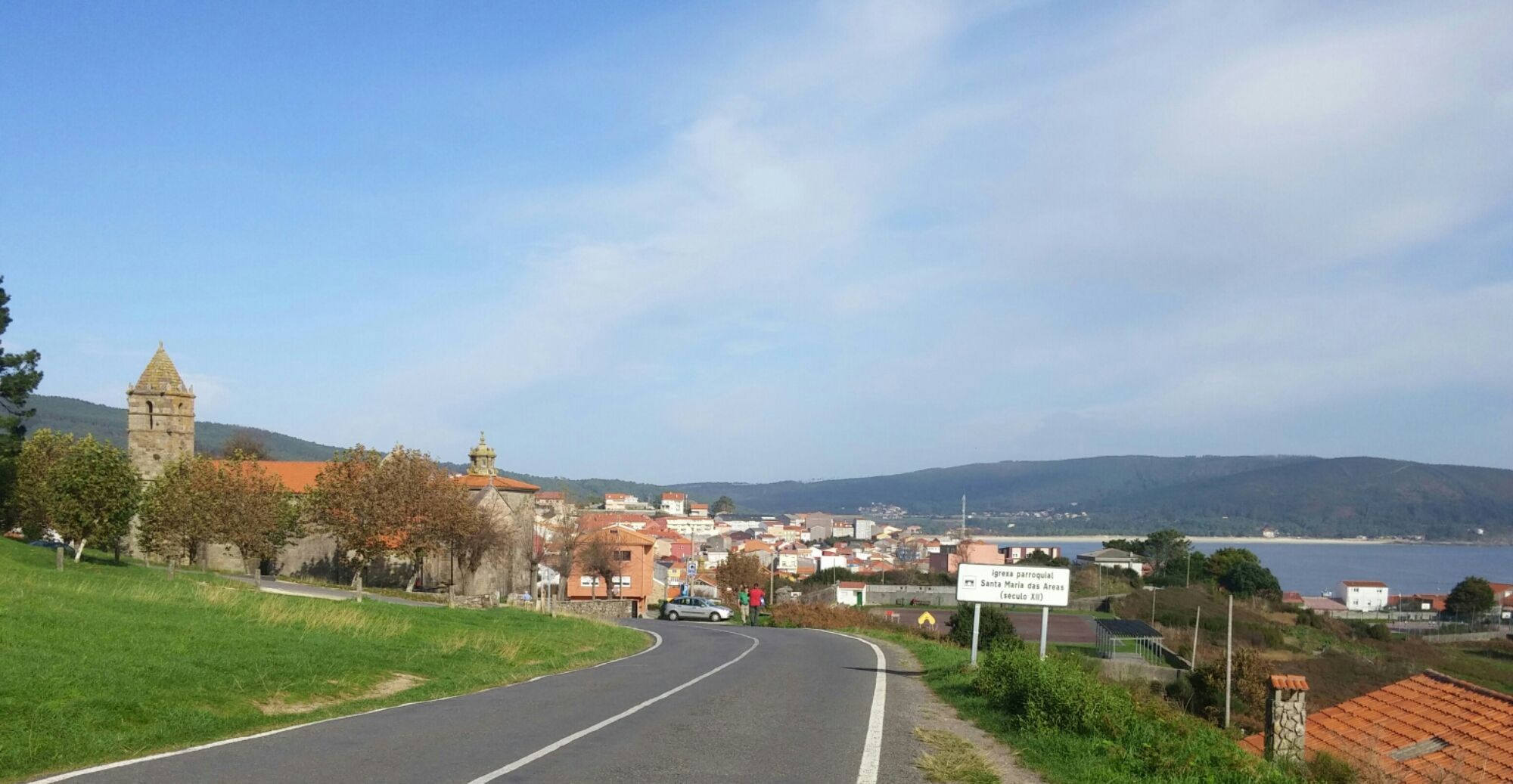 Finishing Up
2014-11-09 14:56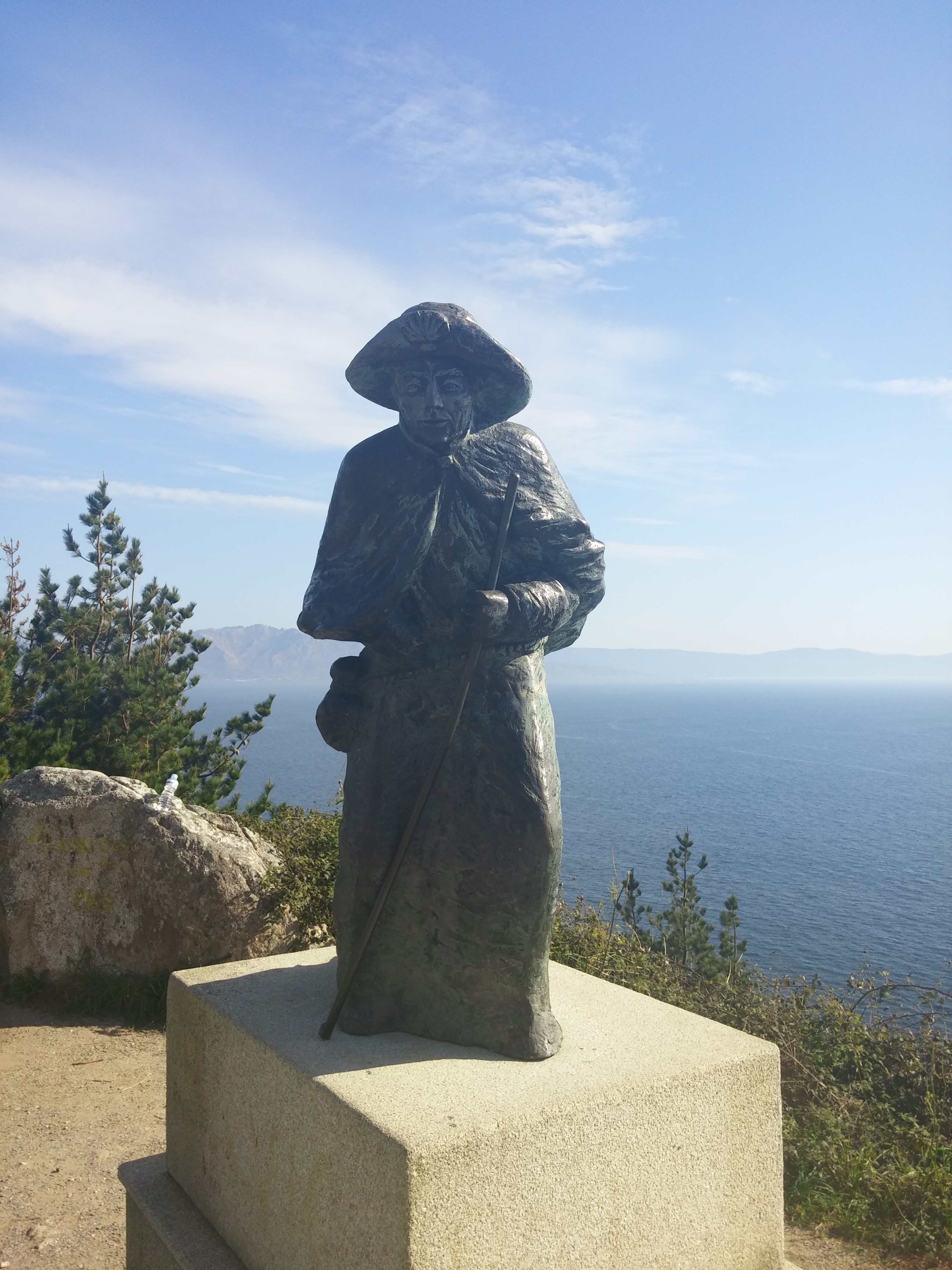 After you have made it to the end of the earth what is left? Getting to Finisterre was a goal. We had planned to go on to Muxia (another two days) and then see some other places for the last week. But foot problems, while not preventing going on, made it sound less fun. We talked about various tourist places to go, mostly along the north coast of Spain but that would involve switching to "tourist mode" from "walking mode" and we weren't in the right state to make that switch. Also some minor issues came up at home.
So the upshot is that we decided to come home 10 days early, a 46 day trip instead of a 56 day trip. We switched our plane reservations and took the bus to Santiago, the train to Madrid and the plane to Albuquerque. We have been home a week and are just getting over jet lag.
Overall we were very happy with the trip and are already planning our next walking vacation.
Bus to Santiago
2014-11-09 14:56
There are five or six buses a day from Finisterre to Santiago (and as many the other direction). We expected the bus to take the autopista (freeway) but it was a local all the way. Instead of going straight to Santiago it followed the jagged Costa da Morte. There is a town at every inlet with a beach, usually every 5-10 miles. The bus serves the locals who need to go along the coast and to get to Santiago. People could just flag down the bus. The trip took three hours (an hour longer than advertised) but the scenery was interesting the whole way. You see the coast and lots of interesting little towns along the coast.
Waiting for the bus: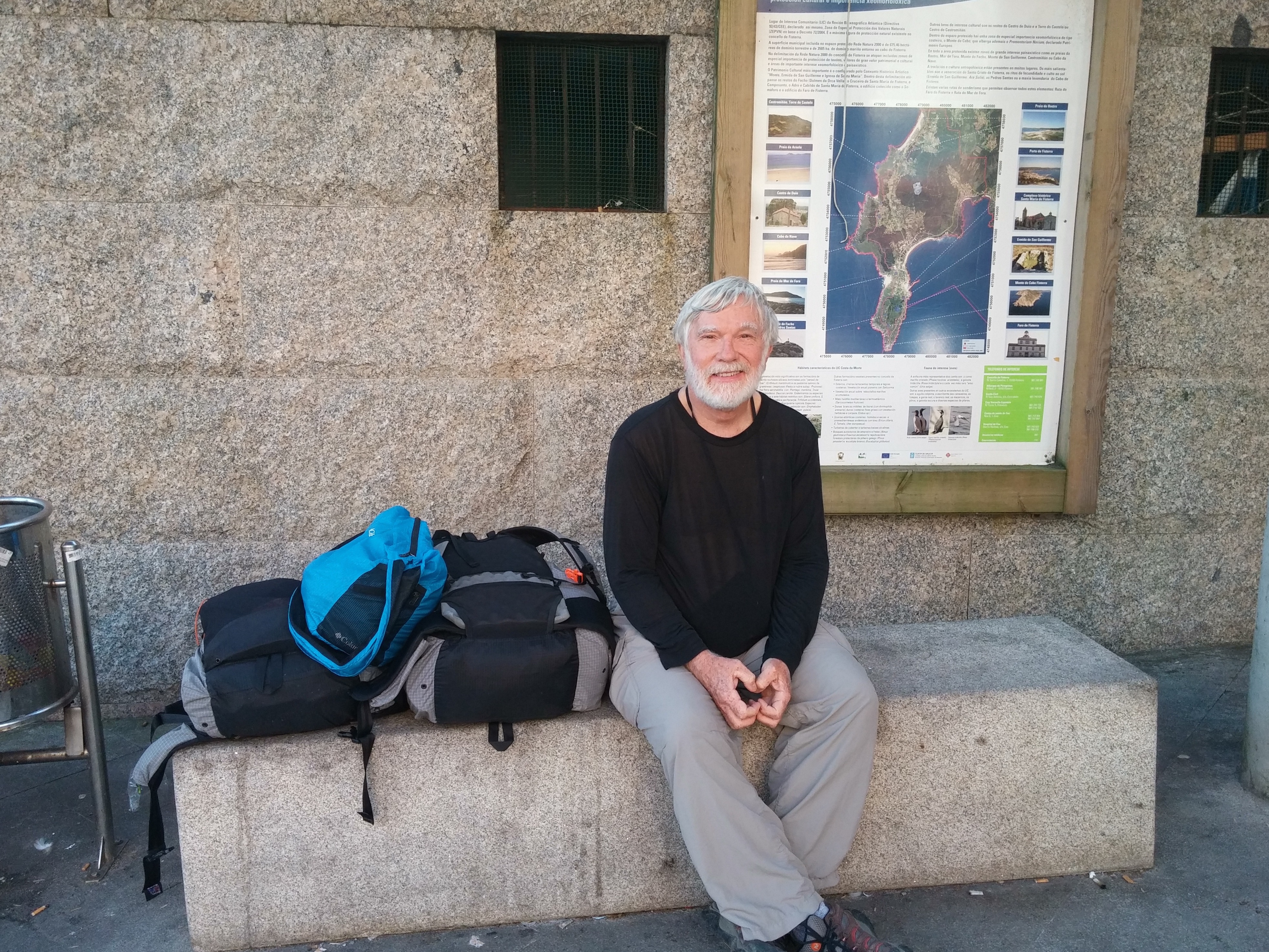 Pilgrims boarding the bus before us: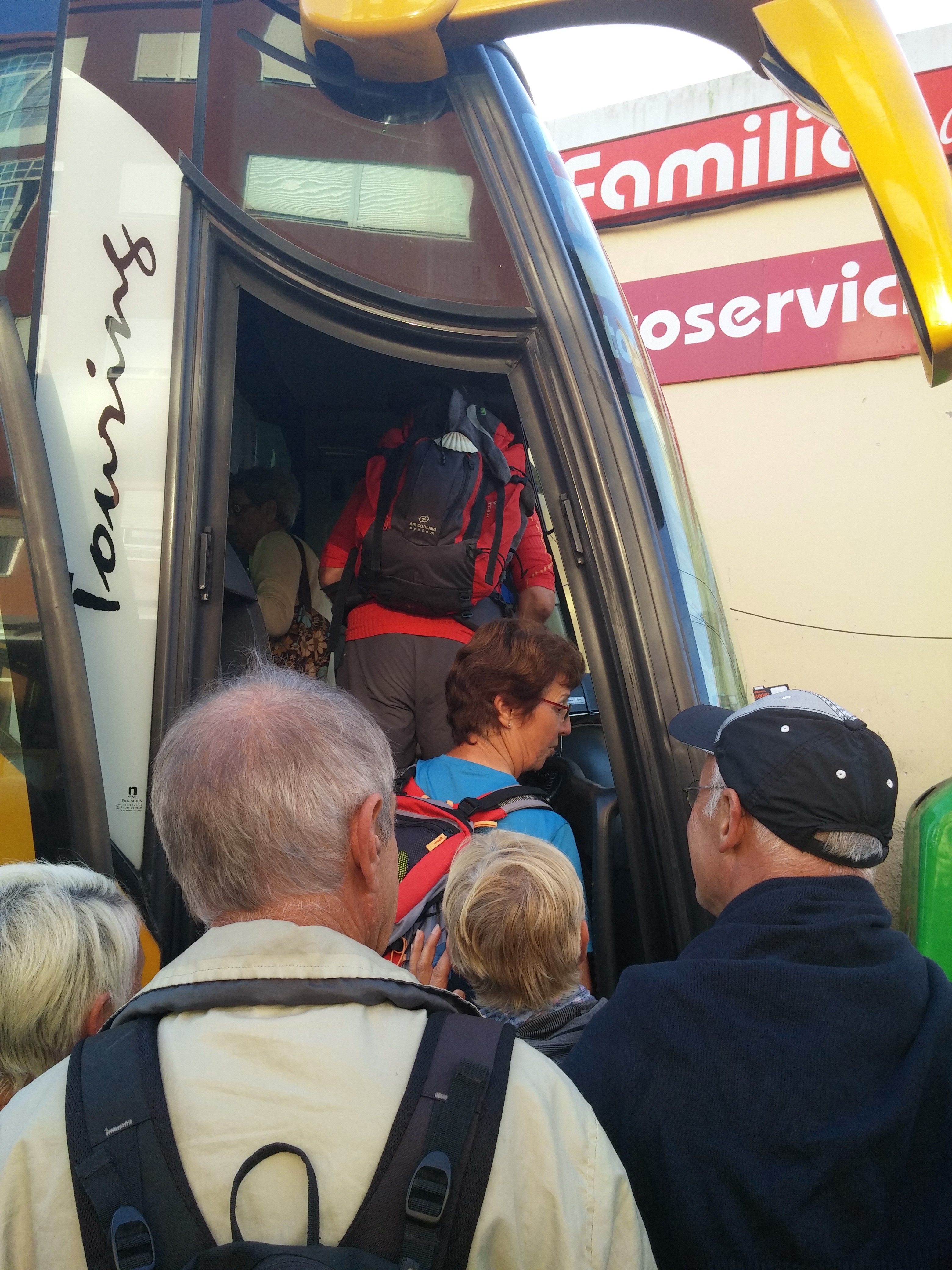 Our bus driver had a great face: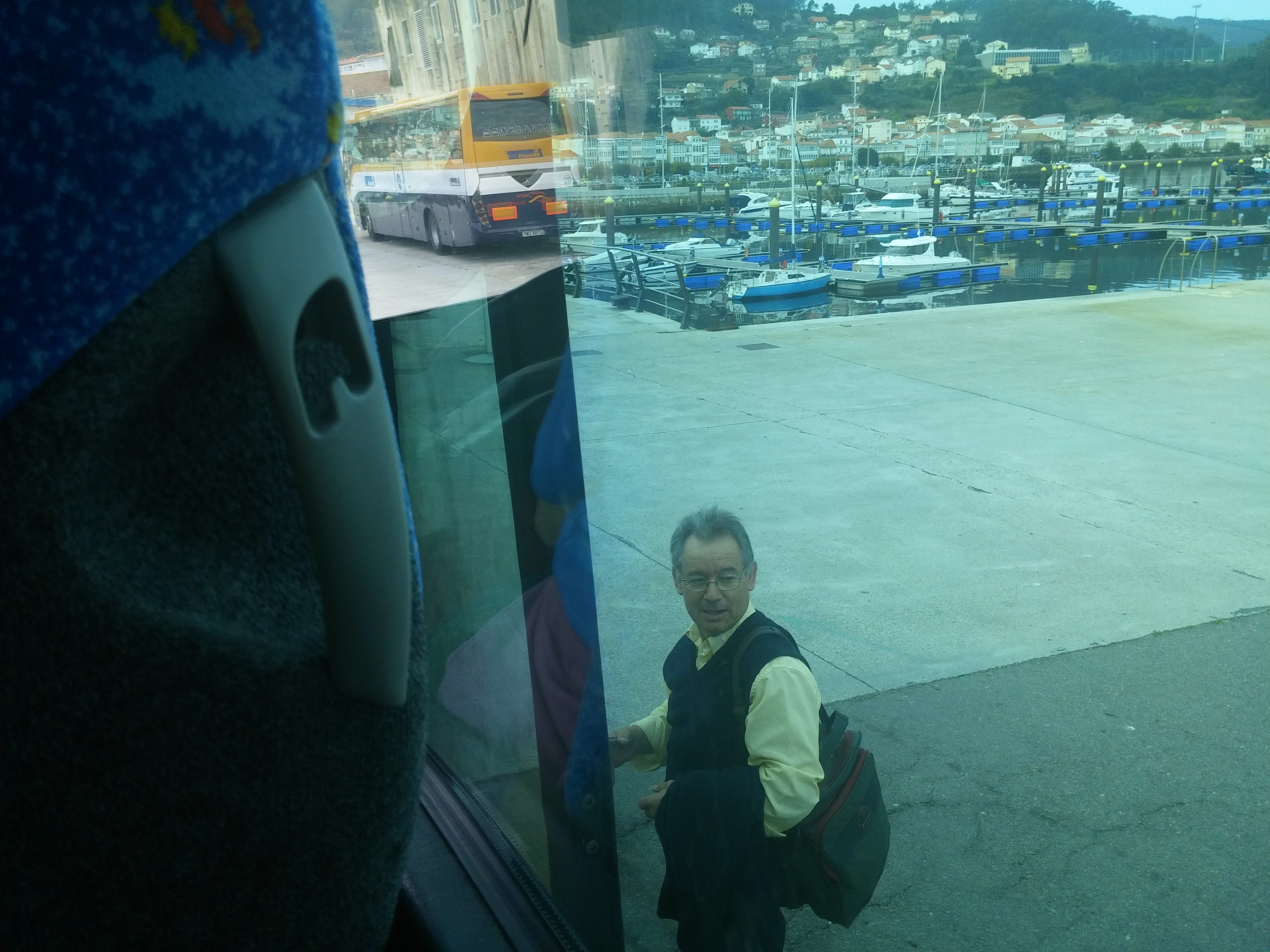 Snapshot from the bus window: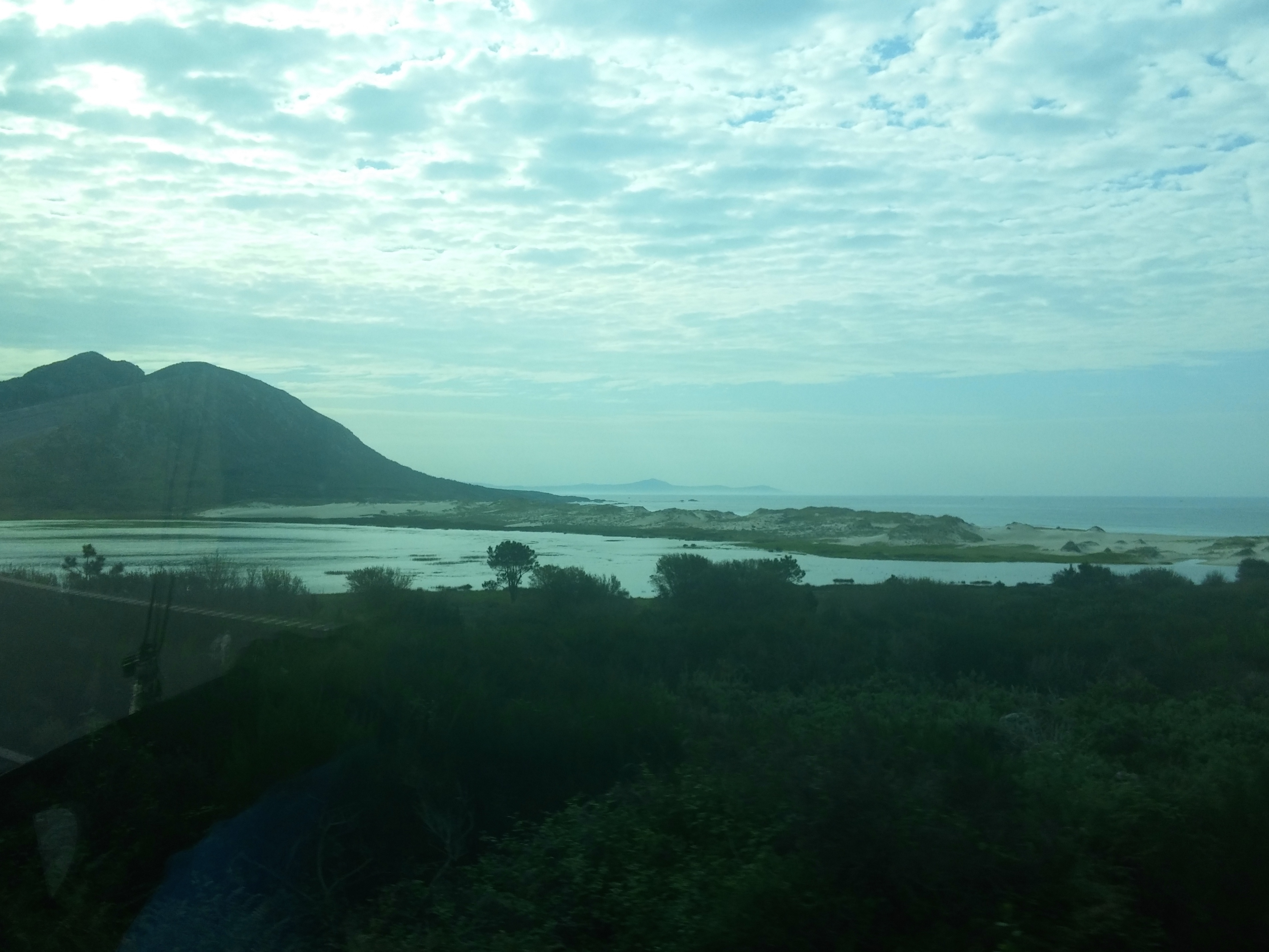 Camino as World Building
2014-11-09 14:57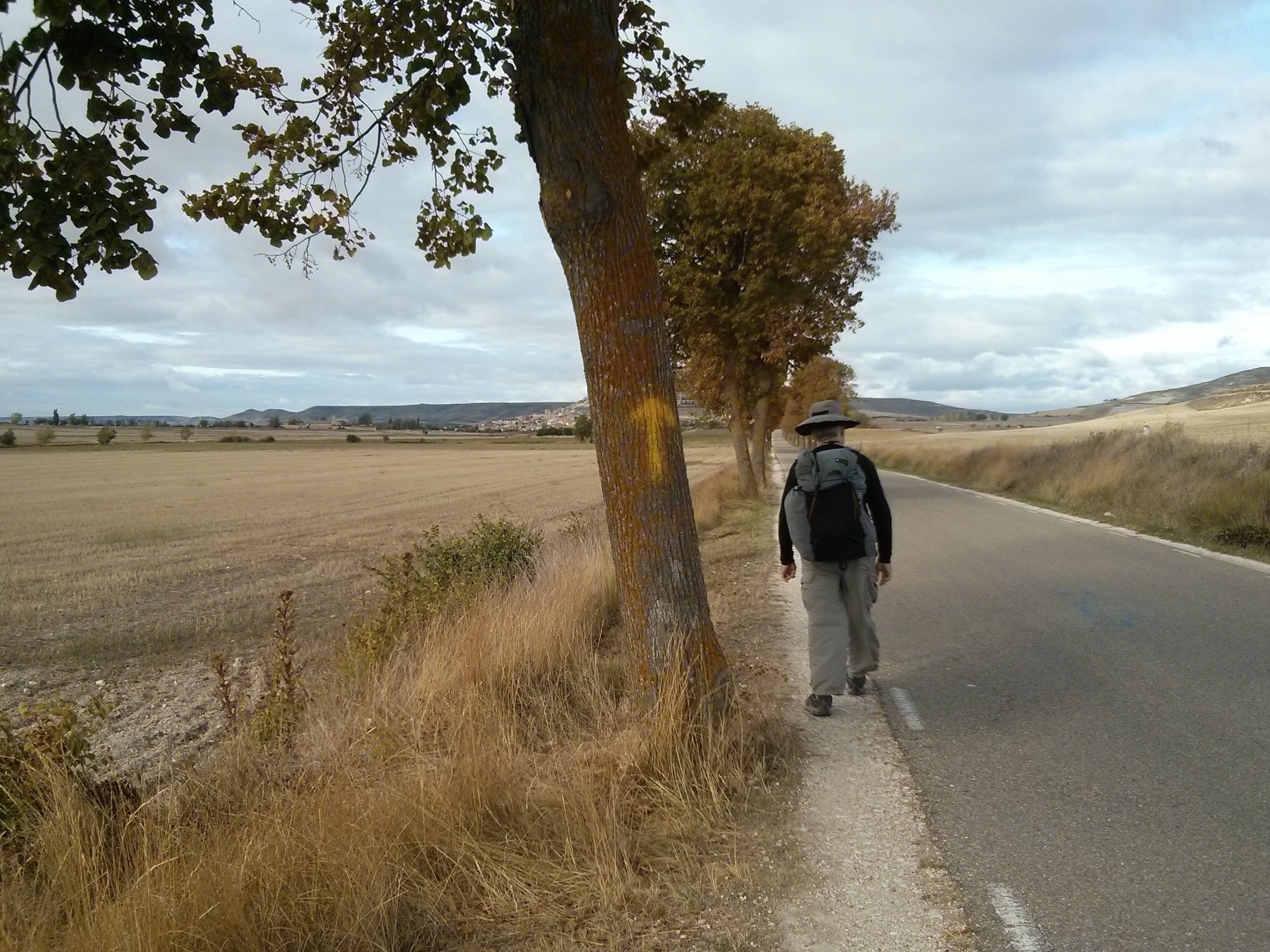 Charlie. The thing we loved about walking the Camino was that it was like being in a little world. You start out, say at Roncesvalles, as we did on our first Camino and you have 790 km to Santiago (see the photo in the blog of our first trip). 790 km is so far it seems a long way off and it is hard to think about getting there.
You walk 20 km, find a place to stay, do some laundry, write in your journal or blog, look around the town, have dinner and go to bed. You wake up the next day and you have 770 km to Santiago and it seems just as remote. So you do the same things again and the next morning you have 750 km to go. As this goes on you realize you are in the little world, a socially constructed reality. You do the same things every day and it seems like it will go on forever. The towns change but are more the same than different each day. Your only job in this world to do the things I mentioned plus have adventures, notice things and talk to people. It is a delightful world to inhabit.
The great thing about the Camino is that the world is already constructed for you. Most of the towns you pass through continue to exist mainly to serve pilgrims. There are thousands of other pilgrims sharing the world with you. When you talk to people on the Camino you have the standard questions: What country are you from? Where did you start? Where did you start today? Where will you spend the night? How are your feet doing? And the implicit question: what interesting Camino experiences have you had? What you do back home comes much later, if at all.
The reason we went on a second Camino was to go back into that world and continue exploring it. We didn't want to recreate the experiences we had, we wanted to recreate the world we were in and have new experiences in that world. The first time in the world we did not explore it as much as we wanted. There were new experiences to be had.
We often thought about experiences from our first Camino, not to try to recreate the experiences but for the joy of reminiscing. We turn a corner and remember that last time on this stretch we met a couple from Alberta and that the man was legally blind and they tried to buy bread off a bread delivery truck. This time on another stretch we meet a couple from Australia.
It was very satisfying to walk the Camino again: to think about our past experiences, to do things we had wanted to do, to plan a bit better than last time.