Third Caminho!
2016-04-11 21:59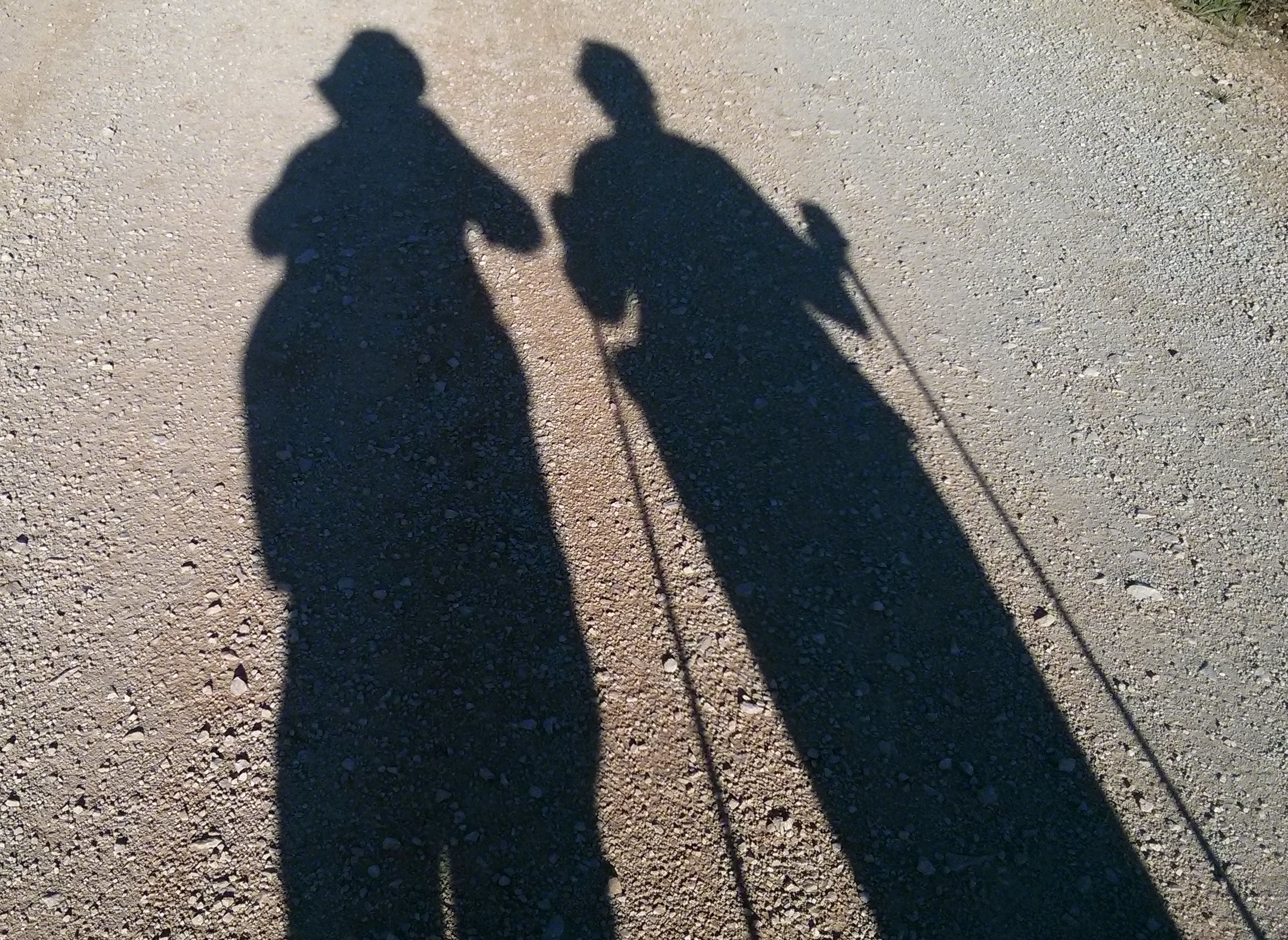 We just can't stay away. This time we are going on the Camino Portugués from Porto, Portugal, to Santiago, Spain, then on the Camino Finisterre to Muxia. Our first real post should be on April 14.
Here
 is a link to a Google map of our route. The map shows all places where we
might
stay.
In Spain the common greeting on the Camino is
Buen Camino
. In Portugal we'll need to say 
Bom Caminho
. (Pronounced very different than the Spanish. Something like 
Bo Cuh-MEEN-yoo,
 with a very nasal
Bo.
)
Map
2016-04-12 01:06
Here
 is a link to a Google map of our 2016 route. The map shows all places where we
might 
stay.
2013 Camino
2016-04-12 14:35
Here
is the blog for our Camino Francés walk to Santiago in spring of 2013.
2014 Camino
2016-04-12 14:37
Here
is the blog for our walk on the Camino Francés and then on to Finisterre in fall of 2014.
Daily log
2016-04-12 16:00
13 Wed: on airplane
14 Thu: Porto
15 Fri: Porto
16 Sat: Vila Cha, Hr Sandra, 9.5 mi
17 Sun: Vila do Conde, Hotel Brazao, 4.5 mi
18 Mon: Rates, Casa de Mattos, 8.5 mi
19 Tue: Barcelos, Bagoeira Hotel, 11.0 mi
20 Wed: Barcelos, Bagoeira Hotel, 0 mi
21 Thu: Portola, Casa de Recoleta, 5.8 mi
22 Fri: Lugar do Corgo, Casa de Fernanda, 6.7 mi
23 Sat: Ponte de Lima, InLima, 9.0 mi
24 Sun: Ponte de Lima, InLima, 0 mi
25 Mon: Rubiaes, O Ninho Albergue, 11.0 mi
26 Tue: Fontoura, Quinta Estrada Romana, 6.0 mi
27 Wed: Tui, Hotel Colon Tuy, 6.75 mi
28 Thu: Porrino, Hotel Azul, 12.0 mi
29 Fri: Porrino, Hotel Azul, 0 mi
30 Sat: Redondela, A Casa de Herba, 9.9 mi
01 Sun: Vila Boa, Hotel San Luis, 6.4 mi
02 Mon: Pontevedra, Slow City Hostal, 9.2 mi
03 Tue: Barro, Os Carballos, 7.24 mi
04 Wed: Caldas de Reis, Hotel Davila, 6.4 mi
05 Thu: Padrón, Hotel Chef Rivera, 12.1 mi
06 Fri: Raices, Casa do Cruceiro, 9.9 mi
07 Sat: Santiago, Pension Residencia Blanco, 5.5 mi
08 Sun: Alto do Vento, Casa Riamonte, 7.1 mi
09 Mon: Negreira, 6.8 mi
10 Tue: Vilaserio, 8.3 mi
11 Wed: A Picota, 8.8 mi
12 Thu: Logoso, 6.6 mi
13 Fri: Cee, 9.7 mi
14 Sat: Estorde, 2.9 mi
15 Sun: Frixe, 8.2 mi
16 Mon: Muxia, 10.5 mi
17 Tue: Porto
18 Wed to Tue 24: Lisbon
25 Wed: Albuquerque
Daily movies
2016-04-12 16:10
4-13: Leaving Albuquerque
2016-04-13 15:34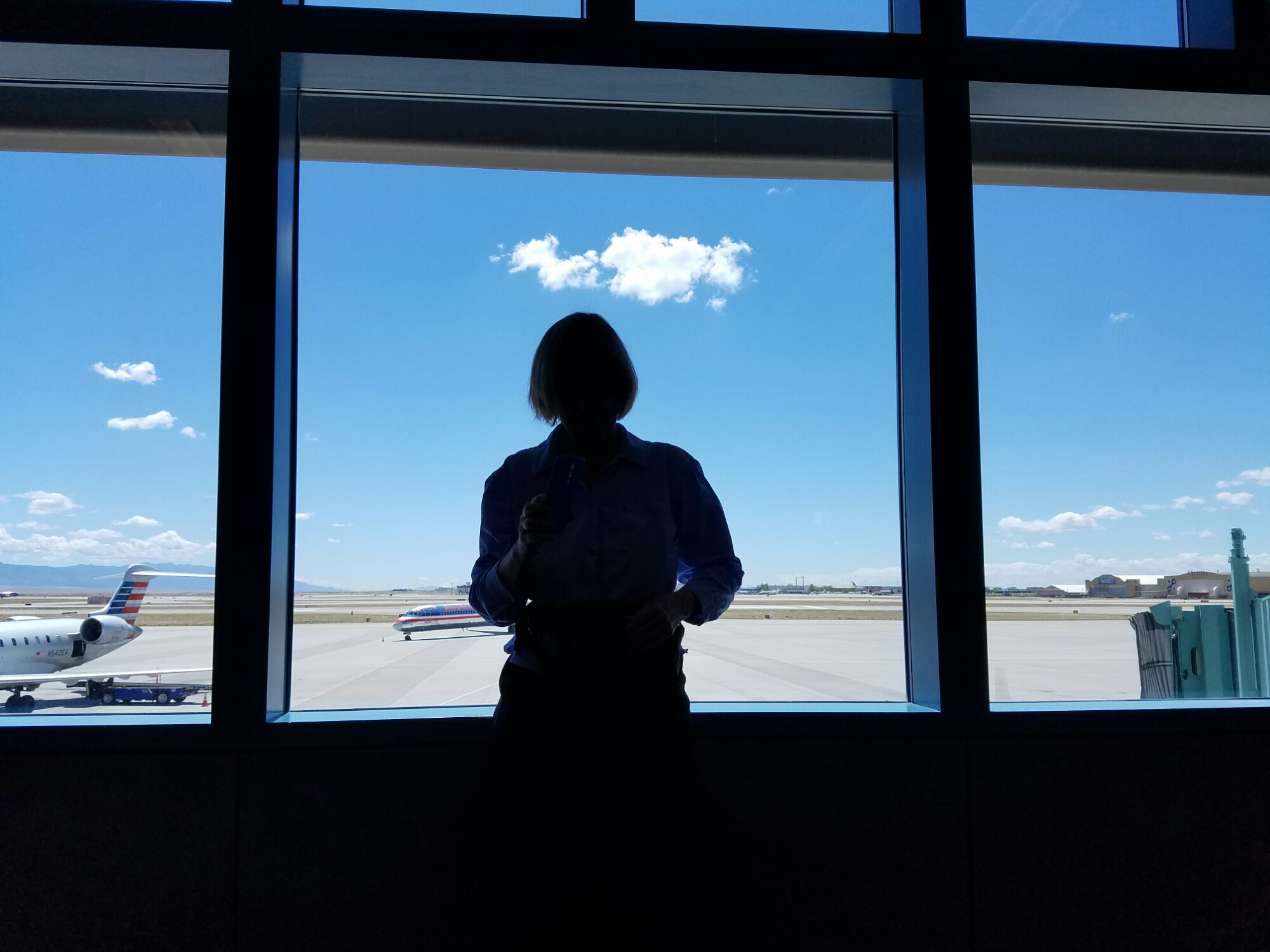 Economy Plus
2016-04-14 12:00
We decided to spring for enhanced economy on British Airways this time. About 30% extra. I thought it was worth it. Seats were 38 inches apart instead of 31 in economy. Extra leg room was great. Seats are wider too. Food was better. Service was faster in the separate economy plus cabin.

We still didn't sleep much as is the way in transatlantic flights. Business class has seats that make into a flat bed but it is 200% more.
4-14: Arriving in Porto
2016-04-14 15:40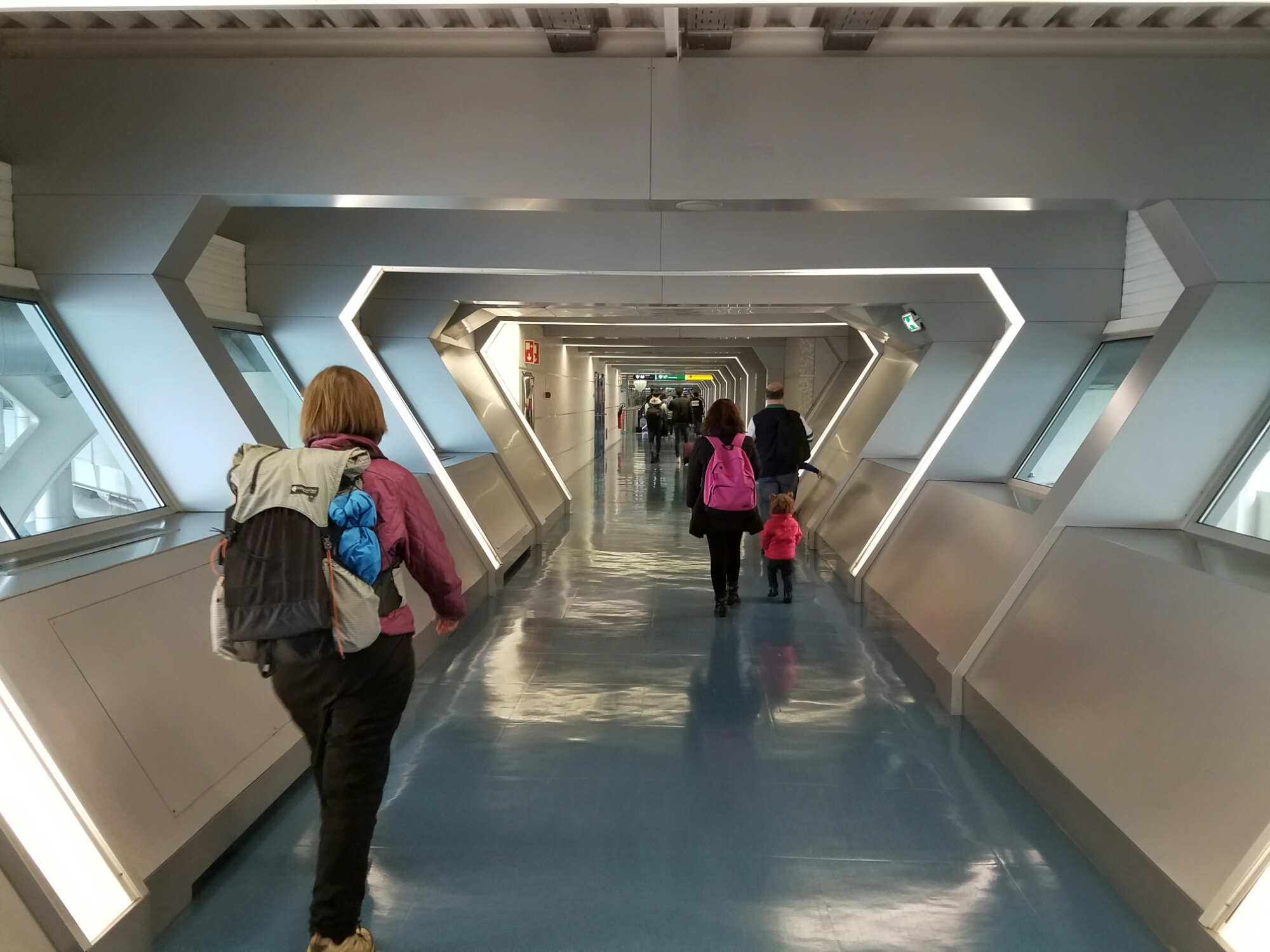 Rain this morning
2016-04-14 15:52
At the market
2016-04-14 15:55
Tiled church
2016-04-14 15:56
Great seafood
2016-04-14 15:58
Our hotel
2016-04-14 20:40
The metro
2016-04-14 20:42
On the bus
2016-04-15 13:30
At the hotel
2016-04-15 15:43
Across the street...
2016-04-15 15:48
Another tile faced
2016-04-15 16:00
Wind sculpture
2016-04-15 20:44
First Camino yellow arrows
2016-04-15 20:47
Camino boardwalk
2016-04-16 16:59
Sand drifts onto the boardwalk
2016-04-16 17:00
Fishing village along the way
2016-04-16 17:06
John Oliver
2016-04-16 17:08
First spotting of other pilgrims
2016-04-16 17:11
Bom Caminho
2016-04-16 17:13
Shadow selfie
2016-04-16 17:17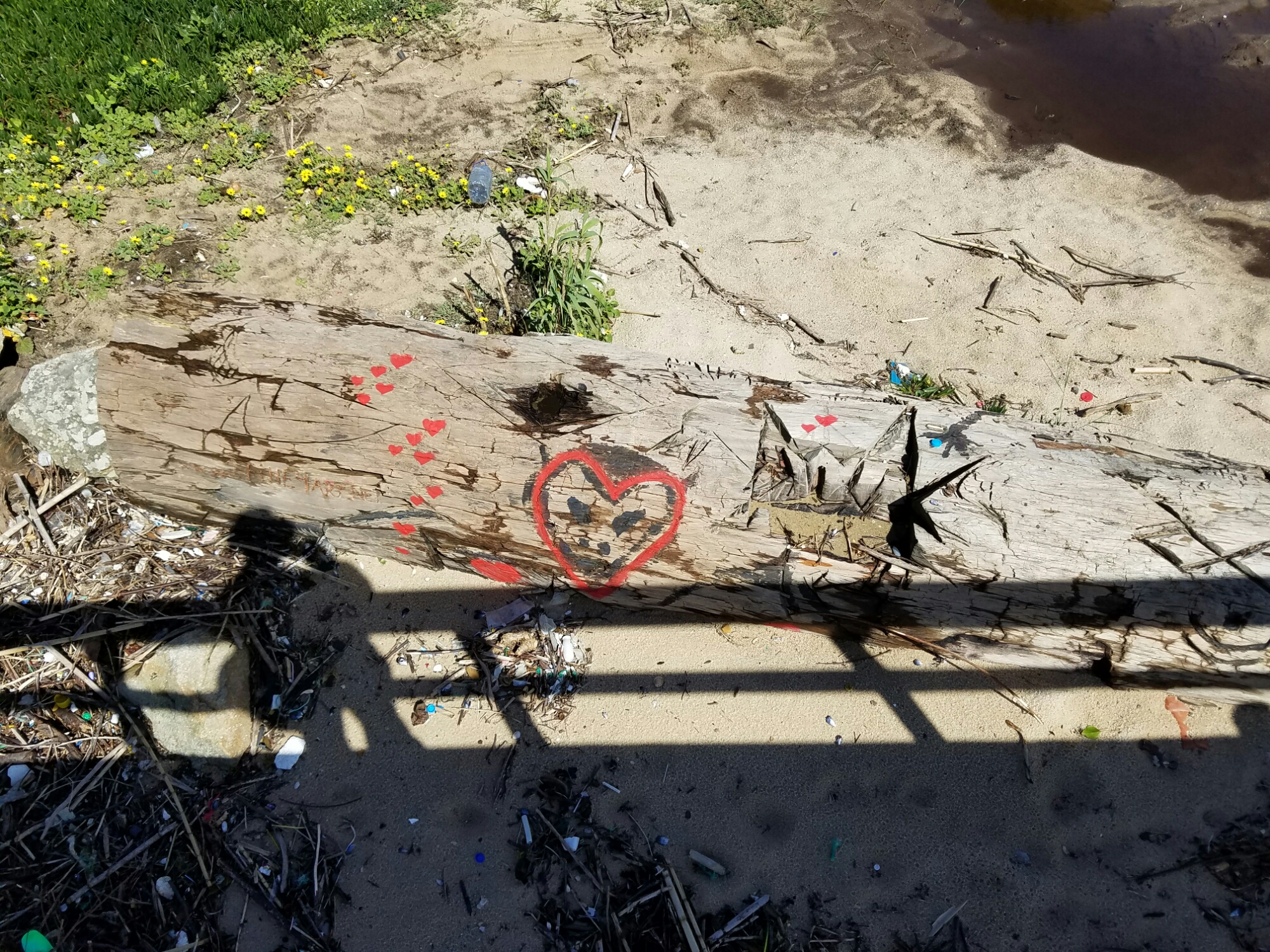 What do you mean, you don't have coffee?
2016-04-16 17:21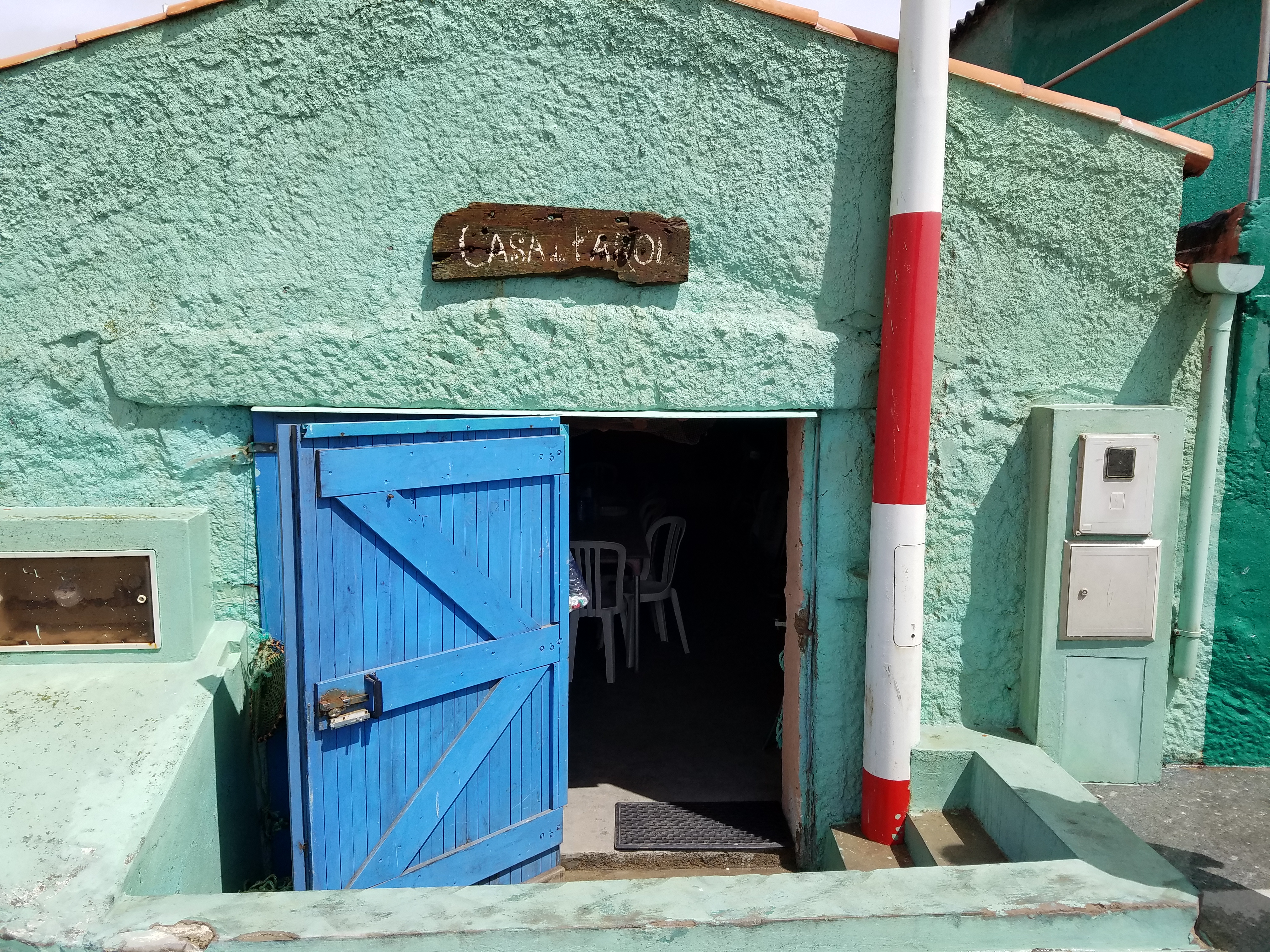 Posted by Wynette:
Today was our first day of walking - we did 9.5 miles (16 kilometers). At about the 6 mile point I needed to tend to some hot spots on my feet. It was a little damp out so we started looking for a coffee bar. We passed a few rather nice looking seafood restaurants but we figured they wouldn't be such a great place to take off our shoes. Finally we found a little hole in the wall place (photo above) and decided that would be perfect. We walked down the steps to a room with a large table and a man and woman cooking. They looked at us expectantly. I said in my best Portuguese that we'd like some coffee. They hesitated a bit and then told us they didn't have coffee. Then, after another bit, they explained we were in their home, not a place to buy coffee. They kindly told us where we could find such a place. Of course, we were quite apologetic about walking into their house. They were not upset at all and gave us a friendly smile.
We had a good laugh at ourselves after we left.
We Americans aren't used to seeing names on private houses. I think British people are used to that. They probably would not have made that mistake.
Just looked up
Casa da Farol.
It means
House of the Lighthouse.
We should have known it wasn't a coffee bar when there was no TV on the wall.
Helpful people
2016-04-16 17:21
4-16: Beach cabanas at Vila Cha
2016-04-16 17:24
Cafe Tony, Hostal Sandra
2016-04-16 17:26
Sun we did not expect
2016-04-16 17:46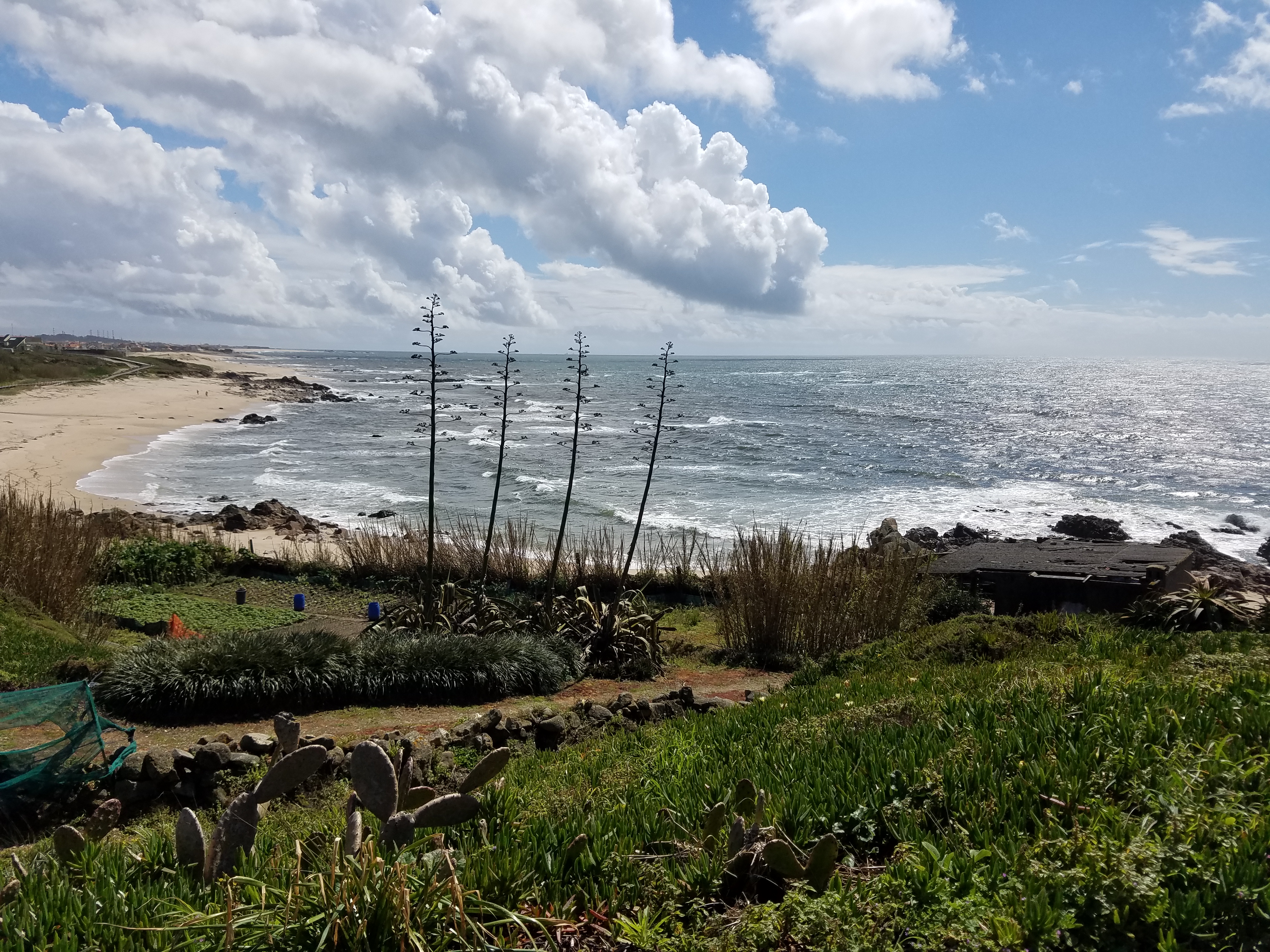 Posted by Wynette:
It was rainy when we left Porto this morning. Drizzled much of the day. There was one downpour that we avoided because it happened when we were eating fried eggs and toast in a bar. It came down so hard and fast even the people working in the bar went to the door to watch. (I thought that was something only New Mexicans did.) Was soon back to a drizzle. Then, contrary to the forecast, the sun came out. We had that for the last few miles of our walk.
At least 8 of the 9.5 miles we walked today were along the boardwalk below that seems to go all along the coast and constant sandy beaches. Very nice.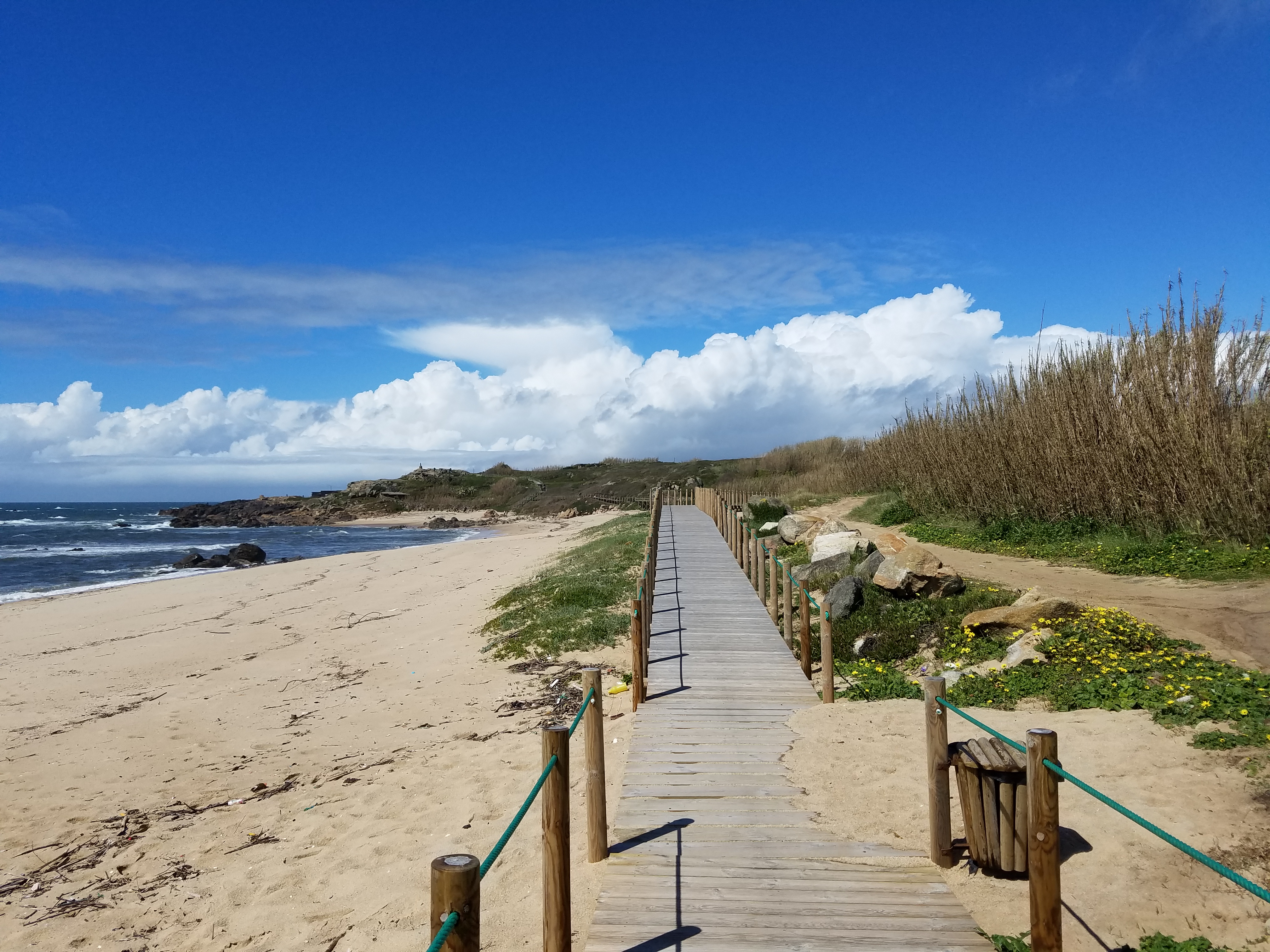 Judith from Germany
2016-04-16 19:17
Today's ocean photos
2016-04-16 20:10
https://goo.gl/photos/zXvxhQxdAEBrfTPZA
For those of you who love the ocean I collected all 38 of our ocean photos into a Google photos album.
Our hosts at Hostel Sandra
2016-04-17 14:19
Flowers, ocean and clouds
2016-04-17 14:21
Clouds and selfie couple
2016-04-17 14:25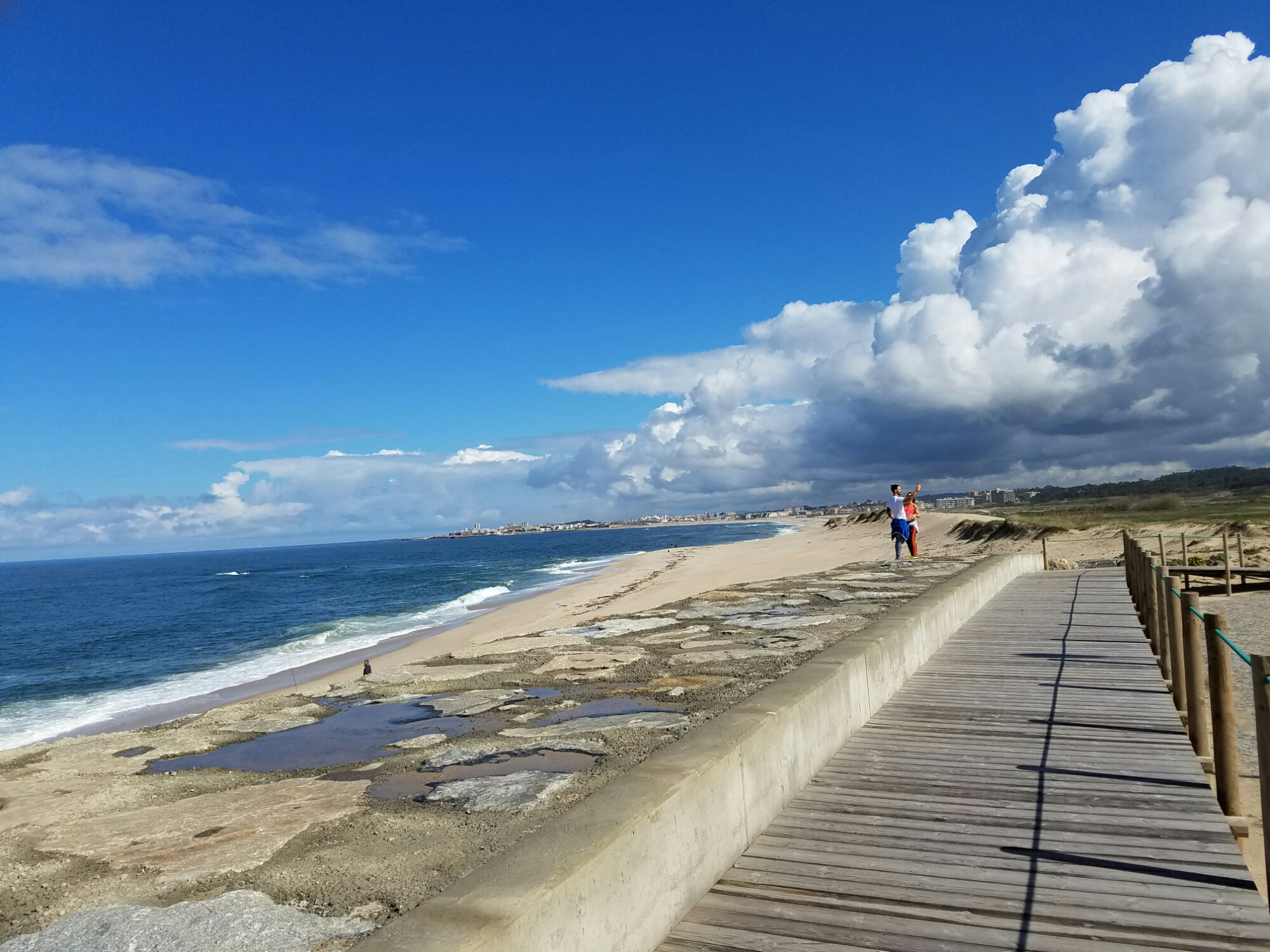 Selfie couple
2016-04-17 14:27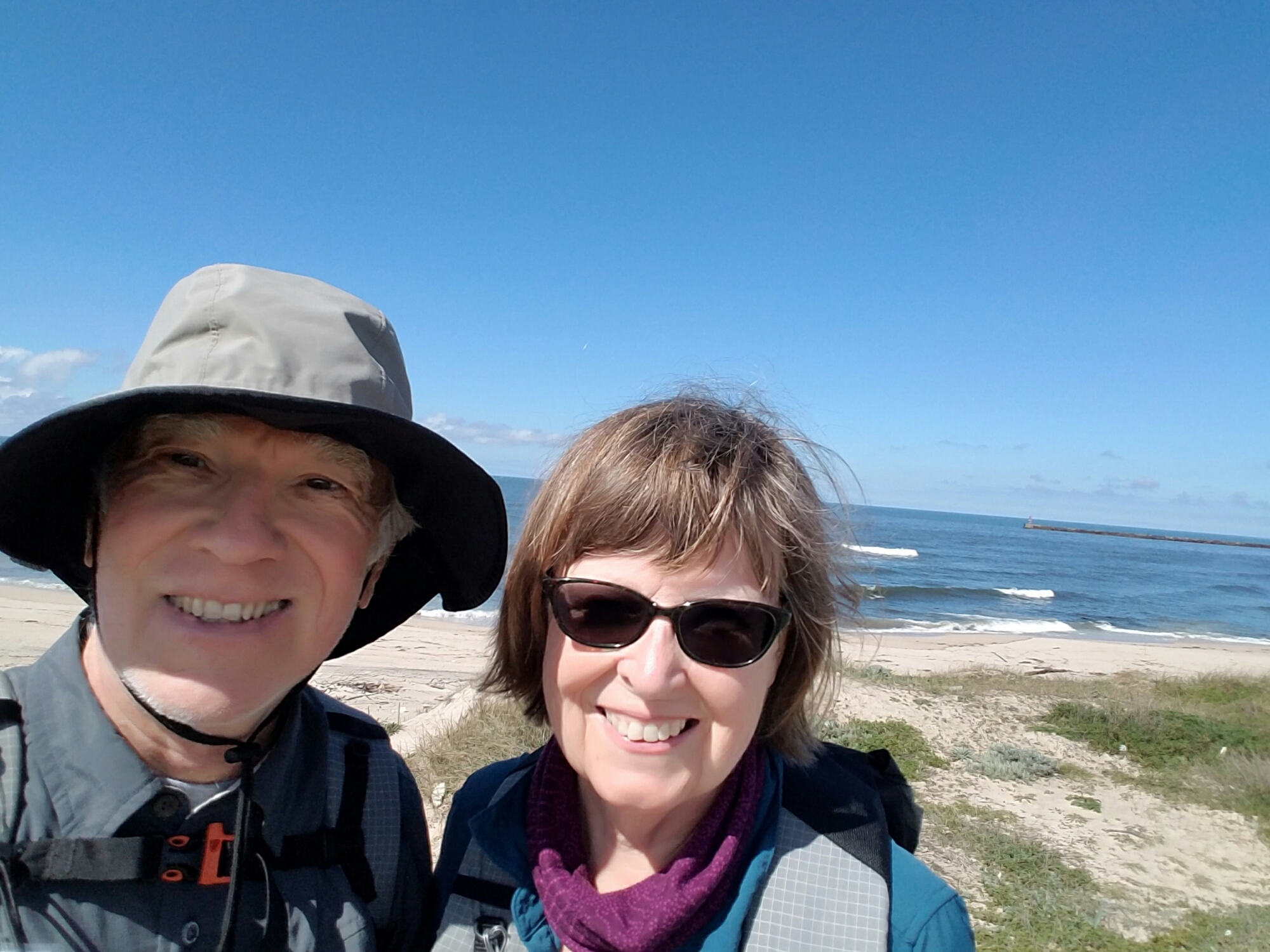 Wynette at lunch
2016-04-17 14:30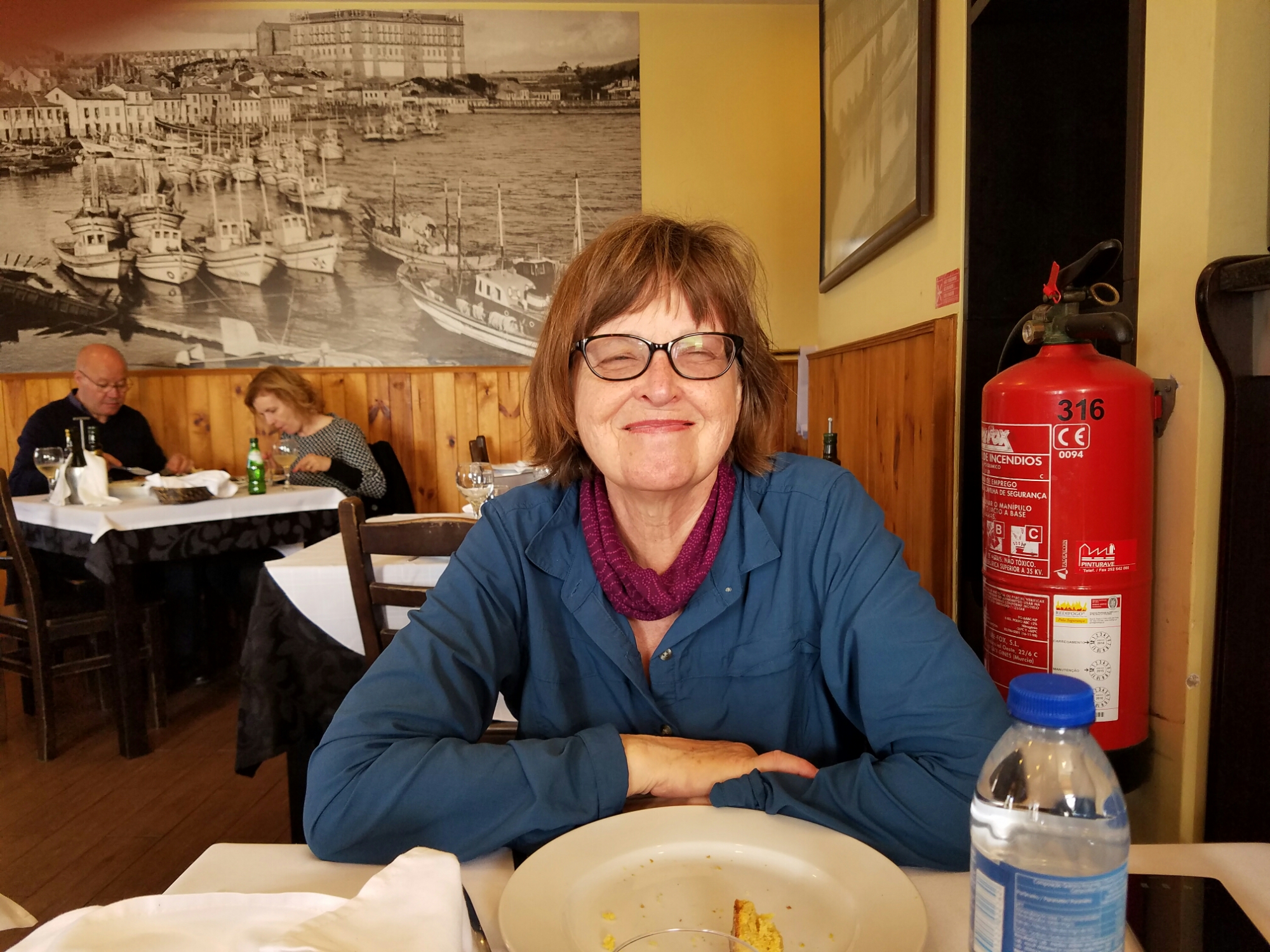 Graffiti and yellow arrow
2016-04-17 14:32
Selfie couple near Vila do Conde
2016-04-17 14:33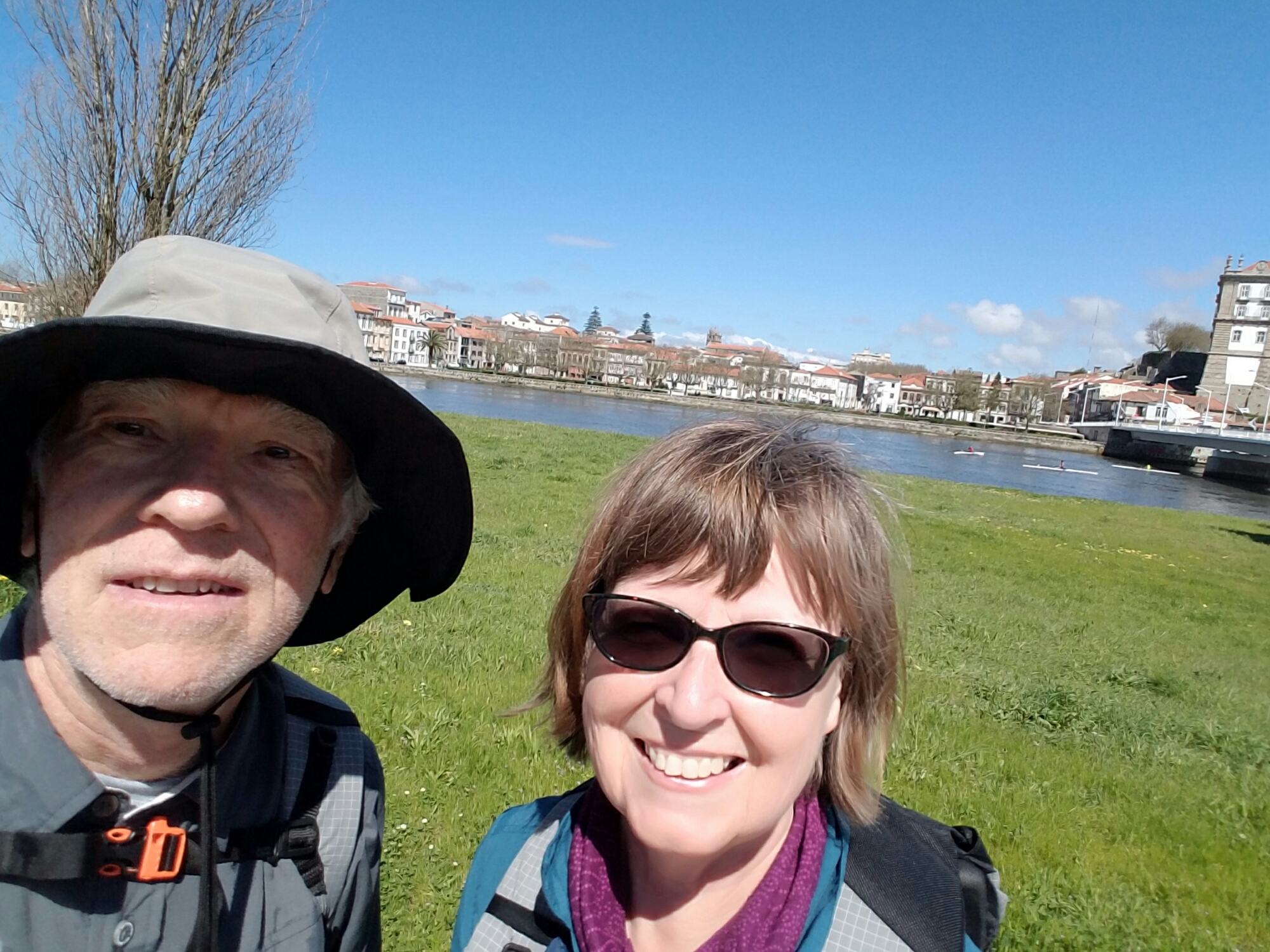 Ocean and clouds
2016-04-17 14:38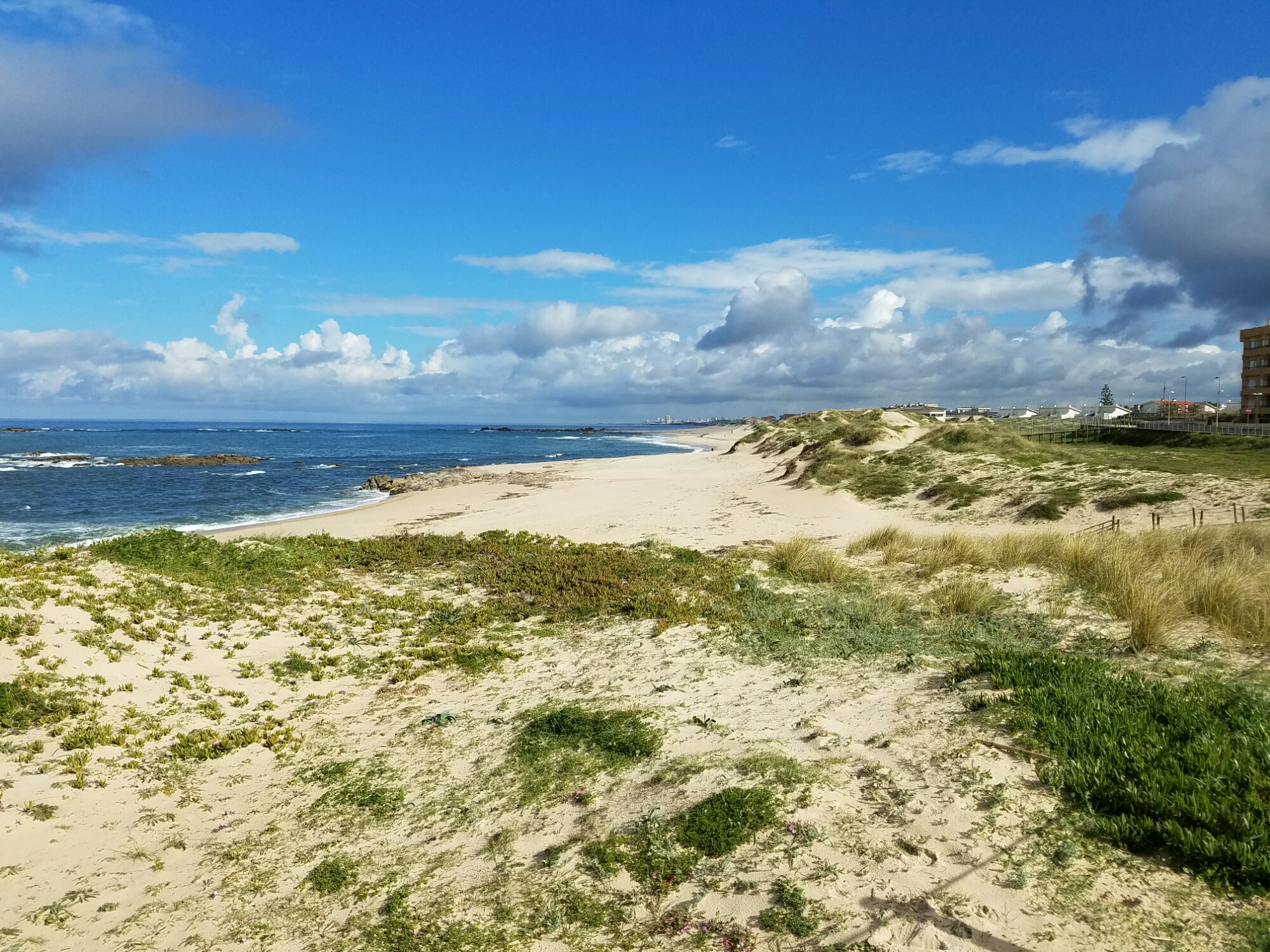 Beach panorama
2016-04-17 14:39

Ocean photos for April 17
2016-04-17 14:40
Blue tile house
2016-04-17 14:41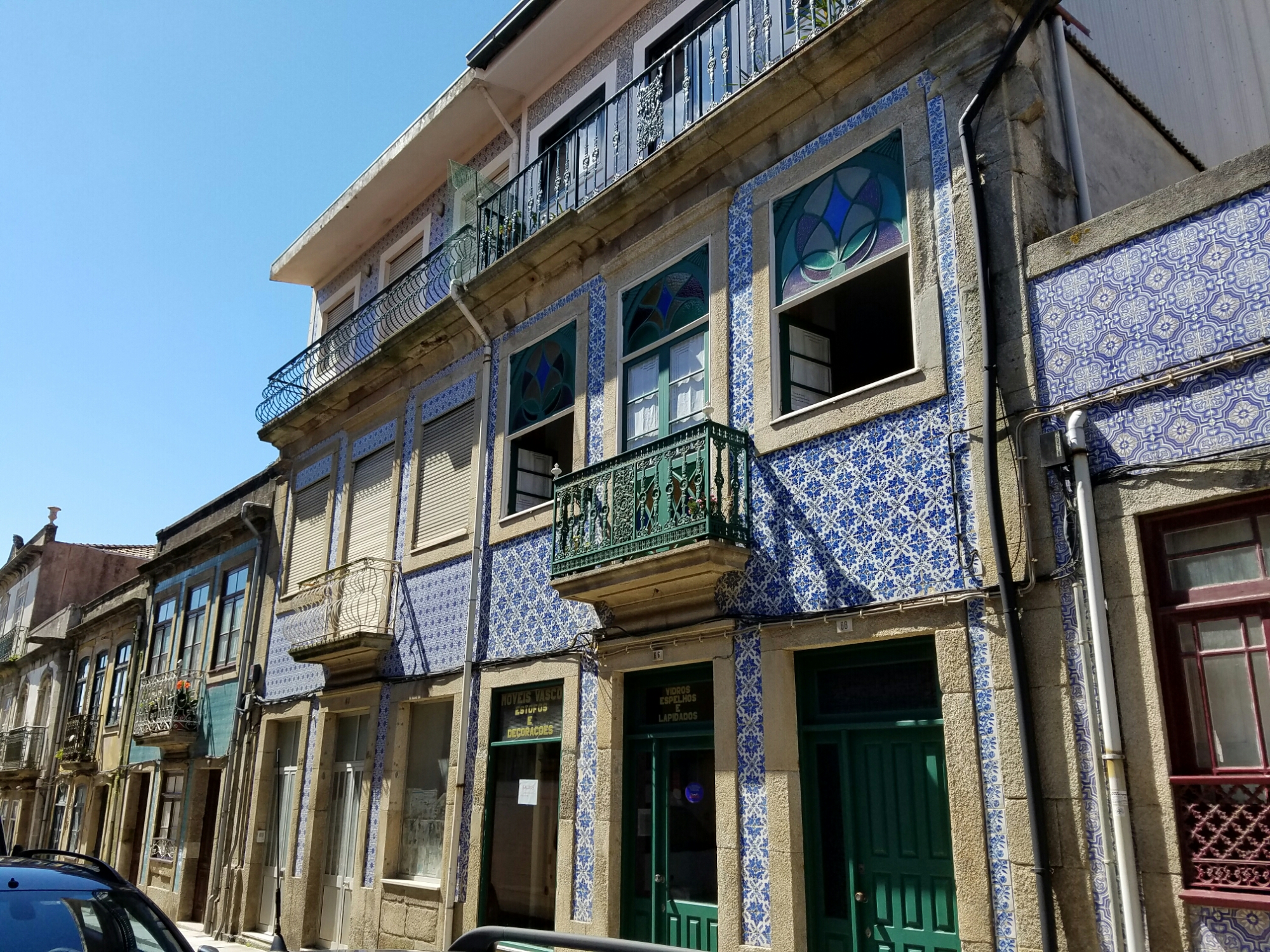 Tile house panorama
2016-04-17 14:42

Green tile house
2016-04-17 14:43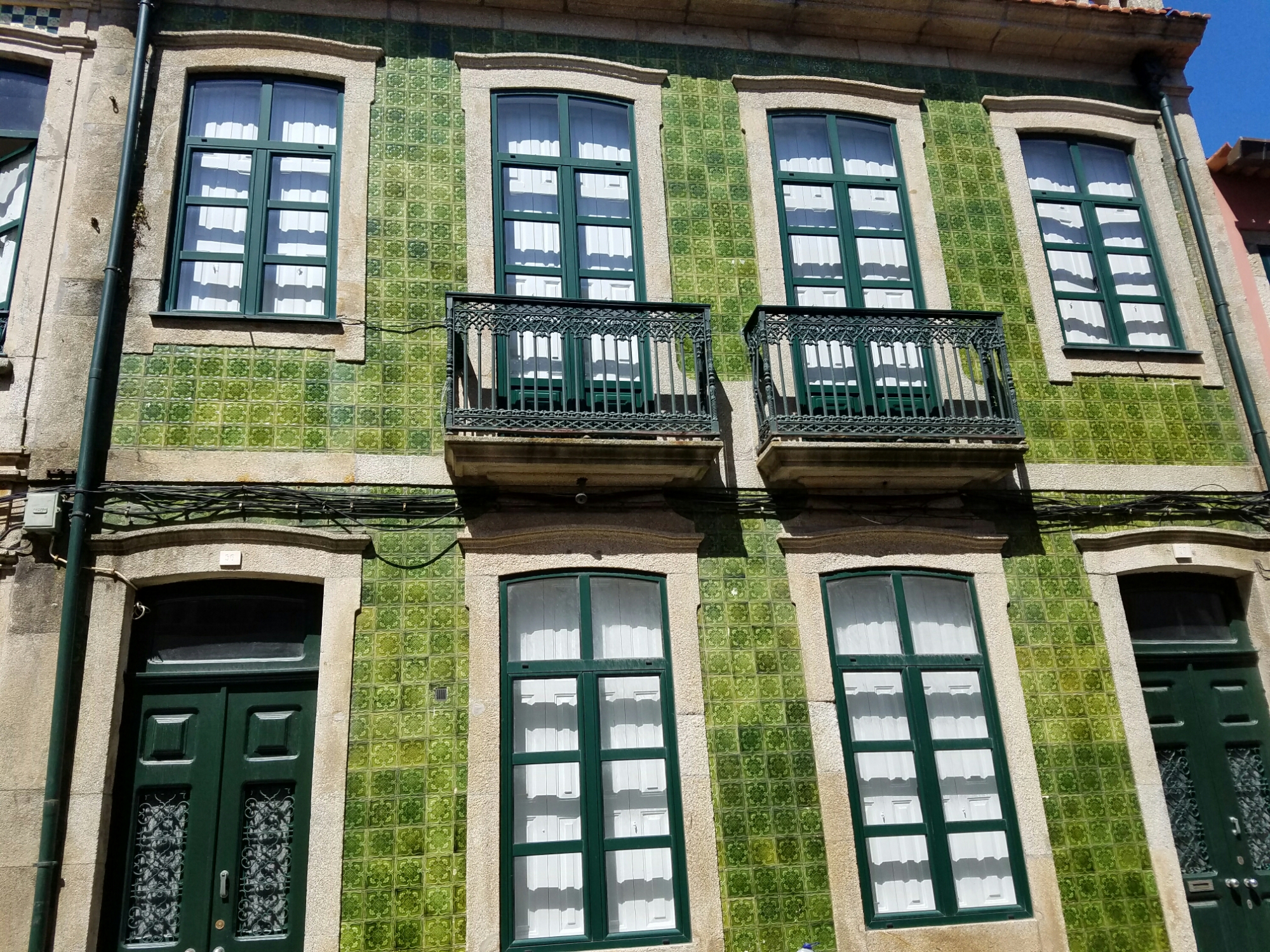 Tiled houses
2016-04-17 15:12
https://goo.gl/photos/e8RVxW26X7ANwX878
All the Tiled house photos from Porto and Vila do Conde.
Food for which we are grateful
2016-04-17 19:45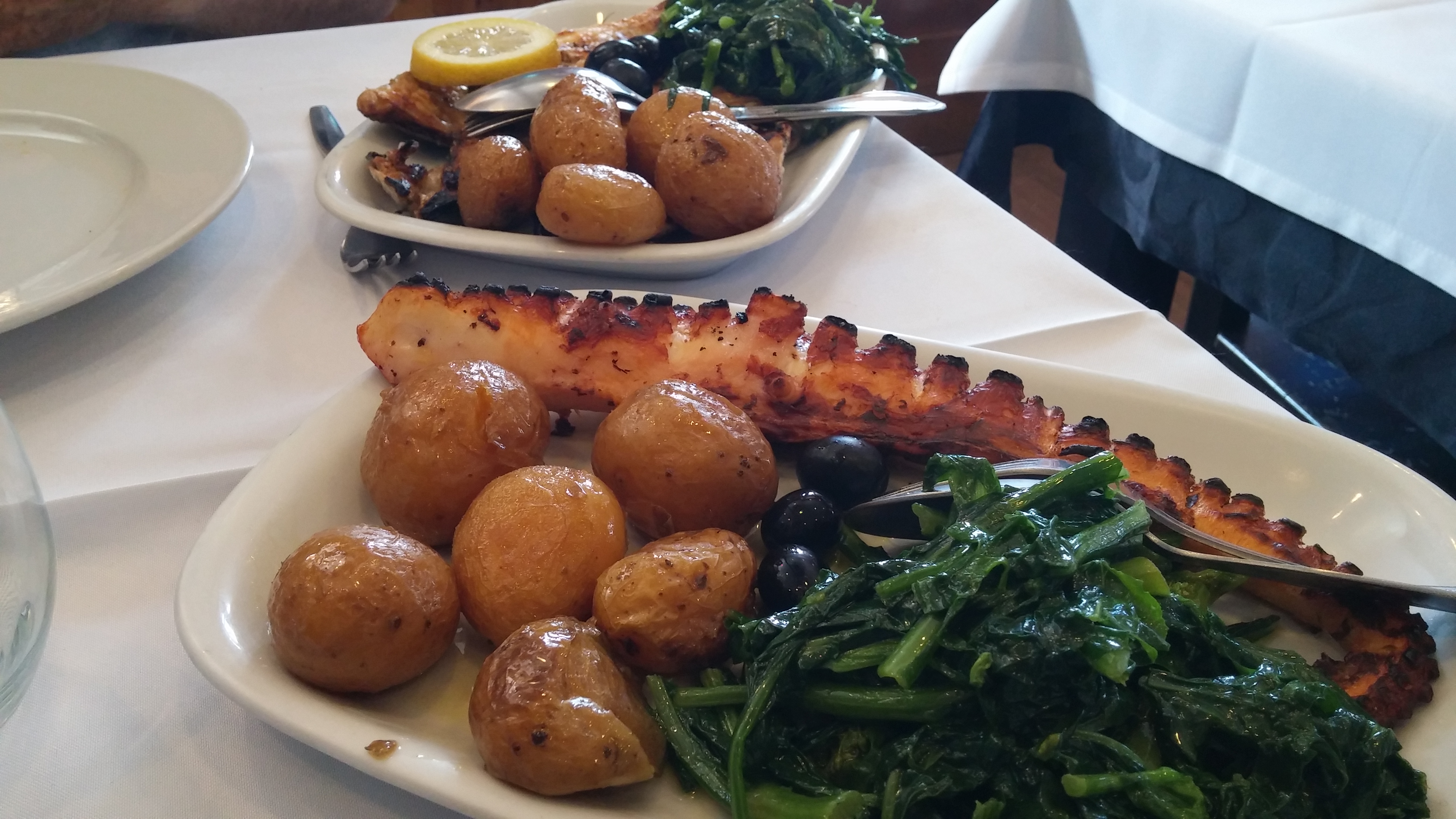 Post
by Wynette:
Portugal is a great place to get great seafood. They really know how to prepare it. We finally remembered to take a photo before diving into our lunch today. I had the octopus (
polvo
in Portuguese) and Charlie had the dourado (catfish?). Then we shared with each other. When you order fish they bring out all kinds of sides. The potatoes melted in our mouths. They grill the fish on a grill on the sidewalk in front of the restaurant.
Designer chocolate
2016-04-17 20:38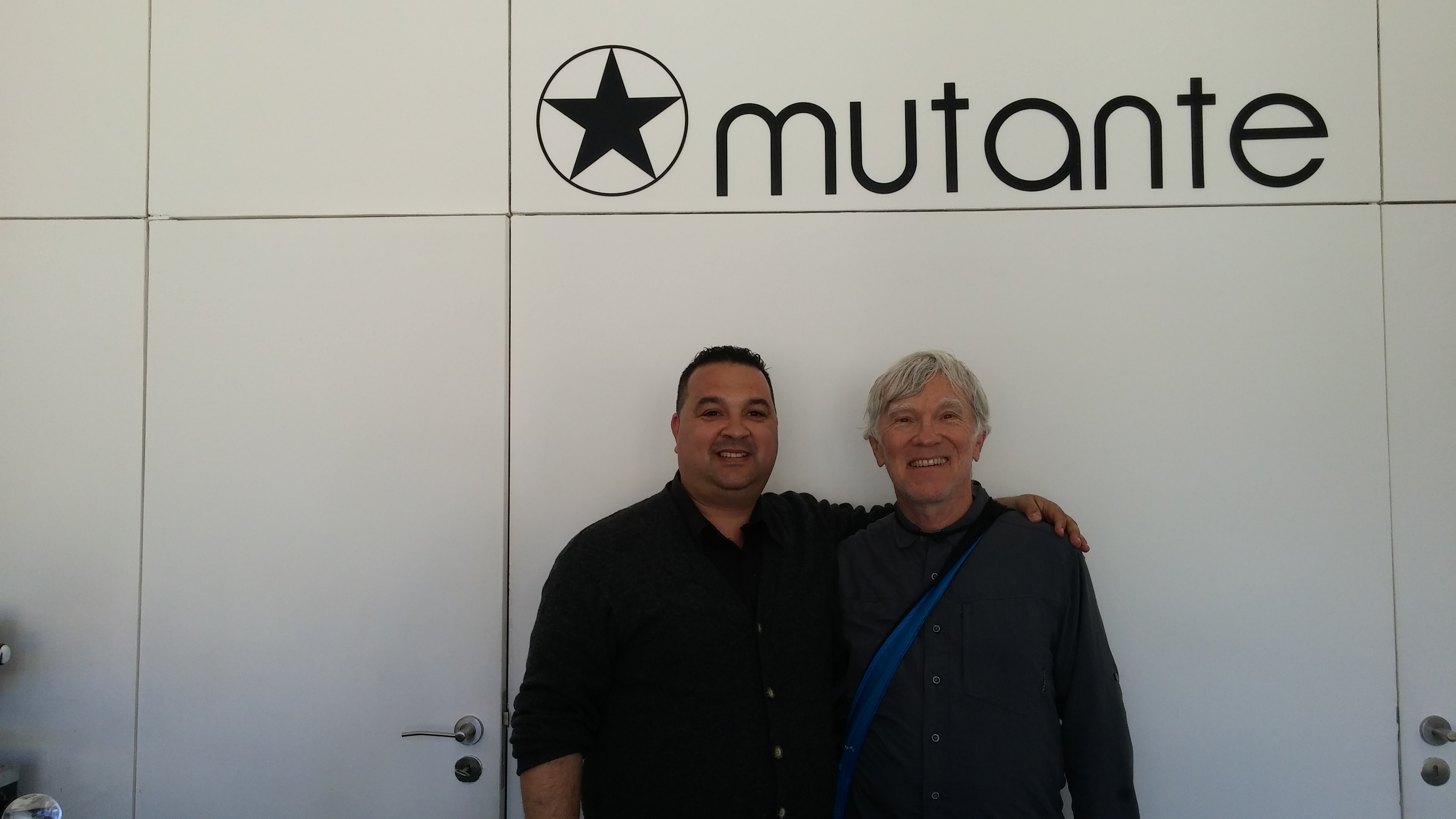 Post by Wynette:
This was taken in a little art gallery this afternoon. We wanted a pastry and a cup of coffee. We wondered around Vila do Conde for a while but due to the Sunday-ness of the day not much was open except larger restaurants. Then we spotted a few tables on the sidewalk in a mostly empty market square. We went inside and found ourselves in an art gallery. The young man in the photo started telling us about a big white round thing on the floor but he was speaking in Portuguese and we didn't understand him. We told him we were looking for coffee and he pointed out a shiny espresso machine. Then we saw some beautiful pastries in a showcase by the coffee machine. Each looked like a work of art. He proudly told us he had made them himself. We chose two and had them with our coffee. I didn't know how much they would cost. We rarely see prices for things like coffee and pastries but they always seem to be less than we expect. But I was expecting these to be costly. They were so tasty and pretty.
While we were eating we noticed, in the small room, some blouses and scarves with a striking pattern. Again he said they were his design. I apologetically told him we could not buy any because we are carrying everything to Santiago. I think he understood me.
We were shocked when the total bill for two coffees and two pastries was 3.25 euros. (Less than $4.) Before we left I asked to take his picture. He invited Charlie to join him. Wish I'd taken photos of his beautiful food and nice art. 
Sporty Smart Car
2016-04-18 16:44
Pilgrim from Finland
2016-04-18 16:46
Hard times still
2016-04-18 16:49
Dueling pilgrimages
2016-04-18 16:53
Pilgrims
2016-04-18 16:56
Feeling the recession
2016-04-18 16:59
4-18: Arcos: You are either on the Camino or...
2016-04-18 17:21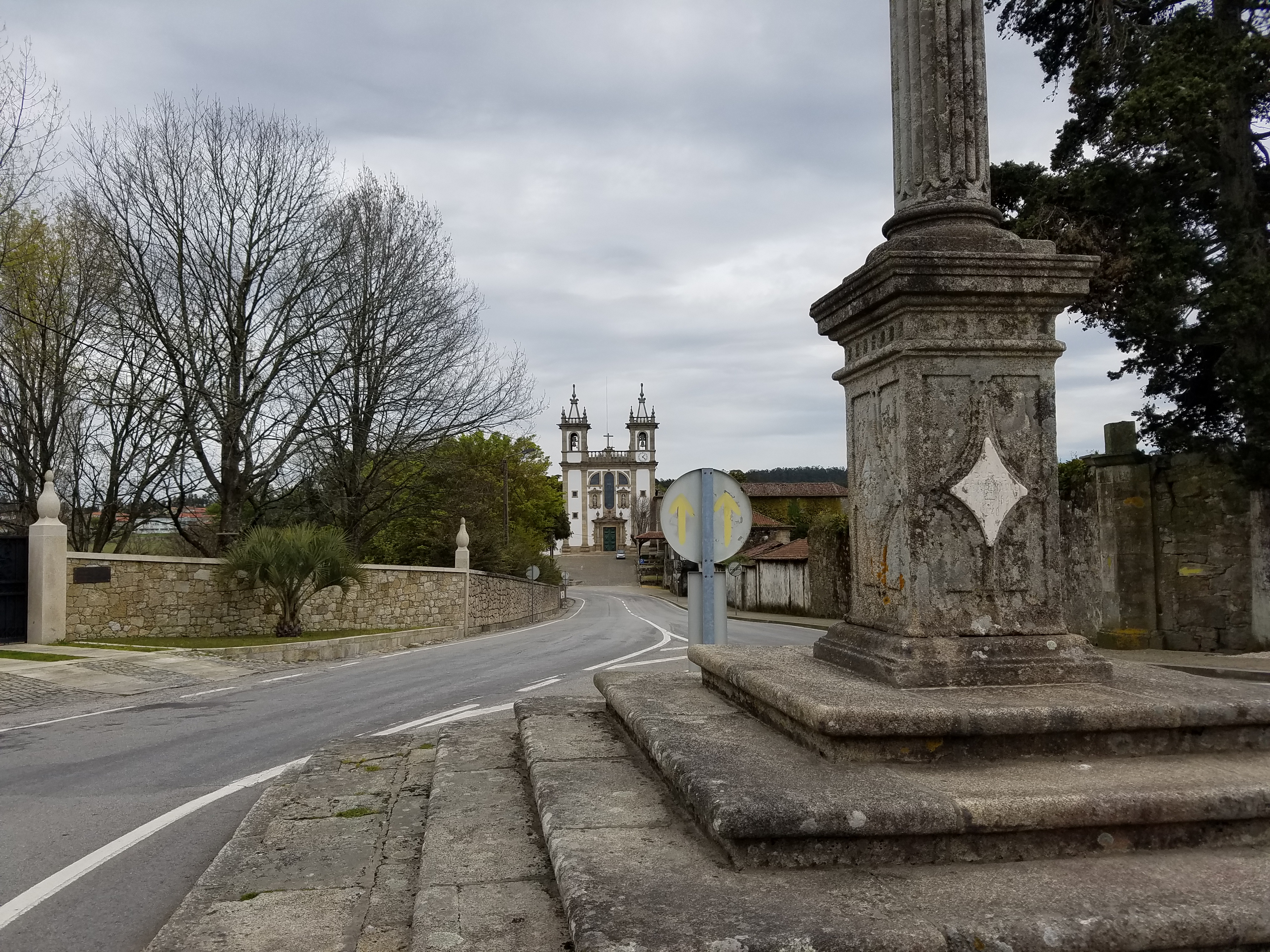 Off the Camino. Or are you?
A little background: the Camino Frances is by far the most popular, 75% of pilgrims or more. The Portuguese Camino has just been getting popular in the last ten years. The segment from Lisbon to Porto is still not popular but the segment from Porto to Santiago is rapidly becoming more popular. It is 230 km, 115 in Portugal and 115 in Spain, where the Camino Frances is over 800 km. So you can do it on a two week trip if you are short of time.
There is also a coastal route from Porto for 175 km which joins the inland route at Redondela. This is newer and much less used than the inland route.
The first stage out of Porto is all on roads and through city so some people, including us, take the coastal route out of Porto up to Vila do Conde and then take a side route of 12 km over to join the Central route at Arcos. That is what we took today.
The coastal route from Porto to Vila do Conde is basically through beach/resort areas attached to Porto. There are few Camino yellow arrows and we only saw two other pilgrims. It was nice but it didn't feel like the Camino.
The side route to Arcos felt a little more like the Camino, with more yellow arrows and going through small villages.
The last four km have been on the inland route so now we are "on the Camino" for real.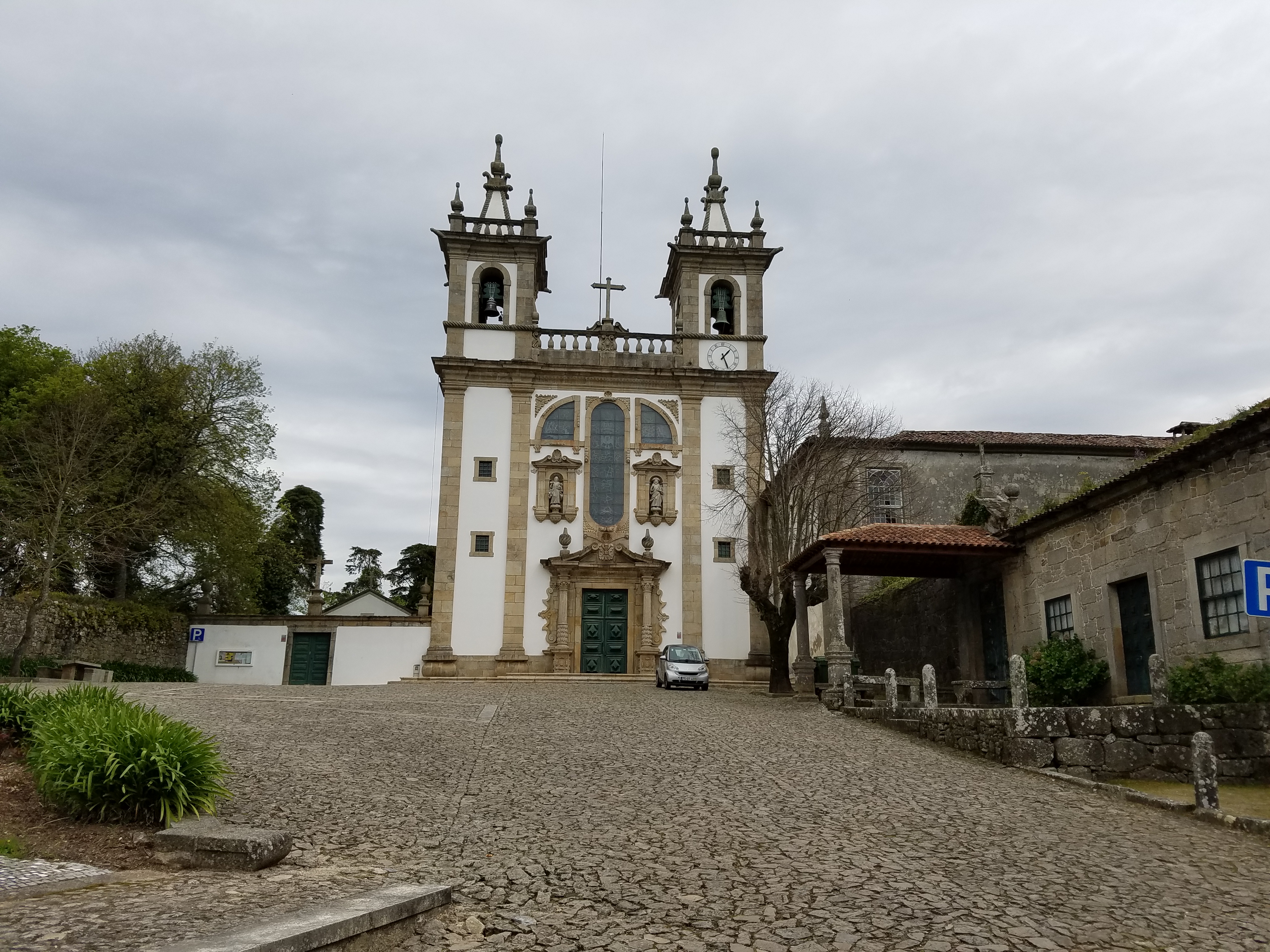 4-18: Rates
2016-04-18 17:25
14 km, 8.5 miles. Wynette had some blisters but her knee was good. Staying in Rates, more about that later. The plan is for 16 km, 10 miles tomorrow to Barcelos.
Charming but not so restful
2016-04-18 17:30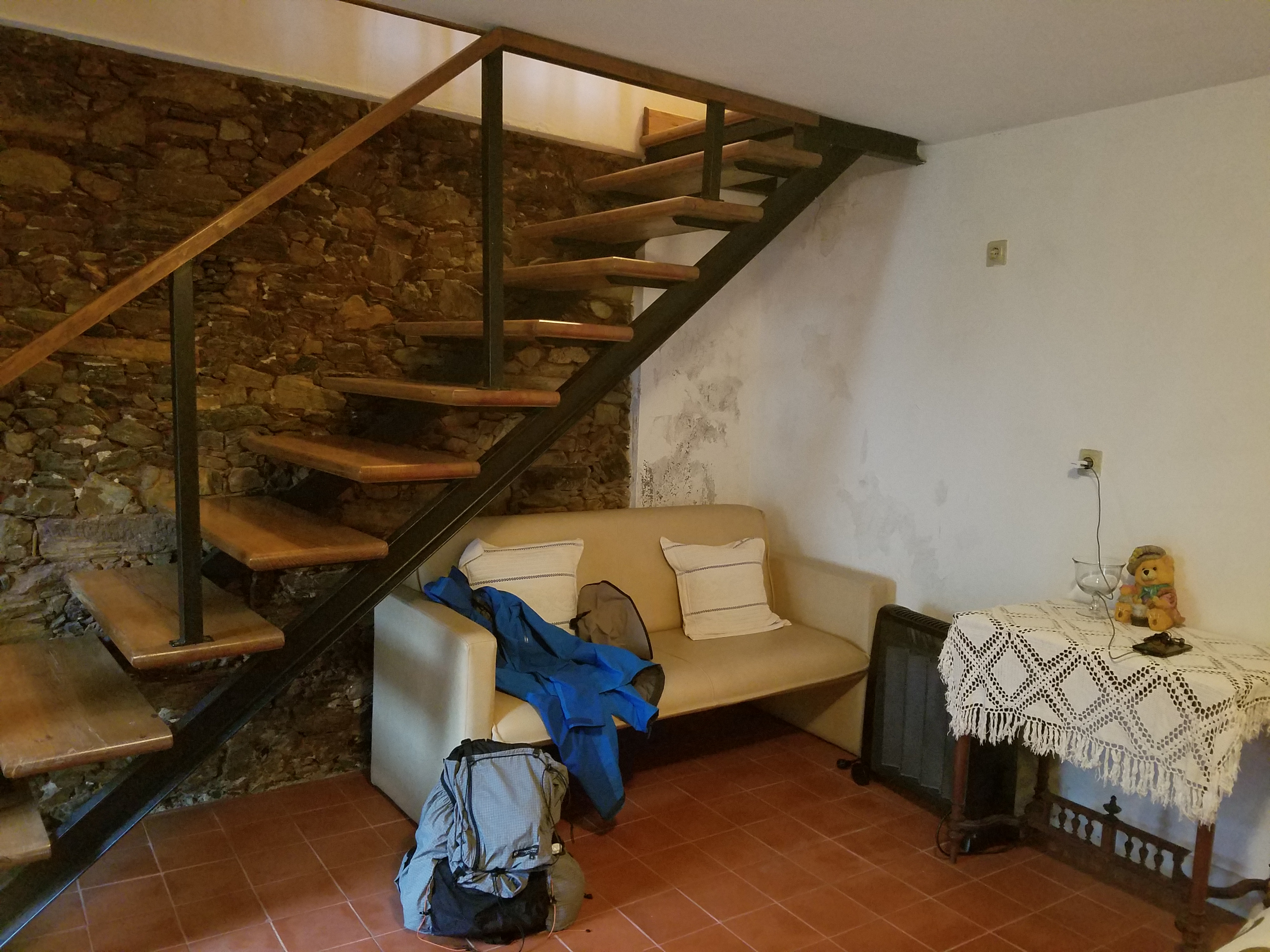 Posted by Wynette:
As Charlie mentioned, our B&B in Rates (pronounced
rot-us
) wasn't very comfortable. Amazingly rough sheets, very little hot water, no Internet. (You might say we are spoiled.) But it was very rustic and charming. That was nice. Thought I'd post some photos.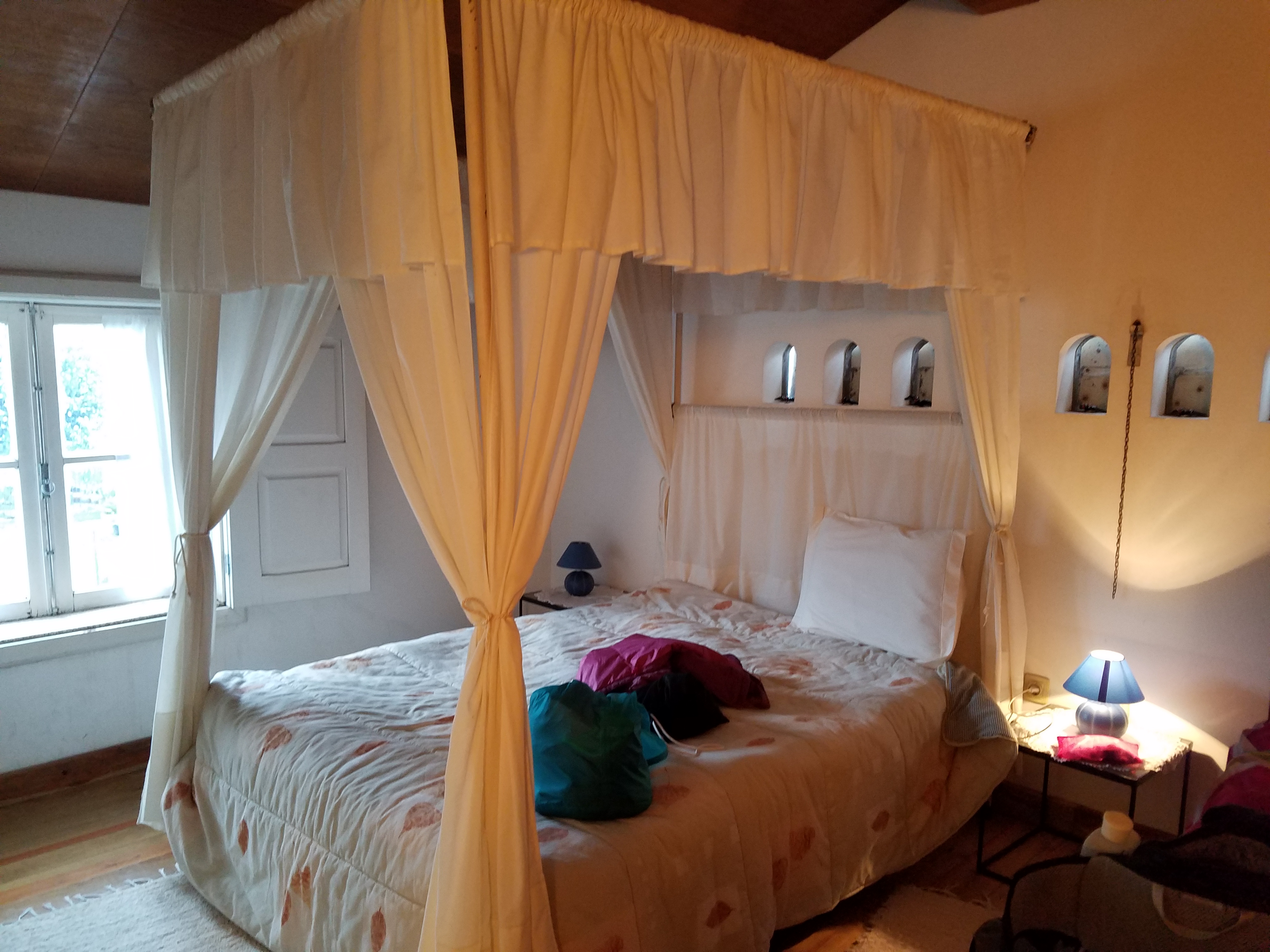 We hung out in the bar down the street so Charlie could upload some photos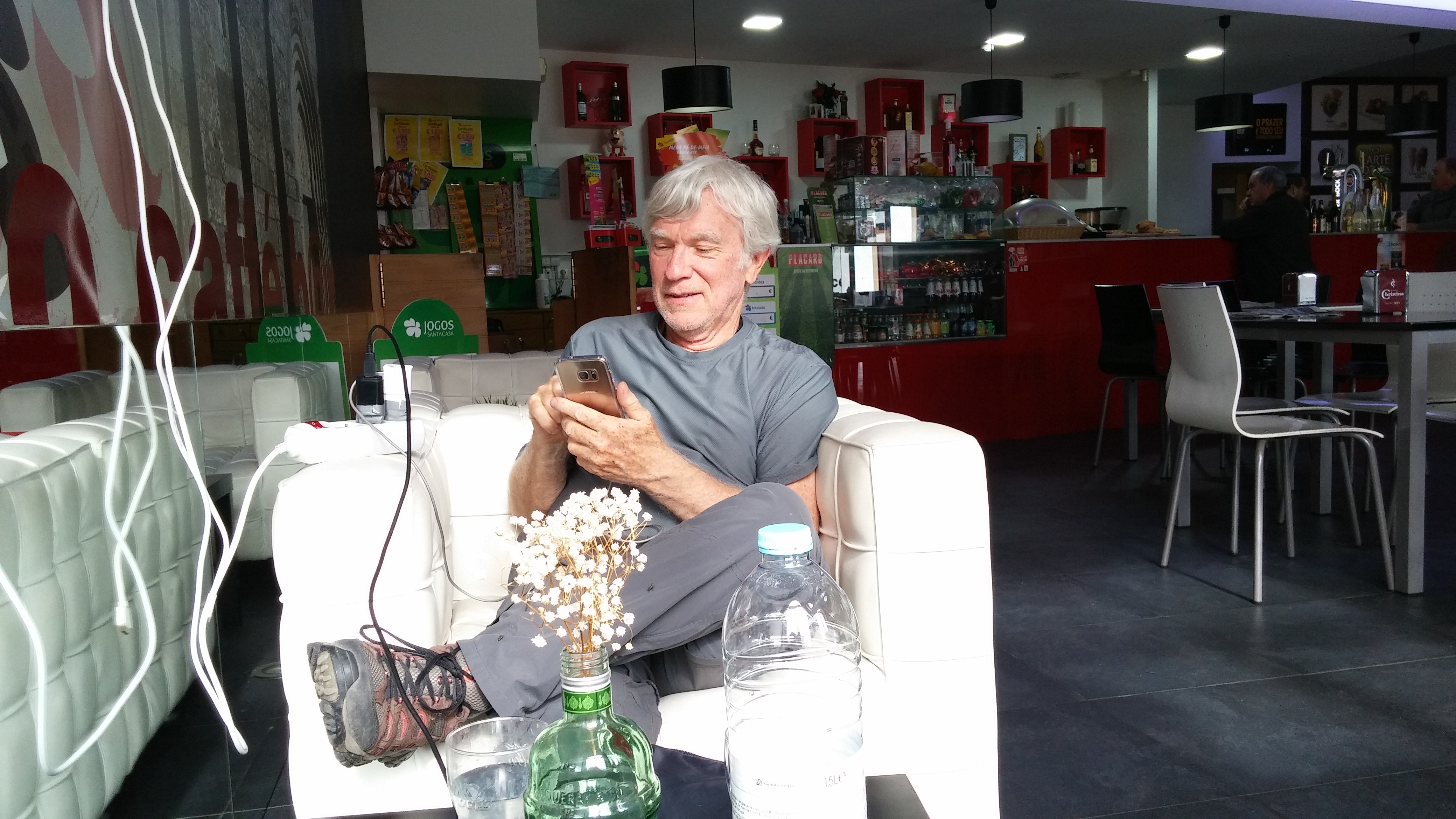 More on 4-18
2016-04-18 18:22
This was the transition between the coastal Camino and the inland Portuguese Camino. Starting at Vila do Conde we took a diagonal trail over to Arcos on the inland Camino. This finally started feeling like the "real" Camino, that is, it was through little villages, along roads and some trails. Passing by houses and farms. We still didn't see too many pilgrims but we have seen a few.

From Arcos we were on the inland Camino. We saw a few more pilgrims but again not that many. I guess it is still early in the year for Camino walking. The weather is nice though, overcast and some rain but nice and cool.
4-19: Barcelos, 11.0 miles
2016-04-19 17:17
Finally crossing bridge into Barcelos after a long walk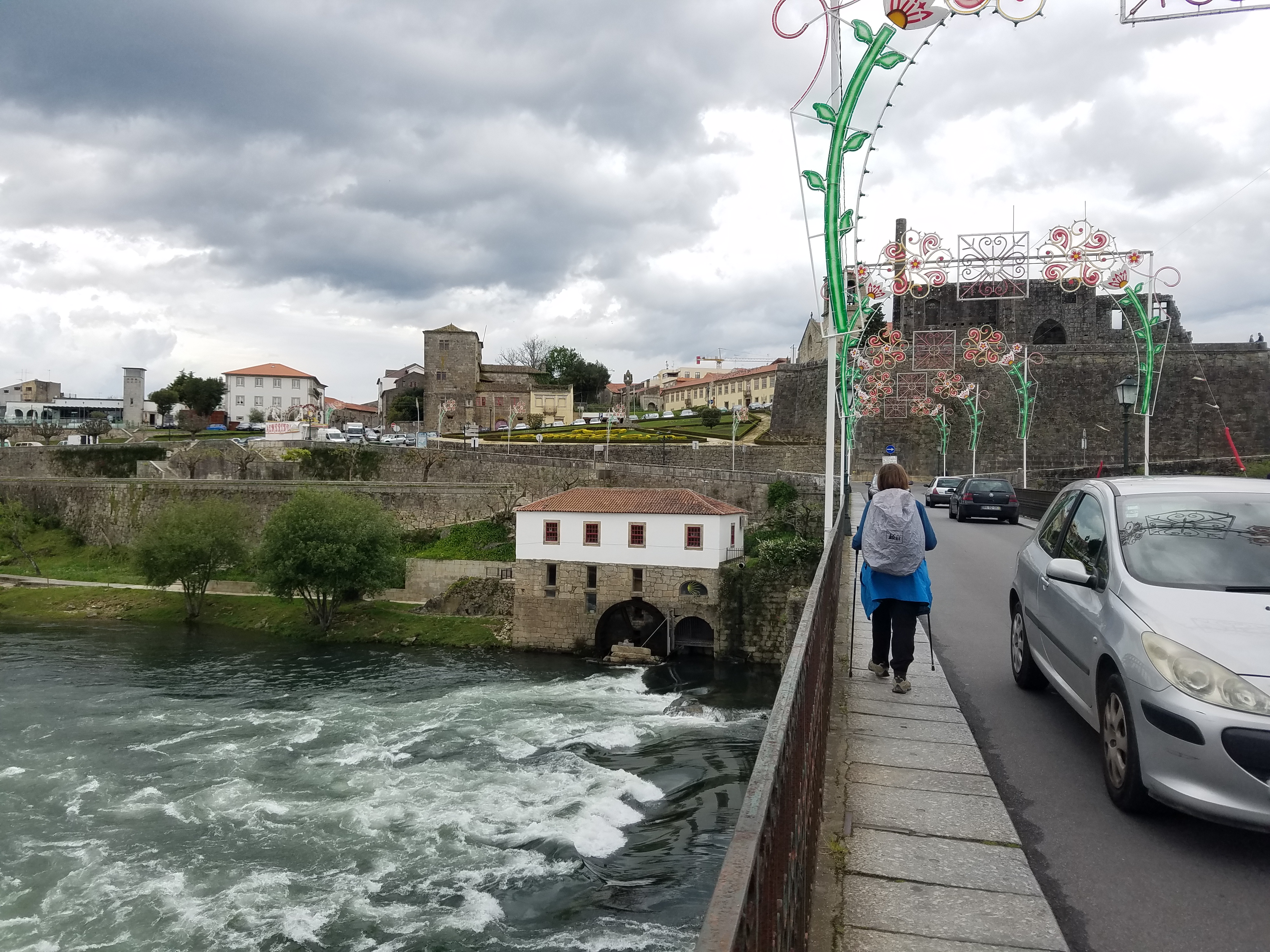 This was a hard day, our longest so far. We didn't have a restful night at the Casa rural in Rates, cold and damp, no hot water, rough sheets, strange owner.
We started out in the rain and it rained off and on the whole day. First the good part: our rain gear works great, we stayed dry the whole time. We have a rain jackets and rain "skirts" which hang down just a little above our shoes. Wynette uses the hood on her rain jacket. I use a rain hat which allows me to see a little better than my hood.
Modern rain gear breathes pretty well but you inevitably get sticky inside them. It it very humid and you feel it. We were walking along a dirt trail by forests and fields. But rain means mud so you have to walk very carefully.
The rain is as we expected, that is, not that hard and off and on. That means you want to open your coat when it lets up to cool off, and then put it on again when it starts raining again. A few patches of hard rain but mostly a light rain.
Altogether it means the going is slow and it takes a long time. After two hours we had not gone all the far.
We had lunch early in a Camino-oriented bar. We were there at 11:15 and thinking of ordering eggs and toast but the woman said the pilgrim's menu would be ready in 15 minutes so we had that. Very good and only six euros. Portuguese "menu" s don't seem to include dessert like the ones in Spain. Just as well.
Coffee keeps getting cheaper. First one was 1.20 (all in euros) then 1.10 in suburban Porto. Then 1.0 on the trail, then 0.90 farther one, then 0.80. We just today had one and it was 0.75.
A lot of today's path was along small roads, like 80-90%. In the morning we had cars going to work, and there was a fair amount of traffic on all the roads. There were many sections where there was hardly any space at the side of the road. It is tiring to always be watching out for cars. A few sections had high walls on each side on maybe one to two feet on each side of the road, so, not fun. We were beat when we finally made it to Barcelos.
The sweet smell of success...
2016-04-20 17:26
...ful dairy farming. Yes, we are smelling manure again, just like in Galicia. But the smell really is sweet, maybe a little on the sickly sweet side, but sweet. Maybe it is the grass they eat or maybe that is just how it is, a city boy like me wouldn't know.
Strangely we still haven't seen any cows. We have seen lots of sheep and goats, a couple of pigs, a few donkeys and a few horses but no cows.
Note by Wynette:
country girl here. The manure smell here is very different than back home. You can tell it is manure but it smells very sweet. Almost like fermented apples. Not horrible but not good either. I think Charlie is right that it is all the very green grass they eat. Talk about grass-fed beef!
Baby goats on the wall.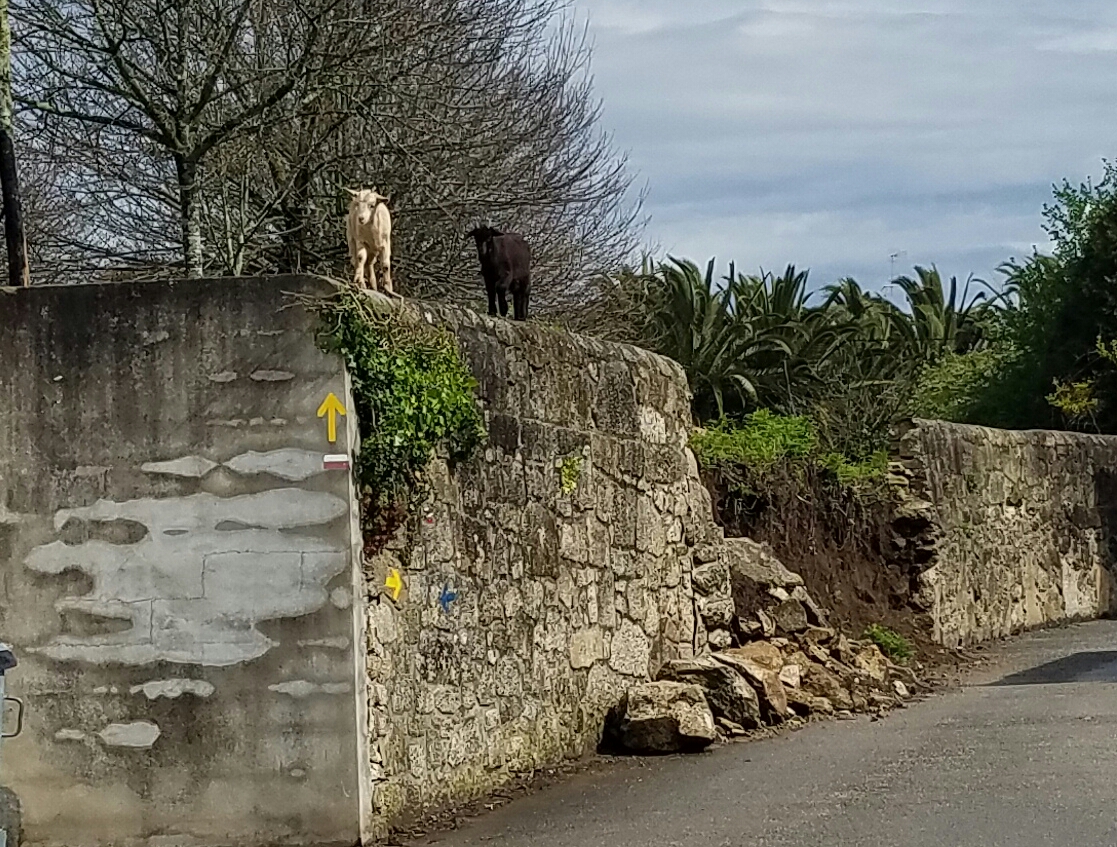 Nice people
2016-04-20 17:30
We had our laundry done. The young man was so cheerful and efficient.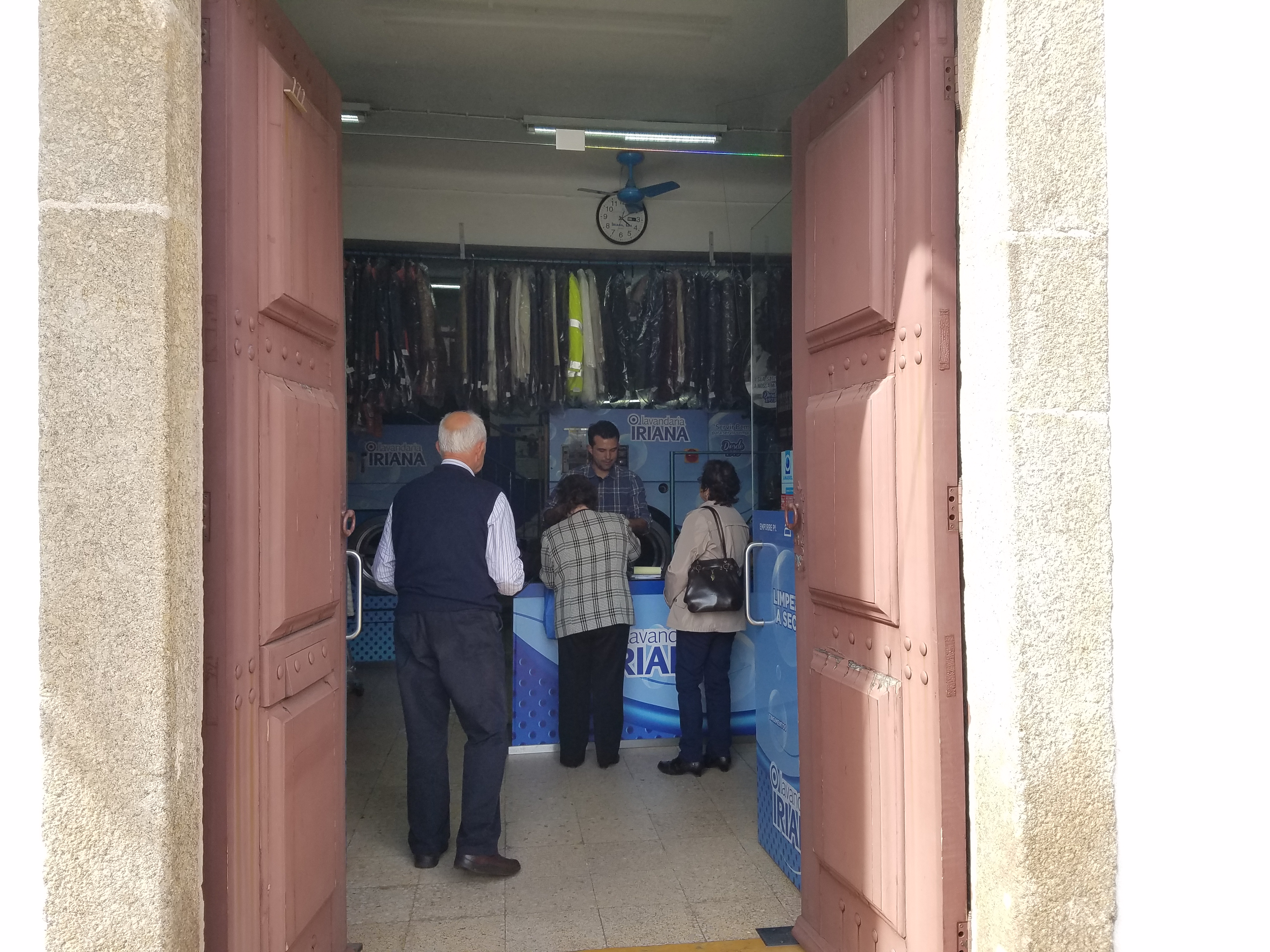 We can't say enough how nice and friendly everyone we encounter is. This includes other pilgrims and especially the Portuguese people. The desk clerks and shop people are all helpful and friendly. The bar owners are happy to have you sit around as long as you want using their WiFi and are always ready with directions or advice.
Wynette has been trying out her Portuguese and doing pretty well for a beginner. She asks how to say things and people are happy to correct her pronunciation and tell her the Portuguese word for things.
Farmacias
2016-04-20 17:35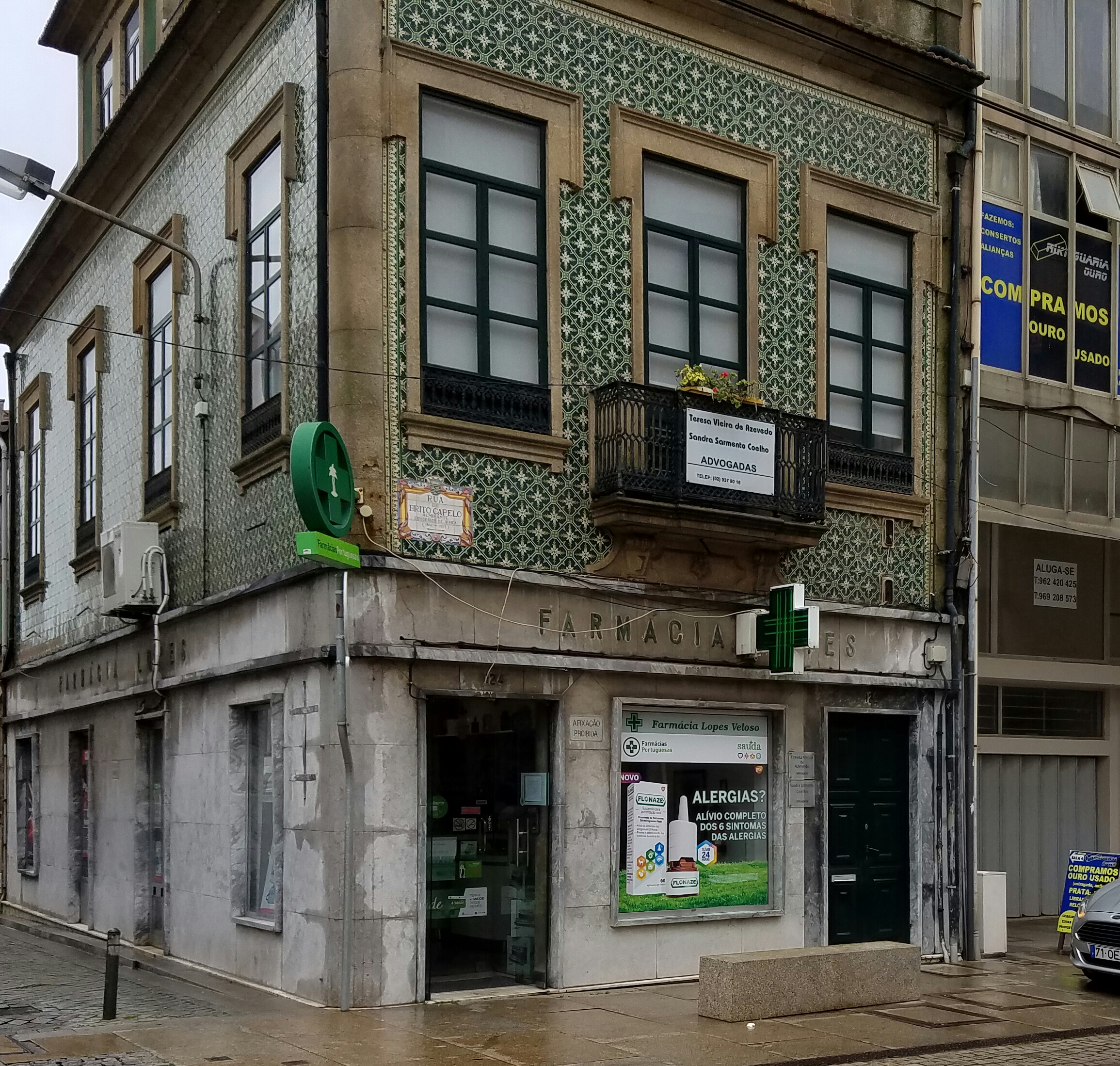 That is
pharmacies
. It is the same word in Spanish and Portuguese. And very close to the English. There are lots of them.
We hang around these because they carry foot care products.
They seem to be private but they work together and are regulated, I suppose. For example, the farmacias in a town get together about opening times so that there is always one open in each part of town all the time, including nights and weekends and siestas.
They seem to be independently run though and each one does their own ordering and they all stock slightly different things. We go from one to the next looking for particular things. And the prices vary a lot, like sometimes something is twice as much in one.
They seem to have some medical training and give advice. The one in Barcelos advised Wynette to take a day off and we are doing that, more on that later.
Staying over in Barcelos
2016-04-20 17:38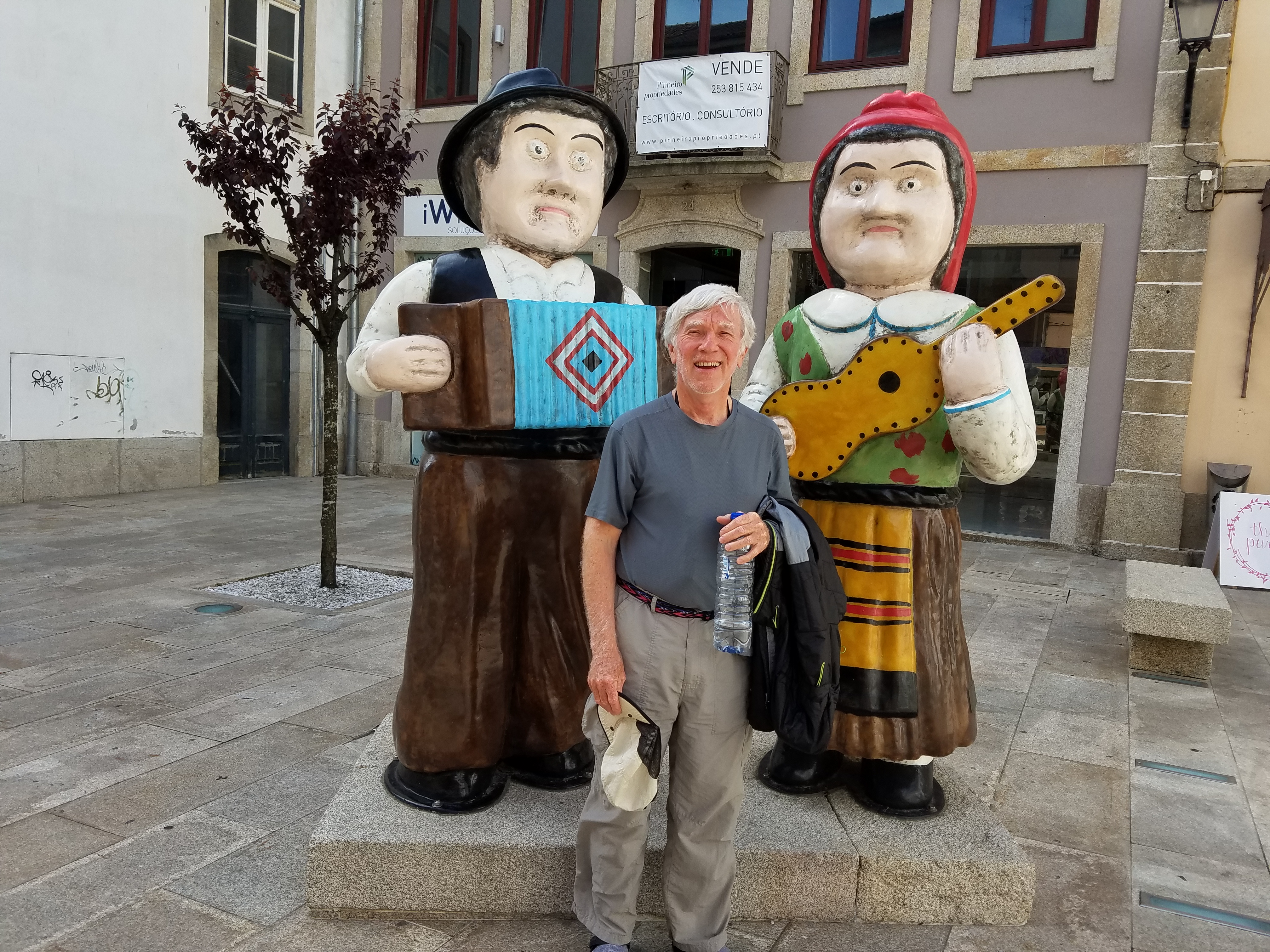 We had a long day and Wynette had a pretty bad blister on her heel at the end. We decided to take a rest day in Barcelos, a very nice little town to do so in.
Tomorrow we will have a short day, less than six miles and then a second short day, less than seven miles. With the rest day we are hoping the blister will be controlled.
Photos
2016-04-20 17:45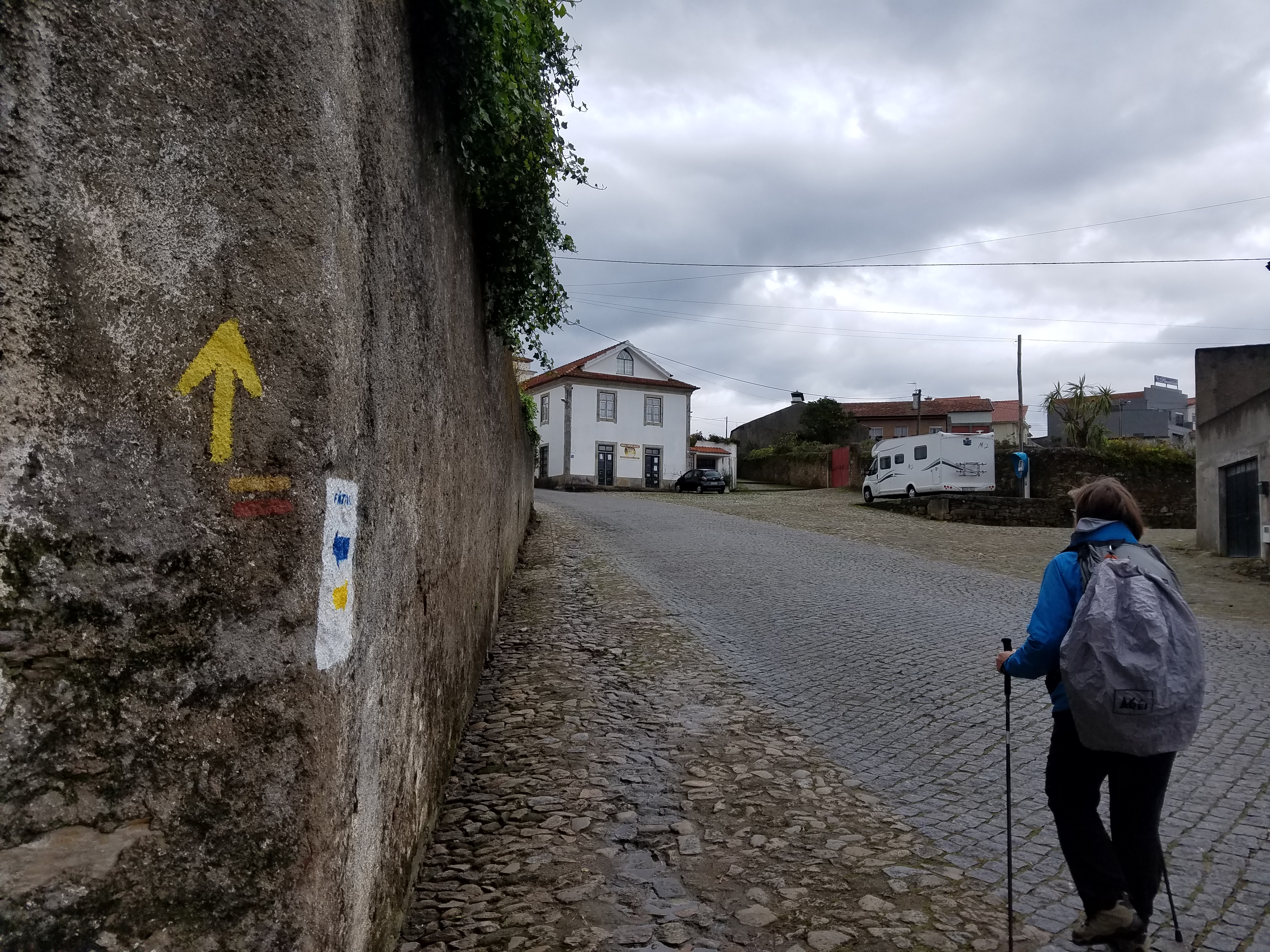 I am enjoying my new phone, a Samsung Galaxy S7, which has a really good camera. It is very good in low light and a lot of our photos are in low light, clouds days and inside shots.
I am taking lots and lots of photos. I did on the last trip also. I spent many enjoyable hours after the last trip going through the photos and organizing them. It allows you to go through the trip again.
Like last time, I am taking a pictures of almost every yellow arrow. This means every 100 to 1000 feet, the arrow spacing varies. So I get a fairly complete photo diary of the whole walk. We also take photos of every place we stop for food or coffee, all the places we stay, all the signs we see. And, of course, we take the usual trip photos of things we see. This adds up to 150-200 photos a day. But what the heck, there is little marginal cost. I have a 128 GB SD card so I can keep them all on my phone but I also upload them all, twice in fact, to Google Photos and to Dropbox.
All this uploading takes a while and if we don't have WiFi at a stop I get behind. Each one take 30-45 seconds, except for the hotel in Vila do Conde which had this amazing Internet where photos uploaded in 2-4 seconds each.
So you can be glad I am not posting all the photos ;-)
Note by Wynette:
It helps me when Charlie takes so many pictures. He's a faster walker than me (even though he gallantly carries much more of our load than I do) and when he stops to takes photos it helps to equalize our speed. Before we did our first Camino we thought he might get way ahead of me and then he'd wait for me and I would catch up. But it worked out for us to walk together and we like walking together.
Flowers and gardens
2016-04-20 19:16
Prices are criminal
2016-04-20 19:33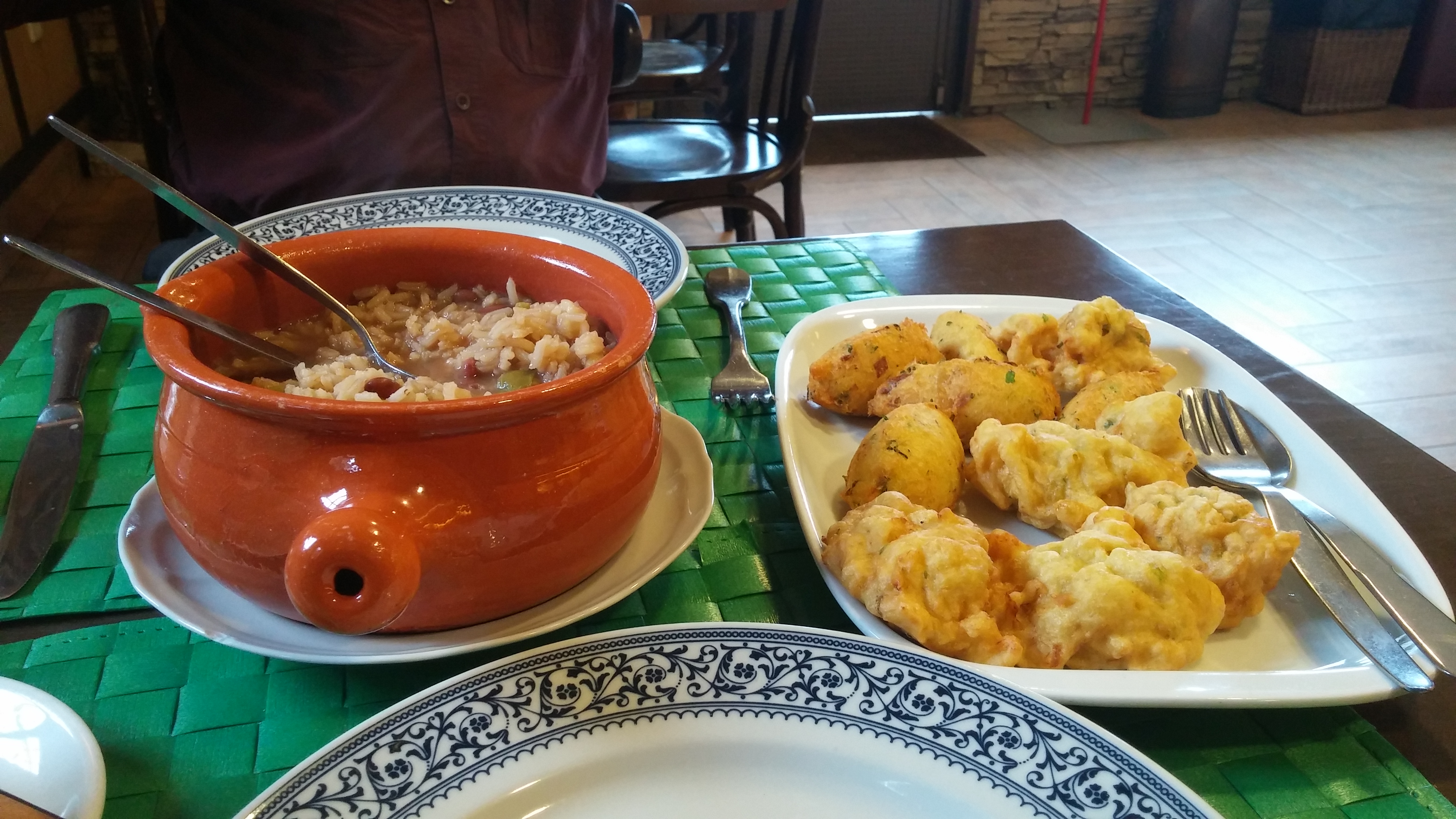 Post by Wynette:
The above pilgrim's meal was 6 euros each (multiply that by 1.14 to get dollars.) We had beans and rice, cod croquettes, some kind of other eggy/vegetable croquettes (delicious), plus, not shown, a hearty vegetable soup and coffee. A most satisfying meal.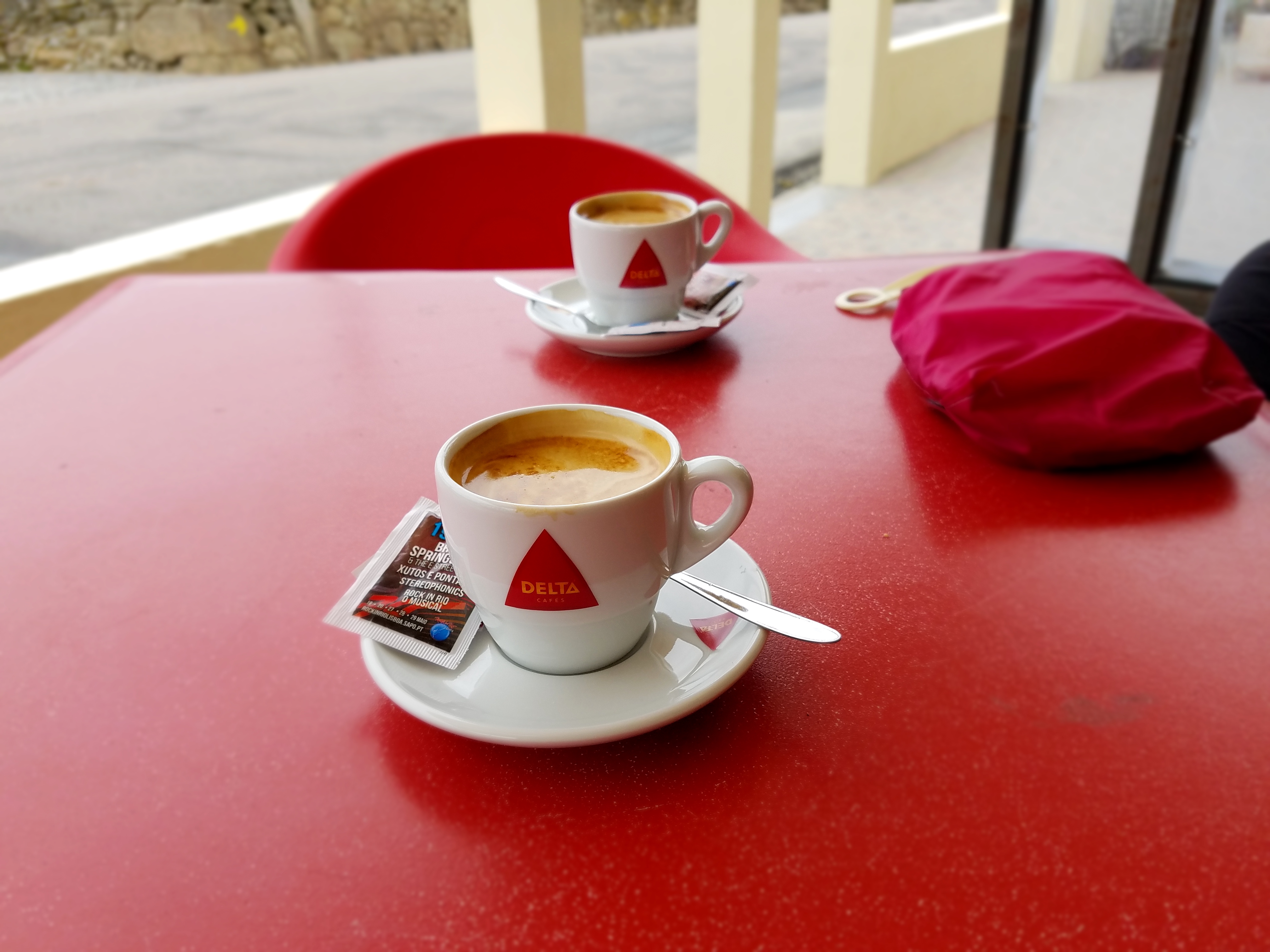 Coffee in Barcelos is 75 euro cents per cup. This is rich espresso with hot milk. Same as a latte back home where same size goes for $2.50.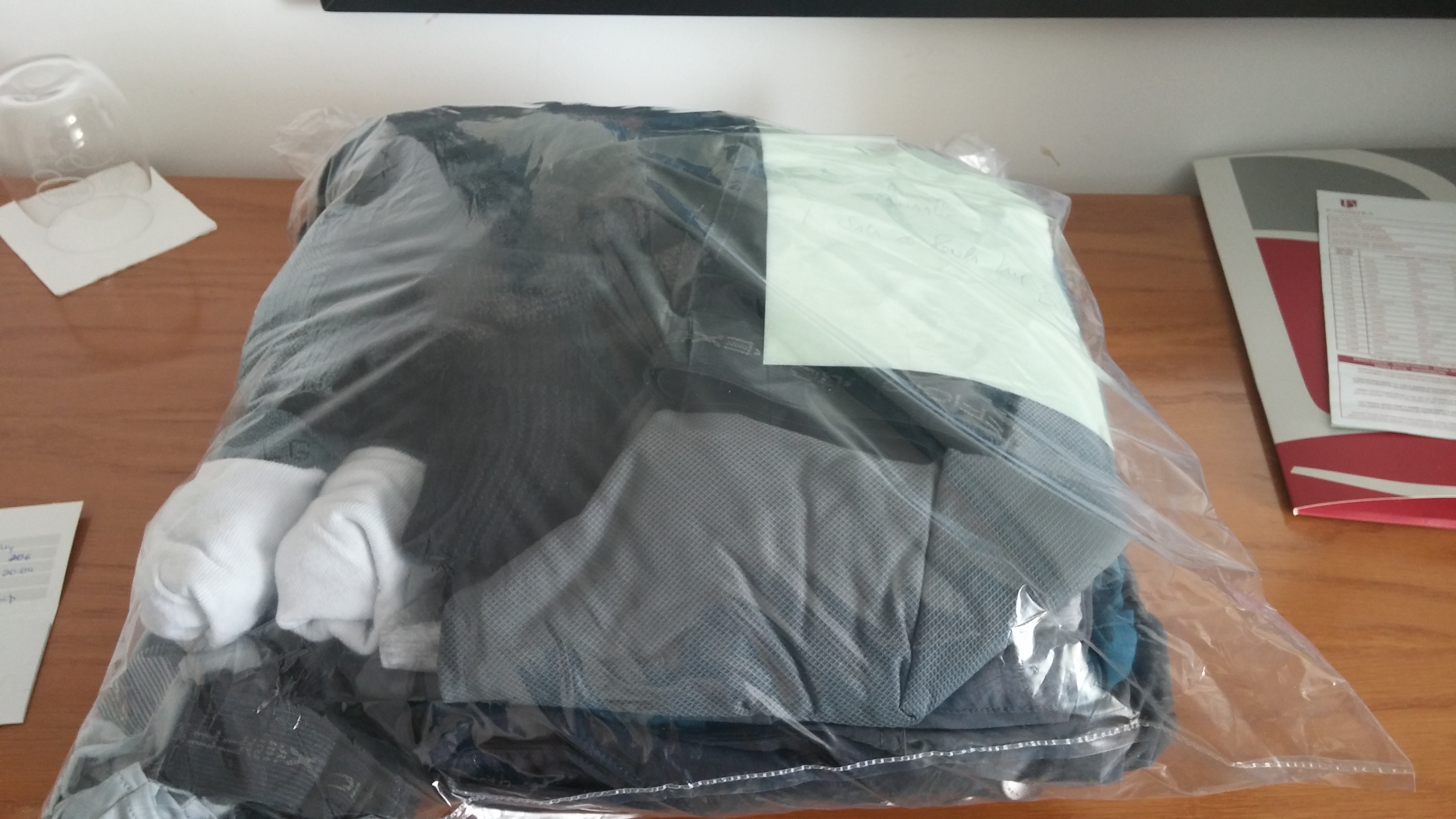 Self-service laundry was too far away so we had our laundry done in a little laundry across the Plaza from our hotel. Cost: 5.50 euros for about 6 pounds of laundry. That included washing, drying, and folding.
We cannot understand how people can make a living at these prices. We do know Portugal has been hit hard by the economic crisis. And people never seem to be greedy. They could easily hit us pilgrims and tourists for more but they don't.
A day on the Camino
2016-04-20 19:40
https://goo.gl/photos/zva7qj2WoN525YNQA
I try to take a photo of every yellow arrow. This creates a log of the day. Here are 122 photos of our long day with some comments.
Maceo's bar
2016-04-20 21:02
https://www.dropbox.com/sc/c9xkwzjeb97zpn6/AAB5vj1DVHqgDPpMSOJk8g-Ea
Keeps a log of the pilgrims who visit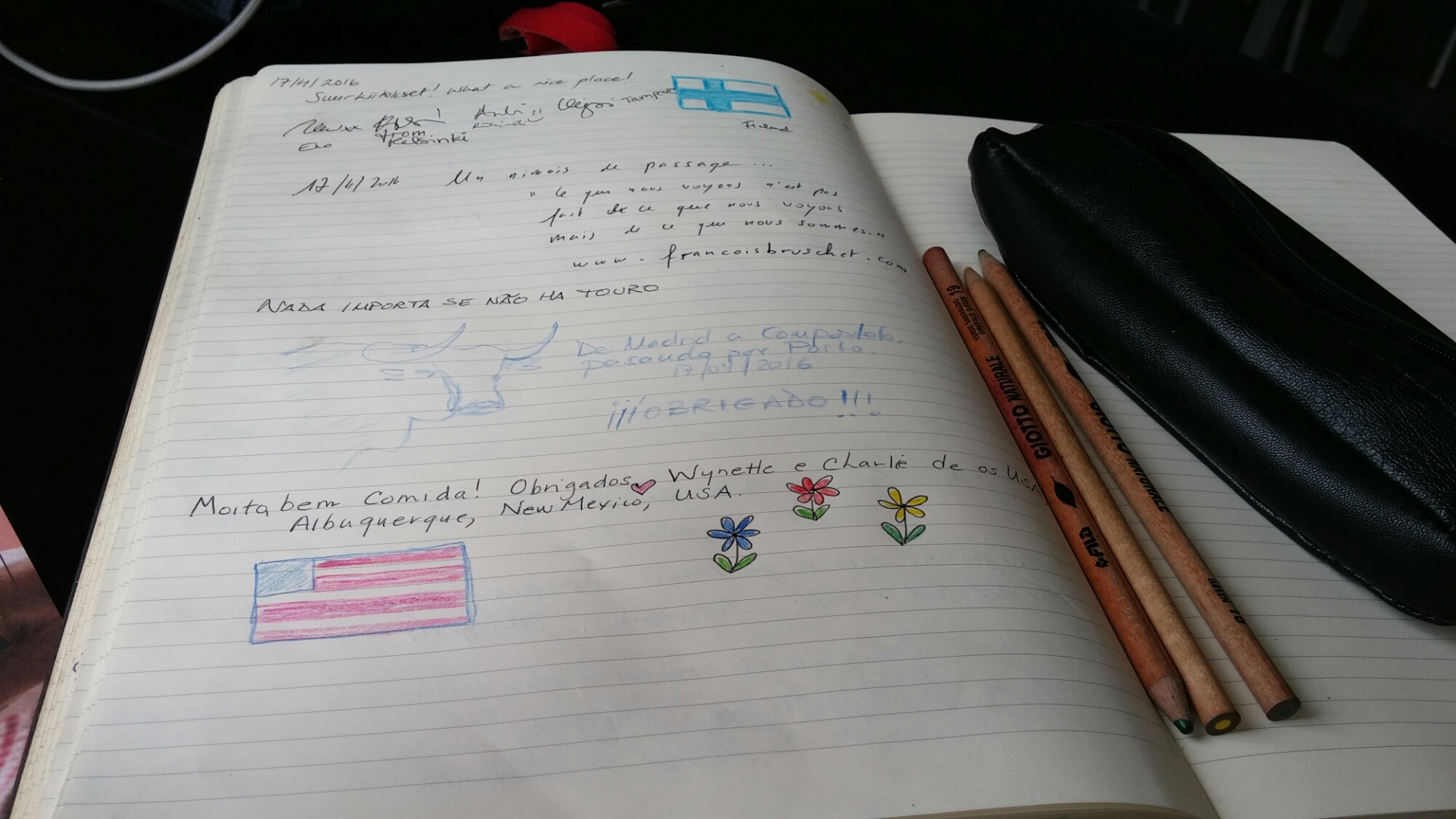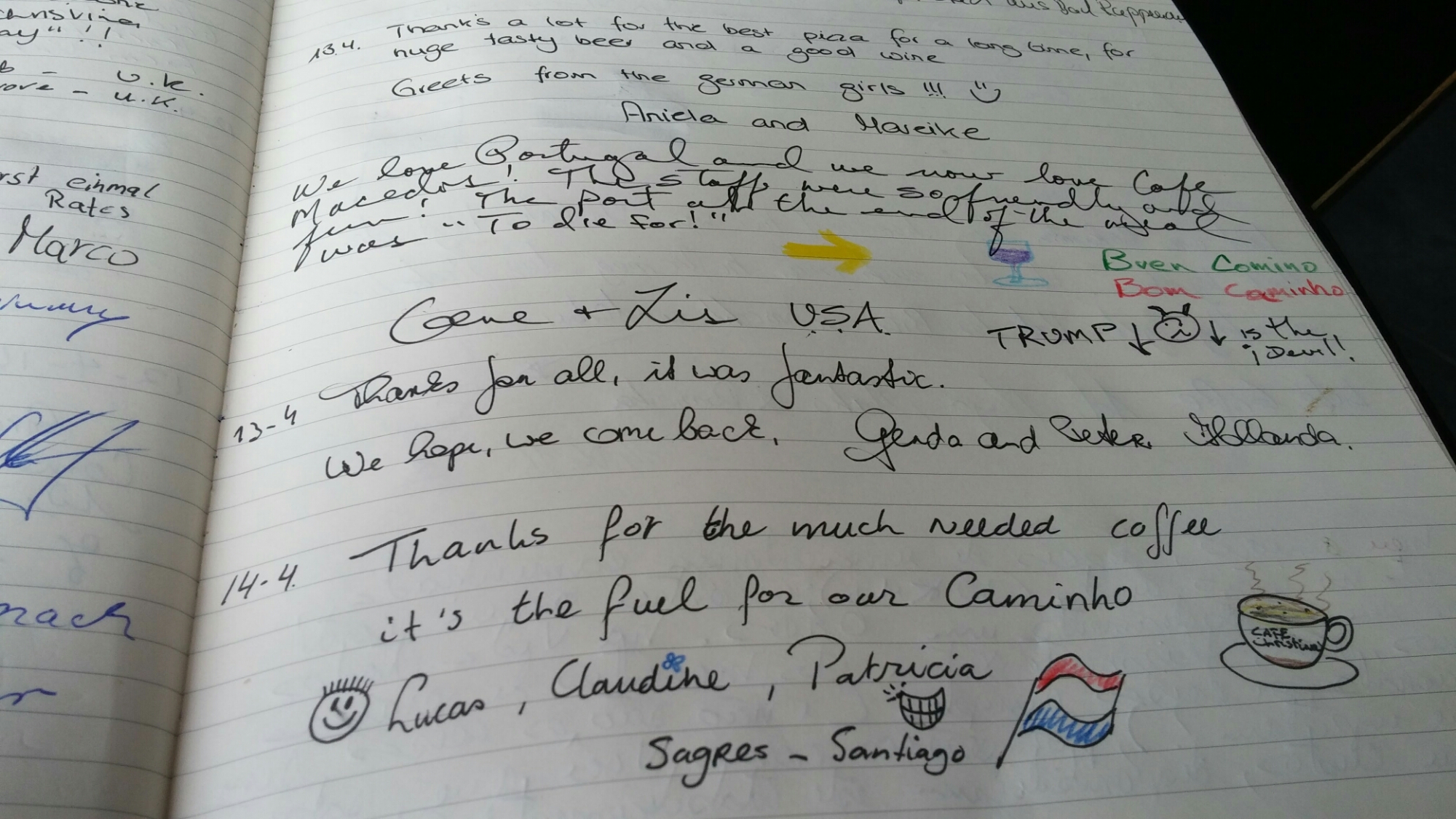 Camino de Fatima
2016-04-20 21:08
Wrong way
2016-04-20 21:12
188 km to go
2016-04-20 21:15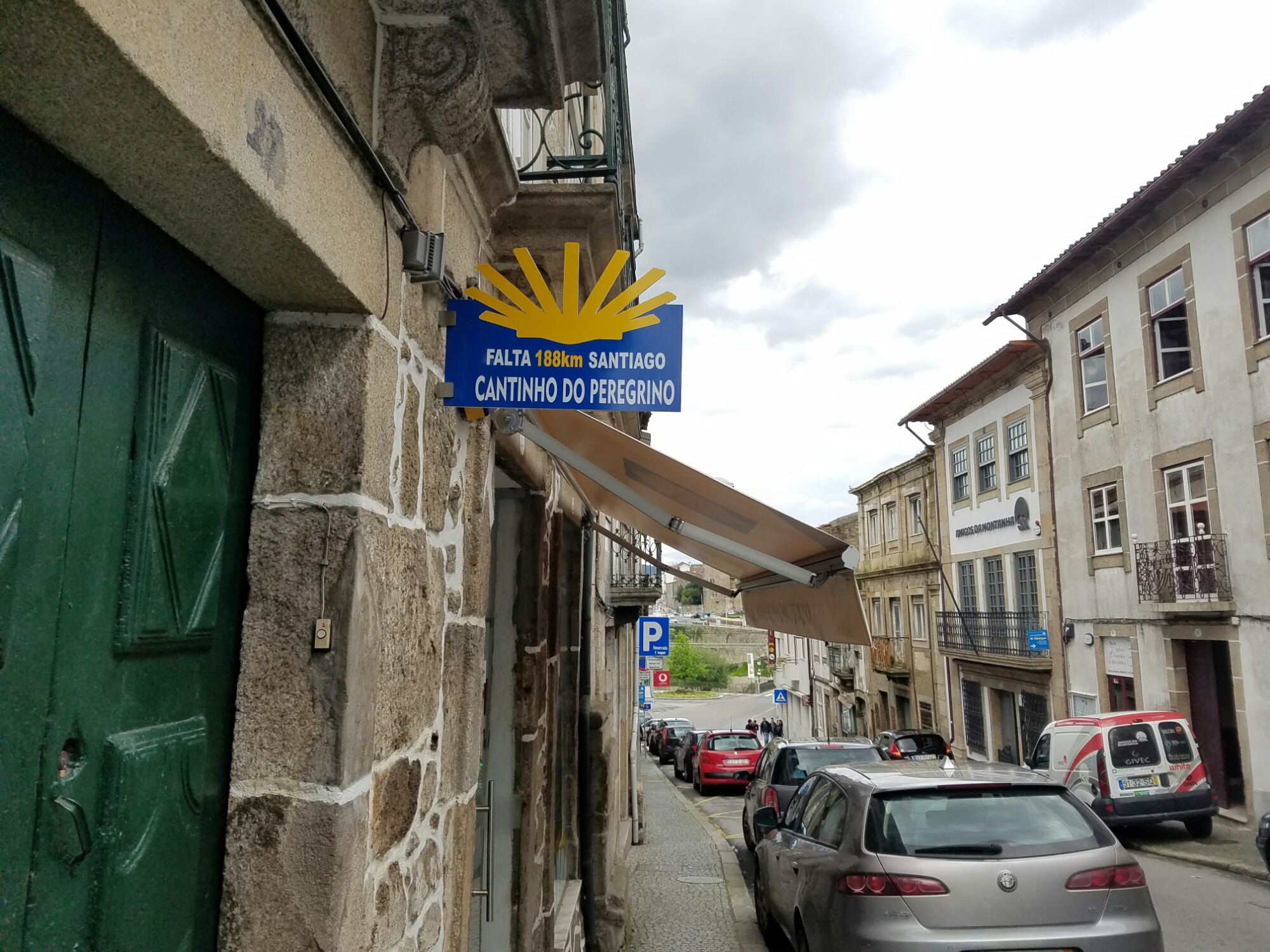 Chicken on the right
2016-04-20 21:16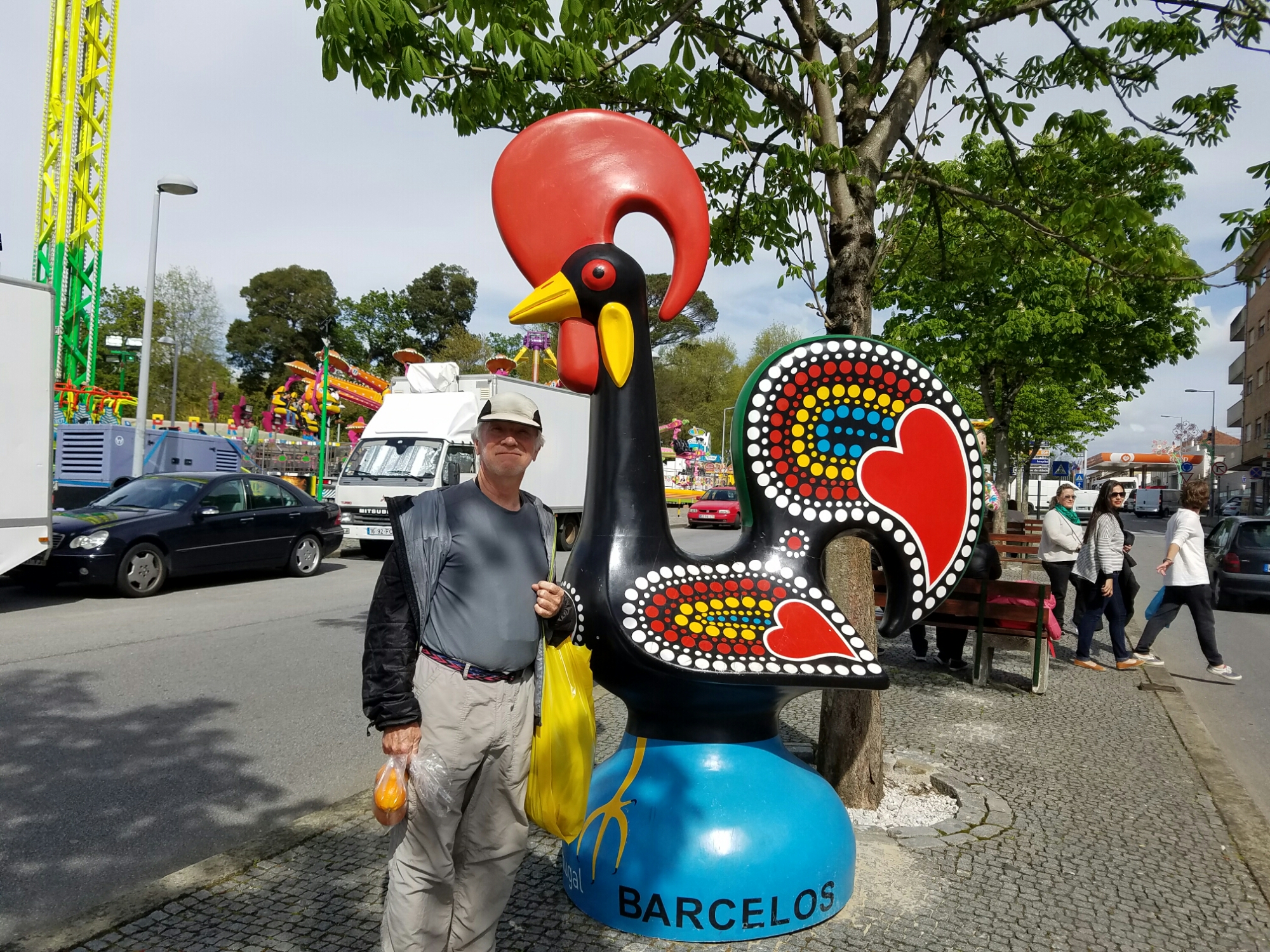 A fair was in town
2016-04-20 21:19
Cafe hopping
2016-04-22 15:00
We started out without breakfast so decided to stop at a cafe. There was a pastry shop that we looked into but they didn't do eggs so we went to the cafe restaurant next door and got the usual eggs with deep orange yolks that you get here, and toast and coffee. We spent about an hour there using their Internet. This is the server/cook.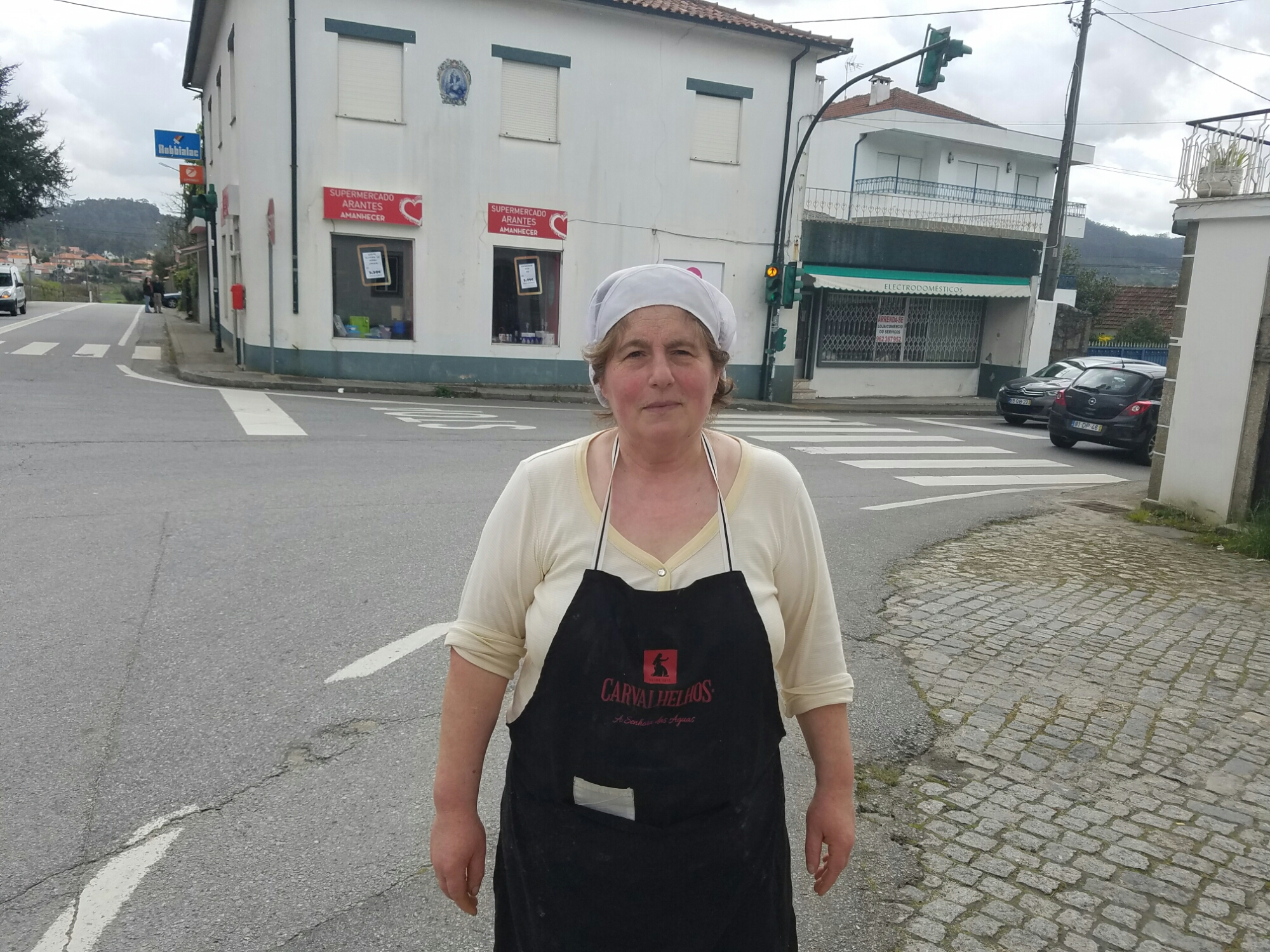 Why is she outside you ask?
After we finished we had a yen for some pastry so we went next door and had a second coffee and, resisting the pastry, had a chicken empanada. I went to pay and had exactly the 2.70 it cost. This clerk and I had a laugh that I had exactly the change. (Photo below.)
We went by the first place on the way out and the woman was outside. She said something in Portuguese that I didn't get but I suppose was something like "what the heck are you two still doing here? You left half an hour ago." I think she thought we had been wandering around cluelessly the whole time. She kindly directed us back to the Camino.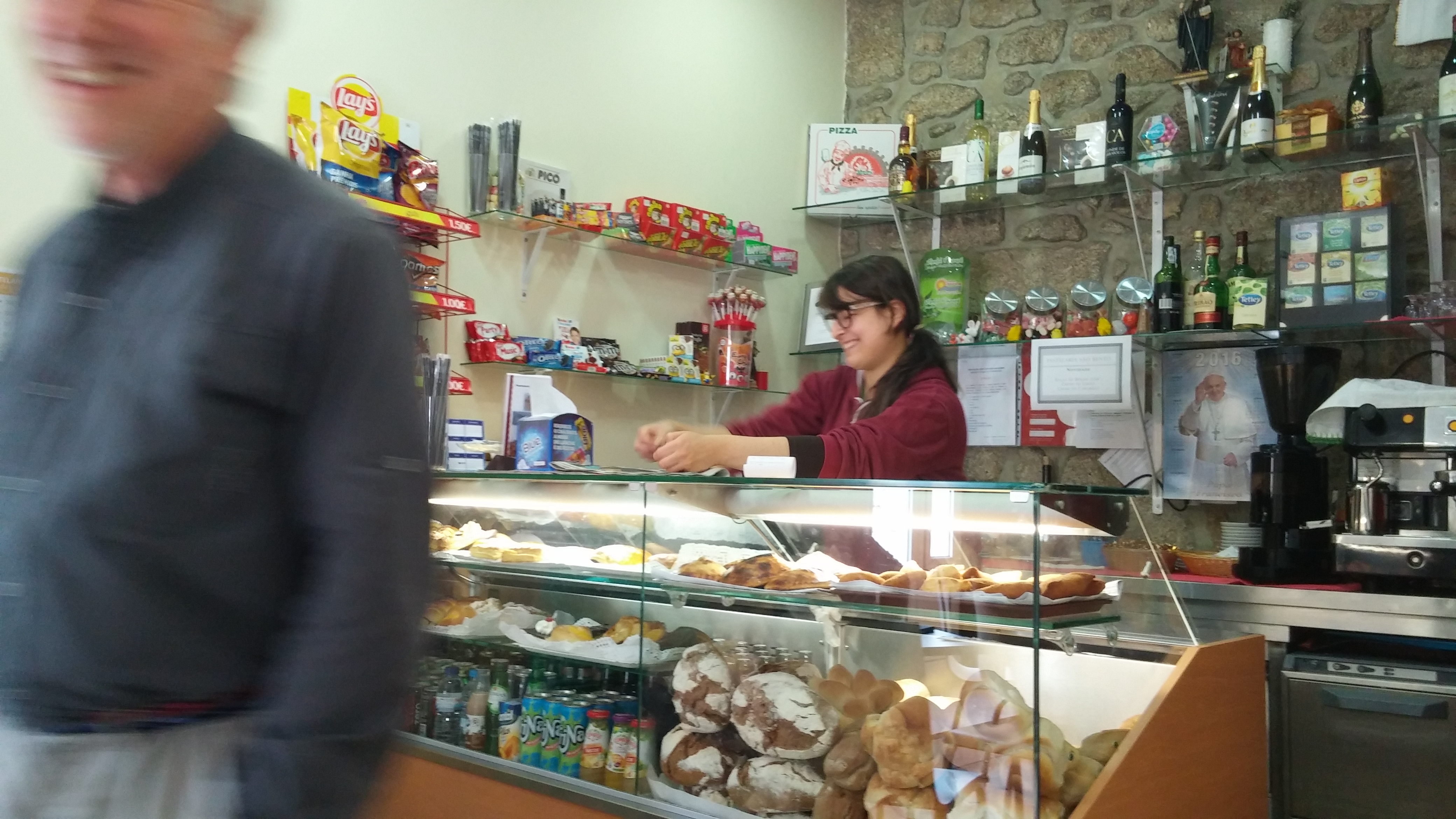 Wooden Bags?
2016-04-22 15:08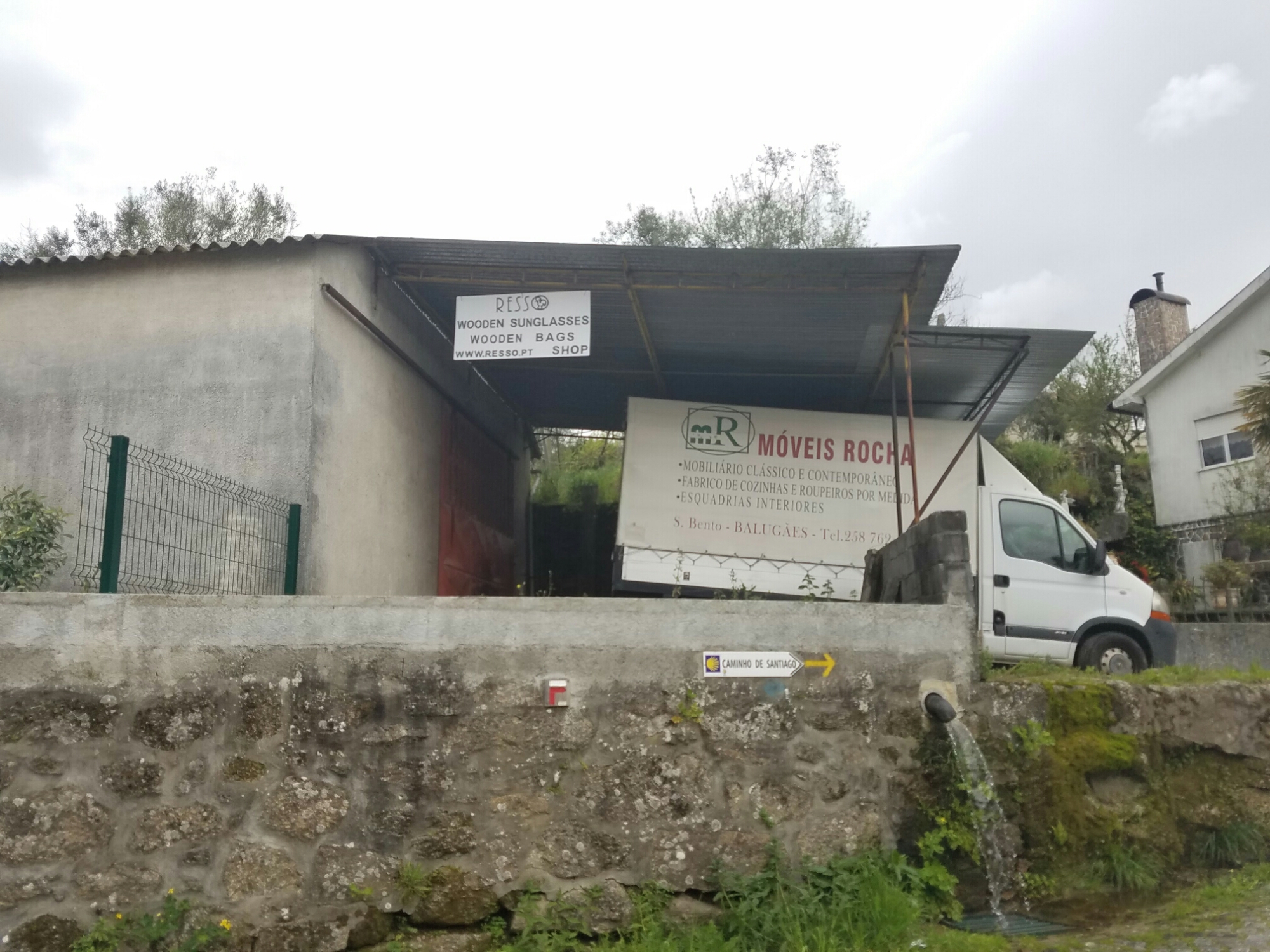 First albergue experience on the Caminho Portugués
2016-04-22 15:42
View from my bunk. Portuguese couple already in bed opposite.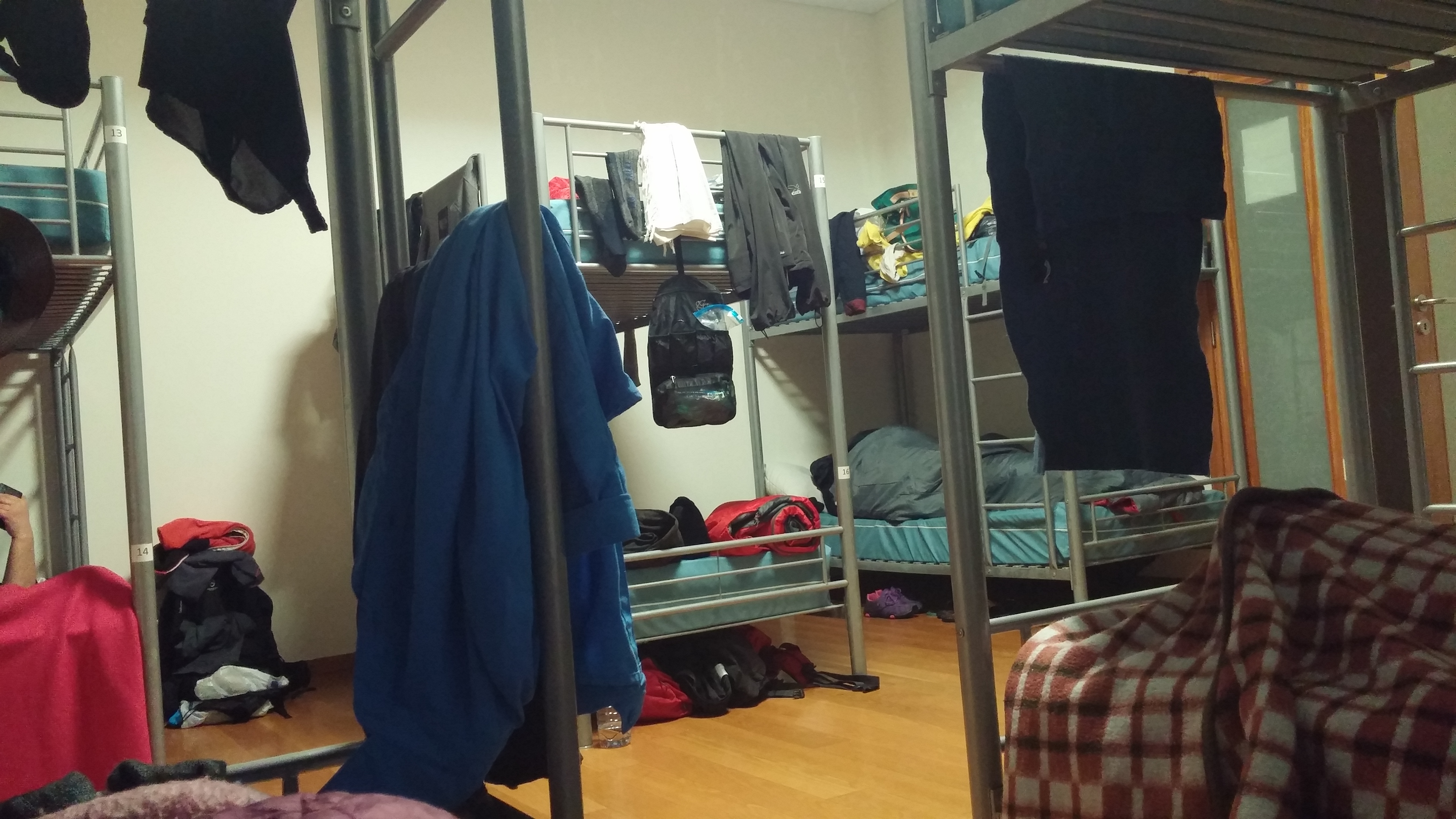 Post by Wynette:
We stayed in our first albergue last night. Casa de Recoleta in Portela, about 6 miles north of Barcelos. There were 10 people in our room: Charlie, me, a nice young man from Switzerland (he said his mom is Portuguese), a mother and daughter from Holland, a man from Belgium, a couple from Germany, and one couple we did not meet who were speaking Portuguese. There were 6 bunk beds in our room. Charlie and I were among the first to arrive and were lucky to be assigned bottom bunks and also lucky no one was put above us. 
We were surprised to see the Portuguese-speaking couple in our room climb into the same tiny bed, instead of one of them climbing into their top bunk. They just used the top bunk as a place to put their stuff. I thought "I wonder if we'll hear any hanky-panky during the night." (We did see them finish off 2 bottles of wine at dinner.) But the man was asleep at least 15 minutes before the bright room light was turned off. We knew he was asleep because he was the snorer in the room. Kind of loud, but with earplugs it wasn't really a problem.
The albergue was so pleasant. We were welcomed by a friendly hospitalero. The rooms and bathrooms were modern, spacious, very clean. Everyone was kind and considerate. The price was 5 euros each. A good experience.
Tonight we are in another wonderful albergue but this time we have a private room.
Charlie relaxing on his bunk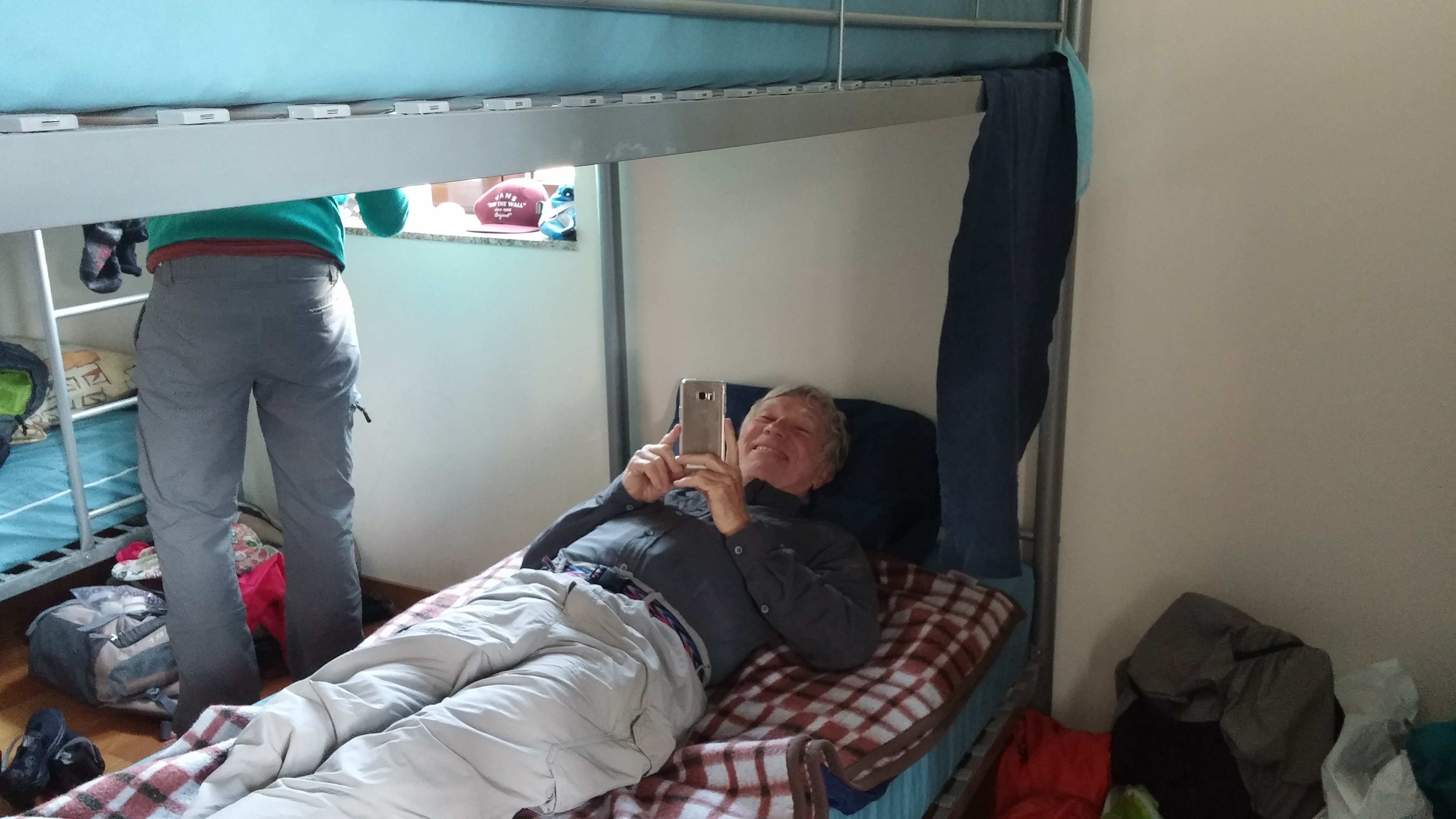 Casa de Fernanda
2016-04-22 16:00
Three Korean women. Other man is from Maine. Woman on right is from Holland.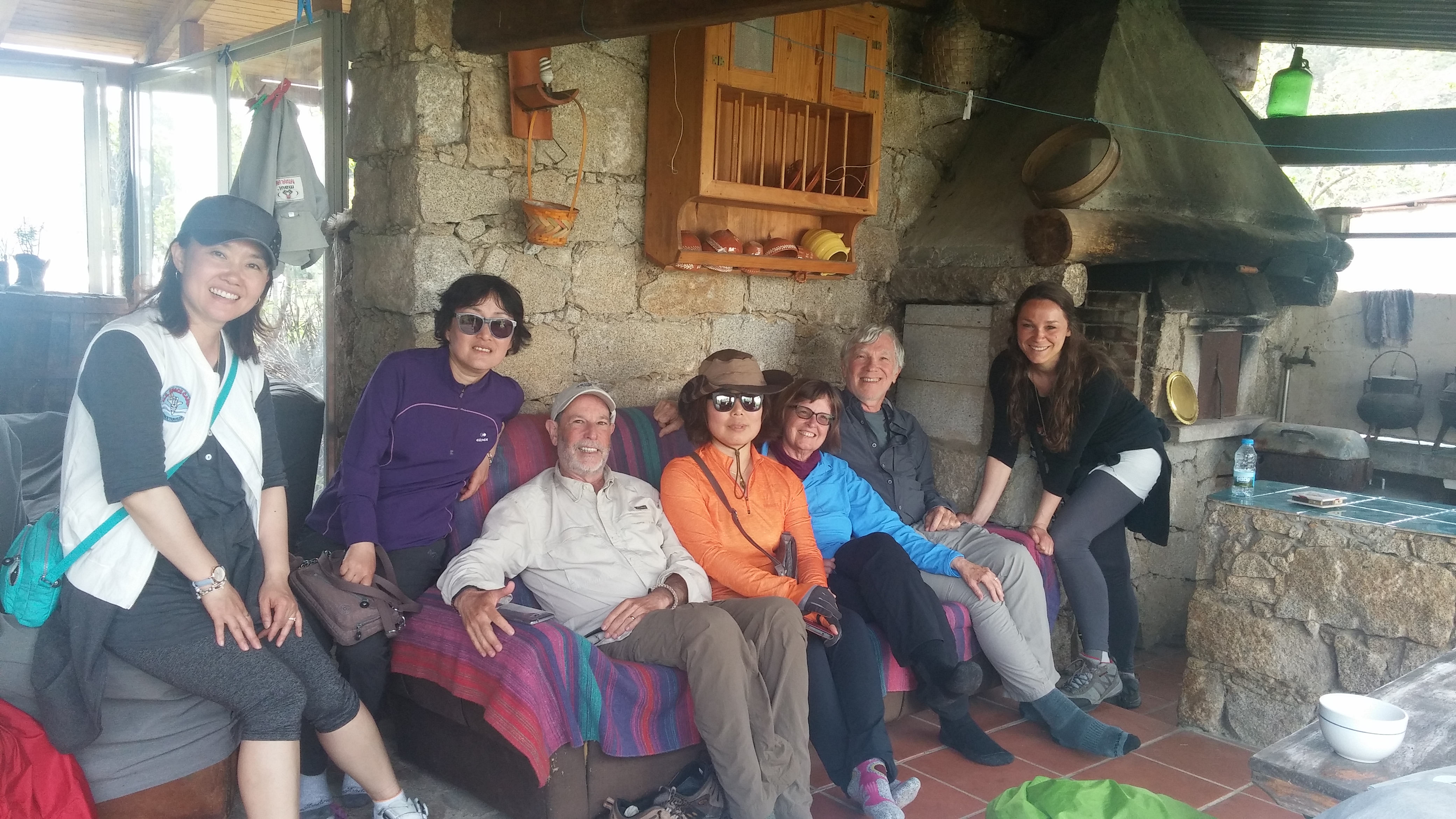 Post by Wynette:
We are staying at Casa de Fernanda tonight. What a wonderful place. About 20 pilgrims staying here. We had reserved a private room. Turned out our room had places for 3 people to sleep. Fernanda was having to turn people away so we told her she could put someone in our room with us. She ended up moving us into a double room in her house and giving our room to 3 women. She is feeding all of us dinner tonight. Based on the appetizers she has served already it is going to be delicious.
Some young Korean women stopped by briefly and asked those of us hanging out on Fernanda's patio for a photo. We had fun posing for/with them.
A few people will be sleeping outdoors on this couch on this patio tonight. This is a popular place.
The group room at Casa de Fernanda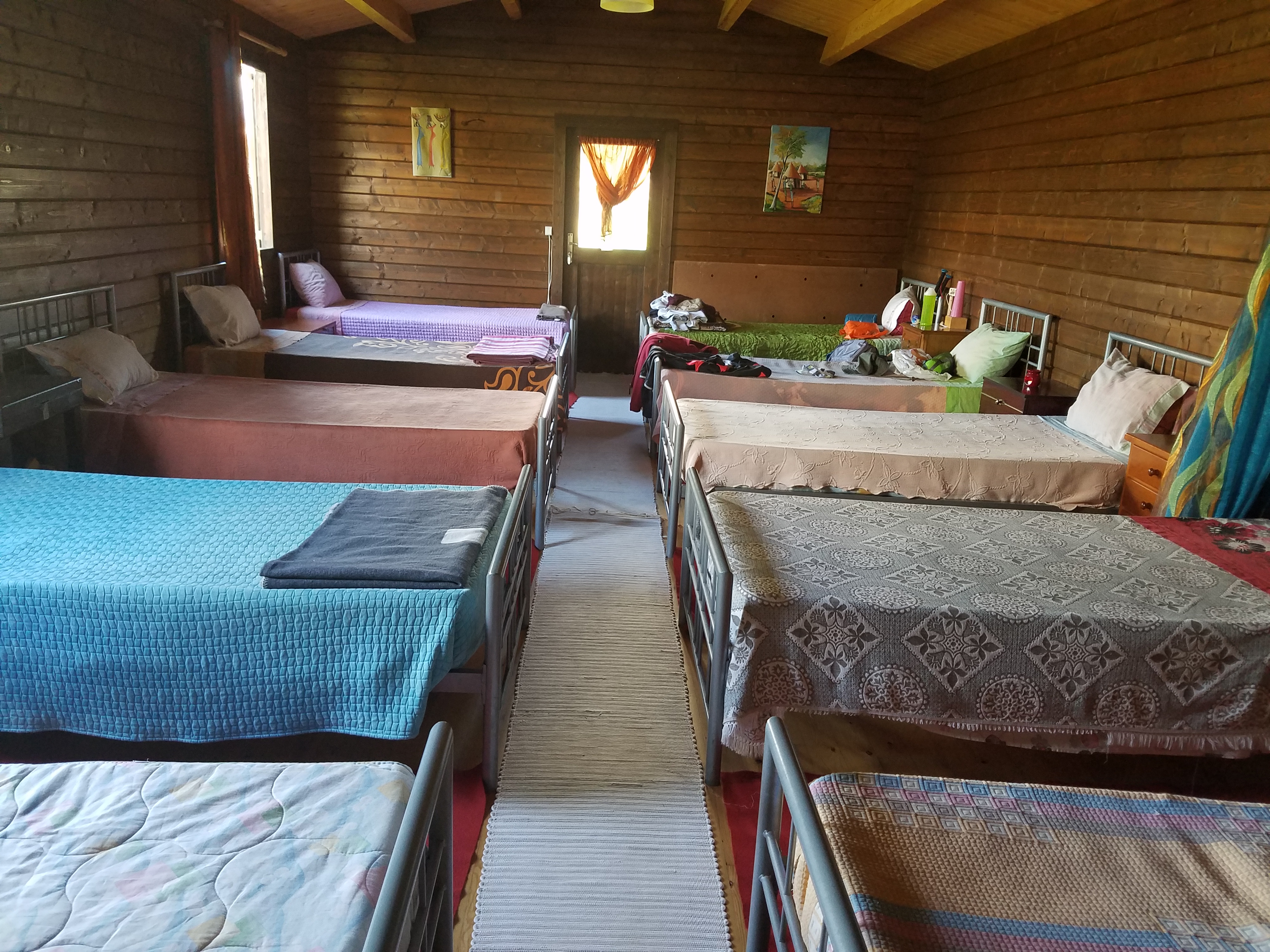 Horrero (Spanish), Hórreo (Galician)
2016-04-22 18:44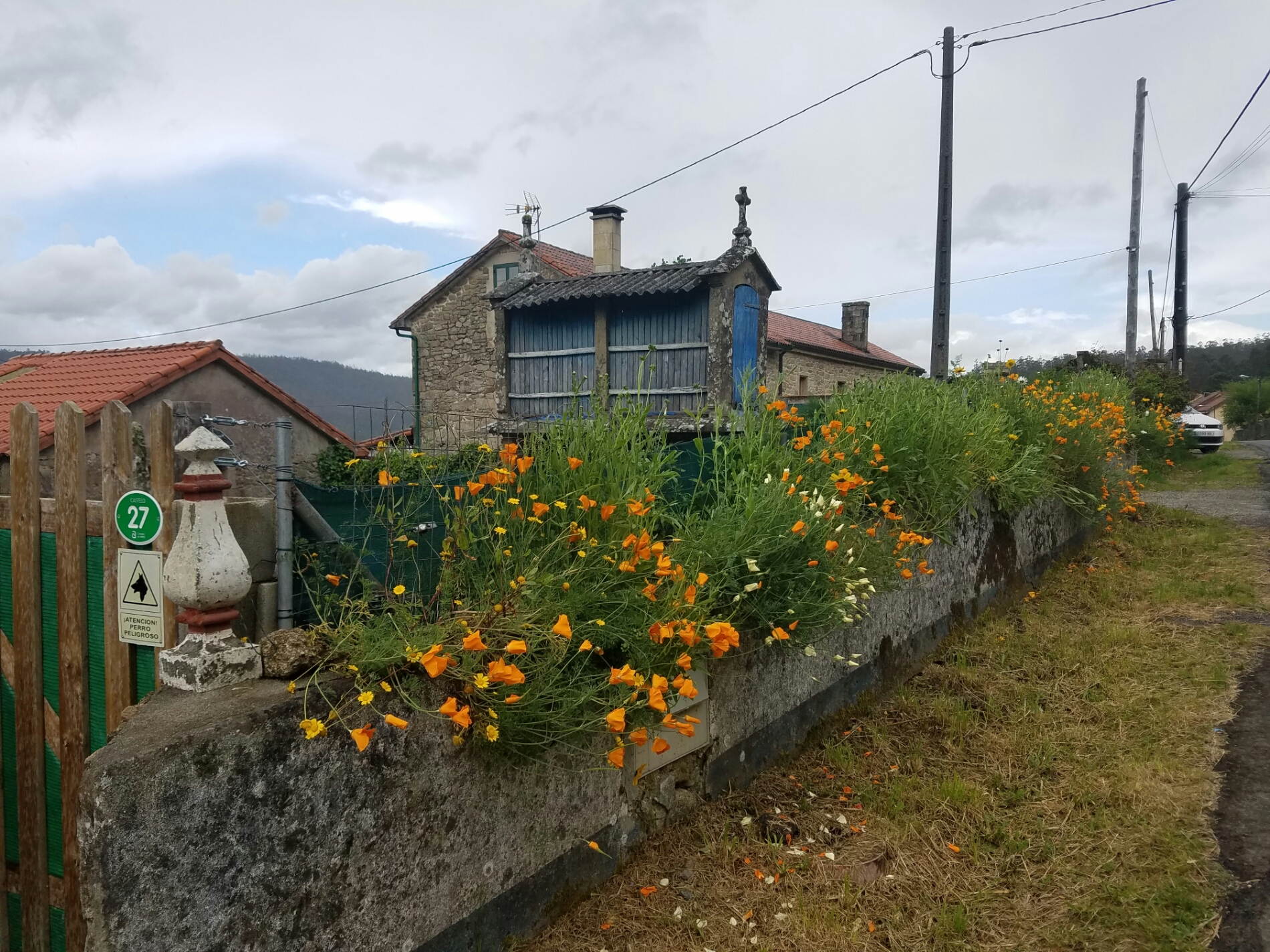 Post by Wynette:
The first time we walked the Camino (Spring 2013), when we got to Galicia, we started seeing these "narrow elevated structures" as Bob Tomlinson described them in a comment to one of our earlier posts. We had no idea what they were but we kept seeing more and more of them. At this point, after three caminos, we've probably seen more than a thousand of them. I'm not sure but I think they are unique to this part of the world. We found out, eventually, that they are for storing grain. The bottom is such that rodents can't get in and there are usually slats or air holes on the sides for circulation. In Galicia, they almost always have a cross on top so they look like little churches. We saw some in northern Portugal as well but they rarely had crosses, if any.
It seems nearly every family in the small villages and countryside has one.
We've seen cute little replicas of them as mail boxes or toys. Such as this one that is in the dining room of our albergue tonight.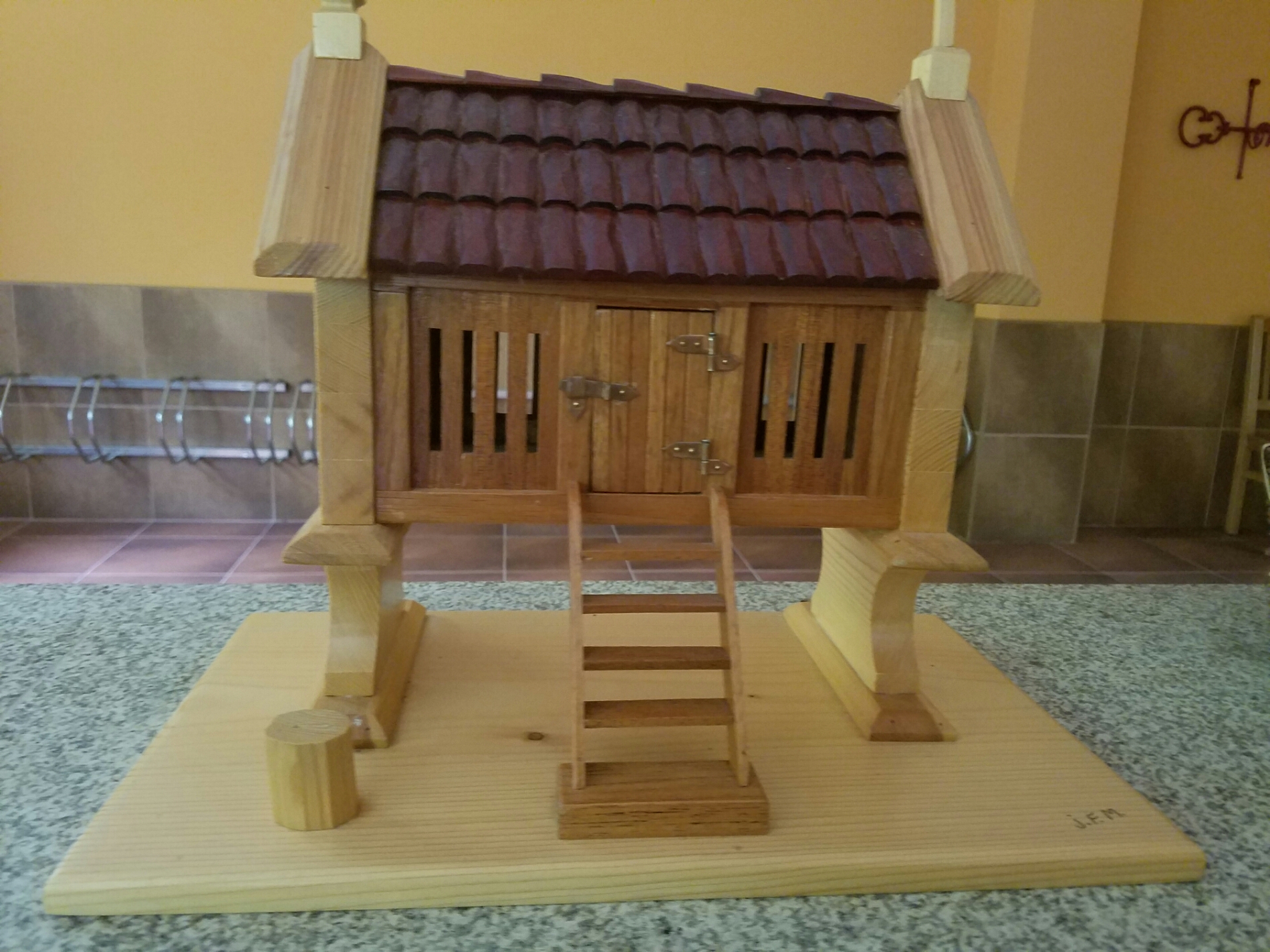 After Bob asked what they were we started taking more photos of them so we could share an album of them. Here are photos of those we've taken so far:
https://goo.gl/photos/n7ExWgSTTM4LLFxa9
Here is a
Wikipedia article
.
Deconstructing "pilgrim"
2016-04-24 08:57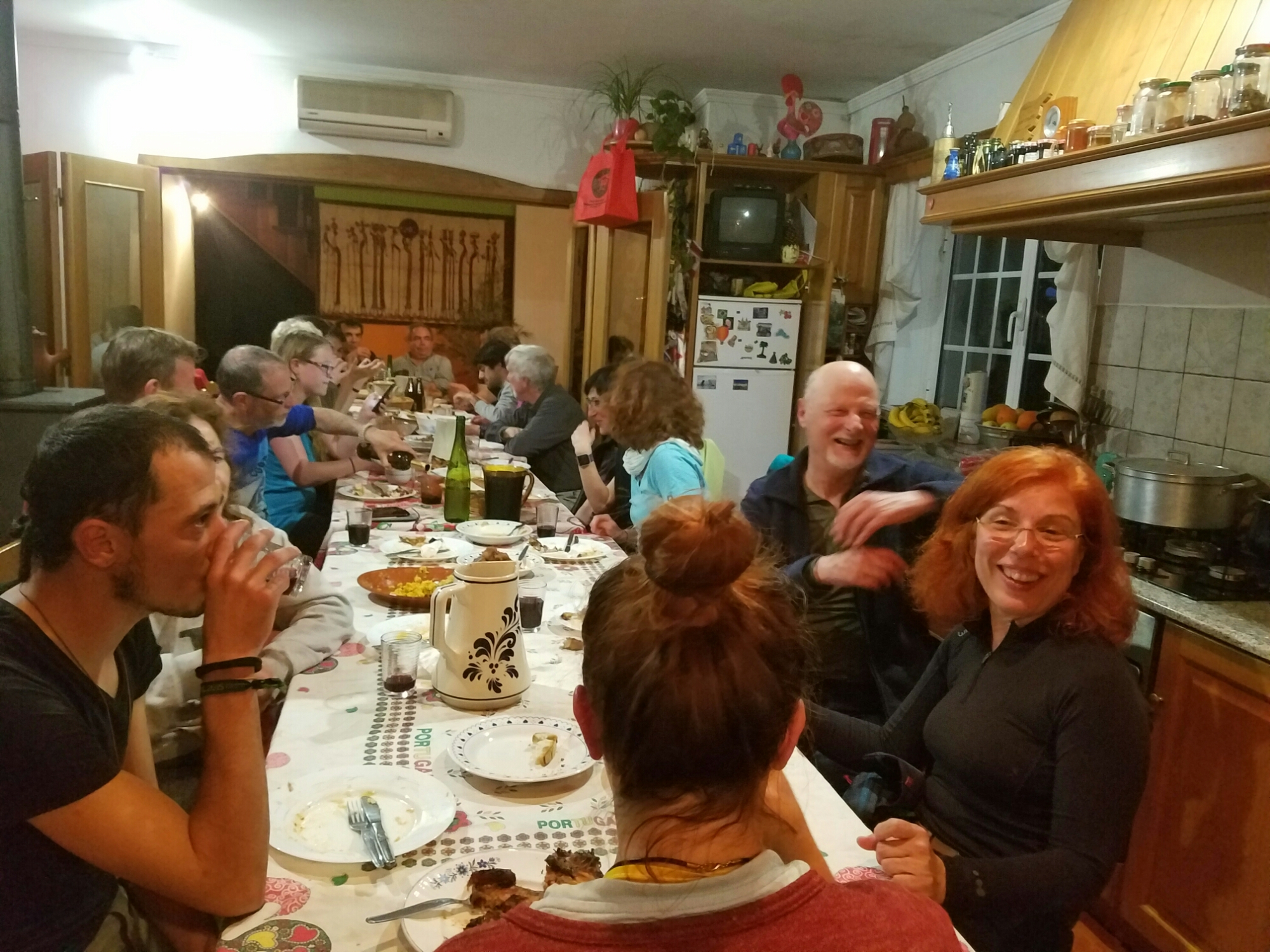 Walking the Camino involves a lot of thinking about things. And the thinking often goes back to why you are walking and one way to approach that is to consider what is a "pilgrim".
Let's start with a "typical" pilgrim. Most pilgrims walk about 15 miles (25 km) a day. There are many Camino guides in many languages and they all divide the Camino into "stages". In pretty much all the books, stages are 12 to 22 miles, averages around 15 miles. So that is what most pilgrims walk each day. It also seems to be a good distance for a normally healthy person to walk. Brierley talks about three speeds, low, medium, high as 3, 4 or 5 km per hour. So you are walking from 5 to 8 hours a day. You typically start early 6-8 am and everyone takes breaks so you arrive from 1 pm to 5 pm.
A typical pilgrim carries all their own stuff in their pack so are carrying 15-25 pounds in their pack. They stay in albergues, communicate dorms with 4 to 30 beds in a room. Albergues cost from 5-15 euros a night and a pilgrim's "menu" costs 7-10 euros so you can go pretty cheaply.
Those are the externalities of being a pilgrim and they shape the internalities, if that is a word, my spell checker doesn't think so.
My feeling from watching pilgrims and reading dozens of books by pilgrims is that the social aspect is the main thing pilgrims want to get out of their Camino. Since everyone is on the same walk and going the same way at the about the same speed, you form lots of trail friendships. You see the same people over and over again and that is very satisfying. There is always lots to talk about because you are all walking the same trail and staying in the same placed and eating at the same places. You talk about these things and things that happen on the trail and where you are from. Interestingly, there is little talk about jobs or what people do. Everything is focused on the Camino.
Of course, many pilgrims have religious purposes also. We have only met a few so we don't know much about this but it is a significant number of people.
Many people walk the Camino after a loss of some sort. A loved one dies, a divorce, a cancer diagnosis. It gives them a way to process the grief.
Another group goes for "spiritual" purposes. We might say "philosophical" purposes. You think about your life and your goals and what you should be doing and how you should be relating to people. It is pretty much impossible to do a Camino without thinking about these things and that is one of the great things about it.
The Camino has the usual aspects of travel. Your main concerns are where you will eat, where you will sleep and what you will see each day. It is 'time out of time". You do not think much about what is going on back home, you just concentrate on the trip.
The Camino is an extreme version of this. You pretty much always stay in the albergue that is there when you are done walking. What you do all day is walk, and at the end of the walk you do your laundry and talk to the other pilgrims. Often there is only one or a few places to eat and you just get the pilgrim's menu. Or you get a group together and make a communal meal in the albergue kitchen. So there is little to think about in finding places to sleep and eat.
Pilgrims do very little sightseeing as such. The Camino goes through nice areas but not typically by major tourist attractions, that is not the point of the Camino, but you still see lots of things. You see the daily life of the people. You walk by their houses and gardens. You see then going about their daily life.
While walking you have these wonderful yellow arrows, beloved by all pilgrims. You don't really need a map or guidebook, you just follow the arrows. It is mindless in a good way in that your mind is free to think about other things.
So the Camino reduces travel to its essence, a time for contemplation and to think about your place in the world. This is the wonderful thing about the Camino.
We are typical pilgrims in some ways and not others. Because of foot issues it is pretty much impossible for us to walk 15 miles a day. On our first Camino we averaged 11 miles a day and went 15 miles in several days, but the cost was high and Wynette ended up with a stress fracture. We have decided that 7-9 miles a day is just right for us, about half speed. We can do this comfortably.
One result is that we do not have the same social interactions as a typical pilgrim. We see people for a day or two and then never again because they are miles beyond us. Luckily we tend towards introversion and, while we enjoy social interaction, too much can be tiring. The amount we get going about 8 miles a day seems right for us.
There is also a big difference between going as a couple and going as an individual. There are lots of pilgrims who walk alone, I would guess at least 50% and that is counting couple as two people. Couples don't tend to interact as much as individuals.
So we have found a Camino style that is good for us. There is a common expression that all pilgrims give at least lip service to: "Everyone walks their own Camino". Still, people are often surprised at how short our daily walks are and it catches them off guard. The first "Camino question" asked when you meet someone is "Where are you from?" Next is "Where did you start?" For the Portuguese Camino that is Lisbon for a few but overwhelmingly it is Porto. The third is "Where did you start today?" When we answer some place that is only 6-7 miles away everyone seems surprised and is sure they misheard. Then they realize we only went that far and they switch to "everyone walks their own Camino" mode and are quick to make it clear they don't disapprove at all. Maybe we are a little sensitive about it.
But it works for us and, as I am sure you have heard, "everyone walks their own Camino", or before the singular "they" became okay "everyone walks his or her own Camino" or before that "everyone walks his own Camino".
One more aspect of this is who is a "true pilgrim". Everyone according to "everyone walks their own Camino" but there are tour groups that come in in buses and walk 3-5 miles and then are deposited at their hotel where their luggage is waiting and they do this for 8-10 days. I think I can safely say that almost all typical pilgrims would look down on these people and feel they were not "true pilgrims". There are several services that will carry your bags between places so you only need to carry a day pack. Many people do not consider them "true pilgrims" either but it allows a much wider range of people to walk the Camino. This form of walking is the norm on the extensive walking trails in England and no one gives it a second thought. For ourselves we like to carry our stuff and part of the fun of planning is to get our the spreadsheet and scale and cut down the weight to the bare minimum.
And then there are the walkers of the "Way-slow Way", Charlie and Wynette, who feel they are true pilgrims.
The Portuguese are coming: the reservation
2016-04-24 09:03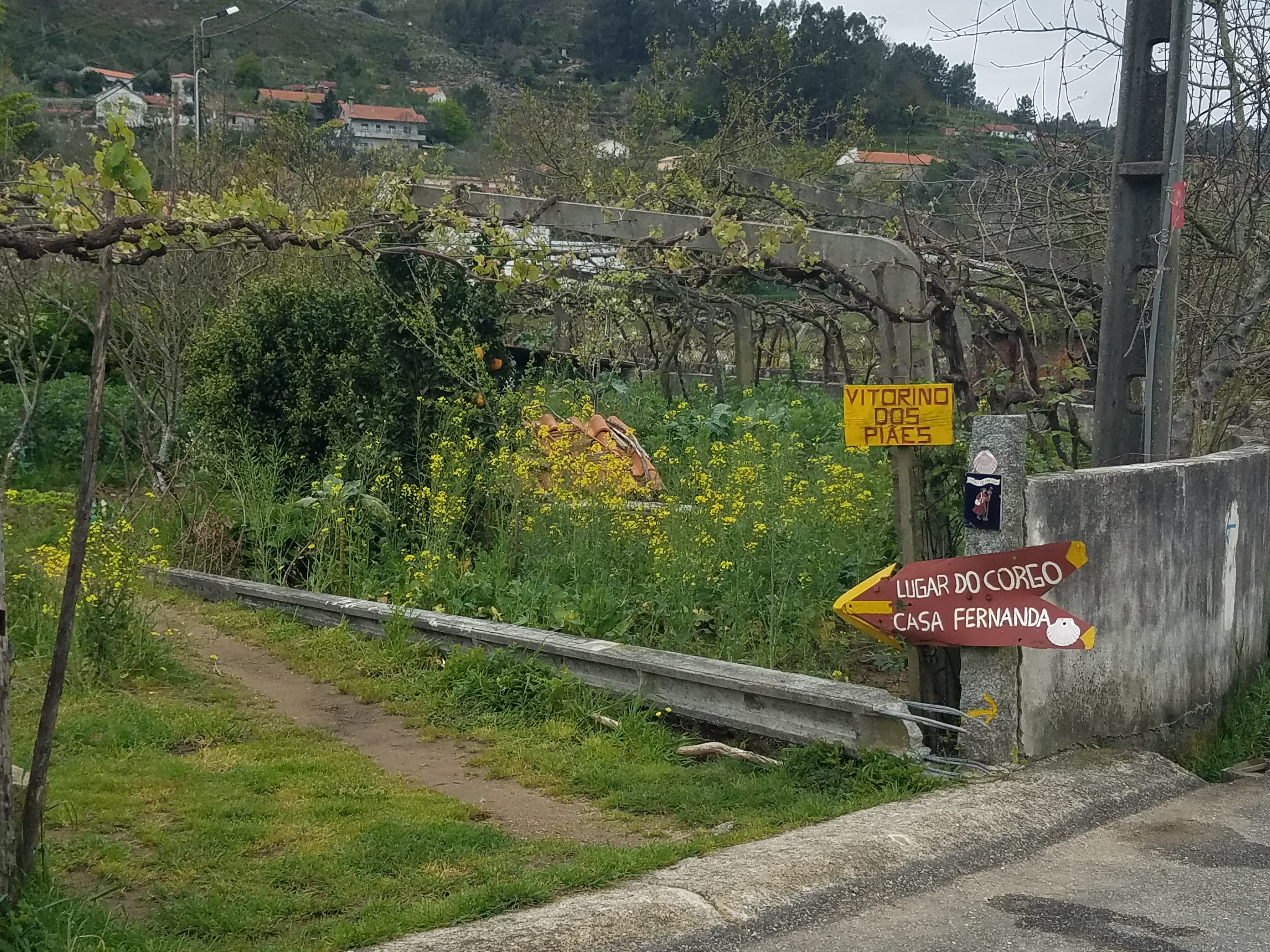 Post 1 of 7, best to read in order.
Last night we stayed at Casa de Fernanda. Fernanda is a lovely woman who is widely known on the Portuguese Camino and written of lovingly in Brierley (with even a red heart) People arrange their walking so they can stay at Casa de Fernanda and are sad when they can't arrange it, or if Casa de Fernando is
completo
, which it often is. We made a reservation for a private room the day before to ensure our place and were looking forward to our stay there.
The Portuguese are coming: rearrangements
2016-04-24 09:10
Fernanda and Jacinto Rodrigues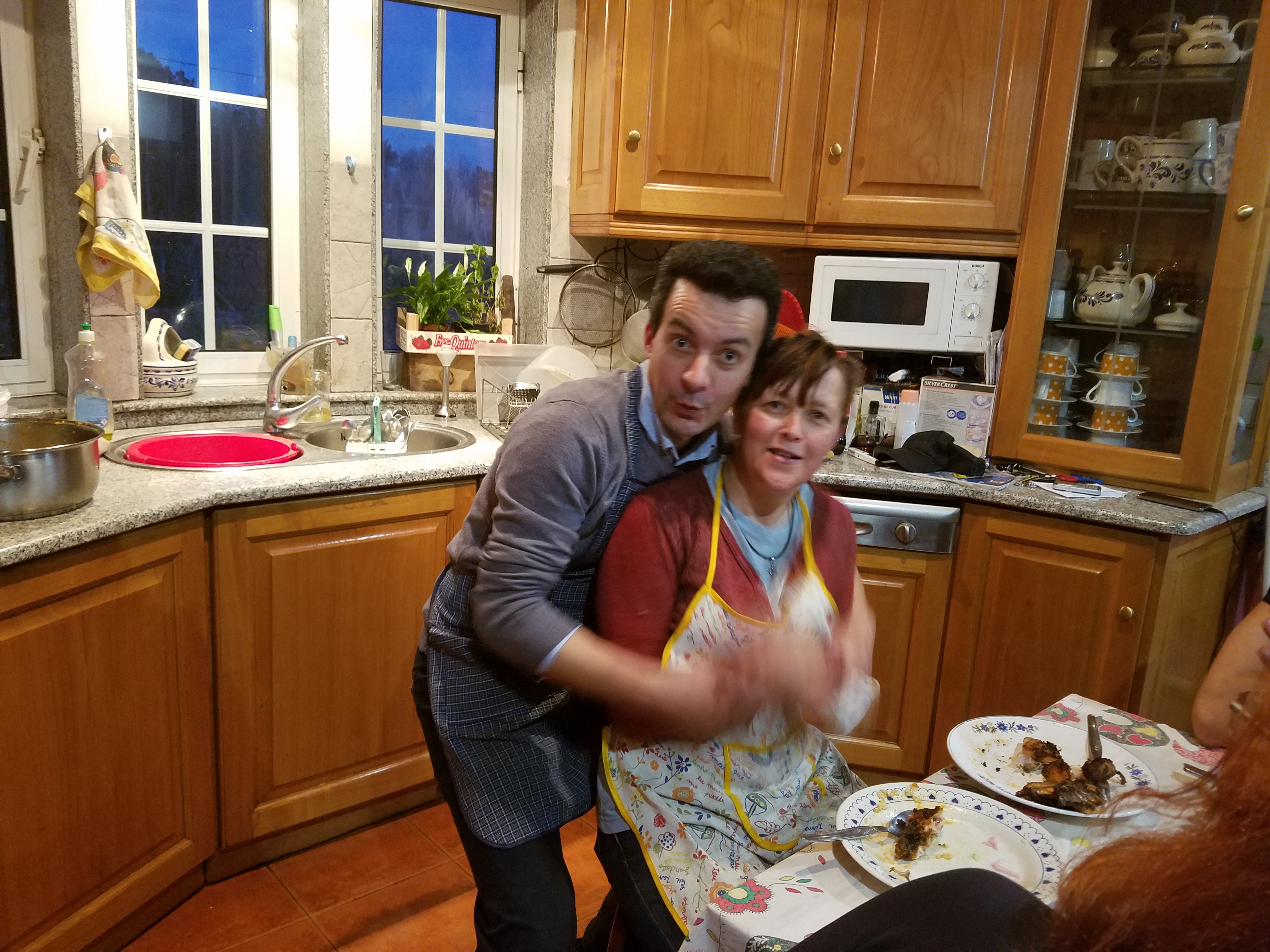 Post 2 of 7, best to read in order.
We had a short day so we left late and went slowly and we got to Casa Fernanda about 1:30 pm. A lovely place. Fernanda was there to greet us and offered wine. There were a few people there already, including Rick from the USA who had walked a long way and there was no space so Fernanda was going to let him sleep on the sofa on the outside area.
The place was full already because a "family of Portuguese people" had reserved seven of the 14 places. There is a room with 10 single beds (with sheets) and a small room with a double bed and a single bed which was our room. We started feeling guilty about taking up three spots what with the place being full so we told Fernanda that we could take another person in our room or move to the room of 10 and let three people sleep in our room.
Eventually she moved us into a nice room with a double bed in the house and other people moved into our room. It was a step up for us as the room was nicer.
The Portuguese are coming: the afternoon
2016-04-24 09:17
Sitting in the sun. Germans, Americans, and Fernanda (2nd from right)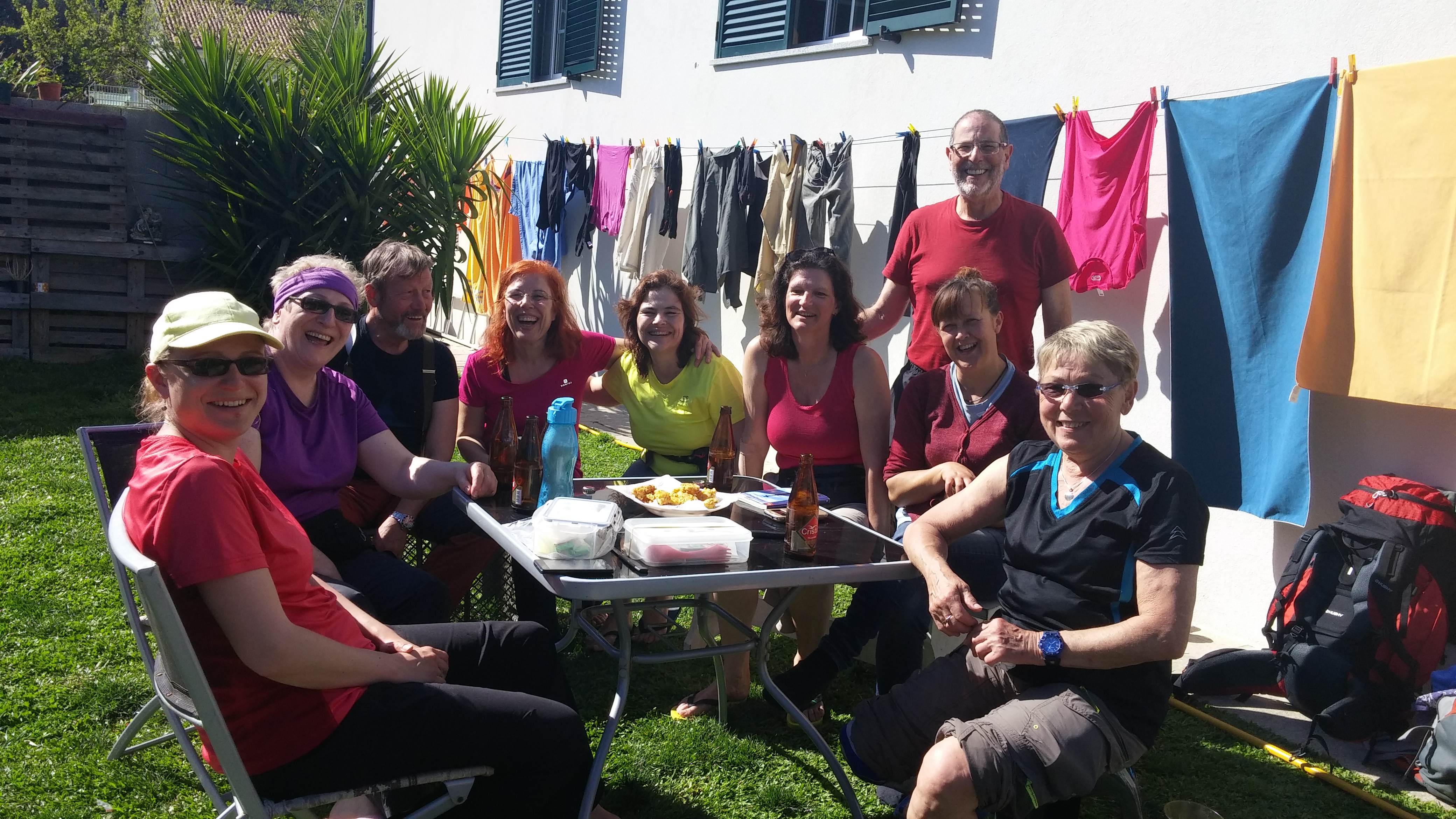 Post 3 of 7, best to read in order.
We hung around all afternoon as people straggled in. Rick had said that a German woman he had been walking with was coming and asked him to get a spot so there was a lot of demand for beds.
Fernanda made appetizers, these fried fritter like things with egg, flour and cod, delicious. We all chatted and asked the three Camino questions (where is home? Where do you start? Where did you start today?) We had gone the shortest way (as usual) . Some people who came by were turned away. There was a rumor that the Portuguese family would not make it.
Fernanda spent time with everyone and asked us about what kinds of things we might like for dinner. Along with her mother and daughter she also was preparing dinner.
The Portuguese arrive
2016-04-24 09:22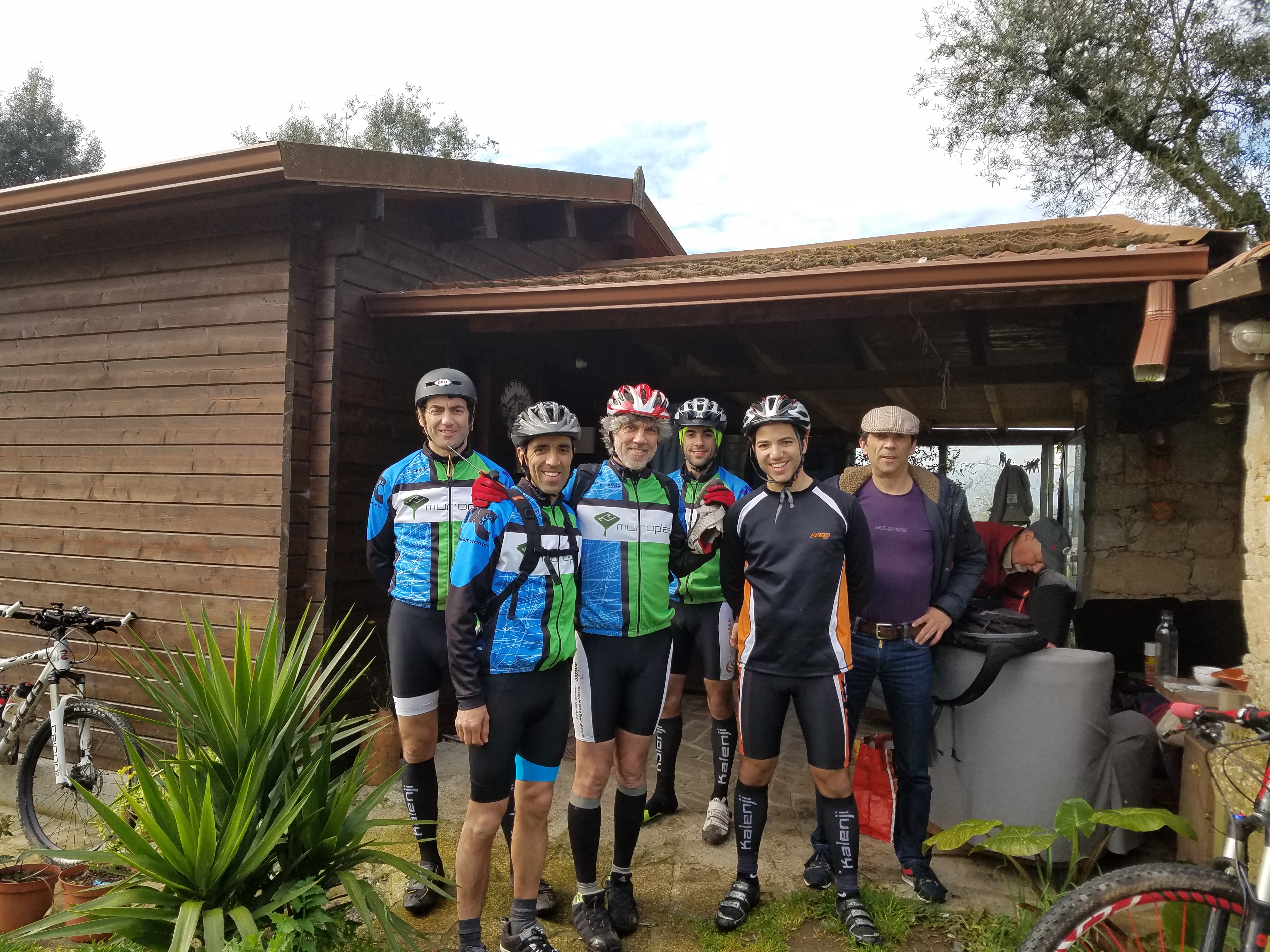 Post 4 of 7, best to read in order.
Around 6:30 pm the Portuguese arrive. The family turns out to be six Portuguese men, all related, from the same village and on a bicycle Camino to Santiago over a long weekend. They ranged from about 25 to 50 and I can say from my heterosexual perspective that they were pretty cute in their bicycle outfits. Wynette agreed.
It turns out that Monday is a holiday, the revolution of 1974 when they became a democracy and Fernanda said a lot of people take the opportunity to bike the Camino in 3-4 days over the long weekend. We were passed by maybe 100 bicyclists the next day so we can concur.
This group was traveling with a van to carry their stuff and one more family member was driving the van. So they didn't have to carry much on their bikes. This also explains the guitar and wine produced at dinner. More on that later.
The Portuguese come to dinner
2016-04-24 09:28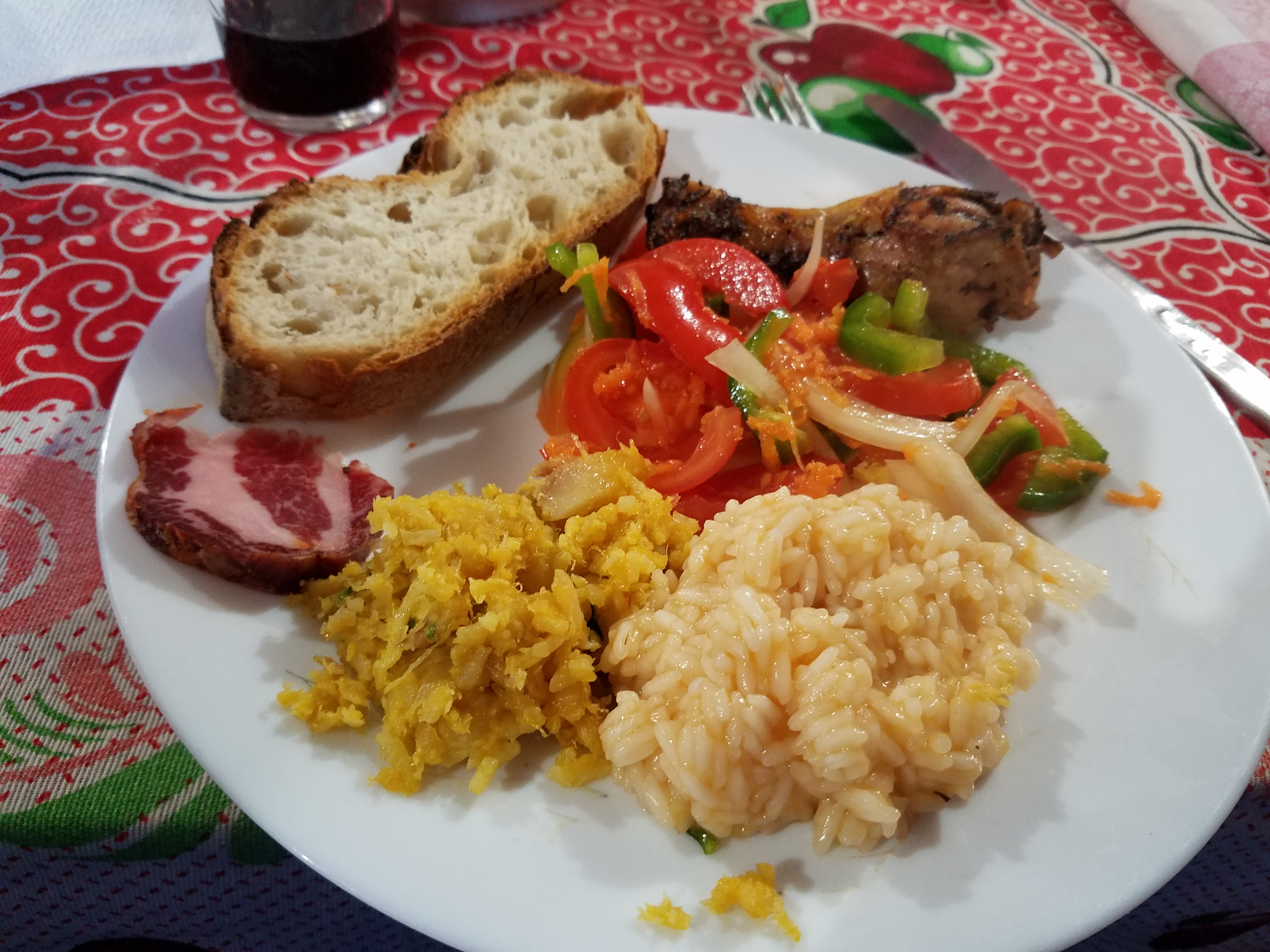 Post 5 of 7, best to read in order.
The dinner was amazing: a corn, flour and cod (bacalao) dish, very tender pork, barbecued roast chicken, leafy vegetables, a tomato salad, perfectly cooked rice, great bread, four kinds of wine in jugs, another two bottles of wine brought by the Portuguese, French bread and amazing sausage brought by the Portuguese, four kinds of liquors after dinner, and chocolates for dessert. Everything was served in big dishes family style, and everything was excellent, and there was more than enough of everything.
We were at a long table with about 25 people. It was an amazing dinner but surpassed by what was to follow.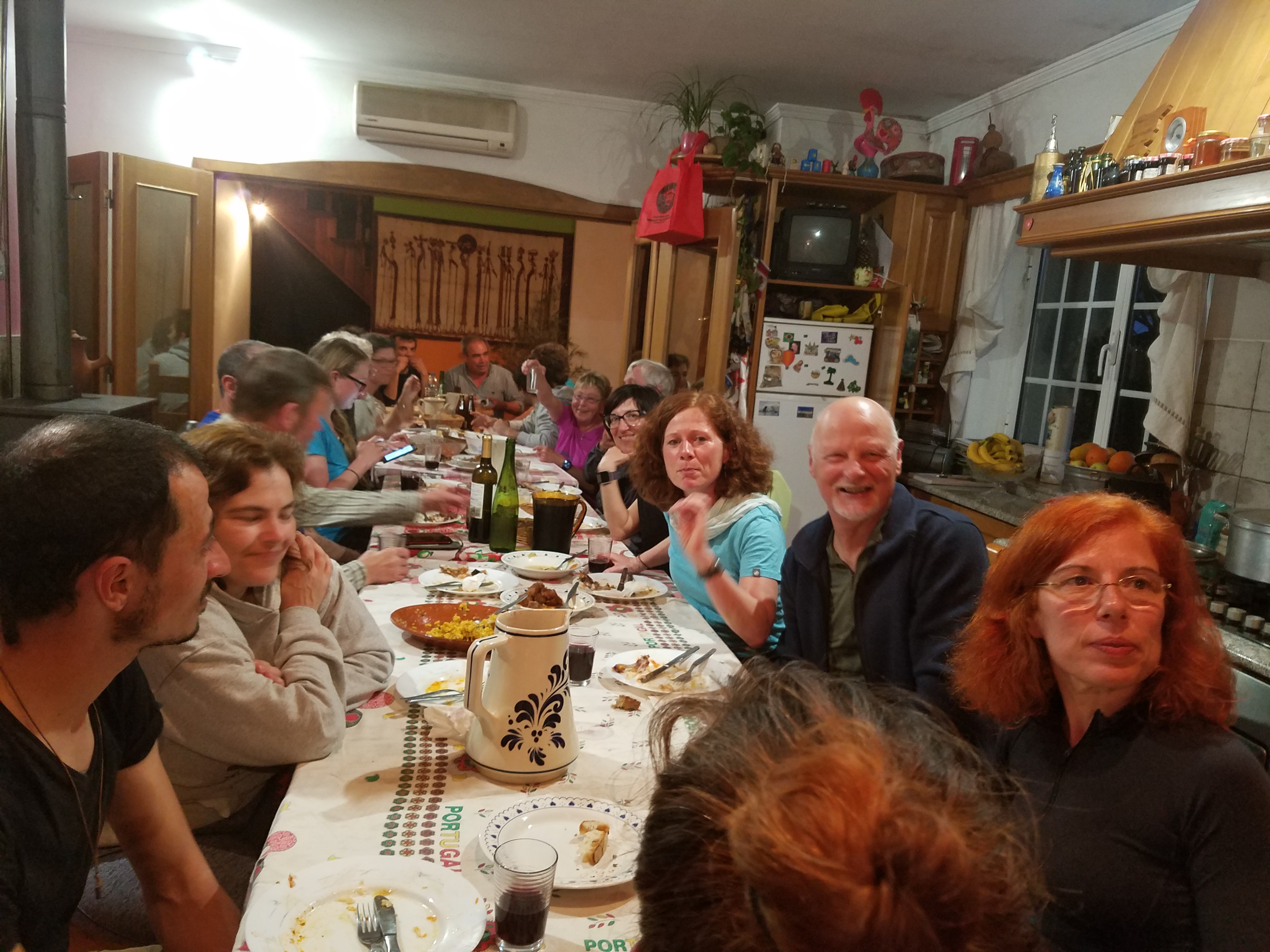 The Portuguese sing
2016-04-24 09:43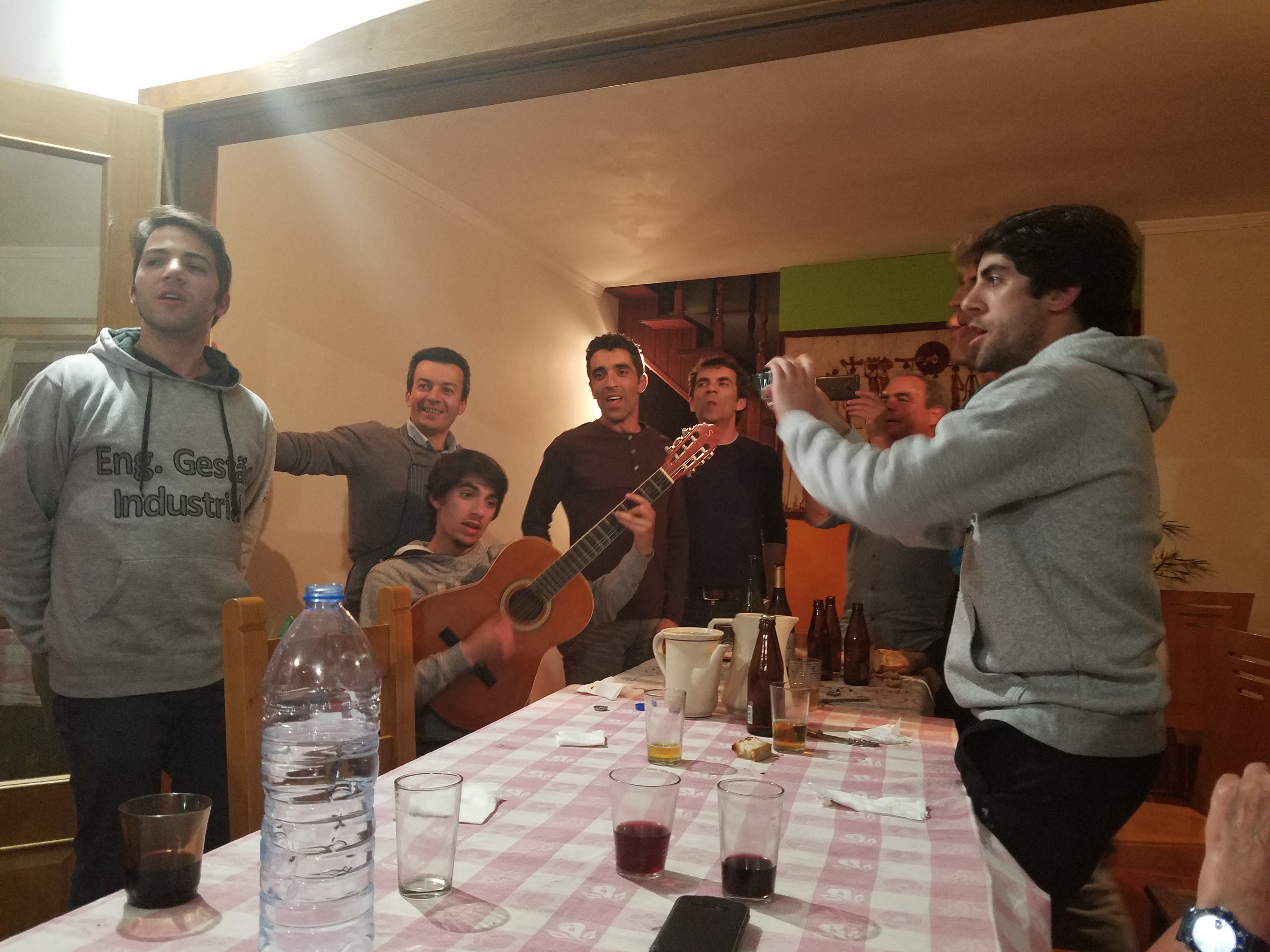 Post 6 of 7, best to read in order.
After dinner one of the Portuguese brought out a guitar. If they were a boy band he would be the broody, thoughtful one. The one who spoke the best English (and on the left in all the photos) was the cute one.
He was a good guitarist and they could all sing pretty well, especially the cute one. (He was almost operatic.) They sang a number of traditional Portuguese songs and they were quite beautiful. Clearly the Portuguese (that is all Portuguese) are very proud of their country and its traditions.
In between there were many other songs and sing-a-longs. We all sang along to Leonard Cohen's "Hallelujah" and to John Lennon's "Imagine". Everyone had great fun with them and Rick opined that they might be the best two songs of all time. I can't disagree although so many great songs have even written. This all lasted for over three hours with a steady flow of wine and liquors. Everyone was in a great mood and everyone sang along. We were sitting by four German woman who were clearly taken by the cute Portuguese guys and we're laughing all the time. The comments were in German so we only got a sense of what might be so funny.
Wynette was sitting by a woman from Slovenia and we talked about our trip there with her before and at the dinner.
Lots of nationalities but only three Americans and we were the only English speakers. Yet most of the conversation was in English, the international language. About half the people were Portuguese so there was a lot of that spoken also.
Even by the standards of Casa de Fernanda I think this was an exceptional evening. The difference was the Portuguese family and their guitar and singing. Even we introverts loved it. Fernanda presided quietly over the whole thing. She is the spark that makes things like this happen. She loves the Camino and the Camino loves her back.
This was an example of the social aspects of the Camino. As I said, this evening was exceptional but, in fact, there were communal dinners going on at albergues all along the Camino at the same time, on all the Caminos, Frances, Northern, French, Finisterre, Portuguese. It is a communal experience that is hard to reproduce anywhere else.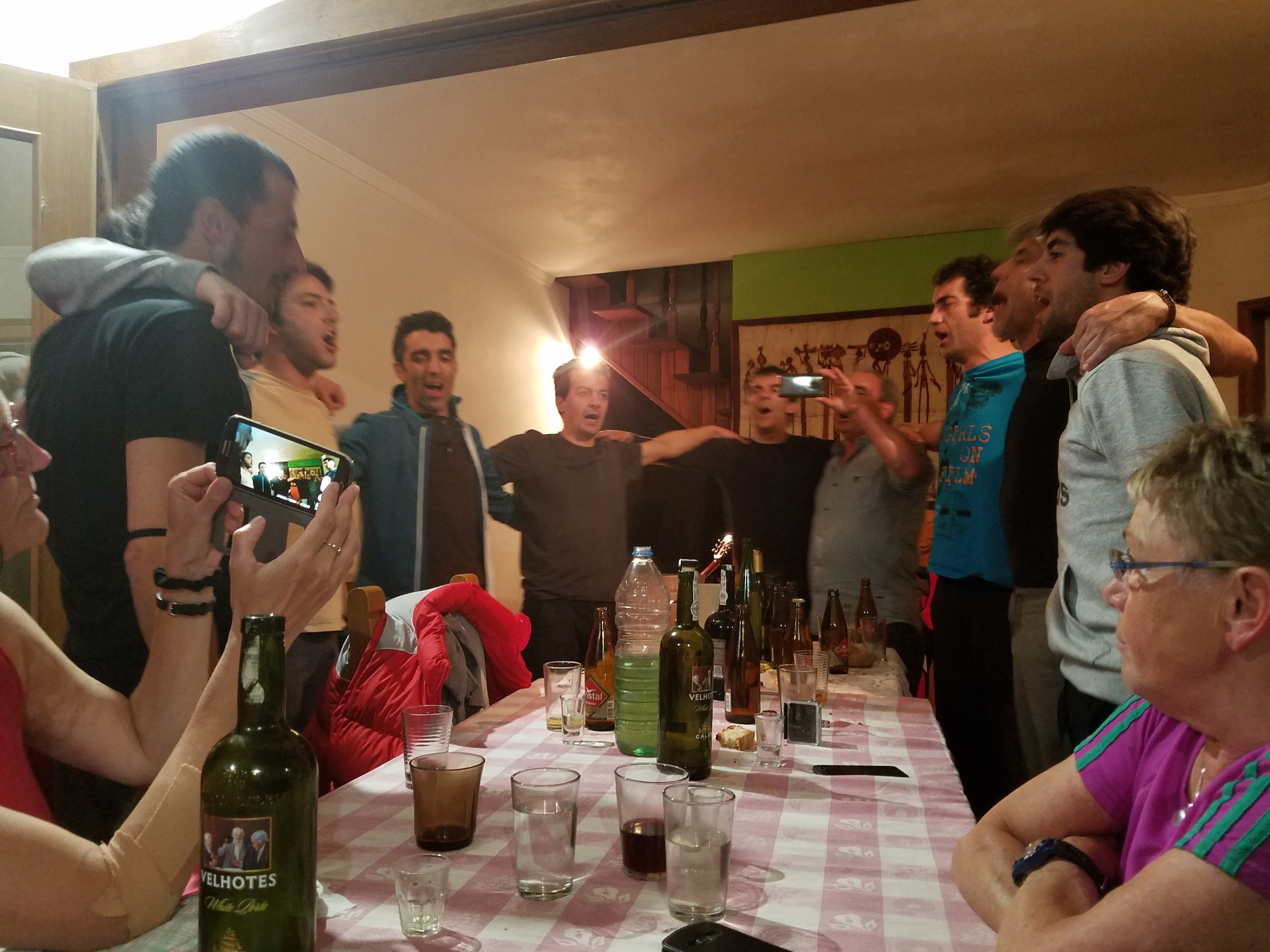 Walking Day 5, April 21, 5.8 miles
2016-04-24 11:56
Walking Day 6, April 22, 6.7 miles
2016-04-24 11:58
To Lugar do Corgo, albergue Casa de Fernanda, see other posts about this albergue.
Walking Day 7, Saturday April 23, 10.0 miles
2016-04-24 12:01
The Portuguese leave
2016-04-24 12:35
Post 7 of 7, best to read in order. (Go back and then read forward.)

We were almost first to breakfast the next morning even though we didn't get there until 7:45 am. Yes, breakfast is included too. The rest of the people straggled in over the next 45 minutes.

How much does this lovely experience cost? You decide. Casa de Fernanda is a donativo albergue. By the breakfast table is a visitor book to sign and leave a comment and a jar (actually a tube) for donations.

At breakfast we got to chat with a pilgrim who had been walking for over a year. He had started and been to Casa de Fernando over a year ago. Since then he had been to Rome and back and on a circuit all around Portugal. He had a map he showed us. He stayed in his tent and did the whole things pretty cheaply. He seemed like a gentle and sincere guy. Like all Portuguese he seemed very proud of his country and wanted to make it better. He mentioned that the various divisions should work more together on things like the Camino. He reminded me of the hippies of the 60s and 70s.
Another mother and daughter on the Camino
2016-04-24 13:38
73.3 kilometers down, 171.3 to go
2016-04-24 16:07
Trip to laundry
2016-04-24 16:10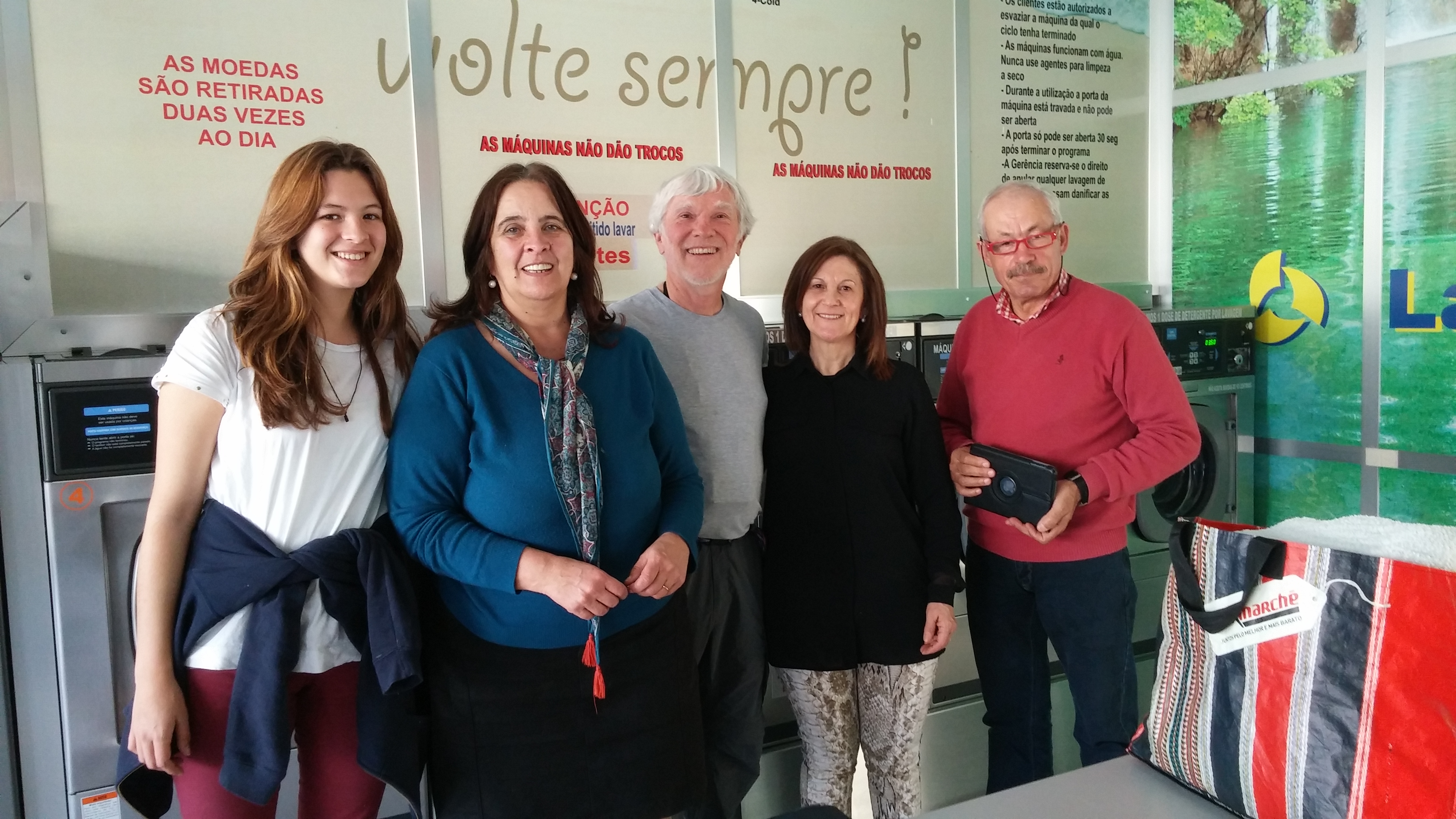 Post by Wynette:
Our 10 miles yesterday included one mile round-trip walk to a coin operated laundry. The owners (man and woman on right in above photo) warmly and patiently showed us how to get coins, how to get soap, how to work the machine. I asked if they had WiFi since so many places do. They didn't have it but the man handed me his daughter's iPad which was connected to her WiFi upstairs. So we got to see our photos on a larger screen.
The two on the left in the photo were other customers in the laundry, a mom and daughter. They spoke English with us. They told us that they walked to Santiago together when the girl was 12. The girl mentioned to us how far and steep will be tomorrow's walk. The mom said she lost five toenails on her pilgrimage, but she said it was worth it. They went on a holy year and so got extra absolution for their efforts. The mom laughed and said she needs to do it again.
Sunday April 24, 0 miles
2016-04-24 16:11
Still photos from Casa Fernanda
2016-04-24 18:47
https://goo.gl/photos/QDjXWdn3x37G8kn1A
Here are all 49 still photos we took at Casa de Fernanda, mostly from the dinner.
The photos in the Google photos albums are 2,000 by 2,000 pixels so are pretty high resolution if you want to see the details. The photos in the blog entries are 500 by 500 pixels and if you tap or click on one you get a photo that is 1,000 by 1,000 pixels.
The thrill of Camino, the agony of the feet
2016-04-24 19:50
Without pain there is no Camino.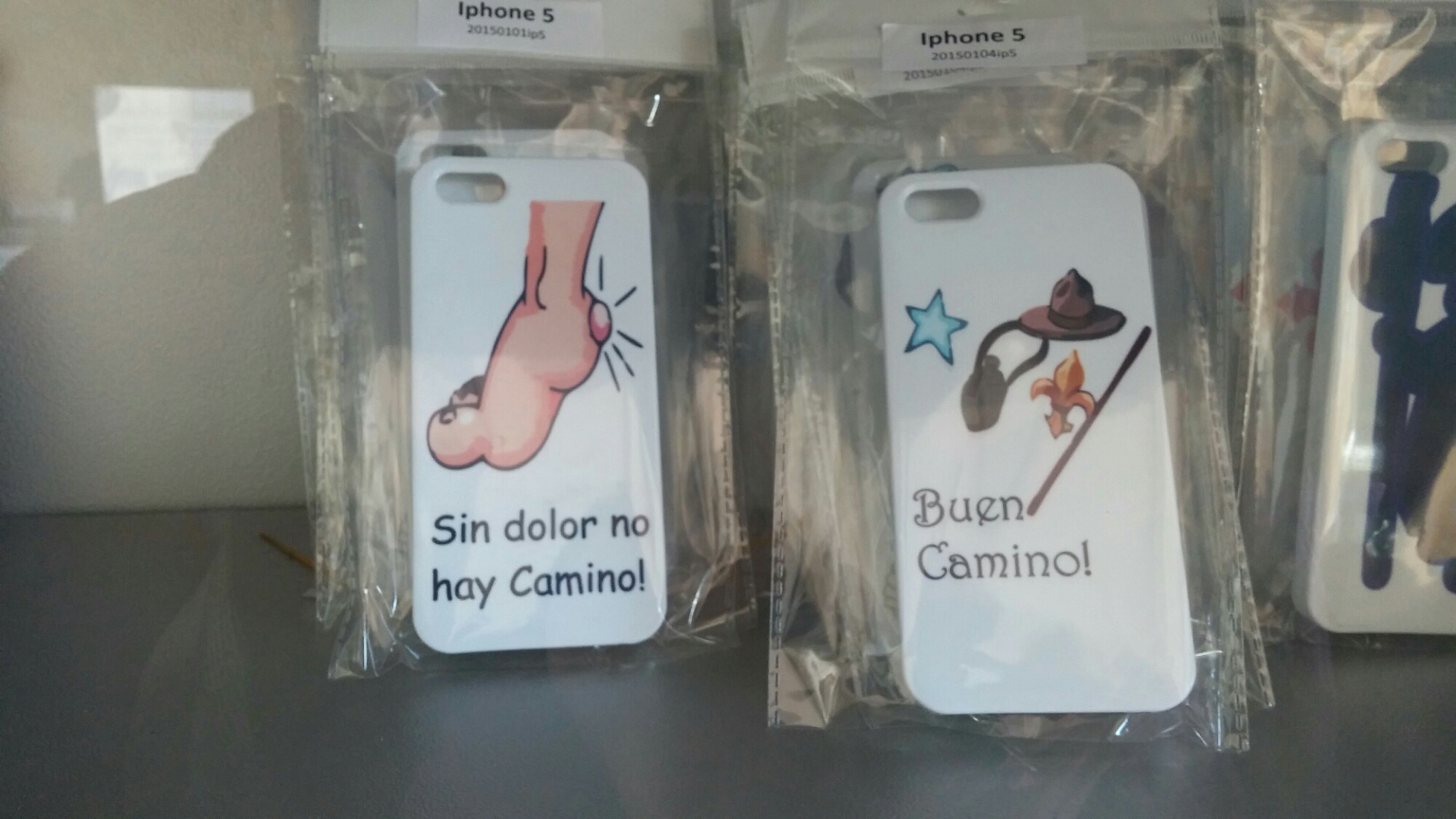 When you first hear about the Camino, walking 500 miles with all your stuff in a pack, you think you have to be pretty fit to do that. But even if you are going 15 miles a day, fitness is really a minor factor in Camino success. The major factor is blisters. Youth, strength, health: none of these provide protection from blisters. We have seen several fit, young men hobbled by blisters.
After blisters, it is joint pains, knees, hips, ankles. Blisters and foot care are a major topic of conversation on the Camino.
I (charlie) have been lucky with blisters, only getting one on the first Camino and it went away quickly with Wynette's experienced ministrations. This is not any virtue on my part but is due, I think, to the fact that my feet are perfectly average. The off-the-shelf shoes I get fit perfectly and my feet do not move in the shoes. If there is no movement in the shoe you don't get blisters.
Just before we left a few weeks ago stories came out about a new way to prevent 0blisters for runners. The secret: simple, cheap, paper surgical tape, available at any drug store. We have some and it has worked well. Wynette got one blister on her heel
below
where she had taped. Since then, no more, and that blister is healing.
So bring lots of paper tape.
Charlie and Wynette at the Albergue
2016-04-24 19:54
https://goo.gl/photos/JsVrvt5GncLZiHom6
Some more photos in the albergue so you can see what it is like.
Dogs at Casa Fernanda
2016-04-24 20:09
https://goo.gl/photos/BC5Qqr8ehiq1kftB8
Yes, there were dogs and cats too. Here are seven photos of them.
Video from Casa Fernanda
2016-04-24 20:34
https://goo.gl/photos/r8hcQUKUT8BZHEgr6
These are the videos we shot during the singing. The audio quality is not good (it sounded much better there) but it gives you a sense of what went on.
Bacalao
2016-04-24 20:46
Topiary
2016-04-24 20:48
Grape vine fences
2016-04-24 20:50
STOP signs in English
2016-04-24 20:56
Rainy
2016-04-24 21:07
Monday, April 25, 12.2 miles
2016-04-25 17:29
A long day from Ponte de Lima to Rubiaes. This time we did a whole Brierley stage in one day. It was was short for a Brierley stage but longer than usual for us. It went up from sea level to 1300 feet and back down to 650 feet. There were some very steep climbs. But we were prepared for a long day and it worked out fine. It was also a very pretty day with mostly forest paths and great views. (Well a bit too sunny for us but the European pilgrims loved the hot sun.)
InLima hotel
2016-04-27 17:19
Tuesday, April 26, 6.3 miles
2016-04-27 17:32
From Rubiaes to Pacos. Another pretty day on mostly forest paths. We encountered some seriously muddy trails. But an easy day into a very nice albergue.
Wednesday, April 27, 6.8 miles
2016-04-27 17:54
From Pacos to Tui (Tuy to you Castilian speakers, we all speak Galician here) starting on forest paths and then through the suburbs of Valença and into Valença which is the last town in Portugal on the Portuguese Camino. We passed a bar advertising itself as the last Portuguese bar on the Portuguese Camino de Santiago (we didn't stop). Then we went over the International Bridge over the river dividing Portugal and Spain. No border controls at all, we just walked over.
The view out our hotel window in Tui, Spain
2016-04-27 18:02
Menu para hoy
2016-04-27 18:06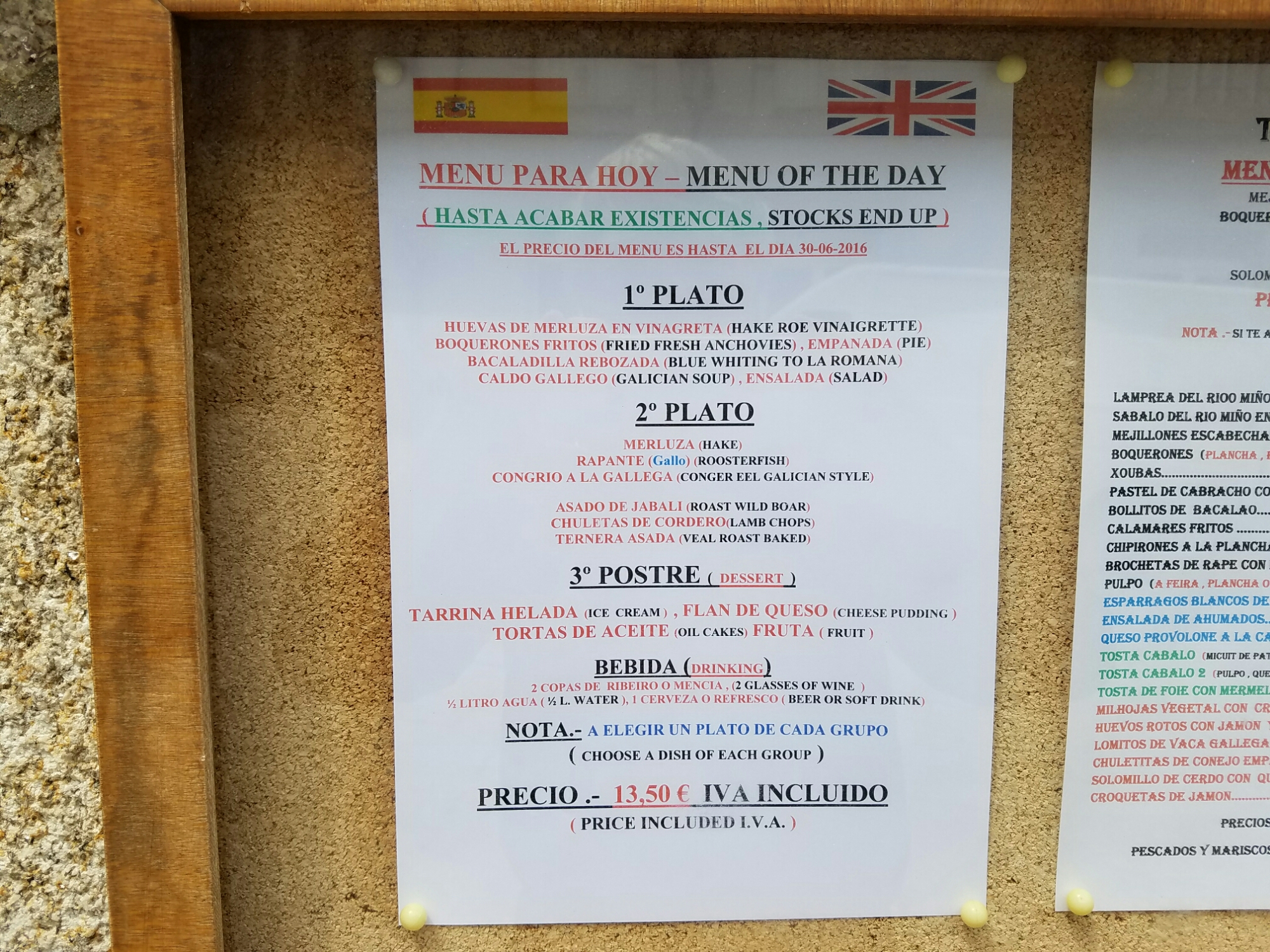 Okay, back in Spain again where they speak Spanish and Wynette can talk to the waiters and get questions answered. Menu translation is hard though so we took this photo of the menu on the street because the inside one didn't have the translations.
The rapante (roosterfish, a new one for us) was very good and the lamb chops were excellent.
The last steep street into Tui
2016-04-27 18:12
Low bidder yellow arrow painter
2016-04-27 18:16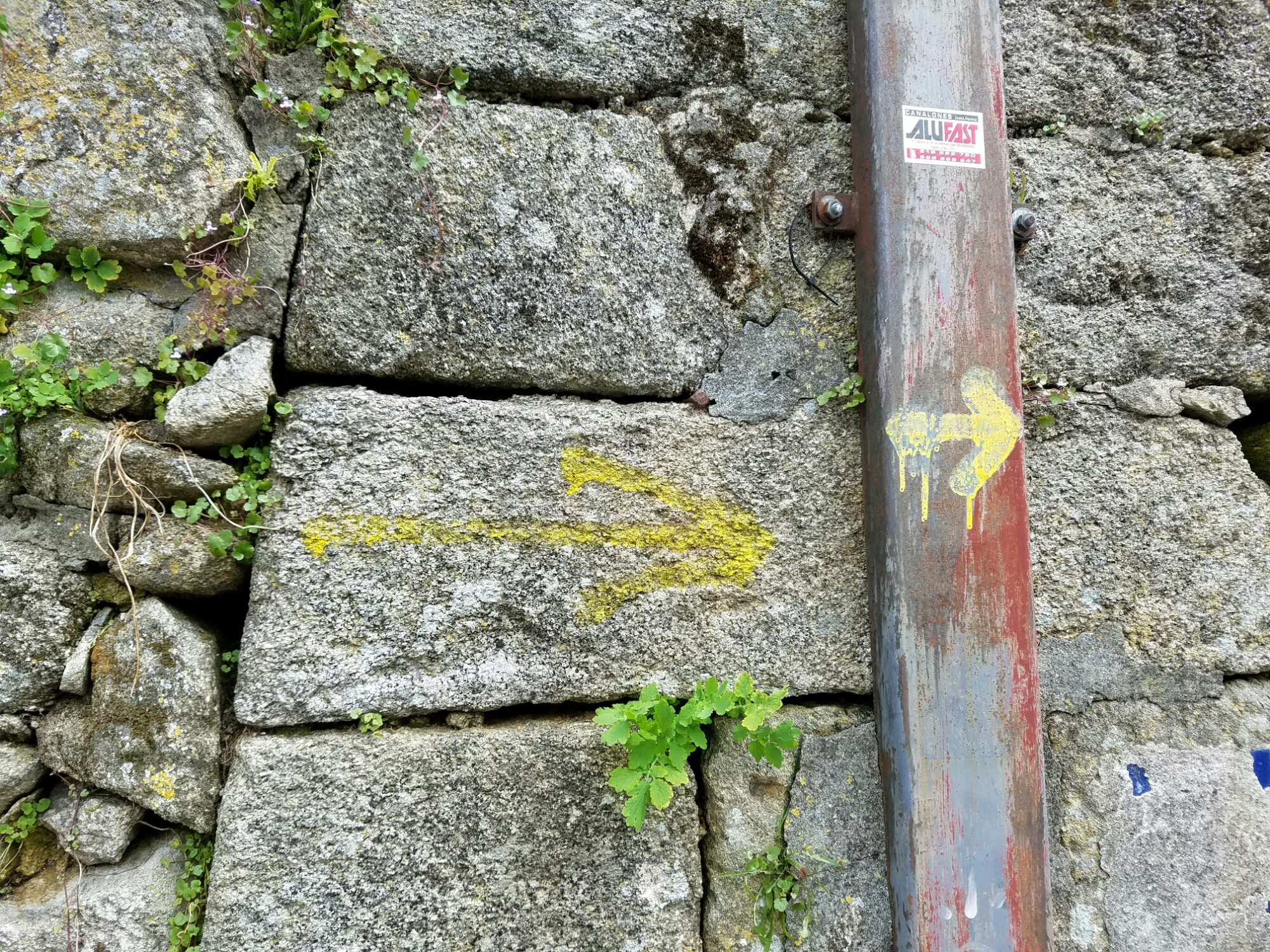 Bread delivery to your door, again
2016-04-27 18:19
In Spain, just off the bridge
2016-04-27 18:22
On the bridge between Portugal and Spain
2016-04-27 18:30
Still in Portugal
2016-04-27 18:35
Last bar
2016-04-27 18:38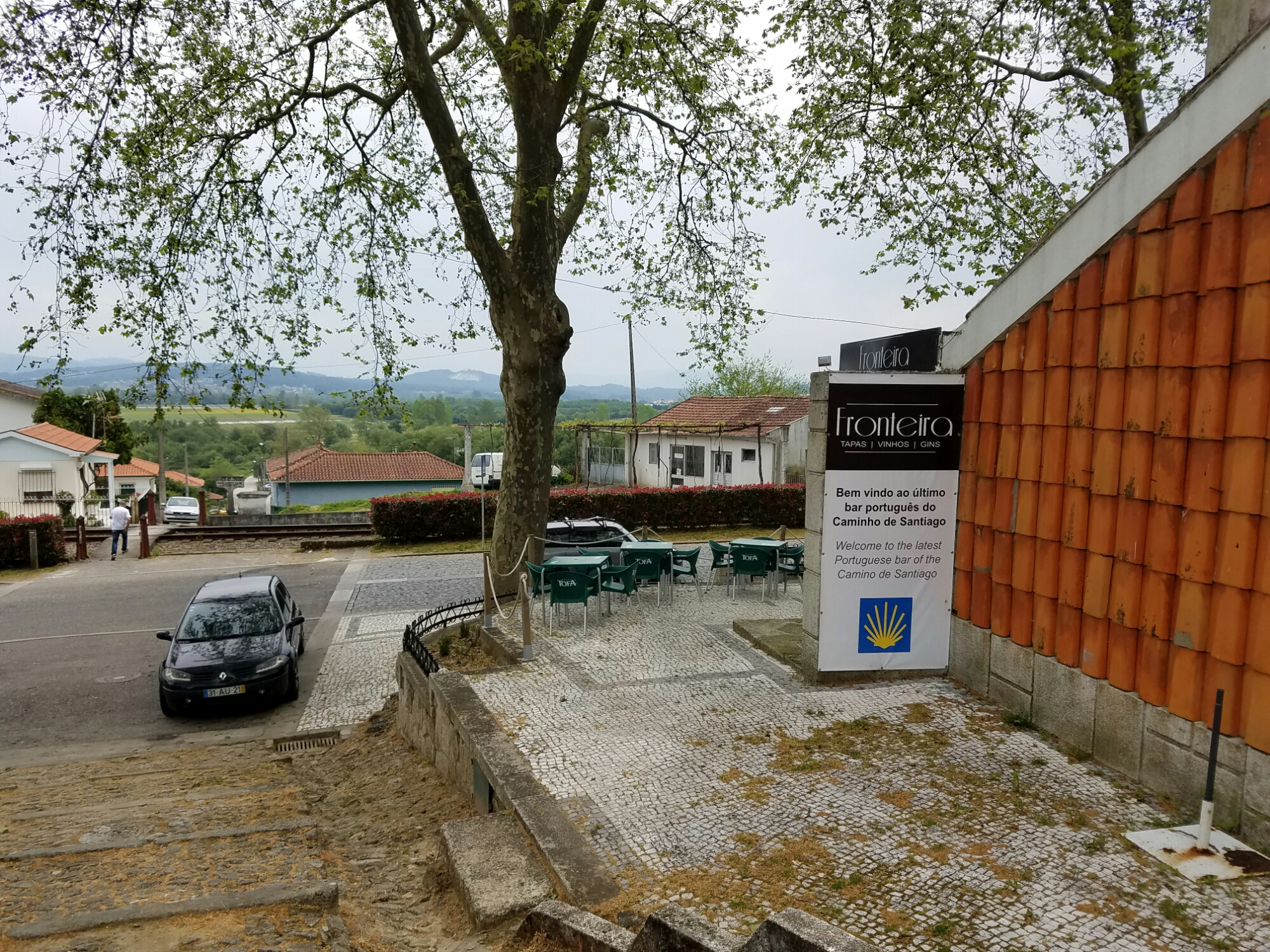 Post by Wynette:
We saw this bar shortly before the bridge taking us into Spain. The sign let us know they are the last bar in Portugal on the Camino. Their translation to English is a little off.
Last
would be a better translation than
latest
, but I suppose they, at the time, were the latest bar as well.
Mud on the trail
2016-04-27 18:44
It's a hard life...
2016-04-27 18:48
The path was a shallow stream
2016-04-27 18:50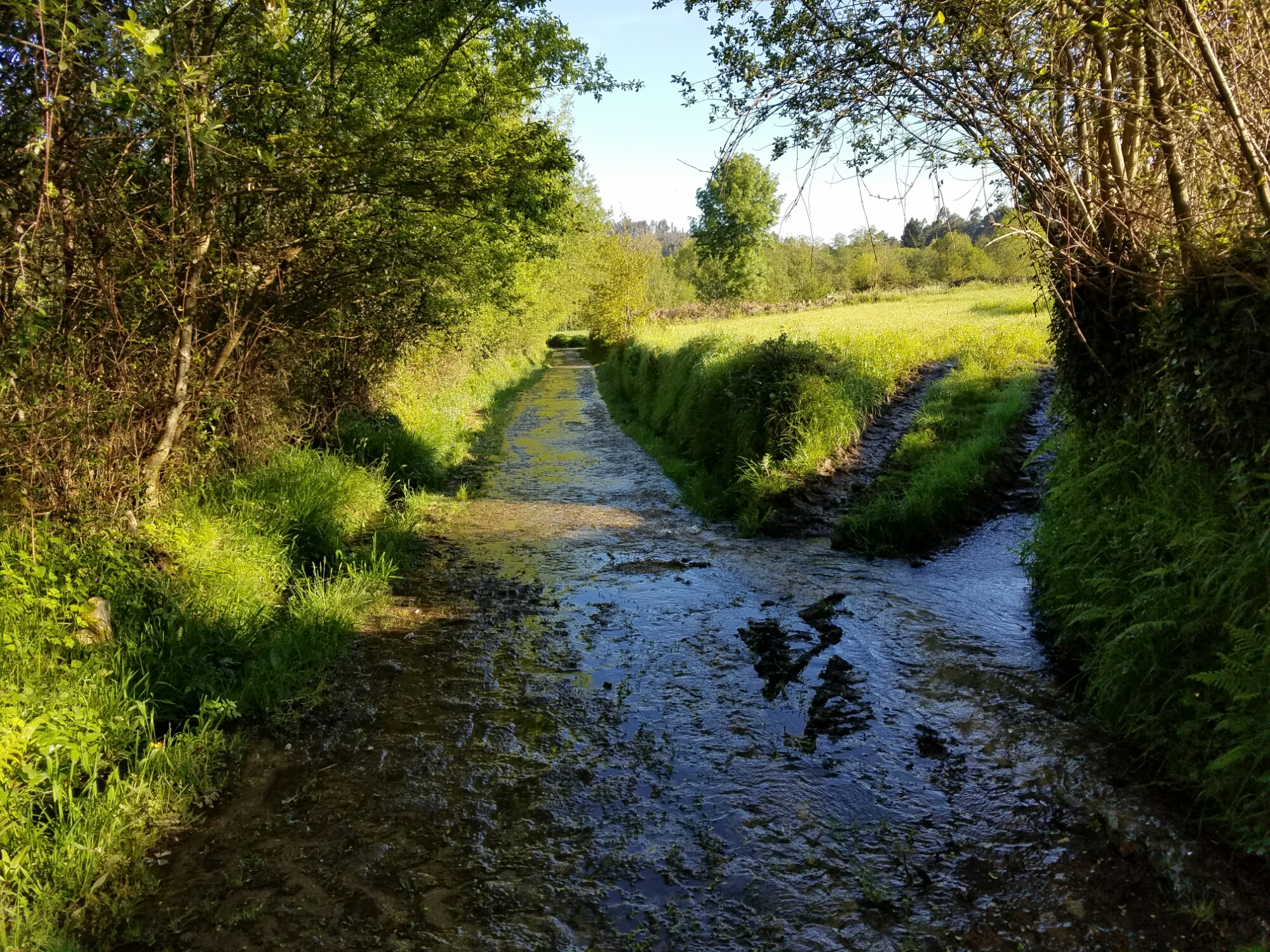 Starting out on April 26
2016-04-27 18:55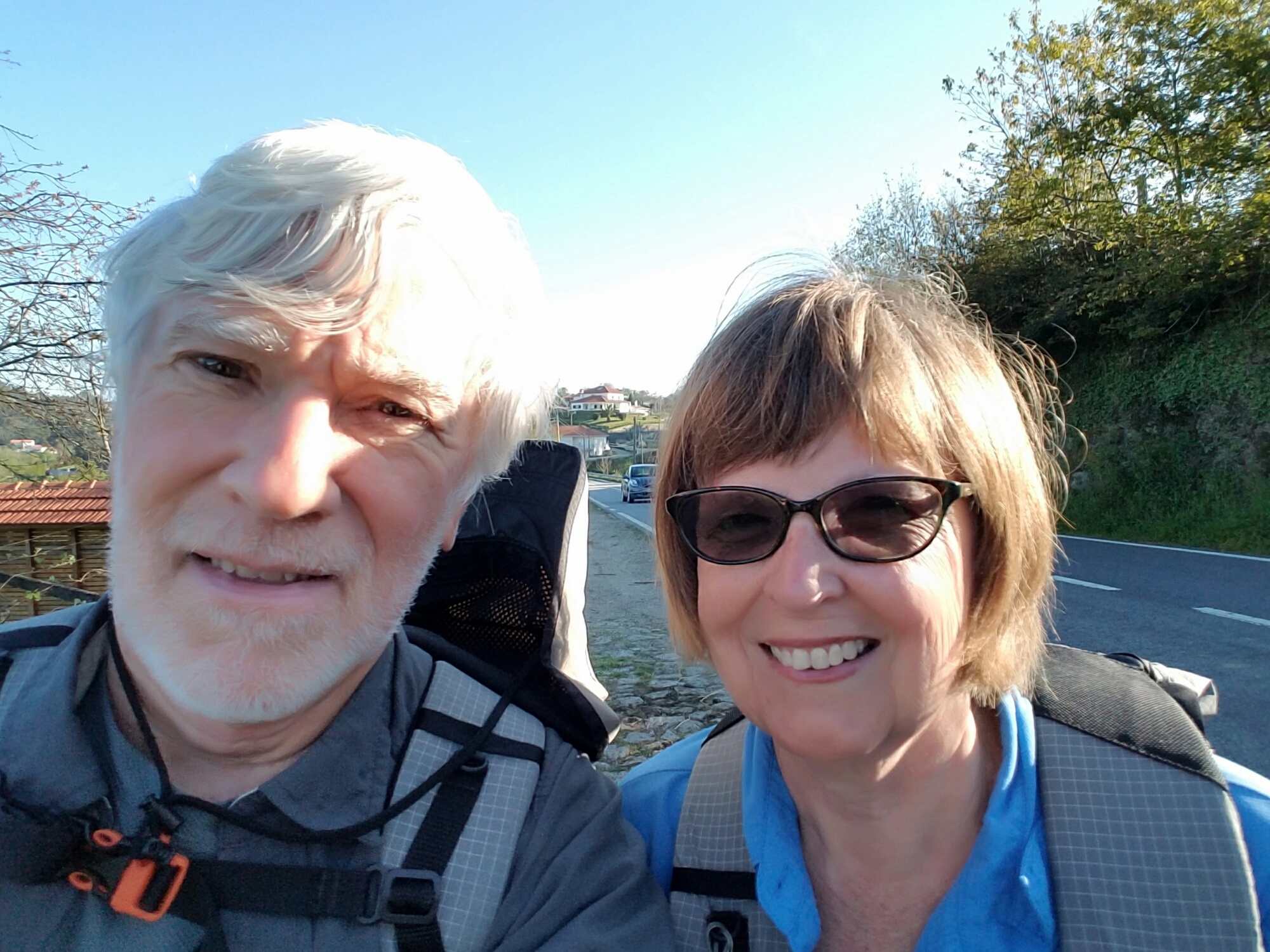 Bench maintenance budget cut, again
2016-04-27 19:00
Pretty good signage actually
2016-04-27 19:07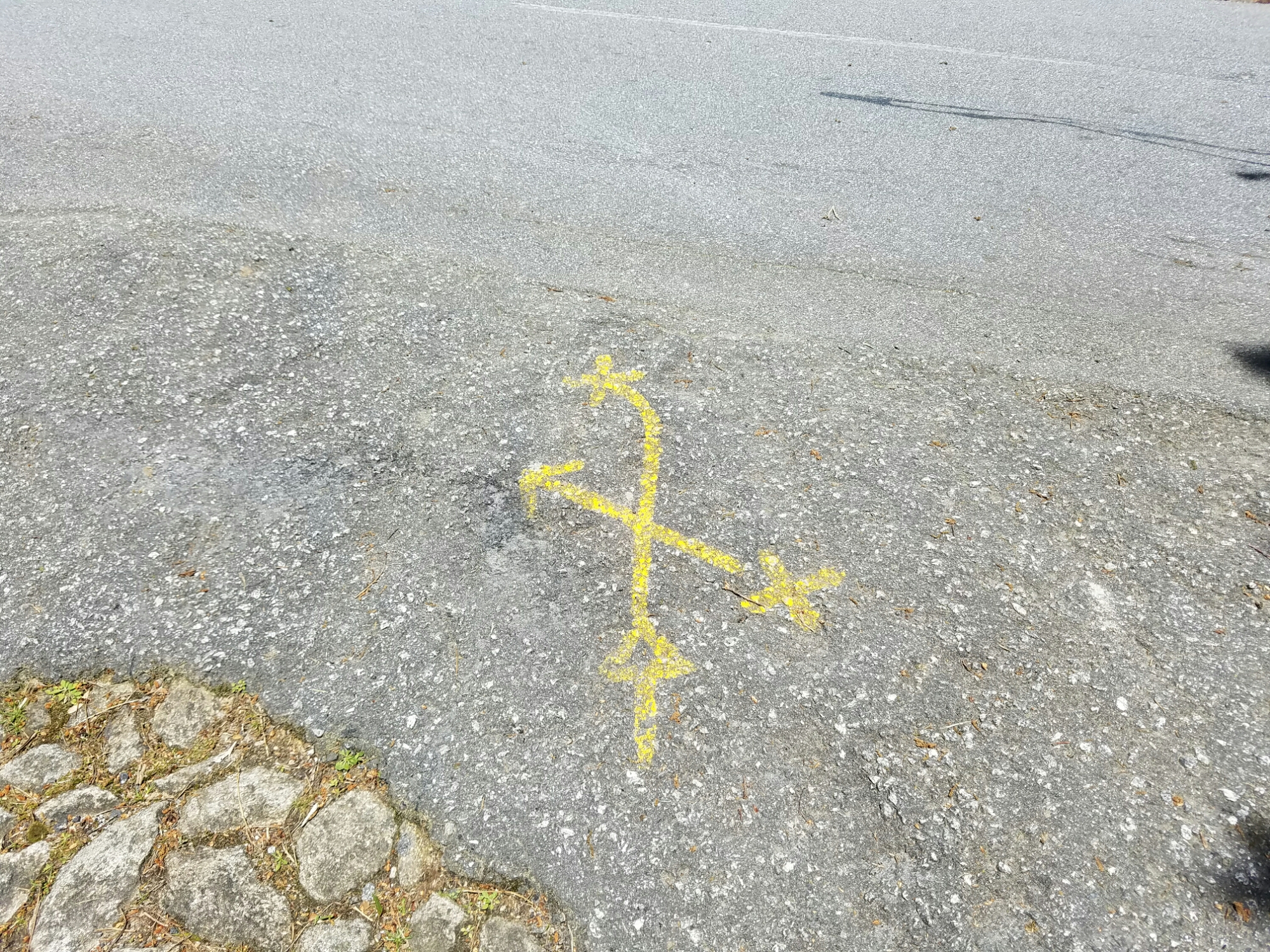 Pilgrim from Brazil
2016-04-27 19:09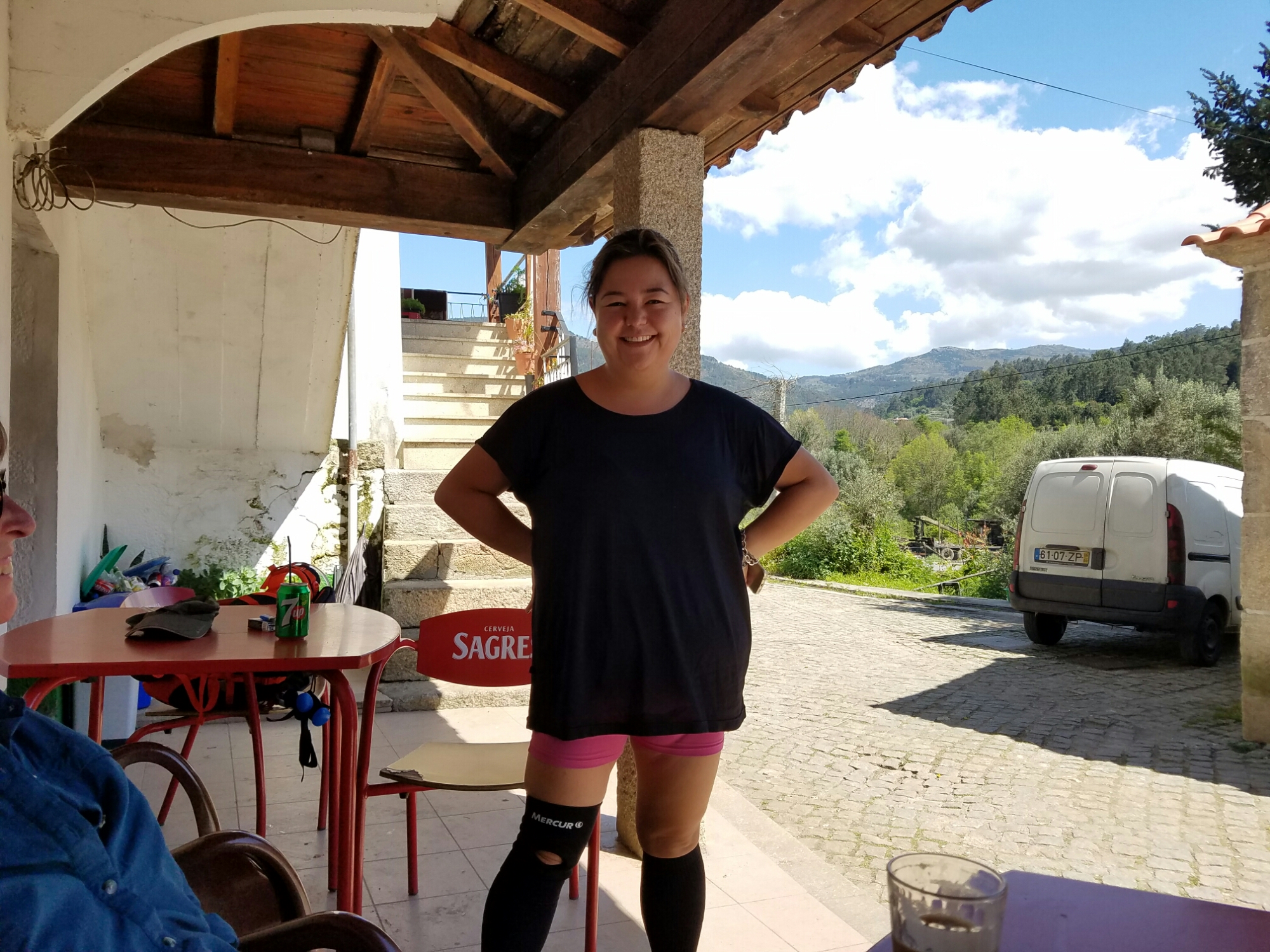 Post by Wynette
:
She is in her mid 30s. She misses her 3 year old daughter. Her mother is Japanese and her father is Spanish but she was born and raised in Brazil. She speaks excellent English. She said Brazilian children learn English in school. She said she has a hard time understanding the European Portuguese accent and they have a hard time understanding her Brazilian Portuguese accent. She said much of the vocabulary is different as well.
Finally, a rhododendron
2016-04-27 19:16
Post about posts
2016-04-27 20:17
Post by Wynette:

Sometimes we write a draft of a post and don't publish it right away because we are trying to find just the right photo or something like that. If we write and publish other posts after that, when we finally publish the earlier draft post, it will show up in our blog below the ones started after it. If you see lots of new posts on the same day, you might scan back to be sure new ones didn't get buried and missed.
April 28, 12 miles
2016-04-28 14:58
What do pilgrims want?
2016-04-29 08:00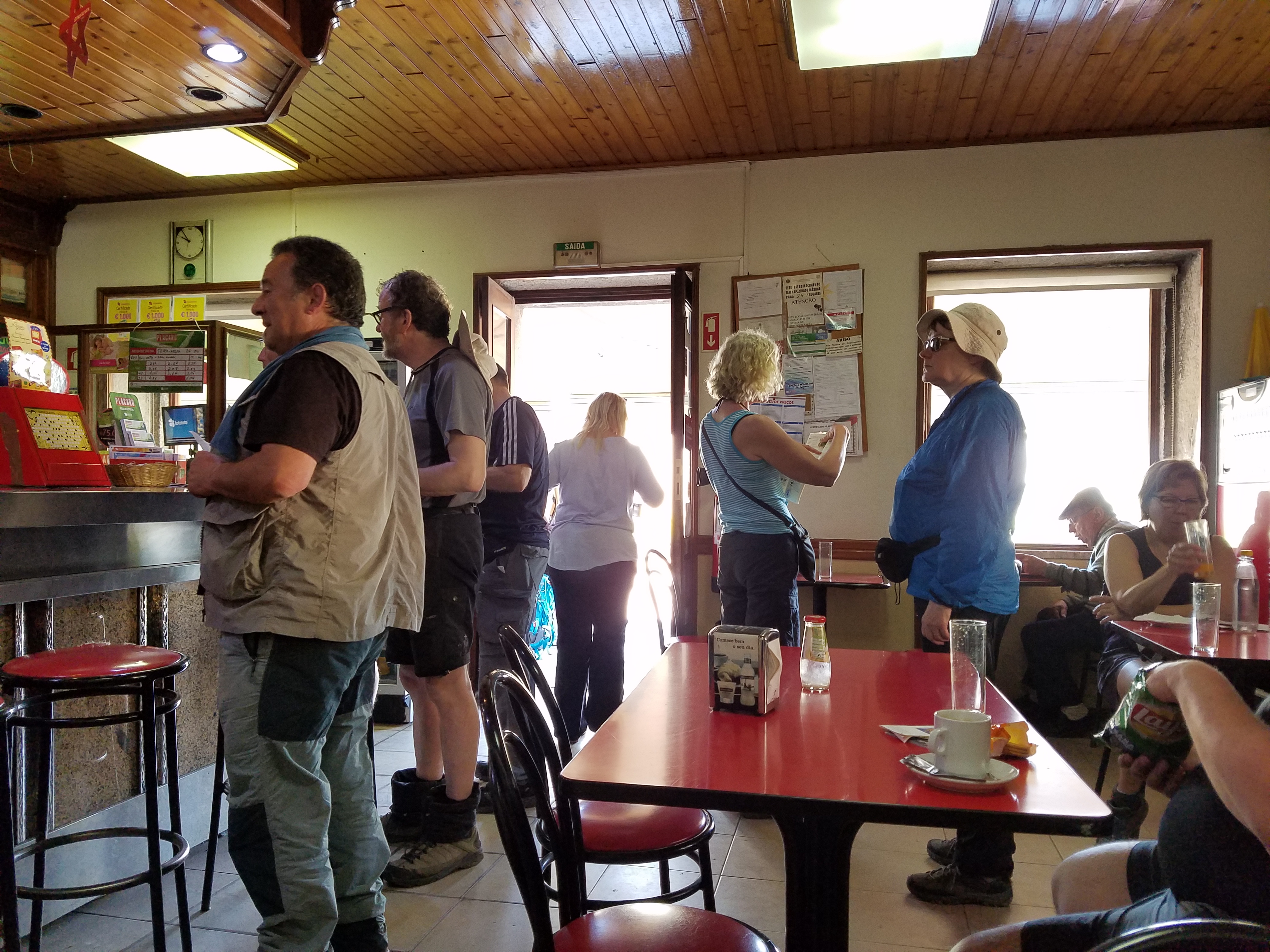 Most travel writing centers on getting an authentic local experience. You want to go to places that are "unspoiled". You want to live like the locals, albeit with maybe a little more luxury. You want to understand the place. You don't travel to see other travelers. The fewer of them the better. You don't come back from Peru and tell about the great people you met there from Denver.
Still, when you are traveling it is fun to run into people you know and it is fun to see someone you saw previously on the trip.
We have talked to a lot of pilgrims and read 20-30 books written by people about their Camino experiences. (You can read all you want if you sign up for Kindle Unlimited for a month because there are hundreds of self-published Camino books available there.)
The primary topic of these books is the people they met on the Camino, the other pilgrims. The principal Camino travel experience seems to be interacting with other travelers. Certainly people sometimes talk about the local people they meet, but not a lot. Sometimes they talk about the things they see, but not a lot. In truth there is not much to see on the Camino other than pretty scenery and charming villages, and, well, lots of beautiful old churches. People do talk about the walking but much less than you would think. In book after book it is about the people they meet and little else.
Pilgrims particularly enjoy having a group of people that they see day after day in the albergue. Or people they see for a few days, lose track of, and then meet up with again down the line.
This is a major difference between typical travel and walking the Camino.
One way to think about this is to think of the Camino itself as a virtual country. It is a country to itself, existing in the actual country of Spain (and Portugal and France to a lesser degree). The pilgrims are the "locals" in this country. So interacting with pilgrims is really interacting with the locals. And discussing the walk, places you stay, blisters, etc. with other pilgrims is learning about the local culture of the "country" you are in.
Wynette and I did a lot of "traditional" traveling when we were still working. We would go on three-week trips and stay in places 2-3 days. In 2013 we started going on walking vacations, that is, the Camino and now we are on our third. We are much less interested in typical travel where you go from city to city seeing sites. Last year we went to Seville for five weeks and stayed in an apartment. We enjoyed that and plan to do it again, somewhere else.
Actually the Camino is a little like that. True, you are moving on to a new place every day, but in another sense you are staying in one place, the Camino place. It is a lot the same day to day and you learn more about it as the days go by, just as you learn more about a city when you stay in it for several weeks.
Camino Phases
2016-04-29 08:27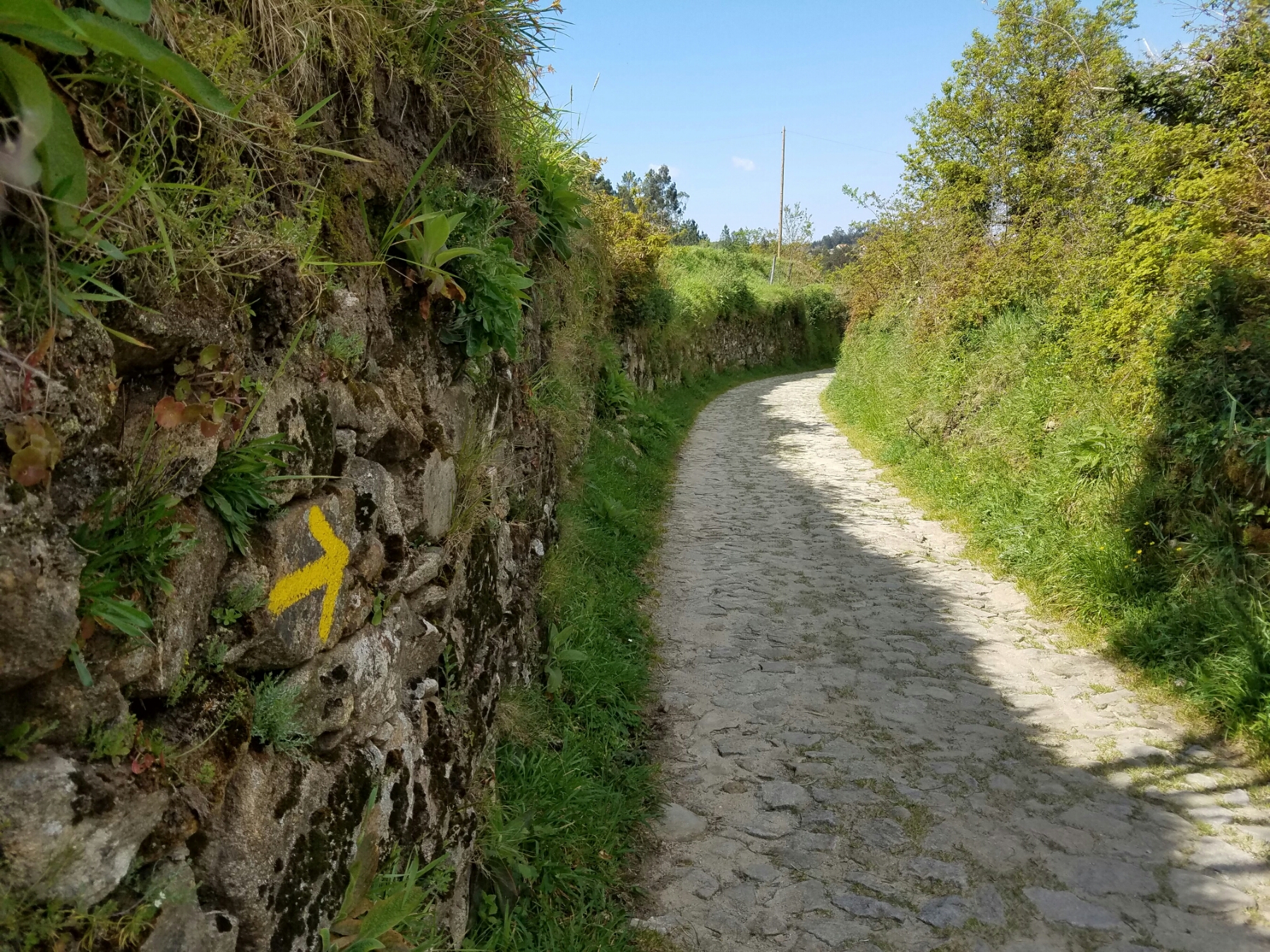 We started in Porto, Portugal, and walked along the coastal route for two days. That felt very much like a beach vacation. Everything was beach oriented. It was boardwalk the whole way. We must have passed 15-20 similar seafood restaurants, right on the beach where all the tables were along a long window. It was very nice but didn't feel like the Camino.
After two days we turned inland and met up with the inland route and it was much more like the Camino we are familiar with. The inland Portuguese Camino is very well marked with signs and the beloved yellow arrows. It is as well marked as any place on the Camino Frances. It goes through similar small towns with interesting, old buildings. We stop at the same kind of little bars and get coffee with milk, "cafe" is the same word, "milk" is different in Portuguese so we had to get used to that. We walk past people's houses and back yards. One difference has been that we have done a lot more walking through what I would call suburbs, that is, groups of houses a few miles from a larger town. The houses are on city-like lots, right next to each other. They have much nicer landscaping than the places you walk by on the Camino Frances. It is spring and we have seen so many beautiful azelias, wisteria, and other flowers. The Portuguese seem to love topiary and it is in almost every garden, and it is always neatly trimmed.
We have been seeing lots of partially constructed buildings that clearly have been abandoned and are looking worse and worse. In general, things are a bit shabby and not maintained. They have had eight years of economic hard times and it shows.
We have found the Portuguese people to be different from the Spanish people. They are a little quieter and live at a slightly slower pace. Spanish people do things quickly, the Portuguese are a bit more measured. They are always helpful and friendly, but then the Spanish were also.
We recently moved into Spain, walking the international bridge from Portuguese Valença to Spanish Tui. Wynette had to switch gears back into speaking Spanish and felt a little rusty. I know only a handful of words in either language but I had to change from "Bom Caminho" to "Buen Camino" and the few other words I use, e.g.,
the bill
changed from
conta
to
cuenta
.
Even though Spain is doing a little better economically than Portugal (I think) Spain seemed a little shabbier than Portugal as we moved from Valança to Tui.
It is comforting to be back in Spain. It is even more like the Camino we are used to and have grown to love. We'll see how it goes in the next 10 days.
After that we move to the Camino Finisterre which is similar but has a little different feel. The main thing for us is that we have walked some of it before. The second time you see things again, that is always fun, and you see a little more. We are looking forward to going back to some places, particularly Estorde where we had a lovely beachside hotel (40 euros for a beautiful room with a view) and had some of the best seafood, not to mention apple pie, we have ever eaten.
Scary arrow
2016-04-29 08:41
The Orbenlle Affair
2016-04-29 09:08
If we had followed these arrows we would have missed the nature path.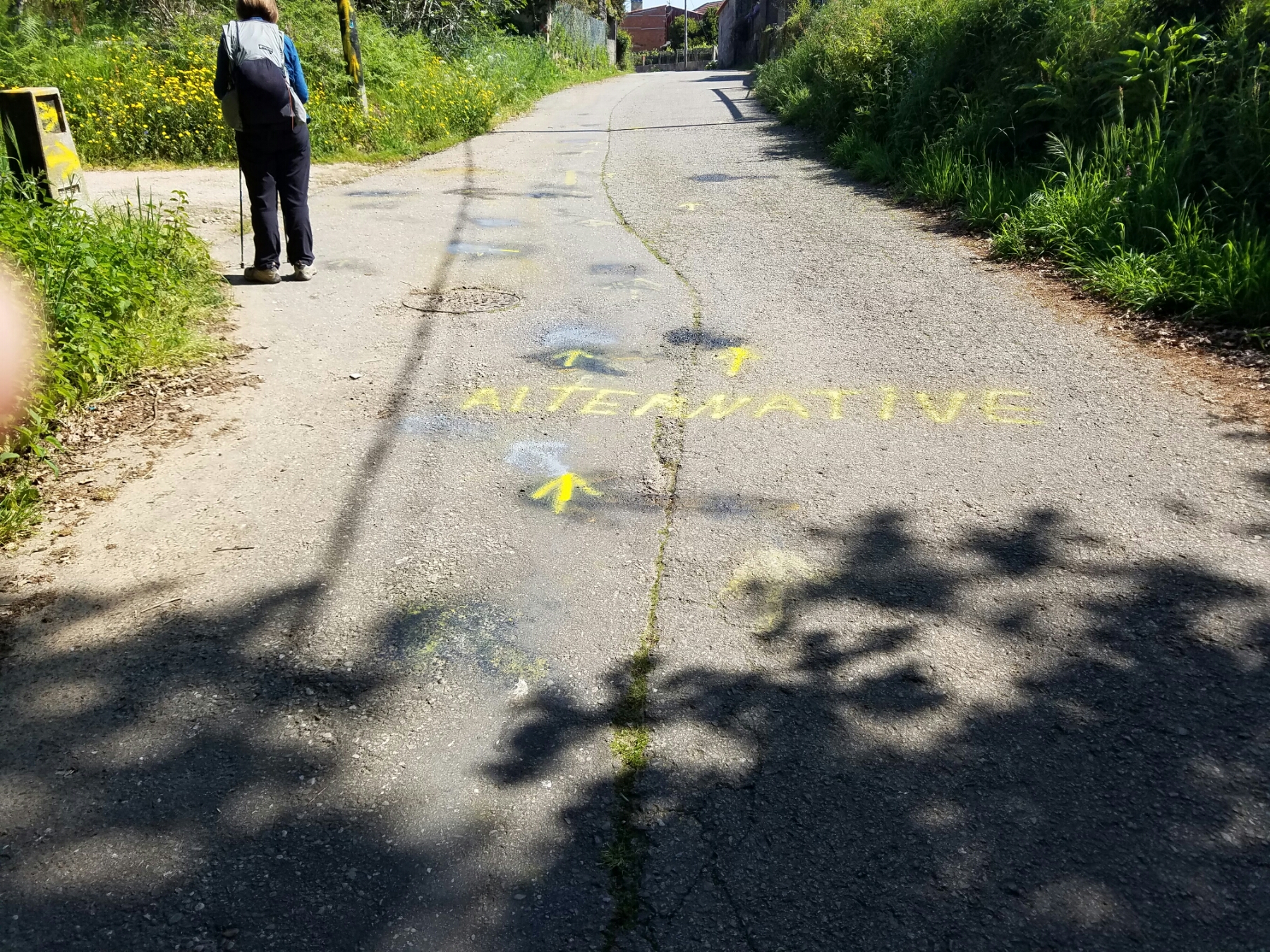 We had an interesting experience yesterday that we had been warned about in the guide books. The original Camino path from Orbenlle (which curiously seems to be missing a vowel but maybe the "ll" acts as a vowel) and Porriño went through something called the "Porriño Industrial Park", a dreary and built up area where you walk down a busy highway past large industrial buildings. A few years ago whatever organization decides these things, decided to reroute the Camino around this through a nature preserve, through some quiet country roads, and then along a beautiful riverside path. We took the new path and can verify that it is lovely.
There were a number of bar/cafes along the old route that took exception to this. We can see their point, they probably lost a lot of pilgrim business, maybe most of their business, so we feel for them. Their solution was to paint out the signs for the new route. This did not happen just once but frequently, perhaps daily, over the last three years. The cafe owners paint out the signs and the AGACS (roughly the association of friends of the Camino Santiago in Galicia) repaints them.
The guide books tell you about this and tell you that, for this one time, don't listen to locals telling you which way to go but to take the riverside path.
Apparently not all locals though because when we were there yesterday there was a local guy telling us to avoid the old path and that it was "horrible" (with the wonderful Spanish pronunciation) and to take the new path.
About three km before the turn we saw a poster put up by the AGACS about what was happening and advising us to take the new path. About one km before the turn they had another poster and brochures you could take that had pictures of the turn so you could recognize it and a map of both paths.
We did take the new path and liked it a lot. Halfway through we were looking at the brochure and a car stopped and the driver asked if we needed any help. It turned out he was an AGACS volunteer who had gone out nearly every day for the last three years making sure the signs were still in place. That's his photo below.
The painting out of the signs does work and we would have gone the "wrong" way if we had not been warned.
Anyway, an interesting battle. We took a lot of pictures of the painted out signs. Here is a link to a Google Photos album showing all of them.
https://goo.gl/photos/dv15BrXeWRSrhYLFA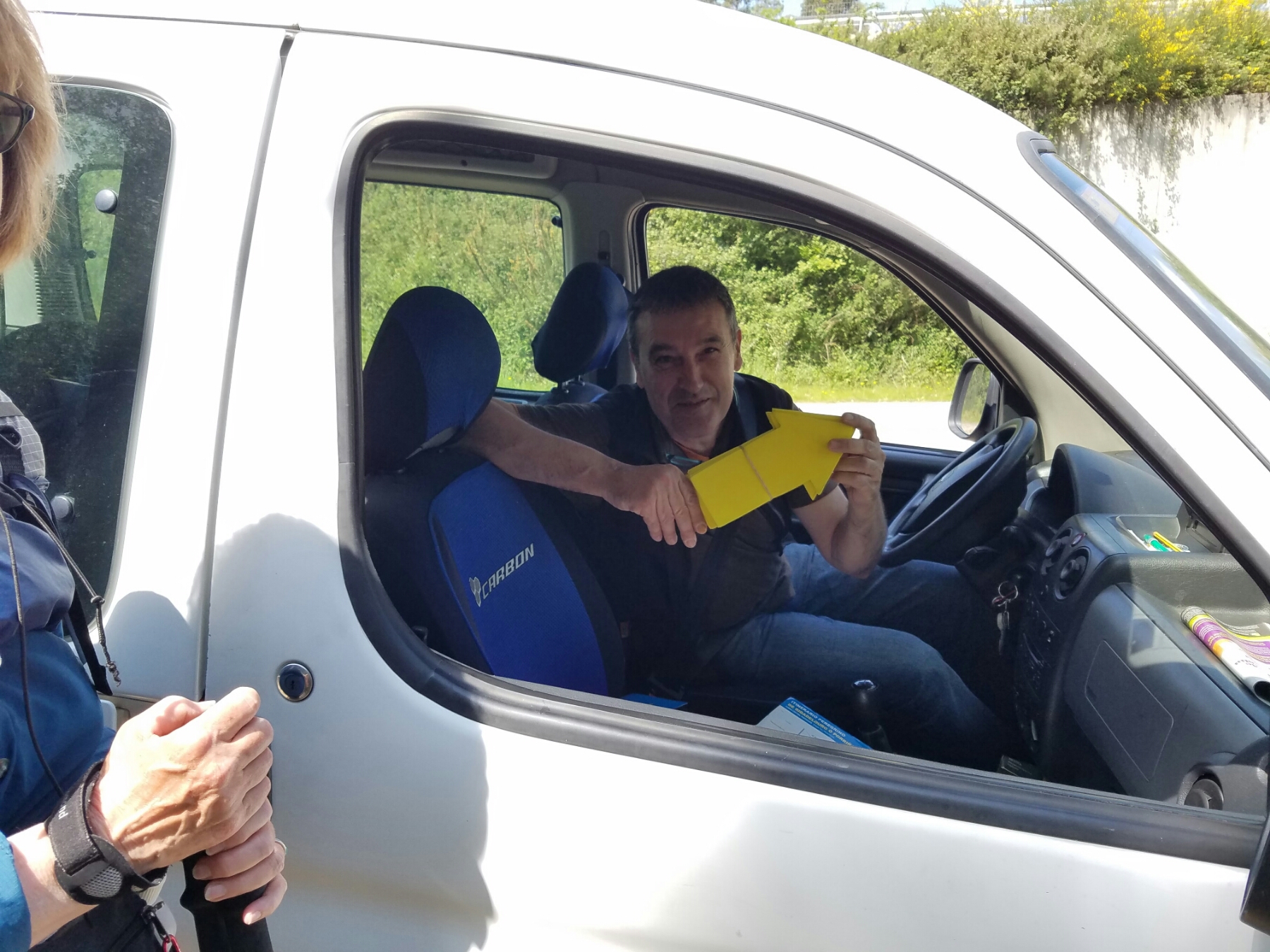 Scary road walking
2016-04-29 09:23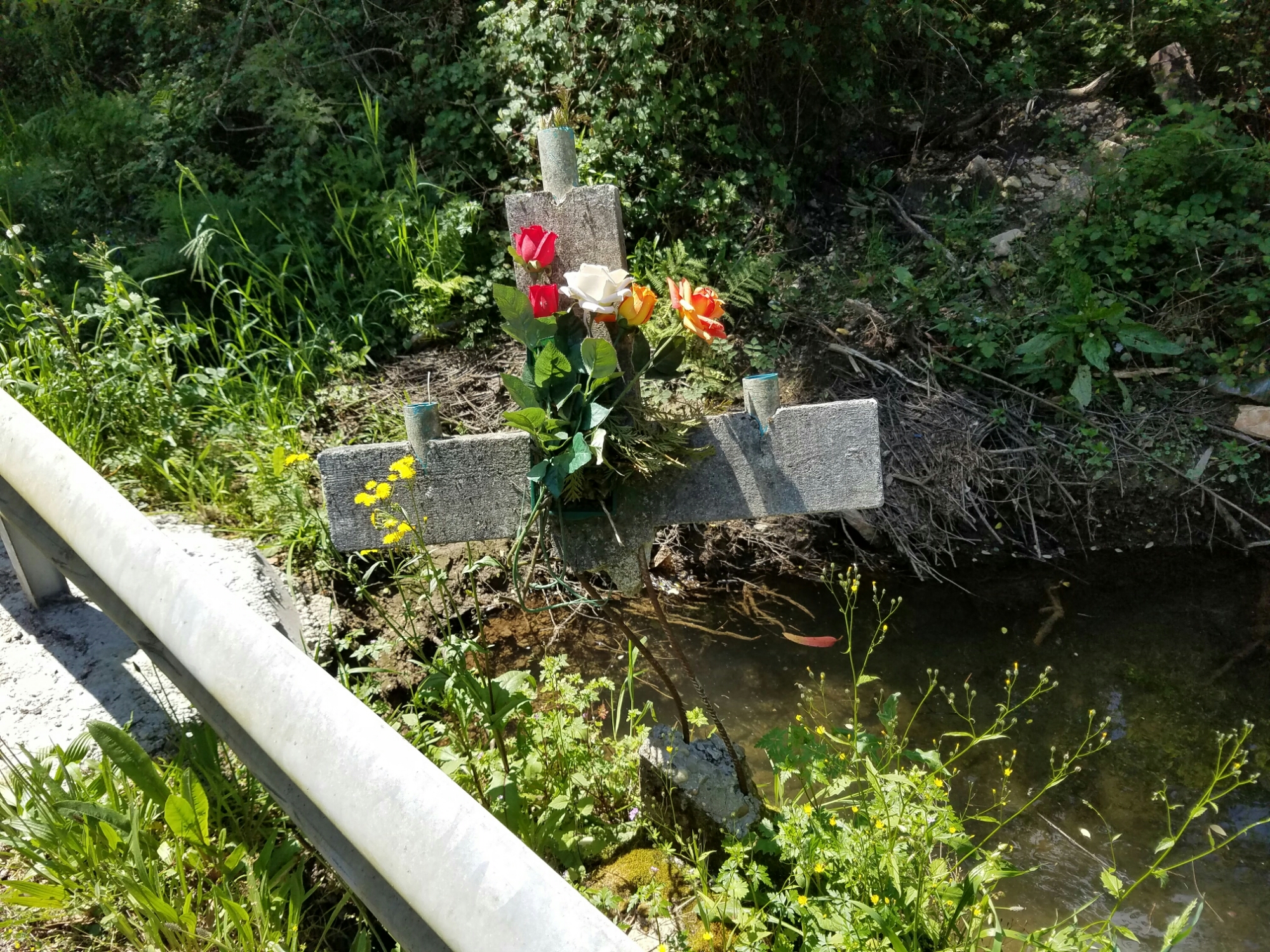 Unfortunately there are some places on the Camino where you walk along a busy road with narrow shoulders and blind curves. We have heard of a few pilgrims being hit in previous years. To reassure nervous pilgrims-to-be and people back home, that's a very tiny percentage of the hundreds of thousands of pilgrims who walk the Camino, but you do have to be careful.
We passed this cross yesterday along such a road. We don't know if it was a pilgrim or not but someone got hit I think. If you look closely you will notice the cross is broken too. It is inside the steel barrier so I don't think it was hit but it is hard to know how it could have been broken.
An abandoned contruction
2016-04-29 09:24
A snack with a friend
2016-04-29 09:27
Selfie (couplie?) on the trail
2016-04-29 09:28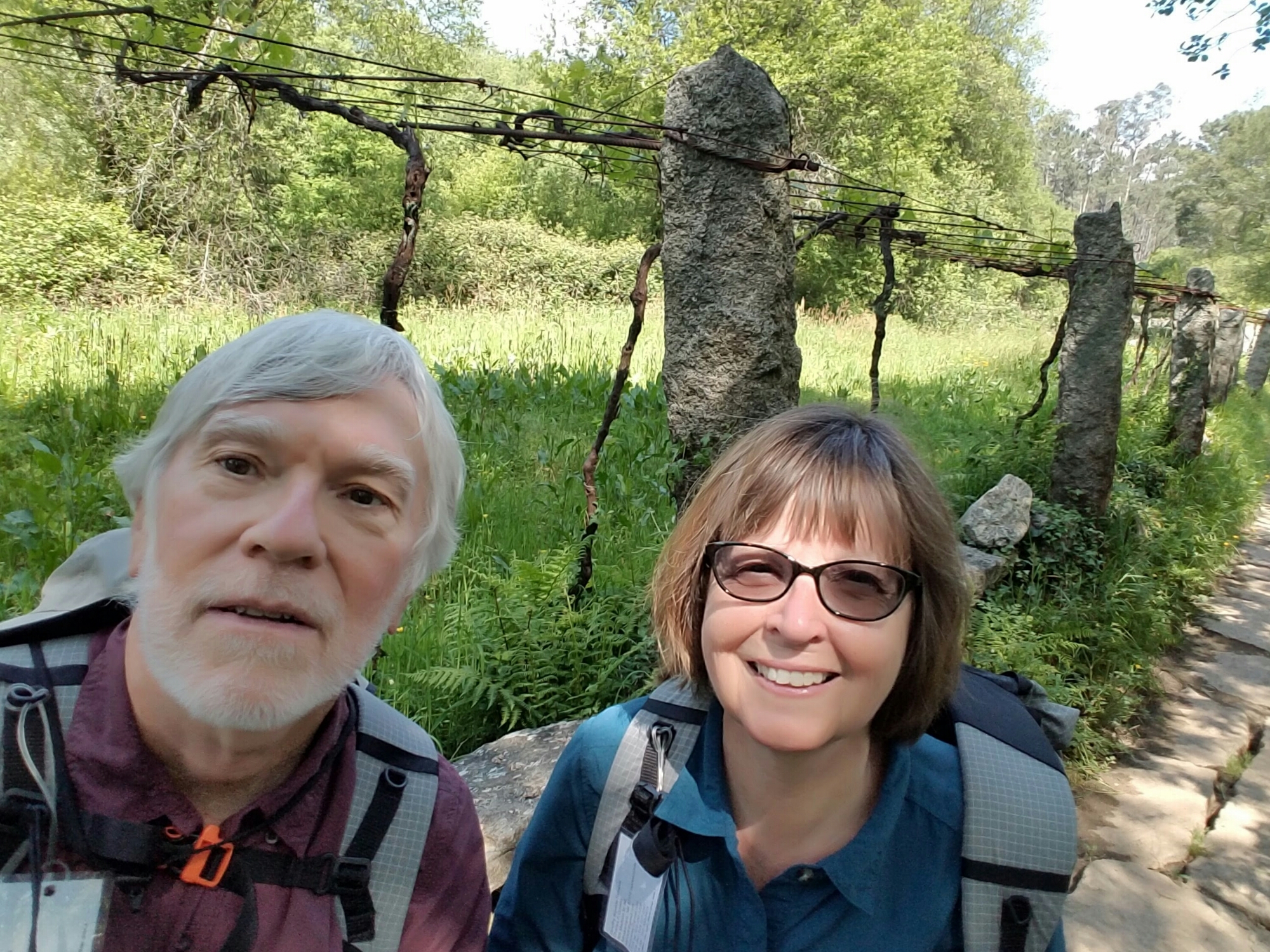 Mile markers
2016-04-29 09:38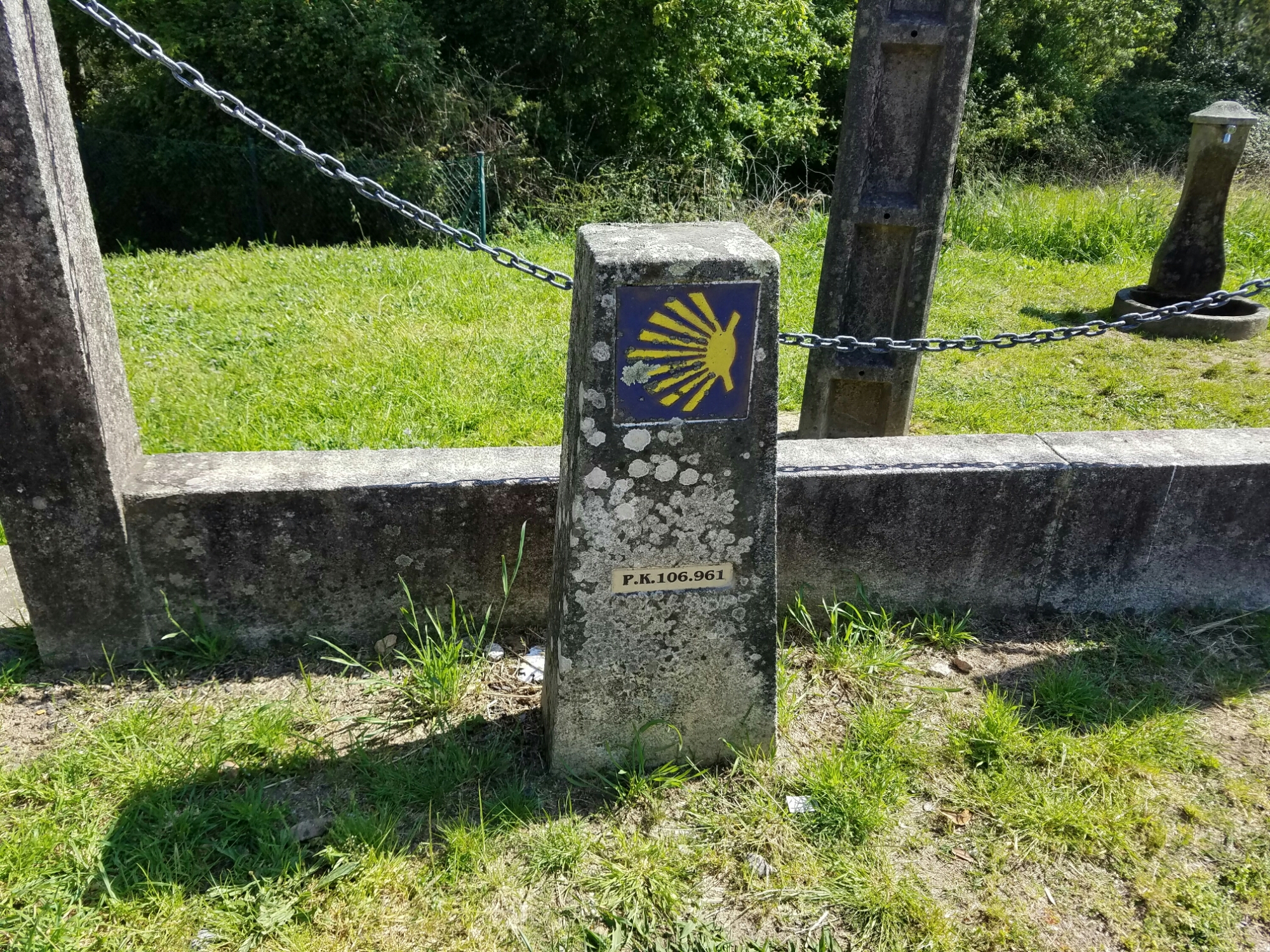 All along the Camino Frances, once you get into Galicia, you see these markers. I guess they are kilometer markers. But they are generally at an even number of kilometers from Santiago. In a few places, as we got close we saw some half km markers like 87,5.
This one has six places of accuracy and three decimal places. I guess you get this from GPS. And it makes sense to have markers where it is convenient rather than where there is an exact integral number of km to Santiago. I'm not certain this is a km marker though since I don't know what the "P. K." might mean. The distance seemed just about right though and we saw three of them and the numbers kept getting smaller by about the right amount.
The strange thing is the decimal point. As you may know, in Europe they use a period "." to mark off the thousands and a comma "," to divide the whole number from the decimals. So I might be way off about this but whatever. We'll gather more data on our walk tomorrow.
Paying the bill at the bar
2016-04-29 09:43
Easily amused
2016-04-29 09:46
Mud and water
2016-04-29 09:53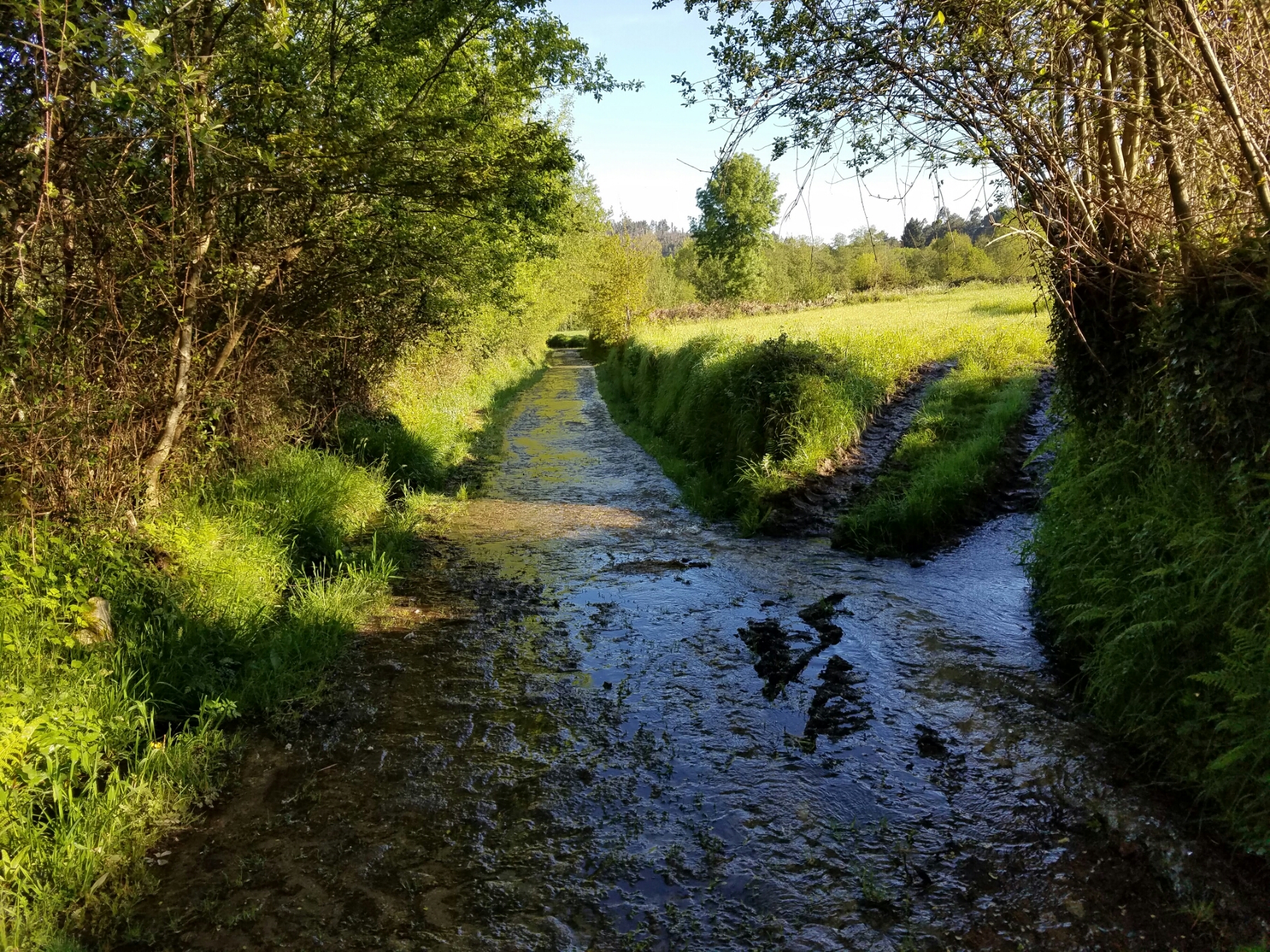 https://goo.gl/photos/bufimLecMKNERHg26
At above link, I collected all 16 photos of mud on the trail into this album. Usually it is not a terrible problem and you can pick your way through.
But, waterproof shoes are a necessity unless you like having wet socks. Important when it is raining and also on sunny days when you walk through wet sections. There are some places where you walk through shallow streams going across the trail.
Cafes
2016-04-29 09:58
https://goo.gl/photos/nkXHxbXkPqg5iGJL7
Bars (cafes) are a big part of the walk. You stop for refreshment and a bathroom break. They are each a little different. I collected 19 photos of cafe stops in the last couple of days.
Casa Estrada Romana
2016-04-29 10:05
https://goo.gl/photos/ofuHqLh6LKt2URXaA
We have made some posts about this. Here are all 32 photos we took of the place.
Albergue O Ninho
2016-04-29 10:11
https://goo.gl/photos/XTwuUB3yJDSPwkFj6
Our photos of the albergue including its perilous stairway/ladder up to our room.
We did the dishes
2016-04-29 17:40
Post by Wynette
:
A few nights ago we were lucky to get to stay at Quinta Estrada Romana, an albergue with both private and dorm-with-bunkbed rooms. We stayed in the private room. It is a beautiful place. Old, restored with modern comforts, spacious. There were five other pilgrims there with us that night. I don't remember everyone's names -- some were very unfamiliar names. But the woman in the above photo was from Slovenia and the young man was from Brazil. There was also another young man from Brazil, a woman from Russia, and a young man who was Russian but had lived in Germany from age 16. He and the Russian woman were thrilled to be able to talk Russian with each other. Everyone was delightful. The Slovenian woman was beautiful, smart, and articulate. The Russian woman was quiet and lovely. She said she was retired but had worked as a costume designer for Russian television shows. The Russian/German man was passionate and fun. The Brazilian men were so sweet. All spoke pretty good English. The albergue owner, Geoff, was originally from Nova Scotia. So Geoff, Charlie, and I were the only native English speakers, but as usual, for the group talk around dinner, English was the language we used. There was a passionate conversation about the characteristics of the various countries.
The albergue is also a cafe. So other pilgrims stopped by during the day for lunch or coffee. Geoff made us a great toasted ham and cheese sandwich for lunch.
Geoff hires a very nice Portuguese woman to help cook the meals and help him in other ways. Dinner was simple but good. (Roast chicken, salad, rice, sour dough bread, tuna pasta salad, wine, and ice cream.) Charlie and I started dipping our bread into the drippings left over from the roast chicken since the empty pan was right in front of us. The Slovenian and Russian women were quite amused by that and then joined in with gusto.
We all ate breakfast together, too. These were some of the nicest, most interesting people I've ever met. But, I seem to feel that way about nearly everyone I meet along The Way.
When Geoff was setting the table for dinner I asked if I could help (we were all just standing around). He said "not now but you can help with the washing up later." Then, during dinner, he mentioned that I was the one in charge of the washing up and asked everyone to pitch in. So, we did that and had a nice time doing that together and trying to figure out where things belonged after they were washed and dried. I felt a lot of responsibility "being in charge" but turned out to be more fun than a burden.
I should mention that the albergue is a "donativo" albergue meaning you pay based on what you can afford and what you think it is worth. We had to add up: gorgeous private room with private bath and beautiful views, laundry which Geoff did for us, lunch of grilled sandwiches, afternoon coffee, dinner, and breakfast. Always interesting to figure out what to leave. The young Russian/German man was traveling with very little money and was worried he could not leave enough, but Geoff put him to work helping with dinner (he made the salad) and I think he decided he felt ok just leaving 5 euros for his bunk bed in the group room plus the food and I'm sure Geoff was fine with that, too. By the way, no one knows how much anyone pays -- you just put the money in a box as you leave with no name, etc.
Here is a link with an album Charlie made of photos from Quinta Estrada Roman in addition to the ones below:
https://goo.gl/photos/ofuHqLh6LKt2URXaA
Our private room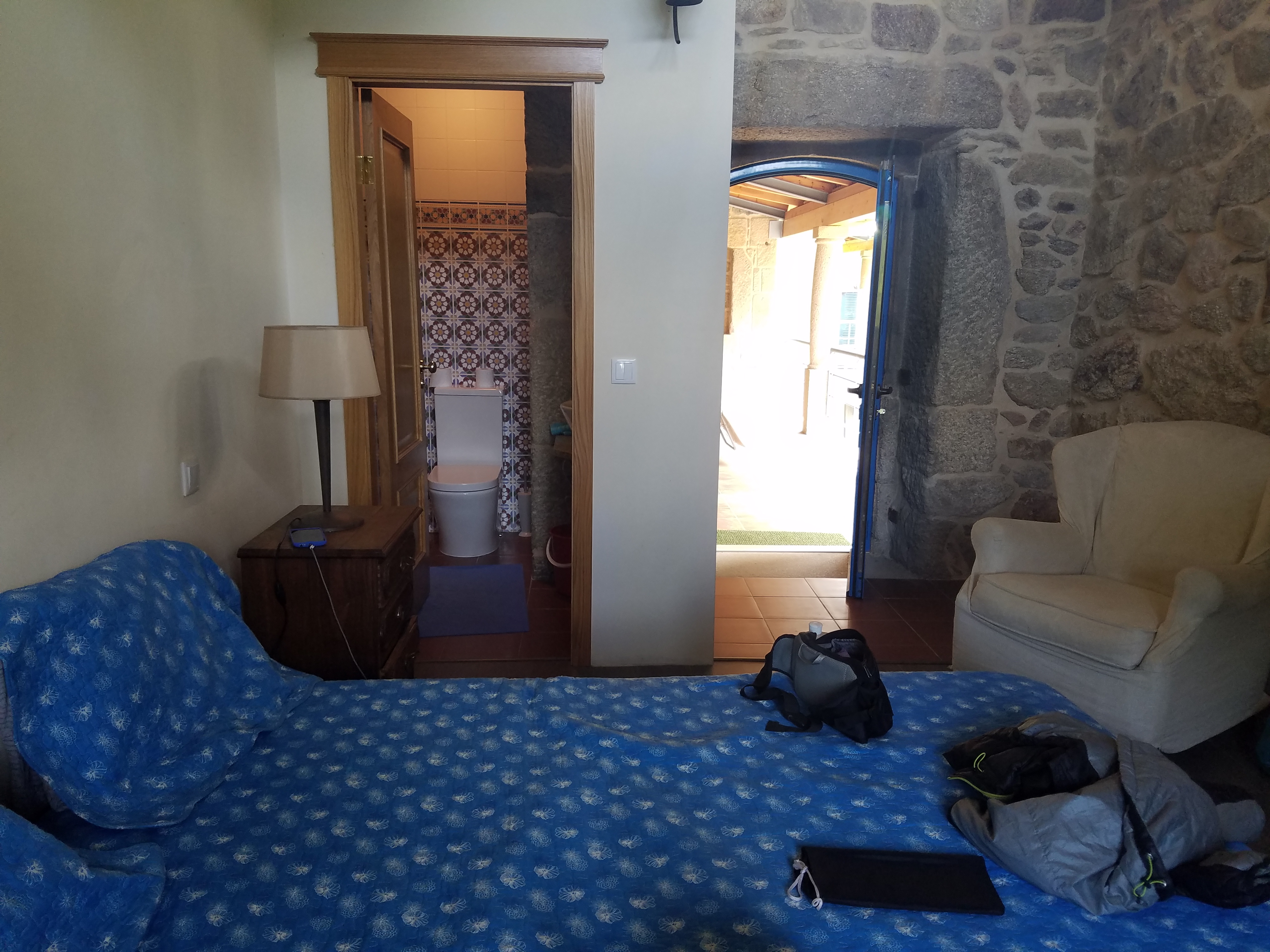 Group room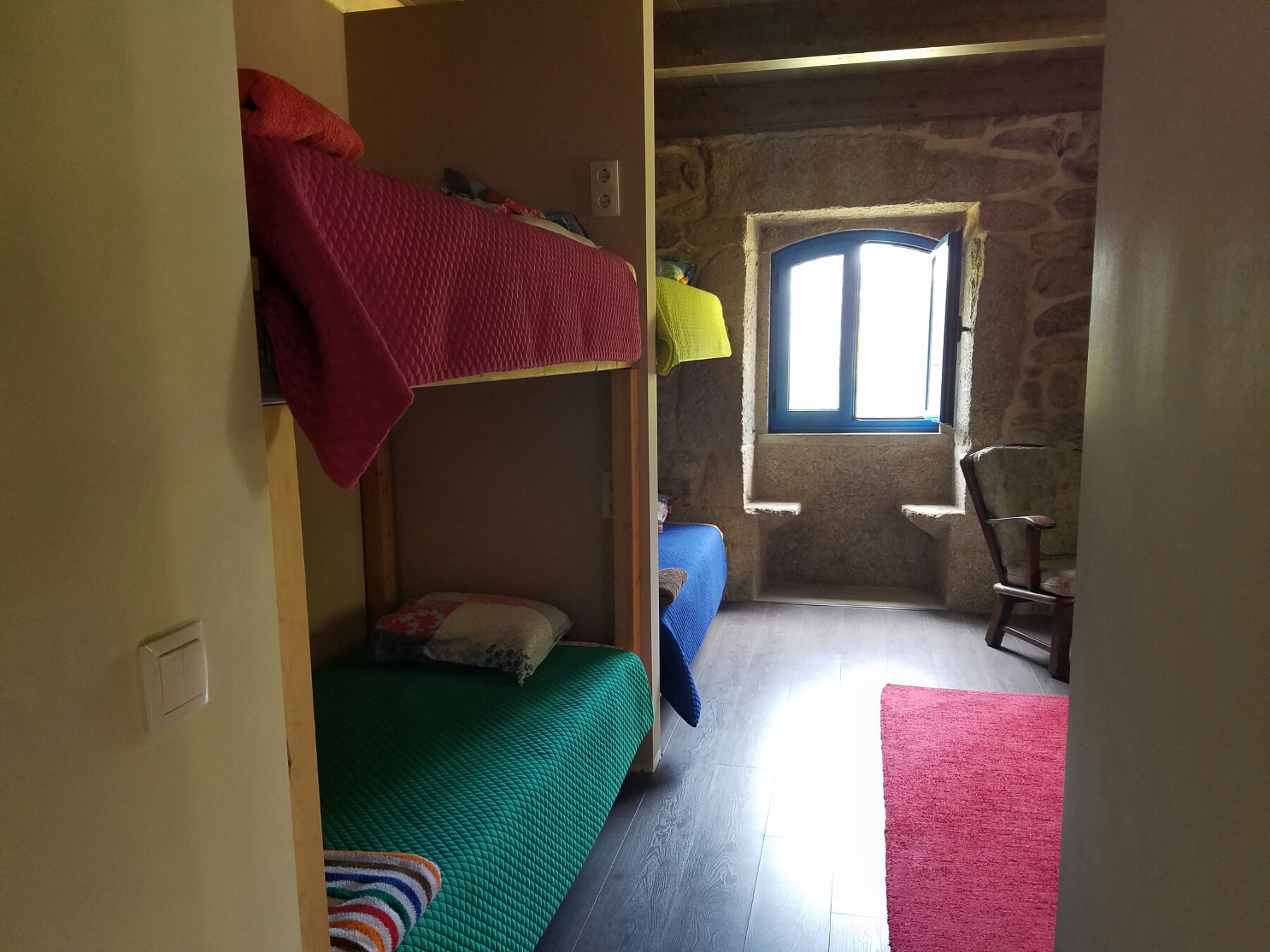 Our Portuguese cook and breakfast companion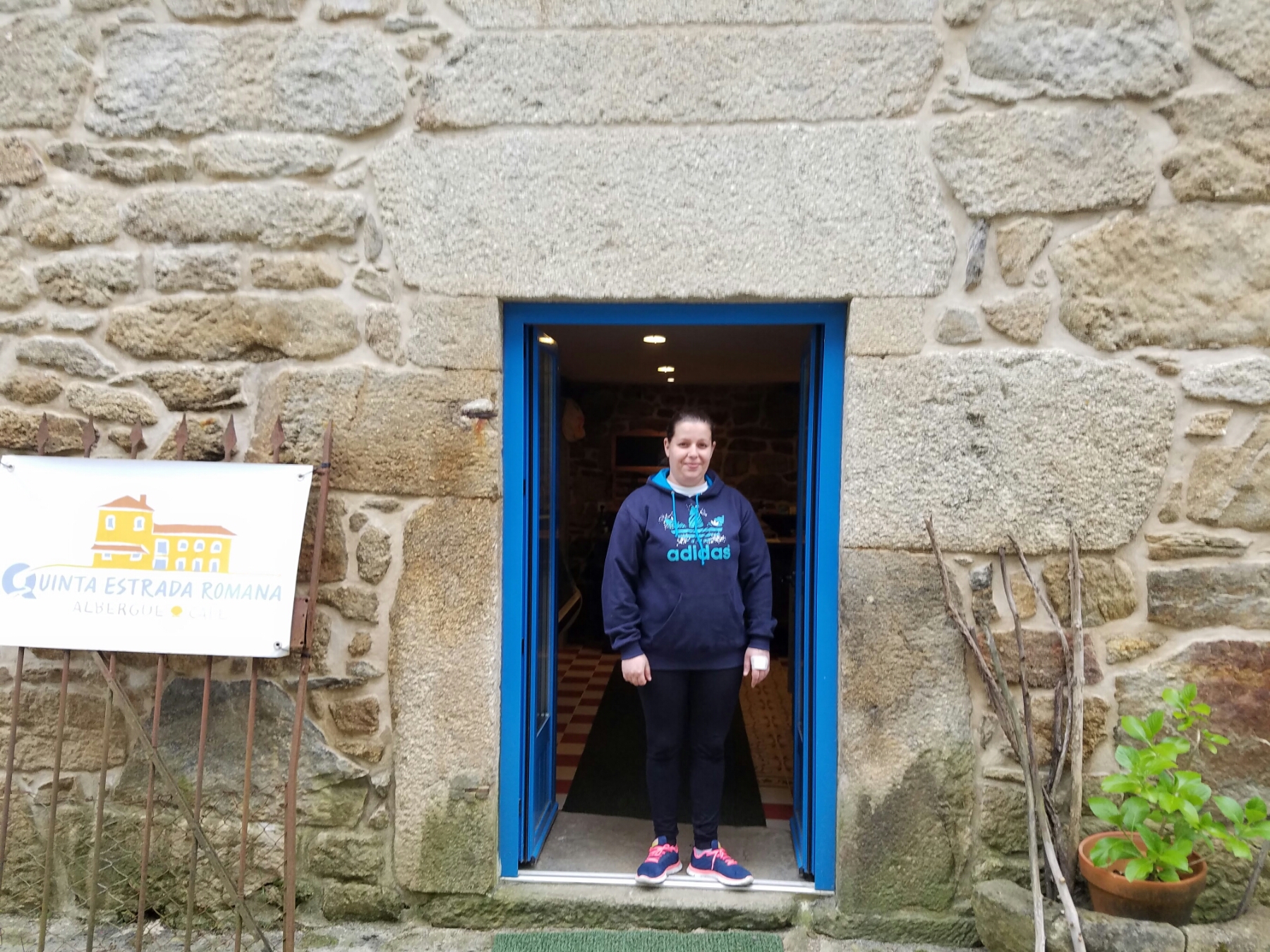 April 30, 9.9 miles
2016-04-30 13:11
First lilacs
2016-04-30 13:16
Kiddie climbing wall
2016-04-30 13:17
More unfinished construction
2016-04-30 13:19
Hostal ad
2016-04-30 13:21
93,194 meters to Santiago
2016-04-30 13:27
Cool tools
2016-05-01 15:50
Last night we stayed at a very nice albergue which had a cool system for unlocking the door. When we checked in he got my phone number and entered it into his phone presumably into some cloud database. After that any time I called the door's number it would unlock the door. Very good idea.
The number to call is right on the door, see the photo above. You can call it but since your number is not in the database the door won't unlock.
Sunday, May 1, 6.4 miles
2016-05-01 16:00
Along the walk today
2016-05-01 16:22
A boat that has seen better days
2016-05-01 16:23
Nice little town
2016-05-01 16:29
Water bottles on gates
2016-05-01 16:31
Shrine along the way
2016-05-01 16:37
Entering Arcade
2016-05-01 16:40
Lots of scallop shells
2016-05-01 16:42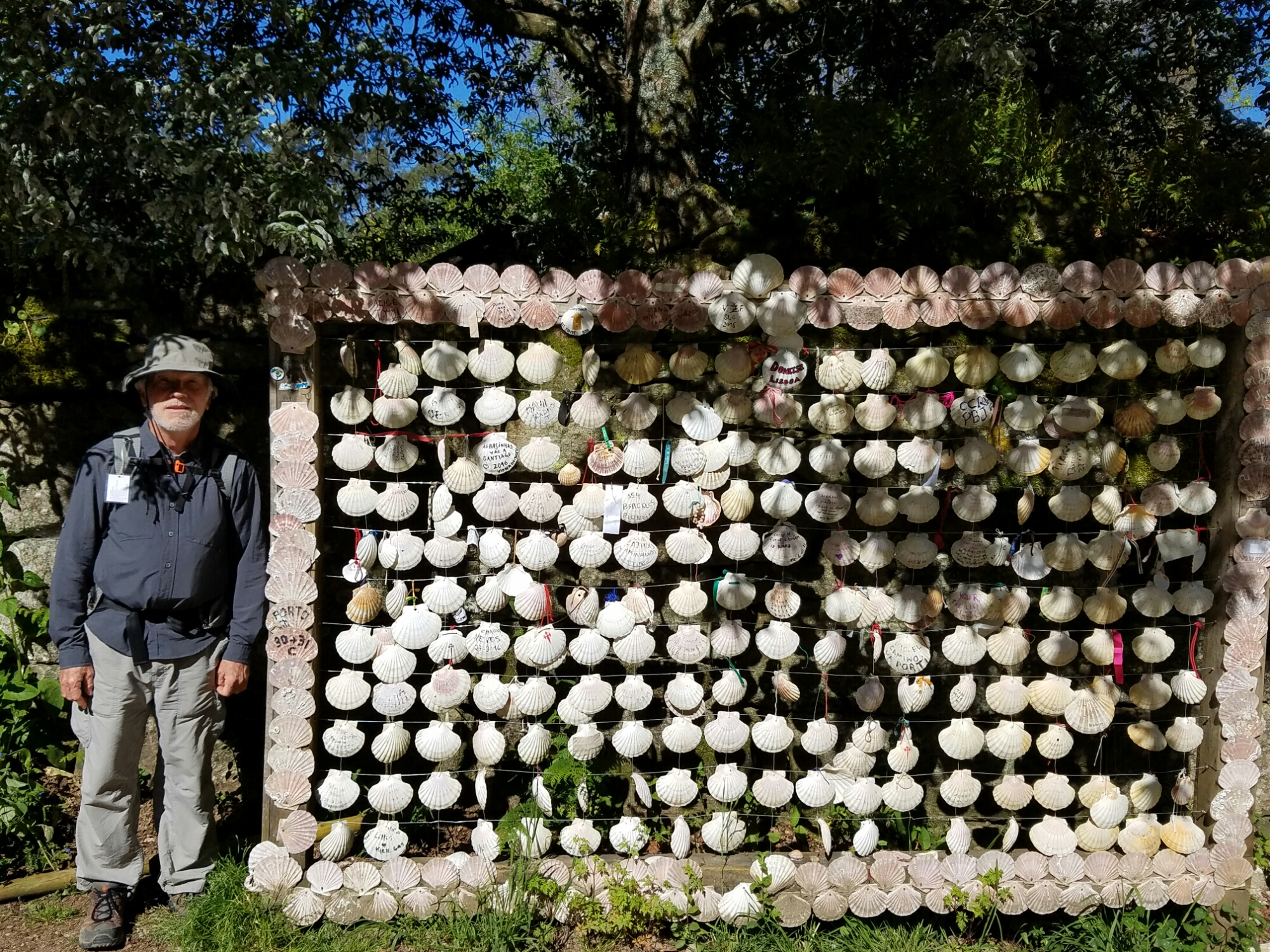 How could you miss this?
2016-05-01 16:49
Dutch father and daughter
2016-05-01 17:02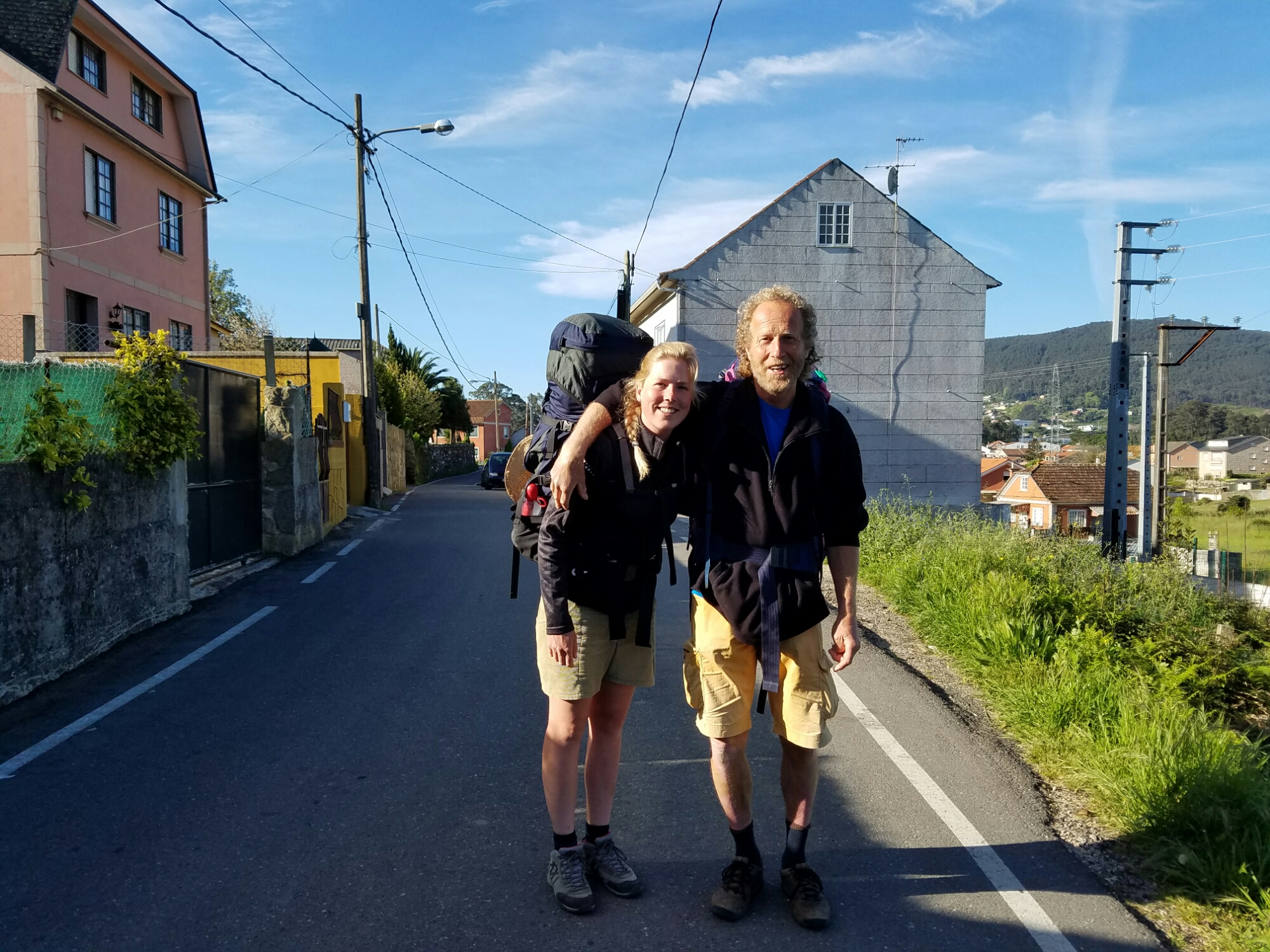 We shared a room (for four, two bunk beds) with them last night. No snoring but there were guys in the little plaza outside our balcony talking loudly around three am and again around four am. They stay up late in Spain. It didn't really bother me though, I went back to sleep right away.
Added by Wynette:
Holly and Rebecca, don't you think he looks a lot like Rusty? Very Dutch!
Here is our cozy and colorful room below.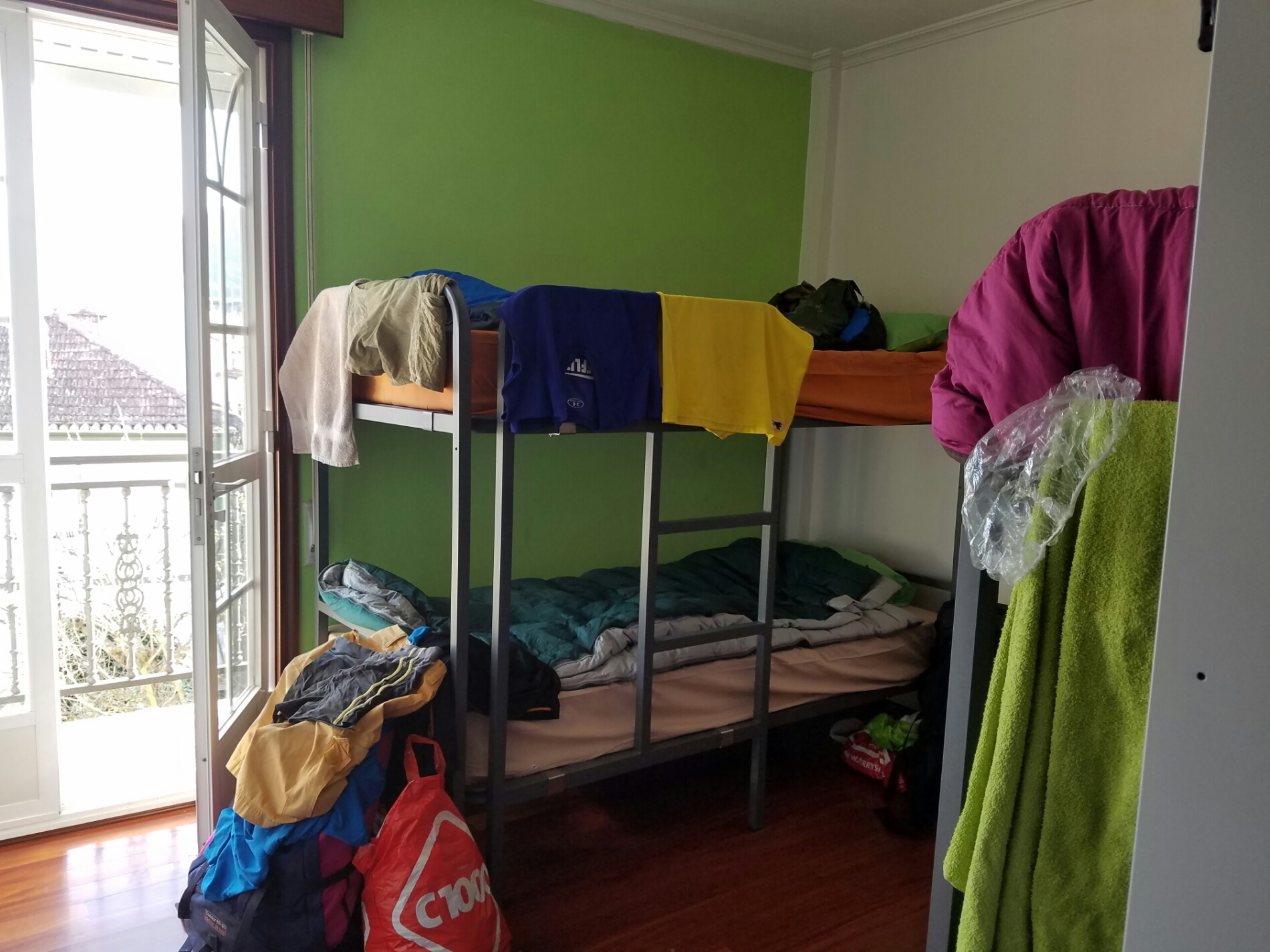 Casa de Herbas
2016-05-01 17:17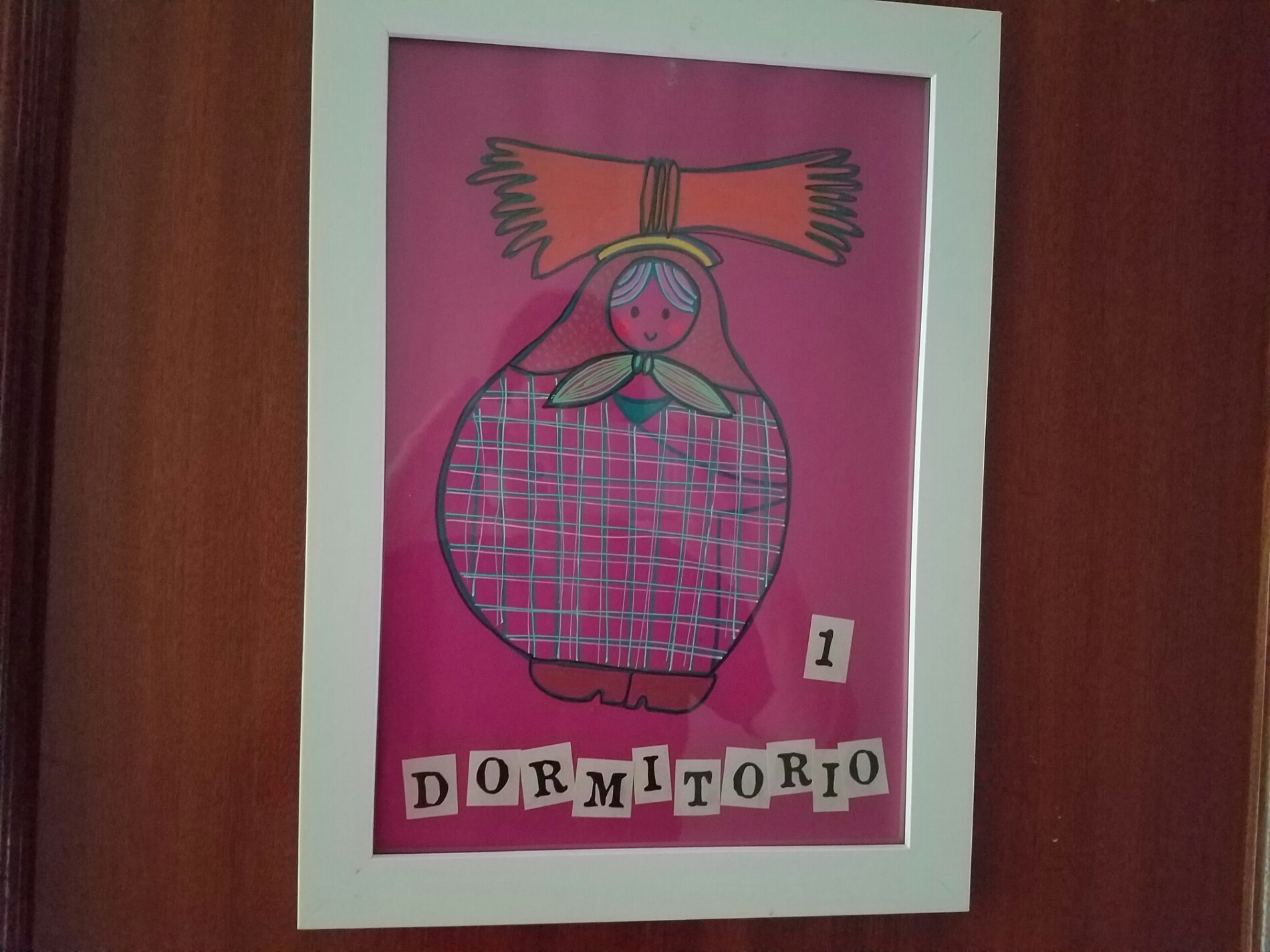 We stayed at a really nice albergue last night. It was 14 euros each but we got towels, breakfast, colorful sheets and a comfy, soft quilt in a pretty room for just four people. The hospitilier was helpful and friendly. We liked the place a lot.
Here is an album of all 11 photos we have of it.
https://goo.gl/photos/ag61qyNxHAegcowp7
From the roof of our hotel
2016-05-01 17:35

Photos Movie April 27
2016-05-01 17:43
https://goo.gl/photos/WVqb1YBca6rvm2Fg7
Google photos creates these 30 second movies of photos it selects. I thought I would post them. Three more after this one.
Photos Movie April 28
2016-05-01 17:44
Photos Movie April 30
2016-05-01 17:45
Photos Movie May 1
2016-05-01 17:46
Lots of flowers ...
2016-05-01 17:55
We did the laundry
2016-05-01 18:21
Photos Movie May 2
2016-05-03 12:55
May 2, 9.2 miles
2016-05-03 13:01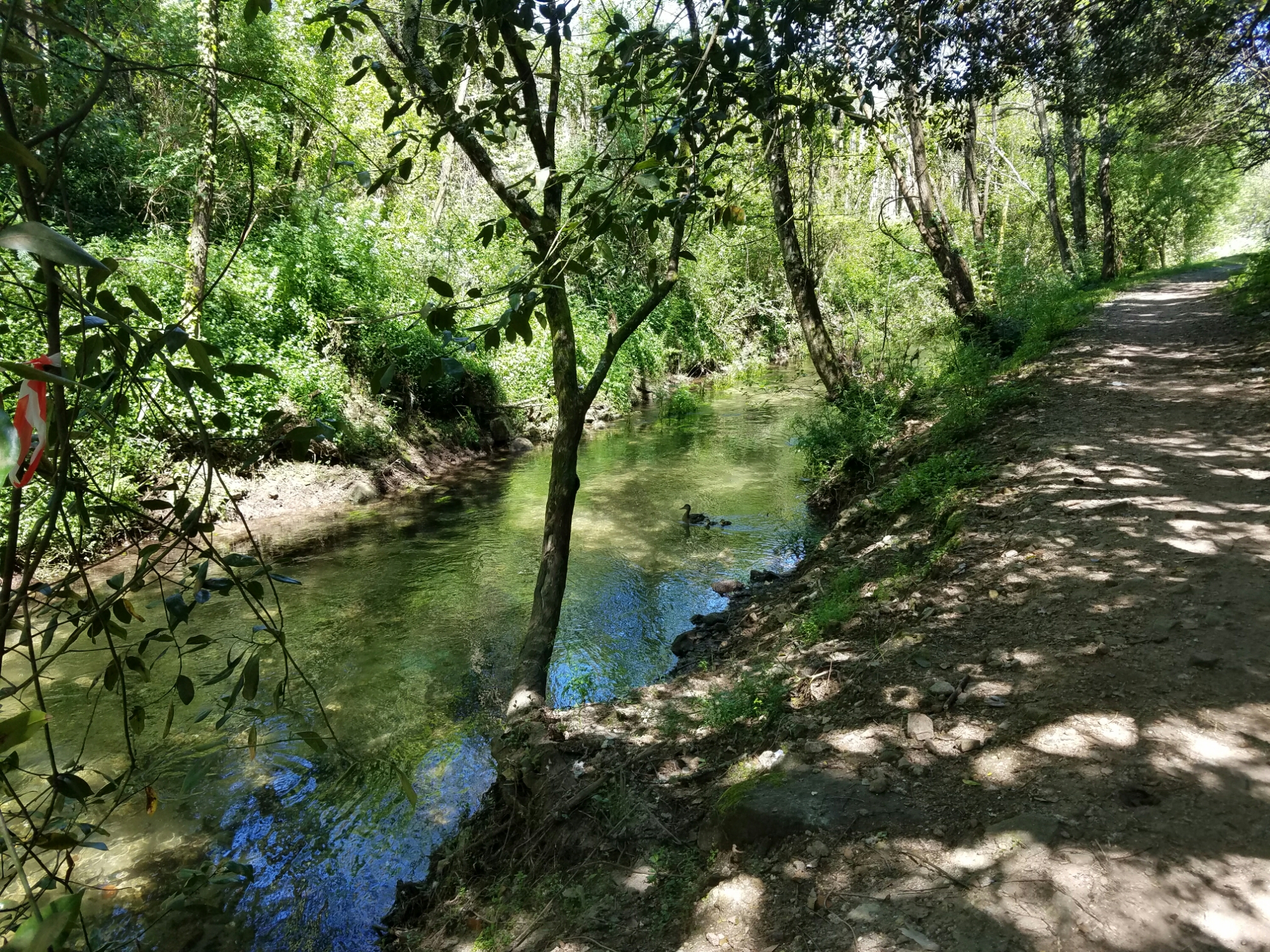 From Arcade to Pontevedra. It got pretty hot in the sun so we were tired. But much of it was along a beautiful clear stream. We saw fish and baby ducks.
Distance: 9.21mi, time: 05:47:34, pace: 37:45min/mi, speed: 1.59mi/h.
http://mapmywalk.com/workout/1454479729
Slow City Hostal
2016-05-03 13:18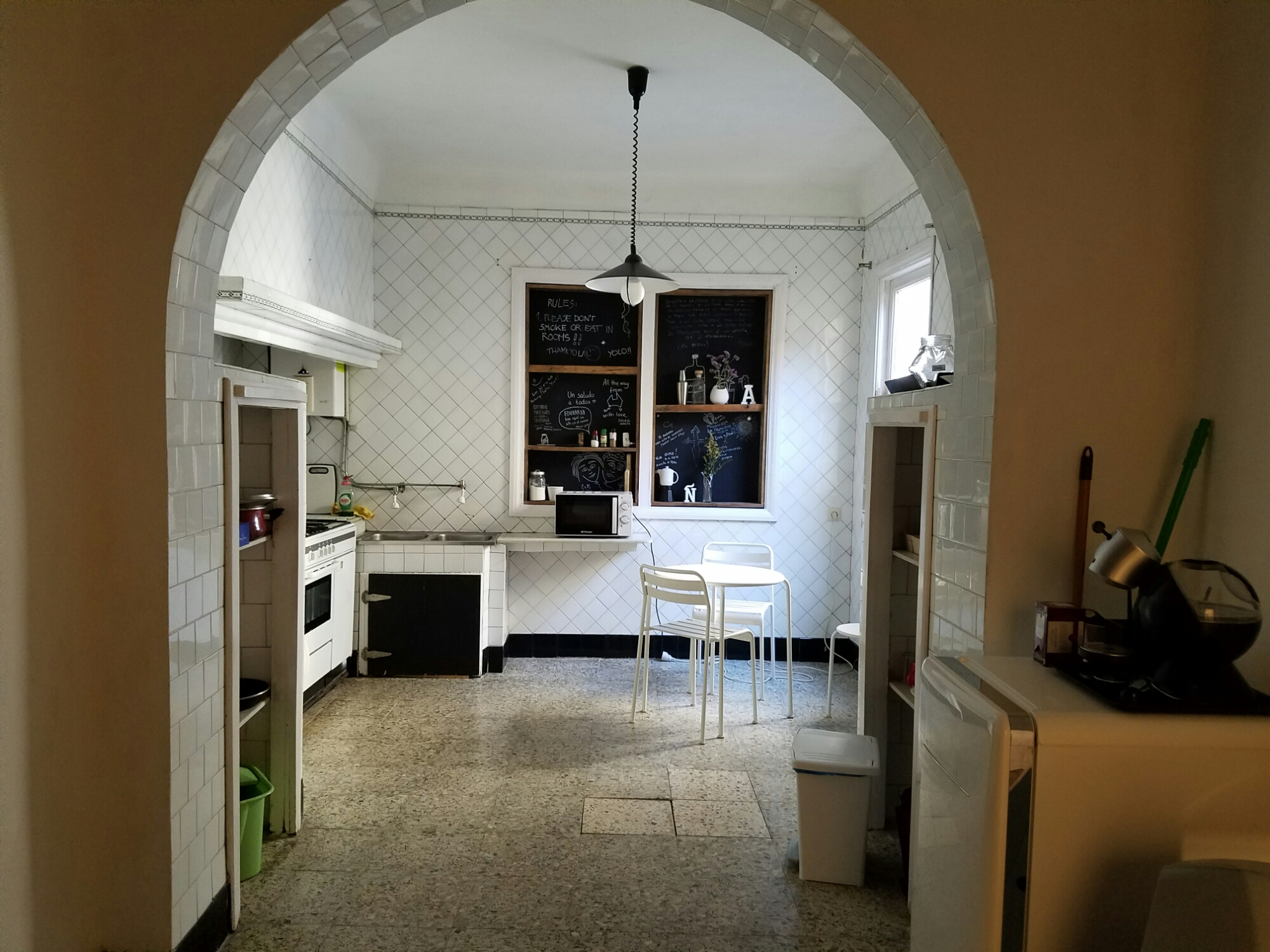 This is where we stayed in Pontevedra. For dinner, we shopped in nearby supermercado for salad and pre-roasted chicken and then ate in hostal kitchen. More photos of Slow City Hostal:
https://goo.gl/photos/Shovsmb5h4Fmj6AH8
Granite country
2016-05-03 13:26
A good use of old bed frames
2016-05-03 13:27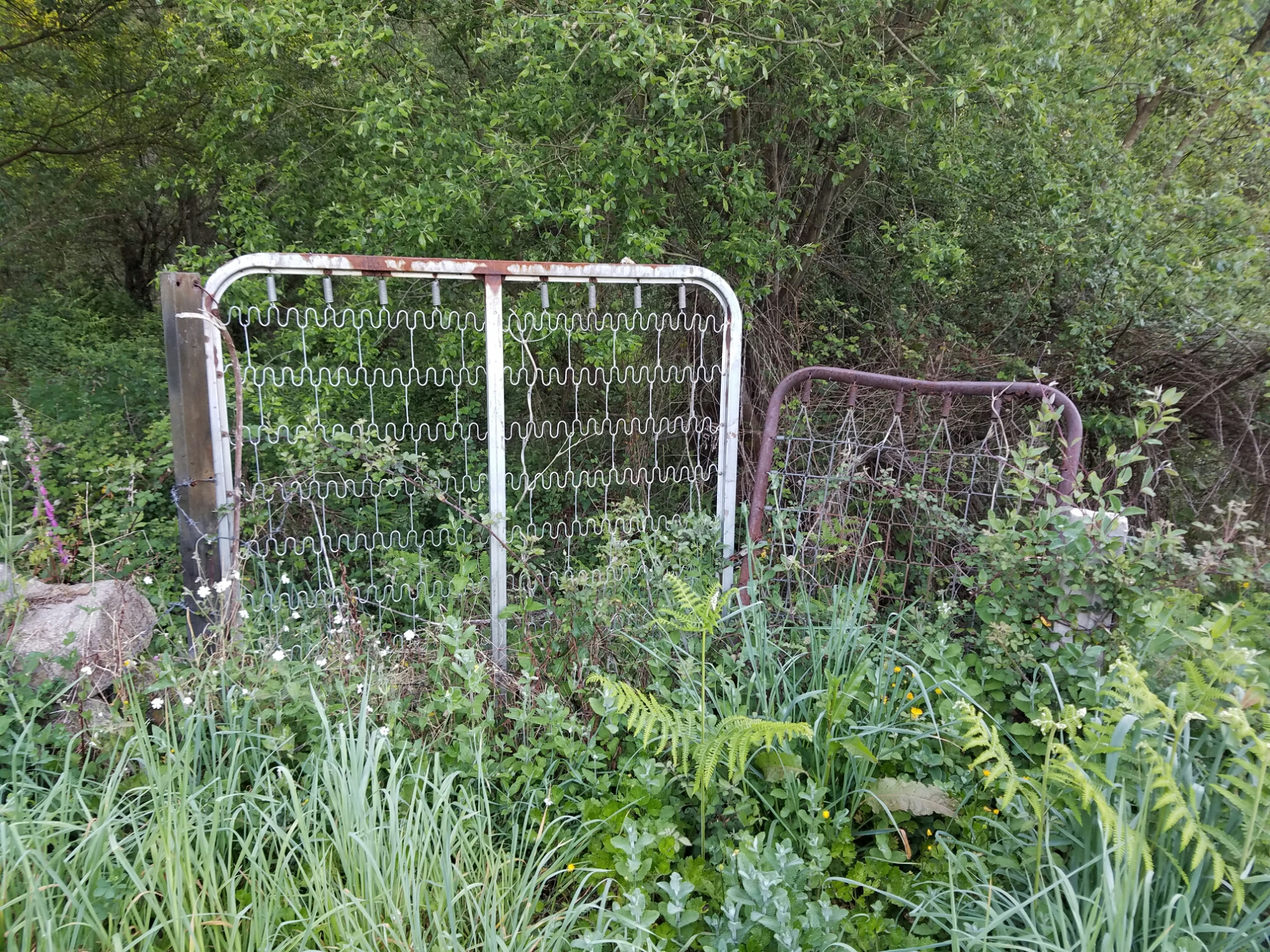 Upstream
2016-05-03 13:29
Almost daily selfie
2016-05-03 15:42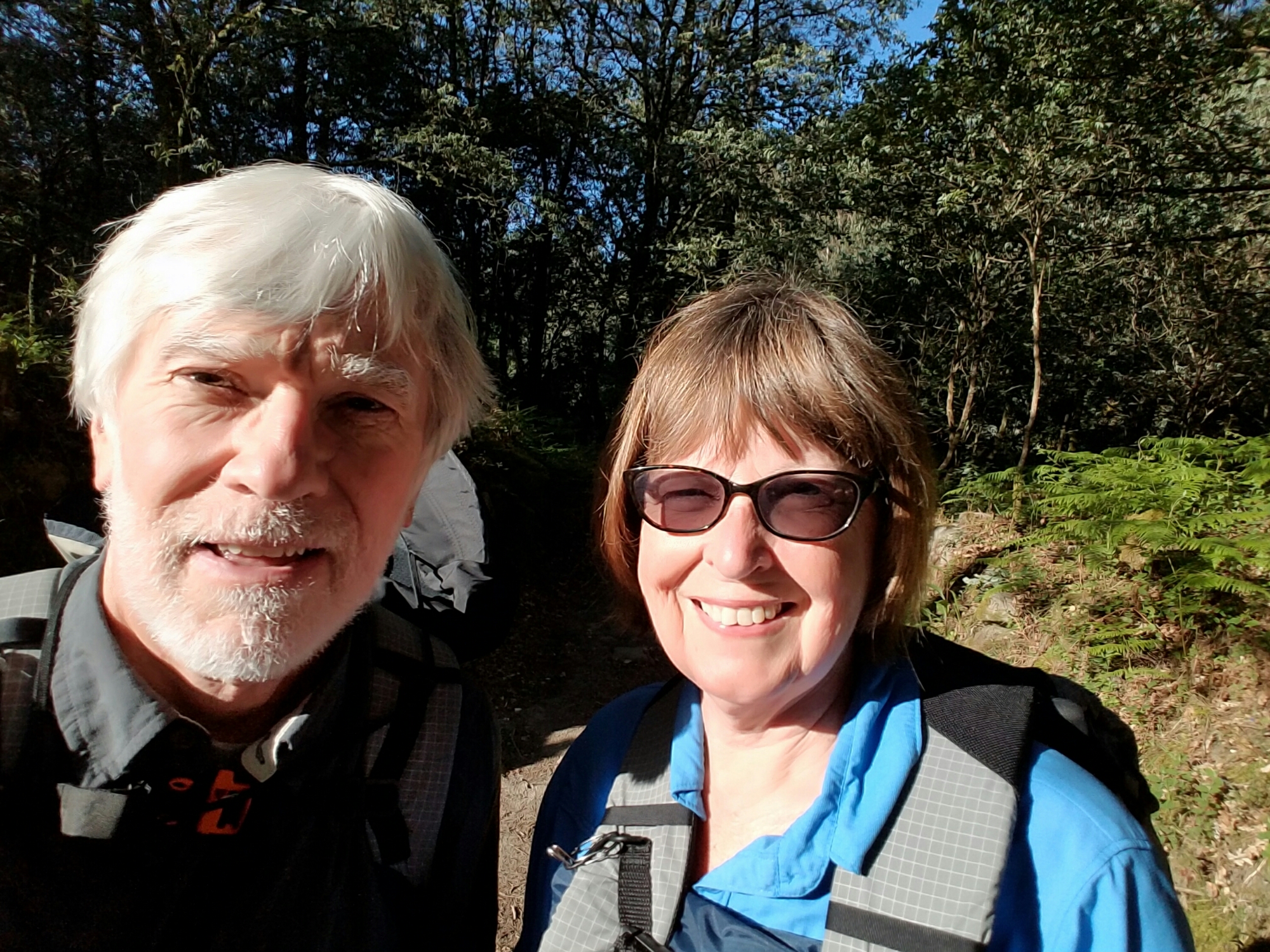 Eucalyptus and pine forest
2016-05-03 15:49
Streams crossing the trail
2016-05-03 15:52
Fountain, pilgrims and signs
2016-05-03 15:55
May 3, 7.24 miles
2016-05-03 16:04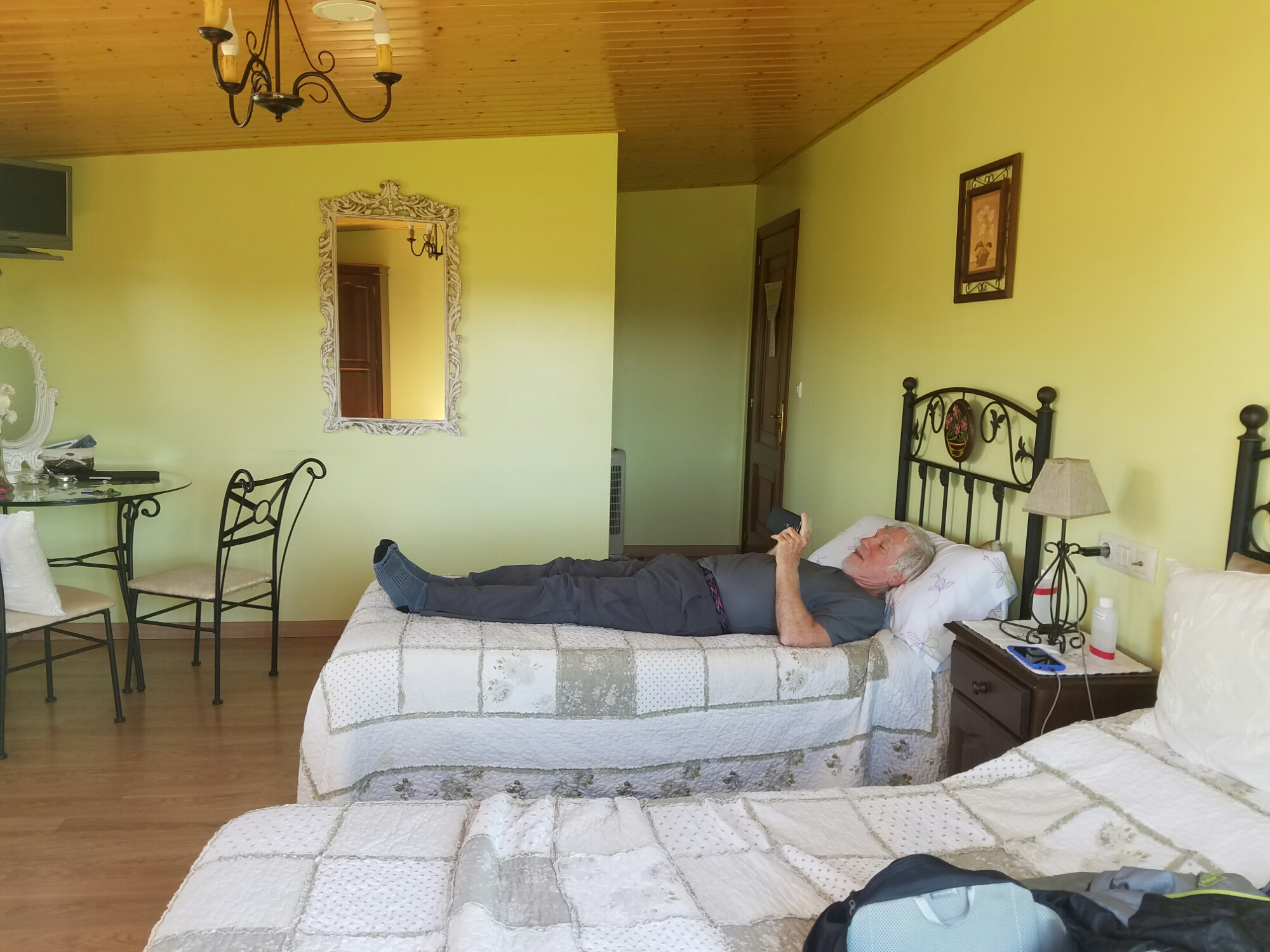 Charlie hard at work being a blogging pilgrim
From Pontevedra to Barro. We are staying in a very nice casa rural.
Distance: 7.24mi, time: 02:36:07, pace: 21:34min/mi, speed: 2.78mi/h.
http://mapmywalk.com/workout/1456029453
The Pontevedra bypass trail
2016-05-03 16:14
https://goo.gl/photos/uNKrBL664qdgWGxL7
The Camino into Pontevedra goes along a busy road. Luckily there is an alternative trail that goes beside a little river. It was lovely and one of the nicest sections of the Camino so far. Here is an album of our photos of it.
Dueling arrows
2016-05-03 16:19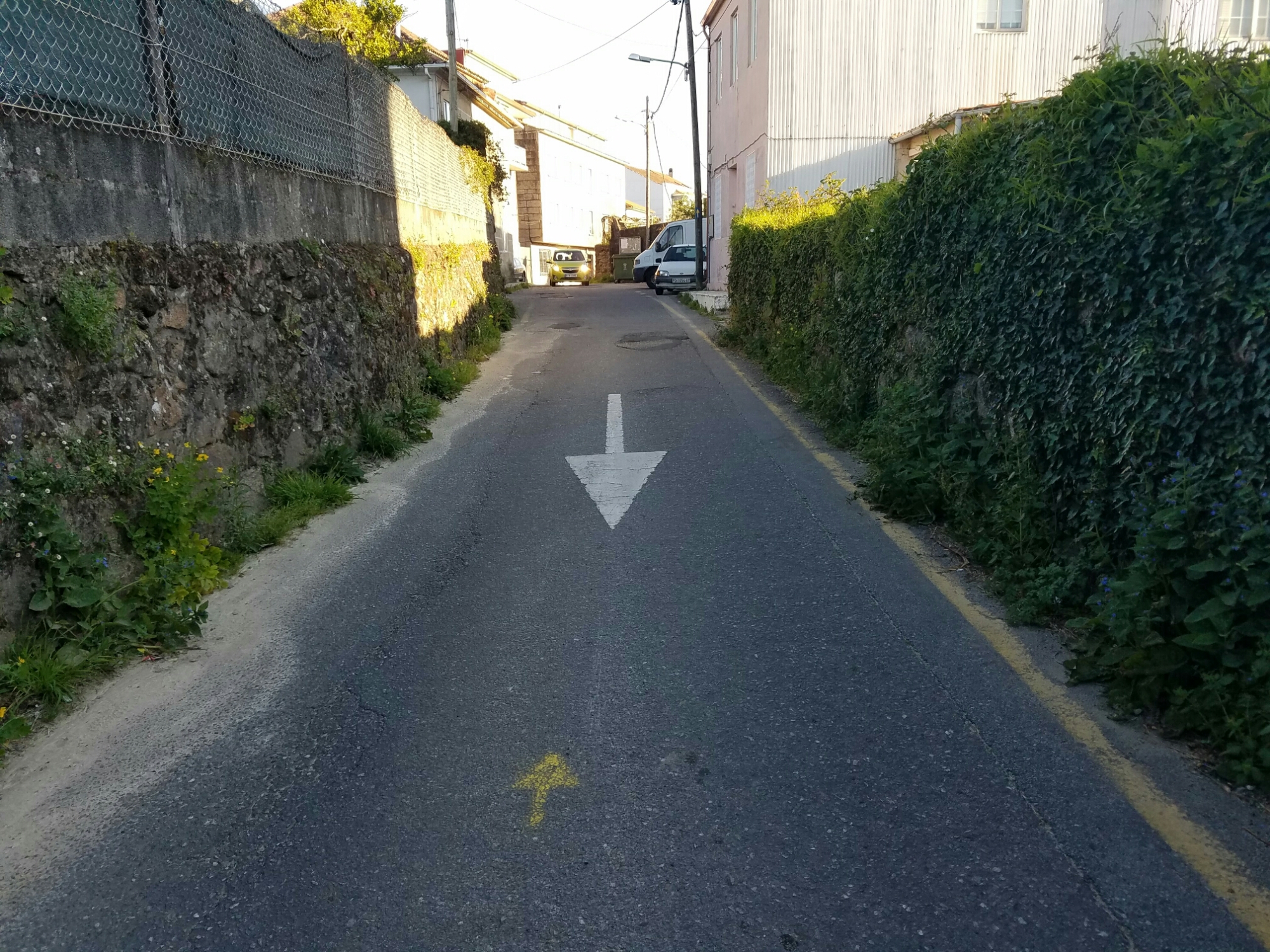 Saint Santiago on a wall
2016-05-03 16:19
Yellow arrows in Galicia
2016-05-03 16:22
Finally! A bar. Oops. Not.
2016-05-03 16:25
Photos movie for May 3
2016-05-03 19:59
A flat sidewalk
2016-05-04 17:16
Casa Rural Os Carballos
2016-05-04 17:26
Grape vines, orange tree, swimming pool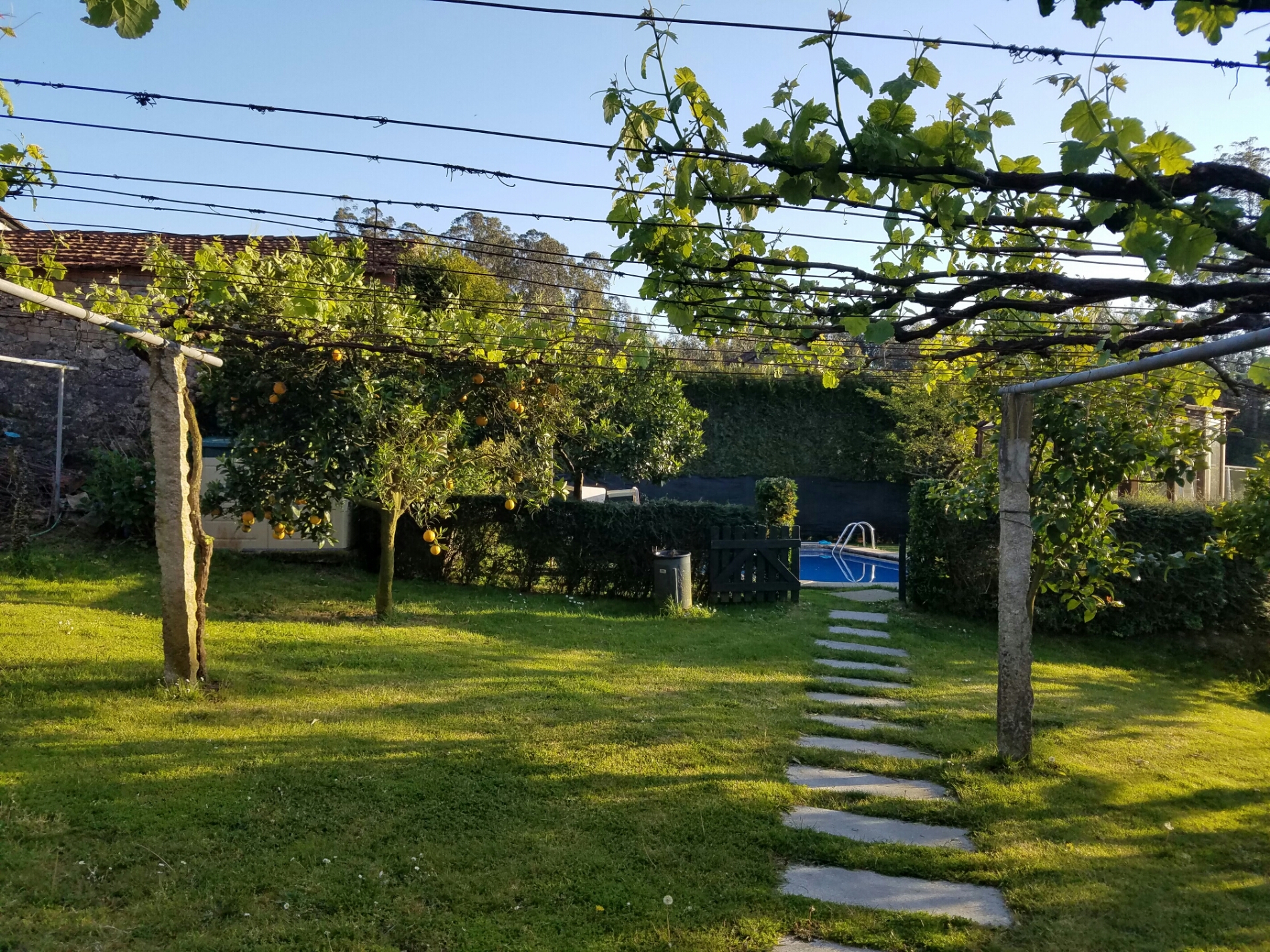 Yesterday we stayed with a very nice couple named Ramon and Amália Carballos in their house about a mile off the Camino. There were no other places near where we wanted to stop for the day so we reserved a room here. We stopped at a restaurant on the Camino named
A Eire
. They picked us up there and then brought us back there in the morning.They said the house had been in Ramon's family many generations. Their website says the house was built in 1748 and restored in 2006. It had been beautifully restored and was comfortable and so quiet. We had a picnic dinner in their back garden. We ate naval oranges off of their tree. Had lovely views out the window. Here are some photos:
https://goo.gl/photos/9inSaoTkpwuDGk9c7
He walks among us
2016-05-04 17:43
Pilgrim in middle, from Ontario, told us he'd met Brierley in a bar on the Camino three days before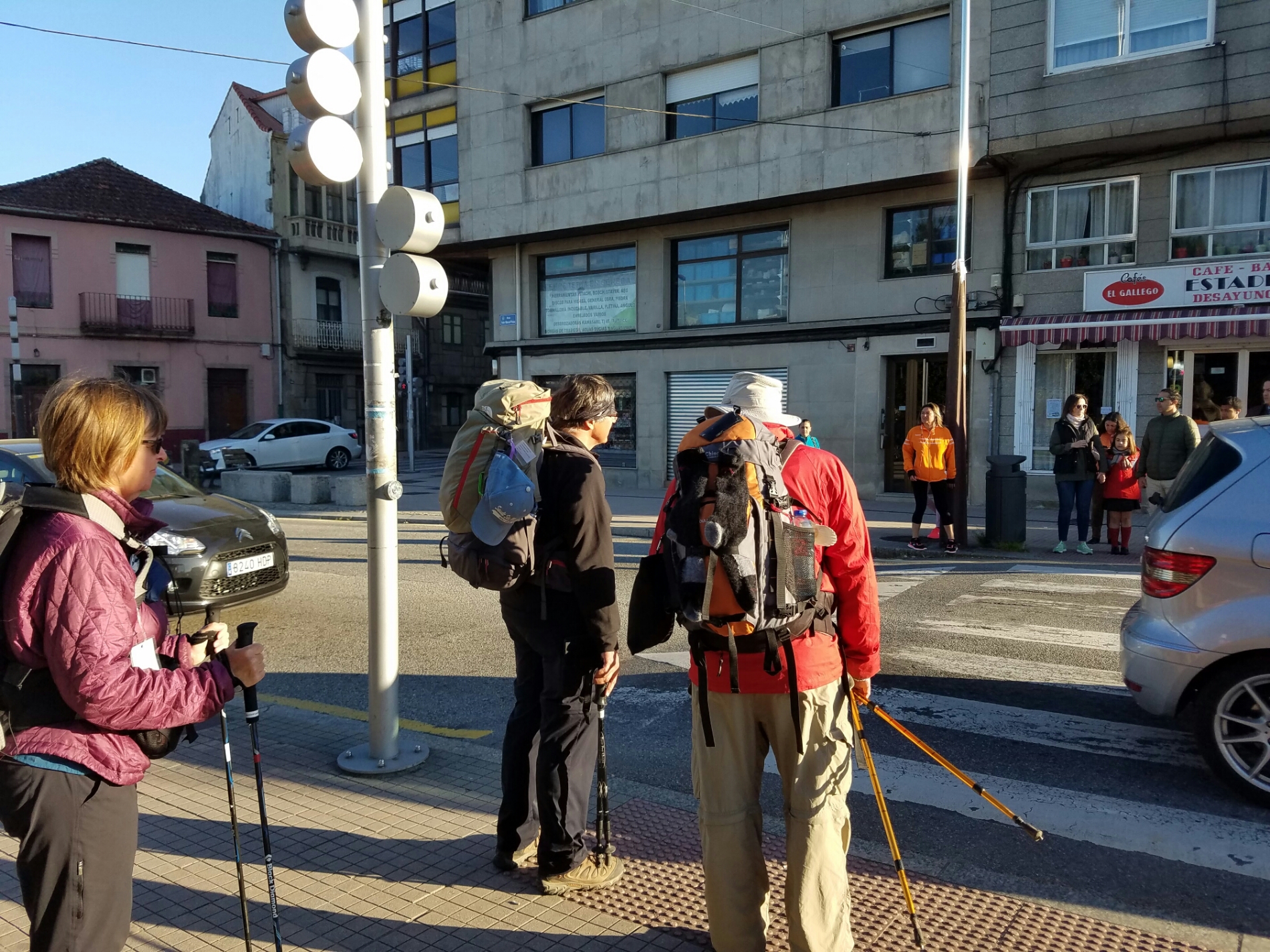 We were talking to a pilgrim yesterday and he said that he had met John Brierley on the Portuguese Camino three days before.
John Brierley is the author of the best-known Camino guides in English. We have talked about his guides in our previous Camino blogs. You can tell the English speakers because they all have Brierley. He is kind of a secular saint on the Camino.
I suppose he must have passed us although maybe when we had stopped for the day.
The guy said Brierley is continuously walking the various caminos, presumably keeping his guides up-to-date. He has guides for the Camino Frances (the main one), the Camino Portuguese (which we are on now) and the Camino Finisterre (which we will start on after we reach Santiago in five days). We have all three guides.
Here is a link to John Brierley's
author page on Amazon
.
Weather: "Good" or "Bad"?
2016-05-04 17:50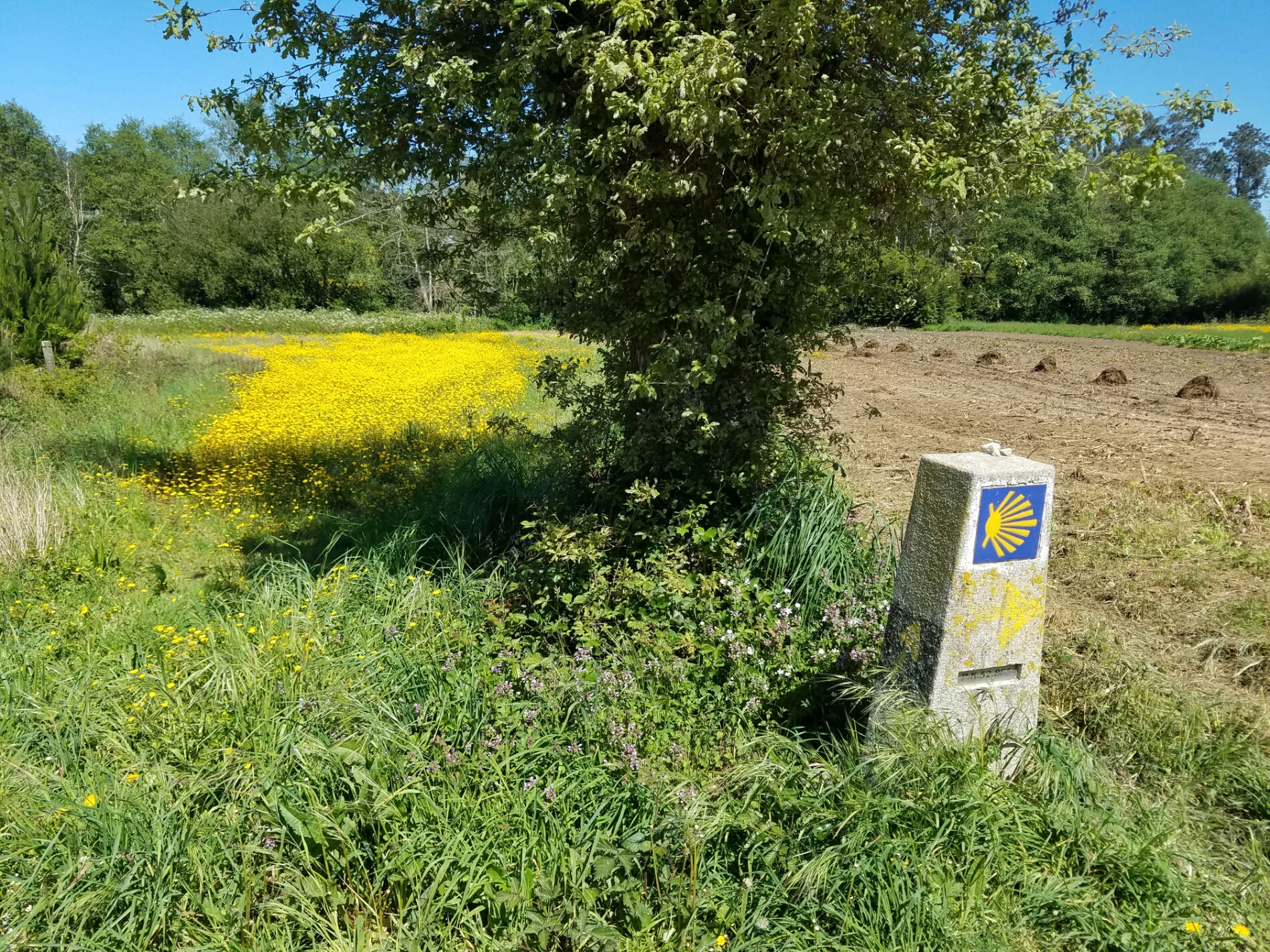 The weather was cold and rainy on the Camino for a few weeks before we started on April 15. When we first got here we had a few days of clouds and rain but then it cleared up and we have had sun for at least 10 days. Tomorrow the weather is changing again and it looks like at least 10 days of clouds and off and on rain.
Most people here insist that we have been having "good" weather. For us, it has been hot walking in the sun. We like the clouds days. We don't like heavy rain but light rain off and on is fine. That is, we think the "bad" weather is "good" weather.
Many people on the Camino are from northern Europe which has a lot of cold and rainy weather. Being from New Mexico we love the clouds and the rain.
When we stop at a bar most of the pilgrims are sitting outside in the sun after walking hours in the sun. We hide inside where it is dark and cool.
May 5, 12.1 miles
2016-05-05 16:35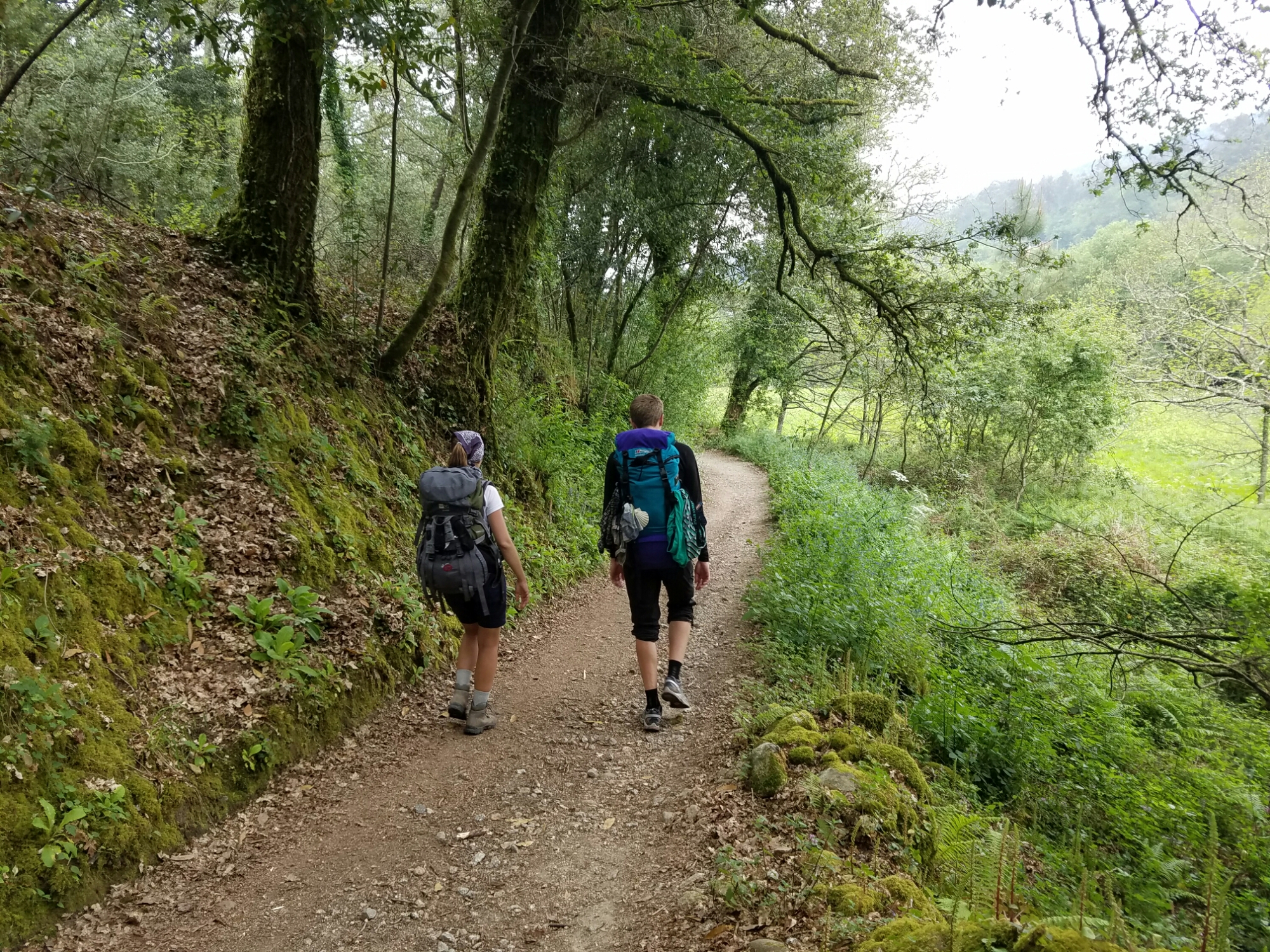 From Caldas de Reis to Patron, our longest day of this trip in both distance and time. It took 7.5 hours. But it was a nice day. It was overcast all day so it wasn't hot. A slight drizzle for the last two hours but not enough to put on our rain coats. We went through some pretty country. Galicia is green green green.
Have a nicely day!
2016-05-05 20:11
(Very) Hot Springs
2016-05-05 20:15
Comparing Caminos
2016-05-05 20:29
In two days we will be in Santiago and finish the Camino Portuguese from Porto. A natural question is how it compares to the Camino Frances (the most popular Camino)

The Camino Frances goes through many small, even tiny, towns in Northern Spain. Many of these towns would not be viable if it were not for the business the Camino pilgrims bring to the towns. They are often ramshackle with many derelict buildings. It usually goes along the same paths that the medieval Camino went along. So you are traveling in their footsteps.

The Camino Portuguese seems newer. I don't know all the history but there can't have been nearly as many pilgrims going along this path in Medieval times, maybe very few because the Muslims controlled all of Iberia except for the northern part.

The current Camino
May 4, 6.33 miles
2016-05-05 20:45
Photos Movie May 5
2016-05-06 13:40
https://goo.gl/photos/ok9WGcyXPxU9C6Wn9
I forgot to say that you should turn the sound off for these photo movies. Google chooses the music.
May 6, 9.9 miles
2016-05-06 16:45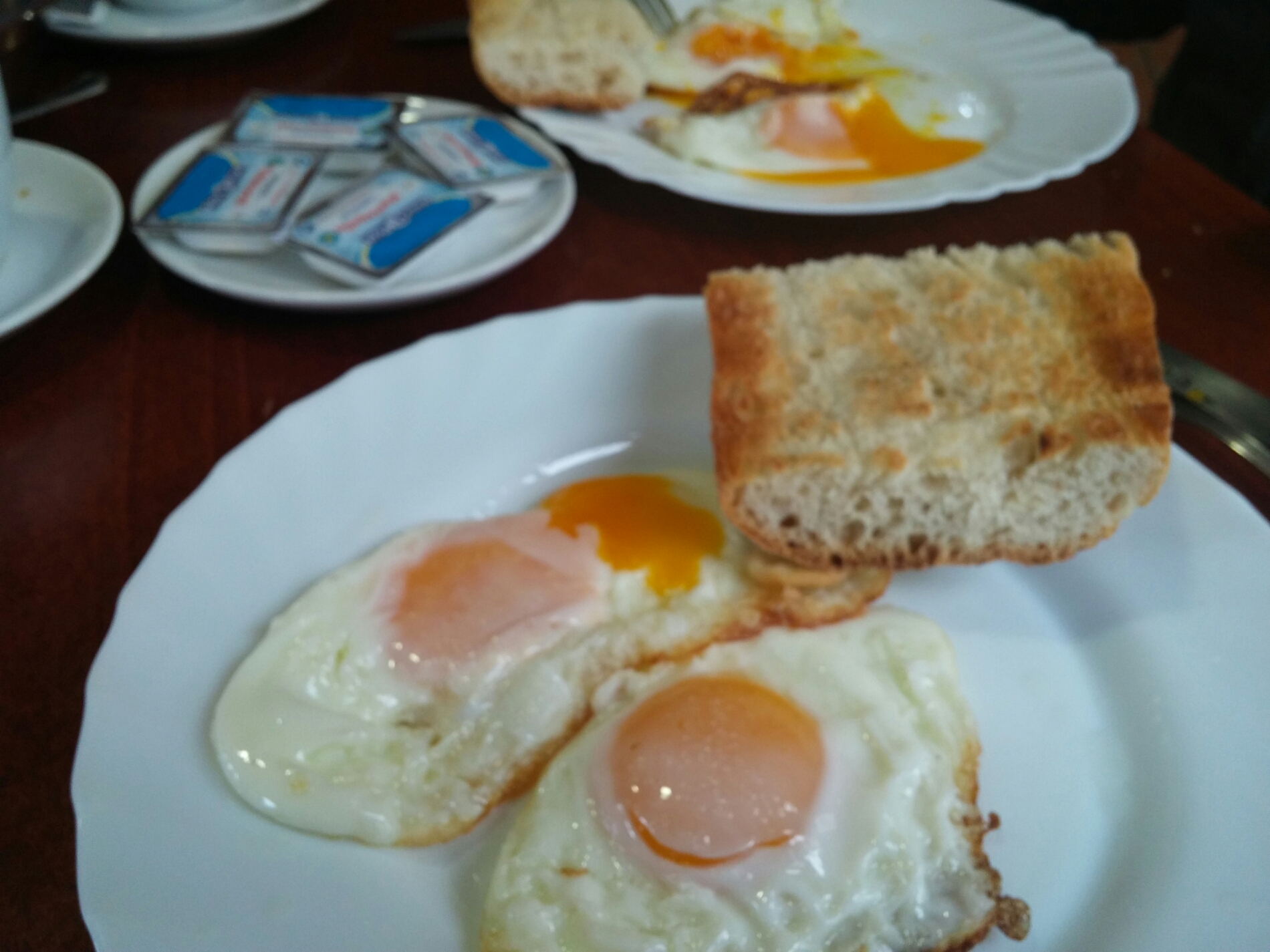 From Padron to Raices. Six hours on the road from door to door. We stopped for breakfast (fried eggs, as usual), coffee, and lunch/dinner (pilgrim's menu). Now staying at casa rural Casa do Cruceiro. My MapMyWalk app records the distance. I had 2:41 moving time over that six hours for a rate of 3.7 mph. Why is the time so low? The app is very aggressive about pausing when you stop (it is an option). If a stop for even a few seconds it pauses the timing. So it pauses every time I stop to take a photo. Also I walk a little faster than Wynette so I usually go out ahead for a few hundred feet and then stop in some nice place and wait for her to catch up. Those stops apparently add up. If there is sun, as there has been, I walk quickly to the next shady spot and wait there. I like that kind of walking. It gives me time to check my phone a lot. I monitor the tracking app to see how far we have gone. If we are within a few miles I have a map walking directions set up so I know how far to the hotel. I check the Brierley map a lot to compare it with the landmarks we are seeing and to see how long before a bar where we can make a rest room stop. I check the weather.
Small pleasures
2016-05-06 16:58
There is an old joke about a guy who would hit himself on the head because it felt so good to stop. We find small pleasures in a variant of that. The Portuguese Camino is mostly country roads and forest paths but sometimes we have to walk along a busy highway for a while, maybe a quarter to a half a mile. The photo shows the end of one of those half miles. It is such a thrill to get to the cut off and see those yellow arrows pointing down a quiet country lane.

We are hardly roughing it but after a long walk it feels great to stop at a cafe or rest in your room.
WC (vee chee) ettiquette
2016-05-06 18:00
In Caldas de Reis we were at a bar and I went to use the bathroom. I checked the door and it seemed locked. A woman came up and checked the other door (they were labeled men and women) and it seemed locked. We waited 2-3 minutes and then our businesslike waitress came up and pushed hard on her door and it opened and was empty. She did the same with mine. Very matter-of-fact, no sense of "stupid tourists". I feel embarrassed to rattle a bathroom door but I guess you have to do it. In our defense you had to push the doors pretty hard to get them to open.
Comparing the Caminos
2016-05-06 18:34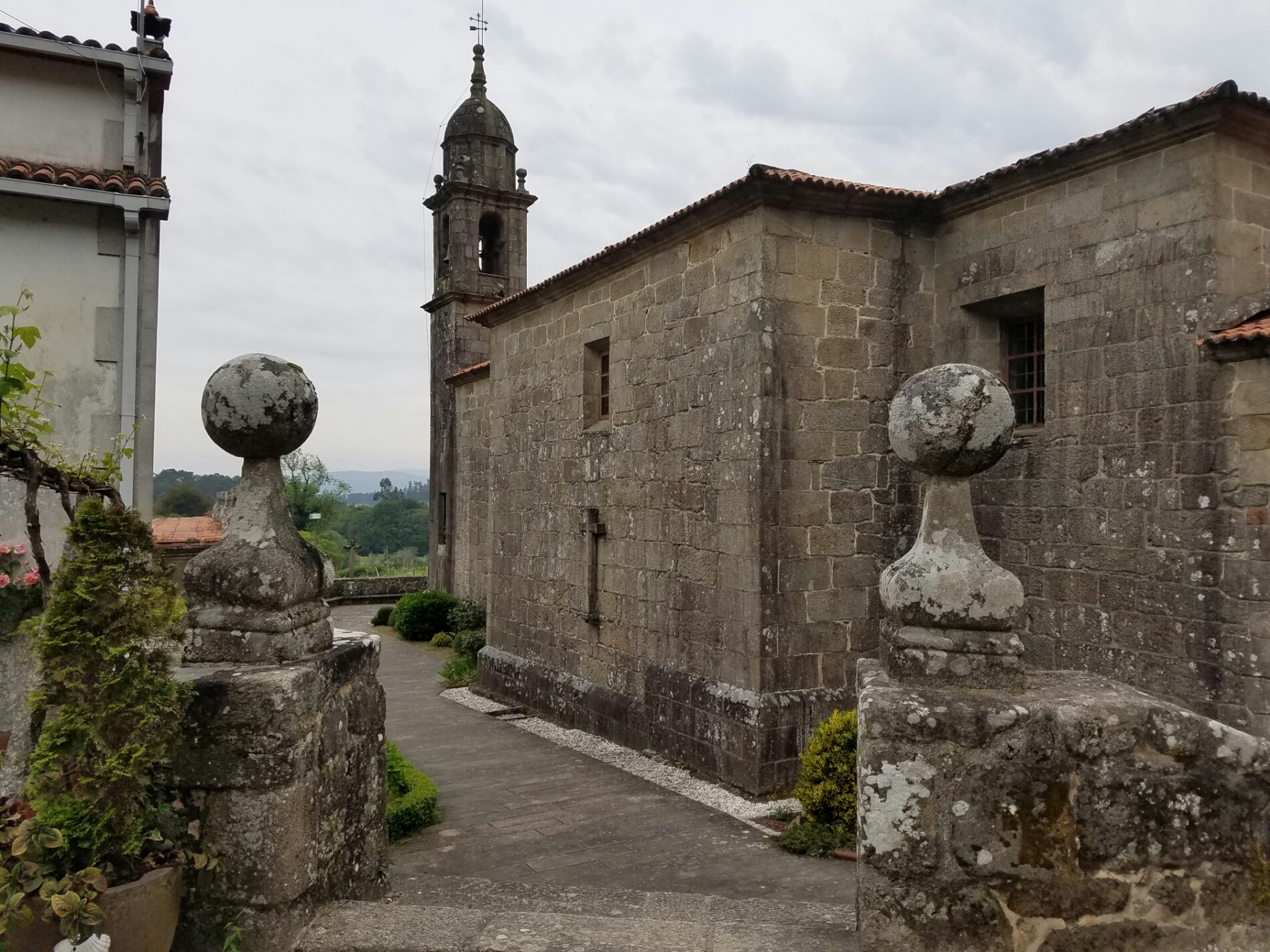 Tonight we are staying just five miles from Santiago.  We want to get there early to attend the pilgrim's Mass and have a day in Santiago. So we have almost finished the Camino Portugués. After one night in Santiago we continue to the Camino Finisterre to Finisterre and Muxia.
We have really liked the Portuguese Camino but it is different than the main Camino,  the Camino Frances which goes from from St. Jean in France and then crosses northern Spain.
There has been a big effort to improve the Portuguese Camino path, at least from Porto to Santiago where we went.  While there is some highway walking, the trail is mostly on forest paths and country roads.  The country roads are very quiet,  maybe a car every five minutes or maybe every half hour. We walked through some very pretty country.   Northern Portugal is climatically similar to Galicia and they both are very green. This time of year wildflowers are everywhere.
Water runs beside most of the forest paths. Sometimes water runs in the path itself. There are small rivers everywhere and large rivers through all the larger towns. Several other pilgrims we talked to mentioned all the water.  It flows everywhere and is clean and clear.   Quite a treat for people from New Mexico.
Many of the paths and roads go by people's houses.  We see lots of flower gardens.  Either everyone has a gardener or they take a lot of time maintaining their place. Perfectly trimmed topiary, camelias,  azelias, bird-of-paradise, and many many others flowers, all carefully tended. We've probably seen hundreds of blooming wisteria bushes. Mmm, the smell. We've also seen literally hundreds of well-tended vegetable gardens.
Often it seems less like you are walking through villages and more like you are walking through suburbs,  but not in a bad way,  pretty houses, varied styles and colors, not all lined up or anything.  It is clear everyone has city services (water,  sewer,  gas,  electric,  phone).
This differs markedly from the Camino Frances. There, not everywhere, but in many long stretches, you go through old villages that are barely hanging on.  The places are not well kept up. We don't think many people live in these towns,  just people servicing the pilgrims. In many villages most of the buildings are so old and run-down that it is hard to imagine anyone living in them. But they are beautiful in their own way and you feel the history. And even in these run-down places there are very nice albergues, hotels, restaurants, bars, all the things you need as a pilgrim.
The Camino Frances, being the "main camino" has many more pilgrims. This can be a good thing. Of course, there are also many more albergues, bars, etc.
Most of the Camino Frances goes through farm country but, until you get to Galicia, it is mostly huge farms of wheat and such. Very pretty in the spring when it looks like mile after mile of green grass. Probably very pretty golden fields before it is harvested as well. Also huge fields of sunflowers - - bet those are beautiful if you catch the bloom just right. And in the Rioja region you go through miles of grape vineyards. And there are amazing haystacks.
The Galicia of the Camino Frances is mostly dairy country but the Galicia of the Camino Portuguese is mostly grape and wine country. This gives them a quite different feel.
The Camino Frances is an ancient pilgrimage route,  heavily used in the middle ages and you have a sense of walking along the same paths as those pilgrims did. The old villages give a sense of the traditional. So there is a spirituality that you feel that is strong.
It makes me think a bit of Chaco Canyon in New Mexico. When you go there you get a sense of the people who lived there a thousand years ago and you feel you are walking with them.  I am not much of a believer but I felt it there and on the Camino Frances. Should this history matter?  Maybe not.  Does it matter.  I think it does. Even if it is something like a placebo effect, it is real.
The Camino Portuguese does not seem to have that kind of history.  You don't feel you are walking in ancient paths because they have rerouted all the paths around the towns and along lovely river banks. Is this nice?  Yes,  definitely.  Is this spiritual.  Well,  maybe not. Or at least you have to bring the spirituality with you.
We have loved walking the Camino Portuguese but we are glad we walked the Camino Frances first. It is more strongly a spiritual walk.  The CP is more of a great walk in the forests and nice areas of Portugal and Galicia.
And by great walk I mean that the area is green and beautiful.  There are cafes every few miles where you can sip coffee and have snacks or full meals. There is lots of accommodation in all prices ranges,  including the $7 a day price range. There seem to be only nice people who are happy to provide what you need. There are other pilgrims who are doing the same thing as you and love to talk about it.
Spain and especially Portugal are quite inexpensive and everything costs less than you think it will.
The Portuguese Camino is also very well marked with the lovely yellow arrows that tell you where to go.  I obsessively check the maps but I enjoy it,  there is no real need to have a map at all.  Just follow the markers. It is very relaxing.
April 7, 6.7 miles
2016-05-08 13:59
Rainy day in Santiago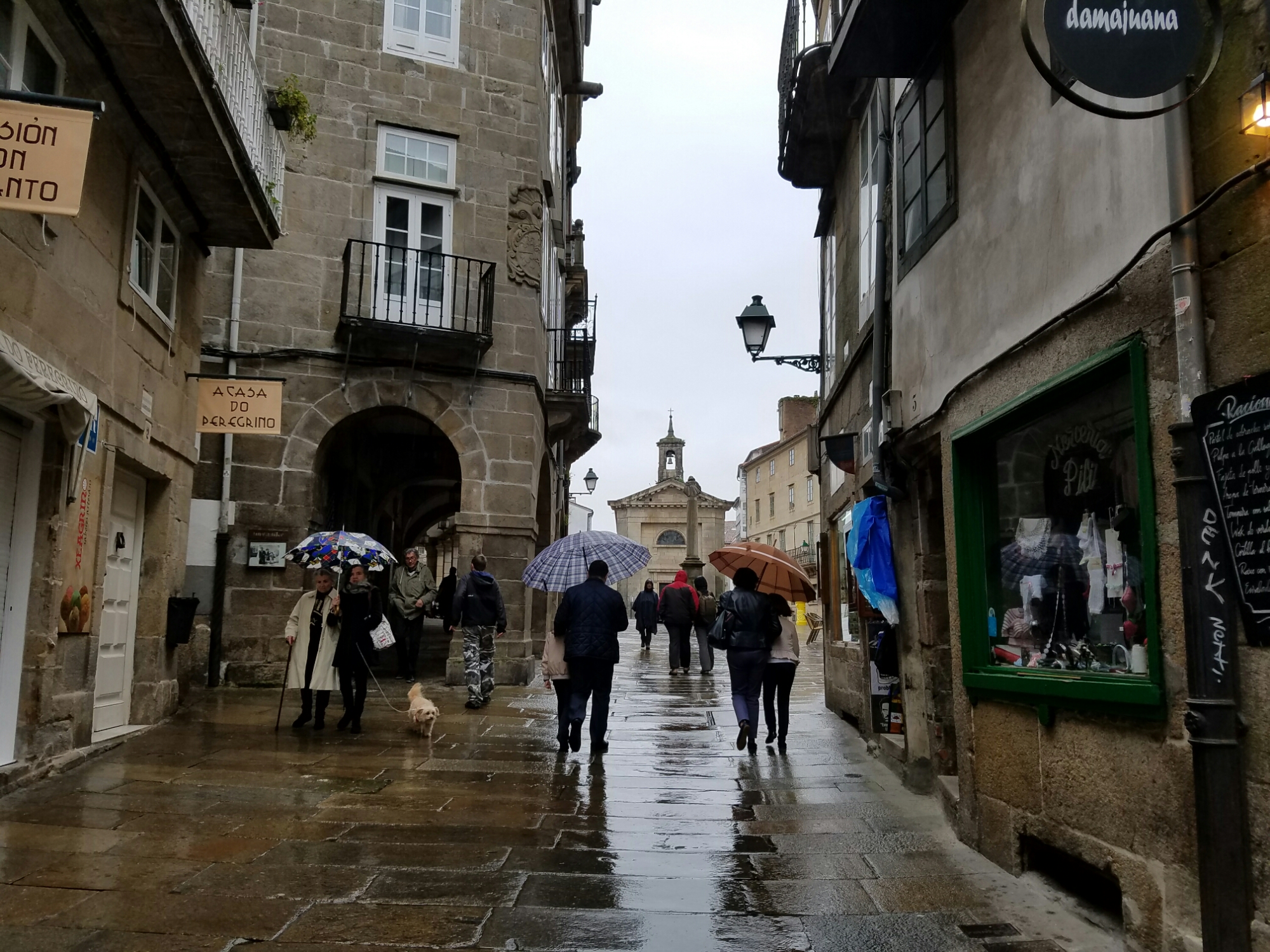 From Raices to Santiago de Compostela! We finished the Camino Portuguese. An easy day. Very pretty especially considering how close we were to Santiago which is a fairly large place (around 100,000). There was a light rain all day, or what we call good weather. Cool and refreshing.
We encountered a bike race on the way in. We'll do a post on that later. We had lunch at our favorite place in Santiago, Casa Manolo, and it was as good as ever, and still crowded. We walked around Santiago in the rain.
We listened to a band playing on a covered stage to an empty square, a few people around the edges, close to the building to avoid the rain. We'll have a post on that also.
We went to get of Compostela but the line was 1.5 hours! We know that because we walked over there with another pilgrim who waited. We left and saw him later. We went back at 7:30 pm and the line was 10 minutes so we got them.
We're staying in a little apartment; very nice, with a kitchen and a washer/dryer.
Waiting in line for the compostela
2016-05-08 14:11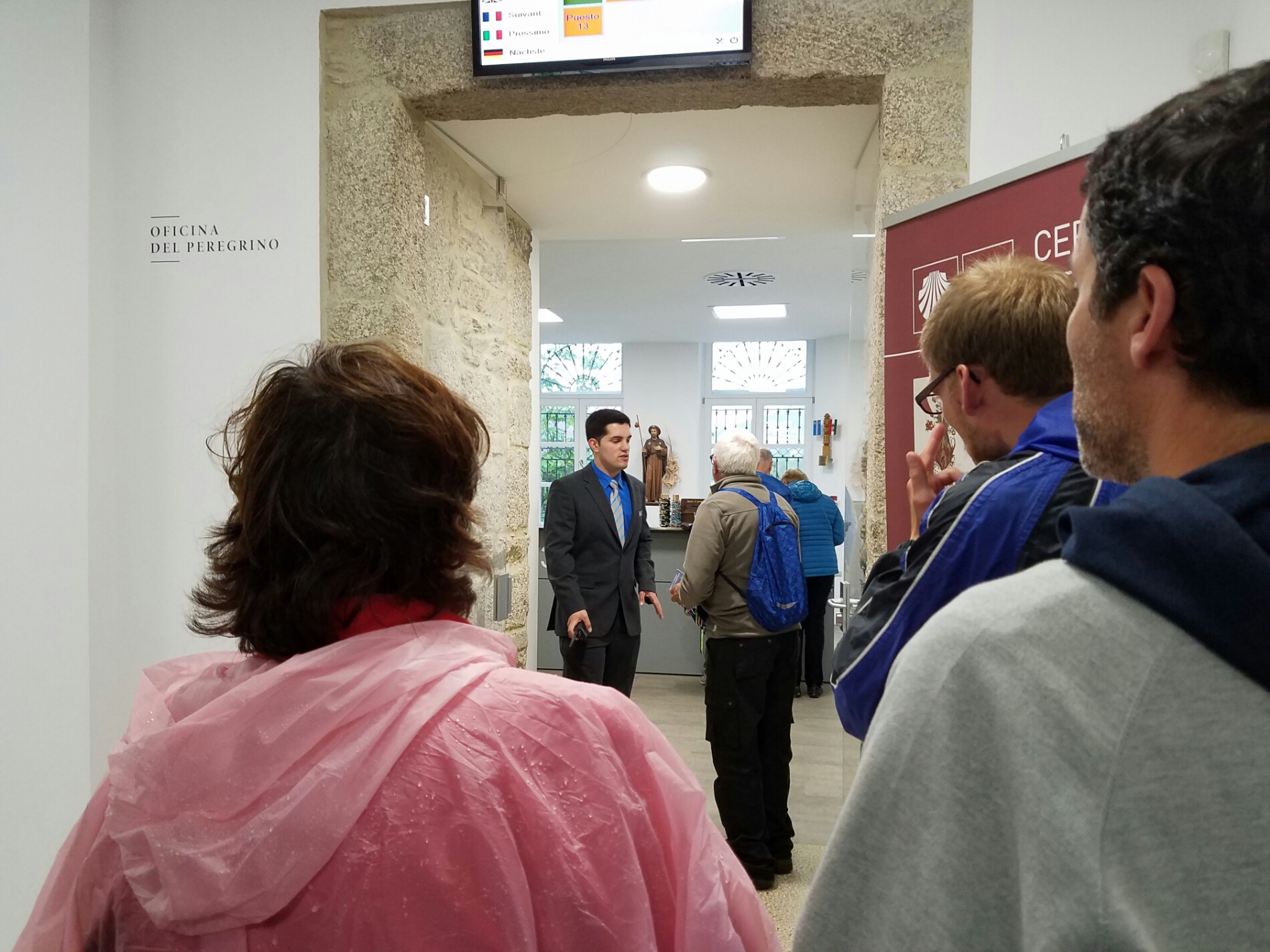 When you finish your Camino in Santiago, the thing to do is go to the pilgrim's office and present your pilgrim's passport which has the stamps you have collected along the way to prove where you have been. They get information from you for their statistics, where you started, your nationality, your age, your occupation, reasons for doing the Camino, and then they give you a pretty certificate called a
Compostela
.
So, we will be included in the numbers given by
the pilgrim's office website
when numbers for May are released.
The pilgrim's office has a computer screen above the door which tells you when the next clerk is free just like at the MVD. Maximum of 13 clerks, 4 active when we were there.
At Santiago Cathedral
2016-05-08 14:13
Coffee at Cafe Tertulia
2016-05-08 14:16
School outing?
2016-05-08 14:20
Cute little building, overgrown
2016-05-08 14:23
Pilgrims in the rain
2016-05-08 14:24
Music in the rain
2016-05-08 14:39
https://goo.gl/photos/uxqFJ1sWj55VJMYW7
I suppose this was scheduled months in advance. The music was good but the rain discouraged standing and listening. I suppose the vendors were disappointed. The album has several videos so you can hear the band.
Lunch in Santiago
2016-05-08 14:42
The bicycle race
2016-05-08 17:00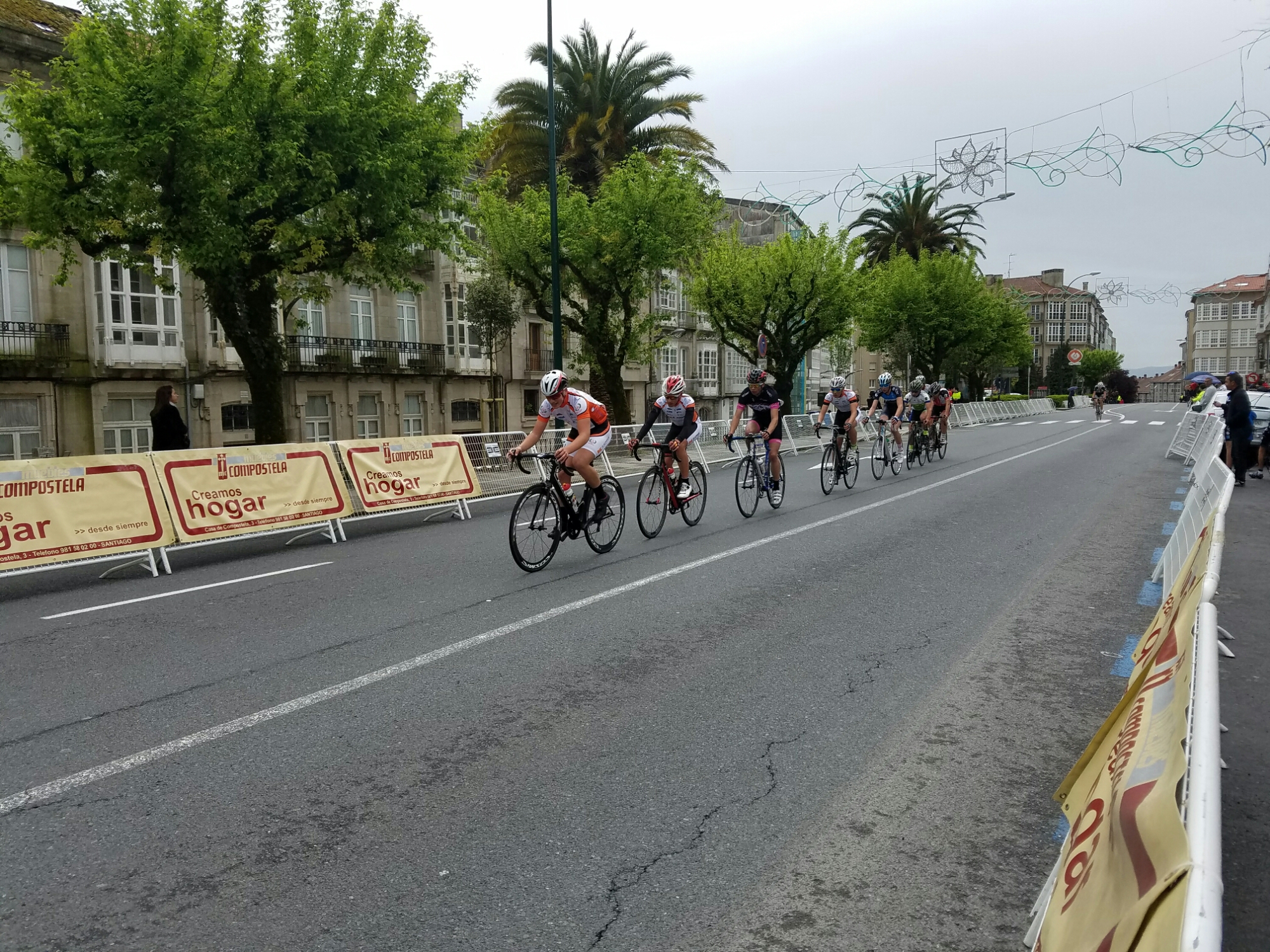 More photos :
https://goo.gl/photos/2D2XYkXuj6dhtmVBA
As we were walking into Santiago  we ran across a bike race. They had half the street blocked off.
As we were waiting at the corner for some riders to pass two bicycles crashed just in front of us. We aren't sure but we think no serious injuries but the two riders were disappointed. We didn't want to take pictures of that but we got other pictures of the race.
May 8, 6.8 miles
2016-05-08 17:20
Just outside Santiago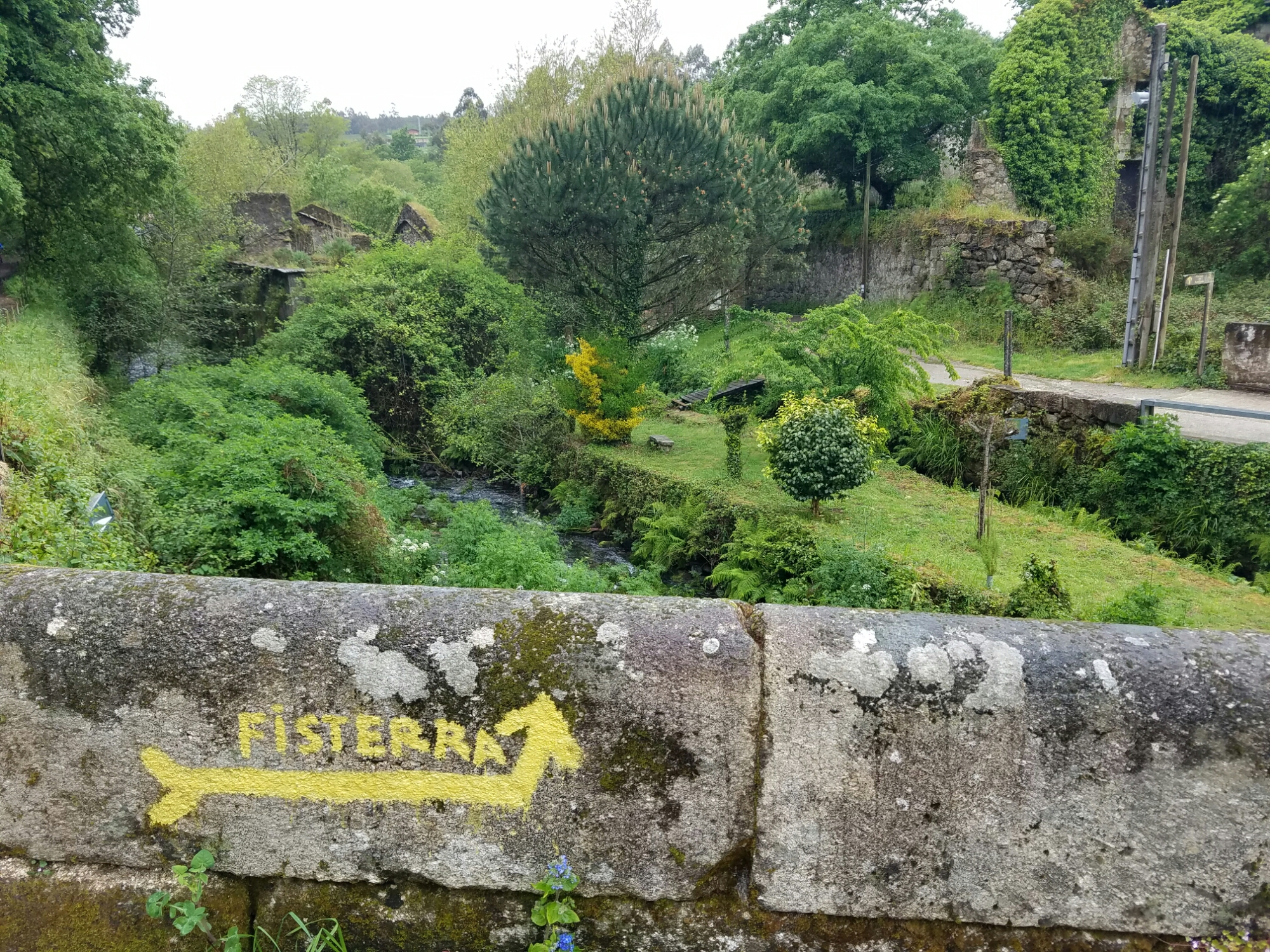 Today we walked from Santiago to Alto do Vente. We are now on the Camino Finisterre! (
Fisterre
in Galician.) A light rain off and on the whole walk. A beautiful walk through lovely rural Galicia. We are staying at a casa rural, Casa Riamonte, very pretty.
Charlie blogging at Casa Riamonte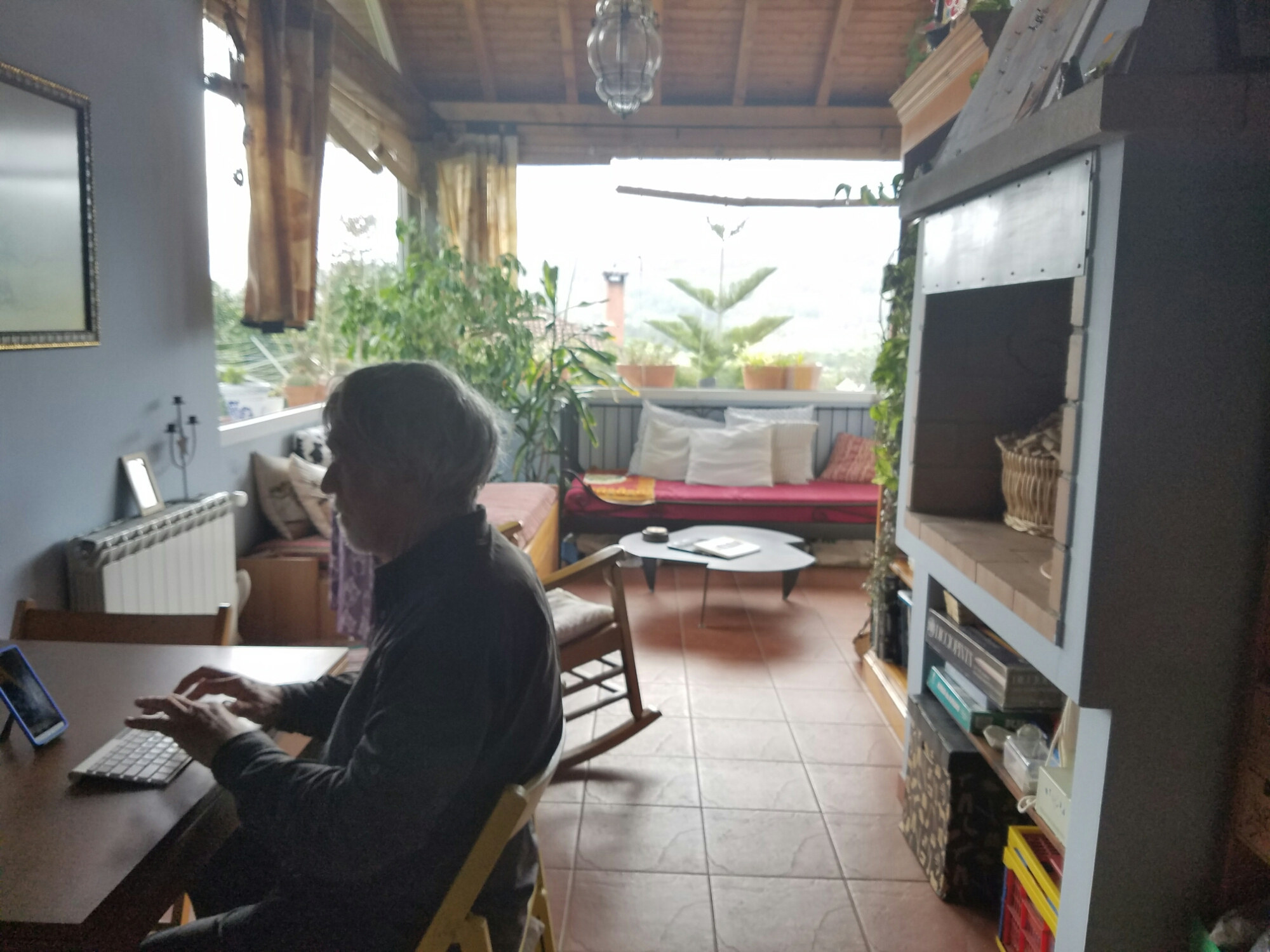 May 9, 7.2 miles
2016-05-09 13:10
Mirror selfie in Galicia
2016-05-09 13:14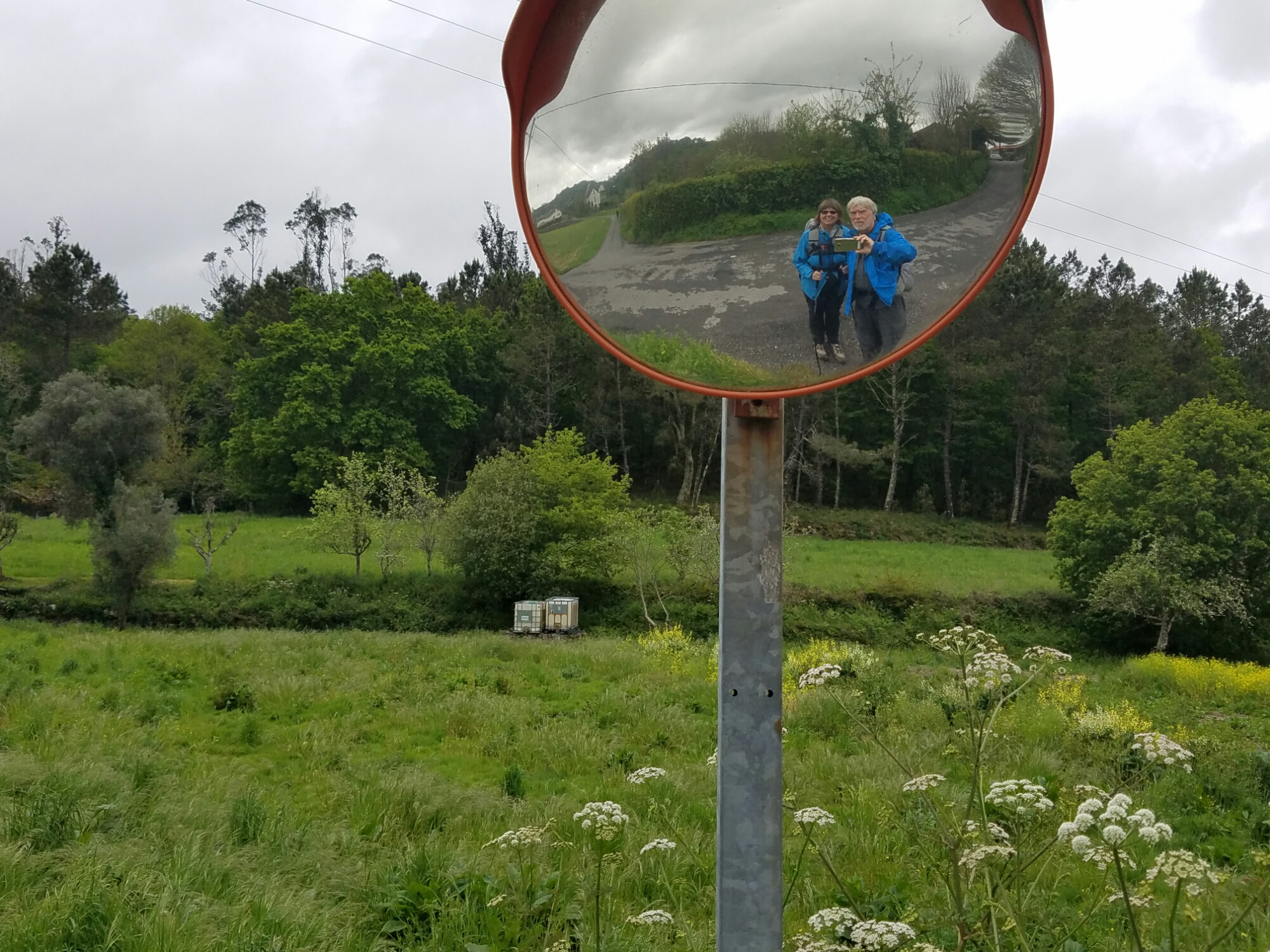 Ponte Maceira
2016-05-09 13:17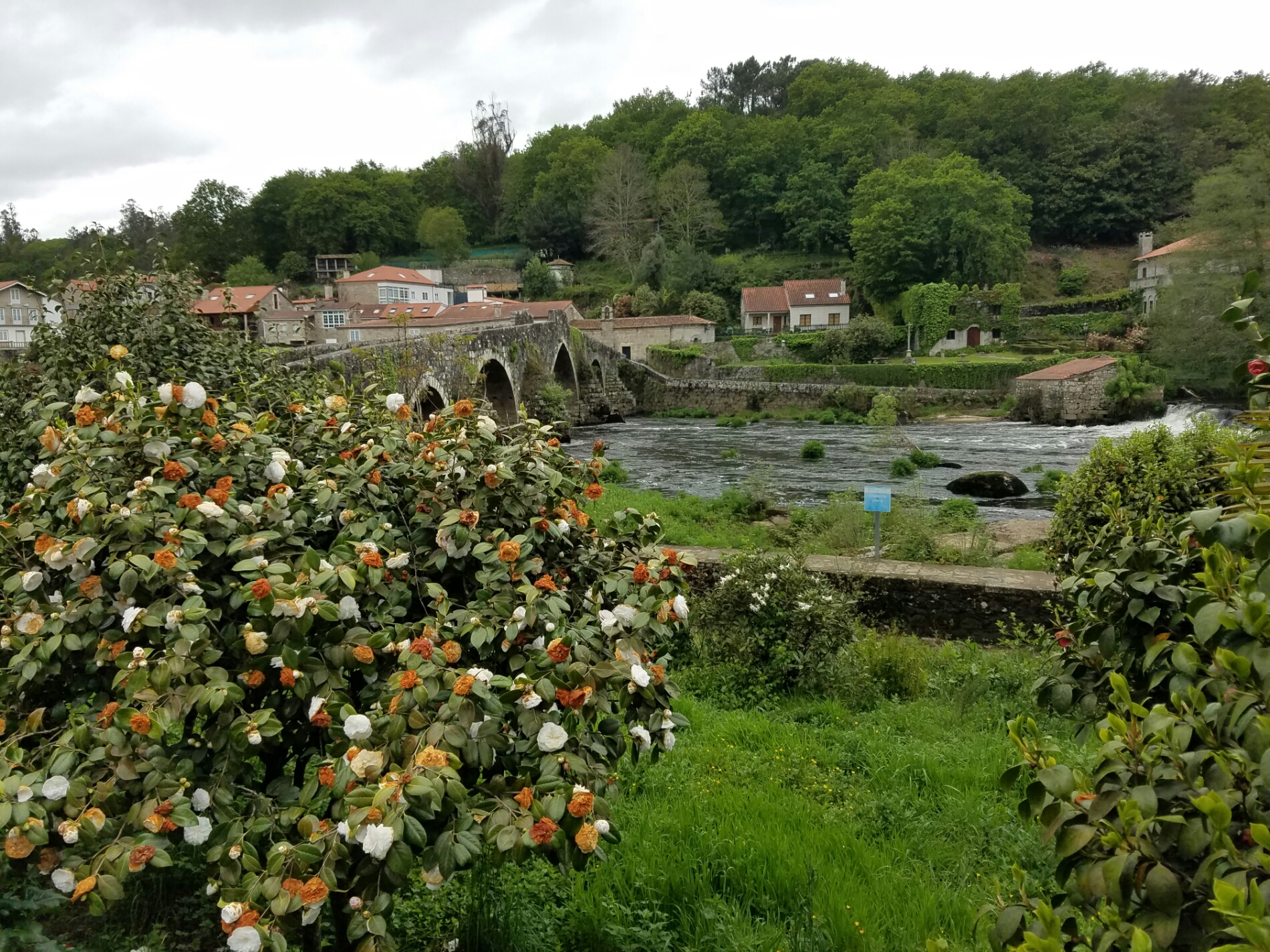 A beautiful river, old bridge, and village in Galicia, seems like it is out of a story book. More photos:
https://goo.gl/photos/5toiBTBXju6Ria5j7
.
Another unfinished house
2016-05-09 13:21
Casa Riamonte
2016-05-09 13:21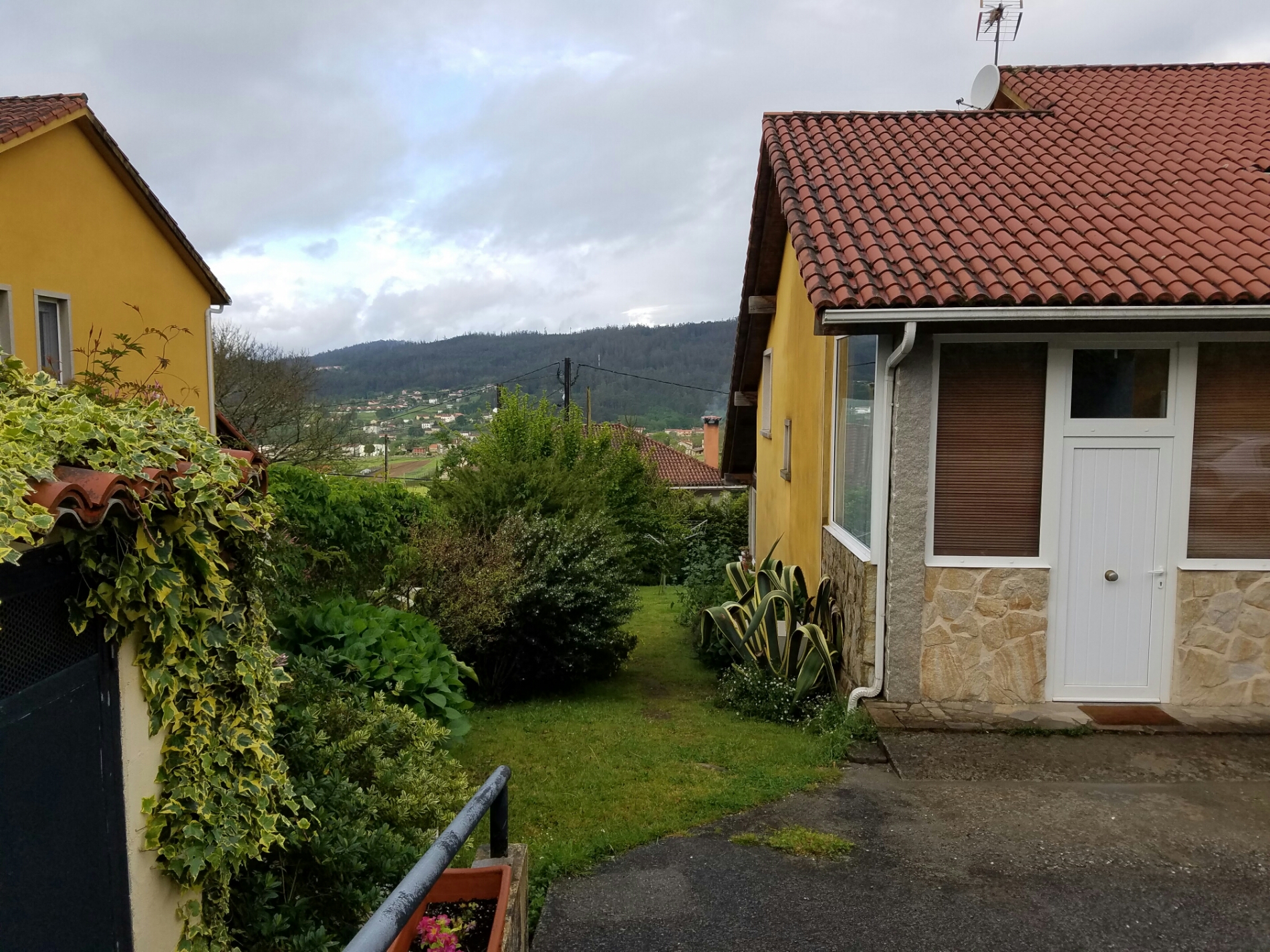 Post by Wynette:
We stayed here last night. Other guests included a retired couple from Ireland (going about the same speed as us), and a younger couple from France (going about 15 miles a day). We stayed at Casa Riamonte when we walked two days on Camino Finesterre Fall 2014. At that time we were the only guests, so we were surprised to find other guests this time. It was fun to see the owners Julian and Rosa once again and their cute dog Bruno. Rosa cooked an amazing butternut squash soup for dinner. More photos:
https://goo.gl/photos/FcuiB1SepJc5Bbdn8
Santiago apartment
2016-05-09 15:38
Being sure we didn't leave anything behind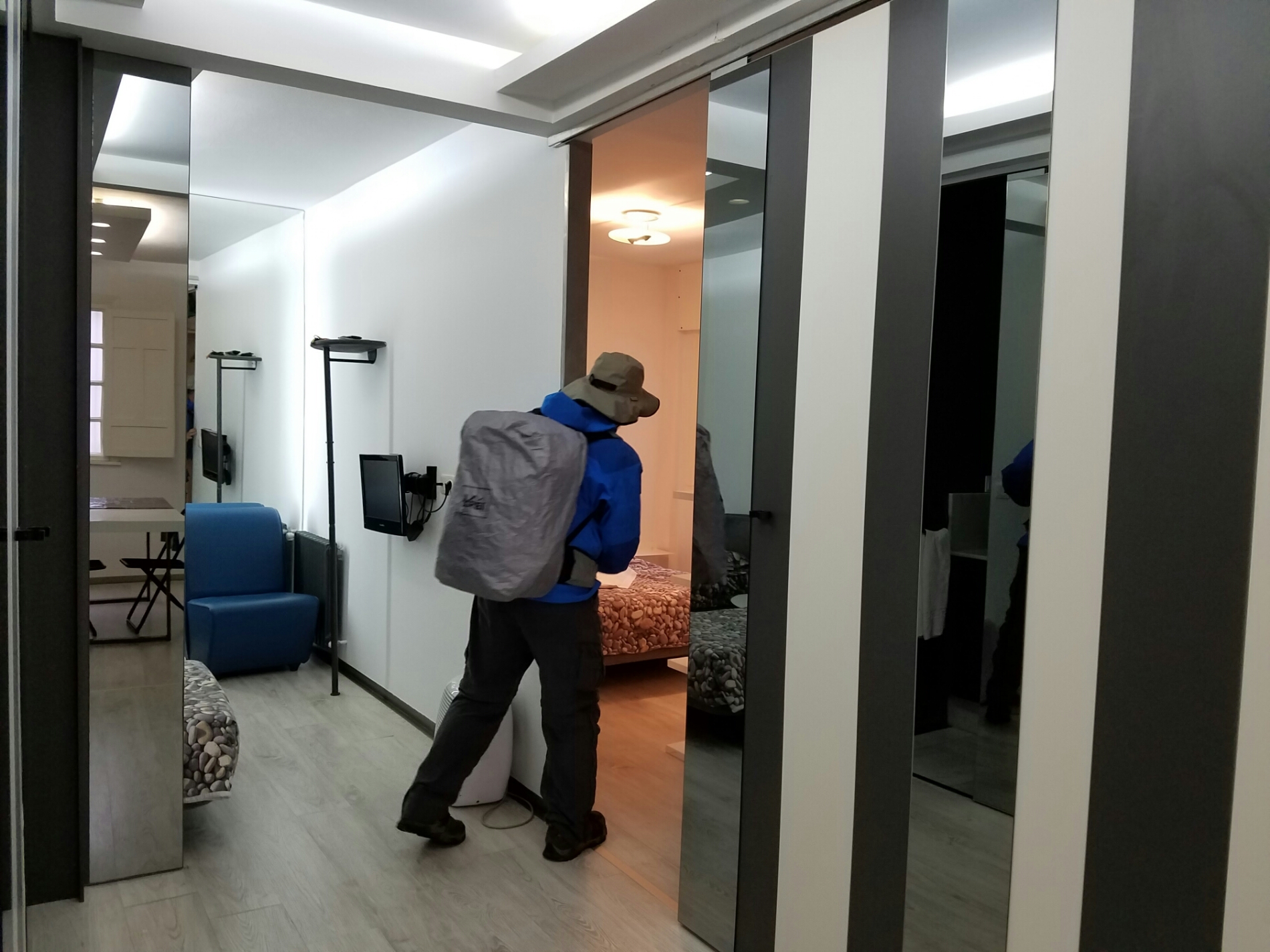 Some photos of the apartment we had in Santiago and the Tertulia bar nearby, where we spent time enjoying their coffee and fast Internet.
The apartment didn't have Internet but it had everything else we needed: a great kitchen, washer and dryer, and heat! All for 40 euros, including tax. It was not far from the cathedral.
More photos:
https://goo.gl/photos/bnCo7NkWXf81RNbv9
Walk out of Santiago
2016-05-09 15:55
https://goo.gl/photos/vj6CPjhhohKUDzTk6
The first day of the Camino Finisterre. Beautiful and green like all of Galicia.
Horrero (Spanish), Hórreo (Galician)
2016-05-09 16:47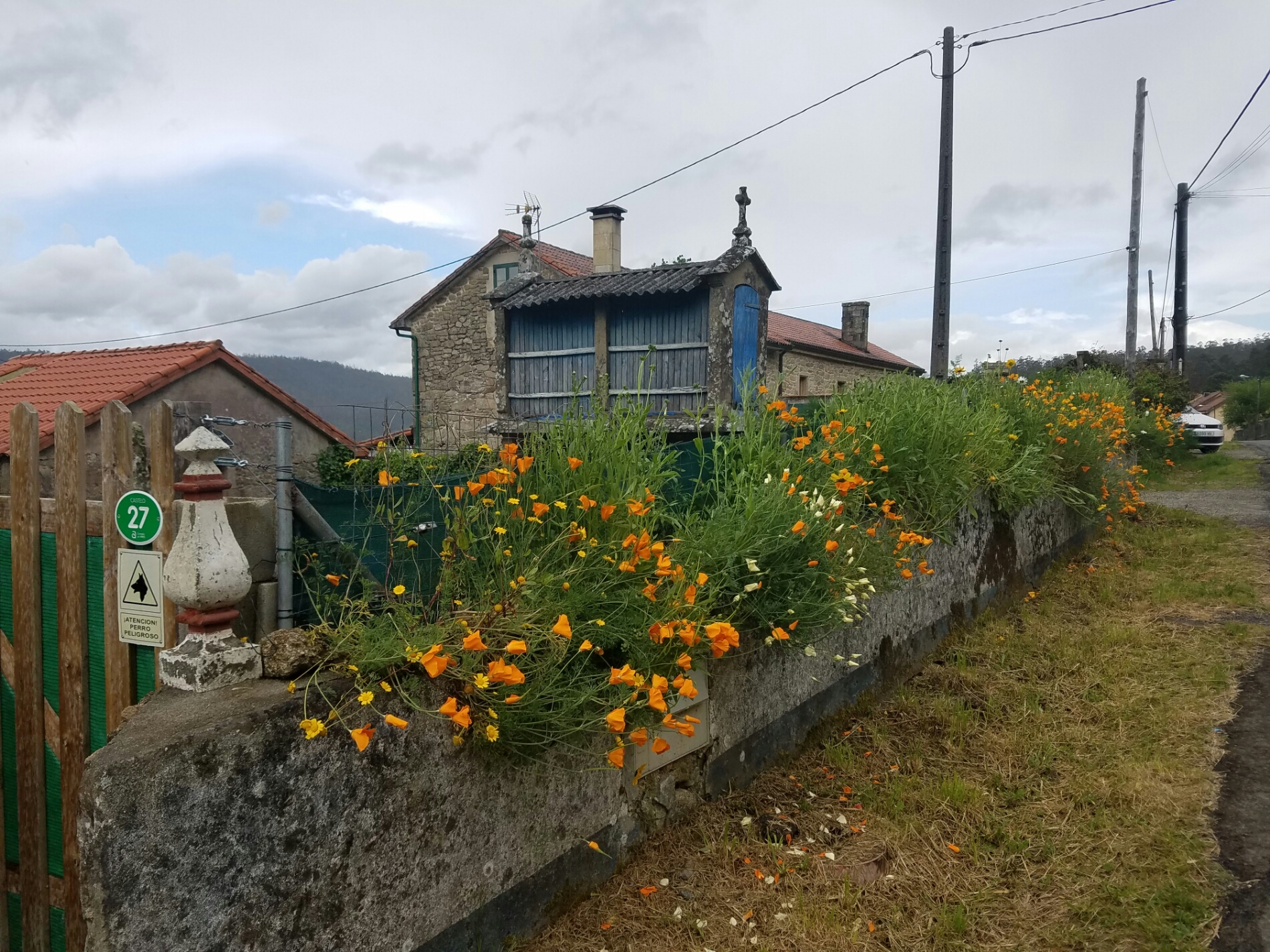 Post by Wynette:
The first time we walked the Camino (Spring 2013), when we got to Galicia, we started seeing these "narrow elevated structures" as Bob Tomlinson described them in a comment to one of our earlier posts.  We had no idea what they were but we kept seeing more and more of them.  Now, after three caminos, we've probably seen more than a thousand.  I'm not sure but I think they are unique to this part of the world. We found out,  eventually,  that they are for storing grain.  The bottom is such that rodents can't get in and there are usually slats or air holes on the sides for circulation.  In Galicia,  they almost always have a cross on top so they look like little churches.  We saw some in northern Portugal as well but those rarely had crosses,  if any.
It seems nearly every family home or farm in the small villages and countryside has one.
We've seen cute little replicas of them as mail boxes or toys. This is in the dining room of our albergue tonight: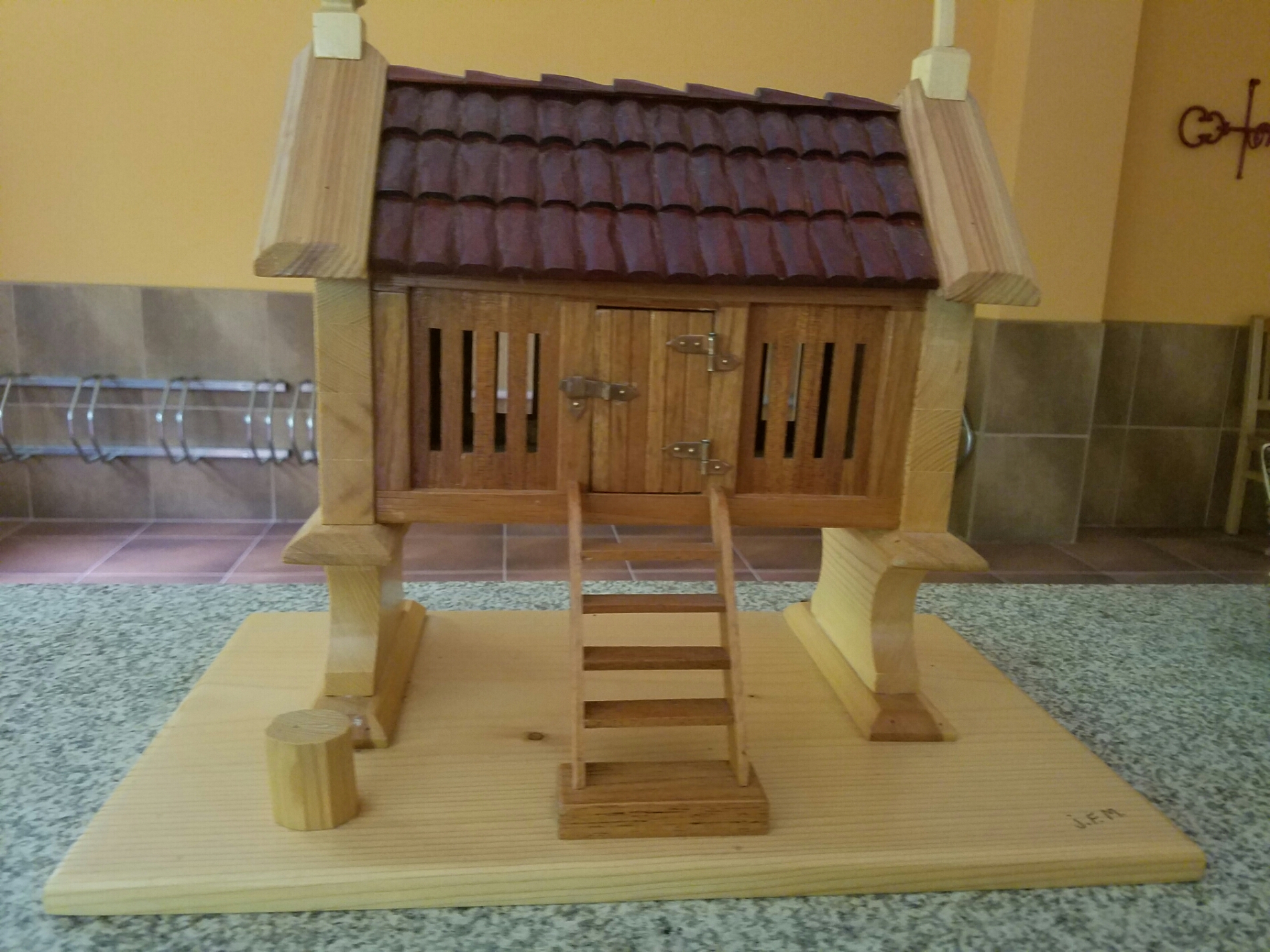 After Bob asked what they were, we started taking more photos of them.  Here are photos of those we've taken so far, but a tiny percentage of the horreros we have seen:
https://goo.gl/photos/n7ExWgSTTM4LLFxa9
Here is a
Wikipedia article
.
We made the beds
2016-05-09 18:27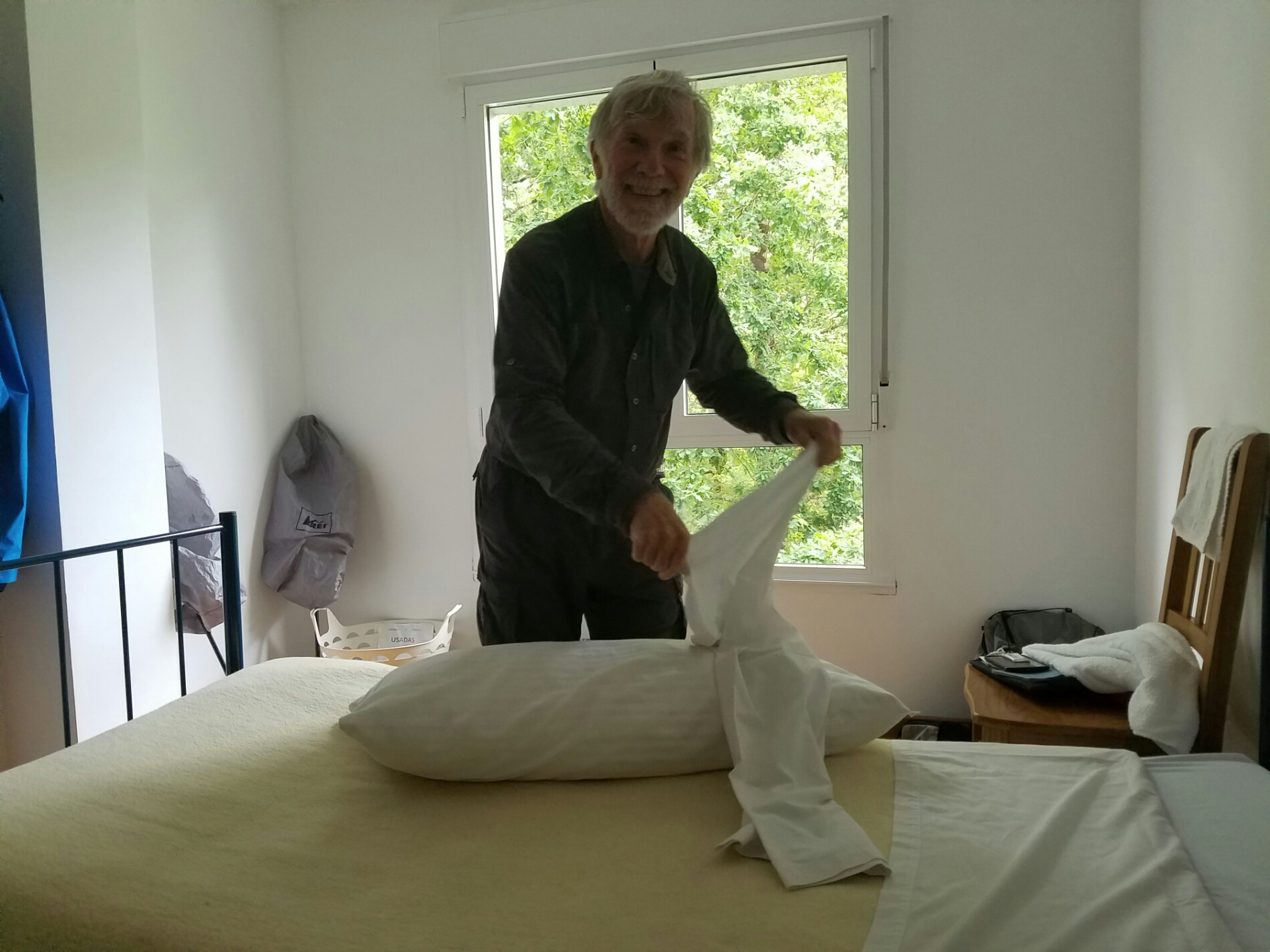 Post by Wynette:
We are staying in an albergue tonight.  15 euros each for a two-bed room i,e., a private room, with bathroom across the hall. Albergue San Juan in Negreira.  They provide sheets and towels,  but we had to make our own beds.   :)   They have a large kitchen and dining room.  I love it when there is a place to make picnic-style dinners and boil water for a cup of tea. It's a simple,  somewhat modern place. Not particularly charming but very comfortable and spacious and clean.  We stayed here on our 2014 Camino and looked forward to returning.
New bar in town
2016-05-10 16:09
Engraved Yellow arrows
2016-05-10 18:44
We are back in dairy country
2016-05-11 16:07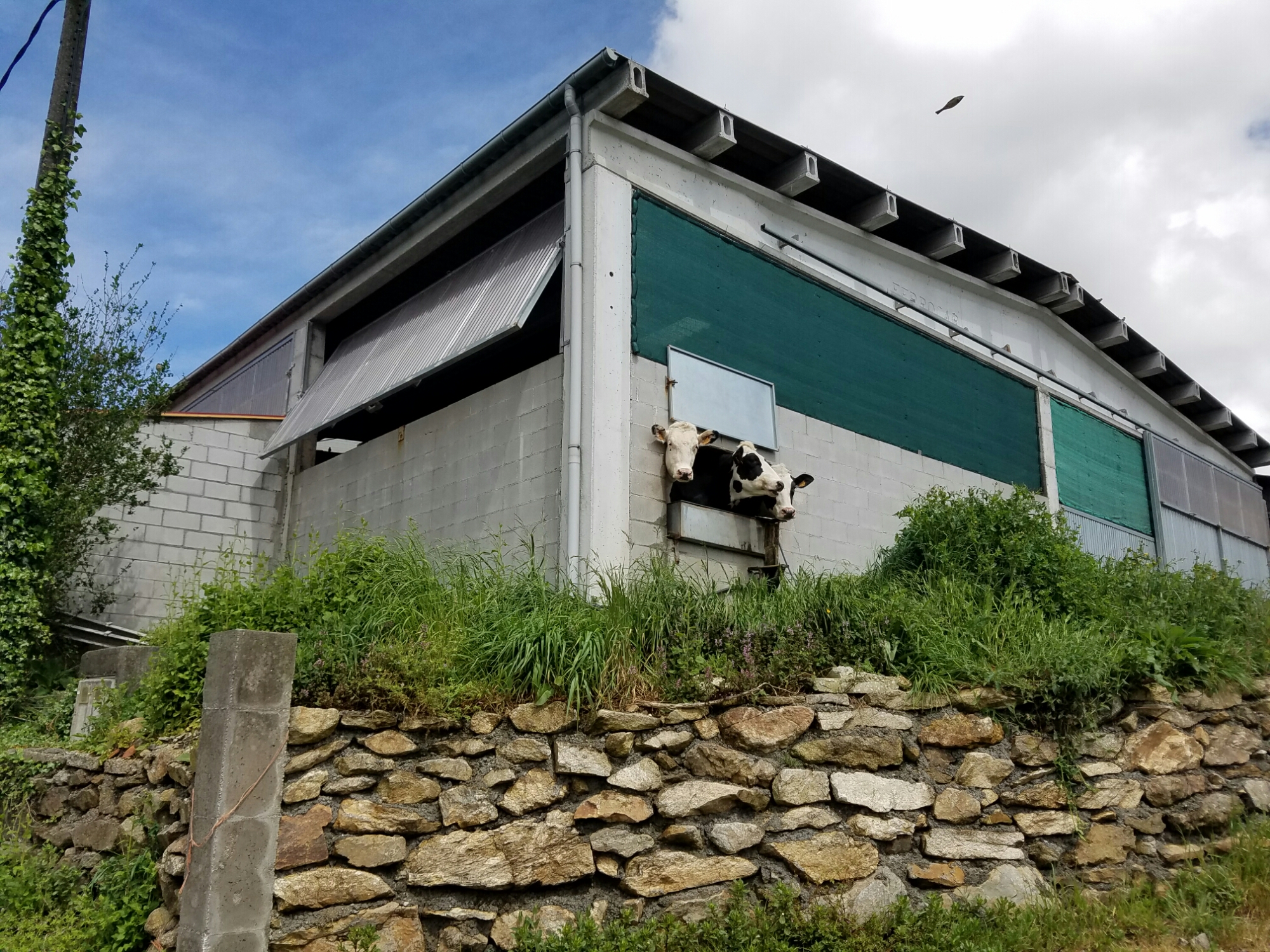 Separatist graffiti on the trail
2016-05-11 16:13
At the albergue
2016-05-12 17:10
Post by Wynette:
Day before yesterday we had no place to stay except in a dorm room in an albergue, unless we wanted to walk 18 miles that day. So we stopped at 8 or 9 miles in the tiny village of Vilaserio and checked into the albergue. We were in a room with 8 bunk beds (I.e, 16 beds). All but 3 of the 16 beds were filled. We were lucky that we had bottom bunks and the top bunks of our beds were not used. It, as usual, was an interesting and mostly fun experience. Not enough to make us want to always stay in dorm albergues, however. We didn't sleep well and really felt it the next day. There weren't any bad snorers (unless it was me and no one told me) so that wasn't a problem. But people were constantly going in and out to the bathroom. And mattresses were soft (not my cup of tea). They did give us sheets which are probably called "paper sheets" or "disposable sheets" (we put them in the trash the next morning), but they were actually paper-like plastic. After a few minutes trying to sleep between them I switched to the silk sleeping bag liner I had brought along. Charlie said he didn't mind them except they didn't stay in place. The albergue did have good blankets, something crucial for us since, unlike most pilgrims who stay in albergues, we are not carrying sleeping bags and nights are always cold this time of year.
As usual, our fellow roommates were very nice and considerate. We chatted with a woman from Florida. She had just walked the Camino del Norte which runs parallel to the Camino Frances but is much harder with long stretches between towns. She said at one point she made a mistake going past the place she should have stopped for the night. She ended up walking 47 kilometers (29 miles) until she found a place to spend the night. We asked her how she did that and she said "one step at a time." She was walking alone.
We also ran into Mary and Tony, pilgrims from Ireland, who we had met at our B&B two days before. They weren't happy about staying in an albergue and had talked the proprietor into giving them the only small room that had four beds (two bunkbeds). They paid for all four beds so they'd have it to themselves. It was nice to run into them, a rare couple walking at the same rate as us. They are also retired (teachers) and have traveled much of the world, including the USA.
The albergue also had a very nice bar/restaurant. There was no place to hang out in the albergue itself except your bed. There were lots of chairs and tables outside but it was very rainy that afternoon. So, we mostly hung out in the bar. Not bad, really. Too bad Charlie and I aren't bigger drinkers. We can't drink coffee too late in the day and there's only so much water you can drink. But everyone else seemed to really be enjoying the beer and wine.
Note: The mattresses in nearly all the albergues we've seen, and even in some B&Bs we've stayed in, are encased in very nice, soft plastic (or maybe rubber?) mattress covers. They have all seemed very clean. I like seeing those. I'm sure they help keep the bed bugs down.
Here are some more photos of our stay at the albergue in Vilaserio.
https://goo.gl/photos/bUvWAK69MrrqmHoM8
Horse and gorse
2016-05-12 17:29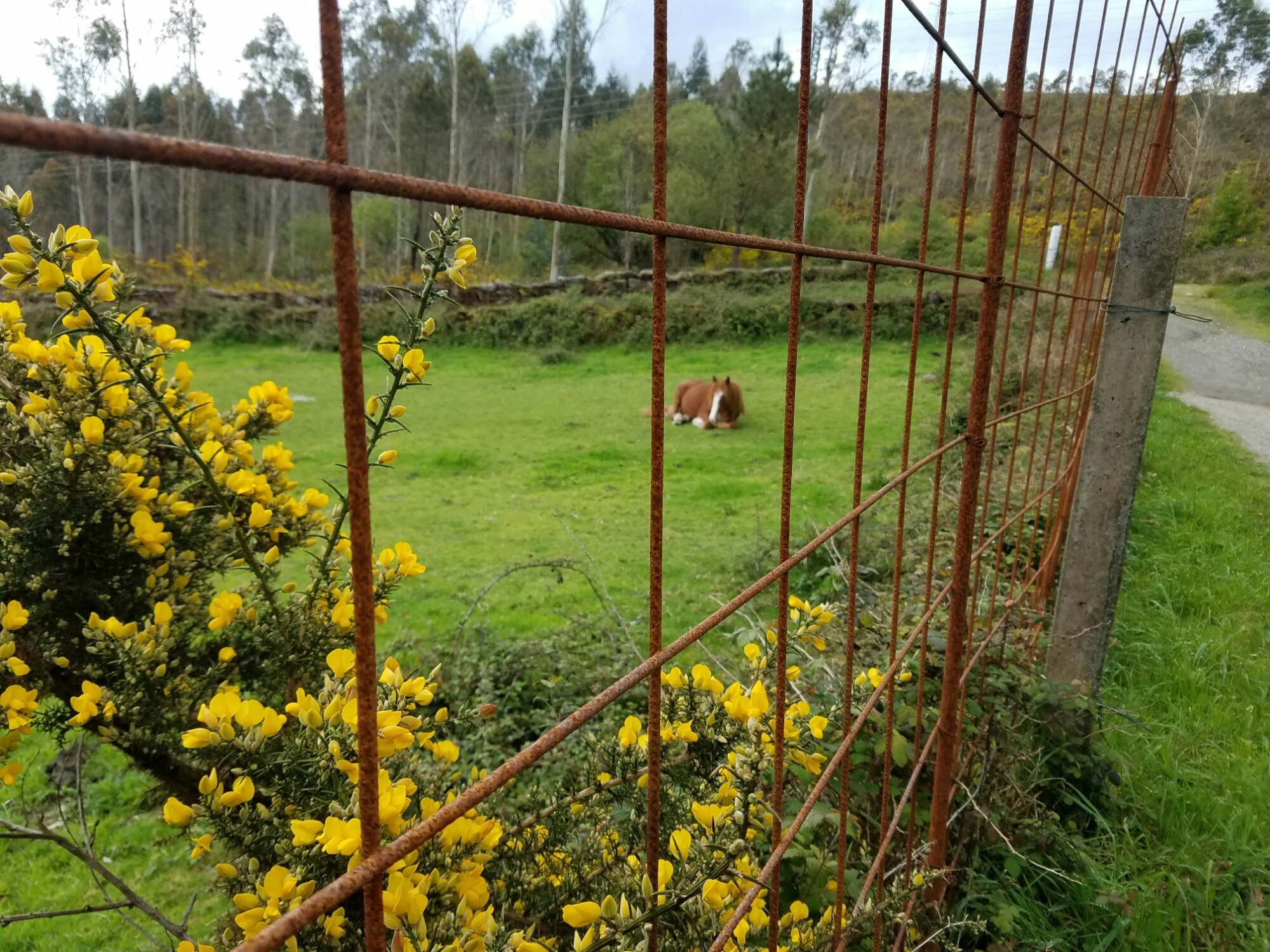 Post by Wynette:
We walked through high moors today complete with gorse and heather. It was beautiful. Actually, above photo was taken shortly after we came out from the moor, but there was still plenty of gorse. Tomorrow, according to our guidebook Brierley, we will be walking through 12.8 kilometers of high moors.
Sheep herding
2016-05-12 17:31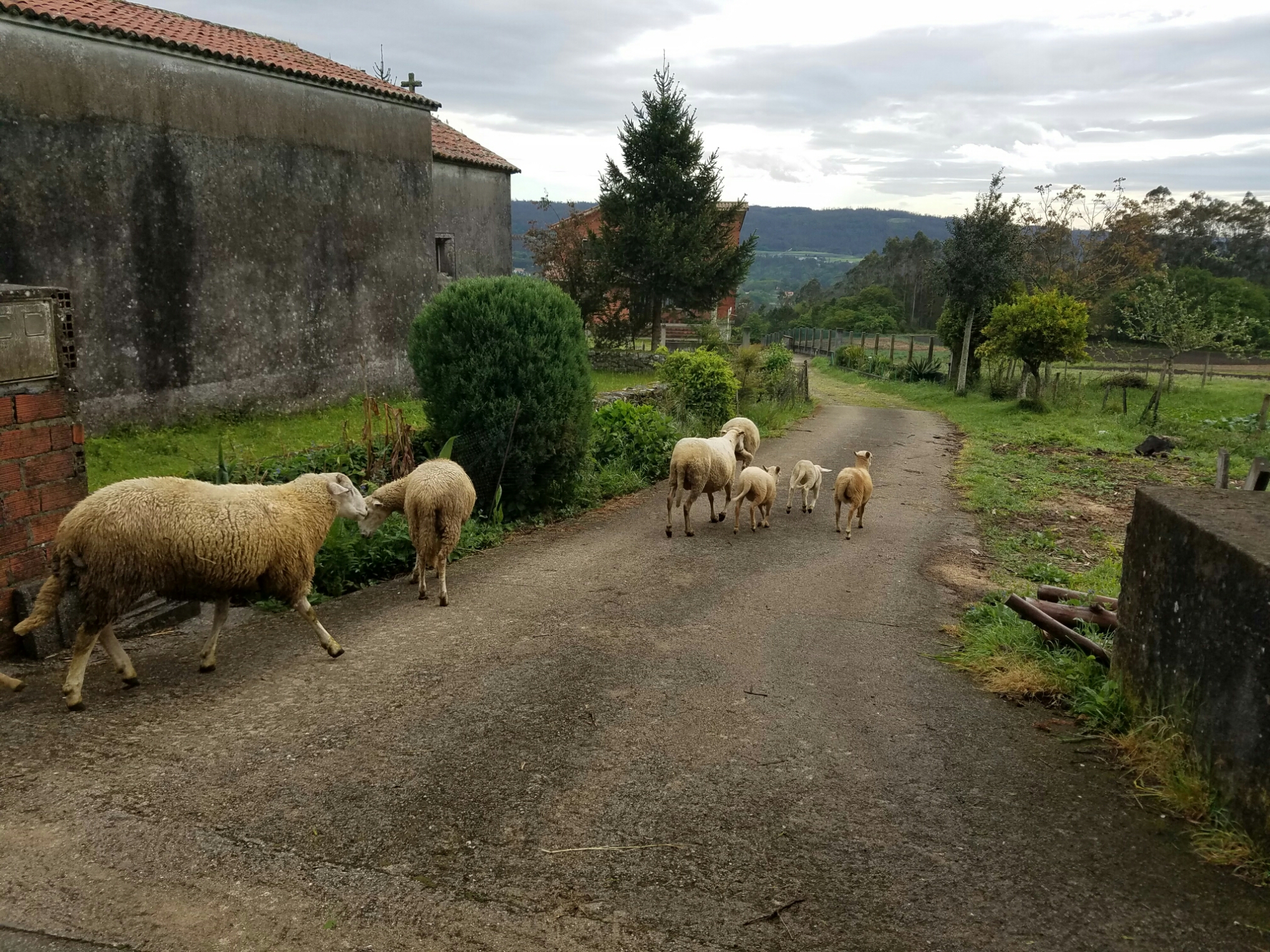 More photos:
https://goo.gl/photos/zdaKvCBacsQXiPXw7
Horses in the gorses
2016-05-12 17:31
May 10, 8.43 miles
2016-05-12 17:37
Pilgrim with umbrella
2016-05-12 17:39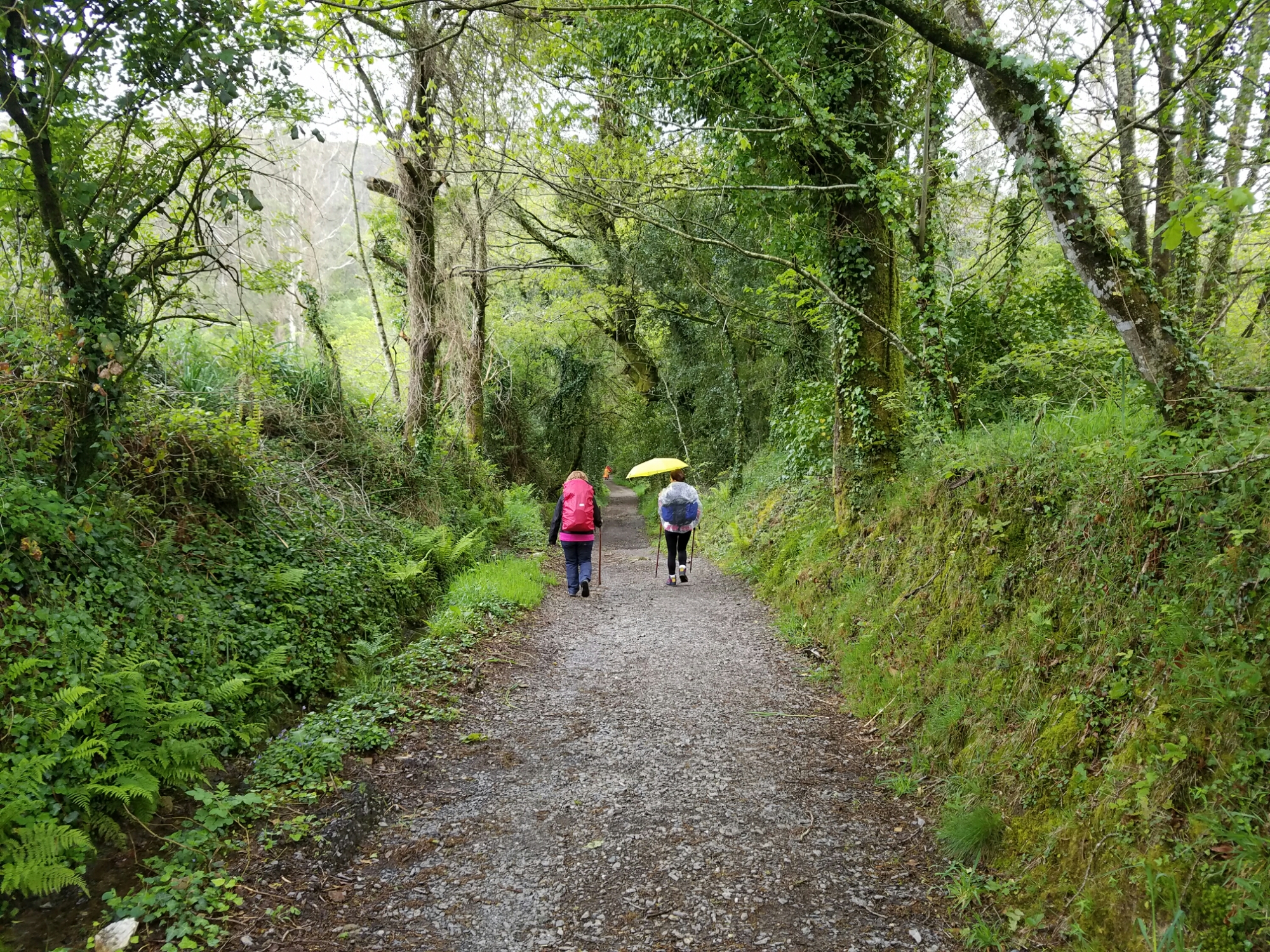 Cemetery
2016-05-12 17:52
Charlie on the road
2016-05-12 17:55
May 12, 5.8 miles
2016-05-12 18:02
Not your family farm
2016-05-12 18:10
Dairy farm and cattle food (?) growing in Galicia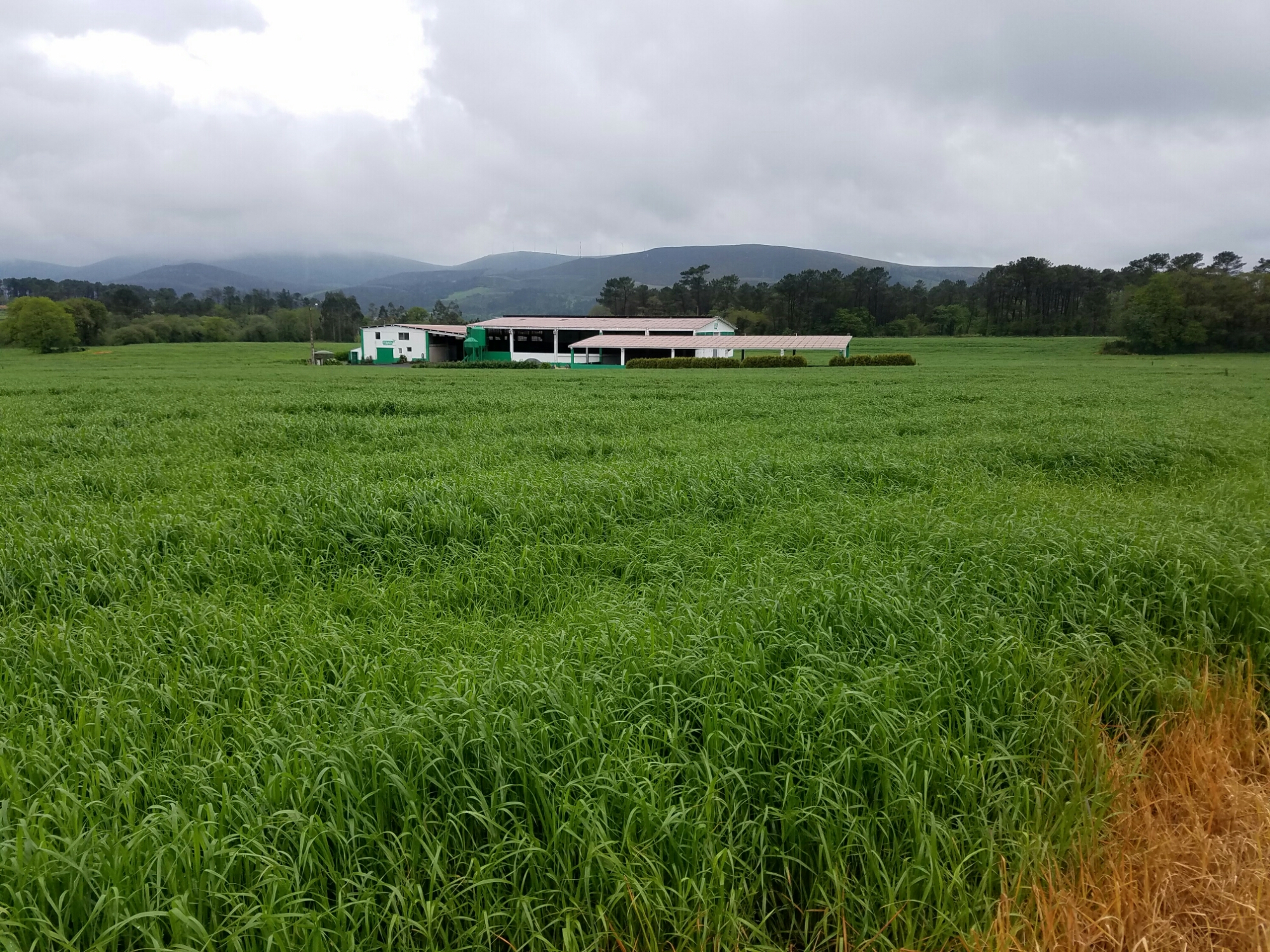 Post by Wynette:
Two or three days ago we started seeing large fields and large dairy farms. Such a contrast to the small farms we've seen elsewhere in Galicia. A number of huge tractors have passed us on the country roads we have been walking. This reminds us of the enormous fields we walked past on the Camino Frances. Still very beautiful. This cleared farmland creates wide open spaces and vistas.
May 13, 10.45 miles
2016-05-14 13:23
May 14, 2.9 miles
2016-05-14 13:25
San Tiago was looking after us
2016-05-14 13:40
Glad to find shelter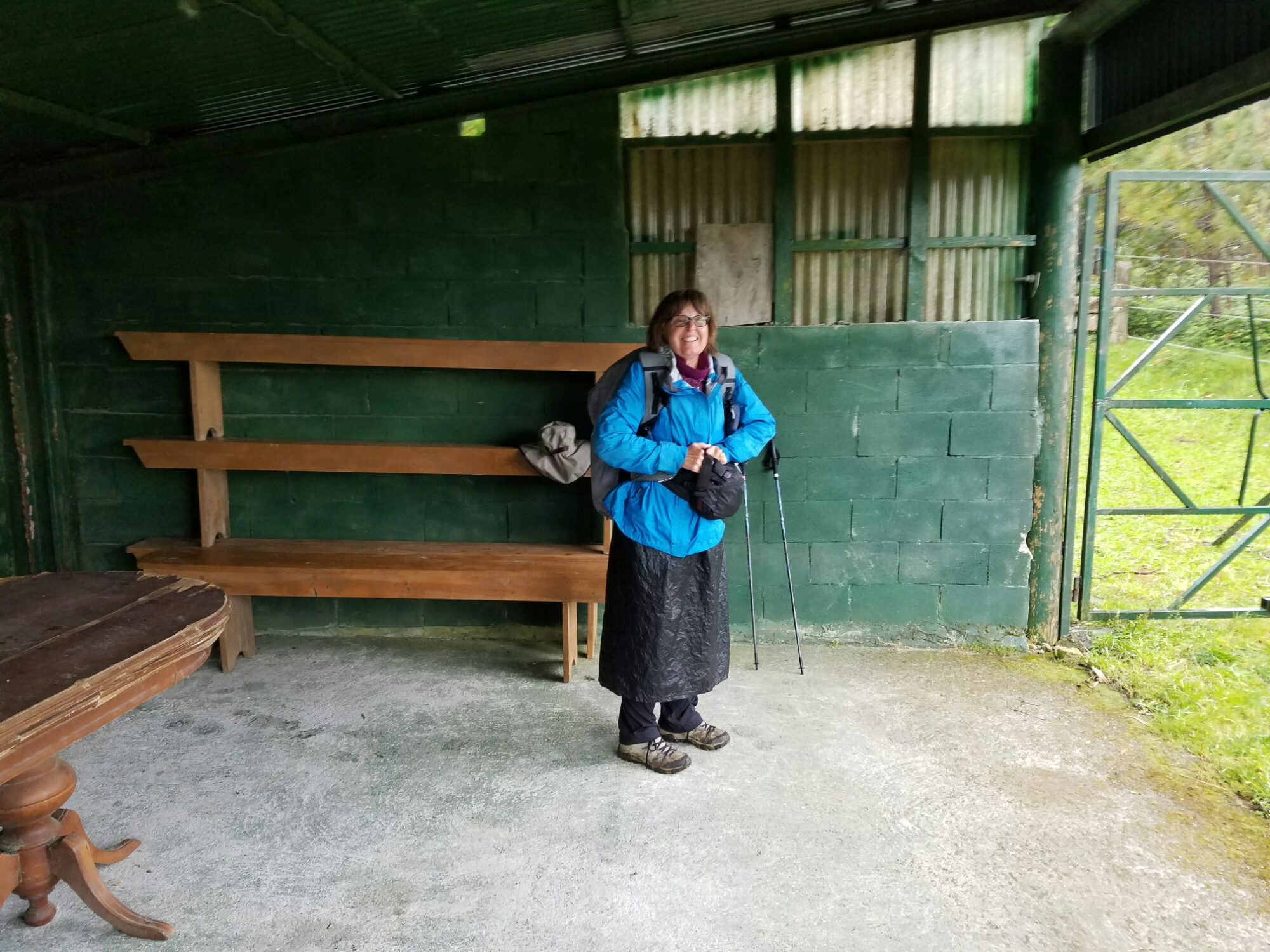 Post by Charlie and Wynette.
They say St. James takes care of pilgrims (possibly in his blues infirmery). The Portuguese call him San Tiago.
May 13 we walked from Logoso to Cee. That walk has a 9 mile stretch with no services or houses or villages, just countryside, through moors as Brierley describes it. Last chance saloon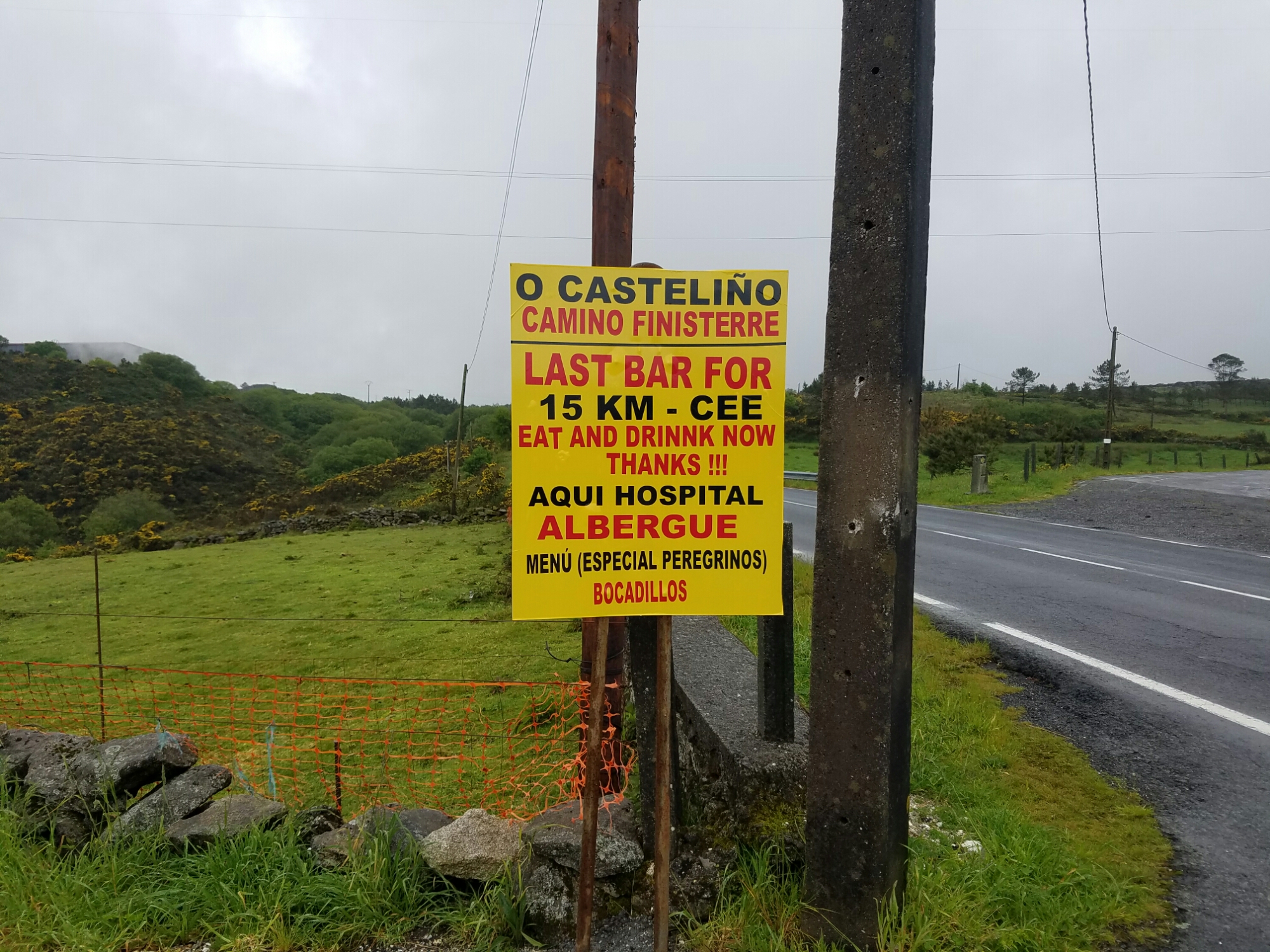 There was some up and down but not too bad except at the end you go from 1000 feet down to sea level (literally to the sea) in about a mile of walking. In other words, steep downhill at the end.
It rained the whole walk. Mostly a light rain, sometimes barely a mist, sometimes harder.
Since we knew there'd be no place to stop on the way, we got ham and cheese sandwiches to go from the bar at our pension in Logoso. (They wrapped them in aluminum foil for us.) But as we walked and were getting hungry, the rain never stopped. No dry place to stop and eat or rest. Finally, after about 6 miles we came to a small very old church (not in use), Church of St. Peter the Martyr. It was about 50 meters off the trail so we walked up and to our delight found a shelter for pilgrims behind the church. What luck, it was covered and completely dry. It looked as if it had been a long time since anyone had used it. Strangly there was a rickety wooden dining room table in the middle and a bunch of dusty wooden picnic benches all piled up along the sides. We took off our wet packs, took one of the benches to the table, sat and ate our sandwiches, nuts, and apple. As soon as we sat down the rain got much, much harder. It was pouring down. We couldn't believe our luck to be out of it. We saw three hapless pilgrims walk by on the road but they had their heads down and never even looked our way. It rained hard for 20 minutes or so. By the time we were ready to go, the rain had let up. Thank you, San Tiago!
Later, almost in Cee, we ran into a pilgrim from Austria. She said she had walked from Le Puy in France, then the Camino Frances, and now the Camino Finesterre, and this was the worst rain she had seen that whole way. (That adds up to about 1000 miles of walking.) A group of pilgrims in our hotel in Cee were talking about the rain and saying how bad it was and how they had gotten drenched.
It was Friday the 13th.
We got into our hotel. It had a nice little breakfast room open all the time. In the middle of the room was a deep step down that was hard to see. Both Wynette and Charlie fell off it (separately). We both managed to catch ourselves. The floors in our hotel room were slippery and we almost slipped a couple of time. The rugs were slippy too and we almost fell until we put them under the bed. There was a step down from our bathroom into our room - - a couple of near falls. Finally the hair dryer in our room had an exposed wire. Charlie almost touched it. He needed it to dry out his phone (more later). If he hadn't seen the bare wire, Wynette probably would have touched it when she dried her hair later.
Thank you, San Tiago!
Plus the phone! (see next post)
New phone
2016-05-14 13:46
Charlie got a new phone for the trip, a Samsung Galaxy S7. It has been great. The photos are very good, especially in low light which was just about all we have had since we have had rain and clouds most of the time.

It is also water resistant which was a big selling point for me. People have left it underwater for 30 minutes and it still works. This is nice in the rain because I take my phone out a lot and it gets wet. Rick from Maine, who we met earlier, had had his iPhone fail because it got seriously wet when a truck splashed water on him.

My phone got pretty wet on May 13 even if we missed the downpour. When we got to the hotel it was working fine but at 22% battery and it would not charge. I had read about this. They made the phone water resistant but if the charging port is wet the phone refuses to charge until it dries up. What with getting pretty wet and 99% humidity here it didn't dry up until the next morning when it finally let me charge it. We have missed having the good camera.
Almost done, 8 miles a day
2016-05-14 13:53
We have two walking day to go, to Lires and then Muxia. After that we are going to Lisbon for a week. We have rented an Airbnb apartment there and we are excited about hanging out in Lisbon for a week. Four or five people on the trip have raved about how nice Lisbon is.

We have walked 28 days and had three rest days in between, 31 days total. We are averaging a little over 8 miles a day over the 28 walking days. That is exactly what we had planned. The slow pace has really worked for us. We have stayed in so many wonderful places and have not been too tired to enjoy them. Our feet and joints are doing fine.
No WiFi tonight
2016-05-14 16:54
We are at the Hotel Playa de Estorde. It's close to the beach but far from WiFi. When we asked the owner about WiFi (pronounced wee-fee here) he said, with a smile, something like "it's more tranquil here without it."

We decided to go ahead and publish some posts to our blog but cannot upload photos without the WiFi. We'll add photos as soon as we can. Probably tomorrow. So, when you read this, if there are no photos on posts we did today, please check back for photos in a day or two.
Posting delays
2016-05-19 06:38
We had a great time in the last few days of the Camino but we ran into a string of places with no or very poor WiFi. We got behind on uploading photos and wanted to wait until we could illustrate the posts with photos. So here we go.
May 15, 8.19 miles
2016-05-19 06:43
From Estorde to Frixe. I love the name, which I pronounce like Fricksy but apparently many Spanish speaking people do not agree. Opinions differ. We stayed at a very nice casa rural, not frequented by pilgrims it seems. More on Casa Ceferinos later.
May 16, 10.48 miles, we made it!
2016-05-19 06:49
From Frixe to Mucia. We have asked several times about the pronunciation of
Muxia
. One problem is that the Galician and Spanish pronunciations are different. Some version of moo-she-a (Galician) or moo-he-a (Spanish) with an stress on either the first or second syllable.
Muxia was our goal and we finally made it. 28 walking days, 3 rest days, average of 8.1 miles a day.
Lots of thoughts now that we are done. Finishing makes you think a lot about the trip. We'll post on them in the next few days.
May 17, Porto
2016-05-19 06:53
Roomy hotel in Porto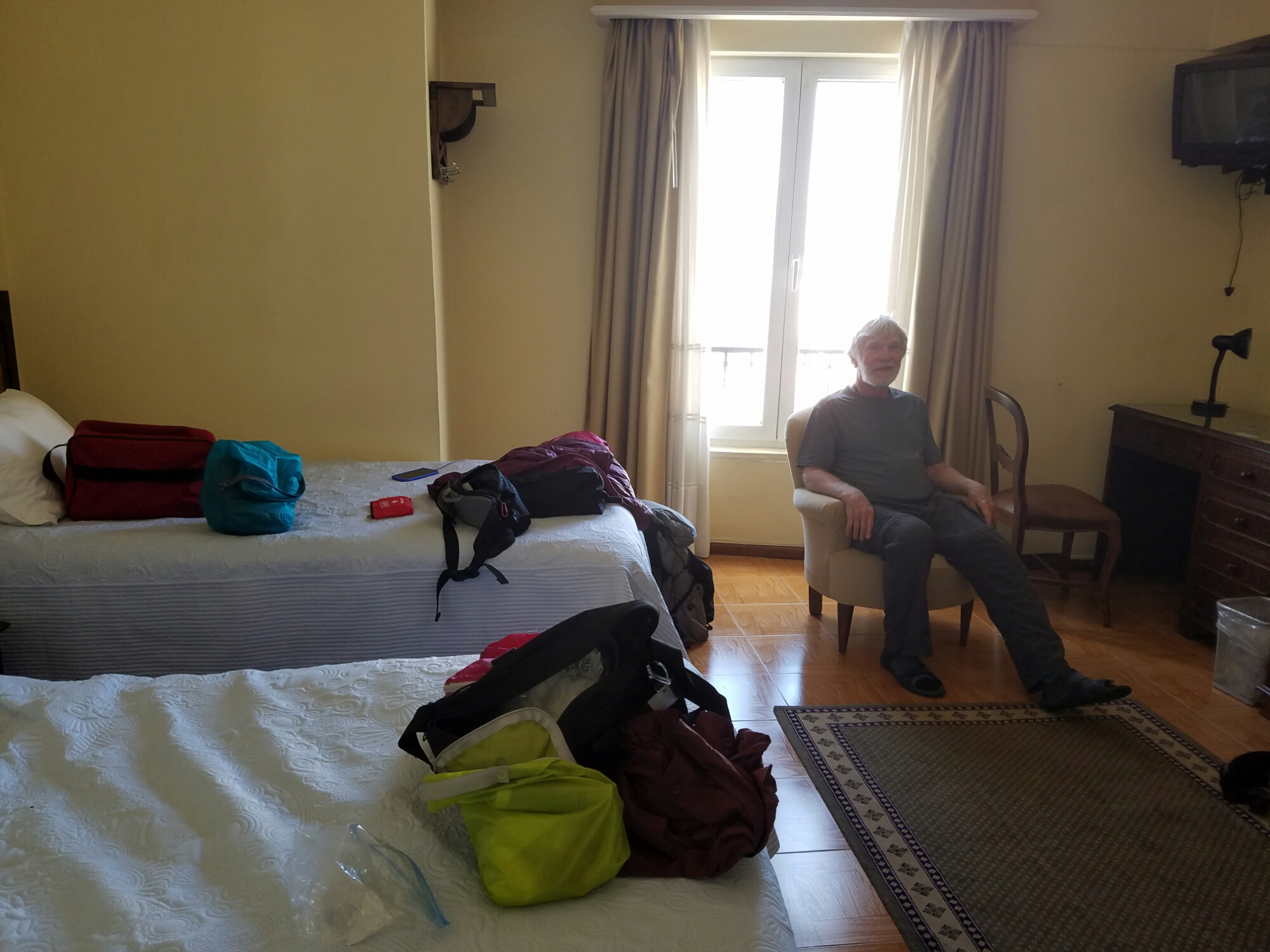 It seemed too hard to go from Muxia to Lisbon in one day so we are stopping in Porto. We had stored some things at the hotel we stayed at just before we started the Camino so we are picking those up. And we wanted to see Porto one more time.
Bus ride from Muxia to Santiago, a little over two hours. Another bus from Santiago to Porto, about four hours. Light rail/metro to hotel in Matosinhos, on the edge of Porto where our Camino began in mid April, about 45 minutes.
We are staying at an interesting hotel, another case of faded glory, clearly it used to be classy, now it is comfortable and very roomy but not what it used to be. We think it was built in the 20s, Art Deco era, but then suffered from an unfortunate 1980s renovation.
May 18, to Lisbon, first class day
2016-05-19 07:01
Train from Porto to Lisbon. We are back in the amazingly inexpensive country of Portugal.

Tram to Porto train station, one hour. Fast train to Lisbon, 2.5 hours. Second class $30 each, first class $43 each. Okay, we're frugal, we said second class, the very nice clerk inquired about our ages, half off for over 65. Okay, first class it is. $43 for both. It was very comfortable. We didn't want the ride to end. Nice seats, lots of room. It was like a flight. They had free soft drinks and water, free WiFi and they served lunch on trays. We had gotten sandwiches in the station like the common people do so we didn't get lunch but it looked good and was not expensive. The other passengers seemed to mostly be businessmen and they all had it.

In Lisbon, subway to airbnb, 15 minutes and then 10 minute walk. More on all that later.
Horrero overload
2016-05-19 08:19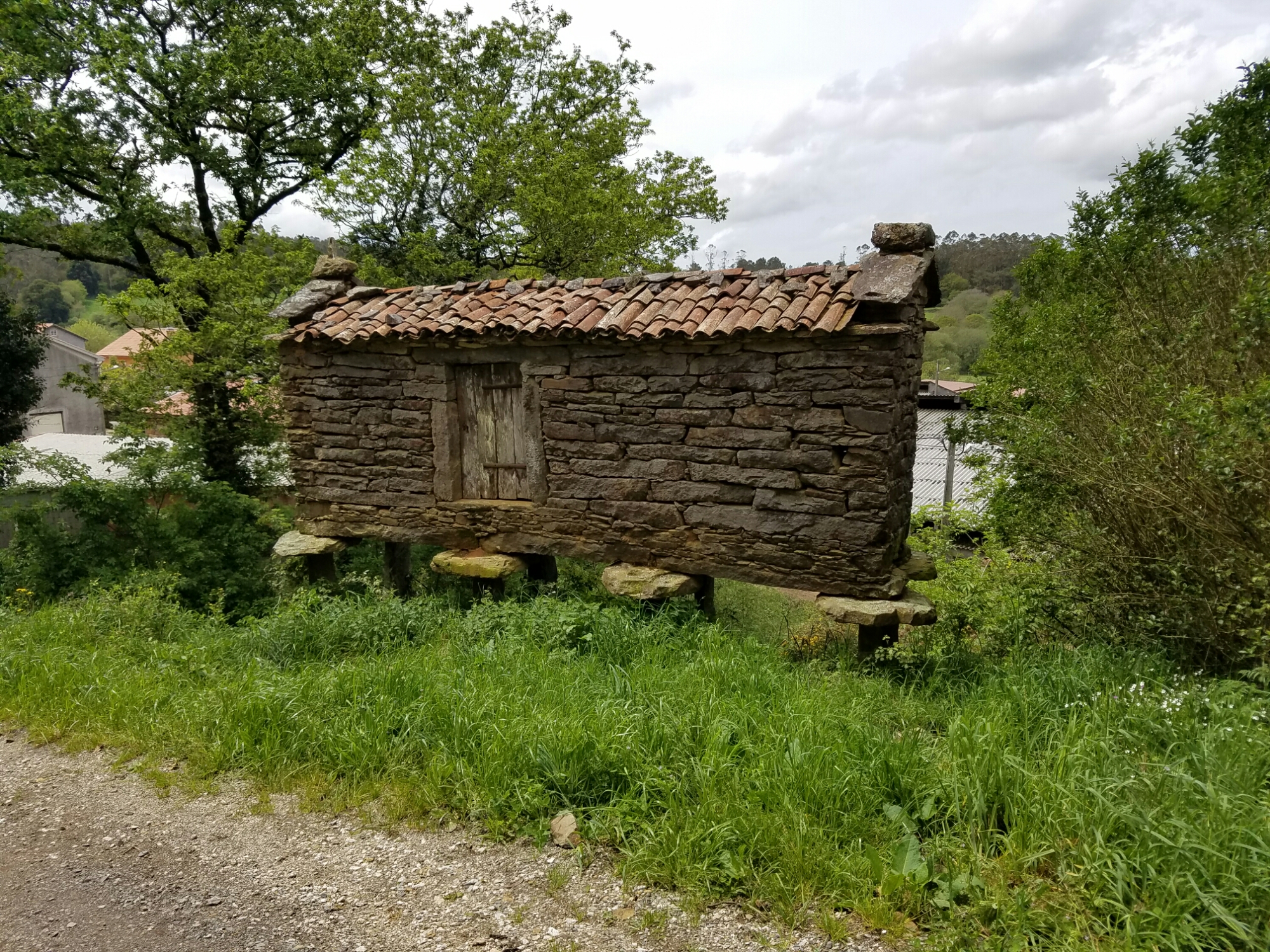 We blogged about these before. We noticed them our first trip and ignored them this time for a while but there are so many. We must have passed thousands of them. Almost all are in some disrepair. I doubt whether any of them are currently being used for their original purpose of drying corn and other crops.
With all the rain we have been seeing, we realize how important it must have been, to have a place, not in your house, where you can dry the corn or other grain.
On the west side of Galicia we starting seeing very old ones made of piled stone as in photo above. This one has lost its crosses.
I think they now represent a past the people don't want to lose contact with because they are still everywhere even though they are probably not used as much now.
Beautiful scenery overload
2016-05-19 08:23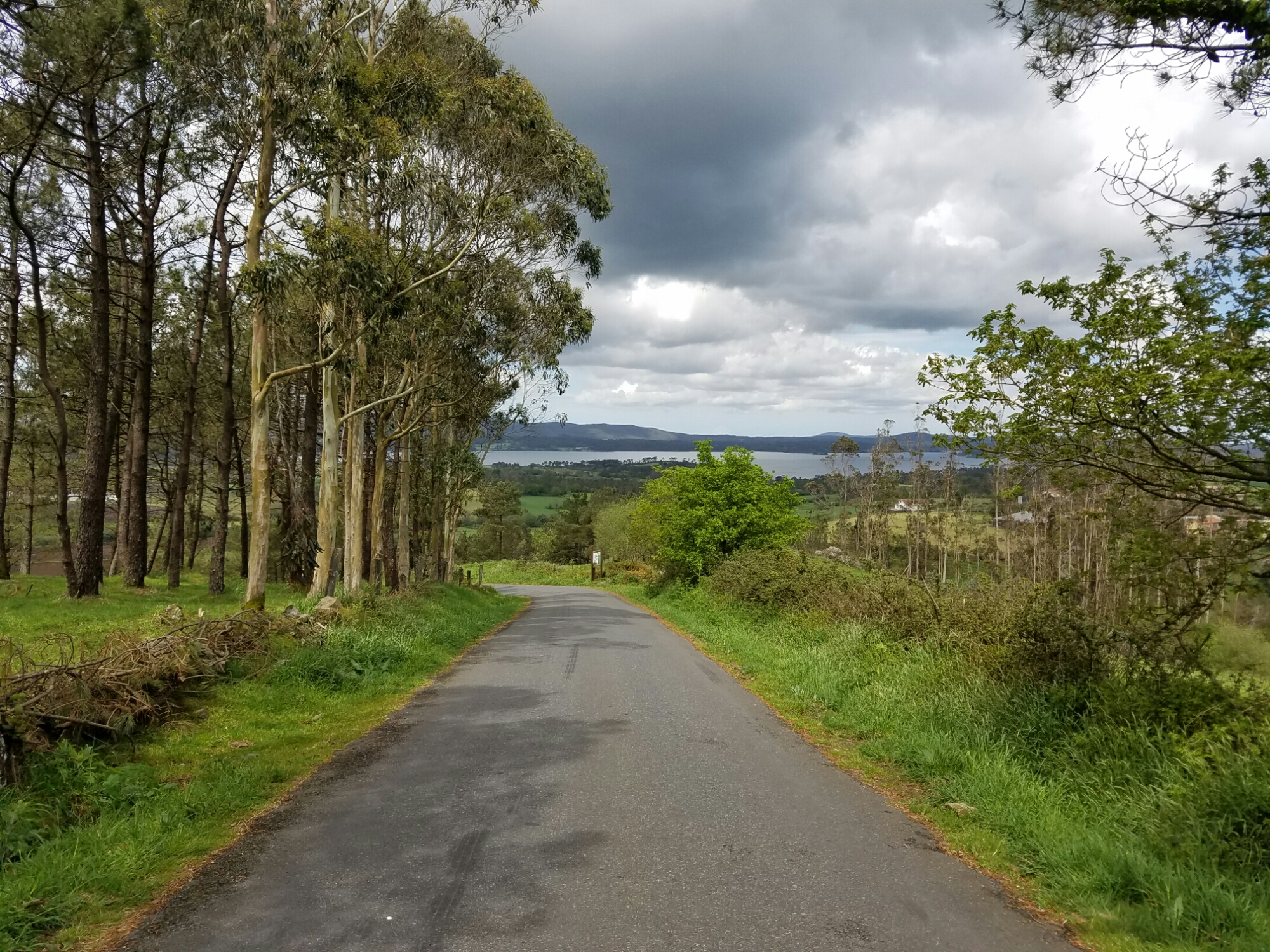 Is that a thing? Every day we walk on forest paths and see amazing scenery, every little village is so interesting and pretty. It can get overwhelming. You want to take hold of it and possess it in some way so that you can preserve the feeling. Sometimes I would like to store them up and see them a little at a time over the next year. Then I would appreciate them more. Being from NM we are impressed by the green growth everywhere. Every empty field is filled with pretty wildflowers. Also it is spring and everything is blooming.
Little canyons
2016-05-19 08:28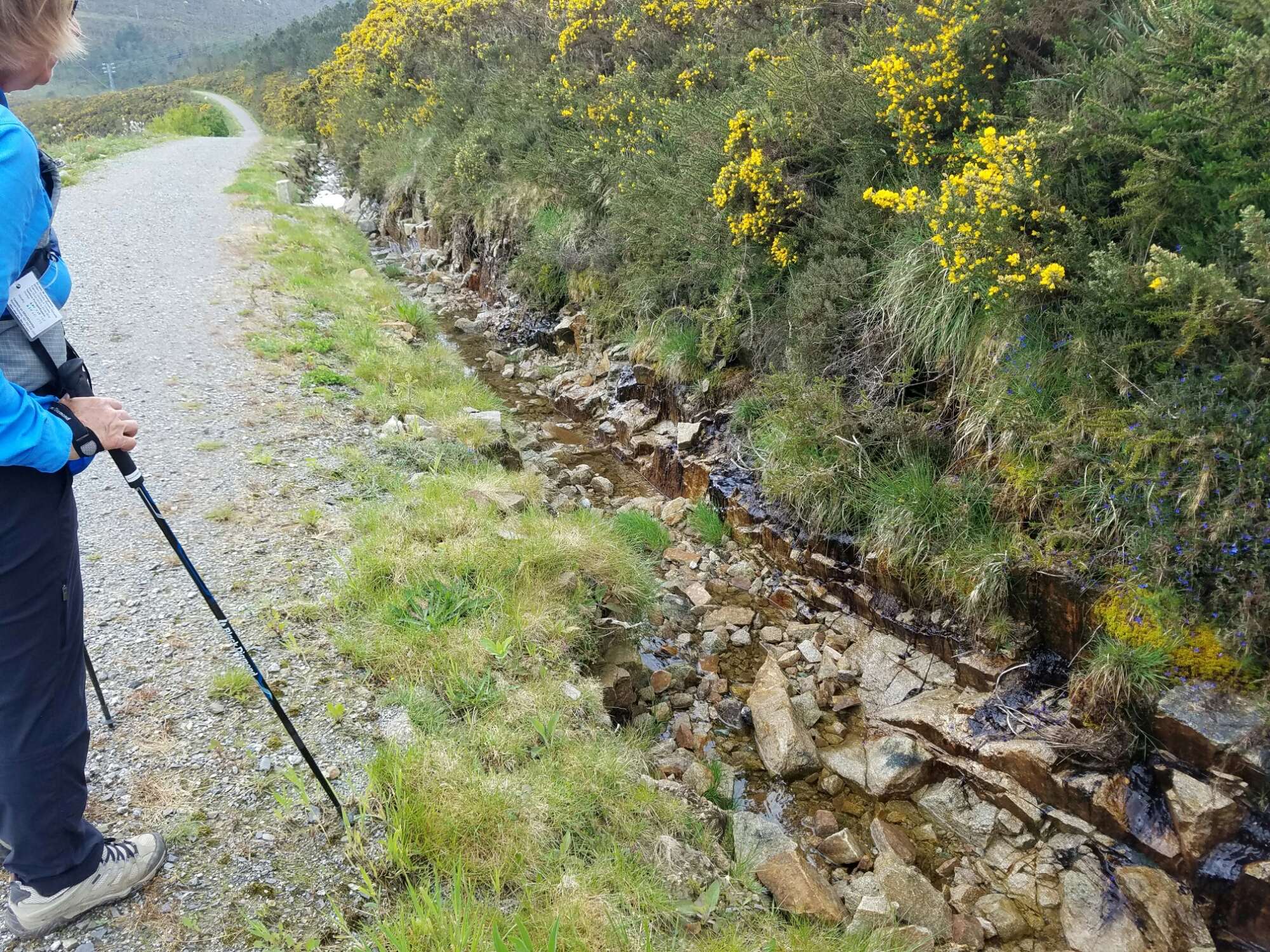 There is water running by the roads and trails everywhere in Galicia (and Northern Portugal). Mostly they are cutting into the soil, as you would expect. We got to an area where there is more rock and now the paths are cut into the rocks. Some look like miniature Grand Canyon and are quite striking. They are visually more interesting than the dirt stream beds.
Pilgrim on a bridge
2016-05-19 08:30
Shelter from the storm
2016-05-19 08:38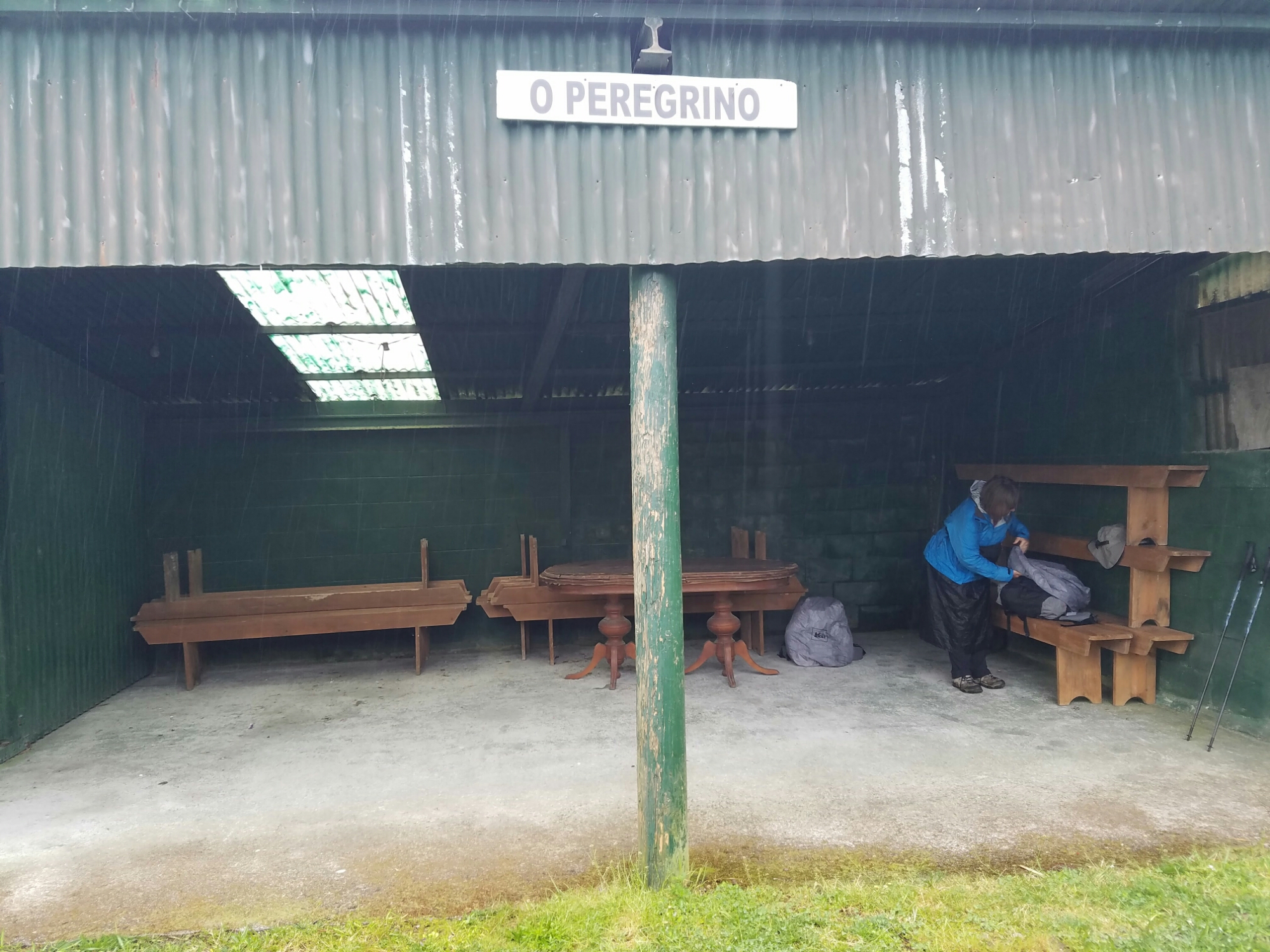 We talked about San Tiago saving us from the hard rain. Here is our little shelter. And here are all the photos we took during that stop.
https://goo.gl/photos/CknYHFULKU1M9Yif6
Graveyard with a view
2016-05-19 08:41
Our hotel in Cee, photos
2016-05-19 08:43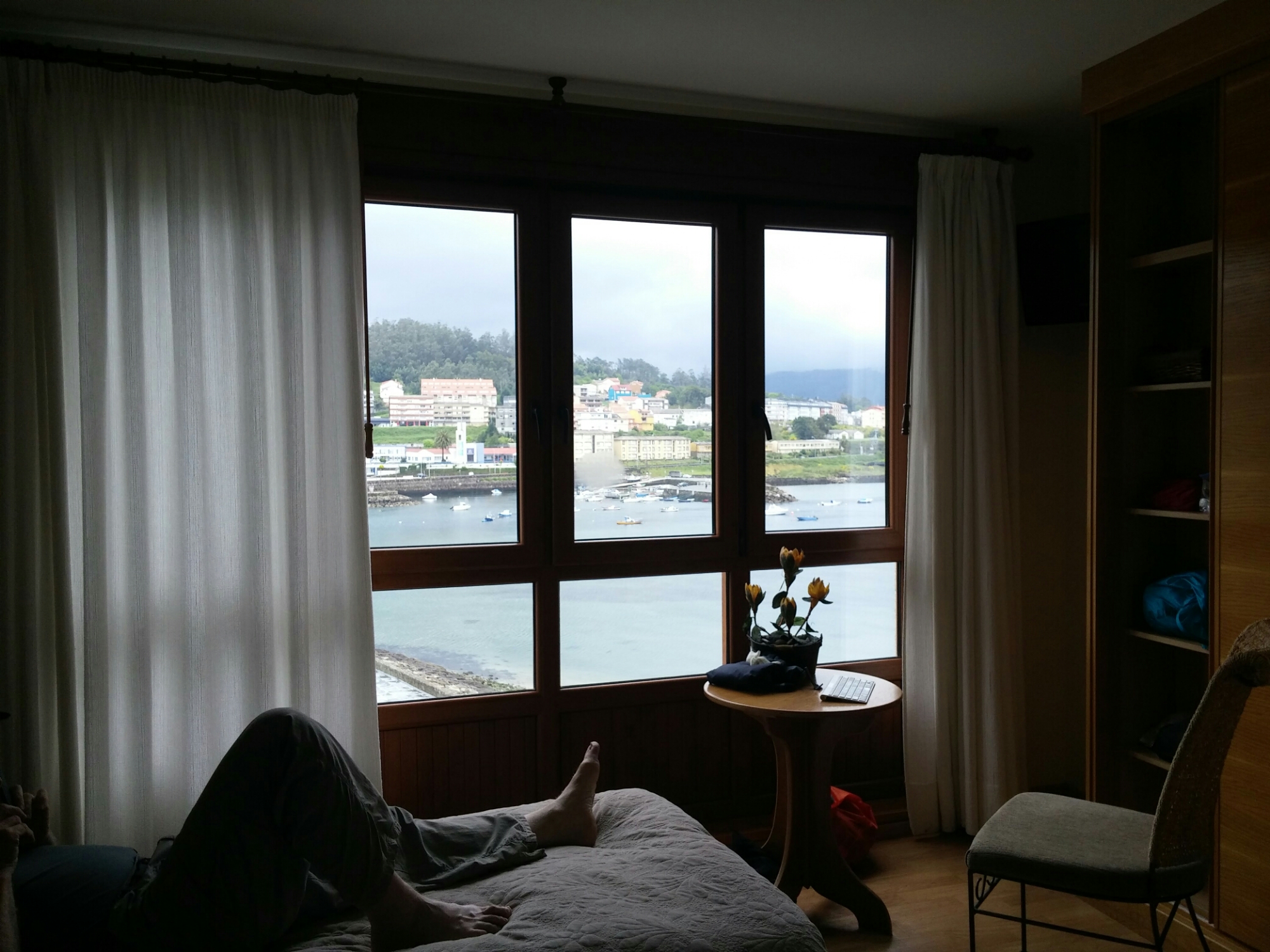 More photos:
https://goo.gl/photos/G5qnz9iciQHSn3w37
Walk from Cee to Estorde
2016-05-19 08:46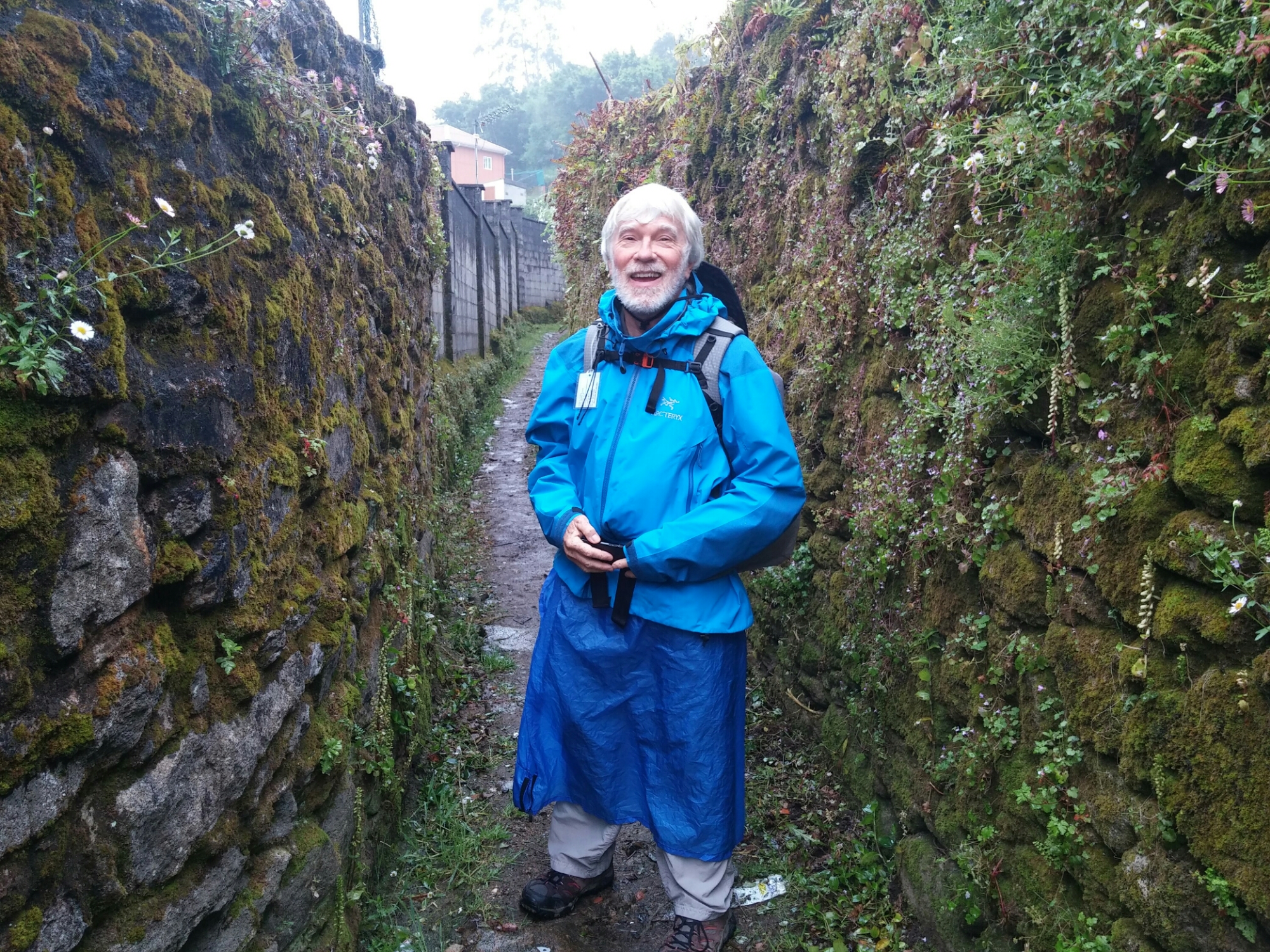 https://goo.gl/photos/s7MELkW1G8JpZvWF9
What can we say? Yet another beautiful walk. Some of it in the rain.
Estorde
2016-05-19 08:51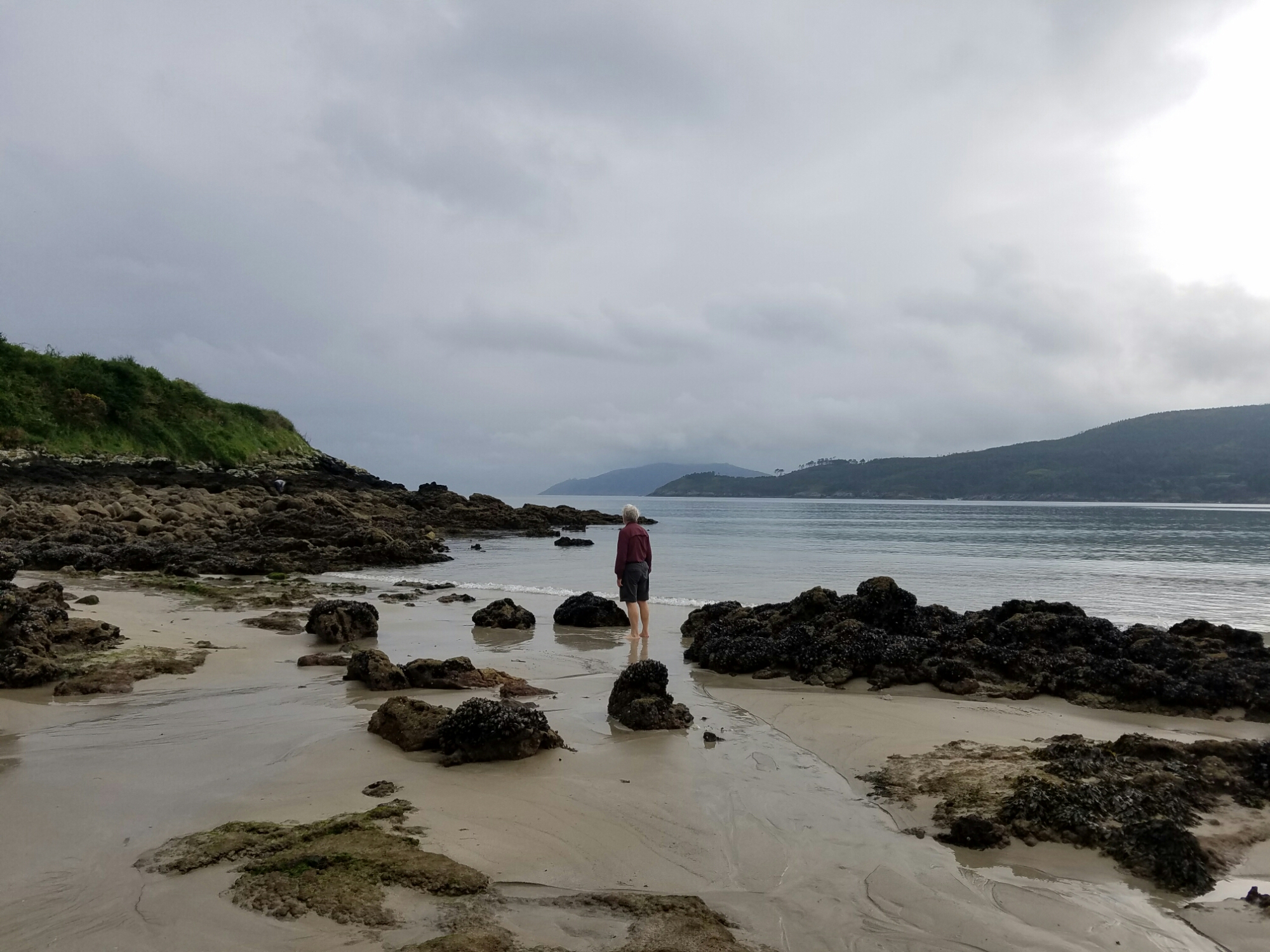 Here are all 55 photos we took in Estorde:
https://goo.gl/photos/2BV73WWtiUYUMxfH8
We stayed at Estorde for two days on our 2014 Camino and we're looking forward to staying there again. A beautiful spot right by the ocean with great seafood and a lovely sandy beach.
It was fun to stay again but there is always danger in trying to relive an experience. The food was not quite as good as we remembered, although the Santiago cake was excellent.
You walk a fine line in doing something over again. Mostly it has worked on this trip since we mixed in a lot of new with a tiny bit of old.
Decorated house
2016-05-19 08:55
Check out the miniature horrero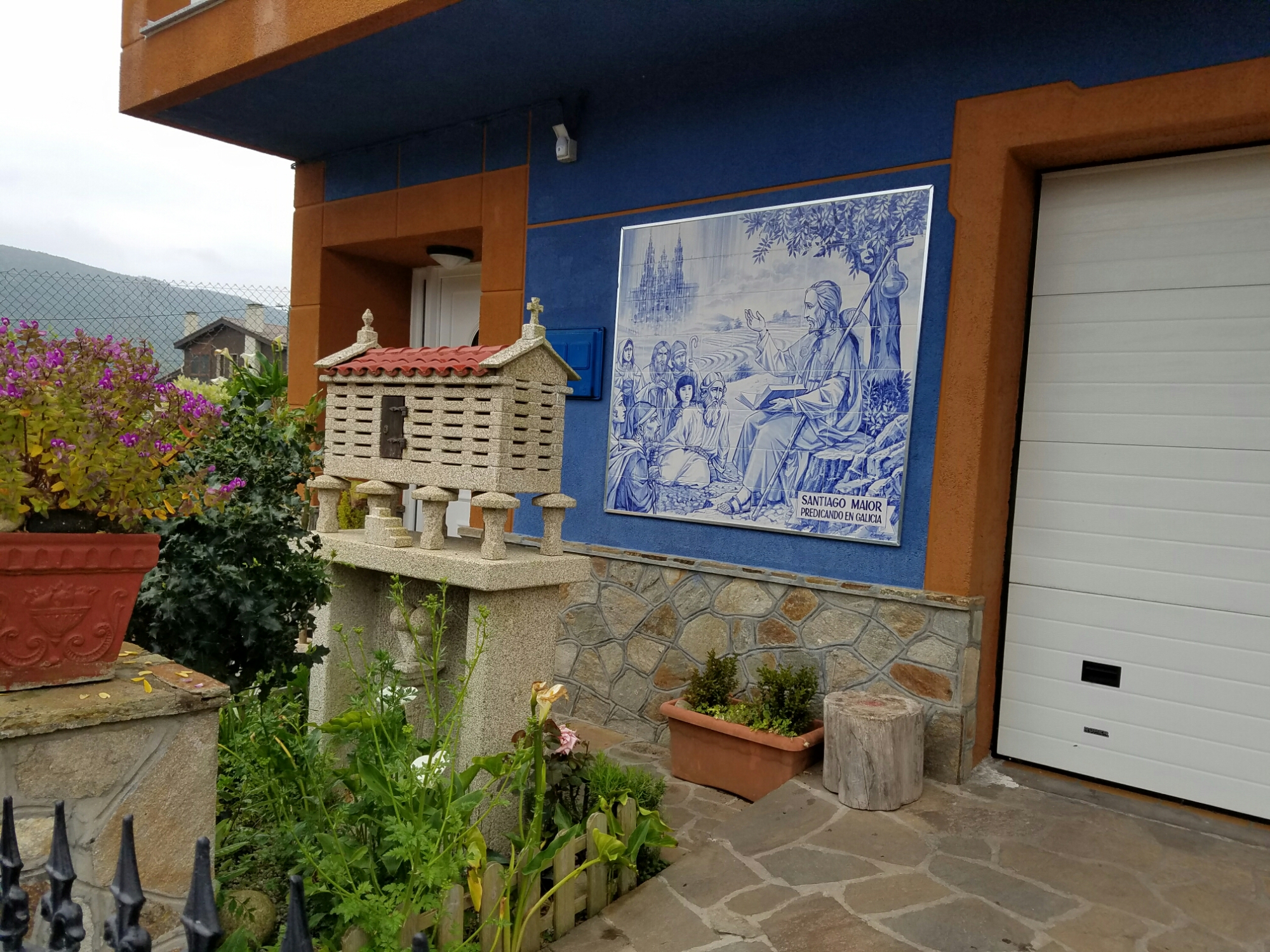 More photos:
https://goo.gl/photos/4vRZMsWkoSkZZALKA
This is just outside Estorde. We walked by it last trip, in 2014, and took pictures of it again. The French pilgrim walking just ahead of us (we chatted with him a minute) took photos but some people just walked by. Someone has spent a lot of time on this house, overshadowing the colorful house on the right. It was fun to see it again.
Selfie on the way
2016-05-19 08:57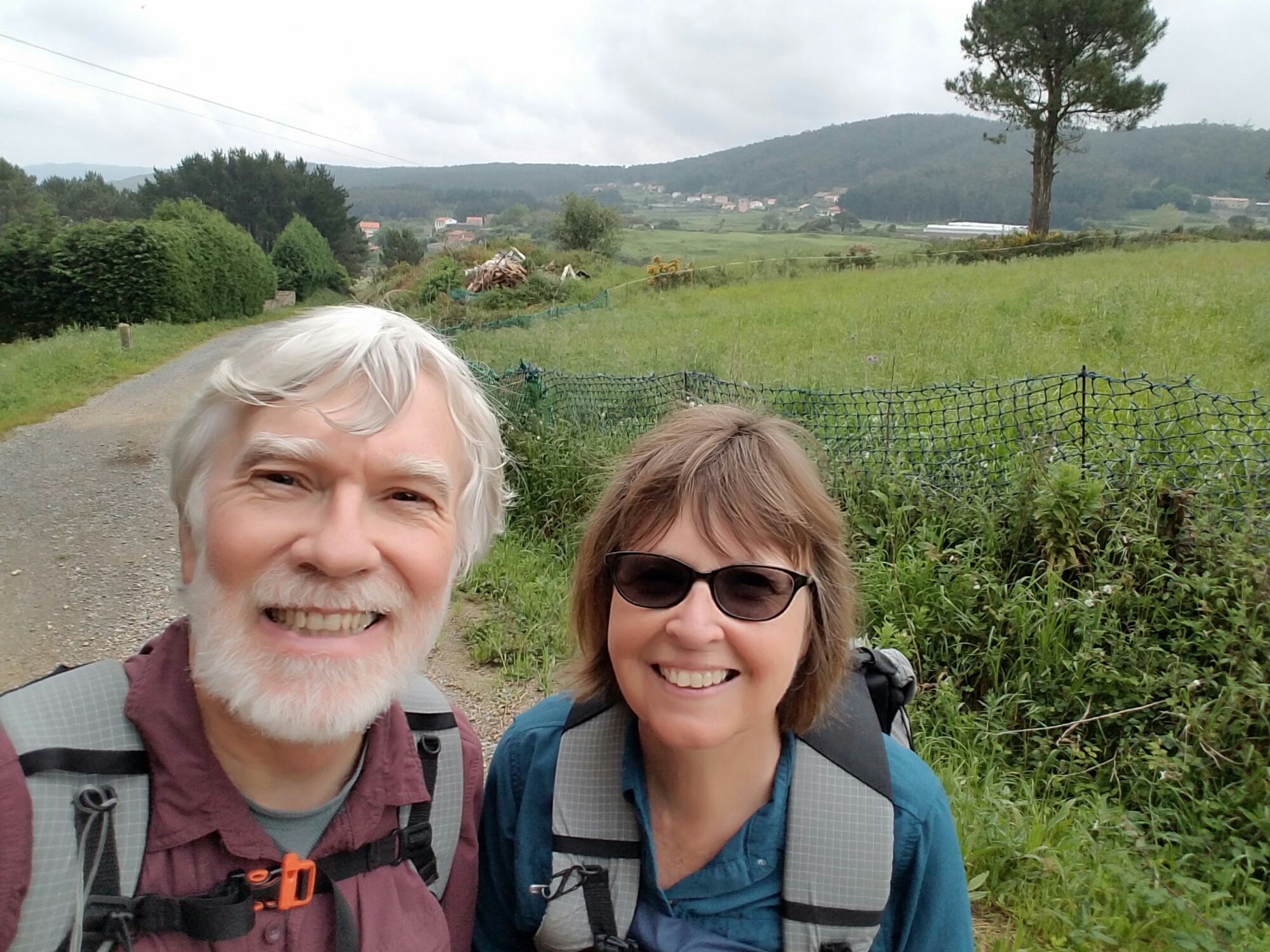 The road not taken
2016-05-19 08:59
Chatting up the local ladies
2016-05-19 09:02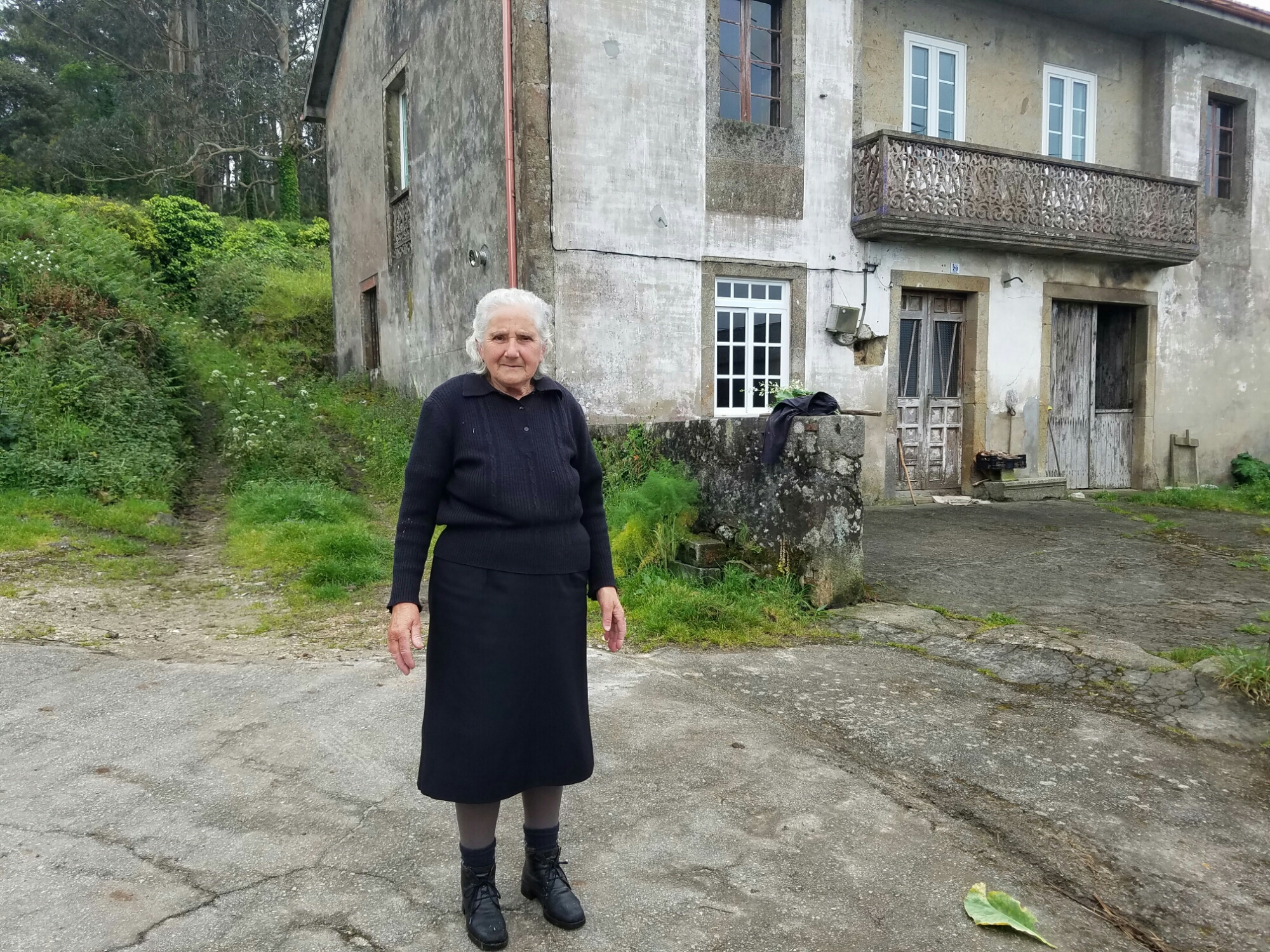 Post by Wynette and Charlie:
This señora wanted to make sure we were going the right way. And she had no time for the Spanish pronunciation of Muxia.
She was concerned we were going the wrong direction since we were on our personal Finesterre by-pass, on a road where pilgrims are seldom seen. We talked a while with this delightful lady and learned quite a lot about her.
When we have conversations with older Galician people, in Spanish, Wynette can understand them pretty well, much to Wynette's surprise. We think it is because they, as is Wynette, are speaking Spanish as a second language, so they use a simpler version of it.
The woman above was mystified when we asked to take her photo. Of course, we just intended a casual shot, but she put down the vegetables she was carrying, took off her headscarf, and stood up tall to pose for the picture. She'd been laughing and smiling when talking with us, but she put on a serious face for the photo.
We passed the señora below not long after. We talked a long time with her, too. She told us she had a problem with her heart and her doctor told her she had to walk every day. That's why she was out walking on "our" Camino. She was moving quite a bit slower than most pilgrims, even us. She talked about there being no jobs for the young people so they leave the village. She said she had lived there all her life. She said she worked when she was younger. We asked her what she had done and she said, apparently surprised we even had to ask, that she worked on the farm.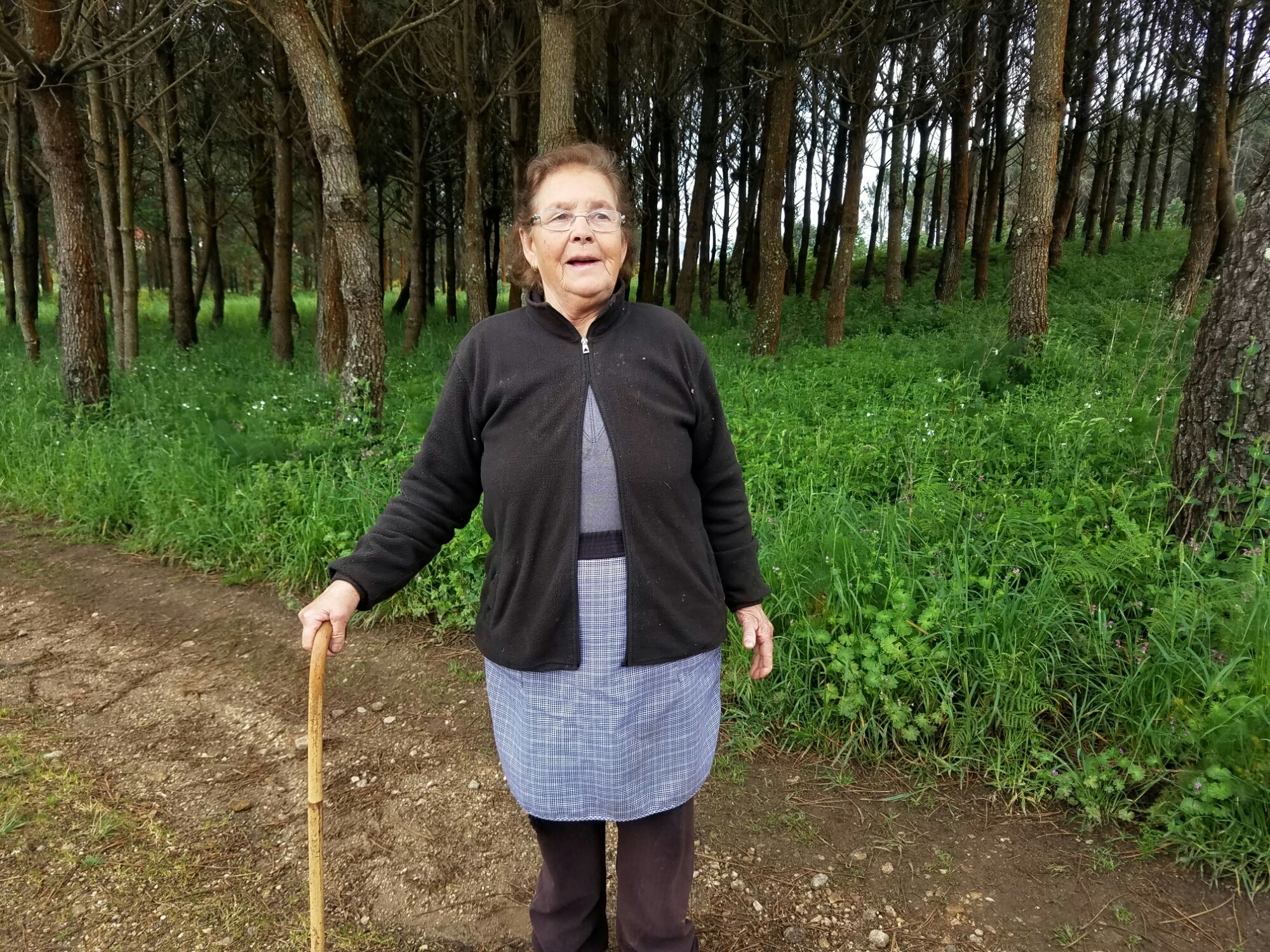 Pilgrim from Portugal, with horrero
2016-05-19 09:03
Topless Horrero
2016-05-19 09:04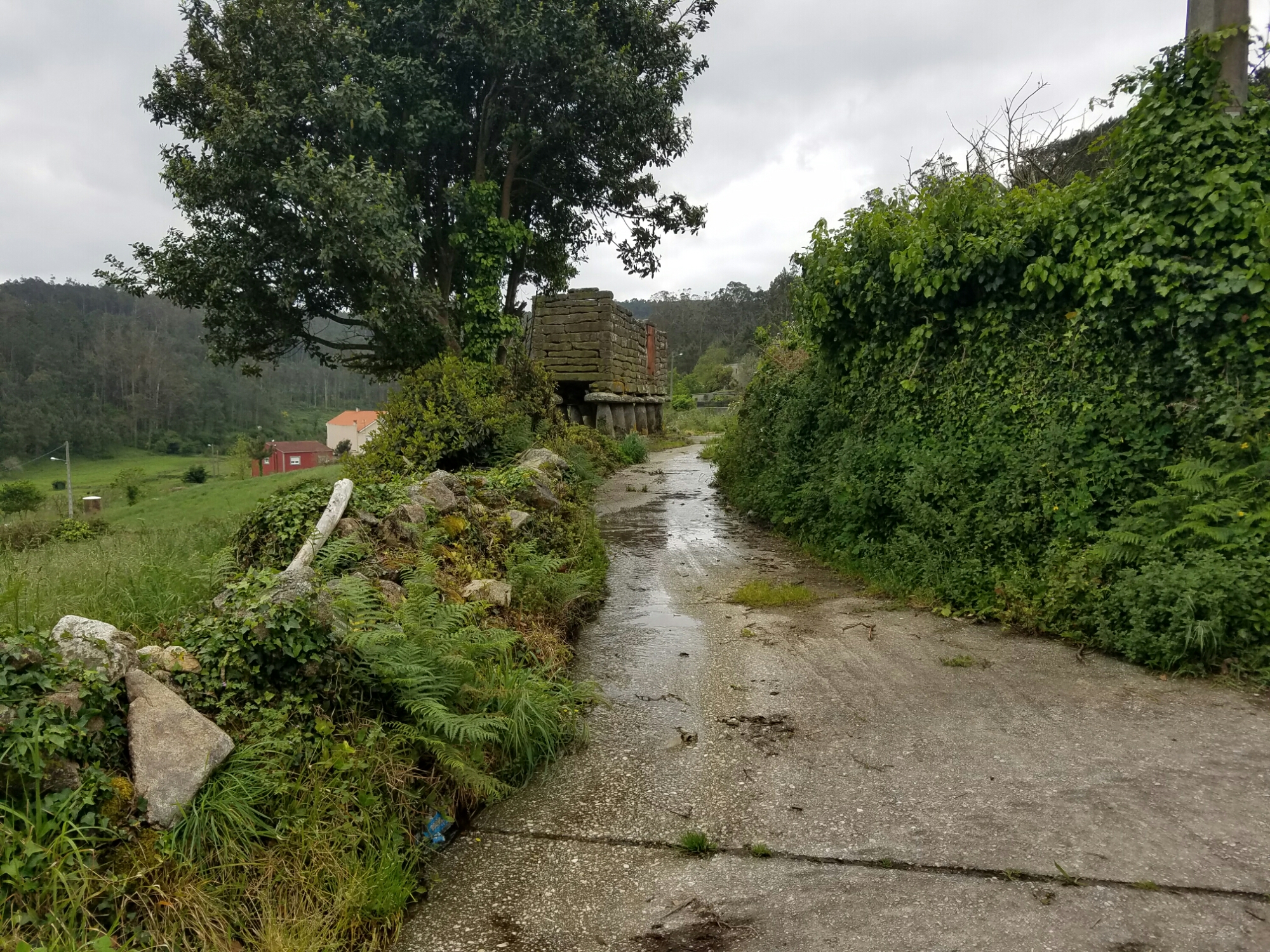 Thank goodness for the bridge
2016-05-19 09:11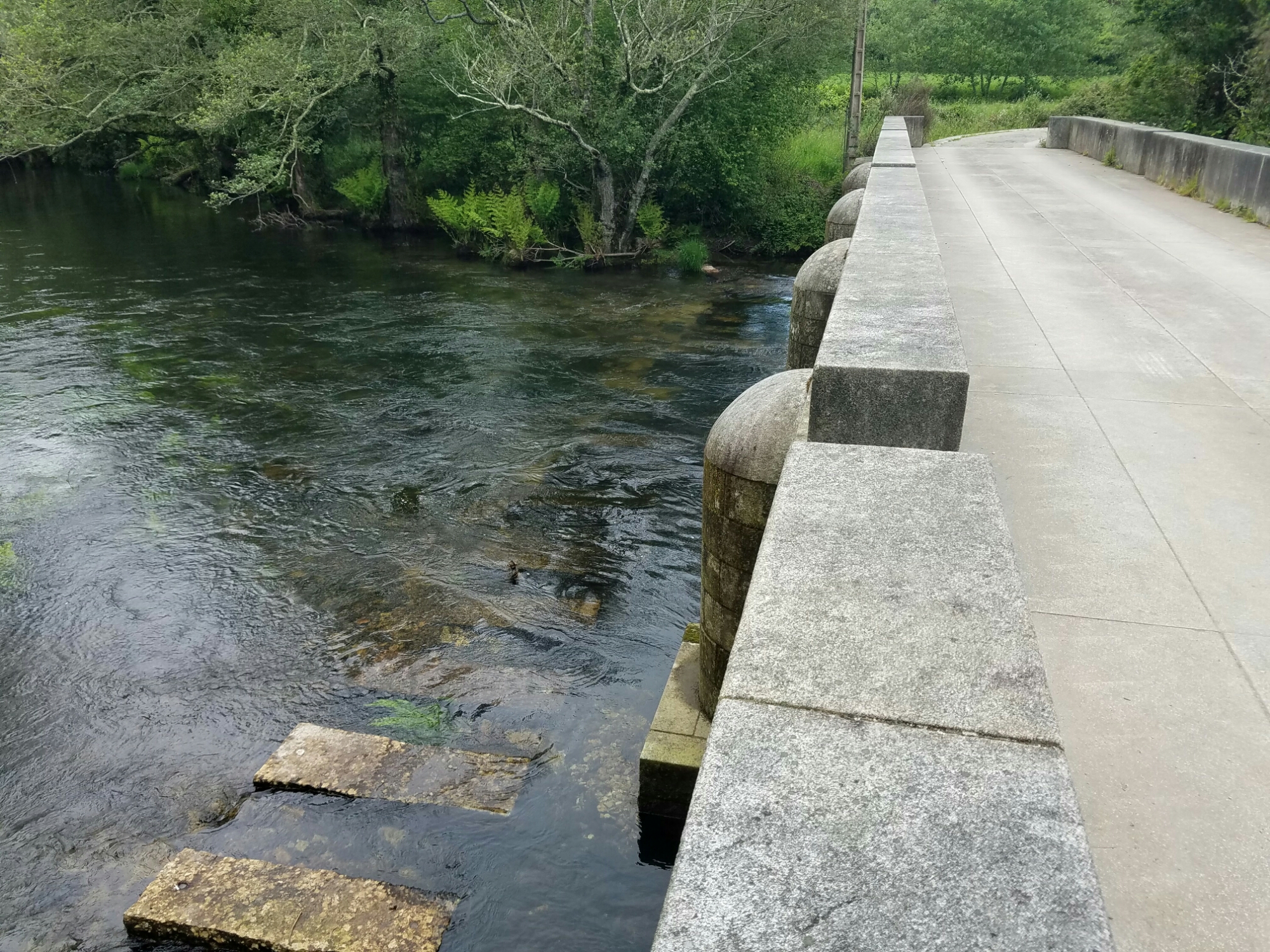 Brierley says that pilgrims used to have to ford this bridge on the stones, just a few years ago it seems. Then they built a bridge. It looks pretty grim fording it. Some of the stepping stones are more than a foot under water and the river was flowing fairly rapidly. Apparently even this bridge floods sometimes and you must take an alternate route. We had no problems.
Casa Ceferinos
2016-05-19 09:16
https://goo.gl/photos/NNrhp3vZFZf6EX917
This was our last stop on the Camino before we finished in Muxia. We wanted to stay in one more casa rural. It was very nice.
Pine marries Eucalyptus
2016-05-19 09:17
0 km marker in Muxia
2016-05-19 09:23
Photos, May 10
2016-05-19 12:10
Photos, May 14
2016-05-19 12:10
Photos, May 16
2016-05-19 12:12
Down the road animation
2016-05-19 12:13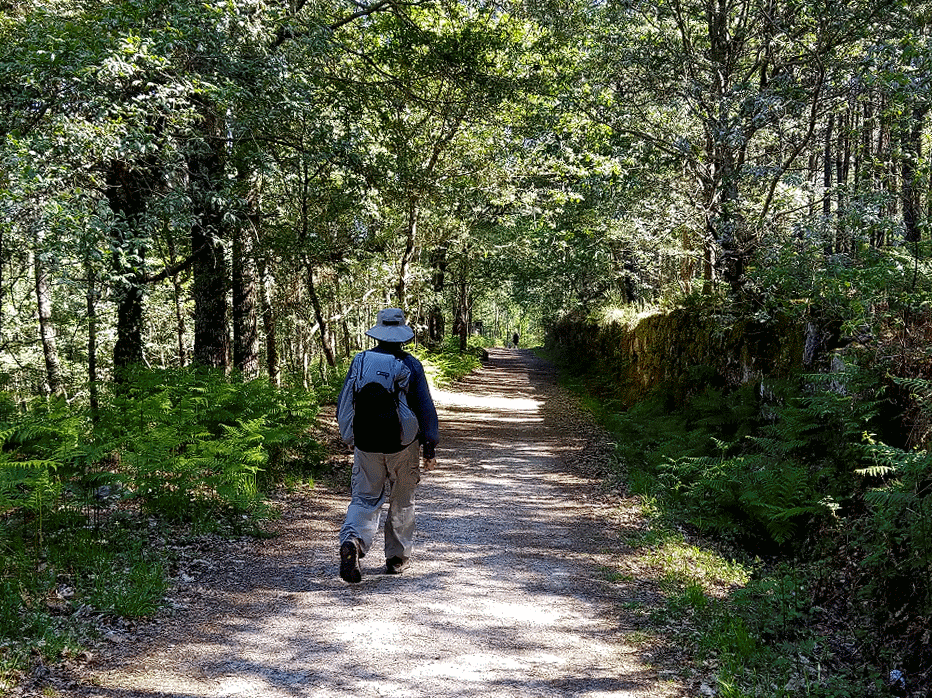 Making of a selfie
2016-05-19 12:16
Muxia: video from the highest point
2016-05-19 12:18
https://goo.gl/photos/9xYzRyZygs5Zhc6K9
The only sound is wind noise so you might want to turn it down.
Muxia panorama
2016-05-19 12:25
Monday afternoon in Muxia
2016-05-19 12:28
https://goo.gl/photos/5YYMQy1rYCoboShW8
Put together by Google photos. This includes a video and panorama that are in the previous posts.
Fish something in Muxia
2016-05-19 12:51
Wynette chatting with the artist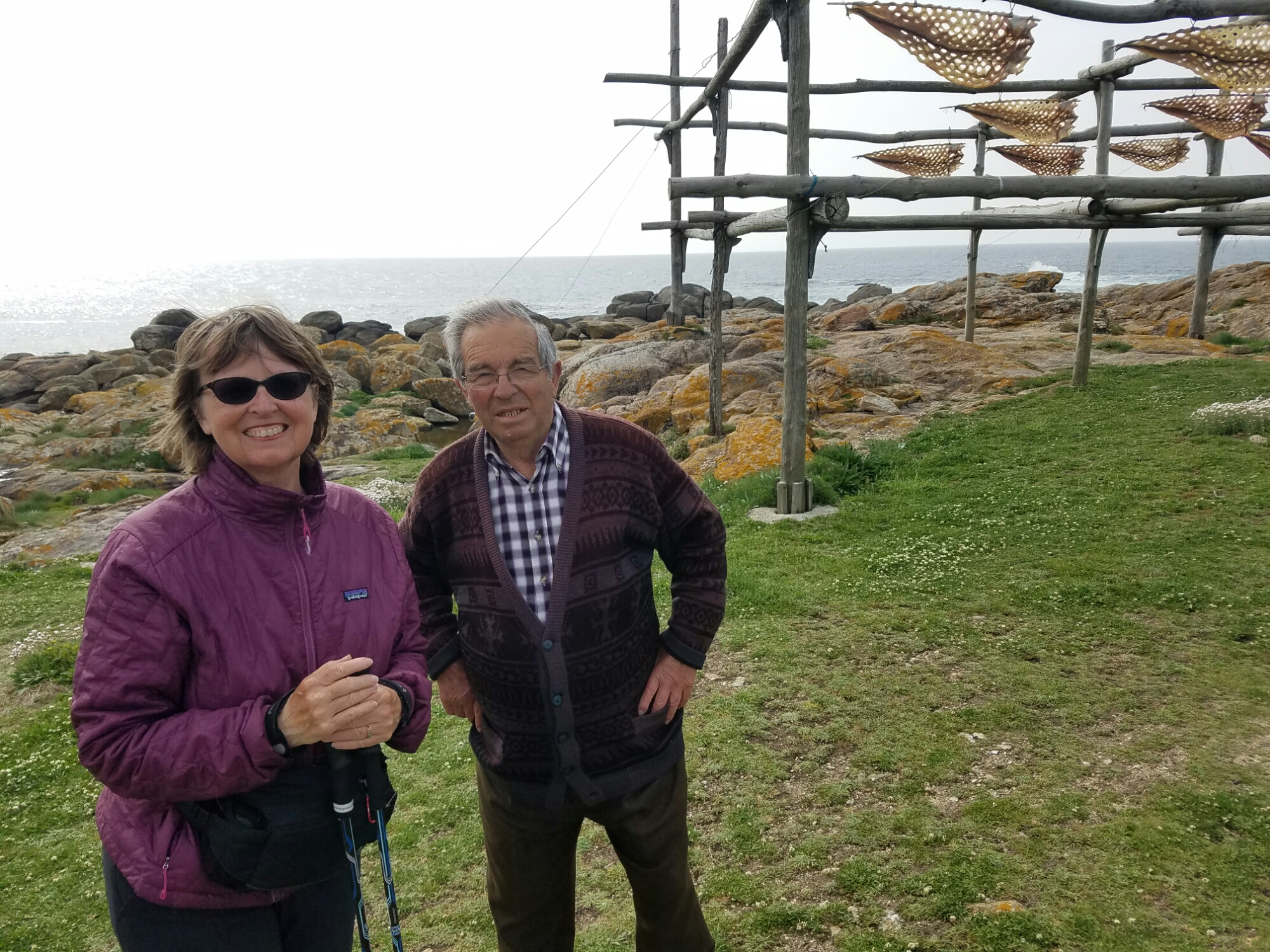 More photos:
https://goo.gl/photos/fDbEfdgAb2N735yv6
This was a strange thing. The people at our hotel said to go see it and it is on the map of the town as something to visit on the self-guided tour. It is a bunch of wooden racks holding up dried fish sections. A man walked up and said he and his son and grandson had made it over the last 14 years. He was 84 years old.
It was interesting and strange and beautiful. It reminded me of Watts Towers in LA. An ordinary guy doing art in his backyard for all to see.
Muxia scenes
2016-05-19 13:02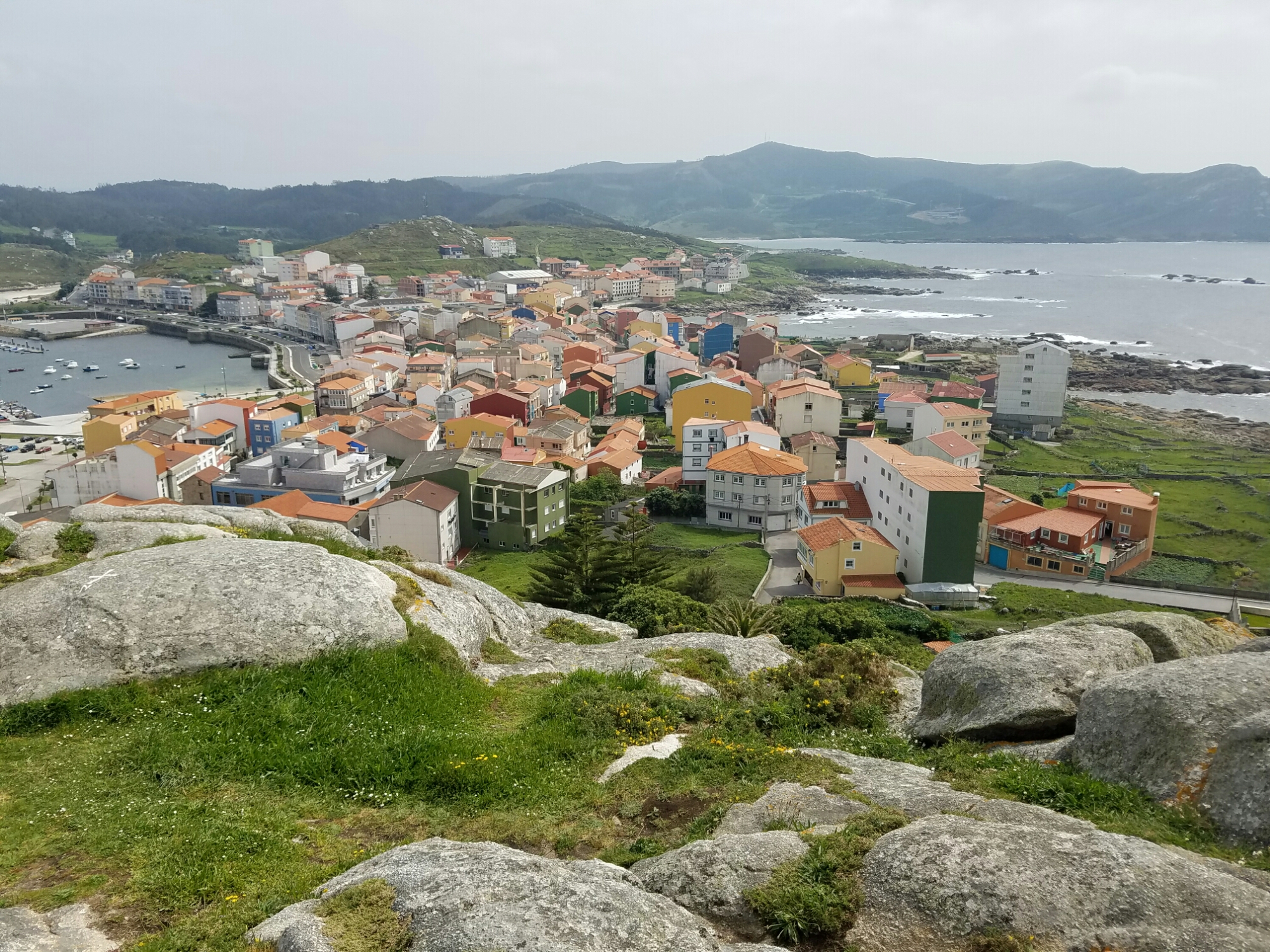 More photos:
https://goo.gl/photos/dvbi8gGJtU88viGV9
Many pilgrims (who don't want to stop in Santiago) walk on to Finisterre. Some go on to Muxia, some go to Muxia first, you can walk in either direction. We spent three days in Finisterre in 2014 and skipped it this time. Muxia was our goal. It turned out to be a lovely town that we liked a lot. Great views, lots of ocean. We stayed in a "boutique hotel" which was pretty nice, very hipster-like.
Ending the Camino of 2016
2016-05-19 13:14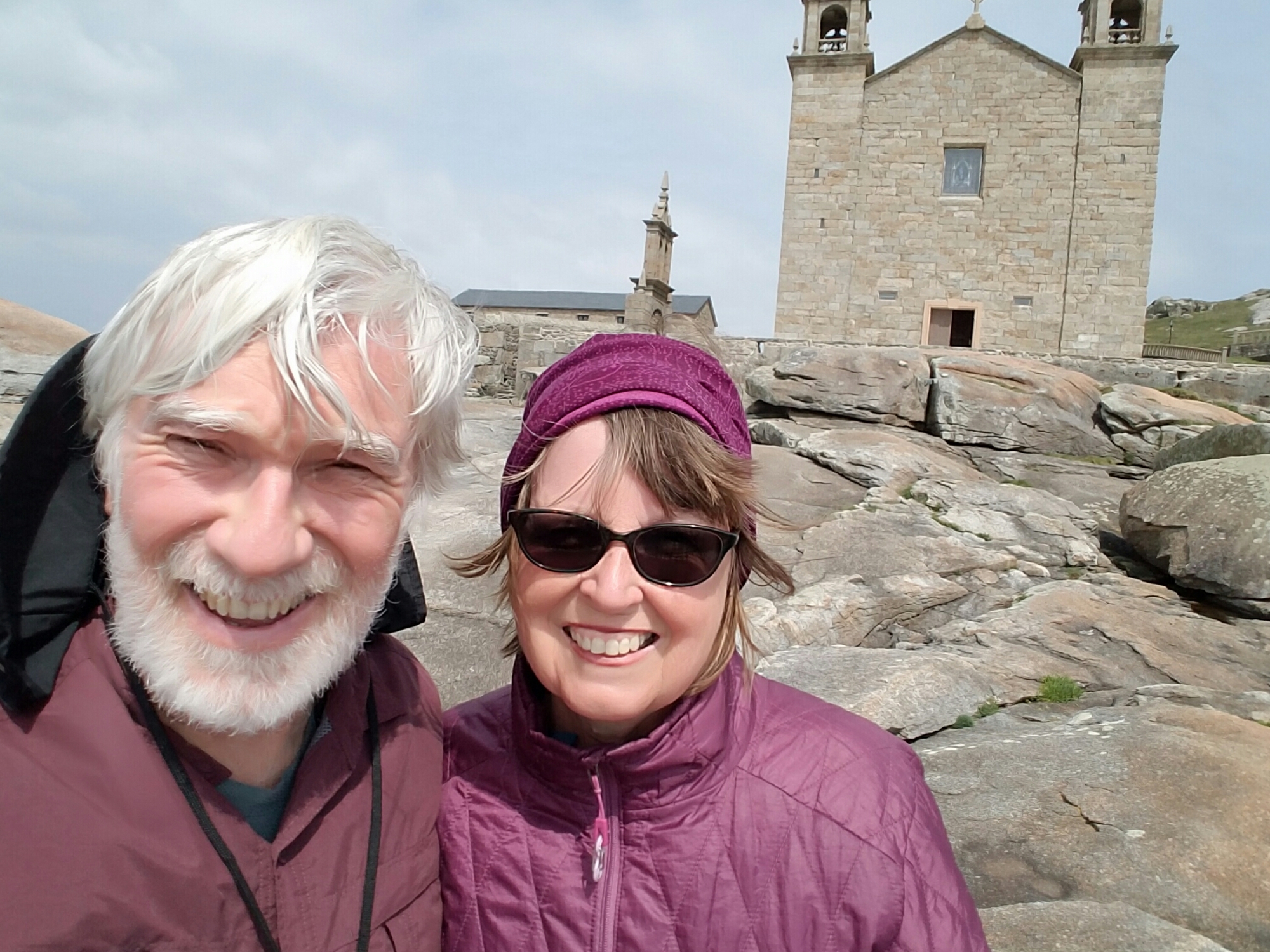 We walked the Camino de Santiago (Camino Frances) in Spring 2013. We walked about 400 miles in 45 days (8 rest days). In Fall 2014 we walked much of it again and also some of the Camino Finisterre. We walked about 300 miles in about 40 days. This time we walked the Camino Portuguese and Camino Finisterre. We walked about 200 miles in 31 days (3 rest days). On the first two caminos we skipped some parts, taking taxis, trains or busses, this time we walked the entire way. No skipping.
Our "slow camino" approach has been successful for us. We walked about 8 miles a day, sometimes as much as 12, sometime only 4 or 5. Since we walk less we don't really need many rest days. Our feet have done very well with minimal problems. We like having time in the afternoons to explore the city or village we are in or just read and post to the blog. We usually have our big meal in the afternoon at 2 or 3 and have a minimal dinner from the grocery store.
On our first Camino we found that our attitude changed four or five days before the end. We stopped thinking about the journey and started thinking about the end and getting there. That didn't happen on this Camino, the last 4-5 days were just about the same, we looked forward to getting up and walking each day.
It helped that the last 4-5 days were each beautiful and interesting in their own way. We stayed at interesting and varied places and met interesting and varied people.
We have a week left over at the end so we decided to spend it in Lisbon in an Airbnb apartment. We are in Lisbon now. The airbnb is much nicer than we expected and we are having fun settling in and exploring the city. More on this in the next few days.
Bus from Muxia to Santiago
2016-05-20 17:03
https://goo.gl/photos/4bZpnxt1RJpKtqVT7
The bus from Muxia to Santiago only goes twice a day, at 6:45 am and 2:30 pm. Unless it happens to be a festivo (holiday) in which case it leaves at 7:30 am. It was a Tuesday and we only found out by chance that it was a Galician holiday,
Dia de Las Letras
, to celebrate Galicia authors, but only ones who are dead apparently. Anyway everyone agreed that Tuesday was a festivo so we showed up around 7:15. Lots of people were there, all pilgrims who finished in Muxia and were going back to Santiago. We assume some of them did not get the word and were there at 6:45.
This was our last chance to be a part of a pilgrim group. We saw a few people we had seen on the trail or around Muxia.
Porto hotel staircase
2016-05-20 17:04
Metric system
2016-05-20 17:05
From 538.com: For U. S. residents unfamiliar with the metric system, a kilometer is basically a mile that phoned it in.