Chindi is going to doggie camp
2011-03-20 19:14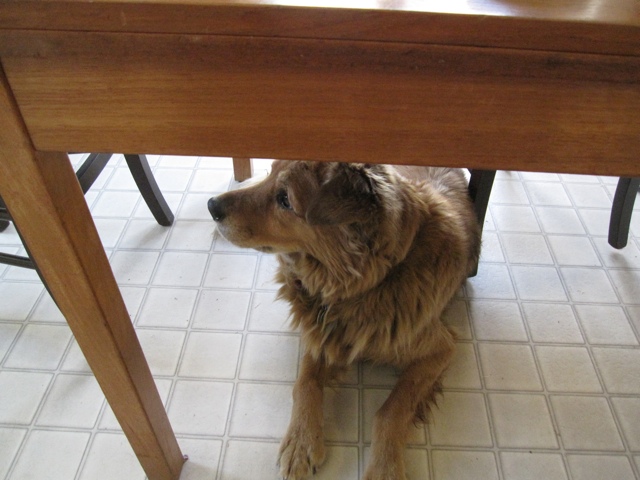 Logan and Koda will House Sit
2011-03-20 19:16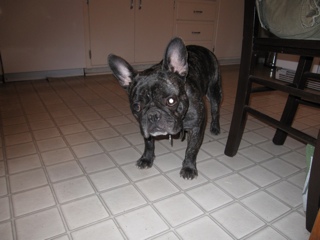 First stop: Sorrento
2011-03-21 19:15
Leave Albuquerque March 30 at 8:40am.
Arrive Rome March 31 at 8 am. Take train to Naples and then Sorrento.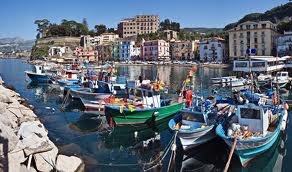 Stay at Magi House (web site), Dominova room
Via padre reginaldo giuliani, 56 – 80067 sorrento – italy
Phone: +39 081 807 11 21 (+39=Italy country code; 081=Sorrento area)
Staying 6 nights, leave on April 6.
How to contact us
2011-03-29 18:11
email: we will be checking email every day: wynrich@gmail.com and cpcrowley@gmail.com
phone: we plan to get Italian phone numbers for our T-mobile phones by buying an Italian SIM card. We will add the numbers here when we get them. Also you can call the hotel we are at. We will post the hotels and numbers as we know them. The previous post has our first hotel.
How to call Italy from the US: As an example, our first hotel's number is: 011 39 081 807 11 21, where: 011: the international direct dial access code, 39: Italy's country code, 081: the Sorrento area, and 8091121 is the local number. If you are using some other phone service, like a calling card, there might be a different way to get international access, once you do that the rest of the number (390818071121) will be the same.
Leading 0: Italian land-line area codes all begin with a '0'. You must include the 0 in the number for Italian numbers. This is not true for many other European countries. BUT Italian cell phone number area codes all begin with a '3', do not dial a '0' calling cell phones.
Skype: Skype has very cheap rates to Italy.
First day in Sorrento
2011-04-01 13:26
We went to bed at 8 pm and got up at 10:30 am. We think we are recovered from jet lag. Out B&B (Magi House) outsources the second B to the ice cream place (Davide, generally thought to be the best in town) across the street. Here is us at B: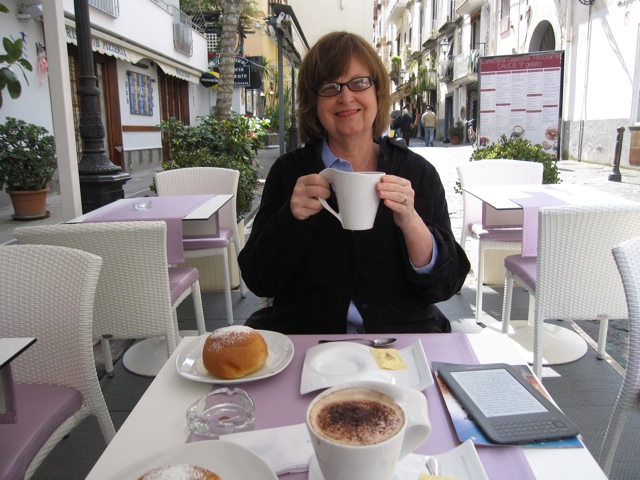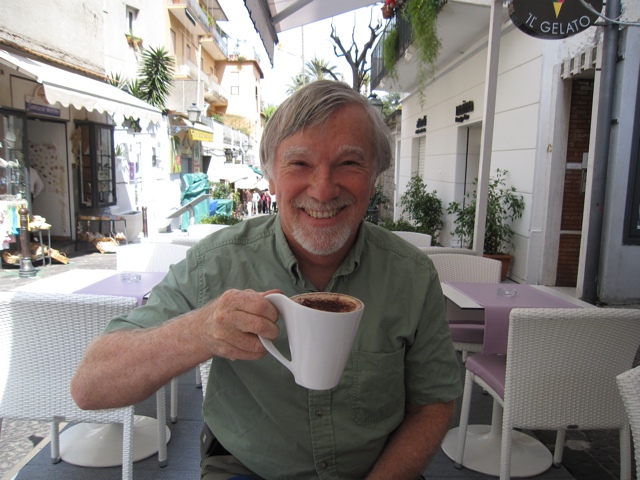 While we were there a tour group came by and everyone got an ice cream sample. We chatted with a guy from the group who said the tour stayed a week in one town in Tuscany and now a week in Sorrento. From each place they take day excursions. It seems like a good way to handle it, it is nice to stay in one place for a week. They each had earphones so she could talk to them all.
We went down to the Marina Grande to have lunch. We walked down this path: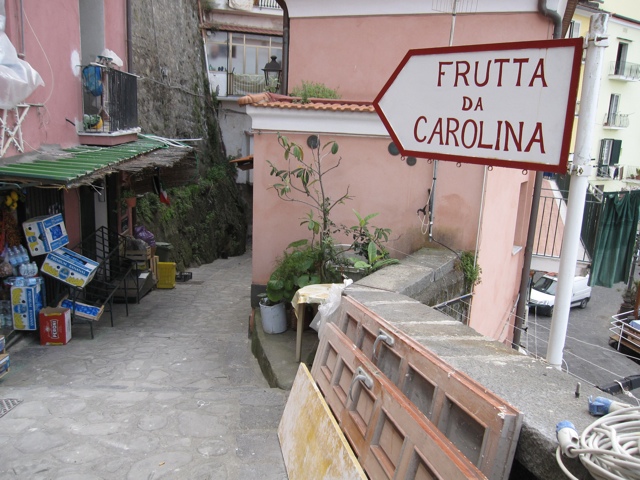 and saw this little fruit market: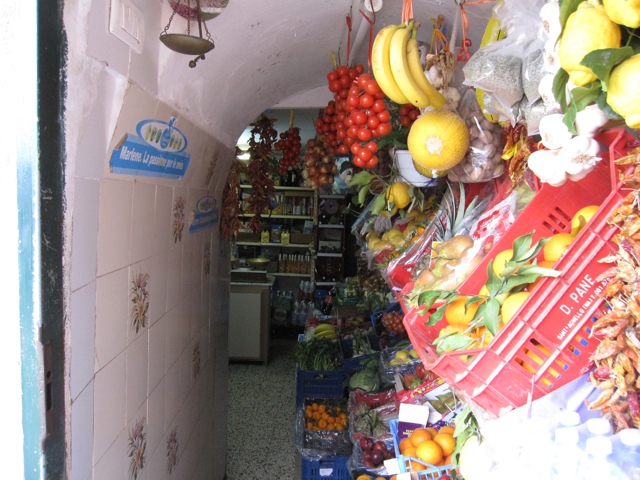 This is the Marina Grande and the deck by the water is where we had lunch: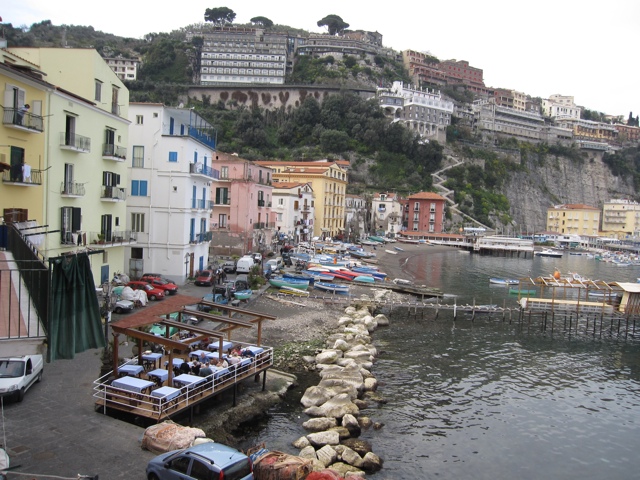 We chose one Rick Steves liked. Here we are at lunch: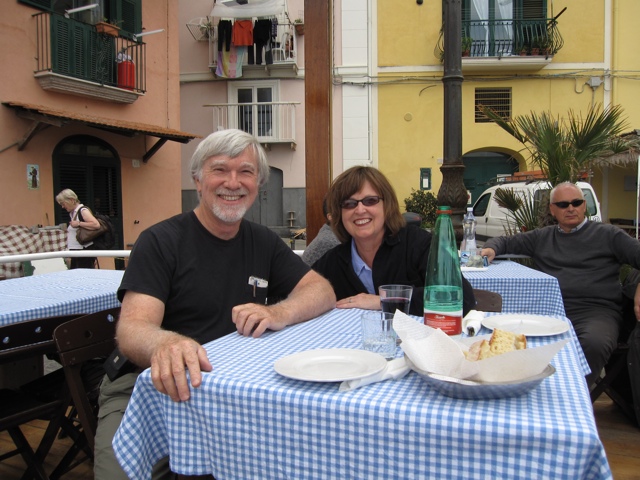 It was a nice little family place, run by Emily. After lunch she sat down and asked us what we had. It added up to 41 euro and, oops, they only took cash and we didn't have enough. "No problem" she says, "you can pay next time you come." They gave us a receipt from the bar and again said "No problem." Depending on your level of cynicism, either down home friendliness or clever marketing.
And this is on the way back: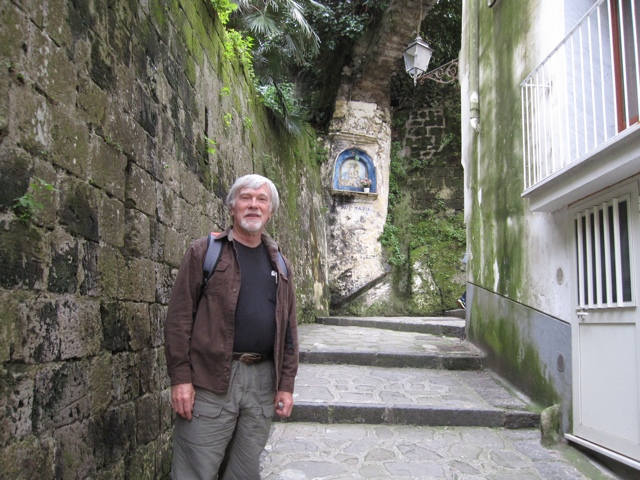 The trip over to Italy
2011-04-01 13:50
Total travel time, house to hotel room: 24 hours.
Step 1, nine hours, leave house, fly to Washington, DC. Didn't sleep that well the night before so we are starting out tired.
Step 2, eight hours, fly to Rome. A typical tiring flight. We slept 2-3 hours. Now we are tired.
Step 3, seven hours, Rome to hotel in Sorrento. Take the Leonardo Express, not really that expressy, to the Rome train station, train to Naples. The fast, Eurostar train is 46 euro, the slower train is 22 euros, we take it, 2:15 vs 1:15 hours. Very nice ride, the Italian countryside is beautiful. It is spring and everything is green and flowering.
Rome and Naples train stations are huge and busy. We find the Circumvesuviana train and take it to Sorrento, only 3.3 euros. It is basically a city rail servicing the Bay of Naples, 34 stops in 20 miles to sorrento, the end of the line. We have our bags and are in everyone's way but they are nice about it. Very crowded.
Eating lunch on the train to Naples: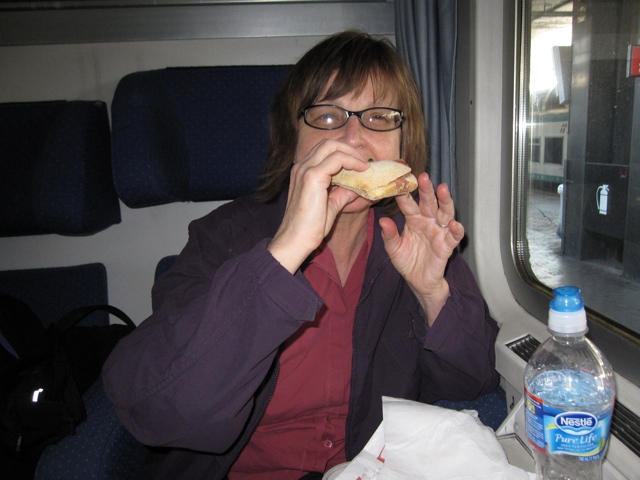 We walk to our hotel, 15 minutes, got lost once but made it by 3 pm. We need to stay up until 8 pm. We go to dinner, very nice, grilled fish and Naples-style pizza, both excellent. We drop into bed at 8 and sleep 14.5 hours getting up at 10:30 am the next day.
Trip to the phone store
2011-04-01 20:10
Wynette: After a few misses, we finally found the store to buy Italy SIM cards for our phones. When they took the back off of Charlie's phone to put in the new card the very nice woman who was helping us smiled and said "Do you have a dog?" She found a bunch of our dog Chindi's hairs inside the phone! So a part of Chindi is here with us. It reminded me of when my dog Bruno died and Deborah sent me a sweet sympathy card and told me that she, several years after we had been roommates, was still finding Bruno's hairs among her belongings.
Here are our phone numbers while we are Italy:
Wynette 333-840-2985
Charlie 333-840-2728
See earlier post about contacting us that explains about calling to Italy. They said that if someone calls us here it will not incur any charges on our cell phones. Of course, you'll be charged on your end depending on your phone plan. But don't worry about it costing us anything.
I still can't figure out how Chindi's hairs got inside Charlie's phone.
Our bathroom
2011-04-02 08:35
The Magi House has high-style bathrooms. The sink is slanted with a long thin drain from right to left. Here it is: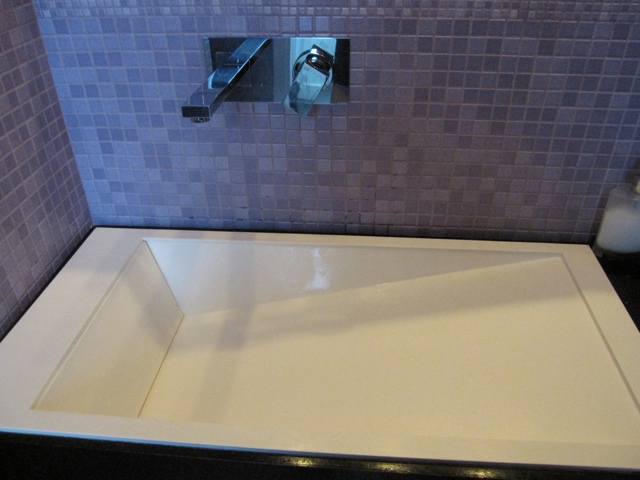 Rather like a slanted board you would beat your clothes on. But you can't stop the drain so you couldn't really wash anything in the sink. Maybe this is by design. The faucet is a bit high and it is not clear which way you turn to get hot water. It takes a lot of space, is high-style, but is not necessarily more functional.
The shower is even more high-tech. Here it is: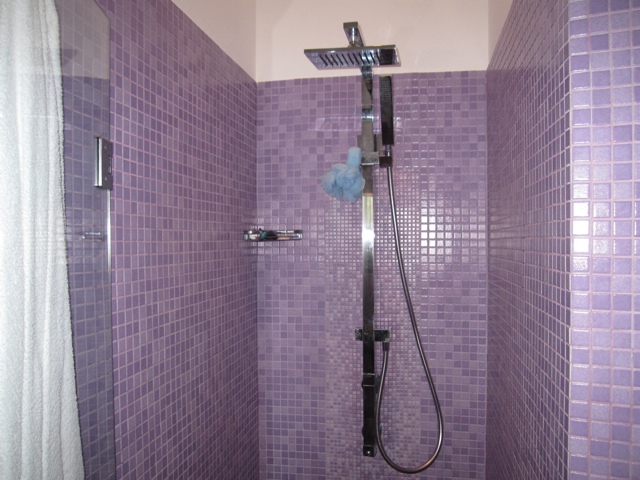 Low on the vertical bar is a part of the bar with the small label "Open". This turns on the shower and reveals the label "Close" that was on the side. It took a little time to find this. the hot/cold mix is controlled by a small device at the very bottom. I never found this but the water temp was fine. Wynette found it. We still haven't figured out how to turn on the side sprayer device.
Walking to St. Agatha
2011-04-02 19:41
Sorrento is on a peninsula that rises up about 1000 feet (just guessing, I'll check later) from Sorrento to the peak and then down again on the southern side which is the Amali Coast. I hiked up to the high point which is a town called St. Agatha. I started out from Sorrento center and within 3-4 blocks I was on one of the little lanes which are all over Sorrento and most Italian towns. Here is the one I was walking on: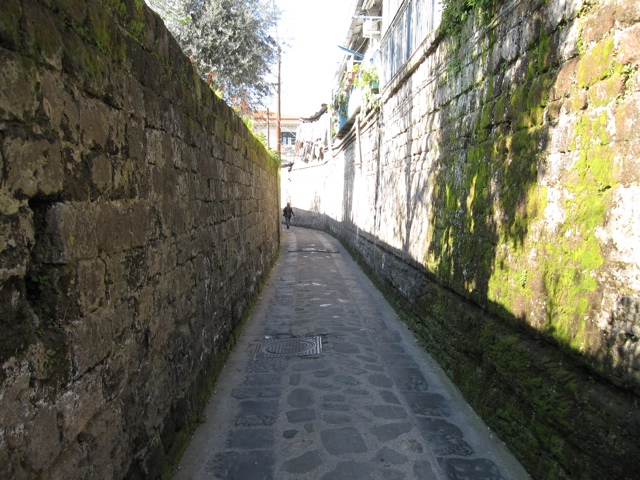 This is a street, a few cars and several scooters passed me as I walked up. The lane has high walls and goes by houses. Most houses have lemon and/or orange trees. Here is a yard that had some nice flowers;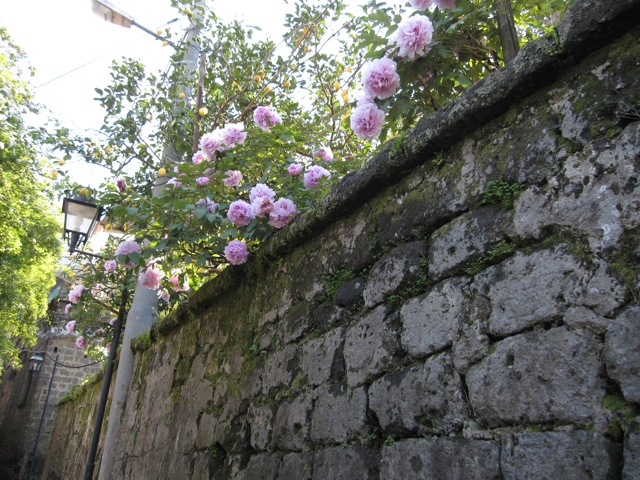 My camera wanted to take a picture of my belt camera case which is really its home so I indulged it.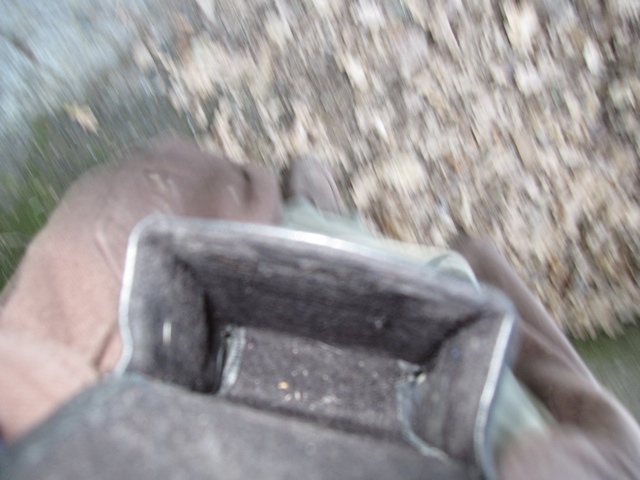 Now I am about half way. Here is a view back at Sorrento. That is Mt. Vesuvius in the background.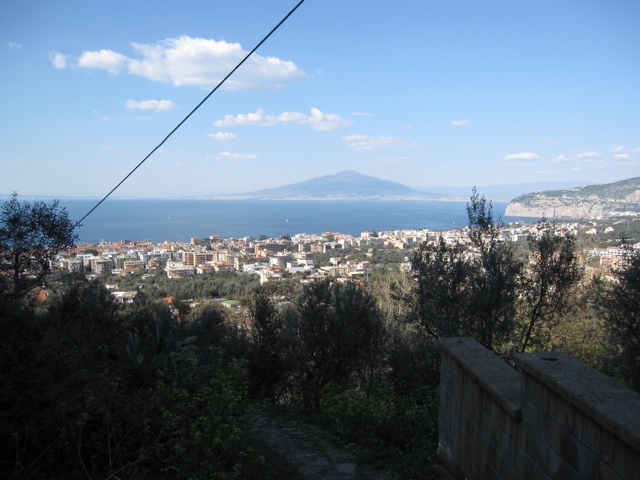 It is more of a trail now. No walls so you can see into people's gardens. I saw one guy doing his spring rototilling.
Now it changes to an actual footpath, scooters not allowed. The St. agatha sign reassures me since my map was not accurate.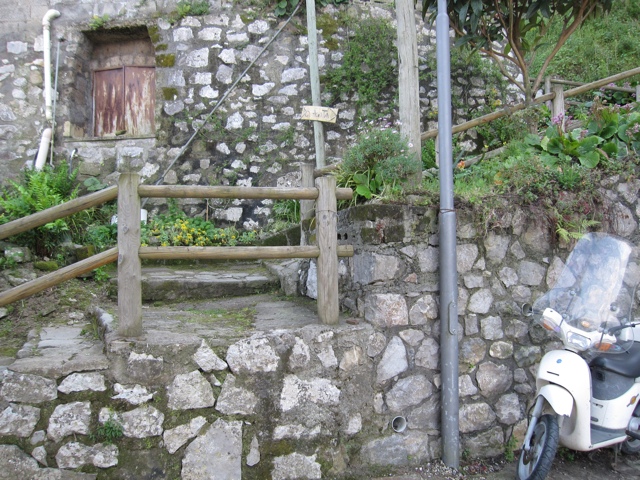 You go right by people's houses. This dog followed me for a while then pushed the gate open to this house.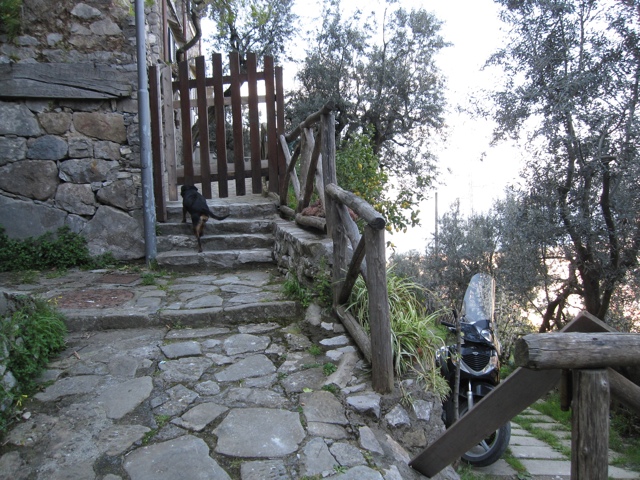 the footpath was quite steep. Even with my 5000-ft New Mexico-enhanced red blood cells I was getting pretty tired by this time.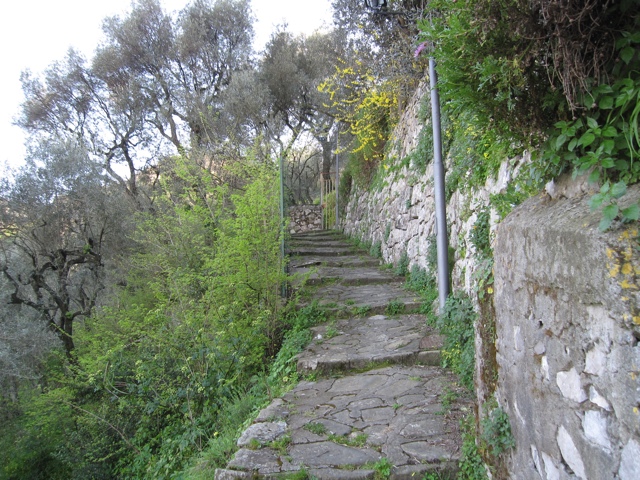 I was kind of hoping I was closer to St. Agatha but you can see I was only 2/3 of the way. You can also see what kind of shoes I wore for the walk.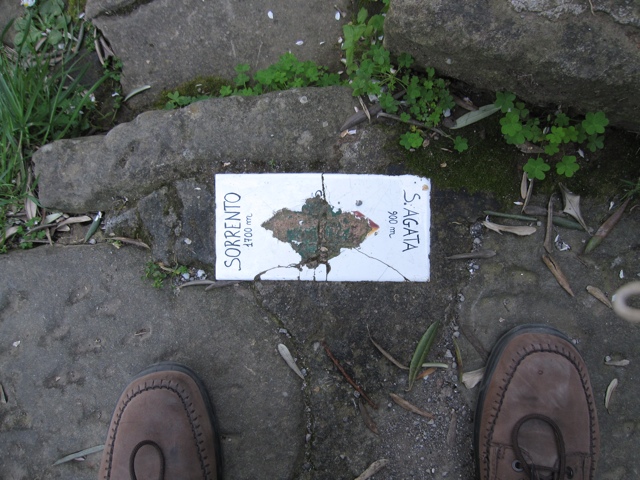 Now I am 80% of the way I guess. I turned and saw the sign directing me back to Sorrento. The guy in the sign looked so casual and jaunty "Oh I guess I'll just pop down to Sorrento and back on these steps."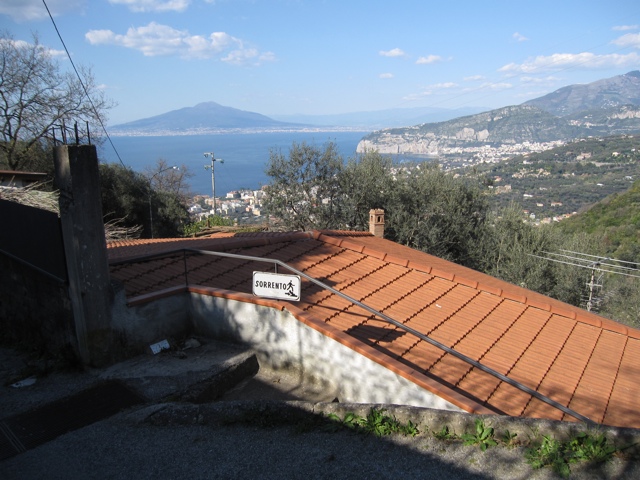 Almost to the top, back on a regular street, these houses have nice views.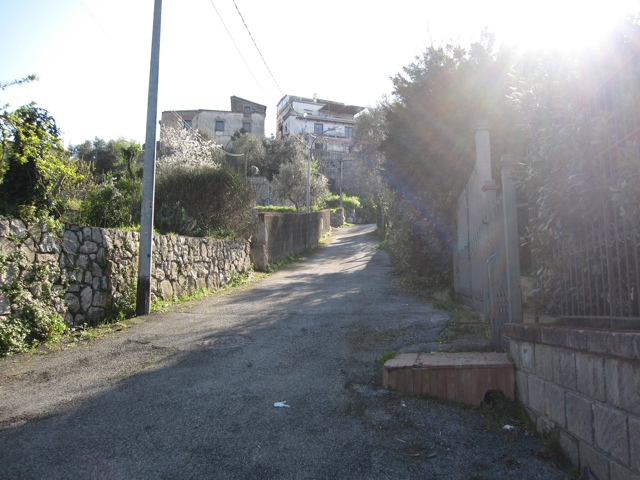 Finally I get to St. Agatha which is another town, smaller than Sorrento but with houses and stores, and, I was glad to see, a little place to get a bottle of water for 40 euro cents. Here is the view from a street in St. Agatha.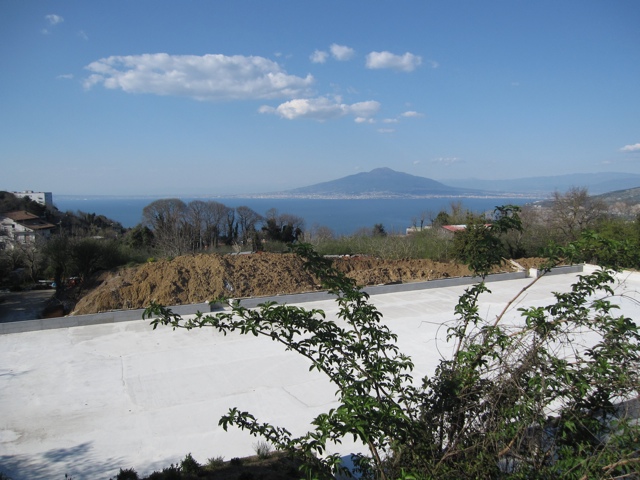 Now I'm on the way down. Here are a couple of nice scenes. It took me about a hour to go up and about 40 minutes to go back down. I started at 3:45 and got back about 5:30.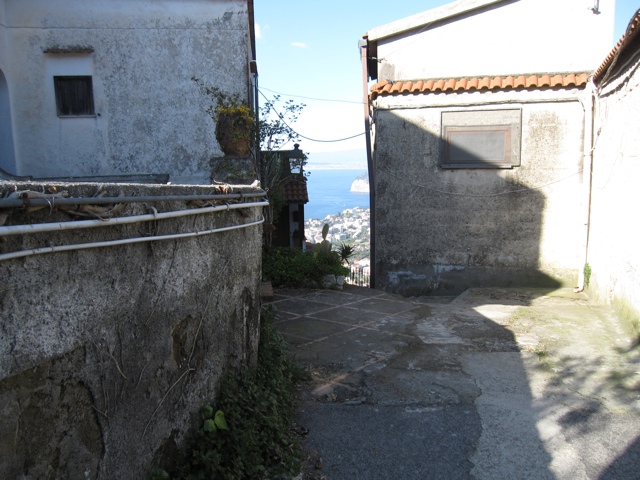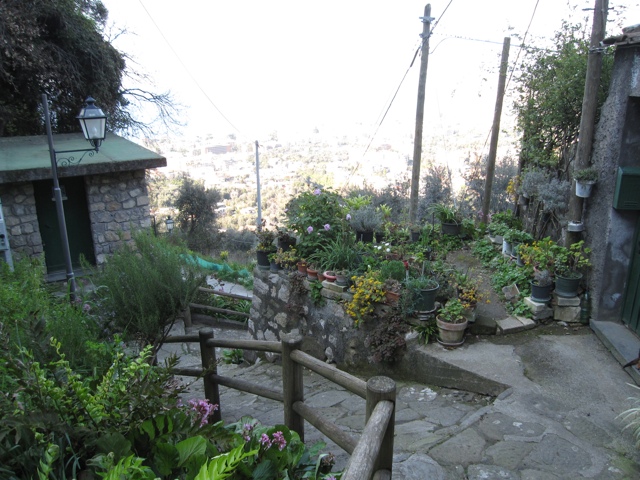 Shower redux
2011-04-03 08:04
We must have been jet-lagged. There is a knob by the sprayer that you pull out to switch the water from the waterfall fixture to the hand-held sprayer. We tried turning it before, to no avail. Overall the shower is great. The waterfall head is very nice.
Ilaria
2011-04-05 13:54
Post by Wynette, Day 5 in Sorrento: Ilaria has been at the front desk of our B&B nearly every time we've gone through. We are fortunate to be near the center of town so we can come and go to our B&B several times a day to rest, get things, etc. So we have seen Ilaria several times a day, every day. We are wondering when she takes a break. She said "Ilaria", pronounced ee-lar-ee-uh, is the Italian equivalent of "Hilary". She speaks English pretty well, but not perfectly, so it is very charming. She has been so nice and helpful. She's our best friend in Sorrento. I asked if I could take her picture and she smiled and took a nice pose for us. Every time we've traveled in Italy and asked someone if we could take a picture, they have always seemed happy for us to do so.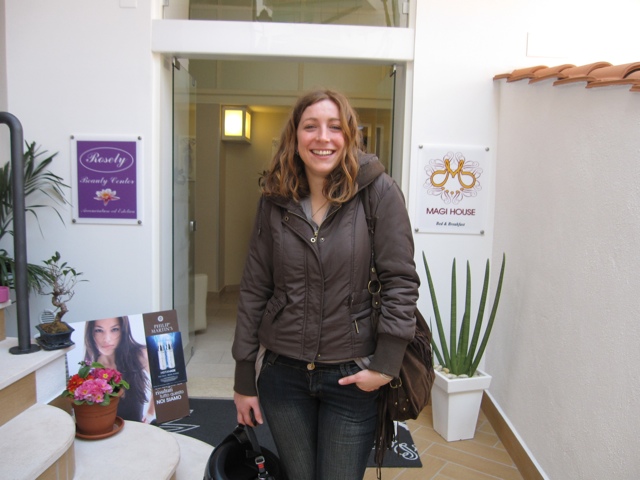 When we were walking back from the Marina Grande (our favorite spot in Sorrento) after having lunch there today, we passed this man laying stones in the walkway. We've been watching his progress for several days. We asked if we could take a picture and he said yes then indicated he wanted us to wait while he put his hat on for the picture.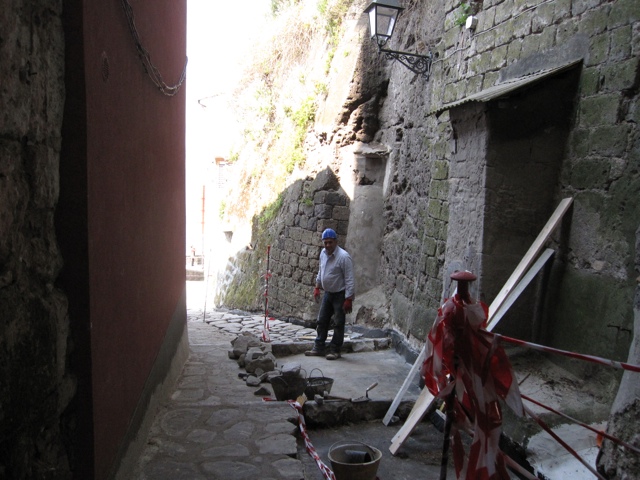 Capri (Charlie)
2011-04-05 17:14
We took a day trip to Capri yesterday. The jet boat takes 20 minutes to get there, Capri is quite close to the mainland. There are steep cliffs all around the island with only two places where you can land a boat. The Roman emperor Tiberius moved the capitol here and governed the Roman empire from Capri for 20 years. Being on an easy-to-control island helped in thwarting assassins, which he was worried about.
Here we are on the boat going over: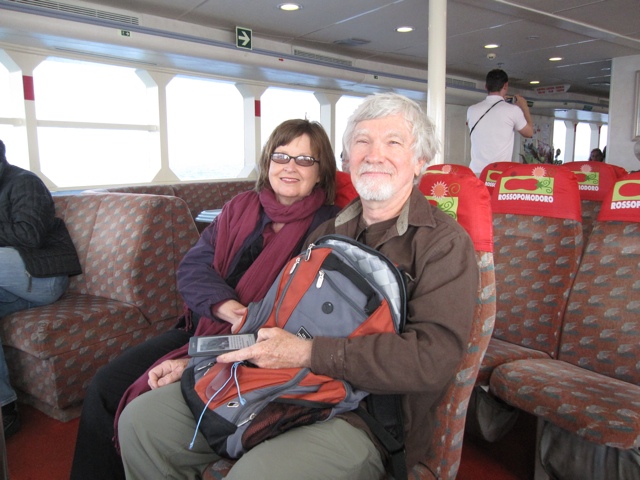 You land at the Marina Grande: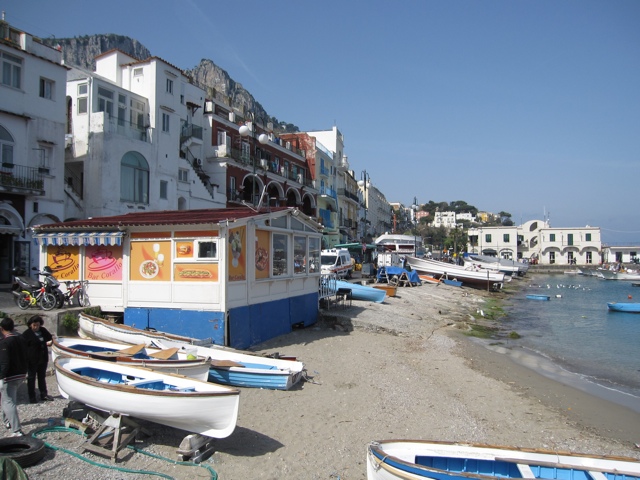 We took the funicular up to Capri town, very trendy. We had some coffee and took the bus to Anacapri, the other town on the island. The bus goes through the mountains on two-land cliff-on-one-side roads that would be considered one-lane roads in the US.
We had lunch at a recommended place and it was the best meal we have had so far. The restaurant was a little courtyard with kitchy statues: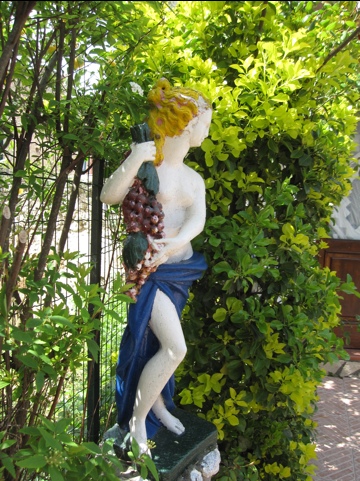 We saw a nice church with a beautiful floor.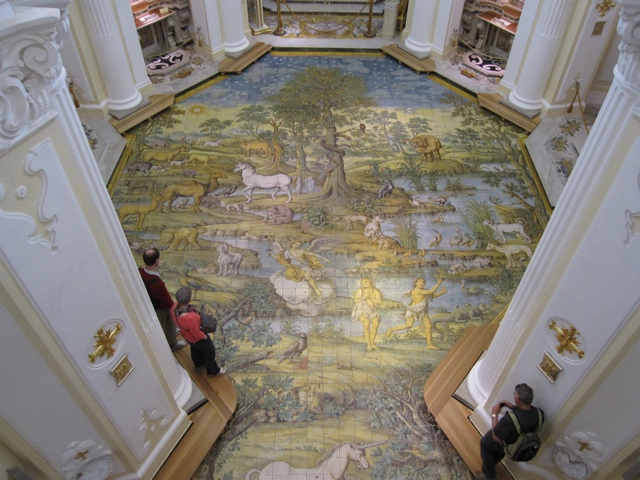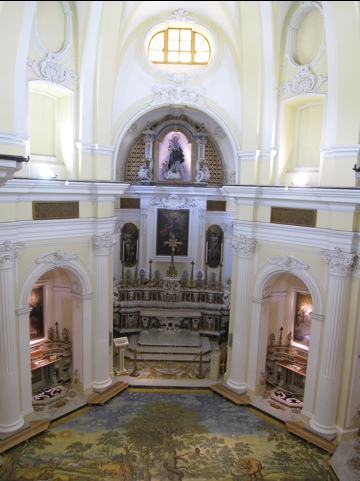 Wynette liked this tree by the main square. This kind of tree is quite common in this area.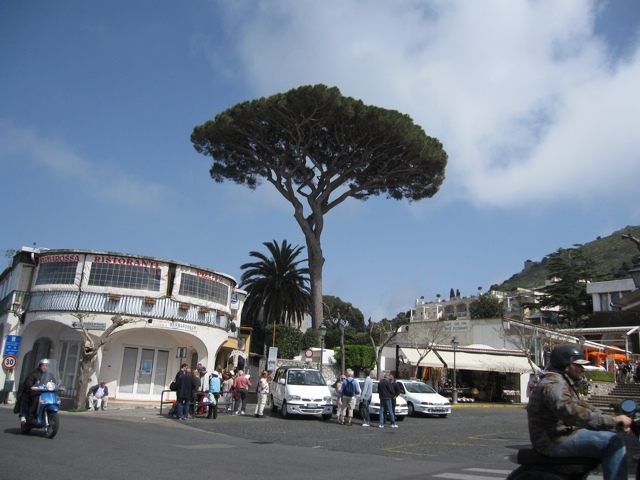 We visited a villa built by a Swedish doctor, very pretty:
and nice furniture: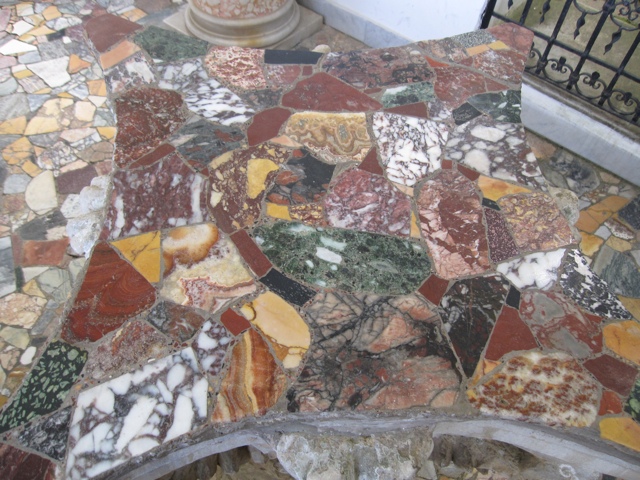 and a beautiful garden: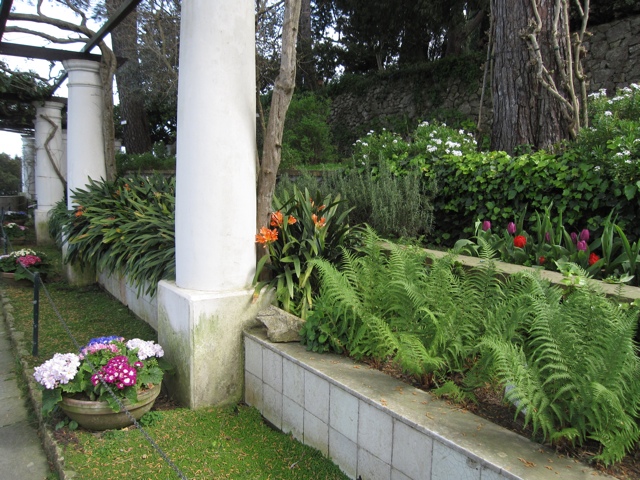 with amazing views: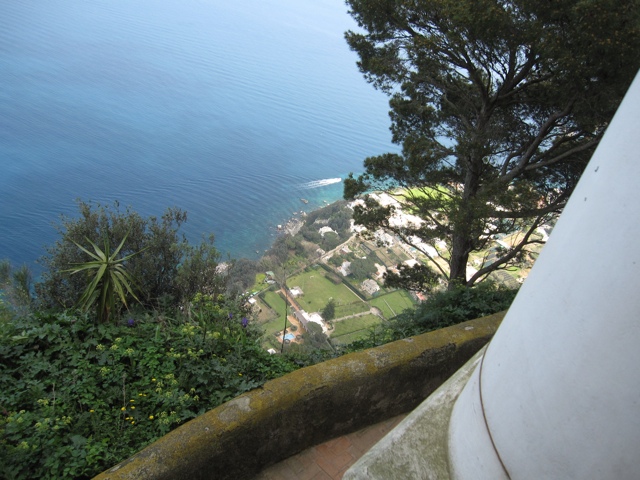 in several directions: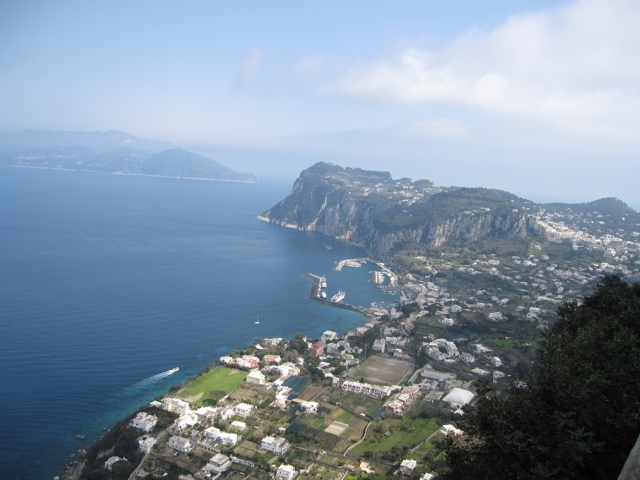 and lots of flowers: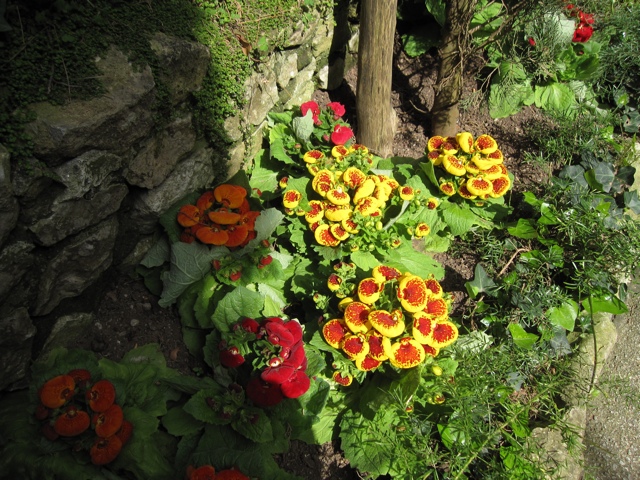 and rows of trees: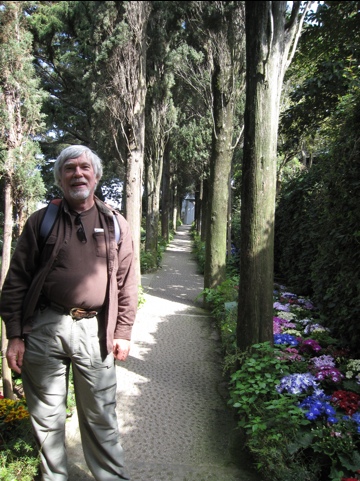 and a sphinx, sfinge in italian, which gives good luck if you rub, which we did, and which now we have: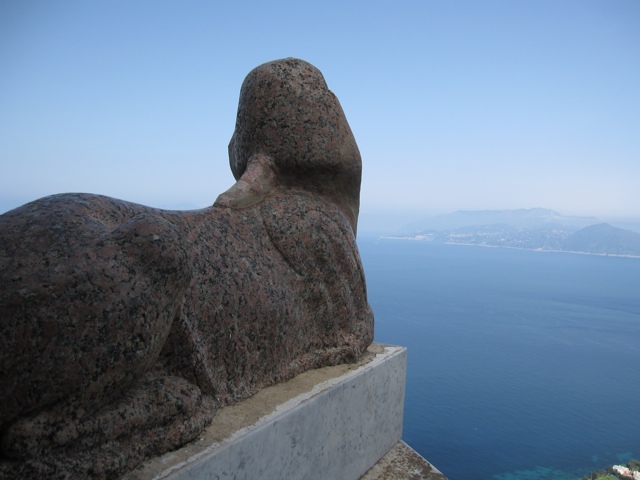 We walked by the hotel Logan and I stayed at a few years ago when we were here.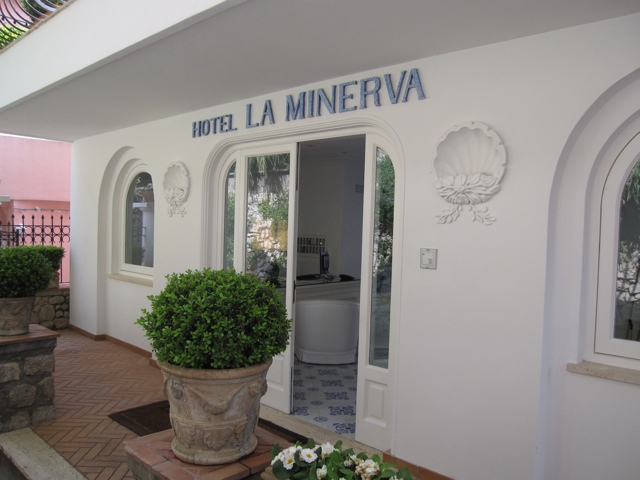 Next we went for a very nice walk along the ocean but I'll leave that for the next post since you are probably getting tired, and we were tired at the end of the walk. I'll put in one spoiler: there were a LOT of stairs.
The safe
2011-04-05 18:14
Axel's dog
2011-04-05 18:18
Walk in Capri
2011-04-05 18:30
Capri is very popular. It was fairly light when we were there since it was a Monday in April. When Logan and I were there it was unbelievably crowded. But, as soon as you get away from the main areas you don't see as many people. We took a walk from Capri town along an undeveloped area and didn't see anyone for the hour or more that we walked.
The walk starts out from the Armani Store in Capri town (well, not literally but it is close by) and goes by houses: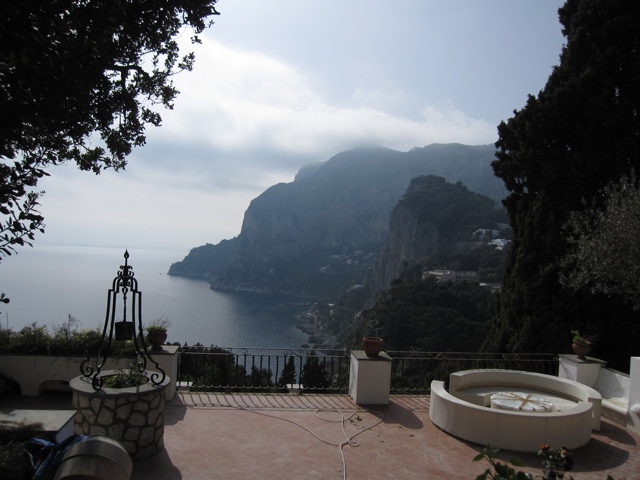 It changes to a paved trail along the cliffs and soon gets to the famous Faraglione rocks. If you have ever seen a picture of Capri it is probably of these rocks.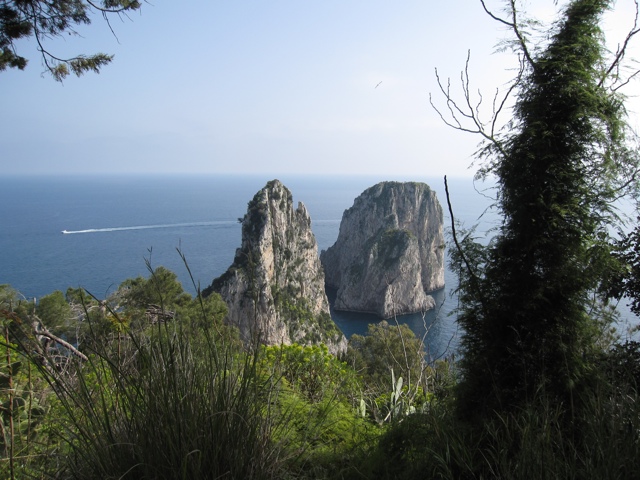 We saw three Italian naval ships doing practice maneuvers and caught one of them as it went between the rocks.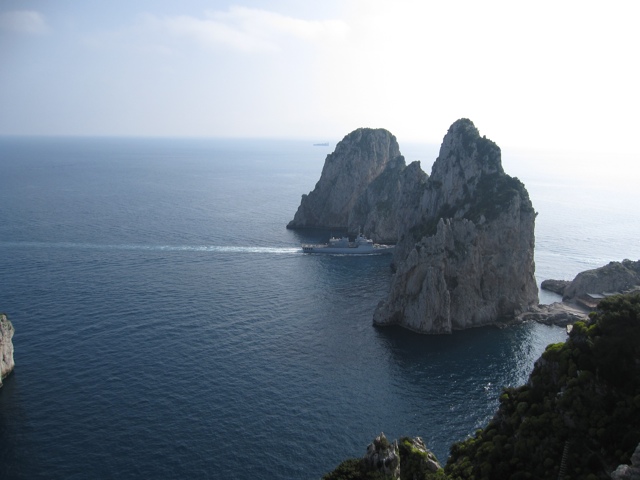 We continued the walk along the cliffs, just beautiful with lots of amazing views. At the end we found out why we didn't see many people, we had to go up hundreds of steps at the end to get back to the road. Here is Wynette about 75% of the way up.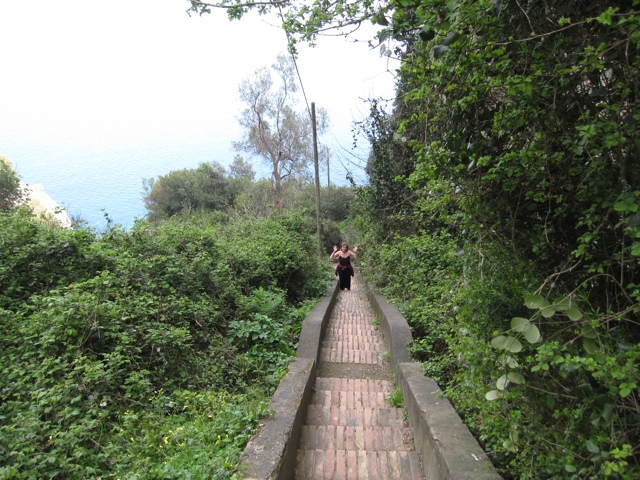 And here she is almost to the top.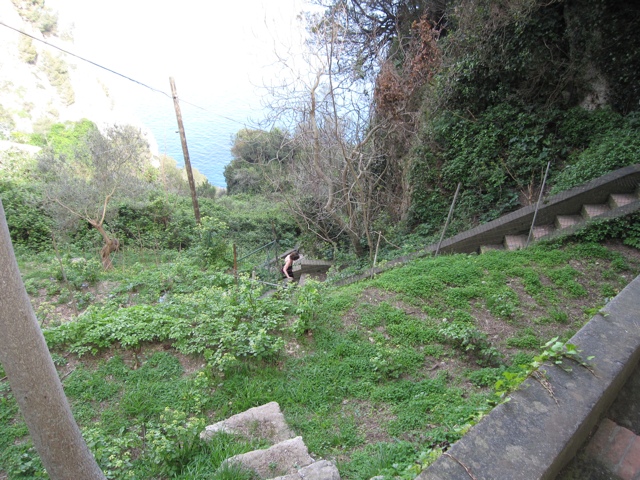 An amazing walk and well worth the steps. It took another 30 minutes walking on the path past people's back yards, all fairly flat, to get back to the hotel.
Tourists
2011-04-09 06:31
We are, of course, tourists by definition. There is the old joke about tourists wanting to go to places that are "unspoiled" so they can spoil them themselves. We started in Sorrento which is very touristy. It was fairly light when we were there because this is the very beginning of the season. Things just start to get going in April. It was easy to find places to stay, restaurants were fairly empty and anxious for our business.
Still the place seemed touristy. People already seemed tired of answering the same questions over and over, people were a bit abrupt. Wynette lived in Santa Fe and lots of the locals there didn't like the tourists. It seems a natural reaction when you are inundated with them.
We stayed in Sorrento for six days and decided we wanted to stay someplace less touristy. We had already chosen Lecce, before we started the trip, for that reason. Puglia is a long strip on the southeast coast of Italy, on the Adriatic. The lower part of the "heel" of the boot that is Italy, kicking Sicily. Lecce and the rest of the boot comprise the Salerno area.
Lecce is definitely less touristy. It seems like just about everyone is local. We see a few tourists in the restaurants and at the B&B but not around the city. It has given Wynette a good chance to practice her Italian since only a few people speak English and often only a bit.
On the other hand we are in the Centro Storico, that is, the old part of the city. It seems that most Italian cities have an old historical district that is preserved and strictly controlled, and around it grows a much larger new city where the bulk of the people live. Lecce does not seem touristy but the Centro Storico is mostly shops, hotels, restaurants, B&Bs, etc. People live here to service the visitors, even if the visitors may be from the newer parts of the city.
Gelato
2011-04-09 06:37
Ice cream seems to play a big part in Italian life. After school we see the school kids getting gelato. In the afternoon and during the passagiata, the evening walk, you see lots of people with ice cream cones. And these are not tourists, as we said there seem to be few tourists in Lecce, the Italians just like ice cream it seems.
The ice cream is very good. Lots of interesting flavors. Just about every corner has a gelato shop. And it seems that each town has one place that is considered the best in town. In Sorrento that was Davide, here in Lecce it is Naturale.
One wonders how the Italians stay so thin. One thing is that it is mostly the younger people that are thin. And we all know how much easier it is to be thin when you are younger. The older people seem to fill out a bit, maybe it is all that ice cream.
Dressing Well
2011-04-09 06:41
The Italians all seem to dress well, men and women. The women especially though seem dressed up all the time. They have stylish clothes, scarves, boots, etc. We noticed this yesterday when we saw a German tourist couple. They stood out in terms of how dressed down they were. Certainly Wynette and I are exactly the same but we don't see ourselves.
English Ladies Eating Gelato
2011-04-09 17:08
Post by Wynette:
Charlie did a post earlier about gelato (ice cream) and another about how well the Italian women dress. Today I couldn't resist taking this picture. Two English (??) ladies in decidedly unfashionable yet comfortable clothes and floppy hats sitting on a bench outside a gelateria eating their ice cream. I was hoping they wouldn't see me take their picture but think one of them may have.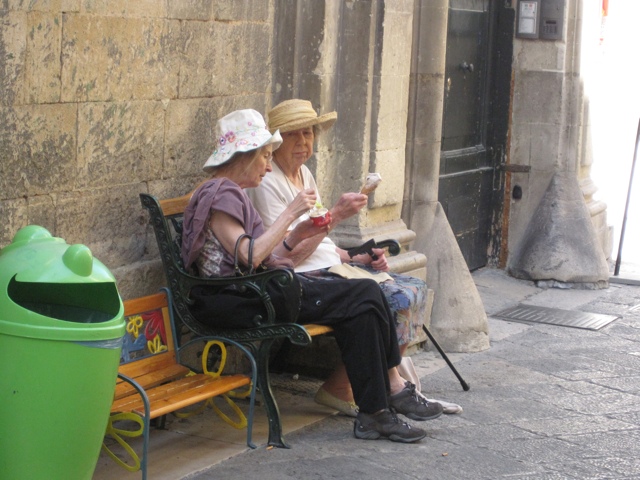 Stairs and More Stairs
2011-04-09 17:23
Post by Wynette: Charlie posted earlier about our hike around Capri where we had a long long stretch of nothing but stairs. I think they went on for at least 1/4 mile, probably more. All uphill on steep steps, no handrails to pull yourself up with or balance on. (Deb, yes, come to think of it, it was very much like hiking up out of the Grand Canyon. But, thank goodness I didn't have a backpack. And it wasn't as far! And I was careful not to pick up any rocks.
We've encountered lots of stairs on this trip. Below is pic of stairs to our current B&B. This is only about 1/4 of the total stairs for this. But, I'm getting stronger and they aren't really bothering me too much. (I think my knees are better now than in previous years.) Our landlady, Renata, told us how good stairs are for us.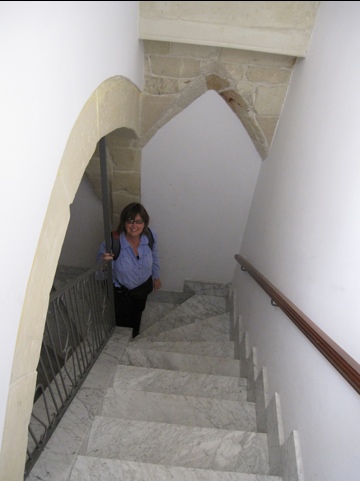 Baroque Architecture
2011-04-09 18:09
Post by Wynette: Lecce is filled with baroque architecture. There are something like 50 huge baroque churches here. I don't really like the baroque style very much (miss the stunning simple 1000 year old churches in northern Italy, such as the duomo in Florence) but I think anything like that was destroyed here and everything rebuilt in the 1500s. But, I do like this (picture below). I believe there is a legend about a wolf associated with Lecce but I haven't gotten clear about it.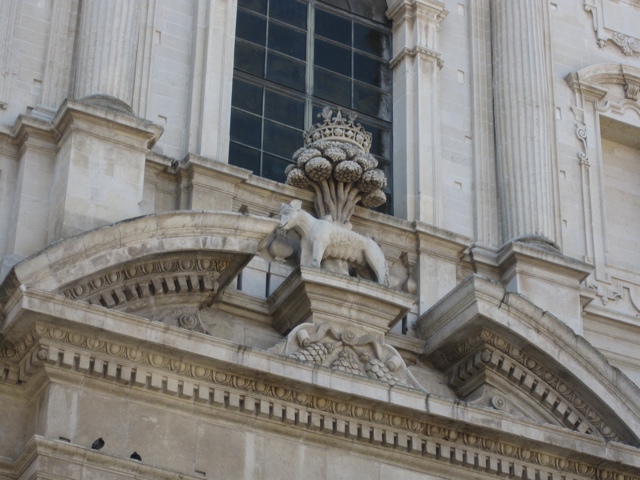 Dog Friendly (this is for our dog-loving friends) (you know who you are)
2011-04-09 18:21
Posted by Wynette: We often see dogs on the streets. They always seem quiet and well behaved. Sidewalk cafes make it easy to take your dog with you when you go for ice cream. We saw these women in front of (yes) a gelateria. Note the stylish clothes (compared to English ladies, earlier post.) And the sweet doggie playing with the woman's hand while she chatted with her friend.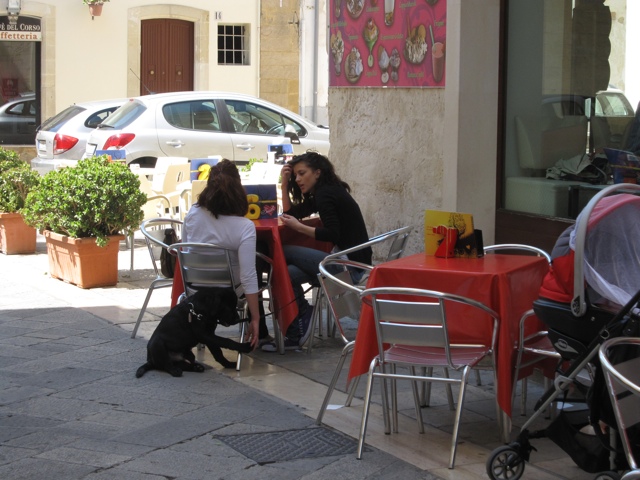 Here's a dog sleeping in a shop window in Sorrento.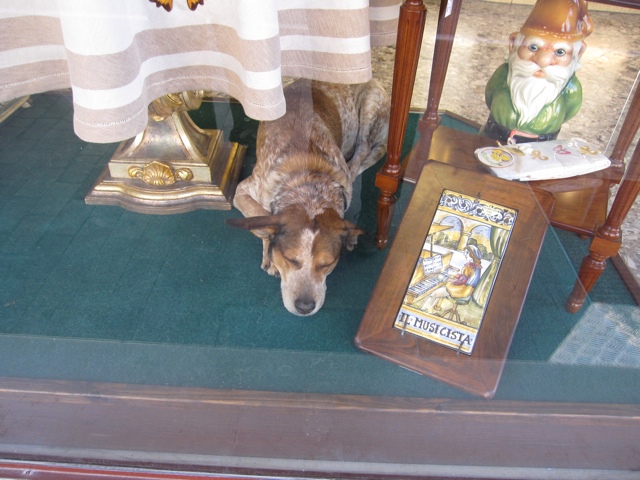 Traveling with technology
2011-04-09 18:56
Traveling is so different now than, for example, when I was in Europe in the 70s.
Cash machines: it is so easy to get cash, the bancomats are all over. Hint: get a Capital One card, there is no international transaction fee, it is 3% for many cards.
iPods: I have two, one for backup. Wynette has three, tiny, small, and big so that she has her whole music library. I am listening to "Big ideas" lectures. We have natural sounds for sleeping on the plane.
iPad: with a bluetooth keyboard, just about as good as a laptop and very small and light. Wynette is playing Scrabble with Logan and Mr. CPU (who has an amazing vocabulary). It has the Kindle app so we have all our books. We have an ssh app so Wynette can edit her web sites. We load in the pictures from the camera using the photo adapter. We use the WordPress app to blog and add photos to the blog.
Kindle: I am very happy with my Kindle. I got one of the third-gen ones. I have several books for reading. We also have four guidebooks: Frommer, Lonely Planet, Rough Guide, and Rick Steves. It is handy to have them all available. The downside is that you can't look at two at the same time but have to go back and forth. Also it is hard to page through them or switch between two places. Also only one of us can look at them although the other one can use the iPad. The maps are a bit too small to see on the kindle at our age. We use the iPad to expand maps that we can't see on the kindle. Overall though the kindle is a big winner for books and guide books.
Cell phones: we got Italian SIM chips for our t-mobile phones, 15 euro each. It is very handy to be able to call back and forth when we are meeting. Also handy to call hotels about reservations.
Electric candles
2011-04-11 13:34
The churches around Sorrento all had electric candles: to light a candle for someone you drop your 50 cents, or whatever, into the box and flip the switch for the candle you want to light and a little electric bulb at the end of the candle goes on. I suppose they come around every once in a while and switch them all off. This seems less than satisfying to me.
In Lecce all the churches had real candles that you could light and put in the holder and they would burn down. Maybe I'm old-fashioned but they seems to be what lighting candles it all about. Well, I guess it really means I am secular and not religious because maybe what lighting candles is all about is the spiritual side of things. Whatever. You can make the same arguments for electric candles as for hot air hand dryers but I don't like either one.
In Ostuni we are back to the electric candles.
Getting to know a town
2011-04-11 13:59
One of the pleasures of travel is to get into a town and be confused and then, over a couple of days, figure out where everything is and where you like to go, where you like to have coffee, where the markets are, etc.
When we first got to Lecce it was windy and we had a bad initial impression of the town. It was less windy the next day and perfect the next day. We got to like Lecce a lot: very few tourists, a nice relaxing town, lots of churches.
Also we started out at a B&B where we didn't like the room, too dark, and only stayed one day. Then we moved into the Prestige B&B and had a lovely room, up two floors, 46 narrow marble steps, which seemed like a lot at times. The room had a big window out to the street and a small balcony. It was all white and sunny and cheery. We had a great time just hanging out in the room, reading and web surfing, enjoying the day and the street sounds.
Passeggiata
2011-04-11 14:07
Italy has this wonderful tradition of the passeggiata, that is, an evening walk starting an hour or two before sunset. People of all ages walk around the town from kids to grandparents, school kids, young families, everyone. They walk around, the stores are all open and so some people shop, lots of gelato is consumed as well as other treats, last night I had a cotton candy and a nutella and rice crispies crepe.
The old walled towns are ideal for this with their picturesque, winding streets. Lecce had an amazing passeggiata on Saturday night, the streets were filled, all the lights were on, there were clowns on the square making balloon animals, there were other performances, they had human statues, they had people playing instruments, and everyone is town just walking around and enjoying being with everyone else. And, for Italy, fewer people talking on cell phones as they walked.
Surprisingly it was almost as big on Sunday night. Lots of things close down in Italy on Sundays, especially any local transportation like non-national trains and buses.
Siesta
2011-04-11 14:11
Italy still has the tradition of closing things in the middle of the day. Probably not in Rome, Florence, Naples, etc., but in the smaller towns the tradition is still strong. In Lecce things closed down somewhere between 12 and 1 and stayed closed until 4 or 4:30. It is hard to get anything done in the middle of the day except having a leisurely lunch. The restaurants are not closed.
Even the churches close down. We were talking to some English people who went to a nearby town for the day (Otranto) and found that the churches closed between 12 and 4. "Who ever heard of churches closing for lunch?" they said. Who indeed?
In one of the "Under the Tuscan Sun" books she talks about how the siesta kind of gives you two days every day. You have a morning at work, then come home and have a big meal and a nice nap, then get up and do a few things and then go to work again from 4 to 8.
I suppose this is hard for people who live far from work and can't go home. It is more a tradition for an older time when you lived close to work. We took the early train from Sorrento to Naples when we traveled to Lecce and there were lots of people on the train at 7 am, probably working in Naples and living somewhere along the Bay of Naples. The train takes 70 minutes from Sorrento to Naples so it would not be possible to go home for lunch.
Ostuni
2011-04-12 07:22
We got to Ostuni yesterday. It is a hill town but only a couple of miles from the ocean so you can see the ocean from most parts of the town. There is, as usual, an old town and a new town but they are more integrated than they were in, say, Lecce. It is hard to tell the difference and the new town is higher on the hill than the old town (unusual).
We reserved a B&B sight unseen that had been recommended in a guide book. It turns out we were in the overflow room, which is really a little studio apartment in the new part of town. It takes five minutes to walk to the old town so that is fine.
The apartment is in an old building and has arched stone roofs that you see in a lot of old buildings.
It is a cute little place with a kitchen. Last night we went to the store and got some fresh pasta, tomatoes and pesto sauce in a grocery store. It turned out great. The pesto was as good as I have had. It is kind of like we are living in a little hill town in Italy. There are lots of stores and cafes quite close.
Ostuni Duomo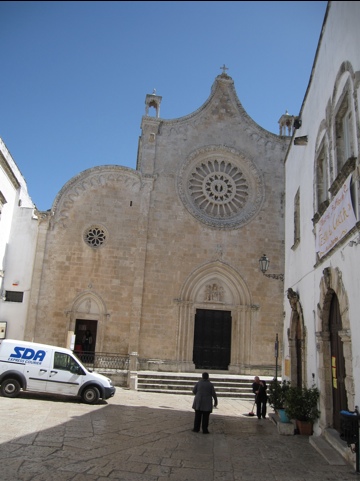 An arch looking the opposite way: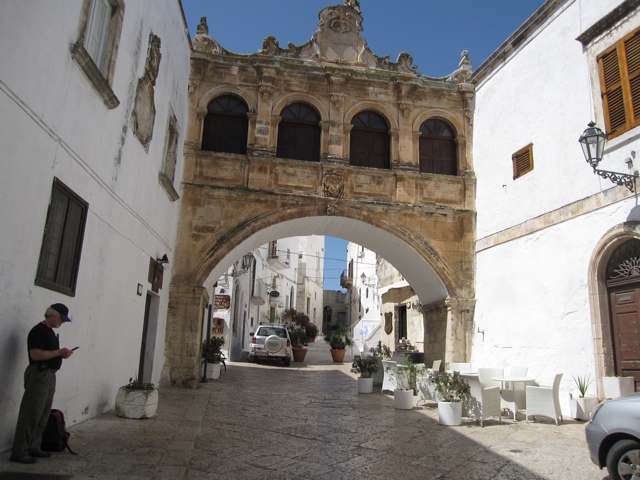 We had a lunch in a very nice place. Rather than showing the food, which we always do, we thought we would show the toilet.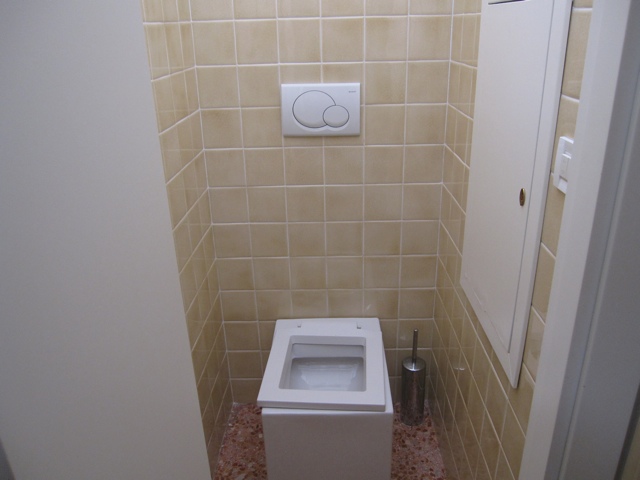 and the sink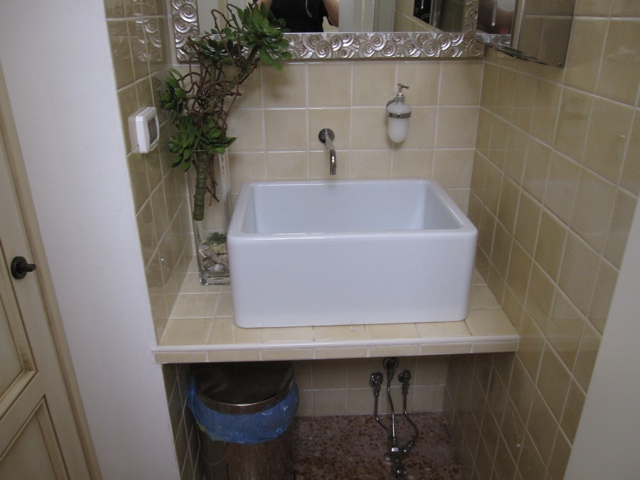 and another coffee near our apartment. They always ask if you want water with the coffee, probably for people getting the straight espresso.
Our kitchen. Watch out for the low arch.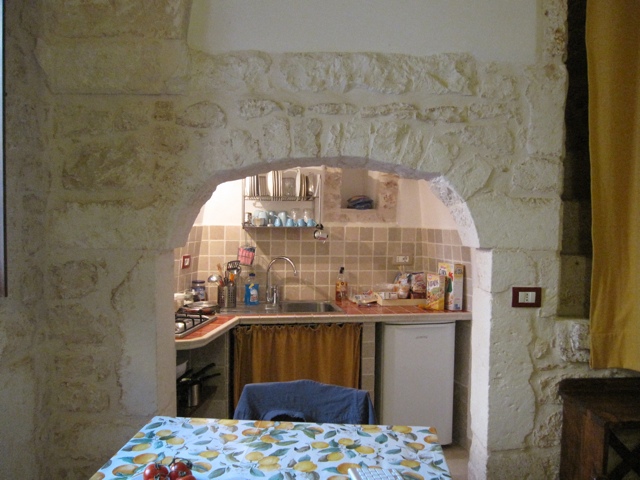 Charlie reading on the bed. Notice the arched ceilings.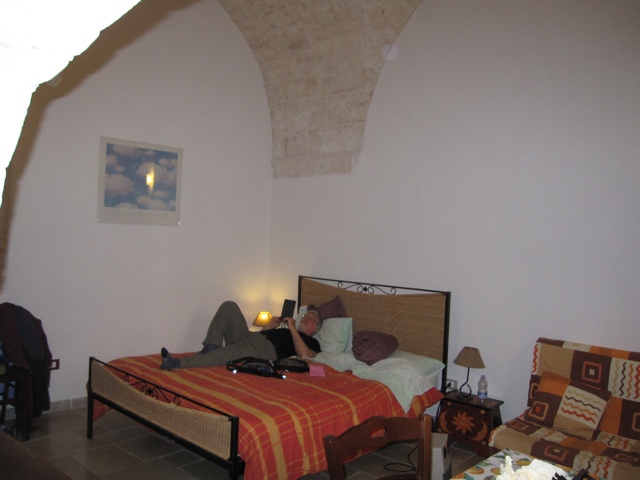 There are just six steps up from the entrance on the street.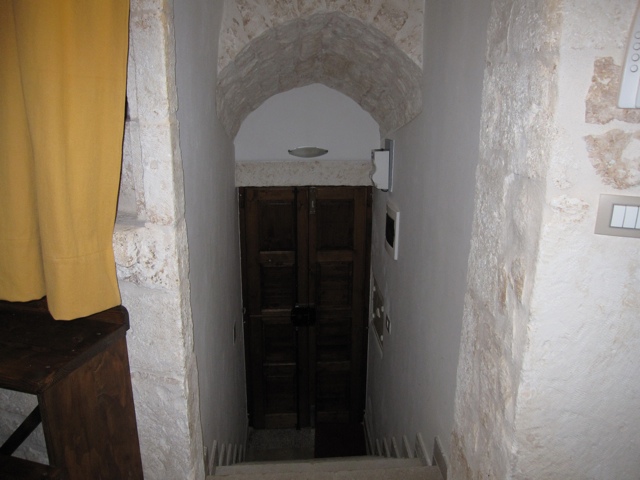 The bathroom (more arches):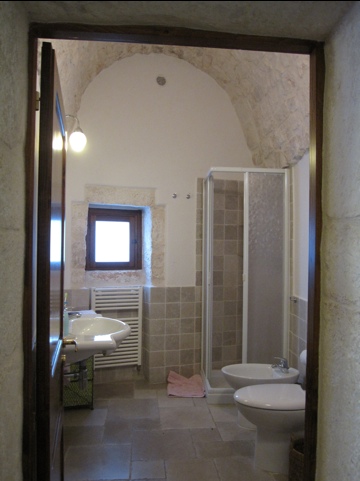 Here is our home cooked dinner: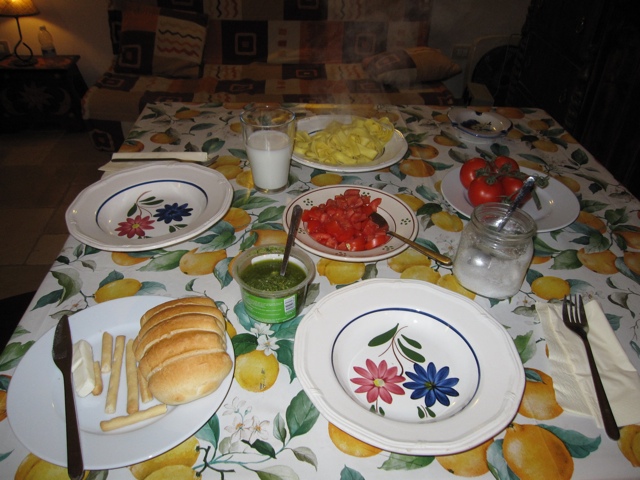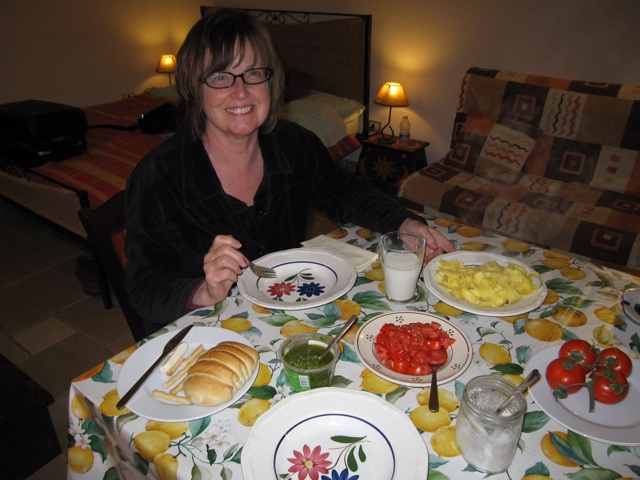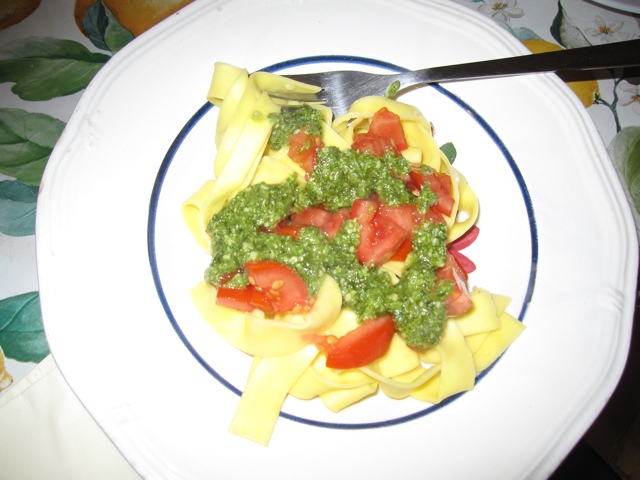 Man climbing stairs
2011-04-13 18:08
We saw this on the walk down from our apartment to the main piazza where we caught the bus for Cisternino.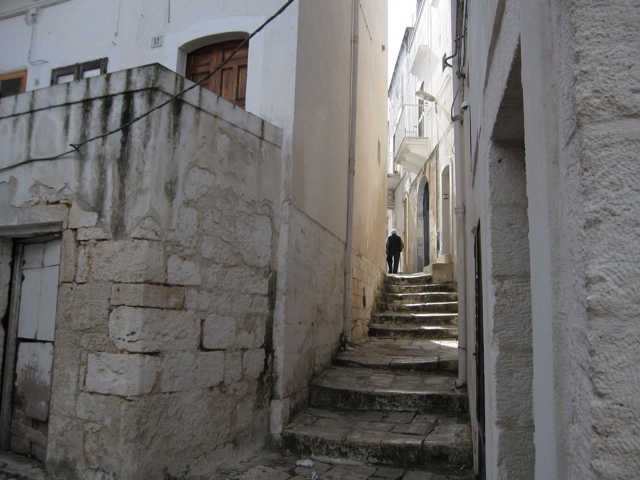 Here is the street we were walking down
and a doorway that was interesting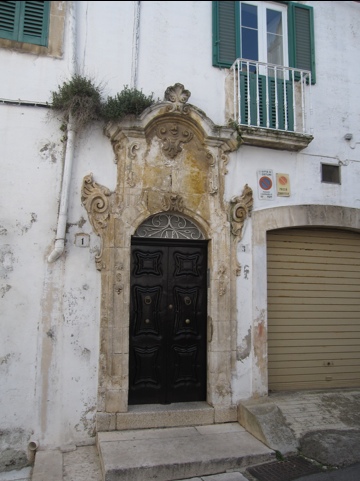 and the duomo in the middle of the old town (centro storico)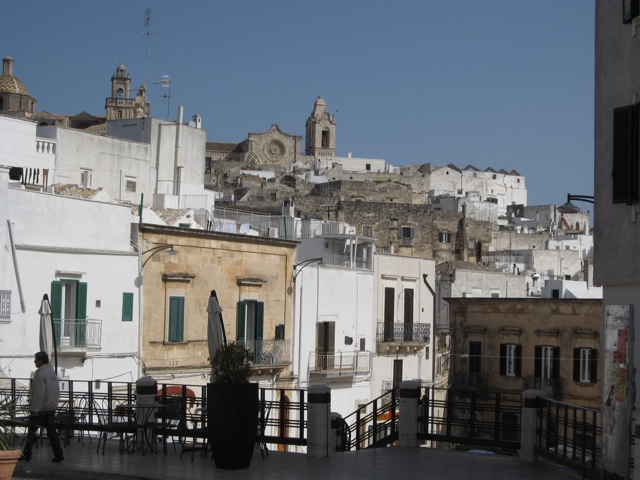 and the main piazza, between the new town and the old town.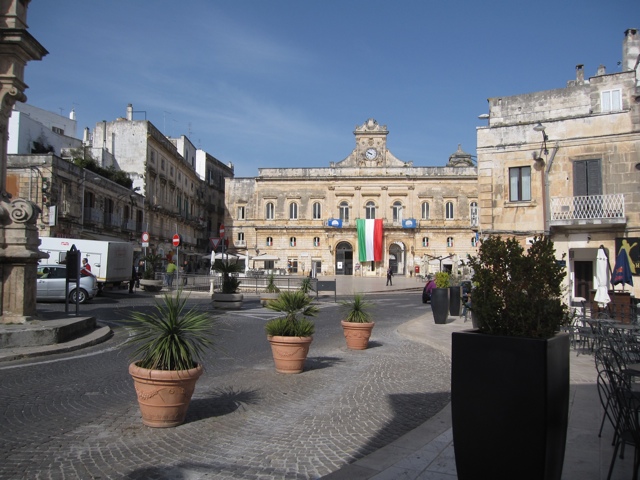 Our internet cafe
2011-04-13 18:12
Our apartment does not officially have wireless but there is a network named "KRAUN" (not a very Italian name) what has no password and works some of the time but it is quite slow and we don't upload any pictures on it.
Instead we go to our internet cafe: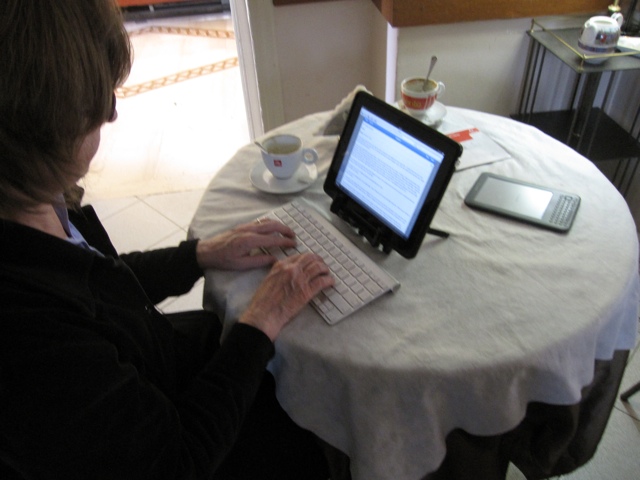 The owner, a sweet older woman thought our iPad and bluetooth keyboard was very cute. I guess she usually sees laptops.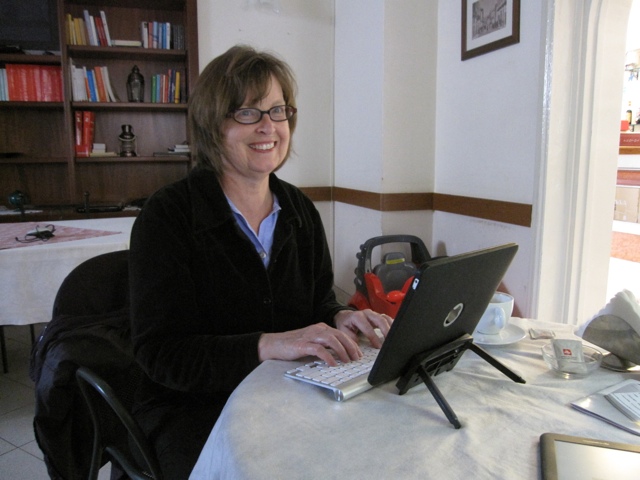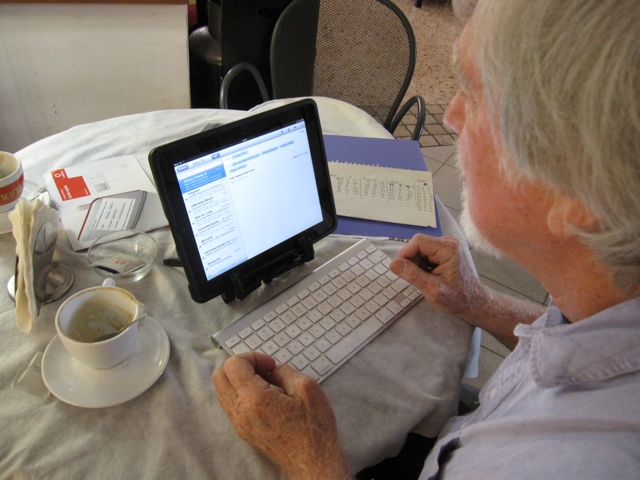 On internet cafes and mobile
2011-04-13 18:16
The last time we were in Italy there were internet cafes all over, with PCs to use and a few had wireless. Mobile seems to have done away with all that. There are very few internet cafes with PCs. We've seen a few. There are a few cafes that offer wireless but not a lot, only one in Ostuni that anyone could tell us about. We asked at one bar/cafe and they said they used to have ot but no more.
When everyone has their iPhone or Android device and web access everywhere there just isn't the need for internet cafes. I'm surprised at the lack of wireless though, maybe in the bigger cities.
Outside our apartment
2011-04-13 18:23
Our apartment is on this corner, the window on the right and the door on the left. It has a little stairway to our roof patio, not as fancy as that sounds but it has a table and chairs, but it has been too cold and windy to use it.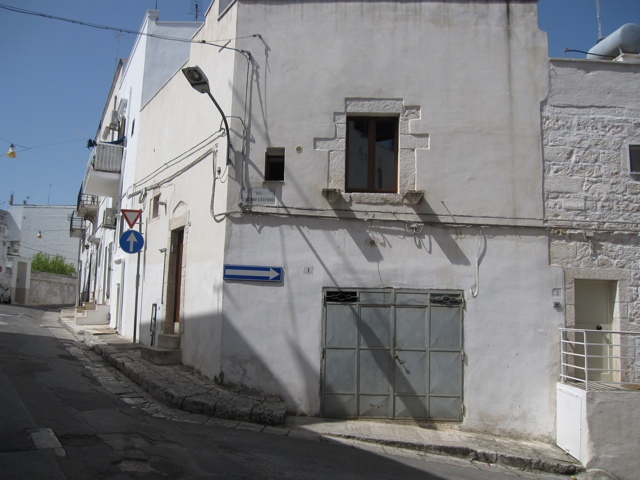 Another view. The arrow to the right says "senso unico", one way street.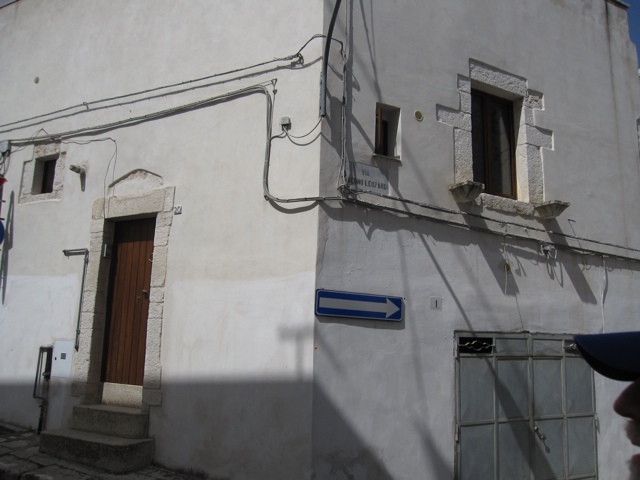 Me opening the door.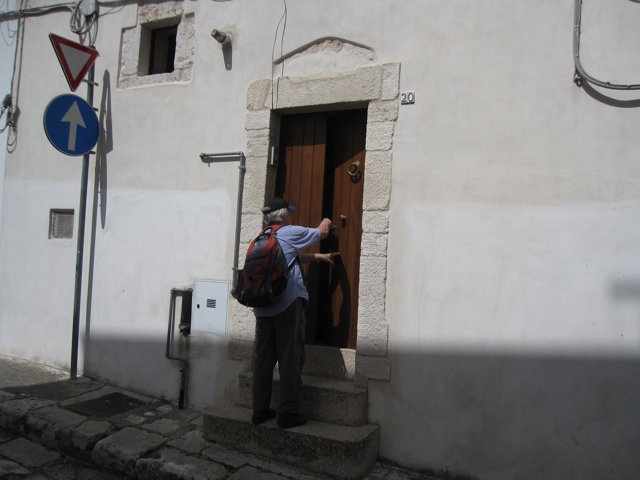 They have these doors where you only open one side with not much room to squeeze in, especially with a backpack on. The other side can be opened but hardly ever is.
Paint it white
2011-04-13 18:25
Cappuccino detective
2011-04-13 18:27
Day at the beach
2011-04-13 18:37
Ostuni is 6 km from the Adriatic. The beach town is called Villanova. We heard you can walk there. We took the bus down there, it took 25 minutes, hardly anyone on it. The driver let us off at this beach. There were two people there and no one else around for blocks.
just this little beach. We had planned to have lunch. We walked around and found we were in a large block of what seemed to be beach rentals. Too early in the season, no one was around. We found a bar/cafe but they only had gelato. He told us to go 100 meters or so up the road to the real Villanova.
The real Villanova was pretty much dead too. Few things were open. We finally found a restaurant open. It had a very nice patio right on the little port, with lots of private and fishing boats. No one else was on the patio, too cold for Italians the waiter said (translations by Wynette). Here is the little harbor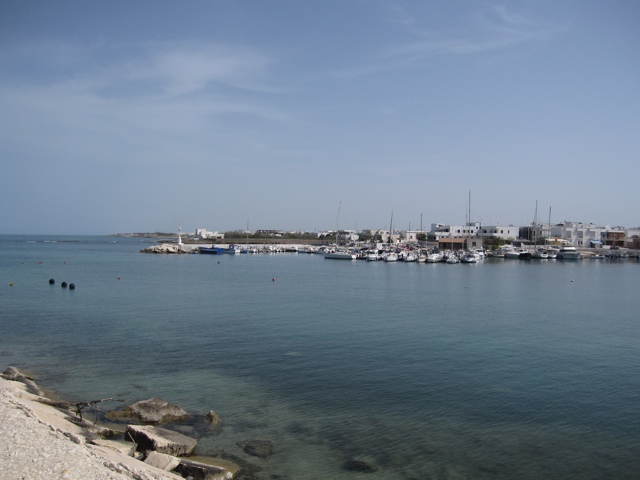 and another view, the patio we ate on it just to the right of large boat about a third the way around starting from the left.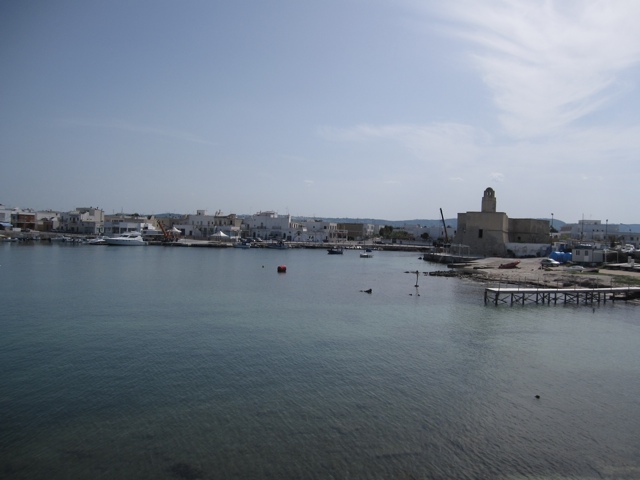 We went out on the breakwater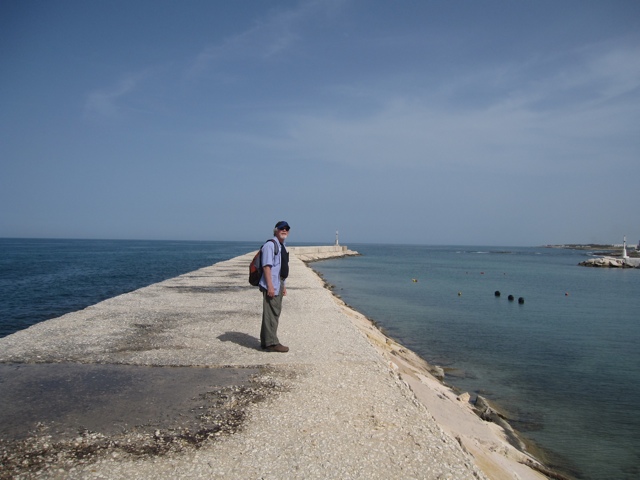 and Wynette found a heart rock, as she always does, although it was a bit large to bring home.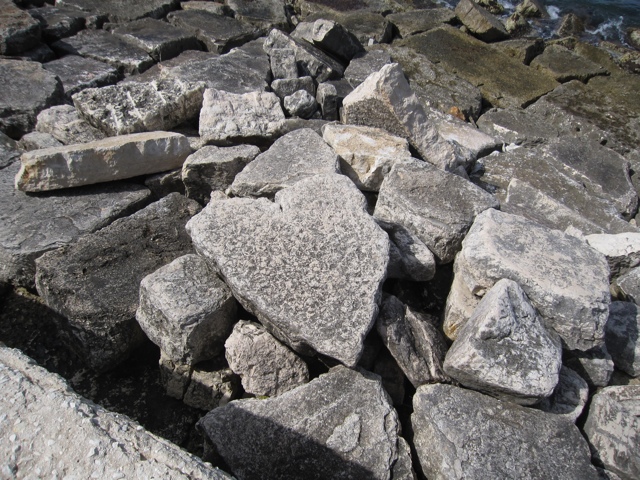 What is "Richie Rich" in Italian?
2011-04-13 18:49
The tourist office woman in Ostuni didn't speak a word of English, maybe she know some other languages. But Wynette did pretty well with her Italian, maybe. We wanted to see some stores so she showed us on the map where a shopping center was. We went out there and found a very fancy area of very expensive houses — and no shopping center, but we had a good time.
It was hard to get a good picture here but this house at the "trulli" shaped roof that this region is famous for. We saw lots more the next day on the way to and at Cisternino.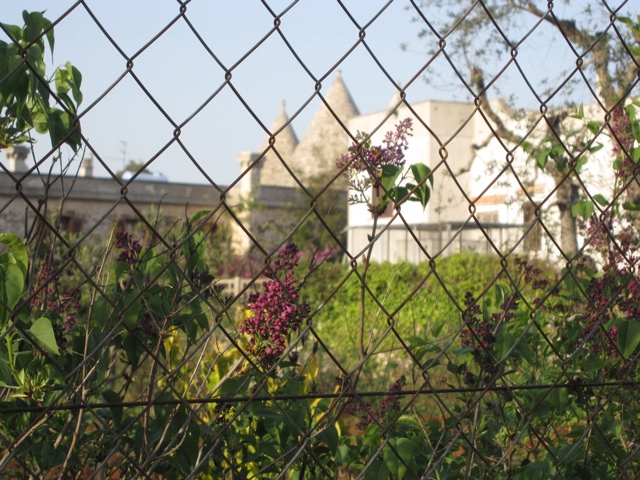 There was a Hindu retreat, based in Brindisi but with a pretty nice place here in Ostuni.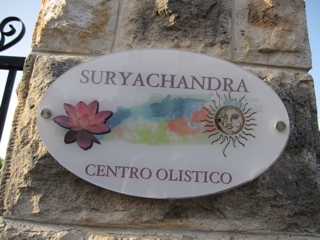 Lots of nice places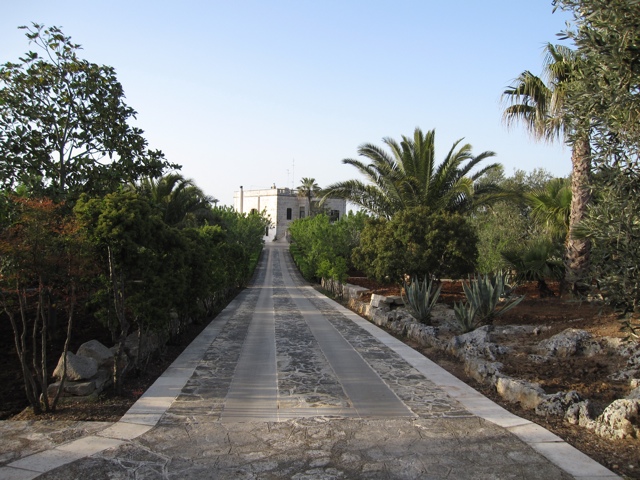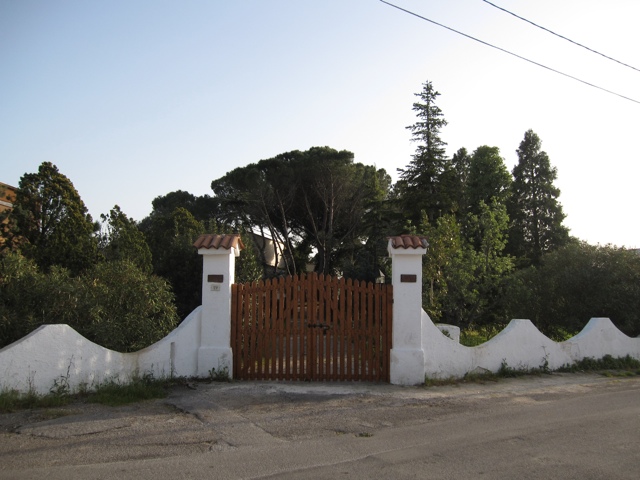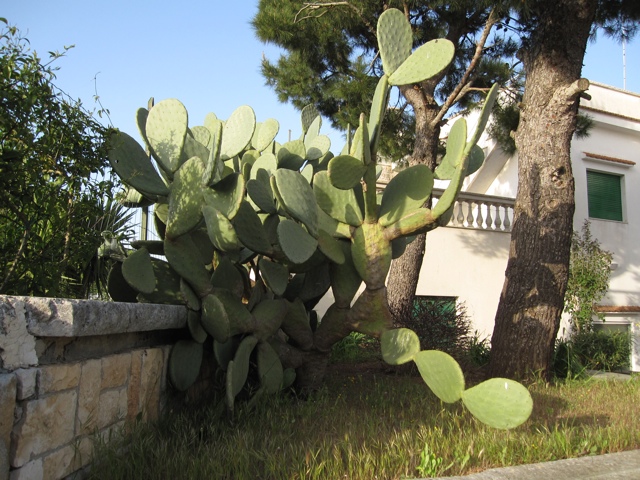 and a very calm cat: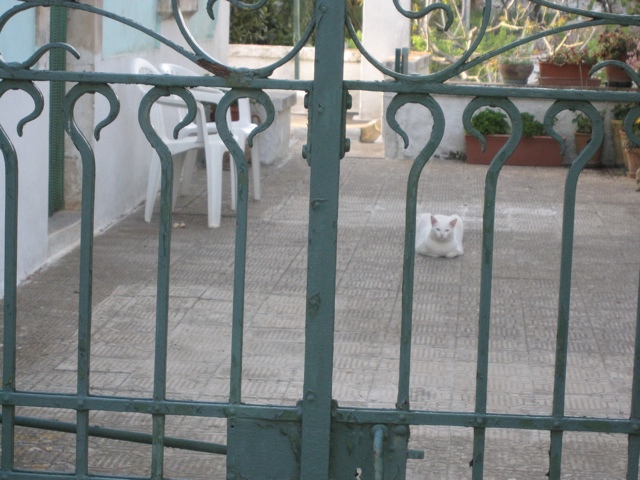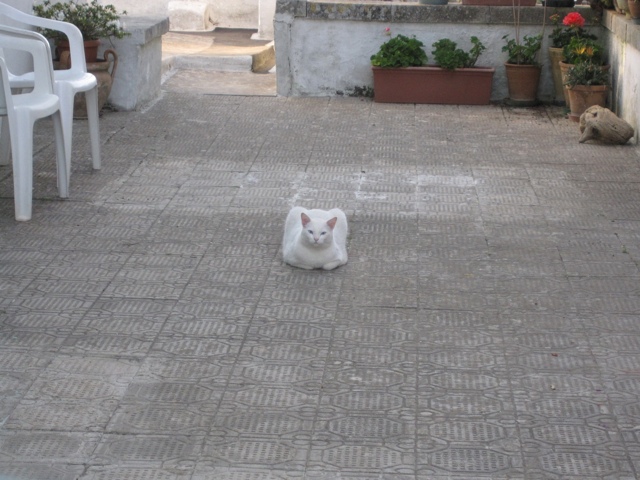 flowers;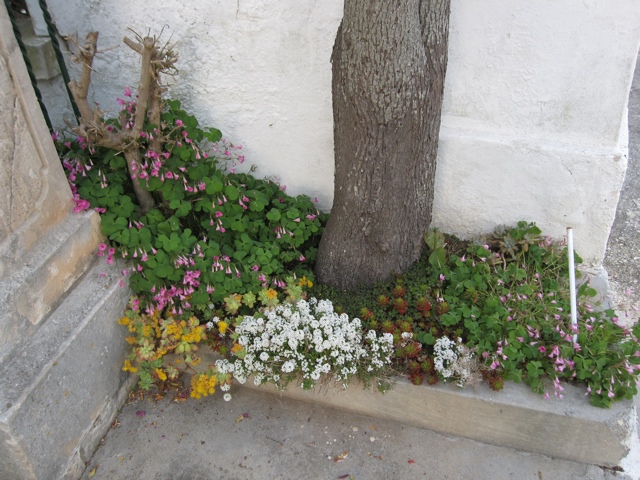 More nice places
and cross that might have been a tower wire tower, behind the cat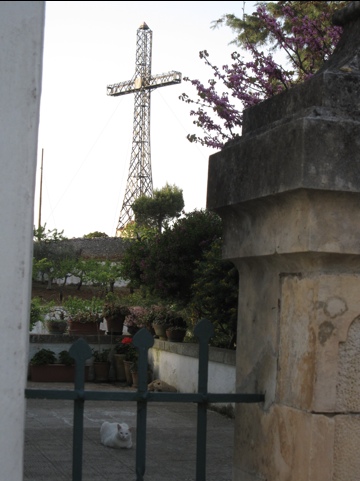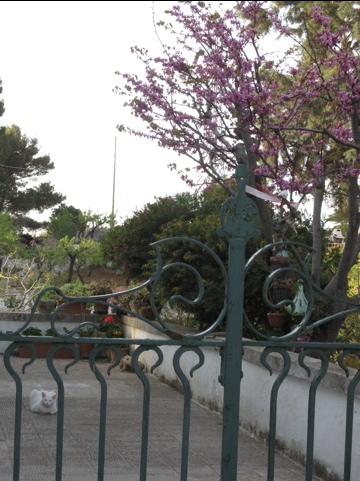 and some who didn't get the memo that everything had to be white.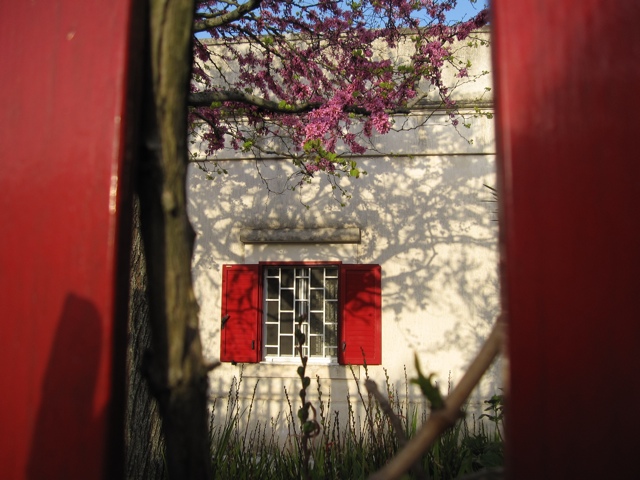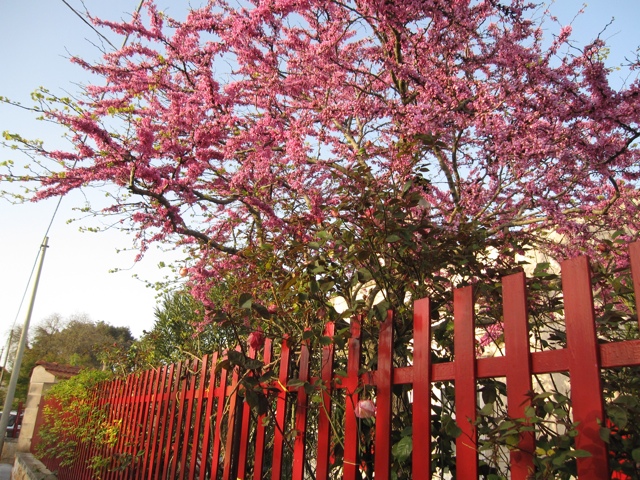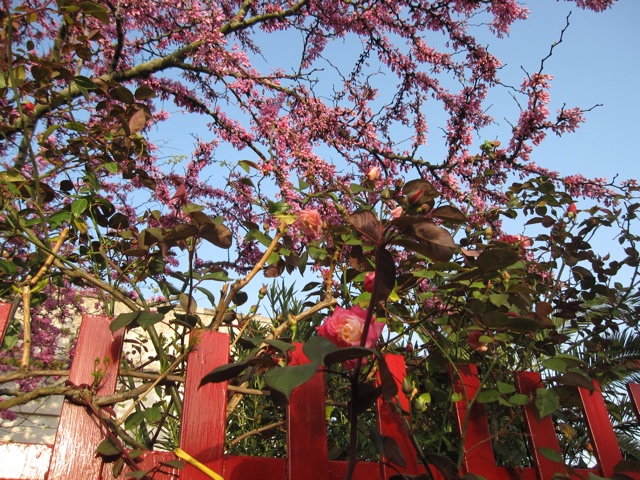 Same dinner the next night
2011-04-13 18:50
Breakfast
2011-04-13 18:55
Lock sculpture
2011-04-13 18:58
Our B&B in Lecce
2011-04-13 19:02
More food pictures
2011-04-13 19:05
In-room wireless in Lecce
2011-04-13 19:08
School kids outside our window in Lecce
2011-04-13 19:20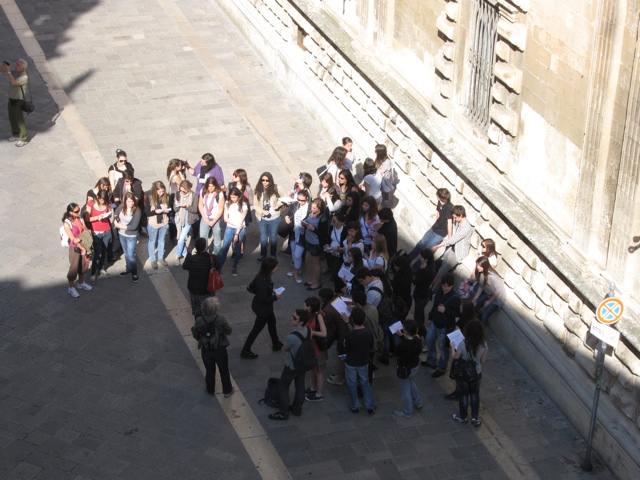 Statues
2011-04-13 19:21
Human statues
2011-04-13 19:22
Paper machier scuptures
2011-04-13 19:28
Little House for Letters
2011-04-15 08:31
Posted by Wynette: When I was studying Italian before the trip I learned that "mailbox" is "cassetta delle lettere" which means, literally, "little house of the letters". I've seen several variations of this since we've been here. Wednesday when we were in Cisternino I saw this one which says "little house for mail". This is on the front of someone's house in the old town.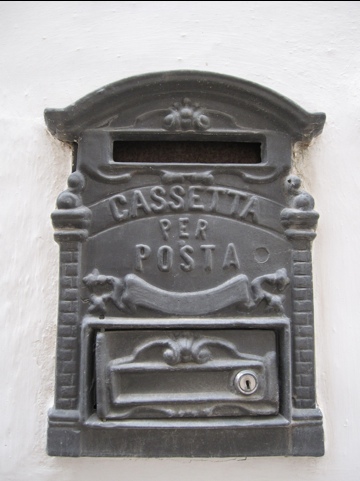 Plastic bags
2011-04-16 07:25
When we were in Italy some years ago almost everyone brought their own bags to the supermarket. Things have changed. The market offers plastic bags and almost everyone uses them. One reason, in Ostuni, might be that the trash is collected in common dumpsters in the city the everyone uses, by throwing their trash out in the supermarket plastic bags.
Morning Coffee Bar
2011-04-16 07:33
Posted by Wynette: We don't have wireless in our little "apartamento" in this little town of Ostuni so have had to scrounge around for internet connections. We have come across 3 coffee or food places that have free wireless (as long as you buy coffee or something) so we are doing ok. Our morning place is named "Gran Caffe Tito Schipa" (pronounced "Skeepa"). It is old, I think, and very pretty, and comfortable. We have had the two side rooms to ourselves. It truly is a bit grand. The first morning a sweet older woman waited on us. When we took out our ipad she was oohing and ahhing over it and saying "che bella" (how pretty), referring to the ipad. Here are some pictures I took yesterday morning in Gran Caffe Tito Schipa: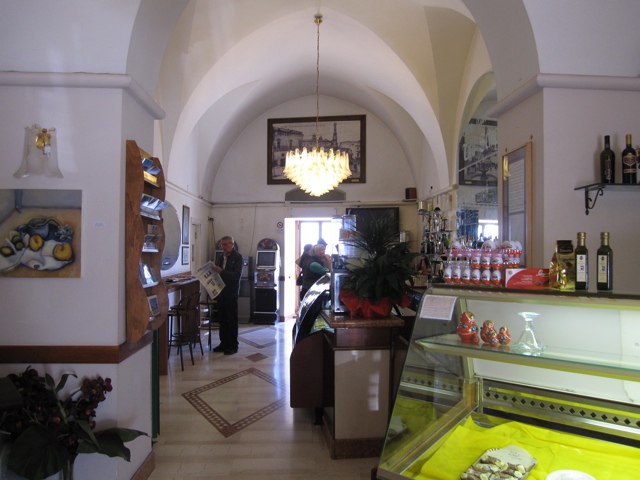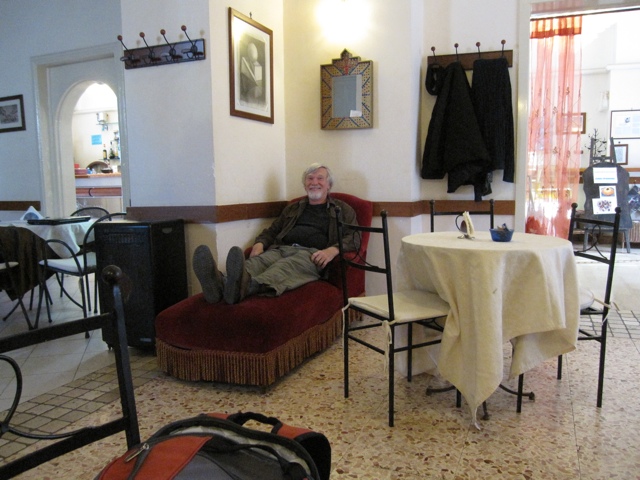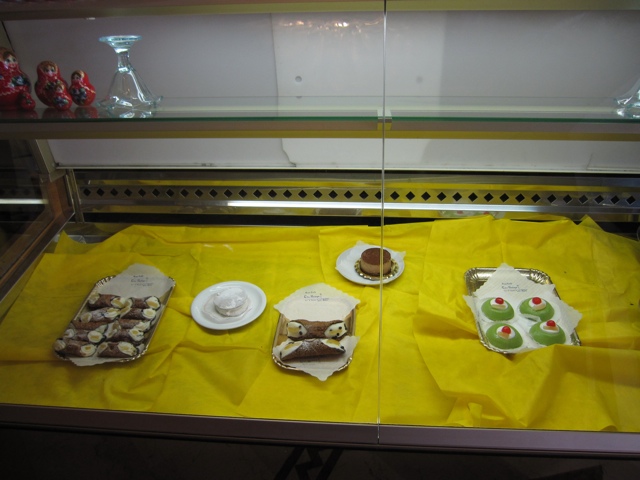 The People in Ostuni
2011-04-16 08:28
Posted by Wynette: I wanted to write a little bit about why I like this little town. We didn't really intend to stay here very long. The guide books suggest it's only got enough sights for one day. But it turns out we'll be here a week. We seriously considered going up to Assisi, a place we've both wanted to see, but it turned out to be hard to get to by train or bus. You can get there but lots of changes over an 8 hour trip. We realize if we were doing this in our 20s or 30s or 40s we wouldn't have hesitated over such a thing. But, now we prefer not to get too stressed when traveling. We wanted to leave here because weather forecast didn't look good and Assisi looked better. But then their forecast turned bad, too. Nowhere in the southern half of Italy looked good weather-wise. AND, here in Ostuni we ended up in a little "B&B" that has its own little kitchen (i.e., we get our own breakfast) and we've had such fun cooking for ourselves. Every day we walk to the "super mercato" (which is very small by US standards) for milk, meat, sauces, eggs, etc. Then we go to the frutta/verdura (fruit/vegetable) store where they have a wonderful selection of fresh stuff. And we go to the salumeria (deli) for cheese and fresh bread. We've made some wonderful lunches and dinners for ourselves. Plus some great egg breakfasts. Eggs are so good and fresh here. Yesterday we finally gave up thinking about going anywhere else before Monday morning when we head for Rome for our last 2 days before heading back to the States.
Ostuni is pretty. It's on a hill about 4 miles from the Adriatic Ocean. So, as you're walking around town you catch glimpses of the blue sea. The buildings are painted bright white. I miss the colorful towns of northern Italy, but this is pretty, too. It's a small town, about 30,000 people. There are few tourists. We see an occasional non-Italian couple here and there. Mostly older people like us. It's quiet and peaceful. Easy to walk everywhere.
The main reason I like Ostuni is because the people are so kind. I can't think of anyone who has been impatient with us. People are reserved and friendly at the same time. Does that make sense? They like to be helpful. They'll laugh with you over things.
Yesterday Charlie ran down to a little market down the street for some bread and butter for breakfast. I told him the Italian word for "butter" is "burro" so he'd know what to ask for. He found the "burro" just fine but then couldn't remember how to say "bread". The man in the store figured out what he wanted and then told him "pane" ("pah-nay") and had him repeat it to be sure he'd remember the word for bread.
One day we passed a man on a ladder with a paint roller and white paint painting one of the ubiquitous white walls in this town. I decided we should take a picture. I snapped the picture then he broke out into a big smile and 3 old women who were standing below him all started laughing at him for getting his picture taken. But it was all good-natured. Soon we were all laughing together.
We did our laundry day before yesterday. (There's a lavanderia very close to our place.) The woman who works there was so patient and helpful showing us how to use the machines, pick out the soap, etc. She didn't speak any English but we managed to communicate. When we left I asked her if I could take her picture. She seemed surprised but was happy for us to do so. I wish I'd had it together enough to tell her the reason I wanted to take her picture was because she was so kind. This morning I thought of the words: "molto gentile" (mole-toe jen-ti-lay").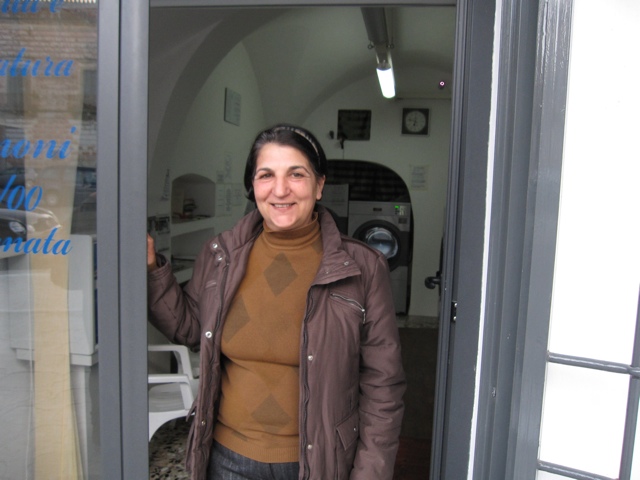 Here's a picture of Ostuni's white walls with the sea in the background: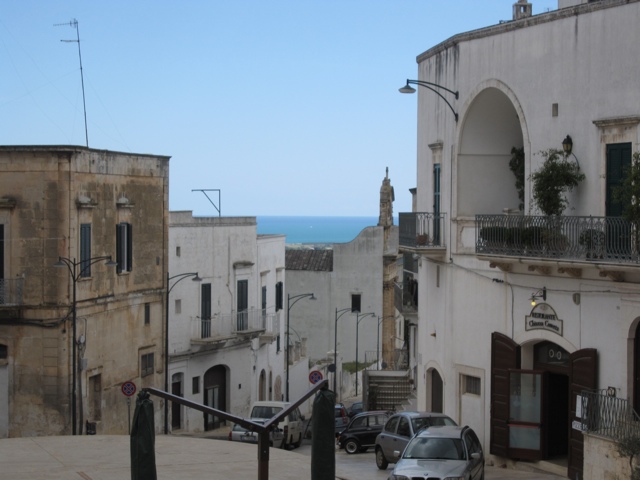 How to move furniture…
2011-04-16 14:06
Our fruit stand
2011-04-16 14:09
Little big truck
2011-04-16 14:15
Fixing a hole
2011-04-16 14:34
Yogurteria
2011-04-16 14:38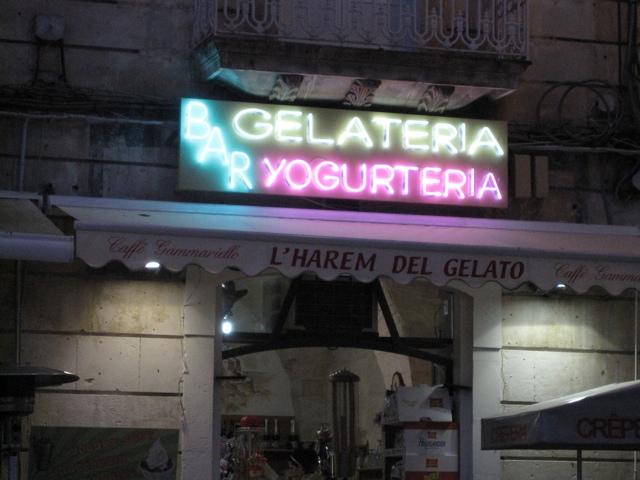 Moon over Ostuni Piazza Liberte
2011-04-16 14:39
Scooter and more
2011-04-16 14:43
Italy is famous for scooters (Vespa, Roman Holiday) and we have seen many of them. Maybe not quite as many as other trips. One difference is that many of them are bigger and many of them are flat-out motorcycles and big ones at that. Still they are handy on the narrow streets and lanes of the walled towns. I only have one picture, a nice one with a windshield etc.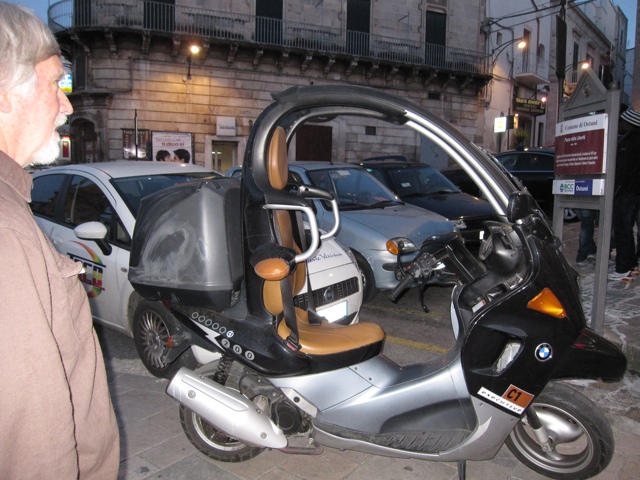 Don't park me in
2011-04-16 14:46
Graffiti with translation
2011-04-16 14:47
The car wash moves
2011-04-16 14:48
Old olive trees
2011-04-16 14:51
Rock wall
2011-04-16 14:51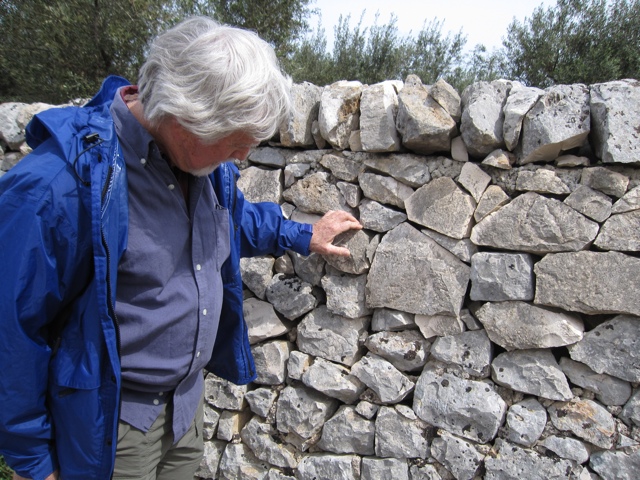 Ostuni, the white city
2011-04-16 14:53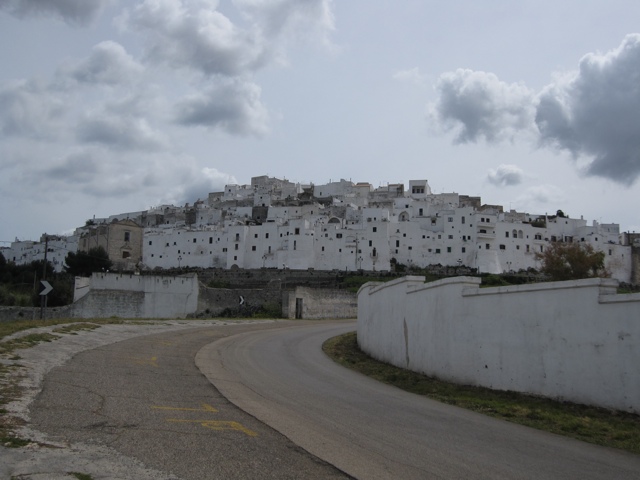 Pannini (sandwiches)
2011-04-16 14:55
Bieber in a bar
2011-04-16 14:56
Bus information
2011-04-16 14:57
Visit to the cemetery
2011-04-17 08:48
Our first visit to the cemetery, here is the approach: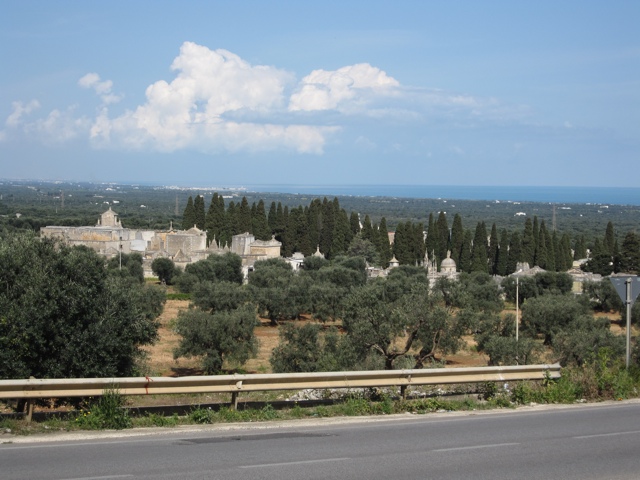 was unsuccessful because we came when it was closed for the siesta. The second day we came earlier. Here is Wynette at the entrance: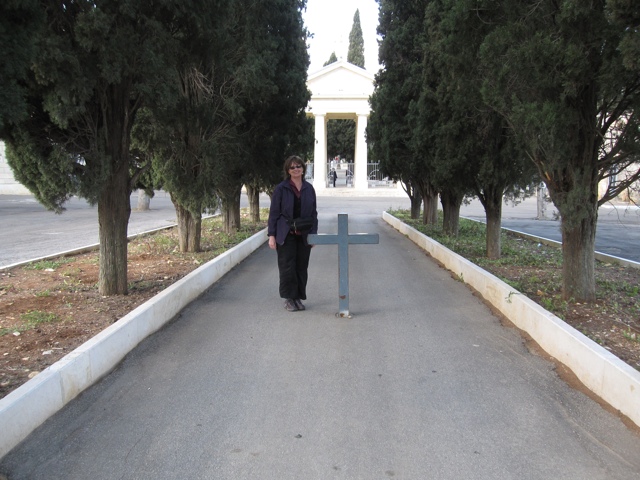 The buildings around the side are mausoleums where most of the graves are: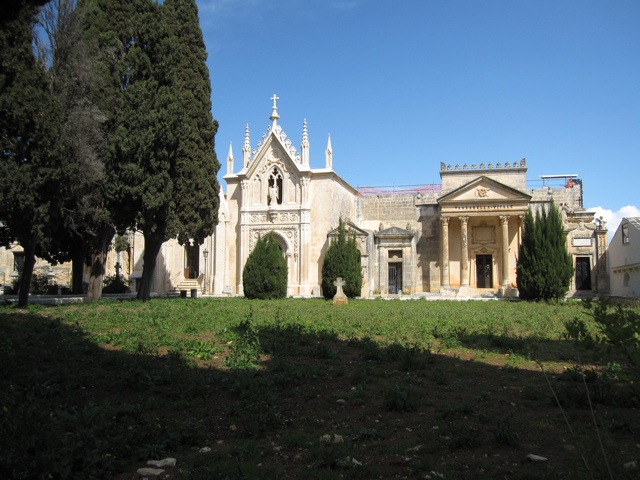 Here is what you see inside: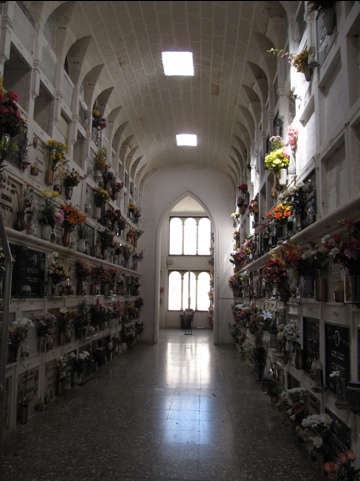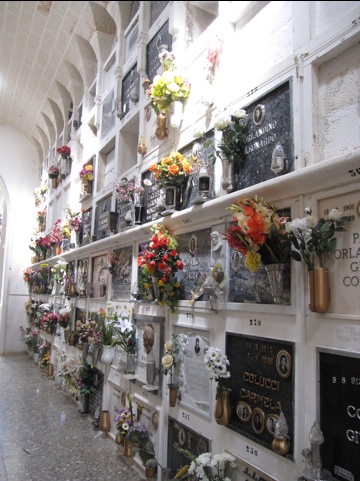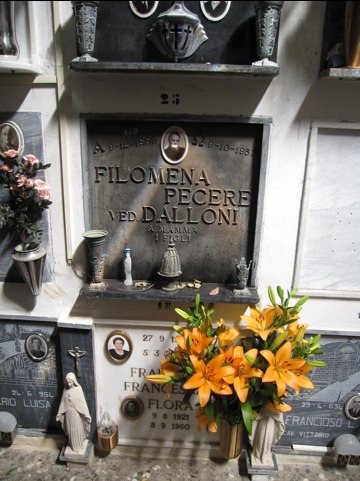 There are so many fresh flowers the inside smells like a flower store.
They put pictures on all the graves.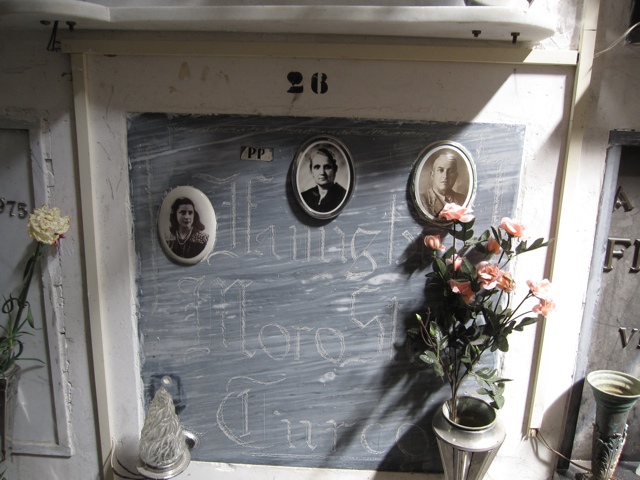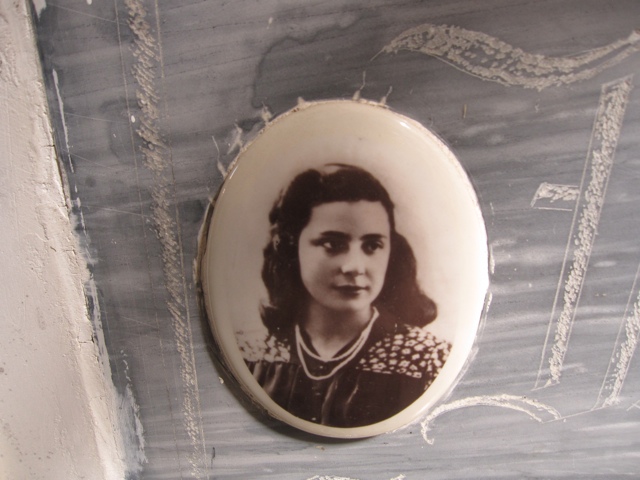 Some were older: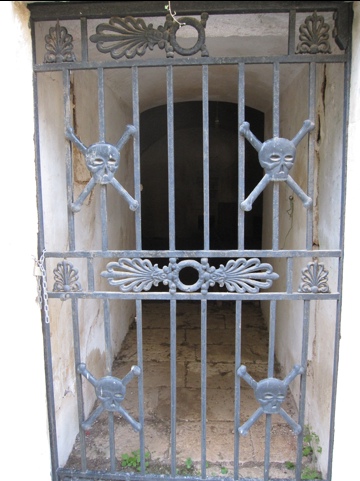 Planning for the future: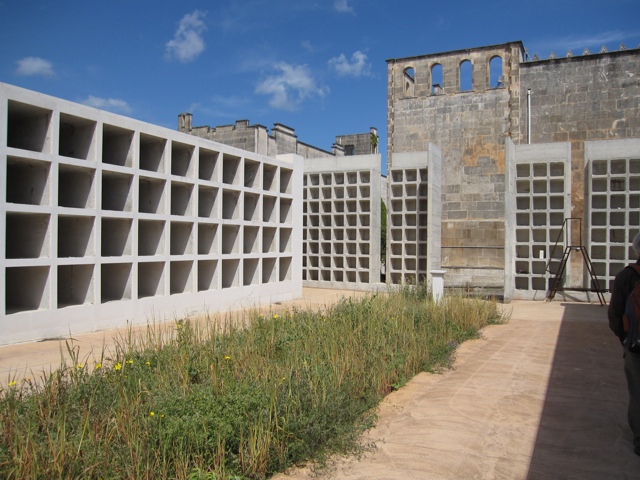 Along the side are the family crypts, this one was unique, looking like a high-fashion store: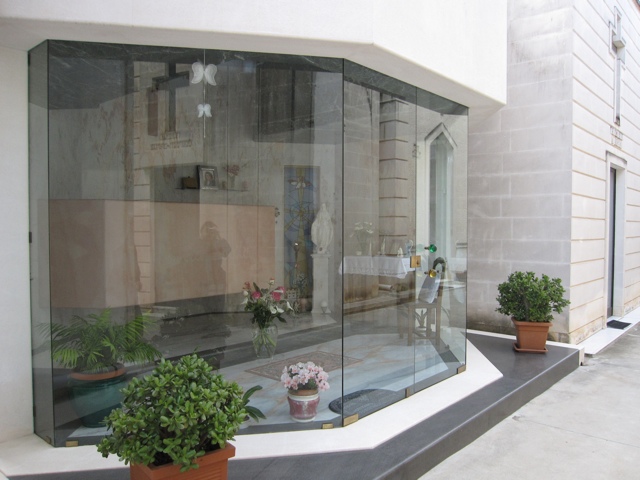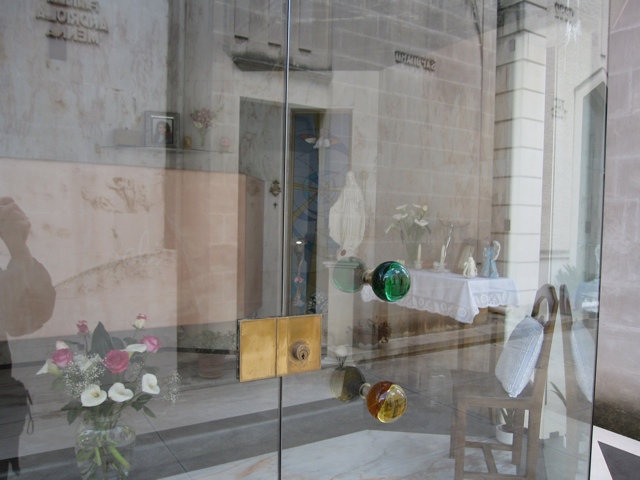 Some outside graves: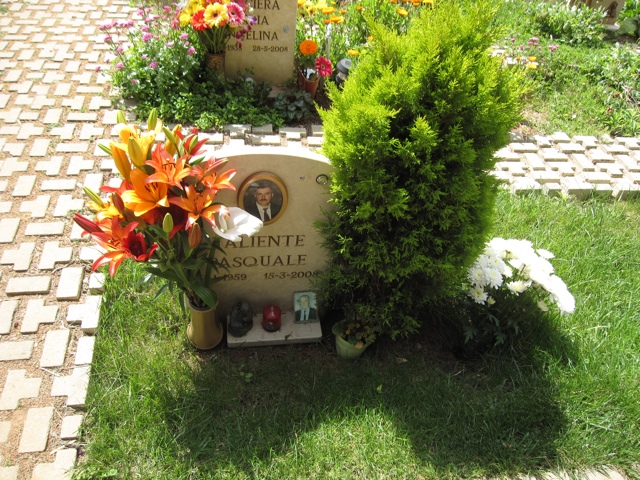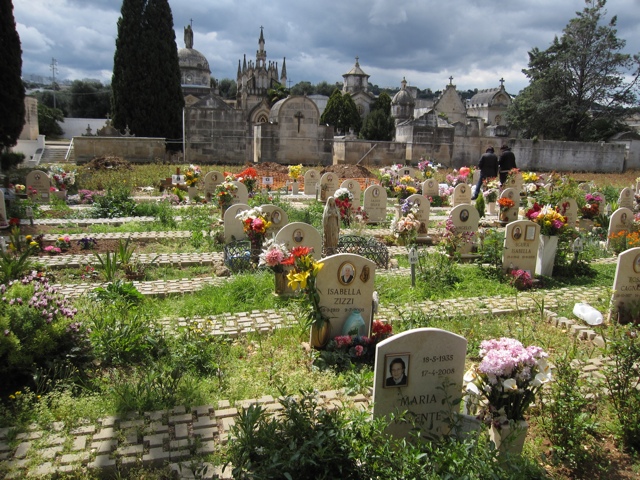 This guy had the best tombstone font: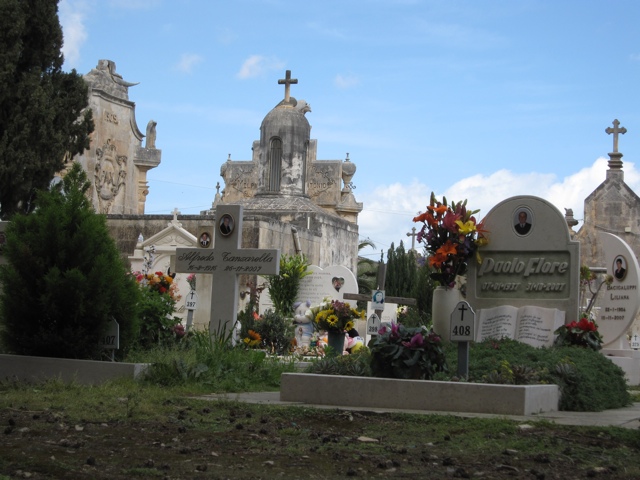 Open and Shut Case
2011-04-17 12:59
Post by Wynette written on Sunday: We walked a bit in the Ostuni old town around noon today. We came across this little antique store we hadn't seen before. I took pictures to show my Mom and Dad because they have had booths in an antique store in the past and have collected old tools and old glassware. The shop was tiny. Only room for one person to (barely) stand inside. Just a closet really. I found a little wooden box I liked but there was no one coming forward to sell it to us. I put it down thinking I'd check it out again on the way back after we finished our stroll. Here are some pictures of the store: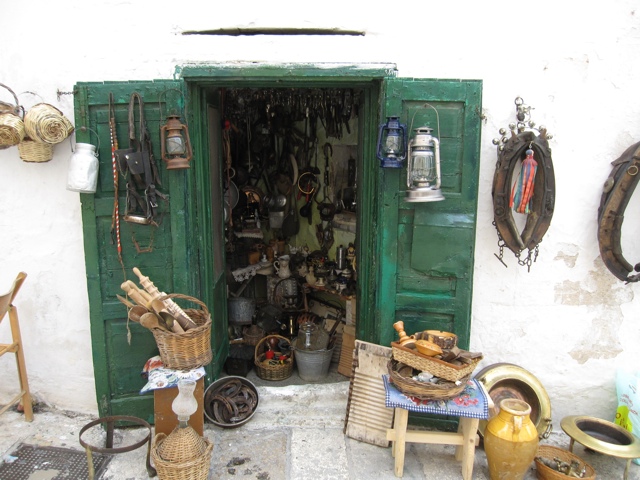 On the way back, less than an hour later, I kept my eye out for the store but went right past it. Charlie said he remembered exactly where it was. We walked back and this is what we found: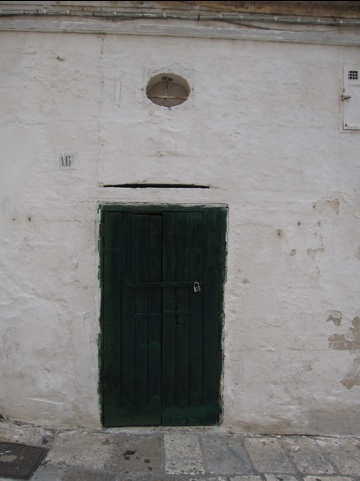 It's a perfect example of how shops here open and close. Nearly everything closes tight around 1:00. And notice that there is no sign advertising what is behind the door. This is often true for many large modern stores as well. You can be walking down a street during the break and think there are no shops on the street. Then at 5:00 when everything opens up again it's like a busy commercial area. This is true for small towns like Ostuni but also bigger towns like Sorrento and Lecce and Naples.
Getting Train Tickets
2011-04-17 13:21
Post by Wynette written on Sunday:
Yesterday afternoon it occurred to us we'd better get our train tickets to Rome since most things are closed on Sundays. We went to Tourist Information (TI) to get their advice. The young man working in the TI called several travel agents but they were all closed so he said he could help us get the tickets on his computer. He invited us to the back of the office and we stood around and watched him do it and gave him the details he needed. He was very fast and really knew his way around the trenitalia web site. He was helpful and fun and very cute and had a GREAT Italian accent. Afterwards we chatted with him a bit. He said his name was ___ Paulo. (I didn't quite catch the first name.) I asked him how he learned to speak such good English and he said school and much travel. He said he was about finished seeing all of Europe. I asked if I could take his picture. He suggested he stand in front of the TI posters of Ostuni which made a really nice backdrop and he happily smiled for us.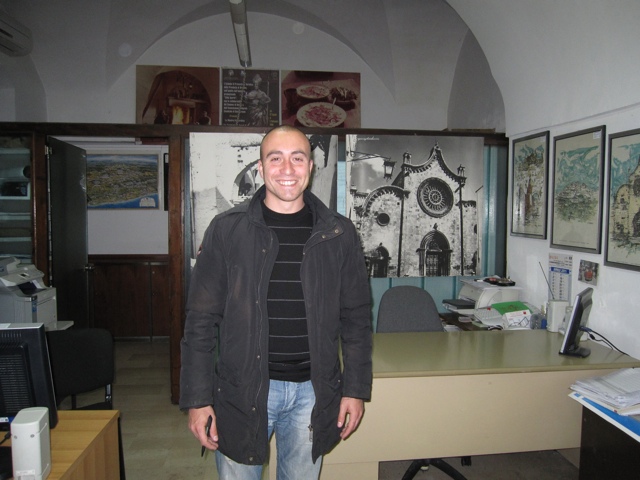 Tale of two doors
2011-04-17 15:59
Most doors open in the middle which means that the opening is pretty narrow, like on the door to our apartment. We were walking in the old city part of Ostuni and found this nice looking door. Note that it splits 1/3, 2/3 so it is easier to get in.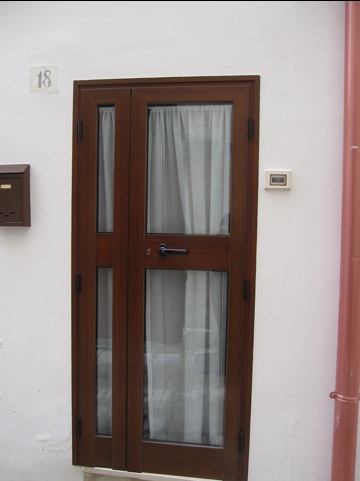 Some places in the old town are well-maintained, some less so, like this door that was the next door down from the one above,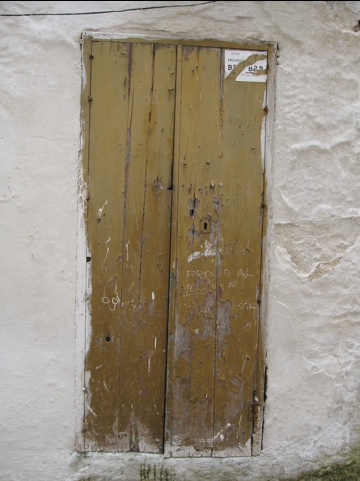 More on parking
2011-04-17 16:01
Just another rainy day
2011-04-17 16:06
Artichokes for dinner
2011-04-17 16:10
Charlie blogging
2011-04-17 16:12
Night stand too low
2011-04-17 16:14
Stick man tragedy
2011-04-17 16:21
American Idol
2011-04-17 16:25
Cappuccino vs caffe
2011-04-17 16:30
Fast train to Lecce
2011-04-17 16:37
Obama Take-away
2011-04-17 16:38
Reflections on a B&B bathroom
2011-04-17 16:42
Lecce map
2011-04-17 16:43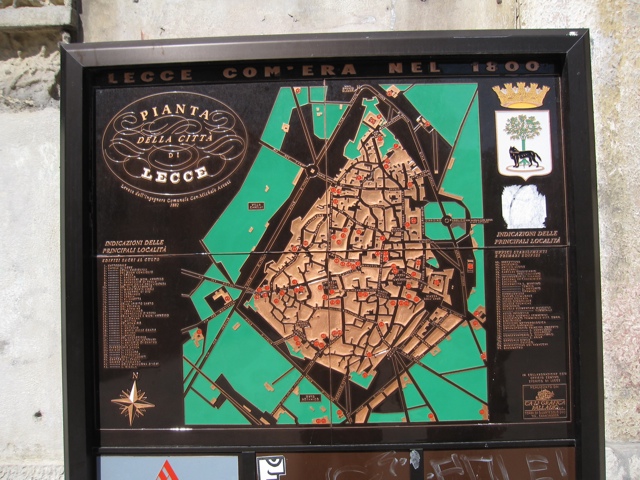 Breakfast on the patio in Lecce
2011-04-17 16:52
Pompeii
2011-04-19 15:33
Post by Wynette: We went to Pompeii early in our trip but just now getting around to blogging about it. I wanted to post a few pictures.
The city was buried by volcanic ash and lava when Mount Vesuvius erupted 2000 years ago. They found hollow spaces where people had died and decayed, leaving the shape of their bodies just as they were when they were caught in the lava. Here is a plaster cast that was made from the hollow area the body left behind.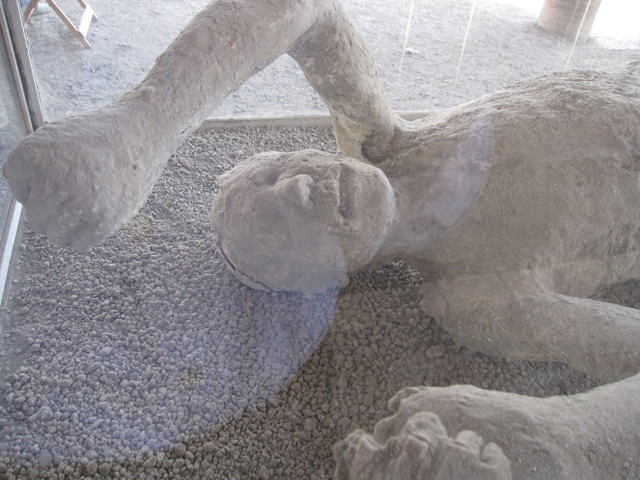 I believe this is an early Roman pedestrian crossing sign: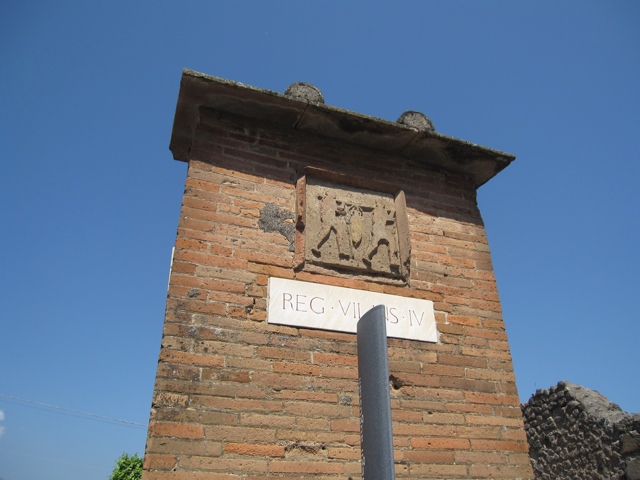 This is one of the baths. There were some places where frescos are still preserved. Pompei was a grand beautiful place before the volcano.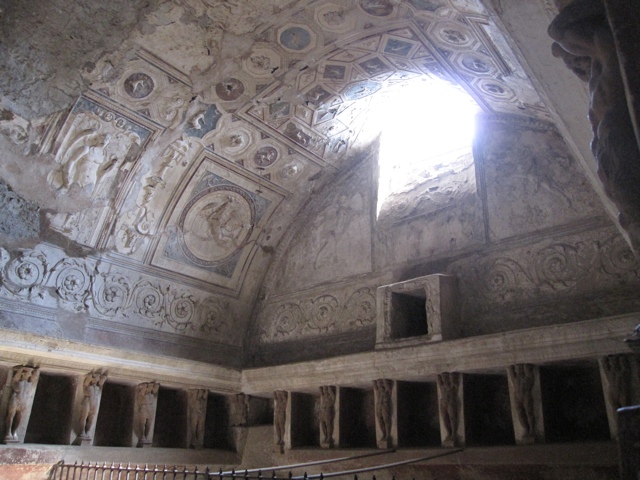 This was a room inside the brothel. I think the people then were pretty short.  And didn't mind really hard beds. (Well, maybe they had a mattress.)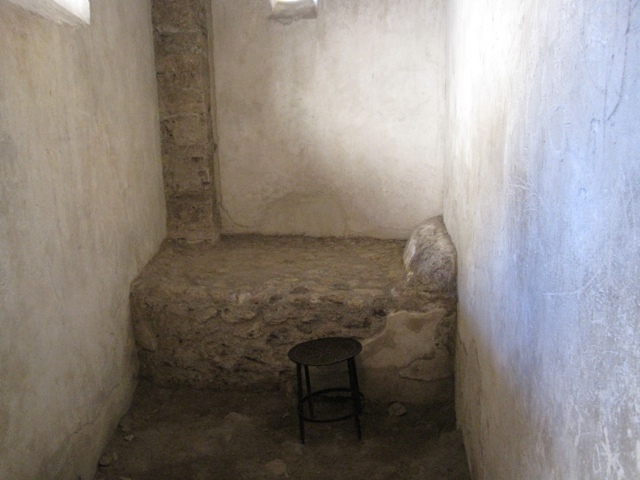 Here I am with Mt. Vesuvius in the background.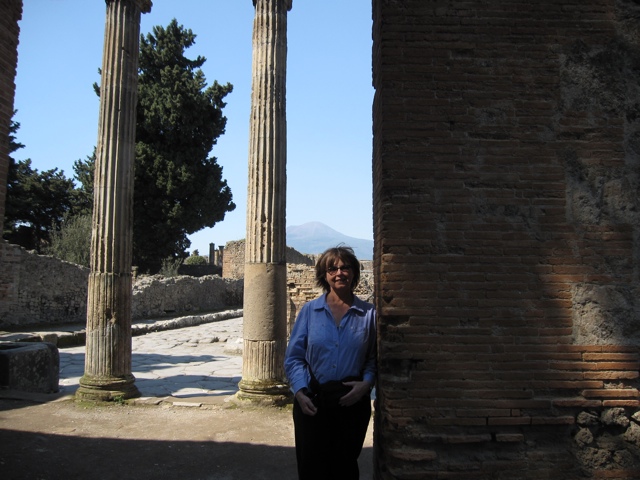 And here is Charlie, same spot.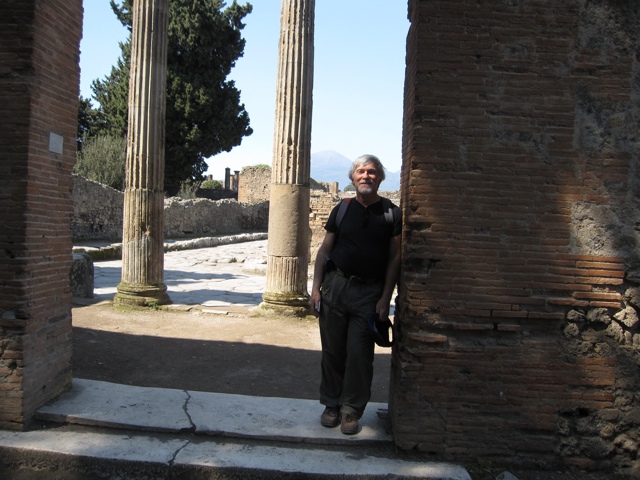 One of the guide books said to trace a triangle up from the two bumps on Vesuvius so they are joined and that is how high it was before it exploded.
I wish I'd gotten a picture of the roads. You'd see lots of deep ruts made by the chariots. Charlie said he'd read that the chariots had a standard width between the wheels so they'd all fit in the ruts. And when trains arrived in Europe hundreds of years later the engineers made the tracks a standard width, the same as the width between the chariot wheels.
A Few More Pictures of Sorrento
2011-04-19 15:50
Posted by Wynette: Here are a few pictures of Sorrento. It was the first stop on our trip and we are returning to the States tomorrow. But I wanted to post a few more things. Always hard to blog about a trip after you return home.
We took a walk above the town the first full day we were there. Here we are looking down onto the Marina Grande.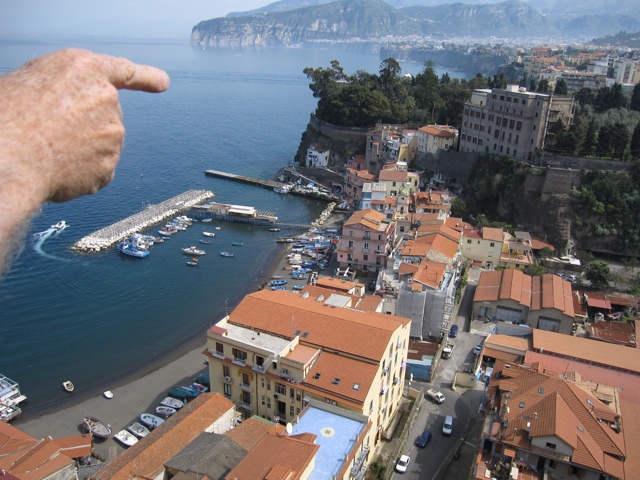 We ate a lot of sea food in Sorrento: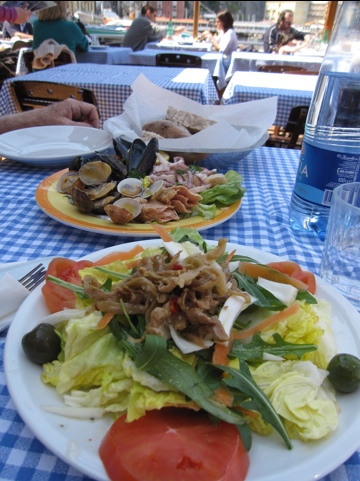 Here is a school bus: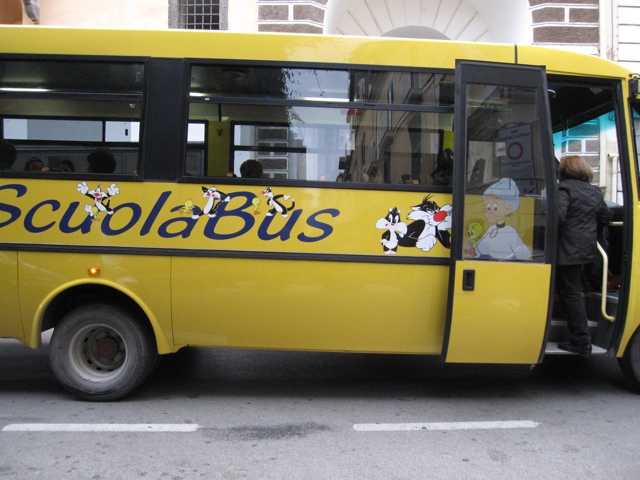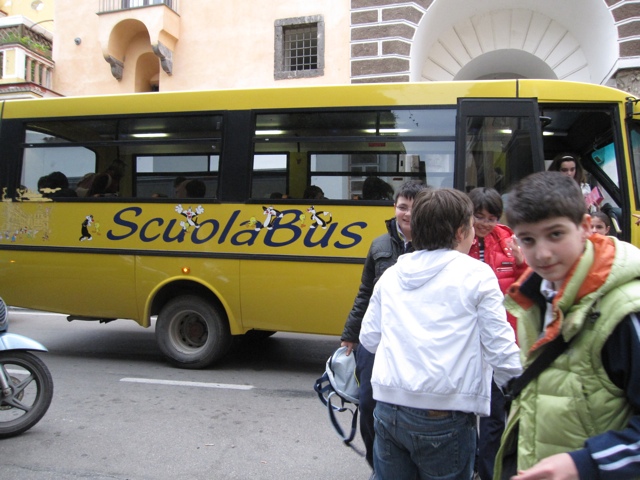 Here is the main piazza (square) in Sorrento. We saw wisteria blooming all over Italy as they are here: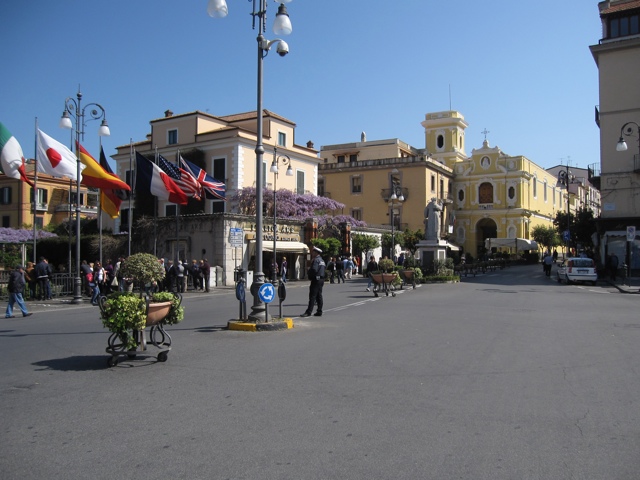 And here we are looking down from the top of our landing in our B&B (Magi House):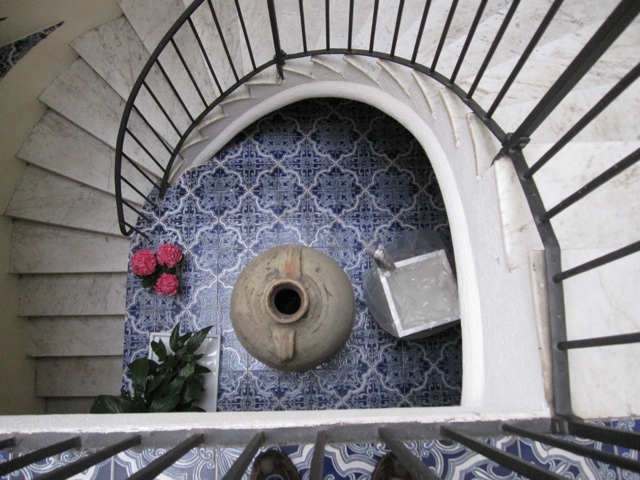 Doing the Laundry
2011-04-19 16:14
Post by Wynette: Doing the laundry is always a highlight of any trip. First you have to find a lavanderia and then you have to figure out how everything works. But in Italy it's pretty easy. Here we are in Lecce doing the laundry: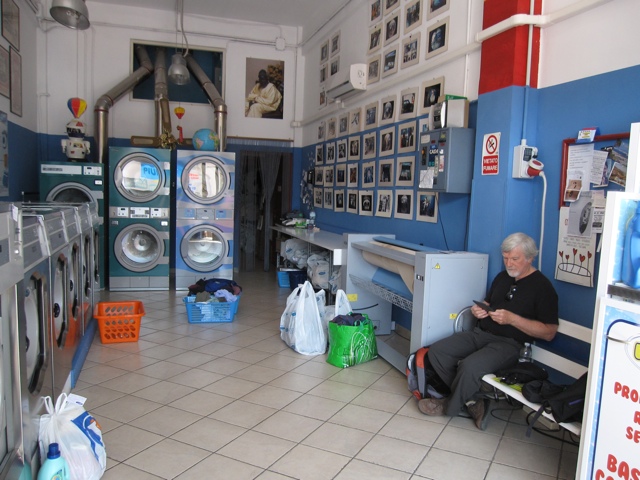 Someone had taken a bunch of photographs of people doing non-laundry-related things inside the laundry. You can see them on the wall in the above picture. Below is a close-up of one of the pictures.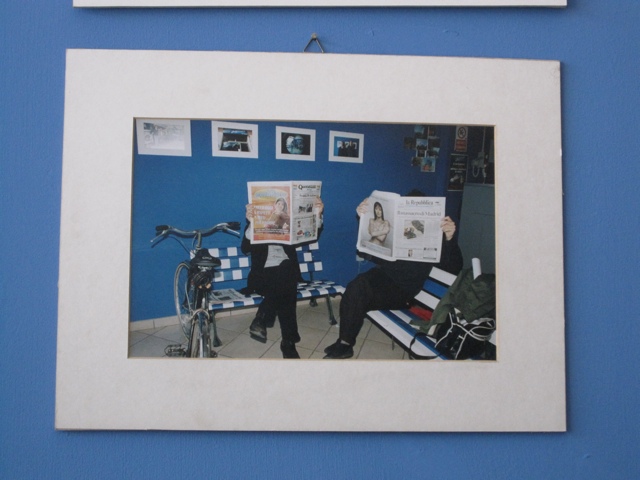 This is what we washed (two baskets on the floor, darks and lights):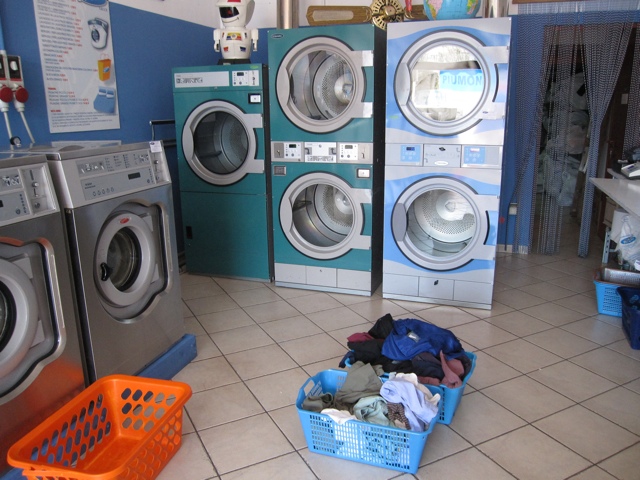 Galipoli
2011-04-19 16:25
Post by Wynette: We took a little day trip to Galipoli from Lecce. (No, this is not the Galipoli from the movie, but it is a Greek name.)
The train was very local and the funkiest we encountered on trip. But fun.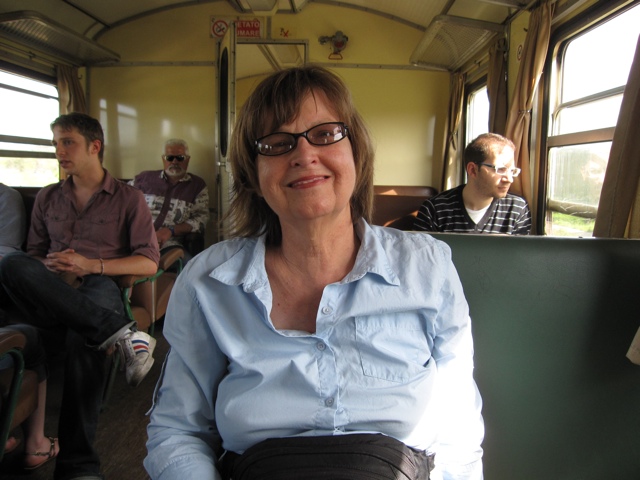 Galipoli is a small sea-side town on the west side of Italy's heel.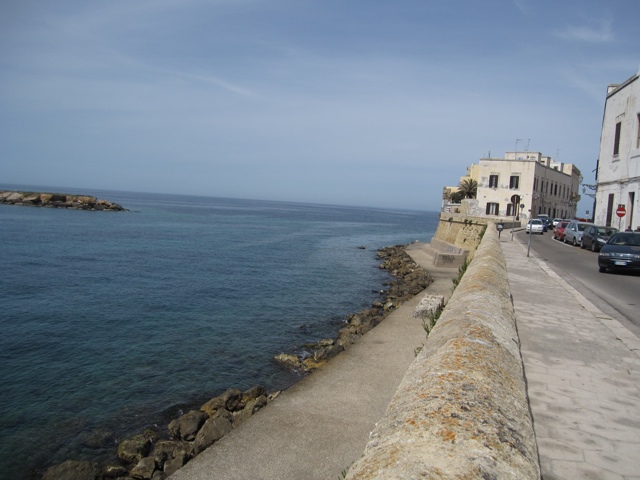 We had the BEST seafood there. The guide-book said this stew was not to be missed: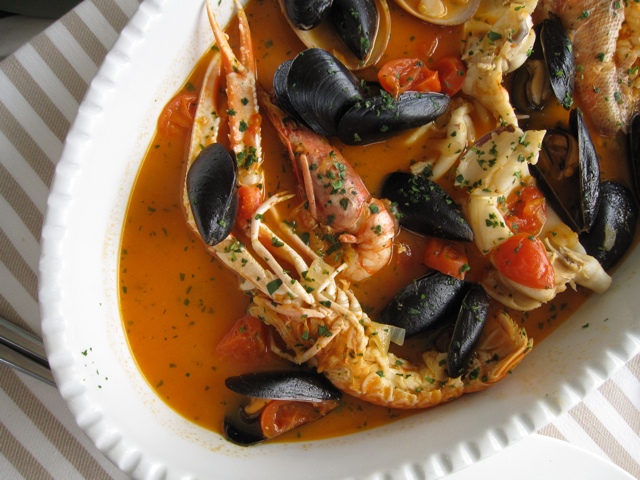 These were the best roasted potatoes I ever tasted: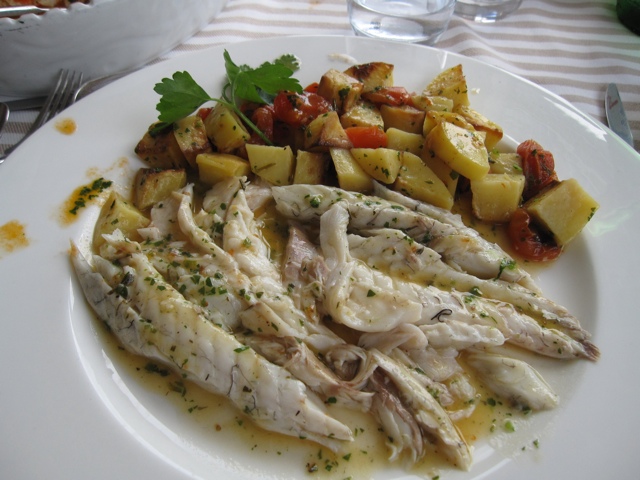 Galipoli was pretty and quiet.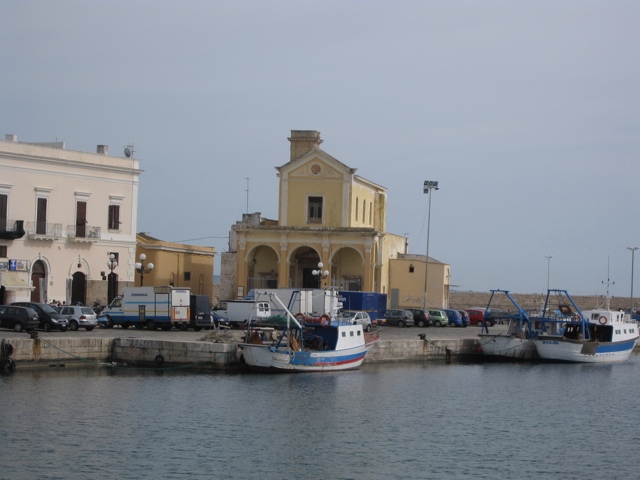 We did see several of these puppety things in various places. Never did figure out what they were. This one is hanging out a second floor window.