The trip is getting close
2015-10-07 19:20
I'm creating a blog but I'm not sure exactly what will be in it. We'll see. Here is a photo of the Plaza de España in Sevilla taken from an article in The Telegraph. We'll add our own pictures as we go along.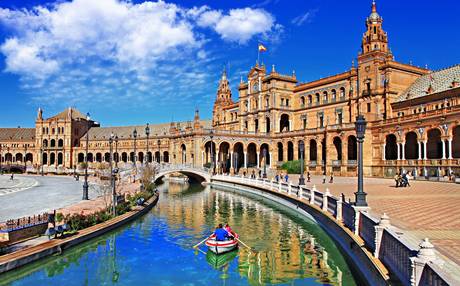 Our Apartment
2015-10-10 02:35
Charlie: We will be staying in an apartment in Sevilla for five weeks. It is an AirBnB rental. You can see the listing here.
It is not as quaint as some places we looked at but we went for comfort and a more modern place. The "Old City" is across the river, about a mile away.
The address is Calle Fernando IV, 28, Seville, Spain. You can look it up on google maps and see the street view. If you do you will see the entrance looks like this: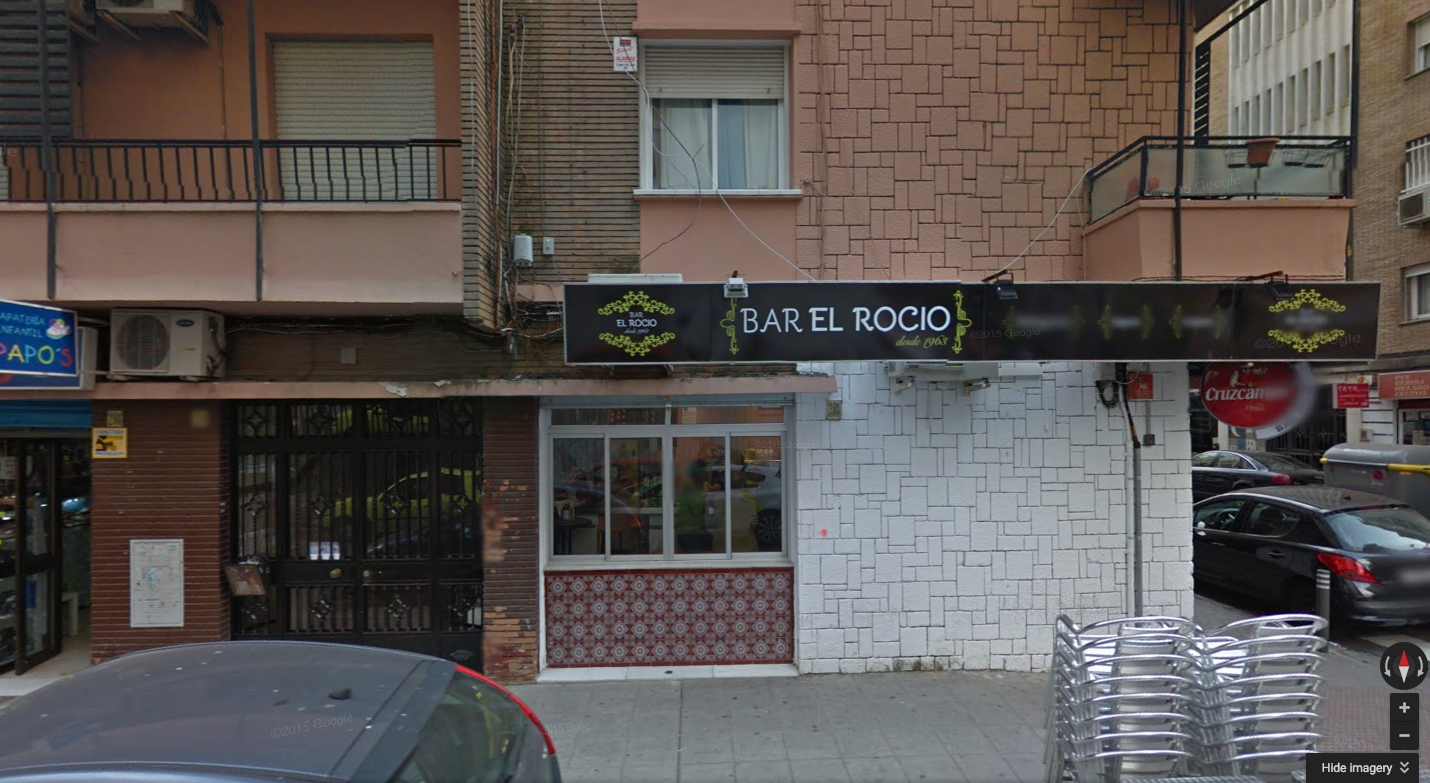 Not the Bar El Rocio, the black steel gate to the left is the entrance. We are on what they call the second floor there although we would say the third floor, two flights up (there is an elevator). If you look up you can see our apartment:
Four windows wide with the shades closed. A thin balcony but not enough room for a chair. If you look to the west you can see it is a neighborhood of apartment buildings all about the same: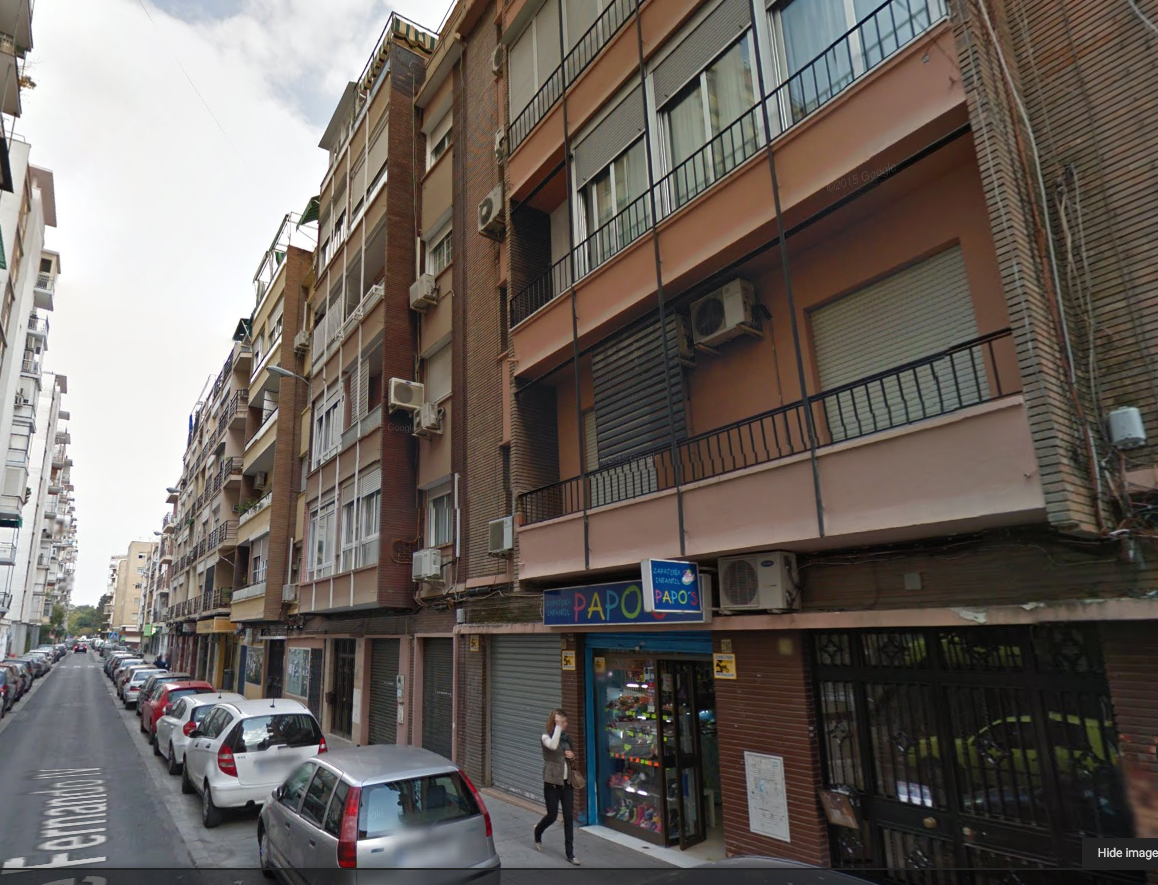 At the end of the street (1/5 mile away) is the Parque de los Principes (25 acres). If you look to the east: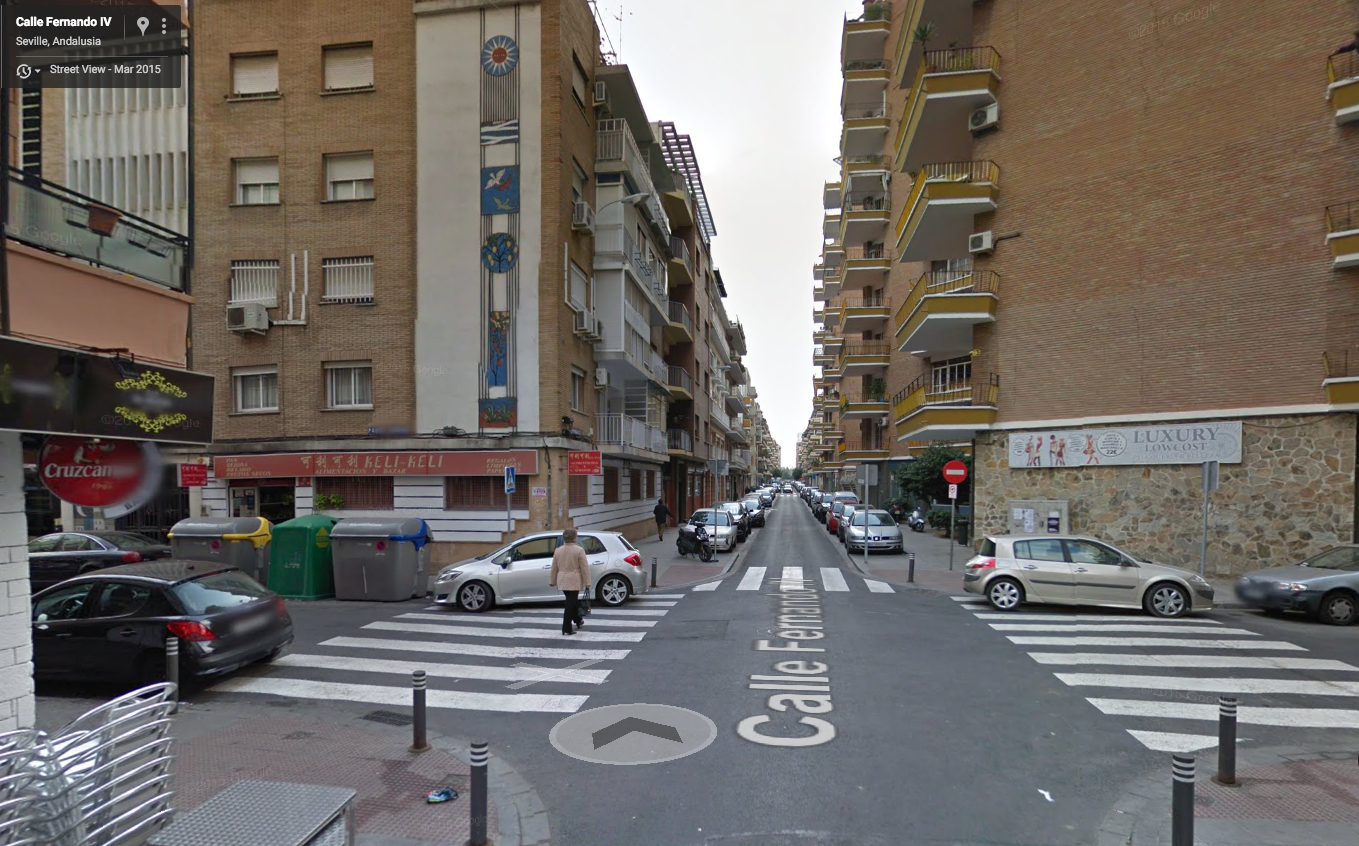 you see we have one of the Spanish "Chinese stores" on our corner. They have a little of everything. And down at the end of the street (1/3 mile) is the Canal de Alfonso XIII, fed by the Rio Guadalquivir. It goes through the city and has a walking path along it. If you turn left at this corner and go about 100 feet you get to our local supermercado: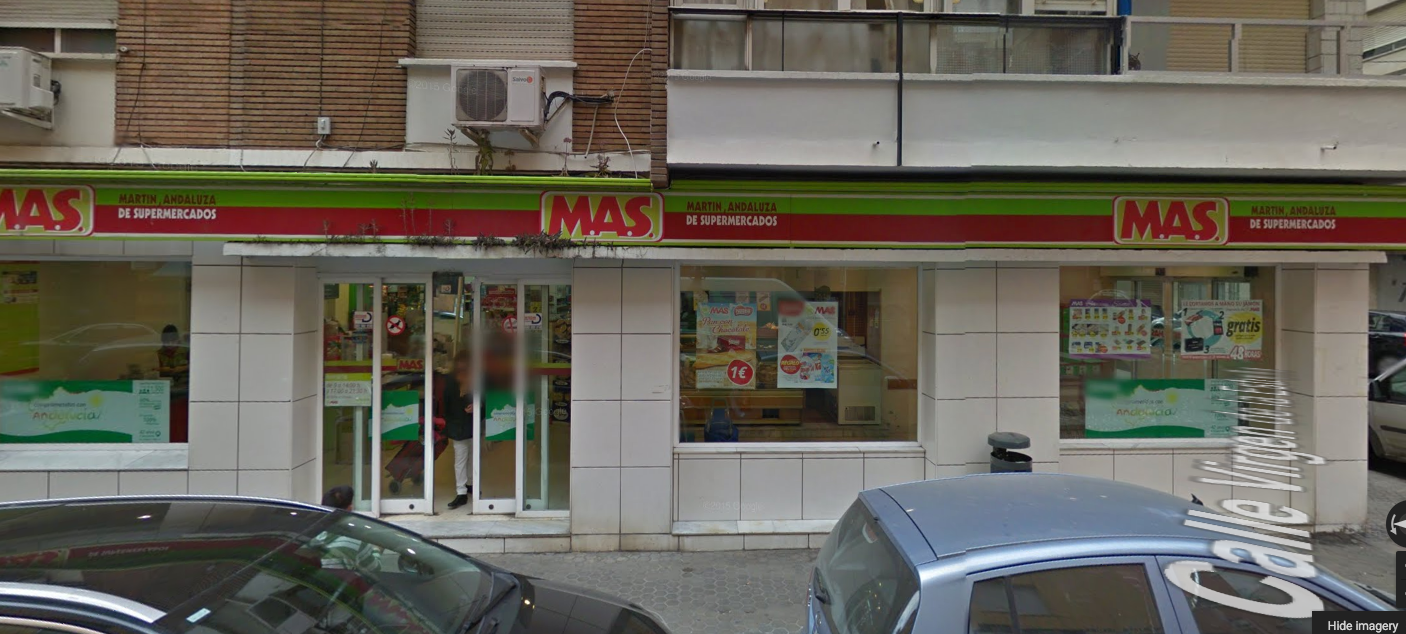 DFW Blues
2015-10-13 21:14
Charlie: We got a good flight this time, only 2.5 hours layover in Dallas, pretty good legroom on AA, we had maybe 4 inches clearance between knees and seat back, about 22 hours from our door in Albuquerque to our door in Sevilla.
DFW has a yoga studio, actually just a carpeted area off the transition from D to B with a screen in front of it. No one there. DFW-D has two walk-through art works. DFW terminal D has a walking course with signs of art by locals and how many steps to the next sign, each way. I walked over an hour of our layover.
Three years ago we flew into Madrid and there was a national general strike. By luck we got from the airport to the train station. Normally busy Atocha train station was empty. Strange.
This year we arrived on a national holiday of some sort, a bank holiday. But most things were running normally. Grocery store in Sevilla was closed during the usual 5:30 pm to 9 pm open hours.
Arrival
2015-10-13 21:27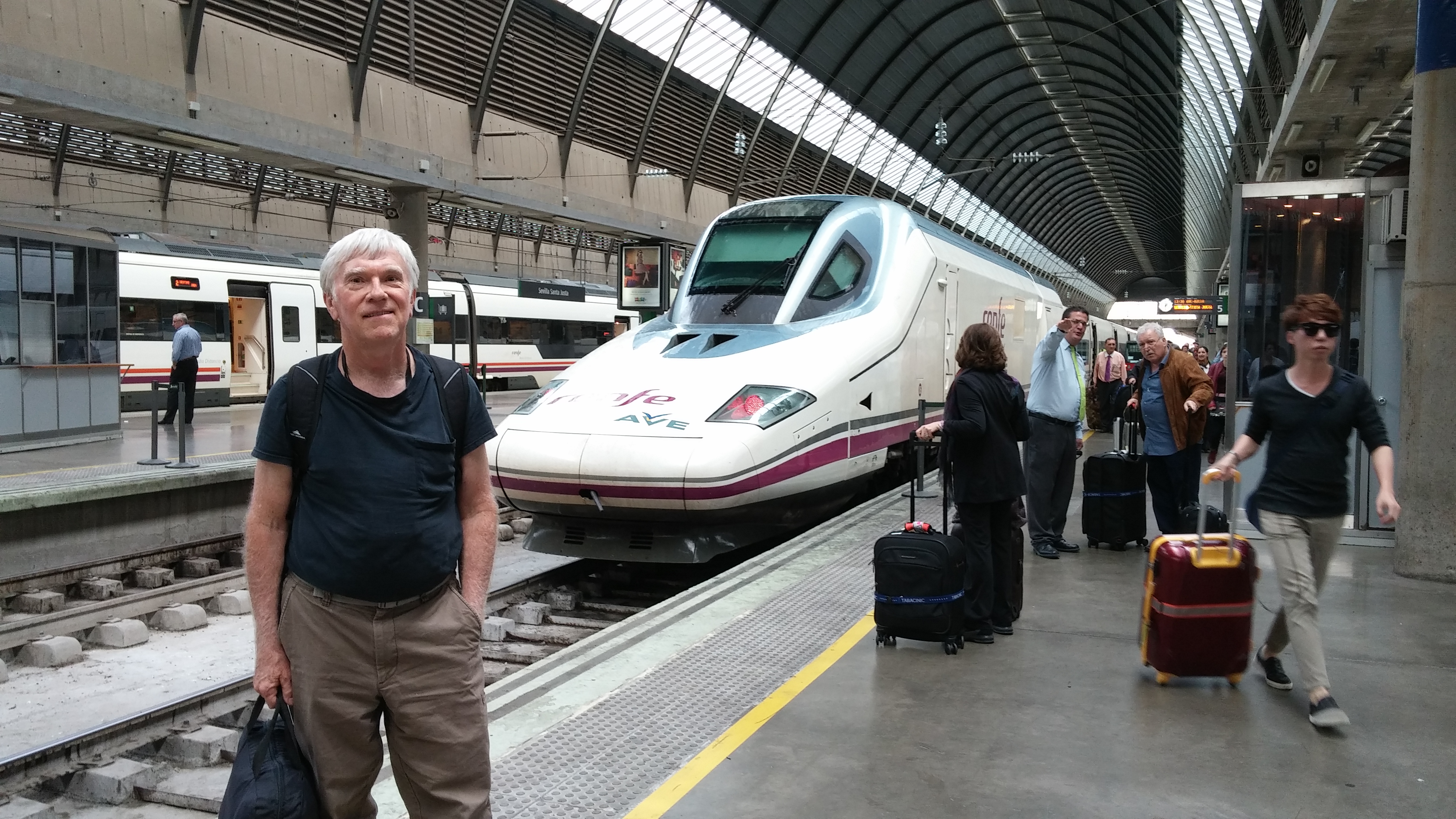 Charlie (plus above photo posted by Wynette): We took the fast AVE train from Madrid to Sevilla. It averaged about 200 kph, got as high as 250 kpm (150 mph). Looking out it didn't seem that fast. It was very smooth at that speed. Quite a whoosh when you passed the train going the other way, they have 20 or more each way every day.
Sevilla train station had a taxi line line of about 150 people. Not as slow as you would suspect since 2-4 people get into each taxi. Our taxi driver said it was because of the holiday. She was very nice and told us places to go and places to eat. Wynette did pretty well conversing with her.
Our AirBnB host was waiting outside when we arrived. The apartment (see previous post) was exactly as expected and as shown in the pictures. Of course, they always show up bigger in the photos. But it is a good size and we are very happy with it. It is fun looking around and seeing what is there. Yes, we found the hand blender. The ironing board was hidden behind a chest.
Couldn't get phone SIMs or groceries because of the national holiday on Monday, October 12. (Hispanic Day — the day Christopher Columbus set foot in the Americas.) Express store was open, we made an omelette.
We each got 1/2 to 2 hours of sleep on the plane, it is hard to tell. After that much sleep in about 30 hours we went to bed. We each woke from 12-2 am Spain time but got back to sleep and slept until 8. Hopefully tonight will be close to normal.
First full day
2015-10-13 21:42
Charlie: We are in a neighborhood called "Los Remedios" which our taxi driver said was very nice, safe and interesting but not too expensive. It has a great feel. Block after block of 5-8 story apartment buildings but the ground floor is always businesses. Cafe/bars on every block. Our supermarket to 100 feet away. Lots of people on the streets (except on national holidays). No tourists because there are no tourist attractions. It is exactly what we were looking for.
The supermarket is very nice. In general things are kind of like they were in the US 30-50 years ago. Lots of employees in the markets. A meat person, a cheese person, a fruit person. We got 250 grams of cheese from from a big wheel and the cheese clerk cut off the waxy edges and sliced it. The bread and butter were great. They still have peaches and they were as good as we have ever had. There is a fruit and vegetable stand on the way to the supermarket (that is about 50 feet away from our door) with lovely stuff.
Everyone has been very friendly. Wynette has been talking in Spanish and when she asks a question in slow, careful Spanish everyone is confident of her ability to understand a rapid-fire Spanish reply. Sometimes she gets most of it.
We had a little rough spot getting phones, see the next post.
We walked around a lot today. We found the main shopping street nearby, pedestrians only. We got a roast chicken for dinner at a shop on the street and some empanadas and soups (beet and zucchini). All quite good.
On the phone
2015-10-13 22:18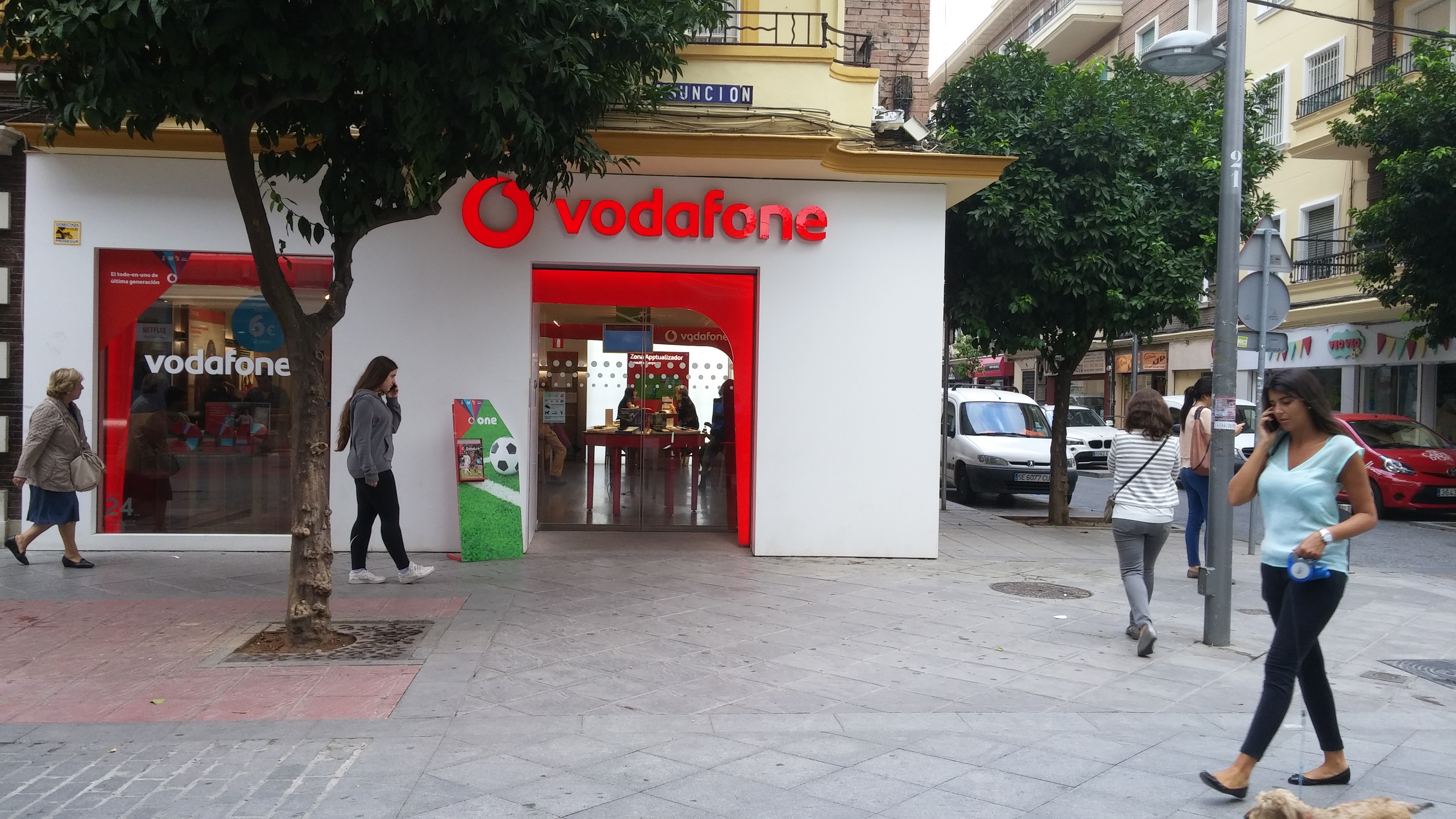 Charlie: There are three main mobile phone companies serving Spain: Orange, Vodafone and Movistar. We have unlocked phones (more on that later) and just get Spanish SIMs for them. Previously we have gotten Vodafone: one month, 200 MS, 1.2 GB data, 100 minutes for 15 euros or about $17. We thought we found a better deal with Movistar, about the same thing for 12 euros plus international calling. The woman at the Movistar store has not heard of this even though it is on their website, a similar one had a 30 euro initial charge. At a second Movistar store they said they couldn't sell it to us.
Back to Vodafone.
A long wait. We talked to a local guy who spoke excellent English. He told us some nice little towns to go see on the south coast and what wines to get.
15 euros even, no other charges. My google nexus 6 worked fine. Wynette has an LG G3 from T-mobile which we unlocked last year and used with a Spanish SIM with no trouble. This time it didn't work, the phone seemed to be locked again. As far as we can tell, it relocked itself, not sure how. We went home and did a chat with t-mobile. I had to dredge up two old, almost forgotten PINs but we convinced them to re-un-lock it. I just got the email about, tomorrow when we are fresh.
Dinner and a Walk
2015-10-13 22:37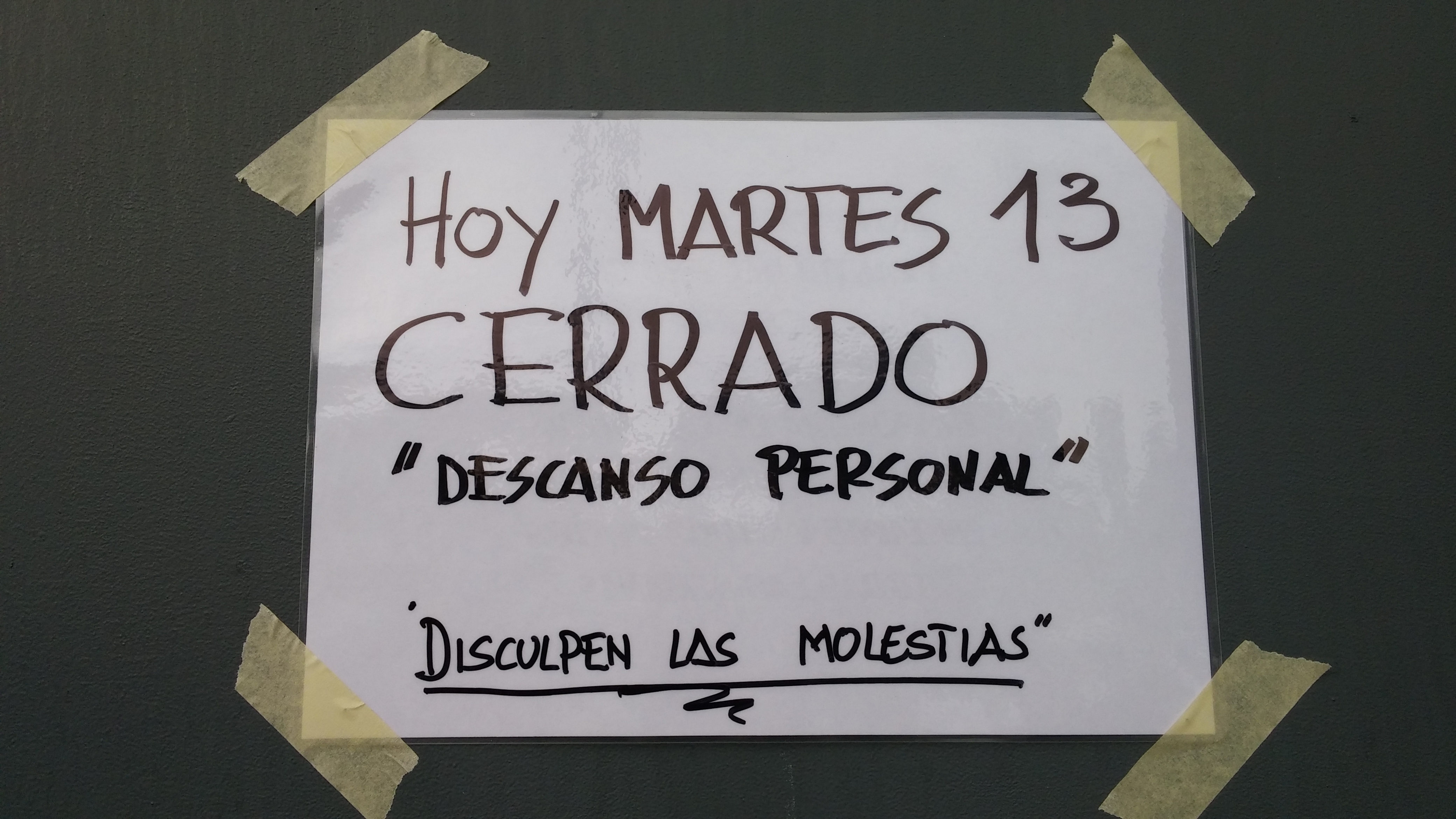 Wynette: This evening, we had intended to eat at a place near our apartment named "OK Tapas".  When we got there they were closed and this sign was on the door: "Today Tuesday the 13th. Closed. Personal rest. Excuse the bother." (In Spanish, they use the verb molestar to mean to bother. Molestar has not taken on the connotation that molest has taken on in English.) So, we had to make other plans. Decided to go to a roast chicken take-out we'd spotted earlier in the day. But that place didn't (re-)open until 7:30 pm so we had an hour to kill. Decided to take a walk in the nearby park. They have many of these lovely trees in the park.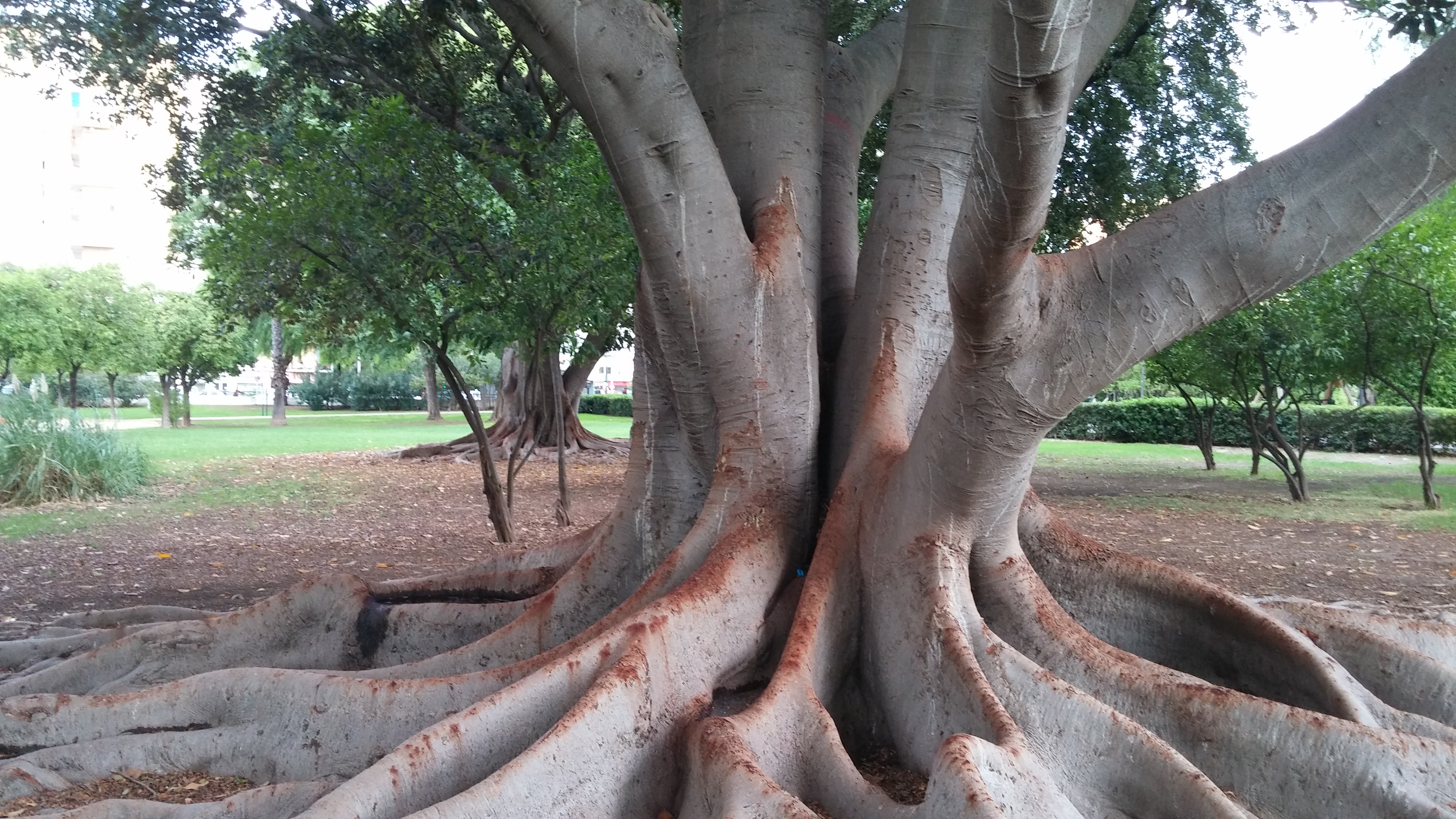 Cash is King
2015-10-14 07:48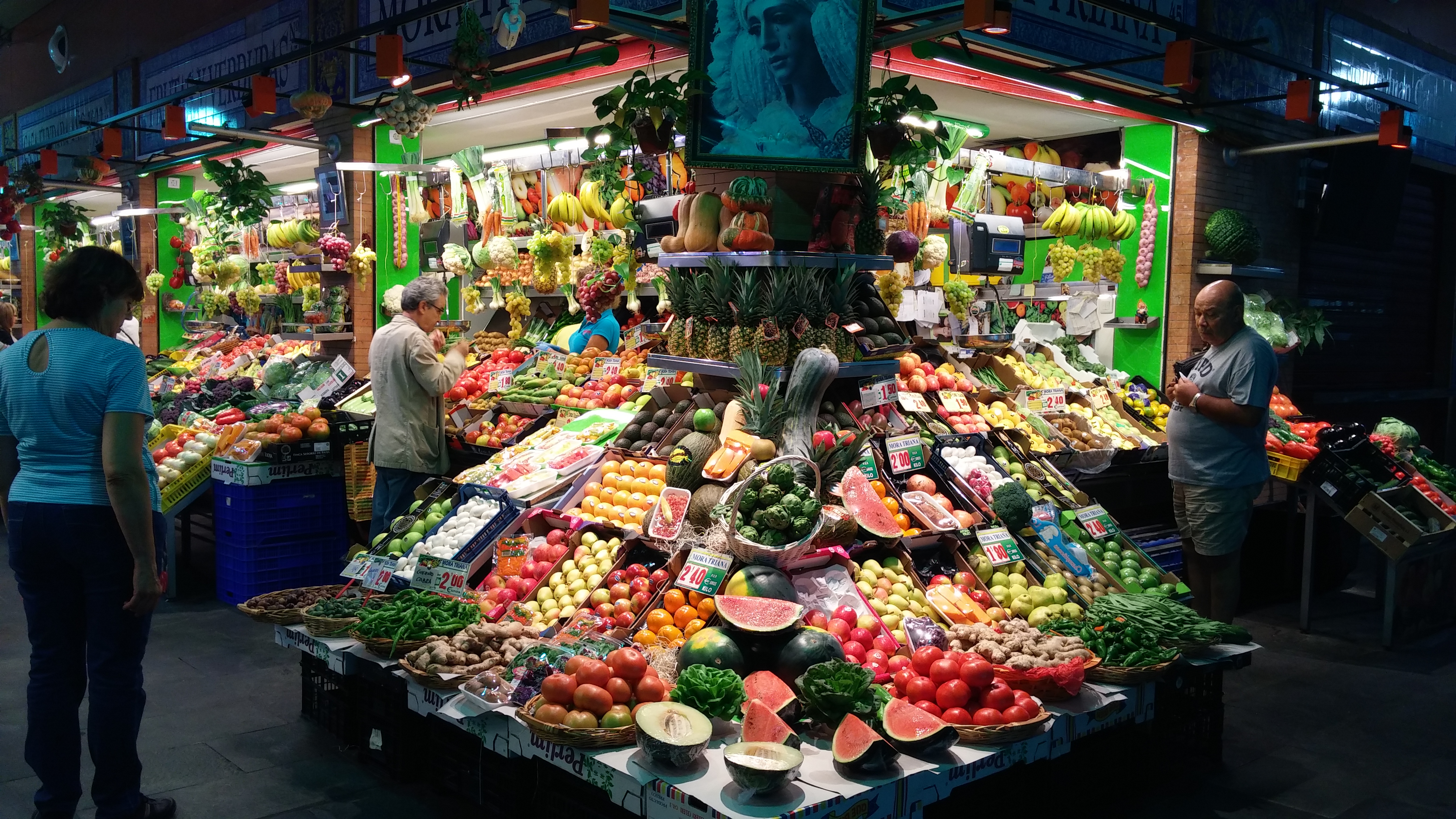 Charlie (with photos added by Wynette): In 1969 Christy and I went to Europe and spent an hour at the bank, in the US, signing $10 travelers checks. We visited at least 10 countries, each for a different currency. We used the price of an ice cream cone as our unit of currency comparison.
On this trip Wynette and I are doing most of our buying with cash.
Nowadays it is so much easier, we just get cash out of machines. A few years ago each use of a cash machine involved a fee and a 2% (or more) conversion rate. Now most people get debit cards with no use or conversion fees. We have Capital One Bank cards but there are many others. Sometimes these cards pay the cash machine fees for you. I'm not sure what the business model is that allows profits there.
But banks crave profits so in the last few years when you get cash you are presented with a choice, either have the cash machine's bank convert to dollars or do the transaction in euros and have your bank to the conversion. I did this yesterday and it said (some European full disclosure laws I assume) that it would convert at $1.19 per euro and my 200 euros would cost $238. I have been following the rates for months and know it should be less than $1.14. So I declined the conversion. Minutes later I check Capital One bank and it had charged me $228. I googled 100 euros and got $1.394 so this is an excellent rate. That extra $10 would have been a 4.4% fee, much larger than the old 2% fee.
You are presented with the decision standing at the machine on the street with bare-bones information and no way to know what choice might be better. Like they used to say, a banker can steal more money with a pen (update to computer) than a robber with a gun.
We have no-fee credit cards also. I used it for the train fare but I didn't check the conversion rate. You often get the same choice, convert here to there, with credit cards. I rail agent didn't offer a choice. I assume it went through in euros.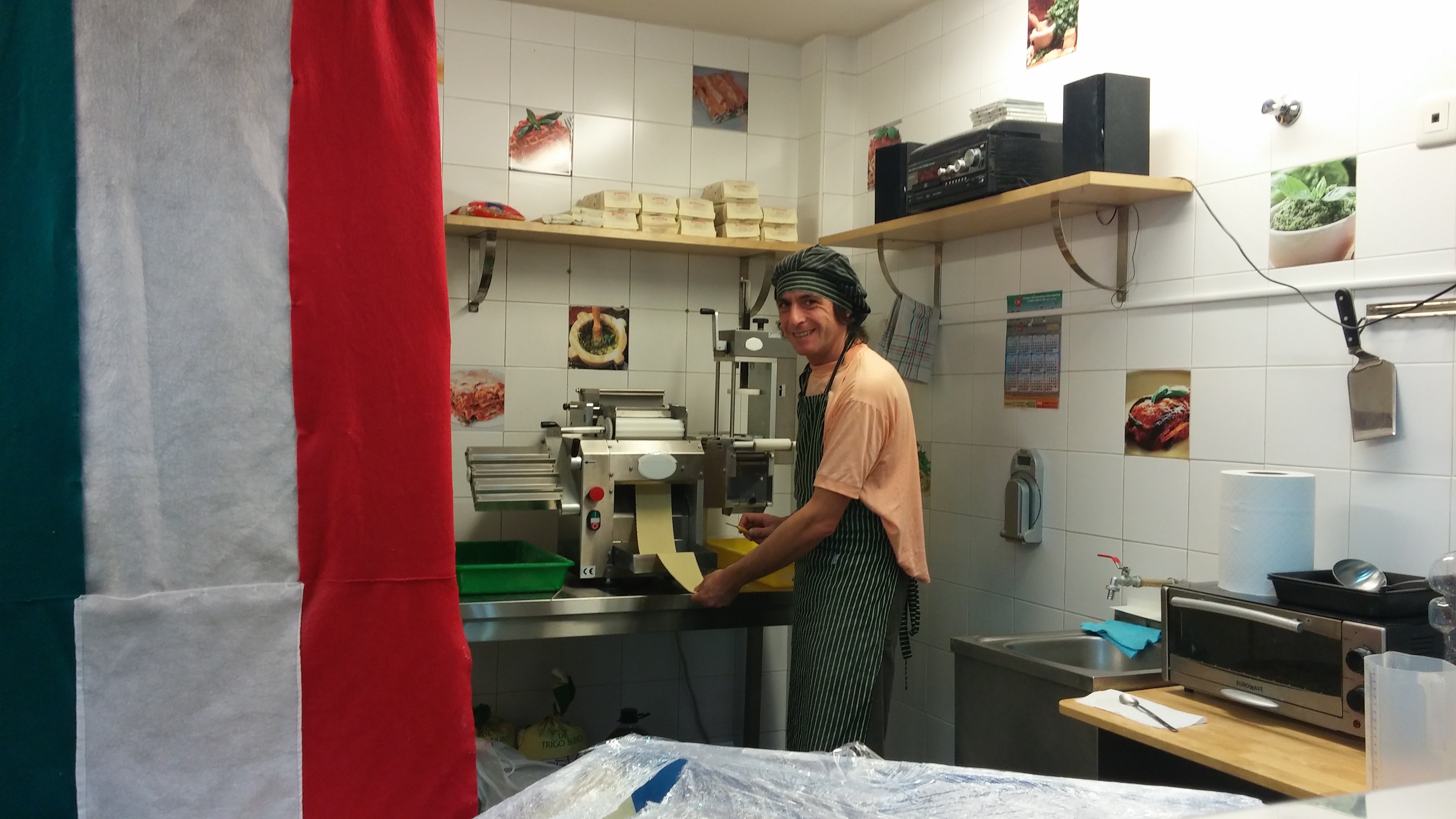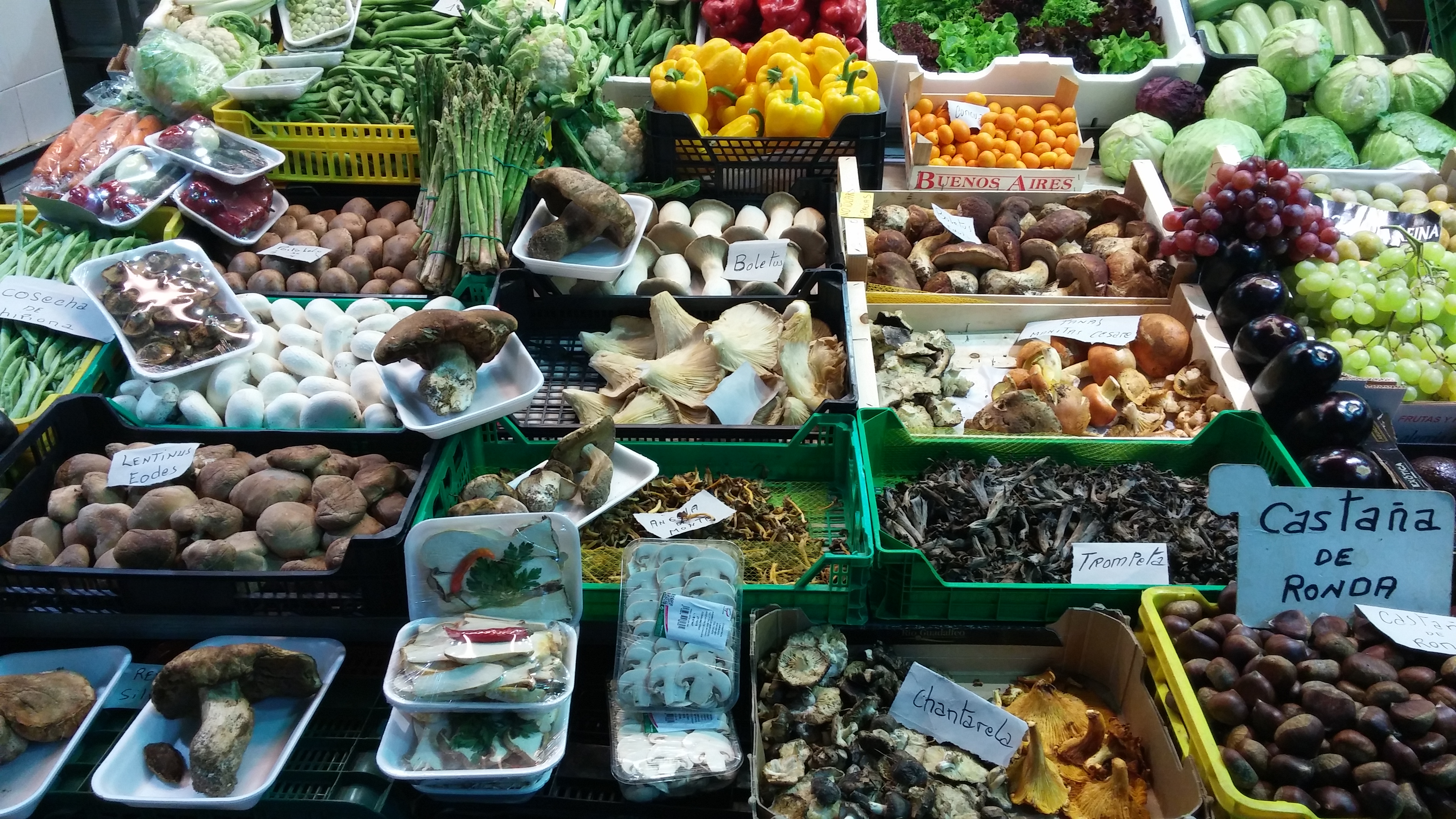 Your Comments and a Comment about Photos
2015-10-14 20:57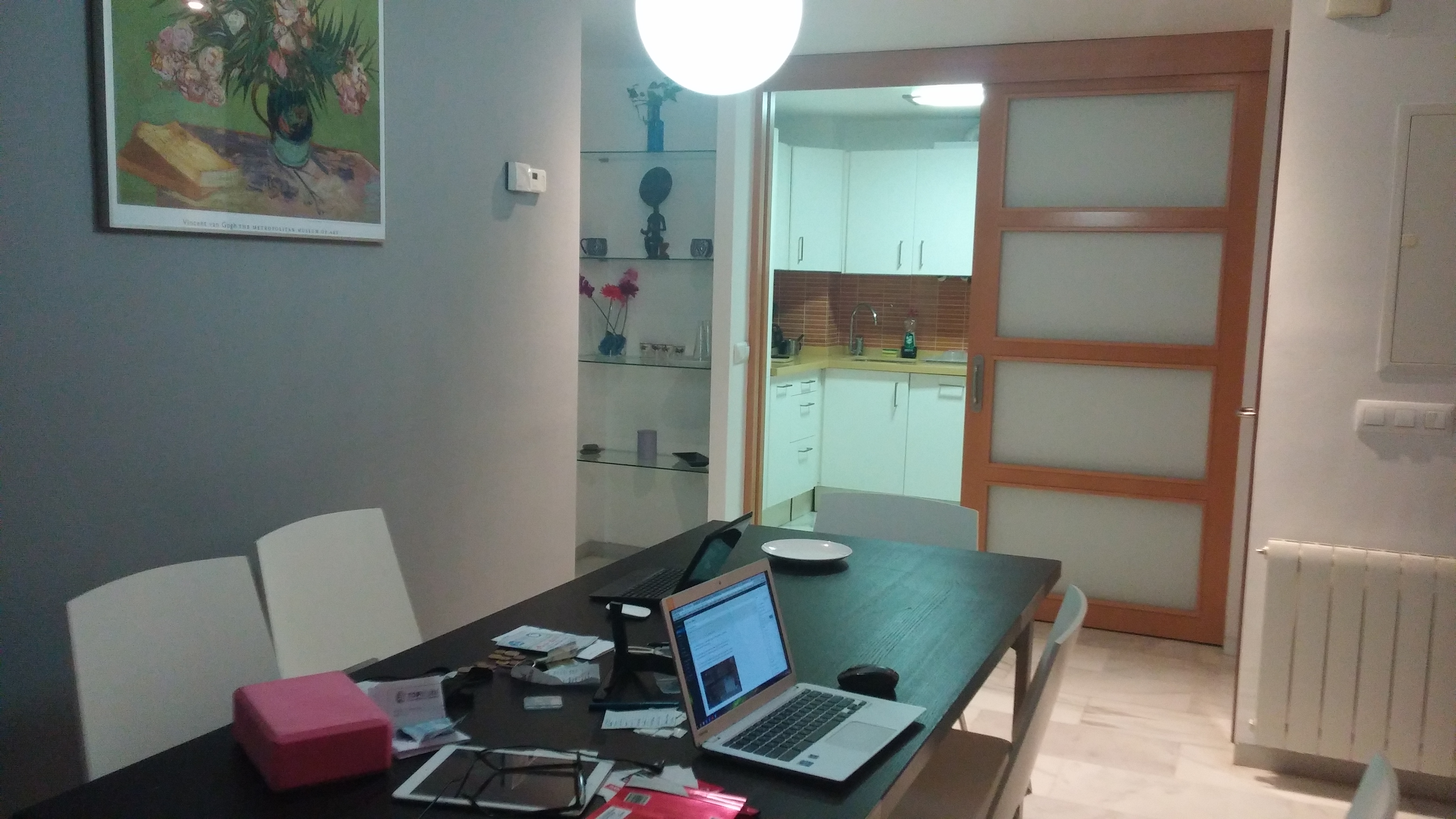 Wynette: Thanks for your comments. We sure enjoy them. If you've tried to add a comment and were put off that you had to provide your name and email, don't worry, your email won't show up on the post. Also, I think (?) you can get by with just providing your first name or nickname. The first time you post a comment, it will have to be approved by us, but after that it won't have to be approved.
You can click on any photo to see a larger and much higher resolution version. E.g., once you've made it bigger, try zooming in on the people in the photo below or in the vegetables in previous post.
Off the subject, but apologies for how slow the site is. We think it is because we have pretty minimal hosting service at Dreamhost.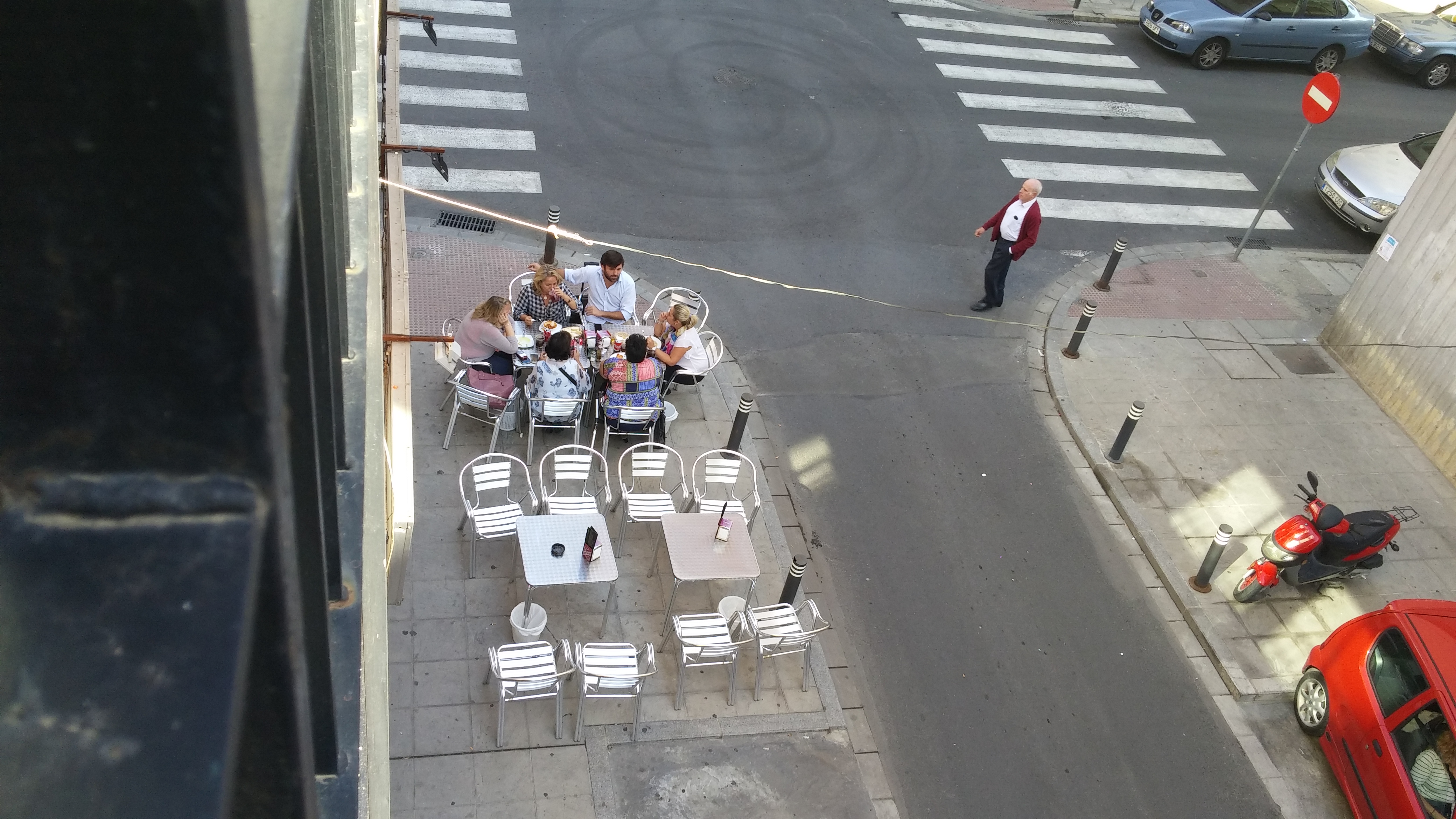 Rust Never Sleeps, But it Does Dissolve
2015-10-15 23:19
Definitely Not a Starbucks Clone
2015-10-16 19:57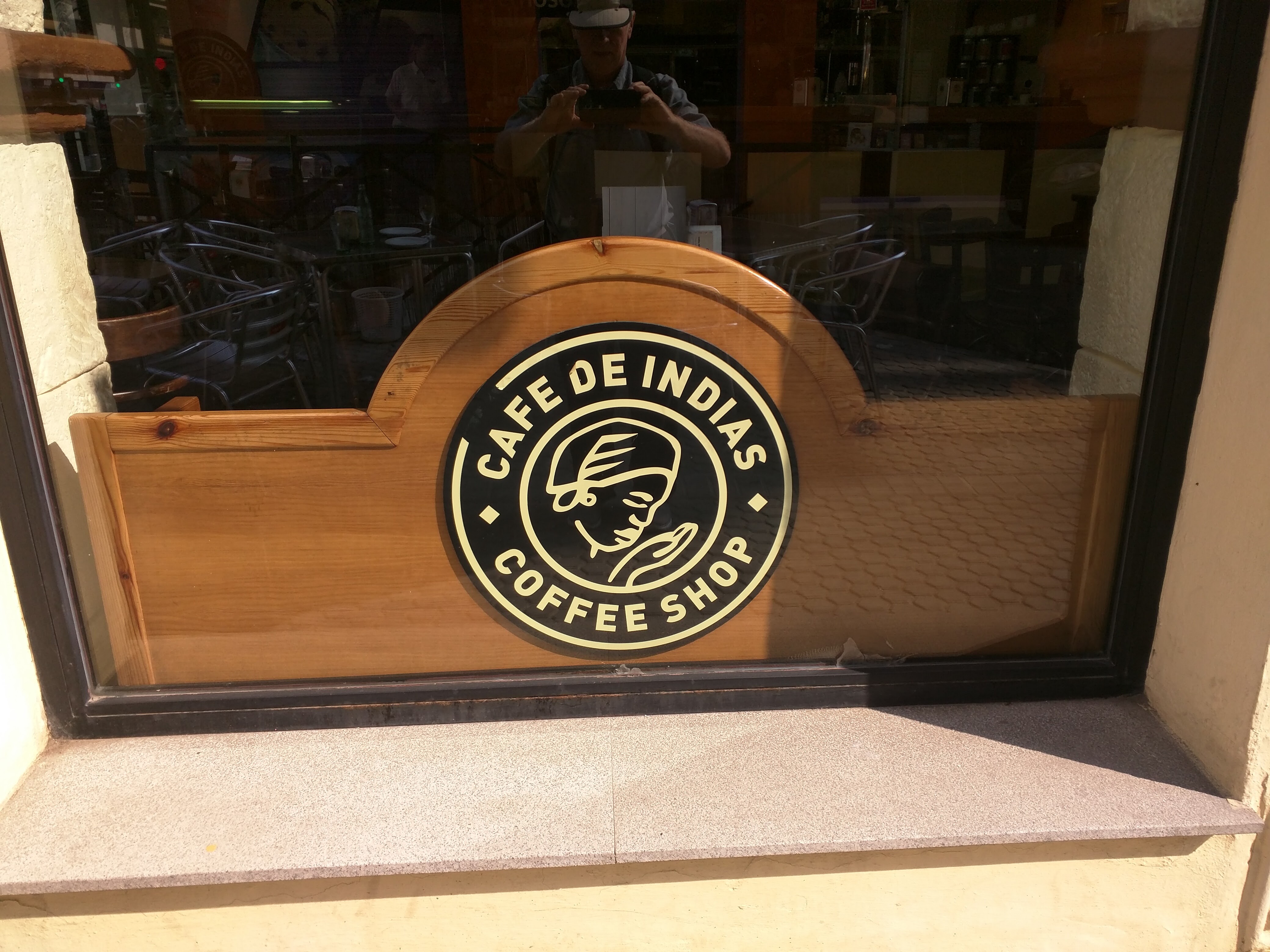 Charlie and Wynette: The grocery stores have a limited selection of coffee and we haven't found any other stores that sell coffee. The available coffee is a fairly dark roast, we like lighter roasts in the Italian espresso style.
At the Triana Market we bought some fresh pasta and wonderful pesto from an Italian guy. We asked him where he bought coffee to make at home and he said he brings it from Italy because he cannot find good coffee in Spain. He said, with a smile, that "Spain is not a coffee culture".
We know there is good coffee here because we've had it in the bars. But we are having a hard time finding coffee we like to make in our apartment kitchen. Wynette enrolled for Spanish classes to start next week. There is a little coffee bar at the school. After Wynette enrolled yesterday we ordered a cup of coffee. It was by far the best coffee we have had in Spain and as good as anything we've ever had in Italy. Guess Wynette is going to have to have a chat with that barrista.
Taking Out the Trash
2015-10-16 20:17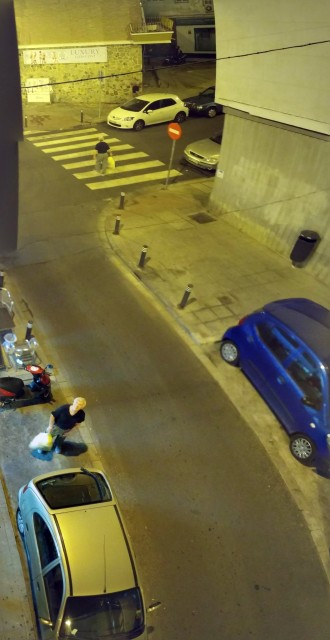 Charlie: In Sevilla they have large trash containers on the street for everyone to use. Some for trash, some for recycling. You can only put things in the trash ones from 8 pm to 11:30 pm at night. Presumably they empty them overnight. I took ours out last night and Wynette took some photos of me from the balcony. Then Google photos combined some of them so I appear three times in the same photo. (This photo was taken about 11:00 pm. Note how well-lit the street is.  Good thing we have good shades over the bedroom window.)
China Stores
2015-10-18 17:46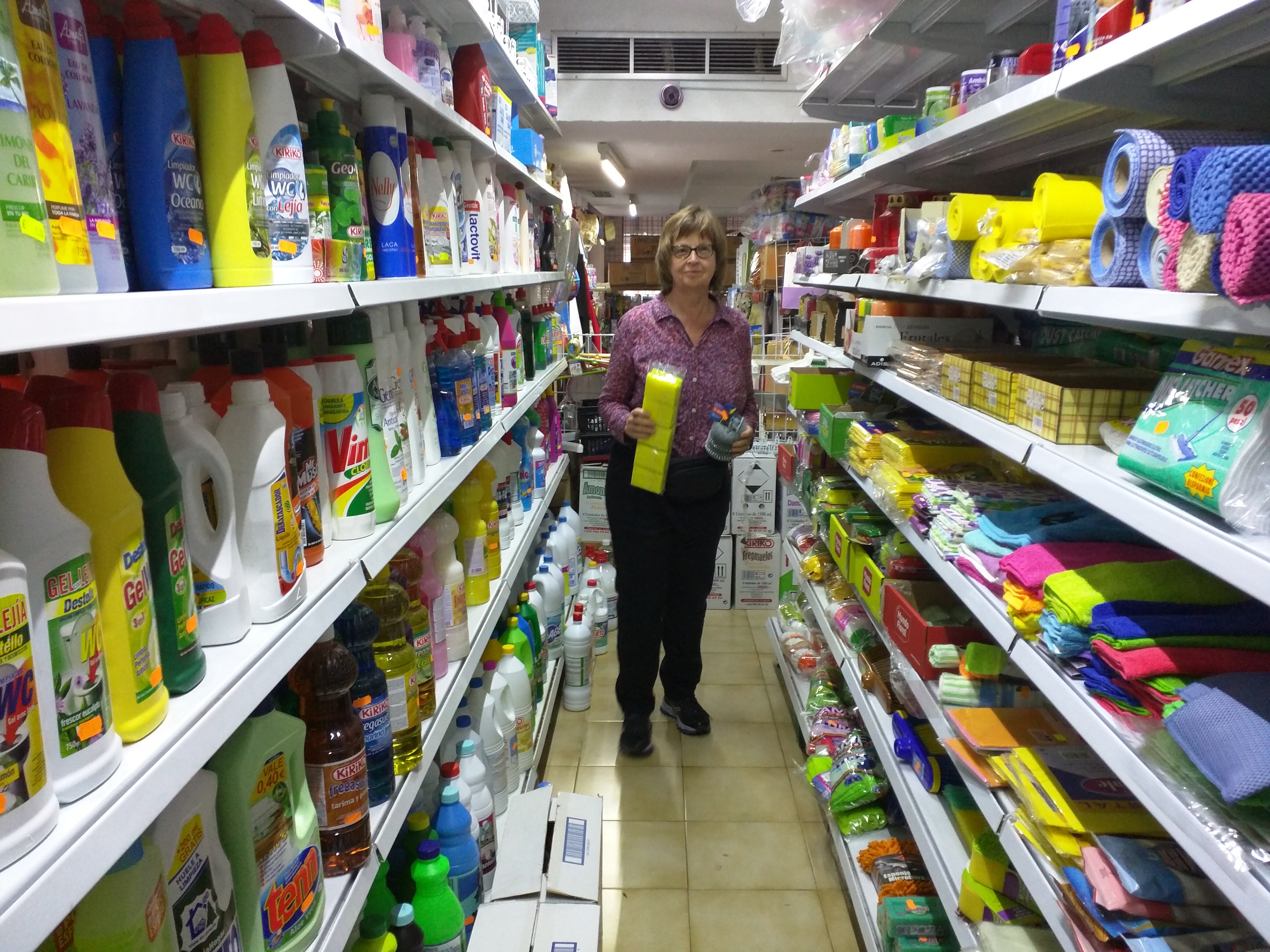 Charlie: They are all over, almost every block. They have a wide assortment of things you can't get other places, a bit like a Woolworth's or five and dime in days of old.
Wynette: When I was growing up in Tatum, New Mexico, we used the term "variety store". We call them "China stores" here in Spain because we've heard locals refer to them that way and they are always run by people that look like they are probably Chinese. These stores really do have a little bit of everything. And they are open on Sundays. At least some of them are. They are usually small with crowded narrow aisles. The proprietors are usually grumpy. I think it is because they are so far away from home and they are homesick. Going east from our apartment there is a China store near every corner on the next 3 blocks.  The third one is our favorite. It isn't quite so crowded, it is nicely organized, and the proprietor is friendly and doesn't seem so unhappy. (It is the one shown in the photos with this post.)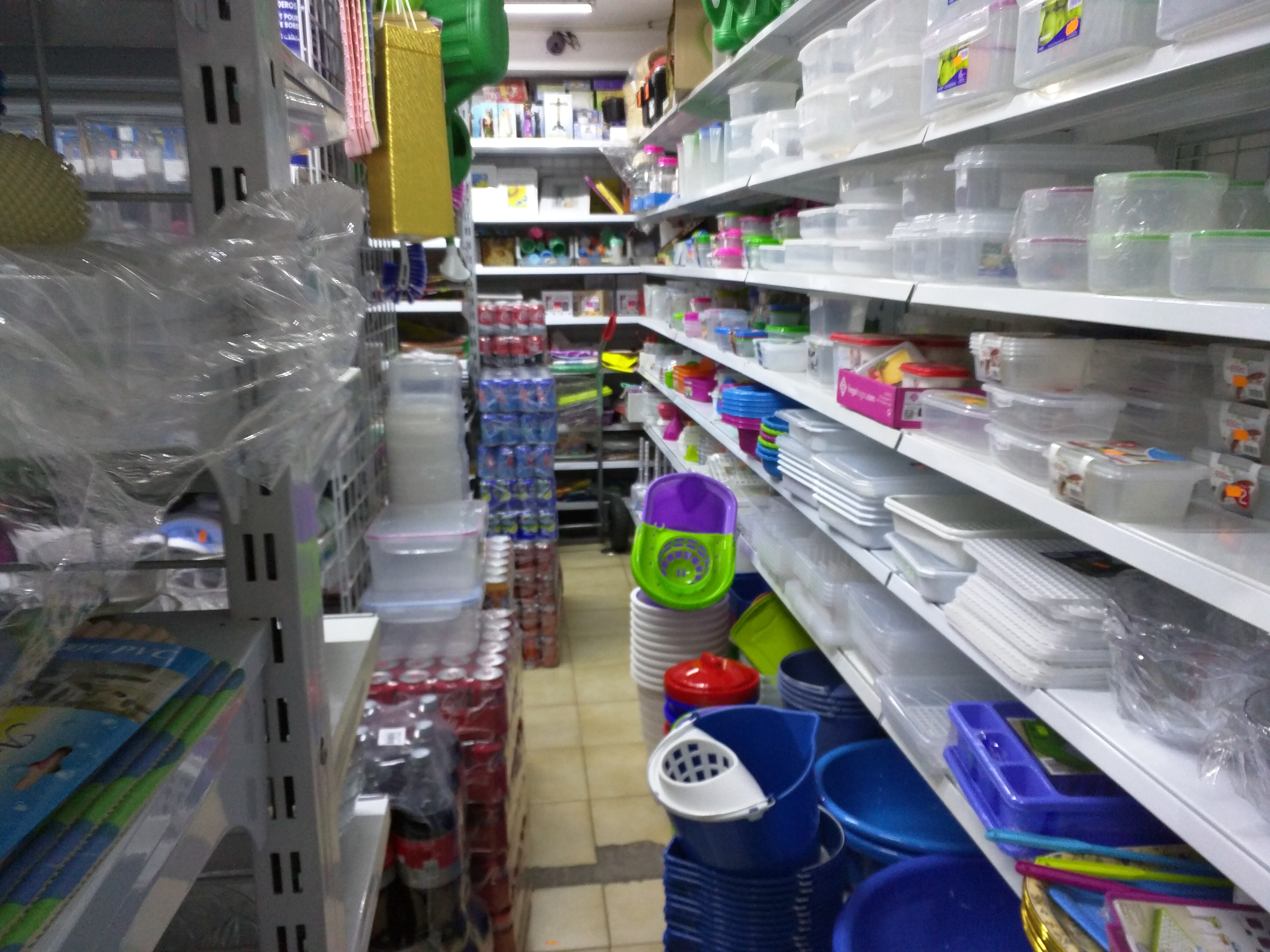 Segway Tour
2015-10-18 18:17
Trampoline in the Park
2015-10-18 18:18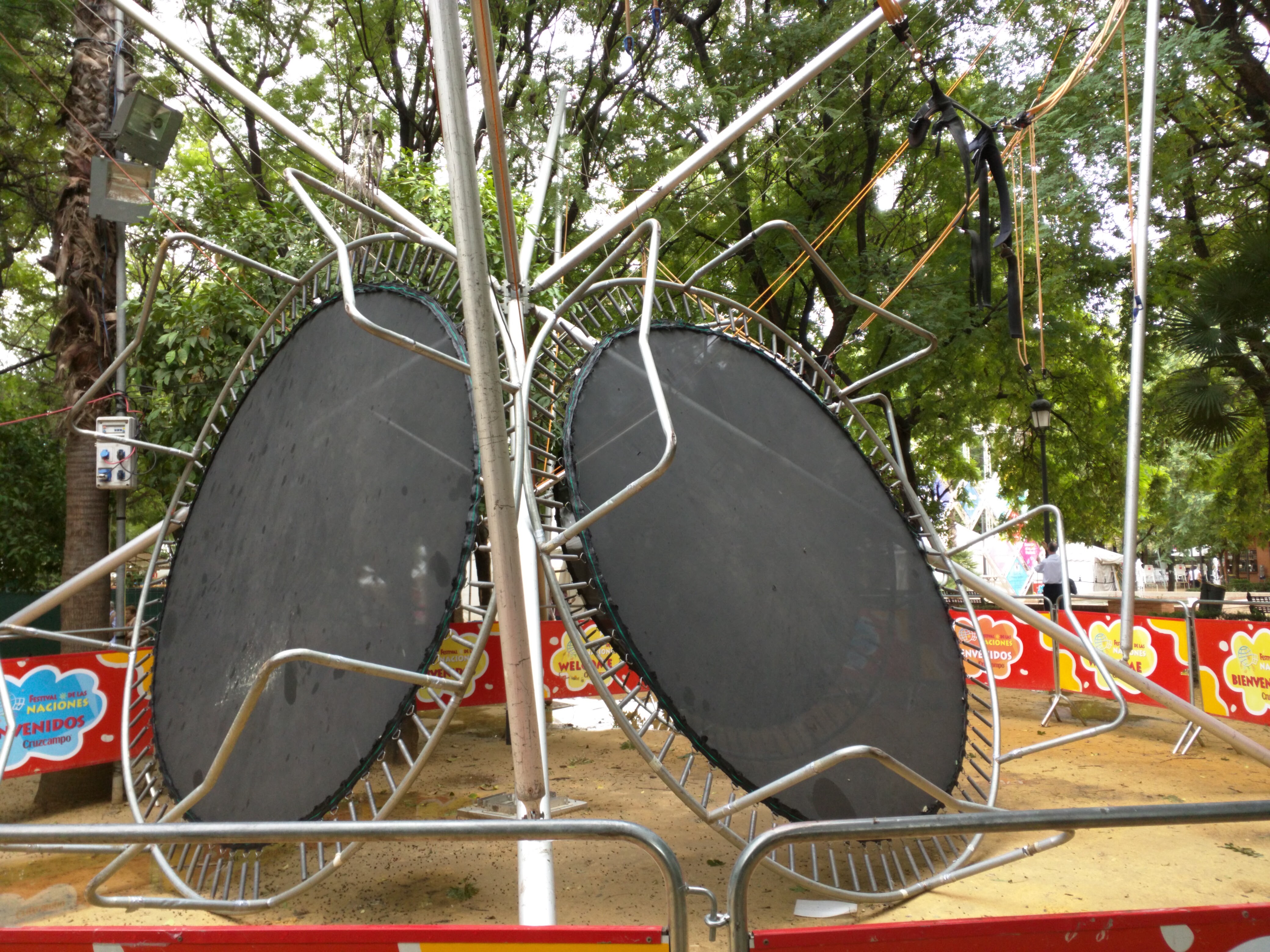 Closed on Sunday but it looks like you get in a harness and jump on the tilted trampoline and into the air sideways. Looks like fun.
Correction: Wynette pointed out that they probably just tipped the trampolines up to store them. I think she is right, my assumption was not correct. But you still bounce on the trampolines in a harness. And I still like my idea, a new way to jump on trampolines. I might patent it.
Sunday in the Park with Wynette
2015-10-18 18:19
Charlie: Apologies to Stephen Sondheim.
The Spanish are more into keeping the Sabbath than the US. The grocery stores are closed, many bars are closed, the other bars close at 5 pm.
So we went for a walk in the famous Parque de Maria Luisa. Whoops, that was closed, too, chains on the gates.
But the park next door was open and it had a big outdoor market which specialized in international food and lots of other typical open-air market merchandise. Wynette looked around, I went over to the Universidad de Sevilla, also closed and locked up, but I walked around the fence.
It was supposed to rain all day. It rained a lot the night before and in the morning but the afternoon was fairly nice, a few sprinkles.
Extra Virgin Olive Oil
2015-10-18 18:31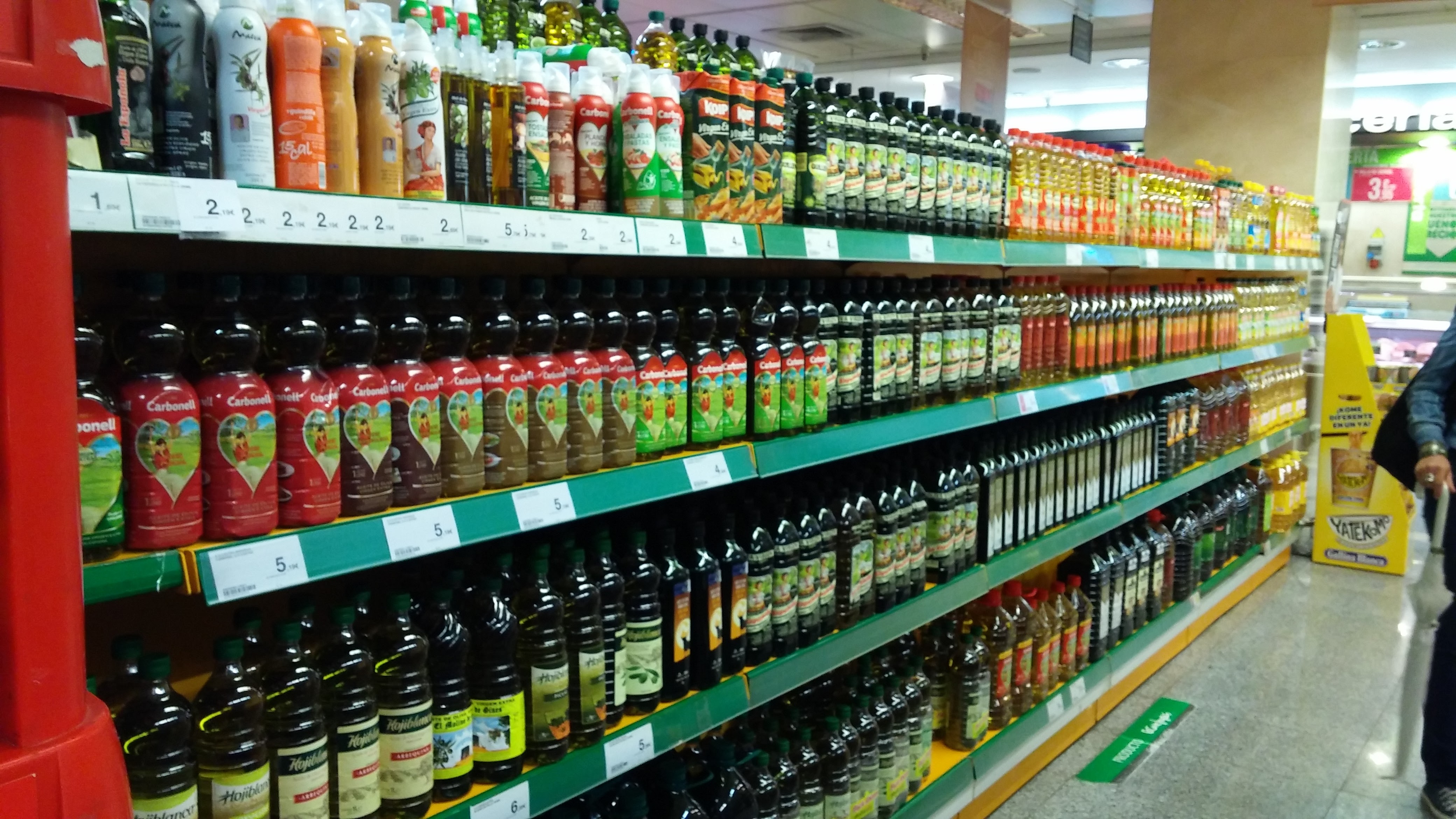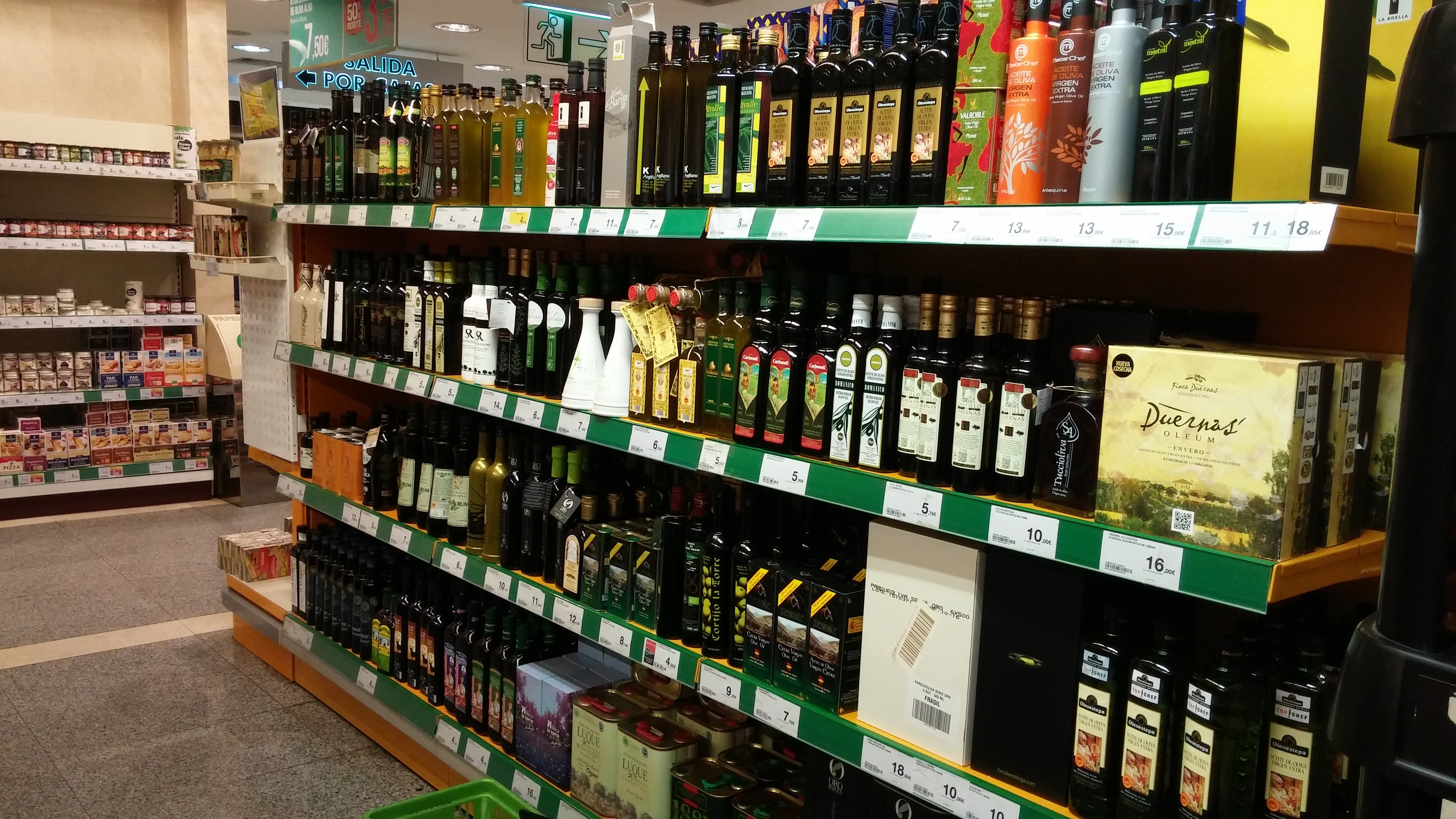 Wynette: The Spanish, like the Italians, are serious about their olive oil. There were dozens (hundreds?) of choices for olive oil at El Corte Inglés. We have read that Spain and Italy import their low-quality olive oil to the US because "Americans cannot tell the difference."  So, we bought one of the more expensive brands to see if we could tell the difference. The oil we got does taste good but, to be honest, it doesn't seem a whole lot different than what we buy back home at Costco. I guess we have something to learn about olive oil.
Extra Virgin Street Names
2015-10-18 18:48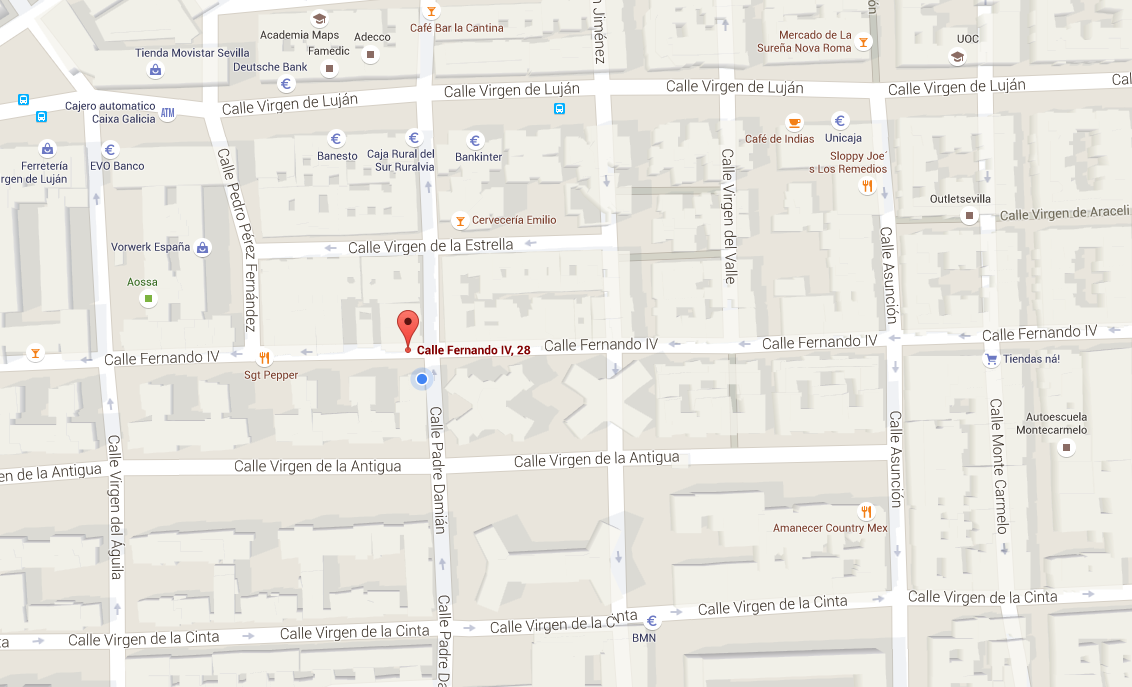 Two blocks north of us: Calle Virgen de Luján
Four blocks north: Calle Virgen de Loretto
One block south of us: Calle Virgen de la Antigua
Two blocks south of us: Calle Virgen de la Cinta
One block west of us: Calle Virgen de Aquilla
Two blocks west of us: Calle Virgen de la Oliva
Two blocks east of us: Calle Virgen del Valle
Three blocks east of us: Calle Virgen de Araceli
Five blocks east of us: Calle Virgen de Guaditoca
Six blocks east of us: Call Virgen de Robleto
Five blocks northwest of us: Calle Virgen de Aguas Santas
Five blocks north of us: Calle Virgen de Africa
Five blocks north of us: Calle Virgen de la Victoria
A few more blocks north: Calle Virgen del Monte
Another block north: Calle Virgen de Fatima
Another block: Calle Virgen del Buen Aire
Another block: Calle Virgen de Belén
Four blocks west: Calle Santa Fe (for a change)
When I tell Wynette "it's up on that Virgen street", it doesn't help much.
Seville Oranges
2015-10-18 18:57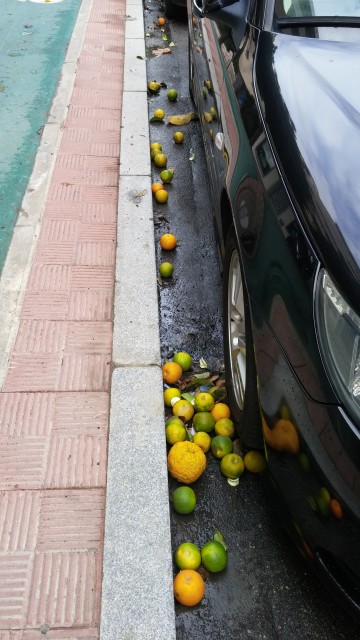 Charlie and Wynette: You have probably heard of Seville oranges, notoriously sour. They are the essential ingredient in the marmalade that is popular in England.  (In 1995, when Wynette traveled to England, her friend Deborah asked her to bring back, in addition to PG Tips tea and McVitie's wheat meal biscuits, "thick cut marmalade made from Seville oranges, has to be Seville oranges.") Curiously it is very hard to find Seville orange marmalade in Seville. We finally found some, yesterday, in the fancy department store (El Corte Inglés) supermarket, but the marmalade was imported. (We noticed McVitie's were available in El Corte Inglés as well. We're sure they also had PG Tips.)
In the Rick Steves guide book for Spain, he says: "Orange trees abound — because they never lose their leaves, they provide constant shade. But forget about eating the oranges. They are bitter and used only to make vitamins, perfume, cat food and that marmalade you can't avoid in British B&Bs."
There certainly are orange trees everywhere plus the fruit on the ground. We brought two oranges back today and tasted them. Yep, very sour. Almost like a lemon. Twice now we've seen young children (both boys and girls) kicking the oranges like they are a soccer ball. These kids are pretty good at soccer.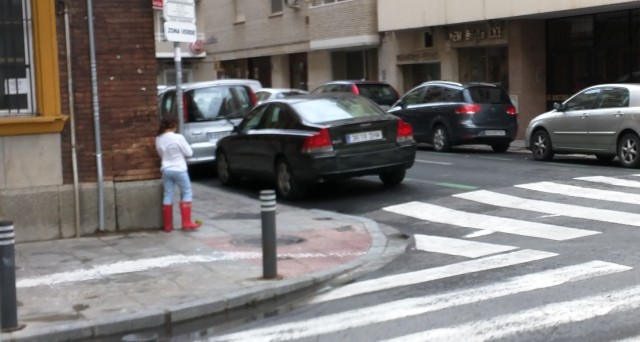 Refugees Welcome
2015-10-20 21:24
Misting You
2015-10-20 21:35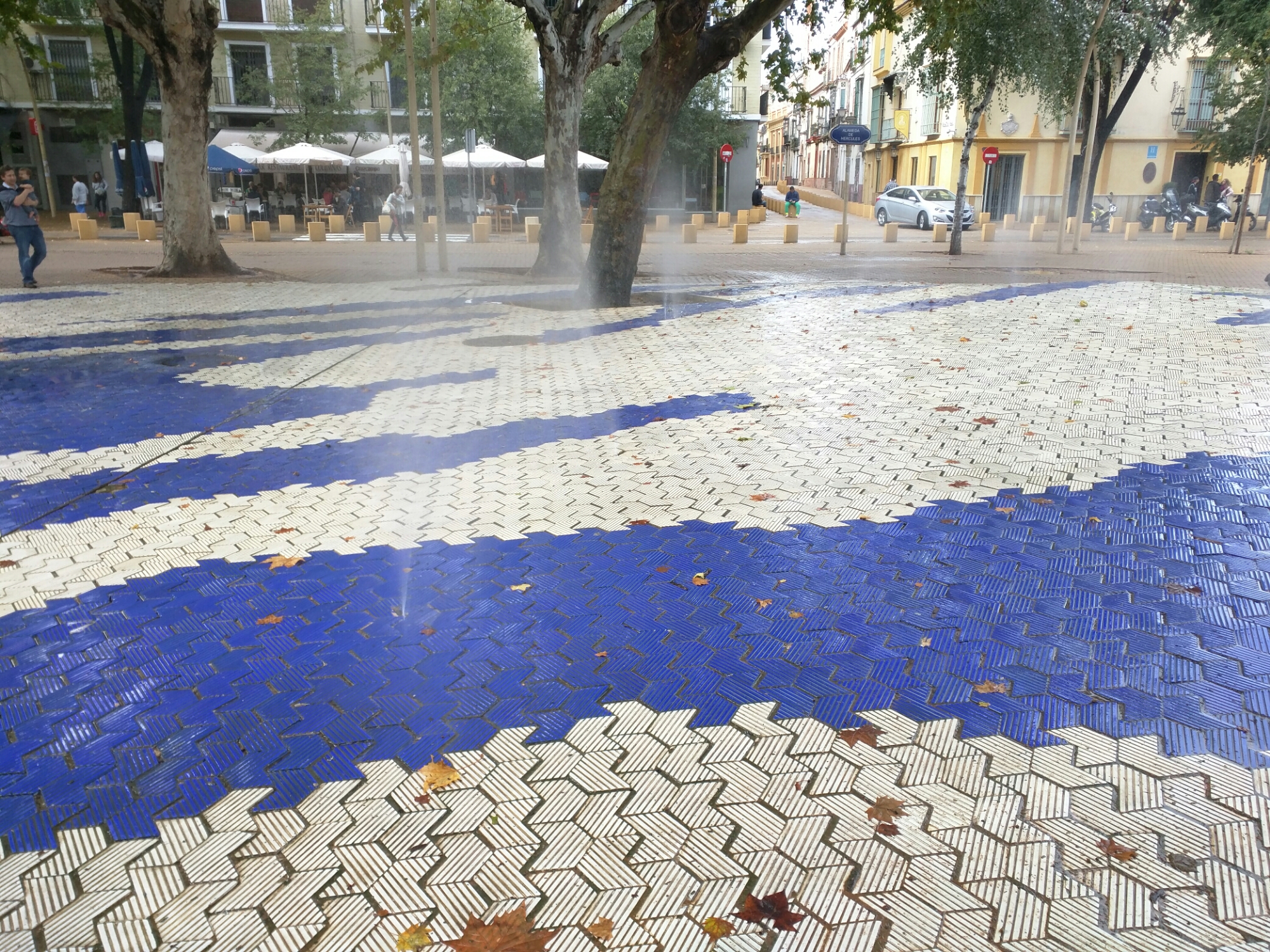 Charlie: You have probably seen city parks with water spouts for children to play in on summer days. This might be hard to see but it is the same thing but fine mist comes out of the spouts. Mist can be nicely cooling on a hot day. They use them a lot in Phoenix. So I guess this is for the adults, and the kids.
Sevilla, and all of Europe, had a very hot summer this year.
Definitely 24h
2015-10-20 21:37
World's Fair Leftovers
2015-10-20 21:44
Metro Man
2015-10-20 21:49
La Clase de Español
2015-10-20 21:49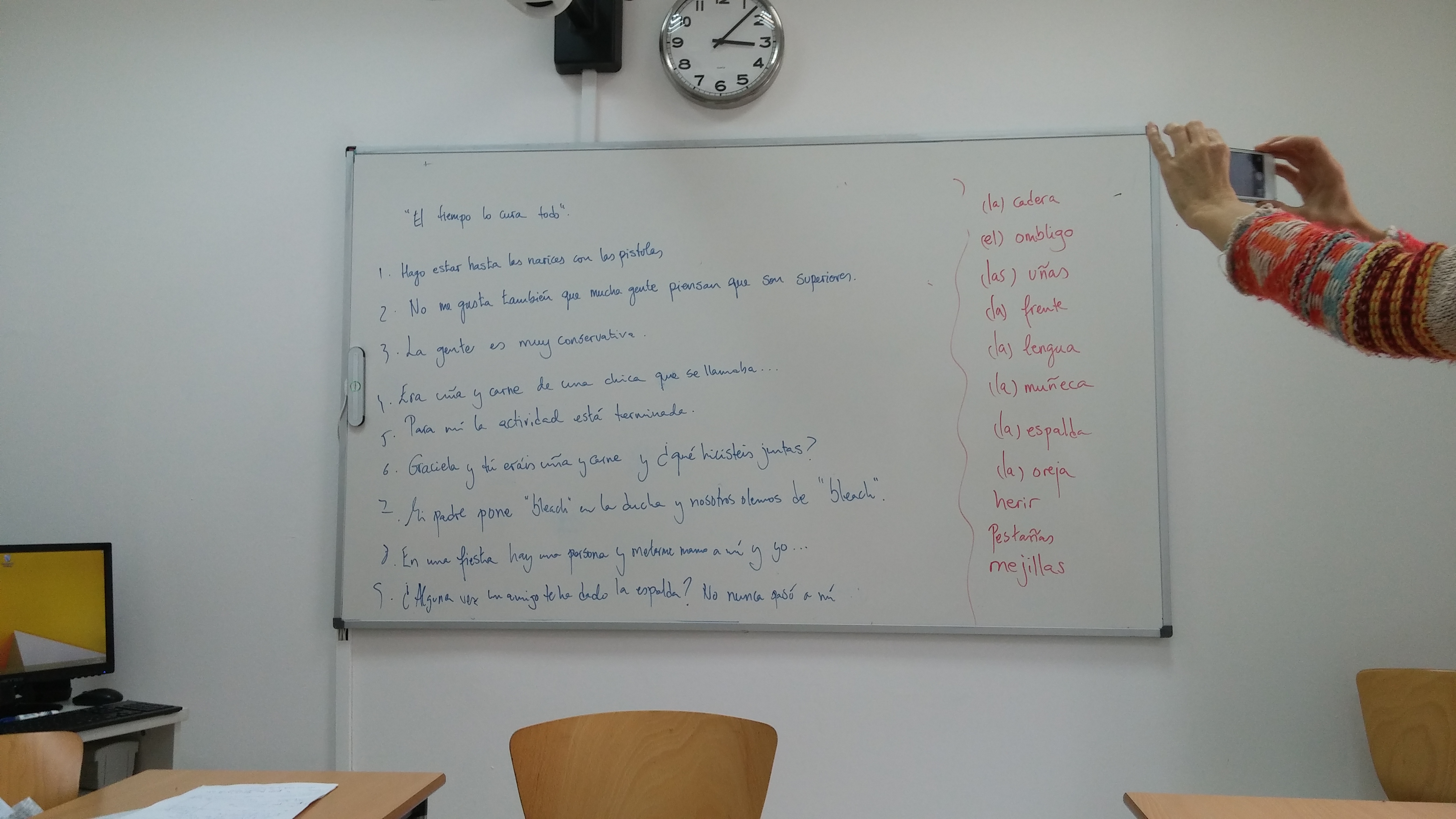 Wynette: Today Charlie took a train to Madrid to meet his sister Pat at the aeropuerto. She is joining us for two weeks while we are here in Spain. Charlie and Pat will sight-see around Madrid till Friday then come back here to Seville. I stayed behind in Seville to take a Spanish class at a well-recommended language school called Clic. The class, Conversation and Grammar Review, started on Monday and will meet every day this week from 1:30 to 3:10. It's a pleasant 30 minute walk from our apartment to the class location in the old town.
There are 5 students in my class: an Italian man, a German woman, a Belgian man, an English woman, and me.  (It's like dinner at an albergue on the camino.) So, we all speak Spanish with a different, not-very-Spanish, accent. I have the hardest time understanding the Italian man. He speaks Spanish fast. I really like the class, the teacher, and everyone in the class. The teacher's name is "Irene", pronounced "ee-ray-nay". I am by far the oldest in the class, but the German and Belgian might be in their late 30s or 40s. The Italian and Brit are probably only in their 20s.  I bet everyone in the class, except the teacher, speaks better English than Spanish, and the teacher speaks English, too, but, everything is in Spanish including instructions for exercises, etc.
We have met two days now. The first day, among other things, we talked about idioms that derive from parts of the body. Think of some we have in English such as "to turn your back on someone" or "on the other hand" or "stick your neck out". Well, there are jillions of them. Some we learned in Spanish are "dar la espalda", which literally means "to give the back" and means pretty much the same as we mean by "turn your back."  Another is "cree que es el ombligo del mundo", he thinks he's the belly button of the world, which means he is self-centered.  "No tiene pelos en la lengua" literally says "he doesn't have hairs on the tongue" and means "he doesn't mince words."  The Spanish say "toma el pelo", he's pulling your hair, to mean what we mean when we say "he's pulling your leg".
The teacher had us break into (very small) groups to talk about situations we'd experienced where those idioms applied. We didn't know she was spying on us and was writing down mistakes we were making in our conversation. Without naming names, she put our mistakes on the board at the end of class to discuss. We didn't have time to finish so she had us take a photo with our phones and correct the mistakes as homework.
Today for the grammar review part we talked about when to use the various past tenses in Spanish. There are several in Spanish — more than are always apparent in English. For example, the Spanish use a different word for "walked" in these two sentences:  "Yesterday when I walked to the store, I fell" and "Yesterday I walked to the store."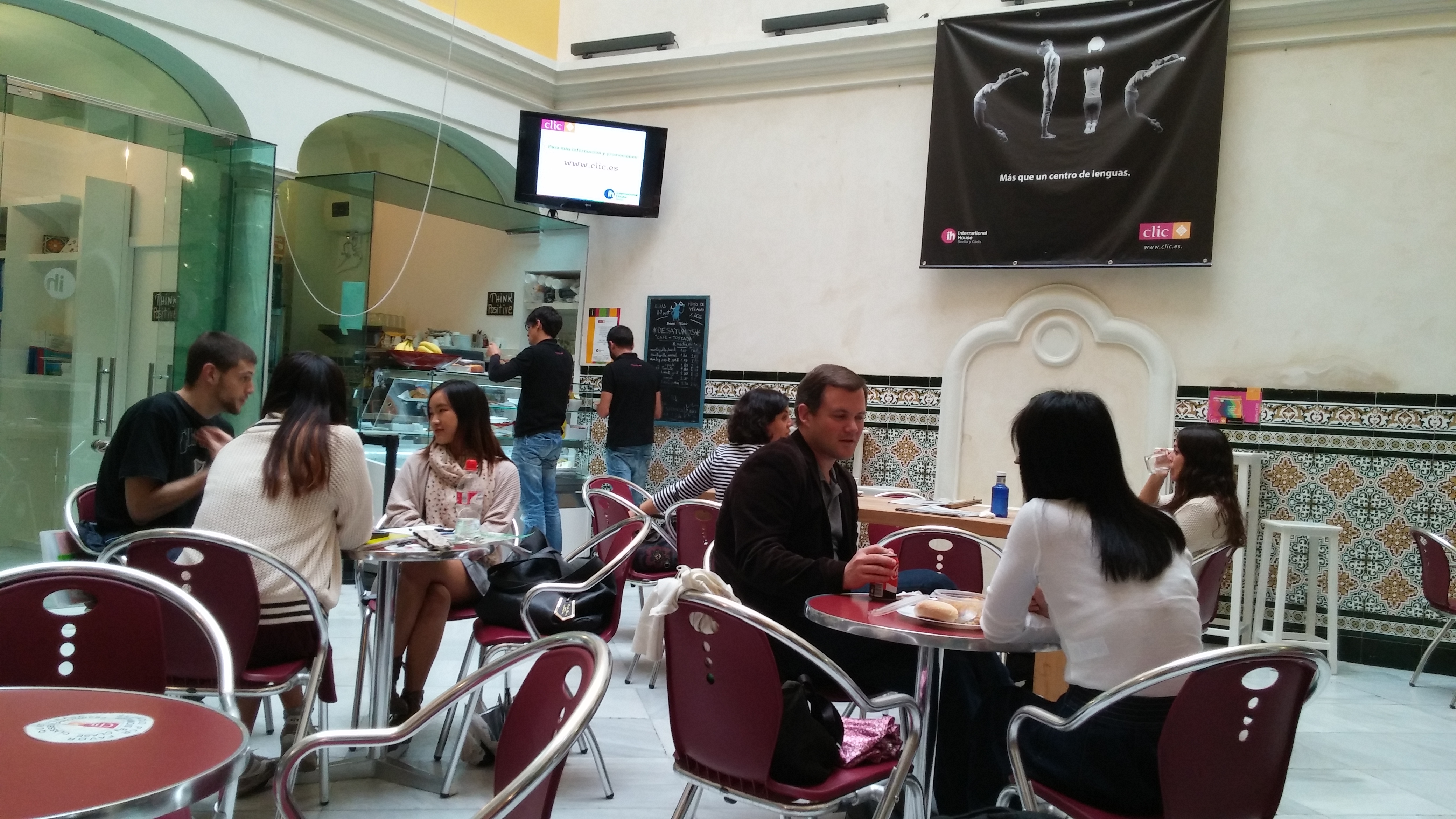 Sweet Street Music
2015-10-21 21:30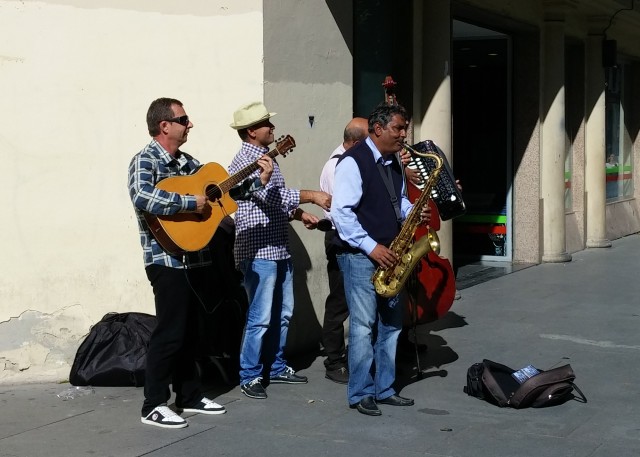 Wynette: Last week, when Charlie and I walked down the main street in the Old Town of Seville we heard a band playing jazz a couple of blocks ahead. I pictured black ties, slick guys. But it was this rather humble looking group playing great American jazz. Yesterday when I was walking to class, I again heard them in the distance, but this time they were doing a popular Spanish pop song, Bailando. (If you check out the video at the link, watch at least a minute — it's catchy and there's some good dancing. Bailando means dancing.) As I walked by the band, they finished Bailando and then switched to In the Mood. Today when I passed they were back to jazz. Looking forward to see what they are playing tomorrow.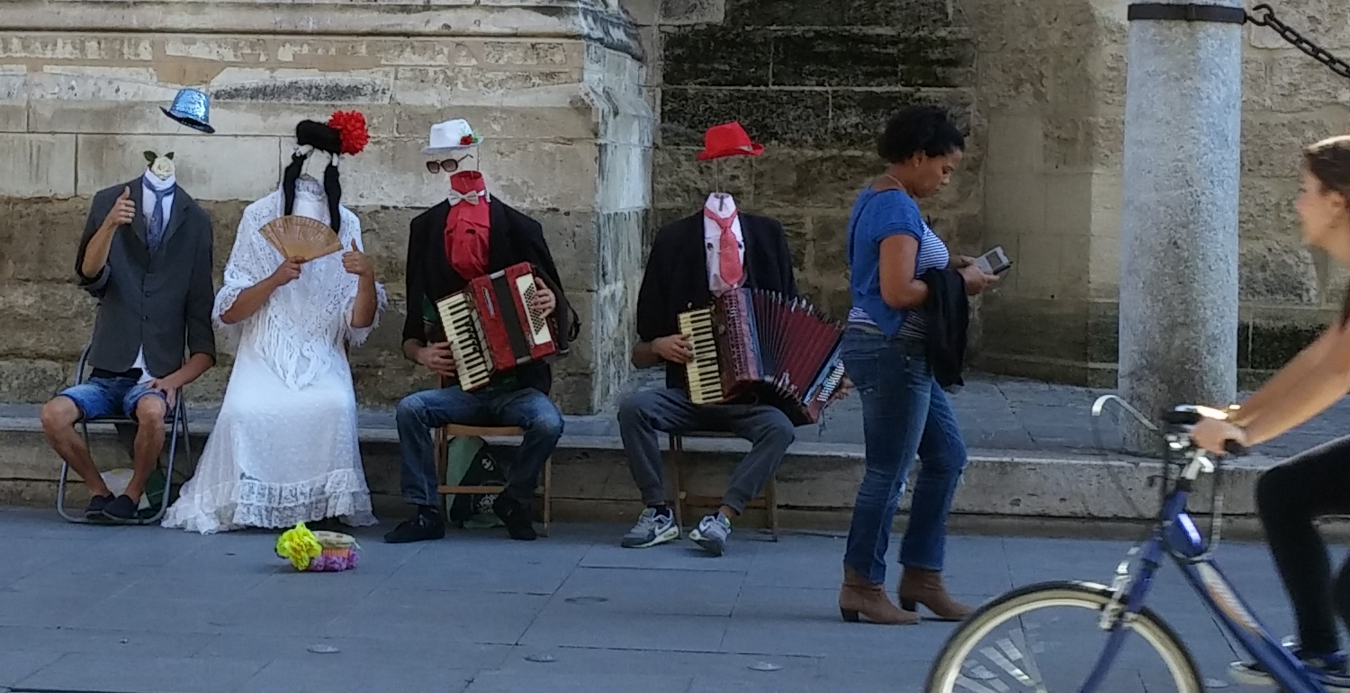 Walk to Class
2015-10-21 22:19
Wynette: We've had some cloudy, rainy days since we've been here, but today we had beautiful sun. I snapped some photos on walk to class.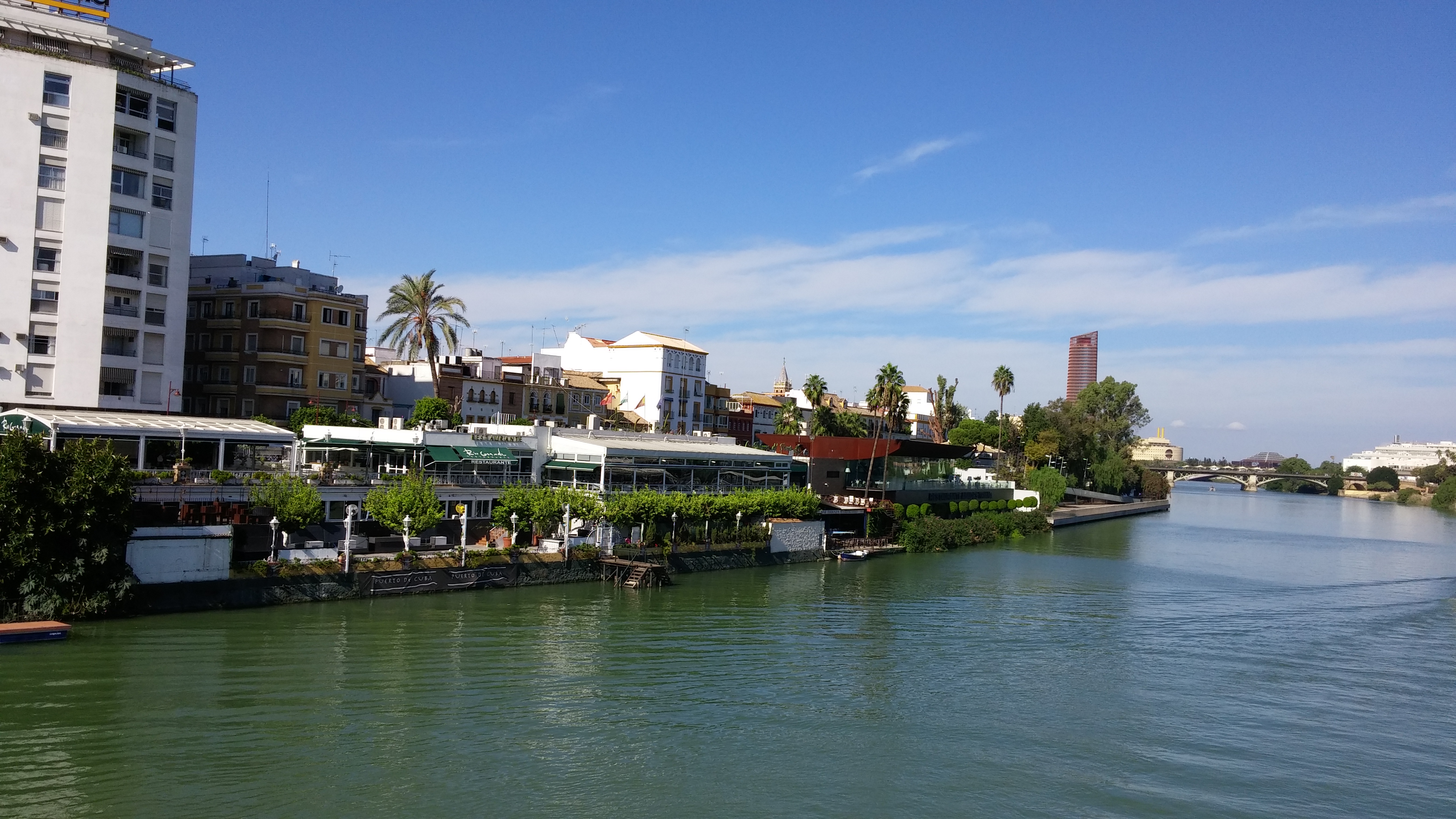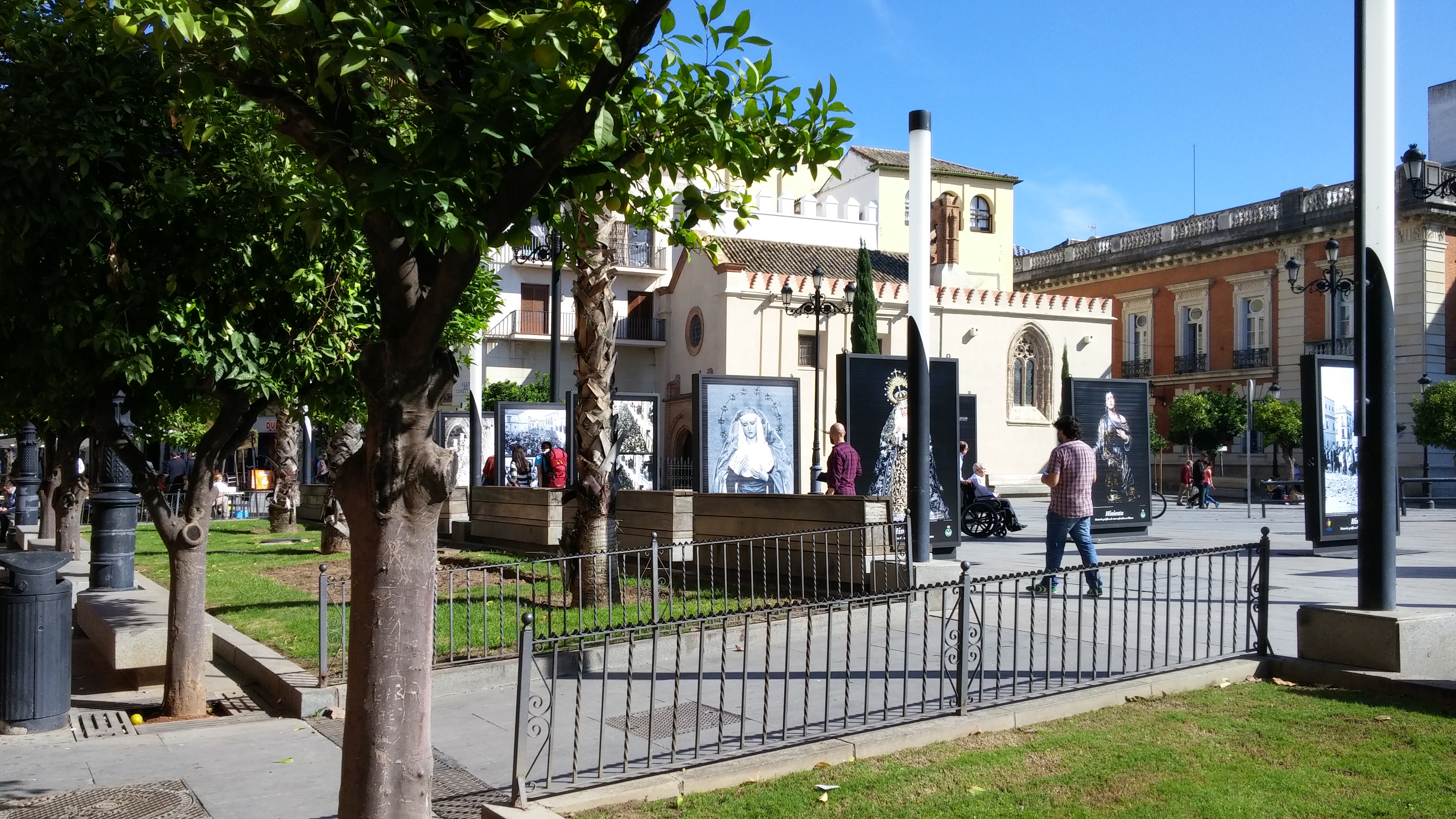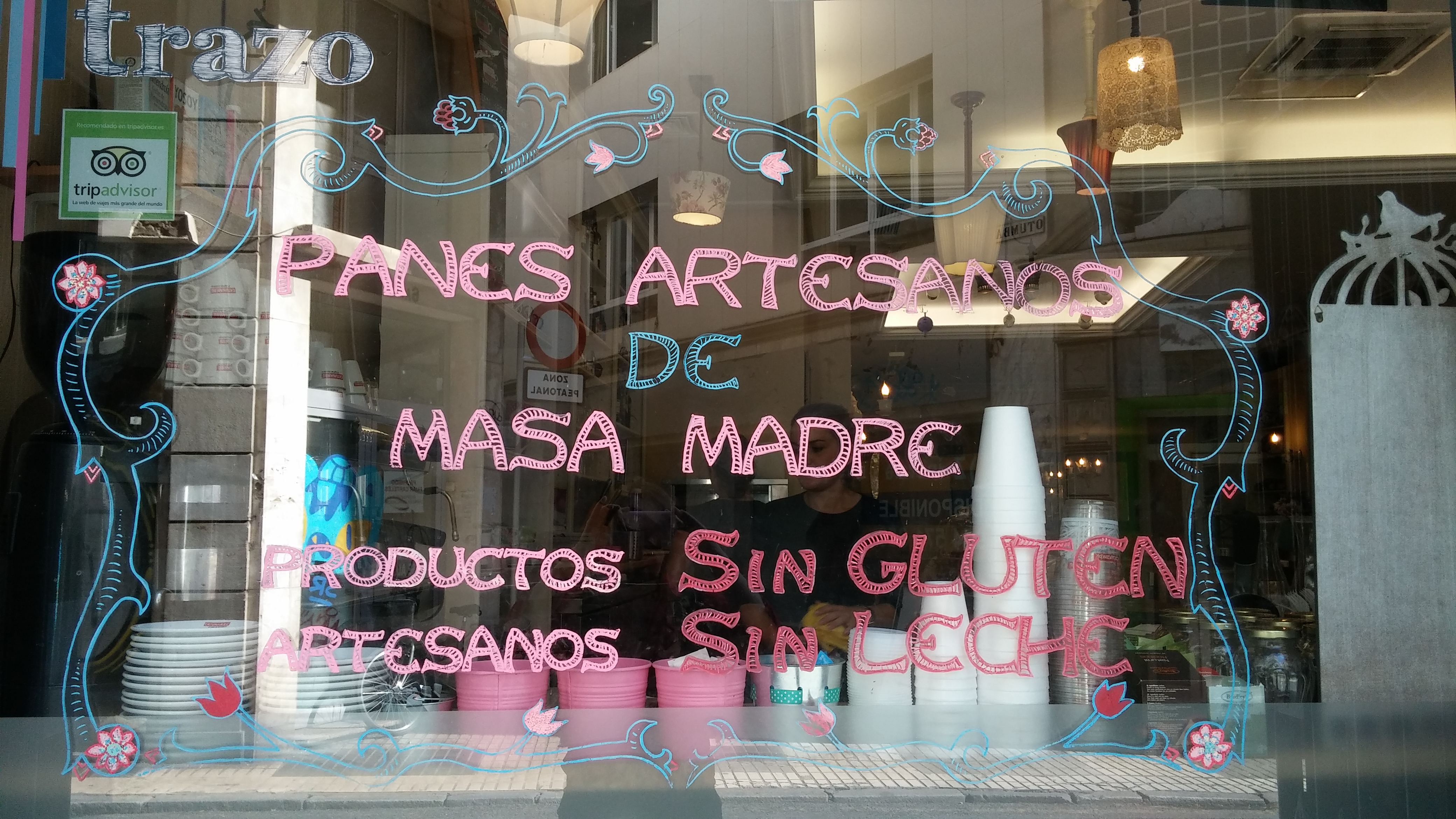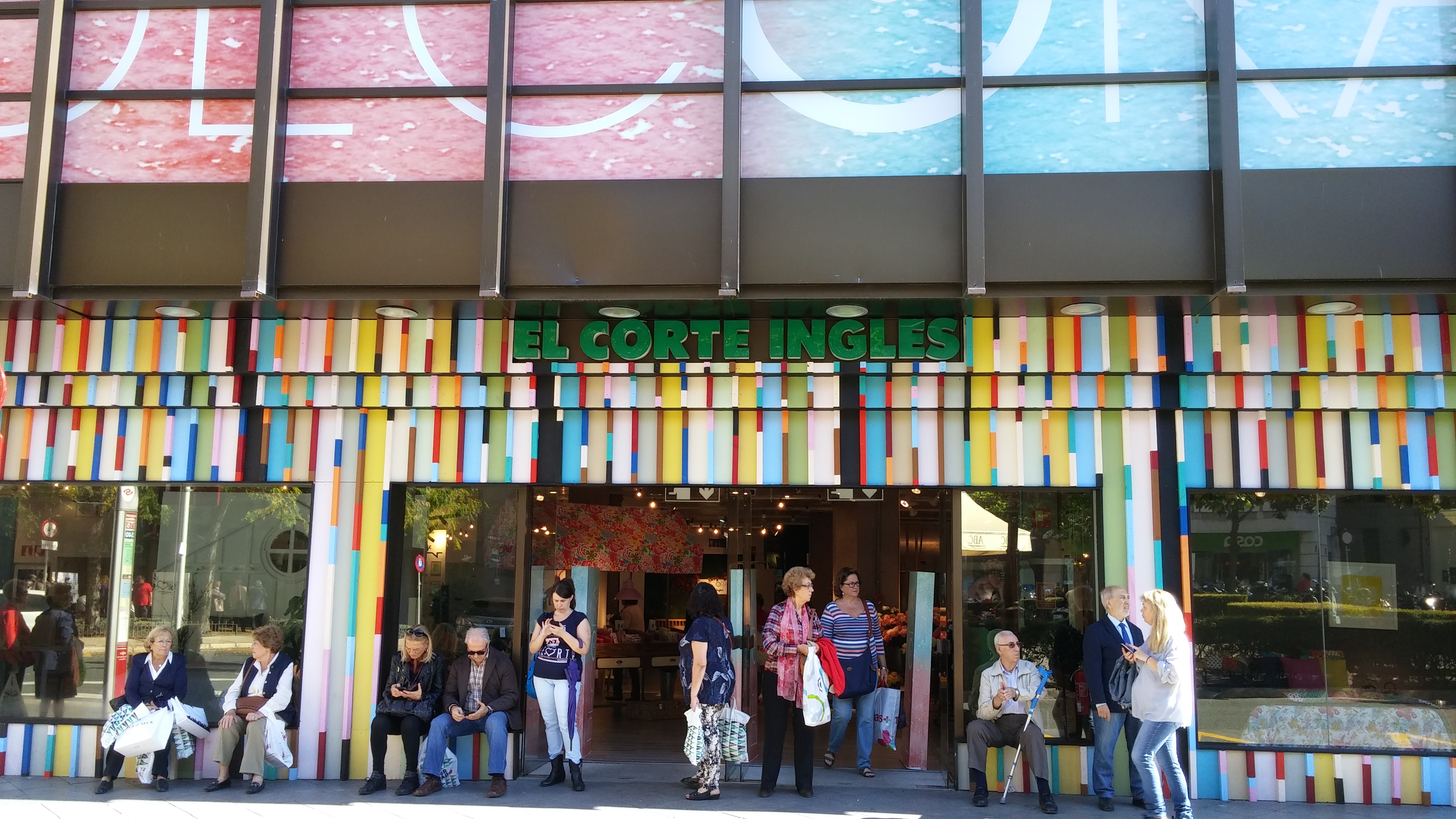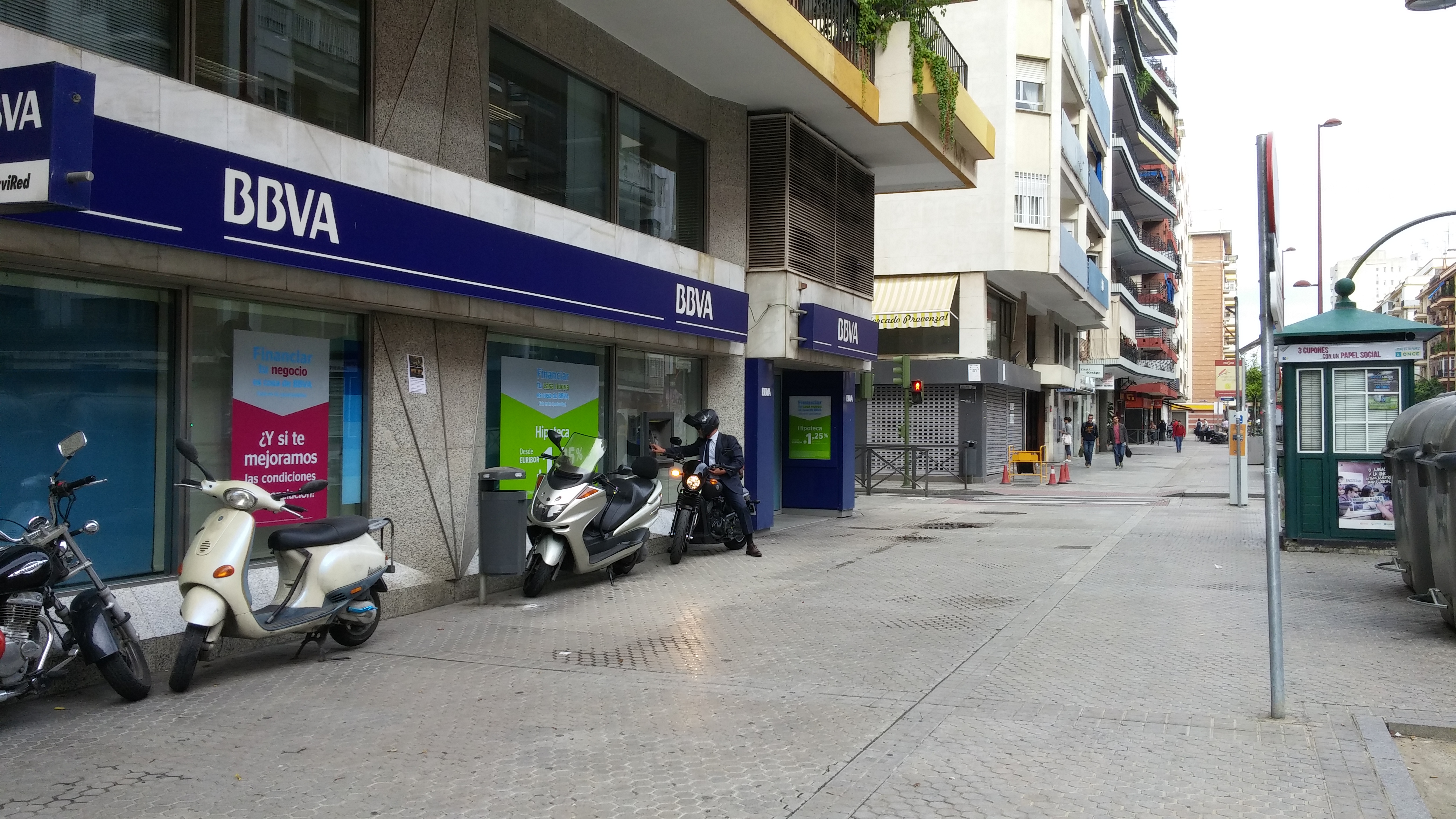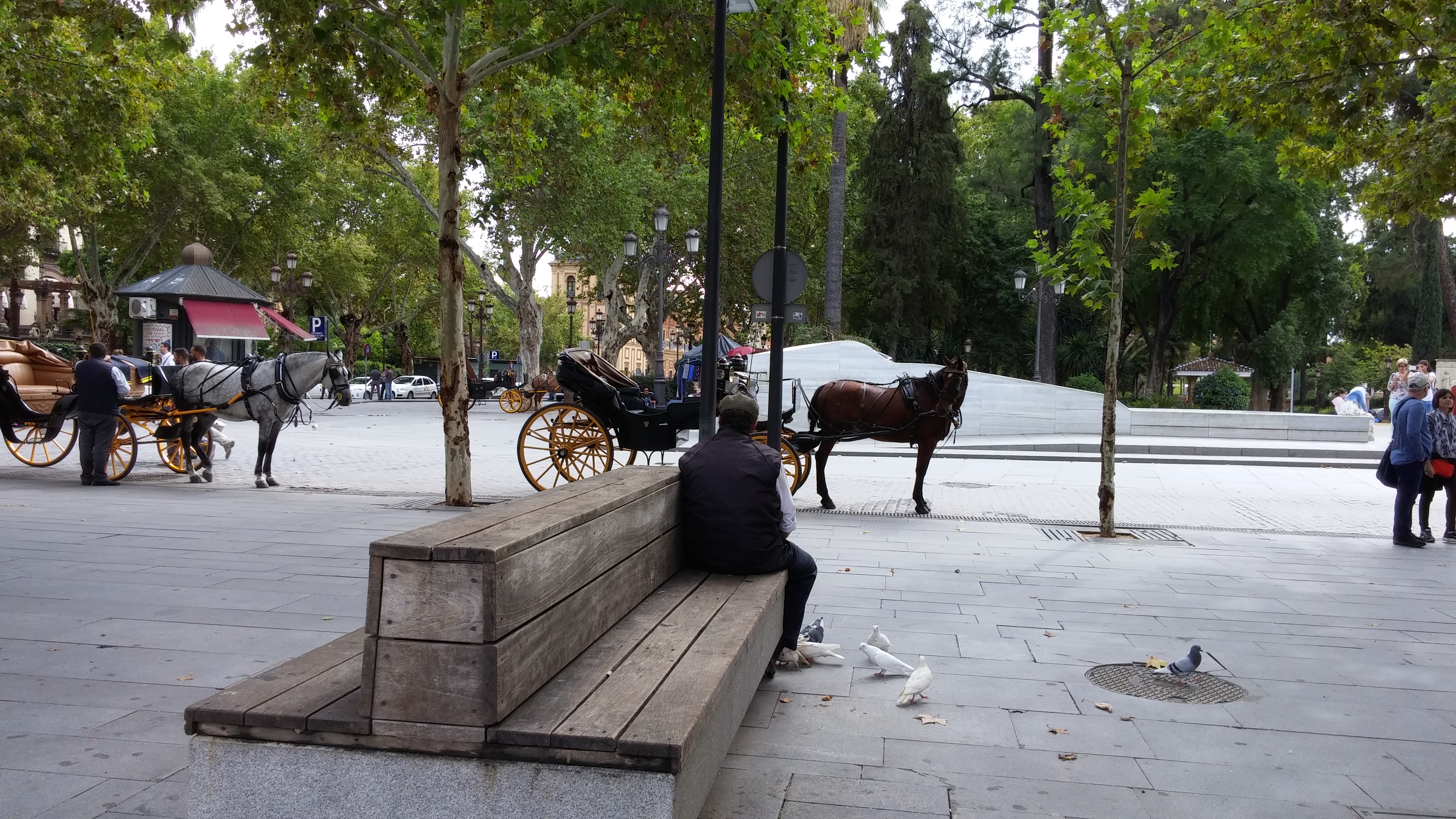 La Clase Fue un Éxito
2015-10-23 17:19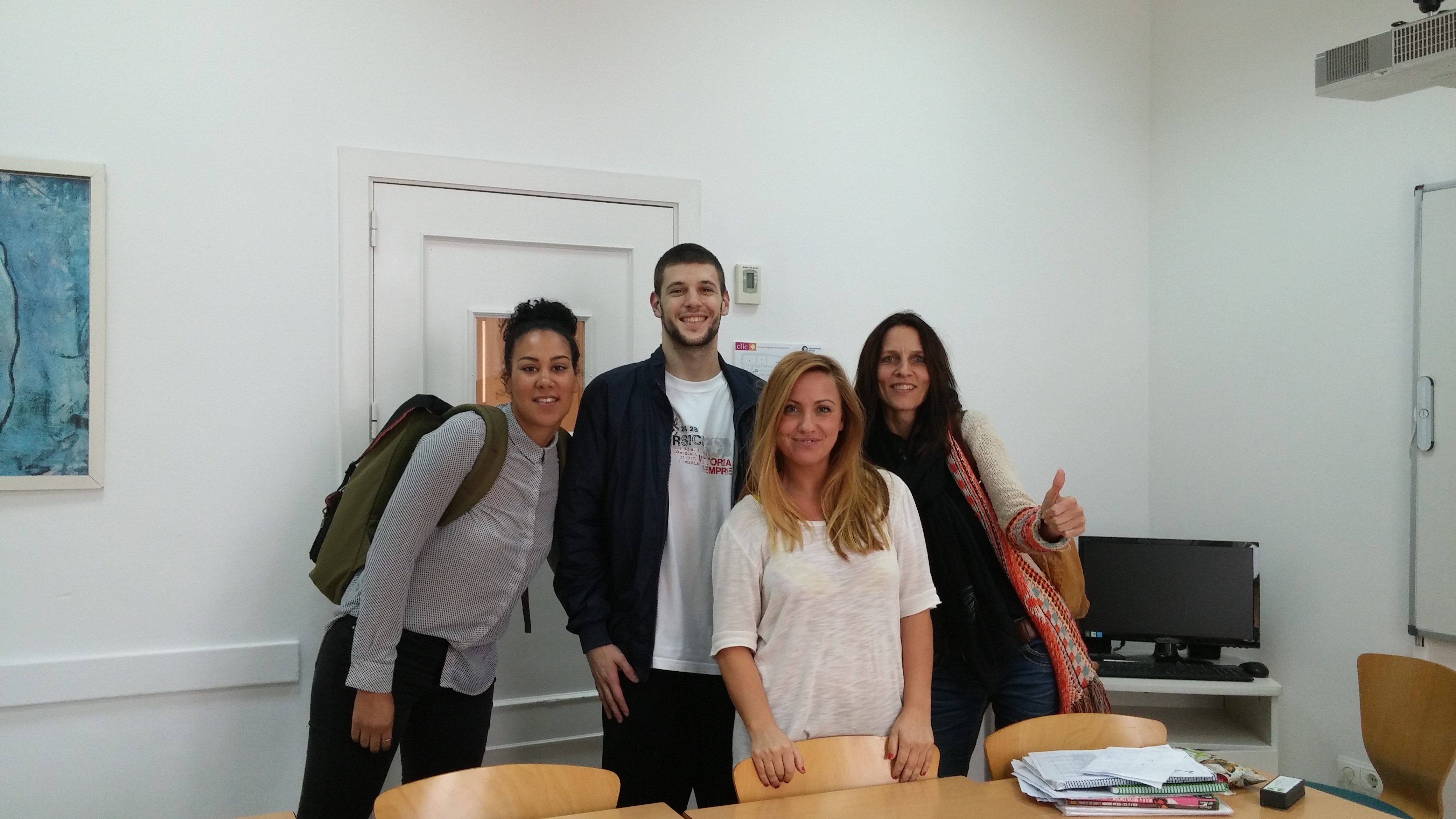 The class was a success! (Yes, éxito means success. Isn't that strange?) In what ways was it a success? Well, I had great fun  (1) learning a few new things in Spanish and (2) getting to know my teacher and classmates and (3) getting lots of practice conversing in Spanish. The teacher was maravillosa. (Bet you can figure that one out.) The class was at the right level for me for conversation: early intermediate. I think it really did push my ability to speak and understand spoken Spanish further. That magical day hasn't arrived when suddenly I can understand most of what is said on the street, but I'm heading to that. I surely am thinking in Spanish more, being surrounded by it here. Often, especially say while walking home from class, much of what I think is in Spanish. That is an important step to conversation because when you are speaking and listening, there just isn't time to translate into English in your mind.
At the end of class today, as we were leaving, I asked if I could "sacar una foto" and everyone gladly posed for me. Too bad, the nice Belgian man (Mark) wasn't in class today so he is missing but this is everyone else. I hate to admit it but I did not completely get everyone's name.
The Spanish People
2015-10-23 17:35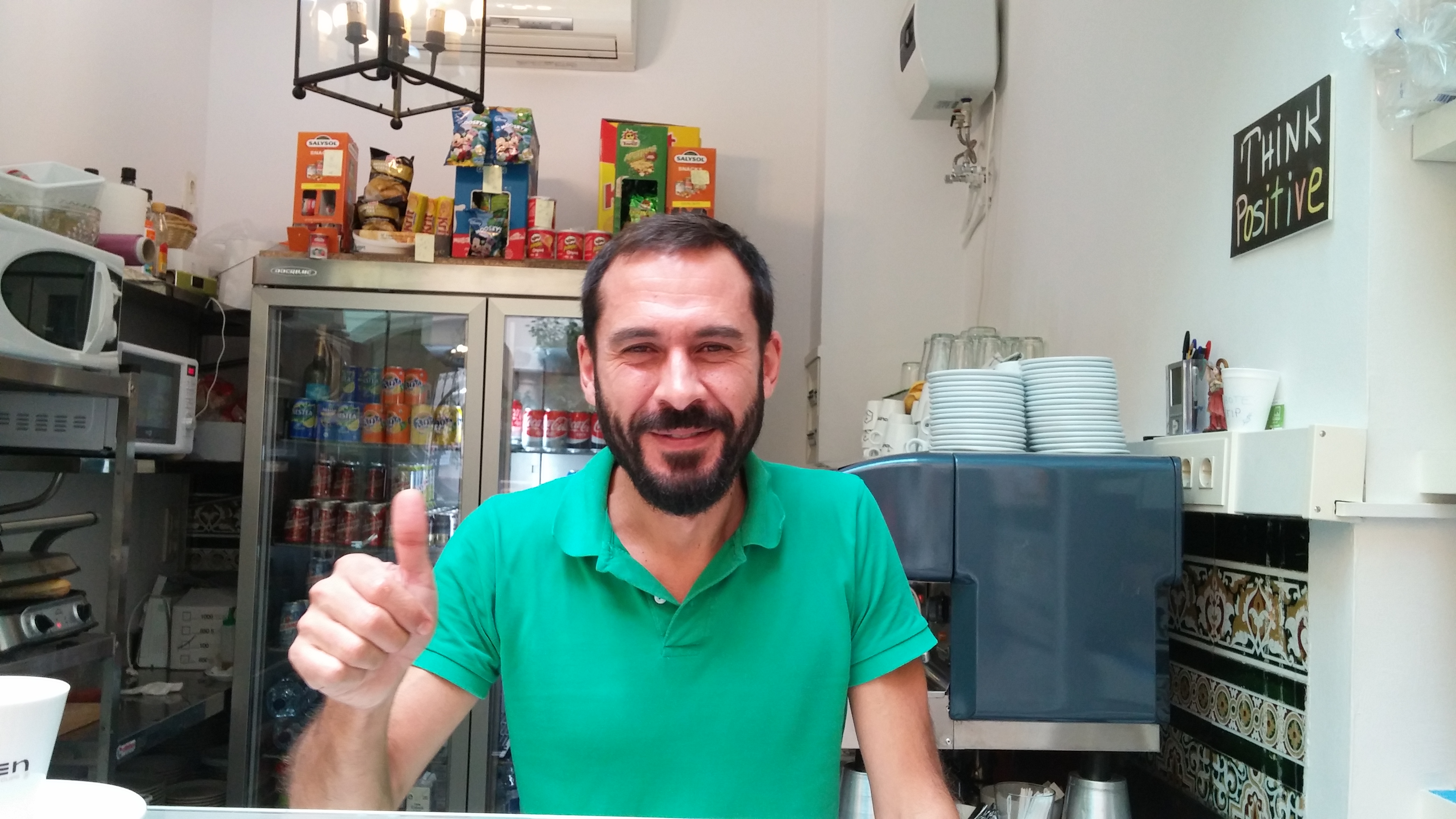 Wynette: Almost without exception on this trip, every person I have spoken with in the shops, bars, on the street has been kind and helpful and patient. Many of our dealings with locals have been here where we are living on the non-touristy side of the river so we are not dealing with people who are fed up with tourists and that may make a difference.
The above photo is the man who runs the little bar/cafe at the language school I attended. I bought many delicious cups of coffee from him (also an amazing pasta salad chock full of fresh vegetables and good ham sandwich). He is a lovely man and always has a smile for everyone and enjoys talking with the students. Today I told him it was my last day and asked if I could take his photo. He was surprised I wanted to do that but seemed to be happy for me to take his picture. I'm so glad to have this photo to remember him by.
Beach Sunset in Cadiz
2015-11-01 12:40
Catching Up
2015-11-01 12:42
Charlie: My sister Pat came to join us for two weeks on Oct. 20 so we have been in tourist mode and too busy to blog. We have been going around Sevilla, took a day trip to Cordoba, a three day trip to Cadiz, a segway tour, and two flamenco shows. We'll be catching up in the next few posts. (Can you find the die?)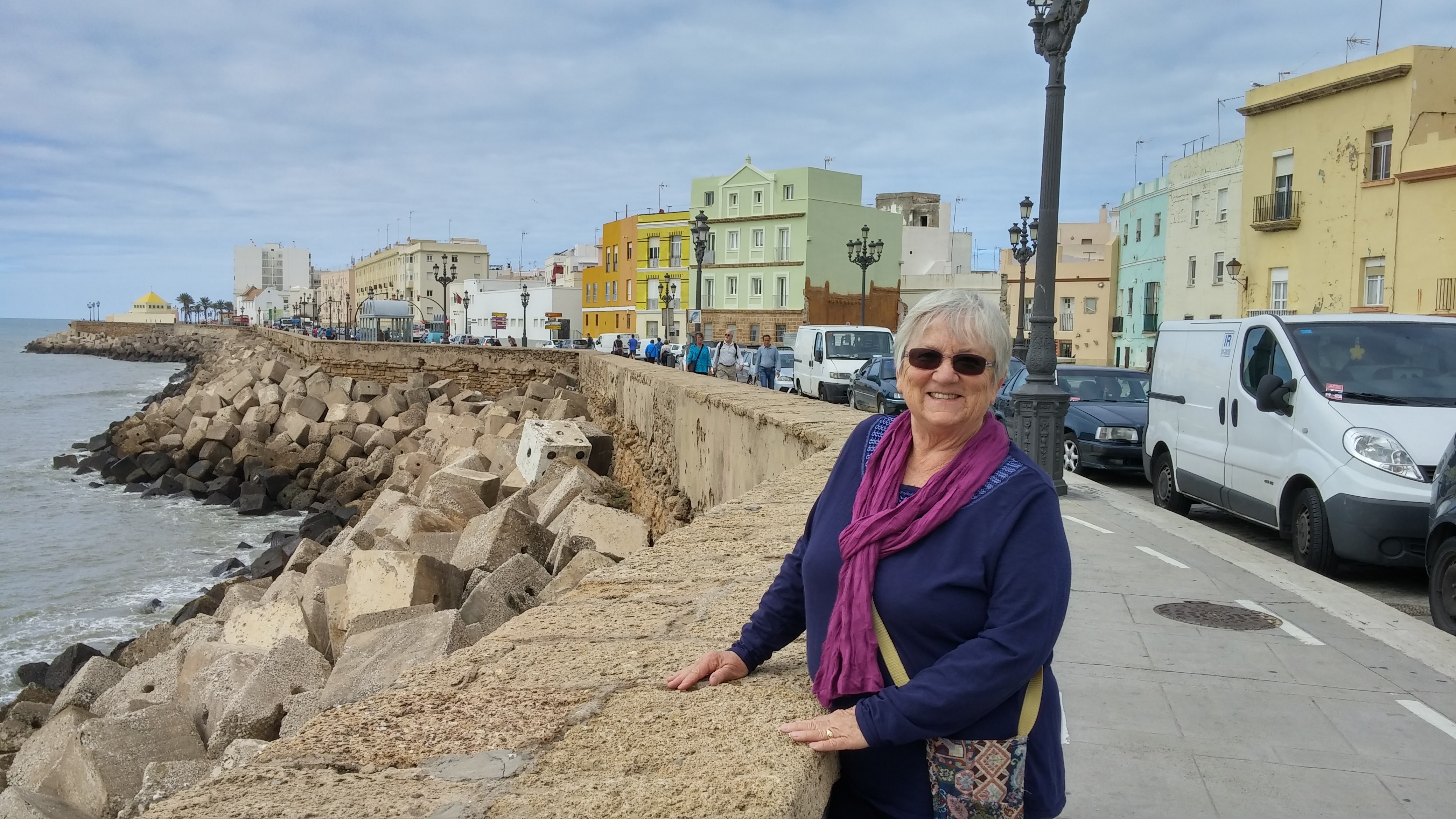 Cadiz Breakwater
2015-11-01 12:44
On the Beach
2015-11-01 12:47
Beach Panoramas
2015-11-01 12:51

Charlie: I've been experimenting with taking panorama shots with my camera. The version above is small but if you click on it it will show up better. (Click once to get full screen and then click another time to get one you can scroll through.)
Another one:

Cruise Ship
2015-11-01 12:56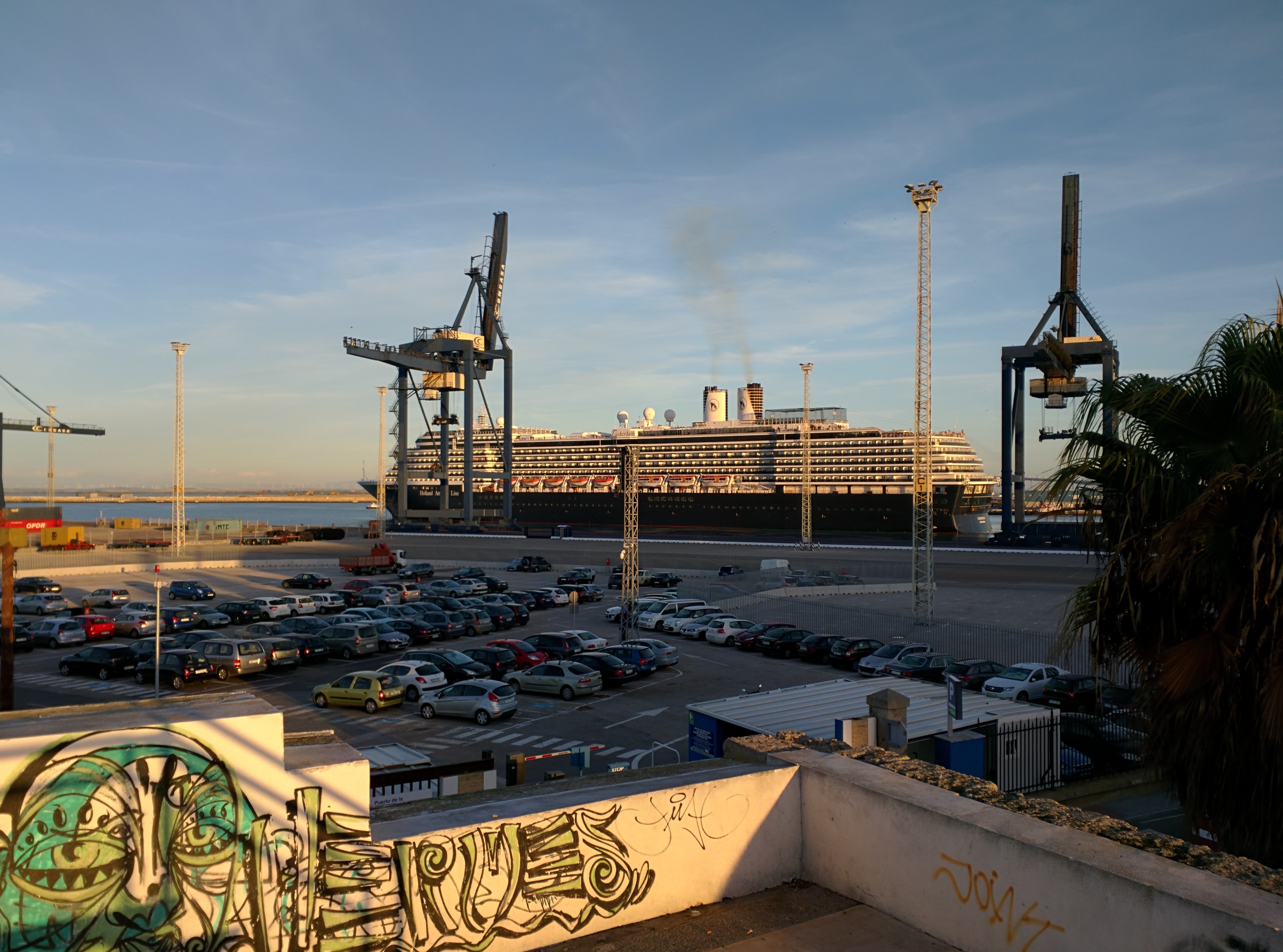 Charlie: I was walking in Cadiz near subset and saw this cruise ship leaving the harbor. Cadiz seems to be a stop for many cruise ships.
Here is the video, it is moving slowly:
Sevilla Segway Tour
2015-11-01 12:58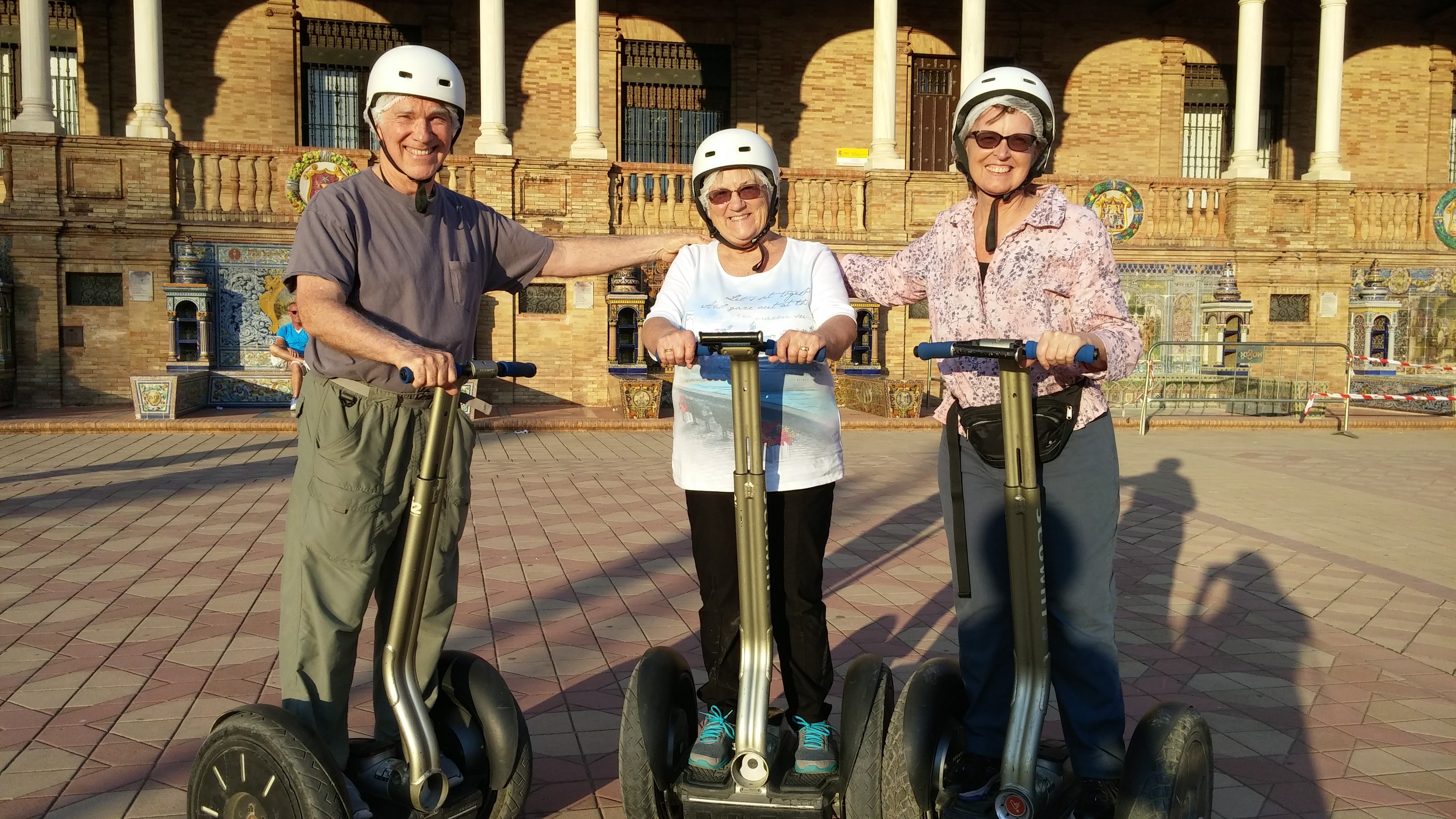 Charlie and Wynette: We took a segway tour in DC and loved it so we wanted to take one in Sevilla. It was great. We went through some narrow lanes in the Jewish Quarter that were barely wider than the Segways.
You look pretty dorky riding a Segway and to make it worse, we had to wear these little hair covers so we wouldn't get the helmets dirty. We're not saying this to complain. Just to explain the dorky hair covers in case you noticed them.
Below is photo of our exuberant guide Maria (on right) and the other person on our tour (from Australia), Allison. Maria was a lot of fun — her personality reminded us of Wynette's niece Libby.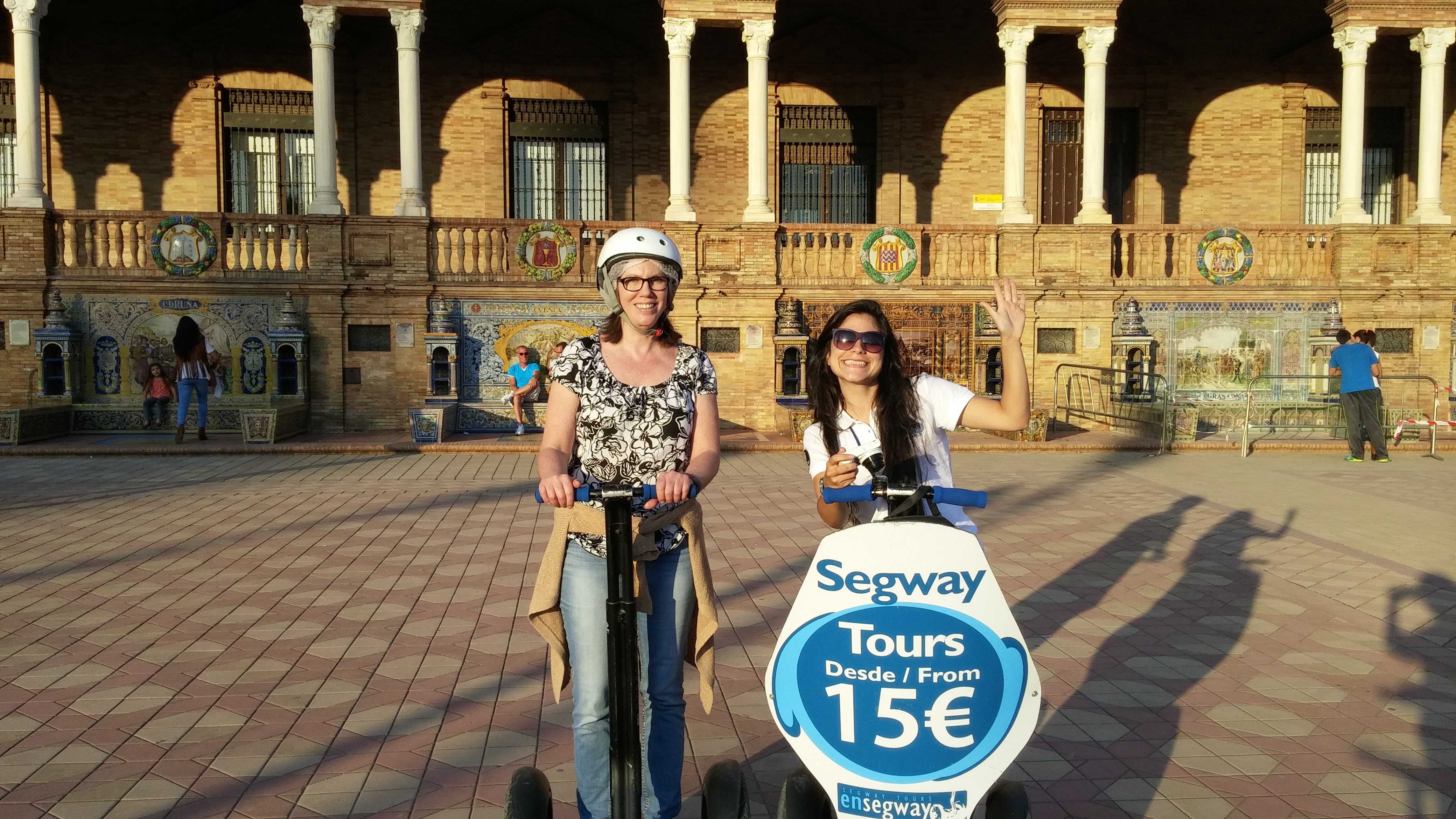 Not What You Might Think At First
2015-11-01 15:23
Flamenco
2015-11-01 15:27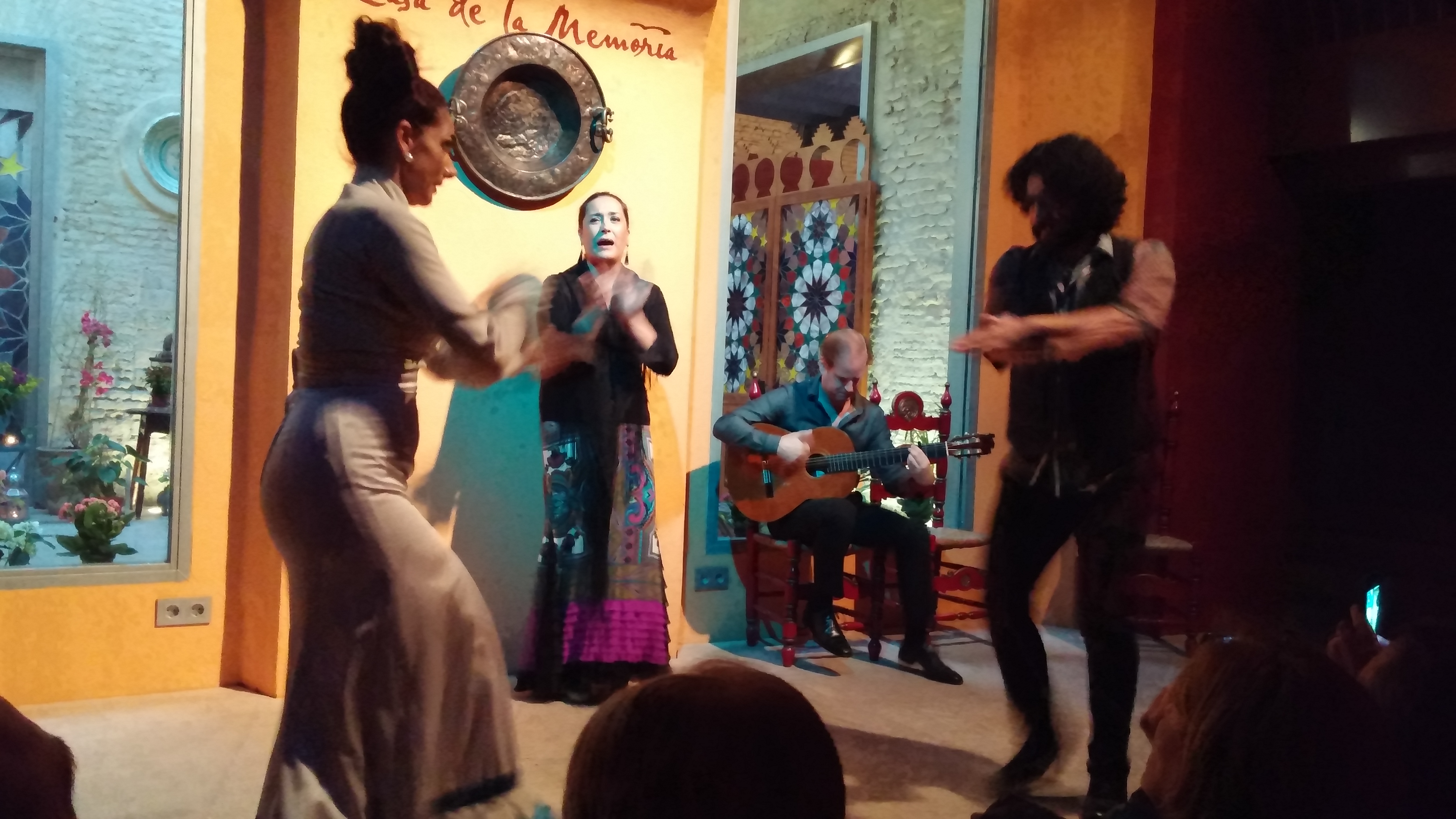 Charlie and Wynette: Sevilla is the birthplace of Flamenco. We have gone to two shows so far. You can't take photos during the show but they reserve a few minutes at the end where photos are allowed. Both shows we've attended have had four performers: a guitarist, a singer, and two dancers.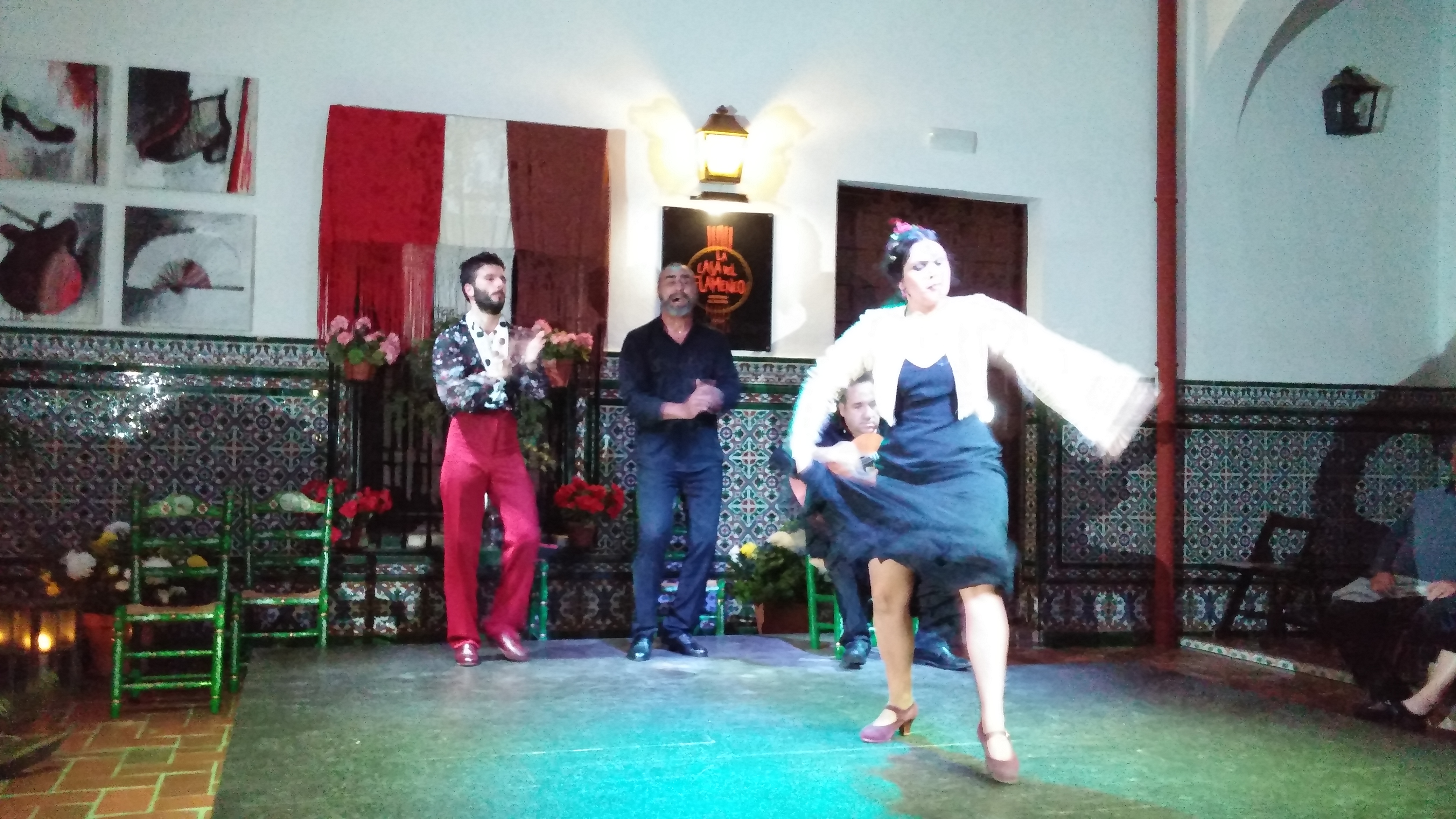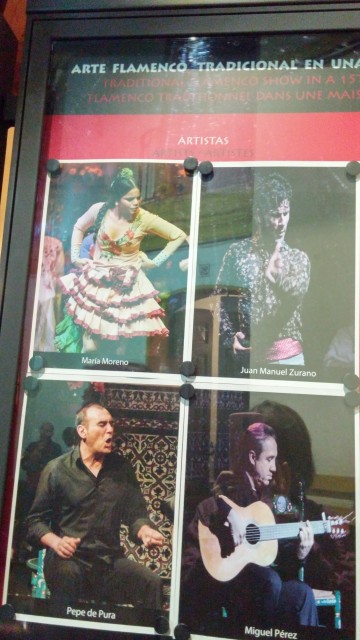 None So Sad As a Sad Nun
2015-11-01 15:43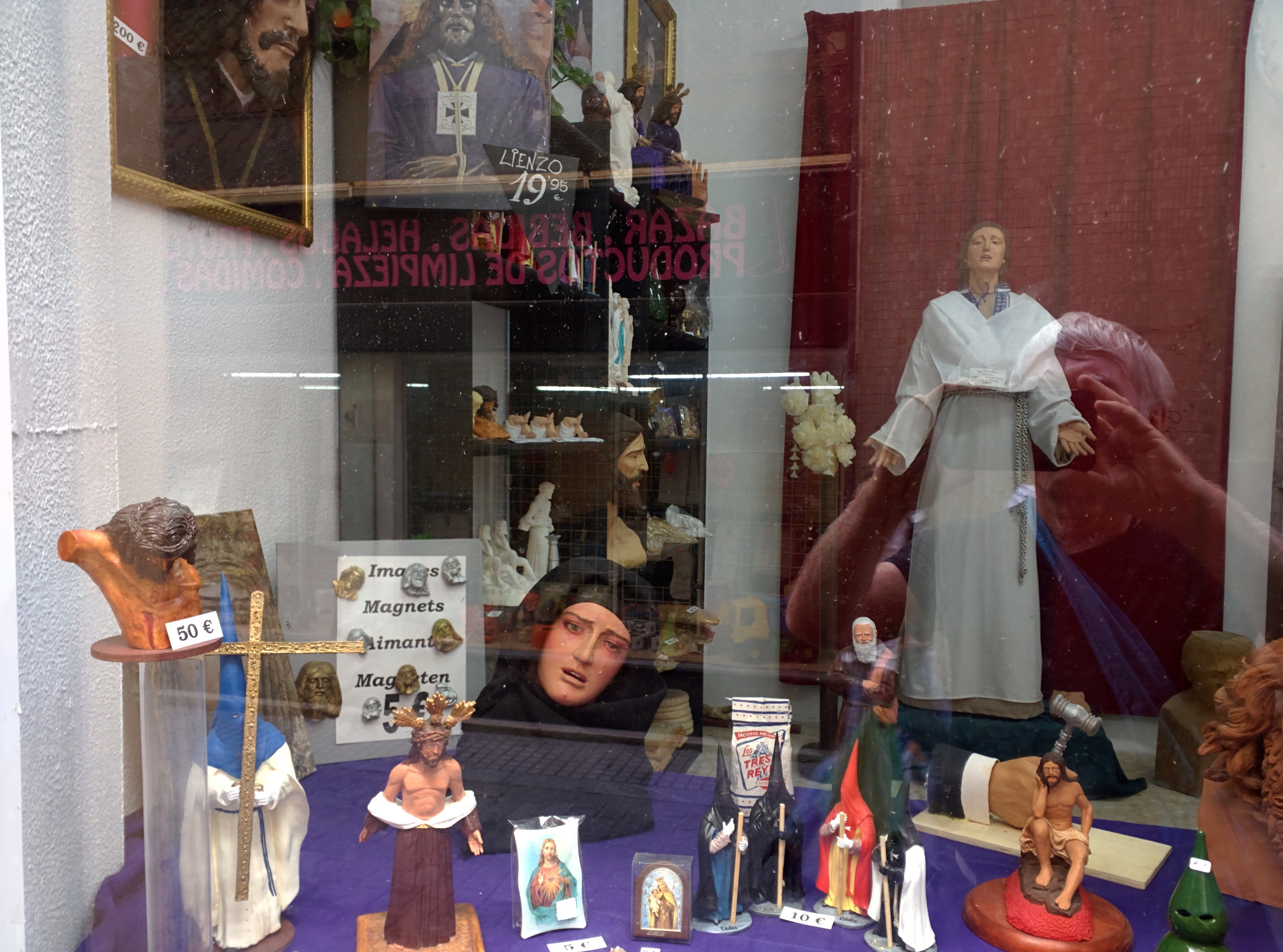 The $1.13 Store
2015-11-01 15:46
In the Cadiz Market
2015-11-01 15:47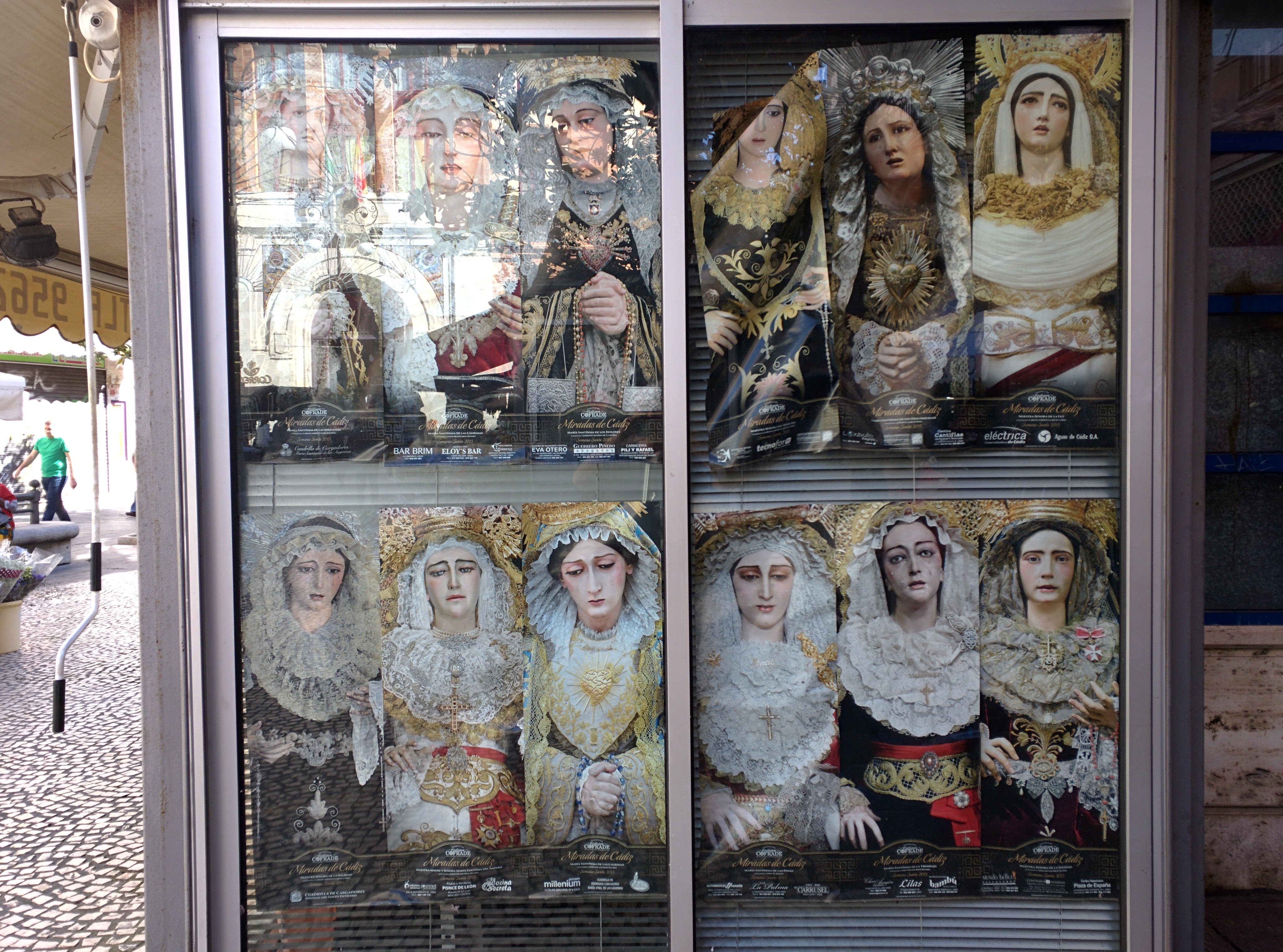 Mrs. Lady
2015-11-01 15:49
Fish
2015-11-01 15:51
AirBnB in Cadiz
2015-11-01 16:00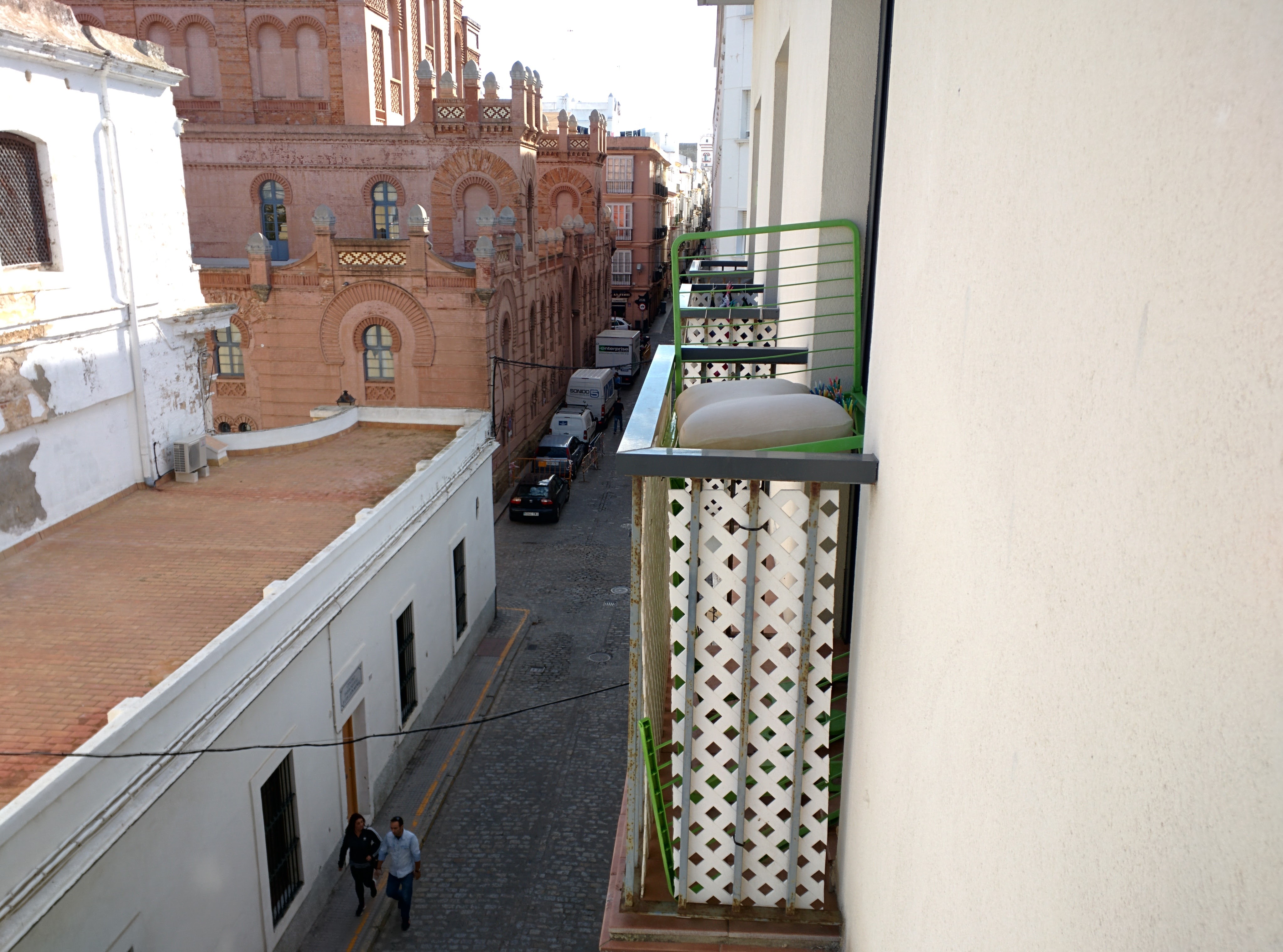 Charlie and Wynette: With three people, airbnb works great. Ours had five little balconies. Above is a view from one of them. Old church across the street and old theater next to that. We were on the third floor (no elevator).
Here is link on airbnb. (You can read there that we were on the second floor but floor 2 in Europe is floor 3 in US. In Europe the ground floor is numbered 0.)
Below is Charlie at the table in the living/dining room with the pretty blue curtains.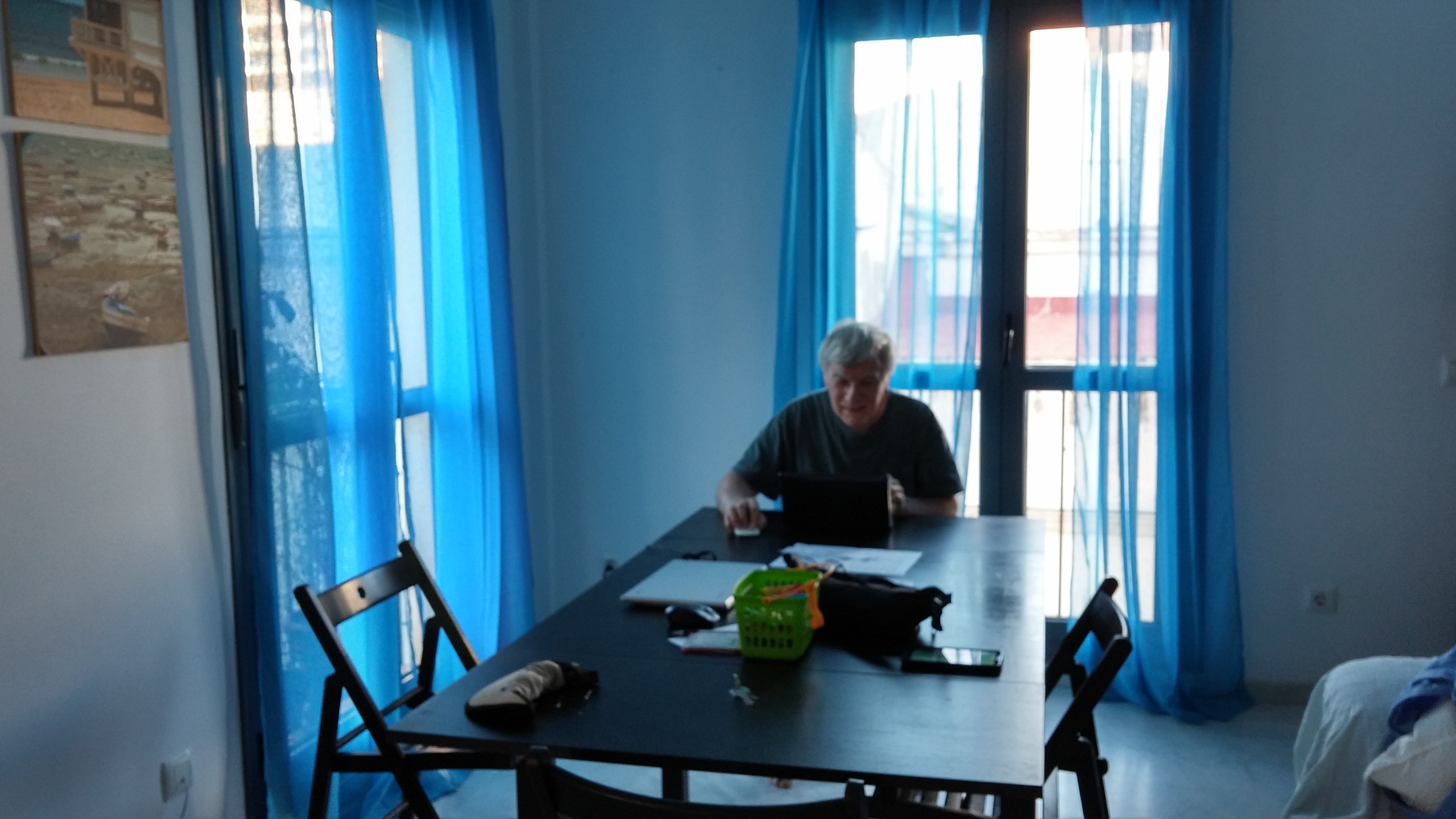 Cadiz
2015-11-01 16:05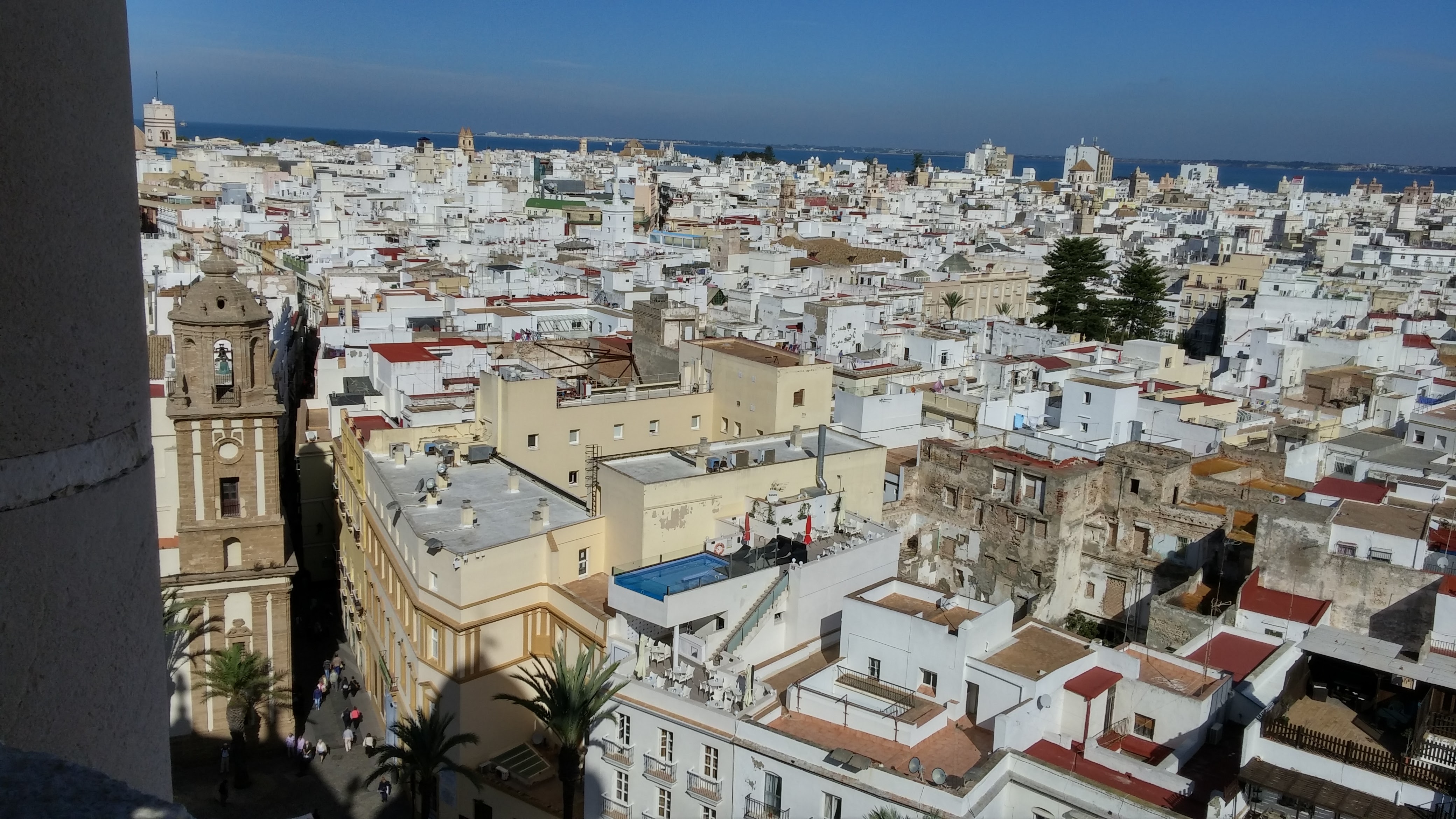 Charlie and Wynette: Cadiz is a coast/beach town (about 124,000 people) 60 miles south of Sevilla. It is on the south Atlantic coast of Spain. The train takes an hour and 45 minutes and makes 10 stops between Sevilla and Cadiz.
We have been lazy and leaving out the accent that should be over the "a" in "Cadiz". It is pronounced CAH-deeth, with strong emphasis on the "CAH".
We read that Cadiz is the oldest city in Western Europe and Columbus set sail from here on his second voyage to the Americas.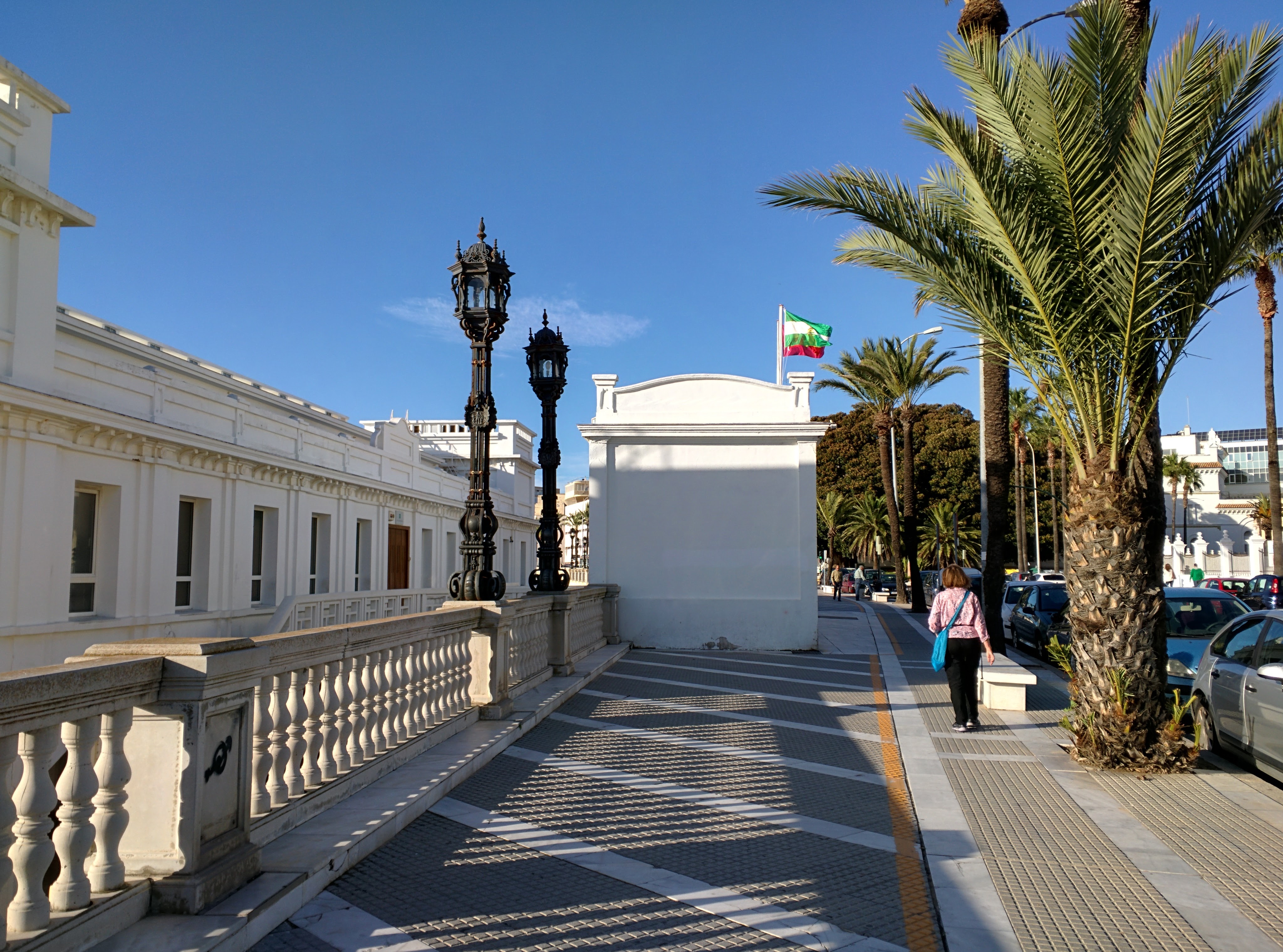 The Bell Tower
2015-11-01 16:17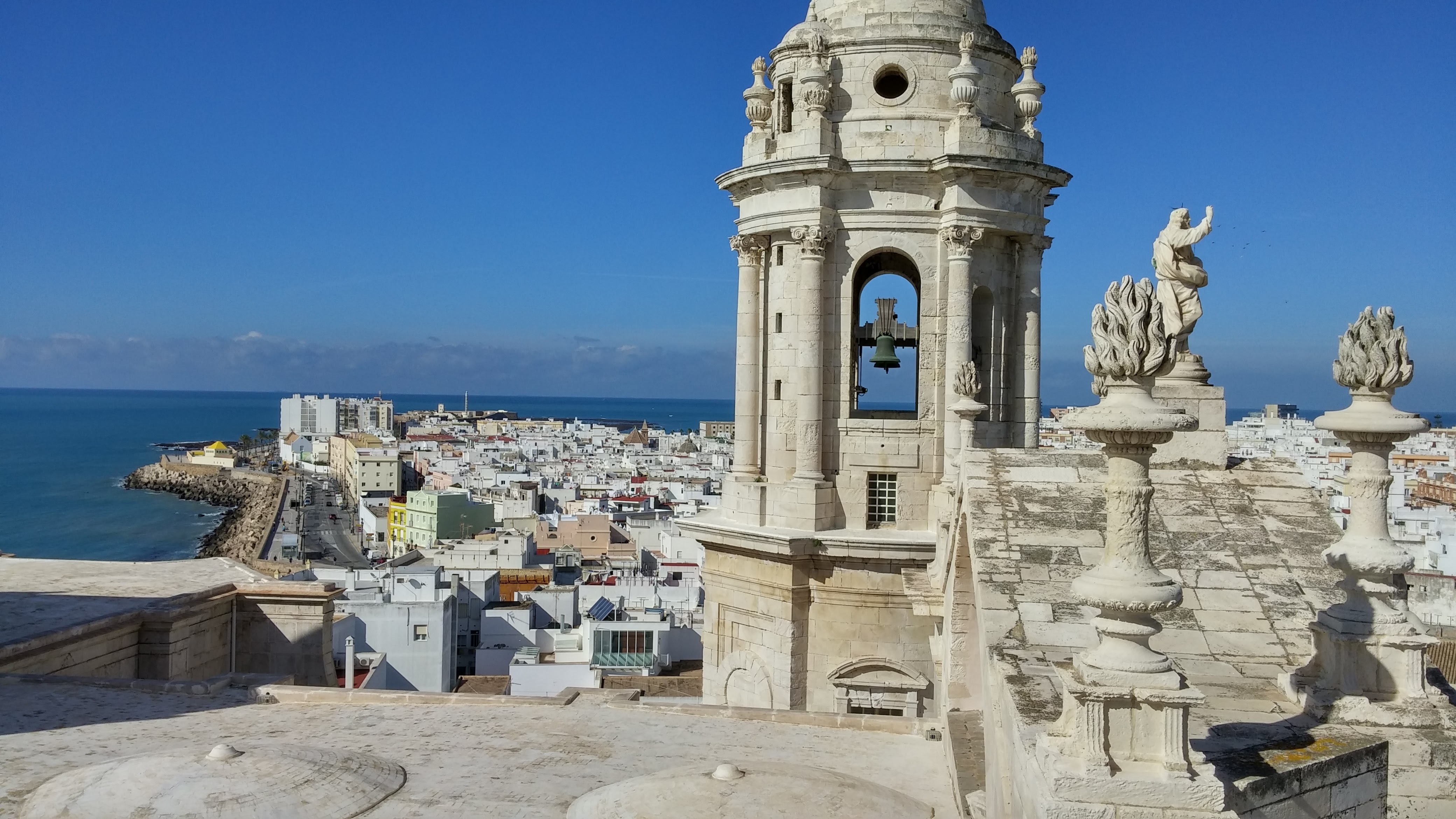 Charlie: Wynette and I walked up to the top of the bell tower of Cadiz Cathedral. The way up is a circular ramp rather than steps so it is easier to climb. Great views of the city. Here is one from another direction, looking back at the narrow isthmus that connects Cadiz with the mainland: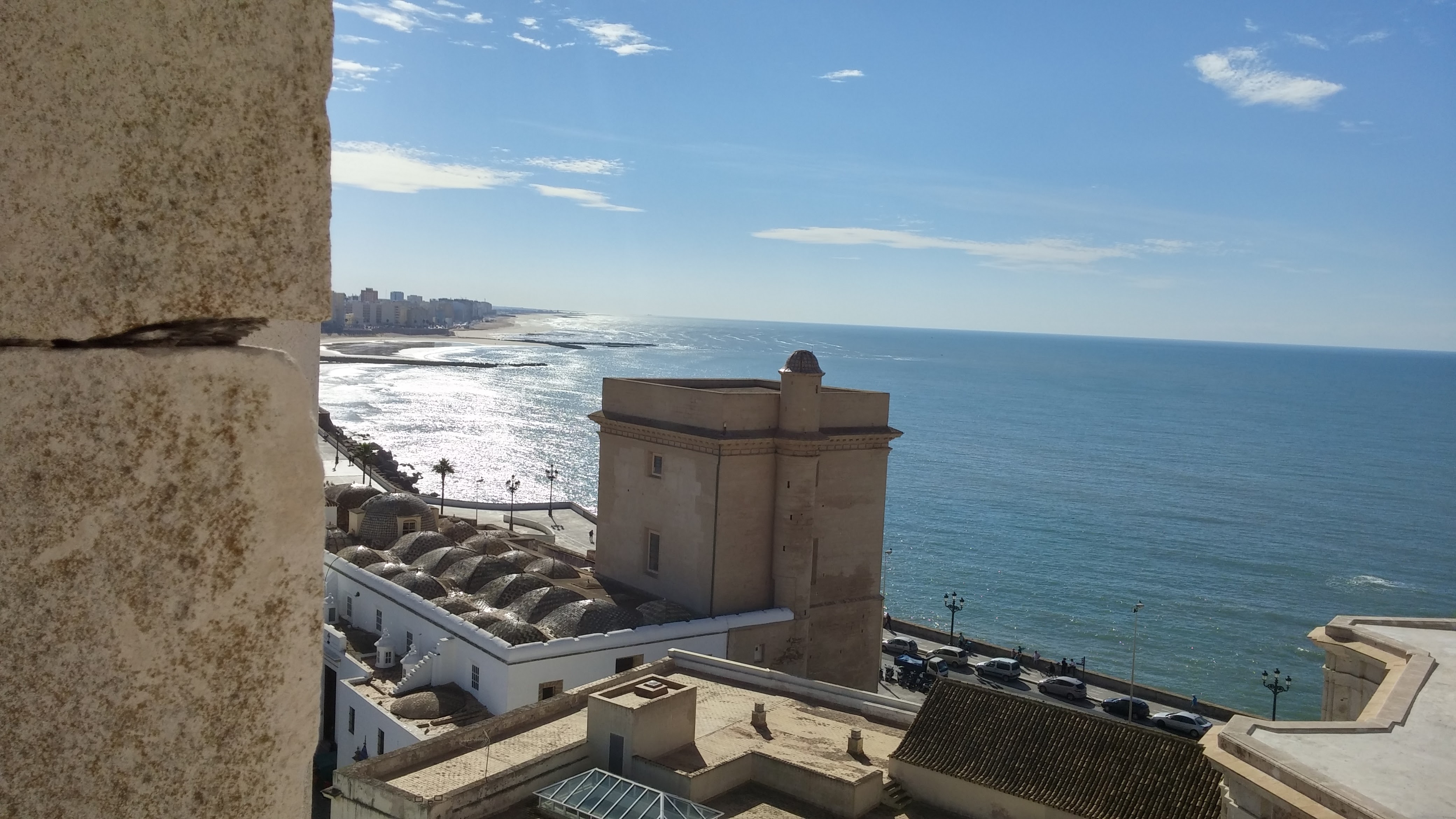 The first time only Charlie went up the bell tower. Here are Pat and Wynette sitting in the cathedral cafe waiting for me to come down. Wynette is taking a picture of me up in the tower.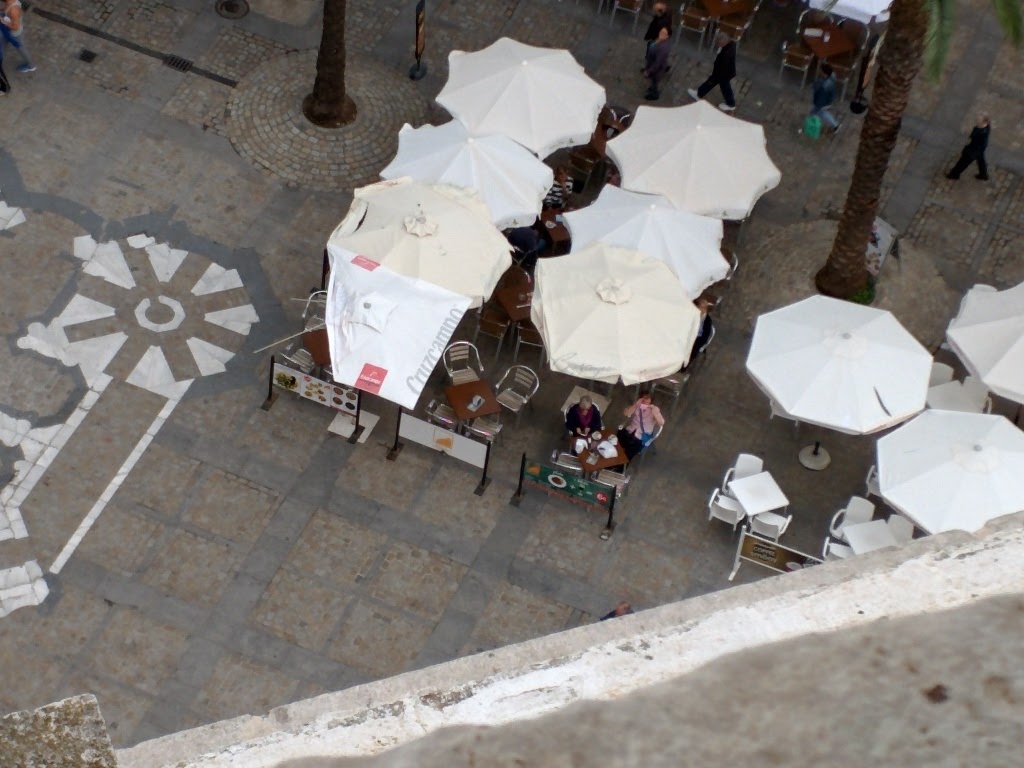 Another Film Shoot at the Beach
2015-11-01 16:37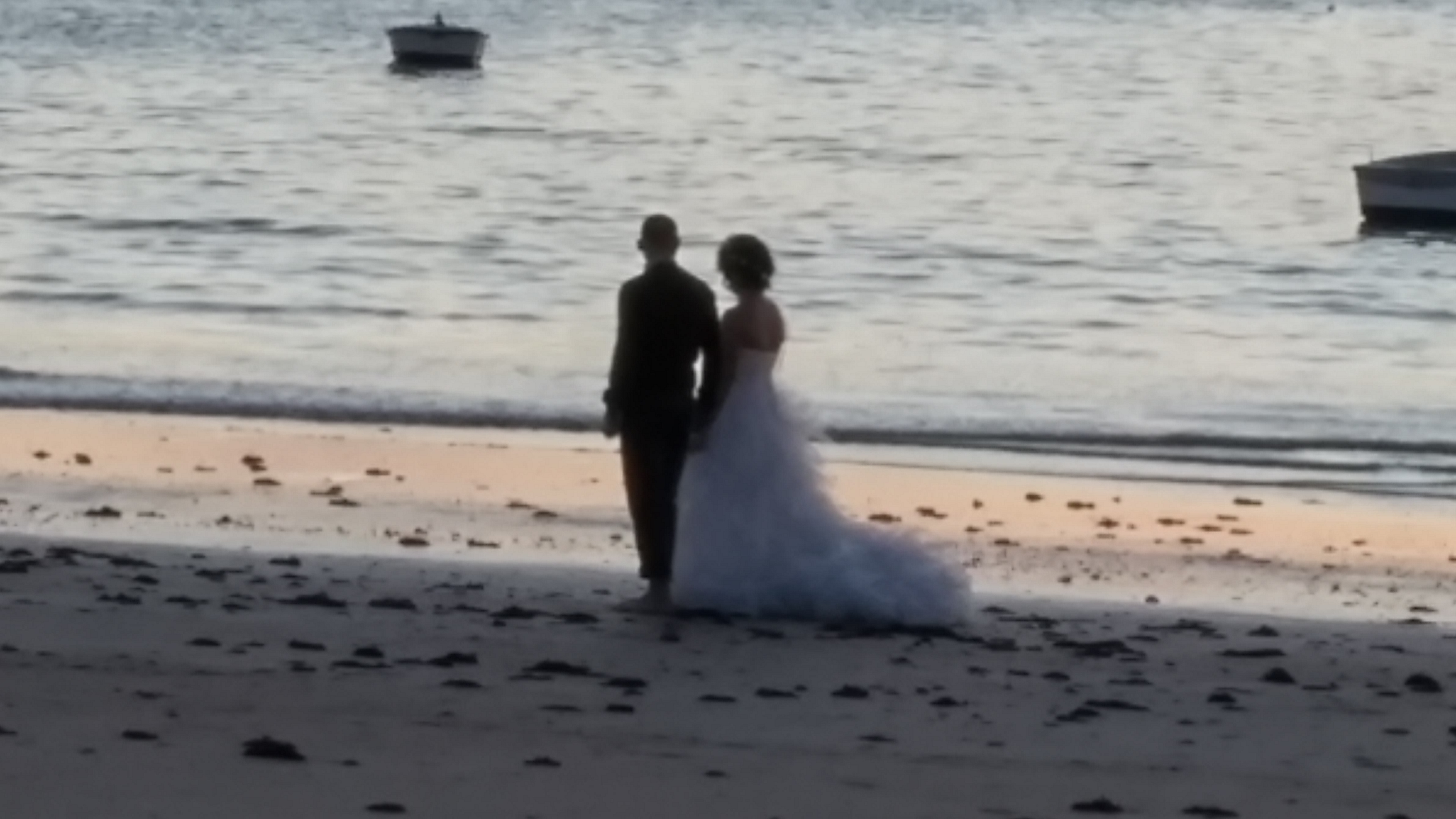 Wynette: Pat and I were on the beach when a small wedding party showed up. Well, it appeared to be a bride and groom and a photographer and a couple of others. We could see that the photographer was telling the bride and groom what to do for the photos. Then Pat figured out that it wasn't really a wedding party at all. They were probably filming a commercial or something like that. Pat is from LA so she's an old hand at spotting this sort of thing.
We heard that the Havana, Cuba, beach scene with Halle Berry in the James Bond film Die Another Day was filmed at this beach.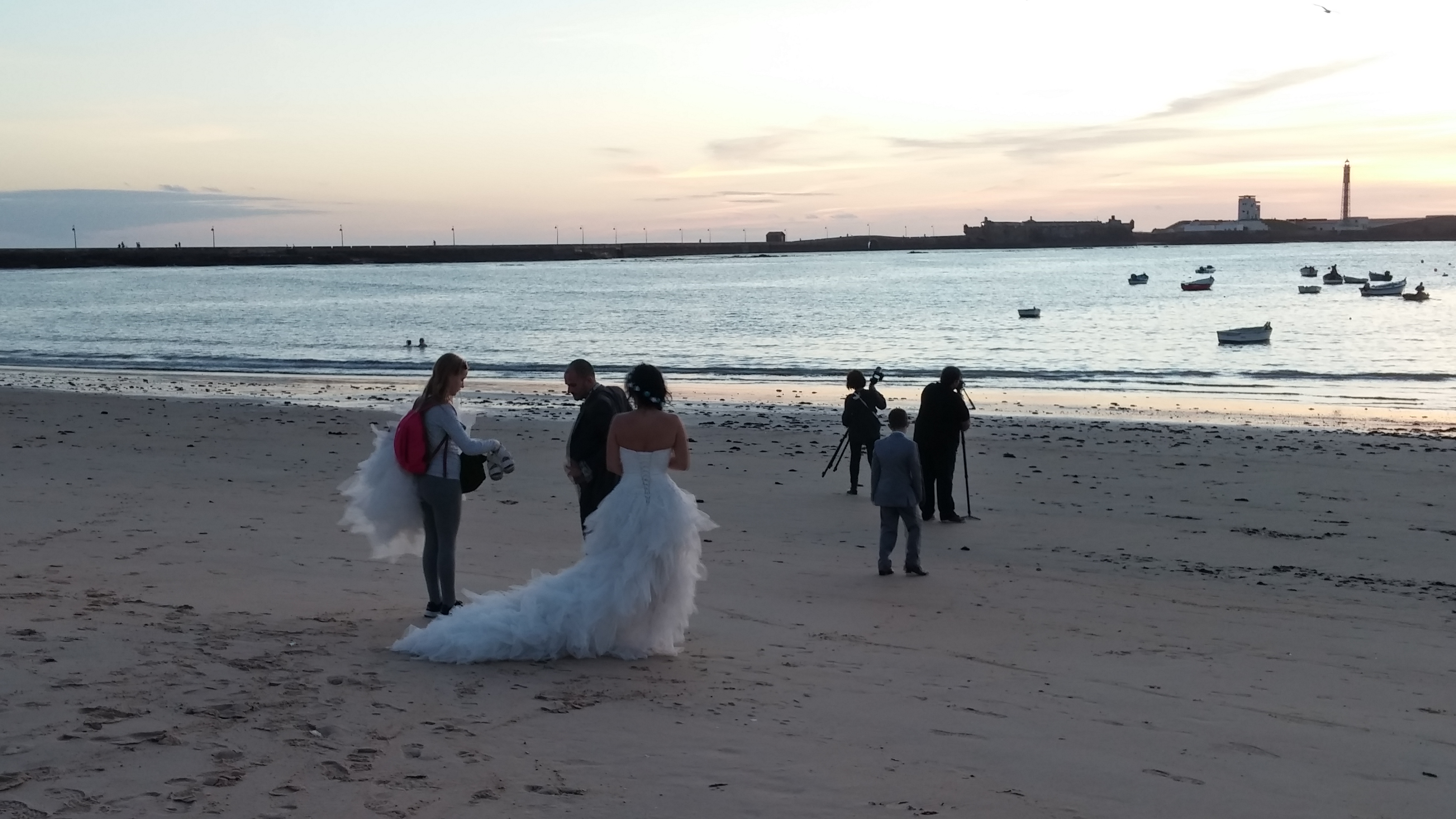 We Got the Tarjeta Dorada (Gold Ticket)!
2015-11-05 17:29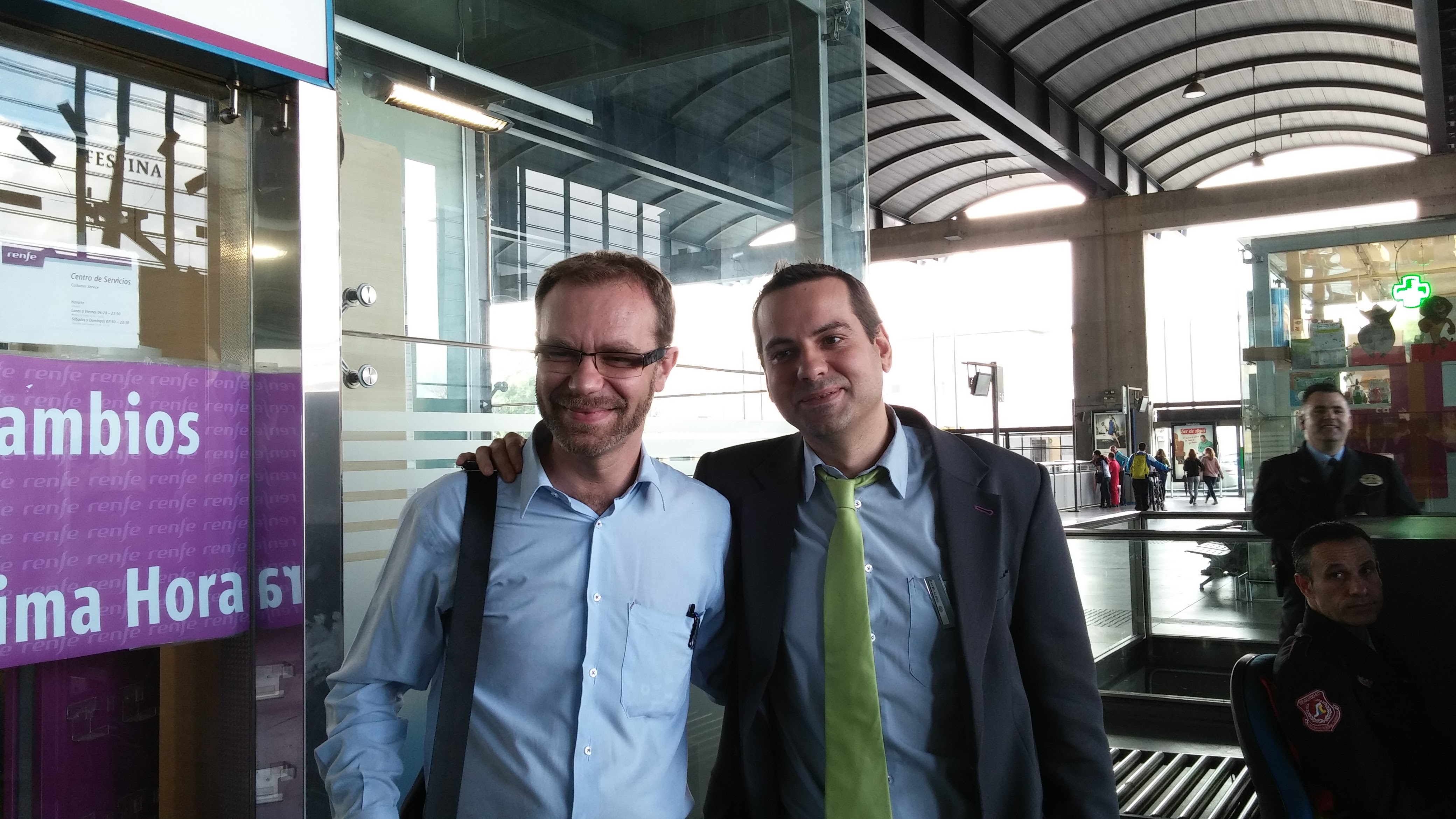 Charlie and Wynette: No chocolate factory tour but it does give golden agers 40% off on train tickets. We used it to go to Cordoba. We went to the train station to buy the return ticket and realized we had left the tarjetas doradas back in Sevilla.
The cards would only save us about 15 euros each but we went into the information place to see if there was a record of it. The nice man on the right tried for 30 minutes to get it to happen, assisted by the nice man on the left, but for all their efforts, no go. It seems that the tickets are not recorded nationally but each train station gives out its own.
Both men clearly worked past the end of their shift — note how our guy had removed his standard issue tie and jacket — but they kept on, cheerfully, trying to make it happen and were very apologetic when they couldn't.
Unfortunately we missed the next train trying to get this done so we took a (much less expensive) local that was fun and we did beat the next, next, fast train by 30 minutes. Even the local got up to 150 kph (90 mph), but it stopped more. The fast train tops out at 250 kph (150 mph).
The man went on about how beautiful Cordoba is (it was) but confided to us that things do not happen quickly in Spain. Good to know.
La Mezquita (The Mosque)
2015-11-05 23:23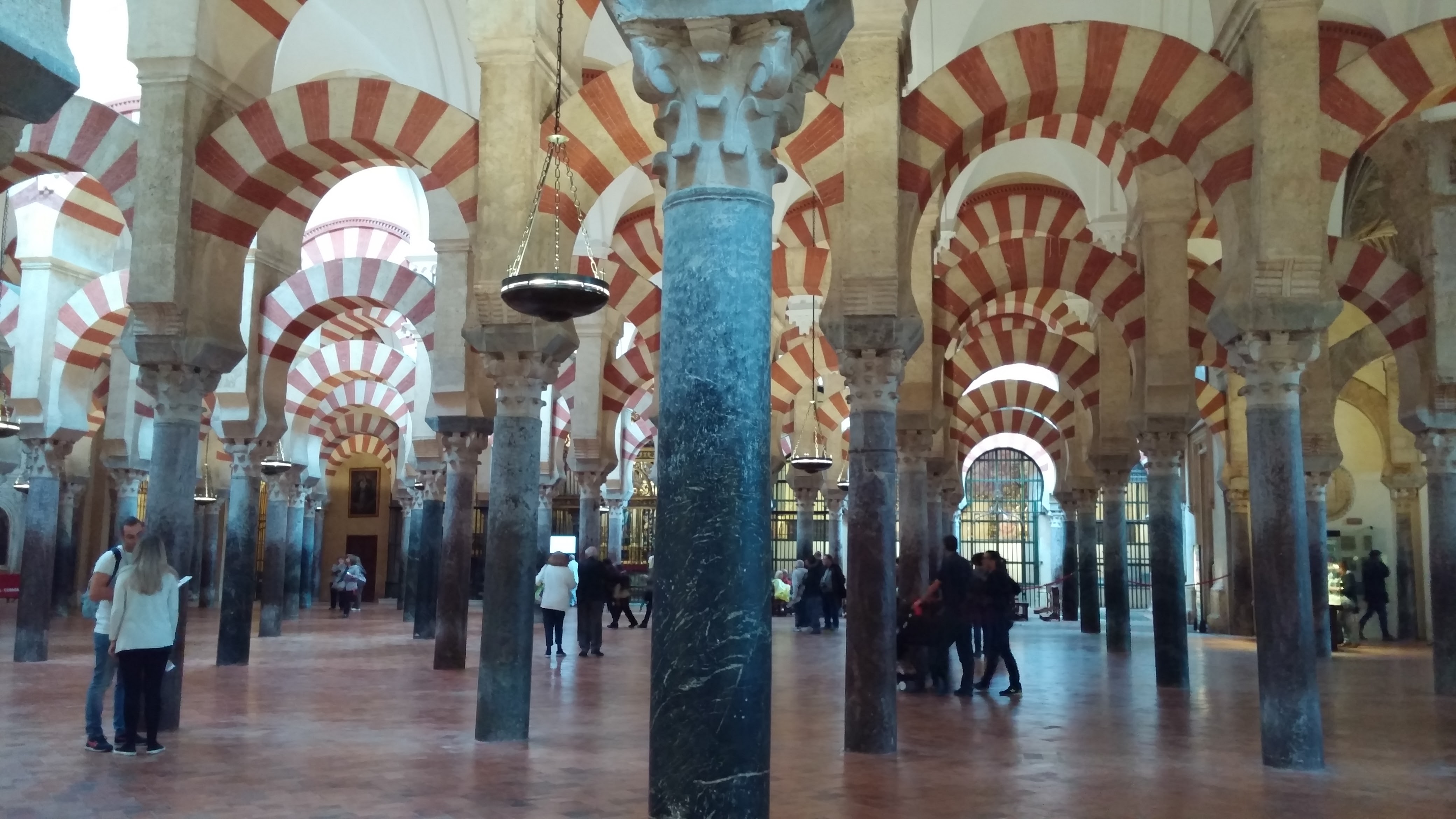 Charlie: The top sight in Cordoba is the Mesquita, a huge mosque built in 785 and extended several times in the following centuries. Cordoba was reconquered by the Christians in 1236. In 1523, after three centuries of admirable restraint, and over the opposition of the town council, the Bishop of Cordoba convinced King Charles V (no relation to Charles Crowley)  to let them knock out a couple hundred of the columns and build a big cathedral right in the middle of the mosque. Scroll a little down on this page to see a 3D representation.
The cathedral is impressive but so much like a hundred others that I won't include any photos. To his credit Charles V (this time possibly a relation to Charles Crowley) regretted his decision and said, quite eloquently, "You have built what you or others might have build anywhere, but you have destroyed something that was unique in the world."
Of course, you can see they might have been pretty angry about the Muslims invading their country and occupying it for five hundred years, that is a legitimate grievance but that had ended three hundreds years before.
The story seems so contemporary to me. Secular official concedes to the demands of an interest group even though he knows it is wrong to retain support of the interest group for political reasons.
Mezquita Redux
2015-11-05 23:24
Charlie: Actually Christy and I had visited the Mezquita on our trip to Europe in 1969, a mere 46 years ago. I remember being much more impressed with it then than I was this time. Things are more amazing when you are 21. We took a taxi, but I am sure that I would have enjoyed observing present-day Cordoba on a walk from the train station to the Mezquita more than I enjoyed touring the Mezquita a second time. This feeling is not about the merits of the Mezquita or how anyone else should plan their travel but about how Wynette and I like to travel these days.
I did enjoy exploring the panorama:

and spherical: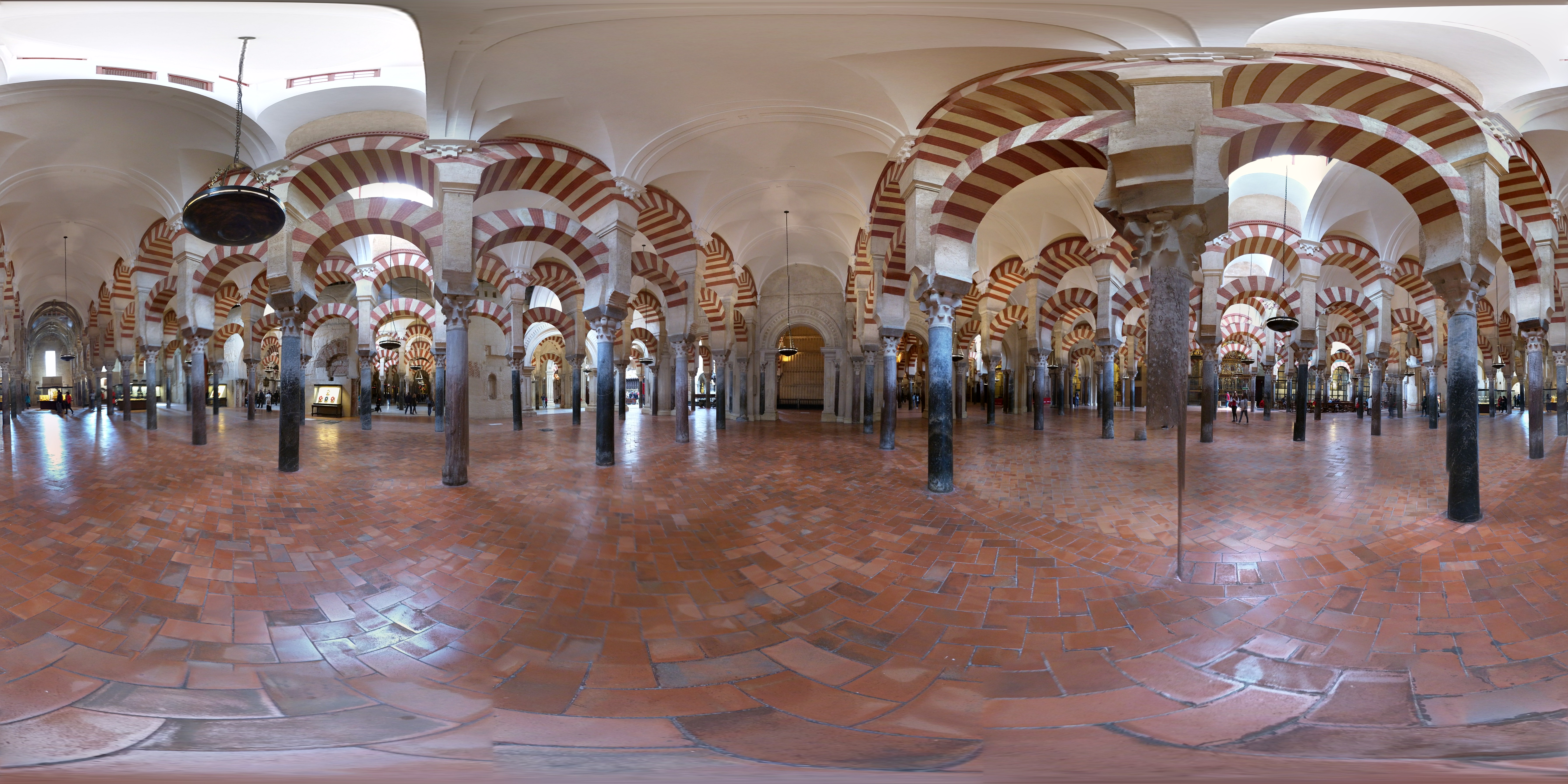 modes on my camera. The spherical one looks great on the phone with the right software to display it.
Another Week of Classes
2015-11-06 21:46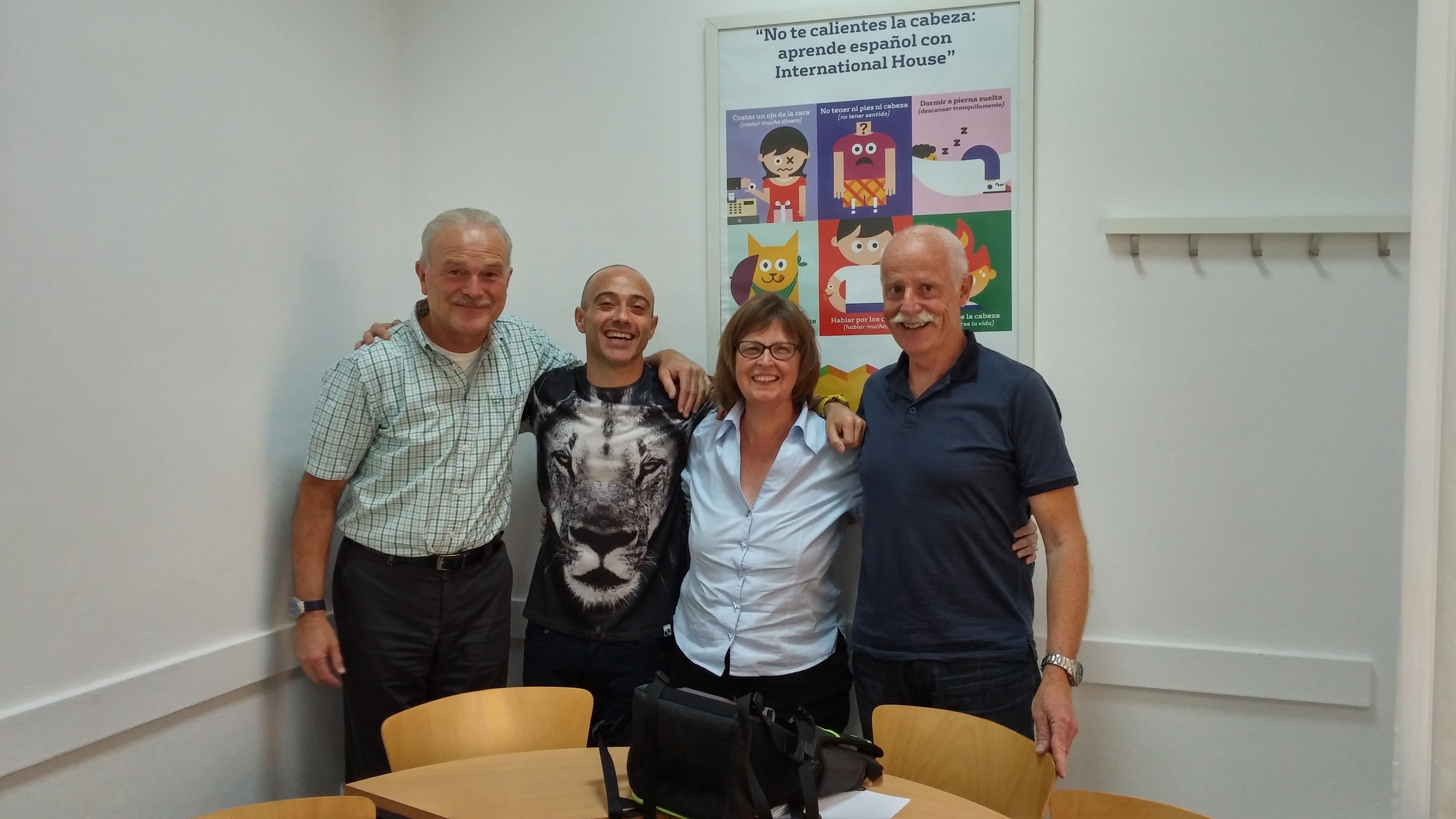 Wynette: Since I enjoyed the first week of classes at the CLIC school, I decided to do another round this past week. Monday was a Spanish national holiday (I never got clear what it was for — the Spanish have lots of holidays) so the class only met Tuesday through Friday … from 1:30 to 3:10. The same as before: Conversation and Grammar Practice. Those four days went by so quickly. It was another great class. The teacher's name was Juande. Like my first teacher, he was fantastic: interesting, sharp, energetic, and lots of fun. Doesn't he have a beautiful smile and a beautiful face?
There were four of us students.  Louís and Urs were near my age (Louís might have been a few years younger). They are both from Switzerland, but Louís speaks French and Urs speaks German. The other student was quite young (20s?), from Germany, named Antonia.
It was so much fun to get to know Louís and Urs and Antonia while we slaughtered the Spanish language (even though we tried our best) and Juande tried to set us straight.
I signed up for classes using the name Dorothy since that is the name on my passport (my first name). So, I just used the name Dorothy in the classes.  It seems a lot easier for the Spanish people to understand Dorothy than Wynette.
Another Segway Tour
2015-11-15 20:34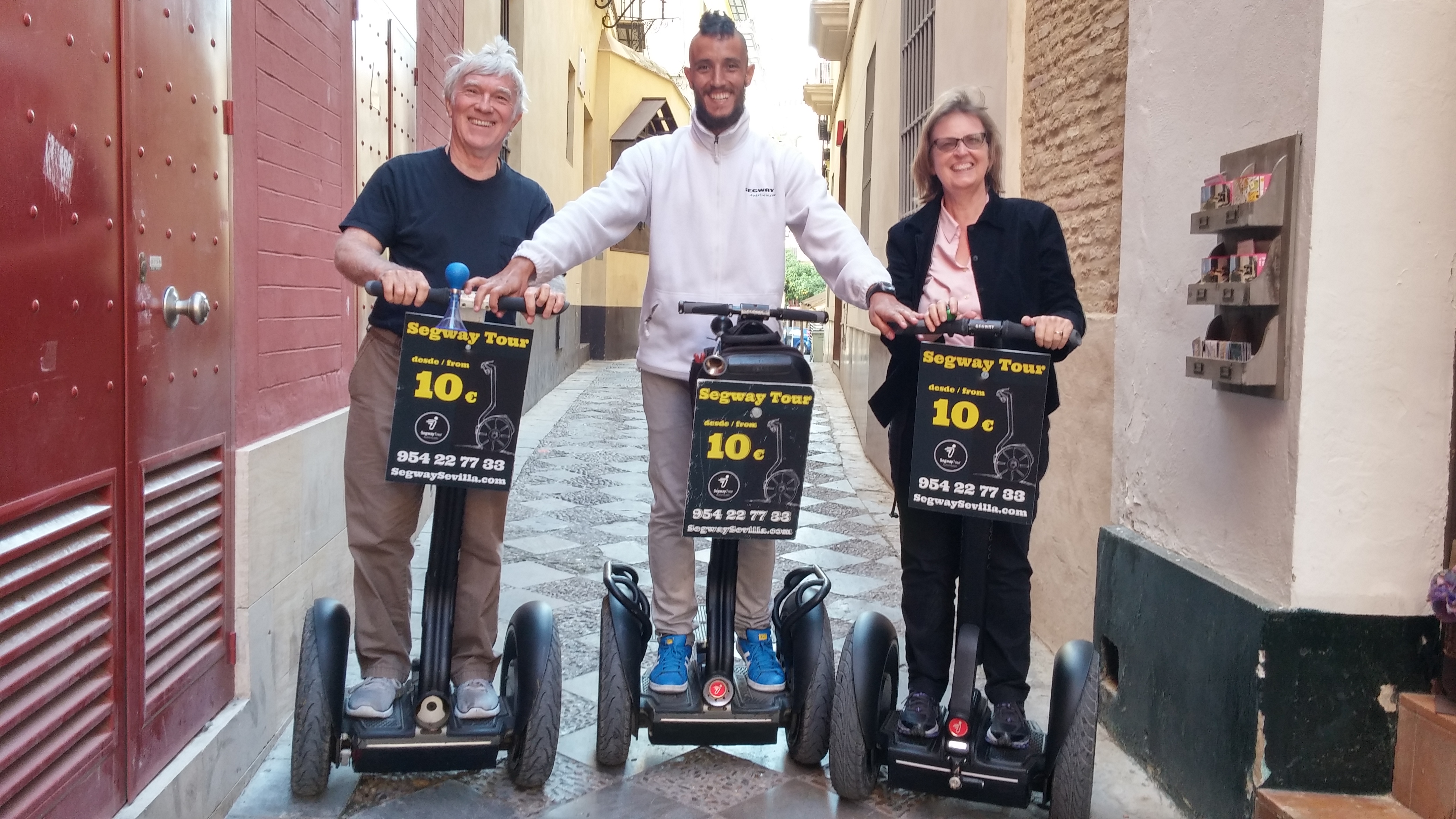 Wynette: A few days ago Charlie and I did another Segway tour. Three hours this time. We were the only ones. A private tour! We told our guide, Jose, we'd been in Sevilla for over 4 weeks and had seen most of the main sites so he was thrilled to take us up north to places he doesn't usually get to go, where tourists don't go so much. One of the sites we saw was an old monastery. There were some modern art installations there. A nice combination of the old and the new. You probably can't miss the art in the photo below.
We rode our Segways for 10 miles. We might write more about the tour (and Jose) after we get home, but wanted to post these two photos. After we got back to the Segway office at the end of the tour, we asked Jose if we could take his picture and, at that, he orchestrated for us to get back on our Segways and for another person at the company to take a photo of all three of us.
We were all saying "patata" while his helper was snapping pictures. "Patata" is what the Spanish say to make a smile for a photos. As our airbnb host explained to us, the Spanish don't say "cheese" because the word for cheese in Spanish is "queso"  (kay-so) which sort of makes you frown. "Patata" (pah-ta-ta) is the Spain word for potato (as opposed to "papa" in Latin America).  Something about a bunch of people saying "patata" together makes you want to smile.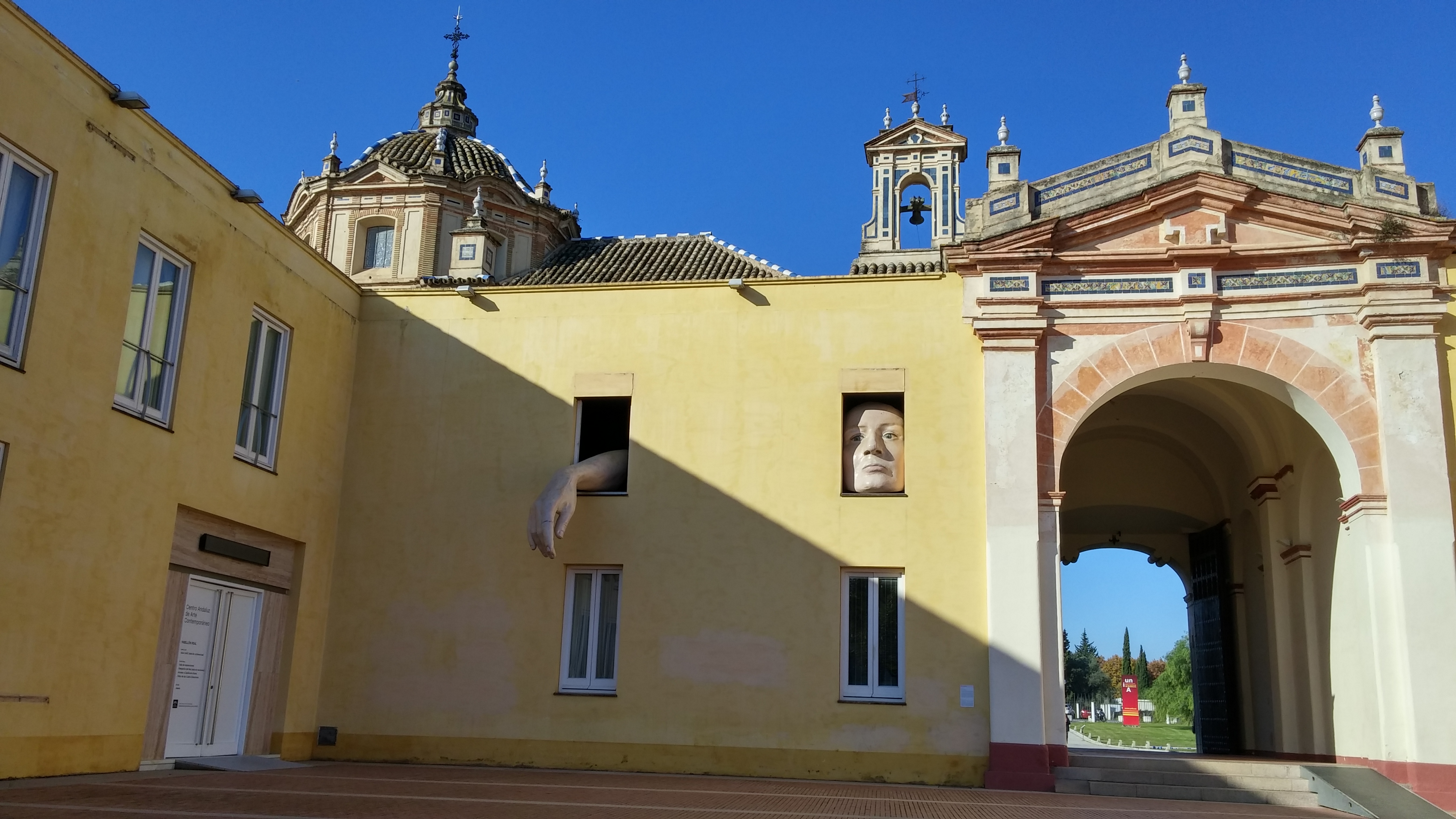 Two of Us … On Our Way Back Home
2015-11-15 20:35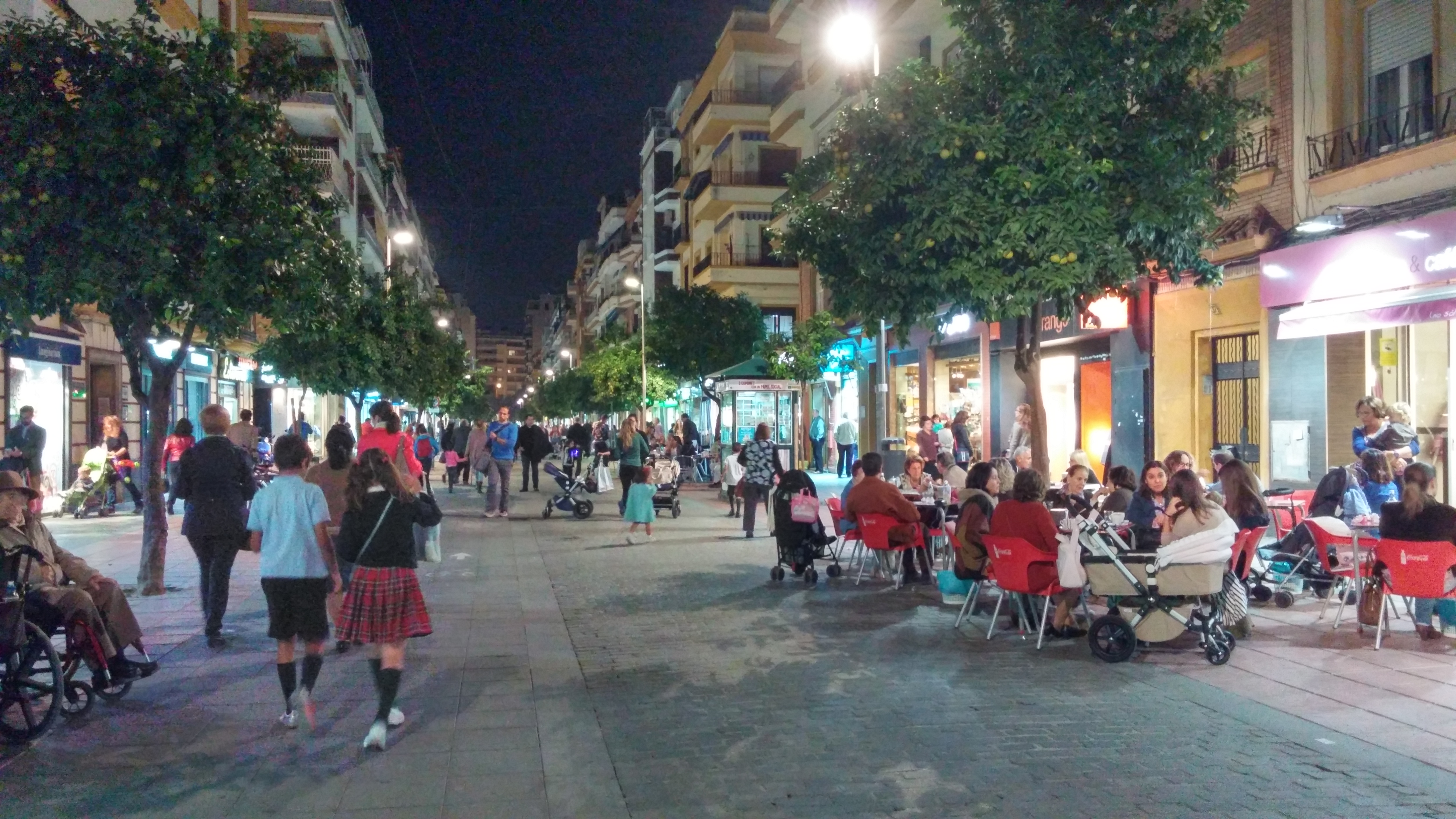 Wynette: We are on our way home. Took a train to Madrid today and will fly to Albuquerque tomorrow. So we had to say goodbye to Sevilla this morning.
Charlie and I both had pretty bad colds the last half of the trip. It slowed us down a bit and we often crashed in the evening, instead of writing a blog post, but we still had a great time. There is more we want to write about. We plan to do some more blog posts about the trip after we get home so if you check back in a week or two (or more?) there will probably be a few more posts.
Last night we did our last paseo (evening stroll) in our neighborhood of Los Remedios. All over Spain, and probably Europe, people come out of their houses in the evening to stroll and socialize. There's a perfect mixture of old, middle, and young people. All ages. Lots of young children playing with each other. If you click on the above photo to blow it up, count all the baby strollers.
In Spain they call it the paseo.  In Italy they call it the passeggiata.
Our Pal Emilio
2015-12-16 21:44